April 29 & 30, 1981
What a week for the discus.
On 29th Montgomery's Chris Day broke his own Empire record in the discus with a huge 181-6¼ mark at Rancho Cotate.
It is still the Empire dual meet record and the best pre-league finals mark ever.
It however did not get much press at the time. Chris Day's big day hardly noted
The very next day Santa Rosa's Dennis DeSoto responded with a 176-11 verses Cardinal Newman at SRJC. That is still the third best mark ever in a dual behind two of Days marks.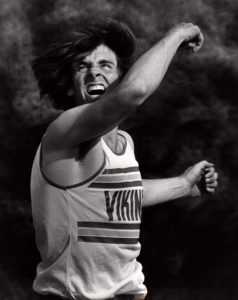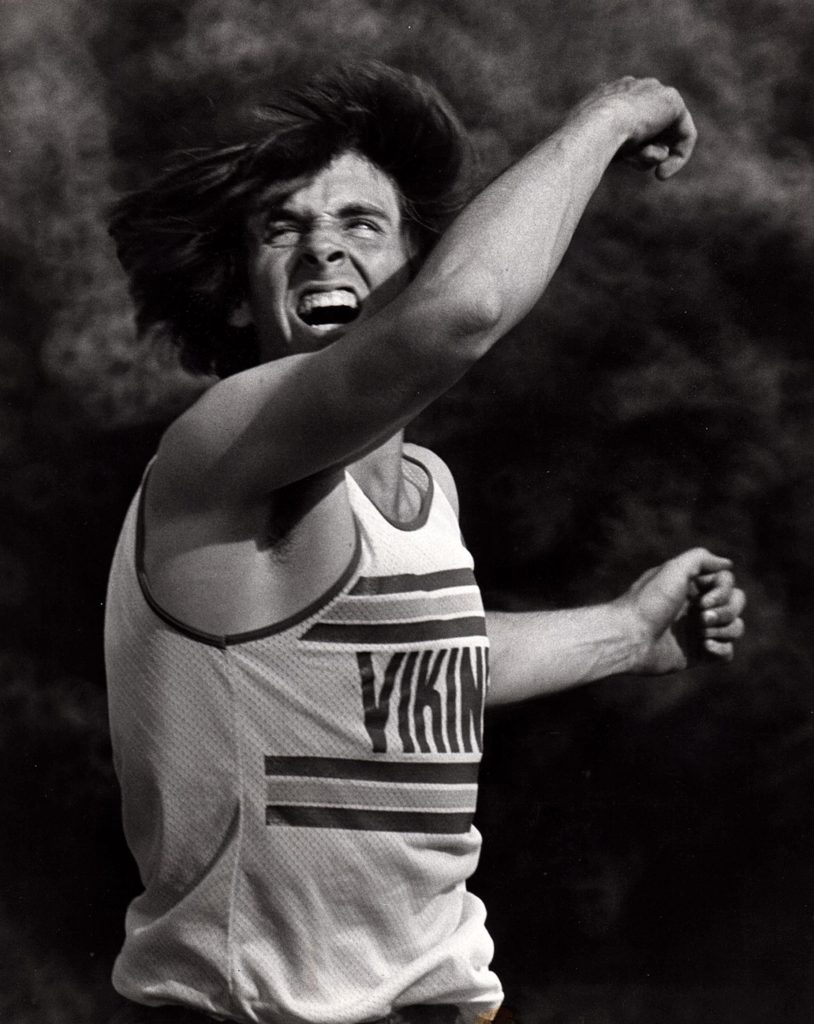 April 29, 1987
Santa Rosa's Wendi Simmons tied the best ever triple jump mark in a dual at home verses Ukiah spanning 36-6.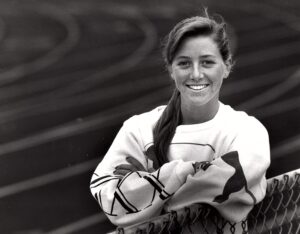 April 27, 1991
The North Coast Track Extravaganza was an event that ran in 1991 and 1992.
It had none of the standard 16 events and most of the non-standard ones.
It produced a lot of great marks including a National Record by Santa Rosa's Steve Guerrini in the Steeplechase.
Check them out below.
Guerrini sets national record April 28, 1991
Boys North Coast Track Extravaganza Results 4/27/91
Girls North Coast Track Extravaganza Results 4/27/91
April 26 & 30, 1995
Rancho Cotate's Corey Nelson had a week to remember.
Against Ukiah at the Mendocino College he set the still standing dual record for the 400 at 48.4 and ran the second fastest ever 200 at 21.2.
That weekend at the Viking Classic his 4×100 relay set a meet record in 44.0, he ran the still standing MR in the 400 at 47.4, broke the MR in the 200 at 21.0 and ran on the winning 4×400 3:34.0.
Other meet records that day PV 15-4, Rene Loraine (still MR), Petaluma; 1600 4:19.6 Dan Brecht, Petaluma; 110HH 14.8 Chris Barnsdale, Montgomery; 300IH 39.5 Zach Barrett, Santa Rosa; HJ 6-8.25 Pat Leonard, Piner; SP 53-11 Brian Chase, Cardinal Newman; 100HH 15.4 & 300LH 46.6 Nikki Henkels, Santa Rosa; 400 58.9 Pam Richardson, Montgomery; PV 9-0 Becky Studebaker, South Fork.
April 26, 1997
The Viking Classic this year was held at Sonoma State University with nine meet records beaten.
Two of those MR have held up all these years.
400 55.65, Rose Criss, Analy, it was the Empire Record at the time.
300IH 38.20, Jason Andrews, Ranch Cotate
Full results and other meet records here.
April 29, 1998
Healdsburg's Faith Matranga set the shot put dual meet record at Casa Grande with a 42-7 distance. Also had a nice discus at 113-5.
April 26, 2003 Viking Classic
Biggest news is Sonoma Valley Freshman Mindi Wiley cleared 5-10 in the high jump to beat every Redwood Empire female high jump record on the books at the time. Winning by a comfortable 10 inches Wiley not only beat her own Redwood Empire record of 5-8 but surpassed the highest jump ever by a local female, formerly held by Wendi Simmons at 5-8 3/4. See results and notes here.
April 26, 2006
The Santa Rosa All-City meet had five meet records this year including one that previously held the Empire record. That being Maria Carrillo's Jenna Lowder 100m in 11.9. Her 24.8 200 was one of the other MR.
April 28, 2010
Healdsburg's Claire Bingham ran the fastest ever 100HH time (14.75 +2.2 ) in a dual verses Casa Grande at Healdsburg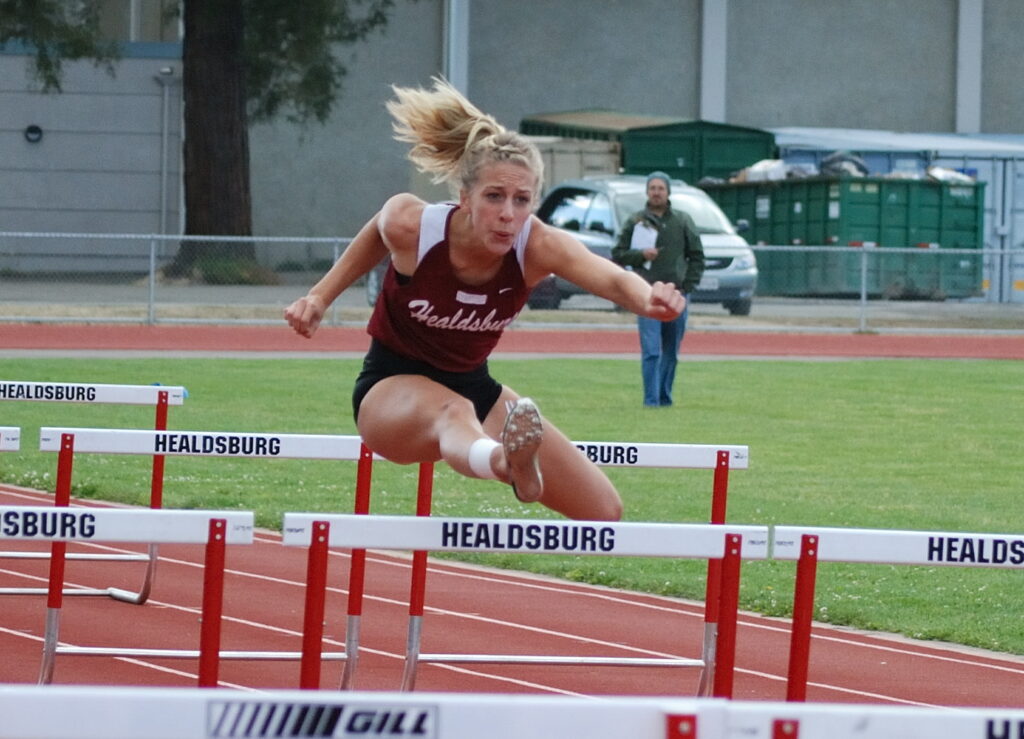 April 28, 2012
Casa Grande's Adam Lundquist ran what is still the meet record for a wind legal race at the Viking Classic with his 14.66 +1.9 time. He added a 39.73 to win the 300's.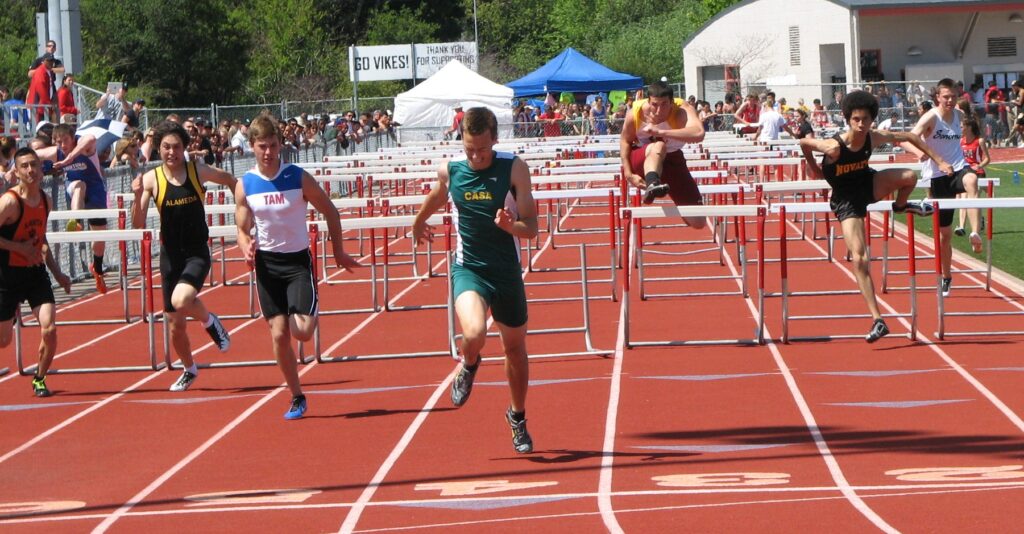 Story of the meet: Viking Classic produces great marks
More photos from the meet.
April 27, 2013
Maria Carrillo's Herbie Polk had a big day at the Viking Classic winning the 200 in 21.94 +3.3, taking 2nd in the 100 at 10.83 +2.4 (both times moved him to 4th All-Time in the Empire) and anchoring the 400 relay to 42.99.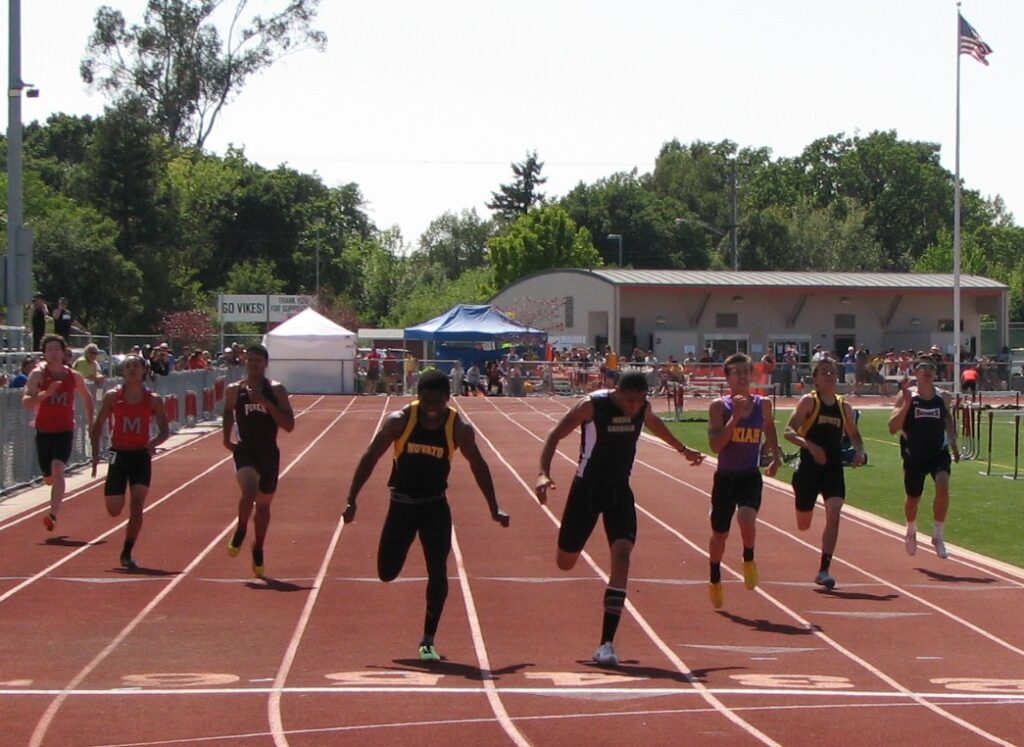 April 29, 2015
Petaluma's Allison Scranton had the best ever discus mark in a dual, 143-9, at Piner. It is also the farthest ever before the league finals and has only been bettered by one Kathleen Durand toss and the three top marks ever by Scranton at the state meet that year.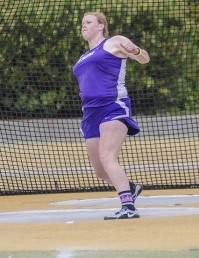 April 27, 2016
Santa Rosa's Kirsten Carter produced the best ever FAT 200 time in a tri-meet (25.60 -1.3) verses Montgomery & Casa Grande at home.
April 26, 2017
Maria Carrillo ran all alone to the best ever 1600 relay time (3:25.24+) in a dual verses Santa Rosa at home.
Santa Rosa's Kirsten Carter sprinted to the best ever 100 time (11.8) in a dual at Maria Carrillo that same day.
April 28, 2018
Maria Carrillo turned in the fastest ever 1600 relay (3:18.73) at an Invitational, winning at the Sac MOC meet.
Severin Ramirez: 49.5
Demetre Coffey: 50.3
Will McCloud: 50.3
Tyler Van Arden: 48.8
May 2, 2018
Healdsburg's Gabriel Peterson ran the fastest ever 3200 time in a dual verses El Molino at Healdburg in 10:41.14+.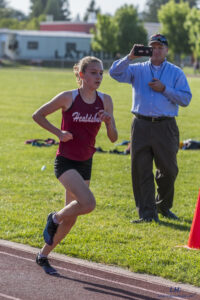 April 27, 2022
Amazingly Montgomery's Hanne Thomsen ran the exact same 3200 time as Peterson did 4 years earlier, 10:41.14, to equal the best ever 3200 time mark in a dual at Analy .
Meanwhile on the same day Maria Carrillo ran the best ever 400 relay time in a dual verses Santa Rosa at home in 49.24.
In this new weekly tidbit column, "Blast from the Past", I'm going to take a look at some special performances that happened during the week we are on.
Other Blast from the Past stories