On April 29th 1981 Montgomery's Chris Day broke the Empire record in the discus at 181-6¼, a mark that has held up so far for 36 years.
Must have been front page of The Press Democrat sports that day right, nah.
The next day back in the sports page in the track roundup the first athlete mentioned was Petaluma's Ron Vaughn with a very nice 11.1/22.4 sprint double.
Finally down in the fifth paragraph of the story was this one and only sentence.
It was also "D" Day for Montgomery's Chris Day, as he surpassed the 180-foot barrier in the discus with a season best of 181-6¼.
Yep that was all.
Chris would end his prep career as the greatest prep discus thrower we have ever had.
Second at state in 1981 and sixth in 1980.
His son Brian threw 153-6 in 2018 to win the NCS Redwood Regional for the Vikings.
That gave the father and son pair a total of (335-0¼) to surpass the local record by Mike Grace 169-0½ and son Josh 152-1 (321-10½).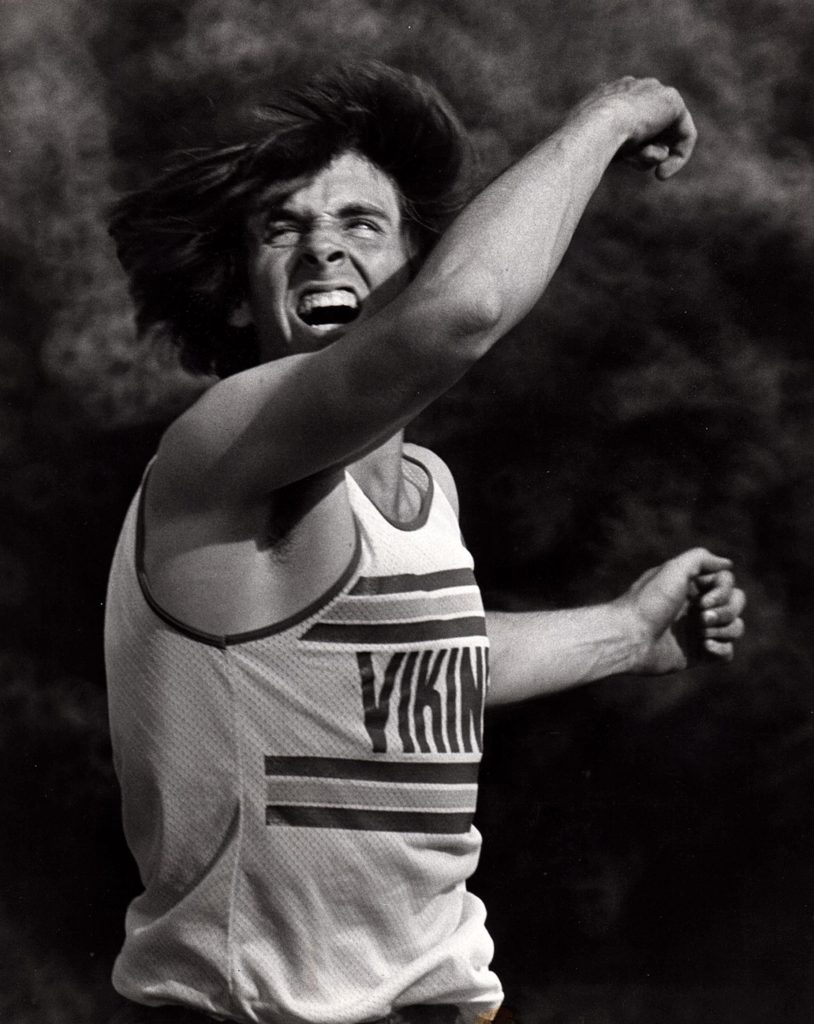 Chris was no one meet wonder as he totally dominates the All-Time performance list with 9 of top 12 throws over 175-4½, 15 of top 21 throws over 173-10, 25 of top 51, and 27 throws over 167-0.
If you saw any of the Empires top 18 throws then you must have been around in the years 1980-1982 because all 17 happened in those three years with the only other mark on the list being the 175-4 by Cardinal Newman's Brian Chase on 3/31/97 at Newman, his only 1997 meet over 167.
I asked Chris a few questions about those days.
What were your thoughts and feelings after the record throw?
I think it was at a dual meet at the Sonoma State track… not so much a big deal since it was a small PR.
Editors Note
Before Chris came along the Montgomery record was 173-9 by Jeff Faulk from 1973 and the Empire record was 174-4 by Doug Silcox of Vintage from 1976.
Chris first broke those during his junior year on April 9th with a 175-1½ toss.
Three days later he extended that out to 176-4½ and then popped the first ever 180 footer at the NCS 3A on May 24th at 180-4½.
So to Chris his 181-6¼ in 1981 was only a 13 3/4 inch improvement, but to the Redwood Empire it would be a mark that has stood the test of time.
What were your favorite moments of high school track?
Easily the State Meets. The State Meet is altogether a different sort of event – much more intense with a lot of people, competition, and pressure. Lots of memories about those and the qualifying meets at Edwards Stadium.
Other than that there was a dual meet in Ukiah where I had a huge PR as a junior….but what made it especially memorable was the bus ride home. We had a now-celebrity teammate that led the entire bus in a series of impromptu humorous songs that had everyone completely surprised and rolling on the floor the whole trip. I think Steve Bruner still works as a professional comedian on cruise ships and alike – no surprise after the bus ride that he'd have success there. I would bet everyone on the 1980 Montgomery Track Team remembers that one…
Here is a sample of Steve Bruner's work
What was it like competing against Dennis DeSoto?
A great competitor…very intense during the events but otherwise a very nice guy. Great sportsmanship.
Why do you think the throwers since the early 80's are not throwing that far any more?
Probably has more to do with competition and being pushed than anything else. In my case I think making NCS as a sophomore really helped me get motivated for the future.
Certainly the coaching is available here. I think if more kids got exposure to the upper levels of competition across the state they'd train year round with more focus and commitment. If you look at Southern California marks you'll find top kids around 200 ft year after year.
DISCUS PERFORMANCES
181-6¼ Chris Day, Montgomery 4/29/81
180-9 Larry Plinski, Montgomery 5/29/82
180-4½ Chris Day, Montgomery 5/24/80
179-1 Chris Day, Montgomery 6/6/81
179-0 Chris Day, Montgomery 4/22/81
178-7 Dennis DeSoto, Santa Rosa 5/30/81
176-11 Dennis DeSoto, Santa Rosa 4/30/81
176-11 Chris Day, Montgomery 6/5/81
176-4½ Chris Day, Montgomery 4/12/80
175-10 Chris Day, Montgomery 5/23/81
(10)
175-6 Chris Day, Montgomery 5/2/81
175-4½ Chris Day, Montgomery 4/24/80
175-4 Chris Day, Montgomery 4/30/80
175-4 Brian Chase, Cardinal Newman 3/31/97
175-1½ Chris Day, Montgomery 4/9/80
175-0 Larry Plinski, Montgomery 5/15/82
174-9 Chris Day, Montgomery 5/30/81
174-5 Chris Day, Montgomery 4/11/81
174-4 Doug Silcox, Vintage 1976
174-4 Chris Day, Montgomery 1980 State
(20)
173-10 Chris Day, Montgomery 3/11/81
173-9 Jeff Faulk (1), Montgomery 5/26/73
173-9 Dane Krogstad, El Molino 5/7/03
173-8 Chris Day, Montgomery 5/15/81
173-8 Dennis DeSoto, Santa Rosa 4/9/81
173-1 Dave Troppy (1), Santa Rosa 5/5/79
173-1 Chris Day, Montgomery 4/26/80
172-6 Dennis DeSoto, Santa Rosa 4/11/81
172-4 Doug Silcox (2), Vintage 3/26/76
172-4 Larry Plinski, Montgomery 5/22/82
(30)
171-10 Chris Day, Montgomery 4/11/81
171-10 Chris Day, Montgomery 5/6/81
171-10 Larry Plinski, Montgomery 4/17/82
171-6 Chris Day, Montgomery 4/16/80
171-4½ Larry Plinski (5), Montgomery 3/22/82
170-9 Dave Albritton, Piner 1976 MOC
170-6 Dane Krogstad (2), El Molino 4/5/03
170-3 Chris Day, Montgomery 1980 NBL finals
170-3 Chris Day, Montgomery 1981 Stanford
169-11 Brian Chase (2), Cardinal Newman 4/27/96
(40)
169-10 Dennis DeSoto, Santa Rosa 4/30//80
168-11 Dave Albritton, Piner 4/24/76
169-10 Brian Smith (1), St. Helena 1971
169-8½ John Balletto (1), Analy 4/27/77
169-8 Dennis DeSoto (6), Santa Rosa 1981 Fresno
169-5 Chris Day, Montgomery 4/1/81
169-0½ Mike Grace (1), Santa Rosa 1965
168-4 Chris Day, Montgomery 6/13/81
168-2 Ken Good (1), Petaluma 1962
168-1 Dave Albritton (3), Piner 4/21/76
168-1 Chris Day (25), Montgomery 5/7/80
(51)
167-11½ Larry Plinski, Montgomery 5/5/82
167-10 Chris Day, Montgomery 3/25/81
167-9 Larry Plinski, Montgomery 5/3/82
167-8 Larry Plinski (8), Montgomery 5/8/82
167-0 Chris Day (27), Montgomery 4/19/80