As of 5/14/21
It's so exciting when a freshman breaks the All-Time freshman record for an event. Thoughts of how much they may break the Redwood Empire record by the end of their senior year start jumping through our heads.
Truth is it is very rare for a freshman record holder to go on and take down the Empire record.
In fact currently no boys hold both the freshman record and the Empire one. On the girls side Santa Rosa's Kirsten Carter holds both for the three sprints (100-400), Sonoma Valley's Mindi Wiley holds them for the high jump and now Maria Carrillo's Lily Mulligan holds both in the pole vault.
Carter wasted little time taking down the 200 meter record in April of her freshman year with a 24.44 -0.3 at the Santa Rosa Twilight meet.
She would continue to lower the freshman and Empire record with a 23.8 +2.6 hand time at the NCS Redwood meet, see photo, and set the still standing freshman record of 24.36 -1.0 at the NCS MOC meet.
Her final lowering of the 200 Empire record would be during her junior year at the State trials in 23.86 +2.6 while her final wind legal Empire record would also be at the State trials during her senior year at 24.18 +0.3.
Carter also took down the 400m Empire record in her freshman year with a win at the NCS MOC meet in 54.24. See here.
The last time she would run the 400 for SRHS she set the current Empire record with a 54.07 at the State finals her senior year, see photo here
In the 100m Carter set the still standing freshman record at the Stanford Invitational with a 12.19 +1.5, falling just 0.05 seconds short of the Empire record.
In the photo below she established her first Empire 100 record her sophomore year at the Viking Classic in 12.11 +2.3.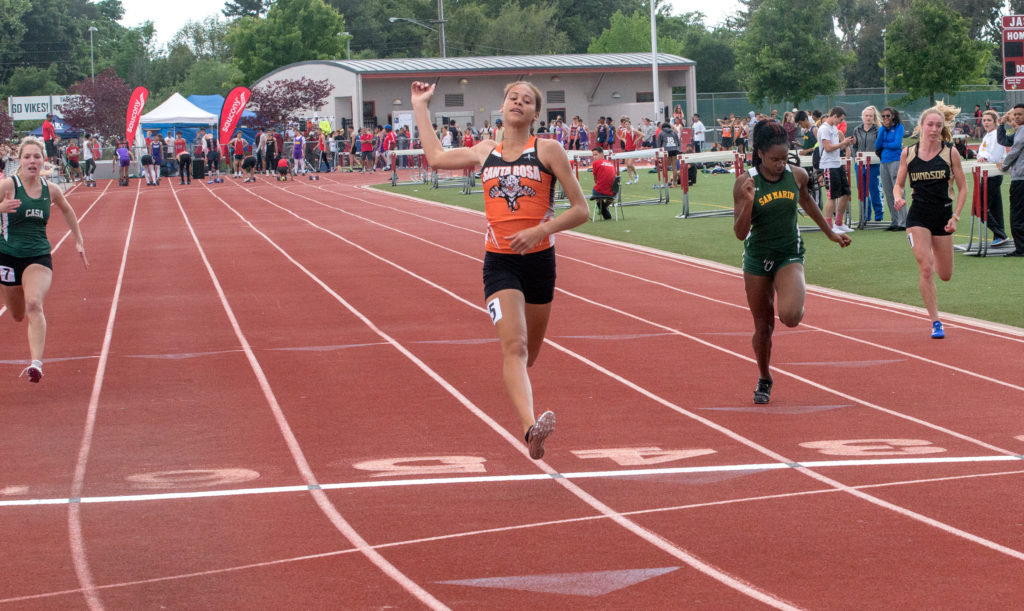 She first took down the wind legal record her junior year at the Santa Rosa Twilight Invitational, below, in 12.02 +0.9.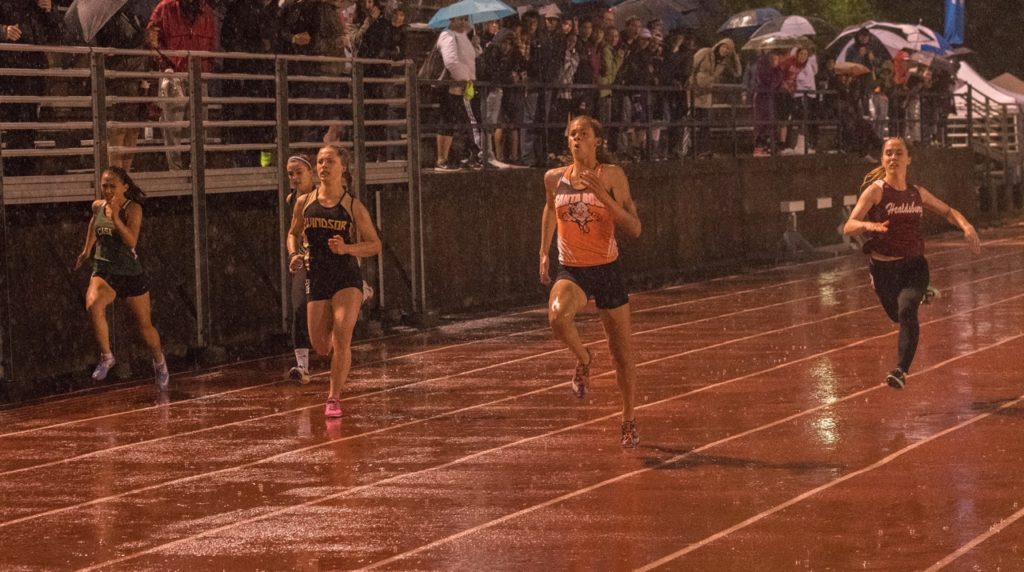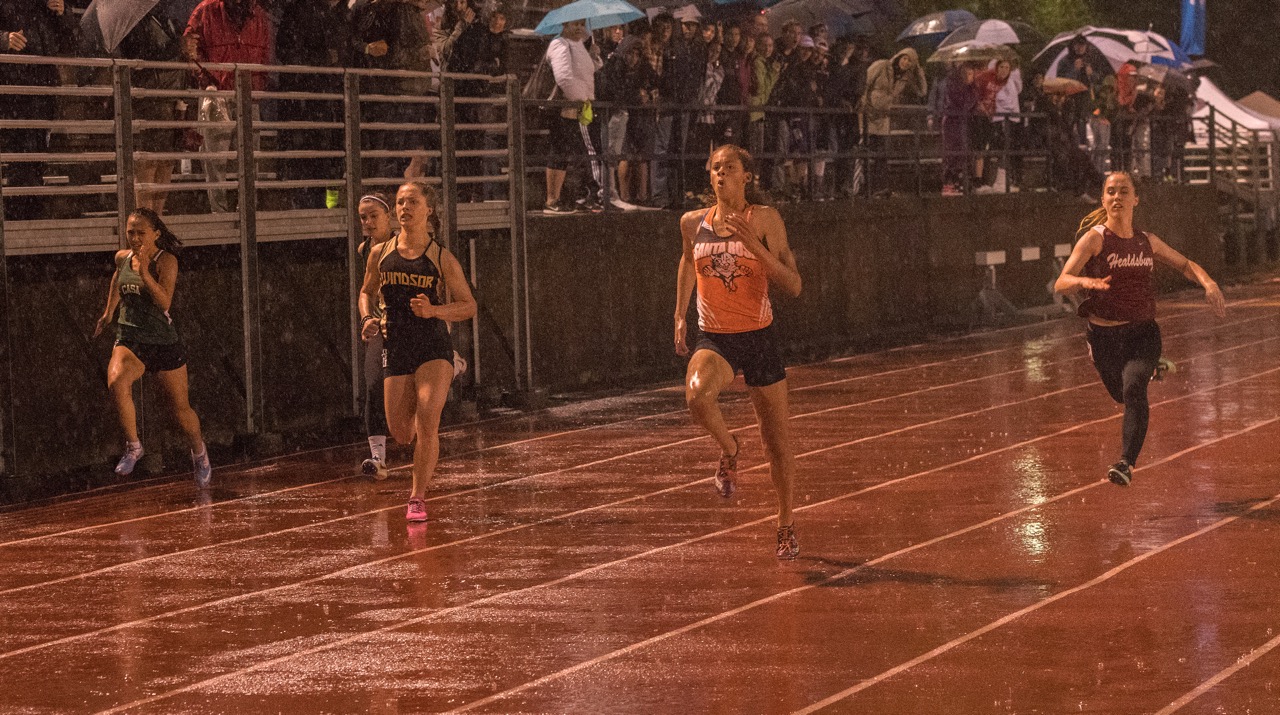 Her first sub 12 would happen at that years NBL trials with a 11.99 +0.9.
At the State meet her junior year she would get her final 200m Empire records with a wind aided 11.78 +2.5 at the trials and a legal 11.87 +1.1 in the finals, see photos.
Wiley destroyed the high jump Empire record as a freshman starting off with a 5-8 jump at the Oakland Relays before upping it to 5-10 jump at the Viking Track Classic.
She increased it to it's current 5-11 mark as a sophomore.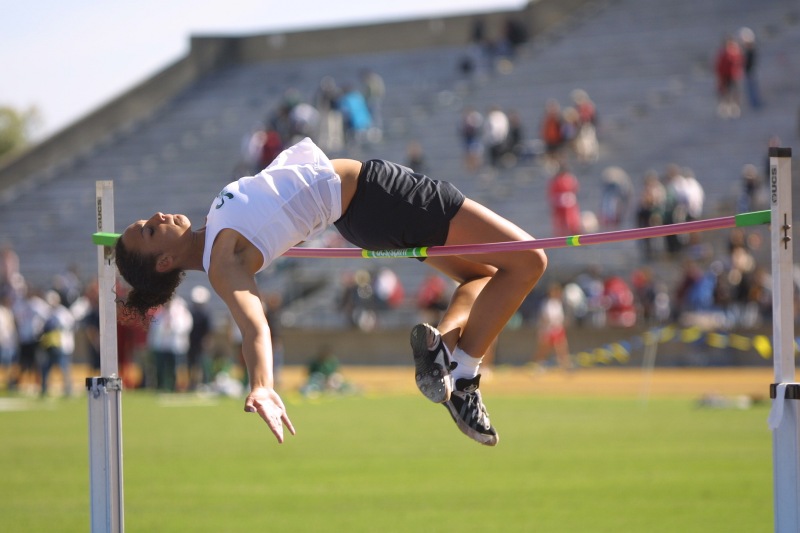 Mulligan literally flew past the freshman Empire record in the pole vault in the nearly non-existent 2020 covid season.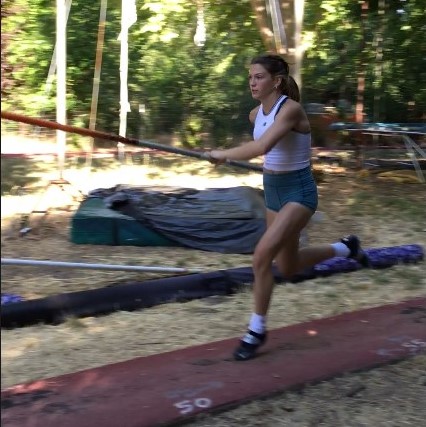 Her 11-8 vault 0n 7/25/20 at the Sky Jumpers competition added over a foot to the old freshman mark of 10-2 by Emely Flores of Santa Rosa from 2001, video of Mulligan's vault
Flores went on to break the All-Time vault record in 2002 at 11-4 and 2004 at 11-8, with Rancho Cotate's Melissa Adams interrupting her records with a one year hold on the record in 2003 at 11-6.
In 2008 Ursuline's, now Cardinal Newman, Michelle Stone could not even break into the current sophomore top ten with a 9-6 best.
But she broke the Empire record as a junior 11-10 and then as a senior at 12-3.
So far this year Mulligan has already raised that to 12-4 with more than two years left to raise it even more. Here is her 12-4 vault.
Carter (100 & 200) and Wiley (HJ) are the only ones who hold all four class records in an event right now.
Here is an event by event break down.
Boys
100
This event has a lot of question marks to it.
Our fastest boy ever was Montgomery's Mel Gray but he only ran the 100 yards.
I'm unaware of any freshman times for him when he would have been in Junior High.
As a sophomore he ran 9.9 equal to about 11.09 for 100 meters then 9.4 = 10.54 as a senior.
Freshman record is held by American Canyon's Croix Stewart (10.81 +1.6) in the last full season we saw but he has now transferred out of the Redwood Empire.n.
200
Similar in this event.
No freshman marks for Gray but ran Empire records for the 220 around a curve his junior year, 21.7, and then the spectacular National record of 20.7 equal to about 20.82 for 200 meters.
Again the freshman record is held by American Canyon's Croix Stewart at 21.78 and but again he has left our area..
400
Stewart again holds the freshman record here at 49.97.
He broke Maria Carrillo's Dante Hay's 50.72 freshman record but Hay fell well short of the Empire record getting down to 49.92 as a junior.
Way back in the early 70's Santa Rosa's Joe DeDora broke the Empire record in the 440 in 47.9 before going 47.3 as a senior in 1971.
Again no freshman marks for DeDora or current Empire record holder Corey Nelson of Rancho Cotate who holds the record at 46.89.
800
Dante Hay still holds the freshman record here at 1:57.26. He lowered that to 1:52.36 in 2014 for 7th best senior ever.
The record holder is Dan Aldridge of Petaluma 1975 at 1:49.7 for 880 yards or 1:49.31 for 800m.
Dan not only did not run the 880 as a freshman but he didn't even run track that year.
He broke the sophomore record with a 1:57.4y =1:56.86m which is currently 4th Soph. AT.
1600
Petaluma's Sterling Lockert 4:25.68 2006 holds the freshman record here.
That same year Lower Lake's Mike Perez set the still standing Empire record at 4:09.91.
Sterling would go on to run 4:14.27 for 9th senior All-Time.
Michael as a sophomore placed 8th at the CMC finals in 5:05.42.
3200
Sterling also held the freshman record here at 9:31.48.
Piner's Luis Luna ran 9:44.21 as a freshman in 2011 and went on to set the Empire record at 8:55.43.
El Molino's Brian Schulz now holds the freshman record at 9:27.44.
Brian lowered his best to 9:09.47 for 4th senior All-Time.
110HH
Calistoga's Mike Koellsted ran 14.9 (15.14+) as a freshman back in 1986, still the freshman record.
As a senior he ran 14.52 at the State trials, 14.3 (14.54+) at NCS 1A and 14.77 +1.2 at State finals, watch video, lane 1.
These marks at the time made him Empire record holder for both the wind legal and FAT records but only 8th under all conditions (hand times counted).
In 1996 Chucky Ryan ran 15.53 for Rancho Cotate. Only Koellsted has ever run faster as a freshman.
Ryan's junior year he set the Empire record, then competing for Elsie Allen with 14.06 and 14.13 +0.5 times.
He transferred a third time to out of the Redwood Empire to run 13.73 as a senior.
300IH
This event began in 1984.
Koellsted held the Empire record at 38.9 (39.14+) from 1985 to 1996.
The Empire record is now held by Montgomery's Chris Barnsdale at 38.02 in 1996.
I don't believe Barnsdale ever ran the event as a freshman but was the sophomore record holder at 39.83, current 4th So. AT.
Maria Carrillo's Alex Netherda holds the freshman best at 40.77 from 2012. He went on to run his fastest time ever when he set the junior class record at 38.51.
High Jump
Cloverdale's Craig McMillian could only be stopped by a ruling.
As a freshman he soared to 6-5 in 1981.
In 82 he took down the junior record with a 6-7¼ leap.
Both these class records still stand.
He broke the junior record at 6-9 but was declared ineligible for his senior year because of a basketball tournament he played in.
Not hard to believe he would have taken down the Empire reocord held by Dave Swanson, Analy 1982 at 6-10½.
The Empire record is now held by Piner's Pat Leonard from 1995 at 7-0¼.
He cleared 6-9¼ his junior year but has no known marks as a freshman.
Pole Vault
In 1992 Petaluma's Rene Loraine cleared 12-0 as a freshman.
Second freshman at the time to 12-2 Jim Gash, Rincon Vly JH 1982.
Loraine would go on to set the Empire record at 15-9 in 1995.
The freshman record was later broken at 12-6 by Matt Tillinghast of Montgomery in 2001.
Tillinghast would go on to come close to the Empire record with a 15-7 vault.
Long Jump
In 1982 a boy named Towne of Santa Rosa J.H. set the still standing freshman record at 21-7½ but did not show up as jumping in high school.
No record of Mel Gray jumping as a freshman but destroyed the next three class records for Montgomery going (Sophomore 24-0½ 1965, Junior 24-4¼ 1966 and Senior 25-7¼ 1967).
Triple Jump
Petaluma's Jeff Johnson set the freshman record in 1978 at 43-2¾.
Johnson went on in 1981 to jump 46-3 for current 7th senior All-Time.
That same year teammate Rob McCorkel would set the Empire record at 48-7½ atfer doing 44-9 as a junior in 1980, a mark not among the junior top 10.
Shot Put
Dennis DeSoto went 51-3¾ with the 10lb shot in 1978.
He would destroy the Empire record with a 63-10½ toss for Santa Rosa in 1981.
Brian Chase would destroy the freshman record with the 12lb shot at 53-9¾, competing for Rincon Valley JH in 1994.
He would also break the 10th and 11th grade records ending his career for Cardinal Newman at 61-8.
Discus
Santa Rosa's Travis Baker set the freshman record at 158-0 2008.
His best ever moved him to 6th All-Time junior at 164-0.
The Empire record is held by Bryson Trask of Middletown from 2019 at 181-10.
Girls
800
Casa Grande's Kerri Woolheater burst onto the scene in 1989 at 2:17.13, a freshman record at the time, now 5th Fr.
By 1992 she set the Empire record at 2:11.71.
Maria Carrillo's Jenny Aldridge topped all freshman with a 2:13.46 time in 1999, but that would be her fastest ever.
1600
In 1994 a freshman, Julia Stamps, at Rincon Valley JH came on the scene running 4:54.42, just 0.15 seconds off the Empire record at the time.
A freshman record everyone was sure would last forever. Of course this is the Redwood Empire and that mark is now only third on the freshman list.
Stamps does still hold the Empire record at 4:42.79.
In 2015 Sonoma Academy's Rylee Bowen earned our freshman record at 4:43.92, but that would end up as her best ever time in that event.
3200
That freshman year Stamps actually concentrated on this event blowing away the Empire record as a freshman at 10:26.51.
Stamps went on to lower the mark all the way to 10:12.20.
Montgomery's Sara Bei kept her from still holding both as she ran 10:11.11 in her senior year of 2001.
100HH
Clear Lake's Trisha White blazed the high's in 15.95 as a freshman in 2000.
She lowered her best the next year to 15.63-7th sophomore AT, but that was also her last year competing.
The Empire record is 14.52 +1.3 by Habibah Sanusi of Maria Carrillo in 2018.
No freshman mark for her but she started out as the 4th Soph ever at 15.50 +0.1.
300LH
Piner's Kyra Johnson holds the freshman record at 46.48 in 2009.
Santa Rosa's Wendi Simmons broke the Empire record her first year running the event as a junior.
She held the record she ran in 1987 at 43.27 for over 30 years.
Johnson came close to breaking that her junior year at 43.32 for her best ever.
Santa Rosa's Kirsten Carter only ran the event a couple of times but her 42.68 in 2018 is the fastest ever. Only season she ran that event.
Long Jump
In this event Carter flew to a freshman record at 18-11 in 2015 but that would be her best ever.
Rancho Cotate's Amey Mitchell held the freshman best at the time at 17-7 and went on to break Simmons Empire record (18-11¼) with a 19-8 in 1990.
Triple Jump
Simmons senior year was the only time she did this event but destroyed the Empire record i 1987 with a 38-10 leap.
Ursuline High Schools Pam Karbowski, now Cardinal Newman, went 36-8½ as a freshman in 1991.
She also holds the sophomore best at 36-10 but that would be her PR in that event.
Shot Put
Sonoma Valley's Melissa Van Paris took up this event as a sophomore, 3rd AT Soph, in 2002 at 39-5½.
She set the Empire record in 2004 at 43-10.
Petaluma's Allison Scranton holds the freshman record at 37-3¾ in 2012. Her best would be as a sophomore, 2nd AT Soph, at 39-10½.
Discus
The freshman record is held by Marissa Wilson in 1995 while at Santa Rosa High at 124-10.
She improved to 126-0 the next year at Montgomery but did not compete final 2 years.
Scranton as a freshman holds the 6th freshman mark ever at 109-6 in 2012 but went on to hold the Empire record at 149-4 from 2015.