Vine Valley Athletic League, history
Sat, Nov 5, 2022 at the 3.0 mile Alston Park course, used since 2018
Casa Grande won both the team and individual titles beating out Vintage for the team title and having their first individual VVAL winner in Isaac Vasquez.
Vasquez won (17:14) by over 8 seconds as he was the Gaucho's first champion since Nicholas Rauch won the NBL in 2014.
Napa's Aidan Smith came in second (17:23) followed by Vintage's Grayson Fyre (17:26).
Casa Grande took the next two spots with Dylan Mainaris (17:30) and Kevin Hansen (17:46).
Photos by Thomas Benjamin
Thomas Benjamins Boys VVAL photos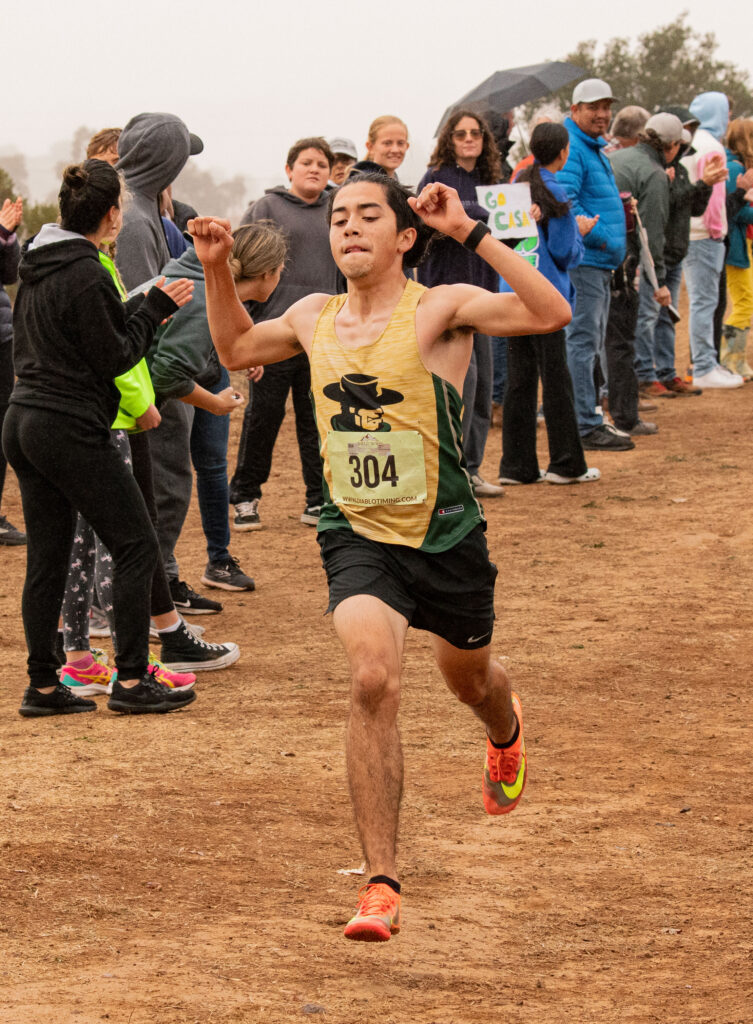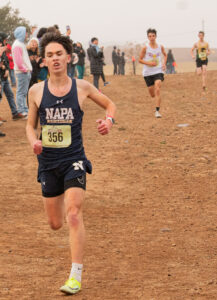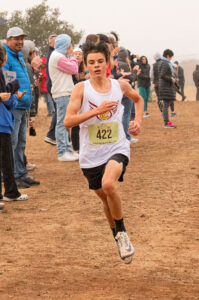 Course Record: 15:27 Nolan Hosbein, Casa Grande 3/17/21,
next 15:51 Guzman Emmanuel, Vintage 10/24/18

Varsity Boys
Final Standings	      Score	Scoring Order	        Total	Avg.	Spread
1	Casa Grande	 35	1-4-5-7-18(23)(24)	1:29:15	17:51	1:28.8
2	Vintage 	 43	3-6-8-11-15(20)(30)	1:30:22	18:05	1:05.0
3	Napa             67	2-9-12-19-25(26)(28)	1:32:04	18:25	1:58.2
4	Petaluma 	 80	10-13-14-16-27(34)	1:33:31	18:43	1:34.2
5	Justin-Siena    133	17-21-29-31-35(36)(37)	1:37:46	19:34	1:40.8
6	American Canyon 164	22-32-33-38-39(40)(41)	1:40:30	20:06	1:44.4
7       Sonoma Valley   Incomplete

        Athlete	        Yr.	#	Team	    Score	Time	Gap	Avg. Mile
1	Vasquez, Isaac	SR	304	Casa Grande     1	17:13.4	---	5:44.4
2	Smith, Aidan	SR	356	Napa (NC)	2	17:23.0	8.6	5:47.6
3	Fyre, Grayson	SO	422	Vintage (NC)	3	17:26.0	11.6	5:48.6
4	Mainaris, Dylan	SO	303	Casa Grande 	4	17:29.8	16.4	5:49.9
5	Hansen, Kevin	9	299	Casa Grande 	5	17:45.9	32.5	5:55.3
6	Durfee, Collin	SR	419	Vintage (NC)	6	18:01.6	48.2	6:00.5
7	Comella, Ryan	JR	294	Casa Grande     7	18:03.1	49.7	6:01.0

8	Rutherford, Aiden SR	433	Vintage (NC)	8	18:06.3	52.9	6:02.1
9	Palafox, Cruz	JR	353	Napa (NC)	9	18:10.6	57.2	6:03.5
10	Bloom, Max	SR	370	Petaluma (NC)	10	18:12.1	58.7	6:04.0
11	Arango, Valentin SO	414	Vintage (NC)	11	18:17.3	1:03.9	6:05.7
12	Massey, Noah	SR	348	Napa (NC)	12	18:24.5	1:11.1	6:08.2
13	Gutierrez, Javier SR	377	Petaluma (NC)	13	18:27.5	1:14.1	6:09.1
14	Somoff, Raymond	JR	392	Petaluma (NC)	14	18:27.6	1:14.2	6:09.2

15	Eichner, Theodore 9	420	Vintage (NC)	15	18:31.0	1:16.6	6:10.3
16	Paisley, Miles	SR	385	Petaluma (NC)	16	18:37.5	1:24.1	6:12.5
17	Wang, Cameron	SR	332	Justin-Siena    17	18:42.0	1:27.6	6:14.0
18	Goli, Srihan	SO	298	Casa Grande 	18	18:42.1	1:28.7	6:14.0
19	Ortiz, Uriel	SR	352	Napa (NC)	19	18:44.2	1:30.8	6:14.7
20	Heffner, Jack	SO	423	Vintage (NC)	20	18:48.8	1:35.4	6:16.3
21	Eierman, Peter	SO	324	Justin-Siena 	21	18:50.9	1:37.5	6:16.9
22	Barajas, Emanuel SR	259	American Canyon	22	18:54.4	1:41.0	6:18.1
23	Lichti, Benton	9	302	Casa Grande 	23	18:58.4	1:45.0	6:19.4
24	Dufour, Jack	9	295	Casa Grande 	24	19:04.9	1:51.5	6:21.6
25	McGrath, Finn	JR	349	Napa (NC)	25	19:21.1	2:07.7	6:27.0
26	Pijanowski, Jean-Luc JR	354	Napa (NC)	26	19:37.6	2:24.2	6:32.5
27	Larimore, Adrian SR	383	Petaluma (NC)	27	19:46.3	2:32.9	6:35.4
28	Rojas, Isaiah	SO	355	Napa (NC)	28	19:48.8	2:35.4	6:36.3
29	Paulson, Wyatt	JR	329	Justin-Siena    29	19:51.1	2:37.7	6:37.0
30	Cullinane, Brody 9	417	Vintage (NC)	30	19:56.3	2:42.9	6:38.7
31	Green, Shane	SO	326	Justin-Siena 	31	19:59.3	2:45.9	6:39.8
32	Soto, Moises	SR	273	American Canyon	32	20:09.4	2:56.0	6:43.1
33	Ivan Cruz, Arch	SO	265	American Canyon	33	20:09.6	2:56.2	6:43.2
34	Hicks, Aidan	SR	378	Petaluma (NC)	34	20:12.8	2:59.4	6:44.3
35	Carey, Jack	SR	322	Justin-Siena 	35	20:22.7	3:09.3	6:47.6
36	Reber, Ryan	9	330	Justin-Siena 	36	20:28.1	3:14.7	6:49.3
37	Fortner, Owen	SR	325	Justin-Siena 	37	20:36.7	3:23.3	6:52.2
38	H. Agudelo, Josue JR	264	American Canyon 38	20:37.1	3:23.7	6:52.3
39	Tonsager, Jaden	SO	275	American Canyon 39	20:38.8	3:25.4	6:52.9
40	Leslie, Preston	SO	266	American Canyon	40	20:53.0	3:38.6	6:57.7
41	Venzon, Demetrius 9	277	American Canyon 41	21:44.2	4:30.8	7:14.7

JV Boys
1	Napa 	         22	2-3-4-5-8(10)(24)	1:38:00	19:36	0:58.9
2	Vintage 	 45	6-7-9-11-12(18)(22)	1:41:39	20:20	0:41.3
3	Petaluma  	 61	1-13-14-16-17(25)(29)	1:42:42	20:33	1:49.8
4	Justin-Siena    112	15-19-23-27-28(33)	1:49:59	22:00	2:11.9
5	American Canyon	128	20-21-26-30-31(32)(34)	1:54:05	22:49	2:53.4

1	Pomeroy-Roney, Max 9	386	Petaluma (NC)	1	19:10.3	---	6:23.4
2	Moore, Jack	9	351	Napa (NC)	2	19:10.6	.3	6:23.5
3	Kem, Nathra	JR	301	Casa Grande (NC)--	19:14.7	4.4	6:24.9
4	Hoskins, Victor	9	346	Napa (NC)	3	19:15.2	4.9	6:25.1
5	Butler, Ryan	SO	342	Napa (NC)	4	19:39.7	29.4	6:33.2
6	Duffield, Carlos 9	397	Sonoma Valley (NC)--	19:41.7	31.4	6:33.9
7	Heiser, Walter	9	345	Napa (NC)	5	19:44.5	34.2	6:34.8

8	Sanchez, Diego	JR	430	Vintage (NC)	6	19:58.5	48.2	6:39.5
9	Borrayo, Angel	9	416	Vintage (NC)	7	20:01.1	50.8	6:40.3
10	Koehler, Seth	9	347	Napa (NC)	8	20:09.4	59.1	6:43.1
11	Ewig, Eli	9	421	Vintage (NC)	9	20:20.8	1:10.5	6:46.9
12	Garcia, Victor	JR	296	Casa Grande (NC)--	20:33.3	1:23.0	6:51.1
13	Gonzalez Hernandez, Andres 9 344 Napa (NC)	10	20:33.8	1:23.5	6:51.2
14	Joshua, Miles	SO	424	Vintage (NC)	11	20:38.2	1:27.9	6:52.7

15	Soriano, Luis	SR	426	Vintage (NC)	12	20:39.8	1:29.5	6:53.2
16	Tallent, Masato	9	394	Petaluma (NC)	13	20:44.9	1:34.6	6:54.9
17	Josue Juarez, Carreno JR 380	Petaluma (NC)	14	20:49.8	1:39.5	6:56.6
18	Jamison, Jack	9	327	Justin-Siena (NC) 15	20:52.1	1:41.8	6:57.3
19	Abercrombie, Everett JR	369	Petaluma (NC)	16	20:56.3	1:46.0	6:58.7
20	Putman, Leo	SR	387	Petaluma (NC)	17	21:00.0	1:48.7	7:00.0
21	Luna, Nathan	JR	429	Vintage (NC)	18	21:19.2	2:08.9	7:06.4
22	Robertis, Matteo SO	331	Justin-Siena (NC) 19	21:21.2	2:10.9	7:07.0
23	Phillips, Jacob	JR	268	American Canyon (NC) 20	21:26.5	2:16.2	7:08.8
24	Tomaneng, Jaron	9	274	American Canyon (NC) 21	21:38.0	2:26.7	7:12.7
25	Tenbrook, Dylan	FR	431	Vintage (NC)	22	21:38.3	2:28.0	7:12.8
26	beckstoffer, john 9	321	Justin-Siena (NC) 23	21:43.2	2:32.9	7:14.4
27	Mizuno, Dagon	9	350	Napa (NC)	24	21:52.6	2:42.3	7:17.5
28	Kwei, Matthew	JR	382	Petaluma (NC)	25	22:40.0	3:28.7	7:33.3
29	Calderon, Aaron	9	343	Napa (NC)	--	22:43.2	3:32.9	7:34.4
30	Schmaling, Matthew 9	272	American Canyon (NC) 26	22:48.3	3:38.0	7:36.1
31	Ajayi, Ademola	9	292	Casa Grande (NC)--	22:58.3	3:48.0	7:39.4
32	Ye, Bobby	JR	333	Justin-Siena (NC) 27	22:58.7	3:48.4	7:39.5
33	Duffy, Oliver	SO	323	Justin-Siena (NC) 28	23:03.9	3:53.6	7:41.3
34	Lowell, Brady	JR	428	Vintage (NC)	--	23:05.2	3:54.9	7:41.7
35	Title, Casey	9	435	Vintage (NC)	--	23:16.9	4:06.6	7:45.6
36	Hicks, Justin	JR	379	Petaluma (NC)	29	23:32.6	4:22.3	7:50.8
37	Talbot, Jayce	9	434	Vintage (NC)	--	23:35.2	4:24.9	7:51.7
38	Brito, Mason	SO	261	American Canyon (NC) 30	23:52.3	4:42.0	7:57.4
39	Reyes, Ryland	9	270	American Canyon (NC) 31	24:19.9	5:09.6	8:06.6
40	DeYoung, Soren	SO	418	Vintage (NC)	--	24:27.1	5:16.8	8:09.0
41	Rigney, Jason	SR	388	Petaluma (NC)	--	25:05.5	5:55.2	8:21.8
42	Saelee, Nathan	SR	271	American Canyon (NC) 32	25:24.4	6:14.1	8:28.1
43	Lewis, Ethan	SO	427	Vintage (NC)	--	25:26.9	6:16.6	8:29.0
44	Street, William	9	393	Petaluma (NC)	--	25:27.4	6:17.1	8:29.1
45	Dietz, Isaiah	9	375	Petaluma (NC)	--	25:33.4	6:23.1	8:31.1
46	Rice, Aiden	9	432	Vintage (NC)	--	26:24.1	7:13.8	8:48.0
47	Walsh, Dominic	JR	358	Napa (NC)	--	27:01.8	7:51.5	9:00.6
48	Michalek, Alexandr 9	328	Justin-Siena (NC) 33	27:49.1	8:38.8	9:16.4
49	Sandborn, Aiden	JR	390	Petaluma (NC)	--	28:21.9	9:11.6	9:27.3
50	Dhaliwal, Taran	9	262	American Canyon (NC) 34	29:11.5	10:01.2	9:43.8
51	Toor, Amajot	9	276	American Canyon (NC)--	30:34.9	11:24.6	10:11.6
52	Giroux, Thomas	9	297	Casa Grande (NC)--	30:52.7	11:42.4	10:17.6
53	Bazan, Alexander SO	415	Vintage (NC)	--	31:33.6	12:23.3	10:31.2