CIF State Cross Country Championships
November 26, 2022 Woodward Park 5K Course, Fresno CA


Montgomery sophomore Hanne Thomsen made it two in a row to win the division III State title in 17:13.
This gives her the opportunity to be one of the few girls to ever win four state cross country titles, first done by Viking Sara Bei.
Teammate Seelah Kittelstrom turned in a stellar performance herself placing sixteenth in a very fast 18:36.
With Amrie Lacefield 19:16 performance the Viking trio had the three fastest times of all the Redwood Empire girls.
Hope Martin and Serena Karres helped give the Montgomery team a 7th place finish.
Video interview Hanne Thomsen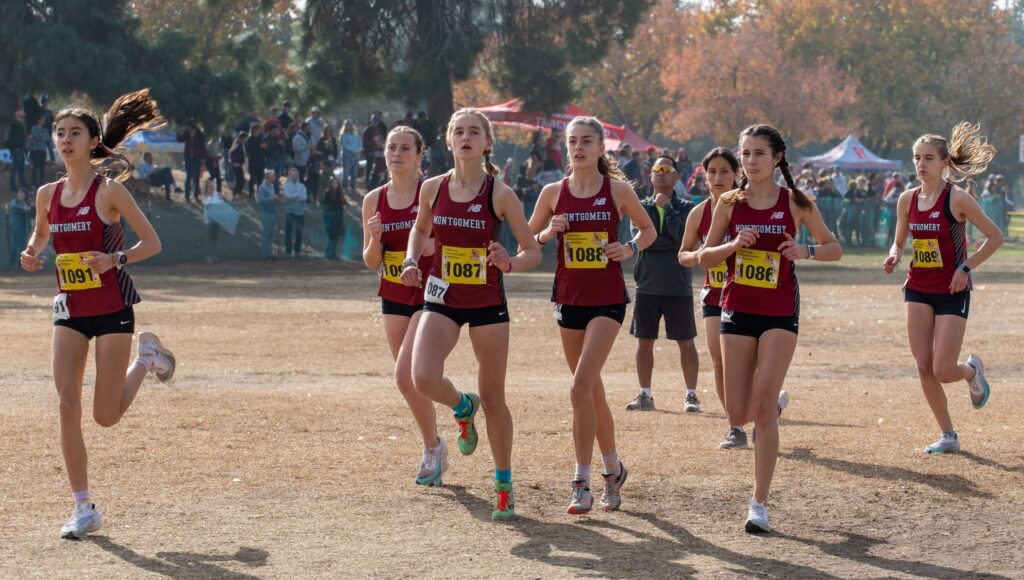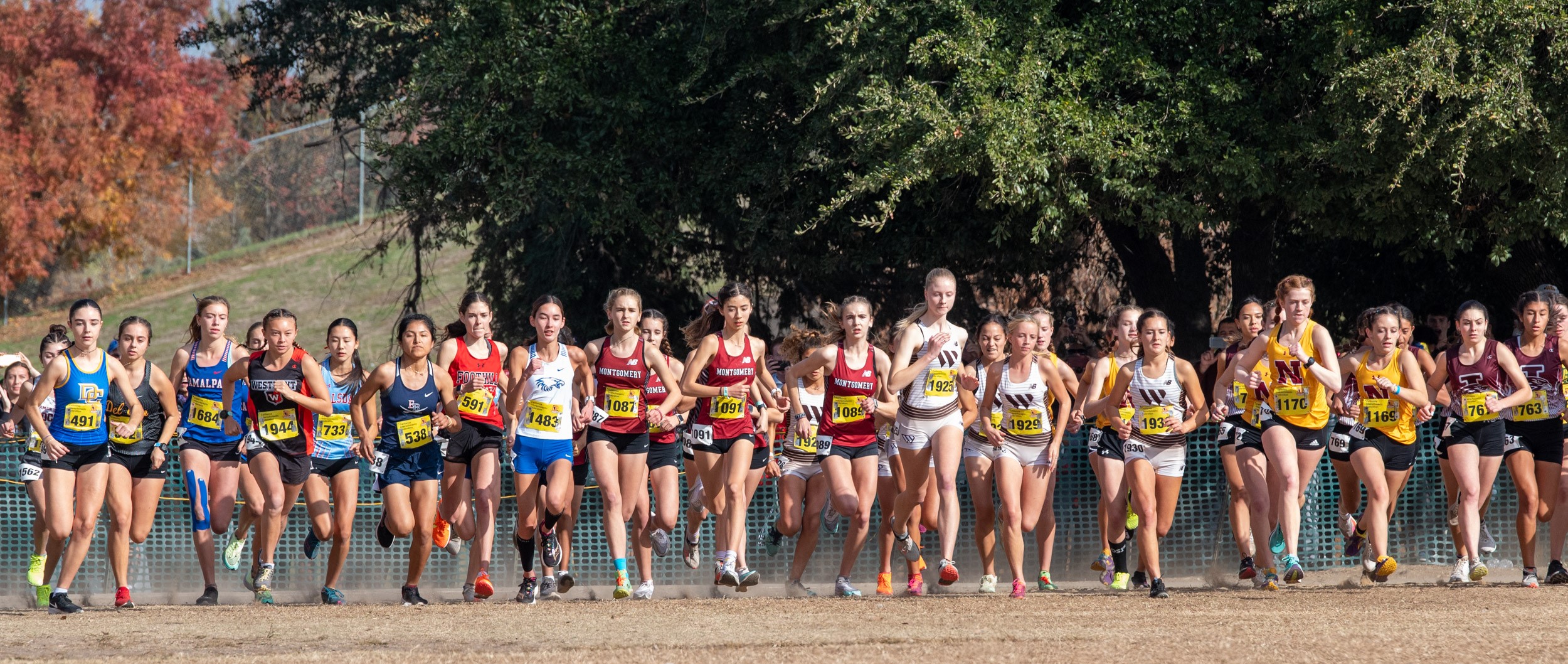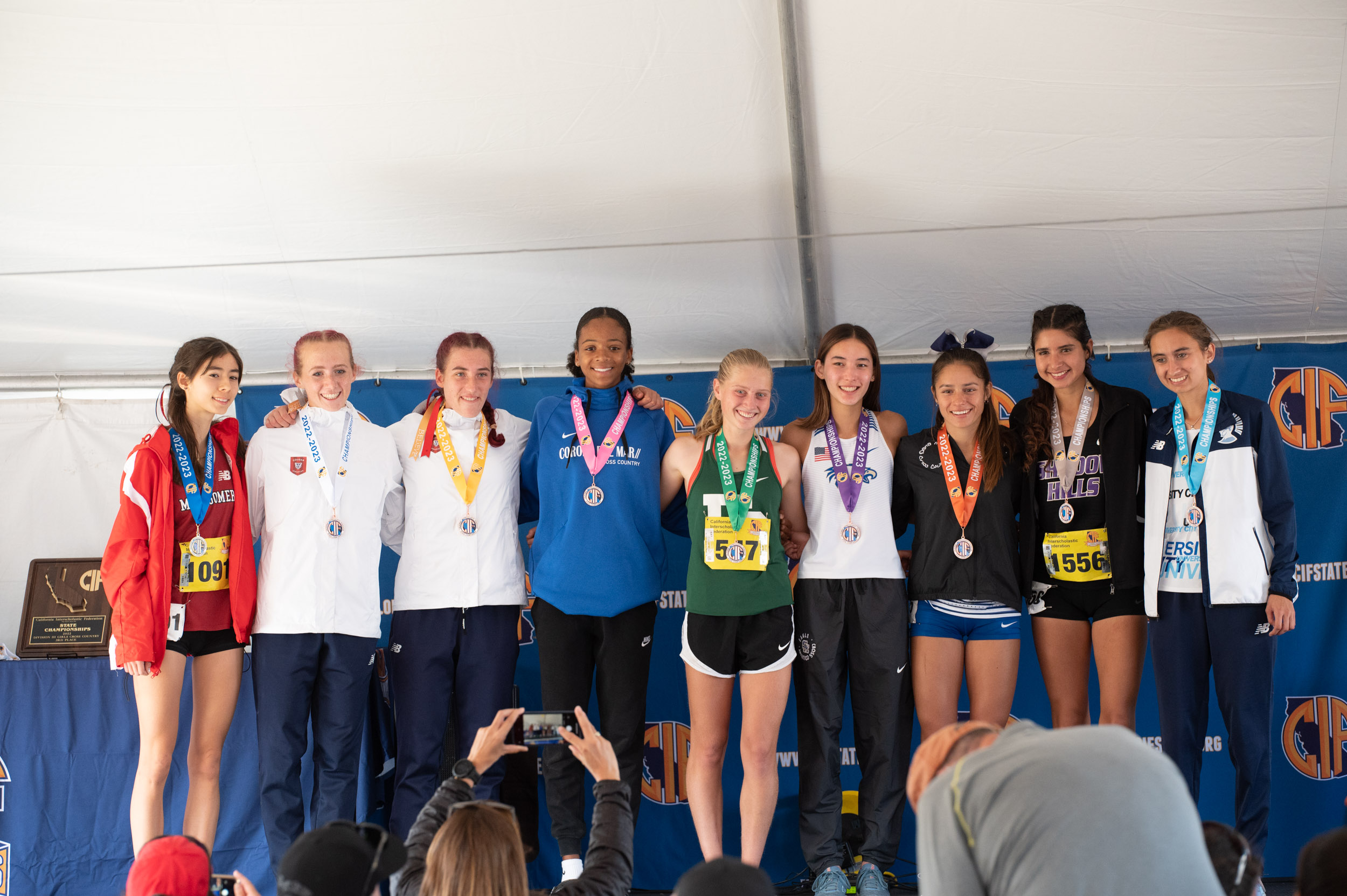 The Maria Carrillo team also gave the Empire another top 15 finish led by Rebekah Taylor in 19:50 and Gracie Trenam in 19:53.
Petaluma's Reilly Kreutz ran 20:06 in the same race.
In the division V race Cardinal Newman's Siena Brunetti ran 19:50 for the 4th best time by an Empire girl.
All Photos by Brian Tucker
More photos

Top Empire by time
10	Hanne Thomsen		17:13	Montgomery
10	Seelah Kittelstrom	18:36	Montgomery, =30th All-Time Woodward Park
10	Amrie Lacefield		19:16	Montgomery
12	Siena Brunetti		19:50	Cardinal Newman
12	Rebekah Taylor		19:50	Maria Carrillo
11	Gracie Trenam		19:53	Maria Carrillo
11	Reilly Kreutz		20:06	Petaluma

12	Hope Martin		20:17	Montgomery
11	Kira Moe		20:41	Maria Carrillo
10	Brooke Szczekocki	20:43	Maria Carrillo
9	Isabelle Gross		20:49	Maria Carrillo
12	Carmen Jimenez		21:01	Maria Carrillo
11	Nola McGarva		21:44	Maria Carrillo
9	Serena Karres		21:58	Montgomery
10	Sydney Stroud		24:27	Montgomery
10	Rikki Vargas		26:34	Montgomery

Montgomery     1:37:20
Maria Carrillo 1:41:56



Seelah Kittelstrom




Amrie Lacefield




Siena Brunetti




L-R Gracie Trenam, Rebekah Taylor




Reilly Kreutz




Hope Martin




Montgomery




Maria Carrillo



Top Empire by place
1.	10	Hanne Thomsen		Montgomery
16.	10	Seelah Kittelstrom	Montgomery
38.	12	Siena Brunetti		Cardinal Newman
42.	10	Amrie Lacefield		Montgomery
72.	12	Rebekah Taylor		Maria Carrillo
74.	11	Gracie Trenam		Maria Carrillo
89.	11	Reilly Kreutz		Petaluma

97.	12	Hope Martin		Montgomery
119.	11	Kira Moe		Maria Carrillo
121.	10	Brooke Szczekocki	Maria Carrillo
124.	9	Isabelle Gross		Maria Carrillo
142.	12	Carmen Jimenez		Maria Carrillo
162.	11	Nola McGarva		Maria Carrillo
171.	9	Serena Karres		Montgomery
204.	10	Sydney Stroud		Montgomery
211.	10	Rikki Vargas		Montgomery

7.  Montgomery     253
15. Maria Carrillo 392

State Meet Bests
By division
By school
By year
By time for Woodward Park, Fresno

Division III
Final Standings	             Score	Scoring Order	                Total
1	Campolindo -NC-3	63	3-4-11-22-23(32)(42)	        1:32:08
2	Cathedral Catholic -SD-3 128	18-20-26-28-36(59)(70)	        1:35:24
3	University City -SD-3	130	8-16-17-44-45(88)(92)	        1:35:13
4	Dana Hills -S-3	        172	6-9-48-53-56(66)(85)	        1:36:03
5	Willow Glen -CC-3	205	31-33-34-39-68(107)(125)	1:37:41
6	South Torrance -S-3	235	21-27-37-63-87(108)(120)	1:38:02
7	Montgomery -NC-3	253	1-13-30-73-136(164)(171)	1:37:18
8	La Costa Canyon -SD-3	255	2-15-43-81-114(123)(128)	1:37:31
9	Sage Creek -SD-3	263	19-24-65-76-79(102)	        1:38:40
10	Ponderosa -SJ-3	        328*	35-47-67-82-97(106)(151)	1:40:21
11	Yorba Linda -S-3	328*	12-41-69-89-117(124)(143)	1:40:02
12	Northgate -NC-3	        331	25-51-71-75-109(115)(149)	1:40:26
13	Shadow Hills -S-3	355	7-38-78-113-119(122)(137)	1:40:32
14	West Torrance -S-3	380	49-72-74-91-94(105)(126)	1:41:32
15	Maria Carrillo -NC-3	392	52-54-93-95-98(112)(129)	1:41:55
16	Placer -SJ-3	        396	14-64-77-103-138(147)(170)	1:42:00
17	Corona del Mar -S-3	398	5-58-84-121-130(135)(140)	1:41:32
18	Moorpark -S-3	        410	40-83-86-100-101(110)(111)	1:42:05
19	Leland -CC-3	        478	50-80-90-127-131(146)(168)	1:44:10
20	Chico -N-3	        489	61-62-99-133-134(139)(156)	1:44:35
21	Lowell -SF-3	        496	10-96-104-142-144(148)(150)	1:44:33
22	Independence -C-3	522	29-60-116-158-159(160)(165)	1:47:25
23	El Dorado -SJ-3	        552	46-55-141-153-157(161)	1:48:12
24	Wasco -C-3	        629	57-118-145-154-155(166)(167)	1:50:08
25	Bernstein (Helen) -LA-3	778	132-152-162-163-169(172)	1:58:18

*Tiebreakers
Ponderosa -SJ-3	35	47	67	82	97	106	151
Yorba Linda -S-3	12	41	69	89	117	124	143

        Athlete	        Yr.	#	Team	            Score	Time	Gap  Avg. Mile	1mi	        2.1mi
1	THOMSEN, Hanne	SO	1091	Montgomery -NC-3	1	17:12.8	---	5:32.1	5:23.0 (1)	11:43.5 (1)
2	LOPIZZO, Gioana	JR	818	La Costa Canyon -SD-3	2	17:41.5	28.7	5:41.3	5:23.0 (2)	11:56.2 (2)
3	BUCKLEY, Ellie	SR	196	Campolindo -NC-3	3	17:53.9	41.1	5:45.3	5:26.9 (5)	11:56.2 (3)
4	VOLKMER, Shea	JR	201	Campolindo -NC-3	4	17:56.3	43.5	5:46.1	5:27.0 (6)	12:05.2 (5)
5	DJOMBY ENYAWE, Melisse JR 423	Corona del Mar -S-3	5	17:59.6	46.8	5:47.1	5:30.5 (10)	12:18.9 (9)
6	STACEY, Amelia	SR	547	El Cerrito -NC-3	--	18:03.4	50.6	5:48.3	5:34.6 (13)	12:17.9 (7)
7	POLAY, Sophie	SO	1483	Santa Margarita -S-3	--	18:07.5	54.7	5:49.7	5:27.5 (8)	12:18.8 (8)

8	MARKOW, Allura	SR	465	Dana Hills -S-3	        6	18:08.4	55.6	5:49.9	5:24.1 (4)	12:01.1 (4)
9	LOPEZ, Marjourie SR	1556	Shadow Hills -S-3	7	18:11.0	57.2	5:50.8	5:24.0 (3)	12:13.1 (6)
10	MORITZ, Winter	JR	1767	University City -SD-3	8	18:19.8	1:07.0	5:53.6	5:39.1 (25)	12:34.4 (16)
11	IVARSSON, Annie	SO	463	Dana Hills -S-3	        9	18:23.1	1:10.3	5:54.7	5:35.9 (19)	12:33.6 (14)
12	HOLMAN, Jacqueline SR	931	Lowell -SF-3	        10	18:23.4	1:10.6	5:54.8	5:34.7 (15)	12:32.7 (13)
13	MOEN, Rachel	JR	200	Campolindo -NC-3	11	18:25.3	1:12.5	5:55.4	5:37.0 (20)	12:30.2 (12)
14	HOORNAERT, Kylie SO	1343	Prospect -CC-3	        --	18:26.6	1:13.8	5:55.8	5:27.1 (7)	12:26.2 (11)

15	ROME, Sydney	SR	2012	Yorba Linda -S-3	12	18:30.5	1:17.7	5:57.0	5:30.6 (11)	12:25.7 (10)
16	KITTELSTROM, Seelah SO	1087	Montgomery -NC-3	13	18:35.5	1:22.7	5:58.7	5:45.5 (35)	12:39.1 (19)
17	AMEZCUA, Aariana SR	507	Don Lugo -S-3	        --	18:38.6	1:25.8	5:59.7	5:35.8 (18)	12:34.8 (18)
18	OSORIO, Becky	FR	1916	West Covina -S-3	--	18:38.9	1:26.1	5:59.8	5:35.1 (17)	12:34.5 (17)
19	SOARES, Anna	JR	1314	Placer -SJ-3	        14	18:39.5	1:26.7	6:00.0	5:55.0 (70)	12:52.0 (33)
20	BIESINGER, Sophia SR	813	La Costa Canyon -SD-3	15	18:41.7	1:28.9	6:00.7	5:28.6 (9)	12:34.4 (15)
21	O'BEIRNE, Jenna	SR	1768	University City -SD-3	16	18:43.5	1:30.7	6:01.2	5:39.5 (26)	12:39.1 (20)

22	RAY, Darcy	SO	1769	University City -SD-3	17	18:49.0	1:35.2	6:03.0	5:38.9 (23)	12:43.2 (22)
23	BONOMI, Chiara	SO	262	Cathedral Catholic -SD-3	18	18:49.8	1:37.0	6:03.3	5:31.0 (12)	12:45.1 (24)
24	LEUPOLD, Malia	SR	1416	Sage Creek -SD-3	19	18:51.3	1:38.5	6:03.7	5:39.1 (24)	12:46.2 (27)
25	THOMAS, Alahna	FR	1484	Santa Margarita -S-3	--	18:51.3	1:38.5	6:03.8	5:43.0 (34)	12:53.0 (34)
26	MARTIN, Scarlett	JR	265	Cathedral Catholic -SD-3	20	18:51.4	1:38.6	6:03.8	5:40.3 (30)	12:45.4 (25)
27	VILLAREAL, Abygail	JR	324	Citrus Hill -S-3	--	18:53.4	1:40.6	6:04.4	5:48.1 (45)	12:47.7 (29)
28	ESPONDA, Chloe	JR	1588	South Torrance -S-3	21	18:55.0	1:41.2	6:04.9	5:34.8 (16)	12:44.0 (23)
29	MCCOOL, Caroline	SR	199	Campolindo -NC-3	22	18:55.4	1:42.6	6:05.1	5:40.1 (29)	12:45.5 (26)
30	KABENINA, Kate	JR	198	Campolindo -NC-3	23	18:57.1	1:44.3	6:05.6	5:38.4 (22)	12:51.3 (32)
31	BARNES, Ellery	JR	1683	Tamalpais -NC-3	--	19:03.6	1:50.8	6:07.7	5:45.8 (37)	12:50.9 (31)
32	SCUBA, Kaya	JR	1419	Sage Creek -SD-3	24	19:05.4	1:52.6	6:08.3	5:40.3 (31)	12:47.7 (30)
33	MALLOY, Megan	SR	1172	Northgate -NC-3	25	19:05.8	1:53.0	6:08.4	5:48.8 (47)	13:04.8 (42)
34	PENA, Alexandria	JR	266	Cathedral Catholic -SD-3	26	19:08.6	1:55.8	6:09.3	5:34.6 (14)	12:41.5 (21)
35	KIRA, Karissa	SO	1590	South Torrance -S-3	27	19:08.6	1:55.8	6:09.3	5:47.3 (41)	13:00.2 (37)
36	PERRY, Frannie	SO	68	Atascadero -C-3	--	19:08.8	1:56.0	6:09.4	5:47.2 (40)	12:54.5 (35)
37	RALL, Keira	SR	267	Cathedral Catholic -SD-3	28	19:09.6	1:56.8	6:09.6	5:40.0 (28)	12:47.2 (28)
38	DEVLIN, Eva	SR	1625	St. Ignatius -CC-3	--	19:10.1	1:57.3	6:09.8	5:54.1 (63)	13:07.4 (45)
39	FMURA, Kassidy	SR	1185	Oakdale -SJ-3	--	19:12.8	2:00.0	6:10.7	5:39.7 (27)	13:00.4 (38)
40	BALTAZAR, Elena	SR	763	Independence -C-3	29	19:14.1	2:01.3	6:11.1	5:57.9 (83)	13:13.0 (55)
41	CORLISS, Jasmine	SO	591	Foothill (PC) -N-3	--	19:14.9	2:02.1	6:11.3	5:51.1 (55)	13:01.4 (39)
42	LACEFIELD, Amrie	SO	1088	Montgomery -NC-3	30	19:15.4	2:02.6	6:11.5	5:51.9 (59)	13:05.6 (43)
43	CHESAREK, Taylor	SO	1979	Willow Glen -CC-3	31	19:15.9	2:03.1	6:11.7	5:51.8 (58)	13:11.8 (52)
44	WEBERSKI, Makena	JR	202	Campolindo -NC-3	32	19:18.8	2:06.0	6:12.6	5:37.7 (21)	12:56.2 (36)
45	RIGGS, Isabella	SO	1983	Willow Glen -CC-3	33	19:20.6	2:07.8	6:13.2	5:59.5 (88)	13:12.1 (54)
46	MITCHELL, Tauren	JR	1944	Westmont -CC-3	--	19:22.3	2:09.5	6:13.7	5:53.5 (62)	13:09.6 (48)
47	HERNING, Lola	SO	1981	Willow Glen -CC-3	34	19:23.8	2:11.0	6:14.2	5:50.2 (51)	13:04.0 (40)
48	PAYNE, Addie	SR	1327	Ponderosa -SJ-3	35	19:24.1	2:11.3	6:14.3	5:42.7 (33)	13:11.4 (51)
49	HELLMANN, Patsy	FR	263	Cathedral Catholic -SD-3	36	19:24.1	2:11.3	6:14.3	5:53.4 (61)	13:07.8 (46)
50	NAKAMURA, Audrey	JR	1591	South Torrance -S-3	37	19:28.7	2:15.9	6:15.8	5:49.3 (48)	13:18.6 (62)
51	GARDNER, Emma	SO	1684	Tamalpais -NC-3	--	19:29.1	2:16.3	6:15.9	5:48.0 (44)	13:04.7 (41)
52	FERNANDEZ, Julia	SO	1553	Shadow Hills -S-3	38	19:29.6	2:16.8	6:16.1	5:46.8 (38)	13:05.9 (44)
53	MERRILL, Elizabeth	SO	1560	Shasta -N-3	--	19:32.3	2:19.5	6:16.9	5:56.9 (74)	13:20.5 (63)
54	UNGER, Paige	SR	1984	Willow Glen -CC-3	39	19:32.4	2:19.6	6:17.0	5:54.1 (64)	13:21.0 (67)
55	MAGGIORA, Samantha	SR	1099	Moorpark -S-3	40	19:32.8	2:20.0	6:17.1	5:54.4 (66)	13:12.0 (53)
56	REED, Olivia	SO	2011	Yorba Linda -S-3	41	19:34.0	2:20.2	6:17.5	5:57.8 (82)	13:20.5 (64)
57	AZUINO, Leslie	JR	538	East Bakersfield -C-3	--	19:34.4	2:21.6	6:17.6	5:50.4 (53)	13:14.6 (56)
58	HSIEH, Naia	SO	733	Hillsdale -CC-3	--	19:38.2	2:25.4	6:18.8	5:49.4 (49)	13:16.9 (59)
59	PULLEN, Sloan	SO	197	Campolindo -NC-3	42	19:39.0	2:25.2	6:19.1	5:42.0 (32)	13:10.3 (49)
60	DUYNSTEE, Brianne	FR	815	La Costa Canyon -SD-3	43	19:39.9	2:27.1	6:19.4	5:47.7 (43)	13:17.3 (60)
61	LEWIS-MUSSA, Shemsy	JR	1766	University City -SD-3	44	19:40.0	2:26.2	6:19.4	5:54.8 (68)	13:21.6 (69)
62	DORRESTEIN, Tatiana	JR	1763	University City -SD-3	45	19:40.3	2:27.5	6:19.5	5:55.0 (69)	13:16.4 (58)
63	MAGANA-R, Alejandra	JR	556	El Dorado -SJ-3	46	19:40.7	2:27.9	6:19.6	5:50.6 (54)	13:21.7 (70)
64	SCHOLZ, Sam	SO	1329	Ponderosa -SJ-3	47	19:42.3	2:29.5	6:20.1	6:01.4 (97)	13:20.7 (65)
65	OTT, Zoe	SR	467	Dana Hills -S-3	48	19:43.2	2:30.4	6:20.4	5:51.1 (56)	13:10.9 (50)
66	GUTIERREZ, Angeline	JR	502	Del Oro -SJ-3	--	19:43.7	2:30.9	6:20.6	5:46.9 (39)	13:16.3 (57)
67	WOLFINGER, Alexis	SO	1930	West Torrance -S-3	49	19:43.9	2:31.1	6:20.7	6:00.5 (93)	13:24.9 (72)
68	FORSTER, Maria	SR	848	Leland -CC-3	50	19:45.8	2:33.0	6:21.3	5:59.1 (87)	13:25.0 (73)
69	KOPPER, Ella	JR	1170	Northgate -NC-3	51	19:47.2	2:34.4	6:21.7	5:58.8 (84)	13:31.1 (80)
70	BAWANAN, Brooklyn	FR	549	El Diamante -C-3	--	19:48.7	2:35.9	6:22.2	5:55.8 (72)	13:27.3 (74)
71	GUARDINO, Jessica	SR	1822	Valley Christian -CC-3	--	19:49.4	2:36.6	6:22.4	6:26.8 (163)	13:41.0 (98)
72	TAYLOR, Rebekah	SR	971	Maria Carrillo -NC-3	52	19:50.0	2:36.2	6:22.6	6:05.0 (104)	13:31.8 (82)
73	SCHEER, Paige	JR	468	Dana Hills -S-3	53	19:52.1	2:39.3	6:23.3	5:57.3 (76)	13:29.0 (75)
74	TRENAM, Gracie	JR	972	Maria Carrillo -NC-3	54	19:52.2	2:39.4	6:23.3	5:47.7 (42)	13:08.0 (47)
75	JOHNSON, Lily	JR	554	El Dorado -SJ-3	55	19:54.1	2:41.3	6:23.9	5:50.4 (52)	13:21.5 (68)
76	MURPHY, Cooper	JR	466	Dana Hills -S-3	56	19:56.2	2:43.4	6:24.6	5:49.4 (50)	13:17.9 (61)
77	ALVAREZ, Nieves	SO	1898	Wasco -C-3	57	19:56.8	2:44.0	6:24.8	6:06.8 (108)	13:32.8 (83)
78	DOUGLASS, Bea	SR	424	Corona del Mar -S-3	58	19:57.3	2:44.5	6:25.0	6:07.9 (112)	13:39.1 (91)
79	BASINET, Madelyn	SR	261	Cathedral Catholic -SD-3	59	19:58.2	2:45.4	6:25.3	6:00.0 (90)	13:29.4 (76)
80	FLORES, Natalie	FR	766	Independence -C-3	60	19:58.8	2:46.0	6:25.5	5:51.4 (57)	13:20.9 (66)
81	CSUTORAS, Ava-Marie	SO	300	Chico -N-3	61	19:59.8	2:47.0	6:25.8	5:57.4 (78)	13:40.8 (96)
82	JEFFORDS, Lillian	SO	299	Chico -N-3	62	20:01.2	2:48.4	6:26.2	6:17.1 (144)	13:46.4 (112)
83	WHITMORE, Olivia	SR	1592	South Torrance -S-3	63	20:03.3	2:50.5	6:26.9	6:07.0 (109)	13:36.6 (85)
84	BERGQVIST, Elise	FR	1309	Placer -SJ-3	64	20:03.3	2:50.5	6:26.9	6:12.0 (131)	13:40.1 (94)
85	PETERS, Gabriella	SO	1418	Sage Creek -SD-3	65	20:03.7	2:50.9	6:27.0	5:57.8 (81)	13:31.3 (81)
86	ANDERSON, Tessa	JR	462	Dana Hills -S-3	66	20:04.2	2:51.4	6:27.2	5:54.2 (65)	13:30.8 (79)
87	CLEMENTS, Loralye	SR	1324	Ponderosa -SJ-3	67	20:04.3	2:51.5	6:27.2	5:59.5 (89)	13:39.5 (92)
88	CHASE, Amber	SR	546	El Capitan -SD-3	--	20:04.9	2:52.1	6:27.4	6:03.7 (101)	13:33.4 (84)
89	KREUTZ, Reilly	JR	1296	Petaluma -NC-3	--	20:05.8	2:53.0	6:27.7	5:45.7 (36)	13:24.0 (71)
90	NIETO, Raven	SR	1982	Willow Glen -CC-3	68	20:08.1	2:55.3	6:28.4	6:02.8 (99)	13:38.8 (90)
91	KERIOTIS, Eleni	FR	1129	Nevada Union -SJ-3	--	20:08.2	2:55.4	6:28.5	6:10.8 (122)	13:49.1 (115)
92	LEBRUN, Sydney	JR	2009	Yorba Linda -S-3	69	20:08.9	2:56.1	6:28.7	6:13.6 (137)	13:44.3 (104)
93	HOBROCK, Elaine	SR	264	Cathedral Catholic -SD-3	70	20:14.3	3:01.5	6:30.4	5:57.6 (79)	13:30.0 (78)
94	MCKINNON, Erin	SR	593	Foothill (PC) -N-3	--	20:14.4	3:01.6	6:30.5	6:04.4 (103)	13:45.1 (105)
95	HARLOW, Macey	SR	1169	Northgate -NC-3	71	20:14.5	3:01.7	6:30.5	5:59.0 (85)	13:37.0 (86)
96	DAYTON KREIDE, Alina	JR	1925	West Torrance -S-3	72	20:16.5	3:03.7	6:31.2	5:57.7 (80)	13:40.3 (95)
97	MARTIN, Hope	SR	1089	Montgomery -NC-3	73	20:17.0	3:03.2	6:31.3	6:03.0 (100)	13:42.9 (102)
98	HELOU, Elise	JR	1926	West Torrance -S-3	74	20:17.8	3:05.0	6:31.6	6:01.3 (96)	13:38.5 (89)
99	MANNING, Gabriela	JR	1173	Northgate -NC-3	75	20:19.0	3:05.2	6:32.0	5:59.0 (86)	13:43.7 (103)
100	MIRACCO, Michela	SO	1417	Sage Creek -SD-3	76	20:19.3	3:06.5	6:32.0	6:00.4 (92)	13:46.3 (111)
101	ANDERSON, Riley	FR	1308	Placer -SJ-3	77	20:19.5	3:06.7	6:32.1	6:12.0 (130)	13:48.5 (114)
102	AVILA, Ruby	SO	1552	Shadow Hills -S-3	78	20:20.0	3:06.2	6:32.3	5:54.4 (67)	13:40.0 (93)
103	DOLAN-CARLETON, Belle	SR	1413	Sage Creek -SD-3	79	20:20.3	3:07.5	6:32.4	6:06.1 (106)	13:45.8 (110)
104	SHINMOTO, Maile	FR	852	Leland -CC-3	80	20:20.7	3:07.9	6:32.5	6:00.1 (91)	13:40.9 (97)
105	LARNER, Kira	SR	817	La Costa Canyon -SD-3	81	20:21.2	3:08.4	6:32.7	5:48.7 (46)	13:30.0 (77)
106	SADANG, Jules	SR	1328	Ponderosa -SJ-3	82	20:22.4	3:09.6	6:33.0	6:09.5 (116)	13:47.5 (113)
107	GIBBEL, Kristen	JR	1096	Moorpark -S-3	83	20:22.8	3:10.0	6:33.2	6:12.6 (133)	13:52.3 (117)
108	ROSING, Ellie	SR	427	Corona del Mar -S-3	84	20:24.2	3:11.4	6:33.6	6:08.3 (113)	13:45.2 (108)
109	LEBLANC, Alix	SO	491	Del Campo -SJ-3	--	20:24.5	3:11.7	6:33.7	5:55.6 (71)	13:41.9 (99)
110	LOTT, Quinci	JR	464	Dana Hills -S-3	85	20:24.7	3:11.9	6:33.8	5:57.3 (77)	13:45.6 (109)
111	LAYTON, Jane	JR	1097	Moorpark -S-3	86	20:25.5	3:12.7	6:34.0	5:57.1 (75)	13:37.7 (88)
112	ZUZU, Jenni	SO	1593	South Torrance -S-3	87	20:25.8	3:13.0	6:34.1	6:01.0 (95)	13:42.0 (101)
113	GARCIA, Marie	SR	1764	University City -SD-3	88	20:26.1	3:13.3	6:34.2	5:55.8 (73)	13:45.1 (106)
114	BOYD, Brooke	FR	2006	Yorba Linda -S-3	89	20:28.4	3:15.6	6:35.0	6:01.9 (98)	13:45.1 (107)
115	NAGATANI, Alyssa	FR	850	Leland -CC-3	90	20:32.0	3:18.2	6:36.1	6:04.1 (102)	13:53.0 (118)
116	PAULSON, Ainsley	JR	1929	West Torrance -S-3	91	20:32.2	3:19.4	6:36.2	6:00.8 (94)	13:41.9 (100)
117	RAMIREZ, Sophie	FR	185	Cabrillo (Lompoc) -C-3	--	20:36.3	3:23.5	6:37.5	5:52.1 (60)	13:37.3 (87)
118	HALTER, Olivia	SR	1765	University City -SD-3	92	20:39.5	3:26.7	6:38.5	6:07.8 (111)	13:56.2 (119)
119	MOE, Kira	JR	969	Maria Carrillo -NC-3	93	20:40.2	3:27.4	6:38.8	6:06.3 (107)	13:58.1 (120)
120	KIEFT, Charlotte	FR	1927	West Torrance -S-3	94	20:41.7	3:28.9	6:39.2	6:24.1 (157)	14:10.3 (130)
121	SZCZEKOCKI, Brooke	SO	970	Maria Carrillo -NC-3	95	20:43.0	3:29.2	6:39.7	6:06.0 (105)	13:50.3 (116)
122	MCTRANG, Lois	JR	934	Lowell -SF-3	96	20:46.5	3:33.7	6:40.8	6:07.2 (110)	14:00.8 (121)
123	MCMAHON, Olivia	JR	1326	Ponderosa -SJ-3	97	20:47.7	3:34.9	6:41.2	6:09.7 (117)	14:02.3 (123)
124	GROSS, Isabelle	FR	966	Maria Carrillo -NC-3	98	20:49.0	3:35.2	6:41.6	6:10.4 (119)	14:09.7 (128)
125	CLEMENTE, Dot	SR	297	Chico -N-3	99	20:49.6	3:36.8	6:41.8	6:21.6 (154)	14:11.4 (138)
126	PEREIRA, Addison	JR	1101	Moorpark -S-3	100	20:51.3	3:38.5	6:42.3	6:15.4 (141)	14:11.1 (137)
127	DE LA CRUZ, Olivia	FR	1095	Moorpark -S-3	101	20:52.4	3:39.6	6:42.7	6:13.8 (138)	14:01.7 (122)
128	GERGURICH, Riley	FR	1415	Sage Creek -SD-3	102	20:52.5	3:39.7	6:42.7	6:14.0 (139)	14:10.6 (133)
129	PASSAFIUME, Olivia	SO	1312	Placer -SJ-3	103	20:52.5	3:39.7	6:42.7	6:27.6 (166)	14:15.0 (145)
130	SANDRIDGE, Molly	SR	1393	Reseda -LA-3	--	20:53.2	3:40.4	6:42.9	6:18.1 (146)	14:10.9 (134)
131	WU, Connie	JR	936	Lowell -SF-3	104	20:54.3	3:41.5	6:43.3	6:10.6 (121)	14:03.4 (124)
132	MARTIN, Luisa	SO	1905	Washington -SF-3	--	20:54.3	3:41.5	6:43.3	6:11.8 (128)	14:09.8 (129)
133	LORENZO, Sofia	JR	1928	West Torrance -S-3	105	20:54.7	3:41.9	6:43.4	6:24.1 (156)	14:11.1 (136)
134	GROHS, Elena	JR	1325	Ponderosa -SJ-3	106	20:56.8	3:44.0	6:44.1	6:10.0 (118)	14:06.7 (125)
135	DILBECK, Katelynn	SO	1980	Willow Glen -CC-3	107	20:58.5	3:45.7	6:44.6	6:08.7 (114)	14:07.3 (126)
136	HOFFMAN, Lyndsey	SO	1589	South Torrance -S-3	108	20:59.2	3:46.4	6:44.9	6:11.5 (126)	14:09.6 (127)
137	LEININGER, Lucy	SO	1171	Northgate -NC-3	109	20:59.2	3:46.4	6:44.9	6:25.1 (161)	14:12.1 (140)
138	ALCHIN, Chloe	SR	1317	Pleasant Valley -N-3	--	20:59.6	3:46.8	6:45.0	6:11.0 (123)	14:11.0 (135)
139	LOPP, Leah	SR	1098	Moorpark -S-3	110	20:59.8	3:47.0	6:45.1	6:19.3 (149)	14:15.1 (146)
140	MADOLE, Anne	JR	1904	Washington -SF-3	--	21:00.1	3:47.3	6:45.2	6:11.6 (127)	14:12.3 (142)
141	MCGREGOR, Miriam	SR	1100	Moorpark -S-3	111	21:00.2	3:47.4	6:45.2	6:15.0 (140)	14:10.3 (131)
142	JIMENEZ, Carmen	SR	967	Maria Carrillo -NC-3	112	21:00.5	3:47.7	6:45.3	6:12.0 (132)	14:10.4 (132)
143	GONZALES, Marie Ashley	SR	1554	Shadow Hills -S-3	113	21:05.3	3:52.5	6:46.8	6:13.3 (136)	14:17.8 (149)
144	WOOD, Charlotte	SO	503	Del Oro -SJ-3	--	21:06.5	3:53.7	6:47.2	6:11.5 (125)	14:11.4 (139)
145	DUYNSTEE, Kaylin	JR	816	La Costa Canyon -SD-3	114	21:06.8	3:54.0	6:47.3	6:12.7 (134)	14:14.2 (144)
146	CARCAMO, Elena	FR	1167	Northgate -NC-3	115	21:11.1	3:58.3	6:48.7	6:13.0 (135)	14:12.1 (141)
147	MCLEAN, Trinity	JR	767	Independence -C-3	116	21:11.8	3:59.0	6:48.9	6:10.6 (120)	14:12.5 (143)
148	DALTON, Mackenzie	FR	2007	Yorba Linda -S-3	117	21:19.8	4:07.0	6:51.5	6:20.6 (152)	14:24.2 (151)
149	RAYA, Priscilla	JR	1902	Wasco -C-3	118	21:23.3	4:10.5	6:52.6	6:16.7 (143)	14:18.1 (150)
150	LINVILLE, Destinee	SR	1555	Shadow Hills -S-3	119	21:25.8	4:13.0	6:53.4	6:15.6 (142)	14:31.6 (156)
151	CHO, Alysa	SO	1587	South Torrance -S-3	120	21:26.0	4:12.2	6:53.5	6:18.6 (148)	14:36.3 (159)
152	BEN-ZVI, Mia	FR	421	Corona del Mar -S-3	121	21:26.5	4:13.7	6:53.6	6:28.1 (168)	14:30.7 (155)
153	VINE, Angela	SR	1558	Shadow Hills -S-3	122	21:26.7	4:13.9	6:53.7	6:11.2 (124)	14:17.2 (148)
154	VOGEL, Jessica	JR	1567	Skyline -O-3	--	21:29.4	4:16.6	6:54.6	6:09.5 (115)	14:16.4 (147)
155	STAUBER, Kiera	JR	1906	Washington -SF-3	--	21:29.9	4:17.1	6:54.7	6:11.9 (129)	14:29.0 (153)
156	NELSON, Annie	FR	819	La Costa Canyon -SD-3	123	21:31.4	4:18.6	6:55.2	6:19.9 (150)	14:27.8 (152)
157	HERRADA, Alexandra	SR	2010	Yorba Linda -S-3	124	21:32.0	4:18.2	6:55.4	6:31.4 (172)	14:39.9 (162)
158	CARDOZA, Eva	SO	1978	Willow Glen -CC-3	125	21:35.7	4:22.9	6:56.6	6:28.4 (169)	14:38.3 (161)
159	CARRANZA, Rayna	JR	1924	West Torrance -S-3	126	21:36.3	4:23.5	6:56.8	6:25.1 (160)	14:30.5 (154)
160	PRABHOO, Sonya	JR	851	Leland -CC-3	127	21:40.0	4:26.2	6:58.0	6:24.7 (158)	14:37.5 (160)
161	BIRCHELL, Adria	JR	814	La Costa Canyon -SD-3	128	21:42.7	4:29.9	6:58.9	6:46.5 (194)	14:57.0 (174)
162	MCGARVA, Nola	SR	968	Maria Carrillo -NC-3	129	21:43.6	4:30.8	6:59.1	6:27.2 (165)	14:45.0 (163)
163	HART, Alana	SO	592	Foothill (PC) -N-3	--	21:44.3	4:31.5	6:59.4	6:21.1 (153)	14:33.3 (157)
164	MIKULKA, Mimi	FR	426	Corona del Mar -S-3	130	21:44.6	4:31.8	6:59.5	6:34.9 (175)	14:52.0 (168)
165	SEVEN, Charlotte	JR	1566	Skyline -O-3	--	21:46.7	4:33.9	7:00.1	6:18.2 (147)	14:35.9 (158)
166	DAS, Aria	FR	846	Leland -CC-3	131	21:51.3	4:38.5	7:01.6	6:32.4 (173)	14:51.2 (166)
167	GONZALEZ, Diana	SR	111	Bernstein (Helen) -LA-3	132	21:51.6	4:38.8	7:01.7	6:38.0 (182)	14:50.9 (165)
168	NAVARRETE, Kim	SR	301	Chico -N-3	133	21:51.7	4:38.9	7:01.8	6:26.3 (162)	14:52.7 (169)
169	EDWARDS, Claire	JR	298	Chico -N-3	134	21:52.2	4:39.4	7:01.9	6:37.8 (180)	14:57.1 (175)
170	LAW, Alex	SR	425	Corona del Mar -S-3	135	21:55.5	4:42.7	7:03.0	6:38.0 (181)	15:00.8 (177)
171	KARRES, Serena	FR	1086	Montgomery -NC-3	136	21:57.2	4:44.4	7:03.5	6:35.1 (176)	14:53.4 (172)
172	SALCEDO, Miranda	JR	1557	Shadow Hills -S-3	137	21:59.5	4:46.7	7:04.3	6:25.0 (159)	14:52.8 (170)
173	SORENSON, Keira	JR	268	Central -C-3	--	22:02.2	4:49.4	7:05.1	6:17.5 (145)	14:51.7 (167)
174	QUIRARTE, Esperanza	FR	1313	Placer -SJ-3	138	22:05.4	4:52.6	7:06.1	6:45.3 (193)	15:05.1 (181)
175	BROWN, Rosalie	SO	296	Chico -N-3	139	22:05.5	4:52.7	7:06.2	6:26.9 (164)	14:46.3 (164)
176	JAMES, Brunwyn	SO	2037	Oakland -O-3	--	22:07.6	4:54.8	7:06.9	6:39.7 (185)	15:03.8 (180)
177	CHAMBERS, Ava	SR	422	Corona del Mar -S-3	140	22:13.2	5:00.4	7:08.7	6:30.3 (170)	15:02.8 (179)
178	JOHNSON, Ella	SO	553	El Dorado -SJ-3	141	22:13.6	5:00.8	7:08.8	6:21.8 (155)	14:53.1 (171)
179	JARDINIANO, Reese	SR	932	Lowell -SF-3	142	22:13.9	5:01.1	7:08.9	6:42.2 (188)	15:07.6 (183)
180	FARLEY, MaKenna	JR	2008	Yorba Linda -S-3	143	22:13.9	5:01.1	7:08.9	6:27.8 (167)	15:00.6 (176)
181	SZALVA, Devon	SR	935	Lowell -SF-3	144	22:14.7	5:01.9	7:09.2	6:42.0 (187)	15:07.5 (182)
182	VILLANUEVA, Alexandra	FR	1562	Sherman Oaks CtrES -LA-3	--	22:23.6	5:10.8	7:12.0	6:37.5 (179)	15:00.9 (178)
183	ACEVEDO, Giselle	SO	1897	Wasco -C-3	145	22:26.9	5:14.1	7:13.1	6:20.0 (151)	14:54.3 (173)
184	GANESH, Ameya	JR	849	Leland -CC-3	146	22:33.3	5:20.5	7:15.1	6:40.1 (186)	15:19.3 (186)
185	MUELLER, Grace	JR	1311	Placer -SJ-3	147	22:38.5	5:25.7	7:16.8	6:34.3 (174)	15:09.4 (184)
186	LOSEKOOT, Mikaela	SR	933	Lowell -SF-3	148	22:42.3	5:29.5	7:18.0	6:43.0 (191)	15:20.0 (187)
187	CARCAMO, Sophia	JR	1168	Northgate -NC-3	149	22:43.8	5:31.0	7:18.5	6:39.0 (184)	15:24.8 (190)
188	CHOUDURY, Opshory	SR	930	Lowell -SF-3	150	22:46.4	5:33.6	7:19.3	6:37.4 (178)	15:11.2 (185)
189	FLAGER, Issy	SO	1323	Ponderosa -SJ-3	151	22:53.3	5:40.5	7:21.6	6:48.2 (196)	15:21.4 (188)
190	RAMIREZ, Amy	SR	114	Bernstein (Helen) -LA-3	152	22:57.5	5:44.7	7:22.9	6:48.9 (198)	15:37.9 (194)
191	MALICOTE, Taylor	SO	557	El Dorado -SJ-3	153	23:04.5	5:51.7	7:25.2	6:47.2 (195)	15:39.5 (195)
192	MACIAS, Ruby	JR	1900	Wasco -C-3	154	23:09.3	5:56.5	7:26.7	6:38.4 (183)	15:37.0 (193)
193	RODRIQUEZ, Serenity	FR	1903	Wasco -C-3	155	23:11.5	5:58.7	7:27.4	6:37.1 (177)	15:29.7 (191)
194	SOLECKI, Ella	SR	302	Chico -N-3	156	23:12.6	5:59.8	7:27.8	6:42.5 (190)	15:23.4 (189)
195	DAVENPORT, Sydney	FR	551	El Dorado -SJ-3	157	23:18.8	6:06.0	7:29.8	6:48.3 (197)	15:46.1 (197)
196	ZAVALA, Jazmine	SR	769	Independence -C-3	158	23:24.4	6:11.6	7:31.5	6:45.1 (192)	15:50.0 (198)
197	TETELL, Lily	SR	1561	Sherman Oaks CtrES -LA-3	--	23:26.7	6:13.9	7:32.3	6:31.1 (171)	15:34.1 (192)
198	FLETES, Cynthia	SR	765	Independence -C-3	159	23:35.9	6:23.1	7:35.3	6:42.2 (189)	15:45.9 (196)
199	VALADEZ, Kaitlyn	SR	768	Independence -C-3	160	23:39.6	6:26.8	7:36.4	6:57.3 (201)	15:51.3 (199)
200	FOXWORTHY, Aimee	SO	555	El Dorado -SJ-3	161	23:41.2	6:28.4	7:37.0	6:55.5 (200)	16:00.5 (200)
201	VILLARREAL, Xenia	SR	116	Bernstein (Helen) -LA-3	162	23:44.1	6:31.3	7:37.9	6:49.0 (199)	16:08.8 (201)
202	ORELLANA, Carla	SR	113	Bernstein (Helen) -LA-3	163	23:53.4	6:40.6	7:40.9	7:22.0 (210)	16:20.2 (203)
203	SANDRIDGE, Rosemary	SO	1394	Reseda -LA-3	--	24:04.5	6:51.7	7:44.5	7:00.7 (203)	16:13.4 (202)
204	STROUD, Sydney	SO	1090	Montgomery -NC-3	164	24:26.3	7:13.5	7:51.5	7:03.0 (205)	16:25.5 (204)
205	EVENS, Addyson	SO	764	Independence -C-3	165	24:52.3	7:39.5	7:59.8	7:04.5 (207)	16:49.4 (207)
206	LOPEZ, Bella	SR	1899	Wasco -C-3	166	25:10.1	7:57.3	8:05.6	7:08.4 (208)	17:00.9 (209)
207	MARTIN, Mercedes	FR	1901	Wasco -C-3	167	25:11.5	7:58.7	8:06.0	7:02.5 (204)	16:49.3 (206)
208	FONG, Angela	FR	847	Leland -CC-3	168	25:15.2	8:02.4	8:07.2	7:00.3 (202)	16:40.9 (205)
209	ALEJA, Maylin	SO	110	Bernstein (Helen) -LA-3	169	25:50.8	8:38.0	8:18.6	7:29.0 (211)	17:30.8 (211)
210	FLANIGAN, Leah	SO	1310	Placer -SJ-3	170	26:02.8	8:50.0	8:22.5	7:12.5 (209)	17:13.2 (210)
211	VARGAS, Rikki	SO	1092	Montgomery -NC-3	171	26:33.4	9:20.6	8:32.3	7:03.4 (206)	16:56.0 (208)
212	ROMERO, Mariana	SR	115	Bernstein (Helen) -LA-3	172	28:11.5	10:58.7	9:03.9	7:38.4 (212)	18:45.5 (212)

Division V
Final Standings	Score	Scoring Order	Total
1	Crystal Springs Uplands -CC-5	129	1-17-19-37-55(60)(89)	1:37:37
2	University-SF -NC-5	        131	14-15-24-33-45(46)(57)	1:38:40
3	Viewpoint -S-5	                185	4-12-50-52-67(77)(87)	1:39:45
4	Lick Wilmerding -NC-5	        213	5-40-43-56-69(97)(101)	1:41:00
5	Convent/Stuart Hall -NC-5	225	2-25-32-81-85(113)(136)	1:40:55
6	Francis Parker -SD-5	        243*	18-27-34-80-84(99)(106)	1:42:11
7	Immanuel -C-5	                243*	8-48-51-63-73(102)(104)	1:42:01
8	Xavier College Prep -S-5	254	3-21-36-94-100(108)(147)	1:42:03
9	St. Margaret's Episcopal -S-5	255	13-44-54-66-78(82)(117)	1:42:29
10	Menlo -CC-5	                295	16-29-49-92-109(120)(123)	1:44:09
11	St. Lucy's -S-5	                310	22-61-72-76-79(143)	1:44:05
12	Providence-Burbank -S-5	        328	10-28-35-127-128(129)(156)	1:45:52
13	Pacific Ridge -SD-5	331	9-11-70-116-125(141)	1:45:00
14	Castilleja -CC-5	339	6-7-68-118-140	1:45:50
15	The Nueva School -CC-5	345	42-59-75-83-86(88)(114)	1:45:12
16	Cate -S-5	377	38-47-91-96-105(132)	1:46:48
17	College Prep -NC-5	380	23-39-74-111-133	1:47:24
18	Bret Harte -SJ-5	416	20-65-98-112-121(122)(131)	1:48:22
19	Linfield Christian -S-5	458	41-53-58-151-155(157)	1:54:22
20	Fresno Christian -C-5	462	31-64-103-119-145(150)(153)	1:51:15
21	Athenian -NC-5	479	30-93-95-124-137(149)	1:51:06
22	Central Catholic -SJ-5	513	62-71-107-135-138(148)	1:52:30
23	University Prep -N-5	579	90-110-115-130-134(139)(146)	1:54:22
24	New West Charter -LA-5	590	26-126-142-144-152(154)	1:58:23

*Tiebreakers
Francis Parker -SD-5	18	27	34	80	84	99	106
Immanuel -C-5	8	48	51	63	73	102	104

Athlete	Yr.	#	Team	Score	Time	Gap	Avg. Mile	1mi	2.1mi
1	BROOKS, Kaiya	SR	448	Crystal Springs Uplands -CC-5	1	17:54.2	---	5:45.4	5:38.6 (2)	12:11.7 (1)
2	FAIDI, Sienna	SO	410	Convent/Stuart Hall -NC-5	2	18:18.6	24.4	5:53.2	5:43.8 (7)	12:33.3 (4)
3	JOHNSON, Adeline SR	148	Branson -NC-5	--	18:19.0	23.8	5:53.4	5:42.8 (5)	12:33.0 (3)
4	BARRETT, Lorelei SO	174	Buckley -S-5	--	18:23.7	29.5	5:54.9	5:38.2 (1)	12:31.8 (2)
5	ELBAZ, Chloe	FR	2000	Xavier College Prep -S-5	3	18:25.0	29.8	5:55.3	5:43.9 (8)	12:41.9 (8)
6	MACKEY, JiaLian	SR	1864	Viewpoint -S-5	4	18:28.3	34.1	5:56.3	5:43.7 (6)	12:35.7 (6)
7	MALTZ, Amelie	SR	867	Lick Wilmerding -NC-5	5	18:32.2	38.0	5:57.6	5:43.9 (9)	12:34.5 (5)

8	KENNEDY, Samira	SR	239	Castilleja -CC-5	6	18:38.3	44.1	5:59.6	5:40.8 (4)	12:39.7 (7)
9	HENDERSON, Daniella SR	238	Castilleja -CC-5	7	18:43.7	49.5	6:01.3	5:47.1 (20)	12:49.1 (12)
10	RIDDLE, Clara	FR	751	Immanuel -C-5	8	18:44.9	50.7	6:01.7	5:44.7 (12)	12:42.7 (11)
11	STEER, Clara	SR	1248	Pacific Ridge -SD-5	9	18:48.3	54.1	6:02.8	5:45.4 (14)	12:52.8 (14)
12	HICKEY, Ayanna	FR	1693	The Bishop's School -SD-5	--	18:48.7	54.5	6:02.9	5:39.7 (3)	12:42.1 (10)
13	EATON, Aubrey	SO	1349	Providence-Burbank -S-5	10	18:49.0	53.8	6:03.0	5:51.0 (25)	12:52.2 (13)
14	STEER, Elsa	SR	1249	Pacific Ridge -SD-5	11	18:54.3	1:00.1	6:04.7	5:45.1 (13)	12:42.0 (9)

15	GUTMAN, Micah	SO	1861	Viewpoint -S-5	12	18:58.2	1:04.0	6:06.0	5:52.3 (29)	12:58.0 (16)
16	LI, Joyce	FR	1650	St. Margaret's Episcopal -S-5	13	19:10.1	1:15.9	6:09.8	5:46.0 (17)	12:58.2 (17)
17	GILES, Mia	SR	1791	University-SF -NC-5	14	19:10.1	1:15.9	6:09.8	6:01.4 (45)	13:08.2 (27)
18	SCANZIANI-GRIJ, Lara SO	1223	Oceana -CC-5	--	19:10.3	1:16.1	6:09.9	5:45.5 (15)	12:53.4 (15)
19	LAUGHLIN, Lucinda JR	1793	University-SF -NC-5	15	19:16.4	1:22.2	6:11.8	6:01.3 (44)	13:08.2 (26)
20	Removed by request
21	KAUSHEK, Ariya	FR	1010	Menlo -CC-5	16	19:17.6	1:23.4	6:12.2	5:47.1 (19)	13:05.2 (23)

22	LECHNER, McKenna	SR	601	Foresthill -SJ-5	--	19:18.5	1:24.3	6:12.5	5:46.2 (18)	13:04.9 (22)
23	SALTER, Anna	FR	452	Crystal Springs Uplands -CC-5	17	19:20.1	1:25.9	6:13.0	6:05.7 (51)	13:19.8 (33)
24	DUNCAN, Isla	FR	603	Francis Parker -SD-5	18	19:22.1	1:27.9	6:13.7	5:57.4 (33)	13:12.0 (28)
25	DYE, Kira	FR	449	Crystal Springs Uplands -CC-5	19	19:22.9	1:28.7	6:13.9	6:06.8 (53)	13:22.3 (35)
26	GIBSON, Brooke	JR	723	High Tech High NC -SD-5	--	19:23.0	1:27.8	6:13.9	5:45.6 (16)	13:03.5 (20)
27	ROLLERI, Kadyn	SR	165	Bret Harte -SJ-5	20	19:24.7	1:30.5	6:14.5	5:50.8 (24)	13:08.1 (25)
28	SAAS, Natalie	SR	2003	Xavier College Prep -S-5	21	19:25.8	1:31.6	6:14.9	5:44.3 (11)	13:03.9 (21)
29	KRUMMEL, Elsa	JR	85	Bay School-SF -NC-5	--	19:27.1	1:32.9	6:15.3	5:48.8 (23)	13:00.8 (19)
30	SAMSON, Nicole	FR	1710	The Webb Schools -S-5	--	19:30.9	1:36.7	6:16.5	5:51.3 (26)	13:17.9 (32)
31	PETERSON, Lucy	SO	86	Bay School-SF -NC-5	--	19:32.6	1:38.4	6:17.0	5:58.5 (35)	13:20.0 (34)
32	MURPHREE, Tallula	SO	961	Malibu -S-5	--	19:34.0	1:38.8	6:17.5	5:48.3 (22)	13:12.0 (29)
33	CORVESE, Alexis	SR	1641	St. Lucy's -S-5	22	19:35.9	1:41.7	6:18.1	5:52.3 (30)	13:15.2 (30)
34	GREEN, Talia	JR	394	College Prep -NC-5	23	19:37.4	1:43.2	6:18.6	5:52.0 (28)	13:06.2 (24)
35	NICHOL, Sophia	FR	1794	University-SF -NC-5	24	19:43.3	1:49.1	6:20.5	6:13.3 (65)	13:22.4 (36)
36	KENNY, Deirdre	JR	412	Convent/Stuart Hall -NC-5	25	19:44.9	1:50.7	6:21.0	6:04.9 (49)	13:27.6 (40)
37	PALMA, Valerie	FR	33	Alliance Stern -LA-5	--	19:45.8	1:51.6	6:21.3	5:55.5 (32)	13:23.6 (37)
38	BRUNETTI, Siena	SR	220	Cardinal Newman -NC-5	--	19:49.5	1:55.3	6:22.5	5:47.7 (21)	13:15.7 (31)
39	NASCIMENTO, Gabriela	JR	1134	New West Charter -LA-5	26	19:49.9	1:55.7	6:22.6	6:00.5 (38)	13:30.2 (45)
40	LLORENS, Ariella	FR	607	Francis Parker -SD-5	27	19:51.6	1:57.4	6:23.1	5:57.7 (34)	13:26.0 (39)
41	JOPSON, Mikele	SO	781	John Adams -SJ-5	--	19:52.4	1:58.2	6:23.4	6:01.1 (42)	13:28.1 (41)
42	GONZALEZ, Natalie	SO	1351	Providence-Burbank -S-5	28	19:52.6	1:58.4	6:23.5	6:18.1 (84)	13:37.9 (50)
43	CHEA, Caitlin	SR	286	Central Valley Christian -C-5	--	19:55.3	2:01.1	6:24.3	6:04.1 (47)	13:32.6 (46)
44	CRONK, Esther	JR	1594	Southlands Christian -S-5	--	19:55.8	2:01.6	6:24.5	5:52.0 (27)	13:24.6 (38)
45	KLEMENT, Maeve	JR	66	Argonaut -SJ-5	--	19:56.4	2:02.2	6:24.7	6:00.7 (40)	13:28.3 (42)
46	TUSSING-ADKINS, Devon	FR	1014	Menlo -CC-5	29	19:56.8	2:02.6	6:24.8	6:01.0 (41)	13:36.8 (48)
47	WILLIAMS, Eme	FR	75	Athenian -NC-5	30	19:57.4	2:03.2	6:25.0	5:54.7 (31)	13:29.9 (44)
48	GRAY, Julia	FR	628	Fresno Christian -C-5	31	19:59.1	2:04.9	6:25.5	6:02.4 (46)	13:37.2 (49)
49	KINGSTON, Jade	SR	722	High Tech High Mesa -SD-5	--	20:00.3	2:06.1	6:25.9	6:05.2 (50)	13:32.6 (47)
50	ABERNETHY, Karina	JR	407	Convent/Stuart Hall -NC-5	32	20:03.2	2:09.0	6:26.9	6:04.3 (48)	13:28.4 (43)
51	KING, Chapel	SO	1792	University-SF -NC-5	33	20:06.6	2:12.4	6:28.0	6:13.7 (68)	13:41.7 (53)
52	SWORD, Bella	SO	964	Maranatha Christian -SD-5	--	20:07.0	2:11.8	6:28.1	6:06.4 (52)	13:38.7 (51)
53	STRAHM, Lillian	JR	735	Holtville -SD-5	--	20:11.6	2:17.4	6:29.6	6:07.5 (55)	13:40.3 (52)
54	TEATES, Olivia	SO	609	Francis Parker -SD-5	34	20:12.2	2:18.0	6:29.8	6:10.0 (61)	13:48.7 (59)
55	EATON, Reese	SO	1350	Providence-Burbank -S-5	35	20:12.2	2:18.0	6:29.8	6:18.8 (86)	13:50.3 (62)
56	SCHEIN, Ashleigh	JR	2004	Xavier College Prep -S-5	36	20:12.7	2:18.5	6:29.9	6:13.2 (64)	13:53.4 (67)
57	WOHL, Maya	JR	453	Crystal Springs Uplands -CC-5	37	20:16.9	2:22.7	6:31.3	6:09.0 (59)	13:53.3 (66)
58	THORNE, Kendall	SR	251	Cate -S-5	38	20:18.9	2:24.7	6:31.9	6:13.7 (67)	13:47.3 (56)
59	BELTRAN, Maia	SR	392	College Prep -NC-5	39	20:19.6	2:25.4	6:32.1	6:10.9 (62)	13:51.1 (63)
60	CHOI, Nora	JR	863	Lick Wilmerding -NC-5	40	20:19.9	2:25.7	6:32.2	6:22.0 (98)	13:58.0 (75)
61	RUSSELL, Caylyn	SO	887	Linfield Christian -S-5	41	20:21.5	2:27.3	6:32.7	6:01.2 (43)	13:47.9 (57)
62	YEDIDIA, Ariane	JR	1702	The Nueva School -CC-5	42	20:22.3	2:28.1	6:33.0	6:07.4 (54)	13:48.4 (58)
63	HOWE, Julia	FR	865	Lick Wilmerding -NC-5	43	20:22.6	2:28.4	6:33.1	6:13.8 (69)	13:49.3 (60)
64	BENDZICK, Sarah	SO	1645	St. Margaret's Episcopal -S-5	44	20:22.9	2:28.7	6:33.2	6:00.7 (39)	13:43.6 (54)
65	SAPPENFIELD, Alice	SR	1795	University-SF -NC-5	45	20:23.0	2:27.8	6:33.2	6:18.0 (82)	13:56.2 (71)
66	WADSWORTH, Erin	SR	1797	University-SF -NC-5	46	20:23.6	2:29.4	6:33.4	6:18.1 (83)	13:55.9 (70)
67	ADZICH, Ryland	JR	1694	The Kings Academy -CC-5	--	20:23.9	2:29.7	6:33.5	6:22.2 (100)	13:55.1 (69)
68	BRADFORD, Zofia	SO	640	Golden Sierra -SJ-5	--	20:29.9	2:35.7	6:35.4	6:13.5 (66)	13:57.0 (73)
69	SUTCH, Francesca	SO	250	Cate -S-5	47	20:31.2	2:37.0	6:35.9	6:09.9 (60)	13:52.9 (64)
70	FRIESEN, Sydney	JR	747	Immanuel -C-5	48	20:33.9	2:39.7	6:36.7	6:13.0 (63)	13:53.6 (68)
71	CHUANG, Eden	SO	1009	Menlo -CC-5	49	20:34.3	2:40.1	6:36.9	6:14.5 (72)	13:57.3 (74)
72	SOLIS, Erin	FR	1442	San Joaquin Memorial -C-5	--	20:36.1	2:41.9	6:37.5	6:07.8 (56)	13:59.9 (76)
73	BRUNELLI, Kylie	SO	1083	Monte Vista Christian -CC-5	--	20:36.5	2:42.3	6:37.6	6:33.9 (137)	14:08.3 (86)
74	KATZ, Ella	SO	1862	Viewpoint -S-5	50	20:37.1	2:42.9	6:37.8	6:27.5 (113)	14:06.6 (82)
75	KAIZEN, Tea	FR	285	Central Valley -N-5	--	20:37.9	2:43.7	6:38.0	5:58.9 (36)	13:45.7 (55)
76	SCHARTMANN, Lexi	FR	753	Immanuel -C-5	51	20:38.2	2:44.0	6:38.1	5:59.7 (37)	13:53.2 (65)
77	BEAZLEY, Erin	SR	1859	Viewpoint -S-5	52	20:40.9	2:46.7	6:39.0	6:30.1 (124)	14:05.5 (80)
78	SMITH, Maggie	JR	889	Linfield Christian -S-5	53	20:42.3	2:48.1	6:39.5	6:15.1 (75)	14:04.1 (78)
79	CHOU, Catherine	FR	1647	St. Margaret's Episcopal -S-5	54	20:42.7	2:48.5	6:39.6	6:08.7 (57)	13:56.3 (72)
80	FLESHMAN, Lauryn	FR	450	Crystal Springs Uplands -CC-5	55	20:42.8	2:48.6	6:39.6	6:19.0 (88)	14:09.5 (90)
81	SCHUMER, Ella	SO	868	Lick Wilmerding -NC-5	56	20:43.6	2:49.4	6:39.9	6:29.9 (123)	14:13.0 (93)
82	KEOGLER, Tenaya	FR	962	Mammoth -C-5	--	20:44.5	2:50.3	6:40.1	6:22.5 (103)	14:14.0 (94)
83	SMIT, Finny	FR	1796	University-SF -NC-5	57	20:45.0	2:49.8	6:40.3	6:20.9 (95)	14:12.2 (92)
84	SHAFFER, Ava	SO	888	Linfield Christian -S-5	58	20:45.4	2:51.2	6:40.4	6:08.9 (58)	14:05.2 (79)
85	SANTILLAN, Isabella	JR	1977	Williams -N-5	--	20:45.5	2:51.3	6:40.5	6:14.8 (74)	14:06.4 (81)
86	POON, Kelly	JR	1699	The Nueva School -CC-5	59	20:45.9	2:51.7	6:40.6	6:32.5 (131)	14:18.1 (100)
87	JUSTICE, Jenna	SR	577	Etna -N-5	--	20:46.8	2:52.6	6:40.9	6:16.2 (80)	14:07.2 (84)
88	SEVERNE, Iris	FR	737	HOPE -N-5	--	20:47.9	2:53.7	6:41.2	6:20.8 (94)	14:08.4 (87)
89	AVINA, Heidy	FR	447	Crystal Springs Uplands -CC-5	60	20:50.4	2:56.2	6:42.1	6:22.7 (104)	14:15.9 (96)
90	SEPULVEDA, Lilly	JR	1644	St. Lucy's -S-5	61	20:50.5	2:56.3	6:42.1	6:19.9 (90)	14:11.2 (91)
91	ZENSIUS, Julia	SR	276	Central Catholic -SJ-5	62	20:51.3	2:57.1	6:42.3	6:15.2 (78)	14:02.9 (77)
92	MATEJA, Sophia	SR	1242	Pacific Collegiate -CC-5	--	20:54.0	2:58.8	6:43.2	6:18.8 (87)	14:08.7 (88)
93	RAMIREZ, Gaby	JR	750	Immanuel -C-5	63	20:54.9	3:00.7	6:43.5	6:16.2 (79)	14:08.2 (85)
94	CONNOLLY, Emma	JR	625	Fresno Christian -C-5	64	20:56.5	3:02.3	6:44.0	6:14.0 (70)	14:16.9 (98)
95	HEERMANCE, Addison	JR	159	Bret Harte -SJ-5	65	20:57.0	3:01.8	6:44.2	6:25.5 (109)	14:17.0 (99)
96	GILLIAM, Caelan	SR	1084	Monte Vista Christian -CC-5	--	20:57.0	3:01.8	6:44.2	6:27.2 (112)	14:18.5 (101)
97	GRIFFIN, Emma	SR	1648	St. Margaret's Episcopal -S-5	66	20:58.0	3:02.8	6:44.5	6:22.2 (101)	14:15.7 (95)
98	CONTE, Kendall	SO	1860	Viewpoint -S-5	67	21:00.3	3:06.1	6:45.2	6:20.3 (92)	14:09.1 (89)
99	SANGORAM, Naya	SO	242	Castilleja -CC-5	68	21:00.7	3:06.5	6:45.4	6:28.8 (115)	14:22.0 (109)
100	HOEY, Mira	JR	864	Lick Wilmerding -NC-5	69	21:01.4	3:07.2	6:45.6	6:22.0 (99)	14:07.0 (83)
101	BREMNER, Adelaide	SO	1243	Pacific Ridge -SD-5	70	21:05.0	3:09.8	6:46.7	6:24.1 (108)	14:16.3 (97)
102	JONES, Avery	FR	274	Central Catholic -SJ-5	71	21:06.3	3:12.1	6:47.2	6:17.9 (81)	14:20.8 (107)
103	BURNS, Kate	SO	2035	St. Lucy's -S-5	72	21:09.0	3:13.8	6:48.0	6:19.8 (89)	14:25.1 (111)
104	LARGER, Sarah	JR	748	Immanuel -C-5	73	21:09.2	3:15.0	6:48.1	6:15.1 (76)	14:19.5 (104)
105	MAGUIRE, Adelaide	JR	396	College Prep -NC-5	74	21:10.4	3:16.2	6:48.5	6:33.3 (135)	14:25.4 (112)
106	SCHLAMP, Julia	FR	1700	The Nueva School -CC-5	75	21:12.2	3:18.0	6:49.0	6:40.0 (143)	14:34.9 (118)
107	GUTIERREZ, Mikayla	JR	1642	St. Lucy's -S-5	76	21:12.8	3:18.6	6:49.2	6:19.9 (91)	14:20.3 (106)
108	TAPIA, Sofia	SR	1865	Viewpoint -S-5	77	21:14.6	3:20.4	6:49.8	6:34.0 (138)	14:29.5 (114)
109	BOTUCHIS, Ali	SR	1646	St. Margaret's Episcopal -S-5	78	21:15.3	3:21.1	6:50.0	6:29.7 (121)	14:30.8 (115)
110	BAYLOR, Brooklin	SO	1640	St. Lucy's -S-5	79	21:16.0	3:20.8	6:50.3	6:21.6 (97)	14:22.0 (110)
111	KOSTELYK, Norah	FR	287	Central Valley Christian -C-5	--	21:17.6	3:23.4	6:50.8	6:14.6 (73)	14:19.5 (103)
112	MERTENS, Lara	SO	608	Francis Parker -SD-5	80	21:18.2	3:24.0	6:51.0	6:21.4 (96)	14:18.6 (102)
113	BROCKWAY, Phoebe	SO	408	Convent/Stuart Hall -NC-5	81	21:20.7	3:26.5	6:51.8	6:18.4 (85)	14:21.0 (108)
114	JOHNSON, Coco	SO	1649	St. Margaret's Episcopal -S-5	82	21:22.4	3:28.2	6:52.3	6:29.8 (122)	14:32.4 (116)
115	FELAND, Anna	JR	1697	The Nueva School -CC-5	83	21:23.7	3:29.5	6:52.8	6:15.2 (77)	14:20.0 (105)
116	BOURGEIOS, Mercy	JR	606	Francis Parker -SD-5	84	21:26.6	3:32.4	6:53.7	6:20.8 (93)	14:25.9 (113)
117	CARPENTER, Annika	SO	409	Convent/Stuart Hall -NC-5	85	21:27.7	3:33.5	6:54.0	6:43.2 (146)	14:41.0 (122)
118	COCQUYT, Sasha	JR	1696	The Nueva School -CC-5	86	21:27.8	3:33.6	6:54.1	6:43.2 (145)	14:47.7 (128)
119	LANDSBAUM, Lucy	SR	1863	Viewpoint -S-5	87	21:30.5	3:36.3	6:54.9	6:33.8 (136)	14:37.3 (120)
120	SEPULVEDA, Natalie	SO	1701	The Nueva School -CC-5	88	21:30.8	3:36.6	6:55.0	6:40.2 (144)	14:35.4 (119)
121	MIRSEPAHI, Jasmyn	SR	451	Crystal Springs Uplands -CC-5	89	21:34.1	3:39.9	6:56.1	6:33.0 (133)	14:50.2 (133)
122	STEPHENSON, Isabella	FR	1782	University Prep -N-5	90	21:34.6	3:40.4	6:56.3	6:33.1 (134)	14:33.8 (117)
123	HO, Trisha	JR	1194	Oakland Charter -O-5	--	21:39.2	3:45.0	6:57.7	6:32.7 (132)	14:43.9 (125)
124	KRULICK, Kara	JR	1813	Vacaville Christian -SJ-5	--	21:39.7	3:45.5	6:57.9	6:31.2 (127)	14:51.6 (135)
125	PATRICK, Madeleine	SO	249	Cate -S-5	91	21:42.3	3:48.1	6:58.7	6:29.2 (116)	14:41.5 (123)
126	TSAO, Audrey	SO	1013	Menlo -CC-5	92	21:47.2	3:53.0	7:00.3	6:45.8 (149)	15:03.3 (143)
127	CHAMPNESS, Karly	SO	84	Bakersfield Christian -C-5	--	21:47.2	3:53.0	7:00.3	6:28.7 (114)	14:42.8 (124)
128	RIEBLI, Ella	JR	73	Athenian -NC-5	93	21:49.3	3:55.1	7:01.0	6:29.5 (117)	14:53.6 (137)
129	NELSON, Catalina	SR	2002	Xavier College Prep -S-5	94	21:49.5	3:55.3	7:01.1	6:32.3 (129)	14:48.1 (130)
130	RIEBLI, Analise	FR	72	Athenian -NC-5	95	21:49.9	3:55.7	7:01.2	6:29.7 (120)	14:53.7 (138)
131	JOHNSON, Jennifer	JR	534	Durham -N-5	--	21:52.5	3:58.3	7:02.0	6:26.1 (110)	14:39.9 (121)
132	ZAMBRANO, Jazmin	SR	1667	St. Paul -S-5	--	21:53.8	3:59.6	7:02.4	6:30.6 (125)	14:52.9 (136)
133	ALLISON, Emily	SR	246	Cate -S-5	96	21:54.9	4:00.7	7:02.8	6:29.6 (119)	14:45.8 (126)
134	LAURA, Perez	SR	32	Alliance Stern -LA-5	--	21:56.7	4:02.5	7:03.4	6:27.1 (111)	14:51.2 (134)
135	LEE, Saskia	SO	866	Lick Wilmerding -NC-5	97	21:58.9	4:04.7	7:04.1	6:14.5 (71)	13:49.8 (61)
136	MAYERS, Skylar	JR	163	Bret Harte -SJ-5	98	22:01.8	4:07.6	7:05.0	6:37.2 (139)	14:59.2 (141)
137	KEHRLI, Kate	FR	604	Francis Parker -SD-5	99	22:06.2	4:12.0	7:06.4	6:24.0 (106)	14:47.9 (129)
138	WOOD, Daniella	FR	2005	Xavier College Prep -S-5	100	22:09.5	4:15.3	7:07.5	6:32.0 (128)	14:49.4 (132)
139	HARRIS, Savannah	SO	869	Lick Wilmerding -NC-5	101	22:10.9	4:16.7	7:07.9	6:30.9 (126)	14:57.0 (140)
140	CORTEZ, Saray	SR	10	Academia Avance -LA-5	--	22:12.8	4:18.6	7:08.5	6:51.9 (156)	15:07.6 (146)
141	RIDDLE, Macie	JR	752	Immanuel -C-5	102	22:13.1	4:18.9	7:08.6	6:24.0 (105)	14:48.5 (131)
142	CONNOLLY, Meghan	FR	626	Fresno Christian -C-5	103	22:17.2	4:23.0	7:10.0	6:38.5 (142)	15:05.3 (145)
143	LUPA, Camila	FR	749	Immanuel -C-5	104	22:18.6	4:24.4	7:10.4	6:29.5 (118)	14:54.8 (139)
144	KLIMAN, Coco	SR	248	Cate -S-5	105	22:20.2	4:26.0	7:10.9	6:50.0 (152)	15:16.9 (150)
145	KELLY, Chiana	SR	605	Francis Parker -SD-5	106	22:20.6	4:26.4	7:11.0	6:24.1 (107)	14:47.1 (127)
146	HANCOCK, Brianna	FR	272	Central Catholic -SJ-5	107	22:22.1	4:27.9	7:11.5	6:37.9 (140)	15:08.6 (147)
147	MACHUCA, Karah	FR	1374	Rancho Dominguez -LA-5	--	22:22.7	4:28.5	7:11.7	6:22.4 (102)	15:02.8 (142)
148	FEFFER, Emily	FR	2001	Xavier College Prep -S-5	108	22:32.2	4:38.0	7:14.8	6:32.5 (130)	15:15.3 (149)
149	RAMANI, Anya	FR	1012	Menlo -CC-5	109	22:32.9	4:38.7	7:15.0	6:45.7 (148)	15:04.0 (144)
150	MIELING, Joanna	FR	1778	University Prep -N-5	110	22:34.9	4:40.7	7:15.6	6:54.2 (159)	15:22.2 (151)
151	JUNG, Emily	SO	395	College Prep -NC-5	111	22:36.1	4:41.9	7:16.0	6:45.4 (147)	15:15.0 (148)
152	LEWIS, Aurora	JR	162	Bret Harte -SJ-5	112	22:42.9	4:48.7	7:18.2	6:51.0 (155)	15:30.2 (155)
153	ROCA, Griselda	FR	1678	Sun Valley Magnet -LA-5	--	22:43.2	4:49.0	7:18.3	6:38.1 (141)	15:26.5 (153)
154	KENNY, Fiona	FR	413	Convent/Stuart Hall -NC-5	113	22:44.3	4:50.1	7:18.7	6:59.8 (169)	15:29.2 (154)
155	FELDMAN, Hailey	JR	1698	The Nueva School -CC-5	114	22:48.1	4:53.9	7:19.9	6:54.6 (160)	15:25.5 (152)
156	TAYLOR, Zoe	SO	1783	University Prep -N-5	115	22:50.8	4:56.6	7:20.8	7:00.0 (171)	15:31.2 (156)
157	LOPER, Lucy	SO	1245	Pacific Ridge -SD-5	116	22:51.1	4:56.9	7:20.8	6:50.2 (153)	15:32.7 (158)
158	REYES-MENDOZA, America	SO	1651	St. Margaret's Episcopal -S-5	117	22:53.6	4:59.4	7:21.7	6:56.3 (162)	15:35.7 (159)
159	LEE, Zoe	SO	240	Castilleja -CC-5	118	22:56.7	5:02.5	7:22.7	6:53.3 (158)	15:32.7 (157)
160	DIXON, Eve	FR	627	Fresno Christian -C-5	119	23:09.5	5:15.3	7:26.8	6:50.6 (154)	15:41.0 (160)
161	KOTHARI, Anya	FR	1011	Menlo -CC-5	120	23:14.1	5:19.9	7:28.2	7:05.7 (173)	16:00.3 (170)
162	JOHNSON, Caitlin	SO	161	Bret Harte -SJ-5	121	23:15.5	5:21.3	7:28.7	6:57.6 (164)	15:56.2 (167)
163	JODIE, Alya	FR	160	Bret Harte -SJ-5	122	23:15.7	5:21.5	7:28.8	6:57.6 (163)	15:56.2 (168)
164	BADJATE, Lavanya	FR	1008	Menlo -CC-5	123	23:16.0	5:20.8	7:28.9	7:05.8 (174)	16:00.5 (171)
165	SANDHU, Anna	FR	74	Athenian -NC-5	124	23:18.4	5:24.2	7:29.6	6:49.4 (151)	15:43.0 (161)
166	STAINTON, Kate	FR	1247	Pacific Ridge -SD-5	125	23:21.5	5:27.3	7:30.6	6:52.4 (157)	15:50.9 (165)
167	SIVKOV, Kahri	SO	1136	New West Charter -LA-5	126	23:22.2	5:28.0	7:30.9	6:58.8 (166)	15:54.4 (166)
168	AGAZARYAN, Erika	JR	1345	Providence-Burbank -S-5	127	23:28.0	5:32.8	7:32.7	7:30.6 (190)	16:10.1 (174)
169	AVILA, Emily	SR	1347	Providence-Burbank -S-5	128	23:29.4	5:35.2	7:33.2	7:30.7 (191)	16:09.4 (172)
170	BARAHONA, Eva	JR	1348	Providence-Burbank -S-5	129	23:29.6	5:35.4	7:33.2	7:31.0 (192)	16:10.4 (175)
171	ROCCA, Amelia	SO	1780	University Prep -N-5	130	23:34.5	5:40.3	7:34.8	6:59.8 (170)	15:50.4 (164)
172	RAMOS, Marianna	SO	164	Bret Harte -SJ-5	131	23:38.4	5:44.2	7:36.0	6:58.8 (165)	15:58.7 (169)
173	BECHTEL, Lylie	SR	247	Cate -S-5	132	23:38.4	5:44.2	7:36.1	6:46.4 (150)	15:49.1 (163)
174	ROBERTS, Katelyn	FR	397	College Prep -NC-5	133	23:39.8	5:45.6	7:36.5	6:55.0 (161)	15:48.5 (162)
175	HENRY, Kaia	SO	1777	University Prep -N-5	134	23:47.2	5:53.0	7:38.9	7:28.7 (187)	16:32.6 (179)
176	SANCHEZ, Gaby	SO	275	Central Catholic -SJ-5	135	23:57.8	6:03.6	7:42.3	6:59.1 (167)	16:09.8 (173)
177	GALLAGHER, Grace	JR	411	Convent/Stuart Hall -NC-5	136	24:08.1	6:13.9	7:45.6	7:18.0 (180)	16:17.4 (176)
178	DAMERON, Hannah	FR	71	Athenian -NC-5	137	24:10.2	6:16.0	7:46.3	7:01.2 (172)	16:25.8 (178)
179	HUMPHRIES, Zoe	SO	273	Central Catholic -SJ-5	138	24:12.3	6:18.1	7:46.9	6:59.4 (168)	16:25.1 (177)
180	RAFTERY, Kaitlyn	FR	1779	University Prep -N-5	139	24:24.5	6:30.3	7:50.9	7:26.1 (186)	16:33.9 (181)
181	SIDANA, Julie	JR	243	Castilleja -CC-5	140	24:30.7	6:36.5	7:52.9	7:30.0 (188)	16:47.7 (184)
182	MCCULLOUGH, Jaida	SR	1246	Pacific Ridge -SD-5	141	24:30.8	6:36.6	7:52.9	7:16.8 (179)	16:33.2 (180)
183	MAYFIELD, Erin	SO	1133	New West Charter -LA-5	142	24:35.6	6:41.4	7:54.5	7:23.4 (183)	16:51.0 (186)
184	LOPEZ, Madi	FR	1643	St. Lucy's -S-5	143	24:41.3	6:47.1	7:56.3	7:12.1 (176)	16:39.7 (182)
185	ABRAHAM, Liana	JR	1131	New West Charter -LA-5	144	24:47.7	6:53.5	7:58.3	7:20.3 (181)	16:49.8 (185)
186	ADLER, Addyson	SO	623	Fresno Christian -C-5	145	24:52.3	6:58.1	7:59.8	7:23.4 (184)	16:54.4 (187)
187	RUSSELL, Shaylyn	FR	1781	University Prep -N-5	146	24:55.2	7:01.0	8:00.8	7:30.0 (189)	16:55.3 (188)
188	TRUBEE, Cameron	SR	2036	Xavier College Prep -S-5	147	25:10.3	7:16.1	8:05.6	7:16.4 (178)	16:46.1 (183)
189	CALDERON, Taryn	SO	270	Central Catholic -SJ-5	148	25:21.8	7:27.6	8:09.3	7:37.1 (195)	17:08.5 (189)
190	ANDERSEN, Fia	JR	69	Athenian -NC-5	149	25:34.1	7:39.9	8:13.3	7:25.3 (185)	17:31.1 (191)
191	CHEEMA, Vivian	FR	624	Fresno Christian -C-5	150	25:35.0	7:39.8	8:13.5	7:10.6 (175)	17:10.7 (190)
192	STEVENSON, Amanda	SO	890	Linfield Christian -S-5	151	25:35.2	7:41.0	8:13.6	7:32.1 (193)	17:35.3 (193)
193	SHASSBERGER, Adeline	SO	1135	New West Charter -LA-5	152	25:47.7	7:53.5	8:17.6	7:23.0 (182)	17:34.9 (192)
194	PENLAND, Laina	SO	629	Fresno Christian -C-5	153	25:54.9	8:00.7	8:19.9	7:15.9 (177)	17:36.2 (194)
195	WOLDEMICHAEL, Yovela	FR	1137	New West Charter -LA-5	154	26:06.5	8:12.3	8:23.7	7:37.3 (196)	17:45.5 (195)
196	DALUDADO, Faith	SR	884	Linfield Christian -S-5	155	26:57.2	9:03.0	8:40.0	7:33.7 (194)	18:17.3 (196)
197	ALADADI, Nayirie	JR	1346	Providence-Burbank -S-5	156	28:01.7	10:07.5	9:00.7	8:19.0 (197)	19:01.9 (197)
198	WARREN, Kylee	FR	885	Linfield Christian -S-5	157	29:19.1	11:24.9	9:25.6	8:51.6 (198)	20:06.6 (198)

Division I
Final Standings	Score	Scoring Order	Total
1	Buchanan -C-1	         40	1-3-7-9-20(51)(127)	        1:29:32
2	Oak Ridge -SJ-1	        158	14-21-22-27-74(82)(87)	        1:34:27
3	Clovis North -C-1	161	8-13-34-52-54(60)(71)	        1:33:50
4	Del Norte -SD-1	        166	12-28-38-39-49(73)(132)	        1:34:35
5	Great Oak -S-1	        172	17-26-37-42-50(57)(59)	        1:34:51
6	Torrey Pines -SD-1	178	23-24-29-36-66(81)(102)	        1:35:10
7	Rancho Cucamonga -S-1	183	16-18-45-48-56(94)(108)	        1:34:50
8	Menlo-Atherton -CC-1	203	5-19-31-72-76(78)(95)	        1:35:08
9	Santiago - Corona -S-1	228	2-32-62-64-68(105)(133)	        1:35:44
10	Trabuco Hills -S-1	252	10-43-53-55-91(116)(122)	1:36:31
11	Santa Monica -S-1	302	4-65-67-77-89(92)(110)	        1:37:44
12	Granada Hills Cht -LA-1	330	30-40-46-80-134(138)(144)	1:39:17
13	Long Beach Poly -S-1	335	11-41-86-98-99(115)(128)	1:38:55
14	Quartz Hill -S-1	364	6-69-75-93-121(142)(143)	1:39:26
15	San Luis Obispo -C-1	369	33-63-70-83-120(130)(131)	1:40:02
16	Dougherty Valley -NC-1	373	15-35-103-109-111(125)(126)	1:40:06
17	Mountain View -CC-1	389	47-61-84-96-101(106)	        1:40:26
18	Davis -SJ-1	        447	25-85-107-112-118(129)(137)	1:42:04
19	Watsonville -CC-1	474	44-90-104-117-119(145)(146)	1:42:58
20	Berkeley -NC-1	        481	58-79-97-123-124(139)(141)	1:43:09
21	Palisades Charter -LA-1	550	88-100-113-114-135(136)(140)	1:45:19

Athlete	Yr.	#	Team	Score	Time	Gap	Avg. Mile	1mi	2.1mi
1	BUSWELL, Tessa	JR	1340	Poway -SD-1	        --	17:25.0	---	5:36.0	5:28.8 (4)	12:00.7 (2)
2	HUTCHISON, Grace SR	169	Buchanan -C-1	        1	17:30.3	6.3	5:37.7	5:28.6 (3)	11:49.8 (1)
3	BLADE, Rylee	SO	1507	Santiago - Corona -S-1	2	17:36.5	12.5	5:39.7	5:28.9 (6)	12:00.8 (4)
4	WILLIAMS, Jaelyn FR	541	Eastlake -SD-1	       --	17:38.9	14.9	5:40.5	5:34.1 (23)	12:10.5 (11)
5	CORNETT, Sierra	SO	167	Buchanan -C-1	        3	17:41.6	17.6	5:41.3	5:29.2 (9)	12:06.7 (6)
6	BENUN, Phoebe	SO	1493	Santa Monica -S-1	4	17:45.9	21.9	5:42.7	5:29.0 (7)	12:06.8 (7)
7	OLESEN, Tatum	JR	1025	Menlo-Atherton -CC-1	5	17:45.9	21.9	5:42.7	5:37.4 (29)	12:15.1 (13)

8	SMITH, Brianne	SR	1364	Quartz Hill -S-1	6	17:46.6	22.6	5:42.9	5:28.4 (2)	12:07.7 (8)
9	TOROSIAN, Tayler FR	172	Buchanan -C-1	        7	17:47.8	23.8	5:43.3	5:31.1 (12)	12:09.1 (10)
10	LEATH, Ashlyn	SR	375	Clovis North -C-1	8	17:54.1	30.1	5:45.3	5:30.5 (11)	12:08.9 (9)
11	BUCKLEY, Kynzlee FR	166	Buchanan -C-1	        9	17:58.7	34.7	5:46.8	5:28.2 (1)	12:00.8 (5)
12	BRINKMAN, Danica SR	1733	Trabuco Hills -S-1	10	18:10.3	46.3	5:50.6	5:33.0 (19)	12:21.3 (15)
13	PECK, Avery	FR	911	Long Beach Poly -S-1	11	18:12.5	48.5	5:51.3	5:29.5 (10)	12:14.5 (12)
14	RUSSO, Emily	SO	500	Del Norte -SD-1	        12	18:12.6	48.6	5:51.3	5:32.2 (16)	12:26.4 (19)

15	MCNATT, Louisa	SR	991	McClatchy -SJ-1	--	18:14.2	50.2	5:51.8	5:39.2 (30)	12:26.7 (21)
16	EMMONS, Kaitelyn JR	374	Clovis North -C-1	13	18:17.3	53.3	5:52.8	5:33.0 (18)	12:21.7 (16)
17	WALKER, Quinn	SR	1183	Oak Ridge -SJ-1	14	18:18.5	54.5	5:53.2	5:42.7 (40)	12:33.1 (26)
18	FEDIO, Lyla	JR	1376	Redondo Union -S-1	--	18:22.5	58.5	5:54.5	5:31.6 (13)	12:25.1 (17)
19	KIRK, Erika	SO	1896	Vista Murrieta -S-1	--	18:23.0	58.0	5:54.6	5:33.2 (20)	12:26.3 (18)
20	NORIEGA, Sabrina SO	521	Dougherty Valley -NC-1	15	18:26.5	1:02.5	5:55.8	5:33.5 (21)	12:28.4 (24)
21	WEBER, Joy	SR	67	Arnold O. Beckman -S-1	--	18:28.8	1:04.8	5:56.5	5:40.2 (32)	12:34.6 (28)

22	ALFRED, Nicole	SO	1367	Rancho Cucamonga -S-1	16	18:30.2	1:06.2	5:57.0	5:35.6 (26)	12:34.0 (27)
23	GAFFNEY, Kelli	SR	673	Great Oak -S-1	17	18:31.8	1:07.8	5:57.5	5:29.1 (8)	12:18.3 (14)
24	COMBE, Braelyn	FR	1368	Rancho Cucamonga -S-1	18	18:32.9	1:08.9	5:57.8	5:35.5 (25)	12:34.7 (29)
25	LORENZ, Katherine	SR	1022	Menlo-Atherton -CC-1	19	18:32.9	1:08.9	5:57.8	5:42.6 (38)	12:37.4 (31)
26	SUNDGREN, Sydney	SR	171	Buchanan -C-1	20	18:33.6	1:09.6	5:58.0	5:31.8 (15)	12:27.9 (23)
27	LOPEZ, Sarahy	SR	1471	Santa Ana -S-1	--	18:35.4	1:11.4	5:58.6	5:31.8 (14)	12:26.4 (20)
28	HSIEH, Reena	SO	35	Arcadia -S-1	--	18:36.2	1:12.2	5:58.9	5:46.6 (55)	12:44.8 (35)
29	INGARGIOLA, Adriana	FR	1182	Oak Ridge -SJ-1	21	18:36.6	1:12.6	5:59.0	5:33.7 (22)	12:27.8 (22)
30	BUTLER, Brooke	SR	1179	Oak Ridge -SJ-1	22	18:40.6	1:16.6	6:00.3	5:42.7 (39)	12:36.6 (30)
31	DOROSTKAR, Sammi	SR	1719	Torrey Pines -SD-1	23	18:43.8	1:19.8	6:01.3	5:52.8 (65)	12:48.0 (38)
32	TAYLOR, Scarlett	JR	1723	Torrey Pines -SD-1	24	18:45.1	1:21.1	6:01.8	5:39.9 (31)	12:39.9 (33)
33	DULANEY, Norah	SR	478	Davis -SJ-1	25	18:45.6	1:21.6	6:01.9	5:40.3 (34)	12:38.4 (32)
34	NUNEZ, Maelin	SO	675	Great Oak -S-1	26	18:51.6	1:27.6	6:03.9	5:46.5 (54)	12:45.6 (36)
35	ARCIAGA, Kaitlyn	SO	1953	Westview -SD-1	--	18:53.1	1:29.1	6:04.3	5:40.2 (33)	12:48.5 (40)
36	NYBERG, Erika	SR	371	Clovis East -C-1	--	18:53.7	1:29.7	6:04.5	5:36.4 (27)	12:44.4 (34)
37	GORDON, Fiona	SO	1181	Oak Ridge -SJ-1	27	18:55.4	1:31.4	6:05.1	5:43.3 (41)	12:54.3 (48)
38	ECHSNER, Ella	JR	495	Del Norte -SD-1	28	18:55.8	1:31.8	6:05.2	5:46.6 (56)	12:55.3 (52)
39	SACH, Charlotte	SO	1722	Torrey Pines -SD-1	29	18:56.1	1:32.1	6:05.3	5:56.5 (79)	12:55.2 (51)
40	SALAZAR, Naima	SR	654	Granada Hills Cht -LA-1	30	18:56.1	1:32.1	6:05.3	5:45.6 (48)	12:53.6 (46)
41	PILETTE, Chloe	SR	1027	Menlo-Atherton -CC-1	31	18:56.4	1:32.4	6:05.4	5:42.1 (35)	12:47.0 (37)
42	BUCKLEY, Audrey	SO	1508	Santiago - Corona -S-1	32	18:56.8	1:32.8	6:05.5	5:42.2 (36)	12:48.3 (39)
43	DRAZSNZAK, Phoebe	SO	1445	San Luis Obispo -C-1	33	18:57.6	1:33.6	6:05.8	5:49.8 (61)	12:54.2 (47)
44	EBELL, Samantha	JR	373	Clovis North -C-1	34	18:57.6	1:33.6	6:05.8	5:47.8 (58)	12:54.8 (50)
45	LEE, Liana	JR	519	Dougherty Valley -NC-1	35	18:59.4	1:35.4	6:06.3	5:43.3 (42)	12:50.8 (42)
46	DOROSTKAR, Nikki	SR	1718	Torrey Pines -SD-1	36	18:59.6	1:35.6	6:06.4	5:49.9 (62)	12:53.3 (45)
47	FABIAN, Aishling	SR	672	Great Oak -S-1	37	19:01.0	1:36.0	6:06.9	5:49.4 (60)	12:56.2 (53)
48	RIGGINS, Hannah	SR	499	Del Norte -SD-1	38	19:02.1	1:38.1	6:07.2	5:32.5 (17)	12:32.3 (25)
49	ECHSNER, Paige	SO	496	Del Norte -SD-1	39	19:05.4	1:41.4	6:08.3	5:55.6 (75)	13:06.4 (67)
50	VELAZQUEZ, Meztli	SO	656	Granada Hills Cht -LA-1	40	19:06.0	1:41.0	6:08.5	5:44.0 (43)	12:56.5 (54)
51	LINDSAY, Camille	SR	910	Long Beach Poly -S-1	41	19:06.7	1:42.7	6:08.7	5:55.1 (72)	13:00.5 (59)
52	SMITH, Avery	SO	676	Great Oak -S-1	42	19:07.0	1:42.0	6:08.8	5:48.8 (59)	13:01.8 (61)
53	STUVLAND, Claire	SR	1737	Trabuco Hills -S-1	43	19:07.2	1:43.2	6:08.9	5:56.5 (81)	13:07.5 (70)
54	RUIZ, Katelynn	SO	1913	Watsonville -CC-1	44	19:07.7	1:43.7	6:09.0	5:45.5 (47)	13:01.9 (62)
55	DAME, McCall	SR	543	El Camino (OCN) -SD-1	--	19:08.6	1:44.6	6:09.3	5:36.5 (28)	12:51.2 (43)
56	REINHOLD, Malia	FR	1372	Rancho Cucamonga -S-1	45	19:09.3	1:45.3	6:09.5	5:46.2 (53)	12:54.3 (49)
57	PACHECO, Jocelyn	SR	653	Granada Hills Cht -LA-1	46	19:09.5	1:45.5	6:09.6	5:44.6 (44)	12:53.0 (44)
58	STONE, Katherine	SR	1115	Mountain View -CC-1	47	19:10.7	1:46.7	6:10.0	5:56.5 (80)	13:02.5 (63)
59	SIANA, Madilyn	JR	1373	Rancho Cucamonga -S-1	48	19:14.3	1:50.3	6:11.1	5:46.0 (51)	13:01.7 (60)
60	REYES, Rachel	FR	544	El Camino (OCN) -SD-1	--	19:18.3	1:54.3	6:12.4	5:44.8 (45)	13:06.8 (69)
61	BUSSE, Brianna	JR	494	Del Norte -SD-1	49	19:19.1	1:55.1	6:12.7	5:55.3 (74)	13:05.0 (65)
62	TELI, Ameya	SR	677	Great Oak -S-1	50	19:19.6	1:55.6	6:12.8	6:03.8 (106)	13:12.6 (75)
63	HUTCHISON, Avery	SO	168	Buchanan -C-1	51	19:19.7	1:55.7	6:12.9	5:35.2 (24)	12:50.5 (41)
64	PACHECO, Aubrey	SO	378	Clovis North -C-1	52	19:19.9	1:55.9	6:12.9	5:55.2 (73)	13:06.6 (68)
65	DESORMEAU, Anna	FR	1734	Trabuco Hills -S-1	53	19:19.9	1:55.9	6:12.9	5:57.1 (84)	13:08.3 (73)
66	CHEN, Ruby	JR	578	Evergreen Valley -CC-1	--	19:20.3	1:56.3	6:13.1	5:56.4 (78)	13:08.2 (72)
67	MALTOS, Miya	JR	376	Clovis North -C-1	54	19:20.5	1:56.5	6:13.1	5:46.0 (50)	12:58.7 (55)
68	BAYLES, Millie	FR	1732	Trabuco Hills -S-1	55	19:21.9	1:57.9	6:13.6	5:57.2 (85)	13:09.3 (74)
69	ESQUIBEL, Natalie	SR	1370	Rancho Cucamonga -S-1	56	19:22.7	1:58.7	6:13.8	5:44.9 (46)	13:00.3 (58)
70	CALVERT, Jenna	JR	619	Franklin-EG -SJ-1	--	19:22.9	1:58.9	6:13.9	5:54.0 (68)	13:03.1 (64)
71	TORZA, Devlyn	JR	678	Great Oak -S-1	57	19:30.5	2:06.5	6:16.4	5:58.9 (90)	13:06.2 (66)
72	NOTTINGHAM, Carina	FR	102	Berkeley -NC-1	58	19:31.5	2:07.5	6:16.7	5:50.4 (63)	12:58.9 (56)
73	MILLER, Hannah	SR	674	Great Oak -S-1	59	19:32.9	2:08.9	6:17.1	6:04.2 (108)	13:20.6 (80)
74	WOLFE, Maya	SO	1058	Modesto -SJ-1	--	19:33.7	2:09.7	6:17.4	5:54.3 (70)	13:07.6 (71)
75	HOWARD, Mary	SR	1564	Silver Creek -CC-1	--	19:35.1	2:11.1	6:17.8	5:57.7 (88)	13:18.3 (79)
76	PEACOCK, Katherine	SO	222	Carlmont -CC-1	--	19:37.9	2:13.9	6:18.7	5:53.0 (66)	13:17.2 (77)
77	QUIGLEY, Keira	SO	379	Clovis North -C-1	60	19:39.7	2:15.7	6:19.3	5:56.1 (77)	13:25.6 (88)
78	MARK, Natalie	SR	1111	Mountain View -CC-1	61	19:39.8	2:15.8	6:19.3	6:08.3 (115)	13:25.3 (87)
79	LEE, Kendal	SR	1510	Santiago - Corona -S-1	62	19:40.2	2:16.2	6:19.5	5:42.4 (37)	13:22.3 (83)
80	EWEN, Brinley	SR	1446	San Luis Obispo -C-1	63	19:42.1	2:18.1	6:20.1	5:50.6 (64)	13:14.5 (76)
81	WHITECAVAGE, Kinsley	FR	1513	Santiago - Corona -S-1	64	19:43.9	2:19.9	6:20.7	6:05.8 (114)	13:37.7 (109)
82	TOPP, Cleo	SO	1497	Santa Monica -S-1	65	19:44.7	2:20.7	6:20.9	5:57.4 (87)	13:22.4 (84)
83	GAUT, Marissa	SR	1720	Torrey Pines -SD-1	66	19:45.2	2:21.2	6:21.1	5:53.2 (67)	12:58.9 (57)
84	ALOMAYEHU, Hawene	JR	1492	Santa Monica -S-1	67	19:45.5	2:21.5	6:21.2	6:04.6 (111)	13:22.2 (82)
85	MAHONY, Maeve	SO	770	Inderkum -SJ-1	--	19:45.7	2:21.7	6:21.2	5:59.3 (94)	13:26.0 (89)
86	DAVIS, Taylor	FR	1509	Santiago - Corona -S-1	68	19:45.9	2:21.9	6:21.3	5:45.7 (49)	13:25.1 (86)
87	RACHAL, Laisette	SR	1363	Quartz Hill -S-1	69	19:47.6	2:23.6	6:21.8	5:46.1 (52)	13:21.7 (81)
88	SAHOTA-FLOOD, Kashmir	SO	1450	San Luis Obispo -C-1	70	19:48.5	2:24.5	6:22.1	5:59.4 (95)	13:28.0 (94)
89	MUNGUIA, Daniela	SR	377	Clovis North -C-1	71	19:48.6	2:24.6	6:22.2	5:56.1 (76)	13:26.8 (93)
90	ALLIE HARMON, Carla	FR	1402	Rocklin -SJ-1	--	19:51.1	2:27.1	6:23.0	5:46.8 (57)	13:17.5 (78)
91	REHKOPF, Cleo	JR	1028	Menlo-Atherton -CC-1	72	19:54.0	2:29.0	6:23.9	6:05.1 (112)	13:23.1 (85)
92	LANE, Addison	FR	498	Del Norte -SD-1	73	19:55.2	2:31.2	6:24.3	5:57.0 (83)	13:26.6 (92)
93	CLINTON, Addison	SO	1180	Oak Ridge -SJ-1	74	19:56.0	2:31.0	6:24.5	6:02.7 (103)	13:33.3 (102)
94	VALENCIA, Luciana	SR	701	Hamilton -LA-1	--	19:56.6	2:32.6	6:24.7	6:03.6 (105)	13:35.4 (107)
95	ANDRADE, Giselle	SO	1359	Quartz Hill -S-1	75	19:56.6	2:32.6	6:24.7	6:01.1 (97)	13:29.3 (96)
96	MELANI, Sofia	JR	1023	Menlo-Atherton -CC-1	76	19:58.1	2:34.1	6:25.2	6:01.9 (100)	13:26.3 (90)
97	WHITED, Francesca	SR	1498	Santa Monica -S-1	77	19:59.6	2:35.6	6:25.7	6:04.2 (107)	13:30.3 (98)
98	PFLAUM, Annie	JR	1026	Menlo-Atherton -CC-1	78	20:02.3	2:38.3	6:26.6	6:02.5 (101)	13:30.1 (97)
99	NARANJO-CHAMPION, Kelia	SO	638	Garfield (James) -LA-1	--	20:02.9	2:38.9	6:26.8	6:03.4 (104)	13:33.9 (104)
100	HOUGAN, Magnolia	SO	99	Berkeley -NC-1	79	20:03.0	2:38.0	6:26.8	5:54.9 (71)	13:26.3 (91)
101	GOLDMAN, Emma	SO	221	Carlmont -CC-1	--	20:03.1	2:39.1	6:26.8	5:59.2 (92)	13:35.3 (106)
102	VELAZQUEZ, Zaida	SR	657	Granada Hills Cht -LA-1	80	20:04.8	2:40.8	6:27.4	5:57.3 (86)	13:33.8 (103)
103	LESSER, Sophia	FR	1721	Torrey Pines -SD-1	81	20:07.7	2:43.7	6:28.3	6:17.3 (141)	13:43.1 (112)
104	BURNS, Madelynn	SO	1178	Oak Ridge -SJ-1	82	20:08.2	2:44.2	6:28.5	6:02.5 (102)	13:32.0 (99)
105	PRENTON, Melia	SO	532	Dublin -NC-1	--	20:09.6	2:45.6	6:28.9	6:04.4 (109)	13:40.6 (111)
106	KAUR, Ramneek	SO	579	Evergreen Valley -CC-1	--	20:11.9	2:47.9	6:29.7	5:59.2 (93)	13:28.8 (95)
107	SANCHEZ, Lizeth	SR	1680	Taft (William) -LA-1	--	20:12.5	2:48.5	6:29.9	5:58.7 (89)	13:35.3 (105)
108	JAMES, Regan	SO	1448	San Luis Obispo -C-1	83	20:12.9	2:48.9	6:30.0	6:01.7 (99)	13:33.2 (101)
109	MISURACA, Cassidy	FR	1112	Mountain View -CC-1	84	20:13.4	2:49.4	6:30.2	6:14.7 (128)	13:49.5 (115)
110	WOLK, Avery	FR	482	Davis -SJ-1	85	20:14.1	2:50.1	6:30.4	5:56.9 (82)	13:35.9 (108)
111	HERNANDEZ LUJAN, Evelyn	JR	908	Long Beach Poly -S-1	86	20:15.3	2:51.3	6:30.8	6:16.0 (136)	13:50.7 (118)
112	BOUCHER, Nola	SO	1177	Oak Ridge -SJ-1	87	20:16.8	2:52.8	6:31.2	6:09.6 (116)	13:44.3 (113)
113	HERNANDEZ, Gabriela	SR	1307	Pittsburg -NC-1	--	20:17.4	2:53.4	6:31.4	6:16.3 (137)	13:49.8 (116)
114	HUYNH, Cameron	SR	245	Castro Valley -NC-1	--	20:23.6	2:59.6	6:33.4	5:54.1 (69)	13:38.1 (110)
115	OTT, Hope	SO	772	James Logan -NC-1	--	20:25.7	3:01.7	6:34.1	6:12.2 (122)	13:50.4 (117)
116	DELGADO, Elissa	SR	531	Dublin -NC-1	--	20:26.5	3:02.5	6:34.4	6:14.3 (124)	13:53.4 (121)
117	BAAK, Ava	SR	1252	Palisades Charter -LA-1	88	20:27.8	3:03.8	6:34.8	6:01.4 (98)	13:32.6 (100)
118	KOVAC, Claire	SR	1495	Santa Monica -S-1	89	20:28.5	3:04.5	6:35.0	6:18.5 (144)	13:59.8 (126)
119	HERNANDEZ, Dennis	FR	1909	Watsonville -CC-1	90	20:30.1	3:06.1	6:35.5	6:15.6 (134)	14:00.4 (127)
120	STEWART, Kiarra	JR	1736	Trabuco Hills -S-1	91	20:31.6	3:07.6	6:36.0	6:15.8 (135)	14:03.6 (129)
121	GROSS, Maeko	SO	1494	Santa Monica -S-1	92	20:31.9	3:07.9	6:36.1	6:17.8 (142)	14:03.9 (130)
122	BRIGGS, Andelin	SR	1360	Quartz Hill -S-1	93	20:33.2	3:09.2	6:36.5	6:16.9 (140)	14:05.5 (134)
123	DU, Renee	SR	1369	Rancho Cucamonga -S-1	94	20:33.4	3:09.4	6:36.6	6:14.4 (125)	13:54.7 (122)
124	MEHTA, Riya	FR	1024	Menlo-Atherton -CC-1	95	20:36.6	3:12.6	6:37.6	6:21.7 (151)	13:57.6 (125)
125	NORD, Kendall	FR	1113	Mountain View -CC-1	96	20:37.0	3:12.0	6:37.7	6:15.3 (133)	13:56.3 (123)
126	DELANGLE, Sonia	SR	97	Berkeley -NC-1	97	20:37.2	3:13.2	6:37.8	6:04.5 (110)	13:51.5 (119)
127	BRYSON, Alexa	SR	906	Long Beach Poly -S-1	98	20:38.3	3:14.3	6:38.1	6:16.8 (139)	14:04.6 (133)
128	JOLLY, Brynn	SO	909	Long Beach Poly -S-1	99	20:42.2	3:18.2	6:39.4	6:20.9 (149)	14:08.8 (138)
129	MAMMEN, Louisa	FR	1253	Palisades Charter -LA-1	100	20:44.3	3:20.3	6:40.1	6:10.4 (118)	14:06.6 (135)
130	BACKHOLM, Olivia	JR	1110	Mountain View -CC-1	101	20:44.8	3:20.8	6:40.2	6:14.9 (129)	13:56.3 (124)
131	WANG, Natalie	JR	1724	Torrey Pines -SD-1	102	20:45.3	3:21.3	6:40.4	5:59.9 (96)	13:45.6 (114)
132	CHAN, Natalie	JR	518	Dougherty Valley -NC-1	103	20:46.5	3:22.5	6:40.8	6:15.2 (131)	14:00.5 (128)
133	BARRANCO, Dahlia	SR	1907	Watsonville -CC-1	104	20:49.2	3:25.2	6:41.7	6:15.1 (130)	14:06.9 (136)
134	REIGHTLEY, Lauren	FR	1511	Santiago - Corona -S-1	105	20:51.5	3:27.5	6:42.4	6:18.3 (143)	14:15.7 (146)
135	SU, Nora	SR	1116	Mountain View -CC-1	106	20:51.6	3:27.6	6:42.4	6:14.7 (127)	14:04.0 (131)
136	BOZORGCHAMI, Aida	FR	476	Davis -SJ-1	107	20:55.7	3:31.7	6:43.7	6:05.4 (113)	14:07.0 (137)
137	MIURA, Jaden	JR	1371	Rancho Cucamonga -S-1	108	20:56.0	3:31.0	6:43.8	5:59.1 (91)	13:52.8 (120)
138	SUDINA, Sanjana	JR	522	Dougherty Valley -NC-1	109	20:56.0	3:32.0	6:43.9	6:24.5 (160)	14:19.2 (149)
139	NOBREGAS, Alexandria	SO	1459	San Pedro -LA-1	--	20:56.7	3:32.7	6:44.1	6:24.2 (158)	14:14.8 (145)
140	ROGERS, Tessa	SO	1496	Santa Monica -S-1	110	20:57.1	3:33.1	6:44.2	6:23.6 (157)	14:08.9 (139)
141	NARASIMHAN, Riyanka	SR	520	Dougherty Valley -NC-1	111	20:57.5	3:33.5	6:44.3	6:12.0 (120)	14:11.1 (141)
142	LEE, Alexandra	SR	480	Davis -SJ-1	112	20:57.6	3:33.6	6:44.4	6:21.6 (150)	14:13.7 (143)
143	MORRIS, Kyra	JR	1254	Palisades Charter -LA-1	113	20:59.8	3:35.8	6:45.1	6:18.9 (145)	14:09.6 (140)
144	ADELI, Layla	SR	1250	Palisades Charter -LA-1	114	21:01.8	3:37.8	6:45.7	6:15.3 (132)	14:16.6 (148)
145	CHUN, Emily	SO	907	Long Beach Poly -S-1	115	21:07.2	3:43.2	6:47.4	6:19.9 (148)	14:12.5 (142)
146	LEE, Jordan	JR	1735	Trabuco Hills -S-1	116	21:08.8	3:44.8	6:47.9	6:14.0 (123)	14:04.5 (132)
147	RUIZ, Ana	SR	1912	Watsonville -CC-1	117	21:10.5	3:46.5	6:48.5	6:25.2 (161)	14:27.0 (153)
148	KIM, Margaret	SO	479	Davis -SJ-1	118	21:11.2	3:47.2	6:48.7	6:11.3 (119)	14:14.4 (144)
149	EKMEKJI, Layla	SR	362	Cleveland (Grover) -LA-1	--	21:17.2	3:53.2	6:50.7	6:29.5 (168)	14:32.5 (157)
150	GONZALEZ, Aaron	FR	1908	Watsonville -CC-1	119	21:20.5	3:56.5	6:51.7	6:22.6 (152)	14:22.3 (150)
151	HARTFORD, Faith	JR	1447	San Luis Obispo -C-1	120	21:20.6	3:56.6	6:51.7	6:10.2 (117)	14:16.6 (147)
152	MONTENEGRO, Vanessa	SO	1361	Quartz Hill -S-1	121	21:22.0	3:57.0	6:52.2	6:16.7 (138)	14:30.8 (155)
153	WATTS, Skylar	FR	1738	Trabuco Hills -S-1	122	21:26.4	4:02.4	6:53.6	6:19.0 (146)	14:23.8 (151)
154	KOHLMEYER, Zoe	FR	101	Berkeley -NC-1	123	21:27.7	4:03.7	6:54.0	6:19.7 (147)	14:24.8 (152)
155	KOCH, Gracie	SO	100	Berkeley -NC-1	124	21:29.0	4:04.0	6:54.5	6:24.4 (159)	14:31.7 (156)
156	BANGALORE, Niharika	JR	516	Dougherty Valley -NC-1	125	21:40.1	4:16.1	6:58.0	6:26.8 (163)	14:36.4 (159)
157	BANGALORE, Nikitha	JR	517	Dougherty Valley -NC-1	126	21:41.5	4:17.5	6:58.5	6:26.4 (162)	14:41.4 (162)
158	LOMELI, Elle	SO	170	Buchanan -C-1	127	21:42.2	4:18.2	6:58.7	5:28.8 (5)	12:00.7 (3)
159	O'DELL, Paige	SR	912	Long Beach Poly -S-1	128	21:45.5	4:21.5	6:59.8	6:27.2 (164)	14:46.8 (163)
160	CARROLL, Abby	SR	477	Davis -SJ-1	129	21:46.0	4:21.0	6:59.9	6:23.4 (156)	14:41.1 (161)
161	MEEKS, Carly	FR	1449	San Luis Obispo -C-1	130	21:49.6	4:25.6	7:01.1	6:22.8 (153)	14:33.8 (158)
162	CLIFFORD, Mia	SR	1444	San Luis Obispo -C-1	131	21:53.5	4:29.5	7:02.3	6:12.1 (121)	14:29.5 (154)
163	ENYEDI, Lilah	FR	497	Del Norte -SD-1	132	21:55.4	4:31.4	7:02.9	6:14.5 (126)	14:50.2 (165)
164	MADRID, Mylie	SO	1512	Santiago - Corona -S-1	133	21:57.7	4:33.7	7:03.7	6:22.9 (155)	14:40.8 (160)
165	TRICE, Reece	SO	655	Granada Hills Cht -LA-1	134	22:00.8	4:36.8	7:04.7	6:33.0 (170)	14:56.7 (167)
166	O'NEILL, Virginia	JR	1255	Palisades Charter -LA-1	135	22:04.7	4:40.7	7:05.9	6:28.8 (165)	15:03.2 (169)
167	ADELI, Leena	SO	1251	Palisades Charter -LA-1	136	22:05.7	4:41.7	7:06.2	6:29.0 (166)	15:03.3 (171)
168	ROSS, Ellie	JR	481	Davis -SJ-1	137	22:07.2	4:43.2	7:06.7	6:22.8 (154)	14:49.8 (164)
169	BATTLE, Sophia	FR	651	Granada Hills Cht -LA-1	138	22:09.4	4:45.4	7:07.5	6:40.0 (172)	15:02.4 (168)
170	NICKOLAUS, Naomi	SR	96	Berkeley -NC-1	139	22:13.8	4:49.8	7:08.9	6:30.0 (169)	14:53.4 (166)
171	WITTENBERG, Mollie	SR	1256	Palisades Charter -LA-1	140	22:52.7	5:28.7	7:21.4	6:29.0 (167)	15:03.3 (170)
172	BRAMWELL, Madeline	SO	98	Berkeley -NC-1	141	23:03.4	5:39.4	7:24.8	6:38.0 (171)	15:19.5 (172)
173	BRIGGS, Madison	FR	1362	Quartz Hill -S-1	142	23:06.7	5:42.7	7:25.9	6:42.5 (174)	15:38.9 (174)
174	WONG, Allison	FR	1365	Quartz Hill -S-1	143	23:17.2	5:53.2	7:29.3	6:42.8 (175)	15:38.7 (173)
175	KAVCIOGLU, Emma	SO	652	Granada Hills Cht -LA-1	144	23:17.3	5:53.3	7:29.3	6:42.4 (173)	15:39.0 (175)
176	PEDRAZA-QUINTA, Alexa	SR	1911	Watsonville -CC-1	145	24:41.6	7:17.6	7:56.4	7:15.8 (176)	16:42.5 (176)
177	MARTINEZ, Edith	SR	1910	Watsonville -CC-1	146	24:41.6	7:17.6	7:56.4	7:15.9 (177)	16:42.9 (177)

Division II
Final Standings	Score	Scoring Order	Total
1	Los Altos -CC-2	80	9-11-16-17-27(38)(76)	1:32:16
2	Newbury Park -S-2	93	4-8-13-24-44(45)(48)	1:32:22
3	St. Francis MV -CC-2	106	10-19-20-25-32(54)(56)	1:33:43
4	Palo Alto -CC-2	132	5-6-7-29-85(103)(117)	1:32:56
5	Ventura -S-2	189	1-3-37-69-79(108)(123)	1:33:39
6	Whitney -SJ-2	193	14-22-34-58-65(72)(118)	1:35:42
7	Granite Bay -SJ-2	221	12-23-40-49-97(109)(128)	1:36:20
8	Citrus Valley -S-2	291*	35-43-59-61-93(101)(134)	1:38:11
9	Mira Costa -S-2	291*	2-33-74-87-95(102)(116)	1:37:05
10	Canyon - Anaheim Hills -S-2	298	26-47-67-70-88(91)(124)	1:38:11
11	St Francis-Sac -SJ-2	299	31-39-41-92-96(99)(125)	1:38:29
12	Claremont -S-2	306	15-28-57-77-129(133)	1:38:20
13	El Toro -S-2	316	51-55-63-64-83(94)(115)	1:38:41
14	Monte Vista -NC-2	334	46-52-62-68-106(114)(130)	1:39:06
15	San Ramon Valley -NC-2	375	50-60-71-90-104(105)(120)	1:39:54
16	Vista Del Lago -SJ-2	397	18-81-82-89-127(143)(156)	1:40:25
17	Redwood -NC-2	412	30-75-84-111-112(135)(149)	1:40:29
18	Scripps Ranch -SD-2	454	53-73-78-113-137(141)(142)	1:41:43
19	Mt Carmel -SD-2	517	66-100-110-119-122(157)(161)	1:43:16
20	Paso Robles -C-2	550	21-121-126-136-146(154)(163)	1:45:06
21	San Dieguito Acad. -SD-2	561	86-98-107-132-138(140)(148)	1:44:35
22	Oakland Tech -O-2	638	42-139-145-150-162(165)	1:50:15
23	Bravo Medical Mag -LA-2	653	80-131-144-147-151(155)(158)	1:48:20
24	Highland -C-2	660	36-152-153-159-160(164)	1:51:30

*Tiebreakers
Citrus Valley -S-2	35	43	59	61	93	101	134
Mira Costa -S-2	2	33	74	87	95	102	116

Athlete	Yr.	#	Team	Score	Time	Gap	Avg. Mile	1mi	2.1mi
1	ENGELHARDT, Sadie	SO	1841	Ventura -S-2	1	16:57.9	---	5:27.3	5:16.2 (1)	11:30.9 (1)
2	CHITTENDEN, Anna	SR	1040	Mira Costa -S-2	2	17:32.0	33.1	5:38.2	5:29.3 (8)	12:02.5 (3)
3	CURTIS, Aelo	FR	1839	Ventura -S-2	3	17:42.1	44.2	5:41.5	5:32.9 (17)	11:58.4 (2)
4	HAWKINS, Ailish	SR	1156	Newbury Park -S-2	4	17:48.1	50.2	5:43.4	5:29.4 (9)	12:03.5 (4)
5	CZAJKOWSKA, Kinga	SO	1266	Palo Alto -CC-2	5	17:54.3	56.4	5:45.4	5:30.2 (12)	12:12.5 (8)
6	FETTER, Elizabeth	SR	1267	Palo Alto -CC-2	6	17:56.3	58.4	5:46.0	5:30.3 (13)	12:12.6 (9)
7	STUDDERT, Hillary	SR	1270	Palo Alto -CC-2	7	17:56.9	59.0	5:46.3	5:29.6 (11)	12:03.6 (5)
8	ZDANAVAGE, Jadyn	SR	1339	Portola -S-2	--	17:58.1	1:00.2	5:46.6	5:29.1 (7)	12:16.3 (12)
9	SAX, Tiffany	SO	1158	Newbury Park -S-2	8	18:01.3	1:03.4	5:47.7	5:28.9 (6)	12:08.5 (7)
10	SOOBRIAN, Emily	SO	919	Los Altos -CC-2	9	18:03.9	1:06.0	5:48.5	5:31.9 (14)	12:15.1 (11)
11	FAWCETT, Anna	SR	1613	St. Francis MV -CC-2	10	18:11.5	1:13.6	5:51.0	5:40.0 (26)	12:23.4 (14)
12	BROWNE, Mackenzie	SR	771	J.W. North -S-2	--	18:12.8	1:14.9	5:51.4	5:28.4 (4)	12:16.3 (13)
13	SOOBRIAN, Lauren	SR	920	Los Altos -CC-2	11	18:16.1	1:18.2	5:52.4	5:23.4 (2)	12:07.5 (6)
14	FOSTER, Carly	SR	667	Granite Bay -SJ-2	12	18:16.6	1:18.7	5:52.6	5:37.5 (23)	12:26.6 (16)
15	GRANT, Sophia	FR	1155	Newbury Park -S-2	13	18:18.7	1:20.8	5:53.3	5:33.3 (18)	12:25.8 (15)
16	KOPEC, Katie	SR	1964	Whitney -SJ-2	14	18:19.4	1:21.5	5:53.5	5:29.4 (10)	12:27.6 (18)
17	CHEN, Jie Yi Denise	JR	342	Claremont -S-2	15	18:19.5	1:21.6	5:53.5	5:28.5 (5)	12:14.3 (10)
18	TAU, Sophie	SR	922	Los Gatos -CC-2	--	18:21.2	1:23.3	5:54.1	5:39.8 (25)	12:30.3 (19)
19	KORDIC, Makenzie	JR	1295	Peninsula -S-2	--	18:24.5	1:26.6	5:55.1	5:32.8 (16)	12:26.8 (17)
20	ANDERSON, Lydia	FR	916	Los Altos -CC-2	16	18:27.9	1:30.0	5:56.2	5:37.5 (22)	12:39.4 (21)
21	SIDHU, Jasleen	JR	918	Los Altos -CC-2	17	18:32.6	1:34.7	5:57.7	5:35.7 (20)	12:37.5 (20)
22	MANNION, Brenna	FR	1886	Vista Del Lago -SJ-2	18	18:39.1	1:41.2	5:59.8	5:41.2 (30)	12:44.1 (25)
23	GUINN, Rylee	SR	853	Liberty -NC-2	--	18:41.9	1:44.0	6:00.7	5:37.9 (24)	12:43.9 (23)
24	ZANETTO, Sabrina	SO	1617	St. Francis MV -CC-2	19	18:46.2	1:48.3	6:02.1	5:47.1 (42)	12:48.1 (28)
25	YAMAMOTO, Hinako	SR	1616	St. Francis MV -CC-2	20	18:47.6	1:49.7	6:02.6	5:48.6 (48)	12:50.5 (34)
26	MOORE, Sydney	SR	1291	Paso Robles -C-2	21	18:47.6	1:49.7	6:02.6	5:43.2 (34)	12:45.0 (26)
27	KOPEC, Ava	JR	1963	Whitney -SJ-2	22	18:49.2	1:51.3	6:03.1	5:45.8 (38)	12:50.4 (33)
28	ALLISON, Emily	JR	665	Granite Bay -SJ-2	23	18:50.3	1:52.4	6:03.4	5:47.5 (43)	12:49.4 (32)
29	NATARAJAN, Maya	JR	1157	Newbury Park -S-2	24	18:50.7	1:52.8	6:03.5	5:50.9 (61)	12:57.0 (39)
30	DRAPER, Lauren	FR	1612	St. Francis MV -CC-2	25	18:51.9	1:54.0	6:03.9	5:51.3 (62)	12:53.6 (37)
31	DEBARROS, Taylor	SR	213	Canyon - Anaheim Hills -S-2	26	18:54.3	1:56.4	6:04.7	5:43.2 (33)	12:49.0 (30)
32	LARSSON, Kianna	SO	1396	Rio Americano -SJ-2	--	18:54.6	1:56.7	6:04.8	5:54.9 (76)	12:59.4 (43)
33	BODKIN, Fiona	SR	915	Los Altos -CC-2	27	18:55.6	1:57.7	6:05.1	5:50.6 (56)	12:54.3 (38)
34	CALLANAN, Aishling	SR	1294	Peninsula -S-2	--	18:57.0	1:58.1	6:05.6	5:35.9 (21)	12:46.1 (27)
35	BULMER, Isla	FR	341	Claremont -S-2	28	19:00.6	2:02.7	6:06.7	5:40.4 (27)	12:52.2 (35)
36	BHARADWAJ, Amaya	FR	1264	Palo Alto -CC-2	29	19:00.7	2:02.8	6:06.8	5:55.3 (78)	13:02.1 (48)
37	MACLEAN, Audrey	SR	1379	Redwood -NC-2	30	19:02.7	2:04.8	6:07.4	5:55.1 (77)	12:59.8 (45)
38	WITHERELL, Daphne	SR	1602	St Francis-Sac -SJ-2	31	19:04.5	2:06.6	6:08.0	5:58.8 (97)	13:09.1 (60)
39	CILLEY, Caitlin	SO	1611	St. Francis MV -CC-2	32	19:05.1	2:07.2	6:08.2	5:45.2 (36)	12:48.5 (29)
40	JENSEN, Heather	SR	1043	Mira Costa -S-2	33	19:05.5	2:07.6	6:08.3	5:48.2 (46)	13:02.3 (49)
41	ESTRADA, Melissa	SR	1873	Vista -SD-2	--	19:05.7	2:07.8	6:08.4	5:52.1 (65)	13:00.2 (46)
42	MARHEINEKE, Evie	SO	43	Arch. Mitty -CC-2	--	19:06.9	2:09.0	6:08.8	5:32.2 (15)	12:43.8 (22)
43	LANDON, Jane	FR	1965	Whitney -SJ-2	34	19:07.6	2:09.7	6:09.0	5:53.9 (69)	13:03.7 (53)
44	LOMELI, Hailie	JR	329	Citrus Valley -S-2	35	19:08.5	2:10.6	6:09.3	5:45.4 (37)	12:59.4 (44)
45	GUERRA, Lianna	SR	726	Highland -C-2	36	19:08.7	2:10.8	6:09.4	5:44.8 (35)	12:58.3 (41)
46	TRUE, Melanie	FR	1843	Ventura -S-2	37	19:12.7	2:14.8	6:10.6	5:40.8 (29)	12:52.9 (36)
47	BEEDON, Emma	FR	914	Los Altos -CC-2	38	19:14.5	2:16.6	6:11.2	5:54.5 (72)	13:02.0 (47)
48	QUIGLEY, Paige	SR	1598	St Francis-Sac -SJ-2	39	19:15.9	2:18.0	6:11.6	5:46.6 (41)	13:02.8 (51)
49	HANSEN, Lizzy	SO	668	Granite Bay -SJ-2	40	19:15.9	2:18.0	6:11.7	5:56.2 (86)	13:17.6 (73)
50	KIPPES, Mircea	SR	1975	Wilcox -CC-2	--	19:16.1	2:18.2	6:11.7	5:49.5 (52)	12:58.0 (40)
51	GUILFOILE, Sophie	SO	1338	Portola -S-2	--	19:19.8	2:21.9	6:12.9	5:40.8 (28)	12:58.8 (42)
52	DUNHAM, Grace	JR	1597	St Francis-Sac -SJ-2	41	19:20.7	2:22.8	6:13.2	5:49.3 (51)	13:09.4 (61)
53	LEDUC, Chloe	FR	1198	Oakland Tech -O-2	42	19:21.5	2:23.6	6:13.4	5:41.7 (32)	13:04.8 (55)
54	DEL RIO, Itzel	SR	328	Citrus Valley -S-2	43	19:21.8	2:23.9	6:13.5	5:49.1 (49)	13:02.7 (50)
55	ELMORE, Shea	SO	921	Los Gatos -CC-2	--	19:22.6	2:24.7	6:13.8	5:51.8 (64)	13:13.4 (66)
56	GONZALEZ, Giselle	JR	1153	Newbury Park -S-2	44	19:22.7	2:24.8	6:13.8	5:50.5 (55)	13:07.8 (58)
57	LEHTO, Nora	JR	1154	Newbury Park -S-2	45	19:22.9	2:25.0	6:13.9	5:56.4 (87)	13:16.7 (72)
58	THOMPSON, Aubrey	JR	855	Liberty - Bakersfield -C-2	--	19:24.1	2:26.2	6:14.3	5:41.5 (31)	13:07.7 (57)
59	SPAIN, Abigail	SR	175	Bullard -C-2	--	19:24.8	2:26.9	6:14.5	5:55.3 (79)	13:09.5 (62)
60	DOLAN, Peyton	JR	1068	Monte Vista -NC-2	46	19:25.9	2:28.0	6:14.9	5:54.3 (71)	13:15.5 (69)
61	POTTER, Keira	SR	217	Canyon - Anaheim Hills -S-2	47	19:27.4	2:29.5	6:15.3	5:47.8 (44)	13:07.0 (56)
62	BROTCKE, Danielle	JR	1152	Newbury Park -S-2	48	19:28.7	2:30.8	6:15.8	5:46.0 (39)	12:43.9 (24)
63	BAXTER, Grace	SO	666	Granite Bay -SJ-2	49	19:29.1	2:31.2	6:15.9	5:46.5 (40)	13:03.4 (52)
64	ROESGEN, Grace	JR	1466	San Ramon Valley -NC-2	50	19:29.9	2:32.0	6:16.2	5:48.6 (47)	13:04.3 (54)
65	DELATORRE, Khloe	FR	1805	Vacaville -SJ-2	--	19:30.1	2:32.2	6:16.2	5:48.0 (45)	13:10.1 (63)
66	DANAHER, Dakota	SO	561	El Toro -S-2	51	19:30.3	2:32.4	6:16.3	5:57.4 (93)	13:16.1 (71)
67	POWELL, Alexandra	SO	1070	Monte Vista -NC-2	52	19:31.6	2:33.7	6:16.7	5:33.4 (19)	12:49.1 (31)
68	MARTIN, Michaela	SR	1546	Scripps Ranch -SD-2	53	19:31.9	2:34.0	6:16.8	5:50.9 (60)	13:13.4 (65)
69	KAELBER, Lillian	JR	1614	St. Francis MV -CC-2	54	19:35.2	2:37.3	6:17.9	5:49.5 (53)	13:09.0 (59)
70	MILLER, Carly	SR	563	El Toro -S-2	55	19:35.3	2:37.4	6:17.9	5:59.1 (98)	13:16.0 (70)
71	MULLANE, Katie	FR	1615	St. Francis MV -CC-2	56	19:35.4	2:37.5	6:17.9	5:53.9 (70)	13:11.2 (64)
72	SMITH, Kaitlyn	SO	346	Claremont -S-2	57	19:36.6	2:38.7	6:18.3	5:58.6 (96)	13:27.5 (89)
73	SCOTT, Grace	JR	1966	Whitney -SJ-2	58	19:37.8	2:39.9	6:18.7	5:55.7 (82)	13:15.4 (68)
74	ROMERO, Gabriella	JR	330	Citrus Valley -S-2	59	19:38.7	2:40.8	6:19.0	5:53.8 (68)	13:24.5 (85)
75	SCHULTZ, Margot	FR	1468	San Ramon Valley -NC-2	60	19:39.2	2:41.3	6:19.2	5:56.9 (91)	13:20.9 (79)
76	CALDERA, Alegra	FR	327	Citrus Valley -S-2	61	19:39.3	2:41.4	6:19.2	5:55.7 (81)	13:21.5 (82)
77	KIMOTSUKI, Noelle	JR	633	Galileo -SF-2	--	19:39.8	2:41.9	6:19.3	5:57.8 (95)	13:20.6 (78)
78	REED, Grace	SR	389	College Park -NC-2	--	19:40.1	2:42.2	6:19.4	5:59.7 (102)	13:29.3 (91)
79	CARPENTER, Sophia	SR	21	Alameda -NC-2	--	19:40.3	2:42.4	6:19.5	5:54.5 (73)	13:22.0 (83)
80	KIMBALL, Kate	SR	1404	Rodriguez -SJ-2	--	19:40.6	2:42.7	6:19.6	6:01.6 (106)	13:29.5 (94)
81	TURNS, Allie	SO	1072	Monte Vista -NC-2	62	19:41.0	2:42.1	6:19.7	5:55.3 (80)	13:26.3 (88)
82	SCOTT, Bianca	SR	952	Madera -C-2	--	19:44.0	2:45.1	6:20.7	5:59.3 (100)	13:24.9 (86)
83	VARELA, Lucy	SO	566	El Toro -S-2	63	19:45.0	2:46.1	6:21.0	5:57.4 (94)	13:18.7 (75)
84	SMORICK, Elizabeth	SO	565	El Toro -S-2	64	19:45.5	2:47.6	6:21.2	6:11.5 (135)	13:34.2 (100)
85	EWERS, Addison	FR	1961	Whitney -SJ-2	65	19:47.3	2:49.4	6:21.8	6:15.8 (153)	13:35.9 (103)
86	SAUDER, Kerrigan	SO	643	Granada -NC-2	--	19:47.9	2:50.0	6:21.9	5:50.6 (57)	13:14.8 (67)
87	SELBREDE, Breea	SR	1124	Mt Carmel -SD-2	66	19:48.0	2:49.1	6:22.0	5:59.1 (99)	13:29.9 (95)
88	GUTHRIE, Lindsay	JR	214	Canyon - Anaheim Hills -S-2	67	19:48.1	2:50.2	6:22.0	6:11.7 (136)	13:41.2 (113)
89	AMARE, Maraki	JR	1067	Monte Vista -NC-2	68	19:48.2	2:50.3	6:22.0	5:54.9 (75)	13:18.7 (74)
90	BURMAN, Bailey	SO	1838	Ventura -S-2	69	19:48.6	2:50.7	6:22.2	5:50.6 (58)	13:20.4 (77)
91	OLIVA, Makena	JR	216	Canyon - Anaheim Hills -S-2	70	19:49.6	2:51.7	6:22.5	5:52.5 (67)	13:21.1 (80)
92	SALVEN, Alyssa	SO	1467	San Ramon Valley -NC-2	71	19:51.0	2:52.1	6:22.9	5:56.5 (88)	13:21.2 (81)
93	HUTCHINSON, Sophie	FR	1962	Whitney -SJ-2	72	19:51.2	2:53.3	6:23.0	6:15.3 (150)	13:36.5 (104)
94	VAN DUREN, Ally	SO	1548	Scripps Ranch -SD-2	73	19:52.0	2:53.1	6:23.3	5:57.0 (92)	13:20.2 (76)
95	MURCH, Nicole	SR	1045	Mira Costa -S-2	74	19:52.4	2:54.5	6:23.4	6:09.5 (128)	13:34.9 (101)
96	STOLTE, Erin	JR	1382	Redwood -NC-2	75	19:53.0	2:54.1	6:23.6	6:03.5 (112)	13:29.4 (93)
97	RANDALL, Madeline	JR	917	Los Altos -CC-2	76	19:53.4	2:55.5	6:23.7	5:59.9 (103)	13:33.0 (98)
98	GOSSETT, Alexa	JR	344	Claremont -S-2	77	19:55.2	2:57.3	6:24.3	5:52.3 (66)	13:29.4 (92)
99	ELLERMEYER, Chloe	SR	1544	Scripps Ranch -SD-2	78	19:55.7	2:57.8	6:24.4	6:05.6 (119)	13:31.6 (96)
100	PEACHER, Lauren	JR	1874	Vista -SD-2	--	19:56.7	2:58.8	6:24.8	5:56.7 (90)	13:29.3 (90)
101	HERNANDEZ, Sofia	FR	1842	Ventura -S-2	79	19:57.7	2:59.8	6:25.1	5:50.1 (54)	13:23.6 (84)
102	BOGUE, Brynn	SO	150	Bravo Medical Mag -LA-2	80	19:59.8	3:01.9	6:25.8	5:56.1 (85)	13:31.7 (97)
103	LECINA, Laure	SO	1884	Vista Del Lago -SJ-2	81	20:01.7	3:03.8	6:26.4	6:04.7 (117)	13:35.5 (102)
104	WAKEFIELD, Elle	SR	1888	Vista Del Lago -SJ-2	82	20:03.7	3:05.8	6:27.0	6:04.6 (116)	13:36.5 (105)
105	GONZALEZ, Evelyn	JR	562	El Toro -S-2	83	20:04.2	3:06.3	6:27.2	6:02.9 (110)	13:26.2 (87)
106	NOGUEIRO, Sofia	SR	1381	Redwood -NC-2	84	20:05.4	3:07.5	6:27.6	6:06.3 (121)	13:41.0 (112)
107	KIESSLING, Romy	SO	1269	Palo Alto -CC-2	85	20:07.6	3:09.7	6:28.3	6:13.2 (142)	13:47.0 (121)
108	CURRIE, Casey	SR	1434	San Dieguito Acad. -SD-2	86	20:09.1	3:11.2	6:28.8	6:04.2 (115)	13:39.8 (111)
109	HALEY, Bianca	SR	1042	Mira Costa -S-2	87	20:10.3	3:12.4	6:29.1	6:16.1 (155)	13:48.2 (122)
110	HOWARD, Emily	SO	215	Canyon - Anaheim Hills -S-2	88	20:10.9	3:13.0	6:29.4	6:12.9 (139)	13:56.9 (135)
111	FIELDEN, Daycia	SR	1469	San Ysidro -SD-2	--	20:13.6	3:15.7	6:30.2	6:09.2 (126)	13:39.7 (110)
112	BROWN, Neveah	FR	1401	River Valley -SJ-2	--	20:14.2	3:16.3	6:30.4	6:08.2 (124)	13:50.0 (126)
113	LUONG, Addison	FR	1885	Vista Del Lago -SJ-2	89	20:16.9	3:19.0	6:31.3	6:10.6 (132)	13:48.3 (124)
114	KNAPP, Avery	JR	1464	San Ramon Valley -NC-2	90	20:19.3	3:21.4	6:32.1	6:01.3 (104)	13:41.8 (114)
115	YIM, Allison	SO	218	Canyon - Anaheim Hills -S-2	91	20:19.7	3:21.8	6:32.2	6:12.7 (138)	13:57.0 (136)
116	CANNESSON, Gabrielle	SO	981	Marshall (John) -LA-2	--	20:20.4	3:22.5	6:32.4	5:54.7 (74)	13:37.1 (106)
117	PROKOPOVYCH-SHCHEPETKIN, Lidia	SR	1830	Venice -LA-2	--	20:21.2	3:23.3	6:32.6	6:08.2 (125)	13:45.6 (118)
118	STRAWN, Ryann	JR	1599	St Francis-Sac -SJ-2	92	20:21.9	3:24.0	6:32.9	6:09.8 (129)	13:45.2 (117)
119	BRAVO, Isabella	SO	326	Citrus Valley -S-2	93	20:22.7	3:24.8	6:33.1	5:55.7 (83)	13:37.8 (107)
120	RIVERA CABRERA, Katherine	JR	564	El Toro -S-2	94	20:23.8	3:25.9	6:33.5	6:22.0 (169)	13:55.9 (132)
121	CRAWMER, Claire	JR	1041	Mira Costa -S-2	95	20:24.2	3:26.3	6:33.6	6:19.9 (162)	13:52.4 (128)
122	TOWNE, Kayla	JR	1601	St Francis-Sac -SJ-2	96	20:25.8	3:27.9	6:34.1	5:56.5 (89)	13:38.6 (109)
123	ULLYOTT, Jacqueline	SO	670	Granite Bay -SJ-2	97	20:28.2	3:30.3	6:34.9	6:04.9 (118)	13:49.8 (125)
124	LIGOTTI, Sage	JR	1438	San Dieguito Acad. -SD-2	98	20:29.0	3:30.1	6:35.2	6:15.7 (152)	13:55.2 (131)
125	SUTCH, Kelsey	JR	1600	St Francis-Sac -SJ-2	99	20:29.3	3:31.4	6:35.2	6:20.0 (164)	13:54.6 (130)
126	BRIDGES, Nicole	JR	854	Liberty - Bakersfield -C-2	--	20:30.1	3:32.2	6:35.5	5:49.3 (50)	13:38.0 (108)
127	CAMPOS, Olivia	FR	1120	Mt Carmel -SD-2	100	20:31.0	3:32.1	6:35.8	6:02.5 (108)	13:50.8 (127)
128	BARRO, Odyssea	FR	325	Citrus Valley -S-2	101	20:31.2	3:33.3	6:35.9	5:50.6 (59)	13:43.7 (116)
129	PARSLEY, Sophia	JR	1046	Mira Costa -S-2	102	20:32.0	3:33.1	6:36.1	6:09.3 (127)	13:46.0 (120)
130	CRAIG, Finley	SR	1265	Palo Alto -CC-2	103	20:33.7	3:35.8	6:36.7	6:11.0 (134)	13:59.0 (139)
131	MICHEL, Mackenzie	SR	1465	San Ramon Valley -NC-2	104	20:34.1	3:36.2	6:36.8	6:03.5 (111)	13:45.7 (119)
132	DELANOY, Lindsay	JR	1463	San Ramon Valley -NC-2	105	20:38.2	3:40.3	6:38.1	6:19.5 (161)	13:57.6 (137)
133	LEW, Shelby	SR	1071	Monte Vista -NC-2	106	20:39.3	3:41.4	6:38.5	6:13.0 (140)	14:04.0 (144)
134	ERICSON, Reagan	SR	1435	San Dieguito Acad. -SD-2	107	20:40.0	3:41.1	6:38.7	6:13.6 (143)	13:56.6 (134)
135	DAW, Brody	SO	1840	Ventura -S-2	108	20:40.6	3:42.7	6:38.9	6:01.6 (107)	13:53.5 (129)
136	RUFF, Isabelle	SR	354	Clayton Valley -NC-2	--	20:41.0	3:42.1	6:39.0	5:55.7 (84)	13:42.3 (115)
137	VALLADARES, Angelina	JR	211	Canoga Park -LA-2	--	20:41.5	3:43.6	6:39.2	5:51.8 (63)	13:33.2 (99)
138	WIESE, Olivia	SR	671	Granite Bay -SJ-2	109	20:41.7	3:43.8	6:39.3	6:13.2 (141)	14:04.4 (145)
139	EVERTS, Lieke	SO	1122	Mt Carmel -SD-2	110	20:42.4	3:44.5	6:39.5	6:10.2 (131)	13:58.9 (138)
140	BAKER, Jean	SR	1377	Redwood -NC-2	111	20:43.9	3:46.0	6:39.9	6:15.2 (149)	14:02.4 (141)
141	NACCO, Marley	SO	1380	Redwood -NC-2	112	20:44.0	3:45.1	6:40.0	6:15.0 (147)	14:02.6 (142)
142	CAI, Michelle	SO	1543	Scripps Ranch -SD-2	113	20:44.3	3:46.4	6:40.1	6:10.7 (133)	13:56.5 (133)
143	TRUJILLO, Abby	JR	630	Frontier -C-2	--	20:47.1	3:49.2	6:41.0	6:02.5 (109)	14:10.0 (151)
144	LEAHEY, Alexa	SO	1069	Monte Vista -NC-2	114	20:50.0	3:51.1	6:41.9	6:09.9 (130)	14:06.3 (148)
145	CORRIGAN, Elizabeth	JR	535	Eagle Rock -LA-2	--	20:50.7	3:52.8	6:42.1	6:05.7 (120)	14:04.0 (143)
146	PETERSEN, Abby	JR	581	Fallbrook -SD-2	--	20:50.9	3:53.0	6:42.2	6:07.3 (122)	14:00.9 (140)
147	CHO, Janice	SR	560	El Toro -S-2	115	20:57.7	3:59.8	6:44.4	6:22.0 (168)	14:07.6 (150)
148	LIGOR, Brooke	JR	1044	Mira Costa -S-2	116	20:58.2	4:00.3	6:44.6	6:23.2 (171)	14:17.0 (154)
149	KATILA-MIIKKOLAINEN, Alli	FR	1268	Palo Alto -CC-2	117	20:59.0	4:00.1	6:44.8	6:17.1 (158)	14:18.5 (157)
150	SOTO, Isabel	SO	1967	Whitney -SJ-2	118	21:01.4	4:03.5	6:45.6	6:20.6 (166)	14:07.2 (149)
151	BELL, Veronica	FR	1119	Mt Carmel -SD-2	119	21:06.2	4:08.3	6:47.1	6:20.9 (167)	14:20.3 (159)
152	LOPEZ, Angelina	SO	210	Canoga Park -LA-2	--	21:07.4	4:09.5	6:47.5	6:14.2 (145)	14:17.7 (156)
153	ALTAMIRANO, Faustina	SR	1462	San Ramon Valley -NC-2	120	21:07.6	4:09.7	6:47.6	6:19.3 (160)	14:11.5 (152)
154	HAMMOND, Kelsey	SR	1290	Paso Robles -C-2	121	21:08.2	4:10.3	6:47.8	6:23.0 (170)	14:21.9 (162)
155	TAYSOM, Sierra	JR	1125	Mt Carmel -SD-2	122	21:08.3	4:10.4	6:47.8	5:59.5 (101)	13:48.3 (123)
156	VON GUNTEN, Caroline	SO	1844	Ventura -S-2	123	21:09.6	4:11.7	6:48.2	6:01.5 (105)	14:05.4 (147)
157	BOLTON, Kathryn	SR	212	Canyon - Anaheim Hills -S-2	124	21:13.8	4:15.9	6:49.6	6:14.2 (146)	14:17.2 (155)
158	DOBSON, Emma	JR	1596	St Francis-Sac -SJ-2	125	21:17.5	4:19.6	6:50.8	6:20.0 (163)	14:22.2 (163)
159	GAVIOLA, Kalani	JR	1288	Paso Robles -C-2	126	21:20.4	4:22.5	6:51.7	6:14.0 (144)	14:21.5 (161)
160	PEDEUPE, Isabella	JR	1887	Vista Del Lago -SJ-2	127	21:23.4	4:25.5	6:52.6	6:20.4 (165)	14:27.8 (165)
161	NASCA, Kylie	JR	669	Granite Bay -SJ-2	128	21:27.3	4:29.4	6:53.9	6:03.8 (113)	14:19.5 (158)
162	CHENG, I-Le	FR	340	Claremont -S-2	129	21:27.8	4:29.9	6:54.1	6:29.0 (181)	14:36.8 (170)
163	WONG, Sienna	FR	1073	Monte Vista -NC-2	130	21:32.6	4:34.7	6:55.6	6:16.1 (154)	14:26.7 (164)
164	MORALES, Angelique	SO	154	Bravo Medical Mag -LA-2	131	21:32.8	4:34.9	6:55.7	6:11.8 (137)	14:21.2 (160)
165	WADE, Katelyn	SR	1440	San Dieguito Acad. -SD-2	132	21:33.2	4:35.3	6:55.8	6:17.1 (159)	14:29.0 (167)
166	DIAZ, Angelina	JR	343	Claremont -S-2	133	21:33.3	4:35.4	6:55.8	6:15.1 (148)	14:27.9 (166)
167	ISA, Merideth	JR	2034	Citrus Valley -S-2	134	21:33.3	4:35.4	6:55.8	6:15.5 (151)	14:29.5 (168)
168	STROTZ, Tawny	SR	1383	Redwood -NC-2	135	21:37.6	4:39.7	6:57.2	6:28.4 (179)	14:37.7 (171)
169	HAMMOND, Jordan	JR	1289	Paso Robles -C-2	136	21:38.3	4:40.4	6:57.4	6:39.1 (187)	14:50.2 (174)
170	RICHARDSON, Addy	SO	1547	Scripps Ranch -SD-2	137	21:39.2	4:41.3	6:57.7	6:07.8 (123)	14:04.6 (146)
171	GILBERT, London	JR	1436	San Dieguito Acad. -SD-2	138	21:43.7	4:45.8	6:59.2	6:17.0 (157)	14:48.7 (173)
172	SEIBERLICH, Lily	JR	1201	Oakland Tech -O-2	139	21:46.3	4:48.4	7:00.0	6:39.9 (189)	14:56.9 (179)
173	LEWIS, Delilah	FR	1437	San Dieguito Acad. -SD-2	140	21:48.0	4:49.1	7:00.6	6:16.9 (156)	14:36.4 (169)
174	KEEGAN, Sadie	JR	1545	Scripps Ranch -SD-2	141	21:48.3	4:50.4	7:00.7	6:38.4 (186)	14:55.0 (177)
175	MONREAL, Julia	SR	1595	Southwest (EC) -SD-2	--	21:52.5	4:54.6	7:02.0	6:04.1 (114)	14:15.6 (153)
176	WARNER, Tayler	SO	1549	Scripps Ranch -SD-2	142	21:53.2	4:55.3	7:02.2	6:32.7 (183)	14:45.4 (172)
177	CARVALLO, Vivian	SO	1882	Vista Del Lago -SJ-2	143	22:05.1	5:07.2	7:06.1	6:41.0 (190)	15:02.1 (182)
178	LOYA, Victoria	JR	153	Bravo Medical Mag -LA-2	144	22:05.4	5:07.5	7:06.2	6:27.8 (176)	14:51.6 (175)
179	DOANE, Sophia	FR	1196	Oakland Tech -O-2	145	22:09.1	5:11.2	7:07.3	6:41.9 (191)	15:04.7 (185)
180	CAME, Pippin	FR	1287	Paso Robles -C-2	146	22:11.0	5:12.1	7:08.0	6:39.2 (188)	15:00.1 (180)
181	CONEJO, Frida	SR	151	Bravo Medical Mag -LA-2	147	22:11.7	5:13.8	7:08.2	6:27.4 (175)	15:02.5 (183)
182	LORCH, Ava	JR	1439	San Dieguito Acad. -SD-2	148	22:13.2	5:15.3	7:08.7	6:25.2 (172)	14:56.3 (178)
183	FENNER, Aysla	JR	1378	Redwood -NC-2	149	22:23.8	5:25.9	7:12.1	6:28.4 (180)	15:00.5 (181)
184	CARLSON, Harper	SO	1195	Oakland Tech -O-2	150	22:26.4	5:28.5	7:12.9	6:52.8 (193)	15:19.0 (188)
185	HERNANDEZ, Jasmine	SO	152	Bravo Medical Mag -LA-2	151	22:30.1	5:32.2	7:14.1	6:30.2 (182)	15:05.9 (186)
186	VASQUEZ, Jasmine	JR	731	Highland -C-2	152	22:33.6	5:35.7	7:15.2	6:26.1 (173)	14:54.7 (176)
187	GODFREDSEN, Sofie	SO	632	Galileo -SF-2	--	22:36.5	5:38.6	7:16.2	6:33.9 (184)	15:10.1 (187)
188	MIRELES, Lesslie	JR	728	Highland -C-2	153	22:38.1	5:40.2	7:16.7	6:28.3 (178)	15:03.2 (184)
189	TROY, Kylie	SO	1293	Paso Robles -C-2	154	22:57.5	5:59.6	7:22.9	6:28.3 (177)	15:23.3 (189)
190	NAJARRO, Sofia	SO	155	Bravo Medical Mag -LA-2	155	23:10.0	6:11.1	7:26.9	6:27.4 (174)	15:32.2 (190)
191	DAVIS, Annika	SR	1883	Vista Del Lago -SJ-2	156	23:16.4	6:18.5	7:29.0	6:54.3 (196)	15:41.0 (191)
192	HOLLAND, Elise	JR	1123	Mt Carmel -SD-2	157	23:22.6	6:24.7	7:31.0	6:48.8 (192)	15:50.9 (194)
193	ALVAREZ, Rashel	JR	149	Bravo Medical Mag -LA-2	158	23:22.9	6:25.0	7:31.1	7:00.1 (202)	15:51.7 (195)
194	MATNEY, Ali	FR	727	Highland -C-2	159	23:31.3	6:33.4	7:33.8	6:56.3 (198)	15:48.6 (193)
195	SWEET, Jaya	FR	729	Highland -C-2	160	23:38.4	6:40.5	7:36.1	6:57.1 (199)	15:48.2 (192)
196	ESPINOZA, Olivia	JR	1121	Mt Carmel -SD-2	161	23:57.7	6:59.8	7:42.3	6:53.7 (194)	16:05.9 (196)
197	GREEN, Josie	SR	1197	Oakland Tech -O-2	162	24:31.1	7:33.2	7:53.0	6:57.9 (200)	16:23.3 (197)
198	MORALES, Kimberly	SR	1292	Paso Robles -C-2	163	24:31.7	7:33.8	7:53.2	6:55.1 (197)	16:27.4 (198)
199	CISNEROS, Surya	SR	725	Highland -C-2	164	25:04.1	8:06.2	8:03.6	6:53.7 (195)	17:07.7 (200)
200	LEWIS, Ruby	JR	1199	Oakland Tech -O-2	165	25:17.9	8:20.0	8:08.1	6:58.5 (201)	16:52.6 (199)
	NOYES, Emily	JR	345	Claremont -S-2	--	DNF		---	6:34.7 (185)	
	TORRECILLAS, Mia	JR	730	Highland -C-2	--	DNF		---	5:28.3 (3)	

Division IV
Final Standings	Score	Scoring Order	Total
1	JSerra Catholic -S-4	71	4-11-14-20-22(26)(47)	1:32:29
2	Oaks Christian -S-4	82	1-9-17-18-37(41)(44)	1:31:53
3	La Canada -S-4	133	3-15-16-45-54(82)(86)	1:34:42
4	Bishop Amat -S-4	152	8-10-29-48-57(84)(111)	1:35:20
5	South Pasadena -S-4	165	12-21-32-40-60(73)(76)	1:36:10
6	Scotts Valley -CC-4	189	6-13-23-64-83(90)(112)	1:36:26
7	Palos Verdes -S-4	190	27-30-38-46-49(58)(115)	1:37:03
8	La Jolla -SD-4	204	2-7-34-56-105(123)(127)	1:36:32
9	Harvard Westlake -S-4	218	31-33-42-50-62(68)(88)	1:38:14
10	St. Marys -NC-4	287	28-55-65-67-72(93)(95)	1:40:01
11	Colfax -SJ-4	288	5-51-59-71-102(108)(121)	1:40:00
12	Archie Williams -NC-4	333	24-35-66-101-107(142)	1:41:45
13	Clairemont -SD-4	371	19-74-87-94-97(99)(139)	1:42:48
14	Carmel -CC-4	384	36-80-85-91-92(106)(113)	1:43:09
15	Christian Brothers -SJ-4	409	52-75-79-100-103(110)(114)	1:44:09
16	Half Moon Bay -CC-4	444	43-61-70-134-136(141)(159)	1:45:36
17	Yreka -N-4	446	39-53-104-124-126(132)(153)	1:45:50
18	Kerman -C-4	458	25-69-116-120-128(133)(145)	1:46:01
19	Acalanes -NC-4	492	63-96-98-117-118(130)(154)	1:47:00
20	Union Mine -SJ-4	522	77-78-89-135-143(149)(152)	1:47:52
21	Orcutt Academy Charter -C-4	656	119-122-131-137-147(150)(151)	1:53:10
22	Imperial -SD-4	658	109-125-129-140-155(156)(160)	1:53:42
23	Orland -N-4	683	81-138-144-157-163	1:58:06
24	Mendez -LA-4	775	146-148-158-161-162(164)(165)	2:02:25

Athlete	Yr.	#	Team	Score	Time	Gap	Avg. Mile	1mi	2.1mi
1	GODSEY, Payton	JR	1211	Oaks Christian -S-4	1	17:00.1	---	5:28.0	5:26.6 (2)	11:42.7 (1)
2	DAILEY, Chiara	FR	821	La Jolla -SD-4	2	17:27.3	27.2	5:36.7	5:26.4 (1)	11:49.3 (2)
3	BARKER, Holly	SO	837	Laguna Hills -S-4	--	17:43.7	43.6	5:42.0	5:32.5 (8)	12:04.3 (3)
4	SEARLS, Renae	JR	30	Alhambra -NC-4	--	17:45.3	45.2	5:42.5	5:30.1 (3)	12:05.3 (5)
5	DEBROUWER, Maya	SO	807	La Canada -S-4	3	17:50.1	50.0	5:44.1	5:30.2 (5)	12:04.8 (4)
6	GARCIA, Brynn	SO	782	JSerra Catholic -S-4	4	17:57.6	57.5	5:46.5	5:30.9 (6)	12:09.8 (6)
7	REDDING, Jesse	JR	385	Colfax -SJ-4	5	17:58.3	58.2	5:46.7	5:31.2 (7)	12:14.5 (7)

8	BOOTHBY, Ashlyn	JR	1531	Scotts Valley -CC-4	6	18:05.3	1:05.2	5:48.9	5:30.2 (4)	12:18.9 (9)
9	FISK, Kirra	JR	823	La Jolla -SD-4	7	18:05.6	1:05.5	5:49.0	5:32.7 (9)	12:20.1 (10)
10	ARREDONDO, Emma	SR	126	Bishop Amat -S-4	8	18:08.4	1:08.3	5:50.0	5:34.1 (11)	12:17.9 (8)
11	COLEBROOKE, Sarah	SR	1209	Oaks Christian -S-4	9	18:09.0	1:07.9	5:50.1	5:44.0 (22)	12:27.3 (13)
12	EBINER, Sophia	JR	128	Bishop Amat -S-4	10	18:13.1	1:13.0	5:51.5	5:36.9 (13)	12:26.9 (12)
13	WILSON, Summer	FR	788	JSerra Catholic -S-4	11	18:19.5	1:19.4	5:53.5	5:41.5 (17)	12:42.6 (19)
14	ERRINGTON, Abigail	SO	1581	South Pasadena -S-4	12	18:20.7	1:20.6	5:53.9	5:40.0 (15)	12:28.1 (14)

15	BOOTHBY, Amber	SR	1530	Scotts Valley -CC-4	13	18:20.9	1:20.8	5:54.0	5:35.6 (12)	12:35.4 (16)
16	TASSER, Kaylah	FR	787	JSerra Catholic -S-4	14	18:27.2	1:27.1	5:56.0	5:37.8 (14)	12:34.3 (15)
17	HOLLANDER, Danielle	SR	117	Beverly Hills -S-4	--	18:35.6	1:35.5	5:58.7	5:32.9 (10)	12:24.8 (11)
18	MATARESE, Katelyn	JR	809	La Canada -S-4	15	18:36.5	1:36.4	5:59.0	5:49.8 (35)	12:47.0 (20)
19	HOPKINS, Charlotte	FR	808	La Canada -S-4	16	18:36.8	1:36.7	5:59.1	5:54.9 (53)	12:49.4 (23)
20	WILD, Annie	SR	1398	Ripon -SJ-4	--	18:37.2	1:37.1	5:59.2	5:40.3 (16)	12:35.8 (17)
21	GEYER, Grace	JR	1210	Oaks Christian -S-4	17	18:41.3	1:41.2	6:00.5	5:44.3 (23)	12:41.3 (18)

22	SANCHEZ, Gianna	SR	1214	Oaks Christian -S-4	18	18:41.5	1:41.4	6:00.6	5:51.1 (44)	12:48.8 (21)
23	NOBLE, Alexis	SR	337	Clairemont -SD-4	19	18:48.9	1:48.8	6:03.0	5:50.1 (37)	12:52.0 (29)
24	O'BRIEN, Brooke	JR	785	JSerra Catholic -S-4	20	18:49.1	1:49.0	6:03.0	5:50.9 (42)	12:51.2 (26)
25	SODERBERY, Julia	SR	1412	Sacred Heart Prep -CC-4	--	18:50.9	1:50.8	6:03.6	5:42.6 (18)	12:48.9 (22)
26	GEOFFRON, Amelie	SO	1583	South Pasadena -S-4	21	18:53.0	1:51.9	6:04.3	5:47.4 (26)	12:59.2 (34)
27	SNODGRASS, Anastasia	SR	786	JSerra Catholic -S-4	22	18:55.0	1:53.9	6:04.9	5:50.8 (40)	12:49.7 (24)
28	DECLEVE, Ava	FR	1533	Scotts Valley -CC-4	23	18:55.6	1:55.5	6:05.1	5:51.3 (45)	13:03.0 (39)
29	SILVERSTEN, Alyssa	FR	57	Archie Williams -NC-4	24	18:55.6	1:55.5	6:05.1	5:49.8 (34)	12:51.4 (27)
30	VILLAFANA, Ashley	SO	804	Kerman -C-4	25	18:55.8	1:55.7	6:05.2	5:48.5 (31)	12:55.9 (31)
31	JEANNERET, Georgia	JR	783	JSerra Catholic -S-4	26	18:56.9	1:56.8	6:05.6	5:50.8 (39)	12:56.6 (32)
32	STODDART, Sophie	JR	1277	Palos Verdes -S-4	27	18:57.7	1:57.6	6:05.8	5:46.3 (25)	12:50.7 (25)
33	PUNZ, Annika	JR	1665	St. Marys -NC-4	28	18:59.4	1:59.3	6:06.3	5:44.8 (24)	12:53.6 (30)
34	RUST, Madison	JR	132	Bishop Amat -S-4	29	19:02.9	2:02.8	6:07.5	5:47.6 (27)	12:57.2 (33)
35	WANG, Natalie	JR	1278	Palos Verdes -S-4	30	19:03.6	2:03.5	6:07.7	5:43.3 (20)	12:51.8 (28)
36	ROSS, Kendra	SR	709	Harvard Westlake -S-4	31	19:16.4	2:16.3	6:11.8	5:47.7 (28)	13:00.0 (35)
37	BYRNE, Saidbh	SO	1580	South Pasadena -S-4	32	19:16.6	2:16.5	6:11.9	6:02.7 (64)	13:20.2 (49)
38	HSU, Phoebe	JR	705	Harvard Westlake -S-4	33	19:17.4	2:17.3	6:12.1	5:51.1 (43)	13:00.4 (36)
39	MAYER, Daphne	JR	824	La Jolla -SD-4	34	19:17.7	2:17.6	6:12.2	6:03.5 (66)	13:17.8 (48)
40	MURATA, Colleen	SR	1443	San Lorenzo Valley -CC-4	--	19:17.9	2:17.8	6:12.3	5:50.5 (38)	13:04.6 (42)
41	GREENWALD, Alexandra	JR	55	Archie Williams -NC-4	35	19:18.9	2:18.8	6:12.6	5:43.9 (21)	13:03.6 (41)
42	GHIO, Ava	SO	223	Carmel -CC-4	36	19:20.0	2:18.9	6:13.0	5:51.8 (47)	13:07.2 (43)
43	REIERSON, Alexandra	SO	1213	Oaks Christian -S-4	37	19:20.7	2:20.6	6:13.2	5:57.7 (55)	13:22.5 (53)
44	WASHBURN, Eve	FR	176	Burroughs Ridgecrest -S-4	--	19:21.2	2:21.1	6:13.3	5:42.9 (19)	13:03.3 (40)
45	PALACIOS, Miranda	SR	429	Covina -S-4	--	19:27.1	2:27.0	6:15.2	5:49.1 (33)	13:02.1 (38)
46	MCKENNY, Trinity	SO	1275	Palos Verdes -S-4	38	19:27.2	2:27.1	6:15.3	5:56.5 (54)	13:14.5 (44)
47	WHIPPLE, Mattie	JR	2026	Yreka -N-4	39	19:27.9	2:27.8	6:15.5	5:48.0 (29)	13:01.7 (37)
48	GONZALEZ-PACHECO, Leo	SR	1584	South Pasadena -S-4	40	19:28.9	2:28.8	6:15.8	6:04.4 (70)	13:21.4 (51)
49	NAPIERALA, Delaney	FR	1212	Oaks Christian -S-4	41	19:29.8	2:29.7	6:16.1	5:54.9 (52)	13:22.8 (54)
50	PAN, Jacqueline	JR	1032	Mills -CC-4	--	19:33.3	2:33.2	6:17.2	6:08.4 (86)	13:26.5 (55)
51	LEE, Iona	JR	707	Harvard Westlake -S-4	42	19:34.3	2:34.2	6:17.6	5:52.3 (48)	13:16.5 (45)
52	BELL, Grace	JR	1054	Miramonte -NC-4	--	19:35.1	2:35.0	6:17.8	5:54.7 (51)	13:16.8 (46)
53	KERSEG, Deia	JR	696	Half Moon Bay -CC-4	43	19:35.6	2:35.5	6:18.0	5:52.5 (49)	13:17.5 (47)
54	WALKER, Elizabeth	SO	1215	Oaks Christian -S-4	44	19:36.8	2:36.7	6:18.4	5:54.4 (50)	13:21.7 (52)
55	ROEHMHOLDT, Caitlin	SR	811	La Canada -S-4	45	19:38.7	2:38.6	6:19.0	6:22.0 (113)	13:38.1 (69)
56	FARNSWORTH, Madeline	FR	1273	Palos Verdes -S-4	46	19:42.8	2:42.7	6:20.3	6:02.0 (62)	13:33.7 (61)
57	JOHNSON, Ellie	SR	784	JSerra Catholic -S-4	47	19:43.5	2:43.4	6:20.5	5:51.6 (46)	13:30.9 (57)
58	ROMO, Camila	SO	131	Bishop Amat -S-4	48	19:49.1	2:49.0	6:22.3	6:08.2 (84)	13:33.0 (60)
59	CHEUNG, Sophie	SO	1411	Sacred Heart Prep -CC-4	--	19:49.7	2:49.6	6:22.5	6:08.5 (87)	13:32.8 (59)
60	NIKMEHR, Michelle	SO	1274	Palos Verdes -S-4	49	19:51.3	2:51.2	6:23.0	6:04.6 (71)	13:35.3 (66)
61	AHN, Emily	SO	704	Harvard Westlake -S-4	50	19:51.7	2:51.6	6:23.2	6:01.2 (60)	13:35.4 (67)
62	BIITNER, Jade	JR	383	Colfax -SJ-4	51	19:53.9	2:53.8	6:23.9	5:49.9 (36)	13:29.8 (56)
63	HENDERSON, Elise	SO	311	Christian Brothers -SJ-4	52	19:54.6	2:54.5	6:24.1	5:59.2 (56)	13:33.9 (62)
64	BEST, Skylar	FR	1297	Piedmont -NC-4	--	19:56.2	2:56.1	6:24.6	5:49.0 (32)	13:20.3 (50)
65	MYLAN, Augustine	JR	2024	Yreka -N-4	53	19:59.1	2:59.0	6:25.5	6:02.4 (63)	13:34.5 (63)
66	SAITO, Kaoru	SO	812	La Canada -S-4	54	20:00.0	2:58.9	6:25.8	6:22.6 (115)	13:48.3 (82)
67	LAWSON, Alexa	SO	1663	St. Marys -NC-4	55	20:02.1	3:02.0	6:26.5	6:00.9 (58)	13:44.6 (75)
68	SLAGTER, Scarlett	SR	827	La Jolla -SD-4	56	20:04.4	3:04.3	6:27.2	6:24.3 (123)	13:46.5 (78)
69	DELGADO, Jasmine	SR	127	Bishop Amat -S-4	57	20:05.7	3:05.6	6:27.7	6:08.1 (83)	13:40.0 (70)
70	SHERRY, Kate	SO	1276	Palos Verdes -S-4	58	20:05.9	3:05.8	6:27.7	6:05.1 (73)	13:48.5 (84)
71	REDDING, Micah	FR	386	Colfax -SJ-4	59	20:09.1	3:09.0	6:28.8	5:48.3 (30)	13:32.5 (58)
72	HUMPHREY, Sofia	SO	1585	South Pasadena -S-4	60	20:10.5	3:10.4	6:29.2	6:04.3 (69)	13:37.3 (68)
73	URQUILLA, Elizabeth	JR	582	Farmersville -C-4	--	20:12.0	3:10.9	6:29.7	6:06.0 (77)	13:41.9 (72)
74	BIKLE, Jamie	SO	693	Half Moon Bay -CC-4	61	20:13.3	3:13.2	6:30.1	6:02.8 (65)	13:41.0 (71)
75	KUMAR, Saisha	SO	706	Harvard Westlake -S-4	62	20:13.5	3:13.4	6:30.2	6:01.2 (59)	13:35.0 (65)
76	YEE, Megan	JR	18	Acalanes -NC-4	63	20:13.9	3:13.8	6:30.3	6:09.6 (90)	13:50.4 (86)
77	PUTNAM, Rafaela	SR	1535	Scotts Valley -CC-4	64	20:14.7	3:14.6	6:30.6	6:17.0 (105)	13:58.6 (92)
78	LI-CHOU, Jing	SO	1664	St. Marys -NC-4	65	20:14.7	3:14.6	6:30.6	6:08.5 (88)	13:48.5 (83)
79	LEE, Brooke	FR	56	Archie Williams -NC-4	66	20:17.2	3:17.1	6:31.4	6:03.7 (67)	13:47.8 (80)
80	GOODE, Leiah	SR	1659	St. Marys -NC-4	67	20:17.4	3:17.3	6:31.4	6:08.0 (82)	13:48.1 (81)
81	YANG, Helen	JR	710	Harvard Westlake -S-4	68	20:20.3	3:20.2	6:32.4	6:01.5 (61)	13:43.1 (73)
82	GUTIERREZ, Milani	SO	800	Kerman -C-4	69	20:21.8	3:21.7	6:32.8	6:10.3 (91)	13:49.5 (85)
83	CHAVEZ, Alyana	JR	1405	Roosevelt -C-4	--	20:22.5	3:22.4	6:33.1	6:07.5 (79)	13:47.6 (79)
84	COLLINS, Lucy	FR	695	Half Moon Bay -CC-4	70	20:22.8	3:22.7	6:33.2	6:04.1 (68)	13:45.9 (77)
85	WARREN, Taryn	SO	492	Del Lago Academy -SD-4	--	20:24.1	3:24.0	6:33.6	6:07.5 (80)	13:53.9 (87)
86	MCCABE, Carlee	SR	384	Colfax -SJ-4	71	20:24.8	3:24.7	6:33.8	5:50.9 (41)	13:34.9 (64)
87	JACKSON, Milan	JR	1661	St. Marys -NC-4	72	20:27.5	3:27.4	6:34.7	6:00.7 (57)	13:45.8 (76)
88	CORTES, Amada	FR	1582	South Pasadena -S-4	73	20:29.9	3:29.8	6:35.4	6:05.7 (75)	13:44.3 (74)
89	SCOTT, Marley	SR	338	Clairemont -SD-4	74	20:31.6	3:31.5	6:36.0	6:07.9 (81)	14:00.1 (93)
90	RUPERT, Paige	FR	316	Christian Brothers -SJ-4	75	20:31.8	3:31.7	6:36.1	6:11.5 (92)	14:04.7 (97)
91	VANDEVELDE, Rose	FR	1586	South Pasadena -S-4	76	20:32.4	3:32.3	6:36.2	6:05.8 (76)	13:57.0 (89)
92	PLACE, Kaia	JR	22	Albany -NC-4	--	20:32.9	3:32.8	6:36.4	6:13.7 (96)	13:55.0 (88)
93	PALMER, Delaney	JR	1759	Union Mine -SJ-4	77	20:33.4	3:33.3	6:36.6	6:12.4 (94)	14:04.1 (96)
94	GUTIERREZ, Gabrielle	JR	790	Justin Garza -C-4	--	20:34.3	3:34.2	6:36.9	6:09.0 (89)	13:58.5 (91)
95	REED, Ramona	JR	1760	Union Mine -SJ-4	78	20:35.4	3:35.3	6:37.2	6:12.8 (95)	14:08.8 (101)
96	MARTINEZ, Ariana	JR	1675	Summerville -SJ-4	--	20:36.4	3:36.3	6:37.5	6:14.0 (97)	14:09.2 (102)
97	NGUYEN, Eyvonne	SO	313	Christian Brothers -SJ-4	79	20:36.8	3:36.7	6:37.7	6:17.4 (107)	14:05.2 (99)
98	CARR, Audrey	JR	980	Marin Catholic -NC-4	--	20:40.1	3:40.0	6:38.7	6:05.3 (74)	13:58.3 (90)
99	GLAZIER, Lila	FR	224	Carmel -CC-4	80	20:40.1	3:40.0	6:38.7	6:18.9 (108)	14:13.7 (105)
100	DORN, Ericka	JR	1952	Westmoor -CC-4	--	20:41.4	3:41.3	6:39.2	6:08.4 (85)	14:00.4 (94)
101	ESTHER, Paris	SO	1234	Orland -N-4	81	20:44.2	3:44.1	6:40.1	6:14.5 (99)	14:01.3 (95)
102	SHABANI, Mwamini	SR	431	Crawford -SD-4	--	20:44.7	3:44.6	6:40.2	6:24.0 (122)	14:18.0 (113)
103	GHANEH, Yasmin	SO	810	La Canada -S-4	82	20:46.1	3:46.0	6:40.7	6:23.7 (119)	14:04.9 (98)
104	GIRON, Emily	FR	1821	Valley Center -SD-4	--	20:46.6	3:46.5	6:40.8	6:15.9 (103)	14:09.7 (103)
105	SAAVEDRA-SILVA, Roselin	SR	244	Castlemont -O-4	--	20:46.9	3:46.8	6:40.9	6:14.2 (98)	14:06.4 (100)
106	ALIVOV, Diana	JR	1529	Scotts Valley -CC-4	83	20:49.0	3:47.9	6:41.6	6:22.6 (116)	14:19.9 (116)
107	BENHAM, Sophie	FR	739	Hughson -SJ-4	--	20:49.1	3:49.0	6:41.6	6:17.0 (104)	14:15.9 (110)
108	LOGSDON, Sidney	FR	734	Hilmar -SJ-4	--	20:49.7	3:49.6	6:41.8	6:30.4 (133)	14:15.9 (109)
109	FAJARDO, Mia	SR	129	Bishop Amat -S-4	84	20:54.9	3:54.8	6:43.5	6:17.1 (106)	14:15.4 (108)
110	KVITEK, Chiara	JR	226	Carmel -CC-4	85	20:55.5	3:55.4	6:43.7	6:24.0 (121)	14:23.9 (119)
111	BALL, Halo	FR	806	La Canada -S-4	86	20:56.8	3:56.7	6:44.1	6:23.8 (120)	14:17.7 (112)
112	COKER, Kayden	SO	333	Clairemont -SD-4	87	20:57.0	3:55.9	6:44.2	6:23.3 (118)	14:23.7 (118)
113	NEIRICK, Chiara	SR	708	Harvard Westlake -S-4	88	20:58.0	3:56.9	6:44.5	6:21.9 (112)	14:14.0 (106)
114	KLEIN, Audrey	FR	1758	Union Mine -SJ-4	89	20:59.5	3:59.4	6:45.0	6:20.8 (111)	14:17.0 (111)
115	GONSALVES-ALLEN, Regan	SR	720	High Tech High (SD) -SD-4	--	21:00.5	4:00.4	6:45.3	6:14.8 (101)	14:13.1 (104)
116	BROWNFIELD, Jenni	FR	1532	Scotts Valley -CC-4	90	21:01.7	4:01.6	6:45.7	6:25.5 (125)	14:24.2 (120)
117	WALKER, Rhiannon	SR	620	Fresno -C-4	--	21:04.2	4:04.1	6:46.5	6:11.6 (93)	14:31.4 (125)
118	KVITEK, Christiana	JR	227	Carmel -CC-4	91	21:06.3	4:06.2	6:47.2	6:29.8 (132)	14:26.6 (121)
119	TEAGUE, Ryleigh	SR	229	Carmel -CC-4	92	21:06.5	4:06.4	6:47.2	6:28.2 (128)	14:28.5 (123)
120	JACKSON, Sofia	SR	1662	St. Marys -NC-4	93	21:08.4	4:08.3	6:47.8	6:07.2 (78)	14:23.4 (117)
121	BURDEN, Allison	JR	332	Clairemont -SD-4	94	21:09.9	4:09.8	6:48.3	6:20.5 (110)	14:19.9 (115)
122	MLOKO, Maua	SR	430	Crawford -SD-4	--	21:12.5	4:12.4	6:49.1	6:14.9 (102)	14:19.4 (114)
123	KATZ, Maya	JR	1681	Taft Union -C-4	--	21:14.3	4:14.2	6:49.7	6:05.1 (72)	14:15.3 (107)
124	HEDGSPETH, Dylan	SR	1660	St. Marys -NC-4	95	21:15.2	4:15.1	6:50.0	6:14.7 (100)	14:27.5 (122)
125	MCCORMICK, Cathryn	FR	13	Acalanes -NC-4	96	21:15.2	4:15.1	6:50.0	6:28.9 (130)	14:34.1 (129)
126	WONG, Katelyn	SR	1915	West Campus -SJ-4	--	21:15.9	4:15.8	6:50.2	6:31.4 (134)	14:31.8 (126)
127	JONES, Zoey	SR	335	Clairemont -SD-4	97	21:20.9	4:20.8	6:51.8	6:25.3 (124)	14:32.2 (127)
128	POWELL, Cameron	SO	16	Acalanes -NC-4	98	21:22.4	4:22.3	6:52.3	6:33.1 (139)	14:34.7 (130)
129	KINNEY, Rosette	SR	336	Clairemont -SD-4	99	21:26.7	4:26.6	6:53.7	6:25.7 (126)	14:34.0 (128)
130	DENDAS, Tobi	JR	568	Enterprise -N-4	--	21:30.1	4:30.0	6:54.8	6:39.7 (155)	14:46.9 (136)
131	PERKINS, Elise	SO	314	Christian Brothers -SJ-4	100	21:30.8	4:30.7	6:55.0	6:19.9 (109)	14:29.1 (124)
132	ADAMS, Jane	JR	52	Archie Williams -NC-4	101	21:32.5	4:32.4	6:55.6	6:37.0 (148)	14:46.5 (135)
133	BIITNER, Gabriella	SR	382	Colfax -SJ-4	102	21:34.0	4:32.9	6:56.1	6:22.5 (114)	14:35.1 (131)
134	ROMANI, Alicia	SR	315	Christian Brothers -SJ-4	103	21:34.3	4:34.2	6:56.2	6:34.7 (141)	14:47.5 (138)
135	EHRLICH, Zoe	SO	2022	Yreka -N-4	104	21:35.6	4:35.5	6:56.6	6:37.1 (149)	14:45.5 (134)
136	PLEZIA, Abigail	JR	825	La Jolla -SD-4	105	21:36.5	4:36.4	6:56.9	6:39.6 (154)	14:53.3 (143)
137	LOME, Jadyn	SO	228	Carmel -CC-4	106	21:37.9	4:37.8	6:57.3	6:35.8 (146)	14:44.4 (133)
138	CARSON, Dylan	JR	54	Archie Williams -NC-4	107	21:40.0	4:38.9	6:58.0	6:28.2 (129)	14:37.9 (132)
139	SUNDING, Sophia	SO	387	Colfax -SJ-4	108	21:49.8	4:49.7	7:01.1	6:32.6 (138)	14:47.0 (137)
140	GRAHAM, Angelique	SR	760	Imperial -SD-4	109	21:50.5	4:50.4	7:01.4	6:41.3 (160)	14:53.7 (145)
141	MOYA, Alexanderia	SR	312	Christian Brothers -SJ-4	110	21:50.5	4:50.4	7:01.4	6:31.4 (136)	14:53.8 (146)
142	MORENO, Allison	JR	130	Bishop Amat -S-4	111	21:51.2	4:51.1	7:01.6	6:26.2 (127)	14:51.0 (140)
143	MCCUTCHEN, Violet	SO	1534	Scotts Valley -CC-4	112	21:51.8	4:51.7	7:01.8	6:32.2 (137)	14:54.2 (147)
144	EYJOLFSDOTTIR, Sara	JR	225	Carmel -CC-4	113	21:52.2	4:52.1	7:01.9	6:39.2 (152)	14:53.5 (144)
145	JOHL, Ella	SO	310	Christian Brothers -SJ-4	114	21:56.4	4:56.3	7:03.3	6:35.5 (144)	14:53.1 (142)
146	BOOTH, Grace	FR	1272	Palos Verdes -S-4	115	21:56.7	4:56.6	7:03.4	6:33.6 (140)	14:50.4 (139)
147	JUAREZ, Jaqueline	JR	539	East Valley -LA-4	--	22:00.8	5:00.7	7:04.7	6:48.4 (175)	15:07.4 (154)
148	CALZADA, Cathy	JR	799	Kerman -C-4	116	22:01.3	5:01.2	7:04.8	6:39.1 (151)	14:59.3 (151)
149	GEHRIG, Nina	JR	12	Acalanes -NC-4	117	22:03.7	5:03.6	7:05.6	6:40.6 (158)	14:54.6 (148)
150	MURPHY, Nevis	FR	14	Acalanes -NC-4	118	22:04.2	5:04.1	7:05.8	6:29.5 (131)	14:52.4 (141)
151	RUBALCAVA, Sofia	SO	1229	Orcutt Academy Charter -C-4	119	22:13.4	5:13.3	7:08.7	6:40.7 (159)	14:59.1 (150)
152	MELGOZA, Baylee	FR	802	Kerman -C-4	120	22:13.6	5:13.5	7:08.8	6:39.5 (153)	15:06.0 (153)
153	TONER, Morgan	SO	388	Colfax -SJ-4	121	22:14.4	5:14.3	7:09.1	6:38.0 (150)	14:58.7 (149)
154	ALLEN, Rylie	SO	1224	Orcutt Academy Charter -C-4	122	22:16.9	5:16.8	7:09.9	6:31.4 (135)	15:00.2 (152)
155	DUNFEE, Zoe	SO	822	La Jolla -SD-4	123	22:17.0	5:15.9	7:09.9	6:47.0 (173)	15:08.3 (155)
156	BAUN, Linnea	FR	2020	Yreka -N-4	124	22:20.0	5:18.9	7:10.9	6:42.2 (162)	15:12.9 (156)
157	VALDOVINOS, Jimena	FR	762	Imperial -SD-4	125	22:23.5	5:23.4	7:12.0	6:46.8 (172)	15:13.9 (159)
158	SHACKLEFORD, Ava	SO	2025	Yreka -N-4	126	22:26.6	5:26.5	7:13.0	6:44.5 (168)	15:16.0 (163)
159	PONG, Natalie	JR	826	La Jolla -SD-4	127	22:27.0	5:25.9	7:13.1	6:45.6 (169)	15:18.5 (165)
160	LUA, Daniela	SO	801	Kerman -C-4	128	22:28.4	5:28.3	7:13.6	6:39.8 (156)	15:19.5 (166)
161	CARDONA, Nayeli	SO	759	Imperial -SD-4	129	22:28.8	5:28.7	7:13.7	6:35.6 (145)	15:13.5 (158)
162	SUTHERLAND, Charlotte	SO	17	Acalanes -NC-4	130	22:29.1	5:29.0	7:13.8	6:47.8 (174)	15:20.8 (168)
163	ANDREADAKIS, Cassidy	SR	1225	Orcutt Academy Charter -C-4	131	22:29.3	5:29.2	7:13.8	6:40.4 (157)	15:17.7 (164)
164	HOPKINS, Haley	FR	2023	Yreka -N-4	132	22:30.4	5:30.3	7:14.2	6:52.9 (183)	15:13.4 (157)
165	CALOCA PINEDO, Sofia	SR	798	Kerman -C-4	133	22:35.3	5:35.2	7:15.8	6:52.1 (180)	15:24.6 (171)
166	MORALES, Belinda	SR	698	Half Moon Bay -CC-4	134	22:36.4	5:36.3	7:16.1	6:35.0 (143)	15:14.0 (160)
167	ZMERZLIKAR, Lylia	JR	1762	Union Mine -SJ-4	135	22:42.3	5:42.2	7:18.0	6:36.7 (147)	15:19.5 (167)
168	GARCIA, Marlene	FR	508	Dorsey -LA-4	--	22:47.4	5:47.3	7:19.6	6:22.8 (117)	15:14.7 (162)
169	TANANKA, Akiko	JR	699	Half Moon Bay -CC-4	136	22:48.1	5:48.0	7:19.9	6:35.0 (142)	15:14.0 (161)
170	O'LEARY, Lily	FR	1228	Orcutt Academy Charter -C-4	137	22:51.3	5:51.2	7:20.9	6:43.7 (166)	15:21.1 (169)
171	GARCIA, Ariana	JR	1235	Orland -N-4	138	22:52.3	5:52.2	7:21.2	6:43.9 (167)	15:30.0 (173)
172	HARRISON, Lili	SR	334	Clairemont -SD-4	139	22:52.5	5:52.4	7:21.3	6:52.6 (182)	15:36.7 (177)
173	BARRON, Mirella	FR	757	Imperial -SD-4	140	22:54.1	5:54.0	7:21.8	6:50.8 (179)	15:31.9 (174)
174	BOWMAN, Samara	JR	694	Half Moon Bay -CC-4	141	22:54.6	5:54.5	7:22.0	6:42.9 (164)	15:32.5 (175)
175	TAYLOR, Addyson	FR	1938	West Valley -N-4	--	22:55.4	5:55.3	7:22.2	6:41.5 (161)	15:23.3 (170)
176	AUSTEN, Eliza	JR	53	Archie Williams -NC-4	142	22:57.9	5:57.8	7:23.0	6:42.6 (163)	15:29.1 (172)
177	HODNETT, Eliza	FR	1756	Union Mine -SJ-4	143	23:01.0	5:59.9	7:24.0	6:56.1 (185)	15:46.1 (178)
178	CARLSON, Hannah	SO	1175	Northridge Acad -LA-4	--	23:10.1	6:10.0	7:27.0	6:53.8 (184)	15:52.3 (183)
179	PHILLIPS, Cameron	JR	1237	Orland -N-4	144	23:13.5	6:13.4	7:28.1	6:43.7 (165)	15:33.9 (176)
180	SALSEDO, Kinsley	FR	803	Kerman -C-4	145	23:13.7	6:13.6	7:28.1	7:00.2 (187)	15:46.7 (179)
181	GARCIA-SANCHEZ, Magaly	SO	998	Mendez -LA-4	146	23:13.9	6:13.8	7:28.2	6:50.7 (178)	15:47.1 (180)
182	KENDRICK, Devyn	SR	1226	Orcutt Academy Charter -C-4	147	23:18.6	6:18.5	7:29.7	6:49.0 (176)	15:47.4 (181)
183	BAUTISTA-FLORES, Lucia	SR	994	Mendez -LA-4	148	23:18.7	6:18.6	7:29.7	6:56.1 (186)	15:57.3 (185)
184	JONES, Sydnee	FR	1757	Union Mine -SJ-4	149	23:33.4	6:33.3	7:34.5	7:08.9 (192)	16:09.7 (187)
185	MIYA, Peyton	SO	1227	Orcutt Academy Charter -C-4	150	23:38.9	6:38.8	7:36.2	6:46.0 (171)	15:53.8 (184)
186	TRENADO, Isabella	FR	1230	Orcutt Academy Charter -C-4	151	23:41.5	6:41.4	7:37.0	6:50.2 (177)	15:49.0 (182)
187	SCOTT, Elizabeth	SO	1761	Union Mine -SJ-4	152	23:44.8	6:44.7	7:38.1	6:45.9 (170)	15:58.1 (186)
188	CHAPMAN, Audrey	FR	2021	Yreka -N-4	153	24:00.7	7:00.6	7:43.2	7:03.4 (190)	16:17.2 (189)
189	POOLE, Sadie	SO	15	Acalanes -NC-4	154	24:03.3	7:03.2	7:44.1	7:17.1 (194)	16:26.2 (192)
190	CARDONA, Amalia	SR	758	Imperial -SD-4	155	24:04.9	7:04.8	7:44.6	7:00.2 (188)	16:14.5 (188)
191	MACIAS, Shecccid	JR	530	Downtown Magnet -LA-4	--	24:11.5	7:11.4	7:46.7	6:52.4 (181)	16:19.8 (191)
192	ORTEGA, Arely	JR	761	Imperial -SD-4	156	24:38.4	7:38.3	7:55.3	7:04.5 (191)	16:19.4 (190)
193	JOHNSON, Abigail	SR	1236	Orland -N-4	157	24:44.4	7:44.3	7:57.3	7:21.2 (196)	16:55.6 (196)
194	BAUTISTA-FLORES, Rosa	FR	995	Mendez -LA-4	158	24:45.4	7:45.3	7:57.6	7:22.3 (197)	16:42.9 (193)
195	LOPEZ, Valeria	SR	697	Half Moon Bay -CC-4	159	25:00.9	8:00.8	8:02.6	7:02.6 (189)	16:49.3 (194)
196	BARBOSA, Angelica	JR	756	Imperial -SD-4	160	25:03.2	8:03.1	8:03.3	7:13.2 (193)	16:54.6 (195)
197	MEJIA, Emily	SR	999	Mendez -LA-4	161	25:26.0	8:24.9	8:10.7	7:26.6 (198)	16:59.5 (197)
198	DE LEON, Micaela	JR	996	Mendez -LA-4	162	25:40.8	8:40.7	8:15.4	7:19.8 (195)	17:15.7 (198)
199	ESQUIVEL, Itzel	SR	1233	Orland -N-4	163	26:31.8	9:31.7	8:31.8	7:27.8 (199)	17:35.7 (199)
200	EVERHART-SANCHEZ, Maya	FR	997	Mendez -LA-4	164	27:14.4	10:14.3	8:45.5	8:14.9 (201)	18:39.1 (201)
201	SOLANO, Destheny	SO	1000	Mendez -LA-4	165	27:57.7	10:57.6	8:59.4	8:08.0 (200)	18:37.0 (200)