CIF North Coast Section Cross Country Finals
Hayward HS, 11/19/2022 3.0 miles
Like the girls the Redwood Empire is sending two teams plus four individuals in the boys races.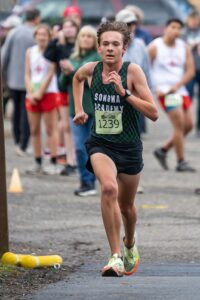 Sonoma Academy's Tiernan Colby put on a show to win the division V NCS race.
His time 15:01 is faster than any Empire runner has ever run on this course surpassing the time of 15:03 by Luis Luna of Piner from 2011.
And Colby will not be going alone as his team grabbed the final qualifier for that division as well.
Colby ran in third place, right on the heels of the leaders, going into the final mile. The leaders could not keep up that pace and he finished eight seconds ahead of the runner up.
Colby has a shot at winning state following his schools win by Andre Williams in 2018.
There was no NCS IV meet in 2018 so Colby is Sonoma Academy's first NCS boys champion.
Video interview with Tiernan Colby
Healdsburg sophomore Kaeden Anderson will also be running at state as he pulled off a top ten finish in 9th at 16:03.
Anderson will try and better the placing at state of Healdsburg's Jack Vanden Heuval who took 27th in division V in 2018.
Sonoma Academy's Javier Hernandez-Barragan, also a sophomore, was close behind in 12th at 16:07.
Santa Rosa's Andrew Stevens earned a trip to state in division II with a blazing 15:13 time to place 7th.
Stevens will be the first Panther boy to compete at state since Luca Mazzanti in 2016.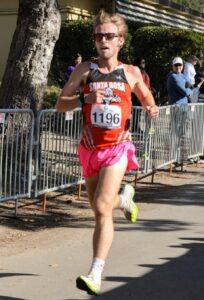 Maria Carrillo's team put their top five scoring runners within seven seconds of each other to earn a trip to state in division III.
The scoring runners consisted of Gabe Sitton 15th (16:17), Jack Wilson 17th (16:22), Benjamin Choe 18th (16:22), Jonathan Donohue 19th (16:24) and Sean Gubera 20th (16:24).
This is the 16th time since 2003 the Puma's are taking their boys team to state.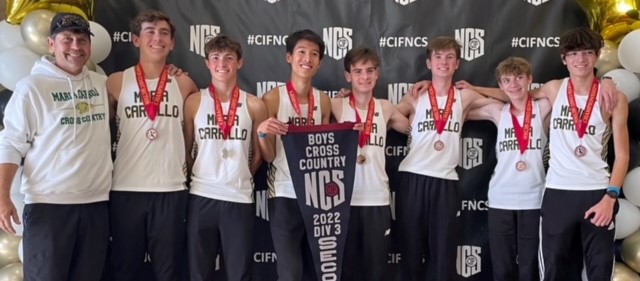 Montgomery placed two finishers in the top seven with Jude DeVries taking 4th in 15:35 and Max Azevedo taking 7th in 16:00.
DeVries qualified for state last year as well.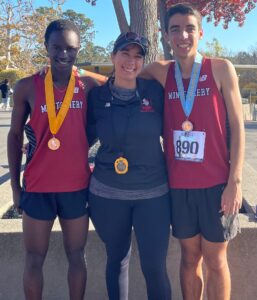 State Meet Qualifiers
Div V
5th Sonoma Academy
1st Tiernan Colby, 12, Sonoma Academy 15:01
9th Kaeden Anderson, 10, Healdsburg 16:03
12th Javier Hernandez-Barragan, 10, Sonoma Academy 16:07
46th Julian Luciano, 12, Sonoma Academy 17:31
49th Cole Cline, 11, Sonoma Academy 17:42
52nd Zachary Fuette, 11, Sonoma Academy 17:46
69th Coe Dexter, 9, Sonoma Academy 18:07
74th Koen Flocco, 10, Sonoma Academy 18:18
Div III
2nd Maria Carrillo
4th Jude Devries, 12, Montgomery 15:35
7th Max Azevedo, 11, Montgomery 16:00
15th Gabe Sitton, 11, Maria Carrillo 16:17
17th Jack Wilson, 10, Maria Carrillo 16:22
18th Benjamin Choe, 12, Maria Carrillo 16:22
19th Jonathan Donohue, 12, Maria Carrillo 16:24
20th Sean Gubera, 12, Maria Carrillo 16:24
24th Trenton Dawson, 9, Maria Carrillo 16:31
32nd Grant Sanderson, 11, Maria Carrillo 16:46
Div II
7th Andrew Stevens, 12, Santa Rosa 15:13
Redwood Empire Best times
15:01 Tiernan Colby, Sonoma Academy 2022
15:03 Luis Luna, Piner 2011
15:04 Sterling Lockert, Petaluma 2008
15:05 Emmanuel Guzman, Vintage 2018
15:06 Ryan Anderson, Maria Carrillo 2013
15:07 Lucas Chung, Windsor 2018
15:09 Reesey Byers, Santa Rosa 2009
15:11 Colton Swinth, Maria Carrillo 2019
15:13 Andrew Stevens, Santa Rosa 2022
15:15 Andrew Zellman, Ukiah 2009
15:17 Alex Conner, Sonoma Valley 2011
15:19 Jacob Donohue, Maria Carrillo 2021
NCS Boys Division V All-Time
1. Trevor Reinhart Marin Academy 14:44 2013
2. Cooper Teare St. Joseph Notre Dame 14:46 2015
3. Tiernan Colby, Sonoma Academy 15:01 2022

Top 35 Empire Times
Colby, Tiernan **T	SR	1204	Sonoma Academy 15:01
Stevens, Andrew **I	SR	1196	Santa Rosa 15:13
Devries, Jude **I	SR	892	Montgomery 15:35
Azevedo, Max **I	JR	890	Montgomery 16:00
Anderson, Kaeden **I	SO	631	Healdsburg 16:03
Hernandez B, Javier **T	SO	1208	Sonoma Academy 16:07
Sitton, Gabe **T	JR	792	Maria Carrillo 16:17

Wilson, Jack **T	SO	793	Maria Carrillo 16:22
Choe, Benjamin **T	SR	787	Maria Carrillo 16:22
Donohue, Jonathan **T	SR	789	Maria Carrillo 16:24
Gubera, Sean **T	SR	790	Maria Carrillo 16:24
Joseph, Adam	        JR	1195	Santa Rosa 16:29
Dawson, Trenton **T	9	788	Maria Carrillo 16:31
Ando, Johnny	        JR	1190	Santa Rosa 16:32

LaFrance, Ryan	        SO	894	Montgomery 16:37
Dethlefsen, Ben	        SR	1192	Santa Rosa 16:42
Tarin, Andrew	        SR	1281	Ukiah 16:44
Estrada, Adrian	        JR	298	Cardinal Newman 16:46
Sanderson, Grant **T	JR	791	Maria Carrillo 16:46
Vasquez, Isaac	        SR	321	Casa Grande 16:49
Fyre, Grayson	        SO	1307	Vintage 16:51

Gaylord, Cormac	        SO	104	Analy 16:54
Broome, Ted	        SR	1191	Santa Rosa 16:56
Ruiz, Oscar	        SO	1280	Ukiah 17:00
Feleay, Isaac	        SR	1193	Santa Rosa 17:03
Ward, Bryce	        SR	1028	Piner 17:07
Mainaris, Dylan	        SO	320	Casa Grande 17:10
Brusco, Austin	        SO	891	Montgomery 17:10

Smith, Aidan	        SR	935	Napa 17:11
Hernandez, Jose	        JR	772	Lower Lake 17:13
Surgeon, Xavier	        9	1336	Windsor 17:13
Vasquez, Leonardo	SR	1027	Piner 17:15
Hansen, Kevin	        9	318	Casa Grande 17:26
Luciano, Julian **T	SR	1209	Sonoma Academy (17:31
Hupp, Gideon	        9	1278	Ukiah 17:33

Empire places in top 50
1	Colby, Tiernan **T	SR	1204	Sonoma Academy 
4	Devries, Jude **I	SR	892	Montgomery 
7	Stevens, Andrew **I	SR	1196	Santa Rosa 
7	Azevedo, Max **I	JR	890	Montgomery 
9	Anderson, Kaeden **I	SO	631	Healdsburg 

12	Hernandez B, Javier **T	SO	1208	Sonoma Academy 
15	Sitton, Gabe **T	JR	792	Maria Carrillo 	
17	Wilson, Jack **T	SO	793	Maria Carrillo 	
18	Choe, Benjamin **T	SR	787	Maria Carrillo 	
19	Donohue, Jonathan **T	SR	789	Maria Carrillo 	
20	Gubera, Sean **T	SR	790	Maria Carrillo 
	
24	Dawson, Trenton **T	9	788	Maria Carrillo	
26	Estrada, Adrian	        JR	298	Cardinal Newman 
27	LaFrance, Ryan	        SO	894	Montgomery 

30	Tarin, Andrew	        SR	1281	Ukiah 
32	Sanderson, Grant **T	JR	791	Maria Carrillo	
33	Vasquez, Isaac	        SR	321	Casa Grande 
35	Joseph, Adam	        JR	1195	Santa Rosa 
36	Gaylord, Cormac	        SO	104	Analy 
37	Ruiz, Oscar	        SO	1280	Ukiah 
39	Ando, Johnny	        JR	1190	Santa Rosa 

44	Ward, Bryce	        SR	1028	Piner 
46	Luciano, Julian **T	SR	1209	Sonoma Academy 
47	Dethlefsen, Ben	        SR	1192	Santa Rosa 
47	Mainaris, Dylan	        SO	320	Casa Grande 
48	Brusco, Austin	        SO	891	Montgomery 
48	Boyadjieff, Scott	9	274	Calistoga 
49	Hernandez, Jose	        JR	772	Lower Lake 
49	Surgeon, Xavier	        9	1336	Windsor 
49	Cline, Cole **T	        JR	1203	Sonoma Academy

Teams
2	Maria Carrillo
5	Montgomery
5	Sonoma Academy
7	Santa Rosa
8	Healdsburg
9	Ukiah 
10	Casa Grande 	
13	Piner  

14	Windsor  
14	Technology
15	Petaluma  
15	Vintage
17	Analy 
17	Justin-Siena
18	Middletown
19	Napa
21	American Canyon	
21	Kelseyville
23	Cardinal Newman

Team times
Maria Carrillo  1:21:49
Santa Rosa      1:21:52
Montgomery      1:24:00
Sonoma Academy  1:24:05	
Casa Grande 	1:27:30
Ukiah           1:27:47	
Vintage         1:28:58
Healdsburg      1:30:03	
Piner           1:30:51	
Windsor         1:31:51 
Napa            1:32:20
Petaluma        1:32:27	
Analy           1:32:59
Technology      1:34:26 
Middletown      1:37:53	
Kelseyville     1:38:14	
American Canyon	1:39:23
Justin-Siena 	1:40:42
Cardinal Newman 1:45:46

All-Time Team Best Times
2001, 2002, 2004-2015, 2017-19, 2021-
75:47 Dublin 2018
76:41 Granada 2022 
76:44 Granada 2018
76:53 De La Salle 2019
77:02 Dublin 2017
77:09 Maria Carrillo 2019
77:18 Granada 2019
77:26 De La Salle 2013
77:27 Dublin 2019
77:32 Dublin 2021
77:33 Redwood 2022

Division I
Final Standings	Score	Scoring Order	Total	Avg.	Spread
1	Berkeley (NC)	51	2-4-14-15-16(33)(50)	1:19:43	15:57	1:22.5
2	Dougherty Valley 56	1-6-12-17-20(24)(32)	1:19:56	16:00	1:32.6

3	California (NC)	73	3-8-9-22-31(34)(39)	1:21:08	16:14	2:00.9
4	Dublin (NC)	97	5-13-18-23-38(40)(44)	1:22:38	16:32	1:45.6
5	Castro Valley	104	10-11-25-28-30(46)(49)	1:23:45	16:45	1:06.2
6	San Leandro 	131	19-21-27-29-35(45)(48)	1:24:40	16:56	1:01.6
7	James Logan 	147	7-26-36-37-41(43)(47)	1:25:21	17:05	1:43.2
8	Pittsburg (NC)	252	42-51-52-53-54(55)	1:43:12	20:39	5:31.6

Athlete	Yr.	#	Team	Score	Time	Avg. Mile	1.25 Miles	2 Miles
1	Badcock, Shane **T	SR	454	Dougherty Valley 1	14:58.4	4:59.5	6:16.2 (1)	9:58.5 (1)
2	Dietz, Olaf **T	        JR	220	Berkeley (NC)	2	14:59.9	4:59.9	6:16.7 (3)	9:59.0 (2)
3	Wijesekara, Bryce **I	SR	265	California (NC)	3	15:14.9	5:04.9	6:16.9 (4)	10:00.1 (3)
4	De Valpine, Luke **T	SR	219	Berkeley (NC)	4	15:41.1	5:13.7	6:24.3 (9)	10:20.1 (7)
5	Manesh, Nathan **I	SR	479	Dublin (NC)	5	15:42.3	5:14.1	6:16.4 (2)	10:00.7 (4)
6	Municio, Daniel **T	SR	456	Dougherty Valley 6	15:47.3	5:15.7	6:24.2 (8)	10:20.0 (6)
7	Murumkar, Rishi **I	JR	688	James Logan	7	15:50.0	5:16.7	6:20.8 (6)	10:16.7 (5)
8	Hussain, Eshaan **I	SO	262	California (NC)	8	15:58.1	5:19.3	6:34.5 (18)	10:31.6 (8)
9	Kirrane, Brian **I	SR	263	California (NC)	9	16:00.3	5:20.1	6:32.3 (13)	10:32.2 (9)

10	Bull, Jacob	SR	330	Castro Valley (NC)	10	16:08.8	5:22.9	6:29.4 (12)	10:32.4 (10)
11	Chang, Lucus	JR	331	Castro Valley (NC)	11	16:12.1	5:24.0	6:35.8 (20)	10:38.1 (14)
12	TozulAhmad, Noor **T	SO	459	Dougherty Valley (NC)	12	16:15.8	5:25.2	6:28.5 (11)	10:35.4 (12)
13	Jagannathan, Advait	SR	478	Dublin (NC)	13	16:17.7	5:25.9	6:23.7 (7)	10:32.9 (11)
14	Escalante, Elliott **T	SR	221	Berkeley (NC)	14	16:19.3	5:26.4	6:33.7 (15)	10:42.0 (18)
15	Madjidi, Jalen **T	SR	222	Berkeley (NC)	15	16:19.8	5:26.6	6:35.2 (19)	10:44.0 (20)
16	Small, Matteo **T	SR	225	Berkeley (NC)	16	16:22.3	5:27.4	6:18.6 (5)	10:35.7 (13)
17	Sagiraju, Arrin **T	SO	458	Dougherty Valley (NC)	17	16:22.9	5:27.6	6:34.3 (17)	10:41.3 (15)
18	Gan, Tristan	SO	477	Dublin (NC)	18	16:23.2	5:27.7	6:34.2 (16)	10:41.9 (17)
19	Maes, Jude	JR	1137	San Leandro (NC)	19	16:24.0	5:28.0	6:37.8 (22)	10:46.7 (21)
20	Devagudi, Vrishank **T	SR	455	Dougherty Valley (NC)	20	16:31.0	5:30.3	6:33.6 (14)	10:43.5 (19)
21	Quach, Andy	SR	1141	San Leandro (NC)	21	16:33.8	5:31.3	6:38.1 (23)	16:33.9 (54)
22	Dube, Aidan	SO	259	California (NC)	22	16:38.9	5:33.0	6:36.2 (21)	10:56.6 (22)
23	Dutta, Rahul	JR	476	Dublin (NC)	23	16:46.9	5:35.6	6:28.2 (10)	10:41.9 (16)
24	Bliss, Carter **T	SO	457	Dougherty Valley (NC)	24	16:49.8	5:36.6	6:44.0 (24)	10:57.1 (23)
25	Griffith, Evan	SR	333	Castro Valley (NC)	25	16:57.0	5:39.0	6:56.9 (36)	11:13.4 (27)
26	Del Barrio, Jacob	SO	686	James Logan (NC)	26	17:03.5	5:41.1	6:54.6 (33)	11:12.2 (26)
27	Jack) Lei, Yi	SR	1136	San Leandro (NC)	27	17:04.6	5:41.5	6:58.9 (40)	11:15.1 (31)
28	Choy, Joshua	JR	332	Castro Valley (NC)	28	17:11.8	5:43.9	6:57.6 (37)	11:14.8 (29)
29	Olsen, Christopher	SR	1139	San Leandro (NC)	29	17:12.0	5:44.0	6:58.0 (38)	11:15.1 (32)
30	Lim, Maddeux	SO	334	Castro Valley (NC)	30	17:14.9	5:45.0	6:54.2 (32)	11:14.3 (28)
31	Hamre, Kai	9	261	California (NC)	31	17:15.7	5:45.2	6:59.5 (42)	11:18.2 (37)
32	TozulAhmad, Robi **T	SO	460	Dougherty Valley (NC)	32	17:16.1	5:45.3	6:47.1 (27)	11:14.9 (30)
33	Nickelsen, Oliver **T	JR	224	Berkeley (NC)	33	17:17.0	5:45.7	6:45.7 (25)	11:10.4 (24)
34	Gonzales, Mark	SO	260	California (NC)	34	17:19.4	5:46.4	6:59.3 (41)	11:17.7 (34)
35	Maes, Sebastian	9	1138	San Leandro (NC)	35	17:25.6	5:48.5	6:59.8 (43)	11:19.9 (41)
36	Barquin Jr, Dexter	SR	684	James Logan (NC)	36	17:26.6	5:48.9	6:58.2 (39)	11:18.3 (38)
37	Gonzalez, Christian	SR	687	James Logan (NC)	37	17:27.7	5:49.2	7:00.0 (45)	11:18.9 (40)
38	Wong, Kaden	JR	482	Dublin (NC)	38	17:27.8	5:49.3	6:49.2 (29)	11:17.9 (35)
39	Pruitt, Andrew	JR	264	California (NC)	39	17:28.1	5:49.3	6:47.4 (28)	11:11.1 (25)
40	Mann, Tyler	JR	480	Dublin (NC)	40	17:30.2	5:50.1	6:53.7 (31)	11:20.0 (42)
41	Chordiya, Aditya	SR	685	James Logan (NC)	41	17:33.2	5:51.0	6:46.5 (26)	11:17.9 (36)
42	Jacinto, Brent	JR	1052	Pittsburg (NC)	42	17:35.4	5:51.8	6:56.0 (35)	11:15.7 (33)
43	Sanders, Enoch	SR	689	James Logan (NC)	43	17:39.5	5:53.2	6:55.1 (34)	11:18.3 (39)
44	Martinez-Fernandez, Jorge	9	481	Dublin (NC)	44	17:50.2	5:56.7	6:49.9 (30)	11:26.4 (43)
45	Pearcy, Ben	JR	1140	San Leandro (NC)	45	17:52.1	5:57.4	7:09.9 (49)	11:38.2 (46)
46	Avery, Conrad	SR	329	Castro Valley (NC)	46	18:06.0	6:02.0	7:00.3 (46)	11:37.7 (45)
47	Tang, Harry	SR	690	James Logan (NC)	47	18:06.7	6:02.2	7:06.9 (48)	11:47.3 (48)
48	Washburn, Luke	JR	1142	San Leandro (NC)	48	18:25.1	6:08.3	7:00.5 (47)	11:46.2 (47)
49	Zhang, Haoyang	JR	335	Castro Valley (NC)	49	18:33.5	6:11.2	6:59.8 (44)	11:34.0 (44)
50	Mullen, Mason **T	JR	223	Berkeley (NC)	50	18:49.9	6:16.6	7:11.1 (50)	12:00.3 (49)
51	Martinez, Marcelino	JR	1054	Pittsburg (NC)	51	19:22.2	6:27.4	7:21.1 (51)	12:24.5 (50)
52	Wilson, Amarye	JR	1056	Pittsburg (NC)	52	20:01.3	6:40.4	7:44.6 (52)	12:45.4 (51)
53	Gregorio, Luis	SR	1051	Pittsburg (NC)	53	23:06.1	7:42.0	9:05.6 (54)	15:05.6 (53)
54	Villagrana, Bryan	SO	1055	Pittsburg (NC)	54	23:06.9	7:42.3	9:06.0 (55)	15:02.1 (52)
55	Amaro Alvarez, Isaias	JR	1050	Pittsburg (NC)	55	24:43.8	8:14.6	8:04.4 (53)	16:52.9 (55)

Division II
Final Standings	Score	Scoring Order	Total	Avg.	Spread
1	Granada (NC)	        48	4-8-9-13-14(17)(28)	1:16:38	15:20	0:32.3
2	Redwood (NC)	        71	1-10-15-20-25(37)(55)	1:17:30	15:30	1:12.3
3	Clayton Valley Charter 	112	11-12-16-21-52(61)(79)	1:19:02	15:49	1:28.2
4	Monte Vista (NC)	131	2-19-23-41-46(72)(89)	1:19:51	15:59	1:49.3

5	Amador Valley (NC)	136	18-24-27-33-34(51)(67)	1:21:01	16:13	0:40.1
6	College Park (NC)	153	5-6-43-45-54(85)(117)	1:20:17	16:04	1:46.7
7	Santa Rosa (NC)	185	7-35-39-47-57(62)(81)	1:21:51	16:23	1:43.2
8	San Ramon Valley (NC)	190	30-32-36-44-48(77)(103)	1:22:43	16:33	0:17.3
9	De La Salle (NC)	196	3-26-38-64-65(69)(76)	1:21:49	16:22	2:09.2
10	Foothill - Pleasanton   221	22-31-42-60-66(73)(80)	1:23:06	16:38	1:11.5
11	Alameda (NC)	        331	29-40-83-88-91(107)(112) 1:26:26 17:18	1:28.8
12	Heritage (NC)	        416	49-56-75-104-132(145)	1:28:40	17:44	2:36.6
13	American	        430	58-84-86-100-102(123)(125) 1:28:57 17:48 1:18.4
14	Mission San Jose (NC)	435	63-82-95-97-98(114)(144) 1:29:05 17:49	1:03.4
15	Vintage (NC)	        436	53-87-92-99-105(110)(138) 1:28:58 17:48	1:26.4
16	Antioch (NC)	        476	59-70-71-134-142(154)(155) 1:30:30 18:06 2:43.6
17	Washington (NC)	        500	50-101-106-119-124(131)	1:31:09	18:14	2:15.0
18	Irvington (NC)	        527	94-96-108-109-120(136)	1:31:45	18:21	0:53.4
19	Napa (NC)	        538	68-111-115-118-126(129)(135) 1:32:20 18:28 2:01.4
20	Deer Valley (NC)	556	74-78-121-137-146(147)(150) 1:33:25 18:41 2:53.4
21	Liberty (NC)	        613	90-113-127-140-143(151)	1:34:58	19:00	1:52.6
22	Mt. Eden (NC)	        629	93-116-130-141-149(152)(153) 1:36:07 19:14 2:36.0
23	Freedom (NC)	        670	122-128-133-139-148(156) 1:37:32 19:31	1:38.9

Athlete	Yr.	#	Team	Score	Time	Avg. Mile	1.25 Miles	2 Miles
1	Cutter, Daegan **T	SR	1081	Redwood (NC)	1	14:45.4	4:55.1	6:04.6 (1)	9:46.0 (1)
2	Miller, Ethan **T	SR	880	Monte Vista 	2	14:50.2	4:56.7	6:08.5 (4)	9:52.8 (4)
3	Caldwell, Trey **I	SO	426	De La Salle 	3	14:59.0	4:59.7	6:06.7 (3)	9:50.8 (2)
4	Ruckmann-Barnes, Roland **T JR	597	Granada (NC)	4	15:03.5	5:01.2	6:08.7 (5)	9:52.9 (5)
5	Lamoureux, Alex **I	SR	359	College Park 	5	15:04.2	5:01.4	6:06.6 (2)	9:52.7 (3)
6	Rattary, Jack **I	SO	363	College Park 	6	15:06.5	5:02.1	6:09.0 (6)	9:53.6 (6)
7	Stevens, Andrew **I	SR	1196	Santa Rosa (NC)	7	15:12.6	5:04.2	6:10.4 (9)	9:55.0 (7)
8	Hart, Luther **T	SR	595	Granada (NC)	8	15:14.3	5:04.7	6:10.7 (11)	9:59.5 (10)
9	Gurusamy, Dheeraj **T	SR	594	Granada (NC)	9	15:16.3	5:05.4	6:10.2 (8)	9:59.1 (9)
10	Martin, Blake **T	SR	1082	Redwood (NC)	10	15:16.4	5:05.5	6:15.2 (13)	10:06.7 (11)
11	Messer, Daniel **T	JR	347	Clayton Valley Charter 11 15:19.3 5:06.4 6:09.3 (7)	9:57.7 (8)
12	Martinez, Daniel **T	JR	346	Clayton Valley Charter 12 15:21.2 5:07.1 6:16.8 (17)	10:07.7 (14)
13	Manley, Liam **T	SR	596	Granada (NC)	13	15:28.2	5:09.4	6:15.4 (15)	10:07.0 (13)
14	Soriano, Farin **T	SR	599	Granada (NC)	14	15:35.8	5:11.9	6:15.3 (14)	10:12.4 (16)
15	Werner, Ethan **T	JR	1086	Redwood (NC)	15	15:37.2	5:12.4	6:16.6 (16)	10:12.7 (17)
16	Walker, Alex **T	SR	349	Clayton Valley Charter 16 15:37.8 5:12.6 6:15.2 (12)	10:09.4 (15)
17	Singh, Eshaan **T	JR	598	Granada (NC)	17	15:41.1	5:13.7	6:10.6 (10)	10:06.8 (12)

18	Mak, Ryken	        SR	63	Amador Valley (NC)	18	15:47.5	5:15.8	6:22.4 (18)	10:22.7 (18)
19	Brandeis, Owen **T	SO	876	Monte Vista (NC)	19	15:49.1	5:16.4	6:23.9 (20)	10:22.7 (19)
20	Peters, Kai **T	        SR	1083	Redwood (NC)	20	15:53.3	5:17.7	6:29.6 (28)	10:28.4 (23)
21	Solari, Alan **T	SR	348	Clayton Valley Charter (NC)	21	15:55.8	5:18.6	6:24.2 (21)	10:23.4 (20)
22	Benard, Elias	        JR	536	Foothill - Pleasanton (NC)	22	15:56.9	5:18.9	6:22.6 (19)	10:24.6 (21)
23	Pederson, Jake **T	SR	881	Monte Vista (NC)	23	15:57.1	5:19.0	6:26.8 (26)	10:29.8 (26)
24	Gill-Gulati, Arran	SO	62	Amador Valley (NC)	24	15:57.6	5:19.2	6:25.9 (24)	10:29.1 (25)
25	Sandrich, Jax **T	SO	1084	Redwood (NC)	25	15:57.7	5:19.2	6:29.7 (29)	10:28.7 (24)
26	Coleman, Christopher	SR	427	De La Salle (NC)	26	16:04.1	5:21.3	6:25.8 (23)	10:27.2 (22)
27	Rajesh, Prithvij	JR	64	Amador Valley (NC)	27	16:21.6	5:27.2	6:24.5 (22)	10:30.9 (27)
28	Bromley, Erik **T	JR	593	Granada (NC)	28	16:21.7	5:27.2	6:26.3 (25)	10:40.2 (30)
29	Dawson, Naveen	SO	24	Alameda (NC)	29	16:24.5	5:28.2	6:32.7 (33)	10:40.0 (29)
30	Havlik, Matt	SR	1179	San Ramon Valley (NC)	30	16:26.2	5:28.7	6:40.8 (43)	10:45.0 (34)
31	Lozares, Elijah	JR	540	Foothill - Pleasanton (NC)	31	16:26.3	5:28.7	6:38.2 (37)	10:47.3 (36)
32	Herrerias, Desi	JR	1180	San Ramon Valley (NC)	32	16:26.4	5:28.8	6:50.1 (65)	10:58.0 (49)
33	Versteeg, Aiden	9	65	Amador Valley (NC)	33	16:26.8	5:28.9	6:36.2 (34)	10:44.0 (33)
34	Ding, Ethan	JR	61	Amador Valley (NC)	34	16:27.6	5:29.2	6:38.0 (36)	10:46.9 (35)
35	Joseph, Adam	JR	1195	Santa Rosa (NC)	35	16:28.9	5:29.6	6:40.5 (41)	10:49.6 (38)
36	Coats, Duke	9	1178	San Ramon Valley (NC)	36	16:29.0	5:29.7	6:53.2 (70)	10:59.9 (54)
37	Tudor, Calvin **T	JR	1085	Redwood (NC)	37	16:30.6	5:30.2	6:29.5 (27)	10:38.1 (28)
38	Salter, Heath	9	431	De La Salle (NC)	38	16:31.8	5:30.6	6:44.6 (51)	10:53.7 (43)
39	Ando, Johnny	JR	1190	Santa Rosa (NC)	39	16:31.8	5:30.6	6:40.5 (42)	10:49.8 (39)
40	Bellotti, Max	JR	22	Alameda (NC)	40	16:34.9	5:31.6	6:30.6 (31)	10:41.7 (31)
41	Inocencio, Benjamin **T	SR	879	Monte Vista (NC)	41	16:34.9	5:31.6	6:39.1 (40)	10:52.1 (41)
42	Wong, Colin	SR	542	Foothill - Pleasanton (NC)	42	16:35.7	5:31.9	6:38.7 (39)	10:47.9 (37)
43	Leung, Blake	SO	361	College Park (NC)	43	16:35.9	5:31.9	6:43.2 (47)	10:54.7 (45)
44	Hidalgo, Athaniel	9	1181	San Ramon Valley (NC)	44	16:37.2	5:32.4	6:50.6 (66)	10:59.7 (53)
45	Moore, Liam	SO	362	College Park (NC)	45	16:39.1	5:33.0	6:43.4 (48)	10:54.3 (44)
46	Grondona, Draven **T	SR	878	Monte Vista (NC)	46	16:39.5	5:33.1	6:30.3 (30)	10:42.7 (32)
47	Dethlefsen, Ben	SR	1192	Santa Rosa (NC)	47	16:41.9	5:33.9	6:43.8 (49)	10:56.3 (48)
48	Abulencia, Jaiden	SR	1176	San Ramon Valley (NC)	48	16:43.5	5:34.5	6:52.5 (69)	11:01.5 (58)
49	Weiler, Jackson	SO	663	Heritage (NC)	49	16:43.7	5:34.5	6:41.1 (45)	10:53.3 (42)
50	Gopisetty, Aakarsh	SR	1320	Washington (NC)	50	16:45.1	5:35.0	6:44.5 (50)	10:59.6 (52)
51	Chudasama, Aditya	SR	60	Amador Valley (NC)	51	16:45.8	5:35.2	6:49.6 (64)	11:02.3 (59)
52	Jetter, Ryan **T	SR	345	Clayton Valley Charter (NC)	52	16:47.4	5:35.8	6:45.9 (53)	10:58.4 (50)
53	Fyre, Grayson	SO	1307	Vintage (NC)	53	16:50.4	5:36.8	6:48.5 (60)	11:03.5 (61)
54	Leclaire, Soren	9	360	College Park (NC)	54	16:50.8	5:36.9	6:47.0 (57)	10:59.3 (51)
55	Momsen, Jonah **T	JR	1087	Redwood (NC)	55	16:53.2	5:37.7	6:32.2 (32)	10:50.1 (40)
56	Simpson, Michael	JR	661	Heritage (NC)	56	16:54.6	5:38.2	6:49.5 (63)	11:03.9 (62)
57	Broome, Ted	SR	1191	Santa Rosa (NC)	57	16:55.7	5:38.6	6:47.9 (58)	11:04.4 (64)
58	Itoi, Rintaro	JR	77	American	58	16:56.6	5:38.9	6:46.3 (54)	11:04.4 (63)
59	Castro, Juan	SO	114	Antioch (NC)	59	16:57.4	5:39.1	6:56.4 (73)	11:12.7 (70)
60	Chavez, Nolan	SO	537	Foothill - Pleasanton (NC)	60	16:59.0	5:39.6	6:43.0 (46)	11:01.0 (57)
61	Bluth, Noah **T	JR	344	Clayton Valley Charter (NC)	61	16:59.4	5:39.8	6:46.7 (56)	11:03.1 (60)
62	Feleay, Isaac	SR	1193	Santa Rosa (NC)	62	17:02.8	5:40.9	6:53.6 (71)	11:12.0 (69)
63	Chang, Walter	JR	865	Mission San Jose (NC)	63	17:03.9	5:41.3	6:38.4 (38)	10:55.2 (46)
64	Mazolewski, Adam	JR	430	De La Salle (NC)	64	17:05.6	5:41.8	6:49.3 (62)	11:08.0 (67)
65	Sanchez, Jaydan	SR	432	De La Salle (NC)	65	17:08.1	5:42.7	6:48.6 (61)	11:05.8 (65)
66	Kachare, Shon	JR	539	Foothill - Pleasanton (NC)	66	17:08.4	5:42.8	6:46.5 (55)	11:10.8 (68)
67	Camacho, Jacob	JR	59	Amador Valley (NC)	67	17:08.7	5:42.9	6:41.0 (44)	11:00.3 (55)
68	Smith, Aidan	SR	935	Napa (NC)	68	17:10.2	5:43.4	6:47.9 (59)	11:07.7 (66)
69	Glueck, Joshua	SO	428	De La Salle (NC)	69	17:11.9	5:43.9	6:45.0 (52)	10:55.3 (47)
70	Jimenez, Jose	SR	117	Antioch (NC)	70	17:14.7	5:44.9	6:59.2 (75)	11:21.7 (72)
71	Headley-Pouard, Caleb	SO	115	Antioch (NC)	71	17:15.4	5:45.1	7:02.5 (81)	11:25.1 (78)
72	Frederiksen, Jack **T	SR	877	Monte Vista (NC)	72	17:16.2	5:45.4	6:38.0 (35)	11:00.4 (56)
73	Holdren, Brady	JR	538	Foothill - Pleasanton (NC)	73	17:19.4	5:46.5	6:56.2 (72)	11:21.9 (73)
74	Hernandez, Jobanny	JR	440	Deer Valley (NC)	74	17:19.5	5:46.5	7:04.1 (84)	11:21.9 (74)
75	Yilma, Emanuel	SR	665	Heritage (NC)	75	17:24.5	5:48.2	7:00.5 (76)	11:24.0 (76)
76	Murray, Tadhg	SO	429	De La Salle (NC)	76	17:29.1	5:49.7	7:01.3 (79)	11:25.1 (77)
77	Carpenter, Kenny	SR	1177	San Ramon Valley (NC)	77	17:31.8	5:50.6	6:51.8 (68)	11:15.5 (71)
78	Kessler, Draven	9	443	Deer Valley (NC)	78	17:35.7	5:51.9	7:05.4 (87)	11:29.3 (80)
79	Bergmann, Alexander **T	JR	343	Clayton Valley Charter (NC)	79	17:37.3	5:52.4	6:51.1 (67)	11:23.1 (75)
80	Lynn, Jaob	FR	541	Foothill - Pleasanton (NC)	80	17:38.2	5:52.7	7:04.5 (85)	11:31.5 (81)
81	Geffner, Martin	SR	1194	Santa Rosa (NC)	81	17:42.0	5:54.0	7:02.3 (80)	11:32.6 (82)
82	Chakraborty, Siddhant	SR	864	Mission San Jose (NC)	82	17:43.4	5:54.5	7:03.7 (82)	11:34.3 (85)
83	Hartlaub, Theo	SR	25	Alameda (NC)	83	17:44.1	5:54.7	7:08.4 (92)	11:37.4 (89)
84	King, Logan	JR	78	American	84	17:46.2	5:55.4	7:04.6 (86)	11:37.1 (87)
85	Firman, Cody	SR	358	College Park (NC)	85	17:46.9	5:55.6	7:06.0 (88)	11:38.5 (92)
86	Gowda, Samvrat	SO	76	American	86	17:47.3	5:55.8	7:04.0 (83)	11:34.1 (84)
87	Arango, Valentin	SO	1303	Vintage (NC)	87	17:48.2	5:56.1	7:12.2 (95)	11:37.9 (91)
88	Crane, Oscar	SR	23	Alameda (NC)	88	17:48.5	5:56.1	7:06.7 (89)	11:36.9 (86)
89	Sachdeva, Rishab **T	SO	882	Monte Vista (NC)	89	17:49.6	5:56.5	6:58.7 (74)	11:27.3 (79)
90	Fuentes, Oswaldo	SO	741	Liberty (NC)	90	17:52.4	5:57.4	7:19.8 (108)	11:50.9 (100)
91	Scott, Peter	SR	26	Alameda (NC)	91	17:53.3	5:57.7	7:08.5 (93)	11:37.1 (88)
92	Durfee, Collin	SR	1305	Vintage (NC)	92	17:54.9	5:58.3	7:34.2 (127)	11:57.5 (112)
93	Arrizon Lopez, Saul	SR	915	Mt. Eden (NC)	93	17:56.7	5:58.9	7:24.5 (122)	11:57.2 (111)
94	Beppu, Lucas	JR	676	Irvington (NC)	94	17:58.5	5:59.5	7:14.3 (98)	11:41.5 (93)
95	Grewal, Arvin	SO	764	Livermore (NC)	--	17:59.2	5:59.7	7:00.7 (77)	11:33.3 (83)
96	Kim, Joel	SR	866	Mission San Jose (NC)	95	18:03.5	6:01.1	7:01.1 (78)	11:37.5 (90)
97	Rajakumar, Aashish	9	680	Irvington (NC)	96	18:05.6	6:01.8	7:12.2 (96)	11:47.4 (96)
98	Bazzone, Evan	JR	862	Mission San Jose (NC)	97	18:06.9	6:02.3	7:09.6 (94)	11:50.1 (98)
99	Bazzone, Kyle	SR	863	Mission San Jose (NC)	98	18:07.2	6:02.4	7:19.4 (105)	11:57.0 (110)
100	Willmert, Anthony	9	1309	Vintage (NC)	99	18:07.6	6:02.5	7:14.6 (99)	11:50.2 (99)
101	Govindu, Taran	SO	75	American	100	18:11.4	6:03.8	7:19.7 (107)	11:54.0 (103)
102	Vemula, Varun	SR	1323	Washington (NC)	101	18:13.9	6:04.6	7:19.9 (109)	11:53.6 (101)
103	Madhu, Arnav	SO	74	American	102	18:15.0	6:05.0	7:19.1 (103)	11:54.0 (104)
104	Salmon, Quinn	SR	1182	San Ramon Valley (NC)	103	18:15.9	6:05.3	7:13.8 (97)	11:47.0 (95)
105	Faulkner, Conrad	JR	659	Heritage (NC)	104	18:16.8	6:05.6	7:07.3 (91)	11:49.4 (97)
106	Heffner, Jack	SO	1308	Vintage (NC)	105	18:16.8	6:05.6	7:21.4 (113)	11:54.5 (105)
107	Davila, Grant	9	1318	Washington (NC)	106	18:20.5	6:06.8	7:20.0 (111)	11:53.8 (102)
108	von Stroheim, Dashiell	JR	27	Alameda (NC)	107	18:22.0	6:07.3	7:19.3 (104)	11:58.6 (113)
109	Johnson, Jacob	9	678	Irvington (NC)	108	18:24.4	6:08.1	7:18.7 (102)	11:56.8 (109)
110	Rosario, Peter	SR	681	Irvington (NC)	109	18:24.9	6:08.3	7:19.9 (110)	11:56.8 (108)
111	Eichner, Teddy	9	1306	Vintage (NC)	110	18:25.0	6:08.3	7:21.7 (114)	11:55.1 (106)
112	McGrath, Finn	JR	930	Napa (NC)	111	18:31.1	6:10.3	7:24.1 (120)	11:59.9 (114)
113	Wootton, Christopher	JR	28	Alameda (NC)	112	18:31.4	6:10.5	7:23.1 (117)	12:03.2 (117)
114	Ramirez, Anthony	9	743	Liberty (NC)	113	18:35.2	6:11.7	7:23.4 (118)	12:00.8 (116)
115	Siva, Praamesh	JR	868	Mission San Jose (NC)	114	18:37.1	6:12.3	7:18.0 (100)	11:56.1 (107)
116	Pijanowski, Jean-Luc	JR	933	Napa (NC)	115	18:39.6	6:13.2	7:37.7 (133)	12:18.7 (127)
117	Lapid, CJ	JR	917	Mt. Eden (NC)	116	18:43.0	6:14.3	7:28.4 (124)	12:11.7 (121)
118	Gregorian, Vahe	SO	364	College Park (NC)	117	18:45.7	6:15.2	7:36.5 (129)	12:20.3 (129)
119	Rojas, Isaiah	SO	934	Napa (NC)	118	18:47.1	6:15.7	7:30.5 (125)	12:14.7 (125)
120	Devadhar, Chinmay	SR	1319	Washington (NC)	119	18:49.5	6:16.5	7:23.0 (116)	12:10.2 (119)
121	Kuruvilla, Jonathan	JR	679	Irvington (NC)	120	18:51.8	6:17.3	7:20.2 (112)	12:00.2 (115)
122	Truitt, Jailen	SO	446	Deer Valley (NC)	121	18:52.9	6:17.6	7:33.0 (126)	12:14.7 (124)
123	Erickson, Mason	9	562	Freedom (NC)	122	18:53.4	6:17.8	7:35.6 (128)	12:19.0 (128)
124	Couthren, Jack	JR	73	American	123	18:54.6	6:18.2	7:26.5 (123)	12:13.4 (123)
125	Shinde, Shaan	SO	1322	Washington (NC)	124	19:00.1	6:20.0	7:23.9 (119)	12:11.4 (120)
126	Riffle, Matthew	JR	79	American	125	19:08.4	6:22.8	7:19.5 (106)	12:13.2 (122)
127	Moore, Jack	9	931	Napa (NC)	126	19:11.6	6:23.9	7:38.8 (134)	12:25.8 (132)
128	Soper, William	FR	742	Liberty (NC)	127	19:12.6	6:24.2	7:44.3 (146)	12:25.2 (131)
129	Solis, Angelo	SR	565	Freedom (NC)	128	19:14.7	6:24.9	7:22.1 (115)	12:07.0 (118)
130	Ortiz, Uriel	SR	932	Napa (NC)	129	19:15.0	6:25.0	7:37.0 (132)	12:22.0 (130)
131	Rodriguez, Nestor	JR	919	Mt. Eden (NC)	130	19:17.1	6:25.7	7:41.9 (139)	12:36.7 (139)
132	Reilly V, John	9	1321	Washington (NC)	131	19:19.0	6:26.3	7:42.4 (142)	12:33.8 (137)
133	Roberts, Jack	SO	660	Heritage (NC)	132	19:20.2	6:26.7	7:36.8 (130)	12:32.9 (135)
134	Muradyan, Alex	JR	564	Freedom (NC)	133	19:20.7	6:26.9	7:41.5 (137)	12:27.8 (133)
135	Villalobos, George	JR	119	Antioch (NC)	134	19:20.8	6:26.9	7:36.9 (131)	12:36.8 (140)
136	Butler, Ryan	SO	929	Napa (NC)	135	19:21.4	6:27.1	7:57.1 (150)	12:52.8 (146)
137	Gupta, Rudraksh	JR	677	Irvington (NC)	136	19:22.9	6:27.6	7:18.3 (101)	12:18.0 (126)
138	O'Conner, Atlas	9	444	Deer Valley (NC)	137	19:24.4	6:28.1	7:43.2 (145)	12:43.9 (142)
139	Cullinane, Brody	9	1304	Vintage (NC)	138	19:26.2	6:28.7	7:57.3 (151)	12:51.1 (144)
140	Lacaba, Jerome	JR	563	Freedom (NC)	139	19:30.4	6:30.1	7:41.7 (138)	12:35.5 (138)
141	Smyth, Ian	SO	745	Liberty (NC)	140	19:32.9	6:31.0	7:42.1 (140)	12:33.1 (136)
142	Solorio, William	SR	921	Mt. Eden (NC)	141	19:37.5	6:32.5	7:46.8 (147)	12:48.7 (143)
143	Wong, Albert	JR	120	Antioch (NC)	142	19:40.9	6:33.6	7:38.8 (135)	12:39.5 (141)
144	Vorster, Logan	9	746	Liberty (NC)	143	19:44.9	6:34.9	7:47.2 (148)	12:51.1 (145)
145	Reimer, Jacob	9	768	Livermore (NC)	--	19:47.3	6:35.7	8:01.4 (153)	13:00.3 (148)
146	Naveen, Chinmay	SR	867	Mission San Jose (NC)	144	19:47.4	6:35.8	7:24.3 (121)	12:28.6 (134)
147	Yi, Christian	SO	664	Heritage (NC)	145	20:09.1	6:43.0	7:42.3 (141)	12:57.5 (147)
148	Pouncil, Joseph	SO	445	Deer Valley (NC)	146	20:12.8	6:44.2	7:41.1 (136)	13:03.6 (149)
149	Kapur, Bhargav	JR	442	Deer Valley (NC)	147	20:21.6	6:47.2	8:06.1 (157)	13:14.9 (151)
150	Brown, Mike	JR	561	Freedom (NC)	148	20:32.3	6:50.7	7:42.9 (144)	13:05.7 (150)
151	Casareno, Sean	SR	916	Mt. Eden (NC)	149	20:32.7	6:50.9	8:05.8 (156)	13:22.1 (154)
152	Janolino, Oliver	SO	441	Deer Valley (NC)	150	20:34.8	6:51.6	7:58.6 (152)	13:15.1 (153)
153	Siemers, Cooper	SR	744	Liberty (NC)	151	20:39.5	6:53.1	7:53.4 (149)	13:14.9 (152)
154	Luong, Nicholas	JR	918	Mt. Eden (NC)	152	20:44.2	6:54.7	8:04.8 (154)	13:29.7 (155)
155	Singh, Ashneel	JR	920	Mt. Eden (NC)	153	21:06.6	7:02.2	8:05.2 (155)	13:29.9 (156)
156	Puzder, Kyle	JR	767	Livermore (NC)	--	21:16.7	7:05.6	8:25.1 (160)	13:47.2 (157)
157	Sultan, Muhammad	SO	118	Antioch (NC)	154	21:30.9	7:10.3	8:19.3 (158)	13:51.4 (158)
158	Kanakamedala, Sujay	JR	766	Livermore (NC)	--	22:06.1	7:22.0	8:46.3 (162)	14:19.9 (161)
159	Herrera, Jose	SO	116	Antioch (NC)	155	22:07.0	7:22.3	8:31.3 (161)	14:11.6 (159)
160	Young, Johnny	SO	567	Freedom (NC)	156	22:20.0	7:26.6	8:22.0 (159)	14:13.9 (160)

Division III
Final Standings	Score	Scoring Order	Total	Avg.	Spread
1	Campolindo (NC)	28	1-2-3-6-16(25)(52)	1:17:47	15:34	1:17.3
2	Maria Carrillo 	89	15-17-18-19-20(24)(32)	1:21:47	16:22	0:07.8
3	Newark Memorial	110	9-13-21-28-39(77)(80)	1:22:25	16:29	0:55.9
4	Las Lomas (NC)	134	8-10-35-40-41(59)(69)	1:23:05	16:37	1:02.7

5	Montgomery (NC)	170	4-7-27-48-84(108)	1:24:00	16:48	3:04.0
6	Tamalpais (NC)	189	23-26-42-43-55(61)	1:24:51	16:59	1:07.1
7	Northgate (NC)	205	11-14-56-60-64(73)(99)	1:25:45	17:09	1:46.1
8	Novato (NC)	214	12-29-45-50-78(85)(126)	1:25:38	17:08	2:16.8
9	Ukiah (NC)	269	30-37-54-66-82(95)(101)	1:27:47	17:34	1:50.1
10	Casa Grande 	271	33-47-53-68-70(72)(79)	1:27:30	17:30	1:17.2
11	Eureka (NC)	339	31-63-67-88-90(100)(106) 1:30:08 18:02	2:01.6
12	Kennedy-Fremont	366	22-46-89-97-112(125)(140) 1:30:44 18:09	3:00.4
13	Piner (NC)	376	44-51-65-98-118(124)	1:30:51	18:11	2:28.5
14	Windsor (NC)	399	49-58-87-102-103(119)(139) 1:31:51 18:23 1:53.1
15	Petaluma (NC)	410	57-62-74-96-121	        1:32:27	18:30	2:03.5
16	El Cerrito (NC)	424	5-83-104-105-127(130)(143) 1:32:30 18:30 4:06.0
17	Analy (NC)	425	36-75-86-113-115(117)(122) 1:32:59 18:36 2:39.7
18	Benicia (NC)	458	71-76-93-107-111(116)(120) 1:34:07 18:50 1:21.5
19	Hayward (NC)	461	38-92-94-109-128(136)(137) 1:34:04 18:49 2:56.3
20	San Rafael (NC)	499	34-91-110-123-141(145)	1:36:51	19:23	5:02.2
21	American Canyon	606	81-129-131-132-133(144)	1:39:23	19:53	1:53.5
22	Pinole Valley 	663	114-134-135-138-142(146)(147) 1:43:34 20:43 2:47.8

Athlete	Yr.	#	Team	Score	Time	Avg. Mile	1.25 miles
1	Lodewick, Alexander **T	SR	283	Campolindo (NC)	1	14:59.7	4:59.9	6:05.4 (2)
2	Mcghee, Connor **T	SR	284	Campolindo (NC)	2	15:15.2	5:05.1	6:08.4 (4)
3	Webster, Blake **T	SR	288	Campolindo (NC)	3	15:21.3	5:07.1	6:07.7 (3)
4	Devries, Jude **I	SR	892	Montgomery (NC)	4	15:34.6	5:11.5	6:05.3 (1)
5	Monteleone, Niall **I	JR	491	El Cerrito (NC)	5	15:48.4	5:16.1	6:23.7 (9)
6	Walsh, Baron **T	JR	287	Campolindo (NC)	6	15:53.2	5:17.7	6:16.1 (5)
7	Azevedo, Max **I	JR	890	Montgomery (NC)	7	15:59.8	5:19.9	6:31.0 (20)
8	Griffin-Yeh, Nate **T	SO	731	Las Lomas (NC)	8	15:59.9	5:19.9	6:23.5 (8)
9	Ahmed, Talha **T	SR	943	Newark Memorial	9	16:05.4	5:21.8	6:17.8 (7)
10	Fippin, Jacob **T	SR	728	Las Lomas (NC)	10	16:06.3	5:22.1	6:29.3 (17)
11	Benard, Robert **I	JR	957	Northgate (NC)	11	16:09.2	5:23.0	6:24.2 (10)
12	McAuley, Nick **I	JR	974	Novato (NC)	12	16:10.5	5:23.5	6:27.1 (13)
13	Patel, Sid **T	JR	947	Newark Memorial (NC)	13	16:12.3	5:24.1	6:17.6 (6)

14	Knisley, Nicholas	JR	960	Northgate (NC)	14	16:12.6	5:24.2	6:30.9 (19)
15	Sitton, Gabe **T	JR	792	Maria Carrillo 	15	16:16.3	5:25.4	6:40.3 (32)
16	Trento, Paulo **T	JR	286	Campolindo (NC)	16	16:17.0	5:25.6	6:39.1 (29)
17	Wilson, Jack **T	SO	793	Maria Carrillo 	17	16:21.3	5:27.1	6:29.2 (16)
18	Choe, Benjamin **T	SR	787	Maria Carrillo 	18	16:22.0	5:27.3	6:31.2 (21)
19	Donohue, Jonathan **T	SR	789	Maria Carrillo 	19	16:23.3	5:27.8	6:31.7 (22)
20	Gubera, Sean **T	SR	790	Maria Carrillo 	20	16:24.0	5:28.0	6:28.2 (15)
21	Martinez, Chris **T	SR	946	Newark Memorial	21	16:26.5	5:28.8	6:31.8 (23)
22	Jay, Nathan	        SR	714	Kennedy-Fremont	22	16:27.5	5:29.2	6:25.1 (12)
23	Jackson, Soren	        JR	1246	Tamalpais (NC)	23	16:29.8	5:29.9	6:41.0 (34)
24	Dawson, Trenton **T	9	788	Maria Carrillo	24	16:30.5	5:30.1	6:40.7 (33)
25	Thomasson, Alex **T	JR	285	Campolindo (NC)	25	16:32.3	5:30.8	6:27.6 (14)
26	Dunmire, Max	        JR	1244	Tamalpais (NC)	26	16:35.2	5:31.7	6:24.6 (11)
27	LaFrance, Ryan	        SO	894	Montgomery (NC)	27	16:36.9	5:32.3	6:39.1 (30)
28	Tellez, Michael **T	SO	948	Newark Memorial	28	16:39.7	5:33.2	6:38.9 (28)
29	MacKenzie, Colin	JR	972	Novato (NC)	29	16:40.0	5:33.3	6:45.9 (38)
30	Tarin, Andrew	        SR	1281	Ukiah (NC)	30	16:43.5	5:34.5	6:37.4 (26)
31	Shaver, Daniel	        SR	527	Eureka (NC)	31	16:45.6	5:35.2	6:51.4 (44)
32	Sanderson, Grant **T	JR	791	Maria Carrillo	32	16:45.7	5:35.2	6:33.5 (24)
33	Vasquez, Isaac	SR	321	Casa Grande (NC)	33	16:48.4	5:36.1	10:55.6 (152)
34	Cristea, Teo	SO	1162	San Rafael (NC)	34	16:53.2	5:37.7	7:05.4 (59)
35	Baxter, Andrew **T	JR	726	Las Lomas (NC)	35	16:53.3	5:37.8	6:49.5 (41)
36	Gaylord, Cormac	SO	104	Analy (NC)	36	16:54.0	5:38.0	6:37.3 (25)
37	Ruiz, Oscar	SO	1280	Ukiah (NC)	37	16:59.3	5:39.8	6:53.0 (48)
38	Fontana, Benicio	SO	605	Hayward (NC)	38	17:00.8	5:40.3	6:55.6 (54)
39	Wood, Michael **T	SR	949	Newark Memorial (NC)	39	17:01.3	5:40.4	6:39.4 (31)
40	Geotina, Max **T	JR	730	Las Lomas (NC)	40	17:02.3	5:40.7	6:52.6 (46)
41	Shargel, Andrew **T	JR	732	Las Lomas (NC)	41	17:02.6	5:40.8	7:04.1 (56)
42	Lyons, James	SR	1247	Tamalpais (NC)	42	17:03.0	5:41.0	6:38.7 (27)
43	Wilhelm, Ben	JR	1249	Tamalpais (NC)	43	17:05.8	5:41.9	6:47.4 (39)
44	Ward, Bryce	SR	1028	Piner (NC)	44	17:06.7	5:42.2	6:48.4 (40)
45	Baker, Arthur	SO	969	Novato (NC)	45	17:07.4	5:42.4	6:54.8 (53)
46	Mehta, Aarav	JR	717	Kennedy-Fremont (NC)	46	17:07.8	5:42.6	6:41.1 (35)
47	Mainaris, Dylan	SO	320	Casa Grande (NC)	47	17:09.4	5:43.1	6:44.6 (36)
48	Brusco, Austin	SO	891	Montgomery (NC)	48	17:09.4	5:43.1	6:52.6 (47)
49	Surgeon, Xavier	9	1336	Windsor (NC)	49	17:12.4	5:44.1	7:19.0 (76)
50	Schnasse, Tyson	SR	975	Novato (NC)	50	17:12.8	5:44.3	6:54.0 (51)
51	Vasquez, Leonardo	SR	1027	Piner (NC)	51	17:14.6	5:44.9	6:53.7 (50)
52	Iyer, Siddharth **T	SO	282	Campolindo (NC)	52	17:14.8	5:44.9	6:53.5 (49)
53	Hansen, Kevin	9	318	Casa Grande (NC)	53	17:26.0	5:48.7	6:50.6 (42)
54	Hupp, Gideon	9	1278	Ukiah (NC)	54	17:32.1	5:50.7	6:51.1 (43)
55	Gardner, Caeden	SO	1245	Tamalpais (NC)	55	17:36.8	5:52.3	7:05.1 (58)
56	Macaluso, Vincenzo	JR	961	Northgate (NC)	56	17:38.5	5:52.8	6:54.3 (52)
57	Hicks, Aidan	SR	997	Petaluma (NC)	57	17:40.1	5:53.4	7:14.9 (70)
58	Cole, Barney	SO	1331	Windsor (NC)	58	17:47.3	5:55.7	7:09.8 (62)
59	Gandhi, Akash **T	SO	729	Las Lomas (NC)	59	17:49.1	5:56.3	7:11.6 (64)
60	Farrar, Greyson	SO	958	Northgate (NC)	60	17:49.3	5:56.4	7:16.0 (71)
61	Turner, Jack	SO	1250	Tamalpais (NC)	61	17:50.3	5:56.8	7:12.9 (65)
62	Somoff, Raymond	JR	1000	Petaluma (NC)	62	17:51.4	5:57.1	6:51.7 (45)
63	Docherty, Everett	SO	522	Eureka (NC)	63	17:52.9	5:57.6	7:11.6 (63)
64	Wafadar, Sammy	JR	963	Northgate (NC)	64	17:55.2	5:58.4	7:00.0 (55)
65	Cecil, Gavin	JR	1022	Piner (NC)	65	17:56.2	5:58.7	7:13.5 (66)
66	Giglio, Jackson	SO	1276	Ukiah (NC)	66	17:58.6	5:59.5	7:17.5 (73)
67	Docherty, Kaelan	SR	523	Eureka (NC)	67	17:58.8	5:59.6	6:44.9 (37)
68	Comella, Ryan	JR	315	Casa Grande (NC)	68	18:00.3	6:00.1	7:08.2 (60)
69	Douglas, Hudson **T	JR	727	Las Lomas (NC)	69	18:01.1	6:00.3	7:17.2 (72)
70	Lichty, Benton	9	319	Casa Grande (NC)	70	18:05.6	6:01.8	7:19.1 (77)
71	Zhang, Daniel	SR	188	Benicia (NC)	71	18:06.4	6:02.1	7:24.6 (84)
72	Dufour, Jack	9	316	Casa Grande (NC)	72	18:14.9	6:04.9	7:21.2 (81)
73	Muraoka, Zachary	JR	959	Northgate (NC)	73	18:14.9	6:04.9	7:24.0 (82)
74	Pomeroy-Roney, Max	9	999	Petaluma (NC)	74	18:16.2	6:05.4	7:18.8 (75)
75	Foley, Owen	JR	103	Analy (NC)	75	18:21.1	6:07.0	7:08.8 (61)
76	Thomas, Joel	9	187	Benicia (NC)	76	18:21.9	6:07.3	7:19.9 (80)
77	Gamarra, Edgar **T	SR	944	Newark Memorial (NC)	77	18:22.5	6:07.5	7:14.3 (68)
78	Busby, Hagen	SO	970	Novato (NC)	78	18:27.2	6:09.0	7:14.3 (69)
79	Goli, Srihan	SO	317	Casa Grande (NC)	79	18:30.0	6:10.0	7:24.5 (83)
80	Linares, Gabriel **T	SO	945	Newark Memorial (NC)	80	18:32.0	6:10.6	7:19.4 (78)
81	Barajas, Emanuel	SR	87	American Canyon (NC)	81	18:32.2	6:10.7	7:19.7 (79)
82	Brown, Jackson	SO	1275	Ukiah (NC)	82	18:33.6	6:11.2	7:14.0 (67)
83	Yokoyama, Taro	SO	494	El Cerrito (NC)	83	18:34.3	6:11.4	7:30.1 (94)
84	Mercado, Tomas	9	895	Montgomery (NC)	84	18:38.5	6:12.8	7:36.8 (106)
85	Manshouri, Kaveh	SR	973	Novato (NC)	85	18:38.6	6:12.9	7:32.9 (100)
86	Varville, Richard	SO	107	Analy (NC)	86	18:41.1	6:13.7	7:38.3 (108)
87	Emilio McKinney, Max	SO	1332	Windsor (NC)	87	18:42.5	6:14.1	7:35.4 (102)
88	Plessinger, Ashton	SR	526	Eureka (NC)	88	18:43.5	6:14.5	7:18.1 (74)
89	Luong, Issac	9	715	Kennedy-Fremont (NC)	89	18:43.7	6:14.6	7:28.0 (91)
90	Jiminez, Chase	SO	525	Eureka (NC)	90	18:47.2	6:15.7	7:32.5 (99)
91	Skieresz, Trey	SR	1168	San Rafael (NC)	91	18:48.3	6:16.1	7:34.5 (101)
92	Rosillo, Matthew	JR	609	Hayward (NC)	92	18:50.0	6:16.7	7:25.9 (85)
93	Zhang, Joseph	9	189	Benicia (NC)	93	18:51.8	6:17.2	7:38.7 (111)
94	Gonzalez, Jhann	JR	606	Hayward (NC)	94	18:54.6	6:18.2	7:26.3 (87)
95	Hasunuma, Kobi	SO	1277	Ukiah (NC)	95	18:55.8	6:18.6	7:42.4 (117)
96	Bloom, Max	SR	995	Petaluma (NC)	96	18:56.0	6:18.6	7:31.6 (97)
97	Shin, Joseph	JR	718	Kennedy-Fremont (NC)	97	18:57.2	6:19.1	7:27.3 (89)
98	Cuevas, Azriel	SO	1023	Piner (NC)	98	18:58.4	6:19.4	7:26.8 (88)
99	Cao, Phillip	JR	962	Northgate (NC)	99	18:59.7	6:19.9	7:29.1 (93)
100	Zerlang, Wyatt	JR	528	Eureka (NC)	100	19:02.3	6:20.7	7:38.7 (110)
101	Rahm, Jack	JR	1279	Ukiah (NC)	101	19:03.3	6:21.1	7:26.1 (86)
102	Alanis, Allan	JR	1330	Windsor (NC)	102	19:03.5	6:21.2	7:43.7 (118)
103	Moores, Tristan	9	1335	Windsor (NC)	103	19:05.4	6:21.8	7:48.6 (127)
104	LaRue, Diego	SO	490	El Cerrito (NC)	104	19:06.4	6:22.1	7:49.5 (129)
105	Araizasingh, Ajith	SO	488	El Cerrito (NC)	105	19:06.6	6:22.2	7:36.8 (104)
106	Halve, Zack	SR	524	Eureka (NC)	106	19:11.6	6:23.8	7:36.8 (105)
107	Broom, David	JR	183	Benicia (NC)	107	19:19.0	6:26.3	7:32.2 (98)
108	Peterson, Grady	SO	896	Montgomery (NC)	108	19:20.9	6:26.9	7:42.0 (116)
109	Zepeda, Daniel	SO	610	Hayward (NC)	109	19:21.5	6:27.1	7:38.6 (109)
110	Fiandaca-Olsen, Zane	JR	1163	San Rafael (NC)	110	19:26.0	6:28.6	7:51.0 (130)
111	McEwen Jones III, Hilton	JR	185	Benicia (NC)	111	19:27.9	6:29.3	7:30.4 (95)
112	Ehling, Ayler	SO	712	Kennedy-Fremont (NC)	112	19:27.9	6:29.3	7:41.3 (115)
113	Carmona, Alan	SR	102	Analy (NC)	113	19:28.7	6:29.5	7:28.1 (92)
114	Delgado, Adrian	SO	1037	Pinole Valley (NC)	114	19:28.8	6:29.6	7:31.6 (96)
115	Holman, Quince	9	105	Analy (NC)	115	19:33.7	6:31.2	7:38.1 (107)
116	GEARY, Luke	9	184	Benicia (NC)	116	19:34.6	6:31.5	7:45.9 (125)
117	Broadbent-Bell, Marin	SR	101	Analy (NC)	117	19:35.1	6:31.7	7:36.4 (103)
118	Espinosa, Carlos	FR	1025	Piner (NC)	118	19:35.2	6:31.7	7:44.3 (122)
119	Miles, Kacey	SO	1334	Windsor (NC)	119	19:35.8	6:31.9	8:08.1 (138)
120	McGee, Liam	JR	186	Benicia (NC)	120	19:41.9	6:34.0	7:40.3 (114)
121	Larimore, Adrian	SR	998	Petaluma (NC)	121	19:43.5	6:34.5	7:40.3 (113)
122	Little, David	JR	106	Analy (NC)	122	19:43.6	6:34.5	7:46.8 (126)
123	Kfouri, Andre	SR	1165	San Rafael (NC)	123	19:48.4	6:36.1	7:44.2 (120)
124	Sadorra, Derek	SR	1026	Piner (NC)	124	19:50.2	6:36.7	7:27.6 (90)
125	Jay, Narain	9	713	Kennedy-Fremont (NC)	125	19:53.3	6:37.7	7:58.0 (131)
126	Fisher, Wally	JR	971	Novato (NC)	126	19:53.9	6:37.9	7:40.2 (112)
127	sparks, Zachary	9	493	El Cerrito (NC)	127	19:54.4	6:38.1	7:49.3 (128)
128	Cruz, Alexander	9	604	Hayward (NC)	128	19:57.1	6:39.0	7:43.8 (119)
129	Soto, Moises	SR	91	American Canyon (NC)	129	19:57.7	6:39.2	7:44.4 (123)
130	O'Neal, Jack	SO	492	El Cerrito (NC)	130	20:12.1	6:44.0	7:45.5 (124)
131	Ivan Cruz, Arch	SO	89	American Canyon (NC)	131	20:12.1	6:44.0	7:59.6 (134)
132	Leslie, Preston	SO	90	American Canyon (NC)	132	20:14.9	6:45.0	7:59.9 (135)
133	H. Agudelo, Josue	JR	88	American Canyon (NC)	133	20:25.6	6:48.5	7:44.3 (121)
134	Armenta, Daniel	SO	1036	Pinole Valley (NC)	134	20:27.0	6:49.0	7:58.7 (132)
135	Molina, Manrique	SR	1040	Pinole Valley (NC)	135	20:28.6	6:49.5	7:58.7 (133)
136	Medina, Christopher	JR	608	Hayward (NC)	136	20:28.7	6:49.5	8:05.3 (136)
137	Omwamba, Jayden	FR	607	Hayward (NC)	137	20:41.3	6:53.7	8:06.6 (137)
138	Kula, Dorian	SO	1038	Pinole Valley (NC)	138	20:52.6	6:57.5	8:27.1 (142)
139	Gay, Jaiden	JR	1333	Windsor (NC)	139	21:15.9	7:05.3	8:30.5 (143)
140	Mavuduru, Aakash	JR	716	Kennedy-Fremont (NC)	140	21:16.2	7:05.4	8:10.8 (139)
141	Ortega, Jaiden	JR	1073	Rancho Cotate (NC)	--	21:33.0	7:11.0	8:14.2 (140)
142	Genolio, Anthony	JR	1164	San Rafael (NC)	141	21:55.3	7:18.4	8:42.0 (145)
143	Snook, Randy	SR	1042	Pinole Valley (NC)	142	22:16.5	7:25.5	8:48.3 (146)
144	Barzed, Aaron	9	1068	Rancho Cotate (NC)	--	22:27.5	7:29.1	8:14.3 (141)
145	Gerstman, Hugo	SR	489	El Cerrito (NC)	143	22:39.3	7:33.1	8:38.4 (144)
146	Venzon, Demetrius	9	93	American Canyon (NC)	144	23:30.5	7:50.2	9:12.2 (148)
147	Oo, Reese	9	1072	Rancho Cotate (NC)	--	23:37.0	7:52.3	9:07.2 (147)
148	Rossini, Nico	9	1167	San Rafael (NC)	145	25:04.9	8:21.6	9:30.2 (150)
149	Levesque, Nicholas	SO	1041	Pinole Valley (NC)	146	25:21.3	8:27.1	9:20.0 (149)
150	Martinez, Daniel	SR	1039	Pinole Valley (NC)	147	26:07.8	8:42.6	9:34.2 (151)

Division IV
Final Standings	     Score	Scoring Order	        Total	Avg.	Spread
1	Albany (NC)	47	1-8-10-11-17(34)(53)	1:18:06	15:38	1:01.1
2	Bishop ODowd 	99	6-12-13-25-43(60)(64)	1:20:45	16:09	1:29.7
3	Archie Williams 115	14-16-26-29-30(41)(74)	1:21:42	16:21	0:45.3

4	Acalanes (NC)	121	4-7-28-31-51(72)(83)	1:21:23	16:17	1:59.4
5	Piedmont (NC)	137*	21-22-23-24-47(49)(65)	1:22:24	16:29	0:50.9
6	St. Marys (NC)	137*	3-19-33-36-46(54)(58)	1:21:55	16:23	2:01.2
7	Miramonte (NC)	153	5-18-32-42-56(68)(89)	1:22:29	16:30	1:53.6
8	Marin Catholic 167	9-37-38-39-44(55)(62)	1:23:20	16:40	1:22.1
9	Moreau Catholic	180	2-27-40-50-61(78)(86)	1:23:19	16:40	2:25.8
10	Arcata (NC)	332	57-63-69-70-73(80)(82)	1:28:51	17:47	0:45.6
11	Concord (NC)	347	45-66-75-77-84(88)(98)	1:29:43	17:57	1:26.3
12	Terra Linda (	351	20-71-76-90-94(97)(100)	1:30:23	18:05	3:00.1
13	Alhambra (NC)	361	15-52-87-101-106(110)	1:31:40	18:20	4:07.3
14	San Marin (NC)	412	35-67-93-103-114(115)(116) 1:34:53 18:59 4:30.4
15	Hercules (NC)	424	48-81-95-96-104(105)(109) 1:33:57 18:48	2:42.0
16	Encinal (NC)	441	59-85-91-99-107(119)	1:34:38	18:56	2:36.8
17	Justin-Siena 	523	79-108-111-112-113(118)	1:40:42	20:09	2:32.7
18	Fortuna (NC)	552	92-102-117-120-121	1:46:13	21:15	3:46.5

*Tiebreakers
Piedmont (NC)	21	22	23	24	47	49	65
St. Marys (NC)	3	19	33	36	46	54	58
 
Athlete	                        Yr.	#	Team	   Score	Time	Avg. Mile	1.25 Miles	2 Mile
1	Morello, Sean **T	SR	42	Albany (NC)	1	14:58.2	4:59.4	6:07.2 (1)	9:48.7 (1)
2	Hupke, Jacob **I	SR	907	Moreau Catholic	2	15:05.1	5:01.7	6:10.3 (2)	9:56.2 (2)
3	Malko-Allen, Mateo **I	SR	1234	St. Marys (NC)	3	15:05.6	5:01.9	6:11.0 (3)	9:57.0 (4)
4	Farzan, Logan **I	JR	10	Acalanes (NC)	4	15:15.0	5:05.0	6:11.2 (4)	9:56.4 (3)
5	Patel, Asher **I	JR	852	Miramonte (NC)	5	15:24.3	5:08.1	6:11.8 (6)	10:00.1 (5)
6	Phillips, Lyle **T	JR	235	Bishop ODowd 	6	15:30.5	5:10.2	6:13.3 (7)	10:06.6 (7)
7	Hunt, Tyler **I	SR	12	        Acalanes (NC)	7	15:31.9	5:10.6	6:19.6 (8)	10:15.9 (8)
8	Cohen, Lucas **T	JR	36	Albany (NC)	8	15:36.1	5:12.0	6:11.5 (5)	10:06.5 (6)

9	Nacco, Ziggy	SR	818	Marin Catholic (NC)	9	15:41.4	5:13.8	10:16.6 (127)	15:41.5 (126)
10	McBride, Callum **T	SO	40	Albany (NC)	10	15:44.9	5:14.9	6:26.1 (15)	10:20.2 (10)
11	Elfenbaum, Jack **T	SR	38	Albany (NC)	11	15:47.4	5:15.8	6:27.2 (16)	10:22.8 (13)
12	Eilenberg, Ennio **T	SO	231	Bishop ODowd 	12	15:49.6	5:16.5	6:24.9 (13)	10:22.3 (11)
13	Gonzalez, Ethan **T	JR	233	Bishop ODowd 	13	15:54.4	5:18.1	6:25.7 (14)	10:23.5 (14)
14	Calegari, Luke **T	SR	142	Archie Williams 14	15:54.9	5:18.3	6:23.5 (12)	10:23.6 (15)
15	Allan, Tyler	SR	45	        Alhambra (NC)	15	15:55.3	5:18.4	6:20.8 (10)	10:22.4 (12)
16	Mulliken, Will **T	SO	146	Archie Williams (NC)	16	15:55.7	5:18.5	6:36.9 (23)	10:34.1 (19)
17	Elfenbaum, Ben **T	SR	37	Albany (NC)	17	15:59.2	5:19.7	6:27.6 (17)	10:24.4 (16)
18	Letulle, Logan	9	851	Miramonte (NC)	18	16:03.3	5:21.1	6:20.3 (9)	10:16.9 (9)
19	Valle, Kai	SO	1236	St. Marys (NC)	19	16:07.0	5:22.3	6:30.9 (19)	10:33.6 (17)
20	Grijalba, David	JR	1269	Terra Linda (NC)	20	16:09.5	5:23.2	6:31.8 (21)	10:33.9 (18)
21	Long, Parker	SR	1011	Piedmont (NC)	21	16:16.4	5:25.5	6:39.6 (28)	10:43.1 (23)
22	Schulte-Sasse, Xander	JR	1012	Piedmont (NC)	22	16:16.5	5:25.5	6:27.8 (18)	10:35.9 (20)
23	Taylor, Christian	SR	1013	Piedmont (NC)	23	16:21.1	5:27.0	6:23.0 (11)	10:42.1 (21)
24	Lee, Julien	JR	1010	Piedmont (NC)	24	16:22.4	5:27.4	6:37.7 (24)	10:43.9 (24)
25	Tanenbaum, Zachary **T	SR	237	Bishop ODowd (NC)	25	16:29.6	5:29.9	6:38.1 (25)	10:43.1 (22)
26	Ferguson, Ryan **T	JR	143	Archie Williams (NC)	26	16:32.0	5:30.7	6:49.6 (36)	10:54.3 (29)
27	Erler, Brandon	SR	906	Moreau Catholic (NC)	27	16:35.2	5:31.7	6:38.5 (26)	10:49.1 (27)
28	Cronnin, Thomas	SO	9	Acalanes (NC)	28	16:38.8	5:32.9	6:38.6 (27)	10:44.5 (25)
29	McFerron, Jackson **T	JR	144	Archie Williams (NC)	29	16:39.2	5:33.1	6:42.5 (30)	10:52.3 (28)
30	Sharp, Ian **T	SO	148	Archie Williams (NC)	30	16:40.2	5:33.4	6:50.3 (38)	10:59.0 (35)
31	Brekke, Benjamin	JR	8	Acalanes (NC)	31	16:43.0	5:34.3	6:51.1 (41)	10:58.3 (32)
32	Wagner, Jason	JR	854	Miramonte (NC)	32	16:43.6	5:34.5	6:45.7 (34)	10:58.5 (33)
33	Bradley, Luke	SO	1231	St. Marys (NC)	33	16:44.3	5:34.7	6:50.4 (39)	10:58.8 (34)
34	Medina, Elijah **T	JR	41	Albany (NC)	34	16:46.0	5:35.3	6:52.2 (44)	10:59.6 (36)
35	Poojary, Varun	JR	1159	San Marin (NC)	35	16:49.6	5:36.5	6:52.1 (43)	11:01.0 (40)
36	Schmitt, Javin	SO	1235	St. Marys (NC)	36	16:50.9	5:37.0	6:50.0 (37)	11:00.3 (38)
37	Glodowski-Valla, Hunter	SO	815	Marin Catholic (NC)	37	16:51.1	5:37.0	6:43.6 (32)	10:58.0 (31)
38	Tobin, Calvin	SR	821	Marin Catholic (NC)	38	16:51.7	5:37.2	6:31.1 (20)	10:46.9 (26)
39	Knopf, James	SR	817	Marin Catholic (NC)	39	16:52.6	5:37.5	6:36.4 (22)	10:57.5 (30)
40	Lopez, Cristian	SR	908	Moreau Catholic (NC)	40	16:53.7	5:37.9	6:49.6 (35)	11:01.4 (41)
41	Seeley, Ryan **T	SO	147	Archie Williams (NC)	41	16:59.9	5:39.9	6:50.5 (40)	11:03.6 (43)
42	Davis, Richard	SR	848	Miramonte (NC)	42	17:00.0	5:40.0	6:43.2 (31)	10:59.8 (37)
43	Estimo, Jordan **T	9	232	Bishop ODowd (NC)	43	17:00.2	5:40.1	7:01.5 (56)	11:12.2 (46)
44	Silloway, Will	SO	820	Marin Catholic (NC)	44	17:03.5	5:41.1	6:42.2 (29)	11:01.0 (39)
45	Cabrera Gonzalez, Cristofer	JR	385	Concord (NC)	45	17:06.2	5:42.1	6:54.5 (45)	11:06.4 (44)
46	Kopchik, Colin	JR	1232	St. Marys (NC)	46	17:06.8	5:42.2	6:43.6 (33)	11:03.1 (42)
47	Byun, Evan	SO	1009	Piedmont (NC)	47	17:07.2	5:42.4	7:02.8 (58)	11:14.4 (48)
48	Olairez, Colin	SR	649	Hercules (NC)	48	17:11.0	5:43.6	7:06.2 (65)	11:19.1 (54)
49	Hernandez, Jose	JR	772	Lower Lake (NC)	--	17:12.1	5:44.0	6:57.6 (49)	11:07.1 (45)
50	Ware, Alex	SR	1015	Piedmont (NC)	49	17:13.4	5:44.4	7:01.4 (55)	11:17.3 (50)
51	Ramirez, Juan	JR	909	Moreau Catholic (NC)	50	17:14.2	5:44.7	6:58.5 (50)	11:16.5 (49)
52	Snyder, Zach	SR	14	Acalanes (NC)	51	17:14.3	5:44.8	7:01.1 (54)	11:19.8 (57)
53	Morales, Paolo	JR	50	Alhambra (NC)	52	17:15.3	5:45.1	6:55.1 (47)	11:19.7 (56)
54	Givner, Sam **T	SO	39	Albany (NC)	53	17:15.7	5:45.2	6:58.5 (51)	11:18.0 (52)
55	Bosio, Brandon	SO	1230	St. Marys (NC)	54	17:16.4	5:45.5	6:58.7 (52)	11:17.9 (51)
56	Robillard, Leo	SO	819	Marin Catholic (NC)	55	17:16.5	5:45.5	7:00.7 (53)	11:22.7 (58)
57	SooHoo, Sean	SR	853	Miramonte (NC)	56	17:17.8	5:45.9	6:51.6 (42)	11:12.4 (47)
58	Whitney, Nathan	JR	134	Arcata (NC)	57	17:19.3	5:46.4	7:04.5 (61)	11:22.7 (59)
59	Licea, Adrian	SR	1233	St. Marys (NC)	58	17:25.1	5:48.4	6:55.7 (48)	11:18.1 (53)
60	Smith, Jayden	9	512	Encinal (NC)	59	17:28.9	5:49.6	7:12.0 (72)	11:29.9 (62)
61	O'donnell, Ryan **T	SR	234	Bishop ODowd (NC)	60	17:29.0	5:49.6	7:11.3 (71)	11:38.9 (71)
62	Chow, Edison	SR	904	Moreau Catholic (NC)	61	17:30.9	5:50.3	6:54.9 (46)	11:19.2 (55)
63	Hadsell, Robert	SO	816	Marin Catholic (NC)	62	17:32.8	5:50.9	7:04.1 (60)	11:29.5 (61)
64	Browne, Levi	SO	128	Arcata (NC)	63	17:35.5	5:51.8	7:04.1 (59)	11:30.1 (63)
65	Mesfen, Nathaniel **T	FR	236	Bishop ODowd (NC)	64	17:35.7	5:51.9	7:08.1 (67)	11:34.5 (65)
66	Tripp, Jasper	SR	1014	Piedmont (NC)	65	17:39.7	5:53.2	7:13.3 (74)	11:35.5 (68)
67	Crow, Cameron	JR	386	Concord (NC)	66	17:40.6	5:53.5	7:01.8 (57)	11:27.8 (60)
68	Catanach, Justin	9	1155	San Marin (NC)	67	17:43.3	5:54.4	7:10.2 (70)	11:35.3 (67)
69	Kreutzer, Caleb	SO	850	Miramonte (NC)	68	17:49.7	5:56.6	7:05.8 (64)	11:34.7 (66)
70	Trieu, Andrew	JR	132	Arcata (NC)	69	17:54.0	5:58.0	7:16.4 (76)	11:45.6 (73)
71	Frimodig, Kai	JR	129	Arcata (NC)	70	17:57.1	5:59.0	7:05.4 (62)	11:33.8 (64)
72	Suen, Jaspre	SR	1272	Terra Linda (NC)	71	17:58.8	5:59.6	7:08.8 (68)	11:39.8 (72)
73	Joseph, Nathan	SO	13	Acalanes (NC)	72	18:02.2	6:00.7	7:30.7 (90)	12:02.3 (82)
74	Sanchez, Tobias	SR	130	Arcata (NC)	73	18:04.8	6:01.6	7:07.0 (66)	11:37.3 (69)
75	Minutoli, John **T	JR	145	Archie Williams (NC)	74	18:07.0	6:02.3	7:12.8 (73)	11:46.3 (74)
76	Dahl, Zachary	SR	387	Concord (NC)	75	18:10.6	6:03.5	7:24.6 (82)	11:53.6 (75)
77	Ajmani, Shahan	9	1266	Terra Linda (NC)	76	18:11.5	6:03.8	7:23.1 (79)	11:58.2 (78)
78	Ramirez, Sergio	SR	390	Concord (NC)	77	18:12.7	6:04.2	7:27.6 (87)	11:59.1 (80)
79	Mamoulelis, Konstantine	JR	1348	Moreau Catholic (NC)	78	18:15.3	6:05.1		
80	Wang, Cameron	SR	704	Justin-Siena (NC)	79	18:19.3	6:06.4	7:15.1 (75)	11:53.7 (76)
81	Nave, Bruin	JR	133	Arcata (NC)	80	18:22.7	6:07.6	7:21.1 (77)	11:58.8 (79)
82	Lee, Kevin	SR	647	Hercules (NC)	81	18:23.4	6:07.8	7:24.7 (83)	11:55.2 (77)
83	Thompson, Reece	SO	131	Arcata (NC)	82	18:23.6	6:07.9	7:05.6 (63)	11:38.7 (70)
84	Gallacher, Liam	JR	11	Acalanes (NC)	83	18:31.4	6:10.5	7:31.5 (92)	12:08.3 (85)
85	Bebout, Tristan	SR	384	Concord (NC)	84	18:32.5	6:10.8	7:34.7 (93)	12:12.6 (88)
86	Cerna, Diego	SR	509	Encinal (NC)	85	18:32.6	6:10.8	7:29.3 (88)	12:16.3 (89)
87	Duke, Campbell	SO	905	Moreau Catholic (NC)	86	18:40.4	6:13.5	7:21.9 (78)	12:08.1 (84)
88	Hussey, Ethan	JR	48	Alhambra (NC)	87	18:42.0	6:14.0	7:25.6 (85)	12:10.9 (86)
89	Lewis, Evan	SR	388	Concord (NC)	88	18:42.7	6:14.2	7:26.6 (86)	12:11.6 (87)
90	Jenkins, James	SO	849	Miramonte (NC)	89	18:45.5	6:15.2	7:09.4 (69)	11:59.2 (81)
91	King, John	SR	1271	Terra Linda (NC)	90	18:53.5	6:17.8	7:23.7 (81)	12:07.4 (83)
92	Owens, Laith	SO	511	Encinal (NC)	91	19:01.1	6:20.3	7:23.3 (80)	12:22.2 (93)
93	Crosswhite, Noah	SO	550	Fortuna (NC)	92	19:01.5	6:20.5	7:35.3 (94)	12:23.6 (94)
94	Venezia, Jack	JR	1161	San Marin (NC)	93	19:08.0	6:22.6	7:50.4 (102)	12:35.0 (98)
95	Grijalba, Raul	SO	1270	Terra Linda (NC)	94	19:09.5	6:23.2	7:30.5 (89)	12:20.7 (92)
96	Tyler Dalisay, Adrian	SR	651	Hercules (NC)	95	19:11.7	6:23.9	7:39.9 (97)	12:33.5 (96)
97	Tashitsang, Norbu	SR	650	Hercules (NC)	96	19:17.9	6:26.0	8:08.0 (113)	12:50.6 (106)
98	Garvey Miller, Luca	SR	1268	Terra Linda (NC)	97	19:19.2	6:26.4	7:47.1 (98)	12:41.7 (100)
99	Nguyen, Tommy	SR	389	Concord (NC)	98	19:19.7	6:26.5	7:31.5 (91)	12:16.9 (91)
100	De Rosas, Cristian	SR	1344	Ygnacio Valley (NC)	--	19:24.4	6:28.1	7:50.2 (101)	12:42.9 (101)
101	Nebeker, Ian	SO	510	Encinal (NC)	99	19:29.7	6:29.9	7:47.9 (100)	12:44.8 (102)
102	Anderson, Jude	SR	1267	Terra Linda (NC)	100	19:29.8	6:29.9	7:57.6 (106)	12:47.4 (103)
103	Encarnacion, Ariel	JR	1146	San Lorenzo (NC)	--	19:31.6	6:30.5	7:39.4 (96)	12:40.6 (99)
104	Crombie, Waylon	SR	46	Alhambra (NC)	101	19:44.2	6:34.7	7:25.3 (84)	12:16.5 (90)
105	Aubuchon, James	JR	549	Fortuna (NC)	102	19:50.5	6:36.8	7:55.7 (104)	12:49.4 (104)
106	Hockinson, Kole	SR	1157	San Marin (NC)	103	19:51.8	6:37.2	7:53.8 (103)	12:50.1 (105)
107	Manhas, Aarav	JR	648	Hercules (NC)	104	19:52.9	6:37.6	7:58.0 (107)	12:50.9 (107)
108	Jung, Tyler	JR	645	Hercules (NC)	105	19:59.8	6:39.9	8:06.5 (111)	13:07.0 (109)
109	Thompson, Conner	9	51	Alhambra (NC)	106	20:02.5	6:40.8	7:47.4 (99)	12:33.8 (97)
110	Valle, Tyson	9	513	Encinal (NC)	107	20:05.6	6:41.9	7:57.0 (105)	13:06.1 (108)
111	Baldini, Giorgio	JR	698	Justin-Siena (NC)	108	20:07.1	6:42.3	8:12.5 (116)	13:27.5 (116)
112	Kariithi, Brendan	SR	646	Hercules (NC)	109	20:14.4	6:44.8	7:35.9 (95)	12:33.0 (95)
113	McKnight, Evan	JR	1346	Ygnacio Valley (NC)	--	20:15.6	6:45.2	8:03.8 (109)	13:14.1 (110)
114	Valdivia, Omar	SR	1147	San Lorenzo (NC)	--	20:28.1	6:49.3	8:07.6 (112)	13:18.6 (112)
115	Doughtie, Nathan	JR	47	Alhambra (NC)	110	20:29.7	6:49.9	7:58.5 (108)	13:14.3 (111)
116	Carey, Jack	SR	699	Justin-Siena (NC)	111	20:39.8	6:53.3	8:05.4 (110)	13:24.5 (113)
117	Green, Shane	SO	701	Justin-Siena (NC)	112	20:43.6	6:54.5	8:08.0 (114)	13:26.5 (114)
118	Jamison, Jack	FR	700	Justin-Siena (NC)	113	20:52.0	6:57.3	8:11.6 (115)	13:26.8 (115)
119	Wielt, Carter	FR	1160	San Marin (NC)	114	21:20.0	7:06.7	8:14.6 (117)	13:33.9 (117)
120	Buenrostro, Pablo	9	1145	San Lorenzo (NC)	--	21:28.2	7:09.4	8:36.2 (120)	14:05.3 (118)
121	Hemmings, Aiden	9	1156	San Marin (NC)	115	21:29.4	7:09.8	8:37.1 (121)	14:08.1 (119)
122	Marsh, Harrison	SO	1158	San Marin (NC)	116	21:30.0	7:10.0	8:32.0 (119)	14:08.2 (120)
123	Gutierrez, David	JR	551	Fortuna (NC)	117	21:54.2	7:18.1	8:41.9 (122)	14:16.4 (121)
124	Reber, Ryan	9	703	Justin-Siena (NC)	118	22:06.9	7:22.3	8:19.6 (118)	14:17.3 (122)
125	Wilson, Leaife	SO	514	Encinal (NC)	119	22:34.6	7:31.5	8:56.5 (125)	14:42.0 (125)
126	Mela, Haydin	SR	553	Fortuna (NC)	120	22:39.1	7:33.0	8:54.6 (124)	14:36.9 (124)
127	Kilroy, Alex	SO	552	Fortuna (NC)	121	22:47.9	7:35.9	8:52.6 (123)	14:34.3 (123)
128	Ahans, Chimuyere	SO	1143	San Lorenzo (NC)	--	25:52.4	8:37.4	9:31.2 (126)	16:18.9 (127)

Division V
Final Standings	Score	Scoring Order	Total	Avg.	Spread
1	Lick Wilmerding (NC)	57	3-6-7-20-21(30)(31)	1:20:12	16:03	1:29.0
2	San Francisco University 81*	9-10-14-23-25(32)(40)	1:22:02	16:25	0:42.1
3	College Preparatory School 81*	4-15-17-18-27(41)(52)	1:21:26	16:18	1:21.6
4	Convent & Stuart Hall 	144	2-5-35-42-60(80)(86)	1:23:36	16:44	2:55.4
5	Sonoma Academy (NC)	146	1-11-43-44-47(61)(64)	1:24:05	16:49	2:45.1

6	Urban of San Francisco  184	19-22-37-38-68(79)(101)	1:25:53	17:11	1:53.8
7	San Domenico (NC)	226	26-33-39-51-77(96)	1:27:52	17:35	1:56.2
8	Healdsburg (NC)	        289*	8-56-62-71-92(94)(95)	1:30:03	18:01	3:19.7
9	Head Royce (NC)	        289*	46-53-57-59-74(119)	1:30:22	18:05	0:58.9
10	Bay School of San Francisco 322	16-58-78-81-89(104)(127) 1:31:21 18:17	3:00.3
11	Marin Academy (NC)	337	48-50-54-65-120(132)	1:32:25	18:29	2:42.3
12	International (NC)	364	28-29-55-115-137(141)	1:33:15	18:39	4:32.6
13	McKinleyville (NC)	366	13-45-82-97-129	        1:33:30	18:42	4:56.8
14	Technology (NC)	        399	69-70-72-90-98(113)(136) 1:34:26 18:54	1:00.7
15	Branson (NC)	        414	36-63-99-107-109	1:34:37	18:56	2:52.1
16	California School for the Deaf 440 12-88-93-114-133(134)(138) 1:36:11 19:15 5:07.0
17	Athenian (NC)	        446	34-83-105-108-116(123)(142) 1:35:49 19:10 3:14.0
18	Middletown (NC)	        484	49-84-106-117-128	1:37:53	19:35	3:03.8
19	Grace Christian Academy	487	67-76-91-122-131	1:38:13	19:39	2:47.5
20	Bentley Upper School 	489	66-87-102-110-124	1:37:51	19:35	2:17.4
21	Kelseyville (NC)	506	73-100-103-112-118	1:38:14	19:39	1:38.5
22	Oakland Military Institute 532	75-85-121-125-126(130)(150) 1:39:51 19:59 2:02.1
23	Cardinal Newman (NC)	565	24-111-140-144-146	1:45:46	21:10	7:37.8
24	Making Waves (NC)	709	135-139-143-145-147(148)(149) 1:53:59 22:48 3:31.2

*Tiebreakers
San Francisco University (NC)	9	10	14	23	25	32	40
College Preparatory School (NC)	4	15	17	18	27	41	52
 
Healdsburg (NC)	8	56	62	71	92	94	95
Head Royce (NC)	46	53	57	59	74	119
 
Individual Results
Athlete	Yr.	#	Team	Score	Time	Avg. Mile	1.25 Miles	2 Miles
1	Colby, Tiernan **T	SR	1204	Sonoma Academy (NC)	1	15:00.6	5:00.2	6:13.3 (3)	9:59.3 (3)
2	Oakes, Malcolm **T	JR	411	Convent & Stuart Hall	2	15:09.0	5:03.0	6:12.7 (1)	9:58.9 (2)
3	Green, Sean **T	        JR	756	Lick Wilmerding (NC)	3	15:10.5	5:03.5	6:13.0 (2)	9:58.9 (1)
4	Irving, Owen **T	JR	374	College Preparatory School 4	15:30.0	5:10.0	6:13.5 (4)	10:00.2 (4)
5	Shin, Jacob **I	        JR	398	Contra Costa Christian 	--	15:49.0	5:16.3	6:28.3 (5)	10:22.7 (5)
6	Zeitz, Gavin **T	JR	413	Convent & Stuart Hall  5	15:49.9	5:16.6	6:30.5 (7)	10:23.4 (6)
7	Kai Ong, Bruno **T	SR	758	Lick Wilmerding (NC)	6	15:51.6	5:17.2	6:38.5 (19)	10:32.8 (12)
8	Hillis, Liam **T	JR	757	Lick Wilmerding (NC)	7	15:58.4	5:19.5	6:31.9 (10)	10:27.6 (8)
9	Anderson, Kaeden **I	SO	631	Healdsburg (NC)	8	        16:02.3	5:20.8	6:31.7 (9)	10:28.4 (9)
10	Bijur, Jack **T	        SR	1123	San Francisco University 9	16:06.3	5:22.1	6:29.6 (6)	10:27.2 (7)
11	Gaitley, Jack **T	SR	1126	San Francisco University 10	16:06.8	5:22.2	6:43.8 (24)	10:42.1 (18)
12	Hernandez B, Javier **T	SO	1208	Sonoma Academy (NC)	11	16:06.8	5:22.2	6:31.3 (8)	10:31.1 (10)
13	Ikeda, Sevan **I	SO	270	California School for the Deaf 12 16:10.5 5:23.5 6:34.1 (13)	10:34.8 (14)
14	Dinan, Damian **I	JR	824	McKinleyville (NC)	13	16:12.9	5:24.3	6:40.7 (20)	10:41.5 (17)
15	Adair, Allister **T	JR	1122	San Francisco University 14	16:15.5	5:25.1	6:32.1 (11)	10:33.2 (13)
16	Rendall-Jackson, Emiya **T SO	378	College Preparatory School 15	16:18.8	5:26.3	6:35.2 (14)	10:40.6 (15)
17	Chang, Lucas **I	JR	169	Bay School of San Francisco 16	16:19.2	5:26.4	6:41.8 (22)	10:44.3 (21)
18	Panesar, Tegbir **T	SR	375	College Preparatory School 17	16:19.5	5:26.5	6:37.1 (16)	10:42.6 (19)
19	Porth, Jonah **T	SR	376	College Preparatory School 18	16:25.6	5:28.5	6:37.2 (17)	10:43.2 (20)

20	Kuglen, Matthew	JR	1290	Urban of San Francisco (NC)	19	16:30.4	5:30.1	6:32.3 (12)	10:32.0 (11)
21	Uesugi, Haruto **T	SR	760	Lick Wilmerding (NC)	20	16:32.1	5:30.7	6:38.2 (18)	10:46.5 (22)
22	Alvarez, Nestor	9	1098	Salesian (NC)	--	16:37.5	5:32.5	6:41.6 (21)	10:51.3 (23)
23	Scott, Kai **T	9	759	Lick Wilmerding (NC)	21	16:39.4	5:33.1	7:00.2 (40)	11:03.5 (30)
24	Nielsen, Theo	JR	1291	Urban of San Francisco (NC)	22	16:41.6	5:33.8	6:55.9 (32)	11:02.9 (28)
25	Duffin, Ben **T	SO	1124	San Francisco University (NC)	23	16:45.3	5:35.1	6:58.8 (37)	11:08.7 (32)
26	Estrada, Adrian	JR	298	Cardinal Newman (NC)	24	16:45.5	5:35.2	6:55.2 (30)	11:03.1 (29)
27	Kagay, Wilder **T	SO	1128	San Francisco University (NC)	25	16:48.3	5:36.1	6:58.6 (36)	11:09.1 (34)
28	Kunze, George	JR	1110	San Domenico (NC)	26	16:51.4	5:37.1	6:59.0 (38)	11:09.7 (35)
29	DiGrande, Renzo **T	SO	373	College Preparatory School (NC)	27	16:51.5	5:37.2	6:46.6 (26)	11:00.8 (26)
30	Annunziata, Peter	JR	571	International (NC)	28	16:54.0	5:38.0	6:56.1 (33)	11:07.4 (31)
31	Langridge, Stefan	SO	575	International (NC)	29	16:54.3	5:38.1	6:57.6 (34)	11:11.0 (36)
32	Bihan, Christophe **T	SR	754	Lick Wilmerding (NC)	30	16:55.0	5:38.3	6:47.1 (27)	10:56.5 (24)
33	Thompson, Pierce **T	JR	755	Lick Wilmerding (NC)	31	16:56.9	5:38.9	7:00.2 (41)	11:13.2 (38)
34	Friel, Pierce **T	JR	1125	San Francisco University (NC)	32	17:00.4	5:40.1	6:44.7 (25)	11:00.7 (25)
35	Foster, Joaquin	JR	1108	San Domenico (NC)	33	17:00.8	5:40.2	6:54.8 (29)	11:09.0 (33)
36	Holmes, Roan	SO	158	Athenian (NC)	34	17:01.0	5:40.3	6:43.8 (23)	11:02.9 (27)
37	Anderson, Julian **T	9	407	Convent & Stuart Hall (NC)	35	17:02.1	5:40.7	7:00.9 (42)	11:16.2 (40)
38	James, Jasper	SO	247	Branson (NC)	36	17:02.9	5:41.0	6:54.8 (28)	11:12.5 (37)
39	Hayward, Griffin	SO	1289	Urban of San Francisco (NC)	37	17:07.8	5:42.6	7:02.3 (44)	11:17.6 (42)
40	Tabas, Kai	9	1293	Urban of San Francisco (NC)	38	17:09.1	5:43.0	7:01.5 (43)	11:17.1 (41)
41	Swain, Oliver	SO	1114	San Domenico (NC)	39	17:19.8	5:46.6	7:06.7 (52)	11:25.5 (43)
42	Jones, Ben **T	SO	1127	San Francisco University (NC)	40	17:25.5	5:48.5	6:55.7 (31)	11:13.2 (39)
43	Jensen, George	SR	1221	St. Joseph Notre Dame (NC)	--	17:28.8	5:49.6	7:07.1 (53)	11:31.2 (47)
44	Bakhru, Saahil **T	SO	372	College Preparatory School (NC)	41	17:29.6	5:49.9	6:59.6 (39)	11:25.9 (44)
45	Hesla-Seymour, Will **T	JR	408	Convent & Stuart Hall (NC)	42	17:30.4	5:50.1	7:09.8 (59)	11:35.5 (52)
46	Luciano, Julian **T	SR	1209	Sonoma Academy (NC)	43	17:30.8	5:50.3	7:12.4 (64)	11:35.6 (53)
47	Budetti, Cameron	JR	462	Drew Prep (NC)	--	17:31.7	5:50.6	7:09.4 (58)	11:31.4 (48)
48	Boyadjieff, Scott	9	274	Calistoga (NC)	--	17:39.7	5:53.2	7:05.7 (51)	11:31.1 (46)
49	Cline, Cole **T	JR	1203	Sonoma Academy (NC)	44	17:41.1	5:53.7	7:10.9 (60)	11:35.2 (51)
50	Thomson, Jace	JR	827	McKinleyville (NC)	45	17:42.6	5:54.2	7:09.2 (57)	11:34.7 (50)
51	Villiger, Everett	JR	623	Head Royce (NC)	46	17:44.3	5:54.7	7:03.8 (47)	11:29.0 (45)
52	Fuette, Zachary **T	JR	1207	Sonoma Academy (NC)	47	17:45.7	5:55.2	7:11.5 (62)	11:36.1 (54)
53	LU, Tristan	SO	806	Marin Academy (NC)	48	17:47.1	5:55.7	7:16.8 (67)	11:45.9 (65)
54	Chang, Baron	JR	836	Middletown (NC)	49	17:50.9	5:57.0	7:11.8 (63)	11:36.9 (56)
55	Pillsbury, Clark	SO	807	Marin Academy (NC)	50	17:51.6	5:57.2	7:16.9 (69)	11:46.4 (67)
56	Price, Devin	SO	1112	San Domenico (NC)	51	17:52.0	5:57.3	6:57.8 (35)	11:37.3 (57)
57	Jensen, Finneas	SO	1220	St. Joseph Notre Dame (NC)	--	17:52.9	5:57.6	7:19.9 (74)	11:44.5 (64)
58	Reiter, Samuel **T	SR	377	College Preparatory School (NC)	52	17:54.1	5:58.0	7:02.8 (46)	11:36.4 (55)
59	Zhu, Alex	9	624	Head Royce (NC)	53	17:56.0	5:58.6	7:05.3 (50)	11:42.0 (62)
60	Grindley, Devin	FR	801	Marin Academy (NC)	54	17:56.1	5:58.7	7:17.2 (71)	11:47.0 (68)
61	Iboshi, Marco	SR	573	International (NC)	55	17:56.5	5:58.8	7:04.2 (49)	11:37.7 (58)
62	McWilliams, Jake	9	635	Healdsburg (NC)	56	17:58.1	5:59.4	7:17.2 (70)	11:46.3 (66)
63	Dick, Charlie	SR	618	Head Royce (NC)	57	17:58.4	5:59.4	7:03.9 (48)	11:32.3 (49)
64	Gong, Hayden	JR	171	Bay School of San Francisco (NC)	58	17:59.4	5:59.8	7:18.0 (72)	11:47.6 (70)
65	Cook, Jacob	SO	1091	Redwood Christian (NC)	--	17:59.7	5:59.9	7:09.0 (56)	11:43.0 (63)
66	Jayaratne, Alex	9	619	Head Royce (NC)	59	18:00.3	6:00.1	7:08.8 (55)	11:39.8 (60)
67	Butler, Gil	9	1089	Redwood Christian (NC)	--	18:00.4	6:00.1	7:13.4 (65)	11:41.1 (61)
68	Lee, Justin **T	JR	409	Convent & Stuart Hall (NC)	60	18:04.4	6:01.4	7:32.4 (85)	11:56.5 (73)
69	Dexter, Coe **T	9	1205	Sonoma Academy (NC)	61	18:06.8	6:02.2	7:16.9 (68)	11:54.4 (72)
70	Willmore, Jack	JR	632	Healdsburg (NC)	62	18:07.7	6:02.6	7:27.7 (79)	11:52.0 (71)
71	Ruiz, Samuel	9	211	Berean Christian (NC)	--	18:09.6	6:03.2	7:02.5 (45)	11:39.1 (59)
72	Simmons, Derek	SR	1100	Salesian (NC)	--	18:15.1	6:05.0	7:08.3 (54)	11:47.5 (69)
73	Vilhauer, Luke	9	250	Branson (NC)	63	18:16.9	6:05.6	7:31.3 (83)	12:08.5 (81)
74	Flocco, Koen **T	SO	1206	Sonoma Academy (NC)	64	18:17.3	6:05.8	7:28.1 (81)	12:05.0 (78)
75	Levitan, Josh	SO	805	Marin Academy (NC)	65	18:20.0	6:06.6	7:28.0 (80)	12:03.0 (76)
76	Tao, Wilson	SO	198	Bentley Upper School (NC)	66	18:20.6	6:06.8	7:27.6 (78)	12:03.1 (77)
77	Kohler, Samuel	JR	1222	St. Joseph Notre Dame (NC)	--	18:23.6	6:07.9	7:39.1 (91)	12:16.3 (86)
78	Hammer, Jake	JR	584	Grace Christian Academy (NC)	67	18:24.0	6:08.0	7:41.6 (98)	12:14.9 (85)
79	Rhodes, Nelson	9	1292	Urban of San Francisco (NC)	68	18:24.2	6:08.0	7:49.7 (110)	12:22.7 (94)
80	Myers, Branden	SR	544	Fort Bragg (NC)	--	18:29.1	6:09.7	7:15.0 (66)	11:57.8 (74)
81	Derango, Aaron	9	1253	Technology (NC)	69	18:30.5	6:10.1	7:11.4 (61)	11:59.3 (75)
82	Todhunter, Nicholas	9	1259	Technology (NC)	70	18:30.7	6:10.2	7:27.5 (77)	12:08.4 (80)
83	Nielson, Mathew	SR	636	Healdsburg (NC)	71	18:33.0	6:11.0	7:36.7 (89)	12:14.2 (84)
84	Littleton, Oliver	SO	1257	Technology (NC)	72	18:33.7	6:11.2	7:32.0 (84)	12:07.9 (79)
85	Macklin, Evan	JR	708	Kelseyville (NC)	73	18:39.0	6:13.0	7:52.8 (119)	12:28.8 (100)
86	Pineda, Lysander	9	621	Head Royce (NC)	74	18:43.1	6:14.4	7:27.3 (76)	12:12.9 (83)
87	Debretsion, Amen	SR	983	Oakland Military Institute (NC)	75	18:44.2	6:14.7	7:39.5 (93)	12:19.3 (92)
88	HALL, Tyler	9	583	Grace Christian Academy (NC)	76	18:44.9	6:15.0	7:47.9 (107)	12:26.3 (98)
89	Hoagland, Billy	9	1109	San Domenico (NC)	77	18:47.5	6:15.8	7:52.4 (118)	12:32.1 (102)
90	HERSH, Leor	9	172	Bay School of San Francisco (NC)	78	18:49.1	6:16.3	7:39.2 (92)	12:25.4 (97)
91	Wright, Brayden	9	1295	Urban of San Francisco (NC)	79	18:51.6	6:17.2	7:47.6 (106)	12:24.7 (96)
92	Tang, Ryan **T	SR	412	Convent & Stuart Hall (NC)	80	18:53.2	6:17.7	7:40.0 (95)	12:27.8 (99)
93	Somsouk, Micah	SO	174	Bay School of San Francisco (NC)	81	18:53.7	6:17.9	7:46.9 (105)	12:24.6 (95)
94	Davis, Aidan	SR	823	McKinleyville (NC)	82	18:54.1	6:18.0	7:33.6 (86)	12:18.2 (88)
95	Trejo, Alexis	SR	1095	Roseland University Prep (NC)	--	18:55.5	6:18.5	7:35.0 (88)	12:19.3 (91)
96	Jarvis, Blake	9	159	Athenian (NC)	83	18:57.0	6:19.0	7:30.9 (82)	12:17.3 (87)
97	Rios Dominguez, Juan	SR	1094	Roseland University Prep (NC)	--	18:59.9	6:20.0	7:34.8 (87)	12:19.1 (90)
98	McComas, Dean	JR	839	Middletown (NC)	84	19:04.4	6:21.5	7:25.7 (75)	12:11.5 (82)
99	Wady, Liam	SR	989	Oakland Military Institute (NC)	85	19:05.6	6:21.9	7:44.7 (103)	12:29.3 (101)
100	McNamara, Nicholas **T	JR	410	Convent & Stuart Hall (NC)	86	19:06.0	6:22.0	7:38.2 (90)	12:21.1 (93)
101	Yastremski, Zak	SO	199	Bentley Upper School (NC)	87	19:14.5	6:24.8	7:44.1 (102)	12:34.5 (107)
102	Rosby, Kaloni	9	272	California School for the Deaf	88	19:18.1	6:26.0	7:42.5 (99)	12:34.2 (105)
103	Rowney, Tate	JR	173	Bay School of San Francisco (NC)	89	19:19.5	6:26.5	7:46.7 (104)	12:33.6 (104)
104	Ledoux, Giovanni	JR	1256	Technology (NC)	90	19:19.6	6:26.5	7:43.8 (101)	12:38.9 (109)
105	ANDRE, Cannon	JR	580	Grace Christian Academy (NC)	91	19:21.3	6:27.1	7:52.0 (114)	12:42.8 (111)
106	Threlfall, Harrison	SR	637	Healdsburg (NC)	92	19:22.0	6:27.3	8:03.3 (133)	12:54.2 (124)
107	Lee, Isaac	SR	271	California School for the Deaf	93	19:22.3	6:27.4	7:42.7 (100)	12:34.3 (106)
108	Gutierrez, Erick	SR	634	Healdsburg (NC)	94	19:23.8	6:27.9	7:52.3 (116)	12:50.6 (117)
109	Efram, Owen	SR	633	Healdsburg (NC)	95	19:26.1	6:28.7	8:03.4 (134)	12:54.1 (123)
110	Rodas, Jonnathan	SR	1113	San Domenico (NC)	96	19:26.6	6:28.9	7:52.4 (117)	12:38.5 (108)
111	ISLAND, CHRIS	SO	543	Fort Bragg (NC)	--	19:28.9	6:29.6	7:19.0 (73)	12:18.8 (89)
112	Newell, Koen	SR	826	McKinleyville (NC)	97	19:30.1	6:30.0	7:53.8 (121)	12:48.8 (116)
113	Immel, Waylan	JR	1255	Technology (NC)	98	19:31.1	6:30.4	7:51.0 (113)	12:41.7 (110)
114	Mao, Christopher	9	248	Branson (NC)	99	19:35.4	6:31.8	7:55.7 (125)	12:51.0 (119)
115	Fordham, Alex	SO	706	Kelseyville (NC)	100	19:38.0	6:32.7	7:54.4 (122)	12:45.4 (114)
116	Maggiotto, Elliott	FR	1294	Urban of San Francisco (NC)	101	19:40.1	6:33.4	7:48.0 (108)	12:32.2 (103)
117	Peterson, Robert	SO	196	Bentley Upper School (NC)	102	19:40.7	6:33.6	7:52.0 (115)	12:53.4 (121)
118	Marlowe, Triton	SR	709	Kelseyville (NC)	103	19:40.9	6:33.6	8:11.3 (141)	12:59.0 (128)
119	Ginieczki, Nick	9	170	Bay School of San Francisco (NC)	104	19:41.4	6:33.8	7:54.9 (123)	12:51.8 (120)
120	Klein, Stephen	JR	160	Athenian (NC)	105	19:43.1	6:34.3	7:50.5 (111)	12:47.0 (115)
121	Caviness, Bryton	SO	835	Middletown (NC)	106	19:45.6	6:35.2	7:56.2 (126)	12:55.1 (126)
122	Brody, Buxton	SO	245	Branson (NC)	107	19:46.8	6:35.6	7:40.8 (96)	12:45.2 (113)
123	Hsu, Tobiah	SO	569	Fremont Christian (NC)	--	19:50.4	6:36.8	8:06.5 (137)	13:00.0 (129)
124	Highes, Owen	9	157	Athenian (NC)	108	19:53.1	6:37.7	7:53.5 (120)	12:54.5 (125)
125	Penczak, Kyle	9	249	Branson (NC)	109	19:55.0	6:38.3	7:55.6 (124)	12:50.9 (118)
126	BEYDA, Daniel	JR	195	Bentley Upper School (NC)	110	19:56.6	6:38.8	8:14.6 (145)	13:12.9 (135)
127	Gaskill, Thomas	9	299	Cardinal Newman (NC)	111	19:56.9	6:39.0	8:14.8 (146)	13:18.7 (138)
128	Key, Jason	JR	707	Kelseyville (NC)	112	19:57.8	6:39.3	8:11.5 (142)	13:09.4 (132)
129	Faria, Dashall	SO	1254	Technology (NC)	113	20:02.8	6:40.9	7:40.9 (97)	12:44.4 (112)
130	Fuller, Jack	SR	268	California School for the Deaf	114	20:02.9	6:41.0	8:05.8 (135)	13:10.3 (133)
131	Fowler, Sebastian	JR	572	International (NC)	115	20:03.1	6:41.0	7:49.2 (109)	12:54.1 (122)
132	LaCount, Daniel	SR	1324	Willits (NC)	--	20:06.1	6:42.0	7:59.2 (128)	13:03.5 (131)
133	Alejandria, Mateo	SR	1097	Salesian (NC)	--	20:13.3	6:44.4	7:57.7 (127)	13:00.1 (130)
134	Lukenbill, Harley	SR	1325	Willits (NC)	--	20:14.6	6:44.9	7:50.6 (112)	12:57.8 (127)
135	Rafferty-Fuentes, Patrick	9	161	Athenian (NC)	116	20:14.9	6:45.0	8:11.6 (143)	13:16.0 (137)
136	Cadwallander, Aiden	SO	834	Middletown (NC)	117	20:16.9	6:45.6	8:08.8 (139)	13:19.6 (139)
137	Olson, Kenneth	SR	710	Kelseyville (NC)	118	20:17.5	6:45.8	8:09.7 (140)	13:12.8 (134)
138	Lo, Ryan	9	620	Head Royce (NC)	119	20:23.6	6:47.9	8:24.1 (153)	13:32.7 (145)
139	Street, Toby	SO	803	Marin Academy (NC)	120	20:29.4	6:49.8	8:20.7 (149)	13:30.7 (142)
140	Newman, Darius	SR	210	Berean Christian (NC)	--	20:29.9	6:50.0	8:06.1 (136)	13:32.0 (144)
141	Li, Jian	JR	984	Oakland Military Institute (NC)	121	20:30.5	6:50.1	8:35.7 (165)	13:43.6 (156)
142	METHUM, Grant	9	585	Grace Christian Academy (NC)	122	20:30.8	6:50.3	8:08.3 (138)	13:22.3 (140)
143	Fusco, Michael	9	156	Athenian (NC)	123	20:37.7	6:52.5	8:29.2 (159)	13:40.6 (151)
144	Spear, James	SO	197	Bentley Upper School (NC)	124	20:37.9	6:52.6	8:22.1 (150)	13:35.2 (147)
145	Mai, Desmond	SR	985	Oakland Military Institute (NC)	125	20:44.5	6:54.8	8:33.2 (164)	13:42.1 (153)
146	McConnell, Robert.I	JR	667	Hoopa Valley (NC)	--	20:45.7	6:55.2	8:02.1 (131)	13:25.8 (141)
147	Tsai, Lin	JR	987	Oakland Military Institute (NC)	126	20:46.3	6:55.4	8:36.6 (166)	13:44.1 (157)
148	West, Sam	FR	175	Bay School of San Francisco (NC)	127	20:49.9	6:56.6	8:23.4 (151)	13:38.7 (148)
149	DUKE, Ian	SO	465	Drew Prep (NC)	--	20:52.9	6:57.6	8:32.7 (162)	13:43.3 (154)
150	Gotz, Caden	SO	837	Middletown (NC)	128	20:54.7	6:58.2	8:28.5 (157)	13:40.5 (150)
151	Azraei, Gavin	9	1088	Redwood Christian (NC)	--	21:00.0	7:00.0	8:00.4 (129)	13:33.2 (146)
152	Lessard, Brandon	9	570	Fremont Christian (NC)	--	21:01.5	7:00.5	8:24.6 (154)	13:44.9 (159)
153	Jones, Wilson	9	825	McKinleyville (NC)	129	21:09.7	7:03.2	8:18.0 (147)	13:31.7 (143)
154	Tran, Bill	9	986	Oakland Military Institute (NC)	130	21:10.7	7:03.6	8:31.0 (161)	13:41.0 (152)
155	Thieriot, Matias	9	468	Drew Prep (NC)	--	21:11.2	7:03.7	8:14.1 (144)	13:40.1 (149)
156	Andre, Luke	SR	581	Grace Christian Academy (NC)	131	21:11.4	7:03.8	8:29.4 (160)	13:44.5 (158)
157	Lema, Sebastian	SO	804	Marin Academy (NC)	132	21:13.2	7:04.4	7:39.5 (94)	14:09.5 (165)
158	Carpenter, Wei Nan	SO	267	California School for the Deaf	133	21:17.4	7:05.8	8:25.2 (155)	13:43.4 (155)
159	Tillotson, Jace	JR	273	California School for the Deaf	134	21:19.2	7:06.4	8:42.9 (170)	14:13.6 (166)
160	DIAZ, Daniel	SO	776	Making Waves (NC)	135	21:19.7	7:06.6	8:20.5 (148)	13:45.3 (160)
161	Zechiel, Adam	SR	1258	Technology (NC)	136	21:26.6	7:08.8	8:32.7 (163)	14:03.6 (163)
162	Kuglen, Alex	SO	574	International (NC)	137	21:26.6	7:08.8	8:02.7 (132)	13:13.3 (136)
163	Harding-Raushaun, Roland	SO	269	California School for the Deaf	138	21:40.2	7:13.4	8:29.2 (158)	14:01.8 (162)
164	McCall, James	9	209	Berean Christian (NC)	--	21:44.9	7:15.0	8:42.3 (169)	14:18.3 (168)
165	Lopez, Saul	SO	777	Making Waves (NC)	139	21:51.4	7:17.1	8:23.9 (152)	14:06.1 (164)
166	Chavez, Keegan	SR	296	Cardinal Newman (NC)	140	21:52.1	7:17.3	8:37.4 (167)	14:14.6 (167)
167	Watters, Tobias	SO	577	International (NC)	141	22:31.4	7:30.5	9:00.3 (173)	14:49.6 (170)
168	Webb, Benson	JR	162	Athenian (NC)	142	22:35.4	7:31.8	8:01.9 (130)	13:50.2 (161)
169	MACEDO, Israel	JR	778	Making Waves (NC)	143	22:47.1	7:35.7	8:40.9 (168)	14:33.6 (169)
170	Suard, Noah	9	300	Cardinal Newman (NC)	144	22:47.6	7:35.8	9:12.4 (176)	14:57.4 (172)
171	Bizarro, Jesus	SR	773	Making Waves (NC)	145	23:10.0	7:43.3	9:02.0 (174)	14:56.6 (171)
172	GUIMET-KEENEY, Mateo	9	1219	St. Joseph Notre Dame (NC)	--	23:36.8	7:52.2	9:00.2 (172)	14:59.1 (173)
173	Charlton, Tommy	SR	1090	Redwood Christian (NC)	--	23:51.4	7:57.1	8:52.3 (171)	15:02.2 (174)
174	Davis, Kayden	9	297	Cardinal Newman (NC)	146	24:23.3	8:07.7	9:56.5 (180)	16:02.2 (178)
175	BIZARRO, Jose	9	774	Making Waves (NC)	147	24:50.9	8:16.9	9:04.9 (175)	15:15.9 (175)
176	Quezada, Juan	SO	779	Making Waves (NC)	148	24:54.2	8:18.1	9:20.0 (178)	15:53.5 (176)
177	Martinez, Rogellio	JR	775	Making Waves (NC)	149	25:00.6	8:20.2	9:16.4 (177)	15:55.0 (177)
178	Vo, Anh	SR	988	Oakland Military Institute (NC)	150	25:27.6	8:29.2	9:55.3 (179)	16:10.8 (179)

Fun fact
Number of NCS titles won

10 Fort Bragg –1986, 1984, 1982, 1981, 1980, 1979, 1978, 1977, 1976, 1975
7 Maria Carrillo –2019, 2017, 2015, 2013, 2012, 2006, 2005
6 Montgomery –1996, 1993, 1992, 1990, 1985, 1980
5 Petaluma –2010, 2009, 2007, 2006, 1978
2 Santa Rosa –1994, 1988
1 Casa Grande –2014
1 Ukiah –1997
1 El Molino –1981
1 Healdsburg –1986
1 Piner –1976

POST SEASON CHAMPIONS


Past Results 2021, 2019, 2018 2017 2016 2015 2014 2013 2012 2011 2010  2009  2008  2007  2006  2005  2004  2003  2002  2001 2000-1954