CIF North Coast Section Cross Country Finals
Hayward HS, 11/20/2018
NCS stopped the meet because of the air quality after the three largest school size divisions were run and had a committee pick who would go on for the two smallest school size divisions.
NCS cross country starts, then stops due to air quality
Windsor senior Lucas Chung delivers race to remember at NCS cross country championships
Complete Results Division I
Complete Results Division II
Complete Results Division III
Division II
Vintage's Manny Guzman lead at the half way point with five other runners in the lead pack at 7:24.
De La Salle's Connor Livingstone was second then and would be the only one of the group who could hold that pace for the second half to win in 14:46. Guzman would finish fourth to qualify for state in 15:05.
Vintage junior Dylan Frye earned the final state individual qualifying spot by a mere 0.3 seconds in 15:41.
Division III
Video of race
Maria Carrillo qualified for state behind Campolindo 47-56.
As expected Redwood's Liam Anderson won in 15:03 but trailed Windsor's Lucas Chung at the midway point by 3.3 seconds.
Chung would earn his state berth with a second place 15:07 time.
Maria Carrillo was lead by Colton Swinth and Rory Smail who both ran 15:27 for fourth and fifth places. They were the fastest non-seniors in the race.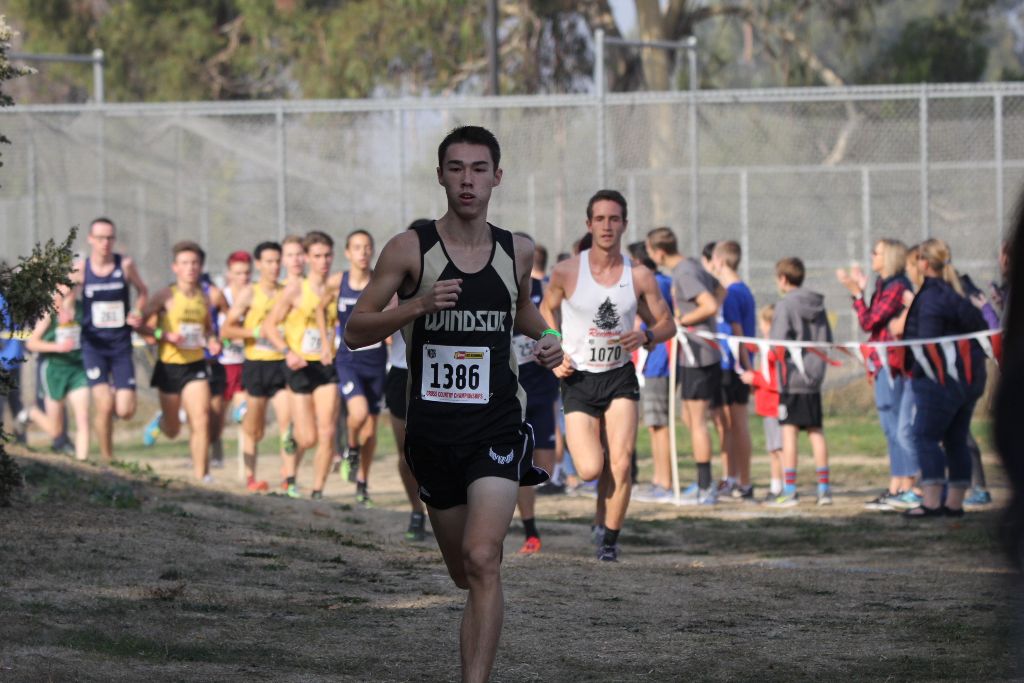 State Meet Qualifiers
28 boys from Redwood Empire
Division I
None
Division II
4th Manny GUZMAN, Vintage 15:04.1 SR
14th Dylan FRYE, Vintage 15:40.4 JR
Division III
2nd Lucas Chung, Windsor 15:06.7 SR
2nd Maria Carrillo
4th Colton SWINTH 15:26.2
5th Rory SMAIL 15:26.5
14th Will MCCLOUD 15:54.4
16th Pierce KAPUSTKA 16:03.7
17th Patrick PHILIP 16:04.3
20th Omar ALVAREZ-HERNANDEZ 16:16.2
29th Harry FRANKL 16:31.7
Committee picked
Complete committee picks
Division IV
Piner
Division V
Rincon Valley Christian
Andre Williams, SONOMA ACADEMY
Jack Vanden Heuval, HEALDSBURG
Paden Collard, CLOVERDALE
Aidan Barker, TECHNOLOGY
Top 22 Empire Times
4. SR Emmanuel Guzman 15:04.1 Vintage
2. SR Lucas Chung 15:06.7 Windsor
4. JR Colton Swinth 15:26.2 Maria Carrillo
5. JR Rory Smail 15:26.5 Maria Carrillo
14. JR Dylan Frye 15:40.4 Vintage
14. SR Will McCloud 15:54.4 Maria Carrillo
16. JR Pierce Kapustka 16:03.7 Maria Carrillo
17. JR Patrick Philip 16:04.3 Maria Carrillo
18. SO Owen Hite 16:05.3 Casa Grande
19. SO William Hite 16:12.2 Casa Grande
20. JR Omar Alvarez-Hernandez 16:16.2 Maria Carrillo
23. JR Jonathan Wachowski 16:19.6 Vintage
24. SO Andrew McKamey 16:21.5 Santa Rosa
26. FR Liam Alexander 16:23.2 Vintage
29. JR Andrew Engel 16:25.1 Santa Rosa
29. SR Harrison Frankl 16:31.7 Maria Carrillo
31. JR Logan Moon 16:34.7 Casa Grande
37. SO Luke Baird 16:43.4 Casa Grande
38. FR Dustin Smith 16:43.5 Windsor
46. SO Steven Grams 16:53.8 Santa Rosa
43. SO Nolan Hosbein 16:56.5 Casa Grande
52. SR Conor Schott 16:57.3 Santa Rosa
Top 10 finishes by individual places
2. SR Lucas Chung 15:06.7 Windsor
4. SR Emmanuel Guzman 15:04.1 Vintage
4. JR Colton Swinth 15:26.2 Maria Carrillo
5. JR Rory Smail 15:26.5 Maria Carrillo
Team time averages
Maria Carrillo 15:47
Vintage 16:08
Casa Grande 16:30
Santa Rosa 16:44
Napa 17:29
Windsor 17:43
American Canyon 17:57
Montgomery 18:21
Rancho Cotate 23:48
Past Results 2017 2016 2015 2014 2013 Boys Girls 2012 2011 2010 2009 2008 2007 2006 2005 2004 2003 2002 2001 2000-1954 Boys Girls