CIF North Coast Section Cross Country Finals
Hayward HS, 11/18/2017
More photos by Shannon Peterson
Maria Carrillo boys won their sixth NCS team Championship, this time in division III (4 in division II and 2 in division III).
They qualified their team to state for the 7th straight year with Ben Lawson (5th 15:45 for 3 miles) and Scott Kruetzfeldt (7th 15:54) leading the team.
Carrillo defeated Campolindo 48 to 58 because of their great depth as they had four more runners in the top 15 (Colton Swinth (11th 16:06), Rory Smail (12th 16:06), Zach Lindemann (13th 16:07) and Harry Frankl (15th 16:13).
Also qualifying for state in that division was Windsor's Lucas Chung in 6th (15:46).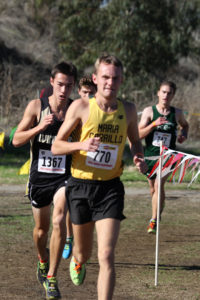 The best individual place and time (15:40) for the Redwood Empire came from Piner's Jonny Vargas as he helped his team also qualify for state in division IV as both he and his team placed second. This will be Vargas' third state meet berth.
Nathan Hayes also was a top ten finisher for the Prospector's in 10th (15:53).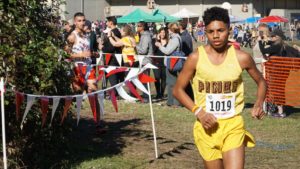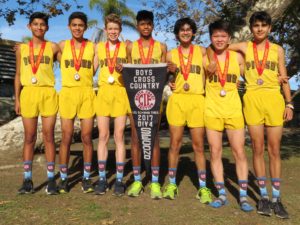 More Piner photos by Brad Zanetti and Melanie Rosales
Sonoma Academy (5th place) qualified their team for the 4th time ever with Andre Williams (3rd 15:51), Kheva Mann (7th 15:55) and Brendan Loftus (9th 16:09) all placing in the top 10 this year in division V.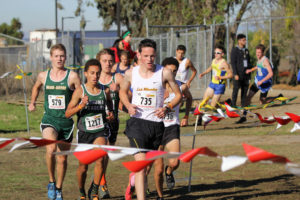 Just missing a state berth was Cloverdale sophomore Paden Collard (15th 16:18) in that division as five individuals not on advancing teams go on and he was the sixth.

State Meet Qualifiers

Division II
None

Division III
 5 Lawson, Ben               SR Maria Carrillo        15:45        
 6 Chung, Lucas              JR Windsor               15:46        
 7 Kruetzfeldt, Scott        SR Maria Carrillo        15:54      
11 Swinth, Colton            SO Maria Carrillo        16:06          
12 Smail, Rory               SO Maria Carrillo        16:06         
13 Lindemann, Zach           SR Maria Carrillo        16:07         
15 Frankl, Harry             JR Maria Carrillo        16:13
38 McCloud, Will             JR Maria Carrillo        16:51

Division IV
 2 Vargas, Jonny             SR Piner                 15:40        
10 Hayes, Nathan             JR Piner                 15:53         
17 Delgado, Emmanuel         JR Piner                 16:22  
29 Garcia, Kevin             SR Piner                 16:54          
31 Cano, Jeremiah            SO Piner                 16:57 
58 Villeda, Rene             SO Piner                 17:30        
79 Luong, Austin             SO Piner                 18:10

Division V
 3 Williams, Andre           JR Sonoma Academy        15:51
 7 Mann, Kheva               SR Sonoma Academy        15:55
 9 Loftus, Brendan           SR Sonoma Academy        16:09
64 Garcia, Eduardo           SR Sonoma Academy        17:44 
70 Roney, Jack               SR Sonoma Academy        17:54  
75 Fuette, Luke              FR Sonoma Academy        17:56
103 Pallais, Alex            SO Sonoma Academy        18:33

Top 30 Empire Times
 2 Vargas, Jonny             SR Piner                 15:40        
 5 Lawson, Ben               SR Maria Carrillo        15:45        
 6 Chung, Lucas              JR Windsor               15:46        
 3 Williams, Andre           JR Sonoma Academy        15:51
10 Hayes, Nathan             JR Piner                 15:53         
 7 Kruetzfeldt, Scott        SR Maria Carrillo        15:54      
 7 Mann, Kheva               SR Sonoma Academy        15:55

11 Swinth, Colton            SO Maria Carrillo        16:06          
12 Smail, Rory               SO Maria Carrillo        16:06         
13 Lindemann, Zach           SR Maria Carrillo        16:07         
 9 Loftus, Brendan           SR Sonoma Academy        16:09
15 Frankl, Harry             JR Maria Carrillo        16:13
15 Collard, Paden            SO Cloverdale            16:18
17 Delgado, Emmanuel         JR Piner                 16:22
         
19 Cox, Justin               JR Sonoma Valley         16:30
19 Vanden Heuvel, Jack       FR Healdsburg            16:37        
30 Canavan, Reed             SR Casa Grande           16:42
33 Larson, Hunter            SO Windsor               16:43
34 Miller, Grant             SR Ukiah                 16:45
43 Joslyn, Sam               SR Santa Rosa            16:49
38 McCloud, Will             JR Maria Carrillo        16:51

40 Hite, Owen                FR Casa Grande           16:52
29 Garcia, Kevin             SR Piner                 16:54          
31 Cano, Jeremiah            SO Piner                 16:57
44 Gravier, Cade             SR Ukiah                 17:02
39 Methum, Isaac             JR Rincon Valle          17:03            
40 Barker, Aidan             SO Technology            17:06
48 Hite, Will                FR Casa Grande           17:06
53 Theuerkauf, Kyle          JR Montgomery            17:10
59 Engle, Andrew             SO Santa Rosa            17:13

Top 10 finishes by individual places
 2 Vargas, Jonny             SR Piner                 15:40        
 3 Williams, Andre           JR Sonoma Academy        15:51
 5 Lawson, Ben               SR Maria Carrillo        15:45        
 6 Chung, Lucas              JR Windsor               15:46        
 7 Kruetzfeldt, Scott        SR Maria Carrillo        15:54 
 7 Mann, Kheva               SR Sonoma Academy        15:55
 9 Loftus, Brendan           SR Sonoma Academy        16:09
10 Hayes, Nathan             JR Piner                 15:53         

Team times
1:19:57 Maria Carrillo    
1:21:44 Piner         
1:23:32 Sonoma Academy 
1:25:09 Casa Grande                                                   
1:26:35 Santa Rosa                                             
1:27:40 Montgomery                                                                                                          
1:28:10 Ukiah  

1:28:39 Windsor                                                                                                      
1:29:09 Rincon Valley Christian                                               
1:30:26 Healdsburg                                                     
1:30:43 Cardinal Newman                                                       
1:31:52 Technology                                                   
1:32:06 Analy     
1:34:08 El Molino                                                     
1:34:26 Sonoma Valley                                                
1:33:10 Petaluma                                                 
1:36:47 St. Helena                                                    
1:38:19 Cloverdale                                                   
1:38:50 Middletown                                                    
1:39:22 Rancho Cotate  
1:39:59 Fort Bragg  

POST SEASON CHAMPIONS


Past Results 2016 2015 2014 2013 Boys Girls 2012 2011 2010  2009  2008  2007  2006  2005  2004  2003  2002  2001 2000-1954 Boys Girls



Complete Results

Event 3  Boys 3 Mile  D5
  1 Teuscher, Isaac           SR Head-Royce            15:47.50   1   1   
  2 Laidlaw, Sean             SR Lick Wilmerding       15:50.20   1   2   
  3 Williams, Andre           JR Sonoma Academy        15:51.00   1   3   
  4 Harris, Nick              JR Lick Wilmerding       15:52.20   1   4   
  5 Kennedy, Charlie          SO San Francisco Univ    15:53.80   1   5   
  6 Annis, Zavier             SO St. Joseph N.D.       15:54.10   1   6   
  7 Mann, Kheva               SR Sonoma Academy        15:54.70   1   7  
 
  8 Mills, Clay               SO San Francisco Univ    15:56.00   1   8   
  9 Loftus, Brendan           SR Sonoma Academy        16:08.80   1   9   
 10 Hudson, Rob               SO Marin Academy         16:12.90   1  10   
 11 Readerman, Parker         SR Bay School (Sf)       16:13.30   2  11   
 12 Prendergast, Daniel       JR Branson               16:14.70   2  12   
 13 Bhansali, Kabir           SO College Preparatory   16:14.90   2  13   
 14 Lehmann-Duke, Jacob       SO College Preparatory   16:15.90   2  14   
 15 Collard, Paden            SO Cloverdale            16:17.60   2  15   
 16 Aquino-Thomas, Phoenix    SR Convent & St          16:18.40   2  16   
 17 DaCunha, Marco            SR San Francisco Univ    16:25.90   2  17   
 18 Padre, Dominic            SO St. Joseph N.D.       16:29.40   2  18   
 19 Parkhill, Ezra            JR San Francisco Univ    16:32.00   2  19   
 20 Weil, Elliott             JR San Francisco Univ    16:35.00   2  20   
 21 Munz, Jt                  SR San Francisco Univ    16:35.20   3  21   
 22 Fleming, James            SR Marin Academy         16:38.60   3  22   
 23 Woodruff, Jason           SR Lick Wilmerding       16:42.30   3  23   
 24 Vera, Adam                JR McKinleyville         16:42.80   3  24   
 25 Cheng, Andrew             SO San Francisco Univ    16:44.40   3  25   
 26 Dominguez, Antonio        SR Convent & St          16:45.00   3  26   
 27 Kearney, Mark             JR Convent & St          16:45.40   3  27   
 28 Levitan, Jonathan         SO Marin Academy         16:46.10   3  28   
 29 Le, Alex                  JR Branson               16:47.30   3  29   
 29 Denberg, Henry            SO Jewish Comm.          16:47.30   3       
 31 Milton, Sasha             SR College Preparatory   16:52.50   4  30   
 32 Dilworth, Eddie           JR Lick Wilmerding       16:54.00   4  31   
 33 Ash, Ethan                SO Head-Royce            16:54.50   4  32   
 34 McFadden, Dan             SR College Preparatory   16:55.30   4  33   
 35 Zheleznyak, Adam          SR College Preparatory   16:55.80   4  34   
 36 Kaplan, Ben               SR Convent & St          16:56.80   4  35   
 37 Trevino, Gabe             JR St. Joseph N.D.       16:58.40   4  36   
 38 Fjerstad, Dallin          SR McKinleyville         17:01.20   4  37   
 39 Methum, Isaac             JR Rincon Valle          17:02.40   4  38   
 40 Barker, Aidan             SO Technology            17:05.20   4  39   
 41 Peale, Will               SO College Preparatory   17:07.50   5  40   
 42 Dalton, Kai               SR Urban (Sf)            17:08.20   5  41   
 43 Coley, Christian          SR McKinleyville         17:08.60   5  42   
 44 Stein, Erik               SR Lick Wilmerding       17:12.20   5  43   
 45 Wood, West                FR McKinleyville         17:13.70   5  44   
 46 Peabody, John             SO Lick Wilmerding       17:17.40   5  45   
 47 Martinez, Alex            SR Lick Wilmerding       17:18.40   5  46   
 48 Dela Cruz, Skyler         JR Convent & St          17:20.10   5  47   
 49 White, Larkin             SR Urban (Sf)            17:22.40   5  48   
 50 Galloway, Ben             SO Urban (Sf)            17:23.00   5  49   
 51 Xenakis, William          JR Head-Royce            17:23.90   6  50   
 52 Woo, Antonio              SO Convent & St          17:24.70   6  51   
 53 Gong, Dylan               JR Omi                   17:25.50   6  52   
 54 Liu, Michael              SR Convent & St          17:26.70   6  53   
 55 Girzadas, Luke            SO Athenian              17:27.90   6  54   
 56 Combs, Max                SO McKinleyville         17:29.50   6  55   
 57 Goode, Matthew            SO St. Joseph N.D.       17:31.00   6  56   
 58 Greene, Harrison          JR Urban (Sf)            17:34.70   6  57   
 58 Mancini, Cj               FR Athenian              17:34.70   6  58   
 60 Jenkins, Travis           SO Technology            17:35.50   6  59   
 61 English, Brady            FR Rincon Valle          17:41.80   7  60   
 62 Reilly, Jordan            SO St. Helena            17:42.90   7  61   
 63 Scholl, Ethan             JR Head-Royce            17:43.00   7  62   
 64 Garcia, Eduardo           SR Sonoma Academy        17:43.70   7  63   
 65 Jones, Charlie            FR Head-Royce            17:49.50   7  64   
 66 Crowe, Davis              JR Marin Academy         17:50.00   7  65   
 67 Galloway, Oliver          SR Bay School (Sf)       17:51.00   7  66   
 68 Williams, Bailey          JR Technology            17:51.50   7  67   
 69 Peters, Joe               SO Athenian              17:51.60   7  68   
 70 Roney, Jack               SR Sonoma Academy        17:53.10   7  69   
 71 Johnstone, Ryan           FR Berean Christian      17:53.70   8  70   
 72 Klein, Sammy              SR Bay School (Sf)       17:54.80   8  71   
 73 Hoppin, Will              SR Urban (Sf)            17:55.00   8  72   
 73 Patel, Siraj              SO Fremont Christian     17:55.00   8  73   
 75 Fuette, Luke              FR Sonoma Academy        17:55.80   8  74   
 76 Arlen, Eric               SO Athenian              17:57.20   8  75   
 77 Passalacqua, Zachary      JR Rincon Valle          17:57.40   8  76   
 78 Fee-Platt, Jordy          SR Marin Academy         17:58.40   8  77   
 79 Cervantes, Ellis          SO St. Joseph N.D.       17:58.50   8  78   
 80 Davis, Rowan              SO International         17:59.90   8  79   
 81 Mosqueda, Luis            FR Kelseyville           18:01.70   9       
 82 Kim, Noah                 JR Branson               18:02.30   9  80   
 83 Yan, Ethan                JR College Preparatory   18:03.10   9  81   
 84 Przybylinski, Nicholas    SR St. Helena            18:03.50   9  82   
 85 Chauvin, Jake             JR El Molino             18:04.30   9  83   
 86 Riordan, Eric             SO El Molino             18:08.60   9  84   
 87 Peterson, Simon           FR Rincon Valle          18:10.40   9  85   
 88 Wu, Benji                 SO Branson               18:10.90   9  86   
 89 Young, Daniel             SR Athenian              18:12.50   9  87   
 90 Geller, Matthew           SO St. Joseph N.D.       18:13.80   9  88   
 91 Dolan, Scott              JR Rincon Valle          18:16.60  10  89   
 92 Buffett-Davis, Zev        SR Marin Academy         18:16.80  10  90   
 93 Manalili, Sake            FR Berean Christian      18:17.40  10  91   
 94 Mercy, Baxter             SR Marin Academy         18:17.60  10  92   
 95 Amendola, Jeff            JR Kelseyville           18:19.50  10       
 96 Rascon, Isaac             FR Middletown            18:19.70  10  93   
 97 Lien, Owen                JR McKinleyville         18:23.90  10  94   
 98 Moore, James              SO Bay School (Sf)       18:24.90  10  95   
 99 Otting, Tanis             SO McKinleyville         18:26.30  10  96   
100 Pappas, Alexander         JR St.Patrick/S          18:27.20  10  97   
101 Rombach, Thomas           FR Bentley Upper         18:28.00  11  98   
102 Triplett, Misael          SO Mendocino             18:31.60  11       
103 Pallais, Alex             SO Sonoma Academy        18:32.10  11  99   
104 Mathews, Zachary          SO Bay School (Sf)       18:32.80  11 100   
105 Kelloff, Graham           SO Bentley Upper         18:34.70  11 101   
106 Koury, Joey               SR International         18:37.60  11 102   
107 Perez, Luis               JR St.Patrick/S          18:38.30  11 103   
108 Ramos, Zach               JR St. Joseph N.D.       18:40.20  11 104   
109 Hall, Avery               JR Urban (Sf)            18:41.80  11 105   
110 Sevilla, Ryan             SO Fremont Christian     18:49.90  11 106   
111 Elliott, Connor           SR Urban (Sf)            18:52.10  12 107   
112 Wei, Wesley               SO Fremont Christian     18:52.90  12 108   
113 Conger, Jackson           SO El Molino             18:54.10  12 109   
114 Maxwell, James            SR Branson               18:56.10  12 110   
115 Hill, Ming                SO Bay School (Sf)       18:56.90  12 111   
116 Thompson, Matthew         SO St.Patrick/S          18:58.60  12 112   
117 Fong, Darian              SR Omi                   19:00.60  12 113   
118 McGuire, Ben              SR Athenian              19:02.40  12 114   
119 Frank, Rusty              SR St. Helena            19:03.40  12 115   
120 Chen, Andrew              SR Athenian              19:04.60  12 116   
121 Hernandez, Oscar          SR Fort Bragg            19:06.20  13 117   
122 Teuscher, Noah            SR Head-Royce            19:06.80  13 118   
123 Kunze, Thomas             JR San Domenico          19:08.10  13       
124 Rodriquez, Nicholas       SR St.Patrick/S          19:09.90  13 119   
125 Mackey, Evan              SO Rincon Valle          19:10.30  13 120   
126 Medina, Oscar             JR Cal High              19:10.60  13       
127 Chevrolet, Mael           SO El Molino             19:12.10  13 121   
128 Streeter, Brenden         FR Technology            19:20.70  13 122   
129 Ryan, Benjamin            SR International         19:21.30  13 123   
130 Morgan, Tucker            JR Cloverdale            19:21.80  13 124   
131 Burdo, Luke               SO Rincon Valle          19:22.40  14 125   
132 Dennis, Micheal           JR St.Patrick/S          19:26.60  14 126   
133 Wogan, Aidan              SO Head-Royce            19:26.90  14 127   
134 Divol, Eloi               SO International         19:28.00  14 128   
135 Ruble, Kirk               JR St.Patrick/S          19:31.10  14 129   
136 Wilson, Luke              SR Berean Christian      19:35.20  14 130   
137 Stone, Jared              SR St.Patrick/S          19:35.40  14 131   
138 Branch, Liam              SR International         19:38.30  14 132   
139 Tostie, Jayson            SR Middletown            19:39.10  14 133   
140 Kale, Nikash              FR Bentley Upper         19:41.90  14 134   
141 Conway, Everett           SR Cloverdale            19:42.10  15 136   
141 Hill, Zachary             FR Fort Bragg            19:42.10  15 135   
143 Lai, Lj                   FR Bentley Upper         19:42.20  15 137   
144 Schwarz, Adam             JR Bay School (Sf)       19:46.10  15 138   
145 Wallace, Gabe             SO El Molino             19:48.40  15 139   
146 Palash-Mizner, Jonathan   FR International         19:50.90  15 140   
147 Marek, Beau               FR Kelseyville           19:53.80  15       
148 Ingrassia, Quinn          SR El Molino             19:54.50  15 141   
149 Pen, Donavon              SR Omi                   19:56.00  15 142   
150 Feige, Grant              SO El Molino             19:57.70  15 143   
151 Bliss, Tyler              SO Technology            19:58.20  16 144   
152 Copeland, Andrew          SO Bentley Upper         19:58.40  16 145   
153 Zink, Finn                SR Branson               20:00.00  16 146   
154 Boyd, Jason               JR St. Vincent           20:02.50  16       
155 Cobb, Tyler               SO Middletown            20:06.90  16 147   
156 Pace, Travis              FR Technology            20:11.30  16 148   
157 Leach, Jaren              FR Technology            20:11.40  16 149   
158 Kafin, Toby               SR Fort Bragg            20:18.40  16 150   
159 Andersen, Clay            SO Fort Bragg            20:20.70  16 151   
160 Dusatko, Micky            JR Middletown            20:21.90  17 152   
160 Verhey, Amida             SR Middletown            20:21.90  16 153   
162 Gong, Kyle                SR Omi                   20:25.70  17 154   
163 Shou, Lawrence            FR Fremont Christian     20:26.70  17 155   
164 Fontanilla, Nathan        SR Fort Bragg            20:31.10  17 156   
165 Leatherwood, Zaca         FR North Coast Prep.     20:31.20  17       
166 Parrish, Jonathan         SR Fort Bragg            20:31.90  17 157   
167 Addison, Finn             SO Cloverdale            20:35.00  17 158   
168 Blanco, Josue             JR St. Helena            20:36.20  17 159   
169 Wackernagle, Andre        JR Bentley Upper         20:38.20  17 160   
170 Guo, Henry                SR Omi                   20:39.10  17 161   
171 Espulgar-Rowe, Josh       SO San Domenico          20:39.30  18       
172 Garcia, Edwin             SO Making Waves          20:40.60  18       
173 Nervaiz, Mathew           SR International         20:42.70  18 162   
174 Schaner, Finnian          FR Mendocino             20:45.20  18       
175 Perry, Elijah             SR Berean Christian      20:49.00  18 163   
176 Kunze, Will               FR San Domenico          20:51.70  18       
177 Vergara, Leonardo         SO Cal High              20:56.70  18       
178 Suarez-Greer, Armando     SR John Swett            20:59.30  18       
179 Huang, Felix              SR Omi                   21:00.10  18 164   
180 Huynh, Thanh              SR Omi                   21:15.80  18 165   
181 Namvar, Remy              SO Fort Bragg            21:18.10  19 166   
182 Smith, Conrad             SR St. Vincent           21:18.50  19       
183 Osborne, Kili             SR St. Helena            21:20.60  19 167   
184 Collins, Douglas          SR St. Helena            21:23.00  19 168   
185 Damato, John              SR St. Vincent           21:25.50  19       
186 Romero, Patrick           SR John Swett            21:31.10  19       
187 Rodriguez, Leo            JR Kelseyville           21:36.20  19       
188 Kurup, Shankaran          SO Bentley Upper         21:37.50  19 169   
189 Chiolero, Allan           SO Fremont Christian     21:39.80  19 170   
190 Pigati, Gage              SO Berean Christian      21:43.00  19 171   
191 Roberts, Jason            FR North Coast Prep.     22:00.40  20       
191 Chan, Solomon             SR Fremont Christian     22:00.40  20 172   
193 German, Bret              SR Middletown            22:18.50  20 173   
194 Mendoza, Joel             SR Cloverdale            22:21.70  20 174   
195 Fairborn, Jackson         FR San Domenico          22:28.00  20       
196 Shotwell, Cameron         SO John Swett            22:35.50  20       
197 Cannella, Dylan           FR John Swett            22:36.30  20       
198 Wanke, Tanner             FR Cloverdale            22:44.80  20 175   
199 Imbrunetti, Dimitri       JR Middletown            22:46.30  20 176   
200 Gonzalez, Miguel          SO Cloverdale            22:48.10  20 177   
201 Chan, Gideon              SO Fremont Christian     22:48.30  21 178   
202 Bautista, Alexys          JR St. Helena            23:42.10  21 179   

                                   Team Scores                                   
=================================================================================
Rank Team                      Total    1    2    3    4    5   *6   *7   *8   *9
=================================================================================
Results - Men                                                                    
   1 San Francisco Univ           69    5    8   17   19   20   21   25    5    8
      Total Time:  1:21:22.70                                                    
         Average:    16:16.54                                                    
   2 Lick Wilmerding             103    2    4   23   31   43   45   46    2    4
      Total Time:  1:22:30.90                                                    
         Average:    16:30.18                                                    
   3 College Preparatory         124   13   14   30   33   34   40   81   13   14
      Total Time:  1:23:14.40                                                    
         Average:    16:38.88                                                    
   4 Convent & Stuart Hall       151   16   26   27   35   47   51   53   16   26
      Total Time:  1:24:05.70                                                    
         Average:    16:49.14                                                    
   5 Sonoma Academy              151    3    7    9   63   69   74   99    3    7
      Total Time:  1:23:31.30                                                    
         Average:    16:42.26        
                                            
   6 St. Joseph N.D.             194    6   18   36   56   78   88  104    6   18
      Total Time:  1:24:51.40                                                    
         Average:    16:58.28                                                    
   7 Marin Academy               202   10   22   28   65   77   90   92   10   22
      Total Time:  1:25:26.00                                                    
         Average:    17:05.20                                                    
   8 McKinleyville               202   24   37   42   44   55   94   96   24   37
      Total Time:  1:25:35.80                                                    
         Average:    17:07.16                                                    
   9 Head-Royce                  209    1   32   50   62   64  118  127    1   32
      Total Time:  1:25:38.40                                                    
         Average:    17:07.68                                                    
  10 Urban (Sf)                  267   41   48   49   57   72  105  107   41   48
      Total Time:  1:27:23.30                                                    
         Average:    17:28.66                                                    
  11 Branson                     317   12   29   80   86  110  146   12   29   80
      Total Time:  1:28:11.30                                                    
         Average:    17:38.26                                                    
  12 Athenian                    342   54   58   68   75   87  114  116   54   58
      Total Time:  1:29:03.90                                                    
         Average:    17:48.78                                                    
  13 Bay School (Sf)             343   11   66   71   95  100  111  138   11   66
      Total Time:  1:28:56.80                                                    
         Average:    17:47.36                                                    
  14 Rincon Valley Chris.        348   38   60   76   85   89  120  125   38   60
      Total Time:  1:29:08.60                                                    
         Average:    17:49.72                                                    
  15 Technology                  431   39   59   67  122  144  148  149   39   59
      Total Time:  1:31:51.10                                                    
         Average:    18:22.22                                                    
  16 El Molino                   536   83   84  109  121  139  141  143   83   84
      Total Time:  1:34:07.50                                                    
         Average:    18:49.50                                                    
  17 St.Patrick/St. Vincent      557   97  103  112  119  126  129  131   97  103
      Total Time:  1:34:40.60                                                    
         Average:    18:56.12                                                    
  18 International               564   79  102  123  128  132  140  162   79  102
      Total Time:  1:35:05.10                                                    
         Average:    19:01.02                                                    
  19 St. Helena                  584   61   82  115  159  167  168  179   61   82
      Total Time:  1:36:46.60                                                    
         Average:    19:21.32                                                    
  20 Cloverdale                  607   15  124  136  158  174  175  177   15  124
      Total Time:  1:38:18.20                                                    
         Average:    19:39.64                                                    
  21 Fremont Christian           612   73  106  108  155  170  172  178   73  106
      Total Time:  1:37:44.30                                                    
         Average:    19:32.86                                                    
  22 Bentley Upper               615   98  101  134  137  145  160  169   98  101
      Total Time:  1:36:25.20                                                    
         Average:    19:17.04                                                    
  23 Omi                         622   52  113  142  154  161  164  165   52  113
      Total Time:  1:37:26.90                                                    
         Average:    19:29.38                                                    
  24 Berean Christian            625   70   91  130  163  171   70   91  130  163
      Total Time:  1:38:18.30                                                    
         Average:    19:39.66                                                    
  25 Middletown                  678   93  133  147  153  152  173  176   93  133
      Total Time:  1:38:49.50                                                    
         Average:    19:45.90                                                    
  26 Fort Bragg                  709  117  135  150  151  156  157  166  117  135
      Total Time:  1:39:58.50                                                    
         Average:    19:59.70                              

Event 4  Boys 3 Mile  D1, No locals
  1 Badcock, Lucas            JR Dougherty Valley      15:50.50   1   1   
  2 Bringas, Sage             SR James Logan           16:01.20   1   2   
  3 Guerrero, Tristan         JR Dougherty Valley      16:05.90   1   3   
  4 Millen, Jacob             JR Cal High              16:06.70   1   4   
  5 Reyes, Cameron            SR Cal High              16:10.20   1   5   
  6 Berberian, Reilly         SR Castro Valley         16:10.50   1   6   
  7 Lee, Jeremy               SR Dougherty Valley      16:11.80   1   7  
 
  8 Bojdak-Yates, Itai        JR Berkeley              16:15.50   1   8   
  9 Dea, Walden               SR Dougherty Valley      16:17.60   1   9   
 10 McNamar, Logan            SR Pittsburg             16:18.10   1  10   
 11 Dickenson, Miguel         SR Dougherty Valley      16:21.70   2  11   
 12 Tseng, Jovi               SO Berkeley              16:27.60   2  12   
 13 Uzawa, Daichi             SR Berkeley              16:29.30   2  13   
 14 Sankar, Siddish           JR Cal High              16:36.30   2  14   
 15 Miu, Seth                 SO Castro Valley         16:39.10   2  15   
 16 Ueyama, Connor            SO Dougherty Valley      16:39.20   2  16   
 17 Grewal, Yavinder          SO James Logan           16:41.20   2  17   
 18 Vegiraju, Rahul           JR Cal High              16:41.80   2  18   
 19 Gugg, Anthony             SR Castro Valley         16:42.70   2  19   
 20 Mims, Makaio              FR James Logan           16:46.80   2  20   
 21 Carlson, Erik             JR Cal High              16:47.80   3  21   
 22 Draper, Tanner            JR Cal High              16:48.90   3  22   
 23 Moran, Joseph             SO James Logan           16:53.70   3  23   
 24 Bell, Tommy               SR Dougherty Valley      16:57.60   3  24   
 25 Berschens, Kyle           JR Freedom               17:04.70   3  25   
 26 Paz, Raul                 JR Pittsburg             17:05.20   3  26   
 27 Bowersmith, Skyler        SR Castro Valley         17:07.80   3  27   
 28 Austria, Noel             JR James Logan           17:08.40   3  28   
 29 Taylor, Tobias            FR Castro Valley         17:17.30   3  29   
 30 Kriston, Joesiah          FR Freedom               17:28.90   3  30   
 31 Shuh-Humphries, Adrian    SR Berkeley              17:31.80   4  31   
 32 Campopiano, Samuel        JR Cal High              17:32.50   4  32   
 33 Yee, Taylor               FR Berkeley              17:35.90   4  33   
 34 Bowersmith, Hunter        JR Castro Valley         17:37.10   4  34   
 35 Townsend, Ricky           JR James Logan           17:38.30   4  35   
 36 Whiting, Soren            SR Berkeley              17:44.00   4  36   
 37 Langendorff, Ethan        JR Freedom               17:50.90   4  37   
 38 Hernandez, David          JR James Logan           18:08.40   4  38   
 39 Cruz, Antonio             JR Pittsburg             18:40.10   4  39   
 40 Rizo, Ivan                SR Pittsburg             18:50.20   4  40   
 41 Sedlak, Adam              SR Berkeley              18:59.10   5  41   
 42 Carlos, Edgardo           JR Freedom               19:00.80   5  42   
 43 Gonzalez, Noah            SR Castro Valley         19:01.30   5  43   
 44 Raymundo, Nicolas         SR Freedom               19:20.20   5  44   
 45 Avalos, Abel              FR Pittsburg             19:23.40   5  45   
 46 Van Dyke, Joseph          SO Freedom               19:27.20   5  46   
 47 Hemmick, Daemien          SO Pittsburg             19:54.80   5  47   
 48 Caballero III, Jose       SO Freedom               20:33.80   5  48   

                                   Team Scores                                   
=================================================================================
Rank Team                      Total    1    2    3    4    5   *6   *7   *8   *9
=================================================================================
Results - Men                                                                    
   1 Dougherty Valley             31    1    3    7    9   11   16   24    1    3
      Total Time:  1:20:47.50                                                    
         Average:    16:09.50                                                    
   2 Cal High                     62    4    5   14   18   21   22   32    4    5
      Total Time:  1:22:22.80                                                    
         Average:    16:28.56          
                                          
   3 James Logan                  90    2   17   20   23   28   35   38    2   17
      Total Time:  1:23:31.30                                                    
         Average:    16:42.26                                                    
   4 Castro Valley                96    6   15   19   27   29   34   43    6   15
      Total Time:  1:23:57.40                                                    
         Average:    16:47.48                                                    
   5 Berkeley                     97    8   12   13   31   33   36   41    8   12
      Total Time:  1:24:20.10                                                    
         Average:    16:52.02                                                    
   6 Pittsburg                   160   10   26   39   40   45   47   10   26   39
      Total Time:  1:30:17.00                                                    
         Average:    18:03.40                                                    
   7 Freedom                     178   25   30   37   42   44   46   48   25   30
      Total Time:  1:30:45.50                                                    
         Average:    18:09.10   

Event 6  Boys 3 Mile  D3
     
  1 Anderson, Liam            JR Redwood               15:04.90   1   1          
  2 Buckley, Edward           JR Campolindo            15:26.20   1   2          
  3 Wheeler, Michael          SR Northgate             15:28.10   1   3          
  4 Aufderheide, Greg         SR Livermore             15:34.80   1   4          
  5 Lawson, Ben               SR Maria Carrillo        15:45.00   1   5          
  6 Chung, Lucas              JR Windsor               15:45.70   1   6          
  7 Kruetzfeldt, Scott        SR Maria Carrillo        15:53.50   1   7  
        
  8 Law, Paul                 SO Tamalpais             15:58.50   1   8          
  9 Gunn, Dylan               FR Campolindo            16:03.20   1   9          
 10 Sauerberg, Ethan          SR Campolindo            16:03.40   1  10          
 11 Swinth, Colton            SO Maria Carrillo        16:05.30   2  11          
 12 Smail, Rory               SO Maria Carrillo        16:06.00   2  12          
 13 Lindemann, Zach           SR Maria Carrillo        16:06.30   2  13          
 14 Wilkerson, Parker         JR Las Lomas             16:10.50   2  14          
 15 Frankl, Harry             JR Maria Carrillo        16:12.80   2  15          
 16 Tseng, Andrew             SR Campolindo            16:18.60   2  16          
 17 Norris, Preston           JR Las Lomas             16:23.80   2  17          
 18 Grace, Hudson             FR Redwood               16:24.10   2  18          
 19 Cox, Justin               JR Sonoma Valley         16:29.20   2  19          
 20 Renaghan, Casey           JR Las Lomas             16:30.30   2  20          
 21 Cronin, Dylan             SO Campolindo            16:31.30   3  21          
 22 Noon, Riley               JR Acalanes              16:34.20   3  22          
 23 West, Ethan               SR Alameda               16:34.70   3  23          
 24 Weisert, Jake             JR Tamalpais             16:34.80   3  24          
 25 Elaidy, Adam              JR Alameda               16:35.40   3  25          
 26 Starr, Josh               JR Acalanes              16:35.50   3  26          
 27 Maheshwari, Devon         JR Livermore             16:36.90   3  27          
 28 Kisylia, Charlie          SO Las Lomas             16:39.30   3  28          
 29 Wise, Cooper              SO Las Lomas             16:40.30   3  29          
 30 Canavan, Reed             SR Casa Grande           16:42.00   4  31          
 30 Cain, Ronan               SR Tamalpais             16:42.00   3  30          
 32 Walters, Tim              SO Redwood               16:42.70   4  32          
 33 Larson, Hunter            SO Windsor               16:42.80   4  33          
 34 Miller, Grant             SR Ukiah                 16:44.30   4  34          
 35 Pole, Ryan                SR Redwood               16:44.70   4  35          
 36 Gourlin, Thibault         SR Campolindo            16:45.30   4  36          
 37 Lizzarago, Michael        SR Northgate             16:50.10   4  37          
 38 McCloud, Will             JR Maria Carrillo        16:50.20   4  38          
 39 Hunger, Owen              SO Campolindo            16:51.00   4  39          
 40 Hite, Owen                FR Casa Grande           16:51.50   4  40          
 41 Valenton, Miguel          SR Livermore             16:51.60   5  41          
 42 Frigon, Ethan             SR Acalanes              16:52.70   5  42          
 43 Rowe, Devin               SR Alameda               17:00.00   5  43          
 44 Gravier, Cade             SR Ukiah                 17:01.20   5  44          
 45 Murphy, Cedric            SR Alameda               17:02.50   5  45          
 46 Doggett, Jack             SR Northgate             17:03.50   5  46          
 47 Buessing, Jonah           JR Tamalpais             17:05.00   5  47          
 48 Hite, Will                FR Casa Grande           17:05.10   5  48          
 49 Moon, Logan               SO Casa Grande           17:06.90   5  49          
 50 Phipps, Matthew           JR Redwood               17:07.20   5  50          
 51 Vetter, Tilman            JR Alameda               17:08.00   6  51          
 52 Galkowski, David          SR Livermore             17:08.60   6  52          
 53 Theuerkauf, Kyle          JR Montgomery            17:09.20   6  53          
 54 Watkins, Will             SO Tamalpais             17:09.50   6  54          
 55 Lieberman, Reese          SR Las Lomas             17:09.60   6  55          
 56 Patel, Austin             JR Redwood               17:12.50   6  56          
 57 Kremin, Kenyon            SO Concord               17:14.40   6  57          
 58 Lambruschini, Eric        SO Newark Memorial       17:14.90   6  58          
 59 Hutson, Nick              SO Acalanes              17:15.30   6  59          
 60 Daley, Jack               SO Las Lomas             17:15.60   6  60          
 61 Seymour, Harrison         SO Acalanes              17:22.30   7  61          
 62 Esponda, Garrett          JR Casa Grande           17:22.70   7  62          
 63 Baas, Sanjay              SR Northgate             17:23.80   7  63          
 64 Lam, Kyle                 JR Livermore             17:24.00   7  64          
 65 Oru-Craig, Brent          JR Montgomery            17:26.50   7  65          
 66 Wong, Nick                SR Tamalpais             17:27.00   7  66          
 67 Martinez, Angel           JR Newark Memorial       17:31.90   7  67          
 68 Owens, Andrew             SO Acalanes              17:34.40   7  68          
 69 Goltz, Erik               SO Redwood               17:35.80   7  69          
 70 Williams, Jacob           SR Montgomery            17:37.80   7  70          
 71 Lehman-Winters, Miles     SO El Cerrito            17:38.00   8  71          
 72 Alvarado, Brandon         JR Montgomery            17:38.60   8  72          
 73 Hosbein, Nolan            FR Casa Grande           17:39.30   8  73          
 74 Owens, Luke               SO Tamalpais             17:40.40   8  74          
 75 Gotshall, Andrew          SO Casa Grande           17:40.60   8  75          
 75 Yep, Matthew              SR Alameda               17:40.60   8  76          
 77 Dudley, Sam               SR Northgate             17:42.10   8  77          
 78 Cruz, Ramon               SR Montgomery            17:47.30   8  78          
 79 Telfler, Hendrick         JR Ukiah                 17:52.20   8  79          
 80 Dennis, Hayden            SR Petaluma              17:55.50   8  80          
 81 Morales, Lenny            SR Rancho Cotate         17:55.90   9  81          
 81 Davies, Thomas            JR Northgate             17:55.90   9  82          
 83 Juarez, Anthony           JR Newark Memorial       17:58.80   9  83          
 84 Butts, Dominic            JR Petaluma              17:59.60   9  84          
 85 Knapp, Brandon            JR Livermore             18:02.20   9  85          
 86 Harlow, Logan             SO Northgate             18:02.80   9  86          
 87 Xerogeanes, Dean          SR Ukiah                 18:03.60   9  87          
 88 Nguyen, Patrick           SO Alameda               18:08.10   9  88          
 89 Freitas, Michael          JR Windsor               18:10.30   9  89          
 90 Nelligan, Mario           SR El Cerrito            18:10.50   9  90          
 91 Abas Hamidi, Sami         JR Mt. Diablo            18:11.20  10  91          
 92 Lambruschini, Leon        SR Newark Memorial       18:12.80  10  92          
 93 Hunt, Alex                JR El Cerrito            18:17.50  10  93          
 94 Richter, Justin           JR Montgomery            18:18.00  10  94          
 95 Sheldon, Liam             JR Sonoma Valley         18:20.50  10  95          
 96 ZingKhai, Yumi            JR Novato                18:22.30  10  96          
 97 Hadley-Carranza, Cosmo    SO El Cerrito            18:22.60  10  97          
 98 Jacobs, Logan             FR Concord               18:24.90  10  98          
 99 Cionci, John              SO Windsor               18:27.50  10  99          
100 Smith, Jordan             SO Ukiah                 18:28.70  10 100          
101 Ronshausen, Colten        JR Petaluma              18:29.20  11 101          
102 Groom, Andrew             SR Novato                18:32.50  11 102          
103 Rodarte, Alejandro        JR Ukiah                 18:38.10  11 103          
104 Kendall, Cole             SO Newark Memorial       18:43.70  11 104          
105 Martinez, Mario           JR Hayward               18:46.60  11              
106 Cassman, Kevin            SR El Cerrito            18:56.70  11 105          
107 Lara, Ezra                SO Concord               18:59.60  11 106          
108 Guhl, Karl                FR Novato                18:59.70  11 107          
109 Vitali, Tony              JR Petaluma              19:03.30  11 108          
110 Ramirez, Chris            SO San Lorenzo           19:06.30  11 109          
111 Romero, Raiden            JR Newark Memorial       19:12.90  12 110          
112 Yaqubi, Mateen            JR Newark Memorial       19:18.50  12 111          
113 Phillips, Mason           SO Sonoma Valley         19:23.10  12 112          
114 Maynard, Nicholas         JR El Cerrito            19:23.30  12 113          
115 Kvamme, David             FR Windsor               19:31.80  12 114          
116 Alvarez, Raul             SR Mt. Diablo            19:34.50  12 115          
117 Fisher, Charles           SR Montgomery            19:36.10  12 116          
118 Lander, Christian         SO San Lorenzo           19:36.90  12 117          
119 Domingo, Kristian         FR De Anza               19:38.60  12 118          
120 Sinlee, Nathaphat         SO De Anza               19:41.30  12 119          
121 Turner, Nathan            JR Petaluma              19:41.50  13 120          
122 Garcia, Gabriel           SR Novato                19:43.50  13 121          
123 Anderson, Joey            SO Concord               19:44.90  13 122          
124 Nishikubo, Mark           SO Livermore             19:45.70  13 123          
125 Bester, DanDan            FR El Cerrito            19:51.60  13 124          
126 Hernandez, Juan           SR Concord               19:52.10  13 125          
127 Hengehold, Ryan           FR Sonoma Valley         19:53.70  13 126          
128 Perez Gutierrez, Ernesto  FR Concord               19:55.10  13 128          
128 Alvarez, Christian        SR Mt. Diablo            19:55.10  13 127          
130 Gonzalez, John            SR Ukiah                 19:59.10  13 129          
131 Lambert, Jacob            SO San Lorenzo           20:01.00  14 130          
132 Weitzenberg, Charlie      FR Petaluma              20:01.10  14 131          
133 Morales, Isiah            SO San Lorenzo           20:05.70  14 132          
134 Perez-Pacheco, Carlos     JR Rancho Cotate         20:12.60  14 133          
135 Torres, Brian             SO Concord               20:16.40  14 134          
135 Naro, Darius              SR Rancho Cotate         20:16.40  14 135          
137 Nguyen, Davis             SR San Lorenzo           20:16.90  14 136          
138 Castro, Erick             JR Mt. Diablo            20:17.20  14 137          
139 Martindale, Lucas         FR Sonoma Valley         20:19.00  14 138          
140 Carranza, Eric            SO Mt. Diablo            20:20.90  14 139          
141 Mendoza, Julian           SR San Lorenzo           20:26.40  15 140          
142 Trejo, Frank              FR Hayward               20:26.80  15              
143 Davis, Brian              SR Rancho Cotate         20:27.60  15 141          
144 Betti, Dominic            SO Rancho Cotate         20:29.20  15 142          
145 Taporco, Antonio          JR San Lorenzo           20:31.60  15 143          
145 Ducker, Joe               FR Novato                20:31.60  15 144          
147 Rojo, Luis                SR De Anza               20:33.90  15 145          
148 Coronado, Hector          JR Hayward               20:34.10  15              
149 Comnick, Ben              SR Novato                20:59.30  15 146          
150 Armstrong, Derek          SO Sonoma Valley         21:44.40  15 147          
151 Vasquez, German           SR De Anza               21:50.00  16 148          
152 Singh, Palvir             SO De Anza               21:53.40  16 149          
153 Alonso, Frank             SO Rancho Cotate         22:04.80  16 150          
154 Basaldua, Dom             FR Acalanes              22:23.60  16 151          
155 Souza, Thiago             SR De Anza               25:46.80  16 152          
                                                                                 
                                   Team Scores                                   
=================================================================================
Rank Team                      Total    1    2    3    4    5   *6   *7   *8   *9
=================================================================================
Results - Men                                                                    
   1 Maria Carrillo               48    5    7   11   12   13   15   38    5    7
      Total Time:  1:19:56.10                                                    
         Average:    15:59.22                                                    
   2 Campolindo                   58    2    9   10   16   21   36   39    2    9
      Total Time:  1:20:22.70                                                    
         Average:    16:04.54                                                    
   3 Las Lomas                   108   14   17   20   28   29   55   60   14   17
      Total Time:  1:22:24.20                                                    
         Average:    16:28.84                                                    
   4 Redwood                     136    1   18   32   35   50   56   69    1   18
      Total Time:  1:22:03.60                                                    
         Average:    16:24.72        
                                            
   5 Tamalpais                   163    8   24   30   47   54   66   74    8   24
      Total Time:  1:23:29.80                                                    
         Average:    16:41.96                                                    
   6 Alameda                     187   23   25   43   45   51   76   88   23   25
      Total Time:  1:24:20.60                                                    
         Average:    16:52.12                                                    
   7 Livermore                   188    4   27   41   52   64   85  123    4   27
      Total Time:  1:23:35.90                                                    
         Average:    16:43.18                                                    
   8 Acalanes                    210   22   26   42   59   61   68  151   22   26
      Total Time:  1:24:40.00                                                    
         Average:    16:56.00                                                    
   9 Northgate                   226    3   37   46   63   77   82   86    3   37
      Total Time:  1:24:27.60                                                    
         Average:    16:53.52                                                    
  10 Casa Grande                 230   31   40   48   49   62   73   75   31   40
      Total Time:  1:25:08.20                                                    
         Average:    17:01.64                                                    
  11 Montgomery                 338   53   65   70   72   78   94  116   53   65
      Total Time:  1:27:39.40                                                    
         Average:    17:31.88                                                    
  12 Windsor                     341    6   33   89   99  114    6   33   89   99
      Total Time:  1:28:38.10                                                    
         Average:    17:43.62                                                    
  13 Ukiah                       344   34   44   79   87  100  103  129   34   44
      Total Time:  1:28:10.00                                                    
         Average:    17:38.00                                                    
  14 Newark Memorial             404   58   67   83   92  104  110  111   58   67
      Total Time:  1:29:42.11                                                    
         Average:    17:56.42                                                    
  15 El Cerrito                  456   71   90   93   97  105  113  124   71   90
      Total Time:  1:31:25.30                                                    
         Average:    18:17.06                                                    
  16 Sonoma Valley               490   19   95  112  126  138  147   19   95  112
      Total Time:  1:34:25.50                                                    
         Average:    18:53.10                                                    
  17 Petaluma                    493   80   84  101  108  120  131   80   84  101
      Total Time:  1:33:09.10                                                    
         Average:    18:37.82                                                    
  18 Concord                     508   57   98  106  122  125  128  134   57   98
      Total Time:  1:34:15.90                                                    
         Average:    18:51.18                                                    
  19 Novato                      570   96  102  107  121  144  146   96  102  107
      Total Time:  1:36:09.60                                                    
         Average:    19:13.92                                                    
  20 Mt. Diablo                  609   91  115  127  137  139   91  115  127  137
      Total Time:  1:38:18.90                                                    
         Average:    19:39.78                                                    
  21 San Lorenzo                 624  109  117  130  132  136  140  143  109  117
      Total Time:  1:39:06.80                                                    
         Average:    19:49.36                                                    
  22 Rancho Cotate               632   81  133  135  141  142  150   81  133  135
      Total Time:  1:39:21.70                                                    
         Average:    19:52.34                                                    
  23 De Anza                     679  118  119  145  148  149  152  118  119  145
      Total Time:  1:43:37.20                                                    
         Average:    20:43.44                                                    

Event 8  Boys 3 Mile D2
    
  1 Livingston, Connor        JR De La Salle           15:01.00   1   1          
  2 Scomparin, Loic           JR Dublin                15:04.50   1   2          
  3 Bennett, John             SR Granada               15:05.20   1   3          
  4 Rich, Denny               SR Washington            15:12.20   1   4          
  5 White, Dylan              SR Clayton Valley        15:14.60   1   5          
  6 Phanse, Gaurav            SR Dublin                15:20.00   1   6          
  7 Hattori, Tyler            JR Granada               15:20.70   1   7  
        
  8 Schroeder, Adrian         SR Dublin                15:23.70   1   9          
  8 Sullivan, Russell         JR Foothill              15:23.70   1   8          
 10 Middleton-Pearson, Chris  SO Dublin                15:24.00   1  10          
 11 Fisher, Harrison          SR De La Salle           15:28.10   2  11          
 12 Charvet, Jett             SR Heritage              15:34.60   2  12          
 13 Boyle, Aidan              JR Amador Valley         15:38.00   2  13          
 14 Arora, Arnav              SO Mission San Jose      15:42.10   2  14          
 15 Lampi, Hunter             JR Dublin                15:49.40   2  15          
 16 Jeppson, Seth             SO Granada               15:56.10   2  16          
 17 Marimuthu, Surya          FR Dublin                16:00.10   2  17          
 18 Meier, Cameron            JR Granada               16:04.20   2  18          
 19 Flanagan, James           SR De La Salle           16:05.10   2  19          
 20 White, Joshua             JR Granada               16:06.60   2  20          
 21 Delgado, Micah            JR Liberty               16:07.60   3  21          
 22 Desai, Kinaar             SR Granada               16:10.20   3  22          
 23 Ross, Cameron             SR De La Salle           16:10.70   3  23          
 24 Khleif, Omar              SR De La Salle           16:10.80   3  24          
 25 Morrison, Kyle            JR Dublin                16:11.80   3  25          
 26 Reddick, Matthew          JR Granada               16:14.90   3  26          
 27 Cook, Dylan               JR College Park          16:17.10   3  27          
 28 Gray, Jack                SO Amador Valley         16:18.20   3  28          
 29 Vasavada, Shrey           SR Mission San Jose      16:18.70   3  29          
 30 Salmon, Michael           SR De La Salle           16:21.10   3  30          
 31 Sagi, Nitin               JR Mission San Jose      16:21.40   4  31          
 32 Smith, Benjamin           SR Liberty               16:22.00   4  32          
 33 Kolon, Dylan              SR Foothill              16:29.70   4  33          
 34 Tesfaye, Nate             SR College Park          16:31.60   4  34          
 35 Penner, Braden            JR Heritage              16:32.00   4  35          
 36 Pendergraft, Ethan        SO Mont            16:32.30   4  36          
 37 Kim, Matthew              JR Mont            16:36.80   4  37          
 38 McCarthy, Aidan           SO Amador Valley         16:39.10   4  38          
 39 Ball, Thomas              JR Mont            16:40.30   4  39          
 40 Shah, Shrey               JR Foothill              16:43.80   4  40          
 41 Pendergraft, Austin       SO Mont            16:44.30   5  41          
 42 Thorsen, Bjorn            JR College Park          16:44.80   5  42          
 43 Grube, Parker             SR College Park          16:48.50   5  43          
 43 Joslyn, Sam               SR Santa Rosa            16:48.50   5  44          
 45 Houston, Euan             FR Amador Valley         16:48.90   5  45          
 46 Winding, Dane             SR Heritage              16:49.70   5  46          
 47 O'Connor, Derek           SO De La Salle           16:49.90   5  47          
 48 Lawrence, Jacob           SO Amador Valley         16:50.30   5  48          
 49 Dawal, Marcus             SR Heritage              16:57.00   5  49          
 50 Palciakis, Domas          FR College Park          16:59.10   5  50          
 51 Edgren, Cole              JR San Ramon Valley      16:59.70   6  51          
 52 Hyland, Matt              SR Clayton Valley        17:00.80   6  52          
 53 Waechter, Max             JR Heritage              17:02.80   6  53          
 54 Duret, Matthew            SR Amador Valley         17:07.20   6  54          
 55 Dumas, Nathan             JR Liberty               17:09.90   6  55          
 56 George, Sam               SR Mont            17:11.40   6  56          
 57 Schneider, Ben            SR Washington            17:11.60   6  57          
 58 Elias, Ben                SR Antioch               17:12.00   6  58          
 59 Engle, Andrew             SO Santa Rosa            17:12.10   6  59          
 60 Estes, Jack               SO San Ramon Valley      17:12.30   6  60          
 61 McKamey, Andrew           FR Santa Rosa            17:12.50   7  61          
 62 Rico, Ezekiel             SR San Leandro           17:14.10   7  62          
 63 Naprawa, Anthony          FR San Ramon Valley      17:19.80   7  63          
 64 Subramanian, Arjun        FR Foothill              17:20.00   7  64          
 65 Foreman, Bobby            FR Heritage              17:27.80   7  65          
 66 Kachare, Prithu           FR Foothill              17:27.90   7  66          
 67 Portillo, Anthony         SO Liberty               17:28.70   7  67          
 68 Gutierrez, Beckom         SO American              17:29.40   7  68          
 69 Singleton, Tommy          SO Washington            17:29.70   7  69          
 70 Richey, Calvin            FR Heritage              17:30.20   7  70          
 71 Islas, Armando            SR San Leandro           17:30.70   8  71          
 72 Choi, Steven              JR San Leandro           17:31.60   8  72          
 73 Sample, Keene             FR Liberty               17:32.80   8  73          
 74 Reinwald, Aidan           SO Clayton Valley        17:33.20   8  74          
 75 Yang, Stanley             JR College Park          17:33.40   8  75          
 76 Talbert, Hayden           SR Amador Valley         17:33.70   8  76          
 77 Cheng, Jeff               JR Irvington             17:34.00   8  77          
 78 Gaigalas, Ethan           SO College Park          17:34.50   8  78          
 79 Hay, Langston             SR Santa Rosa            17:36.10   8  79          
 80 Lynn, Michael             JR Antioch               17:38.60   8  80          
 81 Dutra, Mateus             JR Montgomery            17:40.10   9  81          
 82 McGhehey, Ryan            SR Clayton Valley        17:40.60   9  82          
 83 Ruvalcaba, Cesar          SO Mt Eden               17:41.10   9              
 84 Morkved, Lee              SO Washington            17:42.20   9  83          
 85 Shah, Abishek             SR Mission San Jose      17:43.00   9  84          
 86 Connelly, Eric            FR San Ramon Valley      17:43.60   9  85          
 87 Corona, Nicholas          SR San Leandro           17:44.20   9  86          
 88 Rickard, Ryan             SO Clayton Valley        17:45.00   9  87          
 89 Grams, Steven             FR Santa Rosa            17:45.20   9  88          
 90 Garcia, Alex              SR Clayton Valley        17:46.50   9  89          
 91 Silva, Kaedin             SR American              17:46.90  10  90          
 92 Alfonso, Julian           JR American              17:47.60  10  91          
 93 Patel, Avi                SR Mission San Jose      17:48.40  10  92          
 94 Milham, Sam               SR Mont            17:50.70  10  93          
 95 Felten, Zachary           SR American              17:51.20  10  94          
 96 Sainez, Rigoberto         SO Arroyo                17:51.50  10  95          
 97 Alfonso, Javier           JR American              17:51.70  10  96          
 98 Sanchez, Tony             SR San Leandro           17:52.40  10  97          
 99 Kumar, Tanish             FR American              17:53.30  10  98          
100 Bergqvist, Alex           SO Liberty               17:53.70  10  99          
101 Stewart, Dallin           SR San Ramon Valley      17:55.00  11 100          
102 Stern, Daniel             SO San Ramon Valley      17:55.90  11 101          
103 Luke, Ralph               JR Antioch               17:57.70  11 102          
104 Sharma, Varun             SR Foothill              17:58.00  11 103          
105 Schott, Conor             JR Santa Rosa            17:58.60  11 104          
106 Hancock, Trevor           FR Washington            18:00.50  11 105          
107 Gomez, Simon              SR San Leandro           18:02.40  11 106          
108 Severson, Calder          SO San Ramon Valley      18:02.50  11 107          
109 Delgado, Faris            FR Santa Rosa            18:04.10  11 108          
110 Patil, Sagar              JR Mission San Jose      18:04.50  11 109          
111 Zuniga, Dominic           SR Liberty               18:10.40  12 110          
112 Lucido, Daniel            JR Antioch               18:20.20  12 111          
113 Schoffstall, Logan        SR Clayton Valley        18:21.70  12 112          
113 Provine, Ashwin           SO Mission San Jose      18:21.70  12 113          
115 Gonzalez, Lorenzo         FR Arroyo                18:25.30  12 114          
116 Bell, Lucas               SR Foothill              18:30.40  12 115          
117 Khan, Youan               SO Irvington             18:32.10  12 116          
118 Lewis, Michael            JR Antioch               18:36.70  12 117          
119 Choi, Stewart             JR San Leandro           18:38.50  12 118          
120 Basit, Nathan             JR Irvington             18:39.80  12 119          
121 Lopez, Isaac              SR Washington            18:48.10  13 120          
122 Fezler, Lucas             FR American              18:51.30  13 121          
123 Blanchford, Justin        SR Irvington             18:55.10  13 122          
124 Amen, Jeremy              SR Mt Eden               19:00.10  13              
125 Bansal, Rithwik           SR Irvington             19:00.50  13 123          
126 Lewis, Robert             JR Antioch               19:03.80  13 124          
127 Torres, Isaac             JR Arroyo                19:05.70  13 125          
128 Reddy, Pramtih            SR Irvington             19:06.60  13 126          
129 Wu, Tristen               JR Irvington             19:21.70  13 127          
130 Gavino, Jesus             SO Arroyo                19:27.20  13 128          
131 Harty, Payton             SO Antioch               19:31.20  14 129          
132 Garcia, Arturo            FR Arroyo                19:33.10  14 130          
133 Jiminez, Jaime            JR Arroyo                20:06.20  14 131          
134 Ishikawa, Kenta           SO Arroyo                20:06.90  14 132          
                                                                                 
                                   Team Scores                                   
=================================================================================
Rank Team                      Total    1    2    3    4    5   *6   *7   *8   *9
=================================================================================
Results - Men                                                                    
   1 Dublin                       42    2    6    9   10   15   17   25    2    6
      Total Time:  1:17:01.60                                                    
         Average:    15:24.32                                                    
   2 Granada                      64    3    7   16   18   20   22   26    3    7
      Total Time:  1:18:32.80                                                    
         Average:    15:42.56                                                    
   3 De La Salle                  78    1   11   19   23   24   30   47    1   11
      Total Time:  1:18:55.70                                                    
         Average:    15:47.14          
                                          
   4 Amador Valley               172   13   28   38   45   48   54   76   13   28
      Total Time:  1:22:14.50                                                    
         Average:    16:26.90                                                    
   5 Heritage                    195   12   35   46   49   53   65   70   12   35
      Total Time:  1:22:56.10                                                    
         Average:    16:35.22                                                    
   6 College Park                196   27   34   42   43   50   75   78   27   34
      Total Time:  1:23:21.10                                                    
         Average:    16:40.22                                                    
   7 Montgomery                  209   36   37   39   41   56   81   93   36   37
      Total Time:  1:23:45.10                                                    
         Average:    16:45.02                                                    
   8 Foothill                    211    8   33   40   64   66  103  115    8   33
      Total Time:  1:23:25.10                                                    
         Average:    16:41.02                                                    
   9 Liberty                     248   21   32   55   67   73   99  110   21   32
      Total Time:  1:24:41.00                                                    
         Average:    16:56.20                                                    
  10 Mission San Jose            250   14   29   31   84   92  109  113   14   29
      Total Time:  1:23:53.60                                                    
         Average:    16:46.72                                                    
  11 Clayton Valley              300    5   52   74   82   87   89  112    5   52
      Total Time:  1:25:14.20                                                    
         Average:    17:02.84                                                    
  12 Washington                  318    4   57   69   83  105  120    4   57   69
      Total Time:  1:25:36.20                                                    
         Average:    17:07.24                                                    
  13 Santa Rosa                  331   44   59   61   79   88  104  108   44   59
      Total Time:  1:26:34.40                                                    
         Average:    17:18.88                                                    
  14 San Ramon Valley            359   51   60   63   85  100  101  107   51   60
      Total Time:  1:27:10.40                                                    
         Average:    17:26.08                                                    
  15 San Leandro                 388   62   71   72   86   97  106  118   62   71
      Total Time:  1:27:53.00                                                    
         Average:    17:34.60                                                    
  16 American                    439   68   90   91   94   96   98  121   68   90
      Total Time:  1:28:46.80                                                    
         Average:    17:45.36                                                    
  17 Antioch                     468   58   80  102  111  117  124  129   58   80
      Total Time:  1:29:45.20                                                    
         Average:    17:57.04                                                    
  18 Irvington                   557   77  116  119  122  123  126  127   77  116
      Total Time:  1:32:41.50                                                    
         Average:    18:32.30                                                    
  19 Arroyo                      592   95  114  125  128  130  131  132   95  114
      Total Time:  1:34:22.80                                                    
         Average:    18:52.56                                                    

Event 10  Boys 3 Mile D4
     
  1 Kabbara, Munir            SR San Rafael            15:31.80   1   1          
  2 Vargas, Jonny             SR Piner                 15:39.10   1   2          
  3 Wolford, Owen             SO Sir Francis Drake     15:41.50   1   3          
  4 McCarthy, Cooper          JR Sir Francis Drake     15:44.60   1   4          
  5 Reuter, Gabriel           JR Sir Francis Drake     15:47.20   1   5          
  6 Pompili, Nicco            JR Sir Francis Drake     15:48.50   1   6          
  7 Rumon, Lyle               SO Marin Catholic        15:48.80   1   7          
  8 Abbott, Calder            JR Albany                15:49.80   1   8          
  9 Murphy, Thomas            JR Bishop O'Dowd         15:52.90   1   9          
 10 Hayes, Nathan             JR Piner                 15:53.00   1  10          
 11 Barkan, Amir              SO Sir Francis Drake     15:57.70   2  11          
 12 Bull, James               SR Miramonte             15:58.80   2  12          
 13 Teitelbaum, Walter        SR Piedmont              16:08.70   2  13          
 14 Davidson, Aaron           SR Sir Francis Drake     16:16.70   2  14          
 15 Converse, Ian             SR Marin Catholic        16:17.40   2  15          
 16 Borbon, Spencer           SR Moreau Catholic       16:19.80   2  16          
 17 Delgado, Emmanuel         JR Piner                 16:21.40   2  17          
 18 Berkins, Spencer          SR Bishop O'Dowd         16:22.80   2  18          
 19 Vanden Heuvel, Jack       FR Healdsburg            16:36.30   2  19          
 20 Proctor, Reece            SR Piedmont              16:36.40   2  20          
 21 Evans, Andrew (Miska)     JR Arcata                16:39.90   3  22          
 21 Young, Jj                 SR Miramonte             16:39.90   3  21          
 23 Petrobic, Casey           FR Justin-Siena          16:40.90   3  23          
 24 Ben-Ora, Kelden           SR Terra Linda           16:41.10   3  24          
 25 Persily, Henry            SR Sir Francis Drake     16:41.90   3  25          
 26 Kretlow, Cole             SR Bishop O'Dowd         16:48.80   3  26          
 27 Thompson, Andrew          JR Marin Catholic        16:49.00   3  27          
 28 Dierke, Alec              SO Analy                 16:50.10   3  28          
 29 Garcia, Kevin             SR Piner                 16:53.40   3  29          
 30 Kaufmann, Clay            SR Terra Linda           16:55.80   3  30          
 31 Cano, Jeremiah            SO Piner                 16:56.20   4  31          
 32 Burditt, Henry            SO Albany                16:56.90   4  32          
 33 Mader, Jack               SR Miramonte             17:01.80   4  33          
 34 Weekes, Alex              FR Piedmont              17:05.50   4  35          
 34 Edwards, Carson           SO Alhambra              17:05.50   4  34          
 36 McCormack, Evan           SR Terra Linda           17:08.10   4  36          
 37 Argue, Ethen              JR Piedmont              17:08.40   4  37          
 38 Brovelli, Tommy           SR Miramonte             17:08.70   4  38          
 39 Melendrez, Nico           SO Moreau Catholic       17:09.50   4  39          
 40 Sherman-Howell, Sage      JR Albany                17:09.70   4  40          
 41 DaSilva, Cairo            SO Albany                17:09.90   5  41          
 42 Garcinuno, Agustin        JR Fortuna               17:10.00   5              
 42 Cardenas, Ethan           SR Moreau Catholic       17:10.00   5  42          
 44 Jensen, Julian            SO Bishop O'Dowd         17:10.20   5  43          
 45 Cheng, Lorand             JR Piedmont              17:10.40   5  44          
 46 Burdette, Rahim           SR Justin-Siena          17:10.90   5  45          
 47 Godinez, Dante            JR Healdsburg            17:15.30   5  47          
 47 Raymond, Bryand           SR San Rafael            17:15.30   5  46          
 49 Brown, Gus                SR Albany                17:15.50   5  48          
 50 Pineda, Cole              SO Moreau Catholic       17:16.40   5  49          
 51 Vickers, Michael          JR Moreau Catholic       17:19.10   6  50          
 52 White, Sam                SR Piedmont              17:22.50   6  51          
 53 Thomas, Blake             SR Marin Catholic        17:22.70   6  52          
 54 Morgain, Paris            JR San Marin             17:23.20   6  53          
 55 Kobylik, Alan             JR Alhambra              17:23.30   6  54          
 56 Bell, Freddie             SO Miramonte             17:24.20   6  55          
 57 Jaffe, Ben                SR St. Mary's Chs        17:29.30   6  56          
 58 Villeda, Rene             SO Piner                 17:29.70   6  57          
 59 Lieske, Zander            JR St. Mary's Chs        17:35.40   6  58          
 60 Somonyi, David            SR Cardinal Newman       17:36.10   6  59          
 61 Bloomberg, Jeremy         FR Terra Linda           17:37.00   7  60          
 62 Van Den Daele, Leopold    SO Cardinal Newman       17:37.70   7  61          
 63 Roberts, Kai              SO Terra Linda           17:39.30   7  62          
 64 Driscoll, Michael         JR San Rafael            17:40.30   7  63          
 65 Quintero, Fernando        JR San Marin             17:43.10   7  64          
 66 Martin, Vincent           SR Marin Catholic        17:43.40   7  65          
 67 Voung, Cliff              JR Moreau Catholic       17:44.10   7  66          
 68 Yu, Arnet                 SO Bishop O'Dowd         17:44.40   7  67          
 69 Hansen, Andrew            SO Fortuna               17:47.50   7              
 70 Rice, Andrew              JR San Marin             17:51.90   7  68          
 71 Burke, Sean               FR San Marin             17:58.20   8  70          
 71 Roberts, Brody            SO Terra Linda           17:58.20   8  69          
 73 George, Jaden             JR Arcata                17:59.80   8  71          
 74 Ament, Luke               JR San Marin             18:00.50   8  72          
 75 Gregory, Dylan            SR Alhambra              18:00.60   8  73          
 76 Kattengell, Dylan         SR Cardinal Newman       18:02.60   8  74          
 77 Thayer, Jaedon            SO Eureka                18:04.60   8  75          
 78 Labovich, Oscar           SO San Rafael            18:07.30   8  76          
 79 Luong, Austin             SO Piner                 18:09.50   8  77          
 80 O'Brien, Matthew          SO Miramonte             18:09.60   8  78          
 81 Wright, Ryan              FR Bishop O'Dowd         18:09.80   9  79          
 82 Horne, Gavin              FR Piedmont              18:10.20   9  80          
 83 Churchill, Ian            JR Miramonte             18:11.20   9  81          
 84 Zhou, Sunny               JR Albany                18:12.00   9  82          
 84 Emerling, Max             JR St. Mary's Chs        18:12.00   9  83          
 86 Guiducci, Jacob           FR Justin-Siena          18:12.20   9  84          
 87 Maches, Ethan             SR Albany                18:13.00   9  85          
 88 Miramontes, Ricky         JR Marin Catholic        18:14.00   9  86          
 89 Carreras, Jim             JR Analy                 18:19.30   9  87          
 90 Whitney, Amos             JR Arcata                18:19.70   9  88          
 91 Maldonado, Deybi          SR San Rafael            18:21.20  10  89          
 92 Bose, Deven               JR Justin-Siena          18:22.60  10  90          
 93 Clark, Ayden              SO Hercules              18:23.90  10  91          
 94 Trebilcock, Peter         FR Healdsburg            18:24.50  10  92          
 95 Villavieso, Arnoldo       SR Moreau Catholic       18:25.00  10  93          
 96 Carr, Nic                 SR Eureka                18:25.40  10  94          
 97 McAlister, Max            SO Justin-Siena          18:26.50  10  95          
 98 Chaney, Lucas             FR Bishop O'Dowd         18:27.70  10  96          
 99 Booth, Luis               SR Encinal               18:32.50  10  97          
100 Chen, Michael             JR Encinal               18:37.00  10  98          
101 Facto, Tyler              JR Cardinal Newman       18:41.20  11  99          
102 Lieske, Zax               FR St. Mary's Chs        18:41.80  11 100          
103 Donovan, Aidan            FR Ygnacio Valley        18:42.20  11              
104 Stevens, Ben              SO Cardinal Newman       18:44.50  11 101          
105 Sager, Ricky              SR Fortuna               18:46.20  11              
106 MacDonald, Briggs         SR San Marin             18:47.60  11 102          
107 Reynolds, Jack            SR Analy                 18:47.70  11 103          
108 Cardona, Dimitri          SO Hercules              18:49.40  11 104          
109 Hick, Jude                SO San Rafael            18:53.50  11 105          
110 Manning, Graham           JR Alhambra              18:54.40  11 106          
111 Taylor, Jaden             SO Encinal               18:55.50  12 107          
112 Diener, Jack              JR Marin Catholic        18:56.50  12 108          
113 Grant, George             SO Cardinal Newman       18:57.70  12 109          
114 Pastene, Luca             SO Healdsburg            18:59.00  12 110          
115 Narwold, Ben              JR Arcata                19:00.70  12 111          
116 Rosenberg, Matthew        JR St. Mary's Chs        19:01.60  12 112          
117 Lauxman, Nic              JR St. Mary's Chs        19:02.40  12 113          
118 Bergbauer, Joshua         SO Analy                 19:03.00  12 114          
119 Etcheverry, Matthew       SR Pinole Valley         19:04.10  12 115          
120 Pesch, Ethan              FR Eureka                19:04.80  12 116          
121 Christensen, Clayton      SO Analy                 19:05.50  13 117          
122 Jones, Gabe               FR Encinal               19:07.90  13 118          
123 Janzen, Leo               SO Arcata                19:10.40  13 119          
124 Ortiz, Edgar              FR Healdsburg            19:10.60  13 120          
125 Dominguez, Andres         FR Hercules              19:20.50  13 121          
126 Hernandez, Daniel         SO Hercules              19:21.00  13 122          
127 Quintero, Josh            JR Terra Linda           19:21.30  13 123          
128 Nelson, Clayton           SR Analy                 19:21.80  13 124          
129 Bentley, Alex             JR Arcata                19:23.00  13 125          
130 Mateer, Milo              JR Arcata                19:23.60  13 126          
131 Fan, Coby                 JR St. Mary's Chs        19:24.50  14 127          
132 Giusto, Paul              FR Justin-Siena          19:25.40  14 128          
133 Garcia, Everardo          SO Eureka                19:30.50  14 129          
134 Barbee, Will              JR Eureka                19:35.50  14 130          
135 Brandis, Nick             SO San Marin             19:41.80  14 131          
136 Stefanakis, Dimitri       SO Eureka                19:50.00  14 132          
137 Morgan, Jason             SR Alhambra              19:51.80  14 133          
138 Aubrejuan, Dylan          JR Encinal               19:52.10  14 134          
139 Carey, Brett              JR Justin-Siena          20:08.40  14 135          
140 Indrebo, Mason            JR Healdsburg            20:11.50  14 136          
141 Norboe, William           SO Encinal               20:11.90  15 137          
142 Jensen, Brandon           SR Eureka                20:12.30  15 138          
143 Wagner, Joshua            JR Ygnacio Valley        20:13.00  15              
144 Monasterio, Julio         SR San Rafael            20:15.00  15 139          
145 Alvarez, Sergio           JR Hercules              20:22.90  15 140          
146 Prendiville, Matt         SO Cardinal Newman       20:32.30  15 141          
146 Campos, Nicolas           SO Ygnacio Valley        20:32.30  15              
148 Castilla, Gabe            SR Encinal               20:52.80  15 142          
149 Credito, Ryu              SO Pinole Valley         20:56.80  15 143          
150 To, Cj                    SR Hercules              21:31.30  15 144          
151 Toscano, Alejandro        SR Pinole Valley         22:46.50  16 145          
152 Johnson, Orion            JR Healdsburg            23:46.90  16 146          
153 Iglesias, Joel            SO Pinole Valley         24:33.00  16 147          
154 Perez, Christian          SR Pinole Valley         24:36.90  16 148          
                                                                                 
                                   Team Scores                                   
=================================================================================
Rank Team                      Total    1    2    3    4    5   *6   *7   *8   *9
=================================================================================
Results - Men                                                                    
   1 Sir Francis Drake            29    3    4    5    6   11   14   25    3    4
      Total Time:  1:18:59.50                                                    
         Average:    15:47.90                                                    
   2 Piner                        89    2   10   17   29   31   57   77    2   10
      Total Time:  1:21:43.10                                                    
         Average:    16:20.62                                                    
   3 Piedmont                    149   13   20   35   37   44   51   80   13   20
      Total Time:  1:24:09.40                                                    
         Average:    16:49.88          
                                          
   4 Miramonte                   159   12   21   33   38   55   78   81   12   21
      Total Time:  1:24:13.40                                                    
         Average:    16:50.68                                                    
   5 Bishop O'Dowd               163    9   18   26   43   67   79   96    9   18
      Total Time:  1:23:59.10                                                    
         Average:    16:47.82                                                    
   6 Marin Catholic              166    7   15   27   52   65   86  108    7   15
      Total Time:  1:24:01.30                                                    
         Average:    16:48.26                                                    
   7 Albany                      169    8   32   40   41   48   82   85    8   32
      Total Time:  1:24:21.80                                                    
         Average:    16:52.36                                                    
   8 Moreau Catholic             196   16   39   42   49   50   66   93   16   39
      Total Time:  1:25:14.80                                                    
         Average:    17:02.96                                                    
   9 Terra Linda                 212   24   30   36   60   62   69  123   24   30
      Total Time:  1:26:01.30                                                    
         Average:    17:12.26                                                    
  10 San Rafael                  275    1   46   63   76   89  105  139    1   46
      Total Time:  1:26:55.90                                                    
         Average:    17:23.18                                                    
  11 San Marin                   327   53   64   68   70   72  102  131   53   64
      Total Time:  1:28:56.90                                                    
         Average:    17:47.38                                                    
  12 Justin-Siena                337   23   45   84   90   95  128  135   23   45
      Total Time:  1:28:53.10                                                    
         Average:    17:46.62                                                    
  13 Healdsburg                  388   19   47   92  110  120  136  146   19   47
      Total Time:  1:30:25.70                                                    
         Average:    18:05.14                                                    
  14 Cardinal Newman             394   59   61   74   99  101  109  141   59   61
      Total Time:  1:30:42.10                                                    
         Average:    18:08.42                                                    
  15 Alhambra                    400   34   54   73  106  133   34   54   73  106
      Total Time:  1:31:15.60                                                    
         Average:    18:15.12                                                    
  16 St. Mary's Chs              409   56   58   83  100  112  113  127   56   58
      Total Time:  1:31:00.10                                                    
         Average:    18:12.02                                                    
  17 Arcata                      411   22   71   88  111  119  125  126   22   71
      Total Time:  1:31:10.50                                                    
         Average:    18:14.10                                                    
  18 Analy                       449   28   87  103  114  117  124   28   87  103
      Total Time:  1:32:05.60                                                    
         Average:    18:25.12                                                    
  19 Eureka                      544   75   94  116  129  130  132  138   75   94
      Total Time:  1:34:40.80                                                    
         Average:    18:56.16                                                    
  20 Encinal                     554   97   98  107  118  134  137  142   97   98
      Total Time:  1:35:05.00                                                    
         Average:    19:01.00                                                    
  21 Hercules                    578   91  104  121  122  140  144   91  104  121
      Total Time:  1:36:17.70                                                    
         Average:    19:15.54                                                    
  22 Pinole Valley               698  115  143  145  147  148  115  143  145  147
      Total Time:  1:51:57.30                                                    
         Average:    22:23.46