By Jim Crowhurst
Title IX (June 1972) opened up Track & Field and Cross Country to girls who had never before had the chance to compete in these sports.
I began my own involvement with track in 1973 at Rincon Valley JH as a 7th grader. That 1973 team included girls for the first time. Since I had never been on a team without girls before it did not seem like a big deal to me, but it sure was to them.
1974 marked the debut of girls at the California State track meet.
Since this was the first State Meet for girls, all of the winners established records. The fantastic thing was that seven of them were National records!
440 Veronica Venezia (Terra Linda) 56.4 (National record)
880 Kathy Costello (Pleasant Hill) 2:10.4 (National record)
Mile Jill Caldwell (Westminster) 5:02.2 (National record)
440 Relay Berkeley 47.5 (National record)
880 Medley Relay Berkeley 1:46.4 (National record)
High Jump Pam Blackburn (Cubberley) 5-8 (National record)
Long Jump Jodi Anderson (Washington) 19-7 (National record)
100 & 220 Janice Wiser (La Jolla) 10.8, 24.2
80-Yard Hurdles Yvonne Boone (Freemont, Oakland) 11.1
Shot Put Kathy Devine (Mission Bay, SD) 47-4½
1975 was the first year I have found of Redwood Empire girls competing in high school track but they sure jumped in with some top notch marks.
1975
Little tiny Middletown earned the Empire's first girls track medal at State by Kathy Pipes long jumping 17-4½ for 6th, which is still their school record.
El Molino's Yvette Richardson had watched her brother, Larry, tearing up the track for years. He still holds the Sonoma County League Championships high hurdle record to this day at 14.2. Now it was Yvette's chance as she blazed the 100 yard dash in 11.6 and the 220 in 26.3 (26.39-200). Her half lap mark along with her sister Annette's (26.99-200) is still the fastest known sister duo for our area.
Ukiah's Leannetta Eddens was another 1975 star to kick things off, running the 440 in 60.2 (60.10-400).
Ukiah won the first four North Bay League track pennants but a second place in 1985 is the only other time they have been in top two since. Sonoma Valley won the first SCL final over Casa Grande.
In fall of 1975 Ukiah's Jody Garrard was the first NBL cross country champion, helping the Wildcats to their only other xc pennant besides 1978's win.
1976
Eddens went on the next year to be the Empire's first girl to break 60 seconds in the 440 yard run in 58.5 (58.40-400), which is still Ukiah's school record. That mark was tied for the Empire record in 1978 but not broken until 1985.
Also that year Ukiah's Pat Dittus became the first to break five feet in the high jump, while Sonoma Valley's Cheryl Warren was the first to break 100 feet in discus with a best of 104-9¼.
In cross country, Casa Grande's Julie Herrosh won the first ever SCL title, helping her team win the first pennant in the league over El Molino.
11.1 25.3 Lena Dilworth, Vallejo 1976
57.7 Phyllis Barnes, Hogan 1976
5:33.5 Dawn Gunter, 10, Montgomery 1976
49.4 Hogan 1976
4:07.6 Hogan 1976
1977
Ukiah's Teresa Bushby set the still standing school record in the long jump at 17-10, but it was Santa Rosa's Loretta McCoy who was the area's first to span 18 feet in the event.
Cloverdale's Sandy McMillan, sister of basketball and high jump star Craig McMillan, set the 220 yard record at 26.2 this year, then in 1980 she set the Empire shot put record with the current 4 kilo shot at 39-9.
El Molino, with the help of the Richardson family, was the first 440 yard relay team under 50 seconds at 49.9. That mark lasted until 1981.
Ukiah lowered their own Empire record in the Mile Relay from previous year from 4:11.3 to 4:11.0. That mark also lasted until 1981.
2:22.0 Denise King, Ukiah 1977
12:13.5 Donna Hansen, 9, Fort Bragg JH 1977
1978
The first girl to really get The Press Democrat's attention with major headlines was Montgomery's Deanne Neff, who they labeled the Empire's track darling. See story here
Neff's best event was the high jump, where she cleared an NBL finals record of 5-6 which was not matched until 2013 by Santa Rosa's Morgan Bertsch. Neff dominated that event, winning the Santa Rosa All-City meet, NBL, North Coast Section 3A, NCS Meet of Champions again clearing 5-6, before tying for 8th at state, at yet a third 5-6 clearance. That mark lasted as the Empire record until 1989.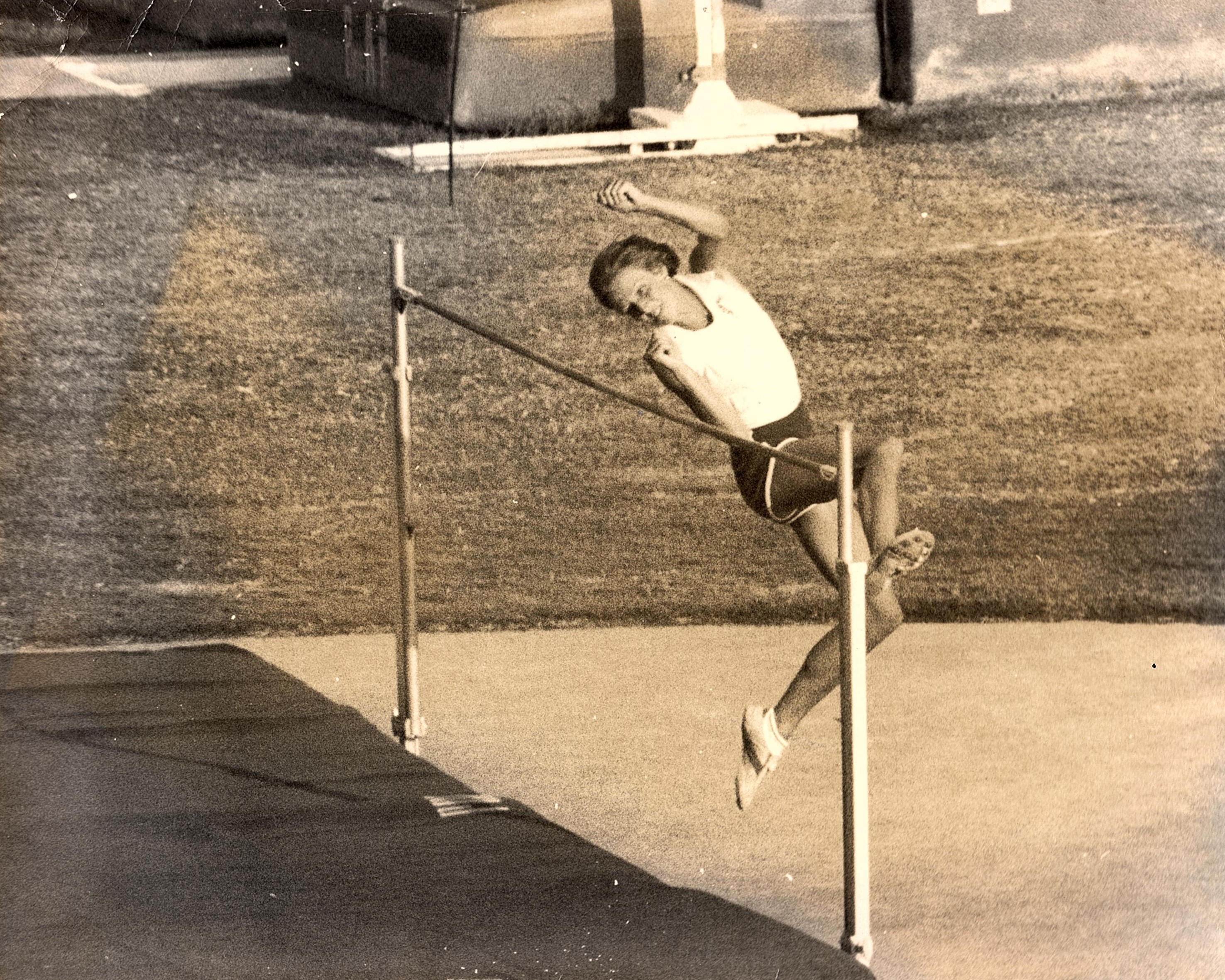 She was almost as good at the long jump, sailing 18-0, and winning the Santa Rosa All-City meet, NBL, and the NCS 3A, before missing state by one spot at MOC in 5th. That distance tied McCoy's Empire record and was not broken until 1982.
Running was no problem for Neff either as she won the NBL 440 title in both 1977 and 1978, with a best of 58.5 (58.40-400). That mark tied Edden's Empire record and was not broken until 1985.


In cross country, Neff was a member of the 1976 Montgomery team that scored a perfect 15 point score in the NBL finals. She won the 1977 NBL finals, helping her team win the pennant again that year. Both the 1976 & 1977 team also won the NCS Redwood Area meet. Pretty rare to have a 5-6 high jumper who can also win league in cross country.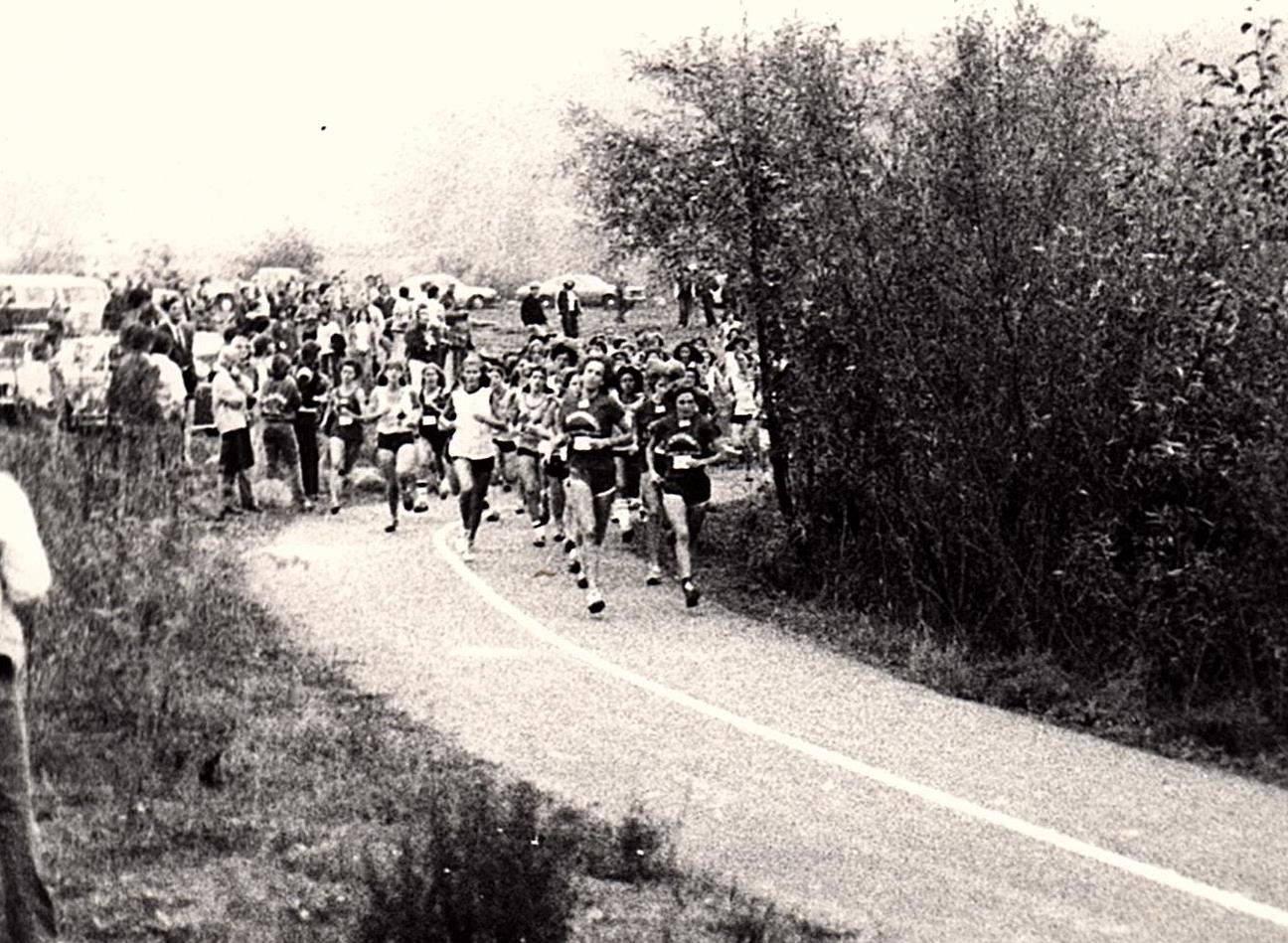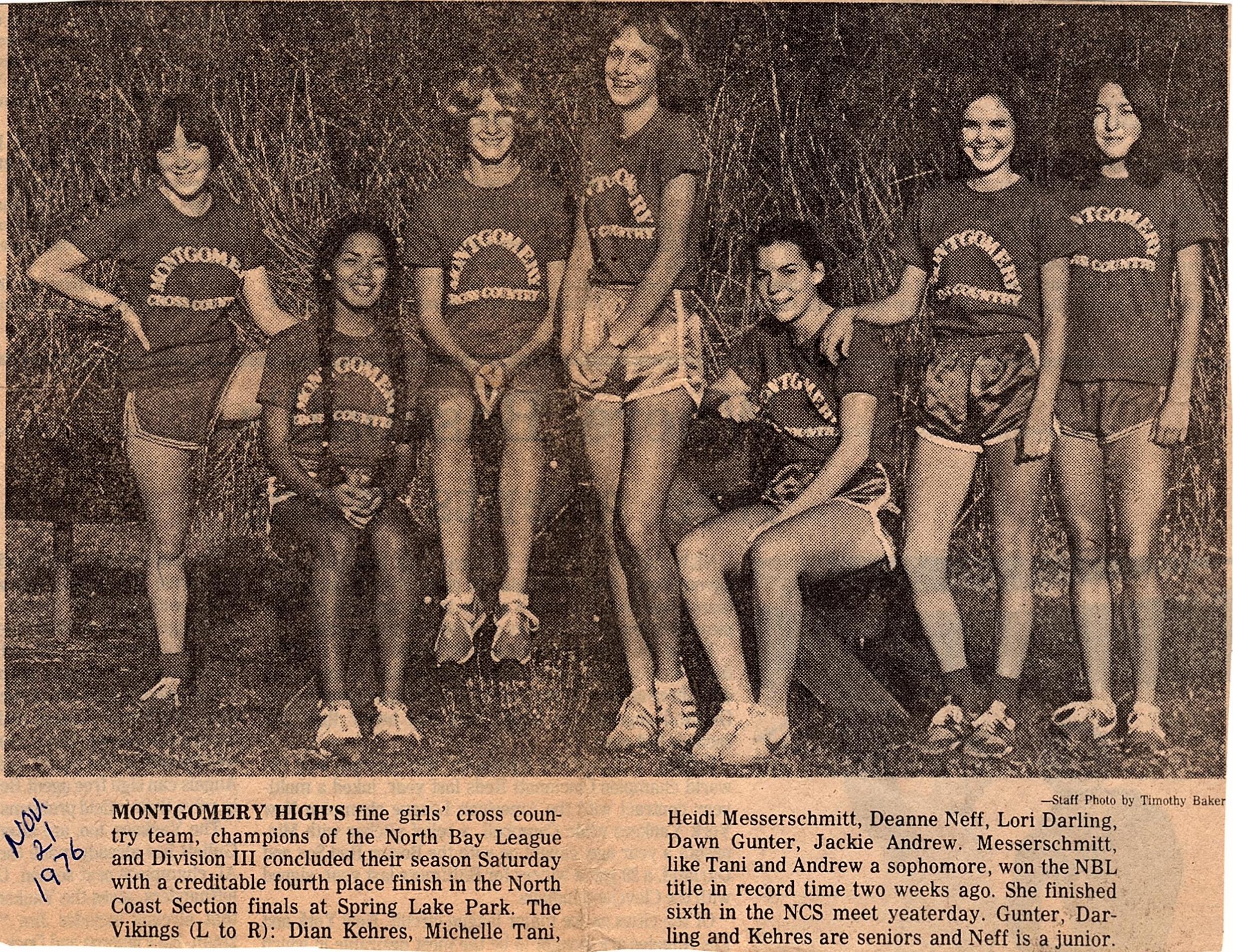 After high school she went on to the Santa Rosa JC and Sonoma State competing under her married name of Deanne Malvino. She became our area's first NCAA track champion, winning the 1984 NCAA III National Heptathlon Championship. See story here
Some other individual marks she accomplished included, 14.74 100HH, 61.66 400H, 18-2¾ LJ all in 1984 and 5-8¼ HJ in 1979.
INTERVIEW WITH DEANNE
1978 also produced our first 40 foot shot put by Sandi Binns at 40-2¾ with the then used 8 lb. shot.
That distance would be worth about 36-7¾ for today's 4 kilo shot and is still the best from Clear Lake.
El Molino's Annette Richardson, Yvette and Larry's sister, also ran the first hurdle race under 15 seconds for the 110 yard Low Hurdles in 14.7.
Ukiah's Cindy Peterson extended the discus record out to 116-3½ while winning the NCS 3A finals.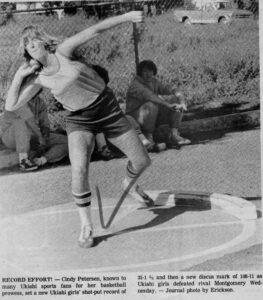 1979
Annette set the still standing school record in the long jump this year at 17-6 and lowered her hurdle time to 14.3. That hurdle time lasted as the Empire record until 1988.
Annette 14.3 (14.54) and Larry 14.2 (14.48) are by far the best hurdling brother and sister our area has ever produced with the current hurdle height and distance record going to the Bingham's with Claire 14.74 and Justin 16.02.
The Richardson's had a third sister, Janice, who had the fastest 100 time of the three.
Janice's 100 yard time converts to about 12.83, with Larry at 11.09, making them the fastest brother/sister combo in the 100.
Ukiah 's Dana Flint, after winning the 1978 NBL cross country title and the NCS 3A meet, was the area's first to break 11 minutes on the track in the 2 mile run at 10:59.8 and broke the mile record at 5:31.3. Flint won the NCS MOC meet in 11:04.9.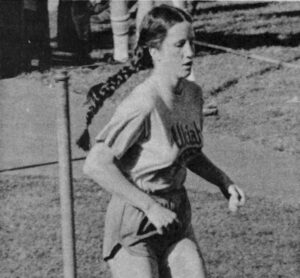 Casa Grande's Dawn Bettinelli extended the discus record out to 119-8.
1980
Santa Rosa's Kim Linden lowered the 220 record down to 25.5.
Besides Flint, Petaluma's Lisa Dailey was also a standout distance runner, winning the NCS 3A cross country title in 1979 and lowering the 3200 best down to 10:52.44 in 1980.
But it was the emergence of two other distance runners, Petaluma's Lori Shanoff in the NBL, and Piner's Laurie Hollingworth in the SCL, that really took the Redwood Empire to a new level in distance running.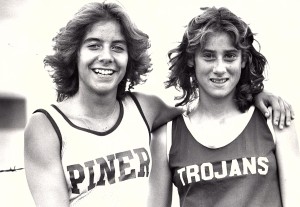 In their leagues, each won their cross country finals all three years from 1979-1981.
In track, Shanoff won four NBL titles, including all three distance races in 1981 (5:05.6, 2:20.1, 10:51.7), with all three wins breaking the NBL records. The 1600 mark stood until 1995.
Hollingworth owned the SCL, winning all three distance races all three of her years. She broke six SCL records with the 800 mark standing until 2013.
1980 5:14.0, 2:18.7, 11:46.7
1981 5:16.0, 2:20.6, 11:30.4
1982 5:10.9, 2:16.8, 11:49.8
Shanoff also anchored two relay teams that owned the Empire record for over 10 years.
4×800 9:43.08 1980 Marinsek, Ann Bertucci, Lisa Dailey, Lori Shanoff
DMR 12:27.54 1981 Ann Betucci, Amy Stout, Jenny Cannon, Lori Shanoff
At the conclusion of the 1978 track season, the Empire record in the mile was 5:31.3 by Ukiah's Dana Flint (1978).
Shanoff brought that down to 5:09.3 in 1979 then 5:06.6 in 1980. While she lowered Dailey's 3200 mark down to 10:48.04 in 1981.
It was in cross country however where Shanoff really shown.
In 1980 she was undefeated all the way through the NCS Meet of Champions, and held the course record on every course she raced on that year through MOC.
She also covered the Woodward Park 5k course in 18:43 later that year.
Then in 1981, with no state meet in California until 1988, she won the biggest meet possible, the NorCal meet. She had a 3 mile time of 16:59 at Sierra College in Rocklin that year.
Hollingworth found her greatest glory on the track, making the finals at State all three years and medaling in both the 800 and the 1600.
In 1980, she was 6th in the 800m in 2:15.20; 1981 5th in the 1600m in 4:54.27, and in 1982 she was 7th in the 1600m in 4:55.65.
Hollingworth was the first to break 5:00 in the 1600 meter run with a best of 4:54.27, which stood until 1995 as the Empire record. In the 800, she was the first to break 2:20 getting down to 2:13.16, which stood as the Empire record until 1991.
Hollingworth had two strong teammates in Cathy and Carol Dubay.
Hollingworth went on to Sonoma State University where she still holds the school records at the 1500m (4:22.42,) 3000m (9:25.64) and the 5,000m (17:06.14,) all in 1988.
I still remember as an 11th grader, I was running cross country for my very first time and I went to this 2 mile beach race and there was this little 8th grade girl, Hollingworth, and I had to run my rear off to beat her.
1981
The first to break 130 feet in discus was Lee Plevney of Lower Lake. Her 132-8 mark stood as the record until 1998.
The first to break 40 feet with the 4 kilo shot was Lynette Colter of Rancho Cotate at 40-2¾.
Healdsburg's Jenean Sceales lowered the 100 yard record for the last time with an 11.2.
While Santa Rosa's Erin McNay established the new 100 meter record at 12.2 and ran the fastest ever half lap, running 200m in 25.3.
The 300m hurdles were added this year and Santa Rosa's Alison DeRuntz established the record with 45.3, a mark that to this day has only been surpassed by six girls.
Santa Rosa's DeRuntz, Linden, McNay and Adrain Robinson combined in the 1600 relay to run 4:02.9.
In track Santa Rosa began dominating the NBL, winning 5 of 6 titles from 1981-1986.
But more about that in part II, including names like Horn, Minkler, Mitchell, Polley, Simmons and many more.
Redwood Empire Girls Track & Field and Cross Country history Part II (1982-1991)
And before any of this
The Legend of Maud: Chris McKenzie and the Birth of Women's Track and Field