March 3rd 1981
Santa Rosa's Dennis DeSoto destroyed the Empires shot put record in his first meet of his senior year.
In a dual meet, against Analy, DeSoto launched a put 63-1, he went on to earn 2nd at State that year. This is still the best dual meet mark ever.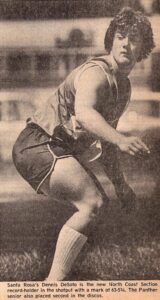 March 7th 1984
John Gash of Santa Rosa ran a 39.1 300 Intermediate Hurdle race in a tri-meet vs Casa Grande & Sonoma Valley at SRJC to break the Empire record.
March 7th 1991
Rancho Cotate's Amey Mitchell leaped 18-7 in the long jump.
March 6th 2000
Montgomery's Sara Bei churned out a fast early season 10:33.8 for the 3200m.
March 2nd 2005
At Napa, Sonoma Valley's Mindi Wiley cleared 5-8 in the high jump. A mark higher than anyone had ever done other than herself and has still only been bettered by Santa Rosa's Morgan Bertsch.
The Big Cat Invitational is usually this week and has had plenty of eye opening performances, especially in the pole vault, like the performances below.
March 6th 2010
Ursuline's Michelle Stone had an incredible early season double, vaulting/jumping 11-9¼ & 5-2.
She is the Empire's Best Combo Horizontal Jumper ever, having Pr's that year of 12-3 & 5-3.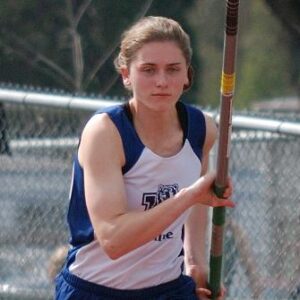 March 5th 2011
You can watch Petaluma's Danielle Steffen clearing 11-7 here on that date here.
Just noticed that that's me walking in front of the camera at 35 seconds into the film. Now that's triva.
March 3rd 2012
Maria Carrillo's Siobhan Anderson made it three years in a row of super vaults winning at 11-6 .
Adam Lundquist of Casa Grande ran 14.77 +1.2 at the Big Cat
March 2nd 2013
Santa Rosa's Morgan Bertsch tied the second highest performer on this date with her 5-7 win.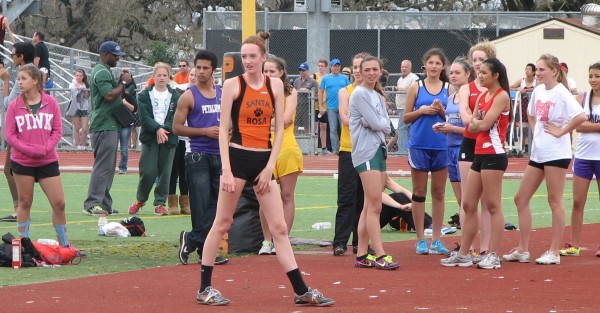 March 7th 2015
Photos
El Molino's Lani Gaspar turned in a 200 at 22.07 and a 100 at 11.06 +1.2, while Panthers own Kirsten Carter ran 100 12.32 +1.8, LJ 18-11 and had 57.8 relay split. Sonoma Valley's Isabel Garon vaulted 11-4 in that same meet.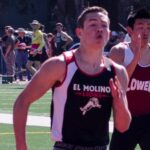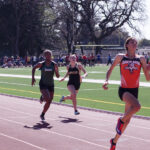 .
.
.
.
.
.
.
March 4th 2017
Montgomery's Jaymes Tischbern sprints 11.00 +2.4 for the 100, while Carter would go 12.23.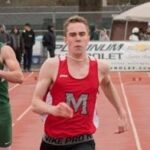 March 2nd 2019
American Canyon freshman Croix Stewart showed that all the hype we had heard about him was true as he blazed the 100 in 10.92 +0.0. He's in lane four.
Watch the race
March 4 2023
Montgomery sophomore Hanne Thomsen runs the 3200 in 10:18.69 for a new stadium record at the Big Cat Invitational. She opened the meet in a 4:54.32 for the 1600 in freezing rainy conditions.
Teammate Jude DeVries would also run a good 3200 to win the boys race at 9:19.86.
In this new weekly tidbit column, "Blast from the Past", I'm going to take a look at some special performances that happened during the week we are on.
Other Blast from the Past stories