Vine Valley Athletic League Finals 11/4/23
2.97 mile Spring Lake County Park course, since 1988
Photos by Michael Lucid
Lucid's photo collection of race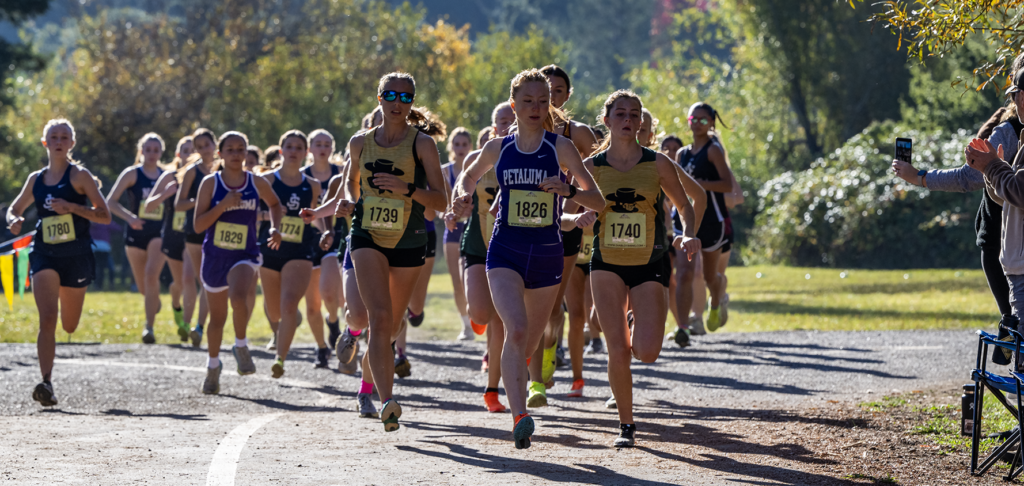 Casa Grande won both the championship and pennant for the third year in a row, again over Petaluma.
Petaluma senior Reilly Kreutz defended her title with a new meet record finishing in 18:38 over Casa's leading runner Avery Codington 19:27. Codington is a junior and won this meet in 2021. Vintage sophomore Kendall Bawden took third in 20:18.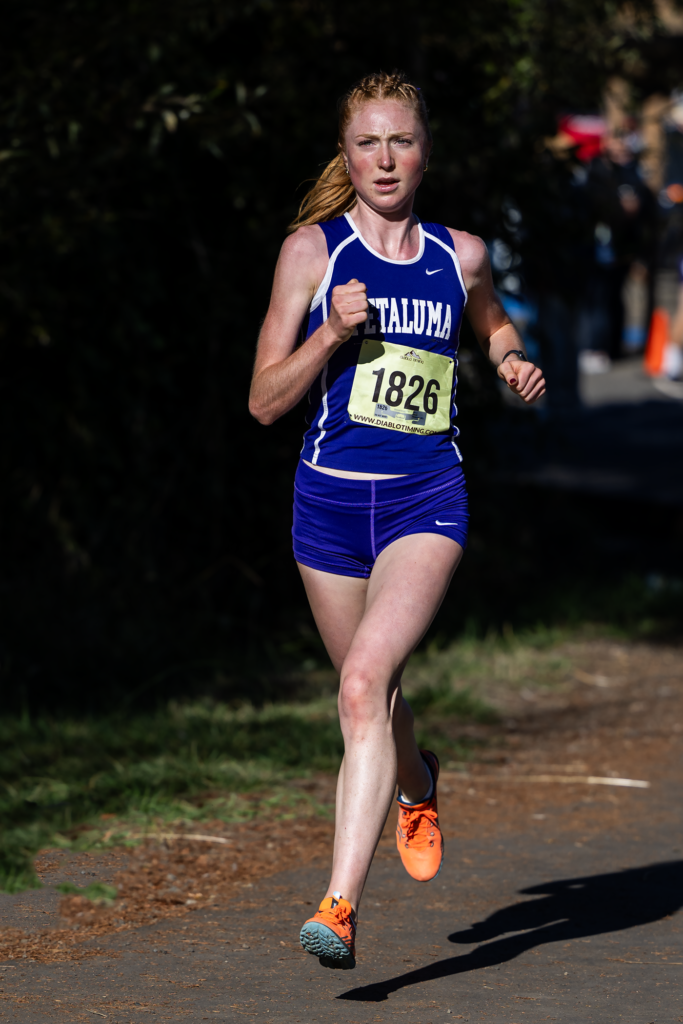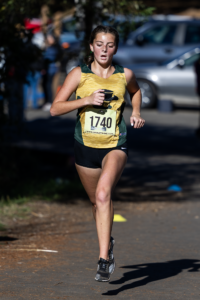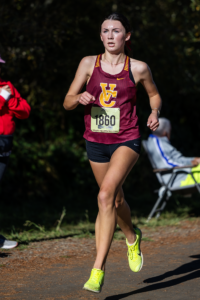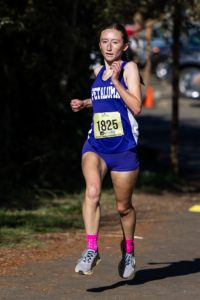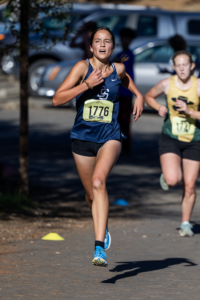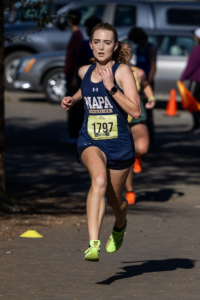 Meet History
Varsity
Old Individual: 18:41 Mary Deeik, Vintage 2019
Team: 98:27 Vintage 2019

1	Casa Grande 	 39	2-6-8-10-13(15)(17)	103:39	20:44	1:58.8, pennant winner
2	Petaluma 	 57	1-4-9-18-25(38)	        105:05	21:01	4:12.9
3	Vintage 	 64	3-11-14-16-20(30)	107:11	21:26	2:13.2
4	Justin-Siena 	 93	5-19-22-23-24(27)(34)	110:46	22:09	2:07.0, School Record
5	Napa   	        103	7-12-21-26-37	        112:58	22:36	4:26.9, School Record
6	American Canyon	153	28-29-31-32-33(35)(36)	119:51	23:58	0:57.2
Sonoma Valley Incomplete

1	Kreutz, Reilly	SR	1826	Petaluma (NC)	1	18:38	---	6:16.4, New Meet Record
2	Codington, Avery JR	1740	Casa Grande (NC)2	19:27	48.2	6:32.6
3	Bawden, Kendall	SO	1860	Vintage (NC)	3	20:18	1:39.2	6:49.8
4	Doherty, Kate	JR	1825	Petaluma (NC)	4	20:35	1:56.4	6:55.6
5	Meerholz, Evy	SO	1776	Justin-Siena (NC)5	20:41	2:02.3	6:57.6, Old School Record Lea Smit 20:56 2022
6	Bendzick, Emily	SO	1737	Casa Grande (NC)6	20:43	2:04.6	6:58.3
7	Aaen, Maya	SR	1797	Napa (NC)	7	20:51	2:12.7	7:01.1, Old School Record Ava Dominguez 20:55 2018

8	Fields, Addison	JR	1743	Casa Grande (NC)8	20:55	2:16.2	7:02.2
9	Lounibos, Nora	SR	1827	Petaluma (NC)	9	21:07	2:28.2	7:06.3
10	Busch, Abigail	SR	1739	Casa Grande (NC)10	21:09	2:30.5	7:07.1
11	Chapin, Eliza	JR	1861	Vintage (NC)	11	21:14	2:36.0	7:08.9
12	Ceja Delgado, Itzel FR	1800	Napa (NC)	12	21:15	2:36.3	7:09.0
13	Garcia, Melanie	SO	1744	Casa Grande (NC)13	21:25	2:46.9	7:12.6
14	Waite, Skylar	FR	1868	Vintage (NC)	14	21:31	2:52.7	7:14.5

15	Garcia, Sarah	SO	1745	Casa Grande (NC)15	21:35	2:56.6	7:15.9
16	Alexander, Ivy	SO	1858	Vintage (NC)	16	21:37	2:59.0	7:16.7
17	Alvarenga, Stella SR	1735	Casa Grande (NC)17	21:39	3:00.7	7:17.2
18	Martinez, Isabella FR	1829	Petaluma (NC)	18	21:54	3:15.2	7:22.1
19	Loose, Abigail	SO	1774	Justin-Siena (NC)19	22:09	3:30.2	7:27.2
20	Heffner, Helen	FR	1862	Vintage (NC)	20	22:31	3:52.4	7:34.6
21	Mitchell, Sonya	SR	1803	Napa (NC)	21	22:31	3:52.6	7:34.7

22	Spiegel, Kathryn JR	1780	Justin-Siena (NC)22	22:33	3:54.1	7:35.5
23	Dominguez, Lily	JR	1769	Justin-Siena (NC)23	22:35	3:56.8	7:36.1
24	Celaya, Ayshalyn JR	1766	Justin-Siena (NC)24	22:48	4:09.2	7:40.3
25	Deadman, Siena	SR	1824	Petaluma (NC)	25	22:51	4:12.8	7:41.5
26	Navarrete, Tania SO	1805	Napa (NC)	26	23:03	4:24.8	7:45.6
27	Stephens, Parker SO	1781	Justin-Siena (NC)27	23:30	4:51.8	7:54.6
28	Chandy, Saniya	FR	1696	American Canyon (NC)28	23:35	4:56.4	7:56.2
29	Ugarte, Maya	JR	1709	American Canyon (NC)29	23:36	4:58.0	7:56.7
30	Hernandez, Dayana SO	1863	Vintage (NC)	30	23:36	4:58.0	7:56.7
31	Piazza, Emma	SR	1706	American Canyon (NC)31	23:45	5:06.3	7:59.5
32	McCamish, Cassidy SR	1705	American Canyon (NC)32	24:23	5:44.7	8:12.4
33	Dayrit, Breanna	SO	1698	American Canyon (NC)33	24:32	5:53.6	8:15.4
34	Celaya, Eponine	JR	1767	Justin-Siena (NC)34	24:46	6:07.5	8:20.1
35	Cabusca, Arlana	SO	1695	American Canyon (NC)35	25:06	6:27.1	8:27.1
36	Sangalang, Zoe	SO	1708	American Canyon (NC)36	25:12	6:33.3	8:28.8
37	Munoz, Jasmine	SO	1804	Napa (NC)	37	25:18	6:39.6	8:30.9
38	Maloney, Maya	JR	1828	Petaluma (NC)	38	29:50	11:11.8	10:02.6

Junior Varsity
1	Casa Grande 	20	1-2-3-5-9(11)(18)	120:35	24:07	2:37.3, pennant winner
2	Justin-Siena 	41	4-7-8-10-12(15)(16)	127:33	25:35	1:50.4
3	American Canyon	69	6-13-14-17-19(20)(21)	139:25	27:53	6:29.1

1	Hubregtse, Fiene SR	1747	Casa Grande (NC)1	23:11	---	7:48.3
2	Blakley, Lauren	JR	1738	Casa Grande (NC)2	23:19	8.1	7:50.7
3	Coopersmith, Ella FR	1741	Casa Grande (NC)3	23:32	21.9	7:55.4
4	Nassiri, Sophie	SR	1865	Vintage (NC)	--	24:15	1:04.1	8:09.6
5	Campos, Sofia	SR	1764	Justin-Siena (NC)4	24:33	1:22.2	8:15.7
6	Alvarenga, Olivia SO	1734	Casa Grande (NC)5	24:44	1:33.5	8:19.5
7	Fuerte, Ellaine	JR	1700	American Canyon (NC)6	25:17	2:06.5	8:30.6

8	Liu, Emma	FR	1773	Justin-Siena (NC)7	25:18	2:07.3	8:30.9
9	Helms, Paige	JR	1772	Justin-Siena (NC)8	25:23	2:12.9	8:32.7
10	Ocodhain, Finley FR	1748	Casa Grande (NC)9	25:49	2:38.3	8:41.3
11	Porembski, Kiran FR	1778	Justin-Siena (NC)10	25:58	2:47.4	8:44.4
12	Cruz, Stacy	JR	1742	Casa Grande (NC)11	26:17	3:06.2	8:50.7
13	Edie, Quinn	SR	1770	Justin-Siena (NC)12	26:23	3:12.6	8:52.8
14	Jew, Madison	FR	1703	American Canyon (NC)13	26:49	3:38.8	9:01.7
15	Ramirez, Julia	SR	1707	American Canyon (NC)14	27:01	3:50.0	9:05.8
16	Perez-Nunez, Leah FR	1777	Justin-Siena (NC)15	27:20	4:09.1	9:11.9
17	Akaboshi, Aina	JR	1857	Vintage (NC)	--	27:28	4:17.1	9:14.6
18	Balaguy, Cora	FR	1859	Vintage (NC)	--	27:29	4:18.2	9:14.9
19	Lynch, Maddy	FR	1775	Justin-Siena (NC)16	27:31	4:20.9	9:15.8
20	Carey, Samantha	JR	1765	Justin-Siena (NC)--	27:32	4:21.5	9:16.0
21	Manibusan, Ciarra SR	1704	American Canyon (NC)17	28:32	5:21.6	9:36.3
22	Atwood, Elizabeth JR	1736	Casa Grande (NC)18	28:55	5:44.6	9:44.0
23	Frias, Miranda	FR	1771	Justin-Siena (NC)--	29:49	6:38.0	10:02.3
24	Alcazar, Isamar  SR	1798	Napa (NC)	--	30:00	6:49.4	10:05.8
25	Chavez, Jessica	SO	1801	Napa (NC)	--	30:22	7:11.6	10:13.3
26	Hernandez, Laisha SO	1702	American Canyon (NC)19	31:46	8:35.6	10:41.6
27	Galeotti, Carina FR	1701	American Canyon (NC)20	31:46	8:35.8	10:41.7
28	Barrett, Vivian	SR	1799	Napa (NC)	--	33:30	10:19.5	11:16.6
29	De Santiago, Priscila FR 1699	American Canyon (NC)21	33:47	10:36.5	11:22.3