Montgomery's Hanne Thomsen stole the show for us winning the 3200 in a new Empire Record of 10:06.89.
Thomsen's time is the second fastest 3200 in the nation by a freshman.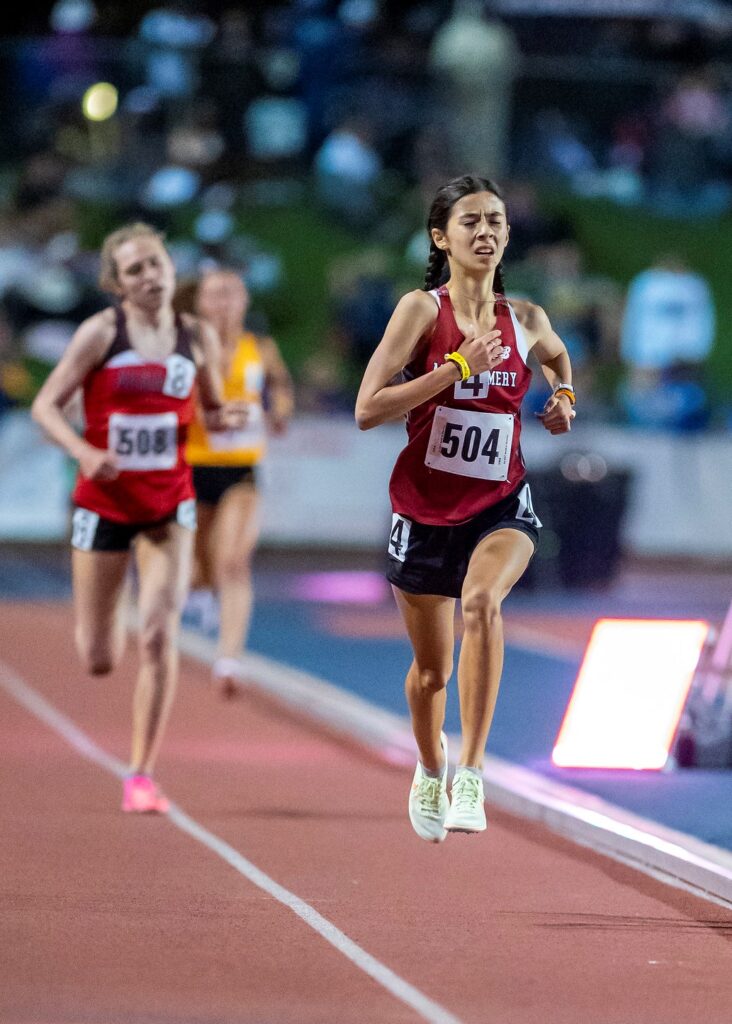 Larry Meredith wrote a great recap of the race.
A very windy night, crossing the track at an angle that pretty much hit the 200m runners in the face at their start. So some strong wind resistance along the backstretch but mostly around the first half of the final turn.
No one wanted to lead the first 200 but then Albany's Sophia Nordenholz couldn't put up with that and went to the front for nearly seven laps. Hanne, still gun shy from her double fall at Stanford, settled into the top 5 but always in lane 2 or right on the outer line of lane 1. We wanted her to get to the rail but I think she was protected from the wind by the angle it was coming down the backstretch.
At 1600 Nordenholz went thru in 5:04 and Hanne at 5:05. Del Oro's Riley Chamberlain made a decisive move into 2nd place and looked like she wanted to take over. But Nordenholz held onto the lead and Hanne didn't have to respond right away.
At 2400 Nordenholz and Newbury's Sam McDonnell pulled away and only Hanne was able to follow, getting gapped by 5 meters. It did not look good for her. Chamberlain could not respond at all and it became a 3-girl race. Hanne was finally able to get on the rail.
At 2600 meters (600 to go) Nordenholz dropped McDonnell and opened up a 10-15 meter gap around the turn. Hanne then went by McDonnell and took the entire homestretch to reel in Nordenholz.
At the bell Hanne stepped on the gas and went by Nordenholz into the lead. Nordenholz fought gamely and held close but with 200 left the gap began to open and the final 100 was all Hanne. It was a thing of beauty.
Story
Interview: Hanne Thomsen – Freshman wins 3200 race
State Meet Video
ALL-TIME REDWOOD EMPIRE 3200
10:06.89 Hanne Thomsen, Montgomery 5/28/22 State, Current Empire record
10:11.11 Sara Bei, Montgomery 6/2/01 State, former Empire record
10:12.03 Hanne Thomsen, Montgomery 4/9/22 Arcadia, Watch the race
10:12.20 Julia Stamps, Santa Rosa 5/18/96 NCS Redwood, former Empire record, watch race
10:13.20 Rylee Bowen, Sonoma Academy 4/9/16 Arcadia
10:13.94+ Julia Stamps, Santa Rosa 5/25/96 MOC
10:14.46 Hanne Thomsen, Montgomery 3/19/22 Dublin
10:14.74+ Sara Bei, Montgomery 4/28/01
10:15.13 Julia Stamps, Santa Rosa 6/1/96 State
10:15.17 Julia Stamps, Santa Rosa 6/7/97 State
Times under 10:37    Sr Jr So Fr
Julia Stamps         4  3  5  5
Sara Bei             4  5  5  1
Gabriel Peterson     4  3  0  0
Hanne Thomsen                 6
West County's Carolina Dawson made the final in the 800 with a PR 2:13.89, 10th All-Time in the Redwood Empire. 5th Senior.
In the final Dawson placed 10th at 2:16.20.
West County's Ellie Roan had a personal best in the discus throwing 133-0 to qualify in the number 7 spot for the finals. 7th All-Time in the Redwood Empire.
In the final she fouled all three throws.
Other Empire competitiors in trials
Maria Carrillo's Lily Mulligan cleared 11-9 for 15th in the pole vault.
Maria Carrillo's Elianah DeMange placed 20th in 400 at 58.57.
West County's Ellie Roan placed 20th in the shot at 37-00.
Justin-Siena's Sydney Thweatt finished in 26th in the 300H with a 49.21.
Lucid photos from Day 2 of State
Lucid photos from Day 1 of State
Event 17 Girls 3200 Meter Run Varsity
================================================================
 Name Year School Finals
================================================================


.

.

.

.

.

.

.

 1 # 504 Hanne Thomsen 9 Montgomery Ncs 10:06.89
 2 # 508 Sophia Nordenholz 12 Albany Ncs 10:10.49
 3 # 509 Sam McDonnell 12 Newbury Park Ss 10:12.76
 4 # 501 Lauren Soobrian 11 Los Altos Ccs 10:24.25
 5 # 510 Payton Godsey 10 Oaks Christian Ss 10:25.31
 6 # 505 Gioana Lopizzo 10 La Costa Cyn-sd 10:30.93
 7 # 502 Riley Chamberlain 12 Del Oro Sjs 10:36.30
 8 # 516 Anna Chittenden 11 Mira Costa Ss 10:38.02
 9 # 503 Kaiya Brooks 11 Crystal Sprgs-cc 10:38.11
 10 # 514 Sydney Sundgren 11 Buchanan Ces 10:39.15
 11 # 515 Alexis Fernandez 12 West Ranch Ss 10:39.54
 12 # 518 Isabella Duarte 12 Saugus Ss 10:39.93
 13 # 512 Katie Kopec 11 Whitney Sjs 10:43.13
 14 # 507 Cate Joaquin 12 St. Francis Sjs 10:49.23
 15 # 521 Ellie Black 12 Piedmont Ncs 10:49.25
 16 # 513 Mia Torrecillas 10 Highland Ces 10:51.83
 17 # 511 Grace Hutchison 11 Buchanan Ces 10:55.70
 18 # 517 Ella Fadil 11 Los Altos Ccs 10:59.11
 19 # 519 Ailish Hawkins 11 Newbury Park Ss 11:00.02
 20 # 522 Iresh Molina 12 Chico Ns 11:07.44
 21 # 520 Annika Salz 12 Torrey Pines Sds 11:11.32
 22 # 523 Jenna Satovsky 12 Lowell Sfs 11:16.02
 23 # 524 Keely Miyamoto 12 Eagle Rock Las 11:49.10

Event 11 Girls 800 Meter Run Varsity
================================================================
 Name Year School Finals
================================================================

Finals
 1 Mackenzie Browne 11 North, JS Ss 2:08.66
 1:02.651 (1:02.651)
 2 Sadie Engelhardt 9 Ventura Ss 2:09.64
 1:02.435 (1:02.435)
 3 Mia Chavez 12 Chino Ss 2:11.04
 1:02.823 (1:02.823)
 4 Ashlynn Viramontes 12 Katella Ss 2:12.58
 1:03.571 (1:03.571)
 5 Tatum Zinkin 12 Clovis North Ces 2:13.19
 1:02.869 (1:02.869)
 6 Tessa Buswell 10 Poway Sds 2:13.75
 1:03.256 (1:03.256)
 7 Tatum Olesen 10 Menlo Atherton Ccs 2:15.23
 1:03.956 (1:03.956)
 8 Kaitlyn Arciaga 9 Westview Sds 2:15.56
 1:03.764 (1:03.764)
 9 Arielle Mckenzie 10 La Canada Ss 2:15.66
 1:02.416 (1:02.416)
 10 Carolina Dawson 12 West County Nc 2:16.20
 1:04.072 (1:04.072)
 11 Ashlee Gallegos 12 J. Serra Ss 2:16.22
 1:03.046 (1:03.046)
 12 Trinity Dixon 12 San Marcos Sds 2:17.61
 1:03.425 (1:03.425)

Event 11 Girls 800 Meter Run Varsity
===================================================================
 Name Year School Prelims H#
===================================================================

Preliminaries
 1 Sadie Engelhardt 9 Ventura Ss 2:10.13Q 3
 1:03.292 (1:03.292)
 2 Mackenzie Browne 11 North, JS Ss 2:11.89Q 2
 1:06.468 (1:06.468)
 3 Ashlynn Viramontes 12 Katella Ss 2:12.08Q 1
 1:04.219 (1:04.219)
 4 Tatum Zinkin 12 Clovis North Ces 2:11.38Q 3
 1:03.479 (1:03.479)
 5 Tatum Olesen 10 Menlo Atherton Ccs 2:12.05Q 2
 1:06.928 (1:06.928)
 6 Tessa Buswell 10 Poway Sds 2:12.59Q 1
 1:04.809 (1:04.809)
 7 Arielle Mckenzie 10 La Canada Ss 2:11.69Q 3
 1:03.402 (1:03.402)
 8 Ashlee Gallegos 12 J. Serra Ss 2:12.14Q 2
 1:06.677 (1:06.677)
 9 Trinity Dixon 12 San Marcos Sds 2:13.00Q 1
 1:05.017 (1:05.017)
 10 Kaitlyn Arciaga 9 Westview Sds 2:13.42q 2
 1:06.589 (1:06.589)
 11 Carolina Dawson 12 West County Nc 2:13.89q 2
 1:06.873 (1:06.873)
 12 Mia Chavez 12 Chino Ss 2:14.08q 1
 1:04.597 (1:04.597)

 13 Elle Lomeli 9 Buchanan Ces 2:14.14 3
 1:04.489 (1:04.489)
 14 Kaho Cichon 12 Fountain Valley Ss 2:14.20 3
 1:03.546 (1:03.546)
 15 Adeline Johnson 11 Branson Ncs 2:14.95 1
 1:05.426 (1:05.426)
 16 Aliyah Williams 12 Edison Sjs 2:15.22 3
 1:03.884 (1:03.884)
 17 Emma Gardner 9 Tamalpais Ncs 2:16.34 3
 1:05.261 (1:05.261)
 18 Nia Lamas 12 Sanger Ces 2:16.99 2
 1:06.671 (1:06.671)
 19 Sofia Abrego 12 Granada Hls-la 2:17.92 2
 1:07.470 (1:07.470)
 20 Summer Doyle 10 Rio Americano Sjs 2:19.00 1
 1:06.719 (1:06.719)
 21 Dulce Gonzalez 12 Canoga Park Las 2:21.15 1
 1:06.481 (1:06.481)
 22 Quinn Walker 11 Oak Ridge Sjs 2:22.20 3
 1:07.528 (1:07.528)
 23 Katja Jackson 12 Lowell Sfs 2:22.98 3
 1:07.548 (1:07.548)
 24 # 525 Ava Baak 11 Palisades Las 2:24.10 1
 1:07.496 (1:07.496)
 25 Makenze Knowles 12 Foothill Ns 2:25.15 2
 1:07.836 (1:07.836)
 -- Lillian Kaelber 10 St. Francis Ccs DQ 2 Impeeding
 1:06.197 (1:06.197)

Event 26 Girls Discus Throw Varsity
================================================================
 Name Year School Finals
================================================================

Finals
 1 Nailea Fields 11 Caruthers Ces 157-01
 147-10 132-08 156-03 157-01 155-03 153-06
 2 April Fontenette 11 Notre Dame(SO) Ss 155-08
 152-11 155-08 150-02 142-04 152-05 154-09
 3 Feyi Olukanni 12 Clovis East Ces 154-02
 147-04 141-10 FOUL 154-02 152-02 138-10
 4 Sariyah Horne 12 El Camino Sjs 152-00
 147-08 152-00 FOUL 149-09 138-04 137-02
 5 Karyssa Owens 12 Roosevelt E-Ss 146-03
 143-05 FOUL FOUL 146-03 FOUL 128-10
 6 Julia Pisenti 12 Bear River Sjs 143-11
 124-10 128-03 FOUL 127-02 139-01 143-11
 7 Galadriel Mellion 11 Weston Ranch Sjs 138-04
 129-04 132-07 138-04 FOUL 135-00 131-09
 8 Nicole Loy 12 Del Norte Sds 131-06
 131-06 104-09 114-01 119-08 122-01 122-08
 9 Madeleine Seabolt 12 Mt. Carmel Sds 127-03
 FOUL FOUL 127-03 95-08 FOUL 110-03
 10 Jinelle Stiber 12 Hesperia Ss 125-11
 125-11 116-11 93-05
 11 Kennedy Clarke 12 Cath. Cath-sd 121-02
 121-02 106-07 72-04
 -- Ellie Roan 12 West County Nc FOUL
 FOUL FOUL FOUL

Event 26 Girls Discus Throw Varsity
================================================================
 Name Year School Prelims
================================================================

Preliminaries
 1 April Fontenette 11 Notre Dame(SO) Ss 157-01q
 157-01 144-05 145-08
 2 Sariyah Horne 12 El Camino Sjs 147-10q
 FOUL 132-00 147-10
 3 Kennedy Clarke 12 Cath. Cath-sd 146-08q
 114-05 146-02 146-08
 4 Nailea Fields 11 Caruthers Ces 144-00q
 144-00 130-07 128-04
 5 Feyi Olukanni 12 Clovis East Ces 143-01q
 FOUL 143-01 123-05
 6 Galadriel Mellion 11 Weston Ranch Sjs 133-06q
 119-05 118-01 133-06
 7 Ellie Roan 12 West County Nc 133-00q
 102-07 133-00 127-08
 8 Karyssa Owens 12 Roosevelt E-Ss 130-05q
 FOUL 130-05 128-09
 9 Madeleine Seabolt 12 Mt. Carmel Sds 128-08q
 116-00 102-06 128-08
 10 Julia Pisenti 12 Bear River Sjs 127-10q
 FOUL FOUL 127-10
 11 Jinelle Stiber 12 Hesperia Ss 125-11q
 104-07 118-08 125-11
 12 Nicole Loy 12 Del Norte Sds 124-10q
 FOUL 124-10 FOUL
 13 Siena Lambert 11 J. Serra Ss 123-09
 FOUL FOUL 123-09
 14 Bailey Speakman 12 Esperanza Ss 122-09
 FOUL FOUL 122-09
 15 Taylor Hofland 11 Los Alamitos Ss 120-09
 FOUL 120-09 119-01
 16 Loie Madsen 11 Clovis North Ces 119-09
 119-09 FOUL 115-08
 17 Jocelyn Alexander 11 San Benito Hol Ccs 117-07
 107-11 98-01 117-07
 18 Golda Demby 9 Del Mar Ccs 116-06
 FOUL 116-06 109-09
 19 Sydney Kane 12 S. Ramon V-Nc 110-05
 107-02 110-05 105-01
 20 Hannah Richardson 12 California Ncs 109-07
 99-08 109-07 FOUL

Event 22 Girls Pole Vault Varsity
================================================================
 Name Year School Prelims
================================================================
Preliminaries
 1 Rose Wagner 12 Fallbrook Sds 12-07.00q
 11-09 12-03 12-07
 O O O
 2 Madisyn Negro 11 Murrieta Valley Ss J12-07.00q
 11-09 12-03 12-07
 O XO O
 2 Jordan Leveque 11 Buchanan Ces J12-07.00q
 11-09 12-03 12-07
 XO O O
 2 Alison Sahaida 12 Oak Ridge Sjs J12-07.00q
 11-09 12-03 12-07
 --- XO O
 5 Allison Leigh 12 Del Norte Sds J12-07.00q
 11-09 12-03 12-07
 --- XXO O
 6 Iliana Downing 10 La Costa Cyn-sd J12-07.00q
 11-09 12-03 12-07
 O O XO
 6 Lexi Evans 12 Scripps Ranch Sds J12-07.00q
 11-09 12-03 12-07
 --- O XO
 6 Quincy Hansen 12 S Dieguito-sd J12-07.00q
 11-09 12-03 12-07
 O O XO
 9 Aspen Fears 10 Vista Murrieta Ss 12-03.00q
 11-09 12-03 12-07
 O O XXX
 10 Jathiyah Muhammad 10 Dublin Ncs J12-03.00q
 11-09 12-03 12-07
 --- XO XXX
 10 Kayla Tassara 12 South Torrance Ss J12-03.00q
 11-09 12-03 12-07
 O XO XXX
 10 Evangeline Thomson 11 Poway Sds J12-03.00q
 11-09 12-03 12-07
 O XO XXX
 13 Charlotte O'Connor 12 R. Bernardo-sd J12-03.00
 11-09 12-03 12-07
 O XXO XXX
 13 Jessica Thompson 11 Harvard Westland Ss J12-03.00
 11-09 12-03 12-07
 O XXO XXX
 15 Lily Mulligan 11 Maria Carrillo Ncs 11-09.00
 11-09 12-03
 O XXX
 15 Peyton Bedrosian 10 Paso Robles Ces 11-09.00
 11-09 12-03
 O XXX
 17 Celeste Taylor 12 St Margaret's Ss J11-09.00
 11-09 12-03
 XO XXX
 18 Avery Macktinger 12 Del Oro Sjs J11-09.00
 11-09 12-03
 XXO XXX
 18 Elise Doyle 10 S. Ramon V-Nc J11-09.00
 11-09 12-03
 XXO XXX
 18 Jonelle Scott 10 Soquel Ccs J11-09.00
 11-09 12-03
 XXO XXX
 -- Abigail Goetz 10 Sequoia Ccs NH
 11-09
 XXX
 -- Emily Zamora 11 Willow Glen Ccs NH
 11-09
 XXX
 -- Ava Burton 12 Morro Bay Ces NH
 11-09
 XXX
 -- Natalia Wilson 12 Trabuco Hills Ss NH
 11-09
 XXX
 -- Madison Pelfrey 11 St. Francis Sjs NH
 11-09
 XXX
 -- SeaAnna Ross 12 Orland Ns NH
 11-09
 XXX

Event 22 Girls Pole Vault Varsity
================================================================
 Name Year School Finals
================================================================
Finals
 1 Jathiyah Muhammad 10 Dublin Ncs 13-09.00
 11-11 12-05 12-09 13-01 13-05 13-09 14-01
 --- O O O O O XXX
 2 Lexi Evans 12 Scripps Ranch Sds J13-09.00
 11-11 12-05 12-09 13-01 13-05 13-09 14-01
 --- XO O O XO XO XXX
 3 Alison Sahaida 12 Oak Ridge Sjs 13-05.00
 11-11 12-05 12-09 13-01 13-05 13-09 14-01
 --- O O XO O XX- X
 4 Allison Leigh 12 Del Norte Sds J13-05.00
 11-11 12-05 12-09 13-01 13-05 13-09
 --- XXO O XO XXO XXX
 5 Evangeline Thomson 11 Poway Sds 12-09.00
 11-11 12-05 12-09 13-01
 O XO O XXX
 6 Jordan Leveque 11 Buchanan Ces 12-05.00
 11-11 12-05 12-09
 O O XXX
 6 Madisyn Negro 11 Murrieta Valley Ss 12-05.00
 11-11 12-05 12-09
 O O XXX
 8 Iliana Downing 10 La Costa Cyn-sd J12-05.00
 11-11 12-05 12-09
 O XO XXX
 9 Aspen Fears 10 Vista Murrieta Ss J12-05.00
 11-11 12-05 12-09
 XO XO XXX
 10 Quincy Hansen 12 S Dieguito-sd 11-11.00
 11-11 12-05
 O XXX
 10 Kayla Tassara 12 South Torrance Ss 11-11.00
 11-11 12-05
 O XXX
 12 Rose Wagner 12 Fallbrook Sds J11-11.00
 11-11 12-05
 XO XXX

Event 7 Girls 400 Meter Dash Varsity
===================================================================
 Name Year School Prelims H#
===================================================================

Preliminaries
 1 Takiya Cenci 12 Clovis North Ces 53.72Q 1
 2 Aujane Luckey 11 Wilson(LB) Ss 55.09Q 2
 3 Alyssa Bean 12 Poway Sds 55.48Q 3 55.474
 4 Maya Shinnick 12 Glendora Ss 55.33q 1
 5 Caroline Hawkes 12 San Clemente Ss 55.48q 1 55.474
 6 Morgan Maddox 10 Culver City Ss 55.56q 2
 7 Samarra Monrroy 12 Wilson(LB) Ss 55.95q 2
 8 Joelle Trepagnier 9 Culver City Ss 56.11q 3
 9 Anjali Yella 10 Harker Ccs 56.31q 2
 10 Makenna Herbst 9 Carlsbad Sds 56.39 1
 11 Mikelia Strong 12 Fairfield Sjs 56.50 1
 12 Hannah Rutherford 9 Mountain Vies Ccs 56.69 3
 13 Taylor Snaer 11 East Union Sjs 56.90 1
 14 Payton Smith 10 La Jolla Sds 57.61 2
 15 Sara Tabibian 12 Campolindo Ncs 57.75 1
 16 Layla Clay 12 Buchanan Ces 57.81 2
 17 Avery Adelman 10 Gunn Ccs 58.05 2
 18 Isabella Flores 12 El Diamante Ces 58.27 3
 19 Isabella Vally 11 Granada Hls-la 58.44 1
 20 Elianah DeMange 11 Maria Carrillo Ncs 58.57 1
 21 Zoe Lahanas 10 Clayton Valley Ncs 59.27 3
 22 Brooklyn Harris 9 Hamilton Las 59.62 3
 23 Simone Bart-Plange 11 Granada Hls-la 59.96 2
 24 Keilee Hall 11 Christian Brth. Sjs 1:01.86 3
 25 Talyn Hanly 9 Shasta Ns 1:02.81 2

Event 7 Girls 400 Meter Dash Varsity
================================================================
 Name Year School Finals
================================================================
Finals
 1 Takiya Cenci 12 Clovis North Ces 54.01
 2 Aujane Luckey 11 Wilson(LB) Ss 54.90
 3 Maya Shinnick 12 Glendora Ss 55.00
 4 Caroline Hawkes 12 San Clemente Ss 55.47
 5 Alyssa Bean 12 Poway Sds 55.64
 6 Morgan Maddox 10 Culver City Ss 55.85
 7 Joelle Trepagnier 9 Culver City Ss 56.03
 8 Samarra Monrroy 12 Wilson(LB) Ss 56.60
 9 Anjali Yella 10 Harker Ccs 56.94

Event 25 Girls Shot Put Varsity
================================================================
 Name Year School Prelims
================================================================

Preliminaries
 1 Hope Gordon 12 Notre Dame(SO) Ss 42-11.25q
 42-01.50 FOUL 42-11.25
 2 Kennedy Clarke 12 Cath. Cath-sd 42-02.75q
 39-00 41-11.75 42-02.75
 3 Feyi Olukanni 12 Clovis East Ces 41-09.00q
 38-10.75 40-00.75 41-09
 4 Aja Johnson 9 Notre Dame(SO) Ss 41-08.25q
 37-00 38-05 41-08.25
 5 Galadriel Mellion 11 Weston Ranch Sjs 40-07.25q
 38-02.50 40-07.25 FOUL
 6 Nyla Baker 12 Del Campo Sjs 40-01.00q
 40-01 38-03.75 FOUL
 7 Nailea Fields 11 Caruthers Ces 39-11.50q
 38-08.50 39-11.50 39-02.75
 8 April Fontenette 11 Notre Dame(SO) Ss J39-11.50q
 37-11.75 FOUL 39-11.50
 9 Julia Pisenti 12 Bear River Sjs 39-09.50q
 37-11.75 39-06.75 39-09.50
 10 Erica Collins 12 Chino Hills Ss 39-08.25q
 38-01.25 39-08.25 36-07
 11 Kais Kimuli 12 Mt. Carmel Sds 39-04.75q
 37-09 39-04.75 FOUL
 12 Miah Molette 11 Carson Las 39-01.25q
 34-08 35-09.50 39-01.25
 13 Rebel Tuinuknafe 12 Lutheran (Or) Ss 38-11.75
 FOUL 38-11.75 36-05.75
 14 Nicole Steiner 9 Los Gatos Ccs 38-10.75
 35-07 38-10.75 38-03
 15 Lauryn Williams 10 Carson Las 38-10.50
 38-07 37-06.75 38-10.50
 16 Jocelyn Hoggard 11 Burroughs(Rid) Ss 38-07.00
 38-07 37-08.25 36-07.25
 17 Nicole Loy 12 Del Norte Sds 37-09.50
 36-11.75 35-07 37-09.50
 18 Kimora Mclemore 11 Heritage Ncs 37-03.50
 FOUL 37-03.50 36-01
 19 Daisy Hart 12 Antioch Ncs 37-02.50
 35-06.25 36-10.50 37-02.50
 20 Ellie Roan 12 West County Nc 37-00.00
 37-00 33-05.50 36-09
 21 Chinyere Egbuziem 12 Buchanan Ces 35-09.00
 34-06 32-02.50 35-09
 22 Jocelyn Alexander 11 San Benito Hol Ccs 35-08.75
 FOUL 32-04.50 35-08.75
 23 Peri Durbin 12 Notre Dame (Sj) Ccs 35-03.50
 34-05.25 35-03.50 34-11.50
 24 Angela Schykerynec 11 Orland Ns 34-05.00
 33-11 34-05 FOUL
 25 Stephonie White 12 Panorama Las 33-10.75
 33-07 33-00 33-10.75

Event 25 Girls Shot Put Varsity
================================================================
 Name Year School Finals
================================================================
Finals
 1 Feyi Olukanni 12 Clovis East Ces 44-00.00
 41-07.50 41-10 44-00 39-11.50 39-02.75 43-03.75
 2 Aja Johnson 9 Notre Dame(SO) Ss 42-05.50
 39-10.25 38-07 39-04.75 39-01.25 42-05.50 FOUL
 3 April Fontenette 11 Notre Dame(SO) Ss 41-05.25
 39-00.50 41-01.25 40-00.75 41-01.25 41-05.25 39-07.25
 4 Nyla Baker 12 Del Campo Sjs 41-04.50
 38-00.25 39-02.75 36-01.75 41-04.50 37-10.25 39-03.75
 5 Kennedy Clarke 12 Cath. Cath-sd 41-02.50
 40-05.50 41-02.50 38-11.25 FOUL 36-03.75 38-00.75
 6 Galadriel Mellion 11 Weston Ranch Sjs 41-00.50
 39-10.25 41-00.50 FOUL FOUL FOUL 40-11.75
 7 Hope Gordon 12 Notre Dame(SO) Ss 41-00.00
 41-00 39-04 FOUL 36-11.75 39-06 37-04
 8 Nailea Fields 11 Caruthers Ces 39-09.50
 38-06.50 39-04 38-01.50 39-09.50 FOUL 37-08.75
 9 Erica Collins 12 Chino Hills Ss 39-07.25
 39-03.75 38-11 38-08.50 39-07.25 38-06.50 36-01.75
 10 Kais Kimuli 12 Mt. Carmel Sds 38-11.25
 36-08.25 38-11.25 FOUL
 11 Julia Pisenti 12 Bear River Sjs 38-07.50
 FOUL 38-07.50 37-07.25
 12 Miah Molette 11 Carson Las 34-03.00
 34-03 FOUL FOUL

Event 13 Girls 300 Meter Hurdles Varsity
===================================================================
 Name Year School Prelims H#
===================================================================

Preliminaries
 1 Karina Janik 11 Torrey Pines Sds 42.77Q 1
 2 Kapiolani Coleman 11 Cath. Cath-sd 42.93Q 2
 3 Charlize James 12 San Diego Sds 43.35Q 3
 4 Yvette Harris 11 Lincoln (St) Sjs 43.29q 2
 5 Keilee Hall 11 Christian Brth. Sjs 43.55q 3
 6 Kaylin Edwards 9 Wilson(LB) Ss 43.62q 2
 7 Daniela Ruelas 12 Arroyo Grande Ces 43.65q 1
 8 Dominika Janik 11 Torrey Pines Sds 43.85q 2
 9 Riley Costales 11 Central 44.12q 3
 10 Isabel Perez-Zoghb 12 Merced Sjs 44.21 3
 11 Madeleine Conte 12 Monrovia Ss 44.34 1
 12 Alison Tjoe 12 Lynbrook Ccs 44.73 2
 13 Sara Tabibian 12 Campolindo Ncs 44.76 2
 14 Breija Stredic 11 North, JS Ss 44.82 2
 15 Shriya Velichala 12 Arcadia Ss 44.83 3
 16 Milani Ward 10 Clovis East Ces 45.07 1
 17 Genesis Washington 12 Wilson(LB) Ss 45.45 1
 18 Melia Middleton 11 Christopher Ccs 45.60 1
 19 Lauren Thai 12 Thousand Oaks Ss 45.80 1
 20 Sharona Schwab 12 Gunn Ccs 46.04 3
 21 Mia Jamerson 11 Carson Las 46.29 1
 22 Anise Becker 10 Carson Las 46.52 3
 23 Jaya Westby 10 Carson Las 46.54 1
 24 Mari Testa 11 Campolindo Ncs 47.03 2
 25 Giselle Rodriguez- 11 Fall River Ns 49.07 2
 26 Sydney Thweatt 12 Justin-Siena Ncs 49.21 3
 27 Audrey Lin 12 Lincoln Sfs 49.91 3

Event 13 Girls 300 Meter Hurdles Varsity
================================================================
 Name Year School Finals
================================================================
Finals
 1 Kapiolani Coleman 11 Cath. Cath-sd 42.23
 2 Daniela Ruelas 12 Arroyo Grande Ces 42.37
 3 Karina Janik 11 Torrey Pines Sds 42.67
 4 Kaylin Edwards 9 Wilson(LB) Ss 43.16
 5 Yvette Harris 11 Lincoln (St) Sjs 43.19
 6 Keilee Hall 11 Christian Brth. Sjs 43.57
 7 Dominika Janik 11 Torrey Pines Sds 43.70
 8 Riley Costales 11 Central 44.08

Event 1 Girls 4x100 Meter Relay Varsity
===================================================================
 School Prelims H#
===================================================================
Preliminaries
 1 Golden Valley Ss 45.82Q 1
 2 Serra Ss 46.36Q 2
 3 Poly(LB) Ss 47.60Q 3
 4 St. Mary's Sjs 46.70q 2
 5 Carson Las 46.95q 1
 6 Culver City Ss 47.30q 1
 7 Campolindo Ncs 48.04q 2
 8 Central 48.15q 2
 9 Whitney Sjs 48.21q 2
 10 Clovis North Ces 48.28 3
 11 Cathedral Catholic Sds 48.32 1
 12 Granada Hills Ch. Las 48.33 1 48.323
 13 Lynbrook Ccs 48.33 1 48.325
 14 Edison Sjs 48.38 3
 15 Foothill Ncs 48.73 2
 16 Silver Creek Ccs 48.86 3
 17 Carlsbad Sds 49.03 3
 18 San Leandro 49.05 1
 19 Oakland Tech Os 49.13 3
 20 St. Ignatius Ccs 49.56 2
 21 Frontier Ces 49.60 1
 22 Birmingham Las 49.66 1
 23 Wilson(LB) Ss 50.97 2
 24 Shasta Ns 51.32 2
 25 Poway Sds 52.15 3

Event 1 Girls 4x100 Meter Relay Varsity
================================================================
 School Finals
================================================================
Finals
 1 Serra Ss 46.08
 2 Golden Valley Ss 46.42
 3 St. Mary's Sjs 46.78
 4 Carson Las 46.93
 5 Poly(LB) Ss 47.32
 6 Culver City Ss 47.38
 7 Central 48.50
 8 Whitney Sjs 48.75
 -- Campolindo Ncs DQ Zone 1

Event 3 Girls 1600 Meter Run Varsity
===================================================================
 Name Year School Prelims H#
===================================================================
Preliminaries
 1 Dalia Frias 12 Mira Costa Ss 4:49.83Q 2
 1:12.277 (1:12.277) 2:27.551 (1:15.274) 3:41.312 (1:13.761)
 2 Sadie Engelhardt 9 Ventura Ss 4:51.18Q 1
 1:16.871 (1:16.871) 2:32.045 (1:15.175) 3:44.520 (1:12.475)
 3 Mia Chavez 12 Chino Ss 4:50.58Q 2
 1:12.594 (1:12.594) 2:27.813 (1:15.220) 3:41.607 (1:13.795)
 4 # 509 Sam McDonnell 12 Newbury Park Ss 4:51.58Q 1 4:51.576
 1:16.990 (1:16.990) 2:32.266 (1:15.276) 3:44.606 (1:12.341)
 5 # 513 Mia Torrecillas 10 Highland Ces 4:50.96Q 2
 1:12.807 (1:12.807) 2:28.039 (1:15.233) 3:41.911 (1:13.872)
 6 Brianna McInnis 12 Tamalpais Ncs 4:52.35Q 1
 1:17.467 (1:17.467) 2:32.688 (1:15.222) 3:45.314 (1:12.626)
 7 # 511 Grace Hutchison 11 Buchanan Ces 4:51.21Q 2
 1:13.226 (1:13.226) 2:27.714 (1:14.489) 3:41.504 (1:13.790)
 8 Sierra Cornett 9 Buchanan Ces 4:52.49Q 1
 1:17.221 (1:17.221) 2:32.523 (1:15.303) 3:44.790 (1:12.268)
 9 Hannah Riggins 11 Del Norte Sds 4:51.58q 2 4:51.578
 1:13.053 (1:13.053) 2:27.904 (1:14.851) 3:41.587 (1:13.683)
 10 Emma Hadley 12 Canyon (Anah) Ss 4:52.36q 2
 1:13.024 (1:13.024) 2:28.144 (1:15.120) 3:42.012 (1:13.869)
 11 Allura Markow 11 Dana Hills Ss 4:52.97q 2
 1:12.795 (1:12.795) 2:28.268 (1:15.473) 3:42.217 (1:13.949)
 12 Ashlyn Boothby 10 Scotts Valley Ccs 4:56.00q 1
 1:17.320 (1:17.320) 2:31.588 (1:14.269) 3:44.759 (1:13.171)
 13 Isabella Smith 12 Vista Murrieta Ss 4:58.41 2
 1:13.133 (1:13.133) 2:28.468 (1:15.335) 3:44.117 (1:15.650)
 14 Tatiana Cornejo 12 St. Francis Sjs 4:58.55 1
 1:18.021 (1:18.021) 2:32.905 (1:14.884) 3:45.050 (1:12.145)
 15 Emma Dunmire 12 Tamalpais Ncs 4:59.00 1
 1:17.147 (1:17.147) 2:32.370 (1:15.223) 3:46.210 (1:13.840)
 16 Jacqueline Holman 11 Lowell Sfs 4:59.30 1
 1:17.711 (1:17.711) 2:32.864 (1:15.154) 3:45.501 (1:12.637)
 17 Samira Kennedy 11 Castilleja Ccs 4:59.92 1
 1:17.574 (1:17.574) 2:32.685 (1:15.111) 3:45.263 (1:12.578)
 18 Julia Soderbery 11 Sac. Hrt Prep-cc 5:02.04 1
 1:17.733 (1:17.733) 2:33.145 (1:15.412) 3:47.399 (1:14.255)
19 removed by request
 20 McCall Dame 11 El Camino Sds 5:03.90 2
 1:12.787 (1:12.787) 2:28.216 (1:15.430) 3:43.036 (1:14.820)
 21 Sofia Abrego 12 Granada Hls-la 5:05.69 2
 1:13.444 (1:13.444) 2:29.768 (1:16.325) 3:48.594 (1:18.827)
 22 Breea Selbrede 11 Mt. Carmel Sds 5:06.09 2
 1:13.830 (1:13.830) 2:30.266 (1:16.436) 3:50.586 (1:20.320)
 23 Leila Swenson 12 Bella Vista Sjs 5:07.10 2
 1:13.949 (1:13.949) 2:29.209 (1:15.261) 3:49.539 (1:20.330)
 24 Carly Foster 11 Granite Bay Sjs 5:10.12 1
 1:17.961 (1:17.961) 2:33.558 (1:15.597) 3:51.391 (1:17.833)
 25 Dulce Gonzalez 12 Canoga Park Las 5:18.51 2
 1:13.397 (1:13.397) 2:29.494 (1:16.098) 3:51.801 (1:22.308)
 26 Elizabeth Merill 9 Shasta Ns 5:23.54 1
 1:18.805 (1:18.805) 2:38.316 (1:19.511) 4:03.117 (1:24.802)
 27 Gabriela Nasciment 10 New West Cha 5:31.42 2
 1:13.614 (1:13.614) 2:34.977 (1:21.363) 4:04.925 (1:29.949)

Event 3 Girls 1600 Meter Run Varsity
================================================================
 Name Year School Finals
================================================================
Finals
 1 Sadie Engelhardt 9 Ventura Ss 4:36.67
 1:08.786 (1:08.786) 2:20.045 (1:11.259) 3:31.605 (1:11.560)
 2 Dalia Frias 12 Mira Costa Ss 4:37.09
 1:09.017 (1:09.017) 2:19.878 (1:10.861) 3:31.496 (1:11.618)
 3 # 509 Sam McDonnell 12 Newbury Park Ss 4:37.37
 1:08.935 (1:08.935) 2:20.083 (1:11.148) 3:31.753 (1:11.670)
 4 Mia Chavez 12 Chino Ss 4:41.71
 1:09.252 (1:09.252) 2:20.399 (1:11.148) 3:32.067 (1:11.669)
 5 Hannah Riggins 11 Del Norte Sds 4:46.97
 1:10.578 (1:10.578) 2:23.881 (1:13.303) 3:37.464 (1:13.583)
 6 # 511 Grace Hutchison 11 Buchanan Ces 4:47.04
 1:10.350 (1:10.350) 2:23.703 (1:13.353) 3:36.613 (1:12.910)
 7 Sierra Cornett 9 Buchanan Ces 4:48.80
 1:10.780 (1:10.780) 2:24.419 (1:13.639) 3:37.440 (1:13.022)
 8 Brianna McInnis 12 Tamalpais Ncs 4:49.89
 1:11.322 (1:11.322) 2:24.738 (1:13.417) 3:39.871 (1:15.133)
 9 Emma Hadley 12 Canyon (Anah) Ss 4:50.78
 1:10.605 (1:10.605) 2:23.929 (1:13.325) 3:38.092 (1:14.164)
 10 Allura Markow 11 Dana Hills Ss 4:50.89
 1:10.860 (1:10.860) 2:24.123 (1:13.263) 3:37.687 (1:13.565)
 11 Ashlyn Boothby 10 Scotts Valley Ccs 4:51.90
 1:11.035 (1:11.035) 2:24.225 (1:13.190) 3:38.495 (1:14.270)
 12 # 513 Mia Torrecillas 10 Highland Ces 5:00.00
 1:09.555 (1:09.555) 2:21.920 (1:12.365) 3:36.541 (1:14.622)

Event 5 Girls 100 Meter Hurdles Varsity
========================================================================
 Name Year School Prelims Wind H#
========================================================================
Preliminaries
 1 Charlize James 12 San Diego Sds 13.67Q 1.7 3
 2 Yvette Harris 11 Lincoln (St) Sjs 14.00Q 1.2 1 14.000
 3 Kapiolani Coleman 11 Cath. Cath-sd 14.23Q 0.4 2
 4 London Davis 10 Upland Ss 14.00q 1.7 3 14.000
 5 Giselle Kirchner 10 Rocklin Sjs 14.10q 1.7 3
 6 Kailah McKenzie 11 Orange Vista 14.30q 0.4 2
 7 Chika Nwachukwu 12 Silver Creek Ccs 14.32q 0.4 2
 8 Mari Testa 11 Campolindo Ncs 14.50q 1.7 3
 9 Kori Fields 11 St. Mary's Sjs 14.52 1.2 1
 10 Lauren Thai 12 Thousand Oaks Ss 14.61 1.7 3
 11 Madeleine Conte 12 Monrovia Ss 14.67 0.4 2
 12 Riley Costales 11 Central 14.69 0.4 2
 13 Sarah Ajayi 11 King, ML Ss 14.89 1.7 3
 14 Niya Clayton 10 Oaks Christian Ss 14.93 1.2 1
 15 Eliza Ayres 9 Oakland Tech Os 15.05 1.7 3
 16 Daniela Ruelas 12 Arroyo Grande Ces 15.08 1.2 1 q 14.51 Run Off
 17 Saqqara Ruffin 12 El Cerrito Nc 15.28 0.4 2
 18 Trisha Sharma 12 Fremont Ccs 15.36 1.2 1
 19 Taleeah Hoggatt 11 Central 15.43 1.2 1
 20 Alessandra Ionescu 11 Berkeley Ncs 15.45 1.7 3
 21 Elizabeth Churchil 12 Aptos Ccs 15.52 0.4 2
 22 Sandra Melendez 11 Chatsworth 16.65 1.2 1
 23 Giselle Rodriguez- 11 Fall River Ns 16.76 0.4 2
 24 Naomi-Alyssa Pippi 11 Palisades Las 16.84 1.2 1
 25 Mia Jamerson 11 Carson Las 17.62 0.4 2
 -- Aaliyah McCormick 12 Scripps Ranch Sds DQ 1.2 1 Impeeding

Event 5 Girls 100 Meter Hurdles Varsity
=====================================================================
 Name Year School Finals Wind
=====================================================================
Finals
 1 Charlize James 12 San Diego Sds 13.95 0.7
 2 Yvette Harris 11 Lincoln (St) Sjs 14.12 0.7
 3 Kapiolani Coleman 11 Cath. Cath-sd 14.14 0.7
 4 Giselle Kirchner 10 Rocklin Sjs 14.15 0.7
 5 Daniela Ruelas 12 Arroyo Grande Ces 14.33 0.7
 6 Kailah McKenzie 11 Orange Vista 14.54 0.7
 7 Chika Nwachukwu 12 Silver Creek Ccs 14.68 0.7
 8 Mari Testa 11 Campolindo Ncs 14.82 0.7
 9 London Davis 10 Upland Ss 14.99 0.7

Event 9 Girls 100 Meter Dash Varsity
========================================================================
 Name Year School Prelims Wind H#
========================================================================
Preliminaries
 1 Reign Redmond 11 Carson Las 11.45Q 1.7 1
 2 Ta'ahja Fann 11 Golden Valley Ss 11.67Q 3.8 2
 3 Aaliyah McCormick 12 Scripps Ranch Sds 11.77Q 1.7 3
 4 Brazil Neal 11 Serra Ss 11.69q 3.8 2
 5 Jordan Washington 11 Serra Ss 11.75q 1.7 1
 6 Alyssa Thompson 11 Harvard Westland Ss 11.76q 3.8 2
 7 Cameron Fields 12 St. Mary's Sjs 11.80q 1.7 3
 8 Juliette Kosmont 11 Santa Catalina Ccs 11.92q 1.7 1
 9 Eve Divinity 12 Redondo Ss 11.95q 1.7 3
 10 Sharli'e Mcculler 12 Edison Sjs 12.02 1.7 3 12.015
 11 Marlee Cavitt 11 Kennedy Sjs 12.02 3.8 2 12.017
 12 Leila Champion 11 Dublin Ncs 12.04 1.7 1
 13 Samira Stevenson 11 Carson Las 12.07 1.7 3
 14 Aniyah Wyche 12 Poly(LB) Ss 12.08 1.7 1
 15 Riley Allen 10 Righetti Ces 12.09 3.8 2
 16 Avianna Carrillo 11 Frontier Ces 12.10 1.7 1
 17 Elizabeth Hatton 12 Sage Creek Sds 12.15 3.8 2
 18 Vanessa Su 12 Lynbrook Ccs 12.16 3.8 2
 19 Haley Duvall 9 Clovis East Ces 12.20 1.7 3 12.197
 20 Shanye Harris 10 Dough Val-nc 12.20 1.7 1 12.198
 21 Mari Testa 11 Campolindo Ncs 12.21 1.7 3
 22 Sahara Wray 11 Carson Las 12.42 1.7 3
 23 Maliah Sampson 9 O'Connell Sfs 12.49 1.7 1
 24 Daryana Hall 12 Val. Chr-cc 12.54 1.7 1
 25 Jala Williams 11 Oakland Tech Os 12.62 3.8 2
 26 Kylie Atteberry 10 Las Plumas Ns 12.73 3.8 2

Event 9 Girls 100 Meter Dash Varsity
=====================================================================
 Name Year School Finals Wind
=====================================================================
Finals
 1 Reign Redmond 11 Carson Las 11.56 3.3
 2 Brazil Neal 11 Serra Ss 11.57 3.3
 3 Jordan Washington 11 Serra Ss 11.62 3.3
 4 Eve Divinity 12 Redondo Ss 11.74 3.3
 5 Aaliyah McCormick 12 Scripps Ranch Sds 11.80 3.3 11.796
 6 Cameron Fields 12 St. Mary's Sjs 11.80 3.3 11.799
 7 Alyssa Thompson 11 Harvard Westland Ss 11.83 3.3
 8 Juliette Kosmont 11 Santa Catalina Ccs 11.95 3.3

Event 15 Girls 200 Meter Dash Varsity
========================================================================
 Name Year School Prelims Wind H#
========================================================================
Preliminaries
 1 Reign Redmond 11 Carson Las 23.86Q 2.0 3 23.851
 2 Jordan Washington 11 Serra Ss 23.94Q 2.7 2
 3 Adonijah Currie 11 Golden Valley Ss 24.02Q 3.2 1
 4 Brazil Neal 11 Serra Ss 23.86q 2.0 3 23.853
 5 Takiya Cenci 12 Clovis North Ces 24.01q 2.7 2
 6 Alyssa Bean 12 Poway Sds 24.36q 3.2 1 24.355
 7 Eve Divinity 12 Redondo Ss 24.36q 2.7 2 24.357
 8 Aujane Luckey 11 Wilson(LB) Ss 24.66q 2.0 3
 9 Mikelia Strong 12 Fairfield Sjs 24.67q 2.7 2
 10 Payton Smith 10 La Jolla Sds 24.70 3.2 1 24.695
 11 Sharli'e Mcculler 12 Edison Sjs 24.70 2.0 3 24.700
 12 Juliette Kosmont 11 Santa Catalina Ccs 24.76 2.7 2
 13 Kori Fields 11 St. Mary's Sjs 24.80 2.0 3
 14 Avianna Carrillo 11 Frontier Ces 24.94 2.7 2
 15 Leila Champion 11 Dublin Ncs 24.97 3.2 1
 16 Samira Stevenson 11 Carson Las 25.19 2.0 3
 17 Isabella Flores 12 El Diamante Ces 25.23 3.2 1
 18 Vanessa Su 12 Lynbrook Ccs 25.26 3.2 1
 19 Victoria Chatter 9 Miramonte Ncs 25.31 2.0 3
 20 Simone Bart-Plange 11 Granada Hls-la 25.33 2.7 2
 21 Hannah Rutherford 9 Mountain Vies Ccs 25.35 3.2 1
 22 Kelsey Swyney 11 Carlsbad Sds 25.40 2.0 3
 23 Nairobi Smith 10 International Ncs 25.64 2.7 2
 24 Maliah Sampson 9 O'Connell Sfs 26.43 3.2 1

Event 15 Girls 200 Meter Dash Varsity
=====================================================================
 Name Year School Finals Wind
=====================================================================
Finals
 1 Brazil Neal 11 Serra Ss 23.68 4.6
 2 Takiya Cenci 12 Clovis North Ces 23.78 4.6
 3 Aujane Luckey 11 Wilson(LB) Ss 23.97 4.6
 4 Eve Divinity 12 Redondo Ss 24.03 4.6
 5 Adonijah Currie 11 Golden Valley Ss 24.05 4.6
 6 Jordan Washington 11 Serra Ss 24.12 4.6
 7 Alyssa Bean 12 Poway Sds 24.35 4.6
 8 Mikelia Strong 12 Fairfield Sjs 24.84 4.6

Event 19 Girls 4x400 Meter Relay Varsity
===================================================================
 School Prelims H#
===================================================================
Preliminaries
 1 Calabasas Ss 3:46.73Q 2
 54.787 (54.787) 1:53.460 (58.673) 2:51.244 (57.785)
 2 Clovis North Ces 3:49.63Q 1
 56.157 (56.157) 1:55.398 (59.241) 2:52.355 (56.957)
 3 Culver City Ss 3:50.92Q 3
 56.145 (56.145) 1:55.015 (58.871) 2:55.272 (1:00.258)
 4 Wilson(LB) Ss 3:47.05q 2
 54.865 (54.865) 1:52.619 (57.755) 2:49.659 (57.040)
 5 Poly(LB) Ss 3:51.33q 1
 55.574 (55.574) 1:55.889 (1:00.315) 2:53.564 (57.675)
 6 Poway Sds 3:52.21q 3
 57.382 (57.382) 1:59.967 (1:02.586) 2:57.623 (57.656)
 7 Del Norte Sds 3:54.67q 1
 57.811 (57.811) 1:58.043 (1:00.233) 2:56.326 (58.283)
 8 Chino Hills Ss 3:54.84q 3
 54.832 (54.832) 1:56.737 (1:01.906) 2:55.350 (58.613)
 9 Carlsbad Sds 3:56.19q 2
 56.979 (56.979) 2:00.512 (1:03.533) 2:59.743 (59.232)
 10 Carson Las 3:57.26 3
 59.441 (59.441) 1:58.424 (58.983) 2:58.177 (59.753)
 11 Turlock Sjs 3:57.91 1
 1:00.732 (1:00.732) 2:00.715 (59.983) 2:59.062 (58.348)
 12 Bella Vista Sjs 3:59.80 2
 57.361 (57.361) 1:59.515 (1:02.155) 3:02.352 (1:02.838)
 13 St. Francis Ccs 3:59.86 2
 56.550 (56.550) 2:03.237 (1:06.687) 3:02.694 (59.458)
 14 Clovis East Ces 4:00.11 3
 54.392 (54.392) 1:59.944 (1:05.552) 2:59.460 (59.516)
 15 Frontier Ces 4:01.18 1
 56.132 (56.132) 1:59.280 (1:03.149) 3:00.150 (1:00.870)
 16 Los Altos Ccs 4:01.95 1
 1:01.533 (1:01.533) 2:02.700 (1:01.167) 3:02.458 (59.759)
 17 Ventura Ss 4:03.20 3
 58.942 (58.942) 2:02.099 (1:03.157) 3:03.760 (1:01.661)
 18 Archbishop Mitty Ccs 4:04.02 3
 58.580 (58.580) 2:01.517 (1:02.938) 3:02.647 (1:01.131)
 19 St. Mary's Ncs 4:04.41 3
 55.422 (55.422) 2:01.030 (1:05.608) 3:02.664 (1:01.635)
 20 Clayton Valley Ncs 4:04.76 1
 58.935 (58.935) 2:05.097 (1:06.163) 3:06.760 (1:01.663)
 21 Foothill Ncs 4:04.85 2
 1:02.877 (1:02.877) 2:05.098 (1:02.222) 3:05.137 (1:00.040)
 22 Granada Hills Ch. Las 4:07.33 2
 55.943 (55.943) 2:05.147 (1:09.205) 3:04.837 (59.690)
 23 Garfield Las 4:09.99 1
 58.626 (58.626) 2:05.710 (1:07.084) 3:07.685 (1:01.976)
 24 Chico Ns 4:13.29 2
 1:03.767 (1:03.767) 2:08.542 (1:04.775) 3:10.033 (1:01.491)
 -- Lowell Sfs DQ 1 Impeeding
 1:03.619 (1:03.619) 2:05.989 (1:02.370) 3:06.277 (1:00.288)

Event 19 Girls 4x400 Meter Relay Varsity
================================================================
 School Finals
================================================================
Finals
 1 Clovis North Ces 3:45.38
 56.808 (56.808) 1:55.522 (58.715) 2:52.101 (56.579)
 2 Wilson(LB) Ss 3:47.92
 53.027 (53.027) 1:51.541 (58.515) 2:48.334 (56.793)
 3 Culver City Ss 3:48.68
 55.631 (55.631) 1:54.717 (59.086) 2:54.204 (59.487)
 4 Calabasas Ss 3:49.85
 55.429 (55.429) 1:54.203 (58.774) 2:52.314 (58.112)
 5 Poly(LB) Ss 3:53.51
 56.799 (56.799) 1:56.634 (59.835) 2:55.331 (58.698)
 6 Poway Sds 3:55.37
 55.788 (55.788) 1:59.894 (1:04.106) 2:59.170 (59.277)
 7 Chino Hills Ss 3:55.98
 54.013 (54.013) 1:56.778 (1:02.765) 2:57.129 (1:00.352)
 8 Del Norte Sds 3:56.40
 59.241 (59.241) 1:59.019 (59.778) 2:57.845 (58.827)
 9 Carlsbad Sds 3:56.97
 58.339 (58.339) 2:00.309 (1:01.970) 2:59.581 (59.273)

Event 21 Girls High Jump Varsity
================================================================
 Name Year School Prelims
================================================================
Preliminaries
 1 Elizabeth Churchil 12 Aptos Ccs 5-06.00q
 5-03 5-05 5-06
 O XO O
 2 Hannah Slover 11 Los Gatos Ccs J5-06.00q
 5-03 5-05 5-06
 O O XO
 3 Amia Witt 10 Calabasas Ss J5-06.00q
 5-03 5-05 5-06
 XO XO XO
 3 Meagan Humphries 10 Golden Valley Ss J5-06.00q
 5-03 5-05 5-06
 O XXO XO
 5 Kendra Daniels 10 Righetti Ces 5-05.00q
 5-03 5-05 5-06
 O O XXX
 5 Jazmine Severo 12 Golden Valley Sjs 5-05.00q
 5-03 5-05 5-06
 O O XXX
 7 Lizzie Tarczy 11 Scripps Ranch Sds J5-05.00q
 5-03 5-05 5-06
 XO O XXX
 7 Mara Lampsas 12 California Ncs J5-05.00q
 5-03 5-05 5-06
 XO O XXX
 9 Macaria Moore-Bast 12 East Lake Sds J5-05.00q
 5-03 5-05 5-06
 O XO XXX
 10 Kendra Duffey 12 Aliso Niguel Ss J5-05.00q
 5-03 5-05 5-06
 XXO XO XXX
 11 Zharia Taylor 12 Poly(LB) Ss J5-05.00q q 1st JO
 5-03 5-05 5-06
 O XXO XXX
 12 Melanie Castelli 11 Notre Dame (B) Ccs J5-05.00q q 2nd JO
 5-03 5-05 5-06
 O XXO XXX
 13 Ashanti Elie 11 Whitney Sjs J5-05.00
 5-03 5-05 5-06
 O XXO XXX
 14 Katherine Porter 12 Los Altos Ss J5-05.00
 5-03 5-05 5-06
 XO XXO XXX
 15 Kailah McKenzie 11 Orange Vista 5-03.00
 5-03 5-05
 O XXX
 15 Isabella Chilcutt 12 Bella Vista Sjs 5-03.00
 5-03 5-05
 O XXX
 17 Carissa Martinez 12 Mater Dei Ss J5-03.00
 5-03 5-05
 XO XXX
 17 Jillene Wetteland 9 Poly(LB) Ss J5-03.00
 5-03 5-05
 XO XXX
 17 Amara Thomas 10 Valley View Ss J5-03.00
 5-03 5-05
 XO XXX
 20 Carly Young Harrim 11 Acalanes Ncs J5-03.00
 5-03 5-05
 XXO XXX

 -- Cheyenne Roberts 12 Westview Sds NH
 5-03
 XXX
 -- Clara Fan 9 Monta Vista Ccs NH
 5-03
 XXX
 -- Haley Willison 12 Yreka Ns NH
 5-03
 XXX
 -- Kelly De Jong 10 Maranatha Chr. Sds NH
 5-03
 XXX
 -- Oleana Taalman-Koc 9 Marshall Las NH
 5-03
 XXX
 -- Haley Chelemedos 9 Acalanes Ncs NH
 5-03
 XXX
 -- Karina Rodriguez 10 Clovis Ces NH
 5-03
 XXX
 -- Kylee Davis 12 Golden Valley Ss NH
 5-03
 XXX
 -- Claire Predmore 12 Bullard Ces NH
 5-03
 XXX
 -- Milana Herrera 12 Palos Verdes Ss NH
 5-03
 XXX

Event 21 Girls High Jump Varsity
================================================================
 Name Year School Finals
================================================================
Finals
 1 Hannah Slover 11 Los Gatos Ccs 5-06.00
 5-04 5-06 5-07
 O O XXX
 2 Meagan Humphries 10 Golden Valley Ss J5-06.00
 5-04 5-06 5-07
 XO XXO XXX
 2 Mara Lampsas 12 California Ncs J5-06.00
 5-04 5-06 5-07
 XO XXO XXX
 4 Melanie Castelli 11 Notre Dame (B) Ccs 5-04.00
 5-04 5-06
 O XXX
 4 Elizabeth Churchil 12 Aptos Ccs 5-04.00
 5-04 5-06
 O XXX
 4 Lizzie Tarczy 11 Scripps Ranch Sds 5-04.00
 5-04 5-06
 O XXX
 4 Amia Witt 10 Calabasas Ss 5-04.00
 5-04 5-06
 O XXX
 8 Macaria Moore-Bast 12 East Lake Sds J5-04.00
 5-04 5-06
 XO XXX
 8 Jazmine Severo 12 Golden Valley Sjs J5-04.00
 5-04 5-06
 XO XXX
 8 Zharia Taylor 12 Poly(LB) Ss J5-04.00
 5-04 5-06
 XO XXX
 -- Kendra Duffey 12 Aliso Niguel Ss NH
 5-04
 XXX
 -- Kendra Daniels 10 Righetti Ces NH
 5-04
 XXX

Event 23 Girls Long Jump Varsity
=====================================================================
 Name Year School Prelims Wind
=====================================================================
Preliminaries
 1 Alyssa Hope 11 King, ML Ss 20-03.75q 2.3
 FOUL(0.6) 20-03.75(2.3) PASS
 2 Kylee Davis 12 Golden Valley Ss 19-11.75q 2.3
 18-09.50(1.3) 19-07(1.0) 19-11.75(2.3)
 3 Sydnie Vanek 11 Clovis Ces J19-11.75q 1.3
 19-02(2.3) 19-00.25(2.1) 19-11.75(1.3)
 4 Caelyn Harris 12 Upland Ss 19-09.75q 2.2
 19-09.75(2.2) PASS PASS
 5 Eve Divinity 12 Redondo Ss 19-03.00q 1.4
 19-03(1.4) 19-03(4.5) PASS
 6 Elizabeth Hatton 12 Sage Creek Sds 19-01.25q 2.3
 FOUL(1.7) 18-01.25(0.4) 19-01.25(2.3)
 7 Lauren Reed 12 Poly(LB) Ss 18-10.00q 1.7
 18-10(1.7) FOUL(2.3) 18-06.75(0.9)
 8 Emily Psarras 11 Mission Viejo Ss 18-08.75q 2.2
 16-03(0.6) 18-08.75(2.2) FOUL(3.5)
 9 Alyssa Alumbres 10 Vista Murrieta Ss 18-08.50q 2.0
 18-06.50(0.8) 18-08.50(2.0) FOUL(0.8)
 10 Meagan Humphries 10 Golden Valley Ss 18-06.00q +0.0
 17-09.50(0.2) 18-06(+0.0) 17-11(0.8)
 11 Kailah McKenzie 11 Orange Vista 18-04.75q 2.2
 18-04.75(2.2) 18-02(1.4) 18-00.50(0.8)
 12 Simone Terry 12 Carson Las 18-03.75q 1.2
 FOUL(1.3) FOUL(0.8) 18-03.75(1.2)
 13 Pia Cho 10 Aragon Ccs 18-03.25 1.1
 17-03.50(1.5) 17-07(1.7) 18-03.25(1.1)
 14 Torre Anderson 12 Foothill Ncs 17-11.25 3.2
 17-11.25(3.2) 17-10.50(2.0) 16-08.50(1.0)
 15 Riley Costales 11 Central J17-11.25 1.6
 17-09.50(1.1) FOUL(2.7) 17-11.25(1.6)
 16 Jessi Barry 12 Val. Chr-cc 17-11.00 0.9
 17-10.50(2.2) 17-11(0.9) 16-06.50(3.0)
 17 Kenna DeLemos 12 St. Francis Sjs 17-07.50 1.3
 17-07(1.9) 17-07.50(1.3) 16-04.50(1.3)
 18 Riley Lankford 11 R. Bernardo-sd J17-07.50 1.8
 FOUL(0.9) 17-05.50(1.5) 17-07.50(1.8)
 19 Madeleine Passmore 12 Buchanan Ces 17-05.00 1.6
 FOUL(1.1) 16-01.25(0.9) 17-05(1.6)
 20 Cameron Fields 12 St. Mary's Sjs 17-04.75 2.8
 FOUL(1.3) 17-04.75(2.8) FOUL(1.5)
 21 Kate Walsh 12 St. Ignatius Ccs 17-03.00 1.0
 17-03(1.0) FOUL(1.8) 16-06.50(2.0)
 22 Eliza Ayres 9 Oakland Tech Os 17-02.75 1.2
 16-01.75(0.3) 15-11(2.7) 17-02.75(1.2)
 23 Kylah Hyatt 11 Carson Las 17-02.25 1.0
 15-09.25(0.6) 17-02.25(1.0) 16-07.50(1.8)
 24 Lynee Sims 11 Castro Valley Ncs J17-02.25 0.9
 17-02.25(0.9) FOUL(2.4) FOUL(2.1)
 25 Desie Armstrong 12 Alhambra Ncs 17-02.00 0.2
 17-02(0.2) 16-10.75(0.2) FOUL(0.9)
 26 Adrienne Usher 12 Harvard Westland Ss 17-00.25 0.4
 FOUL(2.0) 16-00.50(3.0) 17-00.25(0.4)
 27 Kylie Atteberry 10 Las Plumas Ns 15-10.50 2.1
 FOUL(2.6) FOUL(1.5) 15-10.50(2.1)
 -- Hannah Crone 12 El Dorado Sjs FOUL NWI
 FOUL(0.8) FOUL(1.6) FOUL(1.1)

Event 23 Girls Long Jump Varsity
=====================================================================
 Name Year School Finals Wind
=====================================================================
Finals
 1 Sydnie Vanek 11 Clovis Ces 20-08.50 3.1
 19-00.25(3.0) FOUL(3.8) 19-04.25(1.5) 19-05.75(1.7) 20-05(1.2) 20-08.50(3.1)
 2 Alyssa Hope 11 King, ML Ss 20-04.00 3.0
 19-01.25(2.0) FOUL(1.9) 19-09(5.6) 18-01(1.1) 20-04(3.0) 18-06.50(3.5)
 3 Caelyn Harris 12 Upland Ss 19-09.50 1.8
 19-05.75(1.6) 19-09.50(1.8) FOUL(1.7) FOUL(1.1) FOUL(3.0) 19-03.50(2.7)
 4 Kylee Davis 12 Golden Valley Ss 19-08.25 2.0
 14-04(1.0) 19-02(1.2) 19-04(0.3) FOUL(0.6) FOUL(4.6) 19-08.25(2.0)
 5 Alyssa Alumbres 10 Vista Murrieta Ss 19-05.50 2.4
 18-04.50(1.4) 18-11.50(1.6) FOUL(3.2) 17-10.25(2.9) 18-00.50(3.2) 19-05.50(2.4)
 6 Eve Divinity 12 Redondo Ss 19-03.00 1.3
 18-11.50(0.7) 18-10(3.5) 18-06.75(2.6) FOUL(1.3) 19-03(1.3) FOUL(3.5)
 7 Emily Psarras 11 Mission Viejo Ss 18-10.75 3.3
 16-04(0.7) 17-10.25(2.3) 18-10.75(3.3) 17-03.75(1.7) 18-04.50(2.1) 18-09.50(1.8)
 8 Kailah McKenzie 11 Orange Vista 18-09.50 1.5
 17-09.50(2.6) 18-09.50(1.5) 18-08(1.9) 18-04.50(3.5) 18-02(2.2) PASS
 9 Meagan Humphries 10 Golden Valley Ss 18-06.75 3.0
 18-05.75(1.4) 18-01.25(1.0) 18-06.75(3.0) 18-06.75(2.1) 18-00.50(0.2) 17-02.75(1.2)
 10 Elizabeth Hatton 12 Sage Creek Sds 18-05.25 2.3
 18-04.50(1.5) 18-05.25(2.3) FOUL(2.0)
 11 Simone Terry 12 Carson Las J18-05.25 0.1
 18-00.50(1.1) FOUL(2.0) 18-05.25(0.1)
 12 Lauren Reed 12 Poly(LB) Ss 16-10.75 0.5
 16-10.75(0.5) 16-10(1.9) FOUL(2.0)

Event 24 Girls Triple Jump Varsity
=====================================================================
 Name Year School Prelims Wind
=====================================================================
Preliminaries
 1 Jada Gatlin 11 Mission Viejo Ss 40-09.00q 1.7
 38-03.50(0.5) 37-09.50(4.1) 40-09(1.7)
 2 Alyssa Hope 11 King, ML Ss 40-02.25q 1.8
 39-09.50(0.9) 40-02.25(1.8) PASS
 3 Alaya Robinson 10 Etiwanda Ss 39-05.50q 1.5
 38-03.50(1.5) 39-05.50(1.5) 39-00(2.1)
 4 Lauren Reed 12 Poly(LB) Ss 39-02.00q 1.8
 36-01.75(1.2) 38-02.25(1.1) 39-02(1.8)
 5 Cameron Fields 12 St. Mary's Sjs 39-00.00q 2.4
 FOUL(1.0) 39-00(2.4) PASS
 6 Alyssa Alumbres 10 Vista Murrieta Ss 38-06.50q 0.8
 38-05(0.6) 38-06.50(0.8) 37-08.25(1.0)
 7 Mikaela Miles 12 Point Loma Sds 38-01.75q 2.3
 38-01.75(2.3) 38-01.50(0.8) FOUL(2.5)
 8 Mackenzie Kirk 12 Los Alamitos Ss J38-01.75q 1.8
 38-01(0.8) 38-01.75(1.8) PASS
 9 Juliana Roberson 10 Whitney Sjs 37-02.00q 1.0
 37-02(1.0) 37-01(0.8) 37-00(1.5)
 10 Jenniece Pingley 12 El Camino Sds 37-01.00q 1.7
 37-01(1.7) 36-09(1.0) 36-10.50(1.7)
 11 Madeline Scovil 12 Arroyo Grande Ces 36-11.25q 0.3
 FOUL(0.9) 36-11.25(0.3) FOUL(0.8)
 12 Madeleine Passmore 12 Buchanan Ces 36-09.75q 1.2
 36-05.50(0.9) 35-00.50(0.6) 36-09.75(1.2)
 13 Aiza Sarwar 12 Dublin Ncs J36-09.75 1.5
 34-09.75(0.3) 36-05(1.0) 36-09.75(1.5)
 14 Simone Terry 12 Carson Las 36-09.00 1.1
 35-11.50(0.7) 36-08.25(1.2) 36-09(1.1)
 15 Janessa Morse 12 Granada Hls-la 36-06.25 1.1
 35-02.50(1.8) 35-06.75(1.4) 36-06.25(1.1)
 16 Nina Navarette 11 Buchanan Ces 36-05.00 1.7
 35-02.50(2.0) 35-10.25(0.9) 36-05(1.7)
 17 Megan MacKenzie 11 Los Altos Ccs 36-00.25 0.4
 FOUL(0.7) 35-00.75(1.8) 36-00.25(0.4)
 18 Anela Thomas 12 St. Mary's Ncs 35-04.00 0.8
 33-04(1.0) 35-04(0.8) FOUL(2.2)
 19 Azaria Purdy 12 Inderkum Sjs 35-00.75 2.0
 FOUL(1.9) 35-00.75(2.0) FOUL(0.8)
 20 Alexa Lowe 12 Harker Ccs 34-11.75 1.3
 34-07.25(1.0) 34-05.75(0.3) 34-11.75(1.3)
 21 Michelle Chen 12 Dublin Ncs 34-09.75 2.7
 33-08.75(2.2) 32-10.50(1.0) 34-09.75(2.7)
 22 Hannah Vincent 9 San Benito Hol Ccs 34-07.75 1.0
 FOUL(0.8) 31-08.25(1.6) 34-07.75(1.0)
 23 Monique Ricks 12 Skyline Os 33-01.75 1.9
 31-05.50(0.8) 32-02.75(1.2) 33-01.75(1.9)
 24 Sophia Loren Lampa 9 Marshall Las 31-10.00 1.7
 FOUL(0.3) 31-08.25(2.0) 31-10(1.7)
 25 Emma Schulte 11 Live Oak Ns 31-01.75 1.8
 29-05.50(1.9) 31-01.75(1.8) 29-11.50(2.0)

Event 24 Girls Triple Jump Varsity
=====================================================================
 Name Year School Finals Wind
=====================================================================
Finals
 1 Alyssa Hope 11 King, ML Ss 40-02.75 2.8
 40-01(6.2) 39-10(3.4) 39-06.50(4.3) FOUL(6.4) 40-02.75(2.8) 40-02.25(3.2)
 2 Cameron Fields 12 St. Mary's Sjs 38-09.75 5.3
 38-02.25(4.4) 38-09.75(5.3) 35-00.50(2.4) 35-09.25(2.9) 37-02(2.0) 38-06.50(4.5)
 3 Madeleine Passmore 12 Buchanan Ces J38-09.75 3.4
 37-08.25(3.6) 36-01.75(2.2) 38-09.75(3.4) 37-07.50(2.7) 37-08.25(2.9) 38-01(2.5)
 4 Alaya Robinson 10 Etiwanda Ss J38-09.75 3.1
 FOUL(2.1) FOUL(3.0) 38-09.75(3.1) 37-10(2.0) 37-05.50(0.4) 37-06.50(2.3)
 5 Mackenzie Kirk 12 Los Alamitos Ss 38-08.50 2.6
 37-04.75(3.0) 38-08.50(2.6) FOUL(2.5) 38-06.50(3.0) FOUL(1.5) FOUL(3.3)
 6 Alyssa Alumbres 10 Vista Murrieta Ss 38-02.25 0.8
 38-02.25(0.8) 35-11.50(3.7) 36-06.25(1.8) 37-07.25(3.4) 36-04.50(2.2) 36-05(1.8)
 7 Lauren Reed 12 Poly(LB) Ss 37-10.25 3.6
 FOUL(3.3) FOUL(3.5) 37-02(1.5) 37-10.25(3.6) 37-09.25(2.1) 37-01.25(3.3)
 8 Juliana Roberson 10 Whitney Sjs 37-10.00 2.7
 36-04.50(1.8) 37-10(2.7) 36-05.50(2.4) 36-09.75(2.1) 35-08.75(1.8) 36-09(3.0)
 9 Mikaela Miles 12 Point Loma Sds 37-03.25 3.9
 36-00(1.9) 37-01.75(3.5) 36-02.25(3.8) 37-02(2.9) 37-03.25(3.9) 36-11(1.9)
 10 Madeline Scovil 12 Arroyo Grande Ces 36-09.75 3.6
 FOUL(3.7) 36-09.75(3.6) 35-08(2.9)
 11 Jenniece Pingley 12 El Camino Sds 36-09.25 2.7
 36-07.25(4.3) 35-08.75(2.1) 36-09.25(2.7)
 -- Jada Gatlin 11 Mission Viejo Ss FOUL
 FOUL(3.3) FOUL(3.0) FOUL(4.5)

=========================================================================================
 Women - Varsity - Team Rankings - 16 Events Scored
=========================================================================================
 1) Serra Ss 37 2) Clovis North Ces 32
 3) Wilson(LB) Ss 28 4) Golden Valley Ss 24
 4) Notre Dame(SO) Ss 24 6) Cathedral Catholic Sds 20
 7) Ventura Ss 18 7) King, ML Ss 18
 9) St. Mary's Sjs 17 10) Clovis East Ces 16
 10) Poway Sds 16 12) Scripps Ranch Sds 15.50
 13) Carson Las 15 14) Culver City Ss 14
 15) Buchanan Ces 13.50 16) Redondo Ss 13
 17) Newbury Park Ss 12 17) Arroyo Grande Ces 12
 17) Lincoln (ST) Sjs 12 20) Del Norte Sds 11
 20) Caruthers Ces 11 20) Chino Ss 11
 23) Poly(LB) Ss 10.33 24) North, JS Ss 10
 24) Dublin Ncs 10 24) Los Gatos Ccs 10
 24) Montgomery Ncs 10 24) Clovis Ces 10
 24) San Diego Sds 10 30) Mira Costa Ss 9
 31) Calabasas Ss 8.50 32) Torrey Pines Sds 8
 32) Albany Ncs 8 34) Vista Murrieta Ss 7
 34) California Ncs 7 36) Oak Ridge Sjs 6
 36) Glendora Ss 6 36) Upland Ss 6
 39) Rocklin Sjs 5 39) Los Altos Ccs 5
 39) Etiwanda Ss 5 39) Weston Ranch Sjs 5
 39) Katella Ss 5 39) El Camino Sjs 5
 39) San Clemente Ss 5 39) Del Campo Sjs 5
 47) Roosevelt, Eleanor Ss 4 47) Los Alamitos Ss 4
 47) La Costa Canyon Sds 4 47) Oaks Christian Ss 4
 47) Orange Vista 4 52) Aptos Ccs 3.50
 52) Notre Dame (B) Ccs 3.50 54) Christian Brth. Sjs 3
 54) Central 3 54) Bear River Sjs 3
 57) Murrieta Valley Ss 2.50 58) Harvard Westland Ss 2
 58) Menlo Atherton Ccs 2 58) Whitney Sjs 2
 58) Silver Creek Ccs 2 58) Chino Hills Ss 2
 58) Del Oro Sjs 2 58) Mission Viejo Ss 2
 65) Campolindo Ncs 1 65) Tamalpais Ncs 1
 65) Westview Sds 1 65) Santa Catalina Ccs 1
 65) Fairfield Sjs 1 70) Golden Valley Sjs 0.33
 70) East Lake Sds 0.33