Last Friday was such an incredible meet to watch.
Not one but two girls meet records
(Hanne Thomsen 1600m 4:45.51 & Lily Mulligan pole vault 13-1)
plus a new wind legal high hurdle mark on the boys side.
(Alexander Manning 15.15 -0.5)
There have been a number of records set in the last 25 years but as I have mentioned before there are so many that a way older than that that have still not been touch over all these years.
Here are the highlights.
1996
Jeff Poisson of Cardinal Newman went 6-10 in the high jump that year while
Katie Schukle of Santa Rosa ran the 100m High Hurdles in 14.83.
Other records that meet that have since been beaten included Julia Stamps of Santa Rosa going 4:54.24 in the 1600 and Amy Bei of Montgomery going 9-0 in the vault.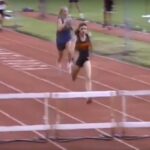 1995
Julia Stamps ran the 3200 in 10:16.96, the mark Thomsen took a shot at, after running the 1600 in the since beaten 4:55.10.
Maybe next year Thomsen can lower the 3200 mark.


1993
Coreen DeLosSantos of Ukiah launched the shot put out to 42-0¼.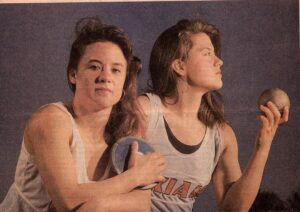 1991
Steve Guerrini of Santa Rosa clocked 4:15.86 in the 1600.
It's been 31 years, how about it in 2023 Devries?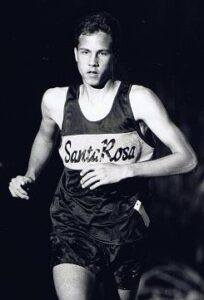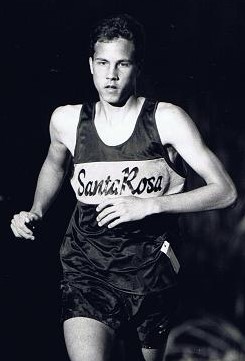 1990
We have four talented junior long jumpers this year but they will need a monster jump to take down Amey Mitchell of Rancho Cotate record of 19-4¼ next year.
In the same meet Nika Horn of Santa Rosa had the since beaten 800 mark of 2:20.0.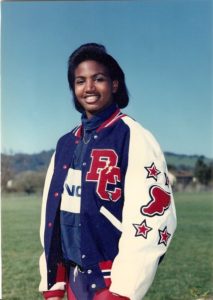 1987
Wendi Simmons of Santa Rosa triple jumped out to 36-9½. McKamey looks like a possibility of erasing that next year
Simmons also record in 300 hurdles that meet in 44.4.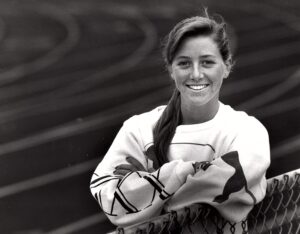 1982
Larry Plinski of Montgomery tossed the discus out to 175-0 that year.
Though they have both been beaten since the Petaluma girls of Denise Adiego recorded in the 100m Low Hurdles in 14.9 and Dee Peary landed at 18-2¼ in long jump.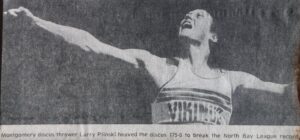 1981
This year saw a flood of records set on the girls side but it was on the boys side that two of them still stand today.
Rob McCorkel of Petaluma triple jumped 47-5 and
Dennis DeSoto, Santa Rosa crushed everyone in the shot put at 63-10½.
Girls meet records set at that meet included
Erin McNay, Santa Rosa 100m 12.4, *12.2 by Linden in trials.
Jill Tennyson, Petaluma 200m 25.4
Lori Shanoff, Petaluma 1600m 5:05.6, 800m 2:20.1 & 3200m 10:51.7.
Lynette Colter, Rancho Cotate shot put 40-2¾
Lola Paul, Montgomery discus 117-2
and 1600 relay by Santa Rosa 4:06.2.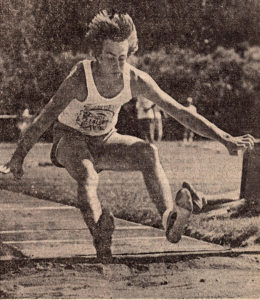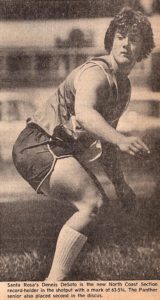 .
.
.
.
.
.
.
1978
Morgan Bertsch of Santa Rosa in 2013 tied the high jump record set by Deanne Neff of Montgomery 44 years ago at 5-6.
That year also saw old meet records by
Denise King, Ukiah 2:25.5
Dana Flint, Ukiah 5:31.3 & 11:36.5
Juli Walters, Petaluma 15.4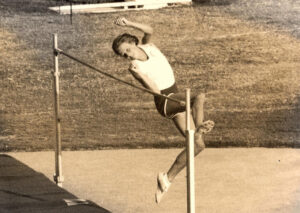 1975
Dan Aldridge of Petaluma ran the 880 in 1:52.3 for the still standing 800 conversion of 1:51.89.
This was the first year of the girls meet so all winning marks were records.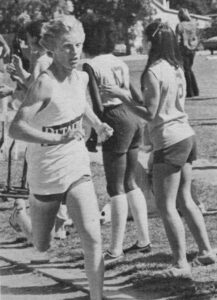 1974
Jon Sisler, Petaluma blazed his 2 miler in 9:15.6 for the still standing 3200 conversion of 9:12.92.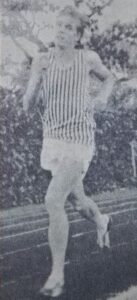 1971
Joe DeDora of Santa Rosa ran 48.1 for 440 which is now our 48.16 400 meter record.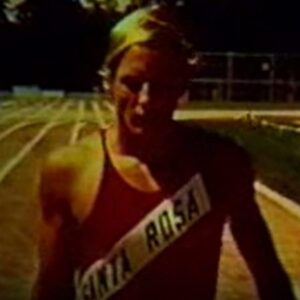 1970
Vallejo once competed in the NBL and so far no team has matched their 42.6 for 440 yards in the relay.
1967
The oldest records of course go to the famed state meet champion Mel Gray of Montgomery.
His marks in this meet have not been even remotly challenged but at least we have meteric and FAT time to give the current runners something to shoot for.
Grays 1975 NBL meet
100 yards 9.4, converts to about 10.65 for 100 meters.
220 in 20.8, converts to about 21.02 for 200 meters.
Long Jump 24-7, closest anyone has ever come to that in the meet was the record he broke from 1936 at 23-2 7/8.
And he anchored the 880yd Relay to 1:28.4.