Coastal Mountain Conference Finals 11/8/23
2.97 mile Spring Lake County Park course, since 1988
Photos by Michael Lucid
Lucid's CMC XC Finals Varsity Girls photos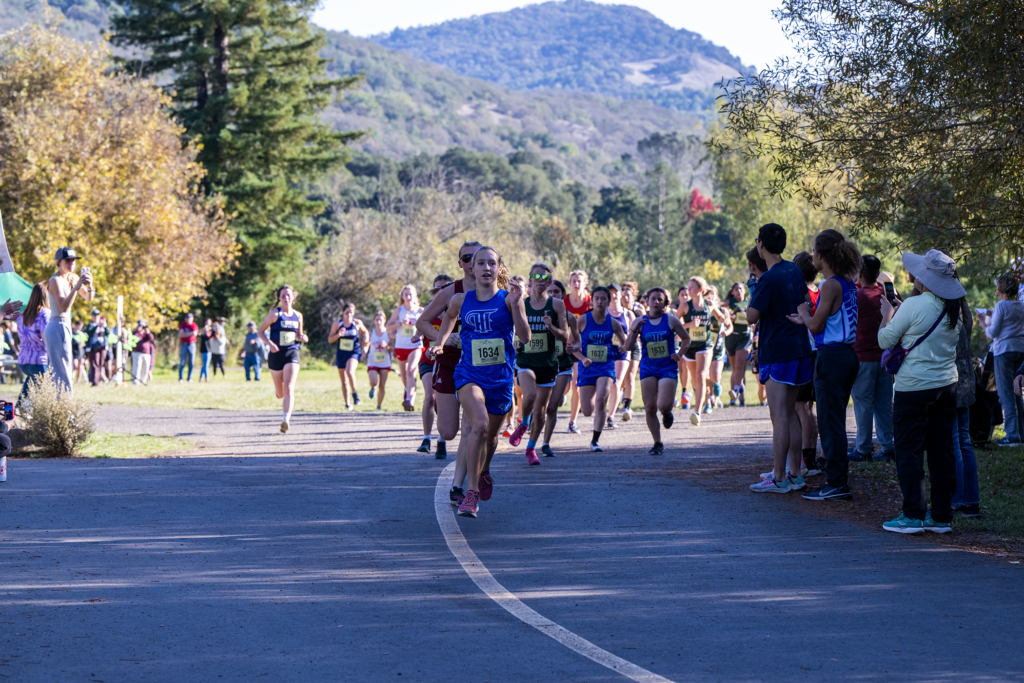 Technology freshman Josie Hill finished 36 seconds ahead of defending champion Hannah Garrity of Clear Lake to set up the possibility of winning the next three. Hill's time of 19:12 moves her to 11th All-Time from the CMC on this course. Garrity's 19:48 time was actually faster than what she won with last year.
Sonoma Academy's Claire Hirsch also finished well ahead of the rest of the field in 20:41.
St. Helena's Tilly Dodd, Sonoma Academy's Sarah Kam and Middletown's Bailey Smith all finished under 22 minutes.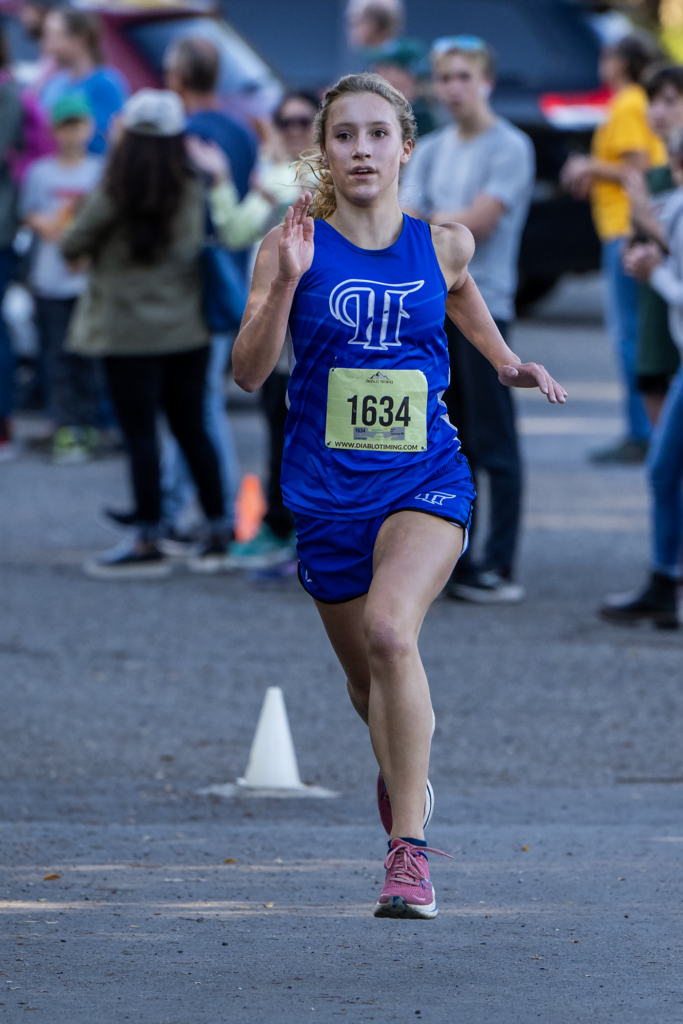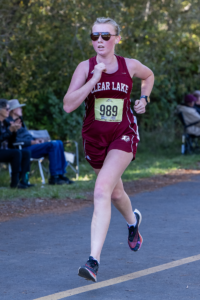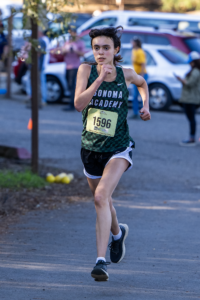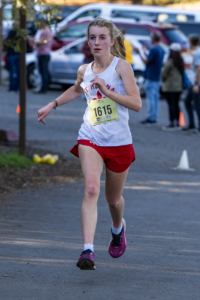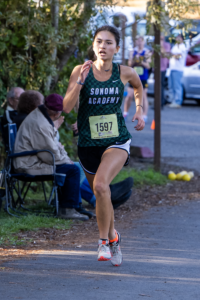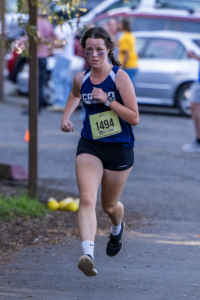 Meet History
Varsity
1       Removed by request
2	Hill, Josie	FR	1634	Technology (NC)	2	19:12	15.8	6:27.8, 11th CMC All-Time
3	Garrity, Hannah	SR	989	Clear Lake (NC)	--	19:48	52.0	6:40.0, 18th CMC All-Time
4	Hirsch, Claire	SO	1596	Sonoma Academy (NC)3	20:41	1:44.3	6:57.6, 34th CMC All-Time
5	Dodd, Tilly	JR	1615	St. Helena (NC)	4	21:34	2:37.7	7:15.6
6	Kam, Sarah	SR	1597	Sonoma Academy (NC)5	21:46	2:50.0	7:19.7
7	Smith, Bailey	SO	1570	Middletown (NC)	6	21:57	3:00.1	7:23.1

8	Sheehan, Emily	JR	1494	Credo High School (NC)7	22:04	3:07.4	7:25.6
9	Williams, Eva	SR	1619	St. Helena (NC)	8	22:09	3:12.0	7:27.5
10	Phipps, Novalee	JR	1525	Grace Christian Academy 22:13	3:16.8	7:28.7
11	Bruntlett, Elaina FR	1594	Sonoma Academy (NC)9	22:19	3:22.2	7:30.5
12	Barriga, Caterina JR	1562	Middletown (NC)	10	22:24	3:27.4	7:32.3
13	Jimenez, Jennifer JR	1566	Middletown (NC)	11	22:25	3:28.5	7:32.7
14	Mcgrath, Malia	FR	993	Cloverdale (NC)	--	22:40	3:43.6	7:37.8

15	Lazo, Giada	JR	1567	Middletown (NC)	12	22:43	3:46.5	7:38.7
16	McComas, Holly	SO	1568	Middletown (NC)	13	22:46	3:49.1	7:39.6
17	Barriga, Isabella SR	1563	Middletown (NC)	14	22:52	3:55.1	7:41.6
18	Muelrath, Avery	SR	1598	Sonoma Academy (NC)15	23:22	4:25.6	7:51.9
19	Galvan, Amara	JR	992	Cloverdale (NC)	--	23:28	4:31.8	7:54.0
20	Zheng, Kareena	SO	1637	Technology (NC)	16	23:30	4:33.6	7:54.6
21	Miles, Jacquelyn JR	1635	Technology (NC)	17	23:39	4:42.7	7:57.7

22	Bailey, Lillian	JR	1510	Fort Bragg (NC)	--	23:48	4:51.1	8:00.5
23	Cude, Sierra	FR	1565	Middletown (NC)	18	24:04	5:08.0	8:06.2
24	Cabrera, Lupita	FR	1564	Middletown (NC)	--	24:22	5:25.5	8:12.1
25	Gralnick, Faith	FR	1633	Technology (NC)	19	24:42	5:45.0	8:19.0
26	Sei, Arden	FR	1526	Grace Christian Academy 24:50	5:53.6	8:21.5
27	Hobbins, Ash	SO	1490	Credo High School 20	24:53	5:56.8	8:22.6
28	Spaulding, Emma	JR	1495	Credo High School 21	25:05	6:08.3	8:26.5
29	DeMoore, Ari	JR	1554	Mendocino (NC)	--	25:16	6:19.4	8:30.2
30	Grove, Violet	FR	985	Calistoga (NC)	--	25:22	6:25.6	8:32.3
31	Hobbins, Sierra	SO	1491	Credo High School 22	25:32	6:35.4	8:35.6
32	Henry, Loma	JR	1617	St. Helena (NC)	23	25:36	6:39.4	8:37.0
33	Kamstra, Abilene SR	1512	Fort Bragg (NC)	--	25:36   6:39.5	8:37.0
34	Andre, Maeve	SO	1522	Grace Christian Academy 25:36	6:39.0	8:37.1
35	Davies, Ruby	FR	1614	St. Helena (NC)	24	26:01	7:04.3	8:45.3
36	Moore, Lucia	FR	1618	St. Helena (NC)	25	26:02	7:05.0	8:45.9
37	Rippe, Hadia	SR	1549	Lower Lake (NC)	--	26:40	7:43.3	8:58.5
38	Aguilar, Aylin	FR	1536	Kelseyville (NC)26	26:40	7:43.0	8:58.7
39	Malone, Maya	SR	1492	Credo High School 27	26:41	7:44.1	8:58.7
40	Toscano, Trinidad SR	1513	Fort Bragg (NC)	--	26:59	8:03.0	9:05.1
41	Williams, Penny	FR	1620	St. Helena (NC)	28	27:01	8:04.9	9:05.8
42	Keough, Nicole	SR	1653	Willits (NC)	--	27:33	8:36.6	9:16.4
43	Hardcastle, Summer FR	1616	St. Helena (NC)	29	27:49	8:53.0	9:22.0
44	Freeland, Emma	SR	1511	Fort Bragg (NC)	--	28:21	9:24.5	9:32.6
45	Pinaeva, Sofia	FR	1636	Technology (NC)	30	28:23	9:26.2	9:33.1
46	Amaya, Shellbee	SR	1593	Sonoma Academy (NC)31	29:13	10:16.4	9:50.0
47	Pyska, Camille	FR	1569	Middletown (NC)	--	29:32	10:35.1	9:56.3
48	Swehla, Alayna	SR	1528	Grace Christian Academy 30:10	11:13.5	10:09.2
49	Besack, Elsa	SR	1488	Credo High School 32	30:27	11:30.2	10:14.9
50	Owsiany, Emelia	SO	1654	Willits (NC)	--	31:20	12:23.5	10:32.8
51	Hobbs, Ashley	JR	1538	Kelseyville (NC)33	31:20	12:23.0	10:33.0
52	Ross, Tiah	JR	1655	Willits (NC)	--	31:43	12:46.5	10:40.6
53	Key, Sienna	SR	1539	Kelseyville (NC)34	32:08	13:11.3	10:48.9
54	Boyd, Alayna	SR	1537	Kelseyville (NC)35	33:21	14:24.3	11:13.5
55	Pence, Kyrston	SR	1540	Kelseyville (NC)36	33:21	14:24.8	11:13.7
56	Peyton, Riley	SO	1493	Credo High School 37	35:04	16:07.3	11:48.2

1	Sonoma Academy 	 33	1-3-5-9-15(31)	        1:47:08	21:25	4:24.6	NCL II
2	Middletown 	 52	6-10-11-12-13(14)(18)	1:52:15	22:27	0:49.0	NCL I
3	St. Helena 	 84*	4-8-23-24-25(28)(29)	2:01:22	24:17	4:28.3	NCL I
4	Technology 	 84*	2-16-17-19-30	        1:59:26	23:53	9:10.5	NCL II
5	Credo            97	7-20-21-22-27(32)(37)	2:04:15	24:51	4:36.8	NCL II
6	Kelseyville 	164	26-33-34-35-36	        2:36:50	31:22	6:40.9	NCL I