Vine Valley Athletic League, history
Sat, Nov 6, 2021 at the 3.0 mile Alston Park course, used since 2018
The Petaluma boys dominated this meet winning their first league pennant since their 2012 team won the Sonoma County League title.
The Trojans were lead by Drake Newell's 2nd place finish behind Napa's champion, Eric Aguilar.
Petaluma placed six runners in the top 14.
With only two championships having been run for this league Napa now has both winners following David Acuna win in 2019.
Vintage had their best showing here with a third place finish as well as taking 3rd by Drew Holloran.
Justin-Siena had their best VVAL finish at 4th and an 8th place finish by Charles Wenzel.
Sonoma Valley had their best individual finish in the VVAL at 12th by Adam Tovar.
Photos by Michael Lucid
Lucid's 645 VVAL Championship photos
JV Photos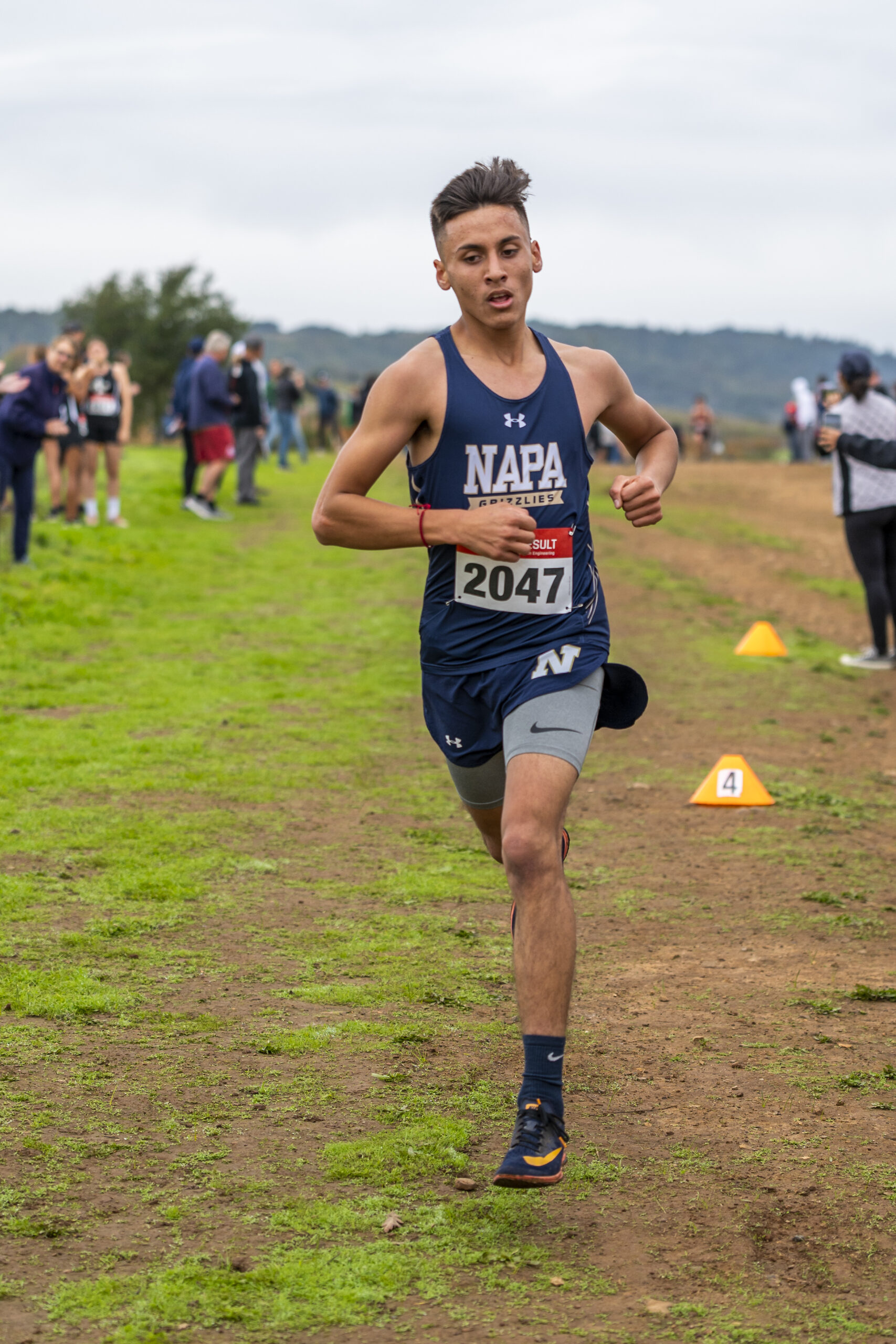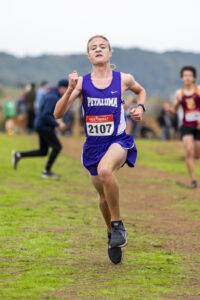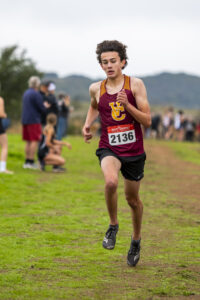 .
.
.
.
.
.

Varsity Boys
1. Petaluma 31
2. Vintage 55
3. Napa 60
4. Justin-Siena 125
5. Casa Grande 130
6. American Canyon 134
7. Sonoma Valley Incomplete

Course Record: 15:27 Nolan Hosbein, Casa Grande 3/17/21,
next 15:51 Guzman Emmanuel, Vintage 10/24/18

	1.	12	Eric Aguilar		17:06.9 Napa
	2.	12	Drake Newell		17:18.5 Petaluma
	3.	12	Drew Holloran		17:22.1 Vintage
	4.	11	Javier Gutierrez	17:27.2 Petaluma
	5.	9	Dylan Mainaris		17:28.3 Casa Grande
	6.	10	Raymond Somoff		17:29.0 Petaluma
	7.	9	Mattias Morehouse	17:30.6 Petaluma

	8.	10	Charles Wenzel		17:36.1 Justin-Siena
	9.	11	Aidan Smith		17:40.7	Napa
	10.	12	Liam Alexander		17:42.4 Vintage
	11.	11	Collin Durfee		17:51.4	Vintage
	12.	10	Adam Tovar		17:53.7 Sonoma Valley
	13.	10	Flynn Shoop		18:04.2	Petaluma
	14.	11	Max Bloom		18:06.8	Petaluma

	15.	12	Logan Walsh		18:08.0 Napa
	16.	11	Aiden Rutherford	18:11.8 Vintage
	17.	12	Nicholas Malito		18:16.9 Vintage
	18.	11	Noah Massey		18:19.3 Napa
	19.	9	Leonardo Deeik		18:19.7 Petaluma
	20.	10	Jayden Quintana		18:42.9	Napa
	21.	11	Isaac Vasquez		18:46.8 Casa Grande

	22.	11	Emanuel Barajas		18:47.9 American Canyon
	23.	12	Yahir Madrigal		18:52.2	American Canyon
	24.	12	Nicholas Dominici	18:53.6 Vintage
	25.	12	Elvin Fuerte		18:55.2 American Canyon
	26.	12	Martin Salinas		19:04.8 Napa
	27.	10	Finn McGrath		19:20.1 Napa
	28.	10	Wyatt Paulson		19:26.7	Justin-Siena
	29.	12	Devon De los santos	19:27.9	Justin-Siena
	30.	11	Richard Bennett		19:29.2 Casa Grande
	31.	11	Cameron Wang		19:29.8 Justin-Siena
	32.	12	Alfons McCoy		19:45.6	American Canyon
	33.	11	Owen Fortner		20:04.9	Justin-Siena
	34.	12	Jack Duffy		20:07.1	Justin-Siena
	35.	11	Jack Carey		20:19.1	Justin-Siena
	36.	11	Troy McDonald-Doxsee	20:27.9	Vintage
	37.	12	Andres Cardenas		20:40.0	American Canyon
	38.	10	Victor Garcia		21:01.2 Casa Grande
	39.	12	Ethan Luong		21:57.0 American Canyon
	40.	11	Karsen Garrity		22:09.3 Casa Grande
	41.	10	Antonio Jordan		22:14.3 Casa Grande
	42.	11	Zachary Baird		22:28.1	Casa Grande

JV Boys
1. Petaluma 15
2. Vintage 62
3. Napa 70
4. Justin-Siena 108
Others Incomplete



Ryder Wilson

Bendt Jorgensen

Vojtech Susicky



.

.

.

.

.

.

.

.

	1.	10	Ryder Wilson		19:15.1 Petaluma
	2.	11	Bendt Jorgensen		19:18.6 Petaluma
	3.	12	Vojtech Susicky		19:21.2	Petaluma
	4.	9	Jonas Fuette		19:25.8 Petaluma
	5.	11	Miles Paisley		19:35.5	Petaluma
	6.	9	Valentin Arango		19:51.9	Vintage
	7.	10	TJ Carl		        20:02.0 Petaluma

	8.	9	Maxwell Brown		20:05.8 Petaluma
	9.	12	William Gilmore		20:12.9 Petaluma
	10.	11	Chase Newell		20:13.4 Petaluma
	11.	10	Zachary Murrell		20:18.5 Vintage
	12.	10	Kellan Noden		20:19.9 Petaluma
	13.	9	Isaiah Rojas		20:20.5 Napa
	14.	10	Giorgio Baldini		20:23.0	Justin-Siena

	15.	9	Lucas Thomason		20:24.1 Petaluma
	16.	-	Uriel Ortiz		20:25.7 Napa
	17.	10	Jean-Luc Pijanowski	20:38.7 Napa
	18.	9	Caden Crayne		20:45.3 Petaluma
	19.	9	Nick Dennis		20:52.6 Petaluma
	20.	9	Rocco Scaccalosi	20:52.8 Petaluma
	21.	12	Zeeshan Deura		20:58. Petaluma

	22.	9	Elihu Rodriguez		20:59.6 Petaluma
	23.	10	Brady Lowell		21:17.2 Vintage
	24.	12	Graham Cannon		21:30.4 Petaluma
	25.	9	Nathan Rodriguez	21:36.7 Petaluma
	26.	10	Everett Abercrombie	21:38.5 Petaluma
	27.	9	Theo Maas		21:48.9	Napa
	28.	10	Nathan Luna		21:53.3 Vintage
	29.	11	Max Kaplan		21:54.5 Vintage
	30.	12	Niko Smith		22:01.4	Vintage
	31.	9	Miles Joshua		22:02.0 Vintage
	32.	9	Ryan Butler		22:03.9 Napa
	33.	10	Thomas Rist		22:05.8 Napa
	34.	9	Jack Heffner		22:21.9 Vintage
	35.	9	Franklin Kelly		22:30.2 Justin-Siena
	36.	12	Julian McAllister	22:31.7 Petaluma
	37.	10	Jacob Phillips		22:35.0 American Canyon
	38.	10	Matthew Kwei		22:36.7 Petaluma
	39.	12	Adrian Navarro		22:53.9 Napa
	40.	-	Gonzalo Rodriguez	22:57.0 Napa
	41.	9	Shane Green		23:08.1 Justin-Siena
	42.	9	Alec Rutherford		23:22.1 Vintage
	43.	10	Justin Hicks		23:22.3 Petaluma
	44.	11	Benjamin Del Castillo	23:50.0 Justin-Siena
	45.	9	Beau Leary		24:03.0	Justin-Siena
	46.	9	Wesley Gruener		25:28.4 Petaluma
	47.	10	Chance Kelly		25:29.0 Justin-Siena
	48.	12	Keanu Kawakami		25:35.6 American Canyon
	49.	12	Anthony Gutierrez	26:55.2 Vintage
	50.	9	Finnegan Shanahan	28:17.3 Napa
	51.	9	Soren Deyoung		33:12.7 Vintage