Vine Valley Athletic League Finals 11/4/23
2.97 mile Spring Lake County Park course, since 1988
Photos by Michael Lucid
Lucid's VVAL Finals Varsity Boys photos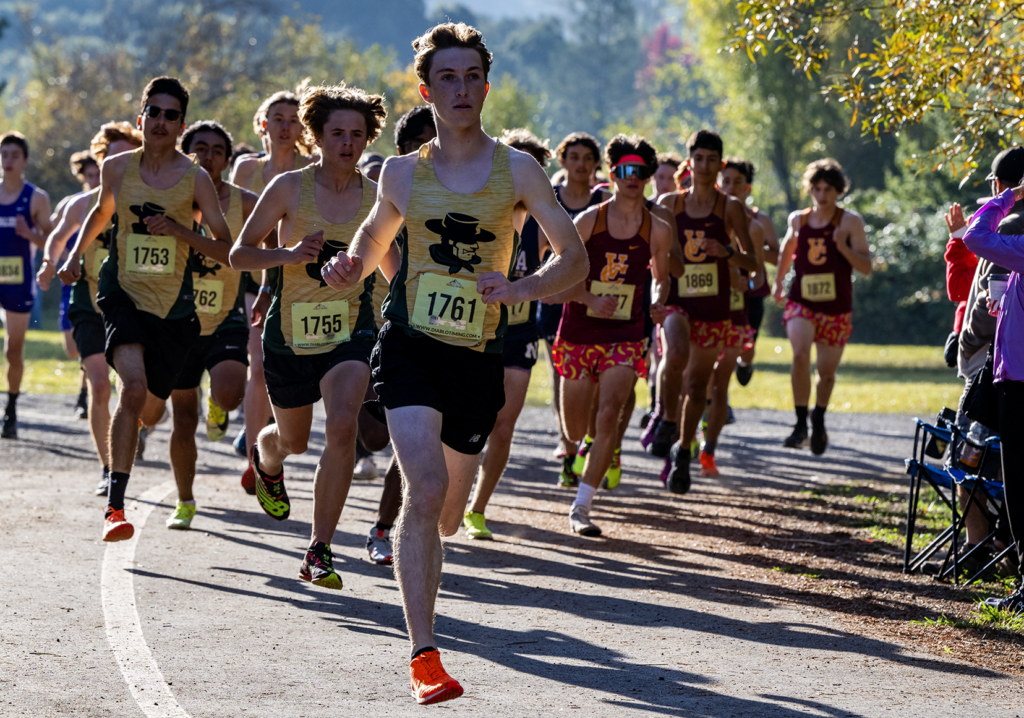 Casa Grande junior Dylan Mainaris took the top honors running 16:27.
But after him came a flood of four Vintage runners to easily take the championship and pennant.
Leading the Vintage team was junior Grayson Frye (2nd) and sophomore Teddy Eichner (3rd) both in 16:48.
This is Vintages first VVAL pennant with Frye being their best placer ever and they had no seniors in this varsity team. Casa's top six were also underclassmen.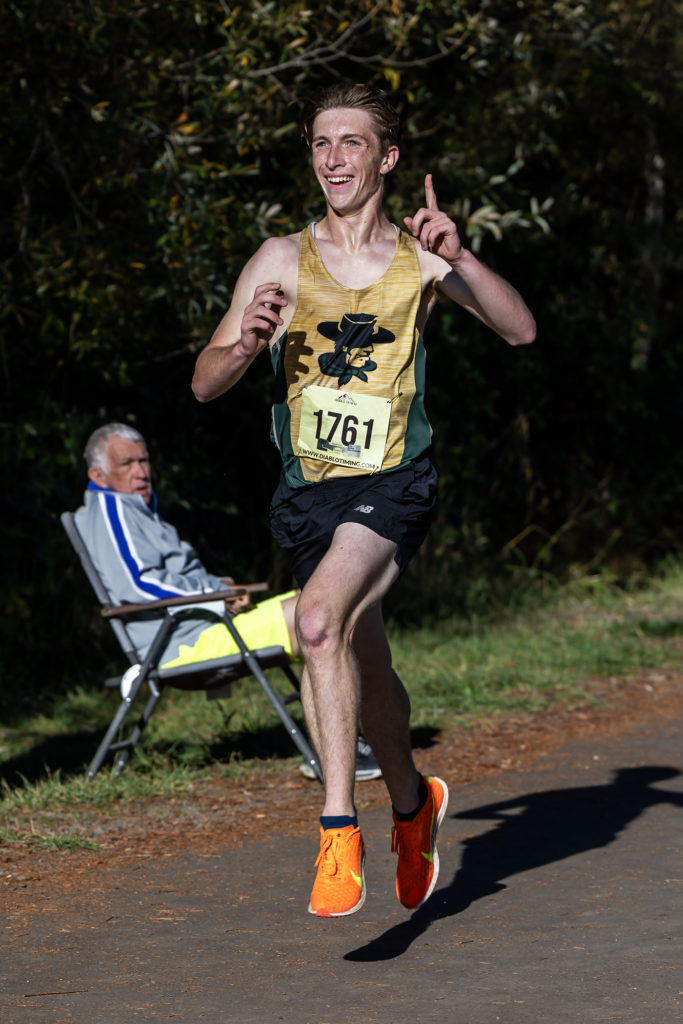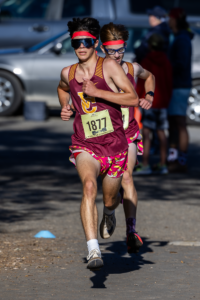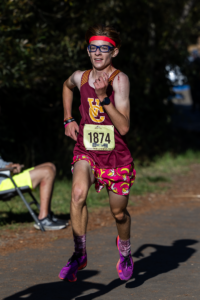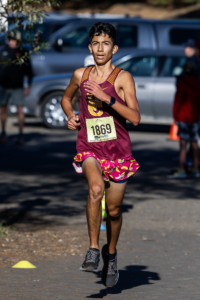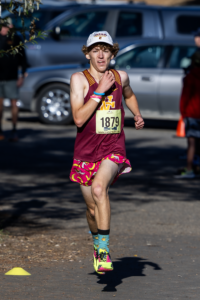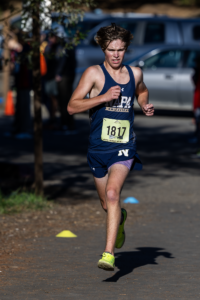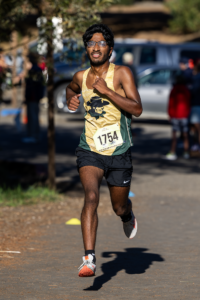 Meet History
Varsity
Individual: 16:10 David Acuna, Napa 2019
Team: 82:18 Casa Grande 2019

1	Vintage 	 32	2-3-4-5-18(30)(31)	85:43	17:09	1:27.6, pennant winner
2	Casa Grande 	 46	1-7-8-9-21(22)(32)	87:48	17:33	2:39.7
3	Napa   	         52	6-10-11-12-13(14)(19)	88:28	17:41	0:59.0
4	Petaluma  	117	16-23-25-26-27(28)(33)	95:45	19:09	1:22.9
5	Justin-Siena 	127	15-17-20-36-39(40)(41)	95:47	19:10	2:24.0
6	American Canyon	159	24-29-34-35-37(38)(42)	99:41	19:56	0:55.7
Sonoma Valley Incomplete

1	Mainaris, Dylan	JR	1761	Casa Grande (NC)1	16:27	---	5:32.1
2	Frye, Grayson	JR	1877	Vintage (NC)	2	16:48	20.8	5:39.1
3	Eichner, Teddy	SO	1874	Vintage (NC)	3	16:48	20.8	5:39.1
4	Arango, Valentin JR	1869	Vintage (NC)	4	16:55	28.3	5:41.6
5	Heffner, Jack	JR	1879	Vintage (NC)	5	16:57	29.6	5:42.4
6	Moore, Jack	SO	1817	Napa (NC)	6	17:04	36.8	5:44.5
7	Goli, Srihan	JR	1754	Casa Grande (NC)7	17:12	45.0	5:47.3

8	Hansen, Kevin	SO	1755	Casa Grande (NC)8	17:28	1:01.5	5:52.8
9	Dufour, Jack	SO	1752	Casa Grande (NC)9	17:34	1:06.8	5:54.6
10	Heiser, Walter	SO	1813	Napa (NC)	10	17:38	1:11.0	5:56.0
11	Aaen, Camden	SO	1806	Napa (NC)	11	17:42	1:14.7	5:57.2
12	Rojas, Isaiah	JR	1821	Napa (NC)	12	17:58	1:31.4	6:02.9
13	Butler, Ryan	JR	1810	Napa (NC)	13	18:03	1:35.8	6:04.4
14	Pijanowski, Jean-Luc SR	1819	Napa (NC)	14	18:07	1:40.1	6:05.8

15	Eierman, Peter	JR	1787	Justin-Siena (NC)15	18:07	1:40.4	6:05.9
16	Kelly, Maverick	FR	1841	Petaluma (NC)	16	18:08	1:40.7	6:06.0
17	Baldini, Giorgio SR	1782	Justin-Siena (NC)17	18:11	1:44.2	6:07.2
18	Ewig, Eli	SO	1875	Vintage (NC)	18	18:15	1:48.3	6:08.6
19	McGrath, Finn	SR	1815	Napa (NC)	19	18:41	2:14.2	6:17.3
20	Reber, Ryan	SO	1796	Justin-Siena (NC)20	18:43	2:16.4	6:18.0
21	Lichty, Benton	SO	1760	Casa Grande (NC)21	19:07	2:39.7	6:25.9

22	Negrete, Christopher JR	1762	Casa Grande (NC)22	19:13	2:45.8	6:27.9
23	Miller, Dane	FR	1844	Petaluma (NC)	23	19:16	2:49.3	6:29.1
24	Lipson, Camren	JR	1721	American Canyon (NC)24	19:21	2:53.7	6:30.6
25	Baxman, John	FR	1834	Petaluma (NC)	25	19:22	2:55.3	6:31.1
26	Tallent, Masato	SO	1850	Petaluma (NC)	26	19:29	3:02.1	6:33.4
27	Abercrombie, Everett SR	1832	Petaluma (NC)	27	19:30	3:02.6	6:33.9
28	Shaw, Collin	SO	1849	Petaluma (NC)	28	19:33	3:05.8	6:34.6
29	Johnson, Jeremiah SR	1718	American Canyon (NC)29	19:39	3:12.5	6:36.9
30	Cullinane, Brody SO	1872	Vintage (NC)	30	19:40	3:13.0	6:37.1
31	Garcia, Xavier	JR	1878	Vintage (NC)	31	19:41	3:14.5	6:37.6
32	Garcia, Victor	SR	1753	Casa Grande (NC)32	19:52	3:24.9	6:41.1
33	Brown, Maxwell	JR	1835	Petaluma (NC)	33	19:54	3:27.3	6:41.9
34	Ivan Cruz, Arch	JR	1717	American Canyon (NC)34	20:12	3:44.8	6:47.8
35	H. Agudelo, Josue SR	1715	American Canyon (NC)35	20:13	3:45.8	6:48.1
36	Guerard, Alan	SO	1791	Justin-Siena (NC)36	20:15	3:48.0	6:48.9
37	Santos, Evan	SO	1726	American Canyon (NC)37	20:16	3:49.4	6:49.3
38	Leslie, Preston	JR	1720	American Canyon (NC)38	20:20	3:53.3	6:50.7
39	Jamison, Jack	SO	1792	Justin-Siena (NC)39	20:31	4:04.4	6:54.4
40	beckstoffer, john SO	1783	Justin-Siena (NC)40	20:49	4:22.3	7:00.4
41	Green, Shane	JR	1790	Justin-Siena (NC)41	21:48	5:21.0	7:20.2
42	Ibe, Brandon	SR	1716	American Canyon (NC)42	22:12	5:45.5	7:28.4

Junior Varsity
1	Napa 	         30	1-4-5-9-11(24)(38)	 95:37	19:08	2:04.0, pennant winner
2	Vintage 	 40	3-6-7-8-16(17)(37)	 97:58	19:36	1:48.9
3	Casa Grande 	 62	2-10-12-13-25(29)(32)	100:10	20:02	3:56.1
4	American Canyon	110	15-19-23-26-27(28)(30)	107:26	21:29	1:43.9
5	Petaluma  	129	18-20-22-34-35(36)(39)	108:57	21:47	1:53.8
6	Justin-Siena    139	14-21-31-33-40(41)	110:14	22:03	3:12.9
Sonoma Valley Incomplete

1	Cortes, Giancarlo FR	1812	Napa (NC)	1	17:43	---	5:57.9
2	Melin, Alex	SR	1750	Casa Grande (NC)2	18:08	24.5	6:06.1
3	Willmert, Anthony SO	1889	Vintage (NC)	3	18:42	58.7	6:17.6
4	Duffield, Carlos SO	1854	Sonoma Valley (NC)--	18:56	1:12.4	6:22.2
5	Koehler, Seth	SO	1814	Napa (NC)	5	18:58	1:15.0	6:23.1
6	Batto-Ward, Zachary FR	1807	Napa (NC)	6	19:28	1:44.1	6:33.3
7	Bullard, Joshua	FR	1871	Vintage (NC)	7	19:30	1:46.5	6:33.7

9	Title, Casey	SO	1888	Vintage (NC)	8	19:35	1:51.5	6:35.4
10	Fishleder, Hudson SO	1876	Vintage (NC)	9	19:40	1:56.1	6:37.3
11	Mizuno, Dagon	SO	1816	Napa (NC)	10	19:41	1:58.0	6:37.6
12	Kassis, Simon	FR	1758	Casa Grande (NC)11	19:47	2:03.7	6:39.5
13	Rist, Thomas	SR	1820	Napa (NC)	12	19:47	2:03.9	6:39.6
14	Howe, Peyton	FR	1756	Casa Grande (NC)13	20:05	2:21.5	6:45.5
15	Kem, Nathra	SR	1759	Casa Grande (NC)14	20:06	2:22.3	6:45.8
16	Eierman, Henry	FR	1786	Justin-Siena (NC)15	20:08	2:24.9	6:46.6
17	Brito, Mason	JR	1712	American Canyon (NC)16	20:24	2:40.8	6:52.0
18	Monticelli, Secondo FR	1882	Vintage (NC)	17	20:31	2:47.5	6:54.2
19	Luna, Nathan	SR	1881	Vintage (NC)	18	20:39	2:55.3	6:56.9
20	Fuette, Jonas	JR	1839	Petaluma (NC)	19	20:47	3:04.0	6:59.8
21	Tonsager, Jaden	JR	1731	American Canyon (NC)20	20:53	3:09.3	7:01.6
22	Juarez, Josue	SR	1840	Petaluma (NC)	21	21:07	3:23.4	7:06.3
23	Moi, Aaron	FR	1855	Sonoma Valley (NC)--	21:20	3:36.6	7:10.8
24	Campos, Michael	FR	1784	Justin-Siena (NC)22	21:41	3:57.1	7:18.0
25	Kenner, Miles	JR	1842	Petaluma (NC)	23	21:42	3:58.4	7:18.1
26	Johnson-Peterson, Miles FR 1719	American Canyon (NC)24	21:56	4:12.5	7:22.9
27	Wyngard, Nash	FR	1856	Sonoma Valley (NC)--	22:00	4:17.0	7:24.4
28	Bergman, Django	SO	1809	Napa (NC)	25	22:02	4:18.7	7:25.0
29	Intriago Cornejo, Louis SO 1757	Casa Grande (NC)26	22:04	4:20.5	7:25.6
30	Quiatchon, Aidan FR	1724	American Canyon (NC)27	22:05	4:21.7	7:26.0
31	Piazza, Dylan	FR	1723	American Canyon (NC)28	22:08	4:24.7	7:27.0
32	Reyes, Ryland	SO	1725	American Canyon (NC)29	22:22	4:38.3	7:31.6
33	Salus, Christian FR	1763	Casa Grande (NC)30	22:23	4:40.1	7:32.2
34	Smiley, Tru	FR	1728	American Canyon (NC)31	22:24	4:40.4	7:32.3
35	Gay, Justin	FR	1789	Justin-Siena (NC)32	22:25	4:41.4	7:32.6
36	Campagna, Christopher FR 1749	Casa Grande (NC)33	22:26	4:42.3	7:32.9
37	Timpano, William FR	1729	American Canyon (NC)--	22:34	4:50.8	7:35.8
38	Escareno, Gabrial FR	1788	Justin-Siena (NC)34	22:39	4:55.5	7:37.3
39	Clements, Thomas FR	1836	Petaluma (NC)	35	22:40	4:57.0	7:37.9
40	Phillips, Trevor SR	1845	Petaluma (NC)	36	22:41	4:57.8	7:38.1
41	Rangoussis, Jason FR	1846	Petaluma (NC)	37	22:42	4:58.7	7:38.4
42	Lewis, Ethan	JR	1880	Vintage (NC)	--	22:44	5:00.7	7:39.1
43	Benitez, Emmanuel FR	1808	Napa (NC)	38	22:49	5:05.5	7:40.7
44	Contreras, Gavin FR	1751	Casa Grande (NC)--	22:53	5:09.4	7:42.0
45	Schmaling, Matthew SO	1727	American Canyon (NC)--	23:01	5:17.6	7:44.8
46	Venzon, Demetrius SO	1733	American Canyon (NC)--	23:09	5:25.9	7:47.6
47	Kwei, Matthew	SR	1843	Petaluma (NC)	39	23:14	5:30.7	7:49.2
48	Crespo, Shane	SR	1713	American Canyon (NC)--	23:14	5:30.7	7:49.2
49	Calderon, Aaron	SO	1811	Napa (NC)	--	23:16	5:32.6	7:49.9
50	McLaughlin, Alan FR	1794	Justin-Siena (NC)40	23:21	5:37.7	7:51.6
51	Solis, Adanabimael SO	1822	Napa (NC)	--	23:22	5:38.6	7:51.9
52	Walsh, Dominic	SR	1823	Napa (NC)	--	23:26	5:42.1	7:53.4
53	Dorku, Zayar	FR	1853	Sonoma Valley (NC)--	23:55	6:11.3	8:02.9
54	DeYoung, Soren	JR	1873	Vintage (NC)	--	24:11	6:27.3	8:08.3
55	Cowan, Zane	FR	1785	Justin-Siena (NC)41	24:29	6:45.6	8:14.4
56	Abaci, Chase	SR	1831	Petaluma (NC)	--	24:47	7:03.3	8:20.4
57	Anderson, Thomas JR	1833	Petaluma (NC)	--	25:07	7:23.5	8:27.2
58	Shatnawi, Ali	SR	1885	Vintage (NC)	--	25:08	7:24.5	8:27.5
59	Rice, Aiden	SO	1883	Vintage (NC)	--	25:41	7:57.6	8:38.7
60	Erickson, Mason	FR	1838	Petaluma (NC)	--	27:04	9:20.2	9:06.5

DQ5	Sanchez, Diego	SR	1884	Vintage (NC)	4	18:56	1:12.6	6:22.3