CIF State Cross Country Championships
November 26, 2022 Woodward Park 5K Course, Fresno CA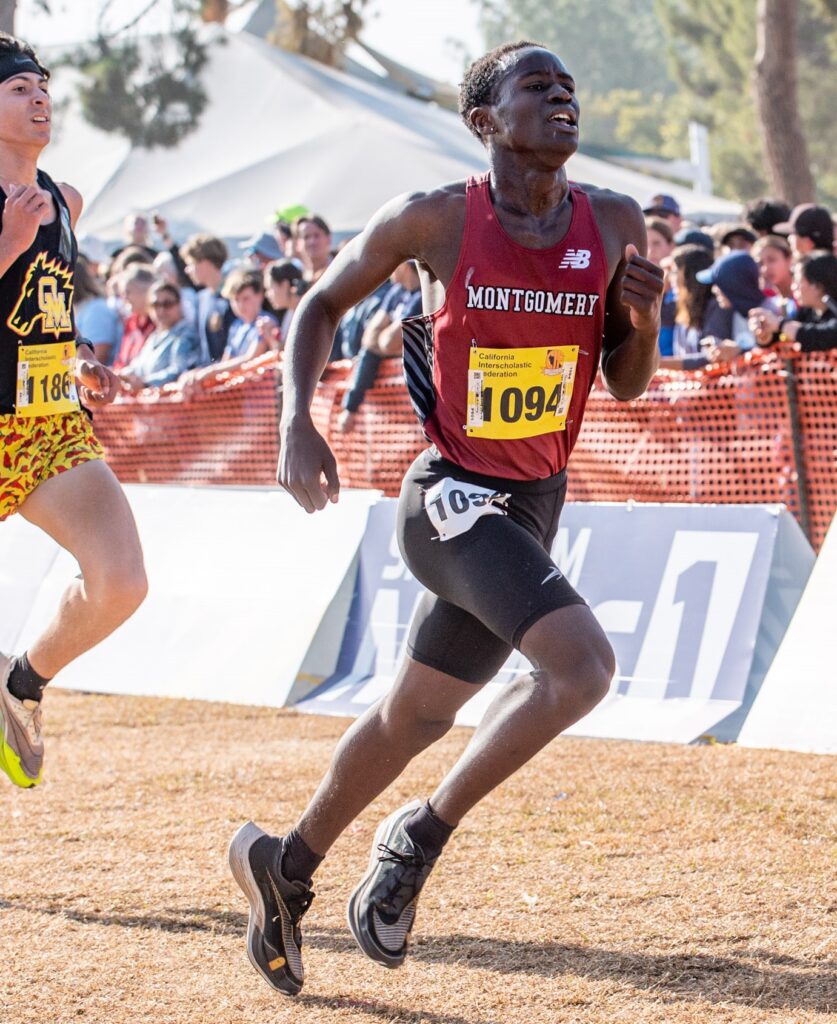 Montgomery's Jude DeVries led the Redwood Empire with the second fastest time in Empire history at Woodward Park to also establish the Vikings best ever place for a boy at fourth in the division III race at State.
His time of 15:20 has only been bettered by Colton Swinth of Maria Carrillo from 2019 in 15:11.
It was also the 6th fastest 5,000 meter race ever run.
The former best place for a Viking was by Mike Contos at 29th in division I in 1987.
Teammate Max Azevedo placed 77th in 16:45.
Video interview Jude DeVries
The Maria Carrillo team placed 16th in the same division led by Benjamin Choe 16:54 at 89th.
In the division V race Sonoma Academy's Tiernan Colby also pulled off a top ten finish with a 6th place in 15:36.
His team finished in 19th place.
Healdsburg sophomore Kaeden Anderson also broke 17 minutes on the course in that race to place 46th in 16:55.
Santa Rosa's Andrew Stevens blazed to a 15:53 time to place 34th in the division II race.
Story
All Photos by Brian Tucker
More photos

Top Empire by time
12	Jude DeVries		  15:20	Montgomery, 2nd All-Time Woodward Park
12	Tiernan Colby		  15:36	Sonoma Academy, =13th All-Time
12	Andrew Stevens		  15:53	Santa Rosa, =31st All-Time
11	Max Azevedo		  16:45	Montgomery
12	Benjamin Choe		  16:54	Maria Carrillo
10	Kaeden Anderson		  16:55	Healdsburg
11	Gabe Sitton		  17:08	Maria Carrillo

10	Jack Wilson		  17:08	Maria Carrillo
12	Sean Gubera		  17:11	Maria Carrillo
11	Grant Sanderson		  17:14	Maria Carrillo
9	Trenton Dawson		  17:17	Maria Carrillo
10	Javier Hernandez Barragan 17:27 Sonoma Academy
12	Julian Luciano		  18:20	Sonoma Academy
11	Cole Cline		  18:33	Sonoma Academy
11	Zachary Fuette		  19:12	Sonoma Academy
12	Jonathan Donohue	  19:39	Maria Carrillo
9	Coe Dexter		  19:48	Sonoma Academy
10	Koen Flocco		  20:19	Sonoma Academy

Maria Carrillo 1:25:35, =41st All-Time
Sonoma Academy 1:29:08


Tiernan Colby




Andrew Stevens




Max Azevedo




Benjamin Choe




Kaeden Anderson




Maria Carrillo




Sonoma Academy



Top 15 Fastest All-Time
Colton Swinth, Maria Carrillo 2019 15:11
Jude DeVries,Montgomery 2022 15:20 State, 15:27 Clovis
Ryan Mack, Ukiah 1998 15:23
Reesey Byers, Santa Rosa 2009 15:23
Rory Smail, Maria Carrillo 2019 15:23 State, 15:36 Clovis
Todd Trask, Healdsburg 1986 15:24, Kinney West Regional
Celedonia Rodriguez, Elsie Allen 1998 15:25
Sterling Lockert, Petaluma 2008 15:25
Luca Mazzanti, Santa Rosa 2016 15:25 State
Luis Luna, Piner 2011 15:28
Hugh Dowdy, Petaluma 2009 15:29 State, 15:48 Clovis
Rory McLeod, Santa Rosa 2008 15:30
Ryan Anderson, Maria Carrillo 2013 15:36 Clovis, 15:37 State
Andre Williams, Sonoma Academy 2018 15:36, 2017 15:53
Tiernan Colby, Sonoma Academy 2022 15:36

Top Empire by place
4.	12	Jude DeVries		Montgomery
6.	12	Tiernan Colby		Sonoma Academy
34.	12	Andrew Stevens		Santa Rosa
46.	10	Kaeden Anderson		Healdsburg
76.	10	Javier Hernandez Barragan Sonoma Academy
77.	11	Max Azevedo		Montgomery
89.	12	Benjamin Choe		Maria Carrillo

105.	11	Gabe Sitton		Maria Carrillo
107.	10	Jack Wilson		Maria Carrillo
113.	12	Sean Gubera		Maria Carrillo
118.	11	Grant Sanderson		Maria Carrillo
122.	9	Trenton Dawson		Maria Carrillo
138.	12	Julian Luciano		Sonoma Academy
152.	11	Cole Cline		Sonoma Academy
172.	11	Zachary Fuette		Sonoma Academy
188.	9	Coe Dexter		Sonoma Academy
193.	10	Koen Flocco		Sonoma Academy
208.	12	Jonathan Donohue	Maria Carrillo

16	Maria Carrillo 388	
19.     Sonoma Academy 424

Top 10 Finishes All-Time
Division III
1st Celedonio Rodriquez, Elsie Allen 1998
1st Colton Swinth, Maria Carrillo 2019
2nd Rory Smail, Maria Carrillo 2019
4th Nate Kabanuck, Casa Grande 1999
4th Jude DeVries, Montgomery 2022
5th Luis Luna, Piner 2011, 6th '10,
6th Ryan Mack, Ukiah 1996
6th Alex Conner, Sonoma Valley 2011
7th Ricky Esponda, Casa Grande 1992
8th Sterling Lockert, Petaluma 2008
9th Hugh Dowdy, Petaluma 2009
10th Dawit Tesfasilas, Piner 2004
10th Forrest Shaffer, Petaluma 2010

Division V
1st Andre Williams, Sonoma Academy 2018, 4th '17, 15th for Kelseyville '16
2nd Brian Cole, St. Helena 2006
3rd Brian Schulz, El Molino 2016
6th Tiernan Colby, Sonoma Academy 2022, 35th 2021
9th Austin Orr, Sonoma Academy 2012

State Meet Bests
By division
By school
By year
By time for Woodward Park, Fresno

Division III
Final Standings	              Score	Scoring Order	               Total
1	Oakdale -SJ-3	         56	2-3-5-9-37(131)(162)	        1:18:31
2	Campolindo -NC-3	109	6-8-23-32-40(55)(93)	        1:20:47
3	Dana Hills -S-3	        127	1-26-30-31-39(43)(46)	        1:20:42
4	Westmont -CC-3	        174	7-29-34-35-69(99)(130)	        1:22:03
5	Sage Creek -SD-3	206	24-36-44-48-54(107)(111)	1:22:45
6	Thousand Oaks -S-3	229	21-28-45-59-76(112)(140)	1:23:11
7	Moorpark -S-3	        230	11-38-42-50-89(108)(115)	1:22:59
8	West Torrance -S-3	234	14-49-52-57-62(102)(105)	1:23:09
9	St. Ignatius -CC-3	250	22-25-58-64-81(90)(92)	        1:23:29
10	Santa Margarita -S-3	253	12-19-60-68-94(136)(144)	1:23:24
11	University City -SD-3	282	10-13-75-88-96(153)(155)	1:23:46
12	Ponderosa -SJ-3	        327	4-17-95-101-110(129)(135)	1:23:56
13	West Ranch -S-3	        345	18-67-71-86-103(113)(146)	1:24:52
14	Dos Pueblos -S-3	352	15-47-74-100-116(147)(156)	1:24:58
15	Newark Memorial -NC-3	385	20-53-82-104-126(151)(167)	1:25:24
16	Maria Carrillo -NC-3	388	63-77-78-83-87(91)(168)	1:25:33
17	Beyer -SJ-3	        396	16-27-65-128-160(170)(171)	1:26:09
18	Santana -SD-3	        428	33-66-70-122-137(152)(172)	1:26:06
19	Chico -N-3	        433	56-61-72-121-123(148)(165)	1:26:11
20	Las Lomas -NC-3	        494	41-51-119-134-149(159)(174)	1:27:18
21	Pioneer Valley -C-3	519	80-85-97-118-139(158)(163)	1:27:33
22	Lowell -SF-3	        541	73-84-114-132-138(141)(143)	1:27:43
23	Verdugo Hills -LA-3	615	109-117-120-124-145(154)(164)	1:28:55
24	Lompoc -C-3	        625	98-125-127-133-142(150)(161)	1:29:01
25	Foothill (Bakersfield) -C-3 677	79-106-157-166-169(173)	        1:32:31

        Athlete	        Yr.	#	Team	    Score	Time	Gap Avg. Mile   1mi	        2.1mi
1	NOONAN, Evan	SO	474	Dana Hills -S-3	1	15:04.3	---	4:50.7	4:45.9 (13)	10:24.3 (6)
2	DALEY, Dax	SR	1190	Oakdale -SJ-3	2	15:17.9	13.6	4:55.1	4:41.7 (3)	10:22.6 (3)
3	BELL, Joshua	JR	1685	Templeton -C-3	--	15:18.3	14.0	4:55.2	4:41.1 (1)	10:21.5 (1)
4	DEVRIES, Jude	SR	1094	Montgomery -NC-3--	15:19.5	15.2	4:55.6	4:42.1 (6)	10:23.0 (4)
5	ALSAIDI, Omar	JR	1186	Oakdale -SJ-3	3	15:19.8	15.5	4:55.7	4:43.4 (8)	10:24.2 (5)
6	CHU, Josh	JR	1332	Ponderosa -SJ-3	4	15:24.5	20.2	4:57.2	4:42.0 (5)	10:26.6 (8)
7	CAVANAUGH, Caleb SR	1188	Oakdale -SJ-3	5	15:28.4	24.1	4:58.5	4:49.0 (25)	10:34.8 (11)

8	DOAK, Julian	SR	1315	Placer -SJ-3	--	15:29.0	23.7	4:58.7	4:44.9 (11)	10:36.2 (13)
9	NIEDNAGEL, Jacob SR	820	La Costa Canyon -SD-3--	15:30.4	26.1	4:59.1	4:47.9 (19)	10:34.0 (9)
10	HEDLUND, Carson	SO	1298	Pioneer -CC-3	--	15:30.8	26.5	4:59.3	4:47.5 (17)	10:37.4 (15)
11	WALLACE, Emmanuel JR	1375	Redlands East Valley -S-3--15:32.8	28.5	4:59.9	4:44.1 (9)	10:26.4 (7)
12	VIELMA, Alexandro SR	1579	Sonora -S-3	--	15:37.2	32.9	5:01.3	4:46.5 (14)	10:34.8 (10)
13	MCGHEE, Connor	SR	205	Campolindo -NC-3	6	15:43.1	38.8	5:03.2	4:44.6 (10)	10:37.7 (16)
14	DALZIEL, Shane	JR	1947	Westmont -CC-3	7	15:48.8	44.5	5:05.1	5:01.7 (78)	10:51.3 (25)

15	WEBSTER, Blake	SR	209	Campolindo -NC-3	8	15:50.8	46.5	5:05.7	4:45.4 (12)	10:40.5 (17)
16	OLIVEIRA, Jackson JR	1192	Oakdale -SJ-3	9	15:55.5	51.2	5:07.2	4:48.6 (23)	10:47.8 (20)
17	NOSKY, Trent	SR	34	Aptos -CC-3	--	15:56.5	52.2	5:07.5	4:46.8 (15)	10:35.2 (12)
18	MCCLAIN-MARTINEZ, Gael SR 1773	University City -SD-3	10	15:58.5	54.2	5:08.2	4:47.1 (16)	10:45.6 (19)
19	SMITH, Tyler	SR	1107	Moorpark -S-3	11	15:58.6	54.3	5:08.2	4:56.8 (58)	10:56.7 (35)
20	YUNKER, Eddie	SR	1491	Santa Margarita -S-3	12	15:59.3	55.0	5:08.4	4:47.7 (18)	10:47.9 (21)
21	GUZMAN, Joshua	SO	639	Gilroy -CC-3	--	16:01.6	57.3	5:09.2	4:51.3 (35)	10:50.9 (24)

22	HICKS, Caden	JR	1772	University City -SD-3	13	16:03.8	59.5	5:09.9	4:48.7 (24)	10:54.4 (31)
23	SHIMIZU, Yudai	SR	1937	West Torrance -S-3	14	16:05.2	1:00.9	5:10.3	4:54.9 (45)	11:02.9 (43)
24	GALINDO, Matthew JR	1528	Savanna -S-3	--	16:07.8	1:03.5	5:11.2	4:49.0 (26)	10:48.6 (22)
25	KOROSHEC, Luciani SR	513	Dos Pueblos -S-3	15	16:08.4	1:04.1	5:11.4	4:53.6 (41)	11:01.9 (40)
26	CORREIA, Manuel	SR	1322	Point Loma -SD-3	--	16:09.0	1:03.7	5:11.6	4:42.7 (7)	10:51.9 (26)
27	COOK, Miles	SO	1410	Sacred Heart Cathedral -CC-3	--	16:10.7	1:06.4	5:12.1	4:52.6 (39)	10:54.7 (32)
28	OLSEN, Nathaniel	SR	122	Beyer -SJ-3	16	16:11.2	1:06.9	5:12.3	4:54.8 (44)	10:55.6 (33)
29	BROOKS, Hayden	JR	1330	Ponderosa -SJ-3	17	16:11.4	1:07.1	5:12.3	4:55.8 (51)	10:53.3 (28)
30	ISSA, Bille	SR	1920	West Ranch -S-3	18	16:13.6	1:09.3	5:13.0	4:41.9 (4)	10:44.3 (18)
31	HERBERT, Parker	JR	1487	Santa Margarita -S-3	19	16:13.8	1:09.5	5:13.1	4:48.0 (20)	10:53.7 (29)
32	HEDLUND, Jeff	SR	1299	Pioneer -CC-3	--	16:13.9	1:09.6	5:13.1	4:51.3 (36)	11:06.0 (49)
33	AHMED, Talha	SR	1145	Newark Memorial -NC-3	20	16:14.5	1:10.2	5:13.3	4:51.2 (34)	10:56.3 (34)
34	CHUA, Jaron	JR	1406	Rowland (John A.) -S-3	--	16:14.7	1:10.4	5:13.4	4:56.2 (55)	11:03.8 (46)
35	MONTELEONE, Niall	JR	548	El Cerrito -NC-3	--	16:15.7	1:11.4	5:13.7	4:58.5 (62)	11:01.9 (41)
36	GARDERES, Baptiste	SR	1715	Thousand Oaks -S-3	21	16:16.8	1:12.5	5:14.1	4:52.2 (38)	10:54.3 (30)
37	WRIGHT, Trey	SO	1632	St. Ignatius -CC-3	22	16:16.9	1:12.6	5:14.1	4:56.1 (54)	11:08.2 (52)
38	LODEWICK, Alexander	SR	204	Campolindo -NC-3	23	16:17.3	1:13.0	5:14.2	4:41.3 (2)	10:21.8 (2)
39	O'TOOLE, Aidan	JR	1425	Sage Creek -SD-3	24	16:18.0	1:12.7	5:14.4	4:50.4 (27)	11:09.5 (57)
40	OLVERA, Archie	SR	158	Brawley -SD-3	--	16:18.2	1:13.9	5:14.5	5:01.4 (74)	11:11.3 (63)
41	CHAN, Kelvin	SR	1626	St. Ignatius -CC-3	25	16:18.9	1:14.6	5:14.7	4:55.5 (48)	11:08.7 (54)
42	HARRIS, Logan	JR	470	Dana Hills -S-3	26	16:19.3	1:15.0	5:14.9	4:54.6 (42)	11:01.8 (39)
43	ELIAS, Ryan	SR	119	Beyer -SJ-3	27	16:20.1	1:15.8	5:15.1	4:55.0 (46)	11:02.7 (42)
44	MCCLURE, Finn	SR	1078	Monte Vista -SD-3	--	16:20.3	1:16.0	5:15.2	4:50.5 (29)	11:01.1 (38)
45	PAPAVASILIOU, Liam	JR	1717	Thousand Oaks -S-3	28	16:20.9	1:16.6	5:15.4	4:50.7 (31)	10:52.7 (27)
46	IRWIN, Zachary	SR	1948	Westmont -CC-3	29	16:23.0	1:17.7	5:16.1	5:04.9 (95)	11:12.7 (65)
47	WOODRUFF, Garrett	JR	475	Dana Hills -S-3	30	16:23.6	1:19.3	5:16.3	4:53.1 (40)	11:05.7 (48)
48	HUNTER, Oliver	FR	471	Dana Hills -S-3	31	16:24.3	1:20.0	5:16.5	5:02.4 (84)	11:09.8 (59)
49	WALSH, Baron	JR	208	Campolindo -NC-3	32	16:24.4	1:20.1	5:16.5	4:51.7 (37)	11:00.3 (37)
50	OLIVER, Jayson	SR	1505	Santana -SD-3	33	16:24.6	1:20.3	5:16.6	4:55.0 (47)	11:06.6 (50)
51	CRIBARI, Landon	SO	1946	Westmont -CC-3	34	16:25.3	1:21.0	5:16.8	5:13.0 (124)	11:19.4 (78)
52	SONI, Aaron	SO	1951	Westmont -CC-3	35	16:25.4	1:21.1	5:16.8	5:11.6 (118)	11:14.4 (70)
53	BOWMAN, Josiah	FR	1420	Sage Creek -SD-3	36	16:25.9	1:21.6	5:17.0	4:58.8 (64)	11:10.8 (62)
54	SELBY, Wesley	SR	1130	Nevada Union -SJ-3	--	16:28.7	1:24.4	5:17.9	4:55.5 (50)	11:05.2 (47)
55	CAVANAUGH, Jacob	SO	1189	Oakdale -SJ-3	37	16:28.8	1:24.5	5:17.9	5:04.5 (91)	11:13.4 (66)
56	WHITE, Thomas	JR	1108	Moorpark -S-3	38	16:29.0	1:23.7	5:18.0	5:11.2 (116)	11:18.3 (75)
57	JONES, Jack	SR	473	Dana Hills -S-3	39	16:30.2	1:25.9	5:18.4	4:55.5 (49)	11:09.6 (58)
58	TRENTO, Paulo	JR	207	Campolindo -NC-3	40	16:31.6	1:27.3	5:18.8	5:08.1 (107)	11:18.4 (76)
59	FIPPIN, Jacob	SR	841	Las Lomas -NC-3	41	16:32.1	1:27.8	5:19.0	5:02.2 (82)	11:09.4 (56)
60	CAMPORA, Braidon	JR	558	El Dorado -SJ-3	--	16:32.2	1:27.9	5:19.0	4:50.8 (33)	11:03.6 (45)
61	LEE, Hunter	SO	1103	Moorpark -S-3	42	16:34.2	1:29.9	5:19.7	5:01.0 (73)	11:15.5 (71)
62	AYALA, Mike	JR	469	Dana Hills -S-3	43	16:34.9	1:30.6	5:19.9	5:01.0 (72)	11:10.5 (61)
63	GRAY, Liam	JR	1422	Sage Creek -SD-3	44	16:35.5	1:31.2	5:20.1	4:56.1 (53)	11:14.3 (69)
64	CLIPPINGER-ZIMMERMAN, Oliver	SO	1712	Thousand Oaks -S-3	45	16:36.6	1:32.3	5:20.4	4:50.8 (32)	11:07.1 (51)
65	HUNTER, Sam	SR	472	Dana Hills -S-3	46	16:37.4	1:33.1	5:20.7	4:56.4 (56)	11:10.1 (60)
66	RANSOM, Aidan	JR	542	Edison -C-3	--	16:38.7	1:34.4	5:21.1	4:54.7 (43)	11:08.7 (53)
67	GORDON, Eamon	SO	511	Dos Pueblos -S-3	47	16:39.0	1:33.7	5:21.2	4:50.7 (30)	11:03.2 (44)
68	ROWLETT, Lennox	JR	1426	Sage Creek -SD-3	48	16:40.3	1:36.0	5:21.6	4:59.6 (68)	11:15.8 (72)
69	QUEZADA, Navier	SR	1936	West Torrance -S-3	49	16:41.0	1:35.7	5:21.8	4:57.4 (59)	11:12.5 (64)
70	RODRIGUEZ, Francisco	SR	618	Franklin -LA-3	--	16:41.3	1:37.0	5:21.9	4:48.2 (21)	10:49.5 (23)
71	RAIGOZA, David	JR	1106	Moorpark -S-3	50	16:41.6	1:37.3	5:22.0	5:01.8 (80)	11:18.0 (74)
72	SPEIR, Tyler	JR	622	Fresno -C-3	--	16:42.5	1:38.2	5:22.3	4:58.9 (65)	11:14.0 (68)
73	GRIFFIN-YEH, Nate	SO	844	Las Lomas -NC-3	51	16:43.1	1:38.8	5:22.5	4:59.2 (67)	11:09.2 (55)
74	HERBERS, Ryan	SO	1933	West Torrance -S-3	52	16:43.4	1:39.1	5:22.6	5:04.5 (92)	11:20.2 (80)
75	ESCARZAGA, Alesandro	JR	1337	Porterville -C-3	--	16:43.5	1:39.2	5:22.6	5:02.2 (83)	11:19.5 (79)
76	PATEL, Sid	JR	1149	Newark Memorial -NC-3	53	16:44.7	1:40.4	5:23.0	4:58.6 (63)	11:13.7 (67)
77	AZEVEDO, Max	JR	1093	Montgomery -NC-3	--	16:44.9	1:40.6	5:23.1	5:04.1 (89)	11:23.9 (88)
78	MARCHI, Max	FR	1423	Sage Creek -SD-3	54	16:45.5	1:41.2	5:23.3	5:00.4 (71)	11:18.0 (73)
79	SANDRIDGE, Jude	JR	1395	Reseda -LA-3	--	16:46.5	1:42.2	5:23.6	5:05.5 (97)	11:22.5 (86)
80	THOMASSON, Alex	JR	206	Campolindo -NC-3	55	16:46.8	1:42.5	5:23.7	5:06.8 (101)	11:22.4 (85)
81	BRENNAN, Charles	JR	304	Chico -N-3	56	16:47.5	1:43.2	5:23.9	5:07.1 (103)	11:25.0 (90)
82	QUAST, Andrew	SO	1935	West Torrance -S-3	57	16:47.9	1:43.6	5:24.1	5:03.6 (87)	11:20.4 (81)
83	MARTINOVSKY, Ethan	JR	1628	St. Ignatius -CC-3	58	16:49.2	1:44.9	5:24.5	5:06.6 (100)	11:18.8 (77)
84	BUMBARGER, Cooper	JR	1711	Thousand Oaks -S-3	59	16:49.5	1:45.2	5:24.6	4:58.4 (61)	11:21.1 (83)
85	RANEY, Liam	JR	1489	Santa Margarita -S-3	60	16:50.0	1:44.7	5:24.7	5:10.8 (115)	11:26.8 (93)
86	CARRASCO, Noel	SR	621	Fresno -C-3	--	16:50.5	1:46.2	5:24.9	5:01.6 (77)	11:21.4 (84)
87	ANDERSON, Matt	JR	303	Chico -N-3	61	16:50.5	1:46.2	5:24.9	5:06.3 (99)	11:27.8 (95)
88	COHEN, Aaron	SR	1932	West Torrance -S-3	62	16:51.7	1:47.4	5:25.3	4:48.2 (22)	10:58.7 (36)
89	CHOE, Benjamin	SR	973	Maria Carrillo -NC-3	63	16:53.1	1:48.8	5:25.8	5:01.5 (75)	11:20.8 (82)
90	ESTILLORE, Justen	JR	1627	St. Ignatius -CC-3	64	16:53.7	1:49.4	5:25.9	5:12.6 (123)	11:30.4 (104)
91	OLSEN, Jackson	JR	121	Beyer -SJ-3	65	16:54.9	1:50.6	5:26.3	5:04.4 (90)	11:26.7 (92)
92	CHEARY, Connor	SR	1501	Santana -SD-3	66	16:56.8	1:52.5	5:26.9	5:01.7 (79)	11:23.9 (89)
93	DOUD, Mark	SO	1318	Pleasant Valley -N-3	--	16:57.1	1:52.8	5:27.0	5:07.5 (104)	11:27.3 (94)
94	RAIGOSA, Nicholas	JR	1921	West Ranch -S-3	67	16:57.3	1:53.0	5:27.1	5:09.7 (110)	11:29.7 (100)
95	FABILA, Omar	SO	1407	Roybal Learning -LA-3	--	16:58.1	1:53.8	5:27.4	4:57.9 (60)	11:22.6 (87)
96	FURR, Brady	SO	1485	Santa Margarita -S-3	68	16:58.5	1:54.2	5:27.5	5:12.1 (121)	11:30.5 (105)
97	JOSHI, Ojas	SR	1949	Westmont -CC-3	69	17:00.1	1:55.8	5:28.0	5:19.6 (145)	11:43.4 (125)
98	LA BRUNO, Vincent	JR	1503	Santana -SD-3	70	17:00.2	1:55.9	5:28.0	5:06.3 (98)	11:28.8 (96)
99	POTTER, John	JR	1919	West Ranch -S-3	71	17:00.8	1:56.5	5:28.2	5:09.7 (111)	11:30.3 (103)
100	MURPHY, Carter	SO	308	Chico -N-3	72	17:01.1	1:56.8	5:28.3	5:08.1 (105)	11:29.1 (98)
101	BARTALOS, Bruno	SR	938	Lowell -SF-3	73	17:03.7	1:59.4	5:29.2	5:14.1 (127)	11:38.9 (111)
102	JAMIESON, Tyler	SR	512	Dos Pueblos -S-3	74	17:04.5	2:00.2	5:29.4	5:19.4 (144)	11:44.6 (128)
103	WILLEMS, Ryan	JR	1776	University City -SD-3	75	17:05.3	2:01.0	5:29.7	5:14.7 (129)	11:41.9 (119)
104	MORREALE, Ryan	SR	1716	Thousand Oaks -S-3	76	17:06.8	2:02.5	5:30.1	5:03.5 (86)	11:31.2 (106)
105	SITTON, Gabe	JR	978	Maria Carrillo -NC-3	77	17:07.2	2:02.9	5:30.3	5:13.1 (125)	11:39.8 (113)
106	MCAULEY, Nick	JR	1176	Novato -NC-3	--	17:07.6	2:03.3	5:30.4	5:04.9 (96)	11:30.3 (102)
107	WILSON, Jack	SO	979	Maria Carrillo -NC-3	78	17:07.9	2:03.6	5:30.5	5:00.0 (69)	11:30.1 (101)
108	NUNGARAY, Ishmael	SR	588	Foothill (Bakersfield) -C-3	79	17:09.0	2:03.7	5:30.9	5:16.4 (138)	11:35.3 (107)
109	BENARD, Robert	JR	1174	Northgate -NC-3	--	17:09.6	2:05.3	5:31.0	4:56.7 (57)	11:26.1 (91)
110	SANTIAGO, Juan	JR	1305	Pioneer Valley -C-3	80	17:09.8	2:05.5	5:31.1	5:20.1 (150)	11:42.1 (120)
111	ROBERTS, Luciano	JR	1630	St. Ignatius -CC-3	81	17:10.1	2:05.8	5:31.2	4:55.9 (52)	11:29.6 (99)
112	MARTINEZ, Chris	SR	1148	Newark Memorial -NC-3	82	17:10.6	2:06.3	5:31.4	5:01.5 (76)	11:36.5 (109)
113	GUBERA, Sean	SR	976	Maria Carrillo -NC-3	83	17:10.6	2:06.3	5:31.4	5:01.9 (81)	11:28.8 (97)
114	SANTA, Griffin	JR	942	Lowell -SF-3	84	17:10.8	2:06.5	5:31.4	5:14.0 (126)	11:42.3 (122)
115	BURKE, Aidan	SO	1300	Pioneer Valley -C-3	85	17:12.7	2:08.4	5:32.0	5:15.0 (131)	11:42.2 (121)
116	LAMBAN, Matthew	JR	617	Franklin -LA-3	--	17:13.6	2:09.3	5:32.3	5:22.5 (159)	11:50.0 (140)
117	HALVORSEN, Tyler	FR	1923	West Ranch -S-3	86	17:14.0	2:08.7	5:32.5	5:15.3 (133)	11:42.7 (123)
118	SANDERSON, Grant	JR	977	Maria Carrillo -NC-3	87	17:14.0	2:08.7	5:32.5	5:07.0 (102)	11:40.0 (114)
119	SERRANO, Eduardo	SR	1775	University City -SD-3	88	17:15.0	2:09.7	5:32.8	5:08.8 (108)	11:40.5 (116)
120	BRADY BRETON, Christian	SR	1102	Moorpark -S-3	89	17:15.0	2:09.7	5:32.8	5:20.0 (148)	11:47.8 (132)
121	RODRIGUEZ-GARC, Benjamin	SR	1631	St. Ignatius -CC-3	90	17:15.9	2:11.6	5:33.1	5:10.3 (113)	11:41.1 (117)
122	DAWSON, Trenton	FR	974	Maria Carrillo -NC-3	91	17:16.7	2:12.4	5:33.3	5:15.7 (134)	11:45.2 (129)
123	O'MEARA, Michael	JR	1629	St. Ignatius -CC-3	92	17:18.6	2:14.3	5:33.9	5:09.0 (109)	11:40.4 (115)
124	MURPHY, Beck	JR	203	Campolindo -NC-3	93	17:21.7	2:17.4	5:34.9	5:11.7 (120)	11:45.4 (130)
125	GIBSON, Zachary	JR	1486	Santa Margarita -S-3	94	17:22.5	2:18.2	5:35.2	5:22.5 (158)	11:55.8 (150)
126	MUZZY, Braden	SR	1316	Placer -SJ-3	--	17:22.5	2:18.2	5:35.2	5:04.8 (93)	11:46.4 (131)
127	HINSZ, Jack	SO	1333	Ponderosa -SJ-3	95	17:22.5	2:18.2	5:35.2	5:23.9 (171)	11:54.9 (148)
128	HEIN, Jackson	SO	1320	Pleasant Valley -N-3	--	17:22.9	2:18.6	5:35.3	4:59.1 (66)	11:39.2 (112)
129	CHAVEZ, Ray	SR	1771	University City -SD-3	96	17:23.3	2:19.0	5:35.5	5:10.2 (112)	11:48.9 (133)
130	CAMPOS DELGADO, Luis	SR	1301	Pioneer Valley -C-3	97	17:24.0	2:18.7	5:35.7	5:24.4 (174)	11:53.7 (144)
131	SPRECHER, Joseph	SR	905	Lompoc -C-3	98	17:24.4	2:20.1	5:35.8	5:17.1 (139)	11:54.6 (147)
132	PARK, Jack	SR	1950	Westmont -CC-3	99	17:24.4	2:20.1	5:35.8	5:23.5 (167)	11:57.4 (152)
133	YE, Orlando	SR	515	Dos Pueblos -S-3	100	17:25.5	2:21.2	5:36.1	5:20.0 (147)	11:49.3 (136)
134	RICE, Porter	SO	1335	Ponderosa -SJ-3	101	17:25.8	2:21.5	5:36.2	5:15.8 (135)	11:49.4 (137)
135	LUI, Aaron	SR	1934	West Torrance -S-3	102	17:25.9	2:21.6	5:36.3	5:04.8 (94)	11:41.6 (118)
136	BATES, Jacob	SR	1917	West Ranch -S-3	103	17:26.1	2:21.8	5:36.4	5:18.4 (143)	11:55.2 (149)
137	WOOD, Michael	SR	1151	Newark Memorial -NC-3	104	17:26.4	2:22.1	5:36.5	5:17.7 (141)	11:49.5 (138)
138	ACUESTA, Cooper	SR	1931	West Torrance -S-3	105	17:26.5	2:22.2	5:36.5	5:03.2 (85)	11:43.2 (124)
139	NUNGARAY, Jacob	SR	589	Foothill (Bakersfield) -C-3	106	17:28.6	2:24.3	5:37.1	5:15.1 (132)	11:36.1 (108)
140	MAWEU-SMALLS, Brian	SR	1424	Sage Creek -SD-3	107	17:29.4	2:25.1	5:37.4	5:00.2 (70)	11:38.4 (110)
141	LEE, Sean	SR	1104	Moorpark -S-3	108	17:30.5	2:26.2	5:37.8	5:14.4 (128)	11:44.5 (127)
142	ELLERSIECK, Evan	JR	1853	Verdugo Hills -LA-3	109	17:31.0	2:25.7	5:37.9	5:23.8 (169)	11:56.1 (151)
143	STANBRIDGE, Colton	SO	1336	Ponderosa -SJ-3	110	17:31.2	2:26.9	5:38.0	5:24.3 (172)	11:54.5 (146)
144	CANTU, Enman	JR	1421	Sage Creek -SD-3	111	17:32.1	2:27.8	5:38.3	5:16.2 (136)	11:51.0 (141)
145	PARKER, Kevin	SO	1713	Thousand Oaks -S-3	112	17:33.1	2:28.8	5:38.6	5:04.0 (88)	11:49.6 (139)
146	BODELL, Aiden	FR	1918	West Ranch -S-3	113	17:33.7	2:29.4	5:38.8	5:17.7 (140)	11:44.4 (126)
147	AMAHA, Yosef	JR	1193	Oakland -O-3	--	17:33.7	2:29.4	5:38.8	5:12.2 (122)	11:53.1 (143)
148	SINDT, Jack	JR	504	Del Oro -SJ-3	--	17:33.8	2:29.5	5:38.8	5:08.1 (106)	11:49.1 (135)
149	MIRZA, Faaris	JR	941	Lowell -SF-3	114	17:33.8	2:29.5	5:38.8	5:14.9 (130)	11:53.9 (145)
150	LEHENBAUER, Cody	SR	1105	Moorpark -S-3	115	17:39.9	2:35.6	5:40.8	5:23.8 (170)	11:57.7 (154)
151	RICHARDSON, Eli	SO	510	Dos Pueblos -S-3	116	17:40.0	2:34.7	5:40.8	5:24.9 (180)	12:09.4 (169)
152	LOW, William	SR	1856	Verdugo Hills -LA-3	117	17:40.9	2:36.6	5:41.1	5:23.2 (163)	12:03.3 (159)
153	GUILLEN, Bryan	SR	1302	Pioneer Valley -C-3	118	17:42.0	2:36.7	5:41.5	5:21.3 (155)	11:59.2 (155)
154	BAXTER, Andrew	JR	839	Las Lomas -NC-3	119	17:42.2	2:37.9	5:41.5	5:24.6 (177)	12:00.1 (157)
155	MORTON, Shawn	SR	1857	Verdugo Hills -LA-3	120	17:42.7	2:38.4	5:41.7	5:21.9 (156)	12:03.8 (161)
156	SASAKI, Carson	JR	309	Chico -N-3	121	17:44.7	2:40.4	5:42.3	5:31.8 (198)	12:16.3 (184)
157	THOMAS, Cameron	SR	1506	Santana -SD-3	122	17:44.9	2:40.6	5:42.4	5:11.6 (119)	11:57.5 (153)
158	GONZALEZ-CARBAJAL, Diego	JR	307	Chico -N-3	123	17:46.6	2:42.3	5:42.9	5:30.7 (196)	12:16.4 (185)
159	HARZMANN, Dustin	JR	1854	Verdugo Hills -LA-3	124	17:47.4	2:43.1	5:43.2	5:23.6 (168)	12:04.1 (162)
160	RUBIO, Trysten	JR	903	Lompoc -C-3	125	17:47.5	2:43.2	5:43.2	5:24.3 (173)	12:04.9 (163)
161	TELLEZ, Michael	SO	1150	Newark Memorial -NC-3	126	17:47.8	2:43.5	5:43.3	5:20.5 (151)	12:00.0 (156)
162	DIAZ, Joel	FR	901	Lompoc -C-3	127	17:48.3	2:44.0	5:43.5	5:23.5 (166)	12:03.3 (160)
163	CHAVEZ, Sean	JR	1563	Sherman Oaks CtrES -LA-3	--	17:49.1	2:44.8	5:43.8	5:11.3 (117)	11:52.5 (142)
164	TERRY, Hayes	FR	124	Beyer -SJ-3	128	17:51.1	2:46.8	5:44.4	5:24.4 (175)	12:10.4 (173)
165	BROWN, Alex	SO	1331	Ponderosa -SJ-3	129	17:51.6	2:47.3	5:44.5	5:30.1 (194)	12:15.0 (182)
166	CORMIER, Carter	SO	1945	Westmont -CC-3	130	17:51.8	2:47.5	5:44.6	5:25.6 (184)	12:09.1 (168)
167	ARCHULETA, Gabe	SR	1187	Oakdale -SJ-3	131	17:51.8	2:47.5	5:44.6	5:25.2 (182)	12:08.6 (166)
168	LOMELI, Elian	JR	940	Lowell -SF-3	132	17:53.6	2:49.3	5:45.2	5:20.7 (153)	12:08.7 (167)
169	BARTHEL, Benjamin	JR	899	Lompoc -C-3	133	17:54.1	2:49.8	5:45.3	5:27.8 (191)	12:10.0 (170)
170	GEOTINA, Max	JR	843	Las Lomas -NC-3	134	17:54.3	2:50.0	5:45.4	5:25.9 (186)	12:15.9 (183)
171	NELSON, Kaden	SO	1334	Ponderosa -SJ-3	135	17:54.4	2:50.1	5:45.4	5:26.2 (187)	12:12.5 (177)
172	CRANDALL, Chase	SR	1490	Santa Margarita -S-3	136	17:54.6	2:50.3	5:45.5	5:21.3 (154)	12:03.2 (158)
173	MCDONALD, Trevor	JR	1504	Santana -SD-3	137	17:59.1	2:54.8	5:47.0	5:25.1 (181)	12:14.8 (180)
174	VELAZQUEZ-PATINO, Mark	SR	1321	Pleasant Valley -N-3	--	18:00.6	2:56.3	5:47.4	5:10.7 (114)	11:49.1 (134)
175	HERRING, Dylan	SR	939	Lowell -SF-3	138	18:01.2	2:56.9	5:47.6	5:23.1 (162)	12:10.3 (172)
176	STENHOUSE, Ethan	SR	1306	Pioneer Valley -C-3	139	18:04.4	3:00.1	5:48.7	5:27.2 (190)	12:14.0 (178)
177	GARCIA, Isaack	SR	1714	Thousand Oaks -S-3	140	18:04.4	3:00.1	5:48.7	5:22.3 (157)	12:10.1 (171)
178	CAVANAUGH, Ronan	SR	1568	Skyline -O-3	--	18:05.1	3:00.8	5:48.9	5:16.3 (137)	12:12.4 (176)
179	WITT, Graham	JR	943	Lowell -SF-3	141	18:05.6	3:01.3	5:49.0	5:20.7 (152)	12:12.0 (174)
180	NAPOLES, Francisco	SO	902	Lompoc -C-3	142	18:06.5	3:02.2	5:49.3	5:18.2 (142)	12:06.9 (165)
181	BARRY-KAO, Malcolm	FR	937	Lowell -SF-3	143	18:09.4	3:05.1	5:50.3	5:19.6 (146)	12:14.5 (179)
182	IVORY, Michael	JR	1488	Santa Margarita -S-3	144	18:12.0	3:06.7	5:51.1	5:23.2 (164)	12:06.8 (164)
183	LOPEZ, Hunter	JR	1855	Verdugo Hills -LA-3	145	18:12.7	3:08.4	5:51.3	5:22.8 (160)	12:15.0 (181)
184	RIETTA, Dominic	JR	1922	West Ranch -S-3	146	18:13.5	3:09.2	5:51.6	5:24.8 (178)	12:12.1 (175)
185	SMEDLEY, Ashton	FR	514	Dos Pueblos -S-3	147	18:19.6	3:15.3	5:53.5	5:24.9 (179)	12:23.3 (186)
186	GIRT, Kenton	FR	306	Chico -N-3	148	18:25.5	3:21.2	5:55.4	5:32.6 (200)	12:28.2 (189)
187	GANDHI, Akash	SO	842	Las Lomas -NC-3	149	18:26.5	3:22.2	5:55.8	5:36.0 (204)	12:32.1 (196)
188	DEJESUS, Ricardo	SR	900	Lompoc -C-3	150	18:30.3	3:26.0	5:57.0	5:23.4 (165)	12:25.3 (187)
189	HEIN, Austin	JR	1319	Pleasant Valley -N-3	--	18:34.1	3:29.8	5:58.2	5:20.1 (149)	12:27.8 (188)
190	LINARES, Gabriel	SO	1147	Newark Memorial -NC-3	151	18:34.7	3:30.4	5:58.4	5:34.0 (201)	12:29.9 (192)
191	HANSEN, Seth	SR	1502	Santana -SD-3	152	18:34.9	3:30.6	5:58.5	5:30.0 (193)	12:30.0 (193)
192	CASE, Noah	SO	1770	University City -SD-3	153	18:35.3	3:31.0	5:58.6	5:25.6 (185)	12:29.1 (190)
193	MURILLO, Jesus	SR	1858	Verdugo Hills -LA-3	154	18:37.3	3:33.0	5:59.2	5:24.4 (176)	12:34.0 (197)
194	RODDEY, Zach	JR	1774	University City -SD-3	155	18:38.7	3:34.4	5:59.7	5:26.3 (188)	12:29.5 (191)
195	BRENNAN, Andrew	SO	509	Dos Pueblos -S-3	156	18:39.4	3:35.1	5:59.9	5:42.2 (208)	12:49.1 (202)
196	GUEVARA, Alberto	SR	585	Foothill (Bakersfield) -C-3	157	18:45.1	3:40.8	6:01.7	5:23.0 (161)	12:30.2 (194)
197	JAIMES DELGADO, Jeremiah	FR	1303	Pioneer Valley -C-3	158	18:45.3	3:41.0	6:01.8	5:30.3 (195)	12:31.0 (195)
198	SHARGEL, Andrew	JR	845	Las Lomas -NC-3	159	18:48.5	3:44.2	6:02.8	5:37.2 (205)	12:37.9 (198)
199	O'BRIEN, Jason	SR	120	Beyer -SJ-3	160	18:51.0	3:45.7	6:03.6	5:47.0 (209)	12:53.9 (204)
200	SPRECHER, John	SR	904	Lompoc -C-3	161	18:54.3	3:50.0	6:04.7	5:31.3 (197)	12:44.0 (200)
201	GONZALEZ, Abner	JR	1191	Oakdale -SJ-3	162	19:00.4	3:56.1	6:06.7	5:34.2 (202)	12:40.8 (199)
202	PIRKL, Adam	SR	1304	Pioneer Valley -C-3	163	19:02.6	3:58.3	6:07.4	5:34.6 (203)	12:51.8 (203)
203	AVILA, Ramon	SR	1852	Verdugo Hills -LA-3	164	19:05.7	4:01.4	6:08.4	5:27.9 (192)	12:45.3 (201)
204	VALADEZ, Steven	SR	1082	Monte Vista -SD-3	--	19:07.0	4:01.7	6:08.8	5:37.8 (206)	13:03.6 (206)
205	DALY, Nigel	SO	305	Chico -N-3	165	19:24.5	4:20.2	6:14.4	5:55.2 (214)	13:09.0 (208)
206	ROSALES, Raul	SO	590	Foothill (Bakersfield) -C-3	166	19:28.6	4:24.3	6:15.7	5:47.1 (210)	13:08.5 (207)
207	GAMARRA, Edgar	SR	1146	Newark Memorial -NC-3	167	19:30.1	4:25.8	6:16.2	5:26.8 (189)	12:59.8 (205)
208	DONOHUE, Jonathan	SR	975	Maria Carrillo -NC-3	168	19:38.4	4:34.1	6:18.9	5:25.5 (183)	13:22.2 (212)
209	LOPEZ, Julian	FR	586	Foothill (Bakersfield) -C-3	169	19:39.4	4:35.1	6:19.2	5:48.9 (213)	13:13.6 (209)
210	NGUYEN, Thai	SR	118	Beyer -SJ-3	170	19:47.3	4:43.0	6:21.8	5:47.9 (212)	13:22.0 (211)
211	PRATT, Carson	JR	123	Beyer -SJ-3	171	19:54.0	4:48.7	6:23.9	5:47.3 (211)	13:23.8 (213)
212	CARBULLIDO, Kalani	SR	1500	Santana -SD-3	172	20:06.6	5:02.3	6:28.0	5:31.9 (199)	13:19.1 (210)
213	NEVAREZ, Francisco	SR	587	Foothill (Bakersfield) -C-3	173	20:22.7	5:18.4	6:33.1	5:41.4 (207)	13:30.9 (214)
214	VENDRELL, Mateo	JR	840	Las Lomas -NC-3	174	21:16.9	6:12.6	6:50.6	5:57.4 (215)	14:07.8 (215)
	MCDANIEL, Caleb	SR	1057	Mission Viejo -S-3	--	DNF		---	4:50.5 (28)	10:36.7 (14)

Division V
Final Standings	Score	Scoring Order	Total
1	Crystal Springs Uplands -CC-5 73 5-9-14-21-24(47)(58)	        1:20:04
2	Menlo -CC-5	         77	2-4-15-27-29(64)(86)	        1:20:38
3	Yosemite -C-5	        120	8-13-22-32-45(124)(134)	        1:22:04
4	Lick Wilmerding -NC-5	136	11-19-31-33-42(52)(71)	        1:22:56
5	University-SF -NC-5	157	18-26-28-35-50(54)(61)	        1:23:53
6	College Prep -NC-5	218	10-41-43-51-73(84)(93)	        1:24:52
7	Liberty Charter -SD-5	240	1-30-46-48-115(160)(164)	1:25:07
8	Francis Parker -SD-5	287	7-53-57-69-101(106)(120)	1:26:16
9	The Nueva School -CC-5	296	34-37-74-75-76(118)(132)	1:26:54
10	Providence-Burbank -S-5	298	23-36-39-62-138(143)(166)	1:27:05
11	Windward -S-5	        344	44-65-68-82-85(144)(147)	1:27:55
12	University Prep -N-5	356	40-49-83-89-95(133)(149)	1:28:08
13	Woodcrest Christian -S-5 360	3-55-78-103-121(131)(161)	1:27:26
14	Convent/Stuart Hall -NC-5 364	12-38-63-125-126(129)(130)	1:28:01
15	Hawthorne MSA -S-5	375	59-67-77-81-91(98)(128)	        1:28:32
16	Viewpoint -S-5	        377	60-70-72-87-88(97)(105)	        1:28:32
17	Calvin Christian -SD-5	399	17-66-80-114-122(146)(159)	1:28:39
18	Valley Christian Cerritos -S-5 405 20-79-92-104-110(111)(123)	1:28:50
19	Sonoma Academy -NC-5	424	6-56-107-119-136(151)(156)	1:29:06
20	St. Margaret's Episcopal -S-5 426 16-94-99-108-109(112)(148)	1:29:12
21	Central Catholic -SJ-5	589	96-100-117-135-141(145)(152)	1:33:19
22	New West Charter -LA-5	625	25-140-142-153-165(167)	        1:36:05
23	Vacaville Christian -SJ-5 634	90-113-116-157-158(162)(163)	1:35:48
24	Central Valley Christian -C-5 655 102-127-137-139-150(154)(155)	1:35:19

        Athlete	        Yr.	#	Team	             Score	Time	Gap  Avg. Mile	1mi	        2.1mi
1	SANCHEZ, Micah	SR	862	Liberty Charter -SD-5	1	15:13.6	---	4:53.7	4:46.6 (1)	10:21.4 (1)
2	PRETRE, Justin	SR	1018	Menlo -CC-5	2	        15:24.6	11.0	4:57.3	4:49.5 (5)	10:27.4 (2)
3	TURK, Eyan	SO	1999	Woodcrest Christian -S-5 3	15:28.1	14.5	4:58.4	4:49.5 (4)	10:32.2 (4)
4	PRETRE, Landon	SO	1019	Menlo -CC-5	4	        15:34.8	21.2	5:00.6	4:49.6 (6)	10:33.9 (5)
5	BOUIE, Benjamin	SO	456	Crystal Springs Uplands -CC-5 5	15:36.0	21.4	5:00.9	4:52.5 (18)	10:31.3 (3)
6	COLBY, Tiernan	SR	1572	Sonoma Academy -NC-5	6	15:36.0	21.4	5:01.0	4:49.4 (3)	10:36.3 (7)
7	BOURGEOIS, York	JR	612	Francis Parker -SD-5	7	15:39.5	25.9	5:02.1	4:46.9 (2)	10:34.5 (6)

8	PONZIO, James	SR	1085	Monte Vista Christian -CC-5 --	15:39.8	26.2	5:02.2	4:51.1 (12)	10:45.4 (14)
9	BURR, Andrew	SO	1409	Sac Country Day -SJ-5	--	15:42.3	28.7	5:03.0	4:51.5 (14)	10:44.0 (11)
10	OLNEY, Ben	SO	2016	Yosemite -C-5	8	        15:44.9	31.3	5:03.8	4:49.9 (8)	10:43.7 (10)
11	CLAY, Furious	SR	457	Crystal Springs Uplands -CC-5 9	15:46.4	32.8	5:04.3	4:53.2 (20)	10:44.7 (12)
12	IRVING, Owen	JR	401	College Prep -NC-5	10	15:47.3	33.7	5:04.6	4:52.2 (17)	10:45.8 (15)
13	GREEN, Sean	JR	871	Lick Wilmerding -NC-5	11	15:50.5	36.9	5:05.6	4:52.0 (16)	10:43.0 (8)
14	OAKES, Malcolm	JR	418	Convent/Stuart Hall -NC-5 12	15:50.6	37.0	5:05.6	4:51.4 (13)	10:43.5 (9)

15	OLNEY, Jack	SO	2017	Yosemite -C-5	13	        15:50.8	37.2	5:05.7	4:49.9 (7)	10:45.1 (13)
16	BAKER, Tarik	SO	454	Crystal Springs Uplands -CC-5 14 15:51.4 37.8	5:05.9	4:55.0 (21)	10:46.1 (16)
17	THOMAS, Joshua	SR	295	Chadwick -S-5	--	        15:54.4	40.8	5:06.9	4:52.7 (19)	10:46.8 (17)
18	HAUSER, Will	SO	1017	Menlo -CC-5	15	        16:10.9	57.3	5:12.2	4:57.6 (24)	11:01.8 (21)
19	CAPELLE, Everett JR	1653	St. Margaret's Episcopal -S-5 16 16:11.4 57.8	5:12.3	4:50.1 (9)	10:59.2 (19)
20	WINHEIM, Mehari	FR	506	Desert Christian-Lancaster -S-5	-- 16:12.9 59.3	5:12.8	5:07.4 (34)	11:06.0 (23)
21	BITNER, John	JR	190	Calvin Christian -SD-5	17	16:13.4	59.8	5:13.0	4:51.6 (15)	10:55.3 (18)

22	PALVOLGYI, Levente SR	1342	Priory -CC-5	--	        16:15.1	1:01.5	5:13.5	5:00.7 (25)	11:07.9 (26)
23	GAITLEY, Jack	SR	1802	University-SF -NC-5	18	16:15.8	1:02.2	5:13.8	5:09.4 (48)	11:11.8 (30)
24	KAI ONG, Bruno	SR	873	Lick Wilmerding -NC-5	19	16:19.1	1:05.5	5:14.8	5:08.9 (43)	11:08.0 (27)
25	KUBLER, Matthew	SR	1826	Valley Christian Cerritos -S-5	20	16:20.3	1:06.7	5:15.2	4:57.6 (23)	11:01.5 (20)
26	BOESCH, Oliver	SO	455	Crystal Springs Uplands -CC-5	21	16:21.9	1:08.3	5:15.7	5:00.8 (26)	11:07.9 (25)
27	STEGGE, Ford	SO	2019	Yosemite -C-5	22	16:22.4	1:08.8	5:15.9	4:51.0 (11)	11:03.5 (22)
28	SMITH, Evan	SO	1482	Santa Fe Christian -SD-5	--	16:22.5	1:08.9	5:15.9	5:02.8 (30)	11:12.4 (31)
29	VIRTUE, Henry	SO	1357	Providence-Burbank -S-5	23	16:25.8	1:12.2	5:17.0	5:12.8 (63)	11:14.2 (33)
30	LOVETT, Elijah	JR	11	Academy for Academic Ex. -S-5	--	16:26.6	1:13.0	5:17.2	4:57.6 (22)	11:09.3 (28)
31	WU, Dean	JR	460	Crystal Springs Uplands -CC-5	24	16:27.7	1:14.1	5:17.6	5:10.3 (51)	11:13.3 (32)
32	BUJAKE, William	SR	1139	New West Charter -LA-5	25	16:28.6	1:15.0	5:17.9	5:01.5 (27)	11:09.8 (29)
33	KIM, Hudson	SR	1481	Santa Fe Christian -SD-5	--	16:29.0	1:14.4	5:18.0	4:50.9 (10)	11:07.8 (24)
34	SUTCH, Sebastian JR	253	Cate -S-5	--	16:37.7	1:24.1	5:20.8	5:03.5 (31)	11:19.5 (38)
35	ADAIR, Allister	JR	1798	University-SF -NC-5	26	16:37.9	1:24.3	5:20.9	5:09.4 (47)	11:19.2 (37)
36	DEFFNER, Aiden	SR	1016	Menlo -CC-5	27	16:42.1	1:28.5	5:22.2	5:01.8 (29)	11:18.1 (34)
37	TASKER, Thomas	JR	1695	The Kings Academy -CC-5	--	16:43.7	1:30.1	5:22.7	5:08.2 (36)	11:20.9 (42)
38	BIJUR, Jack	SR	1799	University-SF -NC-5	28	16:45.1	1:31.5	5:23.2	5:08.8 (40)	11:23.6 (44)
39	SAAL, Jared	SO	1020	Menlo -CC-5	29	16:45.4	1:31.8	5:23.3	5:10.1 (50)	11:23.9 (45)
40	GUCKERT, Hugo	SR	446	Crossroads -S-5	--	16:45.5	1:31.9	5:23.3	5:08.9 (42)	11:19.6 (39)
41	MORALES, Samuel	JR	861	Liberty Charter -SD-5	30	16:49.4	1:35.8	5:24.5	5:07.5 (35)	11:19.1 (36)
42	HILLIS, Liam	JR	872	Lick Wilmerding -NC-5	31	16:50.4	1:36.8	5:24.9	5:09.2 (45)	11:18.1 (35)
43	RUIZ, Anthony	SO	2018	Yosemite -C-5	32	16:53.0	1:38.4	5:25.7	5:04.5 (32)	11:29.3 (50)
44	UESUGI, Haruto	SR	876	Lick Wilmerding -NC-5	33	16:54.0	1:39.4	5:26.0	5:10.8 (56)	11:22.2 (43)
45	BYUN, Joshua	SR	1703	The Nueva School -CC-5	34	16:54.2	1:40.6	5:26.1	5:10.6 (53)	11:29.0 (49)
46	ANDERSON, Kaeden SO	718	Healdsburg -NC-5	--	16:54.7	1:41.1	5:26.3	5:01.7 (28)	11:24.5 (46)
47	JONES, Ben	SO	1803	University-SF -NC-5	35	16:55.9	1:42.3	5:26.7	5:19.3 (80)	11:29.5 (51)
48	DEANE, Trevor	SR	1353	Providence-Burbank -S-5	36	16:56.2	1:42.6	5:26.7	5:17.0 (71)	11:33.4 (56)
49	FITZPATRICK, Ryan FR	1706	The Nueva School -CC-5	37	16:57.3	1:43.7	5:27.1	5:11.1 (57)	11:30.8 (52)
50	ZEITZ, Gavin	JR	420	Convent/Stuart Hall -NC-5	38	16:57.9	1:44.3	5:27.3	5:07.3 (33)	11:20.5 (41)
51	URBINA, Aidan	SR	1356	Providence-Burbank -S-5	39	16:58.3	1:44.7	5:27.4	5:12.7 (62)	11:20.0 (40)
52	POBURKO, Jackson FR	1747	Trinity -N-5	--	16:58.4	1:44.8	5:27.5	5:18.2 (73)	11:39.8 (62)
53	GAIDO, Noah	SO	1788	University Prep -N-5	40	16:59.5	1:45.9	5:27.8	5:22.3 (90)	11:41.5 (64)
54	PORTH, Jonah	SR	403	College Prep -NC-5	41	16:59.8	1:46.2	5:27.9	5:10.8 (55)	11:33.6 (57)
55	BIHAN, Christophe	SR	870	Lick Wilmerding -NC-5	42	17:01.3	1:47.7	5:28.4	5:26.4 (105)	11:43.5 (70)
56	SHIN, Jacob	JR	406	Contra Costa Christian -NC-5	--	17:04.9	1:51.3	5:29.5	5:28.5 (116)	11:47.6 (73)
57	CHANG, Lucas	JR	87	Bay School-SF -NC-5	--	17:05.5	1:51.9	5:29.7	5:09.1 (44)	11:25.7 (48)
58	IKEDA, Sevan	SO	184	Ca School For The Deaf -NC-5	--	17:05.5	1:51.9	5:29.7	5:08.8 (41)	11:32.6 (53)
59	PANESAR, Tegbir	SR	402	College Prep -NC-5	43	17:06.1	1:52.5	5:29.9	5:09.2 (46)	11:33.1 (55)
60	LINDELOF, Van	SO	1989	Windward -S-5	44	17:07.7	1:54.1	5:30.4	5:11.3 (58)	11:36.4 (59)
61	MONROY, Matthew	SR	965	Maranatha Christian -SD-5	--	17:08.0	1:53.4	5:30.5	5:09.6 (49)	11:25.1 (47)
62	ARUMUGAM, Aakash	JR	1408	Sac Country Day -SJ-5	--	17:12.0	1:57.4	5:31.8	5:14.4 (66)	11:41.9 (66)
63	GRAFFIGNA, Noah	JR	2014	Yosemite -C-5	45	17:12.8	1:59.2	5:32.1	5:10.6 (54)	11:39.4 (61)
64	GASTELUM, Gabriel	SR	860	Liberty Charter -SD-5	46	17:16.1	2:02.5	5:33.1	5:08.3 (37)	11:42.5 (68)
65	MORRIS, Matthew	JR	459	Crystal Springs Uplands -CC-5	47	17:16.2	2:02.6	5:33.2	5:11.6 (59)	11:39.2 (60)
66	BISHEL, Reid	FR	754	Immanuel -C-5	--	17:16.2	2:02.6	5:33.2	5:11.9 (61)	11:42.3 (67)
67	BRAY, Joel	JR	858	Liberty Charter -SD-5	48	17:16.3	2:02.7	5:33.2	5:08.4 (38)	11:43.1 (69)
68	AUSTIN, Seth	SO	1784	University Prep -N-5	49	17:17.0	2:02.4	5:33.4	5:27.0 (108)	11:43.9 (72)
69	DUFFIN, Ben	SO	1800	University-SF -NC-5	50	17:18.0	2:03.4	5:33.8	5:25.3 (99)	11:56.0 (89)
70	RENDALL-JACKSON, Emiya	SO	405	College Prep -NC-5	51	17:18.4	2:04.8	5:33.9	5:08.5 (39)	11:35.8 (58)
71	THOMPSON, Pierce	JR	875	Lick Wilmerding -NC-5	52	17:18.5	2:04.9	5:33.9	5:26.9 (107)	11:57.7 (93)
72	CRUZ, Phoenix	SR	789	Julian -SD-5	--	17:19.4	2:05.8	5:34.2	5:11.8 (60)	11:40.4 (63)
73	REGGEV, Samuel	SO	614	Francis Parker -SD-5	53	17:20.1	2:06.5	5:34.4	5:16.0 (69)	11:43.9 (71)
74	FRIEL, Pierce	JR	1801	University-SF -NC-5	54	17:20.4	2:06.8	5:34.5	5:19.5 (82)	11:41.8 (65)
75	LUCE, Nathan	JR	1997	Woodcrest Christian -S-5	55	17:23.5	2:09.9	5:35.5	5:20.3 (83)	11:48.1 (74)
76	HERNANDEZ B, Javier	SO	1576	Sonoma Academy -NC-5	56	17:26.4	2:12.8	5:36.5	5:10.5 (52)	11:32.7 (54)
77	SEAY, Preston	JR	615	Francis Parker -SD-5	57	17:28.0	2:13.4	5:37.0	5:15.7 (68)	11:51.0 (79)
78	GUO, Lachlan	JR	458	Crystal Springs Uplands -CC-5	58	17:28.5	2:14.9	5:37.1	5:16.3 (70)	11:48.8 (75)
79	MORALES, Juan	SR	284	Central City Value -LA-5	--	17:28.5	2:14.9	5:37.1	5:13.9 (64)	11:50.0 (76)
80	YANEZ, Pedro	JR	717	Hawthorne MSA -S-5	59	17:28.7	2:15.1	5:37.2	5:27.8 (110)	11:57.7 (92)
81	CONLEY, Jordan	SO	1867	Viewpoint -S-5	60	17:29.0	2:14.4	5:37.3	5:33.3 (136)	12:07.8 (110)
82	KAGAY, Wilder	SO	1804	University-SF -NC-5	61	17:30.5	2:16.9	5:37.8	5:25.9 (102)	11:57.6 (91)
83	YELL, Dillon	JR	1358	Providence-Burbank -S-5	62	17:31.1	2:17.5	5:38.0	5:36.1 (146)	12:00.1 (97)
84	ANDERSON, Julian	FR	414	Convent/Stuart Hall -NC-5	63	17:31.9	2:18.3	5:38.2	5:28.0 (112)	11:52.8 (82)
85	TRIEU, Ryan	JR	1942	Western Sierra -SJ-5	--	17:32.2	2:18.6	5:38.3	5:24.5 (96)	11:58.0 (94)
86	GIBBONS, Maxwell	SO	724	High Tech High NC -SD-5	--	17:32.4	2:18.8	5:38.4	5:14.0 (65)	11:52.1 (81)
87	BOESCH, Alex	JR	1015	Menlo -CC-5	64	17:32.4	2:18.8	5:38.4	5:17.6 (72)	11:55.9 (88)
88	ZANUCK, Kyler	SO	1991	Windward -S-5	65	17:32.8	2:19.2	5:38.5	5:23.6 (93)	11:50.7 (77)
89	GORDON, Collin	SO	193	Calvin Christian -SD-5	66	17:33.4	2:19.8	5:38.7	5:18.9 (78)	11:53.2 (83)
90	CANALES, Alan	SR	711	Hawthorne MSA -S-5	67	17:33.6	2:20.0	5:38.8	5:15.2 (67)	11:50.9 (78)
91	ESTRADA, David	SO	1986	Windward -S-5	68	17:33.8	2:20.2	5:38.8	5:19.4 (81)	11:54.7 (85)
92	THOME, Ellis	JR	616	Francis Parker -SD-5	69	17:34.1	2:20.5	5:38.9	5:23.7 (94)	11:56.8 (90)
93	LEE, Kasey	JR	1869	Viewpoint -S-5	70	17:34.2	2:20.6	5:38.9	5:33.2 (135)	12:02.1 (100)
94	SCOTT, Kai	FR	874	Lick Wilmerding -NC-5	71	17:36.2	2:22.6	5:39.6	5:28.2 (113)	11:52.0 (80)
95	DINAN, Damian	JR	993	McKinleyville -NC-5	--	17:37.5	2:23.9	5:40.0	5:25.7 (101)	11:55.7 (87)
96	O'CONNOR, Olly	FR	1870	Viewpoint -S-5	72	17:38.8	2:25.2	5:40.4	5:33.7 (139)	12:10.2 (112)
97	DIGRANDE, Renzo	SO	400	College Prep -NC-5	73	17:39.7	2:26.1	5:40.7	5:20.4 (85)	11:55.4 (86)
98	HSU, Owen	SR	1707	The Nueva School -CC-5	74	17:40.5	2:26.9	5:41.0	5:30.1 (120)	12:06.9 (109)
99	WOLF, Will	SR	1709	The Nueva School -CC-5	75	17:40.6	2:27.0	5:41.0	5:18.3 (74)	11:53.3 (84)
100	DESANTIS, Ryan	SR	1705	The Nueva School -CC-5	76	17:40.9	2:27.3	5:41.1	5:18.5 (75)	12:00.7 (98)
101	DURAN, Mateo	SO	712	Hawthorne MSA -S-5	77	17:41.8	2:28.2	5:41.4	5:20.4 (84)	11:58.3 (95)
102	MOUSER, Andrew	FR	1998	Woodcrest Christian -S-5	78	17:42.4	2:28.8	5:41.6	5:27.9 (111)	12:03.1 (103)
103	GISLER, Jack	SO	1824	Valley Christian Cerritos -S-5	79	17:43.2	2:29.6	5:41.8	5:25.2 (97)	12:02.4 (102)
104	BITNER, James	JR	189	Calvin Christian -SD-5	80	17:43.4	2:29.8	5:41.9	5:18.6 (76)	12:01.9 (99)
105	VACCARO, Curran	SR	1056	Mission CP Catholic -C-5	--	17:44.4	2:30.8	5:42.2	5:18.8 (77)	12:05.5 (106)
106	BOUWENS, Caleb	SR	1748	Trinity Christian -CC-5	--	17:45.2	2:31.6	5:42.5	5:20.7 (87)	12:02.3 (101)
107	LEZAMA, Bryan	SO	713	Hawthorne MSA -S-5	81	17:45.6	2:32.0	5:42.6	5:20.5 (86)	11:59.4 (96)
108	KOBAYASHI, Max	SO	1988	Windward -S-5	82	17:46.6	2:33.0	5:42.9	5:30.6 (121)	12:03.5 (104)
109	NIGRO, Frankie	FR	1789	University Prep -N-5	83	17:48.3	2:34.7	5:43.5	5:32.2 (127)	12:06.5 (108)
110	YORK, Landon	SR	641	Golden Sierra -SJ-5	--	17:49.0	2:34.4	5:43.7	5:28.5 (115)	12:11.5 (115)
111	CLEEK, Kyle	SO	1344	Providence Christian -N-5	--	17:51.5	2:37.9	5:44.5	5:24.4 (95)	12:10.8 (114)
112	BAKHRU, Saahil	SO	399	College Prep -NC-5	84	17:52.8	2:39.2	5:44.9	5:21.8 (88)	12:05.2 (105)
113	ACEVEDO, Raul	SR	1677	Summit Collegiate -C-5	--	17:53.6	2:40.0	5:45.2	5:32.9 (133)	12:16.0 (122)
114	GRANADOS-PUVVULA, Aman	SO	1987	Windward -S-5	85	17:54.0	2:39.4	5:45.3	5:32.5 (130)	12:13.7 (118)
115	YUE, James	FR	1021	Menlo -CC-5	86	17:54.0	2:39.4	5:45.3	5:25.6 (100)	12:06.2 (107)
116	RUSMEEPONGSKUL, Maximo	SR	1872	Viewpoint -S-5	87	17:54.9	2:41.3	5:45.6	5:35.1 (143)	12:14.6 (121)
117	HE, Eric	SO	1868	Viewpoint -S-5	88	17:54.9	2:41.3	5:45.6	5:34.9 (142)	12:14.2 (120)
118	ROBINSON, Caleb	SO	1790	University Prep -N-5	89	17:55.9	2:42.3	5:45.9	5:33.0 (134)	12:10.5 (113)
119	LYON, Gunner	FR	1820	Vacaville Christian -SJ-5	90	17:59.2	2:45.6	5:47.0	5:30.9 (122)	12:12.2 (116)
120	O'DONNELL, Conner	SR	716	Hawthorne MSA -S-5	91	18:01.6	2:48.0	5:47.8	5:32.5 (129)	12:16.4 (123)
121	BARKER, Wyatt	FR	1823	Valley Christian Cerritos -S-5	92	18:02.3	2:48.7	5:48.0	5:29.8 (119)	12:17.0 (125)
122	REITER, Samuel	SR	404	College Prep -NC-5	93	18:02.4	2:48.8	5:48.0	5:22.1 (89)	12:08.4 (111)
123	CHOU, Kevin	SR	1656	St. Margaret's Episcopal -S-5	94	18:04.5	2:50.9	5:48.7	5:32.5 (131)	12:20.4 (129)
124	ENSZ, Koen	FR	755	Immanuel -C-5	--	18:06.5	2:52.9	5:49.4	5:26.8 (106)	12:17.3 (126)
125	CUSWORTH, Ben	JR	1786	University Prep -N-5	95	18:06.6	2:53.0	5:49.4	5:33.3 (137)	12:24.0 (135)
126	HANNICK, Austin	SR	279	Central Catholic -SJ-5	96	18:06.9	2:53.3	5:49.5	5:23.3 (92)	12:13.7 (119)
127	MARTIN, Graham	JR	1941	Western Sierra -SJ-5	--	18:07.9	2:54.3	5:49.8	5:40.0 (154)	12:29.3 (144)
128	RUSH, Ethan	JR	1871	Viewpoint -S-5	97	18:08.4	2:54.8	5:49.9	5:33.5 (138)	12:13.0 (117)
129	MEJIA, Moses	SO	714	Hawthorne MSA -S-5	98	18:10.8	2:57.2	5:50.7	5:35.3 (144)	12:22.6 (133)
130	BOTUCHIS, Jared	SO	1652	St. Margaret's Episcopal -S-5	99	18:12.0	2:57.4	5:51.1	5:32.4 (128)	12:21.0 (131)
131	LEADON, Joey	SR	280	Central Catholic -SJ-5	100	18:12.1	2:58.5	5:51.1	5:28.3 (114)	12:18.0 (127)
132	BOHNE, Evan	SO	611	Francis Parker -SD-5	101	18:13.7	3:00.1	5:51.7	5:31.5 (124)	12:18.3 (128)
133	SOERENS, Brayden	SO	292	Central Valley Christian -C-5	102	18:15.0	3:00.4	5:52.1	5:40.5 (156)	12:28.1 (142)
134	ELLIOTT, Wyatt	SO	1994	Woodcrest Christian -S-5	103	18:15.6	3:02.0	5:52.3	5:50.6 (178)	12:37.4 (151)
135	NOUR, Steven	SR	1827	Valley Christian Cerritos -S-5	104	18:16.7	3:03.1	5:52.6	5:29.6 (118)	12:16.9 (124)
136	CALDWELL, Patrick	FR	1866	Viewpoint -S-5	105	18:17.0	3:02.4	5:52.7	5:36.0 (145)	12:25.6 (138)
137	BATTERSON, Parker	SO	610	Francis Parker -SD-5	106	18:17.9	3:04.3	5:53.0	5:36.4 (147)	12:26.0 (139)
138	LUCIANO, Julian	SR	1577	Sonoma Academy -NC-5	107	18:19.2	3:05.6	5:53.4	5:44.1 (166)	12:33.2 (148)
139	GURUSAMY, Zaiden	FR	1657	St. Margaret's Episcopal -S-5	108	18:21.6	3:08.0	5:54.2	5:25.3 (98)	12:20.9 (130)
140	CARNELL, Keegan	SR	1654	St. Margaret's Episcopal -S-5	109	18:22.0	3:07.4	5:54.3	5:32.8 (132)	12:27.3 (141)
141	VELEZ, Samuel	JR	960	Magnolia Science 2 -LA-5	--	18:25.3	3:11.7	5:55.4	5:19.2 (79)	12:24.4 (136)
142	VREEKE, Matthew	JR	1829	Valley Christian Cerritos -S-5	110	18:26.8	3:13.2	5:55.9	5:37.0 (148)	12:29.6 (145)
143	O'CONNER, Caleb	JR	1828	Valley Christian Cerritos -S-5	111	18:27.1	3:13.5	5:56.0	5:34.1 (140)	12:28.8 (143)
144	CAUSEE, Evan	SO	1655	St. Margaret's Episcopal -S-5	112	18:27.4	3:13.8	5:56.1	5:29.6 (117)	12:22.4 (132)
145	ADAM, Apollo	SO	1814	Vacaville Christian -SJ-5	113	18:29.3	3:15.7	5:56.7	5:37.8 (150)	12:39.1 (154)
146	SEVERNE, Owen	JR	738	HOPE -N-5	--	18:29.8	3:16.2	5:56.8	5:22.9 (91)	12:22.8 (134)
147	VAN DER POL, Darin	SO	195	Calvin Christian -SD-5	114	18:30.3	3:16.7	5:57.0	5:31.4 (123)	12:26.8 (140)
148	ACOSTA, Caleb	FR	856	Liberty Charter -SD-5	115	18:31.2	3:17.6	5:57.3	5:26.1 (103)	12:24.8 (137)
149	ADAM, Maverick	SO	1815	Vacaville Christian -SJ-5	116	18:31.3	3:17.7	5:57.3	5:41.8 (159)	12:39.8 (156)
150	EARLY, Zachary	JR	278	Central Catholic -SJ-5	117	18:31.6	3:18.0	5:57.4	5:44.8 (168)	12:46.5 (161)
151	GAILLARD, Teddy	SO	1704	The Nueva School -CC-5	118	18:31.7	3:18.1	5:57.4	5:32.1 (125)	12:33.1 (147)
152	CLINE, Cole	JR	1571	Sonoma Academy -NC-5	119	18:32.5	3:18.9	5:57.7	5:43.9 (164)	12:38.4 (153)
153	HOOVER-DARMALINGOM, Maël	SO	613	Francis Parker -SD-5	120	18:34.2	3:20.6	5:58.2	5:37.1 (149)	12:40.0 (157)
154	CARMONA, Felix	SR	31	Alliance Marine -LA-5	--	18:34.3	3:20.7	5:58.3	5:38.1 (151)	12:39.4 (155)
155	GFELLER, Henry	SO	1995	Woodcrest Christian -S-5	121	18:36.6	3:23.0	5:59.0	5:50.6 (179)	12:37.2 (150)
156	EAGAN, Mason	JR	192	Calvin Christian -SD-5	122	18:38.3	3:24.7	5:59.6	5:41.2 (158)	12:48.4 (165)
157	COX, Kyle	SR	1746	Trinity -N-5	--	18:39.0	3:24.4	5:59.8	5:32.2 (126)	12:37.8 (152)
158	KOLOSTIAN, Peter	SR	1825	Valley Christian Cerritos -S-5	123	18:42.3	3:28.7	6:00.8	5:34.2 (141)	12:40.6 (159)
159	SOLORIO, Sebastian	SR	1679	Sun Valley Magnet -LA-5	--	18:44.6	3:31.0	6:01.6	5:39.1 (153)	12:43.9 (160)
160	GRESHAM, Robby	JR	2015	Yosemite -C-5	124	18:48.4	3:34.8	6:02.8	5:40.2 (155)	12:40.1 (158)
161	LEE, Justin	JR	416	Convent/Stuart Hall -NC-5	125	18:48.8	3:35.2	6:03.0	5:59.3 (188)	12:56.2 (170)
162	HESLA-SEYMOUR, Will	JR	415	Convent/Stuart Hall -NC-5	126	18:51.8	3:38.2	6:03.9	5:44.5 (167)	12:34.9 (149)
163	CANADAY, Justin	SO	288	Central Valley Christian -C-5	127	18:52.1	3:38.5	6:04.0	5:49.1 (176)	12:48.2 (164)
164	MENDEZ, Jorge	SR	715	Hawthorne MSA -S-5	128	18:55.1	3:41.5	6:05.0	5:38.8 (152)	12:47.4 (162)
165	MCNAMARA, Nicholas	JR	417	Convent/Stuart Hall -NC-5	129	18:57.1	3:43.5	6:05.6	5:59.1 (184)	12:56.4 (171)
166	TANG, Ryan	SR	419	Convent/Stuart Hall -NC-5	130	18:59.2	3:45.6	6:06.3	5:59.3 (186)	12:57.5 (173)
167	BAILEY, Mason	JR	1993	Woodcrest Christian -S-5	131	18:59.4	3:45.8	6:06.3	6:02.8 (191)	13:03.2 (175)
168	REZNECK, Joshua	JR	1708	The Nueva School -CC-5	132	19:03.3	3:49.7	6:07.6	5:41.1 (157)	12:47.9 (163)
169	BAKER, Isaac	SO	1785	University Prep -N-5	133	19:03.6	3:50.0	6:07.7	6:08.2 (202)	13:01.8 (174)
170	BEAUMONT, Logan	JR	2013	Yosemite -C-5	134	19:09.9	3:56.3	6:09.7	5:42.4 (161)	12:54.0 (168)
171	QUINONEZ, Mateo	FR	282	Central Catholic -SJ-5	135	19:11.0	3:56.4	6:10.1	5:47.8 (173)	13:04.0 (178)
172	FUETTE, Zachary	JR	1575	Sonoma Academy -NC-5	136	19:11.8	3:58.2	6:10.3	5:44.1 (165)	12:51.7 (167)
173	COLIN, Adam	SR	289	Central Valley Christian -C-5	137	19:11.8	3:58.2	6:10.3	5:48.8 (175)	12:55.9 (169)
174	SARMIENTO, Ryan	SR	1354	Providence-Burbank -S-5	138	19:13.3	3:59.7	6:10.8	6:03.7 (194)	13:03.6 (177)
175	FORSYTH, Jayden	JR	290	Central Valley Christian -C-5	139	19:15.1	4:01.5	6:11.4	5:59.3 (187)	13:09.8 (186)
176	BETTERTON GAGE, Sonny	JR	1138	New West Charter -LA-5	140	19:16.2	4:02.6	6:11.7	5:56.3 (181)	13:04.9 (181)
177	FLORES, Hector	SR	835	LA Leadership Acad -LA-5	--	19:17.2	4:03.6	6:12.1	5:26.2 (104)	12:49.9 (166)
178	OCHOA, Alex	FR	281	Central Catholic -SJ-5	141	19:17.4	4:03.8	6:12.1	5:47.6 (172)	13:06.7 (183)
179	LEE, Aaron	FR	1143	New West Charter -LA-5	142	19:18.2	4:04.6	6:12.4	5:42.2 (160)	12:57.5 (172)
180	ALVAREZ, Ernesto Brandon	FR	1352	Providence-Burbank -S-5	143	19:23.0	4:08.4	6:14.0	6:03.6 (193)	13:04.1 (179)
181	MERRITT, Justin	SO	1990	Windward -S-5	144	19:27.6	4:14.0	6:15.4	5:43.0 (162)	13:05.0 (182)
182	ROTHSTEIN, David	JR	283	Central Catholic -SJ-5	145	19:27.8	4:14.2	6:15.5	5:48.1 (174)	13:03.2 (176)
183	HOFF, Tyler	FR	194	Calvin Christian -SD-5	146	19:30.7	4:17.1	6:16.4	5:49.8 (177)	13:11.9 (188)
184	BALASA, Andy	SR	1985	Windward -S-5	147	19:31.3	4:17.7	6:16.6	5:47.4 (171)	13:08.1 (184)
185	SHEN, Kevin	SR	1658	St. Margaret's Episcopal -S-5	148	19:33.8	4:20.2	6:17.4	5:47.3 (170)	13:09.5 (185)
186	TYLER, Carter	FR	1787	University Prep -N-5	149	19:39.0	4:24.4	6:19.1	5:43.5 (163)	13:04.7 (180)
187	WALHOF, Nathan	SO	294	Central Valley Christian -C-5	150	19:44.3	4:30.7	6:20.8	6:03.9 (196)	13:32.4 (190)
188	DEXTER, Coe	FR	1573	Sonoma Academy -NC-5	151	19:47.6	4:34.0	6:21.9	5:55.8 (180)	13:11.4 (187)
189	DUNN, Matthew	SR	277	Central Catholic -SJ-5	152	19:50.2	4:36.6	6:22.7	6:04.3 (197)	13:24.6 (189)
190	LAI, Quincy	SO	1142	New West Charter -LA-5	153	19:51.0	4:36.4	6:23.0	6:06.0 (200)	13:33.4 (193)
191	TALK, Wyatt	JR	293	Central Valley Christian -C-5	154	19:58.9	4:45.3	6:25.5	6:04.6 (198)	13:32.4 (191)
192	REYNOLDS, Jordan	SR	291	Central Valley Christian -C-5	155	20:05.0	4:50.4	6:27.4	6:03.7 (195)	13:33.6 (194)
193	FLOCCO, Koen	SO	1574	Sonoma Academy -NC-5	156	20:19.0	5:04.4	6:31.9	5:56.9 (182)	13:32.4 (192)
194	JONES, Harrison	SR	1818	Vacaville Christian -SJ-5	157	20:24.1	5:10.5	6:33.6	5:59.0 (183)	13:39.9 (195)
195	LAXAMANA, Aaron	SR	1819	Vacaville Christian -SJ-5	158	20:24.2	5:10.6	6:33.6	5:59.1 (185)	13:39.9 (196)
196	BITNER, Samuel	FR	191	Calvin Christian -SD-5	159	20:36.9	5:23.3	6:37.7	6:07.5 (201)	13:41.7 (197)
197	BURR, Aiden	SO	859	Liberty Charter -SD-5	160	20:39.8	5:26.2	6:38.6	5:27.1 (109)	12:31.9 (146)
198	MARTINEZ, Jonah	SO	1996	Woodcrest Christian -S-5	161	20:41.6	5:28.0	6:39.2	6:03.0 (192)	13:55.4 (199)
199	DONALDSON, Lukas	SO	1817	Vacaville Christian -SJ-5	162	20:42.4	5:28.8	6:39.5	6:00.9 (189)	13:53.1 (198)
200	DAMON, Timothy	SO	1816	Vacaville Christian -SJ-5	163	20:47.3	5:33.7	6:41.1	6:04.9 (199)	13:57.4 (200)
201	BANKS, Nathan	SO	857	Liberty Charter -SD-5	164	21:01.0	5:46.4	6:45.4	5:46.8 (169)	13:59.5 (201)
202	WEST TEUBNER, Keahi	SR	1144	New West Charter -LA-5	165	21:11.1	5:57.5	6:48.7	6:01.8 (190)	14:09.1 (202)
203	SPENCER, Mason	SR	1355	Providence-Burbank -S-5	166	21:16.1	6:02.5	6:50.3	6:31.4 (204)	14:26.6 (203)
204	HAKIM, Kai	SR	1140	New West Charter -LA-5	167	21:47.7	6:34.1	7:00.5	6:11.3 (203)	14:31.2 (204)

Division II
Final Standings	Score	Scoring Order	Total
1	Newbury Park -S-2	 24	1-2-3-7-11(17)(50)	        1:14:34
2	Granada -NC-2	         99	8-18-21-24-28(36)(38)	        1:18:35
3	Ventura -S-2	        129	4-10-14-37-64(107)	        1:18:54
4	Whitney -SJ-2	        182	13-23-29-55-62(101)(115)	1:20:22
5	Mira Costa -S-2	        211	32-34-40-47-58(59)(74)	        1:21:06
6	Redwood -NC-2	        218	9-16-42-72-79(82)(93)	        1:20:40
7	Tesoro -S-2	        220	12-27-30-56-95(105)(119)	1:20:54
8	Santa Barbara -S-2	283	20-41-46-84-92(109)(126)	1:22:02
9	Grossmont -SD-2	        284	25-26-45-67-121(144)(165)	1:22:05
10	Saugus -S-2	        314	22-49-66-81-96(97)(129)	        1:22:32
11	Ayala -S-2	        344	51-52-63-78-100(112)(159)	1:23:12
12	Steele Canyon -SD-2	346	48-57-73-80-88(94)(118)	        1:23:07
13	Monte Vista -NC-2	364	6-69-75-106-108(132)(150)	1:23:08
14	Vista -SD-2	        379	33-39-89-91-127(130)(136)	1:23:40
15	Los Gatos -CC-2	        384	5-70-83-110-116(140)(145)	1:23:22
16	Vacaville -SJ-2	        387	15-54-85-98-135(148)	        1:23:45
17	Clayton Valley -NC-2	400	31-44-65-102-158(161)(164)	1:25:02
18	Tulare Western -C-2	410	35-60-76-114-125(155)(160)	1:24:21
19	St. Francis MV -CC-2	444	53-77-86-111-117(120)(139)	1:24:47
20	Vista Del Lago -SJ-2	456	68-71-90-103-124(141)(147)	1:25:01
21	Branham -CC-2	        458	43-61-99-122-133(149)(156)	1:25:07
22	Oakland Tech -O-2	484	19-87-113-123-142(153)(163)	1:25:34
23	Monache -C-2	        680	128-134-137-138-143(151)	1:29:03
24	Venice -LA-2	        687	104-131-146-152-154(157)(162)	1:30:20

        Athlete	        Yr.	#	Team	      Score	Time	Gap  Avg. Mile	1mi	        2.1mi
1	YOUNG, Lex	SR	1165	Newbury Park -S-2 1	14:27.9	---	4:39.1	4:32.2 (2)	9:50.6 (1)
2	YOUNG, Leo	SR	1164	Newbury Park -S-2 2	14:38.4	10.5	4:42.4	4:31.4 (1)	9:50.7 (2)
3	SAHLMAN, Aaron	SR	1161	Newbury Park -S-2 3	14:41.1	13.2	4:43.3	4:32.3 (3)	9:58.0 (3)
4	FAST HORSE, Anthony JR	1848	Ventura -S-2	4	15:08.5	40.6	4:52.1	4:44.3 (12)	10:22.8 (5)
5	STEFANOPOULUS, Aydon SO	928	Los Gatos -CC-2	5	15:14.7	46.8	4:54.1	4:44.4 (14)	10:23.3 (7)
6	MILLER, Ethan	SR	1079	Monte Vista -NC-2 6	15:15.5	47.6	4:54.4	4:43.8 (8)	10:27.8 (11)
7	DOSHI, Dev	JR	1159	Newbury Park -S-2 7	15:17.2	49.3	4:54.9	4:44.3 (13)	10:22.9 (6)

8	HARTLINE, Garrett SR	567	El Toro -S-2	--	15:20.0	51.1	4:55.8	4:47.5 (25)	10:27.1 (10)
9	CALDWELL, Trey	SO	490	De La Salle -NC-2 --	15:21.2	53.3	4:56.2	4:44.3 (11)	10:29.7 (15)
10	RUCKMANN-BARNES, Roland JR 648	Granada -NC-2	8	15:21.9	54.0	4:56.4	4:43.4 (6)	10:29.4 (13)
11	CUTTER, Daegan	SR	1384	Redwood -NC-2	9	15:26.1	58.2	4:57.8	4:43.4 (5)	10:28.5 (12)
12	GROSSMAN, Micah	JR	1849	Ventura -S-2	10	15:26.1	58.2	4:57.8	4:43.8 (9)	10:26.3 (8)
13	SEYMOUR, Brayden SR	1163	Newbury Park -S-2 11	15:29.1	1:01.2	4:58.7	4:36.3 (4)	10:17.1 (4)
14	KUSHEN, Griffin	SO	1689	Tesoro -S-2	12	15:31.3	1:03.4	4:59.4	4:44.8 (17)	10:35.8 (18)

15	DELGADILLO, Mateo SR	1969	Whitney -SJ-2	13	15:33.1	1:05.2	5:00.0	4:58.0 (66)	10:44.4 (27)
16	DEGEORGE, Nick	JR	1847	Ventura -S-2	14	15:35.1	1:07.2	5:00.7	4:44.9 (18)	10:36.0 (19)
17	CHERUIYOT, Donovan SR	1806	Vacaville -SJ-2	15	15:36.0	1:07.1	5:00.9	4:50.0 (36)	10:33.7 (17)
18	MORGENFELD, Grant JR	1271	Palo Alto -CC-2	--	15:36.0	1:07.1	5:00.9	4:43.5 (7)	10:26.7 (9)
19	MARTIN, Blake	SR	1385	Redwood -NC-2	16	15:38.5	1:10.6	5:01.7	4:50.5 (38)	10:45.6 (28)
20	BARBER, KC	SR	1943	Westlake -S-2	--	15:38.8	1:10.9	5:01.8	4:43.9 (10)	10:30.1 (16)
21	CANTU, Aaron	SR	1162	Newbury Park -S-2 17	15:39.9	1:12.0	5:02.2	4:45.1 (19)	10:29.4 (14)

22	GURUSAMY, Dheeraj	SR	645	Granada -NC-2	18	15:42.3	1:14.4	5:03.0	4:44.5 (15)	10:40.0 (21)
23	JONES, Miles	JR	1205	Oakland Tech -O-2	19	15:44.1	1:16.2	5:03.6	4:50.5 (37)	10:48.4 (34)
24	COOPER, John	SR	1976	Wilcox -CC-2	--	15:44.6	1:16.7	5:03.7	4:51.7 (42)	10:41.5 (24)
25	DYBDAHL, Andreas	JR	1475	Santa Barbara -S-2	20	15:45.9	1:18.0	5:04.1	4:47.7 (27)	10:42.3 (26)
26	SORIANO, Farin	SR	650	Granada -NC-2	21	15:47.0	1:18.1	5:04.5	4:45.6 (20)	10:40.0 (22)
27	TEFFRA, Alazar	SR	269	Central -C-2	--	15:47.1	1:19.2	5:04.5	4:44.7 (16)	10:38.9 (20)
28	FREDERICKS, Jacob	SR	1524	Saugus -S-2	22	15:47.3	1:19.4	5:04.6	4:48.0 (28)	10:41.4 (23)
29	LOPEZ, Noah	JR	1972	Whitney -SJ-2	23	15:47.3	1:19.4	5:04.6	4:59.8 (77)	10:46.6 (30)
30	HART, Luther	SR	646	Granada -NC-2	24	15:47.4	1:19.5	5:04.6	4:49.9 (35)	10:48.2 (32)
31	BLAKELY, Russell	SR	686	Grossmont -SD-2	25	15:48.9	1:21.0	5:05.1	5:02.7 (93)	10:53.5 (46)
32	ROSEN, Ian	SR	691	Grossmont -SD-2	26	15:49.4	1:21.5	5:05.3	4:51.9 (43)	10:48.4 (33)
33	GOETSCHEL, Casey	SR	1688	Tesoro -S-2	27	15:51.8	1:23.9	5:06.0	4:53.2 (50)	10:47.7 (31)
34	STEVENS, Andrew	SR	1499	Santa Rosa -NC-2	--	15:52.3	1:24.4	5:06.2	4:47.5 (26)	10:42.1 (25)
35	WALTON, Jake	SR	644	Granada -NC-2	28	15:55.8	1:27.9	5:07.3	4:53.7 (52)	10:49.1 (36)
36	BELL, Tom	SR	1126	Mt Carmel -SD-2	--	15:58.5	1:30.6	5:08.2	4:46.2 (22)	10:48.9 (35)
37	HERRMANN, Nick	SR	1970	Whitney -SJ-2	29	15:59.6	1:31.7	5:08.5	4:57.9 (64)	10:50.2 (39)
38	SAXTON, Liam	JR	44	Arch. Mitty -CC-2	--	15:59.8	1:31.9	5:08.6	4:50.6 (39)	10:50.6 (40)
39	IYER, Adarsh	JR	951	Lynbrook -CC-2	--	16:00.5	1:32.6	5:08.8	5:05.8 (109)	11:00.3 (59)
40	DAILEY, Maxamillion	SR	1687	Tesoro -S-2	30	16:01.2	1:33.3	5:09.0	4:58.2 (69)	11:05.8 (64)
41	MARTINEZ, Daniel	JR	358	Clayton Valley -NC-2	31	16:01.3	1:33.4	5:09.1	4:49.3 (31)	10:54.8 (48)
42	MARTIN, Andrew	SR	1052	Mira Costa -S-2	32	16:01.6	1:33.7	5:09.2	4:55.5 (57)	10:58.1 (56)
43	DE HARO, Mark	SR	1877	Vista -SD-2	33	16:02.1	1:34.2	5:09.3	5:02.3 (89)	11:01.9 (61)
44	LAMOUREUX, Alex	SR	390	College Park -NC-2	--	16:02.4	1:34.5	5:09.4	4:49.8 (34)	10:46.4 (29)
45	IBARRA, Devin	JR	550	El Diamante -C-2	--	16:03.0	1:34.1	5:09.6	4:52.8 (47)	10:53.9 (47)
46	STICKNEY, Parker	JR	1053	Mira Costa -S-2	34	16:04.4	1:36.5	5:10.1	4:55.6 (58)	10:54.9 (49)
47	RIPPE, Ben	JR	1166	Norco -S-2	--	16:05.4	1:37.5	5:10.4	4:47.5 (24)	10:49.1 (37)
48	MENDES, Carter	SR	1754	Tulare Western -C-2	35	16:06.7	1:38.8	5:10.8	4:52.8 (48)	10:52.9 (45)
49	MANLEY, Liam	SR	647	Granada -NC-2	36	16:07.3	1:39.4	5:11.0	4:54.1 (54)	10:51.2 (42)
50	COSTA, Hollis	JR	1846	Ventura -S-2	37	16:08.1	1:40.2	5:11.3	4:49.5 (32)	10:52.5 (44)
51	SINGH, Eshaan	JR	649	Granada -NC-2	38	16:08.7	1:40.8	5:11.5	4:49.6 (33)	10:49.7 (38)
52	BUENTELLO, Luke	JR	1875	Vista -SD-2	39	16:09.1	1:41.2	5:11.6	5:03.5 (97)	10:55.1 (50)
53	GRAHAM, Kai	SR	1048	Mira Costa -S-2	40	16:10.1	1:42.2	5:11.9	4:55.8 (59)	10:58.3 (57)
54	ROMERO, Ethan	SR	331	Citrus Valley -S-2	--	16:10.2	1:42.3	5:11.9	5:11.3 (133)	11:07.2 (68)
55	BIRCHIM, Cainan	SO	1474	Santa Barbara -S-2	41	16:10.5	1:42.6	5:12.0	4:58.7 (72)	11:07.1 (67)
56	WERNER, Ethan	JR	1389	Redwood -NC-2	42	16:11.7	1:43.8	5:12.4	4:52.4 (46)	10:57.1 (53)
57	MANGIONE, Paul	SR	703	Hart (William S.) -S-2	--	16:12.4	1:44.5	5:12.6	4:47.1 (23)	10:51.1 (41)
58	ZELJAK, Spencer	SR	147	Branham -CC-2	43	16:12.4	1:44.5	5:12.7	4:51.2 (41)	10:57.4 (54)
59	PEREZ, Jacob	SR	631	Frontier -C-2	--	16:13.4	1:45.5	5:13.0	4:53.5 (51)	11:00.6 (60)
60	MESSER, Daniel	JR	359	Clayton Valley -NC-2	44	16:17.9	1:50.0	5:14.4	4:45.6 (21)	10:52.4 (43)
61	EDWARDS, Joshua	SR	689	Grossmont -SD-2	45	16:18.1	1:50.2	5:14.5	5:04.4 (104)	11:05.4 (63)
62	LEVINE, Oliver	SR	1477	Santa Barbara -S-2	46	16:18.1	1:50.2	5:14.5	4:50.7 (40)	10:56.4 (51)
63	GRAHAM, Luke	JR	1049	Mira Costa -S-2	47	16:18.4	1:50.5	5:14.6	5:01.5 (84)	11:07.4 (69)
64	BELL, Bradley	SR	1669	Steele Canyon -SD-2	48	16:19.2	1:51.3	5:14.9	4:49.2 (30)	10:58.1 (55)
65	GAVIN, Dion	SR	1525	Saugus -S-2	49	16:20.2	1:52.3	5:15.2	4:48.4 (29)	10:56.7 (52)
66	SHETTY, Arnav	SO	1160	Newbury Park -S-2	50	16:20.4	1:52.5	5:15.2	5:02.3 (88)	11:07.8 (70)
67	ORNELAS, Caleb	JR	81	Ayala -S-2	51	16:20.9	1:53.0	5:15.4	4:59.1 (74)	11:08.2 (72)
68	AGUAYO, Joshua	SR	77	Ayala -S-2	52	16:22.6	1:54.7	5:15.9	5:00.0 (78)	11:10.7 (75)
69	JUSTINIAN, Cyrus	JR	1397	Rio Americano -SJ-2	--	16:23.9	1:56.0	5:16.3	5:03.0 (94)	11:08.2 (73)
70	AGARWAL, Utkarsh	SR	1618	St. Francis MV -CC-2	53	16:24.3	1:56.4	5:16.5	4:56.8 (61)	11:09.5 (74)
71	RATTARY, Jack	SO	391	College Park -NC-2	--	16:26.2	1:58.3	5:17.1	4:52.3 (45)	10:59.8 (58)
72	DIAZ, Jacob	SR	1391	Reedley -C-2	--	16:26.7	1:58.8	5:17.3	4:59.4 (76)	11:06.7 (66)
73	STREAM, Jackson	SO	1811	Vacaville -SJ-2	54	16:27.1	1:59.2	5:17.4	4:57.7 (63)	11:08.1 (71)
74	TURNER, Callum	SR	1974	Whitney -SJ-2	55	16:27.5	1:59.6	5:17.5	5:04.1 (101)	11:15.6 (84)
75	MCELFISH, Kaleb	SR	1691	Tesoro -S-2	56	16:27.8	1:59.9	5:17.6	4:57.9 (65)	11:11.7 (77)
76	RIZZO, Dominic	SR	1673	Steele Canyon -SD-2	57	16:28.6	2:00.7	5:17.9	4:54.0 (53)	11:05.9 (65)
77	ALLIEGRO, Sean	SR	1047	Mira Costa -S-2	58	16:31.7	2:03.8	5:18.8	4:56.3 (60)	11:05.1 (62)
78	LANGTON, Will	SR	1051	Mira Costa -S-2	59	16:33.1	2:05.2	5:19.3	5:04.1 (102)	11:16.4 (85)
79	FLORES, Joseph	SR	1752	Tulare Western -C-2	60	16:33.5	2:05.6	5:19.4	5:04.5 (106)	11:13.3 (79)
80	SEEFELDT, Andrew	JR	146	Branham -CC-2	61	16:33.7	2:05.8	5:19.5	5:08.2 (117)	11:20.0 (97)
81	KIRBY, Kellen	JR	88	Bella Vista -SJ-2	--	16:34.3	2:06.4	5:19.7	5:02.5 (91)	11:17.5 (91)
82	HURREN, David	JR	1971	Whitney -SJ-2	62	16:34.5	2:06.6	5:19.8	5:04.4 (105)	11:15.1 (82)
83	TSAI, Nathan	SR	83	Ayala -S-2	63	16:35.5	2:07.6	5:20.1	5:01.3 (83)	11:19.9 (96)
84	BAYSINGER, Grant	SR	1845	Ventura -S-2	64	16:35.9	2:08.0	5:20.2	5:00.2 (79)	11:16.4 (86)
85	SOLARI, Alan	SR	360	Clayton Valley -NC-2	65	16:36.5	2:08.6	5:20.4	4:55.2 (56)	11:14.2 (81)
86	SALINAS, Andres	SO	1527	Saugus -S-2	66	16:37.9	2:10.0	5:20.8	5:11.4 (134)	11:18.8 (93)
87	COYLE, Mason	SR	687	Grossmont -SD-2	67	16:38.3	2:10.4	5:21.0	5:11.7 (138)	11:27.0 (113)
88	GIANETTO, Dominick	SR	1891	Vista Del Lago -SJ-2	68	16:38.4	2:10.5	5:21.0	5:03.1 (95)	11:11.6 (76)
89	BRANDEIS, Owen	SO	1074	Monte Vista -NC-2	69	16:38.6	2:10.7	5:21.1	4:59.1 (75)	11:16.6 (88)
90	FAN, Jack	SR	924	Los Gatos -CC-2	70	16:39.2	2:11.3	5:21.3	5:01.9 (86)	11:16.4 (87)
91	GRANGER, Nicholas	SR	1892	Vista Del Lago -SJ-2	71	16:39.3	2:11.4	5:21.3	5:03.3 (96)	11:28.8 (117)
92	PETERS, Kai	SR	1386	Redwood -NC-2	72	16:40.0	2:11.1	5:21.5	5:11.4 (135)	11:27.4 (114)
93	SENN, Micah	SO	1674	Steele Canyon -SD-2	73	16:40.2	2:12.3	5:21.6	4:57.6 (62)	11:17.2 (90)
94	HANSEN, Ian	SO	1050	Mira Costa -S-2	74	16:40.9	2:13.0	5:21.8	5:07.5 (113)	11:19.3 (94)
95	PEDERSON, Jake	SR	1080	Monte Vista -NC-2	75	16:42.3	2:14.4	5:22.3	5:11.8 (139)	11:16.7 (89)
96	BASURTO, Santiago	SR	1749	Tulare Western -C-2	76	16:42.8	2:14.9	5:22.4	4:53.2 (49)	11:13.3 (80)
97	MULLER, Nikolas	SR	1623	St. Francis MV -CC-2	77	16:42.9	2:15.0	5:22.4	5:03.9 (100)	11:26.7 (111)
98	BERK, Josh	JR	78	Ayala -S-2	78	16:43.0	2:14.1	5:22.5	5:14.4 (152)	11:32.2 (123)
99	WOLLENWEBER, Nathan	SR	1390	Redwood -NC-2	79	16:43.4	2:15.5	5:22.6	5:07.8 (115)	11:25.9 (106)
100	GUZMAN, Juan	SR	1671	Steele Canyon -SD-2	80	16:43.7	2:15.8	5:22.7	4:58.8 (73)	11:12.5 (78)
101	CANHAM, Caleb	SR	1521	Saugus -S-2	81	16:43.7	2:15.8	5:22.7	5:11.9 (140)	11:20.5 (99)
102	ANGUIANO, Atzin	SR	1559	Shafter -C-2	--	16:43.8	2:15.9	5:22.8	4:58.6 (71)	11:20.8 (100)
103	TUDOR, Calvin	JR	1388	Redwood -NC-2	82	16:44.2	2:16.3	5:22.9	5:04.4 (103)	11:21.5 (101)
104	BIDMEAD, Jensen	JR	923	Los Gatos -CC-2	83	16:45.5	2:17.6	5:23.3	5:07.2 (112)	11:26.5 (110)
105	SNOW, Blaise	JR	1478	Santa Barbara -S-2	84	16:47.1	2:19.2	5:23.8	4:52.2 (44)	11:15.5 (83)
106	HUNDLEY, Justus	JR	1808	Vacaville -SJ-2	85	16:49.0	2:20.1	5:24.4	5:02.2 (87)	11:18.2 (92)
107	BELT, Ken	SR	1550	Scripps Ranch -SD-2	--	16:50.2	2:22.3	5:24.8	5:00.7 (80)	11:20.5 (98)
108	MULLANE, Matthew	JR	1622	St. Francis MV -CC-2	86	16:50.8	2:22.9	5:25.0	5:01.0 (82)	11:22.5 (103)
109	MCDONALD, Matthew	SR	428	Cosumnes Oaks -SJ-2	--	16:53.3	2:25.4	5:25.8	5:08.8 (124)	11:26.2 (107)
110	LEDUC, Alexi	JR	1206	Oakland Tech -O-2	87	16:54.3	2:26.4	5:26.1	4:58.1 (67)	11:19.9 (95)
111	ARREDONDO, Juan Pablo	SR	1668	Steele Canyon -SD-2	88	16:54.8	2:26.9	5:26.3	5:00.7 (81)	11:22.2 (102)
112	GARCIA, Franklin	SR	1878	Vista -SD-2	89	16:55.2	2:27.3	5:26.4	5:03.8 (98)	11:26.2 (108)
113	HOOEY, Edwin	SO	1893	Vista Del Lago -SJ-2	90	16:57.3	2:29.4	5:27.1	5:15.0 (156)	11:31.6 (121)
114	LEONARD, Shea	SR	1441	San Dieguito Acad. -SD-2	--	16:58.4	2:30.5	5:27.5	5:02.3 (90)	11:28.6 (116)
115	ZAMORA, Juan	SR	982	Marshall (John) -LA-2	--	16:58.7	2:30.8	5:27.5	5:01.6 (85)	11:33.4 (125)
116	SCHMID, Zach	JR	1880	Vista -SD-2	91	16:58.9	2:31.0	5:27.6	5:16.3 (163)	11:35.5 (129)
117	TASSOS, Nicholas	SO	1479	Santa Barbara -S-2	92	17:00.6	2:32.7	5:28.1	5:09.4 (126)	11:31.5 (120)
118	GEE, Tyler	SR	1992	Woodcreek -SJ-2	--	17:01.2	2:33.3	5:28.4	5:08.6 (122)	11:26.3 (109)
119	SANDRICH, Jax	SO	1387	Redwood -NC-2	93	17:01.5	2:33.6	5:28.4	5:11.5 (137)	11:32.3 (124)
120	GAYTAN, Joseph	SR	1670	Steele Canyon -SD-2	94	17:02.1	2:34.2	5:28.6	5:08.7 (123)	11:23.1 (104)
121	BUHAIN, Lawrence	SR	1686	Tesoro -S-2	95	17:02.2	2:34.3	5:28.7	5:11.2 (132)	11:34.7 (127)
122	CANNON, Oliver	JR	1551	Scripps Ranch -SD-2	--	17:02.2	2:34.3	5:28.7	5:02.7 (92)	11:29.4 (118)
123	PERAZA, Sebastian	SO	1526	Saugus -S-2	96	17:02.6	2:34.7	5:28.8	5:10.8 (129)	11:29.8 (119)
124	GIVENS, Brennan	SO	1522	Saugus -S-2	97	17:06.3	2:38.4	5:30.0	5:13.5 (148)	11:35.2 (128)
125	CILIA, Lorenzo	SR	1807	Vacaville -SJ-2	98	17:06.7	2:38.8	5:30.1	5:11.4 (136)	11:33.7 (126)
126	MURILLO, Alijah	FR	144	Branham -CC-2	99	17:07.2	2:39.3	5:30.3	5:12.4 (144)	11:38.5 (132)
127	CARCAMO, Matthew	SR	79	Ayala -S-2	100	17:10.0	2:41.1	5:31.2	5:05.8 (110)	11:35.5 (130)
128	BARKVE, Aidan	SR	1968	Whitney -SJ-2	101	17:10.8	2:42.9	5:31.4	5:24.0 (184)	11:53.1 (154)
129	WALKER, Alex	SR	361	Clayton Valley -NC-2	102	17:10.9	2:43.0	5:31.5	4:55.2 (55)	11:26.8 (112)
130	PECHA, John Paul	SR	1895	Vista Del Lago -SJ-2	103	17:11.7	2:43.8	5:31.7	5:15.3 (158)	11:41.1 (139)
131	TRANQUILLA, Paul	SO	1836	Venice -LA-2	104	17:12.0	2:43.1	5:31.8	5:08.5 (121)	11:35.8 (131)
132	MCNAMARA, Ryan	SO	1692	Tesoro -S-2	105	17:14.7	2:46.8	5:32.7	5:14.9 (154)	11:38.8 (134)
133	INOCENCIO, Benjamin	SR	1077	Monte Vista -NC-2	106	17:14.9	2:47.0	5:32.7	5:12.6 (145)	11:41.0 (138)
134	HARRIS, Blake	FR	1851	Ventura -S-2	107	17:15.0	2:46.1	5:32.8	5:13.9 (149)	11:39.4 (135)
135	INOCENCIO, Ty	SR	1081	Monte Vista -NC-2	108	17:16.1	2:48.2	5:33.1	5:15.1 (157)	11:44.4 (145)
136	ANDRULAITIS, Bode	JR	1473	Santa Barbara -S-2	109	17:16.2	2:48.3	5:33.2	5:05.5 (108)	11:31.8 (122)
137	KLARICH, Ben	SO	927	Los Gatos -CC-2	110	17:16.5	2:48.6	5:33.3	5:11.1 (130)	11:43.4 (142)
138	LOGAN, Phillip	SR	1030	Merced -SJ-2	--	17:17.1	2:49.2	5:33.5	4:58.1 (68)	11:28.5 (115)
139	ROMERO, Fabrizzio	SR	157	Bravo Medical Mag -LA-2	--	17:20.8	2:52.9	5:34.6	5:04.6 (107)	11:44.3 (144)
140	O'BRIEN, Sammy	SR	1624	St. Francis MV -CC-2	111	17:21.8	2:53.9	5:35.0	5:08.5 (119)	11:40.6 (137)
141	MORRIS, Malachi	SR	80	Ayala -S-2	112	17:21.9	2:54.0	5:35.0	5:09.1 (125)	11:38.7 (133)
142	SCHAFER, Gus	SO	1208	Oakland Tech -O-2	113	17:22.7	2:54.8	5:35.3	5:16.5 (164)	11:43.9 (143)
143	DELGADO, Erik	SR	1750	Tulare Western -C-2	114	17:23.9	2:56.0	5:35.6	5:18.6 (169)	11:56.3 (163)
144	RUSCICA, Dario	SR	1973	Whitney -SJ-2	115	17:25.2	2:57.3	5:36.1	5:23.7 (182)	11:53.0 (153)
145	WONG, Keaton	SR	929	Los Gatos -CC-2	116	17:25.5	2:57.6	5:36.2	5:07.6 (114)	11:42.6 (140)
146	ESPIRITU, Orion	SR	1620	St. Francis MV -CC-2	117	17:26.8	2:58.9	5:36.6	5:14.9 (155)	11:49.0 (150)
147	KATANCHI, Paolo	SR	1672	Steele Canyon -SD-2	118	17:27.1	2:59.2	5:36.7	5:18.3 (167)	11:57.3 (167)
148	WOLFE, Parker	SO	1690	Tesoro -S-2	119	17:27.8	2:59.9	5:36.9	5:15.5 (161)	11:51.4 (152)
149	CLARKE, Riley	SO	1619	St. Francis MV -CC-2	120	17:29.4	3:01.5	5:37.4	5:10.5 (128)	11:47.4 (149)
150	REYES, Loan	SO	690	Grossmont -SD-2	121	17:29.6	3:01.7	5:37.5	5:22.7 (180)	11:56.6 (166)
151	BOLLINI, Donovan	SO	141	Branham -CC-2	122	17:31.2	3:03.3	5:38.0	5:25.1 (186)	12:00.0 (171)
152	ARNOLD, Oliver	SO	1202	Oakland Tech -O-2	123	17:31.8	3:03.9	5:38.2	5:24.1 (185)	11:54.4 (158)
153	RAMIREZ, Christopher	SO	156	Bravo Medical Mag -LA-2	--	17:32.8	3:04.9	5:38.5	5:12.8 (146)	11:55.9 (162)
154	BIWOTT, Xavier	SO	1890	Vista Del Lago -SJ-2	124	17:33.6	3:05.7	5:38.8	5:22.7 (179)	11:56.3 (164)
155	VALDIVIA, Julian	JR	1755	Tulare Western -C-2	125	17:34.1	3:06.2	5:38.9	5:18.8 (170)	11:56.6 (165)
156	GARZA, Jack	SR	1476	Santa Barbara -S-2	126	17:34.2	3:06.3	5:38.9	5:09.4 (127)	11:39.9 (136)
157	JONES, Liam	SR	1879	Vista -SD-2	127	17:34.2	3:06.3	5:38.9	5:20.7 (173)	11:55.1 (161)
158	MOORE, Monte	JR	1064	Monache -C-2	128	17:34.2	3:06.3	5:38.9	5:11.1 (131)	11:43.1 (141)
159	DURNEY, Jonathan	JR	1523	Saugus -S-2	129	17:34.9	3:07.0	5:39.2	5:12.0 (143)	11:50.4 (151)
160	CRUZ, Jarett	SO	1876	Vista -SD-2	130	17:36.1	3:08.2	5:39.6	5:15.4 (159)	11:54.2 (156)
161	WEBSTER, London	FR	1837	Venice -LA-2	131	17:37.9	3:10.0	5:40.1	5:16.2 (162)	11:55.0 (160)
162	GRONDONA, Draven	SR	1076	Monte Vista -NC-2	132	17:41.1	3:13.2	5:41.2	5:11.9 (142)	11:45.4 (148)
163	DAZKO, Owen	JR	142	Branham -CC-2	133	17:41.9	3:14.0	5:41.4	5:18.4 (168)	11:58.0 (169)
164	MACHADO, Conner	FR	1061	Monache -C-2	134	17:43.1	3:15.2	5:41.8	5:14.3 (151)	11:53.7 (155)
165	CAMILLI, Mathias	SR	634	Galileo -SF-2	--	17:43.9	3:16.0	5:42.1	5:06.3 (111)	11:44.6 (146)
166	ROWLAND, Josiah	JR	1810	Vacaville -SJ-2	135	17:46.1	3:18.2	5:42.8	5:21.8 (177)	12:05.9 (175)
167	SILVA, Salvador	SR	1881	Vista -SD-2	136	17:48.6	3:20.7	5:43.6	5:08.5 (120)	11:57.5 (168)
168	MARTINEZ, Salvador	JR	1063	Monache -C-2	137	17:50.3	3:22.4	5:44.1	5:14.5 (153)	11:58.6 (170)
169	ANDRADE, Alberto	SO	1059	Monache -C-2	138	17:50.7	3:22.8	5:44.2	5:17.6 (166)	11:54.3 (157)
170	RICK, Micah	JR	537	Eagle Rock -LA-2	--	17:52.5	3:24.6	5:44.8	5:08.1 (116)	11:54.6 (159)
171	LO, Nathan	JR	1621	St. Francis MV -CC-2	139	17:54.1	3:26.2	5:45.4	5:08.3 (118)	11:44.8 (147)
172	HALE, Noah	SR	925	Los Gatos -CC-2	140	17:57.0	3:28.1	5:46.3	5:21.2 (174)	12:08.6 (177)
173	HOOEY, Joshua	JR	1894	Vista Del Lago -SJ-2	141	17:59.3	3:31.4	5:47.0	5:27.8 (188)	12:13.3 (181)
174	GOMEZ, Cezar	JR	1204	Oakland Tech -O-2	142	18:01.3	3:33.4	5:47.7	5:22.5 (178)	12:17.2 (185)
175	TOLEDO, Joseph	SR	1065	Monache -C-2	143	18:04.0	3:35.1	5:48.5	5:17.5 (165)	12:05.0 (173)
176	HIGHTOWER-ROJAS, Evangel	SR	536	Eagle Rock -LA-2	--	18:05.8	3:37.9	5:49.1	5:14.3 (150)	12:05.1 (174)
177	EDWARDS, Jonah	SO	688	Grossmont -SD-2	144	18:05.9	3:38.0	5:49.1	5:23.5 (181)	12:09.5 (179)
178	JENKINS, Will	SR	926	Los Gatos -CC-2	145	18:06.4	3:38.5	5:49.3	5:21.4 (175)	12:15.7 (183)
179	VAZQUEZ, Jackson	JR	636	Galileo -SF-2	--	18:06.8	3:38.9	5:49.4	5:26.0 (187)	12:11.1 (180)
180	STEFANSKI-HALL, Thaddeus	SR	1835	Venice -LA-2	146	18:12.9	3:45.0	5:51.4	5:29.7 (190)	12:16.4 (184)
181	ANDERSON, Hunter	SR	1889	Vista Del Lago -SJ-2	147	18:14.6	3:46.7	5:51.9	5:27.8 (189)	12:22.1 (186)
182	ROWLAND, James	SO	1809	Vacaville -SJ-2	148	18:18.2	3:50.3	5:53.1	5:19.0 (171)	12:09.0 (178)
183	HOUSTON, Lleyton	JR	143	Branham -CC-2	149	18:20.2	3:52.3	5:53.8	5:15.5 (160)	12:15.6 (182)
184	FREDERIKSEN, Jack	SR	1075	Monte Vista -NC-2	150	18:21.3	3:53.4	5:54.1	5:13.0 (147)	12:02.6 (172)
185	ESTRADA, Jake	SO	1060	Monache -C-2	151	18:33.1	4:05.2	5:57.9	5:11.9 (141)	12:07.8 (176)
186	MENDEZ, Leo	SR	1834	Venice -LA-2	152	18:33.5	4:05.6	5:58.0	5:31.1 (192)	12:29.9 (187)
187	DEWAN, Nathan	SO	1203	Oakland Tech -O-2	153	18:39.8	4:11.9	6:00.0	5:31.1 (191)	12:33.3 (189)
188	DU, Alexander	FR	1832	Venice -LA-2	154	18:43.5	4:15.6	6:01.2	5:31.9 (193)	12:30.5 (188)
189	HAGEDOM, Joziah	SR	1753	Tulare Western -C-2	155	18:43.6	4:15.7	6:01.3	5:23.9 (183)	12:44.7 (191)
190	NGUYEN, Anthony	SO	145	Branham -CC-2	156	18:47.5	4:19.6	6:02.5	5:33.6 (194)	12:39.7 (190)
191	CARLOW, Ryan	SR	1831	Venice -LA-2	157	18:52.6	4:24.7	6:04.2	5:35.5 (195)	12:47.7 (192)
192	JETTER, Ryan	SR	357	Clayton Valley -NC-2	158	18:54.8	4:26.9	6:04.9	5:40.1 (198)	12:50.4 (193)
193	SYDNOR, Christopher	SR	82	Ayala -S-2	159	19:02.8	4:34.9	6:07.5	5:19.5 (172)	12:52.6 (195)
194	FIGUEROA, Felipe	SR	1751	Tulare Western -C-2	160	19:08.7	4:40.8	6:09.3	5:37.8 (196)	12:51.0 (194)
195	BLUTH, Noah	JR	356	Clayton Valley -NC-2	161	19:24.4	4:56.5	6:14.4	5:40.0 (197)	12:53.3 (196)
196	LONG, Caleb	JR	1833	Venice -LA-2	162	19:25.0	4:56.1	6:14.6	5:42.9 (199)	13:08.6 (197)
197	PORTER, Rory	SO	1207	Oakland Tech -O-2	163	19:44.0	5:15.1	6:20.7	5:51.2 (200)	13:18.1 (198)
198	BERGMANN, Alexander	JR	355	Clayton Valley -NC-2	164	20:12.1	5:44.2	6:29.7	5:55.6 (202)	13:39.2 (200)
199	TRILLAS, Alejandro	FR	692	Grossmont -SD-2	165	20:13.7	5:45.8	6:30.2	5:54.0 (201)	13:33.8 (199)
	WALKER, Colton	JR	1812	Vacaville -SJ-2	--	DNF		---	5:03.8 (99)	
	MARINO, Devin	FR	1062	Monache -C-2	--	DNF		---	5:21.5 (176)	18:12.5 (201)
	HAMMEL, Henry	JR	1850	Ventura -S-2	--	DNF		---	4:58.4 (70)	11:23.9 (105)

Division I
Final Standings	Score	Scoring Order	Total
1	Great Oak -S-1	         67	5-11-14-18-19(26)(40)	        1:17:58
2	San Clemente -S-1	 80	6-7-15-22-30(36)(43)	        1:18:18
3	Crescenta Valley -S-1	167	2-31-37-46-51(76)(80)	        1:19:54
4	Trabuco Hills -S-1	172*	13-24-27-33-75(94)(130)	        1:20:16
5	San Luis Obispo -C-1	172*	3-9-35-61-64(112)(115)	        1:19:42
6	Arcadia -S-1	        218	21-29-42-55-71(108)(142)	1:20:55
7	Clovis -C-1	        253	1-45-63-70-74(93)(121)	        1:21:02
8	Loyola -S-1	        266*	25-38-41-78-84(91)(110)	        1:21:43
9	Westview -SD-1	        266*	17-34-39-77-99(123)(139)	1:21:35
10	Madera South -C-1	272	48-53-54-58-59(137)(146)	1:21:56
11	Torrey Pines -SD-1	315	44-47-52-68-104(128)(132)	1:22:23
12	Lincoln-S -SJ-1	        321	23-28-81-89-100(133)(145)	1:22:29
13	Jesuit -SJ-1	        322	20-62-66-79-95(118)(135)	1:22:23
14	Santiago - Corona -S-1	335	12-49-73-87-114(125)(141)	1:22:34
15	Berkeley -NC-1	        340	8-57-72-86-117(127)(129)	1:22:40
16	Dougherty Valley -NC-1	343	4-50-69-107-113(124)	        1:22:34
17	Palisades Charter -LA-1	375	10-60-96-103-106(116)(143)	1:22:57
18	Bellarmine CP -CC-1	408	56-82-83-90-97(105)(122)	1:23:41
19	Davis -SJ-1	        409	16-92-98-101-102(136)(138)	1:23:32
20	Milpitas -CC-1	        412	32-67-85-109-119(134)(144)	1:23:49
21	Granada Hills Cht -LA-1	510	65-88-111-120-126(131)(140)	1:25:23

*Tiebreakers
Trabuco Hills -S-1	13	24	27	33	75	94	130
San Luis Obispo -C-1	3	9	35	61	64	112	115
 
Loyola -S-1	25	38	41	78	84	91	110
Westview -SD-1	17	34	39	77	99	123	139

        Athlete	        Yr.	#	Team	     Score	Time	Gap  Avg. Mile	1mi	        2.1mi
1	DONIS, Matthew	SR	732	Highland -S-1	--	14:51.3	---	4:46.6	4:46.4 (8)	10:12.2 (1)
2	CAUDILLO, Christopher SR 364	Clovis -C-1	1	15:03.9	12.6	4:50.6	4:46.7 (12)	10:21.7 (4)
3	SIMMONS, Parker	SR	443	Crescenta Valley -S-1 2	15:09.7	18.4	4:52.5	4:45.9 (3)	10:14.9 (2)
4	SKAPINSKY, Milo	SR	1456	San Luis Obispo -C-1 3	15:10.9	19.6	4:52.9	4:46.2 (5)	10:23.5 (5)
5	RHONE, Cameron	SR	913	Long Beach Poly -S-1 --	15:13.0	20.7	4:53.6	4:46.4 (9)	10:24.9 (7)
6	PARRA, Jason	JR	1031	Millikan -S-1	--	15:13.7	22.4	4:53.8	4:39.7 (1)	10:15.0 (3)
7	SPRADLING, Carter JR	372	Clovis East -C-1 --	15:18.0	25.7	4:55.1	4:46.0 (4)	10:23.9 (6)

8	BADCOCK, Shane	SR	523	Dougherty Valley -NC-1 4 15:23.0 30.7	4:56.8	4:46.7 (11)	10:25.3 (8)
9	CORTES, Mark	SR	679	Great Oak -S-1	5	15:23.5	32.2	4:56.9	4:49.5 (36)	10:35.3 (16)
10	CHANTACA, Juan	SR	1428	San Clemente -S-1 6	15:25.5	34.2	4:57.6	4:48.1 (20)	10:33.2 (10)
11	MARKELZ, Evan	SR	1117	Mountain View -CC-1 --	15:25.6	34.3	4:57.6	4:48.8 (28)	10:33.7 (12)
12	CATSIMANES, Rory SR	1427	San Clemente -S-1 7	15:27.2	35.9	4:58.1	4:49.4 (33)	10:39.9 (28)
13	DIETZ, Olaf	JR	104	Berkeley -NC-1	8	15:28.1	36.8	4:58.4	4:46.9 (13)	10:25.5 (9)
14	WHITE, Quinn	SR	1457	San Luis Obispo -C-1 9	15:28.6	37.3	4:58.6	4:49.8 (38)	10:38.1 (25)

15	FIELDS, Max	JR	1259	Palisades Charter -LA-1 10 15:29.8 38.5	4:59.0	4:49.4 (32)	10:34.3 (13)
16	CORTES, Ramses	SR	680	Great Oak -S-1	11	15:32.7	41.4	4:59.9	4:49.6 (37)	10:36.0 (19)
17	FILEK, Van	SR	1517	Santiago - Corona -S-1 12 15:33.5 42.2	5:00.2	4:48.3 (24)	10:36.6 (22)
18	WILLIAMS, Carsten SO	1744	Trabuco Hills -S-1 13	15:34.2	42.9	5:00.4	4:47.6 (16)	10:34.8 (15)
19	RODRIGUEZ, Gabriel JR	684	Great Oak -S-1	14	15:34.5	43.2	5:00.5	4:48.8 (27)	10:37.9 (24)
20	CASTILLO, Gabriel JR	576	Etiwanda -S-1	--	15:37.1	45.8	5:01.3	4:46.6 (10)	10:35.7 (18)
21	EPHRAIM, Brett	JR	1431	San Clemente -S-1 15	15:38.2	46.9	5:01.6	4:48.9 (29)	10:34.5 (14)

22	MITCHELL, Ryan	SR	485	Davis -SJ-1	16	15:40.2	48.9	5:02.3	4:46.3 (7)	10:33.3 (11)
23	DOMINGUEZ, Jimmy	SR	1472	Santa Ana -S-1	--	15:40.9	49.6	5:02.5	4:48.2 (21)	10:35.7 (17)
24	WELTON, Adrian	JR	1960	Westview -SD-1	17	15:42.6	51.3	5:03.1	4:51.4 (46)	10:43.7 (32)
25	LENNOX, Nathan	SR	685	Great Oak -S-1	18	15:43.3	52.0	5:03.3	4:49.9 (41)	10:38.3 (26)
26	ELKINS, Austin	SR	681	Great Oak -S-1	19	15:43.7	52.4	5:03.4	4:50.0 (42)	10:39.8 (27)
27	ESPARZA, Troy	SR	1184	Oak Ridge -SJ-1	--	15:43.9	52.6	5:03.5	4:52.9 (52)	10:36.1 (20)
28	MORENO, Brandon	SR	776	Jesuit -SJ-1	20	15:44.1	52.8	5:03.6	4:50.9 (44)	10:43.5 (31)
29	CHANG, Brandon	SR	36	Arcadia -S-1	21	15:44.2	52.9	5:03.6	4:58.5 (78)	10:50.6 (42)
30	SESTAK, Grant	SR	1433	San Clemente -S-1	22	15:44.6	53.3	5:03.7	4:49.9 (39)	10:43.3 (30)
31	SHORT, Nathan	SR	583	Folsom -SJ-1	--	15:47.2	55.9	5:04.5	4:48.2 (23)	10:37.3 (23)
32	MARTIN, Ryan	SR	1400	River City -SJ-1	--	15:47.2	55.9	5:04.6	4:51.0 (45)	10:48.4 (39)
33	MANESH, Nathan	SR	533	Dublin -NC-1	--	15:48.5	57.2	5:05.0	4:47.3 (14)	10:36.4 (21)
34	GONZALEZ, Daniel	SR	880	Lincoln-S -SJ-1	23	15:51.9	1:00.6	5:06.1	4:40.1 (2)	10:44.3 (35)
35	STANLEY, Ryan	JR	1743	Trabuco Hills -S-1	24	15:55.2	1:03.9	5:07.1	4:49.0 (31)	10:43.9 (34)
36	NODAL, Nathaniel	SR	381	Clovis West -C-1	--	15:56.4	1:05.1	5:07.5	4:47.7 (17)	10:52.6 (46)
37	LUECHT, Camden	SO	1366	Rancho Bernardo -SD-1	--	15:56.7	1:05.4	5:07.6	4:49.4 (34)	10:46.6 (37)
38	LAVERY, Harrison	SR	946	Loyola -S-1	25	15:57.7	1:06.4	5:07.9	4:56.2 (67)	10:45.5 (36)
39	DRESICK, Sam	JR	380	Clovis West -C-1	--	15:59.9	1:08.6	5:08.6	4:48.6 (25)	10:53.4 (51)
40	KEENEY, Jeffrey	JR	683	Great Oak -S-1	26	16:00.2	1:08.9	5:08.7	4:57.7 (77)	10:56.5 (59)
41	KIRSCHBAUM, Derek	SR	1341	Poway -SD-1	--	16:00.3	1:09.0	5:08.8	4:51.9 (48)	10:53.9 (53)
42	JUBAK, Dylan	SO	1741	Trabuco Hills -S-1	27	16:01.1	1:09.8	5:09.0	4:49.4 (35)	10:43.0 (29)
43	PIPPEL, Jacob	JR	219	Canyon Crest Acad. -SD-1	--	16:01.8	1:10.5	5:09.3	4:49.0 (30)	11:01.2 (68)
44	GILLIG, Jansen	SR	879	Lincoln-S -SJ-1	28	16:02.0	1:09.7	5:09.3	4:47.8 (18)	10:48.0 (38)
45	REYES, Omar	JR	545	El Camino (OCN) -SD-1	--	16:02.2	1:10.9	5:09.4	4:47.6 (15)	10:50.1 (41)
46	LIN, Weber	SR	38	Arcadia -S-1	29	16:02.3	1:11.0	5:09.4	5:07.0 (110)	11:04.1 (73)
47	CLARK, Pierce	JR	1429	San Clemente -S-1	30	16:02.5	1:11.2	5:09.5	4:54.6 (58)	10:55.3 (56)
48	SION, Eddie	JR	444	Crescenta Valley -S-1	31	16:02.8	1:11.5	5:09.6	4:52.4 (51)	10:55.6 (57)
49	ALTHOUSE, Alex	SR	1033	Milpitas -CC-1	32	16:03.0	1:10.7	5:09.6	4:57.5 (75)	10:59.7 (63)
50	CLEMONS, Micah	JR	1739	Trabuco Hills -S-1	33	16:04.0	1:11.7	5:09.9	4:52.3 (50)	10:53.4 (52)
51	ARCIAGA, Ryland	SR	1954	Westview -SD-1	34	16:04.2	1:12.9	5:10.0	4:59.4 (82)	10:58.9 (62)
52	GREENELSH, Weston	JR	1452	San Luis Obispo -C-1	35	16:05.2	1:13.9	5:10.3	4:59.2 (81)	10:50.0 (40)
53	CLARK, Taj	JR	1430	San Clemente -S-1	36	16:05.8	1:14.5	5:10.5	4:54.2 (55)	11:00.8 (66)
54	CONNORS, Harrison	SR	442	Crescenta Valley -S-1	37	16:06.1	1:14.8	5:10.6	4:51.5 (47)	10:51.4 (43)
55	RATKOVICH, Jake	SR	949	Loyola -S-1	38	16:06.3	1:15.0	5:10.7	4:50.3 (43)	10:53.3 (50)
56	BERNER, Kaeden	JR	1955	Westview -SD-1	39	16:07.2	1:15.9	5:11.0	5:04.6 (103)	11:03.3 (70)
57	GAFFNEY, Nick	SR	682	Great Oak -S-1	40	16:08.8	1:17.5	5:11.5	4:56.9 (72)	10:58.7 (61)
58	PAYNE, Henry	SR	948	Loyola -S-1	41	16:09.0	1:16.7	5:11.6	5:07.6 (114)	11:06.8 (81)
59	LYNN, William	SR	39	Arcadia -S-1	42	16:09.5	1:18.2	5:11.7	5:10.6 (149)	11:07.4 (83)
60	WEAVER, Zach	SR	173	Buchanan -C-1	--	16:09.8	1:18.5	5:11.8	4:56.7 (70)	11:03.7 (71)
61	PEREIRA, Devin	SR	1403	Rocklin -SJ-1	--	16:11.2	1:19.9	5:12.3	4:48.2 (22)	10:43.8 (33)
62	HARRINGTON, Dallin	FR	1432	San Clemente -S-1	43	16:11.4	1:20.1	5:12.3	5:03.5 (99)	11:04.7 (77)
63	CHRISTMORE, Nathan	SR	1726	Torrey Pines -SD-1	44	16:11.5	1:20.2	5:12.4	4:53.3 (53)	10:54.1 (54)
64	MCNEAL, Cole	JR	368	Clovis -C-1	45	16:13.7	1:22.4	5:13.1	5:09.0 (128)	11:16.5 (101)
65	CARTNAL, Jamie	SR	440	Crescenta Valley -S-1	46	16:14.3	1:23.0	5:13.3	4:55.0 (61)	10:56.2 (58)
66	REDMOND, Alec	SR	992	McClatchy -SJ-1	--	16:14.6	1:23.3	5:13.3	4:54.9 (59)	11:01.6 (69)
67	JOHNSON, Saul	SR	1729	Torrey Pines -SD-1	47	16:16.9	1:25.6	5:14.1	4:56.0 (66)	11:00.9 (67)
68	JIN, Luke	SO	501	Del Norte -SD-1	--	16:17.4	1:26.1	5:14.3	5:01.1 (88)	11:03.8 (72)
69	MEDINA, Estevan	SR	957	Madera South -C-1	48	16:17.7	1:26.4	5:14.4	4:57.4 (74)	10:58.4 (60)
70	WIJESEKARA, Bryce	SR	188	California -NC-1	--	16:19.1	1:27.8	5:14.8	4:55.6 (63)	10:51.8 (45)
71	DELOYOLA, Dylan	SR	1515	Santiago - Corona -S-1	49	16:19.5	1:28.2	5:15.0	4:48.0 (19)	10:54.2 (55)
72	MUNICIO, Daniel	SR	526	Dougherty Valley -NC-1	50	16:20.8	1:29.5	5:15.4	4:53.5 (54)	11:00.2 (64)
73	ZADOORIAN, Liam	SO	445	Crescenta Valley -S-1	51	16:20.9	1:29.6	5:15.4	5:01.5 (90)	11:06.5 (80)
74	THOMAS, Ryan	SR	1731	Torrey Pines -SD-1	52	16:21.3	1:30.0	5:15.5	4:48.7 (26)	10:52.9 (47)
75	SVERLOW-MEN, Adrian	SR	1461	San Pedro -LA-1	--	16:21.8	1:30.5	5:15.7	5:07.7 (115)	11:12.7 (92)
76	HIPOLITO, Adrian	SR	955	Madera South -C-1	53	16:22.1	1:30.8	5:15.8	4:49.9 (40)	10:53.0 (48)
77	CHAVEZ, Isaac	SR	953	Madera South -C-1	54	16:22.1	1:30.8	5:15.8	5:00.4 (86)	10:53.2 (49)
78	KOH, Kenta	SR	37	Arcadia -S-1	55	16:23.5	1:32.2	5:16.2	5:07.3 (111)	11:04.6 (76)
79	MURUMKAR, Rishi	JR	773	James Logan -NC-1	--	16:24.6	1:33.3	5:16.6	4:59.5 (83)	11:04.4 (75)
80	MORISHIGE, Noa	SR	93	Bellarmine CP -CC-1	56	16:24.8	1:33.5	5:16.7	5:07.3 (112)	11:15.9 (97)
81	MADJIDI, Jalen	SR	106	Berkeley -NC-1	57	16:26.2	1:34.9	5:17.1	4:54.3 (56)	11:04.8 (78)
82	HUSSAIN, Eshaan	SO	186	California -NC-1	--	16:26.7	1:35.4	5:17.2	5:04.2 (102)	11:15.4 (95)
83	DEVINE, Dylan	SR	954	Madera South -C-1	58	16:26.8	1:35.5	5:17.3	4:46.3 (6)	10:51.8 (44)
84	LUNA, Vidal	SR	956	Madera South -C-1	59	16:26.8	1:35.5	5:17.3	5:02.0 (92)	11:12.0 (91)
85	COHEN, Zachary	FR	1258	Palisades Charter -LA-1	60	16:27.5	1:36.2	5:17.5	5:08.2 (122)	11:16.1 (98)
86	REISS, Luke	SR	1454	San Luis Obispo -C-1	61	16:28.3	1:37.0	5:17.8	4:59.1 (80)	11:10.0 (84)
87	SWANSON, Jacob	SR	780	Jesuit -SJ-1	62	16:28.6	1:37.3	5:17.9	4:55.7 (64)	11:00.5 (65)
88	MORALES, Jalen	JR	369	Clovis -C-1	63	16:28.7	1:37.4	5:17.9	5:09.0 (127)	11:18.9 (107)
89	VARGAS, Joseph	JR	363	Cleveland (Grover) -LA-1	--	16:28.8	1:37.5	5:17.9	5:06.9 (109)	11:16.2 (99)
90	ROEMMICH, Nolan	JR	1455	San Luis Obispo -C-1	64	16:29.3	1:38.0	5:18.1	5:03.3 (97)	11:11.1 (89)
91	MENDOZA, Alexander	JR	661	Granada Hills Cht -LA-1	65	16:30.6	1:39.3	5:18.5	5:07.3 (113)	11:12.7 (93)
92	ABBOTT, Isaac	FR	774	Jesuit -SJ-1	66	16:31.6	1:40.3	5:18.8	4:58.9 (79)	11:06.9 (82)
93	ALTHOUSE, Jordan	JR	1034	Milpitas -CC-1	67	16:32.2	1:40.9	5:19.0	5:01.6 (91)	11:16.8 (103)
94	RICKERT, Jonas	JR	1730	Torrey Pines -SD-1	68	16:32.6	1:41.3	5:19.2	4:56.3 (68)	11:10.8 (87)
95	TOZULAHMAD, Noor	SO	528	Dougherty Valley -NC-1	69	16:33.3	1:42.0	5:19.4	5:05.7 (107)	11:18.6 (106)
96	MCGEE, Joaquin	SR	367	Clovis -C-1	70	16:34.4	1:43.1	5:19.7	5:09.0 (126)	11:17.1 (104)
97	SINGH, Jashanpreet	JR	40	Arcadia -S-1	71	16:35.7	1:44.4	5:20.2	5:10.0 (139)	11:20.1 (110)
98	DE VALPINE, Luke	SR	103	Berkeley -NC-1	72	16:37.4	1:46.1	5:20.7	4:56.0 (65)	11:04.4 (74)
99	PUGLIESE, Sawyer	SO	1470	Sanger -C-1	--	16:37.6	1:46.3	5:20.7	4:56.4 (69)	11:11.1 (88)
100	OLMOS, Antonio	JR	1519	Santiago - Corona -S-1	73	16:38.8	1:47.5	5:21.1	5:00.4 (85)	11:16.3 (100)
101	WATKINS, Isaiah	SR	370	Clovis -C-1	74	16:40.6	1:49.3	5:21.7	5:09.5 (134)	11:21.8 (115)
102	WILSON, Dylan	SR	1745	Trabuco Hills -S-1	75	16:41.1	1:49.8	5:21.9	4:55.1 (62)	11:05.2 (79)
103	CHAMBERS, Joshua	JR	441	Crescenta Valley -S-1	76	16:41.6	1:50.3	5:22.0	4:54.9 (60)	11:19.1 (108)
104	MCDEVITT, Parker	FR	1958	Westview -SD-1	77	16:42.5	1:51.2	5:22.3	5:07.9 (119)	11:20.7 (111)
105	MORRIS, Nathan	JR	1118	Mountain View -CC-1	--	16:42.9	1:51.6	5:22.4	5:03.8 (101)	11:14.2 (94)
106	PAVON, Aaron	SO	947	Loyola -S-1	78	16:42.9	1:51.6	5:22.5	4:57.5 (76)	11:10.6 (86)
107	REYNOLDS, Jonah	JR	777	Jesuit -SJ-1	79	16:43.2	1:51.9	5:22.5	4:52.1 (49)	11:10.1 (85)
108	CHENEY, Luke	SR	439	Crescenta Valley -S-1	80	16:43.2	1:51.9	5:22.5	4:56.8 (71)	11:11.8 (90)
109	CLIBURN, Caleb	SO	877	Lincoln-S -SJ-1	81	16:44.0	1:51.7	5:22.8	5:02.8 (95)	11:19.4 (109)
110	FRIDA, Jack	SR	92	Bellarmine CP -CC-1	82	16:44.3	1:53.0	5:22.9	5:07.7 (116)	11:27.0 (124)
111	PETREE, Nathan	SR	94	Bellarmine CP -CC-1	83	16:44.6	1:53.3	5:23.0	5:09.2 (132)	11:27.4 (126)
112	GARDNER, Evan	SO	736	Homestead -CC-1	--	16:44.8	1:53.5	5:23.1	4:57.2 (73)	11:16.6 (102)
113	SANAVIO, Matteo	JR	950	Loyola -S-1	84	16:46.4	1:55.1	5:23.6	5:10.6 (148)	11:20.8 (112)
114	RAJ, Sahil	SR	1038	Milpitas -CC-1	85	16:46.7	1:55.4	5:23.7	5:01.3 (89)	11:18.2 (105)
115	SMALL, Matteo	SR	109	Berkeley -NC-1	86	16:47.5	1:56.2	5:24.0	4:54.5 (57)	11:15.6 (96)
116	LAY, Jace	SO	1518	Santiago - Corona -S-1	87	16:48.2	1:56.9	5:24.2	5:02.3 (93)	11:22.6 (116)
117	KIRRANE, Brian	SR	187	California -NC-1	--	16:49.9	1:58.6	5:24.7	5:05.3 (105)	11:25.2 (118)
118	TAYLOR, Sean	SR	664	Granada Hills Cht -LA-1	88	16:50.5	1:59.2	5:24.9	5:11.2 (153)	11:30.6 (132)
119	OVERGAARD, Jeffrey	JR	883	Lincoln-S -SJ-1	89	16:51.8	2:00.5	5:25.3	5:00.6 (87)	11:25.3 (119)
120	CHETTIAR, Shrey	SO	90	Bellarmine CP -CC-1	90	16:52.0	1:59.7	5:25.4	5:09.9 (138)	11:30.3 (131)
121	BANEGAS, Diego	SO	944	Loyola -S-1	91	16:52.3	2:01.0	5:25.5	5:11.0 (151)	11:28.7 (128)
122	DOHERTY, Aidan	JR	1029	Menlo-Atherton -CC-1	--	16:53.3	2:02.0	5:25.8	5:02.6 (94)	11:21.1 (113)
123	DOCTOR, Jay	JR	483	Davis -SJ-1	92	16:53.7	2:02.4	5:25.9	5:11.8 (155)	11:30.9 (134)
124	DELGADILLO, Josiah	JR	365	Clovis -C-1	93	16:54.3	2:03.0	5:26.1	5:09.3 (133)	11:28.4 (127)
125	GRIGGS, Eli	JR	1740	Trabuco Hills -S-1	94	16:54.6	2:03.3	5:26.2	5:08.0 (120)	11:25.1 (117)
126	CRESSMAN, Chase	SO	775	Jesuit -SJ-1	95	16:54.7	2:03.4	5:26.2	4:59.6 (84)	11:21.2 (114)
127	LEWICKY, Owen	SO	1260	Palisades Charter -LA-1	96	16:55.0	2:02.7	5:26.3	5:08.1 (121)	11:26.9 (123)
128	BOTKIN, Owen	SR	89	Bellarmine CP -CC-1	97	16:55.2	2:03.9	5:26.4	5:09.1 (129)	11:27.2 (125)
129	WRIGHT, Jefferson	JR	489	Davis -SJ-1	98	16:57.9	2:06.6	5:27.3	5:11.8 (156)	11:31.7 (137)
130	HANNAMAN, Rowan	SO	1957	Westview -SD-1	99	16:58.4	2:07.1	5:27.4	5:10.1 (141)	11:30.8 (133)
131	FRITCH, Andrew	JR	878	Lincoln-S -SJ-1	100	16:59.3	2:08.0	5:27.7	5:05.1 (104)	11:25.6 (120)
132	FERNS, Tomas	JR	484	Davis -SJ-1	101	17:00.0	2:07.7	5:28.0	5:11.9 (157)	11:31.9 (138)
133	TAM, Lucas	JR	488	Davis -SJ-1	102	17:00.3	2:09.0	5:28.0	5:07.9 (118)	11:33.1 (139)
134	SIGWORTH, Blake	FR	1263	Palisades Charter -LA-1	103	17:00.5	2:09.2	5:28.1	5:13.8 (162)	11:33.5 (140)
135	BORIN, Spencer	JR	1725	Torrey Pines -SD-1	104	17:00.8	2:09.5	5:28.2	5:09.7 (136)	11:31.0 (135)
136	VOHRA, Soham	SR	95	Bellarmine CP -CC-1	105	17:02.1	2:10.8	5:28.6	5:09.2 (131)	11:26.5 (122)
137	MAMMEN, Axel	JR	1261	Palisades Charter -LA-1	106	17:03.6	2:12.3	5:29.1	5:13.9 (163)	11:36.3 (145)
138	DEVAGUDI, Vrishank	SR	525	Dougherty Valley -NC-1	107	17:03.9	2:12.6	5:29.2	5:10.1 (140)	11:26.0 (121)
139	TEMPLE, Mason	SR	41	Arcadia -S-1	108	17:04.1	2:12.8	5:29.3	5:10.3 (142)	11:31.4 (136)
140	KAI, Koyo	SR	1037	Milpitas -CC-1	109	17:05.0	2:12.7	5:29.6	5:13.5 (161)	11:36.6 (146)
141	BIRTHISTLE, Mac	SR	945	Loyola -S-1	110	17:07.4	2:16.1	5:30.4	5:10.8 (150)	11:29.6 (129)
142	FLORES, Alec	JR	659	Granada Hills Cht -LA-1	111	17:09.5	2:18.2	5:31.0	5:07.8 (117)	11:37.7 (148)
143	MASON, Conor	SO	1453	San Luis Obispo -C-1	112	17:10.5	2:19.2	5:31.3	5:10.3 (143)	11:37.2 (147)
144	SAGIRAJU, Arrin	SO	527	Dougherty Valley -NC-1	113	17:12.6	2:21.3	5:32.0	5:11.1 (152)	11:38.4 (149)
145	WAKEFIELD, Matthew	SR	1520	Santiago - Corona -S-1	114	17:13.6	2:22.3	5:32.3	5:09.7 (137)	11:34.9 (142)
146	BACKLIN, Cade	JR	1451	San Luis Obispo -C-1	115	17:16.4	2:25.1	5:33.2	5:03.4 (98)	11:30.2 (130)
147	RAZO, Andrew	FR	1262	Palisades Charter -LA-1	116	17:18.4	2:27.1	5:33.9	5:15.3 (167)	11:47.8 (160)
148	ESCALANTE, Elliott	SR	105	Berkeley -NC-1	117	17:20.8	2:29.5	5:34.6	5:10.5 (146)	11:41.8 (156)
149	BLUM, Brady	SO	778	Jesuit -SJ-1	118	17:21.1	2:29.8	5:34.7	5:14.3 (165)	11:52.5 (164)
150	SRIVATSA, Abhyuday	SR	580	Evergreen Valley -CC-1	--	17:22.2	2:30.9	5:35.1	5:06.8 (108)	11:38.7 (150)
151	BURELA, Sidhant	JR	1036	Milpitas -CC-1	119	17:22.4	2:31.1	5:35.2	5:18.8 (171)	11:47.7 (159)
152	ROBLES, Reece	SR	663	Granada Hills Cht -LA-1	120	17:23.6	2:32.3	5:35.5	5:22.0 (174)	11:52.5 (165)
153	MARTINEZ, Ricky	SR	366	Clovis -C-1	121	17:25.9	2:34.6	5:36.3	5:10.3 (144)	11:41.0 (152)
154	CRAVEN, Tyler	JR	91	Bellarmine CP -CC-1	122	17:26.6	2:35.3	5:36.5	5:08.6 (124)	11:41.3 (154)
155	STEVENS, Matthew	SO	1959	Westview -SD-1	123	17:27.0	2:34.7	5:36.6	5:12.8 (159)	11:51.0 (162)
156	TOZULAHMAD, Robi	SO	529	Dougherty Valley -NC-1	124	17:27.6	2:36.3	5:36.8	5:08.7 (125)	11:40.3 (151)
157	BLAKE, Jett	SO	1514	Santiago - Corona -S-1	125	17:28.0	2:35.7	5:37.0	5:11.9 (158)	11:46.9 (158)
158	ORTEGA TOMASELLI, Joaquin	FR	662	Granada Hills Cht -LA-1	126	17:28.1	2:36.8	5:37.0	5:23.9 (178)	11:55.7 (167)
159	MULLEN, Mason	JR	107	Berkeley -NC-1	127	17:31.4	2:40.1	5:38.0	5:08.4 (123)	11:36.3 (144)
160	CONOVER, Bryce	JR	1727	Torrey Pines -SD-1	128	17:34.1	2:42.8	5:38.9	5:09.2 (130)	11:41.6 (155)
161	NICKELSEN, Oliver	JR	108	Berkeley -NC-1	129	17:38.5	2:47.2	5:40.3	5:05.7 (106)	11:34.9 (143)
162	SEAMARK, Alex	SR	1742	Trabuco Hills -S-1	130	17:41.8	2:50.5	5:41.4	5:03.3 (96)	11:33.7 (141)
163	DUDLEY, Ryan	JR	658	Granada Hills Cht -LA-1	131	17:44.2	2:52.9	5:42.2	5:10.6 (147)	11:50.0 (161)
164	CONWAY, Matt	JR	1728	Torrey Pines -SD-1	132	17:47.4	2:56.1	5:43.2	5:03.7 (100)	11:44.6 (157)
165	RUIZ, Daniel	SR	1460	San Pedro -LA-1	--	17:50.8	2:59.5	5:44.3	5:15.6 (169)	12:03.9 (169)
166	NEUNER, Logan	JR	882	Lincoln-S -SJ-1	133	17:52.9	3:01.6	5:45.0	5:09.6 (135)	11:54.3 (166)
167	BAUTISTA, Ethan	SR	1035	Milpitas -CC-1	134	17:53.5	3:02.2	5:45.2	5:23.2 (177)	12:07.8 (171)
168	ALUIZO, Mario	SO	1128	Narbonne -LA-1	--	17:59.9	3:08.6	5:47.2	5:15.5 (168)	12:00.8 (168)
169	FELIX, Trevor	SO	779	Jesuit -SJ-1	135	18:00.0	3:07.7	5:47.3	5:20.6 (173)	12:10.1 (172)
170	STEVENS, Owen	JR	487	Davis -SJ-1	136	18:00.8	3:09.5	5:47.5	5:22.9 (176)	12:12.2 (173)
171	QUIROZ, Edwin	JR	958	Madera South -C-1	137	18:03.1	3:11.8	5:48.2	5:14.0 (164)	12:05.8 (170)
172	SISCO, Jayson	JR	486	Davis -SJ-1	138	18:08.8	3:17.5	5:50.1	5:22.8 (175)	12:13.2 (174)
173	DOBROWOLSKI, Matthew	JR	1956	Westview -SD-1	139	18:18.4	3:27.1	5:53.2	5:13.4 (160)	12:14.7 (175)
174	KLOSS, Kellan	JR	660	Granada Hills Cht -LA-1	140	18:23.4	3:32.1	5:54.8	5:24.5 (179)	12:28.2 (179)
175	COX, Alijah	SO	1516	Santiago - Corona -S-1	141	18:25.9	3:34.6	5:55.6	5:20.4 (172)	12:30.0 (180)
176	WEN, Teddie	JR	42	Arcadia -S-1	142	18:27.5	3:36.2	5:56.1	5:24.8 (180)	12:26.4 (178)
177	BARNETT, Ben	SO	1257	Palisades Charter -LA-1	143	18:38.9	3:47.6	5:59.8	5:25.9 (181)	12:24.9 (177)
178	VINNAKOTA, Akul	SR	1039	Milpitas -CC-1	144	18:47.9	3:56.6	6:02.6	5:18.6 (170)	11:51.5 (163)
179	MERTZ, Keith	SR	881	Lincoln-S -SJ-1	145	18:55.0	4:02.7	6:04.9	5:10.4 (145)	12:31.3 (181)
180	RAMIREZ, Juan	SR	959	Madera South -C-1	146	18:57.1	4:05.8	6:05.6	5:15.1 (166)	12:18.5 (176)
	OMEGA, Tyler	JR	524	Dougherty Valley -NC-1	--	DNF		---	5:11.3 (154)	11:41.2 (153)

Division IV
Final Standings	Score	Scoring Order	Total
1	St. Francis -S-4	 93	9-10-14-24-36(48)(71)	        1:20:15
2	Cathedral -S-4	        114	1-3-26-35-49(73)(94)	        1:20:05
3	Albany -NC-4	        118	2-20-22-27-47(78)(118)	        1:20:39
4	St. John Bosco -S-4	132	11-23-28-29-41(123)(155)	1:21:27
5	Palos Verdes -S-4	172	15-16-30-43-68(75)(100)	        1:22:04
6	Matilda Torres -C-4	178	13-33-38-40-54(74)(84)	        1:22:23
7	Scotts Valley -CC-4	180	8-21-37-53-61(93)(117)	        1:22:19
8	Foothill Technology -S-4 220	6-17-42-72-83(91)(111)	        1:22:40
9	Bishop ODowd -NC-4	221	12-25-31-57-96(115)(121)	1:23:12
10	Oaks Christian -S-4	237	4-44-51-58-80(97)(154)	        1:23:07
11	Arch. Riordan -CC-4	341	34-55-59-87-106(112)(124)	1:25:34
12	Hughson -SJ-4	        342*	50-63-64-79-86(103)(127)	1:25:32
13	Archie Williams -NC-4	342*	39-46-70-89-98(109)(128)	1:25:28
14	Burroughs Ridgecrest -S-4 359	5-76-82-95-101(104)(145)	1:25:30
15	Carmel -CC-4	        368	19-45-65-119-120(140)(151)	1:25:59
16	La Jolla -SD-4	        394	18-60-88-102-126(136)(143)	1:26:40
17	Christian Brothers -SJ-4 445	32-62-92-129-130(132)(133)	1:27:56
18	Classical Academy -SD-4	489	56-81-107-110-135(144)(148)	1:28:24
19	Livingston -SJ-4	512	66-85-90-114-157	        1:30:33
20	Yreka -N-4	        534	7-108-125-141-153(159)(160)	1:30:20
21	Crawford -SD-4	        559	77-105-113-122-142(146)(152)	1:29:57
22	Justin Garza -C-4	594	69-99-131-137-158	        1:32:24
23	Enterprise -N-4	        606	52-116-138-139-161(162)(164)	1:33:07
24	Mendez -LA-4	        647	67-134-147-149-150(156)(163)	1:34:06

Athlete	Yr.	#	Team	Score	Time	Gap	Avg. Mile	1mi	2.1mi
1	PEREZ, Emmanuel	JR	258	Cathedral -S-4	1	15:05.4	---	4:51.1	4:43.5 (2)	10:20.0 (1)
2	MORELLO, Sean	SR	29	Albany -NC-4	2	15:08.8	3.4	4:52.2	4:43.4 (1)	10:20.6 (2)
3	HOLMAN, Broen	SO	1578	Sonora -SJ-4	--	15:12.4	7.0	4:53.4	4:43.6 (4)	10:21.2 (3)
4	HUGHES, Benjamin SR	1458	San Marino -S-4	--	15:26.0	19.6	4:57.7	4:47.2 (15)	10:37.2 (12)
5	HERNANDEZ, Emmanuel JR	255	Cathedral -S-4	3	15:27.6	22.2	4:58.2	4:43.7 (5)	10:24.6 (4)
6	FITCHEN-YOUNG, Eli SO	1480	Santa Cruz -CC-4 --	15:28.3	22.9	4:58.5	4:45.2 (9)	10:27.8 (5)
7	SMITH, Ethan	SR	1221	Oaks Christian -S-4 4	15:28.5	23.1	4:58.5	4:45.6 (11)	10:29.4 (6)

8	ORTIZ, Zion	SO	180	Burroughs Ridgecrest -S-4 5 15:31.5 26.1 4:59.5	4:47.0 (13)	10:36.6 (11)
9	ROMERO, Luca	SR	559	El Segundo -S-4	--	15:31.7	26.3	4:59.6	4:44.4 (8)	10:30.0 (8)
10	BILLINGS, Jonah	SR	595	Foothill Technology -S-4 6 15:32.4 27.0	4:59.8	4:44.0 (7)	10:31.0 (10)
11	BAUN, Henry	JR	2027	Yreka -N-4	7	15:36.3	30.9	5:01.0	4:49.0 (22)	10:39.6 (17)
12	HUPKE, Jacob	SR	1109	Moreau Catholic -NC-4 -- 15:38.5 33.1	5:01.7	4:45.4 (10)	10:38.5 (14)
13	BOOTHBY, Aiden	SR	1536	Scotts Valley -CC-4 8	15:39.8	34.4	5:02.2	4:49.7 (23)	10:39.0 (15)
14	OWEN, Hayden	SR	1610	St. Francis -S-4 9	15:41.0	34.6	5:02.6	4:43.8 (6)	10:30.2 (9)

15	FARZAN, Logan	JR	19	Acalanes -NC-4	--	15:42.0	35.6	5:02.9	4:48.6 (20)	10:39.9 (18)
16	MALKO-ALLEN, Mateo SR	1666	St. Marys -NC-4	--	15:42.8	37.4	5:03.1	4:46.4 (12)	10:37.8 (13)
17	METCALF, Luke	JR	1609	St. Francis -S-4 10	15:46.7	41.3	5:04.4	4:48.9 (21)	10:43.8 (21)
18	ALDANA, Aiden	JR	1633	St. John Bosco -S-4 11	15:47.3	41.9	5:04.6	4:48.3 (17)	10:39.1 (16)
19	PHILLIPS, Lyle	JR	139	Bishop ODowd -NC-4 12	15:51.3	45.9	5:05.9	4:50.1 (24)	10:44.3 (22)
20	TORRES, Evan	JR	1286	Parlier -C-4	--	15:51.8	46.4	5:06.0	4:51.6 (27)	10:45.4 (23)
21	FERNANDEZ, Benjamin FR	985	Matilda Torres -C-4 13	15:53.8	48.4	5:06.7	4:48.3 (18)	10:41.6 (19)

22	FRANCO, Samuel	JR	1605	St. Francis -S-4	14	15:55.5	50.1	5:07.2	4:52.6 (30)	10:51.9 (26)
23	NAEHU, Alex	JR	1284	Palos Verdes -S-4	15	15:55.6	50.2	5:07.2	4:53.2 (32)	10:53.1 (27)
24	HUNT, Tyler	SR	20	Acalanes -NC-4	--	15:57.1	51.7	5:07.7	4:53.6 (34)	10:51.4 (25)
25	MOFFETT, Jacob	SR	1603	St Mary's -SJ-4	--	15:58.3	52.9	5:08.1	4:43.6 (3)	10:29.6 (7)
26	URDIALES, Diego	SR	461	Damien -S-4	--	15:58.6	53.2	5:08.2	4:48.6 (19)	10:42.3 (20)
27	TYPROWICZ, Jake	SR	1285	Palos Verdes -S-4	16	15:59.7	54.3	5:08.6	4:51.9 (28)	10:54.7 (28)
28	ELLIOTT, Braeden	JR	598	Foothill Technology -S-4	17	16:00.7	55.3	5:08.9	5:01.6 (52)	10:56.9 (32)
29	JEX, Kael	SO	125	Big Bear -S-4	--	16:02.5	57.1	5:09.5	4:57.2 (41)	10:55.3 (29)
30	VARELA, Diego	JR	133	Bishop Amat -S-4	--	16:06.8	1:01.4	5:10.9	4:54.6 (35)	10:56.9 (31)
31	CHU, Isaac	SR	829	La Jolla -SD-4	18	16:08.8	1:03.4	5:11.5	5:02.1 (55)	11:07.3 (40)
32	PATEL, Asher	JR	1055	Miramonte -NC-4	--	16:09.1	1:03.7	5:11.6	4:48.2 (16)	10:46.3 (24)
33	ALDI, MacK	SO	230	Carmel -CC-4	19	16:10.3	1:04.9	5:12.0	4:58.6 (46)	10:58.3 (34)
34	COHEN, Lucas	JR	23	Albany -NC-4	20	16:11.1	1:05.7	5:12.2	4:50.5 (25)	10:56.8 (30)
35	BROWNFIELD, Jack	SR	1537	Scotts Valley -CC-4	21	16:14.0	1:07.6	5:13.2	5:11.6 (89)	11:13.0 (54)
36	MCBRIDE, Callum	SO	27	Albany -NC-4	22	16:18.9	1:13.5	5:14.7	5:00.2 (48)	11:07.0 (38)
37	MUNOZ, Harold	SR	1636	St. John Bosco -S-4	23	16:19.7	1:14.3	5:15.0	5:01.7 (53)	11:05.5 (35)
38	BARRAZA, Noe	SR	1604	St. Francis -S-4	24	16:20.8	1:15.4	5:15.4	4:58.5 (45)	11:08.5 (41)
39	EILENBERG, Ennio	SO	134	Bishop ODowd -NC-4	25	16:21.8	1:16.4	5:15.7	4:55.7 (36)	11:10.9 (49)
40	SKARR, Sebastian	JR	260	Cathedral -S-4	26	16:22.0	1:15.6	5:15.7	4:59.5 (47)	11:12.6 (52)
41	ELFENBAUM, Jack	SR	25	Albany -NC-4	27	16:22.3	1:16.9	5:15.8	5:01.1 (51)	11:09.2 (42)
42	LEON, Alex	SO	1635	St. John Bosco -S-4	28	16:22.5	1:17.1	5:15.9	5:03.9 (62)	11:10.7 (48)
43	BECERRA, Isaac	SR	1634	St. John Bosco -S-4	29	16:23.3	1:17.9	5:16.1	5:10.9 (87)	11:16.9 (60)
44	FARNSWORTH, Matthew	SR	1280	Palos Verdes -S-4	30	16:26.0	1:19.6	5:17.0	5:02.4 (56)	11:06.2 (37)
45	GONZALEZ, Ethan	JR	136	Bishop ODowd -NC-4	31	16:26.5	1:21.1	5:17.2	4:56.4 (37)	11:11.5 (51)
46	LIMOSNERO, Israel	SR	805	King City -CC-4	--	16:27.3	1:21.9	5:17.4	5:03.0 (58)	11:20.3 (65)
47	NEALON, Samuel	JR	319	Christian Brothers -SJ-4	32	16:27.4	1:22.0	5:17.5	4:53.5 (33)	11:05.8 (36)
48	HERNANDEZ, Ozzy	JR	988	Matilda Torres -C-4	33	16:29.6	1:24.2	5:18.2	4:52.9 (31)	11:07.1 (39)
49	MCKEE, Mason	SR	48	Arch. Riordan -CC-4	34	16:30.2	1:24.8	5:18.4	4:51.4 (26)	11:10.3 (47)
50	OROZCO, Santiago	SR	257	Cathedral -S-4	35	16:30.8	1:25.4	5:18.6	4:57.0 (38)	11:12.8 (53)
51	MARTIN, Auge	SO	1608	St. Francis -S-4	36	16:31.0	1:24.6	5:18.6	5:05.5 (69)	11:17.5 (62)
52	GEORGE, Ben	JR	1538	Scotts Valley -CC-4	37	16:31.6	1:26.2	5:18.8	5:08.4 (77)	11:17.4 (61)
53	LANGE-DEI, Kai	JR	721	High Tech High (SD) -SD-4	--	16:32.5	1:27.1	5:19.1	4:47.1 (14)	10:56.9 (33)
54	CLOYD, Garrett	JR	1127	Mt Miguel -SD-4	--	16:32.5	1:27.1	5:19.1	4:52.4 (29)	11:10.1 (45)
55	HANNAH, Hunter	FR	987	Matilda Torres -C-4	38	16:32.9	1:27.5	5:19.2	4:58.1 (43)	11:13.3 (55)
56	MULLIKEN, Will	SO	63	Archie Williams -NC-4	39	16:33.0	1:26.6	5:19.3	5:12.3 (92)	11:26.1 (74)
57	FELIX ANDRADE, Noah	SO	984	Matilda Torres -C-4	40	16:33.2	1:27.8	5:19.4	4:58.2 (44)	11:11.4 (50)
58	PEREZ, Andrew	JR	1637	St. John Bosco -S-4	41	16:33.8	1:28.4	5:19.5	4:57.1 (40)	11:09.4 (44)
59	LEANDRO, Chance	SO	599	Foothill Technology -S-4	42	16:33.9	1:28.5	5:19.6	5:02.1 (54)	11:10.1 (46)
60	MILLER, Adrian	SO	1283	Palos Verdes -S-4	43	16:35.1	1:29.7	5:19.9	5:00.7 (49)	11:14.3 (56)
61	MCNEE, Cooper	SO	1218	Oaks Christian -S-4	44	16:36.4	1:31.0	5:20.4	5:05.6 (70)	11:22.0 (70)
62	CRAIG, Dylan	SR	232	Carmel -CC-4	45	16:36.6	1:31.2	5:20.4	5:07.0 (74)	11:22.7 (72)
63	FERGUSON, Ryan	JR	60	Archie Williams -NC-4	46	16:37.1	1:31.7	5:20.6	5:03.4 (60)	11:18.3 (63)
64	ELFENBAUM, Ben	SR	24	Albany -NC-4	47	16:37.8	1:32.4	5:20.8	5:01.0 (50)	11:09.3 (43)
65	GUZMAN, Aidan	SO	1607	St. Francis -S-4	48	16:38.0	1:31.6	5:20.9	5:05.4 (67)	11:16.2 (59)
66	GUERRERO, Diego	JR	254	Cathedral -S-4	49	16:39.3	1:33.9	5:21.3	5:04.0 (63)	11:19.8 (64)
67	PATIL, Veyd	JR	702	Harker -CC-4	--	16:40.0	1:33.6	5:21.5	4:57.7 (42)	11:14.5 (57)
68	HARA, Hideto	JR	700	Half Moon Bay -CC-4	--	16:41.3	1:35.9	5:21.9	4:57.0 (39)	11:16.1 (58)
69	LIGHTHALL, Joe	SR	745	Hughson -SJ-4	50	16:41.6	1:36.2	5:22.0	5:08.2 (76)	11:21.5 (68)
70	OCHOA, Giovanni	SO	642	Gonzales -CC-4	--	16:41.7	1:36.3	5:22.1	5:05.3 (66)	11:21.0 (67)
71	YODER, Christian	SO	1222	Oaks Christian -S-4	51	16:48.6	1:43.2	5:24.3	5:06.4 (73)	11:22.7 (71)
72	VASQUEZ, Cruz	SR	1676	Summerville -SJ-4	--	16:48.8	1:43.4	5:24.3	5:12.9 (94)	11:28.3 (78)
73	MAGRINI, Elijah	SR	574	Enterprise -N-4	52	16:48.9	1:43.5	5:24.4	5:10.3 (85)	11:27.5 (76)
74	LANTZ, Mason	JR	1541	Scotts Valley -CC-4	53	16:51.9	1:46.5	5:25.3	5:04.2 (64)	11:27.4 (75)
75	NUNEZ, Emilio	SR	76	Avenal -C-4	--	16:52.2	1:46.8	5:25.4	5:03.0 (57)	11:20.5 (66)
76	VARGAS, Esaud	JR	989	Matilda Torres -C-4	54	16:52.9	1:47.5	5:25.7	5:05.8 (71)	11:24.1 (73)
77	PARKER, Will	JR	50	Arch. Riordan -CC-4	55	16:53.7	1:48.3	5:25.9	5:14.7 (101)	11:31.2 (81)
78	CLEMESHAW, Evers	SO	348	Classical Academy -SD-4	56	16:54.2	1:48.8	5:26.1	5:12.9 (95)	11:30.5 (80)
79	TANENBAUM, Zachary	SR	140	Bishop ODowd -NC-4	57	16:54.7	1:49.3	5:26.2	5:03.4 (59)	11:21.6 (69)
80	MITCHELL, Joshua	SO	1219	Oaks Christian -S-4	58	16:55.2	1:49.8	5:26.4	5:06.0 (72)	11:28.1 (77)
81	GROGAN, Luke	SR	47	Arch. Riordan -CC-4	59	16:57.2	1:51.8	5:27.1	5:15.4 (107)	11:37.0 (86)
82	RUFF, Christopher	JR	832	La Jolla -SD-4	60	16:58.1	1:52.7	5:27.4	5:18.7 (119)	11:38.2 (89)
83	GEORGE, Spencer	JR	1539	Scotts Valley -CC-4	61	17:02.0	1:55.6	5:28.6	5:07.5 (75)	11:35.5 (85)
84	SALDANA, Reign	JR	322	Christian Brothers -SJ-4	62	17:02.4	1:57.0	5:28.7	5:11.4 (88)	11:40.1 (96)
85	HAUPT, Dominic	JR	743	Hughson -SJ-4	63	17:02.6	1:57.2	5:28.8	5:15.3 (106)	11:40.6 (97)
86	HORTON, Nathan	SR	744	Hughson -SJ-4	64	17:04.2	1:58.8	5:29.3	5:08.5 (79)	11:30.3 (79)
87	TARANTINO, Aiden	SR	236	Carmel -CC-4	65	17:06.7	2:01.3	5:30.1	5:04.4 (65)	11:33.9 (83)
88	AGUILAR, Anthony	JR	892	Livingston -SJ-4	66	17:06.9	2:01.5	5:30.2	5:13.3 (96)	11:34.5 (84)
89	MORALES-LOPEZ, Miguel	SR	1005	Mendez -LA-4	67	17:06.9	2:01.5	5:30.2	5:10.8 (86)	11:37.6 (87)
90	JONES, Austin	JR	1281	Palos Verdes -S-4	68	17:07.0	2:00.6	5:30.2	5:19.1 (122)	11:47.5 (111)
91	MURRILL, Drake	SO	793	Justin Garza -C-4	69	17:07.1	2:01.7	5:30.3	5:13.8 (97)	11:33.7 (82)
92	DURFEE, Keegan	SO	339	Clairemont -SD-4	--	17:07.3	2:01.9	5:30.3	5:18.9 (120)	11:43.6 (101)
93	PELAEZ, Julio	SR	1399	Ripon -SJ-4	--	17:07.4	2:02.0	5:30.3	5:17.3 (112)	11:46.3 (105)
94	SHARP, Ian	SO	65	Archie Williams -NC-4	70	17:07.8	2:02.4	5:30.5	5:23.0 (135)	11:46.7 (107)
95	GONZALEZ, Axel	SO	1606	St. Francis -S-4	71	17:09.6	2:04.2	5:31.0	5:08.9 (80)	11:40.9 (99)
96	CARLISLE, Baker	FR	596	Foothill Technology -S-4	72	17:09.6	2:04.2	5:31.0	5:15.1 (104)	11:39.4 (92)
97	ROSAS, Omar	SR	259	Cathedral -S-4	73	17:11.2	2:05.8	5:31.6	5:09.2 (81)	11:37.9 (88)
98	DIAZ, Alvino	JR	983	Matilda Torres -C-4	74	17:12.9	2:07.5	5:32.1	5:05.4 (68)	11:38.4 (90)
99	DALUSIO, Milo	JR	1279	Palos Verdes -S-4	75	17:13.3	2:07.9	5:32.2	5:18.0 (114)	11:46.5 (106)
100	RIVERA, Cael	FR	181	Burroughs Ridgecrest -S-4	76	17:15.0	2:08.6	5:32.8	5:09.7 (83)	11:39.7 (93)
101	TRUONG, Brian	SR	438	Crawford -SD-4	77	17:15.2	2:09.8	5:32.8	5:28.8 (153)	12:00.5 (132)
102	MEDINA, Elijah	JR	28	Albany -NC-4	78	17:15.4	2:10.0	5:32.9	5:19.2 (124)	11:43.2 (100)
103	ARAMBULA, Ezra	SR	740	Hughson -SJ-4	79	17:17.7	2:12.3	5:33.6	5:18.4 (116)	11:40.6 (98)
104	MALLOY, Morgan	SR	1217	Oaks Christian -S-4	80	17:18.1	2:12.7	5:33.8	5:08.4 (78)	11:40.0 (95)
105	HALE, Landon	SO	349	Classical Academy -SD-4	81	17:18.4	2:13.0	5:33.9	5:17.9 (113)	11:47.3 (110)
106	GUERRERO, Ricardo	SR	505	Delano -C-4	--	17:19.4	2:14.0	5:34.2	5:03.7 (61)	11:39.8 (94)
107	MORRISON, Ryan	SO	179	Burroughs Ridgecrest -S-4	82	17:22.6	2:17.2	5:35.2	5:10.1 (84)	11:44.6 (102)
108	BENSEN, Kai	SR	594	Foothill Technology -S-4	83	17:22.8	2:17.4	5:35.3	5:11.9 (90)	11:49.8 (112)
109	GOMEZ, Emanuel	SR	986	Matilda Torres -C-4	84	17:23.9	2:18.5	5:35.6	5:14.1 (98)	11:46.2 (104)
110	LUCATERO, Cristian	JR	898	Livingston -SJ-4	85	17:25.8	2:20.4	5:36.3	5:14.5 (100)	11:46.8 (108)
111	BULLOCK, Owen	SR	741	Hughson -SJ-4	86	17:25.9	2:20.5	5:36.3	5:15.7 (108)	11:47.1 (109)
112	STIRK, Aidan	SR	719	High Tech (CV) -SD-4	--	17:27.0	2:20.6	5:36.6	5:19.0 (121)	11:55.5 (124)
113	BOUMIER, Liam	JR	45	Arch. Riordan -CC-4	87	17:27.1	2:21.7	5:36.7	5:22.6 (132)	11:54.7 (122)
114	SOUZA, Leo	SO	834	La Jolla -SD-4	88	17:27.8	2:22.4	5:36.9	5:18.5 (117)	11:52.0 (114)
115	MCFERRON, Jackson	JR	61	Archie Williams -NC-4	89	17:30.4	2:25.0	5:37.7	5:22.3 (131)	11:51.6 (113)
116	GONZALEZ, Kitto	SO	637	Galt -SJ-4	--	17:32.2	2:26.8	5:38.3	5:23.6 (139)	11:54.6 (121)
117	CORTES GARCIA, Moises	FR	894	Livingston -SJ-4	90	17:32.3	2:26.9	5:38.3	5:33.7 (165)	12:05.9 (143)
118	DE LA TRINIDAD, Erik	SR	597	Foothill Technology -S-4	91	17:32.5	2:27.1	5:38.4	5:28.6 (152)	12:05.0 (141)
119	SIMI, Tyler	SR	323	Christian Brothers -SJ-4	92	17:33.2	2:27.8	5:38.6	5:14.3 (99)	11:53.4 (120)
120	GRANADOS, Eli	JR	1540	Scotts Valley -CC-4	93	17:33.7	2:28.3	5:38.8	5:20.2 (125)	11:52.9 (117)
121	MORENO, Geovanni	JR	256	Cathedral -S-4	94	17:36.9	2:31.5	5:39.8	5:09.6 (82)	11:46.1 (103)
122	FETTERMAN, Kade	JR	1682	Taft Union -C-4	--	17:37.2	2:31.8	5:39.9	5:17.2 (111)	11:52.7 (115)
123	ABERER, Silas	FR	177	Burroughs Ridgecrest -S-4	95	17:37.8	2:32.4	5:40.1	5:15.1 (105)	11:57.2 (126)
124	O'DONNELL, Ryan	SR	138	Bishop ODowd -NC-4	96	17:37.8	2:32.4	5:40.1	5:26.7 (146)	12:03.1 (135)
125	KRUEGER, Vin	FR	1216	Oaks Christian -S-4	97	17:39.1	2:33.7	5:40.5	5:19.1 (123)	12:03.2 (136)
126	SEELEY, Ryan	SO	64	Archie Williams -NC-4	98	17:39.5	2:34.1	5:40.7	5:23.0 (136)	11:55.0 (123)
127	TEFFRA, Zelalem	JR	796	Justin Garza -C-4	99	17:39.9	2:34.5	5:40.8	5:15.1 (103)	11:38.8 (91)
128	ANDERSON, Ian	FR	1282	Palos Verdes -S-4	100	17:42.1	2:36.7	5:41.5	5:18.6 (118)	12:00.7 (133)
129	BUI, Dustin	FR	178	Burroughs Ridgecrest -S-4	101	17:42.9	2:37.5	5:41.8	5:20.7 (126)	11:57.8 (127)
130	O'KEEFE, Owen	FR	831	La Jolla -SD-4	102	17:43.2	2:37.8	5:41.9	5:24.6 (142)	12:03.5 (137)
131	AGUIRRE, Valentino	SO	493	Del Lago Academy -SD-4	--	17:43.5	2:38.1	5:41.9	5:18.2 (115)	11:52.9 (118)
132	CONNERS, Hudson	SR	742	Hughson -SJ-4	103	17:44.1	2:38.7	5:42.1	5:16.3 (109)	11:58.1 (128)
133	TOMLINSON, Logan	SO	183	Burroughs Ridgecrest -S-4	104	17:44.7	2:39.3	5:42.3	5:20.8 (127)	12:00.0 (131)
134	MOJARRO, Jose Julian	JR	435	Crawford -SD-4	105	17:45.6	2:40.2	5:42.6	5:28.9 (154)	12:02.0 (134)
135	NAVARRO, Nico	JR	49	Arch. Riordan -CC-4	106	17:45.7	2:40.3	5:42.7	5:22.8 (134)	11:59.9 (130)
136	BERRYMAN, Josiah	SO	347	Classical Academy -SD-4	107	17:48.1	2:42.7	5:43.4	5:22.8 (133)	11:58.5 (129)
137	TRUJILLO, Benjamin	JR	2033	Yreka -N-4	108	17:48.2	2:42.8	5:43.5	5:25.6 (143)	12:04.3 (140)
138	CALEGARI, Luke	SR	59	Archie Williams -NC-4	109	17:48.6	2:43.2	5:43.6	5:12.2 (91)	11:53.3 (119)
139	WEIS, Ryan	SR	353	Classical Academy -SD-4	110	17:48.9	2:43.5	5:43.7	5:16.5 (110)	11:52.7 (116)
140	BILLINGS, Eli	FR	600	Foothill Technology -S-4	111	17:49.3	2:43.9	5:43.8	5:28.3 (151)	12:05.9 (142)
141	WANG, Colton	SO	51	Arch. Riordan -CC-4	112	17:49.6	2:44.2	5:43.9	5:31.7 (161)	12:11.1 (149)
142	MOHAMED, Abdinasir	SR	434	Crawford -SD-4	113	17:54.1	2:48.7	5:45.4	5:32.5 (162)	12:08.9 (146)
143	CORTES, Nereo	SR	893	Livingston -SJ-4	114	17:54.8	2:49.4	5:45.6	5:14.8 (102)	11:55.9 (125)
144	ESTIMO, Jordan	FR	135	Bishop ODowd -NC-4	115	17:56.2	2:50.8	5:46.0	5:29.1 (155)	12:06.0 (144)
145	COLLVER, Owen	JR	1939	West Valley -N-4	--	17:57.3	2:51.9	5:46.4	5:29.6 (157)	12:21.5 (157)
146	JIA, Lucas	SR	836	LACES LA Center for ES -LA-4	--	17:58.2	2:52.8	5:46.7	5:26.8 (147)	12:12.0 (151)
147	WAGNER, Jacob	SR	575	Enterprise -N-4	116	17:59.0	2:52.6	5:46.9	5:24.4 (141)	12:03.5 (138)
148	VERINSKY, Jonah	SR	1542	Scotts Valley -CC-4	117	18:00.1	2:54.7	5:47.3	5:23.2 (137)	12:16.4 (152)
149	GIVNER, Sam	SO	26	Albany -NC-4	118	18:00.6	2:55.2	5:47.4	5:21.8 (128)	12:03.6 (139)
150	MELTON, Bodhi	FR	234	Carmel -CC-4	119	18:02.2	2:56.8	5:48.0	5:28.0 (150)	12:10.5 (147)
151	BONE, Connor	FR	231	Carmel -CC-4	120	18:02.6	2:57.2	5:48.1	5:28.0 (149)	12:10.5 (148)
152	SHAW, Liam	FR	137	Bishop ODowd -NC-4	121	18:03.5	2:58.1	5:48.4	5:24.0 (140)	12:08.7 (145)
153	RODRIGUEZ-SCHNEIDER, Dominic	SR	436	Crawford -SD-4	122	18:06.1	3:00.7	5:49.2	5:36.0 (173)	12:21.7 (158)
154	SANTIZO, David	SR	1639	St. John Bosco -S-4	123	18:09.5	3:04.1	5:50.3	5:27.3 (148)	12:11.7 (150)
155	GROGAN, Brendan	FR	46	Arch. Riordan -CC-4	124	18:10.7	3:05.3	5:50.7	5:31.6 (160)	12:18.3 (154)
156	MCLUCKIE, Brennan	JR	1940	West Valley -N-4	--	18:13.0	3:06.6	5:51.4	5:29.6 (156)	12:21.4 (156)
157	LUJAN, Victor	SR	2029	Yreka -N-4	125	18:14.0	3:07.6	5:51.7	5:25.8 (145)	12:16.7 (153)
158	PORTILLO-DIAZ, Samuel	JR	602	Foshay Learn Ctr -LA-4	--	18:21.3	3:15.9	5:54.1	5:12.9 (93)	12:20.0 (155)
159	CHIU, Kevin	SO	828	La Jolla -SD-4	126	18:22.1	3:16.7	5:54.4	5:34.7 (170)	12:22.9 (159)
160	CHAPDELAINE, Stephan	JR	891	Live Oak -N-4	--	18:23.5	3:18.1	5:54.8	5:22.1 (129)	12:30.0 (162)
161	RODRIGUEZ, Jesse	SR	746	Hughson -SJ-4	127	18:23.7	3:18.3	5:54.9	5:35.0 (172)	12:34.4 (164)
162	BAIGRIE, Flynn	SR	62	Archie Williams -NC-4	128	18:25.6	3:20.2	5:55.5	5:34.3 (168)	12:24.6 (160)
163	BERTOSSA, Bradley	SR	317	Christian Brothers -SJ-4	129	18:25.9	3:20.5	5:55.6	5:38.6 (177)	12:37.0 (172)
164	POTTER, Alexander	SO	320	Christian Brothers -SJ-4	130	18:26.4	3:21.0	5:55.7	5:23.3 (138)	12:26.3 (161)
165	RIVERA, Landon	JR	795	Justin Garza -C-4	131	18:28.4	3:23.0	5:56.4	5:38.0 (176)	12:40.4 (175)
166	RABEY, Preston	JR	321	Christian Brothers -SJ-4	132	18:29.2	3:23.8	5:56.6	5:31.2 (158)	12:35.0 (166)
167	HICKS, Jesse	SR	1238	Orland -N-4	--	18:29.9	3:24.5	5:56.9	5:22.1 (130)	12:31.6 (163)
168	BURCIAGA, Nikos	SR	318	Christian Brothers -SJ-4	133	18:30.1	3:24.7	5:56.9	5:31.3 (159)	12:36.7 (171)
169	MALDONADO, Jesse	SR	1004	Mendez -LA-4	134	18:33.2	3:27.8	5:57.9	5:33.0 (163)	12:34.8 (165)
170	MURRAY, Colin	SR	350	Classical Academy -SD-4	135	18:34.3	3:28.9	5:58.3	5:34.0 (167)	12:35.5 (167)
171	NIKMANESH, Aidan	SR	830	La Jolla -SD-4	136	18:34.5	3:29.1	5:58.3	5:34.0 (166)	12:38.9 (174)
172	YANEZ, Esteban	SO	797	Justin Garza -C-4	137	18:34.9	3:29.5	5:58.5	5:36.4 (174)	12:38.4 (173)
173	LEACHMAN, Aden	SR	573	Enterprise -N-4	138	18:35.7	3:30.3	5:58.7	5:36.7 (175)	12:36.3 (170)
174	BRAY, Ryan	SR	570	Enterprise -N-4	139	18:35.8	3:30.4	5:58.8	5:34.5 (169)	12:36.1 (169)
175	IMAMURA, Tyler	SR	233	Carmel -CC-4	140	18:40.0	3:33.6	6:00.1	5:34.8 (171)	12:35.6 (168)
176	STANHOPE, Wyatt	SR	1239	Oroville -N-4	--	18:41.6	3:36.2	6:00.6	5:25.7 (144)	12:41.7 (176)
177	FAULTNER, Tyler	SR	2028	Yreka -N-4	141	18:54.5	3:49.1	6:04.8	5:39.9 (179)	12:52.3 (179)
178	RUIZ, Christopher	JR	437	Crawford -SD-4	142	18:55.3	3:49.9	6:05.0	5:48.9 (188)	12:52.9 (180)
179	MCGREEVY, Isaac	JR	833	La Jolla -SD-4	143	19:06.4	4:01.0	6:08.6	5:38.7 (178)	12:46.7 (177)
180	JOHNSON, Marvin	FR	540	East Valley -LA-4	--	19:07.6	4:02.2	6:09.0	5:33.4 (164)	12:52.1 (178)
181	SOLOMONSON, Cole	SO	352	Classical Academy -SD-4	144	19:09.7	4:04.3	6:09.7	5:43.5 (182)	13:00.5 (181)
182	SIEVERS, Tristan	FR	182	Burroughs Ridgecrest -S-4	145	19:16.8	4:11.4	6:12.0	5:40.8 (180)	13:00.7 (182)
183	LORENZANO, Leo	FR	432	Crawford -SD-4	146	19:21.7	4:16.3	6:13.5	5:53.5 (189)	13:15.0 (189)
184	UVERA, Hernan	SR	1007	Mendez -LA-4	147	19:23.1	4:17.7	6:14.0	5:43.5 (183)	13:12.5 (184)
185	SILVA, Gunner	FR	351	Classical Academy -SD-4	148	19:23.4	4:18.0	6:14.1	5:43.7 (184)	13:06.9 (183)
186	ALFARO, Jonathon	JR	1001	Mendez -LA-4	149	19:27.3	4:21.9	6:15.3	5:48.5 (187)	13:13.9 (186)
187	HERNANDEZ, Demitri	SO	1003	Mendez -LA-4	150	19:35.2	4:29.8	6:17.9	6:00.8 (194)	13:13.9 (185)
188	PLASCENCIA, Nathan	JR	235	Carmel -CC-4	151	19:36.7	4:31.3	6:18.3	5:44.2 (186)	13:14.8 (188)
189	KHOTH, Chomnapp	SR	433	Crawford -SD-4	152	19:37.0	4:30.6	6:18.4	5:53.7 (190)	13:15.9 (191)
190	REUSZE, Alex	JR	2031	Yreka -N-4	153	19:47.1	4:41.7	6:21.7	5:41.8 (181)	13:15.2 (190)
191	RICCI, Quinn	SR	1220	Oaks Christian -S-4	154	19:53.2	4:47.8	6:23.6	5:44.2 (185)	13:14.4 (187)
192	PACHECO, Mateo	JR	1638	St. John Bosco -S-4	155	20:26.6	5:21.2	6:34.4	6:00.6 (193)	14:01.9 (194)
193	PEREZ, Edwin	SO	1006	Mendez -LA-4	156	20:32.1	5:26.7	6:36.2	6:12.6 (199)	14:03.1 (196)
194	EDWARDS, Heath	JR	896	Livingston -SJ-4	157	20:32.8	5:27.4	6:36.4	5:59.8 (192)	13:57.9 (193)
195	RAMIREZ, Justin	SO	794	Justin Garza -C-4	158	20:33.3	5:27.9	6:36.6	5:57.1 (191)	13:51.4 (192)
196	MASSON, Aiden	SO	2030	Yreka -N-4	159	20:39.8	5:34.4	6:38.6	6:08.7 (196)	14:02.1 (195)
197	THARSING, Zane	SO	2032	Yreka -N-4	160	20:51.4	5:46.0	6:42.4	6:08.5 (195)	14:08.6 (198)
198	BOND, Trevor	JR	569	Enterprise -N-4	161	21:07.4	6:02.0	6:47.5	6:09.5 (197)	14:06.9 (197)
199	DISHONG, Casey	SR	572	Enterprise -N-4	162	21:44.1	6:38.7	6:59.3	6:09.6 (198)	14:28.0 (199)
200	GARCIA, David	SO	1002	Mendez -LA-4	163	21:54.4	6:49.0	7:02.6	6:33.7 (201)	14:43.0 (201)
201	BESANA, Andrew	FR	571	Enterprise -N-4	164	22:02.1	6:56.7	7:05.1	6:15.4 (200)	14:41.4 (200)