What happened the last two years
2019
1st Colton Swinth, Maria Carrillo Division III
1st Harper McClain, St. Helena Division V
2nd Rory Smail, Maria Carrillo Division III
2nd Maria Carrillo Boys Division III
2020
No finals because of the pandemic
Here is a look at this years upcoming state meet.
Division III Boys 8:30 am
First race of the day will include the Maria Carrillo boys team plus Montgomery's Jude Devries.
The Puma boys are making their fourth straight trip to the finals, of years there where meets.
Counting this 2021 meet Carrillo has sent teams to 16 of the last 18 finals.
They earned there spot this year by placing third at the North Coast Section finals.
They were lead by Jacob Donohue who finished second and has lead the team on six different occasions.
Noe Vieyra paced the team in their other two meets.
Adam McCorquodale gives the team a strong third runner with the team relying on Sean Gubera, Oswaldo Rodriguez-Lopez, Gabe Sitton and Jonathan Donohue to complete their scoring.
The last state meet, 2019, saw the Puma's have their greatest success with Colton Swinth and Rory Smail taking the top two individual medals while the team placed second.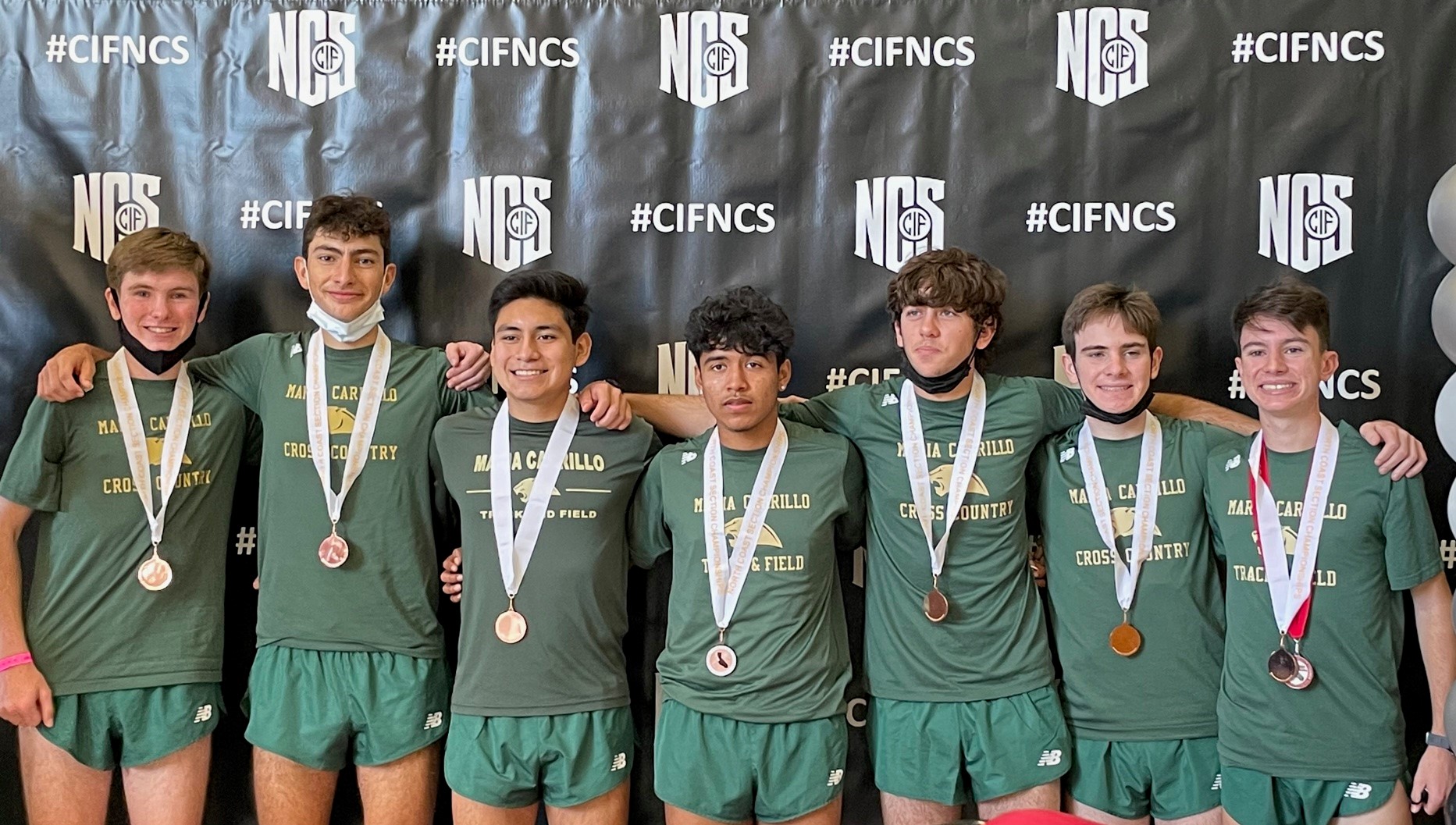 Montgomery will be representd by junior Jude Devries after he placed 7th at NCS.
He is the first Viking boy to make state since Jose Mendoza placed 86th in division II in 2010.
He will be shooting to better Montgomery's best ever place of 29th earned by Mike Contos from 1987 when he ran in the division I race.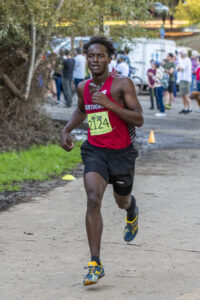 Top Redwood Empire places ever in this division.
1st Celedonio Rodriquez, Elsie Allen 1998
1st Colton Swinth, Maria Carrillo 2019
2nd Rory Smail, Maria Carrillo 2019
4th Nate Kabanuck, Casa Grande 1999
5th Luis Luna, Piner 2011
Division IV Boys 9:00 am
No entries.
Division III Girls 9:30 am
This section includes ten runners from the North Bay League "Oak" division.
Montgomery has two freshman ready to start making waves for the next four years.
Hanne Thomsen was the Empires first division III NCS Champion since Petaluma's Isabel Andrade won in 2009.
Thomsen has a good shot at bringing home an individual medal. Her teammate Seelah Kittelstrom had a strong final mile to finish in 13th at NCS.
Mariah Briceno ran for the Vikings in 2019 taking 55th in this division.
Of course Montgomery's Sara Bei was the states first ever four time champion winning in division III 1997 & 1998 and division II 1999 & 2000.
The Vikings have placed in the top ten at State (10) times with-
Julie Nacouzi 2nd II '09
Kim Conley 4th II '01, 6th '03, 9th '02
Sarah Bashel 8th III 1998
Leah Haley 9th III '18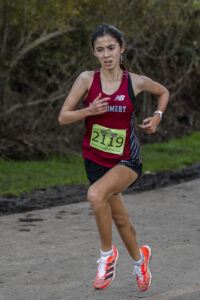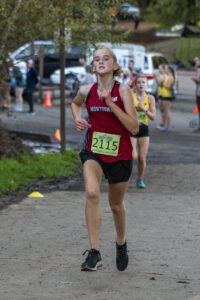 .
.
.
.
.
.
.
Santa Rosa High will be represented by Olivia House following her 10th place finish at NCS.
She is the Panthers first runner at state since Delaney White 12th I '15, 19th II '14, 89th II '13.
The Panthers have placed in the top ten (7) times with-
Julia Stamps div 1 1st 1994, 1995 & 1996, course record 16:43 1996
Trina Cox div 1 1st 1997, 2nd '98, 3rd '96
Nika Horn div 1 7th 1991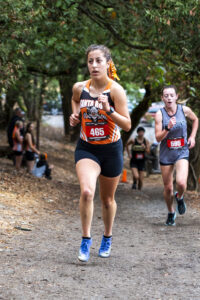 Even better than the boys the Puma girls have been to state the last ten years the meet has been held.
Counting this 2021 meet Carrillo has sent teams to 19 of the last 21 finals.
This years team placed third at NCS to earn their spot.
Ashley Busienei ran in this meet in 2019 placing 13th and is back leading the team again.
Busienei placed 6th at NCS and has a strong team behind her including Gracie Trenam, Avery Hedden, Rebekah Taylor, Brooke Cregan, Brooke Szczekocki and Katherine Choe.
The Puma's have had their share of top ten finishers including-
Jenny Aldridge 3rd II 2001, 3rd III 1999 & 2000 & 4th 1998
Leanne Fogg 8th III
Amy Robinson 10th II 2001
Sydnie Rivas 10th III 2017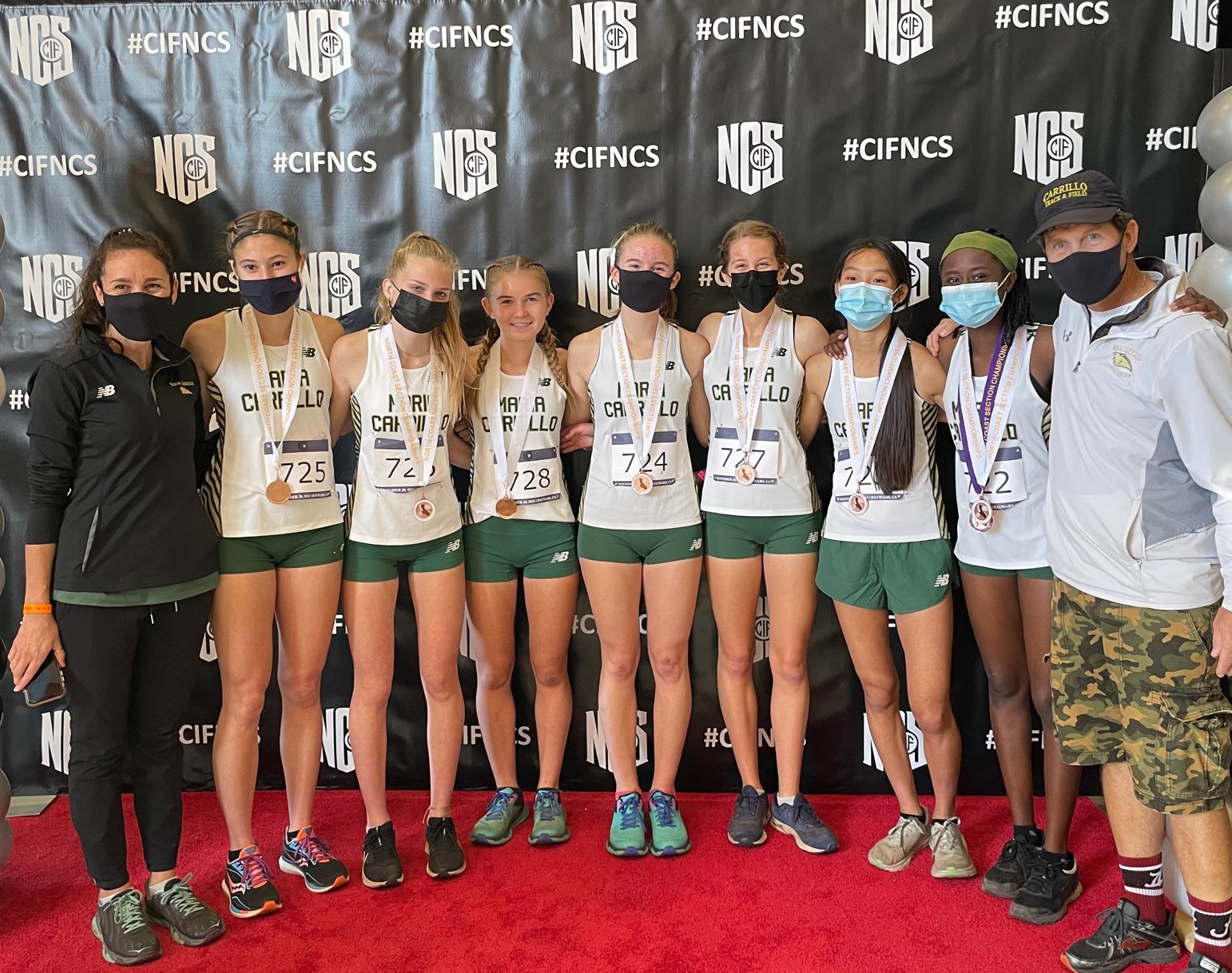 Division IV Girls 10:00 am
No entries.
Division V Boys 10:30 am
Sonoma Academy is sending two boys.
Tiernan Colby placed second at NCS and Athena Ryan was 11th.
There school has had two boys place in the top ten-
Andre Williams, 1st V 2018, 4th V 2017
Austin Orr, 9th V 2012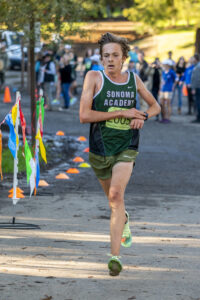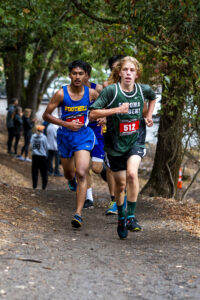 .
.
.
.
.
.
Top Redwood Empire places ever in this division.
1st Andre Williams, Sonoma Academy 2018, 4th '17
2nd Brian Cole, St. Helena 2006
3rd Brian Schulz, El Molino 2016
Division I Girls 11:00 am
No entries.
Division II Boys 11:30 am
No entries.
Division V Girls 12:00 pm
The Coastal Mountain Conference is also sending two girls to state.
Clear Lake's Hannah Garrity impressed many with her second place finish at NCS.
The only othe girl from Clear Lake to ever make it to state was Melody Haas who placed 2nd in division IV back in 1993.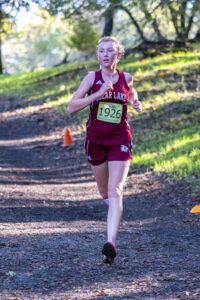 Sonoma Academy's Lucy Gott is back after placing 36th here in 2019.
She was 5th at NCS and should better her 2019 spot.
Her school has had four girls place in the top ten-
Rylee Bowen div V 1st 2014, '15 & '17, 6th '16
Alyssa Goody div V 5th 2014
Katy Lee div V 7th '10, 21st '11
Kate Bowen div V 8th 2016, 10th '17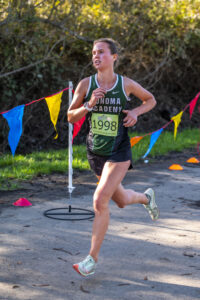 Top Redwood Empire places ever in this division.
1st Rylee Bowen, Sonoma Academy 2014, 2015 & 2017, 6th '16
1st Gabrielle Peterson, Healdsburg 2018
1st Harper McClain, St Helena 2019
3rd Kelly Rogers, Healdsburg 2000
5th Alyssa Goody, Sonoma Academy 2014
Division I Boys 12:30 pm
No entries.
Division II Girls 1:00 pm
No entries.
How about fast times?
Jacob Donohue ran 15:37 on this course at the Clovis Invitational this year and we will see how much he can bring his time down to earn a spot on our fastest ever list.
Colton Swinth, Maria Carrillo 2019 15:11
Ryan Mack, Ukiah 1998 15:23
Reesey Byers, Santa Rosa 2009 15:23
Rory Smail, Maria Carrillo 2019 15:23 State, 15:36 Clovis
Todd Trask, Healdsburg 1986 15:24, Kinney West Regional
Celedonia Rodriguez, Elsie Allen 1998 15:25
Sterling Lockert, Petaluma 2008 15:25
Luca Mazzanti, Santa Rosa 2016 15:25 State
Luis Luna, Piner 2011 15:28
Hugh Dowdy, Petaluma 2009 15:29 State, 15:48 Clovis
In the girls Hanne Thomsen has already taken the seventh fastest spot ever and we will get to see if she can lower it even more.
Julia Stamps, Santa Rosa 1996 16:43 State #2 All-Time + =Sr class record, 2nd Jr & 4th So class record
Amber Trotter, Ukiah 2001 16:55 Clovis #3 All-Time, 17:01 State
Harper McClain, St Helena 2019 17:11 Clovis, 17:14 State
Sara Bei, Montgomery 2000 17:13 State #27 All-Time, #4 So
Sarah Sumpter, Healdsburg 2007 17:26 State
Jacque Taylor, Casa Grande 2009 17:29 State
Hanne Thomsen, Montgomery 17:40 Clovis
Julie Nacouzi, Montgomery 2009 17:29 State, 17:42 Clovis
Phyliss Blanchard, Rancho Cotate 2003 17:42 State
Gabrielle Peterson, Healdsburg 2018 17:45 State