5/21/23 by Jim Crowhurst
Here are some thoughts about the meet in no particular order.
The Analy 1600 Relay school record was set all the way back in 1976.
That team ran the mile relay in 3:28.3 which is equal to a 3:27.33 1600 time. Top runner on the team back then was Doug Gross who had a 440 best of 50.7, =50.65 400.
This years squad took down that record at the NCS Redwood meet with a 3:26.71 win.
In the MOC finals, even though they missed the state qualifying place of third their 4th place finish, they did get lower the school record again finishing in 3:25.69.
Their first two runners averaged 52.17, Dylan Arendt and Cormac Gaylord with their third runner Evan Foley clocking 51.46 before their anchor Owen Foley blazed a 49.91.
Exciting news is all four are undergrads and should be back next year to destroy that time and make state.
You may have noticed from relay info that Owen has a very good freshman brother Evan on the relay team.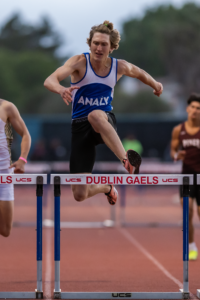 Now this wasn't Owen Foley's first race of the meet, more like his sixth.
Foley, only a junior, had a very full two days. On Friday Owen won his heat of the 400 in 50.12 to make the final. He then won his heat of the 300 hurdles to make the final in that even as well in 41.16. He finished his day with a 50.46 anchor on the relay team to get his team into that final as the 8th and final qualifying team.
Have not heard yet but the 400 final did not go well for him finishing in 7th in 53.01. No one in the 400 came close to Rancho Cotate Corey Nelson's meet record of 46.89. Sometimes a disappointment like that is what sparks a great performance which is what he did in the 300 hurdle finals battling for the win and getting a ticket to the state meet with a 2nd place finish in 39.78. After all of that is when he came up with his 49.91 anchor on the relay team.
Analy's last boys medalist was Dave Swanson 4th high jump 6-9.
Maria Carrillo's Alexander Ong also punched his ticket to the state meet in that hurdles race getting the 3rd spot in 40.40.
Before the 300 hurdles became an event the Empire earned 7 medals in either the 180yLH or the 220LH. Since the 300mIH the best state places have been 7th Chris Barnsdale, Montgomery 38.05 1996 and 8th Jake Arnold, Maria Carrillo 39.21 2002. During the pandemic there was no state meet but Russell Gordon, Fort Bragg 37.79 won a 2021 substitute State Invitational. In that same Invitational Luca Salmon, Maria Carrillo placed 4th in the high jump at 6-4. Salmon on Saturday just medaled at the Junior College state meet for the SRJC.
Cardinal Newman's Santiago Adan will be competing in the discus. The only Newman boy to medal at state in any event has been Brian Chase twice in the shot put with 3rd 60-3½ 1995 and 4th 60-9½ 1996. Last Empire athlete to place in the top 8 in the discus is a guy you may know named Paul Troppy from Santa Rosa High who took 7th at 161-8 in 1984. Last medalist was Montgomery's Chris Day, 2nd 179-1 1981 & 6th 174-4 1980. Adan is only a junior. Newman had Albert Beerbower make it to state just last year, 13th shot 50-3.5.
Cardinal Newman had quite a day at MOC with a total of five athletes placing in the top 8.
400 6th Liam Currie, 11 51.32
DT 8th Jesse Meyers, 10 137-1
SP 8th Jake Joerger, 11 50-3
100 8th Trenton Lloyd, 12 10.98 3.2.
Adan was one throw away from not even placing much less making state. His first two throws were both fouls putting all the pressure on his third. In the first flight Granada's Stefano Matteucc would have his best mark of 151-7 and would lead all throwers for most of the day before finishing in third. Eureka's Jamin Guilbert would have a modest 136-9 mark to also make it to the final three throws from flight one. Newman sophomore Jesse Meyers had the #4 throw after the first two flights of throwers finished with a near PR 137-1. That mark would earn him another three throws once the top flight went, he ended in 8th place. As Adan came to his third throw in the last flight he needed at least 135-6 to make the final group. With the pressure on he came threw with a 140-3 to make the final and move him to 6th place. Guilbert would foul all the rest of his throws except for his winning mark of 164-4 in the 5th round. That was also the round that Adan would earn his silver medal with his 152-8 toss.
Rancho Cotate's Sai Vadrawale peaked at the right time in the high hurdles taking third in 14.95 +0.7 after winning his heat in the trials at 14.83 +1.1.
It's been 63 years since we have had a medalist in the high's, 2nd Sid Nikolas, Vallejo 14.1y 1960, and 37 years since someone made the finals, 7th Mike Koellsted, Calistoga 14.77 1986. Rancho has never had a boy in the top 8 of any event. Their last state qualifier was Justin Zinnerman 17th HJ 6-6.
The Redwood Empire has done really well at state in the high jump with nine medalist over the years. Only Shot Put (20 medals), Discus (12 medals) and 800m (11 medals) have been better events for the boys.
This year we are sending two after a rare jump-off to determine who got to go on. Of the three in the jump-off it was our two who are moving on.
Montgomery's Nathan Fifer ended in second with a jump-off clearance of 6-3 and Justin-Siena's Asher Cleary got the last spot at 6-2. Last year Cleary's teammate Travis Hightower tied for 5th at 6-5. Montgomery has never had a state medalist but at the above mentioned State Invitational Viking Gabriel Tucker was 5th at 6-4 . Fifer has a best of 6-6 this year and with a PR at state it is not totally out of the realm of possibilities that he could be our first ever state champ, but no pressure.
The boys 1600 and 3200 had possible the strongest fields of any events for the boys at this meet. Montgomery's Jude Devries went for broke to try and make state. There are two strategies to a race like this. One is to pace yourself to run a good race. The other is to throw caution to the wind and give everything you have to try and steal a spot to state. In this 3200 against a very strong field it looks like Devries went for the later. The winds were strong making leading the pact a tough place to be but that is were Devries went to at the 1600 mark and held the lead through the next two laps to still be leading with 800 to go. But others were to strong and took off from their. The final top three ran their last lap in 59.39, 59.93 and 62.44 for the third placer.
To show what the winds were like in the long jump competition the wind readings ranged from +4.5 to -2.2. That makes hitting the board very difficult as the top nine jumpers had a total of 15 foul jumps and I'm sure many legal jumps were they didn't even hit the board.
Many Empire athletes came threw with their best marks ever at this meet, listed below.
100 10.97 +2.0 Trenton Lloyd, 12, Cardinal Newman
1600 4:28.05 Gavin Hahn, 12, Mendocino
3200 9:29.40 Andrew Stevens, 12, Santa Rosa
110HH 14.83 +1.1 Sai Vadrawale, 12, Rancho Cotate
110HH 16.32 +0.6 Erick Gutierrez, 12, Healdsburg
400R 43.30 Maria Carrillo
1600R 3:25.69 Analy
PV 12-6 NJ Robert, 12, Piner
TJ 41-08.25 Caden Devries, 11, Montgomery