CIF North Coast Section Cross Country Finals
Hayward HS, 11/19/2022 3.0 miles
On the girls side the Redwood Empire qualified on to state two teams plus another two individual girls.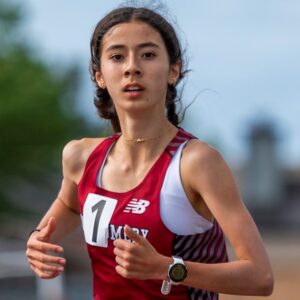 Leading the way, as usual, was Montgomery sophomore Hanne Thomsen.
Thomsen not only set a division III NCS meet record at 16:31 but had the fastest time of all five divisions by a whole 34 seconds.
The Viking team held up to there expectations qualifing on as the second fastest team from all five divisions behind Campolindo who won the division III title.
Behind Thomsen the team of Seelah Kittelstrom 5th (18:00), Amrie Lacefield 7th (18:03), Hope Martin 18th (19:07) and Serena Karres 47th (20:44).
Of their top seven only Martin is a senior in the group. Thomsen and Kittelstrom both qualified for state last year. The 2000 Viking team won the state championship but the last time they made it to state was in 2006.
Video interview with Hanne Thomsen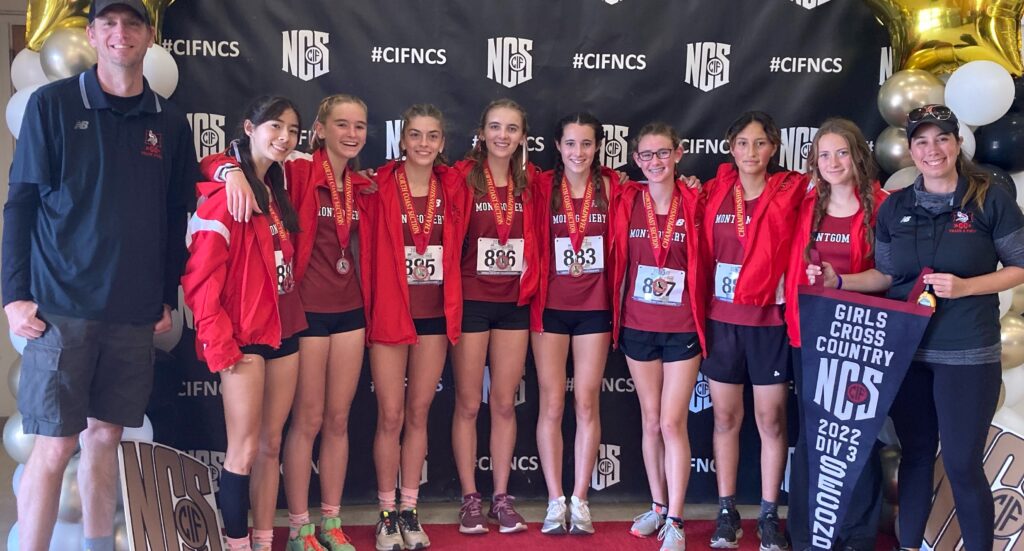 Maria Carrillo, as they have done 18 times since 2000, qualified on as a team with a fourth place finish.
Led by Gracie Trenam with a solid 6th place finish in 18:01, the Pumas packed their top six in the first 44 finishers. There were 122 finishers in the race.
Carrillo's other four scores included Rebekah Taylor 19th (19:09), Kira Moe 28th (19:29), Brooke Szczekocki 34th (19:41) and Carmen Jimenez 43rd (20:13).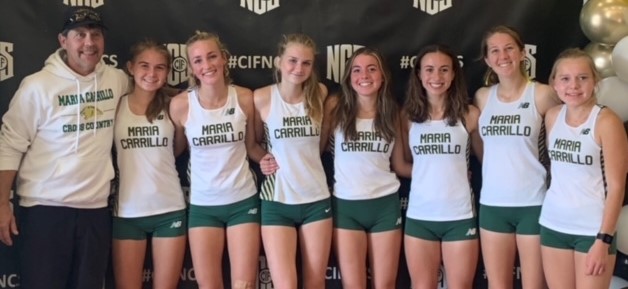 Petaluma's Reilly Kreutz also qualified for state in division III with a 16th place finish in 19:05. She is their first qualifier since Madison Parratt in 2014.
In the division V race Cardinal Newman's Siena Brunetti will be her school's first representative since Noel Clark in 2015 because of her 12th pace finish in 19:07.

State Meet Qualifiers
Div III
2nd	Montgomery 
4th	Maria Carrillo 	

1st	Hanne Thomsen, 10, Montgomery 16:31, 34 seconds faster than next girl in all NCS
5th	Seelah Kittelstrom, 10, Montgomery 18:00
6th	Gracie Trenam, 11, Maria Carrillo 18:01
7th	Amrie Lacefield, 10, Montgomery 18:03
16th	Reilly Kreutz, 11, Petaluma 19:05
18th	Hope Martin, 12, Montgomery 19:07
19th	Rebekah Taylor, 12, Maria Carrillo 19:09
28th	Kira Moe, 11, Maria Carrillo 19:29
34th	Brooke Szczekocki, 10, Maria Carrillo 19:41
43rd	Carmen Jimenez, 12, Maria Carrillo 20:13
44th	Isabelle Gross, 9, Maria Carrillo 20:21
47th	Serena Karres, 9, Montgomery 20:44
50th	Nola McGarva, 12, Maria Carrillo 20:50
74th	Cora Morthole, 9, Montgomery 22:06
101st	Rikki Vargas, 10, Montgomery 24:11

Div V 
12th    Siena Brunetti, 12, Cardinal Newman 19:07

2022 Combined results

Redwood Empire Best times
16:15 Amber Trotter, Ukiah 2001, Course Record, Division I Meet Record
16:31 Hanne Thomsen, Montgomery 2022, Division III Meet Record
16:59 Sarah Sumpter, Healdsburg 2007
17:02 Julie Nacouzi, Montgomery 2009, Division II Meet Record
17:04 Harper McClain, St Helena 2019, Division V Meet Record
17:17 Jacque Taylor, Casa Grande 2008
17:30 Rylee Bowen, Sonoma Academy 2015
17:37 Mary Deeik Vintage 2018
17:43 Nicole Lane, El Molino 2011
17:45 Delaney White, Santa Rosa 2015 

The Redwood Empire now holds every meet division record except for Division IV: Olivia Williams, Acalanes 16:16 2021

Top 35 Empire Times
Hanne Thomsen, 10, Montgomery 16:31
Seelah Kittelstrom, 10, Montgomery 18:00
Gracie Trenam, 11, Maria Carrillo 18:01
Amrie Lacefield, 10, Montgomery 18:03
Reilly Kreutz, 11, Petaluma 19:05
Siena Brunetti, 12, Cardinal Newman 19:07
Hope Martin, 12, Montgomery 19:07

Rebekah Taylor, 12, Maria Carrillo 19:09
Isabella Boardman, 10, Windsor 19:10
Avery Codington, 10, Casa Grande 19:13
Kira Moe, 11, Maria Carrillo 19:29
Hannah Garrity, 11, Clear Lake 19:36
Brooke Szczekocki, 10, Maria Carrillo 19:41
Emily Bendzick, 9, Casa Grande 19:46

Lea Smit, 11, Justin-Siena 20:07
Nicole Pyzer, 12, Middletown 20:13
Carmen Jimenez, 12, Maria Carrillo 20:13
Isabelle Gross, 9, Maria Carrillo 20:21
Serena Karres, 9, Montgomery 20:44
Eva Tate, 12, Petaluma 20:48
Nola McGarva, 12, Maria Carrillo 20:50

Sarah Kam, 11, Sonoma Academy 20:52
Leah Cederborg, 12, Santa Rosa 20:54
Isabela Yob, 12, Analy 20:58
Bryn Doyle, 9, Casa Grande 21:11
Rosey Harris, 11, Analy 21:15
Jocelyn Uraje, 9, Piner 21:15
Jennifer Orozco, 12, Analy 21:22

Nora Lounibos, 11, Petaluma 21:25
Ally Glenn, 12, Sonoma Academy 21:25
Stella Finley, 9, Analy 21:26	
Kate Carter, 10, Rancho Cotate 21:28
Veronika Erdosi-Szucs, 12, Technology 21:32
Melanie	Garcia, 9, Casa Grande 21:35
Cammie Klein, 10, Credo 21:40

Empire places in top 50
1	Thomsen, Hanne **T	SO	888	Montgomery
5	Kittelstrom, Seelah **T	SO	884	Montgomery 
6	Trenam, Gracie **T	JR	786	Maria Carrillo 	
7	Lacefield, Amrie **T	SO	885	Montgomery

12	Brunetti, Siena	SR	289	Cardinal Newman
16	Kreutz, Reilly **I	JR	992	Petaluma
18	Martin, Hope **T	SR	886	Montgomery 
19	Taylor, Rebekah **T	SR	785	Maria Carrillo 	

21	Boardman, Isabella	SO	1326	Windsor 
21	Smit, Lea	JR	697	Justin-Siena
22	Codington, Avery	SO	310	Casa Grande
23	Garrity, Hannah	JR	350	Clear Lake
28	Moe, Kira **T	        JR	783	Maria Carrillo

34	Szczekocki, Brooke **T	SO	784	Maria Carrillo
35	Pyzer, Nicole	SR	832	Middletown
36	Bendzick, Emily	         9	309	Casa Grande	

43	Kam, Sarah	JR	1199	Sonoma Academy
43	Jimenez, Carmen **T	SR	781	Maria Carrillo	
44	Gross, Isabelle **T	9	780	Maria Carrillo	
47	Karres, Serena **T	9	883	Montgomery
49	Tate, Eva	        SR	994	Petaluma  
50	McGarva, Nola **T	SR	782	Maria Carrillo
50	Glenn, Ally	SR	1198	Sonoma Academy

2	Montgomery 
4	Maria Carrillo
9	Casa Grande 	
10	Analy
10	Justin-Siena

12	Cardinal Newman
13	Santa Rosa
13	Piner 
14	American Canyon
16	Vintage
20	Napa

Team times
Montgomery 1:32:25, old Empire Record 1:32:42 Maria Carrillo 2004
Maria Carrillo 1:36:34
Casa Grande 1:43:51
Analy 1:46:46
Justin-Siena  1:50:24
Santa Rosa 1:51:02
Vintage 1:52:23
Cardinal Newman 1:54:15
Piner 1:58:34
Napa 2:03:17
American Canyon 2:07:11

All-Time Team Best Times
2001, 2002, 2004-2015, 2017-19, 2021-
89:13 Granda 2018
90:04 Campolindo 2022
90:24 Granada 2017
90:29 Campolindo 2011
91:04 Campolindo 2013
91:36 Monte Vista 2015
91:47 Carondelet 2006
91:48 Campolindo 2010
91:53 Granada 2015
91:54 Campolindo 2017
92:14 Carondelet 2007
92:25 Montgomery 2022, 4th best 2022 team of all divisions, 2nd by time
92:42 Maria Carrillo 2004

Division I
Final Standings	Score	Scoring Order	Total	Avg.	Spread
1	Dougherty Valley (NC)	35	1-2-8-11-13(25)(30)	1:36:06	19:14	2:12.9
2	Berkeley (NC)	        50	4-6-10-14-16(20)(23)	1:38:53	19:47	1:18.8

3	Castro Valley (NC)	76	7-12-17-18-22(27)(36)	1:40:58	20:12	1:03.0
4	Dublin (NC)	        86	5-9-15-28-29(34)(45)	1:41:24	20:17	2:01.5
5	California (NC)	        129	19-21-24-32-33(35)(37)	1:45:19	21:04	1:31.5
6	San Leandro (NC)	174	26-31-38-39-40(41)(42)	1:49:46	21:58	2:04.0
7	Pittsburg (NC)	        183	3-43-44-46-47(48)	1:59:20	23:52	8:43.9

        Athlete	                Yr.	#	Team	         Score	Time	Avg. Mile 1.25 Miles	2 Miles
1	Noriega, Sabrina **T	SO	452	Dougherty Valley 1	17:56.7	5:58.9	7:22.4 (2)	11:46.6 (1)
2	Lee, Liana **T	        JR	450	Dougherty Valley 2	18:05.6	6:01.8	7:22.6 (3)	11:50.8 (3)
3	Hernandez, Gabriela **I	SR	1047	Pittsburg (NC)	3	18:44.2	6:14.7	7:40.1 (7)	12:22.8 (4)
4	Nottingham, Carina **T	9	218	Berkeley (NC)	4	19:01.7	6:20.5	7:39.4 (5)	12:27.2 (6)
5	Prenton, Melia **I	SO	474	Dublin (NC)	5	19:07.5	6:22.5	7:39.5 (6)	12:27.2 (5)
6	Hougan, Magnolia **T	SO	215	Berkeley (NC)	6	19:09.4	6:23.1	7:39.3 (4)	12:27.3 (7)
7	Ott, Hope **I	        SO	683	James Logan (NC)--	19:25.6	6:28.5	7:46.6 (9)	12:39.6 (8)
8	Huynh, Cameron **I	SR	326	Castro Valley (NC) 7	19:30.8	6:30.2	7:42.1 (8)	12:43.2 (9)
9	Sudina, Sanjana **T	JR	453	Dougherty Valley (NC) 8	19:48.0	6:36.0	8:00.7 (15)	12:56.5 (10)
10	Delgado, Elissa **I	SR	470	Dublin (NC)	9	19:56.3	6:38.7	7:58.2 (12)	12:59.4 (11)
11	Delangle, Sonia **T	SR	213	Berkeley (NC)	10	20:05.4	6:41.8	7:57.3 (10)	13:05.4 (13)
12	Chan, Natalie **T	JR	449	Dougherty Valley  11	20:05.6	6:41.9	7:58.2 (13)	13:02.2 (12)

13	Dughi, Maya	SO	324	Castro Valley (NC)	12	20:09.3	6:43.1	8:16.0 (22)	13:16.3 (19)
14	Narasimhan, Riyanka **T	SR	451	Dougherty Valley 13	20:09.5	6:43.2	7:58.0 (11)	13:11.2 (14)
15	Koch, Gracie **T	SO	216	Berkeley (NC)	14	20:15.5	6:45.1	8:08.0 (16)	13:14.4 (16)
16	Srivastava, Yashvi	SR	475	Dublin (NC)	15	20:15.9	6:45.3	7:58.9 (14)	13:14.1 (15)
17	Gohlke, Hanna **T	SR	214	Berkeley (NC)	16	20:20.4	6:46.8	8:10.2 (19)	13:15.9 (18)
18	Garcia, Hailey	SR	325	Castro Valley (NC)	17	20:20.5	6:46.8	8:16.8 (26)	13:22.7 (20)
19	Chen, Alyssa	JR	322	Castro Valley (NC)	18	20:23.1	6:47.7	8:16.2 (23)	13:24.7 (22)
20	Jimenez, Gabriela	SR	255	California (NC)	19	20:24.0	6:48.0	8:21.5 (31)	13:29.0 (24)
21	Kohlmeyer, Zoe **T	9	217	Berkeley (NC)	20	20:26.1	6:48.7	8:08.4 (17)	13:14.5 (17)
22	Ackermann, Audrey	JR	252	California (NC)	21	20:27.0	6:49.0	8:20.9 (29)	13:28.8 (23)
23	Dughi, Ana	SO	323	Castro Valley (NC)	22	20:33.7	6:51.2	8:22.7 (32)	13:32.5 (26)
24	Allen, Miriam **T	SO	212	Berkeley (NC)	23	20:37.5	6:52.5	8:09.7 (18)	13:24.3 (21)
25	Melvin, Anna	SR	256	California (NC)	24	20:39.7	6:53.2	8:21.0 (30)	13:33.6 (27)
26	Bangalore, Nikitha **T	JR	448	Dougherty Valley (NC)	25	20:41.5	6:53.8	8:16.7 (24)	13:35.5 (29)
27	Diaz, Alexandra	SR	1132	San Leandro (NC)	26	20:44.6	6:54.8	8:25.8 (34)	13:35.3 (28)
28	Mitchell, Allison	JR	327	Castro Valley (NC)	27	20:48.6	6:56.2	8:20.6 (28)	13:36.0 (30)
29	Nguyen, Kassidy	SO	473	Dublin (NC)	28	20:55.1	6:58.4	8:12.0 (20)	13:29.9 (25)
30	Castro, Kayla	JR	682	James Logan (NC)	--	21:05.6	7:01.8	8:16.8 (25)	13:51.3 (34)
31	Johnson, Sasha	SO	472	Dublin (NC)	29	21:09.0	7:03.0	8:20.5 (27)	13:45.7 (31)
32	Bangalore, Niharika **T	JR	447	Dougherty Valley (NC)	30	21:31.3	7:10.4	8:23.4 (33)	13:48.5 (32)
33	Kupferman, Saige	SO	1133	San Leandro (NC)	31	21:38.8	7:12.9	8:36.9 (37)	14:01.4 (35)
34	Chaudhary, Mahima	JR	253	California (NC)	32	21:52.9	7:17.6	8:30.1 (36)	14:08.8 (36)
35	Laron, Eynav	SO	257	California (NC)	33	21:55.4	7:18.5	8:59.3 (41)	14:34.3 (40)
36	Balupari, Laasya	SO	469	Dublin (NC)	34	21:55.4	7:18.5	8:12.3 (21)	13:50.8 (33)
37	Pombo, Alicia	9	258	California (NC)	35	21:55.5	7:18.5	8:55.2 (39)	14:33.2 (38)
38	Murry, Hannah	SO	328	Castro Valley (NC)	36	21:59.3	7:19.8	8:55.1 (38)	14:33.7 (39)
39	Fong, Kayla	JR	254	California (NC)	37	22:07.2	7:22.4	8:29.7 (35)	14:18.4 (37)
40	Balance, Drae	SR	1129	San Leandro (NC)	38	22:15.4	7:25.1	8:59.6 (42)	14:36.3 (42)
41	Probasco, Ava	JR	1134	San Leandro (NC)	39	22:18.4	7:26.1	8:58.7 (40)	14:35.8 (41)
42	Del Carlo, Daniela	SR	1131	San Leandro (NC)	40	22:48.5	7:36.1	9:18.8 (43)	14:57.7 (43)
43	Probasco, Lola	JR	1135	San Leandro (NC)	41	22:56.5	7:38.8	9:20.5 (44)	15:05.0 (44)
44	Camargo, Samantha	SR	1130	San Leandro (NC)	42	23:15.9	7:45.3	9:35.7 (46)	15:21.4 (45)
45	Carrasco Canas, stephanie	SR	1043	Pittsburg (NC)	43	23:49.8	7:56.6	9:32.0 (45)	15:39.1 (46)
46	Day, Monica	SO	1044	Pittsburg (NC)	44	24:09.5	8:03.2	9:41.2 (47)	15:45.1 (47)
47	Gowda, Medha	SR	471	Dublin (NC)	45	24:36.9	8:12.3	7:22.0 (1)	11:50.4 (2)
48	Gonzalez, Teyoltlahui	JR	1046	Pittsburg (NC)	46	25:07.6	8:22.5	9:55.7 (48)	16:21.1 (48)
49	Rodriguez, Yaneli	SO	1049	Pittsburg (NC)	47	27:28.1	9:09.4	10:40.1 (49)	17:36.1 (49)
50	Rincon, Madelyn	SO	1048	Pittsburg (NC)	48	32:23.2	10:47.7	11:41.5 (50)	20:13.1 (50)

Division II
Final Standings	Score	Scoring Order	Total	Avg.	Spread
1	Monte Vista (NC)	60	3-8-9-10-30(50)(56)	1:34:30	18:54	1:46.6
2	Redwood (NC)	        82	1-13-15-22-31(34)(53)	1:35:43	19:09	2:12.0
3	San Ramon Valley (NC)	111	14-16-17-27-37(46)(52)	1:37:29	19:30	0:58.7
4	Granada (NC)	        127	6-20-28-35-38(42)(44)	1:38:16	19:40	1:26.9
5	Amador Valley (NC)	158	19-21-24-45-49(51)(57)	1:39:37	19:56	1:03.4
6	College Park (NC)	160	4-25-26-43-62(85)(106)	1:39:43	19:57	2:49.9
7	Liberty (NC)	        188	2-29-40-58-59(71)(74)	1:39:59	20:00	3:13.0
8	Alameda (NC)	        226	7-41-47-64-67(79)(80)	1:42:51	20:35	2:58.9
9	Clayton Valley Charter  257	5-36-39-61-116(121)(122) 1:43:57 20:48	5:20.9
10	Foothill - Pleasanton 	280	23-33-60-81-83(95)(99)	1:45:33	21:07	2:41.5
11	Heritage (NC)	        281	11-12-54-97-107(118)(124) 1:45:23 21:05	4:22.2
12	Mission San Jose (NC)	364	18-68-84-93-101(115)(128) 1:49:34 21:55	3:49.5
13	Santa Rosa (NC)	393	55-72-75-82-109(119)(125) 1:51:00 22:12	2:34.8
14	Deer Valley (NC)	394	32-48-87-113-114(123)(135) 1:50:44 22:09	3:49.1
15	Irvington (NC)	        398	63-69-78-90-98(111)	1:51:23	22:17	1:43.3
16	Vintage (NC)	        416	66-77-88-91-94(100)(120) 1:52:21	22:29	1:14.9
17	American	        434	65-73-89-102-105(126)(130) 1:53:02	22:37	1:37.7
18	Washington (NC)	        547	96-103-104-117-127(129)	1:58:49	23:46	2:11.5
19	Freedom (NC)	        565*	70-92-133-134-136(139)(141) 2:02:15	24:27	4:11.9
20	Napa (NC)	        565*	76-108-110-131-140	2:03:17	24:40	6:25.7
21	Antioch (NC)	        605	86-112-132-137-138	2:05:10	25:02	4:18.4

*Tiebreakers
Freedom (NC)	70	92	133	134	136	139	141
Napa (NC)	76	108	110	131	140
 
Individual Results
Athlete	Yr.	#	Team	Score	Time	Avg. Mile	1.25 Miles	2 Miles
1	Maclean, Audrey **T	SR	1076	Redwood (NC)	1	17:47.4	5:55.8	7:20.6 (1)	11:48.8 (1)
2	Guinn, Rylee **I	SR	735	Liberty 	2	17:53.6	5:57.9	7:26.9 (4)	11:54.0 (2)
3	Powell, Alexandra **T	SO	872	Monte Vista 	3	18:05.0	6:01.7	7:24.9 (3)	11:54.2 (3)
4	Reed, Grace **I	        SR	356	College Park 	4	18:32.7	6:10.9	7:39.1 (7)	12:13.4 (6)
5	Ruff, Isabelle **I	SR	341	Clayton Valley Charter 5 18:37.1	6:12.3	7:34.7 (6)	12:10.2 (5)
6	Sauder, Kerrigan **I	SO	591	Granada (NC)	6	18:40.5	6:13.5	7:24.9 (2)	12:06.9 (4)
7	Carpenter, Sophia **I	SR	16	Alameda (NC)	7	18:46.0	6:15.3	7:39.6 (10)	12:20.2 (10)
8	Dolan, Peyton **T	JR	870	Monte Vista 	8	18:46.8	6:15.6	7:39.9 (11)	12:19.8 (9)
9	Turns, Allie **T	SO	874	Monte Vista 	9	18:53.1	6:17.7	7:40.0 (13)	12:19.2 (8)
10	Amare, Maraki **T	JR	869	Monte Vista 	10	18:53.4	6:17.8	7:40.0 (12)	12:19.0 (7)

11	Wisely, Kylie	        SO	658	Heritage (NC)	11	19:01.6	6:20.5	7:39.4 (8)	12:22.7 (12)
12	Espinoza, Valeria	SR	655	Heritage (NC)	12	19:04.5	6:21.5	7:42.4 (17)	12:29.3 (16)
13	Nogueiro, Sofia **T	SR	1078	Redwood (NC)	13	19:06.6	6:22.2	7:42.9 (18)	12:32.3 (19)
14	Roesgen, Grace **T	JR	1173	San Ramon Valley 14	19:07.3	6:22.4	7:45.1 (25)	12:20.9 (11)
15	Guzman, Angelina	SR	761	Livermore (NC)	--	19:08.4	6:22.8	7:40.6 (14)	12:28.5 (15)
16	Stolte, Erin **T	JR	1080	Redwood (NC)	15	19:10.9	6:23.6	7:41.7 (15)	12:28.0 (14)
17	Schultz, Margot **T	9	1175	San Ramon Valley 16	19:11.3	6:23.8	7:43.8 (21)	12:31.6 (18)
18	Hempel, Lanie	        9	762	Livermore (NC)	--	19:15.1	6:25.0	7:31.9 (5)	12:23.4 (13)
19	Salven, Alyssa **T	SO	1174	San Ramon Valley (NC)	17	19:18.0	6:26.0	7:43.5 (20)	12:31.4 (17)
20	Wong, Ania	        JR	861	Mission San Jose (NC)	18	19:20.3	6:26.7	7:44.9 (24)	12:36.7 (21)
21	Wong, Kacie	9	56	Amador Valley (NC)	19	19:28.0	6:29.3	7:50.9 (28)	12:46.0 (25)
22	Barron, Jana	JR	586	Granada (NC)	20	19:33.3	6:31.1	7:39.5 (9)	12:33.3 (20)
23	Jennings, Tessa	JR	53	Amador Valley (NC)	21	19:33.6	6:31.2	7:43.5 (19)	12:42.9 (24)
24	Nacco, Marley **T	SO	1077	Redwood (NC)	22	19:38.6	6:32.8	8:00.7 (38)	13:01.2 (34)
25	Espino, Katelyn	JR	529	Foothill - Pleasanton (NC)	23	19:40.1	6:33.3	7:42.3 (16)	12:40.3 (22)
26	Versteeg, Dahlia	SR	55	Amador Valley (NC)	24	19:40.9	6:33.6	7:44.5 (23)	12:42.2 (23)
27	LeClaire, Missy	JR	355	College Park (NC)	25	19:41.9	6:34.0	8:21.3 (61)	13:09.5 (40)
28	Hallford, Hailey	SR	354	College Park (NC)	26	19:43.5	6:34.5	7:45.7 (27)	12:46.1 (26)
29	Knapp, Avery **T	JR	1171	San Ramon Valley (NC)	27	19:45.9	6:35.3	7:57.9 (32)	12:58.3 (30)
30	Rosenberg, Alexis	SR	589	Granada (NC)	28	19:49.0	6:36.3	7:58.5 (33)	12:56.3 (29)
31	Redman, Sarah	JR	738	Liberty (NC)	29	19:51.2	6:37.0	8:11.7 (52)	13:07.5 (37)
32	Leahey, Alexa **T	SO	871	Monte Vista (NC)	30	19:51.6	6:37.2	7:58.9 (35)	13:00.4 (32)
33	Baker, Jean **T	SR	1074	Redwood (NC)	31	19:59.3	6:39.8	7:58.7 (34)	13:00.5 (33)
34	Crabtree, Melanie	SR	433	Deer Valley (NC)	32	20:01.2	6:40.4	7:57.7 (30)	12:55.5 (28)
35	Van Horn, Claire	SR	534	Foothill - Pleasanton (NC)	33	20:03.3	6:41.1	8:09.7 (49)	13:11.4 (43)
36	Novia, Olivia **T	SR	1079	Redwood (NC)	34	20:05.1	6:41.7	8:04.1 (40)	13:10.2 (41)
37	Ruckmann-Barnes, Evelyn	--	590	Granada (NC)	35	20:05.2	6:41.7	7:57.7 (31)	13:08.1 (39)
38	Bennett, Skylar	JR	337	Clayton Valley Charter (NC)	36	20:05.7	6:41.9	7:45.6 (26)	12:59.7 (31)
39	Altamirano, Faustina **T	SR	1169	San Ramon Valley (NC)	37	20:06.0	6:42.0	8:07.1 (46)	13:12.2 (45)
40	Lnenicka, Mia	--	588	Granada (NC)	38	20:07.3	6:42.4	7:43.9 (22)	12:54.5 (27)
41	Fung, Victoria	JR	338	Clayton Valley Charter (NC)	39	20:07.9	6:42.6	8:10.4 (51)	13:16.2 (48)
42	Gonzalez, Samantha	9	734	Liberty (NC)	40	20:09.4	6:43.1	8:04.4 (41)	13:07.4 (36)
43	Dawson, Camille	SR	17	Alameda (NC)	41	20:15.7	6:45.2	8:00.3 (36)	13:07.0 (35)
44	Stein, Abby	SO	592	Granada (NC)	42	20:19.4	6:46.5	7:55.7 (29)	13:07.8 (38)
45	Cevallos, Michelle	9	352	College Park (NC)	43	20:22.3	6:47.4	8:21.6 (62)	13:19.6 (50)
46	Eaton, Alyssa	JR	587	Granada (NC)	44	20:22.9	6:47.6	8:00.4 (37)	13:10.8 (42)
47	Goyal, Juhi	JR	52	Amador Valley (NC)	45	20:23.3	6:47.8	8:13.2 (54)	13:24.9 (54)
48	Delanoy, Lindsay **T	JR	1170	San Ramon Valley (NC)	46	20:23.8	6:47.9	8:07.4 (47)	13:12.5 (46)
49	McCants, Ariana	SO	18	Alameda (NC)	47	20:24.5	6:48.2	8:08.3 (48)	13:23.6 (53)
50	Hall, Keneyia	JR	435	Deer Valley (NC)	48	20:29.8	6:49.9	8:21.0 (59)	13:31.4 (57)
51	Pettersson, Erika	JR	54	Amador Valley (NC)	49	20:31.3	6:50.4	8:06.2 (44)	13:19.9 (51)
52	Wong, Sienna **T	9	875	Monte Vista (NC)	50	20:33.5	6:51.1	8:06.0 (43)	13:15.9 (47)
53	Zuniga, Milla	SR	58	Amador Valley (NC)	51	20:39.4	6:53.1	8:06.5 (45)	13:20.0 (52)
54	Michel, Mackenzie **T	SR	1172	San Ramon Valley (NC)	52	20:48.6	6:56.2	8:04.5 (42)	13:11.6 (44)
55	Moffett, Larkin **T	SO	1075	Redwood (NC)	53	20:49.2	6:56.4	8:11.8 (53)	13:26.3 (56)
56	Buttitta, Samantha	SO	653	Heritage (NC)	54	20:50.4	6:56.8	8:15.5 (55)	13:32.3 (58)
57	Arrizon, Karina	SO	910	Mt. Eden (NC)	--	20:51.4	6:57.1	8:18.9 (56)	13:38.4 (60)
58	Cederborg, Leah	SR	1184	Santa Rosa (NC)	55	20:53.1	6:57.7	8:04.1 (39)	13:18.2 (49)
59	Tang, Emilyn **T	9	873	Monte Vista (NC)	56	20:54.4	6:58.1	8:10.0 (50)	13:25.7 (55)
60	Yoon, Heejee	SR	57	Amador Valley (NC)	57	20:56.3	6:58.7	8:19.7 (58)	13:34.6 (59)
61	Mendes, Karyss	SR	737	Liberty (NC)	58	20:57.8	6:59.3	8:25.2 (64)	13:41.4 (62)
62	Costanza, Kate	SR	733	Liberty (NC)	59	21:06.5	7:02.2	8:21.2 (60)	13:39.9 (61)
63	Wan, Karen	SR	535	Foothill - Pleasanton (NC)	60	21:07.4	7:02.4	8:33.1 (66)	13:55.2 (66)
64	Habermeyer, Ella	SR	339	Clayton Valley Charter (NC)	61	21:08.5	7:02.8	8:27.0 (65)	13:50.0 (65)
65	Chisar, Jessica	SR	353	College Park (NC)	62	21:22.6	7:07.5	8:21.9 (63)	13:43.1 (63)
66	Aravindhan, Varsha	SO	669	Irvington (NC)	63	21:23.4	7:07.8	8:19.6 (57)	13:49.2 (64)
67	Mills, Alexandra	JR	19	Alameda (NC)	64	21:39.4	7:13.1	8:38.3 (68)	14:05.5 (68)
68	Raman, Thoya	SR	70	American	65	21:42.8	7:14.2	8:45.5 (76)	14:18.6 (71)
69	Chapin, Eliza	SO	1297	Vintage (NC)	66	21:44.8	7:14.9	8:57.7 (89)	14:19.9 (73)
70	Barnes, Audrey	SR	15	Alameda (NC)	67	21:44.9	7:14.9	8:37.2 (67)	14:03.7 (67)
71	Menon, Sophie	JR	860	Mission San Jose (NC)	68	21:48.1	7:16.0	8:45.2 (74)	14:17.9 (70)
72	Raja, Antara	SO	673	Irvington (NC)	69	21:50.7	7:16.9	8:43.9 (72)	14:19.1 (72)
73	Bridges, Allison	SO	554	Freedom (NC)	70	21:52.1	7:17.4	9:06.7 (96)	14:34.0 (86)
74	Rodriguez, Lilian	SR	739	Liberty (NC)	71	21:53.0	7:17.7	8:54.7 (87)	14:22.2 (77)
75	Smith, Kristi	JR	1189	Santa Rosa (NC)	72	22:05.7	7:21.9	8:44.3 (73)	14:25.0 (78)
76	Sampath, Srinidhi	JR	71	American	73	22:07.7	7:22.5	8:45.4 (75)	14:20.9 (76)
77	Johnson, Samantha	SO	736	Liberty (NC)	74	22:07.7	7:22.6	8:52.9 (84)	14:20.8 (74)
78	Nishikubo, Erin	SR	763	Livermore (NC)	--	22:08.9	7:23.0	8:46.7 (78)	14:26.9 (82)
79	Sarraf, Yasmine	SO	1188	Santa Rosa (NC)	75	22:11.1	7:23.7	8:47.5 (80)	14:25.6 (80)
80	Aaen, Maya	JR	922	Napa (NC)	76	22:12.6	7:24.2	8:54.1 (86)	14:26.7 (81)
81	Tessier, Naomi	JR	1302	Vintage (NC)	77	22:13.9	7:24.6	9:08.9 (102)	14:37.9 (89)
82	Branch, Kate	SO	670	Irvington (NC)	78	22:16.5	7:25.5	8:57.7 (90)	14:39.3 (90)
83	Puentes Garcia, Mia	SR	913	Mt. Eden (NC)	--	22:18.4	7:26.1	8:52.7 (82)	14:30.4 (85)
84	Todaro, Lindsay	JR	20	Alameda (NC)	79	22:18.5	7:26.1	8:39.8 (70)	14:15.0 (69)
85	Bostrom, Alyson	JR	21	Alameda (NC)	80	22:20.7	7:26.9	9:08.4 (100)	14:37.9 (88)
86	Tsai, Jessica	SO	533	Foothill - Pleasanton (NC)	81	22:21.0	7:27.0	8:39.9 (71)	14:20.9 (75)
87	Arseneau, Cooper	SO	1183	Santa Rosa (NC)	82	22:21.3	7:27.1	8:47.0 (79)	14:25.1 (79)
88	Singh, Arshiya	JR	532	Foothill - Pleasanton (NC)	83	22:21.5	7:27.1	8:50.9 (81)	14:29.1 (84)
89	Lee, Audrey	SR	859	Mission San Jose (NC)	84	22:23.4	7:27.8	8:39.2 (69)	14:27.0 (83)
90	Weiss, Laura	9	357	College Park (NC)	85	22:25.0	7:28.3	8:52.8 (83)	14:34.6 (87)
91	Preble, Rylee	SR	113	Antioch (NC)	86	22:26.0	7:28.6	9:02.3 (93)	14:41.9 (93)
92	Wilkins, Jaelyn	9	439	Deer Valley (NC)	87	22:33.5	7:31.2	9:13.8 (108)	14:54.1 (101)
93	Alexander, Ivy	9	1296	Vintage (NC)	88	22:33.9	7:31.3	9:07.0 (98)	14:41.3 (92)
94	Bamford, Julia	JR	67	American	89	22:41.1	7:33.7	9:14.8 (110)	14:53.7 (100)
95	Torres-Anorve, Valeria	SO	674	Irvington (NC)	90	22:45.5	7:35.1	9:06.8 (97)	14:53.4 (99)
96	Notaro, Sophia	SR	1299	Vintage (NC)	91	22:48.0	7:36.0	9:08.6 (101)	14:49.5 (97)
97	Graves, Jaclyn	SO	556	Freedom (NC)	92	22:51.2	7:37.1	9:11.5 (106)	14:47.9 (96)
98	Govindarajan, Advika	SR	856	Mission San Jose (NC)	93	22:52.1	7:37.3	8:45.9 (77)	14:42.8 (94)
99	Nuno, Susana	SR	1300	Vintage (NC)	94	22:59.7	7:39.9	9:19.1 (117)	15:05.8 (108)
100	Bhandari, Prisha	SO	530	Foothill - Pleasanton (NC)	95	23:00.0	7:40.0	9:18.9 (116)	15:09.9 (109)
101	Medina, Soleil	SO	1311	Washington (NC)	96	23:01.4	7:40.4	8:59.9 (91)	14:53.0 (98)
102	linney, Lauren	JR	656	Heritage (NC)	97	23:02.9	7:41.0	9:06.2 (95)	15:05.7 (107)
103	Zuerlein, Elia	SR	675	Irvington (NC)	98	23:06.7	7:42.2	8:53.7 (85)	14:43.3 (95)
104	Kiyoi, Kalia	SO	531	Foothill - Pleasanton (NC)	99	23:07.7	7:42.6	9:13.9 (109)	15:10.0 (110)
105	Pinilla Marinas, Irene	JR	1301	Vintage (NC)	100	23:09.1	7:43.0	9:09.6 (104)	14:40.6 (91)
106	Altalib, Sofiya	JR	855	Mission San Jose (NC)	101	23:09.7	7:43.2	9:02.2 (92)	15:01.3 (103)
107	Lee, Choeunchan	9	68	American	102	23:10.1	7:43.4	9:20.1 (118)	15:04.1 (106)
108	Ivanova, Sofia	9	1310	Washington (NC)	103	23:15.4	7:45.1	9:09.8 (105)	15:01.4 (104)
109	Srinath, Charu	JR	1315	Washington (NC)	104	23:18.7	7:46.2	9:08.2 (99)	14:59.8 (102)
110	Ramachandran, Hansini	SR	69	American	105	23:20.4	7:46.8	9:16.7 (112)	15:10.4 (111)
111	Brock, Campbell	JR	351	College Park (NC)	106	23:23.1	7:47.7	9:18.7 (115)	15:14.2 (113)
112	Ochoa-Aragon, Laura	SO	657	Heritage (NC)	107	23:23.8	7:47.9	9:15.2 (111)	15:16.1 (115)
113	Scudero, Anna	SR	928	Napa (NC)	108	23:26.5	7:48.8	9:39.9 (127)	15:33.3 (120)
114	Peyton, Dylan	9	1187	Santa Rosa (NC)	109	23:27.9	7:49.3	8:57.2 (88)	15:03.0 (105)
115	Mitchell, Sonya	JR	926	Napa (NC)	110	23:30.1	7:50.0	9:24.5 (119)	15:27.4 (119)
116	Maheshwari, Kritika	JR	671	Irvington (NC)	111	23:39.8	7:53.3	9:17.8 (113)	15:15.4 (114)
117	Bookout, Julia	JR	108	Antioch (NC)	112	23:44.3	7:54.7	9:17.9 (114)	15:17.0 (116)
118	Johnson, Hanna	JR	436	Deer Valley (NC)	113	23:49.3	7:56.4	9:30.9 (122)	15:37.7 (123)
119	Jones, Skylynn	JR	437	Deer Valley (NC)	114	23:50.2	7:56.7	9:30.7 (120)	15:37.6 (122)
120	Krishnasami, Nila	SO	857	Mission San Jose (NC)	115	23:51.5	7:57.1	9:12.8 (107)	15:14.0 (112)
121	Scott, Anika	JR	342	Clayton Valley Charter (NC)	116	23:57.9	7:59.3	9:30.9 (121)	15:39.4 (124)
122	Yang, Ella	JR	1316	Washington (NC)	117	24:00.5	8:00.2	9:31.6 (123)	15:37.2 (121)
123	Cintron, Kiya	SR	654	Heritage (NC)	118	24:12.8	8:04.2	9:06.1 (94)	15:27.1 (118)
124	Corey, Lee	SO	1185	Santa Rosa (NC)	119	24:14.2	8:04.7	9:09.3 (103)	15:25.8 (117)
125	Kasper, Lilla	SR	1298	Vintage (NC)	120	24:17.8	8:05.9	9:52.8 (133)	15:58.9 (128)
126	Pugh, Katherine	SR	340	Clayton Valley Charter (NC)	121	24:23.4	8:07.8	9:35.0 (124)	16:00.2 (129)
127	Jeandheur, Corrine	SO	336	Clayton Valley Charter (NC)	122	24:23.6	8:07.8	9:38.5 (126)	15:54.8 (127)
128	Pouncil, Sarah	SR	438	Deer Valley (NC)	123	24:29.9	8:09.9	9:43.6 (130)	16:04.4 (131)
129	Alderete, Elliana	SO	652	Heritage (NC)	124	24:33.9	8:11.3	9:38.2 (125)	15:47.1 (125)
130	Gamble, Sydney	SR	1186	Santa Rosa (NC)	125	24:36.3	8:12.1	9:40.2 (128)	15:54.2 (126)
131	Anne Lemus, Isabel	SR	66	American	126	25:06.0	8:22.0	9:52.9 (134)	16:21.8 (134)
132	Sambee, Gundeep	JR	1312	Washington (NC)	127	25:12.8	8:24.3	9:54.8 (136)	16:21.9 (135)
133	Lam, Mia	SO	858	Mission San Jose (NC)	128	25:15.8	8:25.3	9:42.5 (129)	16:02.2 (130)
134	Sathiya, Nitika	JR	1314	Washington (NC)	129	25:19.6	8:26.5	9:54.3 (135)	16:21.6 (133)
135	Willyerd, Madeleine	JR	72	American	130	25:20.8	8:26.9	9:56.7 (138)	16:32.3 (137)
136	Lopez, Mariana	SR	911	Mt. Eden (NC)	--	25:23.5	8:27.8	10:34.9 (144)	17:04.0 (143)
137	Damian, Jazmin	SR	924	Napa (NC)	131	25:29.3	8:29.8	9:56.2 (137)	16:28.5 (136)
138	Diotte, Carrie	9	110	Antioch (NC)	132	25:33.9	8:31.3	10:08.1 (143)	17:00.0 (141)
139	Ibarra, Zulema	SO	557	Freedom (NC)	133	25:40.8	8:33.6	10:35.8 (145)	17:11.9 (144)
140	Yow, Chloe	SR	559	Freedom (NC)	134	25:46.4	8:35.4	9:49.5 (131)	16:18.4 (132)
141	Crisp, Rosaly	SR	434	Deer Valley (NC)	135	25:51.9	8:37.3	10:05.3 (141)	16:42.9 (139)
142	Esquivel, Jiselle	SO	555	Freedom (NC)	136	26:03.9	8:41.3	9:50.1 (132)	16:39.8 (138)
143	Trinh, Helen	JR	914	Mt. Eden (NC)	--	26:08.8	8:42.9	10:05.3 (139)	16:42.9 (140)
144	Florean, Carmen	JR	111	Antioch (NC)	137	26:41.0	8:53.7	10:08.0 (142)	17:03.9 (142)
145	Cebuano, Jasmine	JR	109	Antioch (NC)	138	26:44.3	8:54.8	10:05.3 (140)	17:18.6 (145)
146	Martinez, Cielo	9	558	Freedom (NC)	139	27:46.1	9:15.4	10:51.7 (146)	18:05.9 (146)
147	Dinsdale, Chloe	SR	925	Napa (NC)	140	28:38.3	9:32.7	10:57.2 (147)	18:22.9 (147)
148	Zimmer, Delaney	SO	560	Freedom (NC)	141	29:58.0	9:59.3	11:25.9 (148)	19:03.1 (148)

Division III
Old Meet Record Glennis Murphy (Redwood) 16:57

Final Standings	     Score	Scoring Order	        Total	Avg.	Spread
1	Campolindo (NC)	34	2-3-8-9-12(13)(26)	1:30:02	18:01	1:40.5
2	Montgomery     71	1-4-6-16-44(64)(86)	1:32:23	18:29	4:12.8
3	Northgate (NC)	102	7-15-24-27-29(30)(43)	1:36:07	19:14	1:16.3
4	Maria Carrillo 118	5-17-25-31-40(41)(46)	1:36:32	19:19	2:11.3

5	Newark Memorial	130	18-22-23-32-35(45)(57)	1:37:28	19:30	0:44.8
6	Las Lomas (NC)	157	14-21-28-38-56(74)(76)	1:39:23	19:53	2:39.6
7	Tamalpais (NC)	184	10-11-51-54-58(71)(90)	1:41:24	20:17	3:12.8
8	Carondelet (NC)	194	20-36-37-39-62(69)(72)	1:41:22	20:17	2:42.2
9	Casa Grande 	218	19-33-48-55-63(67)(68)	1:43:49	20:46	2:52.7
10	Analy (NC)	261	47-49-52-53-60(65)(66)	1:46:44	21:21	0:46.4
11	Eureka (NC)	309	34-59-61-70-85(91)	1:49:24	21:53	3:53.6
12	Benicia (NC)	346	42-73-75-77-79(80)(81)	1:52:16	22:28	2:36.6
13	Piner (NC)	397	50-83-84-88-92	        1:58:32	23:43	4:20.1
14	American Canyon 439	78-82-89-94-96(101)	2:07:09	25:26	5:18.0
15	Pinole Valley 	470	87-93-95-97-98(99)(100)	2:16:08	27:14	4:56.1

        Athlete	                Yr.	#	Team	    Score	Time	Avg. Mile 1.25 Miles	2 Miles
1	Thomsen, Hanne **T	SO	888	Montgomery (NC)	1	16:30.6	5:30.2	6:55.8 (1)	10:59.1 (1)
2	Buckley, Ellie **T	SR	275	Campolindo (NC)	2	17:04.8	5:41.6	7:03.3 (3)	11:09.9 (2)
3	Volkmer, Shea **T	JR	280	Campolindo (NC)	3	17:23.4	5:47.8	7:03.3 (2)	11:15.4 (3)
4	Stacey, Amelia **I	SR	485	El Cerrito (NC)	--	17:41.5	5:53.8	7:06.4 (4)	11:32.9 (4)
5	Kittelstrom, Seelah **T	SO	884	Montgomery (NC)	4	17:59.6	5:59.9	7:23.4 (10)	11:50.7 (5)
6	Trenam, Gracie **T	JR	786	Maria Carrillo 	5	18:00.9	6:00.3	7:24.6 (14)	11:55.0 (9)
7	Lacefield, Amrie **T	SO	885	Montgomery (NC)	6	18:02.4	6:00.8	7:23.4 (11)	11:51.4 (6)
8	Malloy, Megan **T	SR	955	Northgate (NC)	7	18:22.3	6:07.4	7:27.6 (15)	12:03.8 (11)
9	Weberski, Makena **T	JR	281	Campolindo (NC)	8	18:23.4	6:07.8	7:16.8 (6)	11:55.1 (10)
10	Moen, Rachel **T	JR	278	Campolindo (NC)	9	18:24.7	6:08.2	7:19.8 (7)	11:54.5 (8)
11	Gardner, Emma **I	SO	1239	Tamalpais (NC)	10	18:25.6	6:08.5	7:15.9 (5)	11:52.4 (7)
12	Barnes, Ellery **I	JR	1237	Tamalpais (NC)	11	18:34.7	6:11.5	7:20.9 (9)	12:04.7 (12)
13	Kabenina, Kate **T	JR	276	Campolindo (NC)	12	18:45.3	6:15.1	7:23.7 (12)	12:07.9 (13)
14	Mccool, Caroline **T	SR	277	Campolindo (NC)	13	18:47.1	6:15.7	7:20.5 (8)	12:08.0 (14)
15	Montilla, Lily **I	SO	722	Las Lomas (NC)	14	18:54.8	6:18.3	7:34.8 (16)	12:22.4 (16)
16	Kreutz, Reilly **I	JR	992	Petaluma (NC)	--	19:04.3	6:21.4	7:24.2 (13)	12:09.1 (15)
17	Manning, Gabriela **T	JR	956	Northgate (NC)	15	19:06.0	6:22.0	7:41.8 (21)	12:32.4 (18)
18	Martin, Hope **T	SR	886	Montgomery (NC)	16	19:07.0	6:22.3	7:40.9 (19)	12:28.2 (17)
19	Taylor, Rebekah **T	SR	785	Maria Carrillo 	17	19:09.0	6:23.0	7:43.5 (27)	12:34.0 (20)

20	Tokubo, Kara	        JR	941	Newark Memorial	18	19:09.4	6:23.1	7:40.8 (18)	12:33.6 (19)
21	Boardman, Isabella	SO	1326	Windsor (NC)	--	19:09.7	6:23.2	7:44.7 (29)	12:36.6 (24)
22	Codington, Avery	SO	310	Casa Grande 	19	19:12.7	6:24.2	7:43.6 (28)	12:36.2 (23)
23	Foxworthy, Kendall	JR	304	Carondelet (NC)	20	19:15.3	6:25.1	7:47.8 (34)	12:38.7 (28)
24	Wilson, Ava	        JR	725	Las Lomas (NC)	21	19:17.7	6:25.9	7:47.4 (32)	12:41.1 (30)
25	Veloza, Grace	        SO	942	Newark Memorial	22	19:19.4	6:26.4	7:43.0 (24)	12:37.1 (25)
26	Irwin, Ava	        JR	937	Newark Memorial	23	19:22.7	6:27.6	7:41.9 (22)	12:35.8 (21)
27	Harlow, Macey **T	SR	952	Northgate (NC)	24	19:25.7	6:28.6	7:41.3 (20)	12:39.5 (29)
28	Moe, Kira **T	        JR	783	Maria Carrillo 	25	19:28.9	6:29.6	7:42.7 (23)	12:38.0 (27)
29	Houston, Anya **T	FR	279	Campolindo (NC)	26	19:30.5	6:30.1	7:37.0 (17)	12:36.1 (22)
30	Kopper, Ella **T	JR	953	Northgate (NC)	27	19:34.5	6:31.5	7:45.2 (30)	12:45.3 (32)
31	Madigan, Genevieve	JR	721	Las Lomas (NC)	28	19:35.8	6:31.9	7:47.8 (33)	12:45.9 (33)
32	Carcamo, Elena **T	9	950	Northgate (NC)	29	19:38.5	6:32.8	7:54.0 (38)	12:52.0 (35)
33	Leininger, Lucy **T	SO	954	Northgate (NC)	30	19:39.1	6:33.0	7:45.5 (31)	12:48.3 (34)
34	Szczekocki, Brooke **T	SO	784	Maria Carrillo 	31	19:40.3	6:33.4	7:43.2 (26)	12:37.8 (26)
35	Pioroda, Julia	        SR	939	Newark Memorial	32	19:41.9	6:33.9	7:43.1 (25)	12:41.9 (31)
36	Bendzick, Emily	         9	309	Casa Grande	33	19:45.5	6:35.2	7:52.0 (36)	12:56.8 (38)
37	Leonard, Charlotte	SR	518	Eureka (NC)	34	19:47.9	6:35.9	7:58.3 (40)	12:52.9 (36)
38	McCarty, Alice	        9	938	Newark Memorial	35	19:54.2	6:38.1	7:54.9 (39)	12:56.5 (37)
39	Kelley, Jade	        SO	305	Carondelet (NC)	36	19:59.7	6:39.9	7:58.6 (41)	13:02.3 (40)
40	DeMartini, Mary	        SR	301	Carondelet (NC)	37	19:59.9	6:39.9	7:52.7 (37)	13:02.4 (41)
41	Tracey, Shae	        JR	724	Las Lomas (NC)	38	19:59.9	6:39.9	7:48.4 (35)	12:57.1 (39)
42	Zachary, Lillian	9	307	Carondelet (NC)	39	20:09.3	6:43.1	7:58.9 (42)	13:08.8 (43)
43	Jimenez, Carmen **T	SR	781	Maria Carrillo	40	20:12.2	6:44.0	8:01.0 (43)	13:08.6 (42)
44	Gross, Isabelle **T	9	780	Maria Carrillo	41	20:20.4	6:46.8	8:06.8 (45)	13:15.7 (44)
45	Miller Garcia, Desha	SO	179	Benicia (NC)	42	20:36.1	6:52.0	8:18.8 (48)	13:34.2 (46)
46	Carcamo, Sophia **T	JR	951	Northgate (NC)	43	20:38.4	6:52.8	8:05.4 (44)	13:24.7 (45)
47	Karres, Serena **T	9	883	Montgomery (NC)	44	20:43.4	6:54.5	8:23.1 (53)	13:36.4 (48)
48	Hastings, Chloe	        SO	936	Newark Memorial	45	20:47.2	6:55.7	8:19.9 (49)	13:35.6 (47)
49	Tate, Eva	        SR	994	Petaluma  --	        20:48.0	6:56.0	8:28.1 (61)	13:42.3 (51)
50	McGarva, Nola **T	SR	782	Maria Carrillo	46	20:49.6	6:56.5	8:21.3 (51)	13:39.5 (50)
51	Yob, Isabela	        SR	100	Analy (NC)	47	20:57.9	6:59.3	8:16.4 (47)	13:46.9 (54)
52	Doyle, Bryn	        9	311	Casa Grande 	48	21:10.9	7:03.6	8:24.4 (55)	13:49.1 (55)
53	Harris, Rosey	        JR	96	Analy (NC)	49	21:14.2	7:04.7	8:14.8 (46)	13:44.4 (52)
54	Uraje, Jocelyn	        9	1021	Piner (NC)	50	21:14.3	7:04.7	8:30.3 (65)	13:50.6 (59)
55	Song, Jane	SO	1242	Tamalpais (NC)	51	21:17.3	7:05.8	8:28.9 (62)	13:50.7 (61)
56	Swain, Lili	SR	486	El Cerrito (NC)	--	21:20.1	7:06.7	8:31.8 (67)	13:50.3 (58)
57	Orozco, Jennifer	SR	99	Analy (NC)	52	21:21.5	7:07.2	8:24.2 (54)	13:49.1 (56)
58	Lounibos, Nora	JR	993	Petaluma (NC)	--	21:24.3	7:08.1	8:28.1 (60)	13:44.8 (53)
59	Finley, Stella	9	95	Analy (NC)	53	21:25.6	7:08.5	8:27.2 (58)	13:49.9 (57)
60	Carter, Kate	SO	1063	Rancho Cotate (NC)	--	21:27.5	7:09.2	8:29.3 (64)	13:54.2 (63)
61	Mandala, Shaina	SR	1240	Tamalpais (NC)	54	21:28.3	7:09.4	8:27.6 (59)	13:50.7 (60)
62	Legados, Lynelle	SO	600	Hayward (NC)	--	21:28.7	7:09.5	8:43.1 (79)	14:07.1 (68)
63	Garcia, Melanie	9	313	Casa Grande (NC)	55	21:34.1	7:11.4	8:25.1 (56)	13:58.5 (64)
64	Casey, Morgan	JR	720	Las Lomas (NC)	56	21:34.4	7:11.4	8:30.3 (66)	14:00.1 (65)
65	Ramos, Fatima	SR	940	Newark Memorial (NC)	57	21:35.4	7:11.8	8:21.9 (52)	14:00.3 (66)
66	Nesbit, Johannah	SO	1241	Tamalpais (NC)	58	21:38.4	7:12.8	8:39.7 (76)	14:07.1 (69)
67	Ashby, Sequoia	SR	515	Eureka (NC)	59	21:39.1	7:13.0	8:51.9 (84)	14:20.6 (80)
68	Marquez, Elena	SO	97	Analy (NC)	60	21:44.2	7:14.7	8:38.4 (74)	14:09.5 (74)
69	Duff, Meredith	SO	484	El Cerrito (NC)	--	21:47.3	7:15.7	8:26.5 (57)	13:51.1 (62)
70	Legados, Lynette	SO	601	Hayward (NC)	--	21:52.6	7:17.5	8:43.3 (80)	14:08.4 (71)
71	Mende, Miriam	JR	519	Eureka (NC)	61	21:55.2	7:18.4	8:45.5 (81)	14:13.1 (75)
72	Sana, Ava Maria	SO	306	Carondelet (NC)	62	21:57.4	7:19.1	8:29.1 (63)	14:05.5 (67)
73	Garcia, Sarah	9	314	Casa Grande (NC)	63	22:05.4	7:21.8	8:40.4 (77)	14:16.5 (77)
74	Morthole, Cora **T	9	887	Montgomery (NC)	64	22:05.6	7:21.8	8:34.7 (69)	14:07.6 (70)
75	Morasch, Karris	JR	98	Analy (NC)	65	22:07.3	7:22.4	8:35.4 (70)	14:13.6 (76)
76	Avila, Tatiana	SR	94	Analy (NC)	66	22:08.5	7:22.8	8:56.1 (86)	14:31.0 (84)
77	Alvarenga, Stella	JR	308	Casa Grande (NC)	67	22:09.1	7:23.0	8:38.4 (75)	14:16.7 (78)
78	Johnson, Megan	9	1328	Windsor (NC)	--	22:09.4	7:23.1	8:36.1 (72)	14:08.8 (72)
79	McPretl, Aleshka	SO	967	Novato (NC)	--	22:10.0	7:23.3	8:36.8 (73)	14:08.9 (73)
80	Fields, Addison	SO	312	Casa Grande (NC)	68	22:10.3	7:23.4	8:40.5 (78)	14:17.0 (79)
81	Felix, Valeria	SO	303	Carondelet (NC)	69	22:17.6	7:25.8	8:35.9 (71)	14:22.5 (82)
82	Grimmett, Anna	SR	516	Eureka (NC)	70	22:19.9	7:26.6	8:54.4 (85)	14:39.1 (85)
83	Bowman, Chloe	JR	1238	Tamalpais (NC)	71	22:23.3	7:27.8	8:46.1 (82)	14:26.4 (83)
84	Felix, Alexandra	9	302	Carondelet (NC)	72	22:34.0	7:31.3	8:33.9 (68)	14:21.9 (81)
85	Baan, Julianna Zora	SO	176	Benicia (NC)	73	22:37.4	7:32.4	9:01.4 (88)	14:52.7 (87)
86	Lopez, Miranda	JR	719	Las Lomas (NC)	74	22:42.3	7:34.1	8:51.3 (83)	14:41.5 (86)
87	McCabe, Allison	SR	177	Benicia (NC)	75	22:43.4	7:34.4	9:02.8 (90)	14:53.9 (88)
88	Shic, Annabel	JR	723	Las Lomas (NC)	76	22:49.5	7:36.5	8:20.3 (50)	13:36.6 (49)
89	Putong, Angeline	SO	181	Benicia (NC)	77	23:06.5	7:42.2	9:02.9 (91)	14:56.8 (90)
90	Ugarte, Maya	SO	85	American Canyon (NC)	78	23:08.3	7:42.8	9:11.7 (94)	15:07.5 (92)
91	Weaver, Avery	SR	182	Benicia (NC)	79	23:12.7	7:44.2	9:27.4 (99)	15:18.7 (95)
92	Medeiros, Riley	SO	178	Benicia (NC)	80	23:14.7	7:44.9	9:02.7 (89)	14:56.2 (89)
93	Miller Garcia, Deyna	SO	180	Benicia (NC)	81	23:14.9	7:44.9	9:05.1 (92)	15:08.2 (93)
94	Mucho, Amanda	SR	1274	Ukiah (NC)	--	23:15.7	7:45.2	9:18.6 (95)	15:13.8 (94)
95	Piazza, Emma	JR	83	American Canyon (NC)	82	23:32.6	7:50.9	8:58.0 (87)	15:05.7 (91)
96	Choe, Emma	SO	1017	Piner (NC)	83	23:34.2	7:51.4	9:23.2 (98)	15:19.9 (96)
97	Ramirez Luna, Perla	SO	1019	Piner (NC)	84	23:40.8	7:53.6	9:36.0 (102)	15:42.0 (98)
98	Watanabe, Sayo	SR	521	Eureka (NC)	85	23:41.4	7:53.8	10:02.1 (108)	15:56.0 (105)
99	Garcia, Deisy	SO	1064	Rancho Cotate (NC)	--	23:44.6	7:54.9	9:22.4 (97)	15:34.4 (97)
100	Ricci, Emily	9	1066	Rancho Cotate (NC)	--	24:07.8	8:02.6	9:34.7 (101)	15:44.7 (101)
101	Vargas, Rikki **T	SO	889	Montgomery (NC)	86	24:10.6	8:03.5	9:07.4 (93)	15:44.0 (100)
102	Carvalho, Jessica	9	1030	Pinole Valley (NC)	87	24:14.3	8:04.7	9:50.6 (107)	15:51.6 (103)
103	Metzger, Kate	9	968	Novato (NC)	--	24:25.7	8:08.5	9:28.9 (100)	15:43.8 (99)
104	Le, Stacy	SO	1018	Piner (NC)	88	24:28.1	8:09.4	9:37.7 (103)	15:49.0 (102)
105	Fuerte, Ellaine	SO	80	American Canyon (NC)	89	24:44.4	8:14.8	9:41.6 (105)	16:00.2 (107)
106	Zaragoza, Isabela	SO	603	Hayward (NC)	--	24:54.0	8:18.0	9:43.9 (106)	15:55.5 (104)
107	Wong, Estella	SO	1243	Tamalpais (NC)	90	25:13.7	8:24.5	9:19.3 (96)	15:56.3 (106)
108	Kirsten, Neel	SR	517	Eureka (NC)	91	25:17.0	8:25.6	10:15.4 (110)	16:33.8 (109)
109	Sandoval, Ariadna	SO	602	Hayward (NC)	--	25:33.3	8:31.1	9:38.5 (104)	16:21.1 (108)
110	Tejada, Yanely	9	1020	Piner (NC)	92	25:34.3	8:31.4	10:20.4 (111)	16:50.1 (110)
111	Cornejo, Nataliah	JR	1031	Pinole Valley (NC)	93	25:44.3	8:34.8	10:13.7 (109)	16:52.5 (111)
112	Capelle, Eloise	SR	966	Novato (NC)	--	27:03.0	9:01.0	10:29.7 (113)	17:23.6 (112)
113	Walmsley, Gabrielle	SO	487	El Cerrito (NC)	--	27:10.4	9:03.5	10:45.0 (114)	17:43.6 (114)
114	Hernandez L, Briana	SR	81	American Canyon (NC)	94	27:16.9	9:05.6	10:29.7 (112)	17:23.7 (113)
115	Marquez Jimenez, Mirabel	SO	1034	Pinole Valley (NC)	95	28:09.6	9:23.2	10:59.4 (116)	18:41.3 (116)
116	Wildes, Hannah	SO	86	American Canyon (NC)	96	28:26.3	9:28.7	11:32.8 (119)	18:41.4 (117)
117	Armenta, Celina	JR	1029	Pinole Valley (NC)	97	28:48.7	9:36.2	10:59.4 (115)	18:41.3 (115)
118	Goncalves, Larissa	9	1032	Pinole Valley (NC)	98	29:10.3	9:43.4	11:30.0 (117)	18:44.1 (118)
119	Gonsalvez, Isabella	SO	1065	Rancho Cotate (NC)	--	30:12.1	10:04.0	11:33.5 (120)	19:28.4 (119)
120	Mendoza, Mia	9	1035	Pinole Valley (NC)	99	32:14.0	10:44.6	11:32.2 (118)	19:28.4 (120)
121	Lira, Hailey	SO	1033	Pinole Valley (NC)	100	32:54.2	10:58.0	12:01.7 (121)	20:36.0 (121)
122	Kawakami, Telorah	SR	82	American Canyon (NC)	101	42:52.6	14:17.5	16:25.9 (122)	27:40.4 (122)

Division IV
Final Standings	     Score	Scoring Order	        Total	Avg.	Spread
1	St. Marys (NC)	43	2-8-9-11-13(17)(18)	1:36:17	19:16	0:47.1
2	Archie Williams	56	1-4-5-15-31(38)(39)	1:36:21	19:17	2:18.1
3	Acalanes (NC)	109	3-16-21-33-36(42)(81)	1:40:06	20:02	1:52.2

4	Marin Catholic 	141	7-27-29-30-48(49)(72)	1:41:37	20:20	2:16.8
5	Albany (NC)	144	12-26-28-37-41(59)(66)	1:41:52	20:23	1:28.8
6	Miramonte (NC)	158	6-32-35-40-45(61)(62)	1:42:29	20:30	2:16.9
7	Arcata (NC)	171	14-24-43-44-46(50)(70)	1:43:30	20:42	1:42.2
8	Piedmont (NC)	186	10-23-47-51-55(57)(68)	1:44:09	20:50	2:20.8
9	Bishop ODowd 	250	20-25-53-58-94	        1:49:49	21:58	5:55.5
10	Justin-Siena 	294	19-60-67-73-75	        1:50:22	22:05	2:55.5
11	Encinal (NC)	314	22-56-76-77-83	        1:52:40	22:32	3:50.0
12	Moreau Catholic	346	52-69-71-74-80(84)(92)	1:53:52	22:47	2:14.1
13	Ygnacio Valley  360	54-64-65-88-89(93)	1:55:25	23:05	3:17.3
14	Hercules (NC)	387	63-78-79-82-85(87)(90)	1:57:23	23:29	2:12.2
15	San Marin (NC)	402	34-86-91-95-96	        2:04:02	24:49	6:40.2

Athlete	                Yr.	#	Team	      Score	Time	Avg. Mile	1.25 Miles	2 Miles
1	Searls, Renae	JR	44	Alhambra (NC)	--	17:53.9	5:58.0	7:15.5 (1)	11:42.0 (1)
2	Silversteinj, Alyssa 9	140	Archie Williams	1	18:17.2	6:05.7	7:37.9 (7)	12:09.1 (2)
3	Punz, Annika	JR	1229	St. Marys (NC)	2	18:47.2	6:15.7	7:32.8 (2)	12:11.1 (3)
4	Murphy, Nevis	9	3	Acalanes (NC)	3	18:48.2	6:16.1	7:37.9 (6)	12:20.0 (5)
5	Greenwald, Alexandra JR	138	Archie Williams	4	18:53.7	6:17.9	7:37.8 (5)	12:22.1 (7)
6	Stieg, Ani	9	141	Archie Williams	5	18:57.5	6:19.1	7:37.7 (4)	12:20.1 (6)
7	Bell, Grace	JR	843	Miramonte (NC)	6	18:58.8	6:19.6	7:37.6 (3)	12:19.9 (4)
8	Carr, Audrey	JR	808	Marin Catholic	7	19:01.2	6:20.4	7:42.5 (10)	12:38.5 (11)
9	Hedgspeth, Dylan SR	1224	St. Marys (NC)	8	19:11.7	6:23.9	7:51.8 (14)	12:41.8 (13)
10	Jackson, Milan	JR	1225	St. Marys (NC)	9	19:16.0	6:25.3	7:43.4 (11)	12:33.5 (9)
11	Best, Skylar	9	1002	Piedmont (NC)	10	19:24.3	6:28.1	7:45.2 (12)	12:36.5 (10)
12	Jackson, Sofia	SR	1226	St. Marys (NC)	11	19:27.4	6:29.1	7:41.7 (9)	12:40.3 (12)
13	Place, Kaia	JR	32	Albany (NC)	12	19:30.3	6:30.1	7:57.8 (16)	12:52.8 (15)

14	Lawson, Alexa	SO	1227	St. Marys (NC)	13	19:34.3	6:31.4	7:51.6 (13)	12:49.7 (14)
15	McGoldrick, Ai-Lan	SR	126	Arcata (NC)	14	19:35.7	6:31.9	8:02.7 (20)	12:57.6 (17)
16	Lee, Brooke	9	139	Archie Williams (NC)	15	19:37.4	6:32.5	8:07.7 (23)	13:01.0 (19)
17	Yee, Megan	JR	7	Acalanes (NC)	16	19:47.8	6:35.9	7:59.5 (17)	12:56.5 (16)
18	Goode, Leiah	SR	1223	St. Marys (NC)	17	19:54.4	6:38.1	8:02.8 (21)	13:02.2 (20)
19	Carmona, Annie	SO	1260	Terra Linda (NC)	--	20:01.2	6:40.4	8:00.6 (18)	13:03.5 (21)
20	Li-Chou, Jing	SO	1228	St. Marys (NC)	18	20:05.9	6:42.0	8:07.1 (22)	13:11.4 (23)
21	Smit, Lea	JR	697	Justin-Siena (NC)	19	20:06.3	6:42.1	8:21.9 (36)	13:18.7 (28)
22	Owsley, Ella	SR	548	Fortuna (NC)	--	20:07.8	6:42.6	8:18.5 (31)	13:18.1 (27)
23	Jarosz, Anna	9	227	Bishop ODowd (NC)	20	20:09.1	6:43.0	8:07.8 (24)	13:11.8 (24)
24	McCormick, Cathryn	9	2	Acalanes (NC)	21	20:11.6	6:43.9	8:18.3 (30)	13:19.4 (29)
25	Shafer, Katelyn	SO	507	Encinal (NC)	22	20:12.9	6:44.3	8:01.2 (19)	13:10.2 (22)
26	Chun, Cora	9	1003	Piedmont (NC)	23	20:13.2	6:44.4	8:19.4 (32)	13:17.6 (25)
27	Thompson, Alauna	SR	127	Arcata (NC)	24	20:14.8	6:44.9	8:24.3 (44)	13:26.0 (36)
28	King, Lucy	9	229	Bishop ODowd (NC)	25	20:16.1	6:45.4	8:22.2 (37)	13:24.9 (34)
29	Frank, Mattea	SO	30	Albany (NC)	26	20:17.5	6:45.8	8:23.6 (42)	13:19.9 (31)
30	Wallenstrom, Lucy	SR	814	Marin Catholic (NC)	27	20:17.8	6:45.9	8:17.6 (29)	13:23.2 (32)
31	Nordenholz, Audrey	SO	31	Albany (NC)	28	20:21.4	6:47.1	8:22.6 (38)	13:19.7 (30)
32	McConneloug, Katie	9	812	Marin Catholic (NC)	29	20:25.0	6:48.3	8:17.4 (28)	13:23.3 (33)
33	Lee, Eloise	SO	811	Marin Catholic (NC)	30	20:34.7	6:51.6	8:13.9 (26)	13:25.1 (35)
34	Adams, Jane	JR	135	Archie Williams (NC)	31	20:35.3	6:51.8	8:21.1 (34)	13:27.2 (37)
35	Schmitt, Zoe	SO	847	Miramonte (NC)	32	20:37.1	6:52.3	8:24.0 (43)	13:35.4 (44)
36	Gehrig, Nina	JR	1	Acalanes (NC)	33	20:37.7	6:52.6	8:21.1 (35)	13:28.1 (38)
37	Hansen, Grace-May	JR	1151	San Marin (NC)	34	20:39.0	6:53.0	8:09.2 (25)	13:17.8 (26)
38	Bevacqua, Sasha	9	844	Miramonte (NC)	35	20:40.4	6:53.4	8:23.6 (41)	13:35.3 (43)
39	Powell, Cameron	SO	5	Acalanes (NC)	36	20:40.4	6:53.5	8:24.9 (47)	13:34.7 (42)
40	Tretriluxana, Natalie	SR	35	Albany (NC)	37	20:43.4	6:54.4	8:24.8 (46)	13:36.0 (45)
41	Sevier, Alana	SR	383	Concord (NC)	--	20:46.2	6:55.4	8:26.2 (48)	13:37.2 (46)
42	Carlson, Dylan	JR	137	Archie Williams (NC)	38	20:49.0	6:56.3	8:16.7 (27)	13:32.0 (39)
43	Austen, Eliza	JR	136	Archie Williams (NC)	39	20:51.2	6:57.0	8:22.8 (39)	13:34.5 (41)
44	Jardine, Alana	9	846	Miramonte (NC)	40	20:57.3	6:59.1	8:44.3 (63)	13:54.0 (51)
45	Reinhardt, Hailey	9	33	Albany (NC)	41	20:59.1	6:59.7	8:40.3 (56)	13:44.9 (48)
46	Sutherland, Charlotte	SO	6	Acalanes (NC)	42	20:59.5	6:59.8	8:24.7 (45)	13:44.8 (47)
47	Ducate, Gabrielle	JR	123	Arcata (NC)	43	21:10.5	7:03.5	8:19.5 (33)	13:33.4 (40)
48	Cunningham, Lillian	SO	121	Arcata (NC)	44	21:11.0	7:03.6	8:39.6 (54)	13:57.2 (52)
49	Inesi, Inara	9	845	Miramonte (NC)	45	21:15.6	7:05.2	8:23.3 (40)	13:47.8 (49)
50	Martin, Emma	JR	125	Arcata (NC)	46	21:17.8	7:05.9	8:40.6 (57)	13:57.7 (53)
51	Schwarz, Jamie	JR	1006	Piedmont (NC)	47	21:17.9	7:05.9	7:52.3 (15)	12:59.9 (18)
52	Ryan, Lucy	SO	813	Marin Catholic (NC)	48	21:17.9	7:06.0	8:32.6 (50)	13:52.3 (50)
53	Kennedy, Megan	SR	810	Marin Catholic (NC)	49	21:23.6	7:07.9	8:37.3 (51)	14:02.4 (55)
54	Dorfliger, Debi	SR	122	Arcata (NC)	50	21:24.7	7:08.2	8:40.9 (59)	14:05.5 (57)
55	Kwong, Elia	9	1005	Piedmont (NC)	51	21:28.6	7:09.5	8:38.5 (52)	13:58.9 (54)
56	Valle, Eliana	JR	903	Moreau Catholic (NC)	52	21:30.9	7:10.3	8:39.4 (53)	14:07.3 (58)
57	Camacho, Sierra	SR	226	Bishop ODowd (NC)	53	21:31.4	7:10.5	8:40.2 (55)	14:09.0 (59)
58	Donovan-Stauder, Sheridan	SR	1340	Ygnacio Valley (NC)	54	21:32.9	7:11.0	8:40.7 (58)	14:04.3 (56)
59	Yasar, Ella	SO	1008	Piedmont (NC)	55	21:45.1	7:15.0	9:03.2 (80)	14:23.5 (69)
60	Dieter-Weisman, Wren	9	503	Encinal (NC)	56	21:45.6	7:15.2	9:14.3 (84)	14:33.7 (76)
61	Greene, Amina	9	1004	Piedmont (NC)	57	21:45.7	7:15.2	8:41.8 (61)	14:11.6 (62)
62	Wong, Tej	SO	230	Bishop ODowd (NC)	58	21:47.6	7:15.9	8:45.9 (64)	14:14.3 (63)
63	Renger, Kinley	JR	34	Albany (NC)	59	21:49.9	7:16.6	8:48.9 (66)	14:17.6 (64)
64	Fernandez, Isabella	9	694	Justin-Siena (NC)	60	21:51.4	7:17.1	8:53.7 (71)	14:18.6 (65)
65	Crosswhite, Gabriella	JR	546	Fortuna (NC)	--	21:53.2	7:17.7	8:41.0 (60)	14:09.9 (60)
66	Hisquierdo, Alexia	SR	43	Alhambra (NC)	--	21:57.4	7:19.1	8:56.1 (73)	14:27.9 (70)
67	Adler, Teia	9	841	Miramonte (NC)	61	22:00.0	7:20.0	8:46.4 (65)	14:19.3 (66)
68	Pappas, Victoria	SO	1264	Terra Linda (NC)	--	22:00.9	7:20.3	8:29.8 (49)	14:11.4 (61)
69	Anagnost, Eloise	SR	842	Miramonte (NC)	62	22:04.3	7:21.4	8:52.3 (70)	14:28.5 (71)
70	Khuu, Laura	JR	641	Hercules (NC)	63	22:05.0	7:21.7	9:04.7 (82)	14:32.5 (73)
71	McCarthy, Kai	JR	1263	Terra Linda (NC)	--	22:07.9	7:22.6	9:02.1 (78)	14:32.4 (72)
72	Fulsom, Laniya	SR	1341	Ygnacio Valley (NC)	64	22:10.0	7:23.3	8:51.4 (67)	14:22.1 (68)
73	Castro, Amanda	SR	1337	Ygnacio Valley (NC)	65	22:11.9	7:24.0	8:42.4 (62)	14:20.5 (67)
74	Dietz, Skya	SR	29	Albany (NC)	66	22:16.4	7:25.5	8:54.4 (72)	14:32.8 (74)
75	Loose, Abigail	9	695	Justin-Siena (NC)	67	22:22.2	7:27.4	8:56.7 (74)	14:33.4 (75)
76	Bordelon, Camille	SO	379	Concord (NC)	--	22:35.8	7:31.9	8:52.0 (68)	14:33.9 (77)
77	Taylor, Caroline	SO	1007	Piedmont (NC)	68	22:37.9	7:32.6	9:03.4 (81)	14:38.4 (79)
78	Imura, Bella	JR	899	Moreau Catholic (NC)	69	22:42.5	7:34.2	8:57.7 (76)	14:43.2 (80)
79	King, Frida	JR	124	Arcata (NC)	70	22:48.0	7:36.0	9:00.6 (77)	14:50.3 (83)
80	Cotten, Sadie	9	897	Moreau Catholic (NC)	71	22:51.4	7:37.1	9:02.4 (79)	14:45.5 (81)
81	Holmes, Tiana	SO	381	Concord (NC)	--	22:52.5	7:37.5	8:52.1 (69)	14:34.5 (78)
82	Schaefer, Mimi	JR	809	Marin Catholic (NC)	72	22:53.1	7:37.7	8:57.1 (75)	14:48.1 (82)
83	dominguez, lily	SO	693	Justin-Siena (NC)	73	22:59.7	7:39.9	9:28.8 (90)	15:14.4 (86)
84	Interiano, Catalina	JR	900	Moreau Catholic (NC)	74	23:01.5	7:40.5	9:08.6 (83)	14:59.4 (84)
85	Kling, Anna	SO	696	Justin-Siena (NC)	75	23:01.7	7:40.6	9:28.8 (91)	15:15.0 (89)
86	Tramel, Cadence	SO	508	Encinal (NC)	76	23:10.9	7:43.6	9:16.1 (86)	15:06.6 (85)
87	Dombroski, Vivian	JR	1261	Terra Linda (NC)	--	23:27.1	7:49.0	9:25.7 (89)	15:18.6 (90)
88	Luo, Ava	9	505	Encinal (NC)	77	23:27.8	7:49.2	9:39.1 (98)	15:31.2 (92)
89	Giang, Jayme	SR	640	Hercules (NC)	78	23:29.1	7:49.7	9:17.7 (87)	15:14.9 (87)
90	Lewis, Stella	SO	547	Fortuna (NC)	--	23:32.3	7:50.7	9:15.3 (85)	15:14.9 (88)
91	Abughosh, Jenna	9	638	Hercules (NC)	79	23:36.6	7:52.2	9:35.6 (97)	15:33.3 (95)
92	Ng, Jasmine	9	901	Moreau Catholic (NC)	80	23:45.0	7:55.0	9:17.8 (88)	15:22.1 (91)
93	Poole, Sadie	SO	4	Acalanes (NC)	81	23:47.7	7:55.9	9:29.5 (92)	15:31.7 (93)
94	Lacanlale, Raquel	SO	642	Hercules (NC)	82	23:55.2	7:58.4	9:35.1 (96)	15:32.6 (94)
95	Hernandez, Adaysia	9	504	Encinal (NC)	83	24:02.9	8:00.9	9:42.4 (99)	15:41.0 (96)
96	Turlapati, Ankita	9	902	Moreau Catholic (NC)	84	24:09.1	8:03.0	9:30.5 (93)	15:41.1 (97)
97	Montalvo, Calista	JR	643	Hercules (NC)	85	24:17.2	8:05.7	9:31.7 (94)	15:41.1 (98)
98	Jacobs, Haylie	SR	382	Concord (NC)	--	24:19.1	8:06.3	9:50.8 (104)	15:58.1 (102)
99	Kancharla, Manvitha	JR	1153	San Marin (NC)	86	24:31.9	8:10.6	9:45.1 (101)	15:53.9 (99)
100	Solis, Haley	SR	644	Hercules (NC)	87	24:36.5	8:12.2	9:43.2 (100)	15:57.1 (101)
101	McKnight, Claire	JR	1343	Ygnacio Valley (NC)	88	24:39.8	8:13.3	10:10.1 (109)	16:25.3 (107)
102	Cuellar, Giselle	SR	1339	Ygnacio Valley (NC)	89	24:50.2	8:16.7	10:04.7 (107)	16:23.0 (105)
103	Fesseha, Romina	JR	639	Hercules (NC)	90	25:04.3	8:21.4	9:50.0 (103)	16:15.0 (103)
104	Baird, Fame	JR	545	Fortuna (NC)	--	25:16.5	8:25.5	9:32.5 (95)	16:18.8 (104)
105	Woloszynek, Madi	FR	1152	San Marin (NC)	91	25:20.0	8:26.7	9:49.7 (102)	15:54.3 (100)
106	Eberly, Julia-Marie	9	898	Moreau Catholic (NC)	92	25:44.1	8:34.7	10:05.8 (108)	16:38.8 (109)
107	Gonzalez, Lisbeth	JR	1342	Ygnacio Valley (NC)	93	25:56.2	8:38.7	10:43.2 (110)	17:12.0 (110)
108	Keating, Chloe	9	228	Bishop ODowd (NC)	94	26:04.6	8:41.5	7:39.7 (8)	12:22.7 (8)
109	Divakar, Disha	SO	1150	San Marin (NC)	95	26:11.2	8:43.7	10:02.6 (106)	16:36.3 (108)
110	Dean, Quincy	SO	1149	San Marin (NC)	96	27:19.1	9:06.4	9:51.3 (105)	16:24.6 (106)

Division V
Final Standings	                     Score	Scoring Order	        Total	Avg.	Spread
1	San Francisco University (NC)	59	6-7-10-17-19(30)(34)	1:35:28	19:06	0:33.6
2	Convent & Stuart Hall (NC)	83	2-9-16-25-31(41)(73)	1:35:56	19:12	2:01.7
3	Lick Wilmerding (NC)	        107	3-21-26-28-29(32)(38)	1:37:13	19:27	1:36.5
4	College Preparatory School (NC)	153	8-22-23-44-56(63)(81)	1:42:17	20:28	3:39.6
5	Athenian (NC)	                157	14-15-35-36-57(58)(83)	1:42:24	20:29	3:21.6

6	San Domenico (NC)	        165	12-18-33-37-65	        1:42:36	20:32	3:59.6
7	Urban of San Francisco (NC)	194	13-27-48-52-54(60)(72)	1:44:46	20:58	2:55.1
8	Bay School of San Francisco 	201	4-5-50-55-87	        1:46:45	21:21	6:57.0
9	Branson (NC)	                206	1-24-47-64-70	        1:46:12	21:15	5:53.5
10	St. Joseph Notre Dame (NC)	233	20-39-53-59-62(68)	1:47:59	21:36	3:31.4
11	Head Royce (NC)	                288	42-49-51-71-75(89)	1:53:07	22:38	2:50.5
12	Cardinal Newman (NC)	        292	11-61-69-74-77(82)(88)	1:54:13	22:51	5:19.1
13	Bentley Upper School (NC)	320	40-45-76-79-80	        1:55:58	23:12	3:28.2
14	Marin Academy (NC)	        338	43-46-78-85-86	        1:57:54	23:35	4:10.2
15	Oakland Military Institute (NC)	398	66-67-84-90-91(92)	2:13:19	26:40	7:54.9

Athlete	                 Yr.	#	Team	     Score	        Time	Avg. Mile 1.25 Miles	2 Miles
1	Johnson, Adeline SR	240	Branson (NC)	1	        17:58.5	5:59.5	7:28.7 (1)	12:01.9 (1)
2	Faidi, Sienna	SO	403	Convent & Stuart Hall 	2	17:58.7	5:59.6	7:29.5 (4)	12:02.3 (3) 
3	Maltz, Amelie	--	752	Lick Wilmerding (NC)	3	18:15.5	6:05.1	7:29.1 (3)	12:02.2 (2) 
4	Krummel, Elsa	JR	165	Bay School of San Francisco 4	18:32.0	6:10.6	7:36.8 (7)	12:12.1 (5) 
5	Removed by request
6	Peterson, Lucy	SO	167	Bay School of San Francisco 5	18:42.8	6:14.2	7:41.1 (11)	12:24.3 (8) 
7	Laughlin, Lucinda JR	1117	San Francisco University    6	18:48.6	6:16.2	7:46.9 (17)	12:25.8 (10) 
8	Giles, Mia	SR	1115	San Francisco University    7	18:53.6	6:17.9	7:46.9 (16)	12:27.5 (11)
9	Green, Talia	JR	367	College Preparatory School 8	18:55.3	6:18.4	7:29.0 (2)	12:18.5 (6) 
10	Abernethy, Karina JR	400	Convent & Stuart Hall (NC) 9	18:56.7	6:18.9	7:43.2 (13)	12:24.4 (9) 
11	Nichol, Sophia	9	1118	San Francisco University  10	19:06.3	6:22.1	7:57.9 (22)	12:43.2 (20) 
12	Brunetti, Siena	SR	289	Cardinal Newman (NC)	11	19:06.8	6:22.2	7:32.0 (6)	12:22.1 (7)

13	Ballard, Hayley	SR	1101	San Domenico (NC)	12	19:09.6	6:23.2	7:42.3 (12)	12:32.8 (12)
14	Sparks, Page	JR	1287	Urban of San Francisco (NC)	13	19:09.9	6:23.3	7:49.3 (20)	12:37.6 (16)
15	Clulow, Frances	SO	150	Athenian (NC)	14	19:13.7	6:24.5	7:40.7 (10)	12:34.1 (14)
16	Williams, Eme	9	155	Athenian (NC)	15	19:13.8	6:24.6	7:40.1 (9)	12:33.3 (13)
17	Kenny, Deirdre	JR	405	Convent & Stuart Hall (NC)	16	19:15.0	6:25.0	7:48.9 (18)	12:43.4 (21) x
18	King, Chapel	SO	1116	San Francisco University (NC)	17	19:17.1	6:25.7	7:58.4 (24)	12:46.5 (22) x
19	Joyce, Quinn	JR	1103	San Domenico (NC)	18	19:19.4	6:26.4	7:44.8 (14)	12:36.1 (15)
20	Wadsworth, Erin	SR	1121	San Francisco University (NC)	19	19:22.1	6:27.4	7:58.6 (26)	12:47.0 (23)
21	Chan, Nicole	SR	1211	St. Joseph Notre Dame (NC)	20	19:23.3	6:27.8	7:49.0 (19)	12:42.6 (19)
22	Lee, Saskia	SO	751	Lick Wilmerding (NC)	21	19:28.6	6:29.5	8:02.9 (31)	12:51.8 (25)
23	Garrity, Hannah	JR	350	Clear Lake (NC)	--	19:35.2	6:31.7	7:38.7 (8)	12:40.5 (17)
24	Beltran, Maia	SR	365	College Preparatory School (NC)	22	19:40.9	6:33.6	7:46.0 (15)	12:40.9 (18)
25	Maguire, Adelaide	JR	369	College Preparatory School (NC)	23	19:42.2	6:34.0	7:58.5 (25)	12:57.7 (31)
26	Polsky, Alexa	SR	244	Branson (NC)	24	19:42.3	6:34.1	7:59.5 (27)	12:52.8 (26)
27	Brockway, Phoebe	SO	401	Convent & Stuart Hall (NC)	25	19:45.3	6:35.1	7:58.2 (23)	12:56.4 (28)
28	Howe, Julia	9	750	Lick Wilmerding (NC)	26	19:45.5	6:35.1	7:55.4 (21)	12:51.6 (24)
29	Mei Ong, Natasha	SR	1285	Urban of San Francisco (NC)	27	19:46.3	6:35.4	8:02.7 (30)	12:54.2 (27)
30	Choi, Nora	JR	747	Lick Wilmerding (NC)	28	19:51.4	6:37.1	8:02.5 (28)	12:57.3 (30)
31	Hoey, Mira	JR	749	Lick Wilmerding (NC)	29	19:52.0	6:37.3	8:02.6 (29)	12:57.2 (29)
32	Sappenfield, Alice	SR	1119	San Francisco University (NC)	30	19:59.4	6:39.8	8:25.9 (45)	13:21.8 (34)
33	Carpenter, Annika	SO	402	Convent & Stuart Hall (NC)	31	20:00.4	6:40.1	8:15.1 (34)	13:11.1 (32)
34	Schumer, Ella	SO	753	Lick Wilmerding (NC)	32	20:00.7	6:40.2	8:19.7 (39)	13:21.9 (35)
35	Pyzer, Nicole	SR	832	Middletown (NC)	--	20:12.6	6:44.2	8:11.3 (33)	13:13.9 (33)
36	Elias, Veronika	9	1102	San Domenico (NC)	33	20:15.0	6:45.0	8:19.1 (38)	13:25.6 (36)
37	Trebotich, Annabelle	SO	205	Berean Christian (NC)	--	20:20.5	6:46.8	8:26.1 (48)	13:29.8 (38)
38	Smit, Finny	9	1120	San Francisco University (NC)	34	20:26.6	6:48.8	8:26.1 (49)	13:28.0 (37)
39	Riebli, Analise	9	152	Athenian (NC)	35	20:39.8	6:53.3	8:18.3 (36)	13:31.0 (40)
40	Riebli, Ella	JR	153	Athenian (NC)	36	20:41.1	6:53.7	8:18.3 (35)	13:34.7 (43)
41	Silverstien, Maple	JR	1107	San Domenico (NC)	37	20:42.2	6:54.0	8:30.8 (53)	13:41.9 (44)
42	Wiley, Samantha	FR	748	Lick Wilmerding (NC)	38	20:44.8	6:54.9	8:24.0 (41)	13:34.5 (42)
43	Kam, Sarah	JR	1199	Sonoma Academy (NC)	--	20:51.1	6:57.0	8:06.1 (32)	13:30.7 (39)
44	Jauergui, Izabella	SO	1214	St. Joseph Notre Dame (NC)	39	20:55.6	6:58.5	8:18.5 (37)	13:33.1 (41)
45	Ashby, Abigail	SO	190	Bentley Upper School (NC)	40	21:07.2	7:02.4	8:24.4 (43)	13:46.0 (45)
46	Kenny, Fiona	9	406	Convent & Stuart Hall (NC)	41	21:09.5	7:03.2	8:24.2 (42)	13:48.0 (46)
47	Jefferson, Avery	9	613	Head Royce (NC)	42	21:13.7	7:04.6	8:25.6 (44)	13:55.2 (50)
48	Bergholt, Isabelle	9	794	Marin Academy (NC)	43	21:14.1	7:04.7	8:35.8 (55)	13:56.6 (52)
49	Jung, Emily	SO	368	College Preparatory School (NC)	44	21:23.1	7:07.7	8:30.1 (52)	13:55.4 (51)
50	Glenn, Ally	SR	1198	Sonoma Academy (NC)	--	21:24.9	7:08.3	8:26.1 (47)	13:58.9 (54)
51	Kenney, Angelina	SR	192	Bentley Upper School (NC)	45	21:26.0	7:08.7	8:26.8 (51)	13:51.6 (47)
52	Leikin, Raya	SO	798	Marin Academy (NC)	46	21:29.4	7:09.8	8:35.4 (54)	13:56.8 (53)
53	Erdosi-Szucs, Veronika	SR	1251	Technology (NC)	--	21:31.1	7:10.4	8:26.6 (50)	14:05.4 (55)
54	Crawford, Katya	SR	239	Branson (NC)	47	21:31.5	7:10.5	8:25.9 (46)	13:52.5 (48)
55	Klein, Cammie	SO	414	Credo (NC)	--	21:39.5	7:13.1	8:22.4 (40)	13:55.1 (49)
56	Ye, Linda	JR	1288	Urban of San Francisco (NC)	48	21:44.5	7:14.8	8:38.9 (57)	14:08.6 (56)
57	Levy, Ashley	9	615	Head Royce (NC)	49	21:53.4	7:17.8	8:50.0 (62)	14:20.2 (57)
58	Andrzejek, Claire	9	163	Bay School of San Francisco (NC)	50	21:55.8	7:18.6	8:45.0 (58)	14:22.1 (60)
59	Baird, Ai-li	SR	611	Head Royce (NC)	51	21:58.8	7:19.6	9:01.2 (70)	14:22.8 (61)
60	Delen, Izzy	SR	1282	Urban of San Francisco (NC)	52	22:00.6	7:20.2	8:37.8 (56)	14:20.4 (58)
61	Barrantes, Luisa	JR	1210	St. Joseph Notre Dame (NC)	53	22:04.3	7:21.4	8:49.8 (61)	14:26.8 (63)
62	Marchiel, Dylan	JR	1284	Urban of San Francisco (NC)	54	22:05.0	7:21.6	8:50.7 (63)	14:22.9 (62)
63	Malloy, Coco	SO	166	Bay School of San Francisco (NC)	55	22:05.5	7:21.8	8:47.3 (59)	14:21.9 (59)
64	Roberts, Katelyn	9	370	College Preparatory School (NC)	56	22:34.9	7:31.6	8:59.8 (67)	14:36.8 (64)
65	Dameron, Hannah	9	151	Athenian (NC)	57	22:35.2	7:31.7	9:00.3 (69)	14:48.7 (68)
66	Sandhu, Anna	9	154	Athenian (NC)	58	22:35.8	7:31.9	8:59.9 (68)	14:48.8 (69)
67	Lopez, Daniela	9	1215	St. Joseph Notre Dame (NC)	59	22:40.7	7:33.6	9:06.9 (72)	14:52.6 (70)
68	Barriga, Issy	JR	830	Middletown (NC)	--	22:50.5	7:36.8	9:02.4 (71)	14:47.7 (66)
69	Hoe, Dawson	SR	1283	Urban of San Francisco (NC)	60	22:53.0	7:37.7	9:14.7 (75)	14:59.7 (72)
70	Dickey-Blanco, Andrea	SO	291	Cardinal Newman (NC)	61	22:53.8	7:37.9	9:10.2 (73)	14:59.1 (71)
71	Cox, Amber	JR	1213	St. Joseph Notre Dame (NC)	62	22:54.6	7:38.2	9:34.5 (83)	15:18.5 (79)
72	Salvekar, Nalini	SR	371	College Preparatory School (NC)	63	23:00.0	7:40.0	8:49.7 (60)	14:41.5 (65)
73	Barriga, Caterina	SO	829	Middletown (NC)	--	23:01.8	7:40.6	8:56.5 (65)	14:47.7 (67)
74	Macy, Paige	SO	242	Branson (NC)	64	23:07.5	7:42.5	9:25.0 (79)	15:18.0 (78)
75	Kuzma, Sophia	9	1104	San Domenico (NC)	65	23:09.2	7:43.1	8:55.0 (64)	15:02.1 (73)
76	DiazVelazquez, Darlin	SO	978	Oakland Military Institute (NC)	66	23:10.2	7:43.4	9:27.8 (81)	15:09.2 (75)
77	Cao, Vicki	SR	977	Oakland Military Institute (NC)	67	23:12.7	7:44.2	9:27.7 (80)	15:10.7 (76)
78	Jackson, Julia	JR	666	Hoopa Valley (NC)	--	23:18.6	7:46.2	9:11.7 (74)	15:05.7 (74)
79	Corral, Isabella	JR	1212	St. Joseph Notre Dame (NC)	68	23:31.2	7:50.4	9:24.4 (78)	15:20.9 (80)
80	Chen, Rachel	SO	290	Cardinal Newman (NC)	69	23:44.4	7:54.8	9:33.1 (82)	15:32.0 (82)
81	Kushelevsky, Elizabeth	SR	241	Branson (NC)	70	23:51.9	7:57.3	9:38.7 (89)	15:37.9 (84)
82	Hattendorf, Stella	JR	612	Head Royce (NC)	71	23:57.1	7:59.0	8:58.1 (66)	15:14.0 (77)
83	Hayward, Amelia	SR	1286	Urban of San Francisco (NC)	72	23:58.5	7:59.5	9:45.5 (94)	16:03.4 (96)
84	Gallagher, Grace	JR	404	Convent & Stuart Hall (NC)	73	23:59.5	7:59.8	9:21.2 (77)	15:30.0 (81)
85	Estrada, Lucia	SR	292	Cardinal Newman (NC)	74	24:02.3	8:00.8	9:18.2 (76)	15:34.6 (83)
86	Kadlic, Anika	9	614	Head Royce (NC)	75	24:04.2	8:01.4	9:40.8 (91)	15:57.6 (90)
87	McComas, Holly	9	831	Middletown (NC)	--	24:04.9	8:01.6	9:36.0 (88)	15:41.9 (85)
88	Amaya, Jayda	JR	200	Berean Christian (NC)	--	24:06.4	8:02.1	9:50.9 (99)	15:55.9 (89)
89	Mielcarski, Sydney	SO	193	Bentley Upper School (NC)	76	24:14.5	8:04.8	9:40.2 (90)	15:54.1 (88)
90	Zheng, Kareena	9	1252	Technology (NC)	--	24:15.1	8:05.0	9:34.9 (84)	15:44.0 (86)
91	Jones, Ava	SO	294	Cardinal Newman (NC)	77	24:25.8	8:08.6	9:53.6 (100)	15:59.4 (93)
92	Bokser, Elizabeth	SO	795	Marin Academy (NC)	78	24:31.7	8:10.6	9:35.3 (86)	15:58.7 (91)
93	FELDHAMMER, Ruth	9	191	Bentley Upper School (NC)	79	24:34.3	8:11.4	9:48.6 (96)	16:02.1 (94)
94	Salazar, Nicole	SO	194	Bentley Upper School (NC)	80	24:35.3	8:11.8	9:48.9 (97)	16:02.4 (95)
95	Campbell, Aurora	SO	366	College Preparatory School (NC)	81	24:45.2	8:15.1	9:36.0 (87)	15:53.8 (87)
96	Jovanovski, Emma-Marija	JR	295	Cardinal Newman (NC)	82	24:47.9	8:16.0	10:08.7 (106)	16:38.7 (105)
97	Moncher, Ellie	SR	203	Berean Christian (NC)	--	25:01.4	8:20.5	10:06.6 (103)	16:29.4 (101)
98	Andersen, Fia	JR	149	Athenian (NC)	83	25:10.1	8:23.4	9:45.0 (93)	16:13.8 (97)
99	Tam, Cammy	SO	395	Contra Costa Christian (NC)	--	25:11.9	8:23.9	9:48.5 (95)	16:21.3 (99)
100	Tran, Jennifer	JR	980	Oakland Military Institute (NC)	84	25:12.9	8:24.3	10:10.2 (107)	16:19.9 (98)
101	Brakebill, Kelsey	SO	796	Marin Academy (NC)	85	25:14.1	8:24.7	9:35.2 (85)	15:58.9 (92)
102	Moshashaee, Mona	SO	799	Marin Academy (NC)	86	25:24.2	8:28.1	9:43.5 (92)	16:25.1 (100)
103	Costa, Meera	9	164	Bay School of San Francisco (NC)	87	25:28.9	8:29.6	10:07.1 (104)	16:38.6 (104)
104	Freeman, Ava	SR	293	Cardinal Newman (NC)	88	25:34.1	8:31.3	10:01.2 (102)	16:36.3 (103)
105	Trebilcock, Maggie	SR	630	Healdsburg (NC)	--	25:39.3	8:33.1	10:13.4 (110)	16:46.6 (107)
106	Anderson, Sierra	SO	625	Healdsburg (NC)	--	25:40.5	8:33.5	10:13.2 (109)	16:46.6 (106)
107	Brock, Geneva	SO	266	California School for the Deaf	--	25:51.7	8:37.2	10:11.8 (108)	16:56.2 (109)
108	Sobehrad, Emma	JR	822	McKinleyville (NC)	--	25:55.5	8:38.5	10:33.7 (112)	17:17.2 (110)
109	Malan, Elena	9	616	Head Royce (NC)	89	26:00.7	8:40.2	10:07.4 (105)	16:35.9 (102)
110	Ray, Sunny	SR	204	Berean Christian (NC)	--	26:04.1	8:41.3	9:59.5 (101)	16:47.3 (108)
111	Ghuloum, Juliet	SO	461	Drew Prep (NC)	--	26:56.0	8:58.6	10:37.8 (113)	17:17.7 (111)
112	Gomez Suriano, Carolina	JR	1092	Roseland Collegiate Prep	--	27:10.3	9:03.4	11:14.7 (114)	17:45.1 (112)
113	Khmelnitskiy, Sasha	9	568	Fremont Christian (NC)	--	27:33.7	9:11.2	10:21.8 (111)	17:45.9 (113)
114	Scott, Brenna	JR	628	Healdsburg (NC)	--	28:21.3	9:27.1	11:21.9 (115)	18:00.5 (114)
115	Urquijo, Xaire	9	981	Oakland Military Institute (NC)	90	30:38.2	10:12.7	11:44.5 (116)	20:18.2 (115)
116	Sam, Racheal	SO	979	Oakland Military Institute (NC)	91	31:05.0	10:21.7	11:45.7 (117)	20:20.2 (116)
117	BenavidesCamacho, Emely	SO	976	Oakland Military Institute (NC)	92	33:33.9	11:11.3	13:14.3 (118)	21:39.8 (117)

POST SEASON CHAMPIONS


Past Results 2021, 2019, 2018 2017 2016 2015 2014 2013 2012 2011 2010  2009  2008  2007  2006  2005  2004  2003  2002  2001 2000-1954