The 2023 season would have been Cocome McKamey's senior year at Santa Rosa High but she opted to graduate early and is now competing for Humboldt State.
McKamey could do it all for the Panthers and is now a Heptathlete for Humboldt State.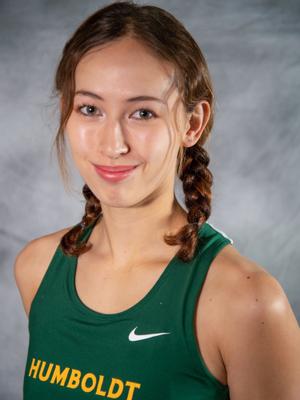 On April 7th she competed in the Stanislaus State Multi meet and placed 4th with a score of 4276 points.
The points may not mean much to you but check out how she scored them in the two day event.
Day 1
100HH 16.19 +1.0
High Jump 5-01
Shot Put 34-00.75
200 26.90 +1.2
Day 2
Long Jump 16-11.25
Javelin 71-05
800 2:28.77
Her performance over the weekend also vaulted her to seventh all-time on the Humboldt school record list and currently ranks her first in the CCAA.
This year she has also run a 13.19 +0.6 100, 2:24.14 800, 15.89 +1.6 100HH, 18-1 Long Jump, 72-9.25 Javelin.
The CCAA Conference Championships will be held May 4-6.
McKamey was a first team All-Empire honoree last season.
Cocome McKamey, 11, Santa Rosa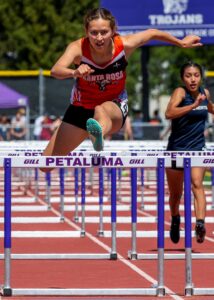 Long Jump
1st Eddie Hart 18-4
1st NCS Redwood 17-10
1st Viking Classic 17-8.75
1st NBL 17-3
2nd Stanford 17-9.75
6th NCS MOC 17-10.75 +1.5
18-4 1st '22, 4th All-Time
Triple Jump
1st Eddie Hart 36-0.5
1st NBL 35-4.5
3rd NCS Redwood 35-10
7th NCS MOC 36-00.25 +0.0
36-00.5 1st '22, =14th All-Time, =8th Junior, 36-00.25 +0.0 2nd AT Legal
100HH
1st NCS Redwood 15.23 +2.3
1st Golden West Invitational 15.35 +1.5
1st Viking Classic 15.45 +2.9
1st NBL 15.56 -2.0
1st Eddie Hart 16.44
15.23 +2.3 1st '22, 7th All-Time, 15.25 +2.0 4th AT Legal, 5th AT Junior
300LH
1st Viking Classic 47.01
1st Eddie Hart 47.28
1st Big Cat 47.88
47.01 3rd '22, =31st All-Time
High Jump
1st 5-3 AAU Heptathlon
1st Big Cat 5-2
1st Tim Bruder Relays 5-2
=5th Stanford 4-11
5-3 1st '22, =27th All-Time
200
26.79 +0.6, =47th All-Time wind legal
100
12.74+
Heptathlon
1st AAU West Coast Championship 4034 pts, 3rd All-Time Pentathlon
400 Relay
51.63 5th '22
1600 Relay
1st Castro Valley Invit 4:05.39, split 60.5
1st NBL 4:06.58, split 62.1
1st NCS Redwood 4:07.97
1st Viking Classic 4:14.49, split 66
5th Stanford 4:06.11, split 60.9
4:04.68 1st '22, split 62.8, 35th All-Time
Sprint Medley Relay
1st Tim Bruder Relays 1:55.45