State qualifying meets always bring such joy and heartache.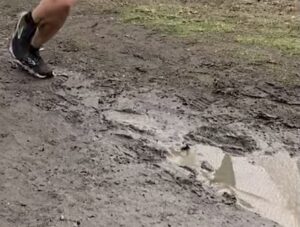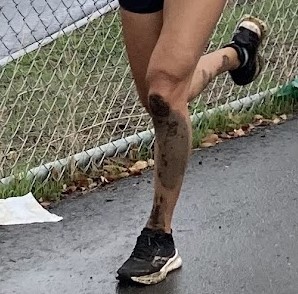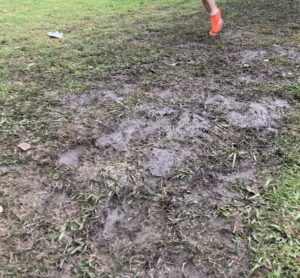 Just like some NCS meets in the past at Hayward when it's a rainy day the course just gets harder and harder to run as the day goes on with ten different races taking place on it and over 1200 runners chewing up the course with each foot plant.
I have read a number of coaches writing about the struggles some of their runners experienced including falling to the ground and seeing big groups of runners pass them before they could get to their feet again.
Most of these runners were in the best shape of their lives to run a fast time here, yet most who returned from last years race ran way slower. Montgomery's Hanne Thomsen ran a Division III Meet Record here last year at 16:31. In this muck she still easily defeated the field but her 17:04 finish gives you a clue about the conditions.
All that makes her teammates performance all that more spectacular. Last year Seelah Kittelstrom ran a great race finishing in 18:00 but her 17:43 in these conditions moved her into a class of champions. Next year the meet will probable be here again so it will be exciting to see what times all these underclassmen from this year can produce if the course is dry.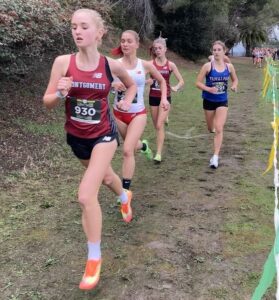 Redwood Empire All-Time Best NCS Hayward times
16:15 Amber Trotter, Ukiah 2001, National Champion
16:31 Hanne Thomsen, Montgomery 2022, State Champion
16:59 Sarah Sumpter, Healdsburg 2007, State Champion
17:02 Julie Nacouzi, Montgomery 2009, 3rd at Nationals
17:04 Harper McClain, St Helena 2019, State Champion
17:17 Jacque Taylor, Casa Grande 2008, State Champion
17:30 Rylee Bowen, Sonoma Academy 2015, State Champion
17:37 Mary Deeik, Vintage 2018
17:43 Nicole Lane, El Molino 2011, NCS Champion
17:43 Seelah Kittelstrom, Montgomery 2023
17:45 Delaney White, Santa Rosa 2015
17:47 Isabel Andrade, Petaluma 2008
17:48 Jenny Aldridge, Maria Carrillo 2001, State 1600m Champion
17:48 Kim Handel, Montgomery 2002
17:49 Sara Bei, Montgomery 1999*, National Champion
17:52 Gabrielle Peterson, Healdsburg 2017, State Champion
* Course in 1999 was probably 30+ seconds longer.
On the boys side it is exciting that of the nine boys who will be going to state this year only one is a senior.
Healdsburg junior Kaeden Anderson was lucky enough to run in the first race of the day and he took full advantage of that running the fastest local time of the day.
How fast is Hanne Thomsen, the Puma's have one of the best boys teams in the state and Thomsen's time would have made her their number three runner.

Here is the NCS Girls First Team Honors, recognize some names?
1	Hanne Thomsen, JR	Montgomery 
2	Shea Volkmer, SR	Campolindo 
3	Seelah Kittelstrom, JR	Montgomery 
4	Olivia Williams, SR	Acalanes 
5	Elsa Krummel, SR	Bay School of San Francisco 
6	Amrie Lacefield, JR	Montgomery 
7	Ella Mogannam, SO	Lick Wilmerding 
And check out the grade levels for next year.