5/15/2021
Maria Carrillo's Alexis Hunt won the high jump with an =6th All-Time jump of 5-6.
Maria Carrillo's Lily Mulligan won the pole vault at 11-0.
Piner's Samantha Ainlay broke the 2021 Empire best in the discus with a 2nd place finish at 115-0.
Correction
Santa Rosa's Kassidy Schroth placed third in the 100 with a time of 12.50.
Because of a computer problem all the wind readings reported at the meet were the opposite readings.
Schroth heat was reported at the meet as -2.6 wind but was actually a +2.6 wind.
Photos by Brian Tucker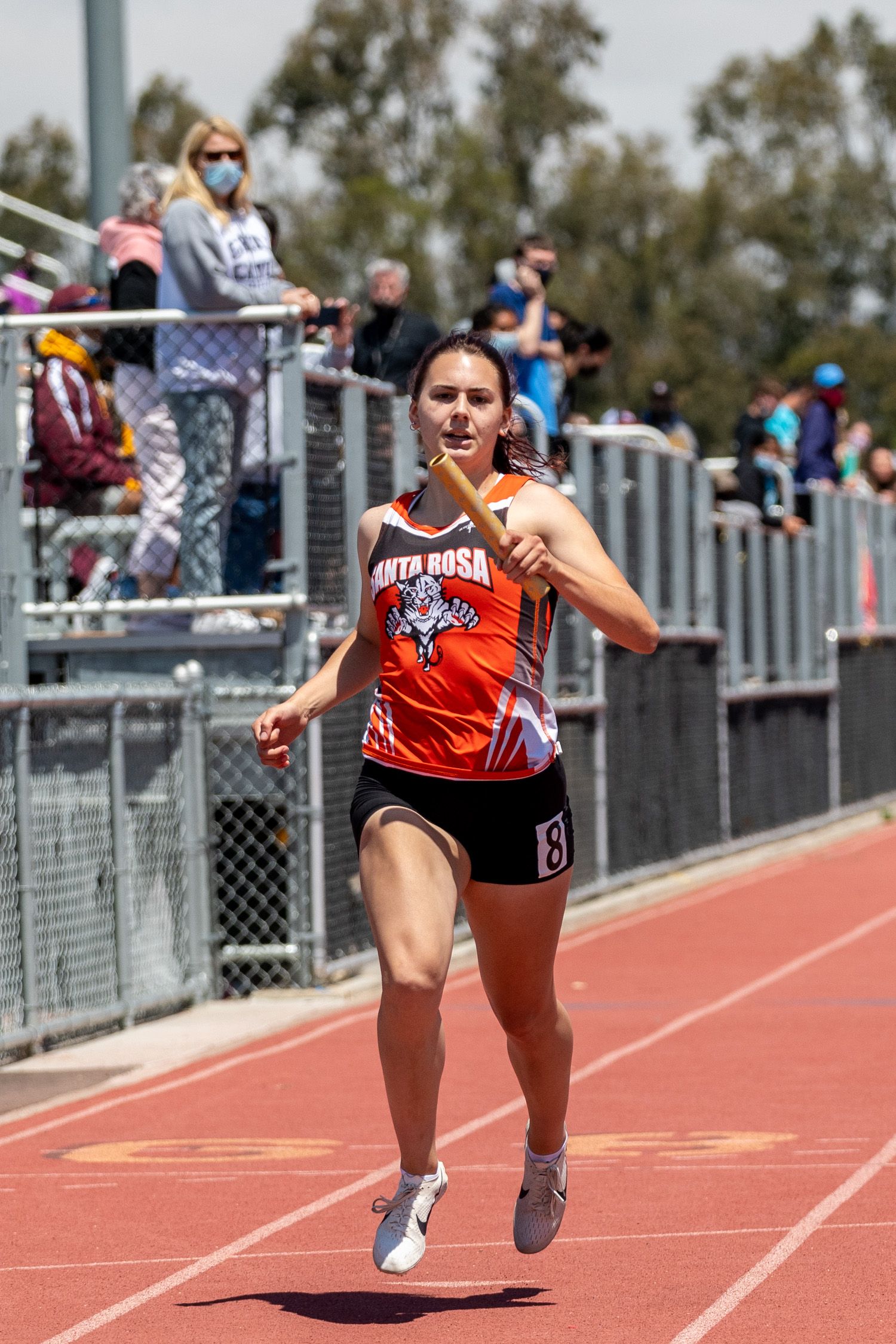 100 Meter Dash
3rd Schroth, Kassidy Santa Rosa 12.50 +2.6
12 Murphy, Francena Maria Carril 12.98 +2.6
14 O'Malley, Kathryn Maria Carril 13.02 +3.1
21 Kwong, Carlyana Maria Carril 13.28 +3.7
32 Moore, Sydney Maria Carril 13.62 -0.1
65 Moore, Emma Maria Carril 14.38 -1.0
71 Delgado, Sophia Maria Carril 14.57 +0.8
107 Solorio, Miriam Piner 17.17 -0.8
400 Meter Dash
5 Demange, Elianah Maria Carril 1:01.62
17 Moore, Dylan Maria Carril 1:04.50, heat winner
21 McGarva, Payton Maria Carril 1:05.61
28 Luna, Paulina Piner 1:06.83
45 Holmes, Isabel Montgomery 1:08.42
70 Kapustka, Reese Maria Carril 1:16.05
800 Meter Run
8 Mattice, Vivien Maria Carril 2:26.55, heat winner
45 Loe, Ruby Piner 2:42.29
58 Cuniberti, Lily Maria Carril 2:52.32
1600 Meter Run
9 Busienei, Ashley Maria Carril 5:16.91
17 Taylor, Rebekah Maria Carril 5:22.34
23 Trenam, Gracie Maria Carril 5:26.79
27 Hedden, Avery Maria Carril 5:30.45, heat winner
41 Mathiesen, Isabella Maria Carril 5:43.03
43 Quintero, Elisa Piner 5:44.24
53 Chong, Ella Maria Carril 5:48.27
62 Moe, Kira Maria Carril 5:54.88
81 Caballero-Luna, Jasmine Piner 6:15.49
110 Owen, Elise Montgomery 7:18.98
3200 Meter Run
14 Cregan, Brooke Maria Carril 12:26.32
19 Rivera-Hoagland, Josephi Maria Carril 13:07.75
24 Johnson, Kristianna Piner 13:21.30
40 Nguyen, Han Piner 16:45.53
100 Meter Hurdles
19 Beck, Fayola Montgomery 18.47 +1.4, NBL FAT leader
26 Mota Estrada, Elizabeth Maria Carril 19.25 +2.1, heat winner
31 Bronston, Bailey Maria Carril 19.70 +2.3
4×100 Meter Relay
9 Santa Rosa 51.95
12 Maria Carrillo 53.23
High Jump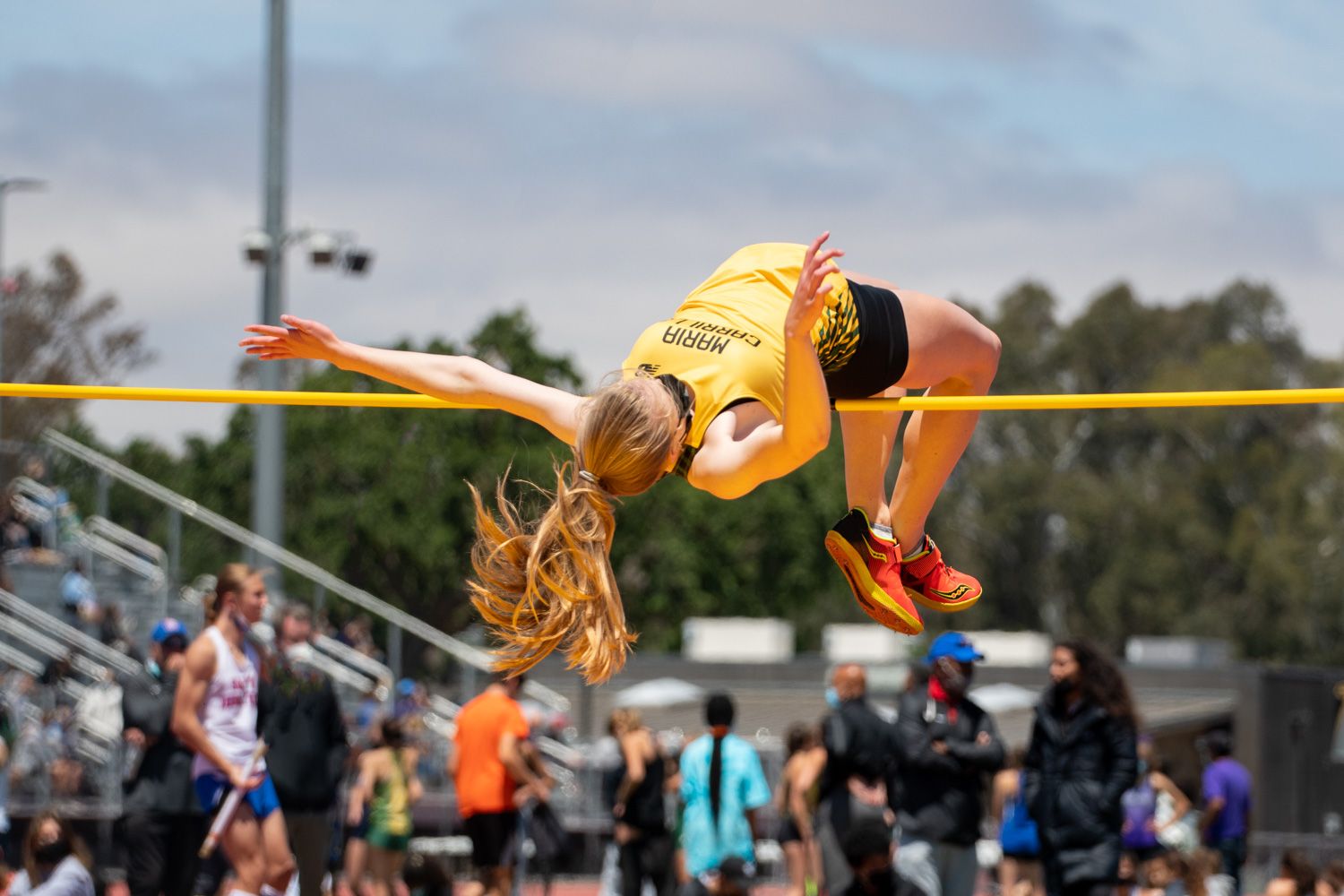 1 Hunt, Alexis Maria Carril 5-06.00, =3rd Sophomore
— Joseph, Lael Santa Rosa NH
All-Time
5-11 Mindi Wiley, Sonoma Valley #1 2005
5-9 Morgan Bertsch, Santa Rosa #1 2013
5-7 Jackie Hurt, Analy #1 1989
5-7 Courtney Tuck, Petaluma #1 2011
5-7 Kiana Herold, Sonoma Academy #1 2013
5-6 Deanne Neff, Montgomery #1 1978
5-6 Sharon Derr, St Vincent #1 1990,1992
5-6 Jessica Wright, Rancho Cotate #1 1995
5-6 Kaitlin Sather, Maria Carrillo =#1 2004
5-6 Alexis Hunt, Maria Carrillo =#1 2021
Pole Vault
1 Mulligan, Lily Maria Carril 11-00.00
12 Bruce, Eliana Santa Rosa J8-06.00
13 Alapa, Jasmine Santa Rosa J8-06.00
Long Jump
22 Moore, Sydney Maria Carril 15-00.00
23 Delgado, Sophia Maria Carril J15-00.00
Shot Put
7 Kelleher, Paige Maria Carril 32-04.00
8 Ainlay, Samantha Piner High (Nc) 31-00.00
10 Arroyo, Jasmine Maria Carril 29-08.00
14 Hackett, Addison Maria Carril 28-03.00
16 Henderson, Sofia Santa Rosa H 27-04.00
17 Reynolds, Rachel Maria Carril 27-02.00
26 Marshall, Maddie Piner High (Nc) 24-05.00
35 Soto, Carmen Piner High (Nc) 20-09.00
Discus Throw
2 Ainlay, Samantha Piner 115-00, Prep best
9 Arroyo, Jasmine Maria Carril 97-09
11 Henderson, Sofia Santa Rosa 92-04
13 Reynolds, Rachel Maria Carril 91-00
15 Joseph, Lael Santa Rosa 89-11
20 Hackett, Addison Maria Carril 85-01
29 Marshall, Maddie Piner 74-07
30 Kelleher, Paige Maria Carril 72-05
35 Soto, Carmen Piner 65-02

Event 1  Girls 3200 Meter Run
===================================================================
    Name                    Year School                  Finals  H#
===================================================================
Finals
  1 Lambert, Luci                Sacred Heart          10:46.86   1 
  2 Kippes, Mircea               Wilcox (Adri          11:29.50   1 
  3 Shen, Eva                    Dougherty Va          11:34.77   1 
  4 Binder, Abby                 Monte Vista           11:36.80   1 
  5 Chavez, Madison              California H          11:38.00   1 
  6 Soderbery, Julia             Sacred Heart          11:40.61   1 
  7 Small, Taya                  Amador Valle          11:45.09   1 
  8 Reed, Grace                  College Park          11:56.42   1 
  9 Tingey, Trinity              San Ramon Va          12:07.56   1 
 10 Moret, Isabelle              Branham High          12:15.99   1 
 11 Gowda, Medha                 Dublin High           12:19.07   1 
 12 Sheehan, Reilly              Crystal Spri          12:21.35   1 
 13 LeClaire, Missy              College Park          12:25.78   1 
 14 Cregan, Brooke               Maria Carril          12:26.32   1 
 15 Lodwick, Callisto            The Nueva Sc          12:34.86   2 
 16 Kambouridis, Silvia          Skyline               12:41.74   1 
 17 Julian Austria, Karla        Archbishop M          12:48.21   2 
 18 Delgado, Elissa              Dublin High           12:48.49   2 
 19 Rivera-Hoagland, Josephi     Maria Carril          13:07.75   2 
 20 Liem, Madeleine              California H          13:11.98   2 
 21 Ochoa, Samara                Dougherty Va          13:14.31   2 
 22 Lai, Katie                   Dublin High           13:15.38   1 
 23 Hattendorf, Stella           Head Royce H          13:20.97   2 
 24 Johnson, Kristianna          Piner High (          13:21.30   2 
 25 Salmon, Shay                 San Ramon Va          13:24.66   2 
 26 Altamirano, Faustina         San Ramon Va          13:27.97   2 
 27 Miyazawa, Ameri              Dublin High           13:31.96   2 
 28 Ceron, Karina                Skyline               13:32.23   2 
 29 Rudensky, Helena             Skyline               13:52.88   2 
 30 Seven, Charlotte             Skyline               14:08.22   2 
 31 Daniher, Mary                Woodside Hig          14:14.17   1 
 32 Kontra, Judit                Dublin High           14:17.28   2 
 33 Gupta, Shriya                Dublin High           14:18.58   2 
 34 Gilman, Michelle             Dublin High           14:24.39   2 
 35 Pelkowski, Alejandra         Woodside Hig          14:24.86   2 
 36 Ochoa, Zara                  Dougherty Va          14:30.13   2 
 37 Hopkins, Olivia              Skyline               15:04.41   2 
 38 Shangle, Trisha              Dublin High           15:04.45   2 
 39 Gonzalez, Viviana            Skyline               15:39.06   2 
 40 Nguyen, Han                  Piner High (          16:45.53   2 
 41 Davies, Ruby                 Skyline               17:21.57   2 
 42 Sally, Ava                   Skyline               17:21.71   2 
 
Event 3  Girls 800 Meter Run
===================================================================
    Name                    Year School                  Finals  H#
===================================================================
  1 Chisar, Jessica              College Park           2:16.74   5 
  2 Kennedy, Samira              Castilleja S           2:18.50   5 
  3 Henderson, Daniella          Castilleja S           2:22.48   5 
  4 Espino, Katelyn              Foothill Ple           2:24.06   5 
  5 Abraham, Nina                Dougherty Va           2:24.23   5 
  6 Morganroth, Janie            Sacred Heart           2:24.60   5 
  7 Fleming, Piper               Bentley Upper          2:25.71   5 
  8 Mattice, Vivien              Maria Carril           2:26.55   4 
  9 Jackson, Milan               St. Mary's C           2:26.75   4 
 10 Jackson, Sofia               St. Mary's C           2:27.40   4 
 11 Guzman, Angelina             Livermore Hi           2:27.61   4 
 12 Nelson, Sabrina              Foothill Ple           2:27.70   4 
 13 Cubiss, Megan                Branham High           2:27.99   5 
 14 Dudek, Lauren                Folsom HS (S           2:28.97   4 
 15 Rueb, Mia                    Monte Vista            2:29.25   4 
 16 Van Horn, Claire             Foothill Ple           2:29.34   4 
 17 Owens, Aila                  St. Joseph N           2:30.23   4 
 18 Sulentic, Leila              San Francisc           2:30.37   4 
 19 Mark, Natalie                Mountain Vie           2:30.57   4 
 20 Michel, Mackenzie            Monte Vista            2:31.13   4 
 21 Krishnan, Anya               Head Royce H           2:31.55   5 
 22 Glueck, Greta                Skyline                2:32.52   4 
 23 Versteeg, Dahlia             Amador Valle           2:32.53   4 
 24 Abernethy, Amelia            Convent & St           2:32.90   4 
 25 Addison, Jayla               Carondelet H           2:32.91   4 
 26 Lin, Jenny                   California H           2:33.25   4 
 27 Paynter, Lucy                Sacred Heart           2:34.05   5 
 28 Weckwerth, Katherine         Amador Valle           2:34.26   4 
 29 Jennings, Tessa              Amador Valle           2:34.53   3 
 30 Lynn, Louisa                 Head Royce H           2:34.93   3 
 31 Foxworthy, Kendall           Carondelet H           2:35.00   4 
 32 Crosthwait, Eloise           San Ramon Va           2:35.48   4 
 33 Deemer, Jordan               Woodside Hig           2:36.17   3 
 34 Williamson, Kylie            Carondelet H           2:36.84   4 
 35 Chang, Kristin               Crystal Spri           2:37.37   3 
 36 Gnecco, Emily                Livermore Hi           2:38.03   4 
 37 Rasmussen, Delaney           Castro Valle           2:38.38   2 
 38 Britton, Kimberlee           Livermore Hi           2:38.49   3 
 39 Leek, Sujin                  Livermore Hi           2:38.56   2 
 40 Chakraborty, Eesha           Dougherty Va           2:39.49   5 
 41 Nutter, Sydnie               San Ramon Va           2:40.01   5 
 42 Romagna, Emilia              Livermore Hi           2:40.41   2 
 43 Sabbe, Rachel                San Ramon Va           2:40.75   3 
 44 Ren, Alexandra               California H           2:40.82   3 
 45 Loe, Ruby                    Piner High (           2:42.29   3 
 46 Brower, Caity                San Ramon Va           2:42.91   1 
 47 Curran, Kate                 San Ramon Va           2:43.50   3 
 48 Arndt, Alison                Carondelet H           2:44.30   3 
 49 Pettersson, Erika            Amador Valle           2:44.77   3 
 50 Zertuche, Lydia              Archbishop M           2:44.80   3 
 51 Modak, Shreya                Amador Valle           2:47.39   2 
 52 Hong, Lois                   Amador Valle           2:47.49   2 
 53 Gunter, Mae                  College Park           2:48.18   3 
 54 Ferran, Emma                 Livermore Hi           2:48.23   3 
 55 Ceron, Karina                Skyline                2:49.65   3 
 56 Corral, Isabella             St. Joseph N           2:49.67   2 
 57 Baird, Ai-li                 Head Royce H           2:50.33   2 
 58 Cuniberti, Lily              Maria Carril           2:52.32   2 
 59 Boyd, Astrid                 Skyline                2:52.63   2 
 60 Nocon, Claire                St. Joseph N           2:53.01   3 
 61 Yoon, HeeJee                 Amador Valle           2:53.79   2 
 62 Chan, Nicole                 St. Joseph N           2:54.54   2 
 63 Ye, Linda                    Urban of San           2:54.78   2 
 64 Goyal, Juhi                  Amador Valle           2:54.82   2 
 65 Sieu, Jaida                  St. Joseph N           2:55.17   3 
 66 Urbina, Glenda               San Lorenzo            2:55.30   2 
 67 Clinton, Joelle              Carondelet H           2:55.81   2 
 68 Del Rosario, Anabella        San Lorenzo            2:56.79   2 
 69 Nix, Shannon                 Monte Vista            2:57.59   2 
 70 Nishikubo, Erin              Livermore Hi           2:58.25   2 
 71 McCurdy, Grace               Carondelet H           2:58.64   2 
 72 Zuniga, Milla                Amador Valle           2:58.89   2 
 73 Angel, Lucia                 Foothill Ple           3:06.54   1 
 74 Ghosh, Ritika                Amador Valle           3:08.64   1 
 75 Keyes, Sierra                San Ramon Va           3:09.72   3 
 76 Murthy, Sita                 Dougherty Va           3:10.07   1 
 77 Boyle, Leah                  Carondelet H           3:12.61   2 
 78 Hopkins, Olivia              Skyline                3:13.45   1 
 79 Clark, Kathryn               Amador Valle           3:14.39   1 
 80 Sharda, Saesha               Amador Valle           3:16.40   1 
 81 Van Note, Meghan             Carondelet H           3:21.35   1 
 82 Gonzalez, Viviana            Skyline                3:23.98   1 
 83 Achacoso, Jeanine            St. Joseph N           3:27.03   1 
 84 Sally, Ava                   Skyline                3:28.67   1 
 85 Combs, Audrey                Amador Valle           3:34.26   1 
 86 Zhao, Christine              The Nueva Sc           3:38.85   1 
 87 Mcmahon, June                Carondelet H           3:51.88   1 
 88 Klein, Anna                  Skyline                4:08.32   1 
 
Event 5  Girls 1600 Meter Run
===================================================================
    Name                    Year School                  Finals  H#
===================================================================
  1 Buckley, Ellie               Campolindo H           5:08.04   6 
  2 Hill, Shae                   Granada High           5:10.58   6 
  3 Melcher, Elizabeth           Granada High           5:11.61   6 
  4 Tavella, Sofia               San Ramon Va           5:12.33   6 
  5 Barron, Jana                 Granada High           5:12.79   6 
  6 Andar, Sameen                Dougherty Va           5:15.40   6 
  7 Dolan, Peyton                Monte Vista            5:16.39   6 
  8 Abraham, Leah                Dougherty Va           5:16.72   6 
  9 Busienei, Ashley             Maria Carril           5:16.91   6 
 10 Singh, Ritika                Dougherty Va           5:17.26   6 
 11 Pogue, Kinsey                Monte Vista            5:18.80   6 
 12 Mcelhinney, Perry            Castilleja S           5:19.46   5  5:19.453
 13 Lucey, Colleen               Hillsdale              5:19.46   6  5:19.459
 14 Taylor, Marlo                College Park           5:21.52   5 
 15 Chavez, Madison              California H           5:21.68   5 
 16 Volkmer, Shea                Campolindo H           5:22.03   5 
 17 Taylor, Rebekah              Maria Carril           5:22.34   5 
 18 Lucey, Clare                 Hillsdale              5:23.08   5 
 19 Marsyla, Elle                Woodside Hig           5:24.25   5 
 20 Brear, Elisa                 Monte Vista            5:24.46   5 
 21 Lew, Shelby                  Monte Vista            5:25.01   5 
 22 Reed, Lindsey                College Park           5:26.08   6 
 23 Trenam, Gracie               Maria Carril           5:26.79   5 
 24 Weberski, Makena             Campolindo H           5:28.13   5 
 25 Guzman, Angelina             Livermore Hi           5:29.43   5 
 26 Glueck, Greta                Skyline                5:29.77   5 
 27 Hedden, Avery                Maria Carril           5:30.45   4 
 28 Chan, Kirsten                Dougherty Va           5:31.22   5 
 29 Jackson, Milan               St. Mary's C           5:33.03   4 
 30 Binder, Abby                 Monte Vista            5:34.17   5 
 31 Alviz, Isabella              College Park           5:35.04   5 
 32 Huynh, Cameron               Castro Valle           5:35.56   4 
 33 Owens, Aila                  St. Joseph N           5:35.83   5 
 34 Hochschild, Isabella         San Francisc           5:36.67   4 
 35 Robinson, Morgan             Hillsdale              5:38.87   4 
 36 Miller, Emily                San Ramon Va           5:38.99   5 
 37 Giles, Mia                   San Francisc           5:39.68   5 
 38 Mccool, Caroline             Campolindo H           5:39.99   4 
 39 Mason, Maya                  San Francisc           5:42.07   5 
 40 Feland, Anna                 The Nueva Sc           5:42.95   3 
 41 Mathiesen, Isabella          Maria Carril           5:43.03   3 
 42 Long, Simone                 San Ramon Va           5:43.96   4 
 43 Quintero, Elisa              Piner High (           5:44.24   3 
 44 Foxworthy, Kendall           Carondelet H           5:44.25   4 
 45 Britton, Kimberlee           Livermore Hi           5:44.56   4 
 46 Krishnan, Anya               Head Royce H           5:44.59   6 
 47 Lumpkin, Marissa             San Francisc           5:44.67   5 
 48 Laughlin, Lucinda            San Francisc           5:45.33   4 
 49 Jackson, Sofia               St. Mary's C           5:45.58   4 
 50 Garcia, Sophie               San Francisc           5:46.72   4 
 51 Ortiz-Gudeman, Ona           Head Royce H           5:46.81   6 
 52 Guthrie, Quinn               Campolindo H           5:47.04   4 
 53 Chong, Ella                  Maria Carril           5:48.27   3 
 54 Nooney, Athena               San Francisc           5:48.74   4 
 55 Rosenberg, Alexis            Granada High           5:49.41   3 
 56 Poon, Kelly                  The Nueva Sc           5:50.04   3 
 57 Lynn, Louisa                 Head Royce H           5:51.74   4 
 58 Perez, Nathalie              St. Joseph N           5:52.40   4 
 59 Moret, Isabelle              Branham High           5:52.50   4 
 60 Penney, Daisy                Campolindo H           5:52.59   4 
 61 Mirsepahi, Jasmyn            Crystal Spri           5:53.84   3 
 62 Moe, Kira                    Maria Carril           5:54.88   3 
 63 Wohl, Maya                   Crystal Spri           5:55.26   3 
 64 Lee, Tianna                  James Logan            5:57.00   3 
 65 Chan, Natalie                Dougherty Va           5:57.47   3 
 66 Scanlan, Jamie               San Francisc           5:59.55   3 
 67 Walker, Molly                Granada High           6:01.95   4 
 68 Kern, Carly                  California H           6:02.10   3 
 69 Kambouridis, Silvia          Skyline                6:03.55   2 
 70 Romagna, Emilia              Livermore Hi           6:07.99   3 
 71 Bangalore, Nikitha           Dougherty Va           6:08.19   2 
 72 Lopez, Bella                 Dougherty Va           6:09.39   2 
 73 Stripling, Saskia            Head Royce H           6:09.89   2 
 74 Lau, Elizabeth               Granada High           6:10.88   4 
 75 Melvin, Anna                 California H           6:11.12   2 
 76 Ternus, Sarah                California H           6:11.99   2 
 77 Petroski, Alexandra          San Ramon Va           6:12.31   3 
 78 Pistilli, Virginia           Woodside Hig           6:12.61   3 
 79 Ahern, Laine                 San Ramon Va           6:12.67   2 
 80 Baird, Ai-li                 Head Royce H           6:15.28   3 
 81 Caballero-Luna, Jasmine      Piner High (           6:15.49   2 
 82 Pitstick, Emma               Skyline                6:16.23   1 
 83 Yedidia, Ariane              The Nueva Sc           6:17.27   1 
 84 Imura, Gabby                 Archbishop M           6:18.17   2 
 85 Roesgen, Grace               San Ramon Va           6:19.73   3 
 86 Cohen, Sydney                Foothill Ple           6:20.22   4 
 87 Ferran, Emma                 Livermore Hi           6:20.56   3 
 88 Hattendorf, Stella           Head Royce H           6:23.23   3 
 89 Lee, Liana                   Dougherty Va           6:24.65   3 
 90 Kwe, Lauryn                  Newark Memor           6:25.52   1 
 91 Cocquyt, Sasha               The Nueva Sc           6:28.84   1 
 92 Simpson, Brooke              College Park           6:29.22   2 
 93 Boyd, Astrid                 Skyline                6:29.49   2 
 94 Kapur, Abby                  Dougherty Va           6:31.43   2 
 95 Daniher, Mary                Woodside Hig           6:36.47   2 
 96 Rodriguez Yanez, Bianca      Newark Memor           6:37.57   2 
 97 Rudensky, Helena             Skyline                6:37.67   1 
 98 Liu, Patricia                San Ramon Va           6:38.35   1 
 99 Nishikubo, Erin              Livermore Hi           6:38.93   2 
100 Seven, Charlotte             Skyline                6:47.95   2 
101 Alviz, Ava                   College Park           6:51.02   1 
102 Garcia-Flores, Isabel        Foothill Ple           6:53.25   4 
103 Kay, Whitney                 San Ramon Va           6:54.03   1 
104 Tande, Anoushka              Foothill Ple           6:54.17   2 
105 Duree, Heather               Granada High           6:56.23   1 
106 Rante, Kiana-arielle         Newark Memor           6:57.86   1 
107 McCurdy, Grace               Carondelet H           7:02.70   1 
108 Mirghani, Dina               Foothill Ple           7:09.92   1 
109 Patel, Keya                  Foothill Ple           7:16.64   1 
110 Owen, Elise                  Montgomery H           7:18.98   1 
111 Cui, Qi                      Foothill Ple           7:20.51   1 
112 Mobraaten, Lily              Foothill Ple           7:21.29   1 
113 Van Note, Meghan             Carondelet H           7:22.61   1 
114 Kennedy, Aoife               Foothill Ple           7:29.35   1 
115 Bisson, Camille              Foothill Ple           7:33.34   2 
116 Davies, Ruby                 Skyline                8:03.04   1 
117 Mcmahon, June                Carondelet H           8:34.82   1 
 
Event 7  Girls 4x100 Meter Relay
===================================================================
    School                                               Finals  H#
===================================================================
  1 Foothill Pleasanton (Nc)  'A'                         48.88   3 
  2 California High (Nc)  'A'                             49.64   3 
  3 St. Francis Mountain View (Cc)  'A'                   50.03   3 
  4 St. Ignatius College Prep (Cc)  'A'                   50.29   3 
  5 Dublin High School (Nc)  'A'                          50.39   2 
  6 Monte Vista High (Nc)  'A'                            50.74   3 
  7 Archbishop Mitty High School (  'A'                   51.64   2 
  8 Castro Valley High School (Nc)  'A'                   51.82   3 
  9 Santa Rosa High (Nc)  'A'                             51.95   3 
 10 Dublin High School (Nc)  'B'                          52.47   2 
 11 San Ramon Valley High (Nc)  'A'                       52.73   3 
 12 Maria Carrillo High (Nc)  'B'                         53.23   2 
 13 California High (Nc)  'B'                             54.01   2 
 14 Granada High (Nc)  'A'                                54.44   1 
 15 Skyline High School (Ok)  'A'                         55.59   2 
 
Event 9  Girls 400 Meter Dash
===================================================================
    Name                    Year School                  Finals  H#
===================================================================
  1 Peters, Cate                 Monte Vista              57.82  12 
  2 Chisar, Jessica              College Park             59.45  12 
  3 Galvez, Kayla                Foothill Ple           1:00.53  12 
  4 Sutton, Sierra               James Logan            1:01.02  12 
  5 Demange, Elianah             Maria Carril           1:01.62  12 
  6 Jakobskrueger, Maxina        Archbishop M           1:02.70  11 
  7 Wilson, Kyrstin              Campolindo H           1:03.06  11 
  8 Tong, Katie                  St. Ignatius           1:03.34  11 
  9 Gilbert, Madelyn             Monte Vista            1:03.43  11 
 10 Paynter, Lucy                Sacred Heart           1:03.53  12 
 11 O'Sullivan, Ellie            Carondelet H           1:03.64   1 
 12 Fillari, Antonina            Dublin High            1:03.81  10 
 13 Parikh, Simryn               James Logan            1:03.82  10 
 14 Chang, Eleanor               San Ramon Va           1:04.07  10 
 15 Toner, Kate                  Granada High           1:04.31   5 
 16 Mahoney, Lucy                St. Ignatius           1:04.39   9 
 17 Lim, Emma                    Foothill Ple           1:04.45  10 
 18 Moore, Dylan                 Maria Carril           1:04.50   8 
 19 Hitchingham, Meghan          St. Ignatius           1:05.05   9 
 20 Lyon, Charlotte              Convent & St           1:05.42   7 
 21 Kennedy, Meagan              Campolindo H           1:05.55  10 
 22 McGarva, Payton              Maria Carril           1:05.61  10 
 23 Hodges, Taylor               Castro Valle           1:06.03  10 
 24 Kenny, Deirdre               Convent & St           1:06.13   9 
 25 Gnecco, Emily                Livermore Hi           1:06.16   9 
 26 Heinicke, Charlotte          St. Ignatius           1:06.18   8 
 27 Nakhoda, Sarah               Archbishop M           1:06.44  12 
 28 Vercellino, Kate             The Nueva Sc           1:06.61   6 
 29 Luna, Paulina                Piner High (           1:06.83   7 
 30 Leak, Jordyn                 Granada High           1:07.05   7 
 31 Diwan, Reva                  Foothill Ple           1:07.11   8 
 32 Rasmussen, Delaney           Castro Valle           1:07.16   7 
 33 Osuna, Tiana                 Archbishop M           1:07.34   7 
 34 Versteeg, Dahlia             Amador Valle           1:07.44   4 
 35 Owens, Aila                  St. Joseph N           1:07.57  11 
 36 Corral, Isabella             St. Joseph N           1:07.81   8 
 37 Laux, Tiana                  Foothill Ple           1:07.91   6  1:07.905
 38 Modak, Shreya                Amador Valle           1:07.91   4  1:07.909
 39 Lam, Megan                   Foothill Ple           1:08.03   8 
 40 Ajoy, Mithra                 Dougherty Va           1:08.08   6 
 41 Harris, Maya                 California H           1:08.09   6 
 42 Weckwerth, Katherine         Amador Valle           1:08.12   7 
 43 Kani, Alex                   Crystal Spri           1:08.20   6 
 44 Yra, Cassandra               James Logan            1:08.30   9 
 45 Hoyle, Amelia                San Ramon Va           1:08.38  11 
 46 Holmes, Isabel               Montgomery H           1:08.42   9 
 47 Jennings, Tessa              Amador Valle           1:08.57   5 
 48 Oh, Isabelle                 San Francisc           1:08.58   7 
 49 Autrand, Sofia               California H           1:08.77   3 
 50 Birks, Alexus                Skyline                1:08.80   6 
 51 Garuda, Lena                 Foothill Ple           1:08.93   5 
 52 Cowan, Maddie                Amador Valle           1:09.06   9 
 53 Telli, Giulia                Amador Valle           1:09.44   4 
 54 Agosta-Lyon, Ally            Crystal Spri           1:09.63   6 
 55 Ghosh, Anwesha               Dublin High            1:10.07   1 
 56 Ashan, Zara                  Skyline                1:10.33   4 
 57 Francesca, Ramos             Livermore Hi           1:11.64   5 
 58 Jackson, Summer              St. Ignatius           1:11.95   4 
 59 Cardona, Gabriella           Foothill Ple           1:12.05   5 
 60 Oh, Allison                  Foothill Ple           1:12.18   5 
 61 Singh, Arshiya               Foothill Ple           1:12.42   3 
 62 May, Natalie                 Granada High           1:12.63   4 
 63 House, Rianna                Foothill Ple           1:12.66   3 
 64 Clinton, Amelia              Amador Valle           1:13.08   3 
 65 Torres, Janessa              Foothill Ple           1:13.32   4 
 66 Diaz, Kiana                  Skyline                1:14.17   2 
 67 Hong, Lois                   Amador Valle           1:14.46   3 
 68 Pinninty, Nishitha           Crystal Spri           1:14.53   4 
 69 Yoon, HeeJee                 Amador Valle           1:14.60   2 
 70 Goyal, Juhi                  Amador Valle           1:15.00   3 
 71 Kapustka, Reese              Maria Carril           1:16.05   2 
 72 Murthy, Nishka               Foothill Ple           1:16.43   2 
 73 Chan, Nicole                 St. Joseph N           1:16.66   1 
 74 Zuniga, Milla                Amador Valle           1:17.10   2 
 75 Pina, Laila                  Skyline                1:17.46   2 
 76 Lau, Anna                    Dougherty Va           1:18.79   2 
 77 Clark, Kathryn               Amador Valle           1:23.33   1 
 78 Diwa, Julianna               Amador Valle           1:23.39   3 
 79 Lu, Celine                   Amador Valle           1:24.30   1 
 80 Ghosh, Ritika                Amador Valle           1:24.35   1 
 81 Fernandez, Ava               Amador Valle           1:26.96   1 
 -- Sharda, Saesha               Amador Valle                DQ   1  NFHS 5-12-1d
  
Event 11  Girls 100 Meter Dash
========================================================================
    Name                    Year School                  Finals  Wind H#
========================================================================
  1 Peterson, Kaley              St. Francis              12.13   2.6 16 
  2 Sims, Lynee                  Castro Valle             12.43   2.6 16 
  3 Schroth, Kassidy             Santa Rosa H             12.50   2.6 16 
  4 Wilson, Kyrstin              Campolindo H             12.70   2.6 16 
  5 Champion, Leila              California H             12.72   2.6 16 
  6 Wohlenberg, Elyse            Foothill Ple             12.75   3.1 15 
  7 Ronan, Megan                 St. Ignatius             12.78   2.6 16 
  8 Tsioutsioulikli, Alice       Archbishop M             12.80   3.1 15 
  9 Ochoa, Isela                 Dublin High              12.84   3.7 14 
 10 Garcia, Marina               Foothill Ple             12.91   3.1 15 
 11 Walsh, Kate                  St. Ignatius             12.93   3.1 15 
 12 Murphy, Francena             Maria Carril             12.98   2.6 16 
 13 Bivol, Patricia              California H             13.00   3.7 14 
 14 O'Malley, Kathryn            Maria Carril             13.02   3.1 15 
 15 Buel, Morgan                 Folsom HS (S             13.11   3.1 15 
 16 Bluford, Kennedy             St. Ignatius             13.15   3.7 14 
 17 Fordyce, Hope                St. Francis              13.17   2.6 16 
 18 Galvez, Kayla                Foothill Ple             13.21  -0.1 13 
 19 Garrison, Lanae              Dublin High              13.26  -1.0 11  13.256
 20 Lanza, Jasmine               California H             13.26  -0.1 13  13.257
 21 Kwong, Carlyana              Maria Carril             13.28   3.7 14 
 22 Chen, Michelle               Dublin High              13.36  -0.1 13  13.351
 23 Iorio, Leslie                San Ramon Va             13.36   3.7 14  13.352
 24 Loo, Caitlyn                 Dublin High              13.39  -1.0 11 
 25 Vargas, Kiersten             St. Francis              13.45   3.7 14  13.444
 26 Kabanova, Arisha             California H             13.45  -0.1 13  13.445
 27 Gorun, Anna                  San Ramon Va             13.49   0.6 12 
 28 Rajsekar, Sharanika          California H             13.51   0.6 12 
 29 Holmes, Sydney               Dublin High              13.57  -3.1  9 
 30 Ricks, Monique               Skyline                  13.58  -3.1  9 
 31 Kennedy, Meagan              Campolindo H             13.59   0.6 12 
 32 Moore, Sydney                Maria Carril             13.62  -0.1 13 
 33 Dillbeck, Katelyn            Dougherty Va             13.68  -0.9 10 
 34 Okwudiafor Johnson, Rach     Dublin High              13.71   0.8  8  13.706
 35 Tipton, Kathryn              St. Francis              13.71   3.1 15  13.709
 36 Lenehan, Reagan              Folsom HS (S             13.76   3.1 15  13.752
 37 Navone, Olivia               San Ramon Va             13.76  -1.0 11  13.755
 38 Oden, Taylor                 Archbishop M             13.77   0.6 12  13.766
 39 Liao, Amelia                 Dublin High              13.77  -1.0 11  13.769
 40 O'Sullivan, Ellie            Carondelet H             13.79  -0.9 10 
 41 Smith-Wick, Rozlyn           Carondelet H             13.86  -0.1 13  13.851
 42 Brower, Addie                San Ramon Va             13.86   0.6 12  13.855
 43 McGowan, Natalia             Monte Vista              13.87  -1.1  7 
 44 Arcidiacono, Gianna          Carondelet H             13.88  -0.9 10  13.872
 44 Adamos, Alaina               Dublin High              13.88  -0.9 10  13.872
 46 Cuthbert, Danielle           San Francisc             13.93  -3.1  9 
 47 Nguyen, Katelyn              Archbishop M             13.94  -0.9 10 
 48 Dietzel, Lily                San Ramon Va             13.97   0.6 12 
 49 Dixon, Kiara                 Archbishop M             14.00  -1.0 11 
 50 Cooper, Erica                San Francisc             14.09   0.8  8  14.084
 51 Castagnetto, Carli           Carondelet H             14.09   0.8  8  14.089
 52 Price, Justine               Monte Vista              14.13  -3.1  9 
 53 Pradhan, Rianna              Dublin High              14.14  -3.1  9 
 54 Meza, Marissa                Castro Valle             14.15  -3.1  9 
 55 Katragadda, Veda             Amador Valle             14.16  -1.1  7  14.160
 55 Anne, Polaski                Livermore Hi             14.16  -1.0 11  14.160
 57 Laux, Tiana                  Foothill Ple             14.20  -1.1  7 
 58 Lyon, Charlotte              Convent & St             14.24  -1.1  7 
 59 Smith, Azaria                Skyline                  14.25  -1.3  6  14.243
 60 Lam, Megan                   Foothill Ple             14.25  -0.9 10  14.247
 61 Sarwar, Aiza                 Dublin High              14.26  -1.3  6 
 62 Townsend, Lesley             Foothill Ple             14.29   0.8  8 
 63 Jones, Alyssa                Castro Valle             14.32  -1.1  7 
 64 Vance, Lydia                 Granada High             14.33  -1.0 11 
 65 Moore, Emma                  Maria Carril             14.38  -1.0 11 
 66 Tran, Erika                  Dublin High              14.39  -1.1  7 
 67 Liao, Alyssa                 The Nueva Sc             14.41  -2.1  5 
 68 Chavarria, Alely             Dublin High              14.44  -1.3  6 
 69 Kenny, Deirdre               Convent & St             14.46   0.8  8 
 70 Birks, Alexus                Skyline                  14.56  -2.1  5 
 71 Delgado, Sophia              Maria Carril             14.57   0.8  8 
 72 Ibarra, Mia                  Dublin High              14.59  -1.3  6  14.581
 73 Diwan, Reva                  Foothill Ple             14.59  -1.3  6  14.585
 74 Ochoa, Isabel                Dublin High              14.62  -2.1  5  14.611
 75 Meredith, Brianna            Carondelet H             14.62  -0.9 10  14.618
 76 Cardona, Gabriella           Foothill Ple             14.69  -1.1  7 
 77 Cullins, Sabriena            Granada High             14.76  -1.3  6 
 78 Damaser, Sophia              Amador Valle             14.78  -3.4  4 
 79 House, Rianna                Foothill Ple             14.79  -2.1  5 
 80 Oh, Allison                  Foothill Ple             14.83  -0.5  2 
 81 Papalia, Mackenzie           Carondelet H             14.84  -1.3  6 
 82 Powell, Laila                Monte Vista              14.88  -1.1  7 
 83 Barragan, Princessa          Carondelet H             14.89  -2.1  5 
 84 Coplon, Daphne               San Francisc             14.92  -1.3  6 
 85 Chee, Kathryn                Dublin High              14.95  -3.4  4 
 86 Torres, Janessa              Foothill Ple             14.96  -2.1  5 
 87 DeCosta, Parker              Monte Vista              14.98  -3.4  4 
 88 Clinton, Amelia              Amador Valle             14.99  -1.2  3 
 89 May, Natalie                 Granada High             15.08  -1.2  3 
 90 Telli, Giulia                Amador Valle             15.34  -0.5  2 
 91 Ashan, Zara                  Skyline                  15.45  -2.1  5 
 92 Qazi, Juwariyah              Dougherty Va             15.47  -3.4  4 
 93 Rodriguez, Erin              Amador Valle             15.58  -0.5  2 
 94 Woodward, Serena             Granada High             15.67  -3.4  4 
 95 Pina, Laila                  Skyline                  15.85  -0.5  2 
 96 McCarthy, Rowan              Foothill Ple             16.00  -1.2  3 
 97 Diaz, Kiana                  Skyline                  16.05  -3.4  4  16.041
 98 Huang, Joyce                 Foothill Ple             16.05  -1.2  3  16.047
 99 Mcarn, Reagan                Foothill Ple             16.10  -1.2  3 
100 Chandrapati, SriSai Vais     Foothill Ple             16.20  -0.5  2 
101 Shankar, Pallavi             Amador Valle             16.35  -1.2  3  16.347
102 Kent, Abigail                Amador Valle             16.35  -0.8  1  16.349
103 Peruvemba, Namitha           Amador Valle             16.37  -0.5  2 
104 Paul, Shreya                 Foothill Ple             16.53  -3.4  4 
105 Carter, Julia                Amador Valle             16.54  -0.5  2 
106 Fernandez, Ava               Amador Valle             16.90  -0.5  2 
107 Solorio, Miriam              Piner High (             17.17  -0.8  1 
  
Event 13  Girls 100 Meter Hurdles
========================================================================
    Name                    Year School                  Finals  Wind H#
========================================================================
  1 Ochoa, Isela                 Dublin High              15.06   3.7  7 
  2 Liao, Amelia                 Dublin High              15.22   3.7  7 
  3 Lampsas, Mara                California H             16.10   3.7  7 
  4 Chen, Michelle               Dublin High              16.28   3.7  7 
  5 Adamos, Alaina               Dublin High              16.48   3.7  7 
  6 DeMello, Kira                Granada High             17.08   1.4  5 
  7 Catherine, Polaski           Livermore Hi             17.10   1.4  6 
  8 Lim, Emma                    Foothill Ple             17.16   1.4  6 
  9 Garrison, Lanae              Dublin High              17.20   1.4  6  17.194
 10 Pinthapataya, Tanya          Castro Valle             17.20   1.4  6  17.197
 11 Oden, Taylor                 Archbishop M             17.43   1.4  6 
 12 Hardesty, Olivia             Granada High             17.45   1.4  6 
 13 Ricks, Monique               Skyline                  17.51   1.4  6 
 14 Heinicke, Charlotte          St. Ignatius             17.88   1.4  5 
 15 Chan, Kayla                  St. Ignatius             18.14   1.4  5 
 16 Castillo, Isabella           Arroyo High              18.22   2.2  4 
 17 Huang, Sabrina               Arroyo High              18.26   2.2  4 
 18 Howard, Cameron              St. Ignatius             18.43   2.2  4 
 19 Beck, Fayola                 Montgomery H             18.47   1.4  5 
 20 Lee, Kara                    California H             18.66   1.4  5 
 21 Mullins, Sarah               St. Ignatius             18.69   1.4  5 
 22 Carrillo Vega, Lupita        Archbishop M             18.72   2.3  3 
 23 Chin, Erin                   Foothill Ple             18.96   1.4  6 
 24 Roberts, Alannah             Livermore Hi             18.98   2.2  4 
 25 Lyon, Charlotte              Convent & St             19.23   2.3  3 
 26 Mota Estrada, Elizabeth      Maria Carril             19.25   2.1  2 
 27 Baxter, Harris               Granada High             19.52   2.2  4 
 28 Pulido, Sophia               Granada High             19.53   2.2  4 
 29 Kamble, Aditi                Foothill Ple             19.56   2.3  3 
 30 Okwudiafor Johnson, Rach     Dublin High              19.70   2.1  2  19.698
 31 Bronston, Bailey             Maria Carril             19.70   2.3  3  19.700
 32 Tran, Erika                  Dublin High              19.77   2.3  3 
 33 Guerra, Rachel               Granada High             19.89   2.1  2 
 34 Khoury, Alexandria           Granada High             19.94   2.3  3 
 35 Platz, Chloe                 Castro Valle             20.05   2.1  2 
 36 Liu, Gisela                  Dougherty Va             20.23   1.4  1  20.226
 37 Awujoola, Tola               Foothill Ple             20.23   2.1  2  20.227
 38 Kenny, Deirdre               Convent & St             20.38   2.1  2 
 39 Demarest, Audrey             Granada High             21.20   1.4  1 
 40 Guleria, Palak               Granada High             21.36   2.1  2 
 41 Leak, Jordyn                 Granada High             21.91   1.4  1 
 
Event 15  Girls Shot Put
===================================================================
    Name                    Year School                  Finals  H#
===================================================================
  1 Fowler, Kendall              Branham High          37-01.00   4 
  2 Ashley, Emmanuele            Livermore Hi          34-09.00   4 
  3 Richardson, Hannah           California H          34-02.00   4 
  4 Kane, Sydney                 San Ramon Va          33-08.00   4 
  5 Howe, Abigail                Foothill Ple          33-00.00   4 
  6 Rosati, Ashley               Monte Vista           32-04.00   4 
  7 Kelleher, Paige              Maria Carril         J32-04.00   4 
  8 Ainlay, Samantha             Piner High (          31-00.00   2 
  9 Suravarjjala, Niharika       Dublin High           30-01.00   3 
 10 Arroyo, Jasmine              Maria Carril          29-08.00   3 
 11 Weasner, Anastasha           Granada High          29-04.00   4 
 12 Mejia, Sabrina               Granada High          28-10.00   4 
 13 Schnapp, Courtney            Granada High          28-07.00   3 
 14 Hackett, Addison             Maria Carril          28-03.00   3 
 15 Hofer, Ella                  California H         J28-03.00   3 
 16 Henderson, Sofia             Santa Rosa H          27-04.00   3 
 17 Reynolds, Rachel             Maria Carril          27-02.00   2 
 18 Fernandez, Anissa            California H          27-01.00   2 
 19 Kennedy, Taleia              Foothill Ple         J27-01.00   3 
 20 Terpstra, Katrina            Foothill Ple          27-00.00   3 
 21 Gonzalez, Jasmine            San Francisc          26-10.00   4 
 22 Suravarjjala, Nirupama       Dublin High           26-03.00   2 
 23 Nicole, Buskard              Livermore Hi          25-09.00   2 
 24 Bell, Trinity                Granada High          25-02.00   3 
 25 Madison, Foster              Livermore Hi          24-09.00   2 
 26 Marshall, Maddie             Piner High (          24-05.00   2 
 27 Townsend, Bianca             James Logan           23-07.00   3 
 28 Farkas, Chloe                Granada High          23-01.00   2 
 29 Staples, Laney               Dublin High           22-07.00   2 
 30 Oscherwitz, Gia              Granada High          22-06.00   1 
 31 Gotelli, Gianna              Monte Vista           22-05.00   1 
 32 Fabris, Isabella             Dublin High           21-10.00   1 
 33 Walker, Kate                 Granada High          21-07.00   2 
 34 Gobriel, Julia               Dublin High           21-02.00   1 
 35 Soto, Carmen                 Piner High (          20-09.00   1 
 36 Sadaghiani, Sima             Dublin High           20-01.00   1 
 37 Esmaili, Nikki               Monte Vista           18-04.00   1 
 38 Mittone, Mary                California H          18-03.00   1 
 39 Matta, Nattale               Dublin High           17-04.00   1 
 40 Jain, Dikshita               Dublin High           16-09.00   1 
 41 Barrera, Arianna             Monte Vista           15-04.00   1 
 42 Ibrahim, Nada                Dublin High           11-10.00   1 
 
Event 17  Girls Discus Throw
===================================================================
    Name                    Year School                  Finals  H#
===================================================================
  1 Howe, Abigail                Foothill Ple            120-10   4 
  2 Ainlay, Samantha             Piner High (            115-00   4 
  3 Fowler, Kendall              Branham High            113-03   4 
  4 Richardson, Hannah           California H            109-06   4 
  5 Kane, Sydney                 San Ramon Va            108-00   4 
  6 Fernandez, Anissa            California H            105-05   3 
  7 Hofer, Ella                  California H            103-09   4 
  8 Rosati, Ashley               Monte Vista              97-10   4 
  9 Arroyo, Jasmine              Maria Carril             97-09   2 
 10 Ashley, Emmanuele            Livermore Hi             93-04   4 
 11 Henderson, Sofia             Santa Rosa H             92-04   4 
 12 Bell, Trinity                Granada High             91-01   3 
 13 Reynolds, Rachel             Maria Carril             91-00   3 
 14 Mejia, Sabrina               Granada High             90-05   3 
 15 Joseph, Lael                 Santa Rosa H             89-11   3 
 16 Suravarjjala, Niharika       Dublin High             J89-11   3 
 17 Weasner, Anastasha           Granada High             88-01   2 
 18 Oscherwitz, Gia              Granada High             87-01   2 
 19 Gutierez, Avril              San Lorenzo              85-02   2 
 20 Hackett, Addison             Maria Carril             85-01   3 
 21 Townsend, Bianca             James Logan              84-08   3 
 22 Gotelli, Gianna              Monte Vista              83-11   3 
 23 Kennedy, Taleia              Foothill Ple             83-05   2 
 24 Schnapp, Courtney            Granada High             82-05   2 
 25 Farkas, Chloe                Granada High             80-10   1 
 26 Terpstra, Katrina            Foothill Ple             76-09   2 
 27 Suravarjjala, Nirupama       Dublin High             J76-09   1 
 28 Staples, Laney               Dublin High              75-10   1 
 29 Marshall, Maddie             Piner High (             74-07   1 
 30 Kelleher, Paige              Maria Carril             72-05   2 
 31 Mittone, Mary                California H             72-02   1 
 32 Tran, Kimberly               San Lorenzo              70-05   1 
 33 Gobriel, Julia               Dublin High              66-04   2 
 34 Nicole, Buskard              Livermore Hi             66-00   1 
 35 Soto, Carmen                 Piner High (             65-02   1 
 36 Gonzalez, Jasmine            San Francisc             57-01   3 
 37 Jain, Dikshita               Dublin High              55-07   1 
 38 Sadaghiani, Sima             Dublin High              51-09   1 
 39 Matta, Nattale               Dublin High              50-06   2 
 
Event 19  Girls High Jump
================================================================
    Name                    Year School                  Finals 
================================================================
  1 Hunt, Alexis                 Maria Carril           5-06.00  
  2 Lampsas, Mara                California H           5-02.00  
  2 Anderson, Torre              Foothill Ple           5-02.00  
  4 Sachs, Naomi                 Castro Valle           5-00.00  
  5 Hogan, Tobi                  Carondelet H           4-10.00  
  5 Meade, Katherine             Woodside Hig           4-10.00  
  7 Josephine, Miller            Livermore Hi          J4-10.00  
  8 Morrison, Elsa               St. Ignatius          J4-10.00  
  9 Townsend, Lesley             Foothill Ple          J4-10.00  
 10 Oden, Taylor                 Archbishop M          J4-10.00  
 11 Goodrow, Eve                 St. Ignatius           4-06.00  
 12 Sims, Reyna                  Castro Valle          J4-06.00  
 13 Mathers, Isabella            Monte Vista           J4-06.00  
 14 Cuthbert, Danielle           San Francisc           4-04.00  
 15 Linehan, Molly               St. Ignatius          J4-04.00  
 16 Perrin, Camielle             San Ramon Va          J4-04.00  
 17 Papalia, Mackenzie           Carondelet H           4-00.00  
 18 Ghosh, Anwesha               Dublin High            3-10.00  
 -- Arcidiacono, Gianna          Carondelet H                NH  
 -- Joseph, Lael                 Santa Rosa H                NH  
 
Event 21  Girls Pole Vault
================================================================
    Name                    Year School                  Finals 
================================================================
  1 Mulligan, Lily               Maria Carril          11-00.00  
  2 Lee, Morgan                  Dublin High           10-06.00  
  3 Contreras, Sabrina           California H         J10-06.00  
  4 Doyle, Elise                 San Ramon Va          10-00.00  
  5 Bradley, Victoria            Dublin High          J10-00.00  
  6 Pagano, Sela                 Branham High           9-06.00  
  7 Han, Lauren                  Dublin High           J9-06.00  
  8 Aymond, Andie                James Logan            8-06.00  
  8 Wong, Lyndsay                Monte Vista            8-06.00  
  8 Clutter, Ella                San Ramon Va           8-06.00  
 11 Gross, Amelie                Monte Vista           J8-06.00  
 12 Bruce, Eliana                Santa Rosa H          J8-06.00  
 13 Alapa, Jasmine               Santa Rosa H          J8-06.00  
 14 Lavoie, Jeanette             Campolindo H           8-00.00  
 14 Meredith, Brianna            Carondelet H           8-00.00  
 14 Bashant-coon, Lauren         Carondelet H           8-00.00  
 17 Aparicio, Colleen            San Ramon Va          J8-00.00  
 18 Nguyen, Katelyn              Archbishop M           7-06.00  
 18 Tran, Kayley                 Dublin High            7-06.00  
 20 Stagnaro, Veronica           San Ramon Va           7-00.00  
 20 Brubaker, Tessa              San Ramon Va           7-00.00  
 22 Muegge, Juliana              San Ramon Va          J7-00.00  
 23 Brown, Alexa                 San Ramon Va          J7-00.00  
 23 Nassiri, Ariana              San Ramon Va          J7-00.00  
 -- Osuna, Tiana                 Archbishop M                NH  
 -- Thomsen, Sophie              San Ramon Va                NH  
 -- Contreras, Samantha          California H                NH  
 -- Imran, Aleena                Dublin High                 NH  
 
Event 23  Girls Long Jump
========================================================================
    Name                    Year School                  Finals  Wind H#
========================================================================
  1 Ronan, Megan                 St. Ignatius          18-05.50   NWI  1 
  2 Anderson, Torre              Foothill Ple          18-03.00   NWI  1 
  3 Chen, Michelle               Dublin High           17-05.00   NWI  3 
  4 Sims, Lynee                  Castro Valle          17-01.00   NWI  1 
  5 Yung, Audrey                 St. Ignatius          16-10.00   NWI  1 
  6 Pinthapataya, Tanya          Castro Valle          16-06.50   NWI  1 
  7 Tong, Katie                  St. Ignatius         J16-06.50   NWI  1 
  8 Peters, Cate                 Monte Vista           16-04.50   NWI  2 
  9 Sachs, Naomi                 Castro Valle          16-04.00   NWI  2 
 10 Stock, Jesse                 Monte Vista           16-02.00   NWI  2 
 11 Hogan, Tobi                  Carondelet H         J16-02.00   NWI  3 
 12 Wiley, Christen              St. Ignatius          16-01.00   NWI  2 
 13 Sheldon, Katherine           Woodside Hig         J16-01.00   NWI  1 
 14 Kasalanati, Namratha         Campolindo H          15-11.00   NWI  2 
 15 Sarwar, Aiza                 Dublin High          J15-11.00   NWI  3 
 16 Walsh, Kate                  St. Ignatius          15-10.50   NWI  1 
 17 Cuthbert, Danielle           San Francisc          15-10.00   NWI  2 
 18 Dhar, Ojal                   Dougherty Va          15-07.50   NWI  2 
 19 Platz, Chloe                 Castro Valle          15-05.00   NWI  3 
 20 Kearns, Olivia               Arroyo High           15-02.00   NWI  2 
 21 Dietzel, Lily                San Ramon Va         J15-02.00   NWI  2 
 22 Moore, Sydney                Maria Carril          15-00.00   NWI  3 
 23 Delgado, Sophia              Maria Carril         J15-00.00   NWI  3 
 24 Akoni, Nyah                  Carondelet H          14-09.00   NWI  3 
 25 Long, Makena                 Archbishop M          14-08.00   NWI  3 
 26 Lau, Abigail                 Dougherty Va          14-06.00   NWI  2 
 27 Meredith, Brianna            Carondelet H          14-01.00   NWI  3 
 28 Wilson, Kyrstin              Campolindo H          13-11.50   NWI  3 
 29 Cox, Milan                   Carondelet H          13-09.00   NWI  3