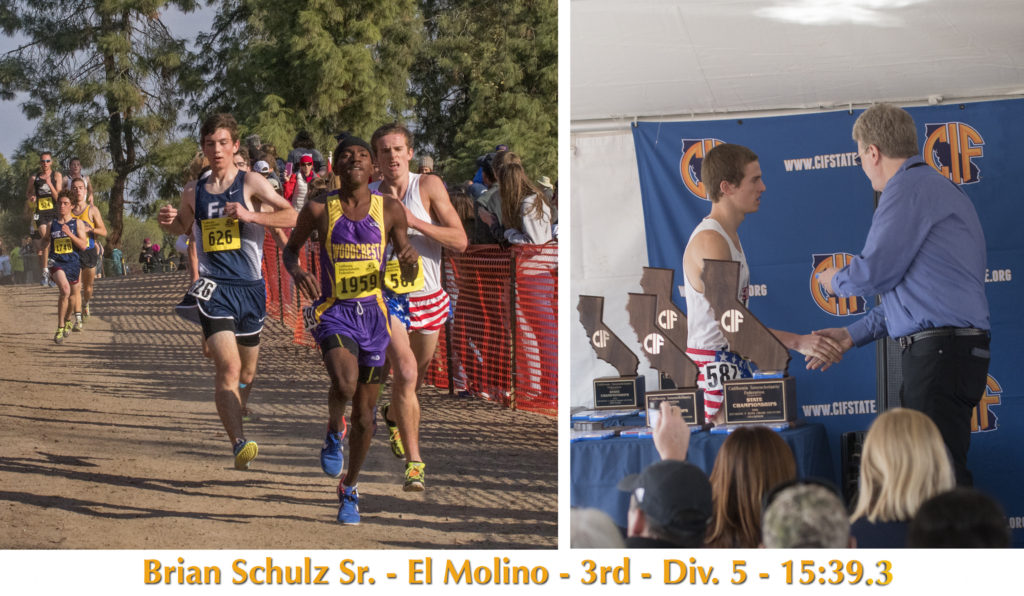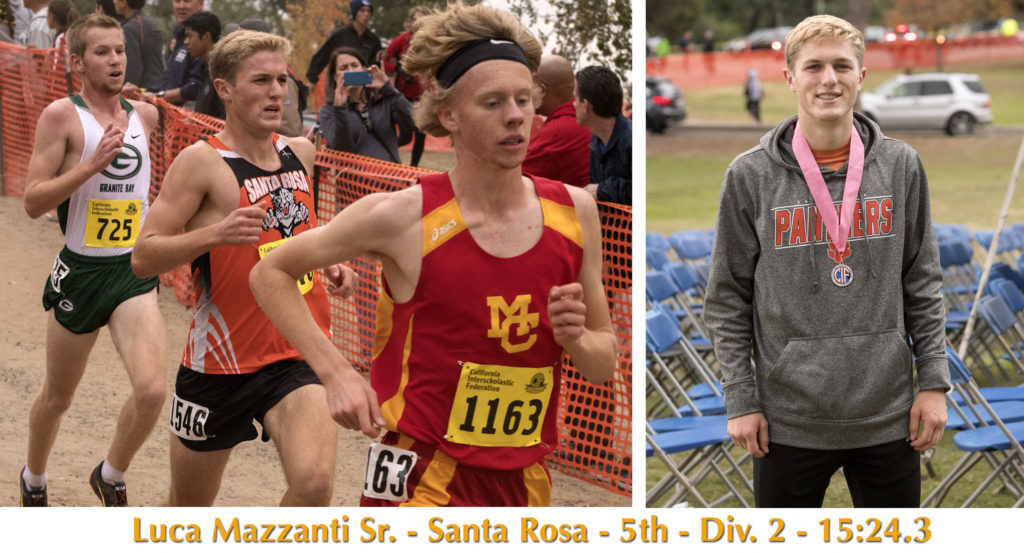 Video of Luca's race
Video of Brian's race
Other races
Only state champions Ryan Mack, Ukiah Div II & Celedonio Rodriquez, Elsie Allen Div III 1998 plus 2nd placer Brian Cole, St. Helena 2006 Div V have ever placed higher than El Molino's Brian Schulz's 3rd place (15:40) Div V finish today.
Santa Rosa's Luca Mazzanti's 5th place (15:25) Div II finish has only been bettered by those plus Nate Kabanuck, Casa Grande div. III 1999 and 4th Mike Perez, Lower Lake 2005 div. IV.
Only Mack's place is higher than Mazzanti's for div. I or II.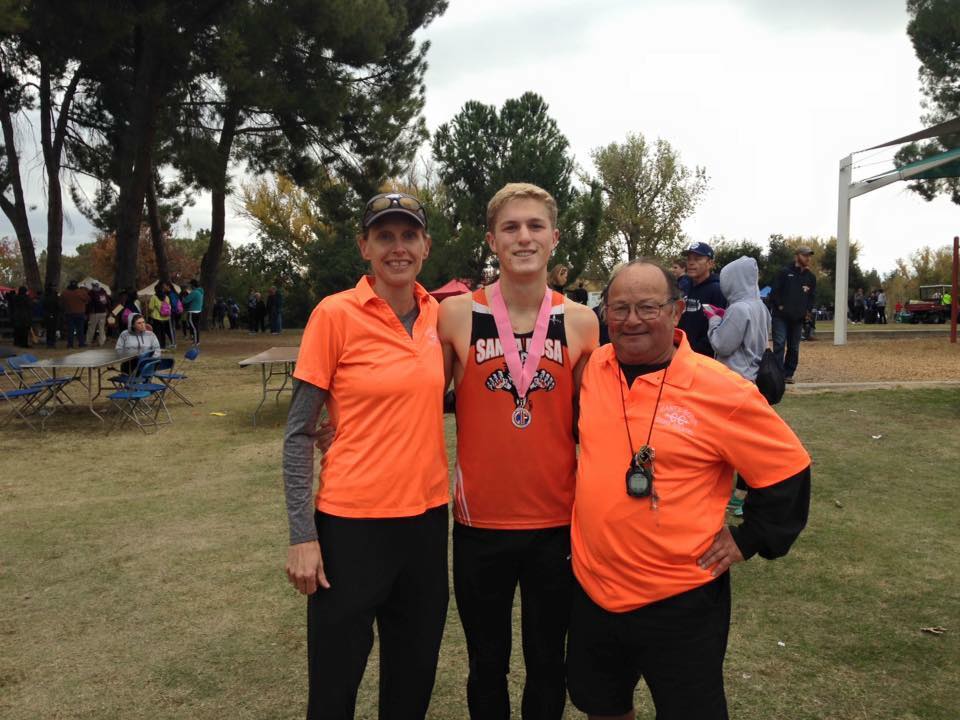 Only Mack 15:23 and Santa Rosa's Reesey Byers 2009 15:23 plus Todd Trask Healdsburg 1986 15:24 have ever run faster than Mazzanti's time today at Woodward Park. 22nd fastest time at 2016 state meet all divisions. Schulz was 50th.
Rincon Valley Christian's Wes Methum placed 11th in division V in a fast 16:04.
Kelseyville's Andre Williams was 15th in the same race in 16:16.
Sonoma Academy's Kheva Mann lead his team to a 9th place finish in that division.
The Maria Carrillo team finished in 15th in the division III race lead by Ben Lawson in 16:17 followed by 0.1 seconds by Ukiah's Robert Swoboda.
Top Empire Boys by time
Mazzanti, Luca SR Santa Rosa 15:24.3 4:57.2, =4th Woodward, 10th All-Time 5k
Schulz, Brian SR El Molino 15:39.3 5:02.0
Methum, Wes SR Rincon Vly. Christian 16:03.9 5:09.9, =34th Woodward
Vargas, Jonny JR Piner 16:12.3 5:12.6, =48th Woodward
Williams, Andre SO Kelseyville 16:16.0 5:13.8, 55th Woodward
Lawson, Ben JR Maria Carrillo 16:17.0 5:14.1, =56th Woodward
Swoboda, Robert SR Ukiah 16:17.1 5:14.2
Moore, Cooper SR Maria Carrillo 16:20.5 5:15.3
Mann, Kheva JR Sonoma Acad 16:35.9 5:20.2
Johnson, Joey SR Sonoma Acad 16:44.3 5:22.9
Kruetzfeldt, Scott JR Maria Carrillo 16:54.9 5:26.3
Loftus, Brendon JR Sonoma Acad 16:55.0 5:26.4
Lindemann, Zach JR Maria Carrillo 17:07.5 5:30.4
Civello, Blake SR Maria Carrillo 17:08.4 5:30.7
Morast, Caspian JR Sonoma Acad 17:36.8 5:39.8
Garcia, Eduardo JR Sonoma Acad 17:40.3 5:40.9
McCloud, Will SO Maria Carrillo 17:23.9 5:35.6
Smail, Rory FR Maria Carrillo 17:42.3 5:41.6
Roney, Jack JR Sonoma Acad 17:56.8 5:46.2
PiperCordova, Morgan SO Sonoma Acad 18:11.9 5:51.1
Maria Carrillo 1:23:49 16:46 0:51.5, =14th Woodward
Sonoma Academy 1:25:33 17:07 1:04.4, 34th Woodward
Top Empire Boys by place
3rd Schulz, Brian SR El Molino 15:39.3, best EM place ever, old Schulz 7th IV 2015
5th Mazzanti, Luca SR Santa Rosa 15:24.3, best SR place ever, old Reesey Byers, 9th II 2009
11th Methum, Wes SR Rincon Vly. Christian 16:03.9, best RVC place ever, old Chris Geyer, 20th V 1997
15th Williams, Andre SO Kelseyville 16:16.0, first Kel state placer
26th Vargas, Jonny JR Piner 16:12.3
27th Mann, Kheva JR Sonoma Acad 16:35.9
35th Johnson, Joey SR Sonoma Acad 16:44.3
56th Lawson, Ben JR Maria Carrillo 16:17.0
57th Swoboda, Robert SR Ukiah 16:17.1
58th Loftus, Brendon JR Sonoma Acad 16:55.0
64th Moore, Cooper SR Maria Carrillo 16:20.5
108 Kruetzfeldt, Scott JR Maria Carrillo 16:54.9
109 Morast, Caspian JR Sonoma Acad 17:36.8
113 Garcia, Eduardo JR Sonoma Acad 17:40.3
131 Lindemann, Zach JR Maria Carrillo 17:07.5
134 Roney, Jack JR Sonoma Acad 17:56.8
136 Civello, Blake SR Maria Carrillo 17:08.4
151 PiperCordova, Morgan SO Sonoma Acad 18:11.9
155 McCloud, Will SO Maria Carrillo 17:23.9
177 Smail, Rory FR Maria Carrillo 17:42.3
9th Sonoma Acad-NCS 263 18-23-43-88-91 (108) (123) 1:25:33 17:07 27-35-58-109-113-134-151 1:04.4
15th Maria Carrillo-NCS 393 46-52-83-104-108 (124) (143) 1:23:49 16:46 56-64-108-131-136-155-177 0:51.5
Race #1
Division IV Boys
Final Standings Score Scoring Order Total Avg. Finish Order Spread Section
1 Foothill Technology-SS 48 2-5-11-13-17 (34) (48) 1:19:50 15:58 2-8-18-20-29-53-67 0:47.1
2 Sage Creek-SDS 100 8-9-10-24-49 (68) (120) 1:21:18 16:16 15-16-17-39-68-90-148 0:42.2
3 JSerra-SS 162 3-12-33-38-76 (81) (97) 1:22:04 16:25 5-19-51-57-100-106-122 1:25.0
4 Oaks Christian-SS 195 6-22-35-53-79 (101) (114) 1:22:50 16:34 9-37-54-73-104-126-141 1:15.3
5 Crean Lutheran-SS 206 25-31-32-55-63 (95) (127) 1:23:15 16:39 40-48-50-75-85-120-157 0:28.2
6 S. Lorenzo Vly.-CCS 213 7-23-28-47-108 (122) (149) 1:23:06 16:38 12-38-43-66-134-151-180 1:34.5
7 San Luis Obispo-SS 222 1-18-62-64-77 (91) (106) 1:22:10 16:26 1-30-84-86-101-116-132 2:08.0
8 Bishop O'Dowd-NCS 234 21-29-43-57-84 (131) (146) 1:23:35 16:43 35-45-62-77-109-161-177 0:49.7
9 Harvard/Westlake-SS 257 19-45-51-69-73 (86) (112) 1:23:43 16:45 31-64-70-91-95-111-139 0:42.6
10 Valley Center-SDS 268 14-40-50-54-110 (113) (124) 1:23:53 16:47 22-59-69-74-136-140-153 1:25.0
11 Sir Francis Drake-NCS 284 41-52-60-65-66 (103) (123) 1:24:10 16:50 60-72-81-87-88-128-152 0:15.6
12 Greenfield-CCS 301 44-46-61-72-78 (82) (83) 1:24:25 16:53 63-65-83-94-103-107-108 0:26.0
13 McKinleyville-NCS 318 27-36-37-102-116 (133) (138) 1:24:48 16:58 42-55-56-127-143-163-168 1:12.3
14 High Tech High-SDS 359 30-56-80-88-105 (118) (119) 1:25:12 17:03 46-76-105-113-130-146-147 0:58.0
15 Pacific Grove-CCS 374 16-75-89-96-98 (107) (139) 1:25:08 17:02 27-98-114-121-123-133-170 1:07.1
16 Christian Brothers-SJS 376 58-67-74-87-90 (92) (155) 1:25:17 17:04 79-89-97-112-115-117-186 0:23.0
17 Kerman-CS 434 15-93-94-115-117 (156) (159) 1:26:02 17:13 23-118-119-142-144-187-190 1:32.3
18 Coalinga-CS 454 4-59-125-132-134 (157) (160) 1:26:57 17:24 7-80-154-162-164-188-191 2:21.8
19 Granite Hills-SS 466 42-85-104-109-126 (128) (147) 1:26:47 17:22 61-110-129-135-155-158-178 1:13.9
20 Yreka-NS 497 20-70-130-137-140 (145) (153) 1:28:18 17:40 34-92-160-167-171-176-184 2:11.8
21 Calaveras-SJS 501 39-99-100-121-142 (144) (152) 1:27:55 17:35 58-124-125-150-173-175-183 2:06.4
22 West Valley-NS 517 26-71-129-141-150 (151) 1:29:28 17:54 41-93-159-172-181-182 3:00.0
23 Paradise-NS 673 111-135-136-143-148 (154) (158) 1:32:05 18:25 138-165-166-174-179-185-189 1:36.1
Individual Results
Athlete # Team Score Time Gap Avg. Mile Avg. kM
1 Bolger, Callum SR 1516 San Luis Obispo-SS 1 14:57.4 — 4:48.5 2:59.5
2 Rodriguez, Jared SR 651 Foothill Technology-SS 2 15:29.3 0:31.9 4:58.8 3:05.8
3 Garcia, Joseph SR 1511 Salesian-SS — 15:33.9 0:36.5 5:00.3 3:06.8
4 Cutter, Ryan SR 788 Hercules-NCS — 15:39.9 0:42.5 5:02.2 3:08.0
5 Grover, Anthony FR 854 JSerra-SS 3 15:40.1 0:42.8 5:02.3 3:08.0
6 O'Neill, Kellen SR 44 Arcata-NCS — 15:42.7 0:45.3 5:03.1 3:08.5
7 Ayala, Ivan SR 408 Coalinga-CS 4 15:50.6 0:53.2 5:05.6 3:10.1
8 Pick, Henry SO 650 Foothill Technology-SS 5 15:52.2 0:54.8 5:06.2 3:10.4
9 Robinett, Trent SR 1247 Oaks Christian-SS 6 15:54.4 0:57.0 5:06.9 3:10.9
10 Kabbara, Munir JR 1530 San Rafael-NCS — 15:55.7 0:58.3 5:07.3 3:11.1
11 Fierro, Jonathan SR 1104 Miramonte-NCS — 15:57.2 0:59.8 5:07.8 3:11.4
12 Anderson, Chris SO 1465 S. Lorenzo Vly.-CCS 7 15:57.6 1:00.2 5:07.9 3:11.5
13 Hachac, Elliot SR 455 Costa Mesa-SS — 15:58.0 1:00.6 5:08.0 3:11.6
14 Ullrich, Collin JR 943 Liberty Ranch-SJS — 15:59.7 1:02.3 5:08.6 3:11.9
15 Nelson, Brad JR 1501 Sage Creek-SDS 8 16:01.7 1:04.3 5:09.2 3:12.3
16 Prince, Beau SR 1502 Sage Creek-SDS 9 16:03.1 1:05.7 5:09.7 3:12.6
17 Rubin, Daniel SO 1503 Sage Creek-SDS 10 16:04.9 1:07.5 5:10.3 3:13.0
18 Kuchta, Chris JR 647 Foothill Technology-SS 11 16:05.4 1:08.0 5:10.4 3:13.1
19 Berrios, Noah SR 850 JSerra-SS 12 16:06.2 1:08.8 5:10.7 3:13.2
20 Pedersen, Evan SR 649 Foothill Technology-SS 13 16:06.6 1:09.2 5:10.8 3:13.3
21 Muzoz, Roman SR 886 King City-CCS — 16:07.3 1:09.9 5:11.0 3:13.5
22 Allen, Christopher SR 1823 Valley Center-SDS 14 16:08.1 1:10.8 5:11.3 3:13.6
23 Mosqueda, Jose JR 881 Kerman-CS 15 16:08.5 1:11.1 5:11.4 3:13.7
24 Acosta, Isaac SR 981 Lompoc-SS — 16:10.5 1:13.1 5:12.0 3:14.1
25 Huerta, Tomas SR 1921 Weston Ranch-SJS — 16:11.2 1:13.8 5:12.3 3:14.2
26 Vargas, Jonny JR 1335 Piner-NCS — 16:12.3 1:14.9 5:12.6 3:14.4
27 Alt, Jake SO 1269 Pacific Grove-CCS 16 16:12.9 1:15.5 5:12.8 3:14.6
28 Founds, Matthew SR 1647 Soquel-CCS — 16:15.5 1:18.1 5:13.7 3:15.1
29 Llamas, Alec JR 648 Foothill Technology-SS 17 16:16.3 1:18.9 5:13.9 3:15.3
30 White, Matt SR 1520 San Luis Obispo-SS 18 16:16.7 1:19.3 5:14.0 3:15.3
31 Santillan, Jason SR 782 Harvard/Westlake-SS 19 16:18.2 1:20.8 5:14.5 3:15.6
32 Lavorato, Sam SO 1296 Palma-CCS — 16:19.6 1:22.2 5:15.0 3:15.9
33 Ali, Mohammed JR 62 Avenal-CS — 16:20.2 1:22.8 5:15.1 3:16.0
34 Fernandez, Isaac JR 1983 Yreka-NS 20 16:21.9 1:24.5 5:15.7 3:16.4
35 Gonzalez, Aaron SR 136 Bishop O'Dowd-NCS 21 16:22.5 1:25.1 5:15.9 3:16.5
36 Padilla, Thomas SO 1297 Palma-CCS — 16:23.4 1:26.0 5:16.2 3:16.7
37 Newman, Graham JR 1246 Oaks Christian-SS 22 16:23.4 1:26.0 5:16.2 3:16.7
38 Macmillan, Ross SO 1471 S. Lorenzo Vly.-CCS 23 16:24.0 1:26.6 5:16.4 3:16.8
39 Melkonian, James SR 1498 Sage Creek-SDS 24 16:24.6 1:27.2 5:16.6 3:16.9
40 Weiss, Peter JR 478 Crean Lutheran-SS 25 16:26.7 1:29.3 5:17.3 3:17.3
41 Meeder, Chris SR 1909 West Valley-NS 26 16:27.3 1:29.9 5:17.4 3:17.4
42 Rieder, Joe SR 1063 McKinleyville-NCS 27 16:28.2 1:30.8 5:17.7 3:17.6
43 Gallagher, Ian SR 1470 S. Lorenzo Vly.-CCS 28 16:28.6 1:31.3 5:17.9 3:17.7
44 Ramirez, Dino JR 81 Bassett-SS — 16:28.7 1:31.3 5:17.9 3:17.7
45 Berkins, Spencer JR 134 Bishop O'Dowd-NCS 29 16:29.5 1:32.1 5:18.1 3:17.9
46 Menke, Max SR 793 High Tech High-SDS 30 16:30.5 1:33.1 5:18.5 3:18.1
47 Landis, Connor JR 182 Bret Harte-SJS — 16:31.5 1:34.1 5:18.8 3:18.3
48 Miller, Garrett SO 475 Crean Lutheran-SS 31 16:32.0 1:34.6 5:19.0 3:18.4
49 Nichols, Hector JR 828 Imperial-SDS — 16:32.4 1:35.0 5:19.1 3:18.5
50 Odenwald, Craig JR 476 Crean Lutheran-SS 32 16:33.1 1:35.7 5:19.3 3:18.6
51 Herold, Peter SO 855 JSerra-SS 33 16:33.6 1:36.2 5:19.5 3:18.7
52 Winter, Karl JR 1658 St Mary's-SJS — 16:35.0 1:37.6 5:19.9 3:19.0
53 Shore, Brodie SR 652 Foothill Technology-SS 34 16:35.3 1:37.9 5:20.0 3:19.1
54 Erbes, Jacob JR 1243 Oaks Christian-SS 35 16:35.5 1:38.1 5:20.1 3:19.1
55 Nolan, Austin SR 1060 McKinleyville-NCS 36 16:36.6 1:39.3 5:20.5 3:19.3
56 Coley, Christian JR 1058 McKinleyville-NCS 37 16:38.6 1:41.2 5:21.1 3:19.7
57 Briggs, Ethan SR 852 JSerra-SS 38 16:38.8 1:41.4 5:21.1 3:19.8
58 Macias, Saul SO 202 Calaveras-SJS 39 16:39.7 1:42.3 5:21.4 3:19.9
59 Saldana, Jose SO 1826 Valley Center-SDS 40 16:40.0 1:42.6 5:21.5 3:20.0
60 McCarthy, Cooper SO 1612 Sir Francis Drake-NCS 41 16:40.1 1:42.7 5:21.6 3:20.0
61 Esplin, Mannie SO 729 Granite Hills-SS 42 16:40.2 1:42.8 5:21.6 3:20.0
62 Kretlow, Cole JR 137 Bishop O'Dowd-NCS 43 16:40.6 1:43.2 5:21.7 3:20.1
63 Garcia, Rigo SO 751 Greenfield-CCS 44 16:41.3 1:43.9 5:22.0 3:20.3
64 Hollander, Nate SR 778 Harvard/Westlake-SS 45 16:42.4 1:45.0 5:22.3 3:20.5
65 Arias, Julian JR 749 Greenfield-CCS 46 16:42.7 1:45.3 5:22.4 3:20.5
66 Munoz, Bobby SR 1475 S. Lorenzo Vly.-CCS 47 16:43.1 1:45.7 5:22.5 3:20.6
67 Casswell, Trey JR 646 Foothill Technology-SS 48 16:43.2 1:45.9 5:22.6 3:20.6
68 Mitchell, Christian JR 1499 Sage Creek-SDS 49 16:43.9 1:46.5 5:22.8 3:20.8
69 Samano, Edrey SR 1827 Valley Center-SDS 50 16:43.9 1:46.5 5:22.8 3:20.8
70 Ring, Jonah JR 781 Harvard/Westlake-SS 51 16:44.4 1:47.0 5:23.0 3:20.9
71 Arrelano, Angel JR 125 Bishop Amat-SS — 16:45.2 1:47.8 5:23.2 3:21.0
72 Reilly, Sam SR 1614 Sir Francis Drake-NCS 52 16:46.0 1:48.6 5:23.5 3:21.2
73 Schaub, Colin SR 1248 Oaks Christian-SS 53 16:46.8 1:49.4 5:23.7 3:21.3
74 Ruiz, Gerardo-Antonio SR 1825 Valley Center-SDS 54 16:47.1 1:49.7 5:23.8 3:21.4
75 Pino, Cole SR 477 Crean Lutheran-SS 55 16:47.5 1:50.1 5:23.9 3:21.5
76 Whiteley, Henry SO 798 High Tech High-SDS 56 16:49.9 1:52.5 5:24.7 3:22.0
77 Murphy, Thomas SO 138 Bishop O'Dowd-NCS 57 16:50.0 1:52.6 5:24.8 3:22.0
78 Anstrom, Brett SR 1488 Sacred Ht. Prep-CCS — 16:51.2 1:53.8 5:25.1 3:22.2
79 Wiseman, Patrick JR 369 Christian Brothers-SJS 58 16:51.3 1:53.9 5:25.2 3:22.2
80 Avila, Alejandro SR 407 Coalinga-CS 59 16:51.4 1:54.0 5:25.2 3:22.3
81 Pompili, Nicco SO 1613 Sir Francis Drake-NCS 60 16:52.4 1:55.0 5:25.5 3:22.5
82 Klingenberg, Luke SO 454 Coronado-SDS — 16:52.9 1:55.5 5:25.7 3:22.6
83 Meza, Luis JR 753 Greenfield-CCS 61 16:54.0 1:56.6 5:26.0 3:22.8
84 Bloom, Aaron SO 1515 San Luis Obispo-SS 62 16:54.9 1:57.5 5:26.3 3:23.0
85 Bilotta, Evan JR 472 Crean Lutheran-SS 63 16:54.9 1:57.5 5:26.3 3:23.0
86 Andreatta, Jacob JR 1514 San Luis Obispo-SS 64 16:55.0 1:57.6 5:26.3 3:23.0
87 Wolford, Owen FR 1616 Sir Francis Drake-NCS 65 16:55.3 1:57.9 5:26.5 3:23.1
88 Reuter, Gabe SO 1615 Sir Francis Drake-NCS 66 16:55.7 1:58.3 5:26.6 3:23.1
89 Jimenez, John Isaiah SO 367 Christian Brothers-SJS 67 16:56.2 1:58.8 5:26.7 3:23.2
90 Maas, William SR 1497 Sage Creek-SDS 68 16:56.6 1:59.2 5:26.9 3:23.3
91 Sweeney, Nicholas SR 784 Harvard/Westlake-SS 69 16:56.7 1:59.3 5:26.9 3:23.3
92 Chitwood, Blake JR 1982 Yreka-NS 70 16:57.0 1:59.6 5:27.0 3:23.4
93 Morefield, Eric JR 1910 West Valley-NS 71 16:58.3 2:01.0 5:27.4 3:23.7
94 Martinez, Jaime SR 752 Greenfield-CCS 72 16:59.6 2:02.3 5:27.8 3:23.9
95 Shibuya, Andrew SO 783 Harvard/Westlake-SS 73 17:00.7 2:03.3 5:28.2 3:24.1
96 Kostenko, Dymond JR 929 Las Plumas-NS — 17:01.3 2:03.9 5:28.4 3:24.3
97 Copley, Samuel SO 366 Christian Brothers-SJS 74 17:01.4 2:04.0 5:28.4 3:24.3
98 Millette, Everett SR 1274 Pacific Grove-CCS 75 17:03.7 2:06.3 5:29.1 3:24.7
99 Mikhail, Joseph SO 73 Bakersfield Christian-CS — 17:04.0 2:06.7 5:29.3 3:24.8
100 Johnson, Sam SR 856 JSerra-SS 76 17:05.1 2:07.7 5:29.6 3:25.0
101 Scurria, Matt FR 1519 San Luis Obispo-SS 77 17:05.4 2:08.0 5:29.7 3:25.1
102 Curran, Dallas JR 292 Casa Roble-SJS — 17:06.8 2:09.4 5:30.2 3:25.4
103 Perez, Luis SR 755 Greenfield-CCS 78 17:07.3 2:09.9 5:30.3 3:25.4
104 Strother, Preston SR 1249 Oaks Christian-SS 79 17:09.6 2:12.2 5:31.0 3:25.9
105 Montesano, Jack SO 794 High Tech High-SDS 80 17:09.9 2:12.5 5:31.2 3:26.0
106 Burkhardt, Matthew SO 853 JSerra-SS 81 17:10.0 2:12.6 5:31.2 3:26.0
107 Arias, Mauricio SO 750 Greenfield-CCS 82 17:11.3 2:13.9 5:31.6 3:26.3
108 Ramirez, Rosendo SR 756 Greenfield-CCS 83 17:11.6 2:14.2 5:31.7 3:26.3
109 Taffe, Owen SR 139 Bishop O'Dowd-NCS 84 17:12.2 2:14.8 5:31.9 3:26.4
110 Hewett, Aaron JR 730 Granite Hills-SS 85 17:12.3 2:14.9 5:31.9 3:26.5
111 Ring, Adin JR 780 Harvard/Westlake-SS 86 17:13.0 2:15.6 5:32.1 3:26.6
112 Mujica, Alberto SO 368 Christian Brothers-SJS 87 17:13.2 2:15.8 5:32.2 3:26.6
113 Boss, Jack JR 792 High Tech High-SDS 88 17:13.3 2:15.9 5:32.2 3:26.6
114 Stefanou, Will FR 1275 Pacific Grove-CCS 89 17:13.8 2:16.4 5:32.4 3:26.8
115 Yuponce, Will SR 370 Christian Brothers-SJS 90 17:14.2 2:16.8 5:32.5 3:26.8
116 Campa, Colton FR 1517 San Luis Obispo-SS 91 17:14.8 2:17.4 5:32.7 3:26.9
117 Afong, Nevin SO 364 Christian Brothers-SJS 92 17:16.4 2:19.0 5:33.2 3:27.3
118 Robles, Jesus JR 882 Kerman-CS 93 17:16.5 2:19.1 5:33.3 3:27.3
119 Alvarez, Oscar FR 879 Kerman-CS 94 17:16.5 2:19.1 5:33.3 3:27.3
120 Kochan, Dylan SO 474 Crean Lutheran-SS 95 17:16.6 2:19.2 5:33.3 3:27.3
121 Lauritzen, Luca JR 1272 Pacific Grove-CCS 96 17:17.4 2:20.0 5:33.5 3:27.5
122 Bragdon, Luc SO 851 JSerra-SS 97 17:19.7 2:22.3 5:34.3 3:27.9
123 Loh, Henry JR 1273 Pacific Grove-CCS 98 17:20.0 2:22.6 5:34.4 3:28.0
124 Embrey, Brody JR 201 Calaveras-SJS 99 17:20.2 2:22.8 5:34.4 3:28.0
125 Milligan, Jeremy FR 203 Calaveras-SJS 100 17:20.9 2:23.5 5:34.7 3:28.2
126 Erlenborn, Caleb JR 1244 Oaks Christian-SS 101 17:21.9 2:24.5 5:35.0 3:28.4
127 Padilla, Trent SO 1061 McKinleyville-NCS 102 17:24.2 2:26.8 5:35.7 3:28.8
128 Davidson, Aaron JR 1611 Sir Francis Drake-NCS 103 17:26.2 2:28.8 5:36.4 3:29.2
129 Lievano, Guillermo SR 731 Granite Hills-SS 104 17:27.6 2:30.2 5:36.8 3:29.5
130 Santiago, Lucas SR 797 High Tech High-SDS 105 17:28.4 2:31.0 5:37.1 3:29.7
131 Lile, Jared SR 931 Lassen-NS — 17:29.2 2:31.8 5:37.4 3:29.8
132 Knox, Garron SR 1518 San Luis Obispo-SS 106 17:29.8 2:32.4 5:37.5 3:29.9
133 Ballerlni, Fiorln SO 1270 Pacific Grove-CCS 107 17:29.9 2:32.5 5:37.6 3:30.0
134 Yeomans, Craig JR 1477 S. Lorenzo Vly.-CCS 108 17:32.1 2:34.7 5:38.3 3:30.4
135 Wong, Nathaniel SR 734 Granite Hills-SS 109 17:32.5 2:35.1 5:38.4 3:30.5
136 Gonzalez, Luis JR 1824 Valley Center-SDS 110 17:33.1 2:35.7 5:38.6 3:30.6
137 Quinonez, Alejandro SR 1750 Taft Union-CS — 17:33.3 2:35.9 5:38.7 3:30.6
138 Price, Gabriel SO 1316 Paradise-NS 111 17:33.4 2:36.0 5:38.7 3:30.7
139 Mazdisnian, Keon SO 779 Harvard/Westlake-SS 112 17:36.3 2:38.9 5:39.6 3:31.2
140 Samano, Pancho SO 1828 Valley Center-SDS 113 17:38.8 2:41.4 5:40.4 3:31.7
141 Garrido, Garrett SR 1245 Oaks Christian-SS 114 17:39.2 2:41.8 5:40.6 3:31.8
142 Vargas, Benjamin SR 884 Kerman-CS 115 17:39.9 2:42.5 5:40.8 3:32.0
143 Puzz, Isaac SO 1062 McKinleyville-NCS 116 17:40.5 2:43.1 5:41.0 3:32.1
144 Valdez, Adam SR 883 Kerman-CS 117 17:40.8 2:43.4 5:41.1 3:32.1
145 Ali, Nader SO 471 Crawford-SDS — 17:42.3 2:44.9 5:41.6 3:32.5
146 Parrish, Ben SO 795 High Tech High-SDS 118 17:45.1 2:47.7 5:42.5 3:33.0
147 Rosenthal, Jaden JR 796 High Tech High-SDS 119 17:46.1 2:48.7 5:42.8 3:33.2
148 Morris, Justin SO 1500 Sage Creek-SDS 120 17:47.2 2:49.8 5:43.1 3:33.4
149 Duncan, CJ SO 1929 Wheatland-NS — 17:47.7 2:50.3 5:43.3 3:33.5
150 Alliende, Mateo SO 198 Calaveras-SJS 121 17:47.9 2:50.5 5:43.4 3:33.6
151 Clark, Kevin SR 1468 S. Lorenzo Vly.-CCS 122 17:48.6 2:51.2 5:43.6 3:33.7
152 Bruckner, Sam SR 1610 Sir Francis Drake-NCS 123 17:50.3 2:52.9 5:44.1 3:34.1
153 Tuttle, Andrew JR 1829 Valley Center-SDS 124 17:51.6 2:54.2 5:44.5 3:34.3
154 Valencia, Anthony SO 413 Coalinga-CS 125 17:54.0 2:56.6 5:45.3 3:34.8
155 Roberts, Clayton FR 733 Granite Hills-SS 126 17:54.0 2:56.6 5:45.3 3:34.8
156 Mishoe, Austin JR 439 Corning-NS — 17:58.3 3:00.9 5:46.7 3:35.7
157 Sutherland, Jacob SO 473 Crean Lutheran-SS 127 17:58.9 3:01.5 5:46.9 3:35.8
158 Culbertson, Caden SO 727 Granite Hills-SS 128 18:01.2 3:03.8 5:47.6 3:36.2
159 Larkins, Will SO 1908 West Valley-NS 129 18:01.4 3:04.0 5:47.7 3:36.3
160 Quintana, Anthony SO 1986 Yreka-NS 130 18:02.4 3:05.0 5:48.0 3:36.5
161 Carmody, Liam JR 135 Bishop O'Dowd-NCS 131 18:07.5 3:10.1 5:49.7 3:37.5
162 Briana, Jasmit JR 410 Coalinga-CS 132 18:08.1 3:10.7 5:49.9 3:37.6
163 Vera, Adam SO 1064 McKinleyville-NCS 133 18:12.1 3:14.7 5:51.1 3:38.4
164 McFarlin, Cameron FR 412 Coalinga-CS 134 18:12.3 3:14.9 5:51.2 3:38.5
165 White, Tyler SR 1318 Paradise-NS 135 18:16.0 3:18.6 5:52.4 3:39.2
166 Guinon, Brody JR 1314 Paradise-NS 136 18:17.2 3:19.8 5:52.8 3:39.4
167 Jones, Tyler SO 1985 Yreka-NS 137 18:22.5 3:25.1 5:54.5 3:40.5
168 Combs, Max FR 1059 McKinleyville-NCS 138 18:24.0 3:26.6 5:55.0 3:40.8
169 Lopez, Alejandro SR 1454 Rosamond-CS — 18:25.5 3:28.1 5:55.4 3:41.1
170 Goodwin, Zach SR 1271 Pacific Grove-CCS 139 18:28.5 3:31.1 5:56.4 3:41.7
171 Higelin, Elijah FR 1984 Yreka-NS 140 18:33.7 3:36.3 5:58.1 3:42.7
172 Hein, Wyatt JR 1907 West Valley-NS 141 18:34.0 3:36.6 5:58.2 3:42.8
173 Colborn, Hunter JR 199 Calaveras-SJS 142 18:46.0 3:48.6 6:02.1 3:45.2
174 Roehling, Patrick FR 1317 Paradise-NS 143 18:48.6 3:51.2 6:02.9 3:45.7
175 Stricler, Jacob SR 204 Calaveras-SJS 144 18:49.7 3:52.3 6:03.2 3:45.9
176 Riggins, Trent SR 1987 Yreka-NS 145 18:53.2 3:55.8 6:04.4 3:46.6
177 Alvarado, David JR 133 Bishop O'Dowd-NCS 146 18:54.2 3:56.8 6:04.7 3:46.8
178 Moya, Andrew FR 732 Granite Hills-SS 147 19:02.2 4:04.8 6:07.2 3:48.4
179 Boutelle, Matthew SO 1312 Paradise-NS 148 19:09.5 4:12.1 6:09.6 3:49.9
180 Fitzgerald, Brendan FR 1469 S. Lorenzo Vly.-CCS 149 19:10.6 4:13.2 6:09.9 3:50.1
181 Cramer, Landon SO 1906 West Valley-NS 150 19:27.2 4:29.8 6:15.3 3:53.4
182 Chan, Tyler SO 1905 West Valley-NS 151 19:33.6 4:36.2 6:17.3 3:54.7
183 Cragun, Aaron SR 200 Calaveras-SJS 152 19:46.9 4:49.5 6:21.6 3:57.4
184 Wilder, Jade FR 1988 Yreka-NS 153 19:51.6 4:54.2 6:23.2 3:58.3
185 Kleimann, Jacob SR 1315 Paradise-NS 154 20:04.7 5:07.3 6:27.3 4:00.9
186 Archer, Joe JR 365 Christian Brothers-SJS 155 20:07.9 5:10.5 6:28.4 4:01.6
187 Castro, Anthony FR 880 Kerman-CS 156 20:13.6 5:16.2 6:30.2 4:02.7
188 Barboza, Moises JR 409 Coalinga-CS 157 20:33.2 5:35.8 6:36.5 4:06.6
189 Vail, Tyler SR 1313 Paradise-NS 158 20:37.1 5:39.7 6:37.8 4:07.4
190 Wahab, Ahsan FR 885 Kerman-CS 159 20:52.5 5:55.1 6:42.7 4:10.5
191 Duran, Jesus SR 411 Coalinga-CS 160 21:12.4 6:15.0 6:49.1 4:14.5
192 Valderrama, Elijah SR 930 Las Plumas-NS — 22:32.2 7:34.8 7:14.8 4:30.4
Race #2
Division V Boys
Final Standings Score Scoring Order Total Avg. Finish Order Spread Section
1 Desert Christian/Lan.-SS 70 3-5-10-15-37 (84) (116) 1:21:07 16:14 4-8-18-23-51-105-142 1:07.4
2 Flintridge Prep-SS 103 2-17-24-27-33 (34) (72) 1:22:30 16:30 2-25-37-40-46-47-91 1:08.1
3 Valley Christian (Cerr.)-SS 134 7-9-13-47-58 (93) (122) 1:22:58 16:36 12-17-21-64-75-116-149 1:01.1
4 Lick Wilmerding-NCS 180 6-19-29-49-77 (79) (100) 1:23:50 16:46 9-28-42-66-96-98-125 1:29.8
5 SF University-NCS 213 20-35-41-46-71 (89) (102) 1:24:46 16:58 32-48-55-63-90-111-127 0:39.7
6 Thacher-SS 216 25-32-38-54-67 (81) (128) 1:24:49 16:58 38-45-52-71-86-100-156 0:34.7
7 Crystal Springs-CCS 220 12-22-30-55-101 (106) (113) 1:24:45 16:57 20-34-43-72-126-132-139 1:27.8
8 St. Joseph N.Dame-NCS 260 1-14-56-82-107 (111) (137) 1:23:57 16:48 1-22-73-101-133-137-168 2:57.2
9 Sonoma Acad-NCS 263 18-23-43-88-91 (108) (123) 1:25:33 17:07 27-35-58-109-113-134-151 1:04.4
10 St. Margarets-SS 271 16-40-64-66-85 (92) (131) 1:25:26 17:06 24-54-81-84-106-114-159 1:00.6
11 Xavier Prep-SS 315 28-45-50-73-119 (138) (150) 1:26:23 17:17 41-62-67-92-145-169-183 1:24.0
12 Francis Parker-SDS 317 42-51-62-63-99 (147) (159) 1:26:08 17:14 56-68-79-80-124-180-193 0:53.8
13 College Prep-NCS 326 44-60-69-70-83 (95) (96) 1:26:22 17:17 60-77-88-89-103-120-121 0:32.0
14 Campbell Hall-SS 366 21-31-74-110-130 (141) (148) 1:27:10 17:26 33-44-93-136-158-173-181 1:35.7
15 Bishops-SDS 381 52-53-59-78-139 (144) (145) 1:27:27 17:30 69-70-76-97-171-176-178 1:36.0
16 York-CCS 398 36-65-68-80-149 (155) 1:27:53 17:35 49-82-87-99-182-188 2:12.7
17 Capital Christian-SJS 406 26-48-90-118-124 (142) (143) 1:27:49 17:34 39-65-112-144-152-174-175 1:27.2
18 Nueva-CCS 415 4-94-98-104-115 (133) (140) 1:27:13 17:27 7-119-123-130-141-163-172 2:15.3
19 University Prep-NS 421 61-75-76-97-112 (117) (125) 1:27:48 17:34 78-94-95-122-138-143-153 0:50.1
20 Central Valley Christian-CS 487 11-57-114-151-154 (161) (166) 1:30:14 18:03 19-74-140-184-187-195-200 3:23.0
21 Julian High-SDS 490 8-109-120-126-127 (158) (167) 1:28:54 17:47 16-135-146-154-155-192-201 1:59.1
22 Caruthers-CS 597 39-103-146-152-157 (163) (165) 1:32:55 18:35 53-129-179-185-190-197-199 3:05.9
23 USC CAE-LAS 609 87-121-132-134-135 (153) (164) 1:31:15 18:15 108-148-162-165-166-186-198 0:58.9
24 Foresthill-SJS 612 86-105-129-136-156 (160) (162) 1:32:14 18:27 107-131-157-167-189-194-196 2:21.2
Individual Results
Athlete # Team Score Time Gap Avg. Mile Avg. kM
1 Teare, Cooper SR 1708 St. Joseph N.Dame-NCS 1 14:58.5 — 4:48.9 2:59.7
2 Pattinelli, Evan JR 626 Flintridge Prep-SS 2 15:39.3 0:40.8 5:02.0 3:07.8
3 Schulz, Brian SR 587 El Molino-NCS — 15:39.3 0:40.8 5:02.0 3:07.9
4 Mitchell, Andrew SR 529 Desert Christian/Lan.-SS 3 15:43.4 0:44.9 5:03.3 3:08.7
5 Bradford, Bryson SR 1959 Woodcrest Christian-SS — 15:44.8 0:46.3 5:03.8 3:08.9
6 Monroy, Noah JR 1022 Maranatha Christian-SDS — 15:46.5 0:48.0 5:04.3 3:09.3
7 Lange, Jake SR 1201 Nueva-CCS 4 15:48.8 0:50.3 5:05.1 3:09.8
8 Biehl, Joseph SR 524 Desert Christian/Lan.-SS 5 15:49.9 0:51.4 5:05.4 3:10.0
9 Laidlaw, Sean JR 968 Lick Wilmerding-NCS 6 15:55.9 0:57.4 5:07.3 3:11.2
10 Horwitz, Eli SR 1740 Stuart Hall-NCS — 16:00.2 1:01.7 5:08.7 3:12.0
11 Methum, Wes SR 1416 Rincon Vly. Christian-NCS — 16:03.9 1:05.4 5:09.9 3:12.8
12 Vreeke, Ryan JR 1838 Valley Christian (Cerr.)-SS 7 16:07.0 1:08.6 5:10.9 3:13.4
13 Teuscher, Isaac JR 786 Head-Royce-NCS — 16:09.1 1:10.6 5:11.6 3:13.8
14 Shively, Xian JR 1359 Poly (Pasadena)-SS — 16:11.2 1:12.7 5:12.3 3:14.2
15 Williams, Andre SO 871 Kelseyville-NCS — 16:16.0 1:17.5 5:13.8 3:15.2
16 Elisara, Ethan JR 861 Julian High-SDS 8 16:16.5 1:18.0 5:14.0 3:15.3
17 Tamminga, Nathaniel SR 1837 Valley Christian (Cerr.)-SS 9 16:16.6 1:18.1 5:14.0 3:15.3
18 Boffman, Nicolas SR 525 Desert Christian/Lan.-SS 10 16:16.9 1:18.4 5:14.1 3:15.4
19 Maciel, Chandler SR 338 Central Valley Christian-CS 11 16:18.5 1:20.0 5:14.6 3:15.7
20 Medearis, Nicholas JR 485 Crystal Springs-CCS 12 16:19.7 1:21.2 5:15.0 3:15.9
21 Rupprecht, Josh JR 1835 Valley Christian (Cerr.)-SS 13 16:23.2 1:24.7 5:16.1 3:16.6
22 Mein, Willie SR 1706 St. Joseph N.Dame-NCS 14 16:24.4 1:25.9 5:16.5 3:16.9
23 Laubach, Ethan SO 528 Desert Christian/Lan.-SS 15 16:26.0 1:27.5 5:17.0 3:17.2
24 Gitter, Nic SR 1719 St. Margarets-SS 16 16:32.4 1:33.9 5:19.1 3:18.5
25 Vahala, Jonathan SR 628 Flintridge Prep-SS 17 16:33.8 1:35.3 5:19.5 3:18.7
26 Van Schendel, Kyril JR 309 Cate-SS — 16:35.1 1:36.6 5:20.0 3:19.0
27 Mann, Kheva JR 1634 Sonoma Acad-NCS 18 16:35.9 1:37.4 5:20.2 3:19.2
28 Stein, Erik JR 970 Lick Wilmerding-NCS 19 16:38.3 1:39.8 5:21.0 3:19.7
29 Anderson, Jaden SR 1171 Mt Shasta-NS — 16:40.9 1:42.4 5:21.8 3:20.2
30 White, Ben SR 1937 Whittier Christian-SS — 16:41.2 1:42.8 5:21.9 3:20.2
31 Huang, Raphael SR 1882 Webb-SS — 16:41.5 1:43.0 5:22.0 3:20.3
32 Kennedy, Charlie FR 1592 SF University-NCS 20 16:42.1 1:43.6 5:22.2 3:20.4
33 Moreland, James JR 219 Campbell Hall-SS 21 16:43.0 1:44.5 5:22.5 3:20.6
34 Huang, Jeremy SR 483 Crystal Springs-CCS 22 16:44.1 1:45.6 5:22.8 3:20.8
35 Johnson, Joey SR 1632 Sonoma Acad-NCS 23 16:44.3 1:45.8 5:22.9 3:20.9
36 Vazquez, Anthony JR 333 Central Catholic-SJS — 16:44.6 1:46.1 5:23.0 3:20.9
37 Evans, Sebastian SO 623 Flintridge Prep-SS 24 16:44.7 1:46.2 5:23.0 3:20.9
38 Kirkpatrick, Colin SO 1756 Thacher-SS 25 16:44.7 1:46.2 5:23.0 3:20.9
39 Filer, Micah JR 268 Capital Christian-SJS 26 16:44.7 1:46.3 5:23.1 3:20.9
40 Coan, Riley SR 622 Flintridge Prep-SS 27 16:45.0 1:46.5 5:23.1 3:21.0
41 Ramirez, Braulio SR 1967 Xavier Prep-SS 28 16:45.1 1:46.7 5:23.2 3:21.0
42 Harris, Nick SO 967 Lick Wilmerding-NCS 29 16:45.7 1:47.2 5:23.4 3:21.1
43 Chu, Brandon SR 480 Crystal Springs-CCS 30 16:45.9 1:47.4 5:23.4 3:21.2
44 Ballard, Noah SR 215 Campbell Hall-SS 31 16:46.1 1:47.6 5:23.5 3:21.2
45 Lopez, Rico JR 1757 Thacher-SS 32 16:46.9 1:48.5 5:23.8 3:21.4
46 Tan, Chris SR 627 Flintridge Prep-SS 33 16:47.4 1:48.9 5:23.9 3:21.5
47 Hasbrouck, Carson SO 624 Flintridge Prep-SS 34 16:48.3 1:49.8 5:24.2 3:21.7
48 Mills, Clay FR 1593 SF University-NCS 35 16:48.4 1:50.0 5:24.2 3:21.7
49 Agha, Kaden JR 1968 York-CCS 36 16:48.7 1:50.2 5:24.3 3:21.7
50 Rico, Braxton SR 1674 St. Francis CCC-CCS — 16:50.2 1:51.7 5:24.8 3:22.0
51 Gonzales, Chris SO 527 Desert Christian/Lan.-SS 37 16:50.8 1:52.3 5:25.0 3:22.1
52 Shaper, Ford SO 1758 Thacher-SS 38 16:50.9 1:52.4 5:25.0 3:22.2
53 Delgado, Ronaldo JR 287 Caruthers-CS 39 16:51.2 1:52.7 5:25.1 3:22.2
54 Smith, Charlie SR 1721 St. Margarets-SS 40 16:51.2 1:52.7 5:25.1 3:22.2
55 Small, Spencer SR 1596 SF University-NCS 41 16:51.5 1:53.0 5:25.2 3:22.3
56 Penrose, Tanner JR 675 Francis Parker-SDS 42 16:52.4 1:53.9 5:25.5 3:22.5
57 Hering, Ryan SR 1172 Mt Shasta-NS — 16:52.5 1:54.0 5:25.5 3:22.5
58 Loftus, Brendon JR 1633 Sonoma Acad-NCS 43 16:55.0 1:56.6 5:26.4 3:23.0
59 Kelly, EJ SO 1673 St. Francis CCC-CCS — 16:56.2 1:57.7 5:26.7 3:23.2
60 Ashby, Ethan SR 422 College Prep-NCS 44 16:59.9 2:01.4 5:27.9 3:24.0
61 Martin, Michael SR 612 Etna-NS — 17:00.6 2:02.1 5:28.2 3:24.1
62 Branconier, Michael SR 1963 Xavier Prep-SS 45 17:01.3 2:02.8 5:28.4 3:24.3
63 Munz, Jt JR 1594 SF University-NCS 46 17:02.1 2:03.6 5:28.6 3:24.4
64 Lee, Hayden JR 1834 Valley Christian (Cerr.)-SS 47 17:02.5 2:04.0 5:28.8 3:24.5
65 Lombardi, Brett SR 270 Capital Christian-SJS 48 17:03.8 2:05.3 5:29.2 3:24.7
66 Peabody, John FR 969 Lick Wilmerding-NCS 49 17:03.9 2:05.4 5:29.2 3:24.8
67 Lopez Ospina, Andres JR 1965 Xavier Prep-SS 50 17:03.9 2:05.4 5:29.2 3:24.8
68 Cook, Carson JR 671 Francis Parker-SDS 51 17:04.6 2:06.1 5:29.4 3:24.9
69 Liu, Jett SR 151 Bishops-SDS 52 17:05.0 2:06.5 5:29.6 3:25.0
70 Flagg, Hayden SR 149 Bishops-SDS 53 17:05.6 2:07.1 5:29.8 3:25.1
71 Chadwick, Edison JR 1755 Thacher-SS 54 17:06.7 2:08.2 5:30.1 3:25.3
72 Duncanson, Aiden SO 482 Crystal Springs-CCS 55 17:07.2 2:08.7 5:30.3 3:25.4
73 Padre, Dominic FR 1707 St. Joseph N.Dame-NCS 56 17:07.5 2:09.0 5:30.4 3:25.5
74 Schaap, Garrin SO 340 Central Valley Christian-CS 57 17:08.0 2:09.6 5:30.5 3:25.6
75 Szekrenyi, Mark SO 1836 Valley Christian (Cerr.)-SS 58 17:08.1 2:09.6 5:30.6 3:25.6
76 Worstell, Andres SR 154 Bishops-SDS 59 17:09.2 2:10.7 5:30.9 3:25.8
77 LehmannDuke, Jacob FR 423 College Prep-NCS 60 17:09.3 2:10.8 5:31.0 3:25.9
78 Moore, Forrest SR 1793 University Prep-NS 61 17:11.0 2:12.5 5:31.5 3:26.2
79 Baranski, Ben SR 670 Francis Parker-SDS 62 17:12.0 2:13.5 5:31.8 3:26.4
80 Greer-Gentis, James SR 672 Francis Parker-SDS 63 17:12.6 2:14.1 5:32.0 3:26.5
81 Graham, Robbie SO 1720 St. Margarets-SS 64 17:13.4 2:14.9 5:32.3 3:26.7
82 Tibbetts, Washakie SR 1974 York-CCS 65 17:13.6 2:15.1 5:32.3 3:26.7
83 Burns, Riley FR 1021 Maranatha Christian-SDS — 17:13.6 2:15.1 5:32.3 3:26.7
84 Soto, Matthew JR 1722 St. Margarets-SS 66 17:15.8 2:17.3 5:33.0 3:27.2
85 Velazquez, Max JR 565 Eastside C.P.-CCS — 17:17.0 2:18.6 5:33.4 3:27.4
86 Amano, Nick JR 1752 Thacher-SS 67 17:19.4 2:20.9 5:34.2 3:27.9
87 Shapiro, Adam SO 1973 York-CCS 68 17:19.5 2:21.0 5:34.2 3:27.9
88 Wu, Victor JR 427 College Prep-NCS 69 17:19.8 2:21.3 5:34.3 3:27.9
89 Zheleznyak, Adam JR 428 College Prep-NCS 70 17:21.1 2:22.6 5:34.7 3:28.2
90 Parkhill, Ezra SO 1595 SF University-NCS 71 17:21.7 2:23.2 5:34.9 3:28.3
91 O'Hagan, Samuel J. (Sam) SR 625 Flintridge Prep-SS 72 17:22.9 2:24.4 5:35.3 3:28.6
92 Ibarra, Adrihel SR 1964 Xavier Prep-SS 73 17:23.2 2:24.7 5:35.4 3:28.6
93 Kelly, Daniel JR 218 Campbell Hall-SS 74 17:23.9 2:25.4 5:35.7 3:28.8
94 Barsness, Adam SR 1787 University Prep-NS 75 17:24.2 2:25.7 5:35.7 3:28.8
95 Cramer, Michael SR 1788 University Prep-NS 76 17:25.4 2:27.0 5:36.1 3:29.1
96 Woodruff, Jason JR 971 Lick Wilmerding-NCS 77 17:25.7 2:27.2 5:36.2 3:29.1
97 Midler, Nicholas SR 152 Bishops-SDS 78 17:26.3 2:27.8 5:36.4 3:29.3
98 Dilworth, Eddie SO 965 Lick Wilmerding-NCS 79 17:28.7 2:30.2 5:37.2 3:29.7
99 Mercer, Jaryd SO 1971 York-CCS 80 17:29.6 2:31.1 5:37.5 3:29.9
100 Atkeson, Winslow FR 1753 Thacher-SS 81 17:30.2 2:31.7 5:37.7 3:30.0
101 Hill, Gavin SR 1705 St. Joseph N.Dame-NCS 82 17:30.8 2:32.3 5:37.9 3:30.2
102 Sambold, Nikko JR 916 La Jolla Country Day-SDS — 17:31.3 2:32.8 5:38.0 3:30.3
103 McFadden, Dan JR 424 College Prep-NCS 83 17:31.8 2:33.3 5:38.2 3:30.4
104 Bingham, Tyler JR 688 Golden Sierra-SJS — 17:32.4 2:33.9 5:38.4 3:30.5
105 Pacheco, Kevin JR 530 Desert Christian/Lan.-SS 84 17:32.9 2:34.4 5:38.5 3:30.6
106 Gitter, Luke SR 1718 St. Margarets-SS 85 17:33.0 2:34.5 5:38.6 3:30.6
107 Richmond, Luke SR 659 Foresthill-SJS 86 17:33.1 2:34.6 5:38.6 3:30.6
108 Chavez, Fernando SR 1804 USC CAE-LAS 87 17:35.3 2:36.8 5:39.3 3:31.1
109 Morast, Caspian JR 1635 Sonoma Acad-NCS 88 17:36.8 2:38.3 5:39.8 3:31.3
110 Bokelman, Skylar JR 214 California City-CS — 17:37.1 2:38.6 5:39.9 3:31.4
111 Hongo, Henry SR 1591 SF University-NCS 89 17:37.8 2:39.3 5:40.1 3:31.5
112 Bodlak, Bronson SR 267 Capital Christian-SJS 90 17:39.6 2:41.1 5:40.7 3:31.9
113 Garcia, Eduardo JR 1631 Sonoma Acad-NCS 91 17:40.3 2:41.8 5:40.9 3:32.1
114 Colglazier, Matthew SO 1717 St. Margarets-SS 92 17:40.7 2:42.2 5:41.1 3:32.1
115 Zamora, Alexis JR 538 Discovery Prep-LAS — 17:41.5 2:43.0 5:41.3 3:32.3
116 Kooi, Payton JR 1833 Valley Christian (Cerr.)-SS 93 17:41.7 2:43.2 5:41.4 3:32.3
117 Malone, Justin SR 16 Academia Avance-LAS — 17:41.8 2:43.3 5:41.4 3:32.4
118 Navarro, Alonso SR 1938 Williams-NS — 17:42.2 2:43.7 5:41.5 3:32.4
119 Quimson, Joseph JR 1205 Nueva-CCS 94 17:42.4 2:43.9 5:41.6 3:32.5
120 Milton, Sasha JR 426 College Prep-NCS 95 17:42.8 2:44.3 5:41.7 3:32.5
121 McFadden, Max SO 425 College Prep-NCS 96 17:45.1 2:46.6 5:42.5 3:33.0
122 Lervold, Nathan SR 1791 University Prep-NS 97 17:45.7 2:47.2 5:42.6 3:33.1
123 Mellea, Matt SR 1204 Nueva-CCS 98 17:45.7 2:47.2 5:42.6 3:33.1
124 Truesdale, Evan SO 676 Francis Parker-SDS 99 17:46.2 2:47.7 5:42.8 3:33.2
125 Fine, Alex SR 966 Lick Wilmerding-NCS 100 17:46.3 2:47.8 5:42.8 3:33.3
126 Iannuccilli, Alec SO 484 Crystal Springs-CCS 101 17:47.5 2:49.0 5:43.2 3:33.5
127 DaCunha, Marco JR 1590 SF University-NCS 102 17:48.6 2:50.1 5:43.6 3:33.7
128 Nash, Jack JR 1960 Woodside Priory-CCS — 17:48.9 2:50.4 5:43.7 3:33.8
129 Crispin, Rafael JR 286 Caruthers-CS 103 17:49.2 2:50.7 5:43.8 3:33.8
130 Dittmar, Caleb SO 1198 Nueva-CCS 104 17:52.2 2:53.7 5:44.7 3:34.4
131 Barnett, Chad SR 656 Foresthill-SJS 105 17:53.1 2:54.6 5:45.0 3:34.6
132 Symonds, Jake FR 487 Crystal Springs-CCS 106 17:53.1 2:54.6 5:45.0 3:34.6
133 Annis, Zavier FR 1703 St. Joseph N.Dame-NCS 107 17:55.6 2:57.1 5:45.8 3:35.1
134 Roney, Jack JR 1637 Sonoma Acad-NCS 108 17:56.8 2:58.3 5:46.2 3:35.3
135 Flack, Dusty FR 862 Julian High-SDS 109 17:57.0 2:58.5 5:46.3 3:35.4
136 Grossman, Keith JR 217 Campbell Hall-SS 110 17:57.6 2:59.1 5:46.5 3:35.5
137 Travino, Gabe SO 1709 St. Joseph N.Dame-NCS 111 17:59.6 3:01.1 5:47.1 3:35.9
138 Matties, Justin SO 1792 University Prep-NS 112 18:01.1 3:02.6 5:47.6 3:36.2
139 Vasquez, Wilser FR 481 Crystal Springs-CCS 113 18:01.9 3:03.4 5:47.9 3:36.4
140 Dykstra, Josh SO 336 Central Valley Christian-CS 114 18:02.4 3:03.9 5:48.0 3:36.5
141 Enger, Peter JR 1199 Nueva-CCS 115 18:04.1 3:05.6 5:48.6 3:36.8
142 DeVore, Joseph SR 526 Desert Christian/Lan.-SS 116 18:04.8 3:06.3 5:48.8 3:37.0
143 Lane, Christian SO 1790 University Prep-NS 117 18:06.6 3:08.1 5:49.4 3:37.3
144 Renn, Tyler SR 271 Capital Christian-SJS 118 18:08.2 3:09.7 5:49.9 3:37.6
145 Manley, Wyatt SO 1966 Xavier Prep-SS 119 18:09.1 3:10.6 5:50.2 3:37.8
146 Carneiro, Nikolas SO 857 Julian High-SDS 120 18:09.4 3:10.9 5:50.3 3:37.9
147 Dabler, Christian SO 46 Argonaut-SJS — 18:09.7 3:11.2 5:50.4 3:37.9
148 Rodriguez, Frank JR 1806 USC CAE-LAS 121 18:10.0 3:11.5 5:50.5 3:38.0
149 Kamstra, Joseph JR 1832 Valley Christian (Cerr.)-SS 122 18:10.0 3:11.5 5:50.5 3:38.0
150 Garcia, Angel SR 27 Anzar-CCS — 18:11.0 3:12.5 5:50.8 3:38.2
151 PiperCordova, Morgan SO 1636 Sonoma Acad-NCS 123 18:11.9 3:13.4 5:51.1 3:38.4
152 Lingenfelter, Jesaiah SR 269 Capital Christian-SJS 124 18:11.9 3:13.4 5:51.1 3:38.4
153 Hamilton, Max FR 1789 University Prep-NS 125 18:13.1 3:14.6 5:51.5 3:38.6
154 Duffy, Shane SR 860 Julian High-SDS 126 18:14.9 3:16.4 5:52.1 3:39.0
155 Davis-Scholl, Patrick SO 859 Julian High-SDS 127 18:15.6 3:17.1 5:52.3 3:39.1
156 Boneysteele, Thomas JR 1754 Thacher-SS 128 18:16.4 3:17.9 5:52.5 3:39.3
157 Zapata, Jaycie FR 662 Foresthill-SJS 129 18:17.0 3:18.5 5:52.7 3:39.4
158 Mutchnik, Andrew FR 220 Campbell Hall-SS 130 18:18.7 3:20.2 5:53.3 3:39.7
159 Villamil, Bryan JR 1723 St. Margarets-SS 131 18:18.9 3:20.4 5:53.3 3:39.8
160 Moreno, Ornaldo JR 334 Central City Value-LAS — 18:21.6 3:23.1 5:54.2 3:40.3
161 Zamora, Juan FR 826 Immanuel-CS — 18:22.4 3:23.9 5:54.5 3:40.5
162 Birrueta, Bryan SR 1802 USC CAE-LAS 132 18:22.5 3:24.0 5:54.5 3:40.5
163 Walker, Ethan JR 1208 Nueva-CCS 133 18:23.3 3:24.8 5:54.7 3:40.6
164 Montelongo, Jovany JR 1947 Wonderful CP-CS — 18:30.8 3:32.3 5:57.1 3:42.1
165 Cornejo, Ariel JR 1805 USC CAE-LAS 134 18:32.8 3:34.3 5:57.8 3:42.6
166 Benitez, Noe JR 1801 USC CAE-LAS 135 18:34.2 3:35.7 5:58.2 3:42.8
167 Medrano, Caleb FR 658 Foresthill-SJS 136 18:35.9 3:37.4 5:58.8 3:43.2
168 Gill, Cameron JR 1704 St. Joseph N.Dame-NCS 137 18:37.6 3:39.1 5:59.3 3:43.5
169 Arias, Andres FR 1961 Xavier Prep-SS 138 18:39.6 3:41.1 6:00.0 3:43.9
170 Kawano, Jun JR 1480 Sacramento Waldorf-SJS — 18:40.4 3:41.9 6:00.2 3:44.1
171 Kilman, Max SO 150 Bishops-SDS 139 18:41.0 3:42.5 6:00.4 3:44.2
172 Zuklie, Angus SO 1211 Nueva-CCS 140 18:41.2 3:42.7 6:00.5 3:44.2
173 Beckman, Julian SR 216 Campbell Hall-SS 141 18:44.2 3:45.7 6:01.5 3:44.8
174 Shuman, Matthew SO 272 Capital Christian-SJS 142 18:45.1 3:46.6 6:01.8 3:45.0
175 Skinner, Max JR 273 Capital Christian-SJS 143 18:47.7 3:49.2 6:02.6 3:45.5
176 Allport, Hamilton SR 148 Bishops-SDS 144 18:49.4 3:50.9 6:03.1 3:45.9
177 Nunez, Amado JR 1948 Wonderful CP-CS — 18:54.6 3:56.1 6:04.8 3:46.9
178 Uribe, Shane JR 153 Bishops-SDS 145 18:55.3 3:56.8 6:05.0 3:47.0
179 Herrera, Oscar JR 288 Caruthers-CS 146 18:58.7 4:00.2 6:06.1 3:47.7
180 McCulloch, Jeremey JR 674 Francis Parker-SDS 147 18:59.3 4:00.8 6:06.3 3:47.9
181 Patrick, Luke JR 221 Campbell Hall-SS 148 18:59.8 4:01.3 6:06.5 3:48.0
182 Laney, Xander SR 1969 York-CCS 149 19:01.3 4:02.8 6:07.0 3:48.3
183 Arzapalo, Jesus SO 1962 Xavier Prep-SS 150 19:03.7 4:05.2 6:07.7 3:48.7
184 Tiersma, Luke SO 341 Central Valley Christian-CS 151 19:03.8 4:05.3 6:07.8 3:48.7
185 Brar, Gurparvesh SR 285 Caruthers-CS 152 19:19.0 4:20.5 6:12.7 3:51.8
186 Carrillo, Adrian FR 1803 USC CAE-LAS 153 19:19.5 4:21.0 6:12.8 3:51.9
187 Tiersma, Mark SR 342 Central Valley Christian-CS 154 19:41.5 4:43.0 6:19.9 3:56.3
188 Sanford, Alden SR 1972 York-CCS 155 19:53.7 4:55.2 6:23.8 3:58.7
189 Worton, Benjamin FR 661 Foresthill-SJS 156 19:54.2 4:55.7 6:24.0 3:58.8
190 Rodriguez, Jordan SO 291 Caruthers-CS 157 19:57.0 4:58.5 6:24.9 3:59.4
191 Estrada, Eddy SR 1840 Valor Academy-LAS — 20:01.4 5:02.9 6:26.3 4:00.3
192 Copeland, Nathaniel FR 858 Julian High-SDS 158 20:03.1 5:04.6 6:26.8 4:00.6
193 Hall, Zach JR 673 Francis Parker-SDS 159 20:04.9 5:06.4 6:27.4 4:01.0
194 Irwin, Matthew SR 657 Foresthill-SJS 160 20:23.7 5:25.2 6:33.4 4:04.7
195 Grant, Casey SO 337 Central Valley Christian-CS 161 20:29.4 5:30.9 6:35.3 4:05.9
196 Seifert, Allen FR 660 Foresthill-SJS 162 20:38.2 5:39.7 6:38.1 4:07.6
197 Lopez, Maurillo JR 289 Caruthers-CS 163 20:43.4 5:44.9 6:39.8 4:08.7
198 Vargas, Adrian SR 1807 USC CAE-LAS 164 20:47.0 5:48.5 6:40.9 4:09.4
199 Ramirez, Fabian JR 290 Caruthers-CS 165 20:59.4 6:00.9 6:44.9 4:11.9
200 Price, TJ SR 339 Central Valley Christian-CS 166 21:51.2 6:52.7 7:01.6 4:22.2
201 Lay, Ryan SO 863 Julian High-SDS 167 22:54.2 7:55.7 7:21.9 4:34.8
Race #7
Division III Boys
Final Standings Score Scoring Order Total Avg. Finish Order Spread Section
1 Cathedral Catholic-SDS 82 2-10-18-20-32 (86) (118) 1:18:39 15:44 3-15-26-28-40-112-148 0:57.9
2 West Torrance-SS 125 5-19-29-30-42 (48) (54) 1:19:30 15:54 8-27-37-38-51-59-68 0:48.7
3 Campolindo-NCS 138 16-23-24-37-38 (66) (113) 1:19:56 16:00 22-31-32-45-46-85-142 0:19.2
4 Baldwin Park-SS 168 11-26-31-47-53 (136) (153) 1:20:25 16:05 16-34-39-58-67-169-188 0:37.1
5 La Costa Canyon-SDS 186 9-14-40-44-79 (102) (105) 1:20:38 16:08 14-20-48-53-102-128-132 1:14.3
6 Brea Olinda-SS 191 17-27-41-51-55 (57) (68) 1:20:43 16:09 25-35-50-63-69-72-87 0:32.3
7 Cathedral-SS 193 21-25-33-45-69 (73) (93) 1:20:47 16:10 29-33-41-54-88-92-119 0:45.4
8 Paso Robles-SS 206 7-8-35-67-89 (94) (106) 1:20:45 16:09 12-13-43-86-115-120-134 1:29.5
9 Sultana-SS 210 12-22-39-61-76 (77) (96) 1:20:59 16:12 18-30-47-76-98-100-122 1:00.9
10 Redwood(NCS)-NCS 259 1-13-43-70-132 (134) (139) 1:21:16 16:16 2-19-52-89-164-166-172 2:26.4
11 St. John Bosco-SS 274 3-50-58-78-85 (87) (101) 1:21:50 16:22 5-62-73-101-111-113-127 1:37.8
12 Rio Americano-SJS 350 15-72-80-84-99 (154) (157) 1:23:18 16:40 21-91-104-109-125-189-193 1:13.3
13 Vista Del Lago-SJS 387 4-75-98-100-110 (117) (123) 1:23:19 16:40 6-95-124-126-139-147-154 1:49.7
14 Livermore-NCS 391 28-59-60-119-125 (159) 1:23:30 16:42 36-74-75-149-156-196 1:24.6
15 Maria Carrillo-NCS 393 46-52-83-104-108 (124) (143) 1:23:49 16:46 56-64-108-131-136-155-177 0:51.5
16 Placer-SJS 401 34-49-71-121-126 (131) (147) 1:23:48 16:46 42-61-90-151-157-163-182 1:17.5
17 St. Ignatius-CCS 433 56-62-97-107-111 (112) (141) 1:24:12 16:51 71-78-123-135-140-141-174 0:45.5
18 Chico-NS 440 6-36-115-138-145 (158) 1:24:12 16:51 11-44-144-171-179-195 2:21.5
19 Dinuba-CS 498 90-91-92-109-116 (137) (151) 1:25:22 17:05 116-117-118-137-145-170-186 0:14.2
20 A. Riordan-CCS 512 65-82-88-133-144 (146) (150) 1:25:45 17:09 84-106-114-165-178-180-185 1:09.2
21 Ridgeview-CS 530 63-74-103-142-148 (149) 1:25:58 17:12 81-94-129-176-183-184 1:25.5
22 Sacred Ht. Cath-CCS 546 81-95-120-122-128 (135) (152) 1:25:55 17:11 105-121-150-153-159-168-187 0:32.7
23 Santana-SDS 564 64-114-127-129-130 (140) (155) 1:26:01 17:13 82-143-158-160-162-173-190 0:54.9
24 Belmont-LAS 802 156-160-161-162-163 (164) (165) 1:37:07 19:26 192-197-198-199-200-201-202 1:23.9
Individual Results
Athlete # Team Score Time Gap Avg. Mile Avg. kM
1 Gonzalez, Erik SR 1463 Rubidoux-SS — 15:03.3 — 4:50.4 3:00.7
2 Anderson, Liam SO 1401 Redwood(NCS)-NCS 1 15:05.3 0:02.0 4:51.1 3:01.1
3 Martinez de Pinillos, Joaquin JR 325 Cathedral Catholic-SDS 2 15:07.4 0:04.1 4:51.8 3:01.5
4 Silva, Evert SR 678 Fresno-CS — 15:09.6 0:06.3 4:52.5 3:01.9
5 Corcoran, Colby JR 1690 St. John Bosco-SS 3 15:18.5 0:15.2 4:55.3 3:03.7
6 De Julio, Collin SR 1863 Vista Del Lago-SJS 4 15:19.7 0:16.4 4:55.7 3:03.9
7 Skoy, Andrew SR 1605 Shasta-NS — 15:20.8 0:17.6 4:56.1 3:04.2
8 Bix, Carson SR 1891 West Torrance-SS 5 15:23.4 0:20.1 4:56.9 3:04.7
9 Benitez, Anthony JR 1581 Serra-SDS — 15:23.8 0:20.5 4:57.0 3:04.7
10 Ramos, Kevin SO 1464 Rubidoux-SS — 15:26.9 0:23.6 4:58.0 3:05.4
11 Emanuel, Jack SR 350 Chico-NS 6 15:27.2 0:23.9 4:58.1 3:05.4
12 Armendariz, Luis SR 1320 Paso Robles-SS 7 15:29.8 0:26.5 4:59.0 3:05.9
13 Berti, Trad SR 1321 Paso Robles-SS 8 15:31.1 0:27.8 4:59.4 3:06.2
14 Stanford, Jacob SO 907 La Costa Canyon-SDS 9 15:36.6 0:33.3 5:01.2 3:07.3
15 Tadeusiak, Hank SR 328 Cathedral Catholic-SDS 10 15:41.7 0:38.4 5:02.8 3:08.3
16 Melchor, Jose SR 79 Baldwin Park-SS 11 15:44.8 0:41.5 5:03.8 3:08.9
17 Smith, Jacob SR 1279 Pacifica (G.G.)-SS — 15:44.8 0:41.5 5:03.8 3:09.0
18 Ramirez, Manuel SR 1743 Sultana-SS 12 15:44.9 0:41.6 5:03.8 3:09.0
19 Thomas, Andrew SR 1407 Redwood(NCS)-NCS 13 15:47.6 0:44.3 5:04.7 3:09.5
20 Stanford, Garrett SO 906 La Costa Canyon-SDS 14 15:48.6 0:45.3 5:05.0 3:09.7
21 Wallace, Noah SR 1429 Rio Americano-SJS 15 15:48.8 0:45.5 5:05.1 3:09.7
22 Yabu, Jared SR 235 Campolindo-NCS 16 15:49.5 0:46.2 5:05.3 3:09.9
23 Beckum, Dillon SR 155 Bonita-SS — 15:49.7 0:46.4 5:05.3 3:09.9
24 Ramirez, Luis SR 111 Benicia-SJS — 15:49.8 0:46.5 5:05.4 3:09.9
25 Orellana, Giovanni SR 176 Brea Olinda-SS 17 15:50.4 0:47.1 5:05.6 3:10.1
26 Waters, Finn JR 329 Cathedral Catholic-SDS 18 15:51.6 0:48.4 5:06.0 3:10.3
27 Hazzard, Andrew JR 1893 West Torrance-SS 19 15:52.5 0:49.2 5:06.3 3:10.5
28 Robinson, Michael SR 327 Cathedral Catholic-SDS 20 15:52.8 0:49.5 5:06.4 3:10.6
29 Lopez, Alberto SO 313 Cathedral-SS 21 15:52.9 0:49.6 5:06.4 3:10.6
30 Mercado, Uriel SR 1741 Sultana-SS 22 15:53.6 0:50.3 5:06.6 3:10.7
31 Moore, Niki SR 233 Campolindo-NCS 23 15:54.3 0:51.0 5:06.8 3:10.9
32 Diaz, Ray SR 230 Campolindo-NCS 24 15:55.3 0:52.0 5:07.2 3:11.0
33 Skarr, Jacob SR 316 Cathedral-SS 25 15:56.3 0:53.0 5:07.5 3:11.3
34 Hernandez, Adrian JR 78 Baldwin Park-SS 26 15:56.8 0:53.5 5:07.6 3:11.3
35 Perez, Daniel SR 179 Brea Olinda-SS 27 15:57.6 0:54.3 5:07.9 3:11.5
36 Strand, Lucas SR 979 Livermore-NCS 28 15:59.9 0:56.6 5:08.6 3:12.0
37 Tamanaha, Ike JR 1896 West Torrance-SS 29 16:00.2 0:56.9 5:08.7 3:12.0
38 Rodriguez, Jorge SR 1895 West Torrance-SS 30 16:01.8 0:58.5 5:09.2 3:12.4
39 Nunez, Edgar JR 80 Baldwin Park-SS 31 16:04.3 1:01.0 5:10.0 3:12.8
40 Robinson, Daniel SR 326 Cathedral Catholic-SDS 32 16:05.3 1:02.0 5:10.4 3:13.1
41 Cantu, Alexander JR 311 Cathedral-SS 33 16:05.6 1:02.3 5:10.5 3:13.1
42 Ryan, Connor SO 1349 Placer-SJS 34 16:07.1 1:03.8 5:10.9 3:13.4
43 Cortes, Pablo SO 1322 Paso Robles-SS 35 16:07.1 1:03.8 5:10.9 3:13.4
44 Giannini, Charlie SO 352 Chico-NS 36 16:07.9 1:04.6 5:11.2 3:13.6
45 Flett, Kyle SR 231 Campolindo-NCS 37 16:08.1 1:04.8 5:11.3 3:13.6
46 Buckley, Edward SO 229 Campolindo-NCS 38 16:08.6 1:05.3 5:11.4 3:13.7
47 Mercado, Uziel JR 1742 Sultana-SS 39 16:08.6 1:05.3 5:11.4 3:13.7
48 Lyles, Jarod SR 904 La Costa Canyon-SDS 40 16:08.8 1:05.5 5:11.5 3:13.8
49 Wheeler, Michael JR 1184 Northgate-NCS — 16:10.3 1:07.0 5:12.0 3:14.0
50 Tobin, Jon JR 178 Brea Olinda-SS 41 16:11.6 1:08.3 5:12.4 3:14.3
51 Cavuoti, Anthony SR 1892 West Torrance-SS 42 16:12.1 1:08.8 5:12.6 3:14.4
52 Martinez, Zach JR 1403 Redwood(NCS)-NCS 43 16:12.1 1:08.9 5:12.6 3:14.4
53 Warren, Elias SO 908 La Costa Canyon-SDS 44 16:12.7 1:09.5 5:12.8 3:14.5
54 Granillo, Tyriq FR 312 Cathedral-SS 45 16:13.3 1:10.0 5:13.0 3:14.7
55 Machnov, Matt SO 579 El Capitan-SDS — 16:15.8 1:12.5 5:13.7 3:15.1
56 Lawson, Ben JR 1032 Maria Carrillo-NCS 46 16:17.0 1:13.7 5:14.1 3:15.4
57 Swoboda, Robert SR 1776 Ukiah-NCS — 16:17.1 1:13.8 5:14.2 3:15.4
58 Garcia, Anthony JR 77 Baldwin Park-SS 47 16:17.5 1:14.2 5:14.3 3:15.5
59 Kawase, Thomas SR 1894 West Torrance-SS 48 16:17.6 1:14.3 5:14.3 3:15.5
60 Halter, Alex JR 1785 University City-SDS — 16:18.6 1:15.3 5:14.7 3:15.7
61 Crone, Ryman SR 1345 Placer-SJS 49 16:18.7 1:15.4 5:14.7 3:15.7
62 Sotelo, Ezra SR 1695 St. John Bosco-SS 50 16:19.2 1:15.9 5:14.8 3:15.8
63 Mcnulty, Kevin JR 174 Brea Olinda-SS 51 16:20.3 1:17.0 5:15.2 3:16.0
64 Moore, Cooper SR 1035 Maria Carrillo-NCS 52 16:20.5 1:17.2 5:15.3 3:16.1
65 Hurtado, Jesse SO 1609 Sierra-SJS — 16:21.0 1:17.7 5:15.4 3:16.2
66 Bozarth, Caleb SR 1181 North Bakersfield-CS — 16:21.7 1:18.4 5:15.6 3:16.3
67 De Paz, Eduardo FR 75 Baldwin Park-SS 53 16:21.8 1:18.5 5:15.7 3:16.4
68 Abberton, Rory JR 1890 West Torrance-SS 54 16:21.9 1:18.6 5:15.7 3:16.4
69 Spicer, Tyler JR 177 Brea Olinda-SS 55 16:22.7 1:19.4 5:16.0 3:16.5
70 Kabbani, Omar SR 1183 Northgate-NCS — 16:23.6 1:20.3 5:16.3 3:16.7
71 Hollister, Nick SR 1679 St. Ignatius-CCS 56 16:24.1 1:20.8 5:16.4 3:16.8
72 Dempsey, John JR 173 Brea Olinda-SS 57 16:24.3 1:21.0 5:16.5 3:16.9
73 Castro, Justin SR 1689 St. John Bosco-SS 58 16:24.9 1:21.6 5:16.7 3:17.0
74 Maklaf, Omar SR 978 Livermore-NCS 59 16:25.0 1:21.7 5:16.7 3:17.0
75 Aufderheide, Greg JR 975 Livermore-NCS 60 16:25.2 1:21.9 5:16.8 3:17.0
76 Williams, Zachary JR 1746 Sultana-SS 61 16:25.4 1:22.1 5:16.8 3:17.1
77 Fierro, Erick SR 1841 Vanden-SJS — 16:27.1 1:23.8 5:17.4 3:17.4
78 Spaulding, Taylor SR 1684 St. Ignatius-CCS 62 16:28.5 1:25.2 5:17.8 3:17.7
79 Ioanidis, Ryan JR 1093 Mira Loma-SJS — 16:28.9 1:25.6 5:17.9 3:17.8
80 Botten, Cameron SR 1462 Royal-SS — 16:30.5 1:27.2 5:18.5 3:18.1
81 Adus, Ased FR 1409 Ridgeview-CS 63 16:30.9 1:27.6 5:18.6 3:18.2
82 Velletta, Vincent JR 1553 Santana-SDS 64 16:32.1 1:28.8 5:19.0 3:18.4
83 Carreno, Sergio JR 653 Foothill(CS)-CS — 16:35.4 1:32.1 5:20.0 3:19.1
84 Paulbitski, Trevor JR 12 A. Riordan-CCS 65 16:35.5 1:32.2 5:20.1 3:19.1
85 Sauerberg, Ethan JR 234 Campolindo-NCS 66 16:37.3 1:34.0 5:20.7 3:19.5
86 Meeder, Kyle SR 1323 Paso Robles-SS 67 16:37.7 1:34.4 5:20.8 3:19.5
87 Myers, Caleb SR 175 Brea Olinda-SS 68 16:38.1 1:34.8 5:20.9 3:19.6
88 Bravo, David SR 310 Cathedral-SS 69 16:38.3 1:35.0 5:21.0 3:19.6
89 Pole, Ryan JR 1405 Redwood(NCS)-NCS 70 16:39.2 1:35.9 5:21.3 3:19.8
90 Reyes, Jesus SO 1348 Placer-SJS 71 16:39.2 1:35.9 5:21.3 3:19.8
91 Wilson, Bret SR 1430 Rio Americano-SJS 72 16:39.3 1:36.0 5:21.3 3:19.9
92 Perez, Anthony JR 314 Cathedral-SS 73 16:41.4 1:38.1 5:22.0 3:20.3
93 Gutierrez, Thai SR 687 Gilroy-CCS — 16:41.8 1:38.5 5:22.1 3:20.4
94 Gaxiola, Bryan SO 1413 Ridgeview-CS 74 16:43.2 1:39.9 5:22.6 3:20.6
95 Fisher, Henry SR 1864 Vista Del Lago-SJS 75 16:45.1 1:41.8 5:23.2 3:21.0
96 Norris, Preston SO 927 Las Lomas-NCS — 16:45.5 1:42.2 5:23.3 3:21.1
97 Wright, Immanuel SR 689 Golden Valley (sj)-SJS — 16:45.8 1:42.5 5:23.4 3:21.1
98 Trozzi, Vernon SO 1745 Sultana-SS 76 16:45.8 1:42.5 5:23.4 3:21.1
99 Fierro, Jacob JR 1650 Southwest (Sd)-SDS — 16:47.9 1:44.6 5:24.1 3:21.6
100 Roman, Pablo SR 1744 Sultana-SS 77 16:50.3 1:47.0 5:24.8 3:22.0
101 De La Torre, Diego JR 1691 St. John Bosco-SS 78 16:50.5 1:47.2 5:24.9 3:22.1
102 Aleshire, Gavin JR 902 La Costa Canyon-SDS 79 16:50.9 1:47.6 5:25.0 3:22.2
103 Freer, Donovan SO 1350 Pleasant Valley-NS — 16:51.4 1:48.1 5:25.2 3:22.3
104 Gordon, Chase FR 1426 Rio Americano-SJS 80 16:52.0 1:48.7 5:25.4 3:22.4
105 Strella, Charlie SO 1487 Sacred Ht. Cath-CCS 81 16:52.5 1:49.2 5:25.5 3:22.5
106 Cranfield, Ian SR 9 A. Riordan-CCS 82 16:53.8 1:50.5 5:26.0 3:22.8
107 Nag, Amit JR 1563 Saratoga-CCS — 16:54.6 1:51.3 5:26.2 3:22.9
108 Kruetzfeldt, Scott JR 1031 Maria Carrillo-NCS 83 16:54.9 1:51.6 5:26.3 3:23.0
109 Ettinger, Connor SO 1425 Rio Americano-SJS 84 16:55.8 1:52.5 5:26.6 3:23.2
110 Guerrero, Jake JR 830 Independance-CS — 16:55.8 1:52.5 5:26.6 3:23.2
111 Solorza, Raymond JR 1694 St. John Bosco-SS 85 16:56.3 1:53.0 5:26.8 3:23.3
112 Wilson, Max FR 330 Cathedral Catholic-SDS 86 16:56.8 1:53.5 5:26.9 3:23.4
113 Gonzalez, Diego JR 1692 St. John Bosco-SS 87 16:58.9 1:55.6 5:27.6 3:23.8
114 Kilgariff, Michael SR 10 A. Riordan-CCS 88 16:59.1 1:55.8 5:27.7 3:23.8
115 Navarro, Damian SR 1324 Paso Robles-SS 89 16:59.3 1:56.0 5:27.7 3:23.8
116 Campos, Octavio SR 532 Dinuba-CS 90 16:59.3 1:56.0 5:27.7 3:23.8
117 Padilla, Jonathon SO 535 Dinuba-CS 91 16:59.7 1:56.4 5:27.9 3:23.9
118 Cueva, Jaime JR 533 Dinuba-CS 92 16:59.8 1:56.5 5:27.9 3:23.9
119 Salazar, David SO 315 Cathedral-SS 93 17:00.0 1:56.7 5:27.9 3:24.0
120 Scruggs, Steven SO 1325 Paso Robles-SS 94 17:00.1 1:56.8 5:28.0 3:24.0
121 Sheridon, Connor SO 1486 Sacred Ht. Cath-CCS 95 17:00.4 1:57.1 5:28.1 3:24.1
122 Zapata, Isaac SR 1747 Sultana-SS 96 17:00.7 1:57.4 5:28.2 3:24.1
123 Wong, Aziz SR 1687 St. Ignatius-CCS 97 17:01.4 1:58.1 5:28.4 3:24.3
124 Kizziar, Ben JR 1866 Vista Del Lago-SJS 98 17:01.6 1:58.3 5:28.5 3:24.3
125 Salvatori, Jensen SO 1428 Rio Americano-SJS 99 17:02.1 1:58.8 5:28.6 3:24.4
126 Perez, Aydan SR 1867 Vista Del Lago-SJS 100 17:03.1 1:59.8 5:29.0 3:24.6
127 Serrano, Albert JR 1693 St. John Bosco-SS 101 17:03.6 2:00.3 5:29.1 3:24.7
128 Hays, Patrick SR 903 La Costa Canyon-SDS 102 17:04.7 2:01.4 5:29.5 3:24.9
129 Cuevas, Alex FR 1411 Ridgeview-CS 103 17:05.4 2:02.1 5:29.7 3:25.1
130 Mollenkamp, Taka SR 1077 Mills-CCS — 17:06.1 2:02.8 5:29.9 3:25.2
131 Lindemann, Zach JR 1033 Maria Carrillo-NCS 104 17:07.5 2:04.2 5:30.4 3:25.5
132 Rader, Nelson SR 905 La Costa Canyon-SDS 105 17:07.6 2:04.3 5:30.4 3:25.5
133 Johnson, Kyle SO 1351 Pleasant Valley-NS — 17:07.9 2:04.6 5:30.5 3:25.6
134 Young, Ian JR 1326 Paso Robles-SS 106 17:08.2 2:04.9 5:30.6 3:25.6
135 Estillore, James JR 1678 St. Ignatius-CCS 107 17:08.3 2:05.0 5:30.6 3:25.6
136 Civello, Blake SR 1030 Maria Carrillo-NCS 108 17:08.4 2:05.1 5:30.7 3:25.7
137 Araujo, Danny SO 531 Dinuba-CS 109 17:09.1 2:05.8 5:30.9 3:25.8
138 Benitez, Angelo SR 829 Independance-CS — 17:09.3 2:06.0 5:30.9 3:25.8
139 Hacker, Jack JR 1865 Vista Del Lago-SJS 110 17:09.4 2:06.1 5:31.0 3:25.9
140 Lundgren, Michael JR 1681 St. Ignatius-CCS 111 17:09.6 2:06.3 5:31.1 3:25.9
141 Bonacini, Marco JR 1675 St. Ignatius-CCS 112 17:10.1 2:06.8 5:31.2 3:26.0
142 Gong, Richard SR 232 Campolindo-NCS 113 17:11.9 2:08.6 5:31.8 3:26.4
143 Rowe, Joseph SR 1552 Santana-SDS 114 17:12.0 2:08.7 5:31.8 3:26.4
144 Thompson, Ty JR 355 Chico-NS 115 17:13.2 2:09.9 5:32.2 3:26.6
145 Perez, Oscar JR 536 Dinuba-CS 116 17:13.4 2:10.1 5:32.3 3:26.7
146 Oki, Koya JR 33 Aptos-CCS — 17:13.6 2:10.3 5:32.3 3:26.7
147 Petersen, Jonah FR 1868 Vista Del Lago-SJS 117 17:14.7 2:11.4 5:32.7 3:26.9
148 Catanzaro, Dominic SR 324 Cathedral Catholic-SDS 118 17:14.7 2:11.4 5:32.7 3:26.9
149 Maheshwari, Devon SO 977 Livermore-NCS 119 17:15.7 2:12.4 5:33.0 3:27.1
150 Lara, Nate SR 1484 Sacred Ht. Cath-CCS 120 17:17.0 2:13.7 5:33.4 3:27.4
151 Moore, Wesley SO 1347 Placer-SJS 121 17:18.6 2:15.3 5:33.9 3:27.7
152 Tait, Alex SR 801 Hillsdale-CCS — 17:19.2 2:15.9 5:34.1 3:27.8
153 Donali, Massi FR 1481 Sacred Ht. Cath-CCS 122 17:20.1 2:16.8 5:34.4 3:28.0
154 Waterman, Brad SO 1869 Vista Del Lago-SJS 123 17:20.4 2:17.1 5:34.5 3:28.1
155 McCloud, Will SO 1034 Maria Carrillo-NCS 124 17:23.9 2:20.6 5:35.6 3:28.8
156 Valenton, Miguel JR 980 Livermore-NCS 125 17:24.5 2:21.2 5:35.8 3:28.9
157 Carrasco, Jesus SO 1344 Placer-SJS 126 17:24.5 2:21.2 5:35.8 3:28.9
158 Lockmann, John SR 1550 Santana-SDS 127 17:24.7 2:21.4 5:35.9 3:28.9
159 Guerrero, Ethan JR 1483 Sacred Ht. Cath-CCS 128 17:25.2 2:21.9 5:36.1 3:29.0
160 Bleyle, Cameron SR 1548 Santana-SDS 129 17:25.3 2:22.0 5:36.1 3:29.0
161 Lam, Nathan JR 686 Galileo-SFS — 17:26.9 2:23.6 5:36.6 3:29.4
162 Moore, Zane JR 1551 Santana-SDS 130 17:27.0 2:23.7 5:36.6 3:29.4
163 Moley, Brendan SO 1346 Placer-SJS 131 17:31.5 2:28.2 5:38.1 3:30.3
164 Sagastume, Olliver JR 1406 Redwood(NCS)-NCS 132 17:31.7 2:28.4 5:38.2 3:30.3
165 Upchurch, James JR 13 A. Riordan-CCS 133 17:31.8 2:28.5 5:38.2 3:30.3
166 Patel, Austin SO 1404 Redwood(NCS)-NCS 134 17:33.3 2:30.0 5:38.7 3:30.7
167 Taylor, Raymond JR 1607 Sherman Oaks CES-LAS — 17:33.7 2:30.4 5:38.8 3:30.7
168 Nip, Christopher JR 1485 Sacred Ht. Cath-CCS 135 17:34.0 2:30.7 5:38.9 3:30.8
169 Montes, Victor SR 76 Baldwin Park-SS 136 17:34.1 2:30.8 5:38.9 3:30.8
170 Rodriguez, Pedro JR 537 Dinuba-CS 137 17:34.3 2:31.0 5:39.0 3:30.9
171 Monninger, Rory SO 354 Chico-NS 138 17:34.4 2:31.1 5:39.0 3:30.9
172 Conant, James SR 1402 Redwood(NCS)-NCS 139 17:34.7 2:31.4 5:39.1 3:30.9
173 Winslow, Devin SO 1554 Santana-SDS 140 17:35.3 2:32.0 5:39.3 3:31.1
174 Sweileh, Nizar SR 1686 St. Ignatius-CCS 141 17:37.6 2:34.3 5:40.1 3:31.5
175 Bland, Luke FR 1604 Shasta-NS — 17:39.6 2:36.3 5:40.7 3:31.9
176 Molina, Jonah SO 1415 Ridgeview-CS 142 17:42.0 2:38.7 5:41.5 3:32.4
177 Smail, Rory FR 1036 Maria Carrillo-NCS 143 17:42.3 2:39.0 5:41.6 3:32.5
178 Vallecillo, Alexander JR 14 A. Riordan-CCS 144 17:44.7 2:41.4 5:42.3 3:32.9
179 Mavis, August SR 353 Chico-NS 145 17:48.7 2:45.4 5:43.6 3:33.7
180 Aberouette, Gene JR 8 A. Riordan-CCS 146 17:49.0 2:45.7 5:43.7 3:33.8
181 Martinez, Miguel SR 566 Edward Roybal-LAS — 17:51.7 2:48.4 5:44.6 3:34.3
182 Black, Riley SR 1343 Placer-SJS 147 17:55.2 2:51.9 5:45.7 3:35.0
183 Fox, Payton FR 1412 Ridgeview-CS 148 17:56.4 2:53.1 5:46.1 3:35.3
184 Magana, Luis SO 1414 Ridgeview-CS 149 17:56.5 2:53.2 5:46.1 3:35.3
185 Odocayen, Ej FR 11 A. Riordan-CCS 150 17:57.8 2:54.5 5:46.5 3:35.5
186 Martinez, Andres JR 534 Dinuba-CS 151 17:59.9 2:56.6 5:47.2 3:36.0
187 Ocbai, Yonathan JR 1482 Sacred Ht. Cath-CCS 152 18:09.9 3:06.6 5:50.4 3:38.0
188 Ho, Huang SR 74 Baldwin Park-SS 153 18:10.7 3:07.4 5:50.7 3:38.1
189 Murphy, Jack SO 1427 Rio Americano-SJS 154 18:13.4 3:10.1 5:51.6 3:38.7
190 Cooksey, Austin SR 1549 Santana-SDS 155 18:22.6 3:19.3 5:54.5 3:40.5
191 Kuplec, Nico SO 1186 Northridge Acad-LAS — 18:25.6 3:22.3 5:55.5 3:41.1
192 Espinoza, Matthew SR 104 Belmont-LAS 156 18:27.6 3:24.3 5:56.1 3:41.5
193 Chally, Jason SR 1424 Rio Americano-SJS 157 18:29.1 3:25.8 5:56.6 3:41.8
194 Patino, Mario SR 540 Dorsey-LAS — 18:33.5 3:30.2 5:58.0 3:42.7
195 Farrell, Riley SO 351 Chico-NS 158 18:48.0 3:44.7 6:02.7 3:45.6
196 Hahn, Garron SR 976 Livermore-NCS 159 18:59.9 3:56.6 6:06.5 3:48.0
197 Morales, Elmer SO 108 Belmont-LAS 160 19:09.5 4:06.2 6:09.6 3:49.9
198 Hernandez Tzitz, Edgar SO 106 Belmont-LAS 161 19:47.6 4:44.3 6:21.9 3:57.5
199 Ramon Hernandez, Osbel SO 109 Belmont-LAS 162 19:50.6 4:47.3 6:22.8 3:58.1
200 Gonzalez, Emanuel JR 105 Belmont-LAS 163 19:51.5 4:48.2 6:23.1 3:58.3
201 Woldie, Dawit JR 110 Belmont-LAS 164 20:12.4 5:09.1 6:29.8 4:02.5
202 Mejia, Gilberman JR 107 Belmont-LAS 165 21:08.5 6:05.2 6:47.9 4:13.7
Race #9
Division II Boys
Final Standings Score Scoring Order Total Avg. Finish Order Spread Section
1 Claremont-SS 97 1-6-17-29-44 (70) (113) 1:18:46 15:46 1-9-22-39-64-93-145 0:57.7
2 Loyola-SS 107 13-14-18-20-42 (51) (78) 1:19:23 15:53 18-19-23-26-62-71-103 0:27.1
3 West Ranch-SS 140 7-10-27-46-50 (79) (120) 1:19:37 15:56 10-14-37-66-70-104-152 0:42.3
4 Dublin-NCS 159 4-21-22-24-88 (102) (122) 1:19:38 15:56 6-27-28-30-115-132-154 1:07.4
5 Mira Costa-SS 192 2-5-54-55-76 (96) (128) 1:19:51 15:59 2-8-74-75-101-125-160 1:13.6
6 Saugus-SS 208 16-39-43-48-62 (73) (142) 1:20:41 16:09 21-57-63-68-83-96-175 0:31.6
7 Mt Carmel-SDS 212 3-8-37-74-90 (126) (132) 1:20:01 16:01 3-11-54-98-118-158-164 1:18.7
8 Ventura-SS 219 9-28-52-59-71 (111) (152) 1:20:34 16:07 12-38-72-79-94-143-186 0:48.0
9 Mission Viejo-SS 240 25-40-45-64-66 (100) (106) 1:20:59 16:12 32-58-65-85-89-130-136 0:28.0
10 Poway-SDS 255 12-34-65-67-77 (93) (107) 1:21:01 16:13 16-47-86-90-102-121-137 0:45.9
11 Monte Vista-NCS 281 11-31-41-95-103 (124) (137) 1:21:25 16:17 15-42-60-124-133-156-169 1:07.5
12 St. Francis (MV)-CCS 294 15-26-81-85-87 (131) (147) 1:21:20 16:16 20-35-107-112-114-163-180 0:43.8
13 Granada-NCS 306 23-63-68-69-83 (98) (154) 1:21:32 16:19 29-84-91-92-110-128-188 0:38.5
14 Del Norte-SDS 331 36-49-75-80-91 (94) (141) 1:21:57 16:24 53-69-99-106-119-123-174 0:29.7
15 Bella Vista-SJS 367 33-53-61-101-119 (134) (138) 1:22:26 16:30 45-73-82-131-151-166-171 0:55.8
16 Willow Glen-CCS 375 32-58-86-89-110 (135) (136) 1:22:17 16:28 43-78-113-116-142-167-168 0:49.2
17 Steele Canyon-SDS 388 35-38-84-104-127 (145) (148) 1:22:37 16:32 49-55-111-134-159-178-181 0:57.9
18 Whitney-SJS 416 30-82-92-97-115 (121) (143) 1:22:48 16:34 40-109-120-126-147-153-176 0:57.0
19 Redwood(CS)-CS 424 19-60-72-133-140 (160) (161) 1:23:17 16:40 24-80-95-165-173-194-195 1:37.9
20 Rocklin-SJS 501 57-99-108-114-123 (129) (150) 1:23:46 16:46 77-129-138-146-155-161-183 0:41.6
21 Bravo Med Magnet-LAS 543 56-109-116-118-144 (146) (155) 1:24:34 16:55 76-141-148-150-177-179-189 1:12.6
22 A. Mitty-CCS 564 47-112-117-139-149 (151) (157) 1:25:06 17:02 67-144-149-172-182-184-191 1:24.4
23 Liberty-Bakersfield-CS 669 105-125-130-153-156 (158) (159) 1:27:00 17:24 135-157-162-187-190-192-193 1:20.7
Individual Results
Athlete # Team Score Time Gap Avg. Mile Avg. kM
1 Bishop, Owen SR 379 Claremont-SS 1 15:14.6 — 4:54.1 3:02.9
2 Llorin, Caleb SR 1090 Mira Costa-SS 2 15:15.7 0:01.1 4:54.4 3:03.1
3 Boone, Samuel JR 1163 Mt Carmel-SDS 3 15:17.3 0:02.7 4:54.9 3:03.5
4 Khan, Steven SR 64 Ayala-SS — 15:22.0 0:07.4 4:56.4 3:04.4
5 Mazzanti, Luca SR 1546 Santa Rosa-NCS — 15:24.3 0:09.7 4:57.2 3:04.9
6 Surapaneni, Anirudh SR 562 Dublin-NCS 4 15:25.9 0:11.3 4:57.7 3:05.2
7 Ritter, Jake SR 725 Granite Bay-SJS — 15:27.3 0:12.7 4:58.2 3:05.5
8 Court, Xavier JR 1088 Mira Costa-SS 5 15:30.7 0:16.1 4:59.3 3:06.1
9 Renken, Ryan SR 384 Claremont-SS 6 15:31.1 0:16.5 4:59.4 3:06.2
10 Arnold, Jack SR 1883 West Ranch-SS 7 15:32.2 0:17.6 4:59.7 3:06.4
11 Paul, Simeon SR 1167 Mt Carmel-SDS 8 15:33.0 0:18.4 5:00.0 3:06.6
12 Randazzo, Nick SR 1855 Ventura-SS 9 15:36.7 0:22.1 5:01.2 3:07.3
13 DeLeon, Isaias SR 512 De La Salle-NCS — 15:37.2 0:22.6 5:01.3 3:07.4
14 Pope, Preston JR 1886 West Ranch-SS 10 15:39.8 0:25.2 5:02.2 3:08.0
15 Miller, Tristan SR 1137 Monte Vista-NCS 11 15:41.2 0:26.6 5:02.6 3:08.2
16 Chinn, Jarett SR 1362 Poway-SDS 12 15:43.5 0:28.9 5:03.4 3:08.7
17 Barr, Alex SR 1580 Scripps Ranch-SDS — 15:43.9 0:29.3 5:03.5 3:08.8
18 Bissell, Shane JR 999 Loyola-SS 13 15:44.0 0:29.4 5:03.5 3:08.8
19 Sherman, Charlie SR 1005 Loyola-SS 14 15:45.8 0:31.2 5:04.1 3:09.2
20 Kumar, Shyam JR 1666 St. Francis (MV)-CCS 15 15:48.2 0:33.6 5:04.9 3:09.6
21 Andrews, Boon JR 1571 Saugus-SS 16 15:48.4 0:33.8 5:04.9 3:09.7
22 Cowgill, Ryan SO 380 Claremont-SS 17 15:48.6 0:34.0 5:05.0 3:09.7
23 Salinas, Alejandro SR 1004 Loyola-SS 18 15:49.4 0:34.9 5:05.3 3:09.9
24 Lawson, De'Vyd SR 1390 Redwood(CS)-CS 19 15:49.7 0:35.1 5:05.3 3:09.9
25 Holston, Jhavahn SR 1582 Serrano-SS — 15:51.2 0:36.6 5:05.8 3:10.2
26 McAndrews, David JR 1003 Loyola-SS 20 15:51.8 0:37.2 5:06.0 3:10.4
27 Phanse, Gaurav JR 559 Dublin-NCS 21 15:52.6 0:38.0 5:06.3 3:10.5
28 Schroeder, Adrian JR 560 Dublin-NCS 22 15:52.7 0:38.2 5:06.3 3:10.5
29 Bennett, John JR 696 Granada-NCS 23 15:53.1 0:38.5 5:06.5 3:10.6
30 Scomparin, Loic SO 561 Dublin-NCS 24 15:53.3 0:38.7 5:06.5 3:10.7
31 Medrano, Moises JR 799 Highland-CS — 15:53.4 0:38.8 5:06.6 3:10.7
32 Chavez, Luis JR 1107 Mission Viejo-SS 25 15:54.3 0:39.7 5:06.8 3:10.9
33 Lopez, Sergio JR 513 Del Campo-SJS — 15:55.1 0:40.5 5:07.1 3:11.0
34 Garcia, Alexis SO 1180 Newport Harbor-SS — 15:55.1 0:40.6 5:07.1 3:11.0
35 Colonna, Colton SO 1662 St. Francis (MV)-CCS 26 15:56.8 0:42.2 5:07.6 3:11.4
36 Opsahl, Elias JR 1384 Redlands East Valley-SS — 15:57.4 0:42.8 5:07.8 3:11.5
37 Sherfey, Justin SR 1888 West Ranch-SS 27 15:58.2 0:43.6 5:08.1 3:11.6
38 Herrera, Alejandro JR 1853 Ventura-SS 28 15:59.1 0:44.5 5:08.4 3:11.8
39 Evans, Jonah SR 381 Claremont-SS 29 15:59.3 0:44.7 5:08.4 3:11.8
40 Dodge, Logan SR 1930 Whitney-SJS 30 15:59.3 0:44.8 5:08.5 3:11.9
41 Uphoff, Jaden JR 1117 Monache-CS — 16:01.0 0:46.4 5:09.0 3:12.2
42 Maneloveg, Daniel SR 1136 Monte Vista-NCS 31 16:02.0 0:47.4 5:09.3 3:12.4
43 Walker, Zach JR 1945 Willow Glen-CCS 32 16:02.1 0:47.5 5:09.3 3:12.4
44 Sandoval, Andres SR 1760 Tokay-SJS — 16:02.8 0:48.2 5:09.6 3:12.6
45 King, Damian SO 87 Bella Vista-SJS 33 16:02.9 0:48.3 5:09.6 3:12.6
46 Portillo, Elliott SR 935 Liberty-NCS — 16:03.3 0:48.7 5:09.7 3:12.7
47 Downs, Michael SR 1363 Poway-SDS 34 16:03.4 0:48.8 5:09.8 3:12.7
48 Kuroiwa, Fuyuki SR 1378 Rancho Bernardo-SDS — 16:04.2 0:49.6 5:10.0 3:12.8
49 Pina, Luis SR 1735 Steele Canyon-SDS 35 16:05.1 0:50.5 5:10.3 3:13.0
50 Kuroiwa, Senri SR 1379 Rancho Bernardo-SDS — 16:05.1 0:50.5 5:10.3 3:13.0
51 White, Dylan JR 386 Clayton Valley-NCS — 16:05.9 0:51.3 5:10.6 3:13.2
52 DeHaven, Brady JR 728 Granite Hills-SDS — 16:06.2 0:51.6 5:10.7 3:13.2
53 Farnham, Jaron JR 517 Del Norte-SDS 36 16:07.0 0:52.4 5:10.9 3:13.4
54 Turpin, Morgan SO 1169 Mt Carmel-SDS 37 16:07.6 0:53.0 5:11.1 3:13.5
55 Scarlett, Matt JR 1736 Steele Canyon-SDS 38 16:07.9 0:53.3 5:11.2 3:13.6
56 Tanner, Dalton SR 252 Canyon/Anaheim-SS — 16:08.4 0:53.8 5:11.4 3:13.7
57 Westenhofer, Cj SR 1576 Saugus-SS 39 16:08.8 0:54.2 5:11.5 3:13.8
58 Hilberath, Luke SR 1109 Mission Viejo-SS 40 16:09.5 0:54.9 5:11.7 3:13.9
59 Lockwood, Tre SR 724 Granite Bay-SJS — 16:10.0 0:55.4 5:11.9 3:14.0
60 Vomund, Nicolas SR 1139 Monte Vista-NCS 41 16:10.1 0:55.5 5:11.9 3:14.0
61 Mendez, Ivan SO 1116 Monache-CS — 16:10.4 0:55.8 5:12.0 3:14.1
62 Cobian, Brandon JR 1000 Loyola-SS 42 16:11.1 0:56.5 5:12.2 3:14.2
63 Enciso, Juan JR 1572 Saugus-SS 43 16:11.7 0:57.1 5:12.4 3:14.3
64 Lawson, Felix SR 383 Claremont-SS 44 16:12.3 0:57.7 5:12.6 3:14.5
65 Rexford, Garrett SR 1111 Mission Viejo-SS 45 16:12.3 0:57.7 5:12.6 3:14.5
66 Carver, Jake SR 1884 West Ranch-SS 46 16:12.3 0:57.7 5:12.6 3:14.5
67 Coyle, Eric SR 1 A. Mitty-CCS 47 16:12.3 0:57.7 5:12.6 3:14.5
68 Serrano, Kobe SO 1574 Saugus-SS 48 16:12.3 0:57.8 5:12.6 3:14.5
69 Feidelberg, Zev FR 518 Del Norte-SDS 49 16:13.4 0:58.8 5:13.0 3:14.7
70 Seidman, Isaiah SO 1887 West Ranch-SS 50 16:14.5 0:59.9 5:13.3 3:14.9
71 Kumamoto, Corey JR 1002 Loyola-SS 51 16:14.9 1:00.3 5:13.5 3:15.0
72 Olson, Jordan SR 1854 Ventura-SS 52 16:15.5 1:00.9 5:13.7 3:15.1
73 Lasalle, Nathaniel JR 89 Bella Vista-SJS 53 16:16.7 1:02.1 5:14.0 3:15.3
74 Chitteden, Cy SO 1087 Mira Costa-SS 54 16:17.3 1:02.7 5:14.2 3:15.5
75 Arruda, Matthew SR 1086 Mira Costa-SS 55 16:17.4 1:02.8 5:14.3 3:15.5
76 Morales, Daniel JR 171 Bravo Med Magnet-LAS 56 16:17.6 1:03.0 5:14.3 3:15.5
77 Craft, Andrew JR 1433 Rocklin-SJS 57 16:17.6 1:03.1 5:14.3 3:15.5
78 Arredondo, Tim SR 1940 Willow Glen-CCS 58 16:17.9 1:03.4 5:14.4 3:15.6
79 Hernandez, Jacob SR 1852 Ventura-SS 59 16:18.1 1:03.5 5:14.5 3:15.6
80 Branco, Laykyn SR 1387 Redwood(CS)-CS 60 16:19.2 1:04.6 5:14.8 3:15.8
81 Charvet, Jett JR 789 Heritage-NCS — 16:19.8 1:05.2 5:15.0 3:15.9
82 King, Tristan SO 88 Bella Vista-SJS 61 16:19.9 1:05.3 5:15.1 3:16.0
83 Wilke, Luke SR 1577 Saugus-SS 62 16:19.9 1:05.3 5:15.1 3:16.0
84 Hattori, Alex SR 698 Granada-NCS 63 16:20.2 1:05.6 5:15.2 3:16.0
85 Hickman, Brett JR 1108 Mission Viejo-SS 64 16:20.3 1:05.7 5:15.2 3:16.1
86 Neal, Tyler SR 1367 Poway-SDS 65 16:21.1 1:06.5 5:15.5 3:16.2
87 Adam, Julian SR 1919 Westmont-CCS — 16:22.2 1:07.6 5:15.8 3:16.4
88 Silva, Juilan SR 346 Cesar Chavez-LAS — 16:22.2 1:07.6 5:15.8 3:16.4
89 Maines, Javier SR 1110 Mission Viejo-SS 66 16:22.3 1:07.7 5:15.8 3:16.4
90 Carter, Kit SR 1361 Poway-SDS 67 16:23.0 1:08.4 5:16.1 3:16.6
91 Hattori, Tyler SO 699 Granada-NCS 68 16:23.3 1:08.7 5:16.2 3:16.7
92 Priest, Cameron SR 702 Granada-NCS 69 16:23.7 1:09.1 5:16.3 3:16.7
93 Lamar, Anthony SR 382 Claremont-SS 70 16:23.7 1:09.1 5:16.3 3:16.7
94 Beeson, Cody JR 1849 Ventura-SS 71 16:24.6 1:10.1 5:16.6 3:16.9
95 Ramirez, Ismael JR 1393 Redwood(CS)-CS 72 16:25.8 1:11.2 5:17.0 3:17.1
96 Serrano, Albert JR 1573 Saugus-SS 73 16:26.8 1:12.2 5:17.3 3:17.3
97 Enders, Jonas SR 761 Gunn-CCS — 16:27.0 1:12.4 5:17.3 3:17.4
98 Melovidov, Nickoli JR 1166 Mt Carmel-SDS 74 16:27.0 1:12.4 5:17.4 3:17.4
99 Landa, Igor SR 520 Del Norte-SDS 75 16:28.2 1:13.6 5:17.7 3:17.6
100 Frees, Daniel JR 1149 Mountain View-CCS — 16:28.8 1:14.2 5:17.9 3:17.8
101 Healy, Scott SR 1089 Mira Costa-SS 76 16:29.3 1:14.7 5:18.1 3:17.8
102 Kesler, Kyle SR 1365 Poway-SDS 77 16:29.3 1:14.7 5:18.1 3:17.9
103 Stone, Anthony FR 1001 Loyola-SS 78 16:29.6 1:15.0 5:18.2 3:17.9
104 Moskal, Derek JR 1885 West Ranch-SS 79 16:30.6 1:16.0 5:18.5 3:18.1
105 Fitch, Tim SR 1011 Madera-CS — 16:30.9 1:16.3 5:18.6 3:18.2
106 Earney, Matthew SR 515 Del Norte-SDS 80 16:31.1 1:16.5 5:18.7 3:18.2
107 Karur, Naren JR 1665 St. Francis (MV)-CCS 81 16:31.2 1:16.6 5:18.7 3:18.2
108 Reading, Ares SO 244 Canyon Crest-SDS — 16:31.2 1:16.6 5:18.7 3:18.2
109 Kling, Josh JR 1933 Whitney-SJS 82 16:31.3 1:16.7 5:18.7 3:18.3
110 Meier, Cameron SO 701 Granada-NCS 83 16:31.6 1:17.0 5:18.8 3:18.3
111 Garza, Dominic SR 1732 Steele Canyon-SDS 84 16:31.7 1:17.1 5:18.8 3:18.3
112 Macabantad, Antonio JR 1667 St. Francis (MV)-CCS 85 16:31.9 1:17.3 5:18.9 3:18.4
113 Abdalla, Mustafa JR 1939 Willow Glen-CCS 86 16:31.9 1:17.3 5:18.9 3:18.4
114 Skahill, Danny SO 1670 St. Francis (MV)-CCS 87 16:31.9 1:17.3 5:18.9 3:18.4
115 Lampi, Hunter SO 557 Dublin-NCS 88 16:33.2 1:18.6 5:19.3 3:18.6
116 Dinsdale, Nic JR 1944 Willow Glen-CCS 89 16:33.2 1:18.6 5:19.3 3:18.6
117 Chacko, Kevin JR 1006 Lynbrook-CCS — 16:34.6 1:20.0 5:19.8 3:18.9
118 Keliikoa, Jacob SO 1165 Mt Carmel-SDS 90 16:36.0 1:21.4 5:20.3 3:19.2
119 Kim, Jake JR 519 Del Norte-SDS 91 16:36.7 1:22.1 5:20.5 3:19.3
120 Shields, Austin JR 1934 Whitney-SJS 92 16:37.0 1:22.4 5:20.6 3:19.4
121 Kraft, Zach SR 1366 Poway-SDS 93 16:37.7 1:23.1 5:20.8 3:19.5
122 Perez, Aldo SR 1759 Tokay-SJS — 16:41.7 1:27.1 5:22.1 3:20.3
123 Varvara, Andrew JR 521 Del Norte-SDS 94 16:41.9 1:27.3 5:22.2 3:20.4
124 Johnson, Matthew JR 1133 Monte Vista-NCS 95 16:42.4 1:27.8 5:22.3 3:20.5
125 Satow, Quinn JR 1091 Mira Costa-SS 96 16:43.2 1:28.6 5:22.6 3:20.6
126 Dodge, Ethan FR 1931 Whitney-SJS 97 16:43.4 1:28.8 5:22.6 3:20.7
127 Macquiddy, Garrett FR 1920 Westmont-CCS — 16:43.5 1:28.9 5:22.7 3:20.7
128 Desai, Kinaar JR 697 Granada-NCS 98 16:43.5 1:28.9 5:22.7 3:20.7
129 Murphy, James SO 1438 Rocklin-SJS 99 16:43.6 1:29.0 5:22.7 3:20.7
130 Svensson, Oliver SO 1112 Mission Viejo-SS 100 16:47.2 1:32.6 5:23.8 3:21.4
131 Blankenburg, Benjamin JR 83 Bella Vista-SJS 101 16:47.5 1:32.9 5:23.9 3:21.5
132 Middleton-Pearson, Christopher FR 558 Dublin-NCS 102 16:48.2 1:33.6 5:24.2 3:21.6
133 Smiley, Benjamin SR 1138 Monte Vista-NCS 103 16:48.7 1:34.1 5:24.3 3:21.7
134 Schaefer, Jack SR 1737 Steele Canyon-SDS 104 16:48.8 1:34.2 5:24.4 3:21.7
135 Resendez, Jacob SO 956 Liberty-Bakersfield-CS 105 16:49.2 1:34.6 5:24.5 3:21.8
136 Bray, Dylan SR 1106 Mission Viejo-SS 106 16:50.1 1:35.5 5:24.8 3:22.0
137 Hirsh, Cameron SR 1364 Poway-SDS 107 16:50.4 1:35.8 5:24.9 3:22.1
138 Dowling, Brendan SO 1434 Rocklin-SJS 108 16:50.7 1:36.1 5:25.0 3:22.1
139 Garcia, Dylan SR 1075 Miguel Contreras LC-LAS — 16:50.8 1:36.2 5:25.0 3:22.1
140 Wykoff, Harrison SR 800 Highland-CS — 16:50.8 1:36.2 5:25.0 3:22.2
141 Ho, Anthony JR 170 Bravo Med Magnet-LAS 109 16:51.3 1:36.7 5:25.2 3:22.2
142 Delcanto, Marco SR 1943 Willow Glen-CCS 110 16:51.3 1:36.7 5:25.2 3:22.3
143 Hammel, Charlie SO 1850 Ventura-SS 111 16:53.0 1:38.4 5:25.7 3:22.6
144 Falcone, Jim JR 3 A. Mitty-CCS 112 16:53.1 1:38.5 5:25.7 3:22.6
145 Trafecanty, Luke SR 385 Claremont-SS 113 16:53.6 1:39.0 5:25.9 3:22.7
146 Woodward, Bennett SO 1439 Rocklin-SJS 114 16:55.1 1:40.5 5:26.4 3:23.0
147 Tajiri, Josh FR 1935 Whitney-SJS 115 16:56.3 1:41.7 5:26.8 3:23.3
148 Roman, Jesus SR 172 Bravo Med Magnet-LAS 116 16:56.5 1:41.9 5:26.8 3:23.3
149 Leather, Samuel JR 4 A. Mitty-CCS 117 16:57.7 1:43.1 5:27.2 3:23.5
150 Gutierrez, Vidal SR 169 Bravo Med Magnet-LAS 118 16:58.1 1:43.5 5:27.3 3:23.6
151 Henkel, Bret JR 85 Bella Vista-SJS 119 16:58.6 1:44.0 5:27.5 3:23.7
152 Sterkel, Timothy JR 1889 West Ranch-SS 120 16:58.7 1:44.1 5:27.5 3:23.7
153 Jacoby, Brenden FR 1932 Whitney-SJS 121 16:59.0 1:44.4 5:27.6 3:23.8
154 Morrison, Kyle SO 556 Dublin-NCS 122 16:59.0 1:44.4 5:27.6 3:23.8
155 Matei, Andrei SR 1437 Rocklin-SJS 123 16:59.2 1:44.6 5:27.7 3:23.8
156 Kim, Matthew SO 1134 Monte Vista-NCS 124 16:59.9 1:45.3 5:27.9 3:24.0
157 Garcia, Richard SR 953 Liberty-Bakersfield-CS 125 17:00.4 1:45.8 5:28.1 3:24.1
158 Cloes, Brennan JR 1164 Mt Carmel-SDS 126 17:01.9 1:47.3 5:28.6 3:24.4
159 O'Neill, Christian JR 1734 Steele Canyon-SDS 127 17:03.0 1:48.4 5:28.9 3:24.6
160 Yaskowitz, Michael SR 1092 Mira Costa-SS 128 17:05.7 1:51.1 5:29.8 3:25.1
161 Ferraro, Justin JR 1435 Rocklin-SJS 129 17:06.4 1:51.8 5:30.0 3:25.3
162 Hernandez, Sebastian JR 954 Liberty-Bakersfield-CS 130 17:07.3 1:52.7 5:30.3 3:25.5
163 George, Andrew SR 1659 St. Francis (MV)-CCS 131 17:07.9 1:53.3 5:30.5 3:25.6
164 Tran, Vincent JR 1168 Mt Carmel-SDS 132 17:13.0 1:58.4 5:32.1 3:26.6
165 Darnell, Bailey SO 1388 Redwood(CS)-CS 133 17:14.5 1:59.9 5:32.6 3:26.9
166 Kim, Eugene SR 86 Bella Vista-SJS 134 17:17.0 2:02.4 5:33.4 3:27.4
167 Cerda, Julio JR 1941 Willow Glen-CCS 135 17:17.4 2:02.8 5:33.5 3:27.5
168 Coleman, Matt SR 1942 Willow Glen-CCS 136 17:17.9 2:03.3 5:33.7 3:27.6
169 Lau, Brendan SR 1135 Monte Vista-NCS 137 17:22.3 2:07.7 5:35.1 3:28.5
170 Gonzalez, Marcos JR 345 Cesar Chavez-LAS — 17:22.6 2:08.0 5:35.2 3:28.5
171 Clausen, Jaxon SR 84 Bella Vista-SJS 138 17:23.3 2:08.7 5:35.5 3:28.7
172 Pinal, Yoshmar SR 6 A. Mitty-CCS 139 17:26.3 2:11.7 5:36.4 3:29.3
173 Fontes, Alex SO 1389 Redwood(CS)-CS 140 17:27.5 2:12.9 5:36.8 3:29.5
174 Eidgahy, Kaumron SR 516 Del Norte-SDS 141 17:27.9 2:13.3 5:36.9 3:29.6
175 Kaufmann, Jacob SO 1575 Saugus-SS 142 17:28.4 2:13.8 5:37.1 3:29.7
176 Vasquez, Austin FR 1936 Whitney-SJS 143 17:28.5 2:13.9 5:37.1 3:29.7
177 Edinger, Santiago SR 167 Bravo Med Magnet-LAS 144 17:30.1 2:15.5 5:37.6 3:30.0
178 Medina, Cristian JR 1733 Steele Canyon-SDS 145 17:32.6 2:18.0 5:38.5 3:30.5
179 Gomez, Fernando JR 168 Bravo Med Magnet-LAS 146 17:34.2 2:19.6 5:39.0 3:30.8
180 Griffin, Daniel SR 1664 St. Francis (MV)-CCS 147 17:34.4 2:19.8 5:39.0 3:30.9
181 Gaines, Dylan JR 1731 Steele Canyon-SDS 148 17:35.7 2:21.1 5:39.5 3:31.1
182 Perera, Derek SR 5 A. Mitty-CCS 149 17:36.7 2:22.1 5:39.8 3:31.3
183 Johnson, Justin SR 1436 Rocklin-SJS 150 17:39.0 2:24.4 5:40.5 3:31.8
184 Dillon, Aleksei JR 2 A. Mitty-CCS 151 17:43.0 2:28.4 5:41.8 3:32.6
185 Malong, Akol SR 803 Hollywood-LAS — 17:48.7 2:34.1 5:43.6 3:33.7
186 CeFalu, Spencer SR 1851 Ventura-SS 152 17:49.3 2:34.7 5:43.8 3:33.8
187 Prieto, Tomas SO 955 Liberty-Bakersfield-CS 153 17:53.1 2:38.5 5:45.0 3:34.6
188 Kilday, Christopher JR 700 Granada-NCS 154 17:59.1 2:44.5 5:47.0 3:35.8
189 Duarte, Carlos JR 166 Bravo Med Magnet-LAS 155 18:04.0 2:49.4 5:48.5 3:36.8
190 Cottrell, Alexander SR 951 Liberty-Bakersfield-CS 156 18:09.9 2:55.3 5:50.4 3:38.0
191 Shridhar, Tuan JR 7 A. Mitty-CCS 157 18:11.7 2:57.1 5:51.0 3:38.3
192 Beaty, Cayden SR 957 Liberty-Bakersfield-CS 158 18:13.1 2:58.5 5:51.5 3:38.6
193 Estevez, Eddie JR 952 Liberty-Bakersfield-CS 159 18:23.3 3:08.7 5:54.8 3:40.7
194 Olivas, Marcus JR 1392 Redwood(CS)-CS 160 18:38.1 3:23.5 5:59.5 3:43.6
195 Molina, Evan JR 1391 Redwood(CS)-CS 161 18:55.4 3:40.8 6:05.1 3:47.1
Race #5
Division I Boys
Final Standings Score Scoring Order Total Avg. Finish Order Spread Section
1 Great Oak-SS 66 4-8-13-18-23 (32) (45) 1:18:12 15:39 6-10-15-25-32-43-59 0:35.5
2 Dana Hills-SS 102 10-11-16-31-34 (39) (158) 1:18:58 15:48 12-13-22-42-46-52-196 0:35.9
3 Roosevelt-SS 124 9-14-22-33-46 (63) (73) 1:19:21 15:53 11-16-29-45-60-82-95 0:43.9
4 Bellarmine-CCS 142 2-25-30-42-43 (56) (94) 1:19:37 15:56 3-35-41-56-57-72-120 1:03.2
5 Madera South-CS 218 12-38-41-62-65 (66) (93) 1:20:43 16:09 14-51-55-81-85-87-119 0:52.1
6 California-SS 239 24-44-50-52-69 (71) (89) 1:21:14 16:15 34-58-66-68-91-93-114 0:31.8
7 Valencia (P.)-SS 250 35-37-57-60-61 (75) (76) 1:21:20 16:16 47-50-73-78-80-98-99 0:15.7
8 Jesuit-SJS 298 5-58-59-86-90 (112) (144) 1:21:33 16:19 7-74-77-111-115-142-177 1:15.3
9 Newbury Park-SS 313* 17-28-72-79-117 (128) (143) 1:21:58 16:24 24-39-94-103-147-159-176 1:12.3
10 Otay Ranch-SDS 313* 15-19-20-120-139 (141) (151) 1:21:59 16:24 21-26-27-150-172-174-187 1:44.0
11 Arroyo Grande-SS 317 6-48-80-91-92 (111) (119) 1:21:52 16:23 8-64-104-117-118-141-149 1:15.7
12 El Camino Real-LAS 342 3-68-77-81-113 (118) (146) 1:21:50 16:22 4-89-100-105-143-148-180 1:46.6
13 Palo Alto-CCS 361* 36-49-74-100-102 (107) (127) 1:22:35 16:31 48-65-96-127-130-136-158 0:42.9
14 Buchanan-CS 361* 21-29-84-106-121 (140) (147) 1:22:37 16:32 28-40-108-135-151-173-181 1:12.4
15 Clovis-CS 388 53-64-78-95-98 (114) (131) 1:22:52 16:35 69-84-101-121-125-144-162 0:30.7
16 Armijo-SJS 392 1-51-101-116-123 (136) (155) 1:22:03 16:25 1-67-128-146-154-169-192 2:17.0
17 Granada Hills Chtr-LAS 418 40-67-82-104-125 (138) (150) 1:23:20 16:40 54-88-106-132-156-171-186 0:57.8
18 Lowell-SFS 421 27-87-96-103-108 (122) (134) 1:23:12 16:39 37-112-122-131-137-152-165 0:54.2
19 Dougherty Vly.-NCS 427 7-55-110-126-129 (130) (142) 1:23:08 16:38 9-71-140-157-160-161-175 1:43.0
20 Bonita Vista-SDS 429 26-47-99-124-133 (137) (153) 1:23:29 16:42 36-63-126-155-164-170-190 1:17.5
21 Homestead-CCS 435 70-83-85-88-109 (135) (145) 1:23:27 16:42 92-107-110-113-138-166-178 0:23.6
22 Oakland Tech-OS 616 54-115-132-156-159 (160) (161) 1:27:59 17:36 70-145-163-193-197-199-200 2:40.0
23 Castro Valley-NCS 651 97-105-148-149-152 (154) (157) 1:27:32 17:31 123-134-183-184-188-191-195 1:23.7
Individual Results
Athlete # Team Score Time Gap Avg. Mile Avg. kM
1 Grijalva, Luis SR 50 Armijo-SJS 1 14:50.1 — 4:46.2 2:58.0
2 Vernau, Michael SR 511 Davis-SJS — 14:56.4 0:06.3 4:48.2 2:59.3
3 Beaudoin-rosse, Meika JR 90 Bellarmine-CCS 2 15:09.7 0:19.6 4:52.5 3:01.9
4 Hazell, Justin JR 575 El Camino Real-LAS 3 15:10.7 0:20.6 4:52.8 3:02.1
5 Comeaux, Ethan SR 1385 Redondo Union-SS — 15:14.3 0:24.2 4:54.0 3:02.9
6 Fountain, Solomon SR 744 Great Oak-SS 4 15:20.7 0:30.6 4:56.0 3:04.1
7 Holland, Benjamin SR 837 Jesuit-SJS 5 15:27.6 0:37.6 4:58.3 3:05.5
8 Ricketts, Christian SR 58 Arroyo Grande-SS 6 15:29.7 0:39.7 4:58.9 3:05.9
9 Braganza, Neil SR 549 Dougherty Vly.-NCS 7 15:30.0 0:39.9 4:59.0 3:06.0
10 Korgan, Jacob JR 746 Great Oak-SS 8 15:30.0 0:39.9 4:59.0 3:06.0
11 Ornelas, Raymon JR 1442 Roosevelt-SS 9 15:30.1 0:40.0 4:59.1 3:06.0
12 Landgraf, Jack JR 499 Dana Hills-SS 10 15:30.3 0:40.3 4:59.1 3:06.1
13 Hough, Brandon SR 498 Dana Hills-SS 11 15:31.4 0:41.3 4:59.5 3:06.3
14 Villar, Miguel SR 1018 Madera South-CS 12 15:33.4 0:43.3 5:00.1 3:06.7
15 Carvajal, Carlos JR 742 Great Oak-SS 13 15:36.5 0:46.4 5:01.1 3:07.3
16 Spencer, Tyler JR 1446 Roosevelt-SS 14 15:37.4 0:47.3 5:01.4 3:07.5
17 Riley, Darius JR 1382 Rancho Cucamonga-SS — 15:37.9 0:47.9 5:01.6 3:07.6
18 Kendall, Stuart JR 654 Foothill(SS)-SS — 15:39.4 0:49.3 5:02.0 3:07.9
19 Doyle, Xander SR 1380 Rancho Buena Vista-SDS — 15:41.2 0:51.1 5:02.6 3:08.2
20 Del-Valle Rutherford, Joey SR 1381 Rancho Cucamonga-SS — 15:41.8 0:51.7 5:02.8 3:08.3
21 Suzara, Jeremiah SR 1264 Otay Ranch-SDS 15 15:42.3 0:52.2 5:03.0 3:08.5
22 Wilfert, Thomas SR 503 Dana Hills-SS 16 15:46.3 0:56.2 5:04.3 3:09.3
23 Williams, Everett SR 276 Carlsbad-SDS — 15:47.0 0:56.9 5:04.5 3:09.4
24 Duffy, Ethan SR 1175 Newbury Park-SS 17 15:47.1 0:57.0 5:04.5 3:09.4
25 Eipp, Justin SR 743 Great Oak-SS 18 15:48.2 0:58.2 5:04.9 3:09.6
26 Parise, Cale SR 1262 Otay Ranch-SDS 19 15:51.3 1:01.2 5:05.9 3:10.3
27 Mulvany, Justin SO 1261 Otay Ranch-SDS 20 15:53.2 1:03.1 5:06.5 3:10.6
28 Hansen, Hayden JR 193 Buchanan-CS 21 15:53.7 1:03.6 5:06.7 3:10.7
29 Chavez, Raul FR 1440 Roosevelt-SS 22 15:54.1 1:04.1 5:06.8 3:10.8
30 Mota, Marcus SO 1739 Stockdale-CS — 15:55.0 1:04.9 5:07.1 3:11.0
31 Bricca, Luke SR 1226 Oak Ridge-SJS — 15:55.8 1:05.7 5:07.3 3:11.1
32 Korby, Gavin JR 745 Great Oak-SS 23 15:56.2 1:06.1 5:07.4 3:11.2
33 Wiener-Brodkey, Jonah JR 1049 McClatchy-SJS — 15:57.1 1:07.0 5:07.7 3:11.4
34 Aguirre, Angel SR 206 California-SS 24 15:57.9 1:07.8 5:08.0 3:11.6
35 Scales, Alex JR 96 Bellarmine-CCS 25 15:59.2 1:09.1 5:08.4 3:11.8
36 Labra, Isaiah JR 159 Bonita Vista-SDS 26 15:59.8 1:09.7 5:08.6 3:12.0
37 Krajewski, Mikolai SR 995 Lowell-SFS 27 16:00.0 1:09.9 5:08.7 3:12.0
38 Rasmuson, Stefen JR 1095 Mira Mesa-SDS — 16:01.3 1:11.2 5:09.1 3:12.2
39 Ronk, Ethan SO 1178 Newbury Park-SS 28 16:02.8 1:12.7 5:09.6 3:12.6
40 Fernandez, Stewart SR 192 Buchanan-CS 29 16:03.6 1:13.5 5:09.8 3:12.7
41 Pinkel, Luke SO 95 Bellarmine-CCS 30 16:03.8 1:13.7 5:09.9 3:12.7
42 Wagenseller, Eddie SO 502 Dana Hills-SS 31 16:03.9 1:13.8 5:09.9 3:12.8
43 Tickner, Tyler SO 748 Great Oak-SS 32 16:04.3 1:14.2 5:10.1 3:12.9
44 Fitzgerald, Colin JR 479 Crescenta Valley-SS — 16:04.7 1:14.6 5:10.2 3:12.9
45 Richards, Wayne JR 1443 Roosevelt-SS 33 16:05.3 1:15.2 5:10.4 3:13.1
46 Denker, Carrick FR 500 Dana Hills-SS 34 16:06.2 1:16.1 5:10.7 3:13.2
47 Dohm, Timo JR 1816 Valencia (P.)-SS 35 16:07.1 1:17.0 5:10.9 3:13.4
48 Pai, Naveen SR 1302 Palo Alto-CCS 36 16:07.4 1:17.3 5:11.0 3:13.5
49 Estrella, Jorge JR 26 Andrew Hill-CCS — 16:08.2 1:18.1 5:11.3 3:13.6
50 Moreno, Jose SR 1819 Valencia (P.)-SS 37 16:08.6 1:18.5 5:11.4 3:13.7
51 Ochoa, Victor SO 1016 Madera South-CS 38 16:09.8 1:19.7 5:11.8 3:13.9
52 Fuller, Simon SO 497 Dana Hills-SS 39 16:10.2 1:20.1 5:12.0 3:14.0
53 Steinberg, Stephen SR 387 Cleveland-LAS — 16:10.6 1:20.5 5:12.1 3:14.1
54 Gonzalez, Jose SR 712 Granada Hills Chtr-LAS 40 16:11.2 1:21.1 5:12.3 3:14.2
55 Nevarez, Christian SR 1015 Madera South-CS 41 16:11.4 1:21.3 5:12.3 3:14.3
56 Doblar, Dylan SR 92 Bellarmine-CCS 42 16:11.4 1:21.3 5:12.3 3:14.3
57 Gade, Neerav JR 94 Bellarmine-CCS 43 16:12.9 1:22.8 5:12.8 3:14.6
58 Estrada, Quinn SR 210 California-SS 44 16:13.3 1:23.2 5:13.0 3:14.7
59 Sheilds, Ryan SO 747 Great Oak-SS 45 16:13.7 1:23.6 5:13.1 3:14.7
60 Robles, Julian SR 1444 Roosevelt-SS 46 16:14.0 1:23.9 5:13.2 3:14.8
61 Ruiz, Santiago JR 758 Gregori-SJS — 16:14.3 1:24.2 5:13.3 3:14.8
62 Chavez, Maximiliano SO 488 Cupertino-CCS — 16:14.5 1:24.4 5:13.3 3:14.9
63 Campos, Armando JR 158 Bonita Vista-SDS 47 16:15.0 1:24.9 5:13.5 3:15.0
64 Taylor, Nethaneel SR 60 Arroyo Grande-SS 48 16:15.5 1:25.4 5:13.7 3:15.1
65 Saul, Henry SO 1303 Palo Alto-CCS 49 16:15.8 1:25.7 5:13.8 3:15.2
66 Ayson, Jonathan SR 207 California-SS 50 16:16.1 1:26.0 5:13.8 3:15.2
67 Erwin, Brendan SR 49 Armijo-SJS 51 16:16.5 1:26.4 5:14.0 3:15.3
68 Fausto, Miguel JR 211 California-SS 52 16:16.6 1:26.5 5:14.0 3:15.3
69 Nickesan, Nathan SR 399 Clovis-CS 53 16:17.4 1:27.3 5:14.3 3:15.5
70 Kleiber, Nick SR 1238 Oakland Tech-OS 54 16:18.0 1:27.9 5:14.4 3:15.6
71 Schmidt, Quinn SR 554 Dougherty Vly.-NCS 55 16:18.9 1:28.8 5:14.7 3:15.8
72 D'orfani, Ross SO 93 Bellarmine-CCS 56 16:19.6 1:29.5 5:15.0 3:15.9
73 Moreno, Jesus SR 1818 Valencia (P.)-SS 57 16:19.9 1:29.8 5:15.1 3:16.0
74 Strangio, Matthew FR 839 Jesuit-SJS 58 16:21.0 1:30.9 5:15.4 3:16.2
75 Amon-Franceschi, Bruno SO 1038 Marshall-LAS — 16:21.0 1:30.9 5:15.4 3:16.2
76 Pabla, Arman SR 835 James Logan-NCS — 16:21.3 1:31.2 5:15.5 3:16.3
77 Salonites, Nicholas FR 841 Jesuit-SJS 59 16:21.6 1:31.5 5:15.6 3:16.3
78 Ruiz, Cayden JR 1821 Valencia (P.)-SS 60 16:21.9 1:31.8 5:15.7 3:16.4
79 Hamer, Ben JR 1294 Palisades Charter-LAS — 16:22.0 1:31.9 5:15.7 3:16.4
80 Pacheco, David SR 1820 Valencia (P.)-SS 61 16:22.7 1:32.6 5:16.0 3:16.5
81 Ochoa, Michael SR 1017 Madera South-CS 62 16:22.8 1:32.7 5:16.0 3:16.6
82 Sahagun, Michael FR 1445 Roosevelt-SS 63 16:23.7 1:33.6 5:16.3 3:16.7
83 Hashimoto, Kaito JR 1078 Milpitas-CCS — 16:23.9 1:33.8 5:16.4 3:16.8
84 Watkins, Chris JR 401 Clovis-CS 64 16:24.6 1:34.5 5:16.6 3:16.9
85 Hernandez, Nicholas SR 1014 Madera South-CS 65 16:25.4 1:35.3 5:16.8 3:17.1
86 Falcone, Jared JR 404 Clovis East-CS — 16:27.4 1:37.3 5:17.5 3:17.5
87 Alvarez, Adrian JR 1012 Madera South-CS 66 16:27.5 1:37.4 5:17.5 3:17.5
88 Tiber, Benjamin SR 716 Granada Hills Chtr-LAS 67 16:28.5 1:38.4 5:17.8 3:17.7
89 Belmonte, Carlos SR 571 El Camino Real-LAS 68 16:28.8 1:38.7 5:17.9 3:17.8
90 Mackenzie, Owen SO 982 Los Altos-CCS — 16:29.1 1:39.0 5:18.0 3:17.8
91 Contreras, Alejandro SR 209 California-SS 69 16:29.7 1:39.6 5:18.2 3:17.9
92 Sawyer, Max SR 816 Homestead-CCS 70 16:31.0 1:40.9 5:18.6 3:18.2
93 Ramirez, Gabriel JR 212 California-SS 71 16:31.1 1:41.0 5:18.7 3:18.2
94 Aschbrenner, Jace FR 1173 Newbury Park-SS 72 16:31.7 1:41.6 5:18.9 3:18.3
95 Madrigal, Isaiah SR 1441 Roosevelt-SS 73 16:31.9 1:41.8 5:18.9 3:18.4
96 Slaney, Kent SR 1304 Palo Alto-CCS 74 16:32.7 1:42.6 5:19.2 3:18.5
97 Williams, Robert SR 1957 Woodcreek-SJS — 16:33.2 1:43.1 5:19.4 3:18.6
98 Frisone, Ethan JR 1817 Valencia (P.)-SS 75 16:33.5 1:43.4 5:19.4 3:18.7
99 Tello, Nery SR 1822 Valencia (P.)-SS 76 16:34.4 1:44.3 5:19.7 3:18.9
100 Brdar, Cody SR 572 El Camino Real-LAS 77 16:35.1 1:45.0 5:19.9 3:19.0
101 Flores, Izaiah SR 396 Clovis-CS 78 16:35.8 1:45.7 5:20.2 3:19.2
102 Smith, Brent SO 1295 Palisades Charter-LAS — 16:36.2 1:46.1 5:20.3 3:19.2
103 Young, Nico FR 1179 Newbury Park-SS 79 16:36.3 1:46.2 5:20.3 3:19.3
104 Maule, Jayson SR 57 Arroyo Grande-SS 80 16:37.1 1:47.0 5:20.6 3:19.4
105 Khromets, Nikita SR 576 El Camino Real-LAS 81 16:38.0 1:47.9 5:20.9 3:19.6
106 Rios, Matthew JR 715 Granada Hills Chtr-LAS 82 16:39.0 1:48.9 5:21.2 3:19.8
107 Rosado, Gabe FR 815 Homestead-CCS 83 16:39.2 1:49.1 5:21.3 3:19.8
108 Brewer, Kelly FR 191 Buchanan-CS 84 16:39.3 1:49.2 5:21.3 3:19.9
109 Frohreich, Corbin SR 1094 Mira Mesa-SDS — 16:39.4 1:49.3 5:21.3 3:19.9
110 Kehon, Julien SO 807 Homestead-CCS 85 16:39.9 1:49.8 5:21.5 3:20.0
111 Jones, Brendan SR 838 Jesuit-SJS 86 16:40.0 1:49.9 5:21.5 3:20.0
112 Battaglia, Noah SO 992 Lowell-SFS 87 16:40.2 1:50.1 5:21.6 3:20.0
113 Li, Vincent JR 809 Homestead-CCS 88 16:41.9 1:51.8 5:22.1 3:20.4
114 Torres, Joseph SR 213 California-SS 89 16:42.3 1:52.2 5:22.3 3:20.5
115 Ryan, Colin SO 840 Jesuit-SJS 90 16:42.9 1:52.8 5:22.5 3:20.6
116 Galland, Nick SR 65 Bakersfield-CS — 16:44.2 1:54.1 5:22.9 3:20.8
117 Jazo, Luis JR 55 Arroyo Grande-SS 91 16:44.3 1:54.2 5:22.9 3:20.8
118 Eley, Spencer JR 54 Arroyo Grande-SS 92 16:45.4 1:55.3 5:23.3 3:21.1
119 Garcia, Seth JR 1013 Madera South-CS 93 16:45.8 1:55.7 5:23.4 3:21.2
120 Deck, Joseph SR 91 Bellarmine-CCS 94 16:46.1 1:56.0 5:23.5 3:21.2
121 Kandola, Pardeep SR 397 Clovis-CS 95 16:46.2 1:56.1 5:23.5 3:21.2
122 Fuchs, William SR 993 Lowell-SFS 96 16:47.5 1:57.4 5:23.9 3:21.5
123 Friesen, Vincent SR 306 Castro Valley-NCS 97 16:47.6 1:57.5 5:24.0 3:21.5
124 Caster, Sean SO 1105 Mission Hills-SDS — 16:47.7 1:57.6 5:24.0 3:21.5
125 Sandoval, Fernando FR 400 Clovis-CS 98 16:48.0 1:57.9 5:24.1 3:21.6
126 Agbede, Toshin JR 156 Bonita Vista-SDS 99 16:48.4 1:58.3 5:24.2 3:21.7
127 Craig, Sam JR 1997 Palo Alto-CCS 100 16:48.7 1:58.6 5:24.3 3:21.7
128 Emerson, Michael JR 48 Armijo-SJS 101 16:49.8 1:59.7 5:24.7 3:22.0
129 Ambrose, Lukas SR 1037 Marshall-LAS — 16:50.2 2:00.0 5:24.8 3:22.0
130 Morgenfeld, Spencer SR 1300 Palo Alto-CCS 102 16:50.3 2:00.2 5:24.8 3:22.0
131 Tiao, Maximilian JR 998 Lowell-SFS 103 16:50.3 2:00.2 5:24.8 3:22.0
132 Daly, Hayden JR 710 Granada Hills Chtr-LAS 104 16:52.2 2:02.1 5:25.5 3:22.4
133 Castillo, Alex SR 208 California-NCS — 16:52.8 2:02.7 5:25.6 3:22.5
134 Berberian, Reilly JR 302 Castro Valley-NCS 105 16:54.0 2:03.9 5:26.0 3:22.8
135 McKenney, Dustyn SO 196 Buchanan-CS 106 16:54.0 2:03.9 5:26.0 3:22.8
136 Beaudry, Ben SR 1298 Palo Alto-CCS 107 16:54.2 2:04.1 5:26.1 3:22.8
137 Parker, Alexander JR 996 Lowell-SFS 108 16:54.2 2:04.1 5:26.1 3:22.8
138 Ma, Ryan SO 811 Homestead-CCS 109 16:54.6 2:04.5 5:26.2 3:22.9
139 Andersson, Sebastian SR 114 Berkeley-NCS — 16:55.5 2:05.4 5:26.5 3:23.1
140 Bell, Tommy JR 548 Dougherty Vly.-NCS 110 16:56.0 2:05.9 5:26.7 3:23.2
141 Swieringa, Andrew JR 59 Arroyo Grande-SS 111 16:56.1 2:06.0 5:26.7 3:23.2
142 Bell, Robert SR 836 Jesuit-SJS 112 16:56.9 2:06.8 5:26.9 3:23.4
143 Samuels, Ethan SR 577 El Camino Real-LAS 113 16:57.2 2:07.1 5:27.1 3:23.4
144 Fierro, Matt SR 395 Clovis-CS 114 16:58.6 2:08.5 5:27.5 3:23.7
145 Harmon, Joseph SR 1237 Oakland Tech-OS 115 16:58.6 2:08.5 5:27.5 3:23.7
146 Wahid, Zakari JR 53 Armijo-SJS 116 16:58.8 2:08.7 5:27.6 3:23.8
147 Garner, Nathaniel JR 1176 Newbury Park-SS 117 16:59.4 2:09.3 5:27.8 3:23.9
148 Estrada, Ethan SR 574 El Camino Real-LAS 118 17:01.6 2:11.5 5:28.5 3:24.3
149 Limon, Cooper SO 56 Arroyo Grande-SS 119 17:01.9 2:11.8 5:28.6 3:24.4
150 Camacho, Juan SR 1259 Otay Ranch-SDS 120 17:05.7 2:15.6 5:29.8 3:25.1
151 Juarez, Ethan SO 194 Buchanan-CS 121 17:06.1 2:16.0 5:29.9 3:25.2
152 Parker, Zachary FR 997 Lowell-SFS 122 17:06.1 2:16.0 5:29.9 3:25.2
153 Galindo, Isaiah FR 405 Clovis North-CS — 17:06.5 2:16.4 5:30.0 3:25.3
154 Dix, Ryan JR 47 Armijo-SJS 123 17:07.1 2:17.0 5:30.2 3:25.4
155 Mason, Christian SO 160 Bonita Vista-SDS 124 17:08.5 2:18.4 5:30.7 3:25.7
156 Larbaoui, Sean SO 713 Granada Hills Chtr-LAS 125 17:09.0 2:18.9 5:30.9 3:25.8
157 Lee, Jeremy JR 553 Dougherty Vly.-NCS 126 17:09.5 2:19.4 5:31.0 3:25.9
158 Foster, Reed JR 1301 Palo Alto-CCS 127 17:10.8 2:20.7 5:31.4 3:26.2
159 Bilson, William JR 1174 Newbury Park-SS 128 17:11.9 2:21.8 5:31.8 3:26.4
160 Dickenson, Miguel JR 551 Dougherty Vly.-NCS 129 17:12.9 2:22.8 5:32.1 3:26.6
161 Burnham, Kenichi SO 550 Dougherty Vly.-NCS 130 17:14.8 2:24.7 5:32.7 3:27.0
162 Moua, Jackee SR 398 Clovis-CS 131 17:16.3 2:26.2 5:33.2 3:27.3
163 Andrade, Fernando JR 1235 Oakland Tech-OS 132 17:17.1 2:27.0 5:33.5 3:27.4
164 Sherman, Skyler SR 162 Bonita Vista-SDS 133 17:17.2 2:27.1 5:33.5 3:27.4
165 Holcombe, James SO 994 Lowell-SFS 134 17:17.5 2:27.4 5:33.6 3:27.5
166 Scott, William SR 812 Homestead-CCS 135 17:19.8 2:29.7 5:34.3 3:28.0
167 Berrol, Avshalom JR 1620 Skyline-OS — 17:21.0 2:30.9 5:34.7 3:28.2
168 Uzawa, Daichi JR 115 Berkeley-NCS — 17:24.2 2:34.1 5:35.7 3:28.8
169 McKenzie, Nixon SO 51 Armijo-SJS 136 17:24.2 2:34.1 5:35.7 3:28.8
170 Sanchez, Mario SR 161 Bonita Vista-SDS 137 17:24.2 2:34.1 5:35.8 3:28.8
171 Goche, Arturo JR 711 Granada Hills Chtr-LAS 138 17:25.0 2:34.9 5:36.0 3:29.0
172 LeDesma, Evan SR 1260 Otay Ranch-SDS 139 17:26.3 2:36.2 5:36.4 3:29.3
173 Lee, Jacob SR 195 Buchanan-CS 140 17:26.4 2:36.3 5:36.4 3:29.3
174 Stone, Giovanni JR 1263 Otay Ranch-SDS 141 17:27.0 2:36.9 5:36.7 3:29.4
175 Echsner, Jake SR 552 Dougherty Vly.-NCS 142 17:27.7 2:37.6 5:36.9 3:29.5
176 Manos, Alex JR 1177 Newbury Park-SS 143 17:28.1 2:38.0 5:37.0 3:29.6
177 Worthen, Miles SO 842 Jesuit-SJS 144 17:36.2 2:46.1 5:39.6 3:31.2
178 Morchi, Sahil SO 813 Homestead-CCS 145 17:36.6 2:46.5 5:39.7 3:31.3
179 Bringas, Sage JR 834 James Logan-NCS — 17:39.3 2:49.2 5:40.6 3:31.8
180 Diaz, Kevin SR 573 El Camino Real-LAS 146 17:39.8 2:49.7 5:40.7 3:31.9
181 Beal, Miles JR 190 Buchanan-CS 147 17:40.4 2:50.3 5:41.0 3:32.1
182 Rodriguez, Jose SO 1057 McFarland-CS — 17:47.3 2:57.2 5:43.2 3:33.5
183 Miu, Seth FR 308 Castro Valley-NCS 148 17:47.7 2:57.6 5:43.3 3:33.5
184 Bowersmith, Skyler JR 303 Castro Valley-NCS 149 17:51.6 3:01.5 5:44.6 3:34.3
185 Guzman, Jose SR 1621 Skyline-OS — 17:58.2 3:08.1 5:46.7 3:35.6
186 Lee, Jacob JR 714 Granada Hills Chtr-LAS 150 18:02.6 3:12.5 5:48.1 3:36.5
187 Thomas, Harold SR 1265 Otay Ranch-SDS 151 18:07.2 3:17.1 5:49.6 3:37.4
188 Gugg, Anthony JR 307 Castro Valley-NCS 152 18:11.2 3:21.1 5:50.8 3:38.2
189 Chavira-Reyes, Rudy JR 827 Impact Acad of Arts/Tech-OS — 18:17.5 3:27.4 5:52.9 3:39.5
190 Borja, Matthew SR 157 Bonita Vista-SDS 153 18:20.3 3:30.2 5:53.8 3:40.1
191 Bowersmith, Hunter SO 304 Castro Valley-NCS 154 18:23.3 3:33.2 5:54.8 3:40.7
192 Oriate, Nate JR 52 Armijo-SJS 155 18:26.5 3:36.4 5:55.8 3:41.3
193 Nicholas, Justin SR 1241 Oakland Tech-OS 156 18:27.0 3:36.9 5:55.9 3:41.4
194 Hackett, Jacob SO 1622 Skyline-OS — 18:27.6 3:37.5 5:56.1 3:41.5
195 Conley, Chris FR 305 Castro Valley-NCS 157 18:50.9 4:00.8 6:03.6 3:46.2
196 Turner, John SR 501 Dana Hills-SS 158 18:53.8 4:03.7 6:04.5 3:46.7
197 Nicholas, Benjamin FR 1240 Oakland Tech-OS 159 18:58.0 4:07.9 6:05.9 3:47.6
198 Chun, Christian JR 972 Lincoln-SFS — 19:58.9 5:08.8 6:25.5 3:59.8
199 Berkov-Kemp, Josiah JR 1236 Oakland Tech-OS 160 20:04.0 5:13.9 6:27.1 4:00.8
200 Nakadegawa-Lee, Nathan SO 1239 Oakland Tech-OS 161 20:10.2 5:20.1 6:29.1 4:02.0