Sonoma Academy's Bowen girls, Rylee 6th 18:35 and Kate 8th 18:39 earn the Empires medals and had the fastest times.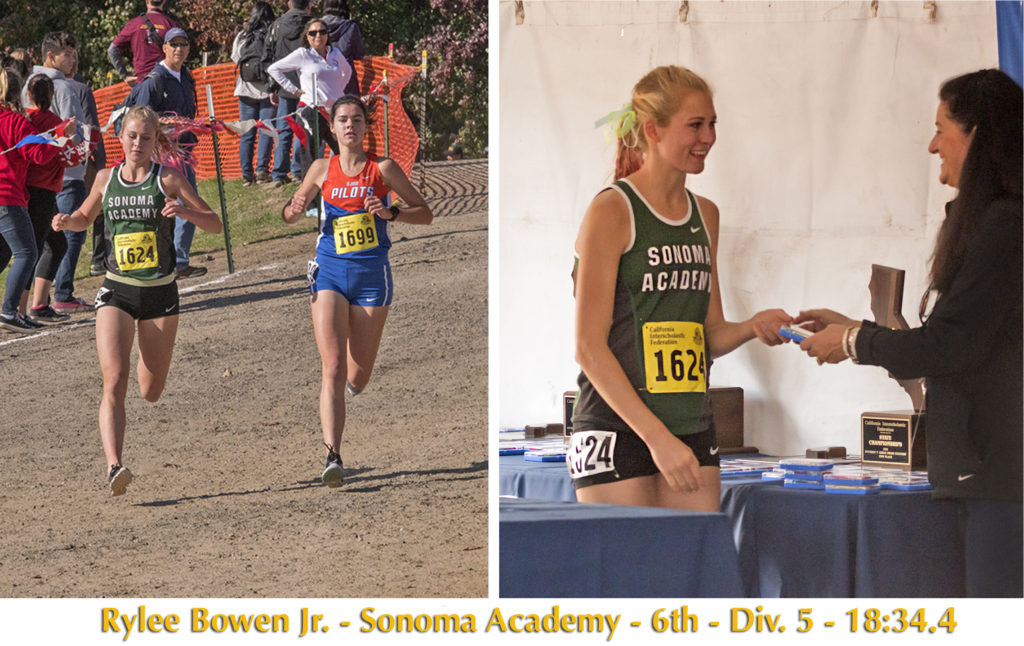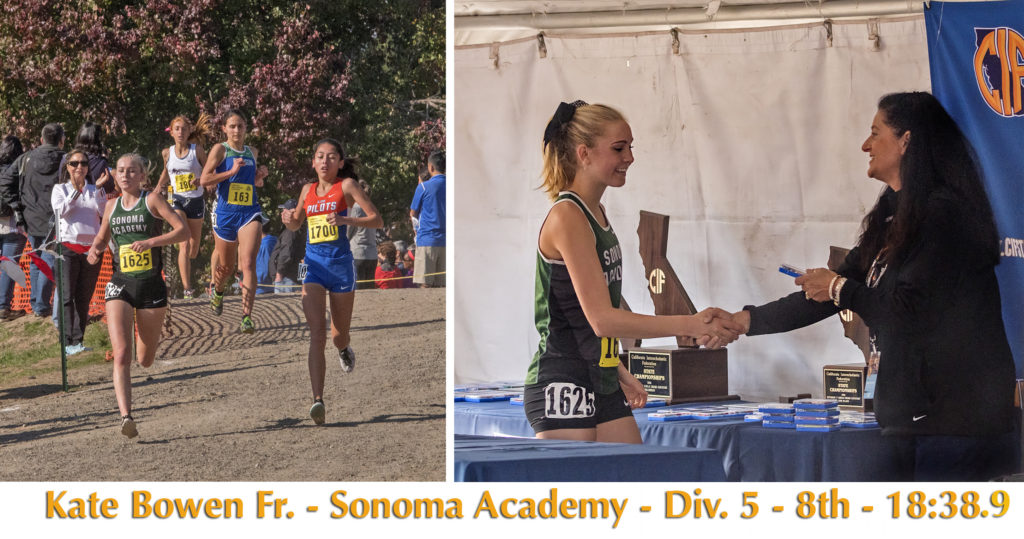 How much tougher was this years division V race.
In 2014 Rylee won with 18:36 while Kate's 18:39 would have been 2nd to Rylee.
Sonoma Academy placed in the top 8 as a team for the third straight year placing 7th this time.
Video interview with Bowen's
Video of division V race
Other races
Maria Carrillo made their 6th straight trip to state placing 14th in division III. Aimee Armstrong lead the team at 44th in 18:56.
Three other Empire runners had top 30 places as Technology's Iris Berto (20th), Healdsburg's Gabrielle Peterson (26th) and Piner's Cynthia Rosales (28th) all placed well.
Top Empire Girls by time
Bowen, Rylee JR Sonoma Academy 18:34.4 5:58.3
Bowen, Kate FR Sonoma Academy 18:38.9 5:59.8, 28th All-Time Woodward, 31st 5K All-time
Peterson, Gabrielle SO Healdsburg 18:52.8 6:04.2, =34th All-Time Woodward
Armstrong, Aimee SO Maria Carrillo 18:55.6 6:05.1, =39th All-Time Woodward
Rosales, Cynthia SO Piner 19:01.5 6:07.0
Rivas, Sydnie JR Maria Carrillo 19:04.0 6:07.8, 49th All-Time Woodward
Berto, Iris JR Technology 19:20.0 6:13.0
Leano, Talia SO Maria Carrillo 19:35.2 6:17.9
Buenrostro, Karen SR Maria Carrillo 20:17.1 6:31.3
Field, Meghan SO Maria Carrillo 20:24.9 6:33.8
Sell, McKenna JR Sonoma Academy 20:49.9 6:41.9
Moessing, Audrey FR Maria Carrillo 21:16.8 6:50.5
Read-McLaughlin, Esme SR Sonoma Academy 21:41.9 6:58.6
Raymond, Lily SR Maria Carrillo 21:42.6 6:58.8
Glenn, Maddy JR Sonoma Academy 21:51.7 7:01.7
McDonald, Amelia SO Sonoma Academy 21:51.8 7:01.8
Kallman, Emma JR Sonoma Academy 24:06.8 7:45.2
Maria Carrillo 1:38:17 19:40 1:29.3, fastest Empire team since 2009
Sonoma Acadmey 1:41:37 20:20 3:17.3
Top Empire Girls by place
6th Bowen, Rylee JR Sonoma Acad 18:34.4
8th Bowen, Kate FR Sonoma Acad 18:38.9
20th Berto, Iris JR Technology 19:20.0
26th Peterson, Gabrielle SO Healdsburg 18:52.8
28th Rosales, Cynthia SO Piner 19:01.5
44th Armstrong, Aimee SO Maria Carrillo 18:55.6
50th Rivas, Sydnie JR Maria Carrillo 19:04.0
78th Sell, McKenna JR Sonoma Acad 20:49.9
80th Leano, Talia SO Maria Carrillo 19:35.2
113 Read-McLaughlin, Esme SR Sonoma Acad 21:41.9
124 Glenn, Maddy JR Sonoma Acad 21:51.7
125 McDonald, Amelia SO Sonoma Acad 21:51.8
133 Buenrostro, Karen SR Maria Carrillo 20:17.1
142 Field, Meghan SO Maria Carrillo 20:24.9
172 Moessing, Audrey FR Maria Carrillo 21:16.8
182 Raymond, Lily SR Maria Carrillo 21:42.6
185 Kallman, Emma JR Sonoma Acad 24:06.8
Both Bowen girls beat the lead runner for State Champion Flintridge Prep.
7th Sonoma Academy 241 4-6-54-83-94 (95) (147) 1:41:37 20:20 6-8-78-113-124-125-185 3:17.3
14th Maria Carrillo 348 33-38-60-104-113 (138) (147) 1:38:17 19:40 44-50-80-133-142-172-182 1:29.3
Woodward Park bests
1. Sarah Baxter, Jr. (Simi Valley-SS) 2012 Division 1 State Meet (Southern Section record) 16:40
2. Julia Stamps (Santa Rosa-NCS) 1996 State Meet 16:43 (North Coast Section record)
———- Sarah Baxter, Sr. (Simi Valley-SS) 2013 Division 2 State Meet 16:43
———- Julia Stamps (Santa Rosa-NCS) 1995 State Meet 16:45
3. Claudia Lane, (Malibu-SS) 2016 State Meet 16:45
4. Amber Trotter (Ukiah-NCS) 2001 Clovis Invitational 16:55
———- Sarah Baxter (Simi Valley-SS) 2010 State Meet 16:57
5. Destiny Collins (Great Oak, Temecula-SS) 2014 Clovis Invitational 16:57
5. Fiona O'Keeffe (Davis-SJ) 2014 Division 1 State Meet 16:57 (Sac-Joaquin Section record)
7. Anita Siraki (Hoover, Glendale-SS) 2000 16:59
7. Hagen Reedy (Buchanan, Clovis-CE) 2012 Clovis Inv 16:59 (Central Section record)
Video interview with Claudia Lane
2nd fastest in 2016 was 17:26
Race #3
Division IV Girls
Final Standings Score Scoring Order Total Avg. Finish Order Spread Section
1 Foothill Technology-SS 88 3-13-17-23-32 (34) (54) 1:34:34 18:55 4-21-25-35-44-46-70 1:16.5
2 Bishop Amat-SS 112 2-10-15-36-49 (53) (75) 1:34:50 18:58 3-17-23-48-63-69-92 1:54.4
3 JSerra-SS 128 4-11-19-42-52 (57) (58) 1:35:36 19:08 5-18-29-54-68-73-74 1:38.3
4 Coronado-SDS 155 8-14-20-30-83 (110) (131) 1:36:31 19:19 15-22-30-42-101-138-159 1:52.8
5 Miramonte-NCS 159 6-9-28-45-71 (100) (120) 1:36:20 19:16 8-16-40-59-88-122-148 1:49.7
6 Mayfield-SS 207 18-38-43-46-62 (68) (80) 1:38:10 19:38 27-50-56-60-79-85-97 1:06.7
7 Harvard/Westlake-SS 215 7-22-41-48-97 (126) (141) 1:38:07 19:38 14-34-53-62-118-154-170 2:11.9
8 El Segundo-SS 222 25-31-33-66-67 (86) (107) 1:38:29 19:42 37-43-45-83-84-105-134 0:57.4
9 Covina-SS 243 12-37-40-76-78 (84) (106) 1:38:51 19:47 20-49-52-93-95-102-132 1:38.2
10 Bishop O'Dowd-NCS 258 21-47-59-61-70 (114) (138) 1:39:11 19:51 33-61-75-78-87-142-166 1:04.9
11 Santa Cruz-CCS 260 1-16-44-91-108 (125) (148) 1:38:16 19:40 2-24-58-112-135-153-179 3:30.3
12 Hughson-SJS 272 24-51-55-60-82 (128) (139) 1:39:34 19:55 36-67-71-77-99-156-168 1:18.0
13 Piedmont-NCS 277 29-35-63-69-81 (85) (99) 1:39:41 19:57 41-47-80-86-98-103-121 1:05.7
14 Sage Creek-SDS 322 5-64-74-89-90 (115) (134) 1:40:20 20:04 6-81-91-108-111-143-162 2:25.5
15 Menlo School-CCS 376 27-56-95-96-102 (117) (124) 1:41:54 20:23 39-72-116-117-125-145-152 1:40.1
16 S. Lorenzo Vly.-CCS 377 39-72-73-77-116 (149) 1:42:03 20:25 51-89-90-94-144-180 1:46.3
17 Justin-Siena-NCS 438 50-92-93-94-109 (119) (145) 1:43:32 20:43 66-113-114-115-137-147-176 1:20.8
18 El Dorado-SJS 460 26-79-88-130-137 (140) (146) 1:44:14 20:51 38-96-107-158-165-169-177 2:40.3
19 Bishop Union-CS 514 65-101-112-113-123 (150) (158) 1:45:18 21:04 82-123-140-141-151-181-189 1:31.8
20 Yreka-NS 562 87-98-103-127-147 (155) 1:46:52 21:23 106-120-128-155-178-186 1:58.0
21 West Valley-NS 613 104-111-121-135-142 (143) 1:47:56 21:36 130-139-149-163-171-173 1:05.8
22 Liberty (Madera Ranchos)-CS 655 105-129-133-136-152 (153) (154) 1:49:58 22:00 131-157-161-164-183-184-185 1:59.9
23 Rosamond-CS 667 118-122-132-144-151 (156) (157) 1:50:24 22:05 146-150-160-175-182-187-188 1:40.9
Individual Results
Athlete # Team Score Time Gap Avg. Mile Avg. kM
1 Lane, Claudia SO 1019 Malibu-SS — 16:45.0 — 5:23.1 3:21.0
2 Friedman, Mari JR 1539 Santa Cruz-CCS 1 17:41.9 0:56.9 5:41.4 3:32.4
3 Ruelas, Trinity SR 123 Bishop Amat-SS 2 17:56.0 1:11.0 5:46.0 3:35.2
4 Kearney, Lauren SO 642 Foothill Technology-SS 3 18:13.2 1:28.2 5:51.5 3:38.6
5 Tabrizi, Nadia SO 849 JSerra-SS 4 18:15.6 1:30.6 5:52.3 3:39.1
6 Wallace, Skyler FR 1496 Sage Creek-SDS 5 18:20.6 1:35.6 5:53.9 3:40.1
7 Moro, Mariah JR 1190 Notre Dame (S.O.)-SS — 18:21.9 1:36.9 5:54.3 3:40.4
8 Haskell, Cassy SO 1101 Miramonte-NCS 6 18:22.7 1:37.7 5:54.6 3:40.5
9 Dishion, Kaela JR 181 Bret Harte-SJS — 18:24.9 1:39.9 5:55.2 3:41.0
10 Santiago, Sienna SR 790 High Tech High-SDS — 18:27.2 1:42.2 5:56.0 3:41.4
11 D'Atri, Marissa JR 25 Alhambra-NCS — 18:35.5 1:50.5 5:58.7 3:43.1
12 Mcallister, Lindsey SR 1039 Marymount-SS — 18:35.5 1:50.5 5:58.7 3:43.1
13 Nisbet, Ellie SR 61 Atascadero-SS — 18:36.8 1:51.9 5:59.1 3:43.4
14 Howe, Lochryn SR 775 Harvard/Westlake-SS 7 18:38.1 1:53.1 5:59.5 3:43.6
15 Phillips, Renee SR 451 Coronado-SDS 8 18:38.5 1:53.5 5:59.6 3:43.7
16 Fishlow, Hannah SR 1099 Miramonte-NCS 9 18:40.3 1:55.3 6:00.2 3:44.1
17 Paez, Olivia SO 120 Bishop Amat-SS 10 18:40.3 1:55.3 6:00.2 3:44.1
18 Saltonstall, Tristan JR 847 JSerra-SS 11 18:41.8 1:56.9 6:00.7 3:44.4
19 Novitsky, Natalie SR 1489 Sacred Ht. Prep-CCS — 18:45.7 2:00.8 6:02.0 3:45.1
20 Gracian, Vanessa JR 461 Covina-SS 12 18:47.1 2:02.1 6:02.4 3:45.4
21 Tafoya, Brieanna SR 644 Foothill Technology-SS 13 18:47.8 2:02.8 6:02.6 3:45.6
22 Perez, Teresa SO 450 Coronado-SDS 14 18:49.0 2:04.0 6:03.0 3:45.8
23 Rust, Morgan FR 124 Bishop Amat-SS 15 18:50.3 2:05.4 6:03.4 3:46.1
24 Roake, Lila SO 1542 Santa Cruz-CCS 16 18:51.2 2:06.2 6:03.7 3:46.2
25 Blakeman, Blythe SO 640 Foothill Technology-SS 17 18:52.4 2:07.4 6:04.1 3:46.5
26 Peterson, Gabrielle SO 787 Healdsburg-NCS — 18:52.8 2:07.8 6:04.2 3:46.5
27 Smith, Mckenna SO 1046 Mayfield-SS 18 18:59.6 2:14.6 6:06.4 3:47.9
28 Rosales, Cynthia SO 1334 Piner-NCS — 19:01.5 2:16.5 6:07.0 3:48.3
29 Giacobetti, Mckayla SR 845 JSerra-SS 19 19:02.5 2:17.5 6:07.3 3:48.5
30 Rippey, Jasmine SR 452 Coronado-SDS 20 19:03.1 2:18.1 6:07.6 3:48.6
31 Meza, Evelin SR 754 Greenfield-CCS — 19:03.8 2:18.8 6:07.8 3:48.7
32 Bergin, Kayla FR 726 Granite Hills-SS — 19:05.3 2:20.3 6:08.3 3:49.1
33 Wawrzynek, Emma SR 132 Bishop O'Dowd-NCS 21 19:06.0 2:21.0 6:08.5 3:49.2
34 Crosson, Casey SR 773 Harvard/Westlake-SS 22 19:07.1 2:22.1 6:08.8 3:49.4
35 Burton, Olivia JR 641 Foothill Technology-SS 23 19:10.8 2:25.9 6:10.0 3:50.2
36 Mitchell, Abigayle SR 822 Hughson-SJS 24 19:11.6 2:26.6 6:10.3 3:50.3
37 Fulcomer, Nicolette SO 590 El Segundo-SS 25 19:11.6 2:26.6 6:10.3 3:50.3
38 Chelberg, Jamie SR 580 El Dorado-SJS 26 19:17.8 2:32.8 6:12.3 3:51.6
39 Crowder, Eliza SR 1069 Menlo School-CCS 27 19:18.0 2:33.1 6:12.3 3:51.6
40 Cruz, Rosie SR 1098 Miramonte-NCS 28 19:18.8 2:33.8 6:12.6 3:51.7
41 Lim, Kayla SR 1331 Piedmont-NCS 29 19:23.0 2:38.0 6:13.9 3:52.6
42 Hundley, Madden SO 447 Coronado-SDS 30 19:29.2 2:44.2 6:15.9 3:53.8
43 Matlosz, James FR 593 El Segundo-SS 31 19:29.4 2:44.4 6:16.0 3:53.9
44 Tadeo, Ada SR 643 Foothill Technology-SS 32 19:29.6 2:44.6 6:16.1 3:53.9
45 Faivre, Natalie SR 589 El Segundo-SS 33 19:30.0 2:45.0 6:16.2 3:54.0
46 Becker, Cameron SO 639 Foothill Technology-SS 34 19:31.5 2:46.5 6:16.7 3:54.3
47 Donahue, Margo SO 1328 Piedmont-NCS 35 19:32.1 2:47.1 6:16.9 3:54.4
48 Gomez, Ashley JR 118 Bishop Amat-SS 36 19:32.2 2:47.2 6:16.9 3:54.4
49 Silva, Izabella SR 462 Covina-SS 37 19:32.8 2:47.8 6:17.1 3:54.5
50 Silva, Sophie SR 1045 Mayfield-SS 38 19:35.4 2:50.4 6:17.9 3:55.1
51 Zachau, Sophie SO 1478 S. Lorenzo Vly.-CCS 39 19:37.3 2:52.3 6:18.5 3:55.4
52 Contreraz, Natali JR 457 Covina-SS 40 19:41.0 2:56.0 6:19.7 3:56.2
53 Cardillo, Lila JR 772 Harvard/Westlake-SS 41 19:41.5 2:56.5 6:19.9 3:56.3
54 Guinane, Abbey SO 846 JSerra-SS 42 19:42.2 2:57.2 6:20.1 3:56.4
55 Kain, Jessica SO 1578 Scotts Valley-CCS — 19:42.2 2:57.2 6:20.1 3:56.4
56 Gomez, Cameron FR 1040 Mayfield-SS 43 19:42.3 2:57.3 6:20.1 3:56.4
57 Harmon, Riley JR 24 Albany-NCS — 19:42.3 2:57.3 6:20.2 3:56.5
58 Desmond, Maya JR 1538 Santa Cruz-CCS 44 19:43.7 2:58.7 6:20.6 3:56.7
59 Freel, Emily SR 1100 Miramonte-NCS 45 19:45.9 3:00.9 6:21.3 3:57.2
60 Hendricks, Sidney JR 1041 Mayfield-SS 46 19:46.7 3:01.8 6:21.6 3:57.3
61 Amen, Jourdan SR 126 Bishop O'Dowd-NCS 47 19:47.9 3:02.9 6:21.9 3:57.6
62 Ankai, Alex SO 771 Harvard/Westlake-SS 48 19:50.4 3:05.4 6:22.7 3:58.1
63 Lucio, Sabrina JR 119 Bishop Amat-SS 49 19:50.4 3:05.4 6:22.7 3:58.1
64 Nelson, Shelby SO 603 Encinal-NCS — 19:51.1 3:06.1 6:23.0 3:58.2
65 Land, Cassi JR 1639 Sonora-SJS — 19:52.8 3:07.9 6:23.5 3:58.6
66 Chau, Hannah JR 865 Justin-Siena-NCS 50 19:53.0 3:08.0 6:23.6 3:58.6
67 Campos, Esmeralda JR 818 Hughson-SJS 51 19:53.1 3:08.1 6:23.6 3:58.6
68 Abusaid, Isabella SO 843 JSerra-SS 52 19:53.9 3:08.9 6:23.9 3:58.8
69 Palomino, Ally SR 121 Bishop Amat-SS 53 19:54.1 3:09.1 6:23.9 3:58.8
70 Vrablik, Hana SO 645 Foothill Technology-SS 54 19:54.9 3:09.9 6:24.2 3:59.0
71 Fife, Emily SO 819 Hughson-SJS 55 19:57.1 3:12.1 6:24.9 3:59.4
72 Pretre, Kyra FR 1071 Menlo School-CCS 56 19:58.9 3:13.9 6:25.5 3:59.8
73 Scenczi, Tristin FR 848 JSerra-SS 57 19:59.2 3:14.2 6:25.6 3:59.8
74 Chahrouri, Marie JR 844 JSerra-SS 58 19:59.7 3:14.7 6:25.7 3:59.9
75 Gullikson, Linnea SR 129 Bishop O'Dowd-NCS 59 20:00.6 3:15.6 6:26.0 4:00.1
76 Casteel, Hannah SO 414 Colfax-SJS — 20:01.0 3:16.0 6:26.2 4:00.2
77 Ysias, Elizette FR 824 Hughson-SJS 60 20:02.7 3:17.7 6:26.7 4:00.5
78 Brusco, Isabella SO 127 Bishop O'Dowd-NCS 61 20:05.9 3:20.9 6:27.7 4:01.2
79 Kiechler, Maggie FR 1043 Mayfield-SS 62 20:06.2 3:21.2 6:27.8 4:01.2
80 Zalewski, Sophia FR 1333 Piedmont-NCS 63 20:06.3 3:21.3 6:27.9 4:01.2
81 Pandey, Lavanya FR 1493 Sage Creek-SDS 64 20:06.4 3:21.4 6:27.9 4:01.3
82 Fitt, Rachel FR 141 Bishop Union-CS 65 20:06.5 3:21.5 6:27.9 4:01.3
83 Hoffman, Grace JR 591 El Segundo-SS 66 20:08.9 3:23.9 6:28.7 4:01.8
84 Verfaillie, Aiyana JR 594 El Segundo-SS 67 20:09.0 3:24.0 6:28.7 4:01.8
85 Kiechler, Ellie SO 1042 Mayfield-SS 68 20:09.4 3:24.4 6:28.9 4:01.9
86 Hong, Erin SO 1329 Piedmont-NCS 69 20:10.3 3:25.3 6:29.1 4:02.0
87 Toolajian, Jeneeva SO 131 Bishop O'Dowd-NCS 70 20:10.8 3:25.8 6:29.3 4:02.1
88 Alvarado, Maddie SR 1097 Miramonte-NCS 71 20:12.4 3:27.4 6:29.8 4:02.5
89 Penny, Kayla FR 1476 S. Lorenzo Vly.-CCS 72 20:16.1 3:31.1 6:31.0 4:03.2
90 Moreno-guzman, Carolina SR 1474 S. Lorenzo Vly.-CCS 73 20:20.4 3:35.4 6:32.4 4:04.1
91 Deal, Brooklynn SO 1490 Sage Creek-SDS 74 20:22.1 3:37.1 6:32.9 4:04.4
92 Rivera, Gabbie SO 122 Bishop Amat-SS 75 20:22.6 3:37.6 6:33.1 4:04.5
93 Castorena, Rosaly SO 459 Covina-SS 76 20:24.1 3:39.1 6:33.6 4:04.8
94 Mccabe, Maya SO 1472 S. Lorenzo Vly.-CCS 77 20:25.2 3:40.2 6:34.0 4:05.0
95 Cedeno, Aundrea SR 460 Covina-SS 78 20:25.3 3:40.3 6:34.0 4:05.1
96 Hutchings, Madison FR 583 El Dorado-SJS 79 20:25.4 3:40.4 6:34.0 4:05.1
97 Linde, Emma JR 1044 Mayfield-SS 80 20:25.8 3:40.8 6:34.1 4:05.1
98 Lam, Clarissa SO 1330 Piedmont-NCS 81 20:28.7 3:43.7 6:35.1 4:05.7
99 Langley, Kinsey SO 820 Hughson-SJS 82 20:29.6 3:44.6 6:35.3 4:05.9
100 Gleason, Marianne SO 1513 San Joaquin Mem.-CS — 20:31.1 3:46.1 6:35.9 4:06.2
101 Morris, Claire SO 449 Coronado-SDS 83 20:31.3 3:46.3 6:35.9 4:06.3
102 Vuong, Katelyn FR 463 Covina-SS 84 20:33.1 3:48.1 6:36.5 4:06.6
103 MacCracken, Addie SR 1332 Piedmont-NCS 85 20:33.5 3:48.5 6:36.6 4:06.7
104 Stefanou, Anna SR 1276 Pacific Grove-CCS — 20:33.7 3:48.7 6:36.7 4:06.7
105 Lee, Gabriella SO 592 El Segundo-SS 86 20:34.6 3:49.6 6:37.0 4:06.9
106 Krier, Meri SR 1979 Yreka-NS 87 20:35.5 3:50.5 6:37.3 4:07.1
107 Destefano, Dani SR 582 El Dorado-SJS 88 20:41.6 3:56.6 6:39.2 4:08.3
108 Moseley, Taylor SR 1492 Sage Creek-SDS 89 20:44.8 3:59.8 6:40.3 4:09.0
109 Morgado, Kaitlin JR 928 Las Plumas-NS — 20:45.7 4:00.7 6:40.5 4:09.1
110 Wilson, Jenna SR 343 Central Valley Christian-CS — 20:45.9 4:00.9 6:40.6 4:09.2
111 Hoffman, Tristin FR 1491 Sage Creek-SDS 90 20:46.0 4:01.0 6:40.6 4:09.2
112 Ward, Anaya JR 1543 Santa Cruz-CCS 91 20:47.0 4:02.0 6:41.0 4:09.4
113 Vlaming, Mia SO 870 Justin-Siena-NCS 92 20:48.3 4:03.3 6:41.4 4:09.7
114 Corona, Melissa JR 866 Justin-Siena-NCS 93 20:48.5 4:03.5 6:41.4 4:09.7
115 Kivela, Ariel SR 867 Justin-Siena-NCS 94 20:48.6 4:03.6 6:41.5 4:09.7
116 Boom, Cameron FR 1067 Menlo School-CCS 95 20:49.4 4:04.4 6:41.7 4:09.9
117 Tomkinson, Charlotte FR 1072 Menlo School-CCS 96 20:49.5 4:04.5 6:41.8 4:09.9
118 Keare, Avery SO 776 Harvard/Westlake-SS 97 20:50.0 4:05.0 6:41.9 4:10.0
119 Dent, Sophia SO 1266 Our Lady of Peace-SDS — 20:50.3 4:05.3 6:42.0 4:10.1
120 Fogle, Lena SO 1976 Yreka-NS 98 20:51.9 4:06.9 6:42.5 4:10.4
121 Black, Margaret FR 1327 Piedmont-NCS 99 20:52.6 4:07.6 6:42.7 4:10.5
122 Tuttle, Rose SR 1103 Miramonte-NCS 100 20:53.8 4:08.8 6:43.2 4:10.8
123 Pope, Ariana SO 145 Bishop Union-CS 101 20:57.4 4:12.4 6:44.3 4:11.5
124 French, Victoria JR 1638 Sonora-SJS — 20:57.7 4:12.7 6:44.4 4:11.5
125 Aufricht, Katie FR 1066 Menlo School-CCS 102 20:58.1 4:13.1 6:44.5 4:11.6
126 Foster, Lauren SR 539 Dixon-SJS — 21:00.1 4:15.1 6:45.2 4:12.0
127 Ashby, Mia SO 1748 Sutter-NS — 21:01.0 4:16.0 6:45.5 4:12.2
128 Bahen, Marron JR 1975 Yreka-NS 103 21:02.7 4:17.7 6:46.0 4:12.5
129 Ferrer, Jasmine JR 406 Coalinga-CS — 21:02.7 4:17.7 6:46.0 4:12.5
130 Rodriguez, Angelica SR 1903 West Valley-NS 104 21:03.7 4:18.7 6:46.3 4:12.7
131 Napier, Sophia FR 941 Liberty (Madera Ranchos)-CS 105 21:07.4 4:22.4 6:47.5 4:13.5
132 Benitez, Charisma SO 458 Covina-SS 106 21:07.4 4:22.4 6:47.5 4:13.5
133 Caesar, McKaylie SO 973 Lindsay-CS — 21:07.5 4:22.5 6:47.5 4:13.5
134 Elfarissi, Sabrine SR 588 El Segundo-SS 107 21:12.1 4:27.1 6:49.0 4:14.4
135 Hedrick, Ella JR 1540 Santa Cruz-CCS 108 21:12.1 4:27.1 6:49.0 4:14.4
136 Abe, Kalen SR 894 Kingsburg-CS — 21:12.6 4:27.6 6:49.2 4:14.5
137 Roscoe, Donna SR 869 Justin-Siena-NCS 109 21:13.7 4:28.7 6:49.5 4:14.7
138 Tamariz, Naya JR 453 Coronado-SDS 110 21:15.3 4:30.3 6:50.1 4:15.1
139 Morefield, Serenna SO 1902 West Valley-NS 111 21:15.9 4:30.9 6:50.3 4:15.2
140 McDevitt, Makayla SR 143 Bishop Union-CS 112 21:16.2 4:31.2 6:50.4 4:15.2
141 Pace, Emma SO 144 Bishop Union-CS 113 21:19.2 4:34.2 6:51.3 4:15.8
142 Brusco, Natalia SR 128 Bishop O'Dowd-NCS 114 21:20.3 4:35.3 6:51.6 4:16.0
143 Stringfellow, Madison FR 1495 Sage Creek-SDS 115 21:20.9 4:35.9 6:51.8 4:16.2
144 Brock, Grace JR 1466 S. Lorenzo Vly.-CCS 116 21:23.5 4:38.5 6:52.7 4:16.7
145 Foster, Amanda FR 1070 Menlo School-CCS 117 21:24.0 4:39.0 6:52.8 4:16.8
146 Finch, Alayna FR 1448 Rosamond-CS 118 21:24.3 4:39.3 6:52.9 4:16.8
147 Nast, Juliette JR 868 Justin-Siena-NCS 119 21:26.2 4:41.2 6:53.5 4:17.2
148 Minowada, Leila SR 1102 Miramonte-NCS 120 21:29.5 4:44.5 6:54.6 4:17.9
149 Aragon, Jasmyne JR 1897 West Valley-NS 121 21:29.5 4:44.5 6:54.6 4:17.9
150 Garcia, Sintia SR 1449 Rosamond-CS 122 21:31.0 4:46.0 6:55.1 4:18.2
151 Yarborough, Haley FR 146 Bishop Union-CS 123 21:38.2 4:53.2 6:57.4 4:19.6
152 Cordon, Natalia JR 1068 Menlo School-CCS 124 21:42.1 4:57.1 6:58.7 4:20.4
153 Mcgraw, Emma SO 1541 Santa Cruz-CCS 125 21:42.2 4:57.2 6:58.7 4:20.4
154 Dees, Kendall SO 774 Harvard/Westlake-SS 126 21:43.1 4:58.1 6:59.0 4:20.6
155 Jackson, Lacey SR 1978 Yreka-NS 127 21:47.9 5:02.9 7:00.5 4:21.6
156 Lawrence, Jessie SO 821 Hughson-SJS 128 21:48.5 5:03.5 7:00.7 4:21.7
157 Perez, Lexi FR 942 Liberty (Madera Ranchos)-CS 129 21:49.3 5:04.3 7:01.0 4:21.9
158 Cope, Kasey JR 581 El Dorado-SJS 130 21:51.3 5:06.3 7:01.6 4:22.2
159 Larratt, Katie JR 448 Coronado-SDS 131 21:51.8 5:06.8 7:01.8 4:22.4
160 Starkey, Makenna SR 1451 Rosamond-CS 132 21:52.4 5:07.4 7:02.0 4:22.5
161 Montemayor, Aaliyah FR 940 Liberty (Madera Ranchos)-CS 133 21:55.3 5:10.3 7:02.9 4:23.1
162 Petty, Alexis SO 1494 Sage Creek-SDS 134 21:56.0 5:11.0 7:03.1 4:23.2
163 Jones, Bailey SO 1898 West Valley-NS 135 21:56.7 5:11.7 7:03.4 4:23.3
164 McCombs, Matison SO 938 Liberty (Madera Ranchos)-CS 136 21:58.0 5:13.0 7:03.8 4:23.6
165 Stringer, Slaney JR 585 El Dorado-SJS 137 21:58.1 5:13.1 7:03.8 4:23.6
166 Fong, Kalea FR 130 Bishop O'Dowd-NCS 138 21:58.1 5:13.1 7:03.8 4:23.6
167 McKenzie, Marisa SR 1749 Sutter-NS — 22:01.5 5:16.5 7:04.9 4:24.3
168 Kline, Sophia JR 823 Hughson-SJS 139 22:02.5 5:17.5 7:05.2 4:24.5
169 Swain, Qing-Qiu SR 586 El Dorado-SJS 140 22:03.0 5:18.0 7:05.4 4:24.6
170 Li, Jenny SO 777 Harvard/Westlake-SS 141 22:03.3 5:18.3 7:05.5 4:24.7
171 Kostelec, Toni SO 1899 West Valley-NS 142 22:09.5 5:24.5 7:07.5 4:25.9
172 Sundstrum, Jaycie JR 335 Central Valley-NS — 22:17.3 5:32.3 7:10.0 4:27.5
173 Minor, Bri FR 1901 West Valley-NS 143 22:22.2 5:37.2 7:11.6 4:28.4
174 Forseth, Caroline SO 604 Enterprise-NS — 22:27.2 5:42.2 7:13.2 4:29.4
175 Bonilla, Sarai FR 1447 Rosamond-CS 144 22:31.2 5:46.2 7:14.4 4:30.2
176 Aubert, Lauren FR 864 Justin-Siena-NCS 145 22:32.2 5:47.2 7:14.8 4:30.4
177 Schuld, Brooke JR 584 El Dorado-SJS 146 22:32.9 5:47.9 7:15.0 4:30.6
178 Morey-Adams, McKenzie JR 1981 Yreka-NS 147 22:33.5 5:48.5 7:15.2 4:30.7
179 Hedrick, Mary FR 2001 Santa Cruz-CCS 148 22:48.7 6:03.7 7:20.1 4:33.7
180 Cerrutti, Agustina SR 1467 S. Lorenzo Vly.-CCS 149 22:50.5 6:05.5 7:20.6 4:34.1
181 Lamb, Kristen SO 142 Bishop Union-CS 150 22:53.9 6:08.9 7:21.7 4:34.8
182 Powers, Crystal SO 1450 Rosamond-CS 151 23:05.2 6:20.2 7:25.4 4:37.0
183 Burgess, Brianna SO 937 Liberty (Madera Ranchos)-CS 152 23:07.3 6:22.3 7:26.1 4:37.5
184 Mendoza, Rebecca SR 939 Liberty (Madera Ranchos)-CS 153 23:13.1 6:28.1 7:27.9 4:38.6
185 Bento, Madison FR 936 Liberty (Madera Ranchos)-CS 154 23:14.7 6:29.7 7:28.4 4:38.9
186 Luiz, Dusti SO 1980 Yreka-NS 155 23:49.8 7:04.8 7:39.7 4:46.0
187 Stevulak, Emma SR 1452 Rosamond-CS 156 23:59.6 7:14.6 7:42.9 4:47.9
188 Valdivia, Valerie JR 1453 Rosamond-CS 157 24:23.1 7:38.1 7:50.4 4:52.6
189 Almeida, Chloe JR 140 Bishop Union-CS 158 25:33.9 8:48.9 8:13.2 5:06.8
Race #4
Division V Girls
Final Standings Score Scoring Order Total Avg. Finish Order Spread Section
1 Flintridge Prep-SS 51 7-9-10-11-14 (21) (38) 1:35:19 19:04 10-13-15-17-22-33-56 0:42.9
2 Francis Parker-SDS 170 2-16-27-53-72 (100) (130) 1:40:13 20:03 3-26-42-75-100-132-166 3:13.6
3 Nueva-CCS 176 17-18-39-43-59 (63) (66) 1:41:23 20:17 27-28-58-64-84-89-92 1:30.7
4 Lick Wilmerding-NCS 177 13-24-32-44-64 (82) (98) 1:41:47 20:22 21-37-50-65-90-112-129 1:44.9
5 St. Joseph N.Dame-NCS 223 1-3-28-78-113 (123) (128) 1:40:16 20:04 1-4-43-106-146-157-163 4:44.9
6 College Prep-NCS 228 12-35-56-60-65 (92) (107) 1:42:59 20:36 18-53-80-85-91-122-140 1:54.9
7 Sonoma Acad-NCS 241 4-6-54-83-94 (95) (147) 1:41:37 20:20 6-8-78-113-124-125-185 3:17.3
8 SF University-NCS 246* 41-45-47-52-61 (68) (88) 1:43:47 20:46 61-66-69-74-87-94-118 0:39.2
9 Orcutt Academy-SS 246* 22-26-30-37-131 (135) (159) 1:44:05 20:49 35-41-45-55-167-171-197 3:05.6
10 Notre Dame Sal.-CCS 278 23-25-50-62-118 (120) (124) 1:44:46 20:58 36-40-72-88-152-154-158 2:24.0
11 Convent-NCS 289 34-42-46-70-97 (101) (116) 1:44:54 20:59 52-62-68-96-128-133-149 1:39.6
12 Pacifica Christian-SS 317 8-67-75-77-90 (106) 1:44:51 20:59 12-93-103-105-120-139 2:58.7
13 St. Margarets-SS 334 33-36-49-104-112 (121) (133) 1:46:04 21:13 51-54-71-137-145-155-169 2:02.6
14 Bell-Jeff-SS 337 15-19-84-105-114 (156) (166) 1:45:37 21:08 23-30-114-138-147-194-204 2:58.2
15 Sage Hill-SS 353 29-48-76-91-109 (115) (146) 1:46:36 21:20 44-70-104-121-142-148-184 2:07.0
16 La Jolla Country Day-SDS 370 5-20-108-110-127 (150) (158) 1:46:00 21:12 7-32-141-143-161-188-196 4:15.6
17 Poly (Pasadena)-SS 374 51-71-73-86-93 (119) (132) 1:47:09 21:26 73-97-101-116-123-153-168 1:06.8
18 Trinity-NS 435 31-40-80-141-143 (160) (161) 1:50:24 22:05 49-59-110-178-181-198-199 3:35.0
19 Capital Christian-SJS 489 58-69-81-129-152 (155) (157) 1:51:51 22:23 83-95-111-165-190-193-195 3:40.3
20 Western Sierra-SJS 520 55-99-102-122-142 (149) (165) 1:51:40 22:20 79-130-134-156-180-187-203 3:03.3
21 USC CAE-LAS 534 87-89-96-117-145 (162) (164) 1:51:53 22:23 117-119-126-150-183-200-202 2:17.1
22 Bakersfield Christian-CS 548 74-79-125-134-136 (151) (153) 1:52:30 22:30 102-109-159-170-172-189-191 1:58.4
23 Christian-SDS 591 85-103-126-138-139 (140) 1:54:13 22:51 115-136-160-174-175-176 2:12.1
24 Caruthers-CS 597 57-111-137-144-148 (154) (163) 1:55:08 23:02 82-144-173-182-186-192-201 3:03.0
Individual Results
Athlete # Team Score Time Gap Avg. Mile Avg. kM
1 Marshall, Kiera SR 1699 St. Joseph N.Dame-NCS 1 17:40.3 — 5:40.9 3:32.1
2 Stout, Alex JR 1268 Pacific Coll.-CCS — 17:59.7 0:19.4 5:47.2 3:35.9
3 Trossen, Brooke SR 668 Francis Parker-SDS 2 18:12.9 0:32.6 5:51.4 3:38.6
4 Perez, Emily SO 1700 St. Joseph N.Dame-NCS 3 18:22.7 0:42.4 5:54.6 3:40.5
5 Dailey, Grace JR 163 Branson-NCS — 18:28.8 0:48.5 5:56.5 3:41.8
6 Bowen, Rylee JR 1624 Sonoma Acad-NCS 4 18:34.4 0:54.1 5:58.3 3:42.9
7 Watkins, Lexi JR 915 La Jolla Country Day-SDS 5 18:35.1 0:54.8 5:58.5 3:43.0
8 Bowen, Kate FR 1625 Sonoma Acad-NCS 6 18:38.9 0:58.6 5:59.8 3:43.8
9 Pourmussa, Bianca JR 180 Brentwood-SS — 18:40.6 1:00.3 6:00.3 3:44.1
10 Gitlin, Sophie JR 618 Flintridge Prep-SS 7 18:45.2 1:04.9 6:01.8 3:45.0
11 Delgadillo, Alexia SO 767 Hamilton-SS — 18:47.9 1:07.6 6:02.7 3:45.6
12 Caruana, Christie SR 1280 Pacifica Christian-SS 8 18:48.5 1:08.2 6:02.9 3:45.7
13 Codiga, Sasha SO 616 Flintridge Prep-SS 9 18:51.1 1:10.8 6:03.7 3:46.2
14 Moreno, Vanessa SR 15 Academia Avance-LAS — 18:53.6 1:13.3 6:04.5 3:46.7
15 O'Brien, Natalie SR 620 Flintridge Prep-SS 10 18:57.3 1:17.0 6:05.7 3:47.5
16 Harper, Jordyn FR 1020 Mammoth-SS — 19:14.5 1:34.2 6:11.2 3:50.9
17 Mijares, Jenna SO 619 Flintridge Prep-SS 11 19:17.4 1:37.1 6:12.1 3:51.5
18 Bourne, Brianna SR 416 College Prep-NCS 12 19:17.7 1:37.4 6:12.2 3:51.5
19 Cheung, Kimberly FR 1277 Pacific Ridge-SDS — 19:19.5 1:39.2 6:12.8 3:51.9
20 Berto, Iris JR 1751 Technology-NCS — 19:20.0 1:39.7 6:13.0 3:52.0
21 Terdiman, Mira FR 964 Lick Wilmerding-NCS 13 19:26.6 1:46.3 6:15.1 3:53.3
22 Cohen, Maia SR 617 Flintridge Prep-SS 14 19:28.0 1:47.7 6:15.6 3:53.6
23 Couch, Caitlyn JR 99 Bell-Jeff-SS 15 19:28.4 1:48.1 6:15.7 3:53.7
24 Thompson, Marissa SR 1958 Woodcrest Christian-SS — 19:29.8 1:49.5 6:16.1 3:53.9
25 Koehnen, Kelly SR 768 Hamilton City-NS — 19:31.5 1:51.2 6:16.7 3:54.3
26 Gamboa, Sophia SR 664 Francis Parker-SDS 16 19:35.0 1:54.8 6:17.8 3:55.0
27 Love, Juliette SR 1203 Nueva-CCS 17 19:35.3 1:55.0 6:17.9 3:55.0
28 Lange, Jenna SO 1202 Nueva-CCS 18 19:36.1 1:55.8 6:18.1 3:55.2
29 Ledesma, Marian JR 1831 Valley Christian (Cerr.)-SS — 19:42.9 2:02.7 6:20.4 3:56.6
30 Zavala, Valerie JR 103 Bell-Jeff-SS 19 19:49.5 2:09.2 6:22.5 3:57.9
31 Jones, Callie SO 164 Branson-NCS — 19:52.0 2:11.7 6:23.3 3:58.4
32 Miralles, Isabel SO 912 La Jolla Country Day-SDS 20 19:54.6 2:14.3 6:24.1 3:58.9
33 Bennett, Gabriela JR 615 Flintridge Prep-SS 21 20:00.4 2:20.1 6:26.0 4:00.1
34 Layton, Cosi JR 293 Castilleja-CCS — 20:03.2 2:23.0 6:26.9 4:00.6
35 Webb, Mackenize SO 1256 Orcutt Academy-SS 22 20:03.6 2:23.3 6:27.0 4:00.7
36 Leavitt, Angela FR 1193 Notre Dame Sal.-CCS 23 20:08.4 2:28.1 6:28.5 4:01.7
37 Bach, Lindsey SR 958 Lick Wilmerding-NCS 24 20:09.2 2:29.0 6:28.8 4:01.8
38 Acuna, Alana JR 1544 Santa Fe Christian-SDS — 20:09.4 2:29.2 6:28.9 4:01.9
39 Traum, Claire SR 294 Castilleja-CCS — 20:10.4 2:30.1 6:29.2 4:02.1
40 Martinez, Shantal SR 1195 Notre Dame Sal.-CCS 25 20:11.1 2:30.9 6:29.4 4:02.2
41 Davidson, Hope SO 1251 Orcutt Academy-SS 26 20:11.2 2:30.9 6:29.4 4:02.2
42 Lang, Frannie JR 666 Francis Parker-SDS 27 20:12.6 2:32.3 6:29.9 4:02.5
43 Levy, Beatrice JR 1698 St. Joseph N.Dame-NCS 28 20:13.2 2:32.9 6:30.1 4:02.6
44 Carroll, Ashton JR 1504 Sage Hill-SS 29 20:13.6 2:33.3 6:30.2 4:02.7
45 Winyuwongse, Valerie SR 1257 Orcutt Academy-SS 30 20:15.2 2:34.9 6:30.7 4:03.0
46 Bolter, Tessa JR 112 Berean Christian-NCS — 20:15.6 2:35.3 6:30.9 4:03.1
47 Pistor, Erika SR 1267 Pacific Coll.-CCS — 20:19.5 2:39.3 6:32.1 4:03.9
48 Rehman, Ella SO 486 Crystal Springs-CCS — 20:20.5 2:40.2 6:32.4 4:04.1
49 Gutermuth, Karly SR 1771 Trinity-NS 31 20:22.1 2:41.8 6:33.0 4:04.4
50 Reilly, Jill SR 962 Lick Wilmerding-NCS 32 20:22.3 2:42.0 6:33.0 4:04.5
51 Jones, Charlotte FR 1713 St. Margarets-SS 33 20:22.5 2:42.2 6:33.1 4:04.5
52 Kearney, Bella SR 434 Convent-NCS 34 20:22.5 2:42.2 6:33.1 4:04.5
53 Harris, Carly JR 418 College Prep-NCS 35 20:24.2 2:43.9 6:33.6 4:04.8
54 Martin, Julia SO 1715 St. Margarets-SS 36 20:24.8 2:44.5 6:33.8 4:04.9
55 Mata, Talia JR 1252 Orcutt Academy-SS 37 20:25.3 2:45.0 6:34.0 4:05.1
56 Wreszin, Caroline SO 621 Flintridge Prep-SS 38 20:26.0 2:45.7 6:34.2 4:05.2
57 Oh, Jihae FR 785 Head-Royce-NCS — 20:27.6 2:47.3 6:34.7 4:05.5
58 Knapp, Tori SR 1200 Nueva-CCS 39 20:28.8 2:48.5 6:35.1 4:05.7
59 Harper, Lauren SO 1772 Trinity-NS 40 20:28.8 2:48.5 6:35.1 4:05.8
60 Murillo, Alicia SO 769 Hamilton City-NS — 20:28.9 2:48.6 6:35.1 4:05.8
61 Jackson, Claire JR 1584 SF University-NCS 41 20:30.3 2:50.0 6:35.6 4:06.1
62 Thiara, Isabelle FR 438 Convent-NCS 42 20:33.6 2:53.3 6:36.6 4:06.7
63 Parrott, Emily JR 1479 Sacramento Waldorf-SJS — 20:35.2 2:54.9 6:37.2 4:07.0
64 Zarrinnegar, Donya JR 1209 Nueva-CCS 43 20:36.6 2:56.3 6:37.6 4:07.3
65 Donohoe, Viva FR 959 Lick Wilmerding-NCS 44 20:37.3 2:57.0 6:37.8 4:07.5
66 Huang, Linda SR 1583 SF University-NCS 45 20:39.1 2:58.8 6:38.4 4:07.8
67 Gregory, Morgan JR 1786 University Prep-NS — 20:42.0 3:01.7 6:39.3 4:08.4
68 Newbold, Katie SR 436 Convent-NCS 46 20:42.0 3:01.7 6:39.4 4:08.4
69 Scott, Sadie FR 1588 SF University-NCS 47 20:42.1 3:01.8 6:39.4 4:08.4
70 Jaffe, Maya SO 1505 Sage Hill-SS 48 20:42.6 3:02.3 6:39.5 4:08.5
71 Larson, Audrey FR 1714 St. Margarets-SS 49 20:43.2 3:02.9 6:39.7 4:08.6
72 Aceves, Maria SR 1191 Notre Dame Sal.-CCS 50 20:44.2 3:03.9 6:40.0 4:08.8
73 Schleifer, Sophie JR 1356 Poly (Pasadena)-SS 51 20:44.5 3:04.2 6:40.2 4:08.9
74 Putterman, Odelia SO 1587 SF University-NCS 52 20:45.4 3:05.1 6:40.5 4:09.1
75 Waldman, Avi JR 669 Francis Parker-SDS 53 20:45.7 3:05.4 6:40.5 4:09.1
76 Linnard, Christie FR 147 Bishops-SDS — 20:47.4 3:07.1 6:41.1 4:09.5
77 Bonivert, Marissa SO 1170 Mt Shasta-NS — 20:49.3 3:09.0 6:41.7 4:09.8
78 Sell, McKenna JR 1630 Sonoma Acad-NCS 54 20:49.9 3:09.6 6:41.9 4:10.0
79 Sabra, Sara FR 1917 Western Sierra-SJS 55 20:53.7 3:13.4 6:43.1 4:10.7
80 Berg, Grace SR 415 College Prep-NCS 56 20:57.3 3:17.0 6:44.3 4:11.5
81 Craighead, Delanie SO 1147 Mountain Empire-SDS — 21:02.9 3:22.6 6:46.1 4:12.6
82 Gomez, Nancy FR 279 Caruthers-CS 57 21:04.5 3:24.2 6:46.6 4:12.9
83 Deguara, Mariah SR 261 Capital Christian-SJS 58 21:05.8 3:25.5 6:47.0 4:13.2
84 Shirriff, Sydney JR 1207 Nueva-CCS 59 21:05.9 3:25.6 6:47.0 4:13.2
85 Zimmerman, Maya SR 421 College Prep-NCS 60 21:06.6 3:26.3 6:47.3 4:13.3
86 Duck-Reynolds, Lynnlee SR 1278 Pacific Ridge-SDS — 21:07.5 3:27.2 6:47.5 4:13.5
87 Shenkar, Ella SO 1589 SF University-NCS 61 21:09.5 3:29.2 6:48.2 4:13.9
88 Alcaraz, Alex SO 1192 Notre Dame Sal.-CCS 62 21:09.7 3:29.4 6:48.2 4:13.9
89 Santhanam, Meera SR 1206 Nueva-CCS 63 21:11.1 3:30.8 6:48.7 4:14.2
90 Moreno, Jeannie FR 961 Lick Wilmerding-NCS 64 21:11.5 3:31.2 6:48.8 4:14.3
91 Peale, Charlotte SR 420 College Prep-NCS 65 21:12.6 3:32.3 6:49.2 4:14.5
92 Zarrinnegar, Hanna FR 1210 Nueva-CCS 66 21:12.8 3:32.5 6:49.2 4:14.5
93 Flowers, Rodonna JR 1281 Pacifica Christian-SS 67 21:12.9 3:32.6 6:49.3 4:14.6
94 Novatney, Anna SO 1585 SF University-NCS 68 21:13.3 3:33.0 6:49.4 4:14.7
95 Barrett, Ariana SO 260 Capital Christian-SJS 69 21:13.4 3:33.1 6:49.4 4:14.7
96 Hoekendijk, Olivia SR 433 Convent-NCS 70 21:14.0 3:33.7 6:49.6 4:14.8
97 Naimi, Shaya SO 1354 Poly (Pasadena)-SS 71 21:22.3 3:42.0 6:52.3 4:16.5
98 Romero, Jaecelyn FR 1881 Waterford-SJS — 21:24.7 3:44.4 6:53.1 4:16.9
99 Silva, Rosie SO 430 Community Chtr-LAS — 21:25.7 3:45.4 6:53.4 4:17.1
100 Pratt-Freedman, Maya SO 667 Francis Parker-SDS 72 21:26.5 3:46.2 6:53.6 4:17.3
101 Wheeler, Vivian SO 1358 Poly (Pasadena)-SS 73 21:26.9 3:46.6 6:53.8 4:17.4
102 Rodriguez, Genesis JR 71 Bakersfield Christian-CS 74 21:27.1 3:46.8 6:53.8 4:17.4
103 Watkinson, Kaitlyn SO 1286 Pacifica Christian-SS 75 21:29.7 3:49.4 6:54.7 4:17.9
104 Lowe, Julia SR 1507 Sage Hill-SS 76 21:31.3 3:51.0 6:55.2 4:18.3
105 Lorenzo, Kristina SR 1283 Pacifica Christian-SS 77 21:32.6 3:52.3 6:55.6 4:18.5
106 Zavala, Araceli SO 1702 St. Joseph N.Dame-NCS 78 21:34.0 3:53.7 6:56.1 4:18.8
107 Menchu, Sara JR 983 Los Angeles Acad of A&E-LAS — 21:36.4 3:56.1 6:56.8 4:19.3
108 Moore, Calli JR 1815 Vacaville Christian-SJS — 21:36.7 3:56.4 6:56.9 4:19.3
109 Morton, Julianna SR 69 Bakersfield Christian-CS 79 21:38.0 3:57.7 6:57.4 4:19.6
110 White, Kylee SR 1775 Trinity-NS 80 21:39.6 3:59.3 6:57.9 4:19.9
111 Prince, Azalea FR 265 Capital Christian-SJS 81 21:40.3 4:00.0 6:58.1 4:20.1
112 Rich, Maya SR 963 Lick Wilmerding-NCS 82 21:41.3 4:01.0 6:58.4 4:20.3
113 Read-McLaughlin, Esme SR 1629 Sonoma Acad-NCS 83 21:41.9 4:01.6 6:58.6 4:20.4
114 Borot, Claire JR 98 Bell-Jeff-SS 84 21:42.0 4:01.7 6:58.6 4:20.4
115 Olver, Maya FR 361 Christian-SDS 85 21:42.3 4:02.0 6:58.7 4:20.4
116 Gluck, Martha SO 1353 Poly (Pasadena)-SS 86 21:43.3 4:03.0 6:59.1 4:20.7
117 Collier, Sarah FR 1797 USC CAE-LAS 87 21:43.8 4:03.5 6:59.2 4:20.8
118 Parry, Ellena SR 1586 SF University-NCS 88 21:46.2 4:05.9 7:00.0 4:21.2
119 Coleote, Andrea FR 1796 USC CAE-LAS 89 21:46.5 4:06.2 7:00.1 4:21.3
120 Kaczor, Catherine SR 1282 Pacifica Christian-SS 90 21:47.2 4:06.9 7:00.3 4:21.4
121 Warden, Alice SO 1509 Sage Hill-SS 91 21:47.7 4:07.4 7:00.5 4:21.5
122 Durney, Sophia JR 417 College Prep-NCS 92 21:48.1 4:07.8 7:00.6 4:21.6
123 Salvati, Annie JR 1355 Poly (Pasadena)-SS 93 21:51.2 4:10.9 7:01.6 4:22.2
124 Glenn, Maddy JR 1626 Sonoma Acad-NCS 94 21:51.7 4:11.4 7:01.7 4:22.3
125 McDonald, Amelia SO 1628 Sonoma Acad-NCS 95 21:51.8 4:11.5 7:01.8 4:22.4
126 Munoz, Jessica JR 1799 USC CAE-LAS 96 21:52.2 4:11.9 7:01.9 4:22.4
127 Knudsvig, Megan SO 655 Foresthill-SJS — 21:57.2 4:16.9 7:03.5 4:23.4
128 Long, Hailey SR 435 Convent-NCS 97 22:02.1 4:21.8 7:05.1 4:24.4
129 Drew, Maggie JR 960 Lick Wilmerding-NCS 98 22:02.3 4:22.0 7:05.1 4:24.4
130 Doty, Leila SR 1914 Western Sierra-SJS 99 22:02.8 4:22.5 7:05.3 4:24.6
131 Chico, Adriana FR 429 Community Chtr-LAS — 22:03.5 4:23.2 7:05.6 4:24.7
132 Gale, Haley JR 663 Francis Parker-SDS 100 22:04.4 4:24.1 7:05.8 4:24.9
133 Cahuas, Ana SR 432 Convent-NCS 101 22:05.2 4:24.9 7:06.1 4:25.0
134 Weiher, Jennifer SR 1918 Western Sierra-SJS 102 22:05.4 4:25.1 7:06.2 4:25.1
135 Dion, Trinty SO 523 Desert-CS — 22:06.6 4:26.3 7:06.5 4:25.3
136 Salacup, Sage SR 363 Christian-SDS 103 22:06.8 4:26.5 7:06.6 4:25.4
137 Hueston, Shea FR 1712 St. Margarets-SS 104 22:07.8 4:27.5 7:06.9 4:25.5
138 Balmy, Cosette JR 97 Bell-Jeff-SS 105 22:10.4 4:30.1 7:07.8 4:26.1
139 Riley, Abby SR 1285 Pacifica Christian-SS 106 22:15.3 4:35.0 7:09.3 4:27.1
140 McCleary, Ally JR 419 College Prep-NCS 107 22:16.3 4:36.0 7:09.7 4:27.3
141 Comfort, Ilaria FR 911 La Jolla Country Day-SDS 108 22:18.0 4:37.7 7:10.2 4:27.6
142 Lowe, Olivia SO 1506 Sage Hill-SS 109 22:20.5 4:40.2 7:11.0 4:28.1
143 Parry, Nicole SR 913 La Jolla Country Day-SDS 110 22:21.3 4:41.0 7:11.3 4:28.2
144 Pina, Ruby SO 281 Caruthers-CS 111 22:23.3 4:43.0 7:11.9 4:28.7
145 Sellas, Daisy JR 1716 St. Margarets-SS 112 22:25.1 4:44.8 7:12.5 4:29.0
146 Perez, Danielle FR 1701 St. Joseph N.Dame-NCS 113 22:25.2 4:44.9 7:12.5 4:29.0
147 Rincan, Dalila SO 102 Bell-Jeff-SS 114 22:26.6 4:46.3 7:13.0 4:29.3
148 Ren, Hannah FR 1508 Sage Hill-SS 115 22:26.9 4:46.6 7:13.1 4:29.4
149 O'Connell, Caroline JR 437 Convent-NCS 116 22:27.2 4:46.9 7:13.2 4:29.4
150 Benitez, Rubi FR 1795 USC CAE-LAS 117 22:29.4 4:49.1 7:13.9 4:29.9
151 Muschetto, Madison SO 45 Argonaut-SJS — 22:31.9 4:51.6 7:14.7 4:30.4
152 Lomeli, Briana FR 1194 Notre Dame Sal.-CCS 118 22:32.3 4:52.0 7:14.8 4:30.5
153 Denham, Gilly FR 1352 Poly (Pasadena)-SS 119 22:33.4 4:53.1 7:15.2 4:30.7
154 Plumley, Chloe JR 1196 Notre Dame Sal.-CCS 120 22:34.3 4:54.0 7:15.4 4:30.8
155 Grover, Anika SR 1711 St. Margarets-SS 121 22:36.4 4:56.1 7:16.1 4:31.3
156 Repetti, Rhiannon SO 1916 Western Sierra-SJS 122 22:41.1 5:00.8 7:17.6 4:32.2
157 Duckett, Zhane SO 1697 St. Joseph N.Dame-NCS 123 22:41.2 5:00.9 7:17.7 4:32.2
158 Suarez, Samantha JR 1197 Notre Dame Sal.-CCS 124 22:41.4 5:01.1 7:17.7 4:32.3
159 Crider, Althea FR 66 Bakersfield Christian-CS 125 22:45.7 5:05.4 7:19.1 4:33.1
160 Crouder, Makenzie SR 358 Christian-SDS 126 22:47.2 5:06.9 7:19.6 4:33.4
161 Strawn, Sydney FR 914 La Jolla Country Day-SDS 127 22:50.6 5:10.3 7:20.7 4:34.1
162 Gomez, Crystal SR 1839 Valor Academy-LAS — 22:58.1 5:17.8 7:23.1 4:35.6
163 Chareonsuphiphat, Maia FR 1696 St. Joseph N.Dame-NCS 128 22:58.5 5:18.2 7:23.2 4:35.7
164 Young, Maddie SR 825 Immanuel-CS — 23:02.0 5:21.7 7:24.3 4:36.4
165 Filer, Megan JR 262 Capital Christian-SJS 129 23:05.1 5:24.8 7:25.3 4:37.0
166 Kuerbis, Sidney SO 665 Francis Parker-SDS 130 23:07.7 5:27.4 7:26.2 4:37.5
167 Stewart, Brooke SO 1255 Orcutt Academy-SS 131 23:09.2 5:28.9 7:26.7 4:37.8
168 Strassle, Carmen SR 1357 Poly (Pasadena)-SS 132 23:09.8 5:29.5 7:26.9 4:38.0
169 Cassinelli, Camila FR 1710 St. Margarets-SS 133 23:12.1 5:31.8 7:27.6 4:38.4
170 Lwin, Rachel JR 68 Bakersfield Christian-CS 134 23:13.7 5:33.4 7:28.1 4:38.7
171 Skinner, Sierra SO 1254 Orcutt Academy-SS 135 23:23.0 5:42.7 7:31.1 4:40.6
172 Paw, Michelle SO 70 Bakersfield Christian-CS 136 23:25.4 5:45.1 7:31.9 4:41.1
173 Mateo, Candy SO 280 Caruthers-CS 137 23:32.1 5:51.8 7:34.0 4:42.4
174 Hyden, Faith JR 360 Christian-SDS 138 23:41.7 6:01.4 7:37.1 4:44.3
175 Braswell, Emma SR 357 Christian-SDS 139 23:54.3 6:14.0 7:41.2 4:46.8
176 Roberts, Sydney SO 362 Christian-SDS 140 23:55.0 6:14.7 7:41.4 4:47.0
177 Garcia, Anna FR 1946 Wonderful CP-CS — 23:55.5 6:15.2 7:41.6 4:47.1
178 Jenkins, Kelsey JR 1773 Trinity-NS 141 23:56.1 6:15.8 7:41.7 4:47.2
179 Ayala, Lizet SR 1431 Riverdale-CS — 23:56.9 6:16.6 7:42.0 4:47.4
180 Black, Anna JR 1912 Western Sierra-SJS 142 23:56.9 6:16.6 7:42.0 4:47.4
181 Floerke, Samantha SO 1770 Trinity-NS 143 23:57.1 6:16.8 7:42.1 4:47.4
182 Pina, Perla SR 282 Caruthers-CS 144 24:00.9 6:20.6 7:43.3 4:48.2
183 Martinez, Daniellie SR 1798 USC CAE-LAS 145 24:00.9 6:20.6 7:43.3 4:48.2
184 Zeng, Ashley FR 1510 Sage Hill-SS 146 24:06.3 6:26.0 7:45.0 4:49.2
185 Kallman, Emma JR 1627 Sonoma Acad-NCS 147 24:06.8 6:26.5 7:45.2 4:49.4
186 Garduno, Jennifer FR 278 Caruthers-CS 148 24:07.4 6:27.1 7:45.4 4:49.5
187 Rebollo, Malia SR 1915 Western Sierra-SJS 149 24:31.2 6:50.9 7:53.0 4:54.2
188 Besharati, Sofia FR 909 La Jolla Country Day-SDS 150 24:31.8 6:51.5 7:53.2 4:54.4
189 Ferris, Sidney JR 67 Bakersfield Christian-CS 151 24:40.2 6:59.9 7:55.9 4:56.0
190 Weldon, Victoria FR 266 Capital Christian-SJS 152 24:46.1 7:05.8 7:57.8 4:57.2
191 Grealish, Leslie SR 72 Bakersfield Christian-CS 153 25:08.0 7:27.7 8:04.9 5:01.6
192 Sanchez, Emily JR 284 Caruthers-CS 154 25:12.8 7:32.5 8:06.4 5:02.6
193 Mahnke, Michaela SR 264 Capital Christian-SJS 155 25:54.2 8:13.9 8:19.7 5:10.8
194 Gallego, Suejean FR 100 Bell-Jeff-SS 156 26:09.1 8:28.8 8:24.5 5:13.8
195 Garcia, Jazmine SR 263 Capital Christian-SJS 157 26:10.5 8:30.2 8:25.0 5:14.1
196 Cai, Vivian JR 910 La Jolla Country Day-SDS 158 26:22.7 8:42.4 8:28.9 5:16.5
197 Samaniego, Alyssa FR 1253 Orcutt Academy-SS 159 26:31.5 8:51.2 8:31.7 5:18.3
198 Brookins, Lindi FR 1769 Trinity-NS 160 26:33.9 8:53.6 8:32.5 5:18.8
199 Miller, Faith FR 1774 Trinity-NS 161 26:34.9 8:54.6 8:32.8 5:19.0
200 Zuniga, Nelly SR 1800 USC CAE-LAS 162 26:40.3 9:00.0 8:34.5 5:20.0
201 Rodriguez, Vanessa SR 283 Caruthers-CS 163 26:55.9 9:15.6 8:39.6 5:23.2
202 Bejerano, Alexuz JR 1794 USC CAE-LAS 164 27:14.0 9:33.7 8:45.4 5:26.8
203 Davis, Freya SR 1913 Western Sierra-SJS 165 30:00.0 12:19.7 9:38.8 6:00.0
204 Ramos, Victoria FR 101 Bell-Jeff-SS 166 40:00.0 22:19.7 12:51.7 8:00.0
Race #10
Division III Girls
Final Standings Score Scoring Order Total Avg. Finish Order Spread Section
1 Palos Verdes-SS 75 10-13-15-18-19 (37) (48) 1:32:22 18:29 10-15-18-24-25-49-66 0:26.4
2 Esperanza-SS 156* 12-20-32-39-53 (54) (99) 1:34:22 18:53 13-26-43-51-71-74-128 1:02.0
3 Aptos-CCS 156* 4-24-30-40-58 (90) (124) 1:34:04 18:49 4-33-40-55-78-119-156 1:54.0
4 La Costa Canyon-SDS 168 3-7-25-66-67 (101) (129) 1:33:39 18:44 3-7-34-91-92-130-162 2:05.9
5 Cathedral Catholic-SDS 172 26-28-35-41-42 (69) (105) 1:34:52 18:59 35-38-46-56-57-95-134 0:21.1
6 Campolindo-NCS 216 6-9-63-65-73 (127) (137) 1:35:01 19:01 6-9-87-90-99-159-171 2:05.2
7 Vista Del Lago-SJS 234 8-29-50-62-85 (93) (115) 1:35:47 19:10 8-39-68-84-114-122-146 2:04.9
8 Redwood(NCS)-NCS 237 1-2-71-75-88 (97) (150) 1:34:52 18:59 1-2-97-102-117-126-186 2:37.1
9 Moorpark-SS 255 22-23-56-76-78 (80) (89) 1:36:45 19:21 28-31-76-104-106-108-118 1:17.0
10 Laguna Hills-SS 257 44-45-52-55-61 (109) (126) 1:36:51 19:23 61-62-70-75-81-138-158 0:23.4
11 University City-SDS 291 14-34-74-82-87 (107) (111) 1:37:16 19:28 16-45-100-110-116-136-140 1:40.6
12 Rio Americano-SJS 298 11-21-68-96-102 (103) (123) 1:37:14 19:27 12-27-94-125-131-132-155 1:57.5
13 Corona del Mar-SS 313 16-46-79-81-91 (118) (125) 1:37:45 19:33 19-64-107-109-120-150-157 1:35.6
14 Maria Carrillo-NCS 348 33-38-60-104-113 (138) (147) 1:38:17 19:40 44-50-80-133-142-172-182 1:29.3
15 Royal-SS 368 49-51-70-98-100 (135) (145) 1:38:59 19:48 67-69-96-127-129-169-179 0:58.1
16 Alameda-NCS 370 17-36-72-106-139 (142) 1:39:03 19:49 20-47-98-135-173-176 2:47.7
17 Oak Park-SS 377 5-77-84-94-117 (119) (122) 1:38:21 19:41 5-105-113-123-149-151-154 2:46.7
18 Soquel-CCS 420 27-64-83-110-136 (161) 1:40:02 20:01 37-88-112-139-170-199 2:20.1
19 Placer-SJS 443 31-59-95-128-130 (131) (152) 1:40:18 20:04 41-79-124-161-164-165-189 2:00.3
20 St. Ignatius-CCS 459 47-86-92-114-120 (132) (133) 1:40:25 20:05 65-115-121-143-152-166-167 1:18.4
21 Shasta-NS 595 43-108-140-151-153 (154) (158) 1:45:46 21:10 58-137-174-187-190-191-195 3:34.6
22 Kerman-CS 632 57-134-144-148-149 (155) (157) 1:45:58 21:12 77-168-178-184-185-192-194 2:28.5
23 Foothill- Bakersfield-CS 633 112-116-121-141-143 (146) (156) 1:44:27 20:54 141-148-153-175-177-180-193 1:07.4
24 Fulton College Prep-LAS 808 159-160-162-163-164 (165) (166) 2:02:54 24:35 197-198-200-201-202-203-204 1:59.3
Individual Results
Athlete # Team Score Time Gap Avg. Mile Avg. kM
1 Murphy, Glennis SR 1397 Redwood(NCS)-NCS 1 17:27.2 — 5:36.7 3:29.4
2 Wagner, Gillian JR 1399 Redwood(NCS)-NCS 2 17:30.7 0:03.4 5:37.8 3:30.1
3 Fahy, Kristin SO 897 La Costa Canyon-SDS 3 17:35.3 0:08.0 5:39.3 3:31.0
4 Zlatunich, Marea JR 35 Aptos-CCS 4 17:40.8 0:13.5 5:41.1 3:32.2
5 Cruz-Albrecht, Sylvia SO 1214 Oak Park-SS 5 17:44.9 0:17.6 5:42.4 3:33.0
6 Chao, Isabella JR 223 Campolindo-NCS 6 17:48.4 0:21.1 5:43.5 3:33.7
7 Brown, McKenna JR 895 La Costa Canyon-SDS 7 17:55.0 0:27.7 5:45.6 3:35.0
8 Rasmussen, Delaney SR 1862 Vista Del Lago-SJS 8 17:57.1 0:29.8 5:46.3 3:35.4
9 Ruane, Hannah JR 228 Campolindo-NCS 9 18:01.2 0:34.0 5:47.7 3:36.2
10 Genovese, Mazzy SO 1307 Palos Verdes-SS 10 18:12.7 0:45.4 5:51.4 3:38.5
11 Grant, Kaylah JR 974 Live Oak-CCS — 18:16.8 0:49.5 5:52.7 3:39.3
12 Karperos, Sophia FR 1422 Rio Americano-SJS 11 18:19.2 0:51.9 5:53.4 3:39.8
13 Dholakia, Sapna SR 605 Esperanza-SS 12 18:19.3 0:52.1 5:53.5 3:39.9
14 Meeder, Annie SR 1319 Paso Robles-SS — 18:21.5 0:54.3 5:54.2 3:40.3
15 Catena, Grace JR 1305 Palos Verdes-SS 13 18:22.6 0:55.4 5:54.5 3:40.5
16 Boisvert, Elise JR 1778 University City-SDS 14 18:23.5 0:56.2 5:54.8 3:40.7
17 McIntosh, Cathilyn JR 522 Del Oro-SJS — 18:27.0 0:59.7 5:55.9 3:41.4
18 Stoner, Caitlin SR 1311 Palos Verdes-SS 15 18:28.6 1:01.3 5:56.4 3:41.7
19 Powers, Raquel SR 444 Corona del Mar-SS 16 18:29.7 1:02.4 5:56.8 3:41.9
20 Lum, Lauren SO 21 Alameda-NCS 17 18:32.2 1:04.9 5:57.6 3:42.4
21 Diaz, Misty JR 1188 Norwalk-SS — 18:34.7 1:07.4 5:58.4 3:42.9
22 Barnes, Alyssa SO 567 El Camino-SJS — 18:35.7 1:08.4 5:58.7 3:43.1
23 Oblin, Megan SO 1608 Sierra-SJS — 18:36.5 1:09.2 5:59.0 3:43.3
24 Regan, Alex SR 1309 Palos Verdes-SS 18 18:38.8 1:11.6 5:59.7 3:43.8
25 Scriven, Savannah FR 1310 Palos Verdes-SS 19 18:39.1 1:11.8 5:59.8 3:43.8
26 Mackellar, Shannon SR 607 Esperanza-SS 20 18:39.9 1:12.6 6:00.1 3:44.0
27 Mahoney, Meghan JR 1423 Rio Americano-SJS 21 18:40.1 1:12.8 6:00.2 3:44.0
28 Walla, Nevaeh SO 1146 Moorpark-SS 22 18:40.1 1:12.9 6:00.2 3:44.0
29 Stanziano, Rayna SO 431 Concord-NCS — 18:40.8 1:13.5 6:00.4 3:44.2
30 Ronquillo, Angelina SR 1649 South Bakersfield-CS — 18:40.9 1:13.6 6:00.4 3:44.2
31 Tobias, Valerie FR 1143 Moorpark-SS 23 18:41.6 1:14.4 6:00.6 3:44.3
32 Gibson, Gwendalyn SR 1370 Ramona-SDS — 18:45.0 1:17.7 6:01.7 3:45.0
33 Garcia, Reina SO 29 Aptos-CCS 24 18:46.7 1:19.4 6:02.3 3:45.3
34 Riedman, Jessica SO 900 La Costa Canyon-SDS 25 18:46.7 1:19.5 6:02.3 3:45.3
35 McCraner, Bailey JR 320 Cathedral Catholic-SDS 26 18:47.1 1:19.8 6:02.4 3:45.4
36 Leos, Wendi SR 1911 Western-SS — 18:50.0 1:22.7 6:03.3 3:46.0
37 Hughes, Gabby FR 1643 Soquel-CCS 27 18:50.3 1:23.0 6:03.4 3:46.1
38 Waters, Elle JR 323 Cathedral Catholic-SDS 28 18:52.2 1:24.9 6:04.1 3:46.4
39 Burgoyne, Rachel SO 1857 Vista Del Lago-SJS 29 18:53.0 1:25.7 6:04.3 3:46.6
40 Natividad, Sofia JR 31 Aptos-CCS 30 18:53.9 1:26.6 6:04.6 3:46.8
41 Chamberlin, Marin JR 1337 Placer-SJS 31 18:54.1 1:26.8 6:04.6 3:46.8
42 Gayer, Sarah SR 1076 Mills-CCS — 18:54.5 1:27.2 6:04.8 3:46.9
43 Dumaine, Hannah SO 606 Esperanza-SS 32 18:54.9 1:27.6 6:04.9 3:47.0
44 Armstrong, Aimee SO 1023 Maria Carrillo-NCS 33 18:55.6 1:28.3 6:05.1 3:47.1
45 Shepherd, Isabelle SO 1782 University City-SDS 34 18:55.6 1:28.3 6:05.1 3:47.1
46 Cerveny, Alex SR 317 Cathedral Catholic-SDS 35 18:56.3 1:29.0 6:05.4 3:47.3
47 Vetter, Lara SR 22 Alameda-NCS 36 19:00.0 1:32.7 6:06.5 3:48.0
48 Quevedo, Rosalva SR 1096 Mira Monte-CS — 19:02.1 1:34.8 6:07.2 3:48.4
49 Polischeck, Olivia SR 1308 Palos Verdes-SS 37 19:02.3 1:35.0 6:07.3 3:48.4
50 Rivas, Sydnie JR 1029 Maria Carrillo-NCS 38 19:04.0 1:36.7 6:07.8 3:48.8
51 Reeves, Lauren JR 609 Esperanza-SS 39 19:06.1 1:38.8 6:08.5 3:49.2
52 Anez, Andrea SR 614 Exeter-CS — 19:06.6 1:39.3 6:08.7 3:49.3
53 Calvert, Carolinh FR 578 El Capitan-SDS — 19:07.7 1:40.4 6:09.0 3:49.5
54 Towle, Veronica SO 926 Las Lomas-NCS — 19:07.7 1:40.4 6:09.0 3:49.5
55 Mcbride, Annika SR 30 Aptos-CCS 40 19:07.7 1:40.5 6:09.0 3:49.5
56 Doheny, Cami JR 318 Cathedral Catholic-SDS 41 19:08.1 1:40.8 6:09.2 3:49.6
57 Martinez de Pinillos, Veronica FR 319 Cathedral Catholic-SDS 42 19:08.2 1:40.9 6:09.2 3:49.6
58 Hall, Hana FR 1599 Shasta-NS 43 19:08.3 1:41.0 6:09.2 3:49.6, Sara Hall's daughter
59 Galindo, Ruby JR 1189 Norwalk-SS — 19:09.1 1:41.8 6:09.5 3:49.8
60 Clements, Nahkia FR 349 Chico-NS — 19:11.0 1:43.8 6:10.1 3:50.2
61 Williams, Maya JR 924 Laguna Hills-SS 44 19:12.5 1:45.2 6:10.6 3:50.5
62 Turner, Lauren SO 923 Laguna Hills-SS 45 19:13.3 1:46.0 6:10.8 3:50.7
63 Boucher, Jessie SR 1182 Northgate-NCS — 19:13.7 1:46.4 6:10.9 3:50.7
64 Tung, Julia FR 446 Corona del Mar-SS 46 19:13.9 1:46.6 6:11.0 3:50.8
65 O'dea, Katie JR 1683 St. Ignatius-CCS 47 19:16.0 1:48.7 6:11.7 3:51.2
66 Hines, Camille SR 1306 Palos Verdes-SS 48 19:16.6 1:49.3 6:11.9 3:51.3
67 Marciano, Madeline SO 1458 Royal-SS 49 19:17.7 1:50.4 6:12.2 3:51.5
68 O'Daniel, Kendall SO 1860 Vista Del Lago-SJS 50 19:17.8 1:50.5 6:12.3 3:51.6
69 Cortes, Andrea SR 1456 Royal-SS 51 19:17.9 1:50.6 6:12.3 3:51.6
70 Rinke, Mckenna SR 921 Laguna Hills-SS 52 19:19.5 1:52.2 6:12.8 3:51.9
71 Shea, Summer JR 610 Esperanza-SS 53 19:21.3 1:54.0 6:13.4 3:52.3
72 Shulman, Mckenzie JR 1545 Santa Margarita-SS — 19:21.3 1:54.0 6:13.4 3:52.3
73 Harris, Emily SO 1623 Sobrato-CCS — 19:26.1 1:58.8 6:14.9 3:53.2
74 Wilson, Katelyn JR 611 Esperanza-SS 54 19:27.4 2:00.0 6:15.4 3:53.5
75 Selleck, Claire SO 922 Laguna Hills-SS 55 19:29.8 2:02.5 6:16.1 3:54.0
76 Wade, Kelly SO 1145 Moorpark-SS 56 19:30.0 2:02.7 6:16.2 3:54.0
77 Garcia, Jacquelin FR 873 Kerman-CS 57 19:31.0 2:03.7 6:16.5 3:54.2
78 Watkins, Abby FR 34 Aptos-CCS 58 19:34.8 2:07.5 6:17.7 3:54.9
79 Muzzy, Elana JR 1340 Placer-SJS 59 19:34.9 2:07.6 6:17.8 3:55.0
80 Leano, Talia SO 1027 Maria Carrillo-NCS 60 19:35.2 2:07.9 6:17.9 3:55.0
81 Gilles, Sofia FR 920 Laguna Hills-SS 61 19:35.9 2:08.6 6:18.1 3:55.2
82 Ayars, Jessalyn SR 348 Chico-NS — 19:36.3 2:09.0 6:18.2 3:55.2
83 Renfroe, Naomi SR 1383 Red Bluff-NS — 19:36.4 2:09.1 6:18.3 3:55.3
84 Barragan, Annaka JR 1856 Vista Del Lago-SJS 62 19:36.6 2:09.3 6:18.3 3:55.3
85 Medina, Isabel FR 1408 Ridgeview-CS — 19:37.3 2:10.0 6:18.5 3:55.5
86 Prado, Karina FR 1227 Oakdale-SJS — 19:37.8 2:10.5 6:18.7 3:55.5
87 Miles, Jenna JR 227 Campolindo-NCS 63 19:38.3 2:11.0 6:18.9 3:55.7
88 Baily, Grace SO 1641 Soquel-CCS 64 19:38.7 2:11.4 6:19.0 3:55.7
89 McFarland, Laura SR 277 Carondelet-NCS — 19:38.9 2:11.6 6:19.1 3:55.8
90 Foxworthy, Jessie JR 224 Campolindo-NCS 65 19:39.7 2:12.4 6:19.3 3:55.9
91 Schroeder, Natalie SO 901 La Costa Canyon-SDS 66 19:40.8 2:13.5 6:19.7 3:56.1
92 Fromme, Michaela SR 898 La Costa Canyon-SDS 67 19:41.1 2:13.8 6:19.8 3:56.2
93 Ciotola, Sophia JR 925 Las Lomas-NCS — 19:42.3 2:15.0 6:20.1 3:56.4
94 Auernig, Megan SR 1417 Rio Americano-SJS 68 19:45.2 2:17.9 6:21.1 3:57.0
95 Munro, Lauren SO 321 Cathedral Catholic-SDS 69 19:51.4 2:24.1 6:23.1 3:58.3
96 Locke, Delaney SR 1457 Royal-SS 70 19:52.1 2:24.8 6:23.3 3:58.4
97 Fogarty, Annie SR 1394 Redwood(NCS)-NCS 71 19:53.1 2:25.8 6:23.6 3:58.6
98 Carpenter, Maya SO 17 Alameda-NCS 72 19:53.2 2:25.9 6:23.6 3:58.6
99 Hilton, Savannah JR 226 Campolindo-NCS 73 19:53.5 2:26.2 6:23.8 3:58.7
100 Omahen, Ashlyn SR 1779 University City-SDS 74 19:54.1 2:26.8 6:23.9 3:58.8
101 Cisneros, Serena FR 1648 South Bakersfield-CS — 19:55.5 2:28.2 6:24.4 3:59.1
102 Mcwhorter, Sophia JR 1396 Redwood(NCS)-NCS 75 19:56.0 2:28.7 6:24.5 3:59.2
103 Daney, Micaela JR 1368 Prospect-CCS — 19:56.1 2:28.8 6:24.6 3:59.2
104 Goldrod, Sarah SR 1141 Moorpark-SS 76 19:56.3 2:29.0 6:24.6 3:59.2
105 Shulze, Sarah SO 1217 Oak Park-SS 77 19:56.9 2:29.6 6:24.8 3:59.4
106 Villa, Amanda JR 1144 Moorpark-SS 78 19:57.1 2:29.8 6:24.9 3:59.4
107 Gerken, Bella SR 441 Corona del Mar-SS 79 19:57.2 2:29.9 6:24.9 3:59.4
108 Ponce, Syenna FR 1142 Moorpark-SS 80 19:57.4 2:30.1 6:25.0 3:59.5
109 Lee, Gigi SO 443 Corona del Mar-SS 81 19:58.3 2:31.0 6:25.3 3:59.7
110 Ruff, Ella SO 1781 University City-SDS 82 19:58.7 2:31.4 6:25.4 3:59.7
111 Brown, Amy FR 1369 Ramona-SDS — 19:59.2 2:31.9 6:25.6 3:59.8
112 Williams, Leila SR 1646 Soquel-CCS 83 19:59.9 2:32.6 6:25.8 4:00.0
113 Beneduce, Emily SR 1212 Oak Park-SS 84 20:00.9 2:33.6 6:26.1 4:00.2
114 Perez, Arabella FR 1861 Vista Del Lago-SJS 85 20:01.9 2:34.6 6:26.5 4:00.4
115 Worthington, Caroline SO 1688 St. Ignatius-CCS 86 20:03.9 2:36.6 6:27.1 4:00.8
116 Sovinsky, Amy SR 1783 University City-SDS 87 20:04.0 2:36.7 6:27.1 4:00.8
117 Steele, Lauren FR 1398 Redwood(NCS)-NCS 88 20:04.3 2:37.0 6:27.2 4:00.9
118 Akina, Kayla SO 1140 Moorpark-SS 89 20:04.6 2:37.3 6:27.3 4:00.9
119 Conneely, Ruth FR 28 Aptos-CCS 90 20:04.8 2:37.5 6:27.4 4:01.0
120 St. Geme, Emma SR 445 Corona del Mar-SS 91 20:05.2 2:37.9 6:27.5 4:01.0
121 Sto.domingo, Mia FR 1685 St. Ignatius-CCS 92 20:05.4 2:38.1 6:27.6 4:01.1
122 Kizziar, Sydnee JR 1859 Vista Del Lago-SJS 93 20:06.0 2:38.7 6:27.8 4:01.2
123 Tamaddon, Isabelle FR 1218 Oak Park-SS 94 20:06.3 2:39.0 6:27.9 4:01.2
124 Garcia, Delaney JR 1338 Placer-SJS 95 20:07.2 2:39.9 6:28.1 4:01.4
125 Calcagno, Lauren SO 1419 Rio Americano-SJS 96 20:12.4 2:45.1 6:29.8 4:02.5
126 Woods, Tyler FR 1400 Redwood(NCS)-NCS 97 20:13.2 2:45.9 6:30.1 4:02.6
127 Perez, Adriana JR 1460 Royal-SS 98 20:15.3 2:48.0 6:30.7 4:03.0
128 Oden, Desiree JR 608 Esperanza-SS 99 20:15.8 2:48.5 6:30.9 4:03.2
129 Calderon, Danielle SR 1455 Royal-SS 100 20:15.8 2:48.5 6:30.9 4:03.2
130 Caponetto, Grace JR 896 La Costa Canyon-SDS 101 20:16.2 2:48.9 6:31.0 4:03.2
131 Escay, Alyssa FR 1420 Rio Americano-SJS 102 20:16.7 2:49.4 6:31.2 4:03.3
132 Bracchi, Georgia JR 1418 Rio Americano-SJS 103 20:16.8 2:49.5 6:31.2 4:03.4
133 Buenrostro, Karen SR 1024 Maria Carrillo-NCS 104 20:17.1 2:49.8 6:31.3 4:03.4
134 Groff, Hazel JR 322 Cathedral Catholic-SDS 105 20:17.2 2:49.9 6:31.4 4:03.4
135 Wellman, Rachel JR 23 Alameda-NCS 106 20:17.3 2:50.0 6:31.4 4:03.4
136 Torre, Renee JR 1784 University City-SDS 107 20:18.6 2:51.3 6:31.8 4:03.7
137 Tate-Arevalo, Isabelle FR 1603 Shasta-NS 108 20:19.6 2:52.3 6:32.1 4:03.9
138 Garcia, Daniela SR 919 Laguna Hills-SS 109 20:22.1 2:54.8 6:32.9 4:04.4
139 Martin, Hannah SR 1644 Soquel-CCS 110 20:22.8 2:55.5 6:33.2 4:04.5
140 Quesenberry, Kendall JR 1780 University City-SDS 111 20:23.6 2:56.3 6:33.4 4:04.7
141 Medina, Rosie JR 637 Foothill- Bakersfield-CS 112 20:24.2 2:56.9 6:33.6 4:04.8
142 Field, Meghan SO 1025 Maria Carrillo-NCS 113 20:24.9 2:57.6 6:33.8 4:05.0
143 Jayme, Aleah SR 1680 St. Ignatius-CCS 114 20:25.0 2:57.7 6:33.9 4:05.0
144 Oliveira, Rize FR 631 Foothill (Palo Cedro)-NS — 20:26.7 2:59.4 6:34.4 4:05.3
145 Chaves, Sarah SO 568 El Camino-SJS — 20:27.6 3:00.3 6:34.7 4:05.5
146 Evans, Natasha SO 1858 Vista Del Lago-SJS 115 20:27.8 3:00.5 6:34.8 4:05.6
147 Dudley, Grace FR 630 Foothill (Palo Cedro)-NS — 20:28.7 3:01.4 6:35.1 4:05.7
148 Garcia, Sofia JR 633 Foothill- Bakersfield-CS 116 20:29.5 3:02.2 6:35.3 4:05.9
149 Sadon, Dani JR 1216 Oak Park-SS 117 20:31.5 3:04.2 6:36.0 4:06.3
150 Buchwald, Maya FR 440 Corona del Mar-SS 118 20:31.7 3:04.4 6:36.0 4:06.3
151 Hamiter, Katie JR 1215 Oak Park-SS 119 20:33.6 3:06.3 6:36.6 4:06.7
152 Mcgrath, Alyssa SR 1682 St. Ignatius-CCS 120 20:34.4 3:07.1 6:36.9 4:06.9
153 Medel, Ana Bertha JR 636 Foothill- Bakersfield-CS 121 20:35.9 3:08.6 6:37.4 4:07.2
154 Billig, Wendy JR 1213 Oak Park-SS 122 20:36.2 3:08.9 6:37.5 4:07.2
155 Gowan, Taylor SR 1421 Rio Americano-SJS 123 20:37.0 3:09.7 6:37.7 4:07.4
156 Niles, Annika JR 32 Aptos-CCS 124 20:37.1 3:09.8 6:37.8 4:07.4
157 Griffen, Lauren JR 442 Corona del Mar-SS 125 20:37.2 3:09.9 6:37.8 4:07.4
158 Bair, Kaylie JR 918 Laguna Hills-SS 126 20:39.4 3:12.1 6:38.5 4:07.9
159 Hancock, Paloma FR 225 Campolindo-NCS 127 20:40.8 3:13.5 6:38.9 4:08.1
160 Hoffman, Julia FR 1562 Saratoga-CCS — 20:47.0 3:19.7 6:41.0 4:09.4
161 Bray, Skyler JR 1336 Placer-SJS 128 20:47.3 3:20.0 6:41.0 4:09.4
162 Kindel, Amanda SR 899 La Costa Canyon-SDS 129 20:49.6 3:22.3 6:41.8 4:09.9
163 Cheslick, Katie FR 984 Los Angeles CES-LAS — 20:52.5 3:25.2 6:42.7 4:10.5
164 Vaughan, Lisa SR 1342 Placer-SJS 130 20:54.4 3:27.1 6:43.3 4:10.9
165 Root, Naomi SR 1341 Placer-SJS 131 20:59.3 3:32.0 6:44.9 4:11.8
166 Janiczek, Emilia SR 1677 St. Ignatius-CCS 132 21:00.1 3:32.8 6:45.2 4:12.0
167 Boyden, Elie SO 1676 St. Ignatius-CCS 133 21:03.7 3:36.4 6:46.3 4:12.7
168 Melgarejo, Arisandy SO 875 Kerman-CS 134 21:04.4 3:37.1 6:46.5 4:12.9
169 Morrissey, Grace JR 1459 Royal-SS 135 21:08.8 3:41.5 6:48.0 4:13.8
170 Curtin, Elena SO 1642 Soquel-CCS 136 21:10.4 3:43.1 6:48.5 4:14.1
171 Arnswald, Juliet SR 222 Campolindo-NCS 137 21:11.3 3:44.0 6:48.8 4:14.3
172 Moessing, Audrey FR 1026 Maria Carrillo-NCS 138 21:16.8 3:49.5 6:50.5 4:15.3
173 DeVerrier, Chloe SR 19 Alameda-NCS 139 21:19.8 3:52.5 6:51.5 4:16.0
174 Robles, Emma SO 1602 Shasta-NS 140 21:24.7 3:57.4 6:53.1 4:16.9
175 Ramos, Gabby SO 638 Foothill- Bakersfield-CS 141 21:25.7 3:58.4 6:53.4 4:17.1
176 Herrera-Ross, Nicolette FR 20 Alameda-NCS 142 21:29.2 4:01.9 6:54.5 4:17.8
177 Lopez, Virginia JR 634 Foothill- Bakersfield-CS 143 21:31.5 4:04.2 6:55.3 4:18.3
178 Sagariballa, Lauren SR 877 Kerman-CS 144 21:33.5 4:06.2 6:55.9 4:18.7
179 Perdomo, Angelena FR 1461 Royal-SS 145 21:36.7 4:09.4 6:56.9 4:19.3
180 Marmolejo, Teresa FR 635 Foothill- Bakersfield-CS 146 21:39.6 4:12.3 6:57.9 4:19.9
181 Valdez, Itzel SO 1185 Northridge Acad-LAS — 21:40.0 4:12.7 6:58.0 4:20.0
182 Raymond, Lily SR 1028 Maria Carrillo-NCS 147 21:42.6 4:15.3 6:58.8 4:20.5
183 Lopez, Melissa SR 555 Downtown Magnet-LAS — 21:46.0 4:18.7 6:59.9 4:21.2
184 Espionosa, Alejandra SR 872 Kerman-CS 148 21:49.1 4:21.8 7:00.9 4:21.8
185 Sanders, Lauren SO 878 Kerman-CS 149 21:59.4 4:32.1 7:04.2 4:23.9
186 Lagettle, Neva SO 1395 Redwood(NCS)-NCS 150 22:06.7 4:39.4 7:06.6 4:25.3
187 Drake, Daria SR 1598 Shasta-NS 151 22:10.2 4:42.9 7:07.7 4:26.0
188 Isidoro, Yoselin JR 1258 Orthopaedic Medical-LAS — 22:13.3 4:46.0 7:08.7 4:26.7
189 Griffin, Kelsey SO 1339 Placer-SJS 152 22:20.1 4:52.8 7:10.9 4:28.0
190 Avalos, Miranda SR 1597 Shasta-NS 153 22:42.9 5:15.6 7:18.2 4:32.6
191 Hiner, Nancy SO 1600 Shasta-NS 154 22:55.0 5:27.7 7:22.1 4:35.0
192 Martinez, Genesis SR 874 Kerman-CS 155 22:57.4 5:30.1 7:22.9 4:35.5
193 Chocoteco, Sinai JR 632 Foothill- Bakersfield-CS 156 22:59.6 5:32.3 7:23.6 4:35.9
194 Segoria, Blanca SO 876 Kerman-CS 157 23:13.5 5:46.2 7:28.1 4:38.7
195 Cutridge, Sydney SR 1601 Shasta-NS 158 23:17.4 5:50.1 7:29.3 4:39.5
196 Spencer, Lena SR 1606 Sherman Oaks CES-LAS — 23:25.1 5:57.8 7:31.8 4:41.0
197 Ramirez, Odlais JR 685 Fulton College Prep-LAS 159 23:28.8 6:01.5 7:33.0 4:41.7
198 Moncada, Citlaly SR 684 Fulton College Prep-LAS 160 24:11.6 6:44.3 7:46.7 4:50.3
199 Davis, Calista FR 1645 Soquel-CCS 161 24:28.8 7:01.5 7:52.3 4:53.7
200 Martinez, Lisette SR 683 Fulton College Prep-LAS 162 24:51.5 7:24.2 7:59.6 4:58.3
201 Hinojosa, Paola SR 681 Fulton College Prep-LAS 163 24:53.4 7:26.1 8:00.2 4:58.7
202 Lopez, Jocelyn JR 682 Fulton College Prep-LAS 164 25:28.0 8:00.7 8:11.3 5:05.6
203 Gomez, Monica FR 680 Fulton College Prep-LAS 165 26:43.8 9:16.5 8:35.7 5:20.8
204 Duran, Gissele SR 679 Fulton College Prep-LAS 166 28:43.3 11:16.0 9:14.1 5:44.7
Race #6
Division II Girls
Final Standings Score Scoring Order Total Avg. Finish Order Spread Section
1 Claremont-SS 104 11-12-20-30-31 (44) (45) 1:32:24 18:29 14-18-28-41-42-58-59 0:49.6
2 Saugus-SS 147 4-6-19-58-60 (85) (97) 1:32:22 18:29 5-8-27-77-79-110-123 1:41.6
3 Canyon/Anaheim-SS 155 2-28-34-36-55 (98) (131) 1:33:16 18:40 3-38-45-47-70-124-162 1:45.7
4 St Francis (Sac)-SJS 176 8-10-26-65-67 (115) (128) 1:33:25 18:41 10-13-36-86-88-143-159 1:39.7
5 Monte Vista-NCS 185 5-42-43-46-49 (76) (108) 1:33:55 18:47 7-53-57-61-64-100-136 1:24.2
6 San Marcos-SS 194 7-24-48-54-61 (138) (144) 1:34:06 18:50 9-34-63-69-80-169-176 1:30.7
7 Ventura-SS 196* 16-17-25-63-75 (111) (112) 1:34:24 18:53 23-25-35-83-99-139-140 1:20.8
8 San Ramon Valley-NCS 196* 13-37-38-39-69 (133) (157) 1:34:31 18:55 20-48-49-50-91-164-190 1:18.6
9 Canyon Crest-SDS 234 15-22-52-59-86 (89) (116) 1:35:06 19:02 22-32-67-78-111-114-144 1:33.9
10 Capistrano Valley-SS 242 9-14-68-73-78 (88) (96) 1:34:55 18:59 12-21-90-96-103-113-122 1:45.7
11 Mira Costa-SS 277 1-53-72-74-77 (93) (125) 1:35:31 19:07 1-68-95-97-101-119-155 2:14.4
12 Granada-NCS 289 21-32-41-90-105 (130) (151) 1:36:27 19:18 31-43-52-115-131-161-183 1:27.1
13 Steele Canyon-SDS 335 50-62-70-71-82 (84) (127) 1:37:18 19:28 65-82-93-94-107-109-158 0:34.7
14 Granite Bay-SJS 340 3-33-80-102-122 (129) (146) 1:36:31 19:19 4-44-105-128-151-160-178 2:53.1
15 Vacaville-SJS 341 23-35-83-94-106 (109) (121) 1:37:22 19:29 33-46-108-120-132-137-150 1:25.1
16 Mt Carmel-SDS 388 18-57-95-100-118 (140) (149) 1:37:55 19:35 26-75-121-126-146-172-181 1:52.0
17 Rancho Bernardo-SDS 417 40-51-103-104-119 (139) (141) 1:38:41 19:45 51-66-129-130-148-171-173 1:24.0
18 St. Francis (MV)-CCS 438 47-81-92-101-117 (124) (135) 1:38:58 19:48 62-106-118-127-145-153-166 1:12.1
19 Mountain View-CCS 446 27-87-91-99-142 (158) 1:39:40 19:56 37-112-117-125-174-191 2:28.1
20 McFarland-CS 548 56-110-113-114-155 (159) 1:42:25 20:29 71-138-141-142-188-192 3:21.5
21 Santee EC-LAS 555 29-123-126-132-145 (153) (154) 1:42:11 20:27 40-152-157-163-177-186-187 2:40.9
22 Gunn-CCS 561 64-107-120-134-136 (148) (150) 1:41:50 20:22 85-133-149-165-167-180-182 1:32.1
23 Liberty-Bakersfield-CS 572 66-79-137-143-147 (152) (156) 1:43:23 20:41 87-104-168-175-179-184-189 2:15.7
Individual Results
Athlete # Team Score Time Gap Avg. Mile Avg. kM
1 Chittenden, Elizabeth SR 1081 Mira Costa-SS 1 17:25.6 — 5:36.2 3:29.1
2 Adler, Erika SR 1187 Northwood-SS — 17:26.1 0:00.5 5:36.3 3:29.2
3 Leonard, Sara JR 246 Canyon/Anaheim-SS 2 17:26.7 0:01.1 5:36.5 3:29.3
4 Beitia, Alexandra SR 717 Granite Bay-SJS 3 17:30.4 0:04.8 5:37.7 3:30.1
5 Castillo, Mariah JR 1565 Saugus-SS 4 17:34.4 0:08.8 5:39.0 3:30.9
6 Almanza, Valerie SR 347 Channel Islands-SS — 17:40.0 0:14.4 5:40.8 3:32.0
7 Corda, Meredith SR 1129 Monte Vista-NCS 5 17:43.2 0:17.6 5:41.8 3:32.6
8 Thompson, Kaylee SR 1569 Saugus-SS 6 17:44.2 0:18.6 5:42.2 3:32.8
9 Schroeder, Erica SR 1528 San Marcos-SS 7 17:46.9 0:21.3 5:43.0 3:33.4
10 Fauria, Isabella FR 1652 St Francis (Sac)-SJS 8 17:49.4 0:23.8 5:43.8 3:33.9
11 Jawid, Maryam SR 1007 Lynbrook-CCS — 17:50.3 0:24.7 5:44.1 3:34.1
12 Bautista, Alyssa JR 253 Capistrano Valley-SS 9 17:54.9 0:29.3 5:45.6 3:35.0
13 Vandegrift, Sydney JR 1657 St Francis (Sac)-SJS 10 17:55.2 0:29.6 5:45.7 3:35.0
14 Boos, Annie SR 373 Claremont-SS 11 18:02.3 0:36.7 5:48.0 3:36.5
15 Hartke, Alize JR 1242 Oakmont-SJS — 18:03.8 0:38.2 5:48.5 3:36.8
16 Dobson, Isabella SR 602 Elk Grove-SJS — 18:04.2 0:38.7 5:48.6 3:36.8
17 Graves, Claire SR 371 Citrus Valley-SS — 18:04.5 0:39.0 5:48.7 3:36.9
18 Hwang, Sydney SO 375 Claremont-SS 12 18:06.1 0:40.5 5:49.2 3:37.2
19 Ramirez, Mikaela SO 63 Ayala-SS — 18:06.6 0:41.0 5:49.4 3:37.3
20 Olla, Amanda JR 1533 San Ramon Valley-NCS 13 18:11.9 0:46.3 5:51.1 3:38.4
21 Herberg, Haley JR 255 Capistrano Valley-SS 14 18:12.6 0:47.0 5:51.3 3:38.5
22 Loren, Kira SR 242 Canyon Crest-SDS 15 18:13.2 0:47.7 5:51.5 3:38.6
23 Locher, Madeleine FR 1846 Ventura-SS 16 18:18.3 0:52.7 5:53.1 3:39.7
24 Bohannon, Kai SR 932 Liberty-NCS — 18:18.7 0:53.1 5:53.3 3:39.7
25 Ramos, Sofia JR 1847 Ventura-SS 17 18:21.5 0:55.9 5:54.2 3:40.3
26 Moran, Laura SR 1160 Mt Carmel-SDS 18 18:27.7 1:02.2 5:56.2 3:41.5
27 Cascione, Jacqueline SO 1564 Saugus-SS 19 18:33.0 1:07.4 5:57.9 3:42.6
28 Segura-Mora, Azalea FR 378 Claremont-SS 20 18:34.0 1:08.4 5:58.2 3:42.8
29 Gonzalez, Lora SR 1949 Woodbridge-SS — 18:36.9 1:11.3 5:59.1 3:43.4
30 Ford, Unique FR 1009 Madera-CS — 18:38.0 1:12.5 5:59.5 3:43.6
31 Bartolotto, Kalea SO 690 Granada-NCS 21 18:39.4 1:13.9 5:59.9 3:43.9
32 Dorostkar, Carlie FR 240 Canyon Crest-SDS 22 18:40.0 1:14.4 6:00.1 3:44.0
33 Woodward, Jaxin SO 1814 Vacaville-SJS 23 18:41.7 1:16.1 6:00.6 3:44.3
34 Mcclure, Natalie SR 1526 San Marcos-SS 24 18:42.5 1:16.9 6:00.9 3:44.5
35 Garcia, Tatiana SR 1844 Ventura-SS 25 18:42.6 1:17.0 6:00.9 3:44.5
36 Debenedetti, Sophie SO 1651 St Francis (Sac)-SJS 26 18:42.9 1:17.3 6:01.1 3:44.6
37 Myjer, Serena JR 1154 Mountain View-CCS 27 18:46.4 1:20.8 6:02.2 3:45.3
38 Carr, Ashling FR 245 Canyon/Anaheim-SS 28 18:47.3 1:21.7 6:02.5 3:45.5
39 McKinney, Cessair SR 82 Bella Vista-SJS — 18:47.7 1:22.1 6:02.6 3:45.5
40 Sanchez, Patricia JR 1559 Santee EC-LAS 29 18:48.6 1:23.0 6:02.9 3:45.7
41 Heckers, Jax SR 374 Claremont-SS 30 18:49.6 1:24.0 6:03.2 3:45.9
42 O'Leary, Frances SO 376 Claremont-SS 31 18:51.9 1:26.3 6:03.9 3:46.4
43 Dupuis, Gracie SO 691 Granada-NCS 32 18:51.9 1:26.3 6:04.0 3:46.4
44 Zeiss, Phoebe SR 723 Granite Bay-SJS 33 18:53.0 1:27.5 6:04.3 3:46.6
45 Weyland, Ariana JR 251 Canyon/Anaheim-SS 34 18:53.7 1:28.1 6:04.5 3:46.7
46 Hernandez, Gabriela SO 1810 Vacaville-SJS 35 18:55.0 1:29.4 6:04.9 3:47.0
47 Ta-Perez, Zoe FR 250 Canyon/Anaheim-SS 36 18:55.3 1:29.7 6:05.0 3:47.1
48 Tavella, Kate SO 1535 San Ramon Valley-NCS 37 18:55.5 1:29.9 6:05.1 3:47.1
49 Ransweiler, Sierra FR 1534 San Ramon Valley-NCS 38 18:56.4 1:30.9 6:05.4 3:47.3
50 Tavella, Emma SO 1536 San Ramon Valley-NCS 39 18:56.8 1:31.2 6:05.5 3:47.4
51 Learn, Kassady SR 1375 Rancho Bernardo-SDS 40 18:57.7 1:32.1 6:05.8 3:47.5
52 McCandless, Colleen SO 695 Granada-NCS 41 18:58.0 1:32.4 6:05.9 3:47.6
53 Wilson, Kelli FR 1131 Monte Vista-NCS 42 18:58.0 1:32.4 6:05.9 3:47.6
54 Gonzalez, Julia JR 933 Liberty-NCS — 18:58.8 1:33.3 6:06.2 3:47.8
55 Hagerman, Quinn SO 1074 Merced-SJS — 19:00.1 1:34.6 6:06.6 3:48.0
56 Zheng, Hannah JR 514 Del Norte-SDS — 19:00.3 1:34.7 6:06.6 3:48.0
57 Coney, Madalyne JR 1127 Monte Vista-NCS 43 19:00.7 1:35.1 6:06.8 3:48.1
58 Rounds, Tess JR 377 Claremont-SS 44 19:00.9 1:35.3 6:06.8 3:48.2
59 Baeskens, Janelle SR 372 Claremont-SS 45 19:01.5 1:35.9 6:07.0 3:48.3
60 Colon, Ciara JR 1073 Merced-SJS — 19:02.5 1:36.9 6:07.4 3:48.5
61 Isom, Sidney SO 1130 Monte Vista-NCS 46 19:05.8 1:40.2 6:08.4 3:49.2
62 Miley, Jacqueline SO 1668 St. Francis (MV)-CCS 47 19:05.9 1:40.3 6:08.4 3:49.2
63 Cleary, Kaela JR 1522 San Marcos-SS 48 19:06.7 1:41.1 6:08.7 3:49.3
64 Wilson, Alex JR 1132 Monte Vista-NCS 49 19:07.3 1:41.7 6:08.9 3:49.5
65 Diaz, Areli SR 1725 Steele Canyon-SDS 50 19:07.9 1:42.3 6:09.1 3:49.6
66 Harper, Ali JR 1374 Rancho Bernardo-SDS 51 19:09.8 1:44.2 6:09.7 3:50.0
67 Bernd, Claire JR 238 Canyon Crest-SDS 52 19:10.8 1:45.2 6:10.0 3:50.2
68 Hacohen, Olivia SO 1083 Mira Costa-SS 53 19:10.9 1:45.3 6:10.1 3:50.2
69 Adornetto, Mya JR 1521 San Marcos-SS 54 19:12.0 1:46.4 6:10.4 3:50.4
70 Marks, Brystal JR 247 Canyon/Anaheim-SS 55 19:12.4 1:46.8 6:10.5 3:50.5
71 Salcedo, Devianna SO 1053 McFarland-CS 56 19:12.4 1:46.8 6:10.5 3:50.5
72 Downs, Katie FR 1360 Poway-SDS — 19:12.5 1:46.9 6:10.6 3:50.5
73 Liu, Angela JR 1008 Lynbrook-CCS — 19:13.3 1:47.7 6:10.8 3:50.7
74 MacPherson, Madison JR 934 Liberty-NCS — 19:13.4 1:47.8 6:10.9 3:50.7
75 Hawley, Katherine JR 1158 Mt Carmel-SDS 57 19:13.8 1:48.2 6:11.0 3:50.8
76 Bellers, Myrthe SO 831 Irvington-NCS — 19:14.0 1:48.4 6:11.0 3:50.8
77 Delgado, Amelia JR 1566 Saugus-SS 58 19:14.2 1:48.6 6:11.1 3:50.8
78 Chapkis, Corinne JR 239 Canyon Crest-SDS 59 19:14.3 1:48.7 6:11.1 3:50.8
79 Barretta, Kaelea FR 1570 Saugus-SS 60 19:16.0 1:50.4 6:11.7 3:51.2
80 Funk, Madison FR 1524 San Marcos-SS 61 19:17.5 1:51.9 6:12.2 3:51.5
81 Corona, Jackeline JR 165 Bravo Med Magnet-LAS — 19:17.7 1:52.1 6:12.2 3:51.5
82 Masar, Carlene JR 1727 Steele Canyon-SDS 62 19:20.2 1:54.6 6:13.0 3:52.0
83 Kosche, Paige SR 1845 Ventura-SS 63 19:22.5 1:56.9 6:13.8 3:52.5
84 Mangilog, Abigail SR 1113 Mitty-CCS — 19:23.6 1:58.0 6:14.1 3:52.7
85 Shea, Joyce JR 764 Gunn-CCS 64 19:27.0 2:01.4 6:15.2 3:53.4
86 Lourim, Allie SR 1654 St Francis (Sac)-SJS 65 19:27.8 2:02.2 6:15.5 3:53.6
87 Duncan, Cagnei SR 944 Liberty-Bakersfield-CS 66 19:28.5 2:02.9 6:15.7 3:53.7
88 Hollenbach, Emma FR 1653 St Francis (Sac)-SJS 67 19:29.0 2:03.4 6:15.9 3:53.8
89 Madgic, Emma SO 36 Aragon-CCS — 19:29.5 2:03.9 6:16.0 3:53.9
90 Jin, Isabella SO 256 Capistrano Valley-SS 68 19:30.2 2:04.6 6:16.3 3:54.0
91 Neach, Molly JR 1532 San Ramon Valley-NCS 69 19:30.5 2:04.9 6:16.3 3:54.1
92 Da Silva, Giovanna SO 1579 Scripps Ranch-SDS — 19:31.8 2:06.2 6:16.8 3:54.4
93 Roesch, Alissa SR 1728 Steele Canyon-SDS 70 19:32.7 2:07.1 6:17.1 3:54.5
94 Wray, Makenzie FR 1730 Steele Canyon-SDS 71 19:34.6 2:09.0 6:17.7 3:54.9
95 Inouye, Brooke SO 1084 Mira Costa-SS 72 19:36.1 2:10.5 6:18.1 3:55.2
96 Kroger, Hailey FR 258 Capistrano Valley-SS 73 19:36.6 2:11.0 6:18.3 3:55.3
97 Jones, Emily SR 1085 Mira Costa-SS 74 19:38.5 2:12.9 6:18.9 3:55.7
98 Smith, Brianna SR 802 Hilltop-SDS — 19:38.6 2:13.0 6:19.0 3:55.7
99 Boren, Sedona SR 1843 Ventura-SS 75 19:39.1 2:13.5 6:19.1 3:55.8
100 Cervantes, Lauren SO 1126 Monte Vista-NCS 76 19:39.4 2:13.8 6:19.2 3:55.9
101 Andrade, Sierra SR 1079 Mira Costa-SS 77 19:39.9 2:14.3 6:19.4 3:56.0
102 Suarez, Imelda JR 1115 Monache-CS — 19:39.9 2:14.3 6:19.4 3:56.0
103 Stevens, Alexis JR 259 Capistrano Valley-SS 78 19:40.6 2:15.0 6:19.6 3:56.1
104 Sanchez, Nickie SO 948 Liberty-Bakersfield-CS 79 19:40.8 2:15.2 6:19.7 3:56.2
105 Berexa, Noelle SR 718 Granite Bay-SJS 80 19:41.3 2:15.7 6:19.8 3:56.3
106 Cornillon, Carla JR 1663 St. Francis (MV)-CCS 81 19:42.0 2:16.4 6:20.1 3:56.4
107 Manzuk, Jessica SO 1726 Steele Canyon-SDS 82 19:42.6 2:17.0 6:20.2 3:56.5
108 Malone, Madeleine JR 1811 Vacaville-SJS 83 19:43.7 2:18.1 6:20.6 3:56.7
109 Shallal, Janelle SO 1729 Steele Canyon-SDS 84 19:45.1 2:19.5 6:21.1 3:57.0
110 Park, Mackenna JR 1567 Saugus-SS 85 19:46.0 2:20.4 6:21.3 3:57.2
111 Erturk, Zoe FR 241 Canyon Crest-SDS 86 19:47.1 2:21.5 6:21.7 3:57.4
112 Gould, Shannon FR 1151 Mountain View-CCS 87 19:48.1 2:22.5 6:22.0 3:57.6
113 Bigley, Danielle JR 254 Capistrano Valley-SS 88 19:48.8 2:23.2 6:22.2 3:57.8
114 Beck, Erin JR 237 Canyon Crest-SDS 89 19:49.7 2:24.1 6:22.5 3:57.9
115 Guinchard, Daisy SO 692 Granada-NCS 90 19:51.2 2:25.6 6:23.0 3:58.2
116 Cruz Beltran, Stephanie JR 1777 University-LAS — 19:52.0 2:26.4 6:23.3 3:58.4
117 Fry, Amber SO 1150 Mountain View-CCS 91 19:52.4 2:26.8 6:23.4 3:58.5
118 Coli, Madeleine JR 1661 St. Francis (MV)-CCS 92 19:53.3 2:27.7 6:23.7 3:58.7
119 Guerrero, Gaby SR 1080 Mira Costa-SS 93 19:54.0 2:28.4 6:23.9 3:58.8
120 Aberson, Cassidy SR 1808 Vacaville-SJS 94 19:54.8 2:29.2 6:24.2 3:59.0
121 Jones, Sophie SO 1159 Mt Carmel-SDS 95 19:55.5 2:29.9 6:24.4 3:59.1
122 Kredo, Jada SO 257 Capistrano Valley-SS 96 19:56.7 2:31.1 6:24.8 3:59.3
123 Davis, Abby JR 1568 Saugus-SS 97 19:56.7 2:31.1 6:24.8 3:59.3
124 Skinner, Elizabeth SO 248 Canyon/Anaheim-SS 98 19:56.9 2:31.3 6:24.8 3:59.4
125 Joffe, Gabrielle JR 1152 Mountain View-CCS 99 19:58.0 2:32.4 6:25.2 3:59.6
126 Shreedar, Priyanka SR 1162 Mt Carmel-SDS 100 19:58.4 2:32.8 6:25.3 3:59.7
127 Torsney, Haley JR 1672 St. Francis (MV)-CCS 101 19:58.6 2:33.0 6:25.4 3:59.7
128 Poczobutt, Jordan SR 721 Granite Bay-SJS 102 20:02.1 2:36.5 6:26.5 4:00.4
129 Bleakley, Imogen JR 1371 Rancho Bernardo-SDS 103 20:05.7 2:40.1 6:27.7 4:01.1
130 Tivadar, Alyssa JR 1376 Rancho Bernardo-SDS 104 20:06.1 2:40.5 6:27.8 4:01.2
131 Lawsen, Kaylie SR 693 Granada-NCS 105 20:06.5 2:40.9 6:27.9 4:01.3
132 Tigert, Allie SO 1813 Vacaville-SJS 106 20:06.7 2:41.1 6:28.0 4:01.3
133 Hu, Claire SR 763 Gunn-CCS 107 20:08.0 2:42.4 6:28.4 4:01.6
134 Quinones, Alyssa JR 1114 Monache-CS — 20:08.7 2:43.1 6:28.6 4:01.7
135 Zambrano, Olivia JR 1010 Madera-CS — 20:09.0 2:43.4 6:28.7 4:01.8
136 Coney, Audrey JR 1128 Monte Vista-NCS 108 20:11.2 2:45.6 6:29.5 4:02.2
137 Digman, Emma JR 1809 Vacaville-SJS 109 20:11.9 2:46.3 6:29.7 4:02.4
138 Valles, Brianna FR 1056 McFarland-CS 110 20:12.3 2:46.7 6:29.8 4:02.4
139 Tolosa, Alisann SO 1848 Ventura-SS 111 20:12.7 2:47.1 6:29.9 4:02.5
140 Alberts, Paighton SR 1842 Ventura-SS 112 20:12.8 2:47.2 6:30.0 4:02.6
141 Diaz, Alyssa SR 1050 McFarland-CS 113 20:12.8 2:47.2 6:30.0 4:02.6
142 Torres, Yuviana JR 1055 McFarland-CS 114 20:13.7 2:48.1 6:30.2 4:02.7
143 Reyna, Alana JR 1655 St Francis (Sac)-SJS 115 20:15.3 2:49.7 6:30.8 4:03.1
144 Smitham, Naomi JR 243 Canyon Crest-SDS 116 20:17.6 2:52.0 6:31.5 4:03.5
145 Chu, Katelyn FR 1660 St. Francis (MV)-CCS 117 20:17.9 2:52.3 6:31.6 4:03.6
146 Boyd, Kasey SO 1156 Mt Carmel-SDS 118 20:19.7 2:54.1 6:32.2 4:03.9
147 Hahn, Jordan FR 1830 Valley Chr.(CCS)-CCS — 20:20.1 2:54.5 6:32.3 4:04.0
148 Boaz, Allison SO 1372 Rancho Bernardo-SDS 119 20:21.7 2:56.1 6:32.8 4:04.3
149 Alexis, Sophie FR 759 Gunn-CCS 120 20:21.9 2:56.3 6:32.9 4:04.4
150 Roe, Lauren SO 1812 Vacaville-SJS 121 20:22.8 2:57.2 6:33.2 4:04.5
151 Espinoza, Gabrielle SO 720 Granite Bay-SJS 122 20:23.5 2:57.9 6:33.4 4:04.7
152 Perez, Jennifer SR 1557 Santee EC-LAS 123 20:24.0 2:58.4 6:33.5 4:04.8
153 Morris, Sophia JR 1669 St. Francis (MV)-CCS 124 20:25.8 3:00.2 6:34.1 4:05.2
154 Palacios, Melissa FR 1999 Bravo Med Magnet-LAS — 20:30.4 3:04.8 6:35.6 4:06.1
155 Gregson-Williams, Jessie SR 1082 Mira Costa-SS 125 20:34.8 3:09.2 6:37.0 4:06.9
156 Cobieya, Stephanie SO 344 Cesar Chavez-LAS — 20:36.0 3:10.4 6:37.4 4:07.2
157 Lopez, Emilia JR 1555 Santee EC-LAS 126 20:36.4 3:10.8 6:37.5 4:07.3
158 Farris, Lauren JR 1724 Steele Canyon-SDS 127 20:37.0 3:11.4 6:37.7 4:07.4
159 Silva, Haley FR 1656 St Francis (Sac)-SJS 128 20:41.1 3:15.5 6:39.0 4:08.2
160 Taylor, Mia SO 722 Granite Bay-SJS 129 20:45.5 3:19.9 6:40.5 4:09.1
161 Bihari, Kinga SO 1998 Granada-NCS 130 20:49.2 3:23.6 6:41.7 4:09.8
162 Stark, Denie SO 249 Canyon/Anaheim-SS 131 20:52.3 3:26.7 6:42.7 4:10.5
163 Siam Alvarez, Genesis SR 1560 Santee EC-LAS 132 20:52.4 3:26.8 6:42.7 4:10.5
164 Yancich, Mia JR 2000 San Ramon Valley-NCS 133 20:53.0 3:27.4 6:42.9 4:10.6
165 Cheng, Amy FR 760 Gunn-CCS 134 20:54.4 3:28.8 6:43.3 4:10.9
166 Smith, Sophia SR 1671 St. Francis (MV)-CCS 135 20:55.9 3:30.3 6:43.8 4:11.2
167 Twoy, Abigail JR 766 Gunn-CCS 136 20:59.0 3:33.4 6:44.8 4:11.8
168 Wheeler, Rachel SR 950 Liberty-Bakersfield-CS 137 21:02.4 3:36.8 6:45.9 4:12.5
169 Krock, Lyla SO 1525 San Marcos-SS 138 21:02.7 3:37.1 6:46.0 4:12.5
170 Dismuke, Kylee SO 1386 Redwood(CS)-CS — 21:03.2 3:37.6 6:46.2 4:12.6
171 Withers, Morgan JR 1377 Rancho Bernardo-SDS 139 21:11.2 3:45.6 6:48.7 4:14.2
172 Nguyen, Jennifer SR 1161 Mt Carmel-SDS 140 21:11.6 3:46.0 6:48.9 4:14.3
173 Chose, Chloe JR 1373 Rancho Bernardo-SDS 141 21:13.0 3:47.4 6:49.3 4:14.6
174 White, Audrey JR 1155 Mountain View-CCS 142 21:14.5 3:48.9 6:49.8 4:14.9
175 Rodgers, Shelby JR 947 Liberty-Bakersfield-CS 143 21:26.4 4:00.8 6:53.6 4:17.3
176 Pearlman, Emily SR 1527 San Marcos-SS 144 21:28.3 4:02.7 6:54.2 4:17.7
177 Silva, Eileen JR 1561 Santee EC-LAS 145 21:29.5 4:03.9 6:54.6 4:17.9
178 Davidian, Claire SO 719 Granite Bay-SJS 146 21:39.7 4:14.1 6:57.9 4:19.9
179 Fidler, Piercynn JR 945 Liberty-Bakersfield-CS 147 21:44.2 4:18.6 6:59.3 4:20.8
180 Englhardt, Addison FR 765 Gunn-CCS 148 21:44.8 4:19.2 6:59.5 4:21.0
181 Picard, Killian SO 1157 Mt Carmel-SDS 149 21:52.2 4:26.6 7:01.9 4:22.4
182 Chiao, Emma JR 762 Gunn-CCS 150 21:54.9 4:29.3 7:02.8 4:23.0
183 Leigh, Paula FR 694 Granada-NCS 151 22:00.5 4:34.9 7:04.6 4:24.1
184 Resendez, Ryan SR 946 Liberty-Bakersfield-CS 152 22:01.9 4:36.3 7:05.0 4:24.4
185 Argueta, Marcela SO 236 Canoga Park-LAS — 22:02.8 4:37.2 7:05.3 4:24.6
186 Perez, Cecilia SR 1556 Santee EC-LAS 153 22:03.3 4:37.7 7:05.5 4:24.7
187 Rojas, Carina JR 1558 Santee EC-LAS 154 22:17.6 4:52.0 7:10.1 4:27.5
188 Diaz, Dyaneli SO 1051 McFarland-CS 155 22:33.9 5:08.3 7:15.3 4:30.8
189 Vander Poel, Hannah SR 949 Liberty-Bakersfield-CS 156 22:37.8 5:12.2 7:16.6 4:31.6
190 Coleman, Grace FR 1531 San Ramon Valley-NCS 157 22:46.2 5:20.6 7:19.3 4:33.2
191 Brown, Alex SR 1148 Mountain View-CCS 158 22:56.4 5:30.8 7:22.6 4:35.3
192 Nunez, Angeles SR 1052 McFarland-CS 159 23:10.4 5:44.8 7:27.1 4:38.1
Race #8
Division I Girls
Final Standings Score Scoring Order Total Avg. Finish Order Spread Section
1 Great Oak-SS 47 3-8-9-11-16 (20) (25) 1:29:17 17:52 3-8-11-15-20-24-30 0:36.5
2 Davis-SJS 67 1-5-14-21-26 (60) (79) 1:29:55 17:59 1-5-18-25-31-78-100 0:57.0
3 Buchanan-CS 139 4-6-34-46-49 (54) (107) 1:31:55 18:23 4-6-44-59-63-69-133 1:26.6
4 Arcadia-SS 181 18-27-38-47-51 (56) (91) 1:33:39 18:44 22-32-50-60-66-72-115 0:50.5
5 Dana Hills-SS 193 28-30-36-37-62 (65) (88) 1:33:46 18:46 34-36-47-48-80-84-111 0:45.4
6 King M.L.-SS 242 2-23-59-61-97 (124) (125) 1:34:15 18:51 2-27-76-79-122-157-158 2:25.5
7 Vista Murrieta-SS 243 31-44-45-48-75 (81) 1:35:02 19:01 37-56-58-62-96-103 0:55.9
8 Yucaipa-SS 255 29-35-53-55-83 (102) (128) 1:35:03 19:01 35-45-68-71-105-128-162 1:00.7
9 Woodcreek-SJS 305 12-57-73-76-87 (113) (158) 1:35:41 19:09 16-73-94-97-110-141-197 1:37.9
10 El Toro-SS 307 7-39-69-89-103 (112) (117) 1:35:26 19:06 7-51-89-112-129-140-145 2:18.5
11 Oak Ridge-SJS 308 10-22-42-101-133 (136) (159) 1:36:08 19:14 14-26-54-127-169-173-198 3:02.6
12 Westview-SDS 338* 19-43-71-90-115 (130) (138) 1:36:40 19:20 23-55-92-114-143-165-175 2:02.5
13 Homestead-CCS 338* 17-41-52-109-119 (134) (137) 1:36:54 19:23 21-53-67-136-147-171-174 2:12.5
14 Covis North-CS 344 15-66-80-84-99 (114) (129) 1:36:26 19:18 19-85-102-106-124-142-164 1:49.4
15 Torrey Pines-SDS 372 50-63-82-85-92 (94) (110) 1:37:13 19:27 65-81-104-107-116-118-137 0:42.1
16 Palisades Charter-LAS 400 24-74-77-98-127 (143) (145) 1:37:58 19:36 29-95-98-123-161-182-184 2:14.8
17 Oakland Tech-OS 409 32-33-96-106-142 (146) (160) 1:38:40 19:44 41-43-120-132-181-185-199 2:45.7
18 Clovis-CS 438 40-58-86-123-131 (139) (151) 1:39:07 19:50 52-75-108-155-166-176-190 2:02.7
19 Monta Vista-CCS 459 64-67-104-108-116 (122) (141) 1:39:07 19:50 83-86-130-134-144-152-180 1:04.3
20 Lowell-SFS 484 13-68-105-144-154 (155) (156) 1:41:02 20:13 17-87-131-183-193-194-195 4:05.6
21 Granada Hills Chtr-LAS 531 72-100-118-120-121 (147) (157) 1:40:43 20:09 93-126-146-148-151-186-196 1:07.3
22 Dougherty Vly.-NCS 554 70-93-111-132-148 (149) (150) 1:42:01 20:25 91-117-138-168-187-188-189 2:16.2
23 Castro Valley-NCS 574 78-95-126-135-140 (152) (153) 1:42:22 20:29 99-119-160-172-179-191-192 1:51.1
Individual Results
Athlete # Team Score Time Gap Avg. Mile Avg. kM
1 O'Keeffe, Olivia JR 509 Davis-SJS 1 17:28.9 — 5:37.2 3:29.8
2 Peurifoy, Lauren SO 891 King M.L.-SS 2 17:29.3 0:00.5 5:37.4 3:29.9
3 Rice, Nicole SR 741 Great Oak-SS 3 17:32.5 0:03.6 5:38.4 3:30.5
4 Smith, Corie FR 189 Buchanan-CS 4 17:35.8 0:06.9 5:39.5 3:31.2
5 Castiglioni, Sofia SR 504 Davis-SJS 5 17:35.9 0:07.0 5:39.5 3:31.2
6 Lowe, Meagen SO 186 Buchanan-CS 6 17:36.7 0:07.8 5:39.7 3:31.3
7 Tobin, Hannah SR 601 El Toro-SS 7 17:41.0 0:12.1 5:41.1 3:32.2
8 Mandel, Evelyn SR 738 Great Oak-SS 8 17:43.1 0:14.2 5:41.8 3:32.6
9 Virtue, Emily JR 197 Burroughs/Bbnk-SS — 17:48.2 0:19.3 5:43.5 3:33.6
10 Arriaga, Chloe SO 1877 Walnut-SS — 17:49.2 0:20.3 5:43.8 3:33.8
11 Beatty, Kiyena SR 735 Great Oak-SS 9 17:53.3 0:24.4 5:45.1 3:34.6
12 Von Scherr, Akemi FR 917 La Quinta (L.Q.)-SS — 17:54.6 0:25.7 5:45.5 3:34.9
13 Arriaga, Emma SO 1878 Walnut-SS — 17:55.7 0:26.8 5:45.9 3:35.1
14 Denner, Maddy JR 1220 Oak Ridge-SJS 10 17:55.9 0:27.0 5:45.9 3:35.2
15 Belus, Sydney SR 736 Great Oak-SS 11 17:58.6 0:29.7 5:46.8 3:35.7
16 Dipentino, Angela SR 1951 Woodcreek-SJS 12 17:58.8 0:29.9 5:46.9 3:35.8
17 Brill, Sierra SR 985 Lowell-SFS 13 17:59.9 0:31.0 5:47.2 3:36.0
18 Lodigiani, Sophia SO 506 Davis-SJS 14 18:02.9 0:34.0 5:48.2 3:36.6
19 Dolan, Blayney JR 464 Covis North-CS 15 18:06.7 0:37.8 5:49.4 3:37.3
20 Pflughoft, Sandra JR 740 Great Oak-SS 16 18:08.9 0:40.0 5:50.1 3:37.8
21 Kamas, Elena JR 806 Homestead-CCS 17 18:13.9 0:45.0 5:51.7 3:38.8
22 Lung, Holly SR 40 Arcadia-SS 18 18:16.8 0:47.9 5:52.6 3:39.3
23 Barrett, Erica SR 1922 Westview-SDS 19 18:18.4 0:49.5 5:53.2 3:39.7
24 Ito, Devin FR 737 Great Oak-SS 20 18:19.7 0:50.8 5:53.6 3:39.9
25 Mitchell, Aniela SO 507 Davis-SJS 21 18:21.1 0:52.2 5:54.0 3:40.2
26 Denner, Elena JR 1221 Oak Ridge-SJS 22 18:21.3 0:52.4 5:54.1 3:40.2
27 Pendleton, Rebekah SR 890 King M.L.-SS 23 18:23.2 0:54.3 5:54.7 3:40.6
28 Nowag-Nelson, Clarissa JR 1047 McClatchy-SJS — 18:24.7 0:55.8 5:55.2 3:40.9
29 Copeland, Lila FR 1288 Palisades Charter-LAS 24 18:25.0 0:56.1 5:55.3 3:41.0
30 Mcintosh, Michelle SR 739 Great Oak-SS 25 18:25.6 0:56.7 5:55.5 3:41.1
31 Fisk, Abigail SR 505 Davis-SJS 26 18:25.8 0:56.9 5:55.6 3:41.2
32 He, Jasmine JR 37 Arcadia-SS 27 18:28.4 0:59.5 5:56.4 3:41.7
33 Hartwell, Hannah SO 275 Carlsbad-SDS — 18:28.5 0:59.7 5:56.4 3:41.7
34 Kaloroumakis, Kathryn SR 492 Dana Hills-SS 28 18:29.3 1:00.4 5:56.7 3:41.9
35 Gaitan, Tori FR 1990 Yucaipa-SS 29 18:32.1 1:03.2 5:57.6 3:42.4
36 Keyvan, Leila SO 493 Dana Hills-SS 30 18:32.4 1:03.5 5:57.7 3:42.5
37 Candaele, Peyton SO 1870 Vista Murrieta-SS 31 18:32.6 1:03.7 5:57.7 3:42.5
38 Beltran-Picos, Mariana SO 1250 Olympian-SDS — 18:35.2 1:06.3 5:58.6 3:43.0
39 Drisko, Kendall JR 274 Carlsbad-SDS — 18:36.7 1:07.8 5:59.1 3:43.3
40 Penn, Rylee JR 332 Centennial/Corona-SS — 18:36.8 1:07.9 5:59.1 3:43.3
41 Ross, Johanna SR 1232 Oakland Tech-OS 32 18:38.6 1:09.7 5:59.7 3:43.7
42 Cornell, Caitlin FR 1523 San Marcos-SDS — 18:39.4 1:10.5 5:59.9 3:43.9
43 Garrett, Caroline SO 1229 Oakland Tech-OS 33 18:40.2 1:11.3 6:00.2 3:44.0
44 Nili, Katie JR 188 Buchanan-CS 34 18:40.3 1:11.4 6:00.2 3:44.0
45 Mason, Mackenna SR 1993 Yucaipa-SS 35 18:40.7 1:11.8 6:00.3 3:44.1
46 Jalal, Oriana FR 489 Cupertino-CCS — 18:40.9 1:12.0 6:00.4 3:44.2
47 Soto, Lauren SO 495 Dana Hills-SS 36 18:44.3 1:15.5 6:01.5 3:44.9
48 Meng, Sarah SO 494 Dana Hills-SS 37 18:44.7 1:15.8 6:01.6 3:44.9
49 Miessner, Patricia FR 564 Eastlake-SDS — 18:45.0 1:16.1 6:01.7 3:45.0
50 Yamane, Eryca JR 43 Arcadia-SS 38 18:45.1 1:16.2 6:01.8 3:45.0
51 Messineo, Ashley JR 597 El Toro-SS 39 18:46.5 1:17.6 6:02.2 3:45.3
52 Herrera, Olivia SO 390 Clovis-CS 40 18:52.9 1:24.0 6:04.3 3:46.6
53 Allen, Lindsay SR 804 Homestead-CCS 41 18:53.4 1:24.5 6:04.4 3:46.7
54 Dean, Haley JR 1219 Oak Ridge-SJS 42 18:54.3 1:25.4 6:04.7 3:46.8
55 Misuraca, Ellie JR 1925 Westview-SDS 43 18:55.3 1:26.4 6:05.0 3:47.1
56 Strahan, Amelia SR 1874 Vista Murrieta-SS 44 18:58.8 1:29.9 6:06.2 3:47.7
57 Copeland, Kat SR 629 Folsom-SJS — 18:59.2 1:30.4 6:06.3 3:47.8
58 Diaz, Julie SR 1871 Vista Murrieta-SS 45 18:59.4 1:30.5 6:06.4 3:47.9
59 Dolberg, Amanda FR 183 Buchanan-CS 46 18:59.6 1:30.7 6:06.4 3:47.9
60 Liang, Cindy SR 39 Arcadia-SS 47 19:01.3 1:32.4 6:07.0 3:48.3
61 Fernandez-Ramirez, Jicel SO 570 El Camino Real-LAS — 19:01.7 1:32.8 6:07.1 3:48.3
62 Werner, Annabelle JR 1876 Vista Murrieta-SS 48 19:02.1 1:33.2 6:07.2 3:48.4
63 Hernandez, Clare JR 184 Buchanan-CS 49 19:02.3 1:33.4 6:07.3 3:48.5
64 Garcia, Briseida SO 757 Gregori-SJS — 19:03.5 1:34.6 6:07.7 3:48.7
65 Aguiar, Isabella JR 1761 Torrey Pines-SDS 50 19:04.9 1:36.0 6:08.1 3:49.0
66 Wu, Joyce SO 42 Arcadia-SS 51 19:07.2 1:38.3 6:08.9 3:49.4
67 Williams, Kaitlyn SO 817 Homestead-CCS 52 19:07.4 1:38.5 6:08.9 3:49.5
68 Gee, Danielle FR 1991 Yucaipa-SS 53 19:07.9 1:39.0 6:09.1 3:49.6
69 Mora, Mackenzie SR 187 Buchanan-CS 54 19:08.2 1:39.3 6:09.2 3:49.6
70 David, Eden JR 456 Cosumnes Oaks-SJS — 19:08.7 1:39.8 6:09.4 3:49.7
71 Parr, Madison JR 1994 Yucaipa-SS 55 19:09.1 1:40.2 6:09.5 3:49.8
72 Huang, Joy SR 38 Arcadia-SS 56 19:09.8 1:40.9 6:09.7 3:49.9
73 Mellquist, Annika JR 1955 Woodcreek-SJS 57 19:10.6 1:41.7 6:10.0 3:50.1
74 Chiem, Apryl SO 613 Evergreen Val.-CCS — 19:12.0 1:43.1 6:10.4 3:50.4
75 Chavira, Vannessa SR 1996 Clovis-CS 58 19:12.2 1:43.3 6:10.5 3:50.4
76 Mavhera, Kela FR 889 King M.L.-SS 59 19:13.0 1:44.1 6:10.7 3:50.6
77 Howell, Annmarie SR 1547 Santa Teresa-CCS — 19:13.8 1:44.9 6:11.0 3:50.8
78 Mitchell, Charlotte SO 508 Davis-SJS 60 19:14.1 1:45.2 6:11.1 3:50.8
79 Janes, Allison JR 888 King M.L.-SS 61 19:14.5 1:45.6 6:11.2 3:50.9
80 Geiger, Megan SO 491 Dana Hills-SS 62 19:14.7 1:45.8 6:11.3 3:50.9
81 Beeler, Vanessa JR 1762 Torrey Pines-SDS 63 19:15.5 1:46.6 6:11.5 3:51.1
82 Reid, Ashley JR 1048 McClatchy-SJS — 19:15.6 1:46.7 6:11.5 3:51.1
83 Bishop, Kelly SR 1119 Monta Vista-CCS 64 19:16.8 1:47.9 6:11.9 3:51.3
84 White, Alyssa SR 496 Dana Hills-SS 65 19:17.2 1:48.3 6:12.1 3:51.4
85 Monoogian, Pari SR 467 Covis North-CS 66 19:18.3 1:49.4 6:12.4 3:51.6
86 Feng, Sarah SO 1121 Monta Vista-CCS 67 19:18.4 1:49.5 6:12.5 3:51.7
87 Ewe, Natalie JR 987 Lowell-SFS 68 19:19.2 1:50.3 6:12.7 3:51.8
88 Fick, Ryley JR 331 Centennial-CS — 19:19.3 1:50.4 6:12.8 3:51.9
89 Thompson, Jasmine SO 600 El Toro-SS 69 19:20.8 1:51.9 6:13.2 3:52.2
90 Schultz, Chloe FR 403 Clovis East-CS — 19:20.9 1:52.0 6:13.3 3:52.2
91 Grewal, Aushmitha SO 542 Dougherty Vly.-NCS 70 19:21.5 1:52.6 6:13.4 3:52.3
92 Sullivan, Maddy SO 1927 Westview-SDS 71 19:21.9 1:53.0 6:13.6 3:52.4
93 Larbaoui, Tanya JR 707 Granada Hills Chtr-LAS 72 19:21.9 1:53.0 6:13.6 3:52.4
94 Irvine, Lisa FR 1954 Woodcreek-SJS 73 19:26.1 1:57.2 6:14.9 3:53.2
95 Samandi, Kimia JR 1293 Palisades Charter-LAS 74 19:28.2 1:59.3 6:15.6 3:53.6
96 Van Riper, Ariel SO 1875 Vista Murrieta-SS 75 19:28.5 1:59.6 6:15.7 3:53.7
97 Graves, Anitha JR 1953 Woodcreek-SJS 76 19:28.5 1:59.6 6:15.7 3:53.7
98 Bentley, Sarah FR 1287 Palisades Charter-LAS 77 19:28.8 1:59.9 6:15.8 3:53.7
99 Newlin, Danika SR 299 Castro Valley-NCS 78 19:29.2 2:00.3 6:15.9 3:53.8
100 Taylor, Sage JR 510 Davis-SJS 79 19:29.7 2:00.8 6:16.1 3:53.9
101 Barahona, Naomi SR 569 El Camino Real-LAS — 19:31.1 2:02.2 6:16.5 3:54.2
102 Lustyan, Taylor SR 466 Covis North-CS 80 19:31.5 2:02.6 6:16.7 3:54.3
103 Potter, Brianna FR 1872 Vista Murrieta-SS 81 19:31.9 2:03.0 6:16.8 3:54.4
104 Ramirez, Ines SR 1767 Torrey Pines-SDS 82 19:32.4 2:03.5 6:17.0 3:54.5
105 Gee, Sarah JR 1992 Yucaipa-SS 83 19:32.7 2:03.8 6:17.1 3:54.5
106 Simonian, Lauren SR 469 Covis North-CS 84 19:32.9 2:04.0 6:17.1 3:54.6
107 Dinkin, Gabi SR 1763 Torrey Pines-SDS 85 19:33.1 2:04.2 6:17.2 3:54.6
108 Lewis, Mckenna JR 391 Clovis-CS 86 19:33.8 2:04.9 6:17.4 3:54.8
109 Wikstrom, Eleanor FR 1619 Skyline-OS — 19:36.1 2:07.2 6:18.2 3:55.2
110 Tami, Claire JR 1956 Woodcreek-SJS 87 19:36.7 2:07.8 6:18.3 3:55.3
111 Boyar, Leyla SO 490 Dana Hills-SS 88 19:37.6 2:08.7 6:18.6 3:55.5
112 Neuville, Alexis FR 598 El Toro-SS 89 19:38.4 2:09.5 6:18.9 3:55.7
113 Clayton, Kayla SR 1512 Salinas-CCS — 19:40.0 2:11.1 6:19.4 3:56.0
114 Winter, Alyssa SR 1928 Westview-SDS 90 19:43.1 2:14.2 6:20.4 3:56.6
115 Ramirez, Gabriela SR 41 Arcadia-SS 91 19:46.5 2:17.6 6:21.5 3:57.3
116 Preske, Kylie JR 1766 Torrey Pines-SDS 92 19:47.0 2:18.1 6:21.6 3:57.4
117 Jindrich, Kayla SR 543 Dougherty Vly.-NCS 93 19:49.5 2:20.6 6:22.5 3:57.9
118 Kamel, Habeeba JR 1764 Torrey Pines-SDS 94 19:50.6 2:21.7 6:22.8 3:58.1
119 Parades, Monica SR 300 Castro Valley-NCS 95 19:51.4 2:22.5 6:23.1 3:58.3
120 Mansell, Emily SO 1231 Oakland Tech-OS 96 19:51.7 2:22.8 6:23.2 3:58.3
121 Wikstrom, Clarisse SR 1618 Skyline-OS — 19:52.0 2:23.1 6:23.3 3:58.4
122 Sosa, Amanda SO 893 King M.L.-SS 97 19:54.8 2:25.9 6:24.2 3:58.9
123 Darrow, Brittany SO 1289 Palisades Charter-LAS 98 19:56.0 2:27.1 6:24.6 3:59.2
124 Simonian, Taylor FR 470 Covis North-CS 99 19:56.1 2:27.2 6:24.6 3:59.2
125 Madron, Mackenzie FR 402 Clovis East-CS — 19:57.9 2:29.0 6:25.2 3:59.6
126 Delgado, Lauren FR 706 Granada Hills Chtr-LAS 100 19:57.9 2:29.0 6:25.2 3:59.6
127 Green, Sage JR 1223 Oak Ridge-SJS 101 19:58.1 2:29.2 6:25.2 3:59.6
128 Button, Brittani JR 1989 Yucaipa-SS 102 19:58.4 2:29.5 6:25.3 3:59.7
129 Slouka, Taylor SO 599 El Toro-SS 103 19:59.5 2:30.6 6:25.7 3:59.9
130 Roy, Triya FR 1124 Monta Vista-CCS 104 20:00.8 2:31.9 6:26.1 4:00.2
131 Young, Alyssa JR 991 Lowell-SFS 105 20:03.2 2:34.3 6:26.9 4:00.6
132 Schafer, Nell SO 1233 Oakland Tech-OS 106 20:04.8 2:35.9 6:27.4 4:00.9
133 Nardella, Ellie SR 185 Buchanan-CS 107 20:09.0 2:40.1 6:28.7 4:01.8
134 Chang, Claire SO 1120 Monta Vista-CCS 108 20:09.5 2:40.6 6:28.9 4:01.9
135 Jimenez, Miranda FR 1299 Palo Alto-CCS — 20:10.1 2:41.2 6:29.1 4:02.0
136 O'brien, Jillian JR 814 Homestead-CCS 109 20:12.3 2:43.4 6:29.8 4:02.4
137 Largerie, Emma JR 1765 Torrey Pines-SDS 110 20:12.9 2:44.0 6:30.0 4:02.6
138 O'Malley, Tarra JR 545 Dougherty Vly.-NCS 111 20:13.9 2:45.0 6:30.3 4:02.8
139 Phillips, Sophie SR 113 Berkeley-NCS — 20:15.4 2:46.5 6:30.8 4:03.1
140 Ballidis, Alexus SR 595 El Toro-SS 112 20:18.7 2:49.8 6:31.9 4:03.7
141 Bohannon, Laura SR 1950 Woodcreek-SJS 113 20:19.5 2:50.6 6:32.1 4:03.9
142 Lienau, Lauren SR 465 Covis North-CS 114 20:20.3 2:51.4 6:32.4 4:04.1
143 Derr, Taryn JR 1923 Westview-SDS 115 20:20.8 2:51.9 6:32.5 4:04.2
144 Meyyappan, Parvathi SR 1123 Monta Vista-CCS 116 20:21.0 2:52.1 6:32.6 4:04.2
145 Martinez, Jessica FR 596 El Toro-SS 117 20:21.4 2:52.5 6:32.7 4:04.3
146 Brard, Kaylee FR 703 Granada Hills Chtr-LAS 118 20:25.1 2:56.2 6:33.9 4:05.0
147 Hasser, Rebecca JR 805 Homestead-CCS 119 20:26.4 2:57.5 6:34.3 4:05.3
148 Martinez, Maya FR 709 Granada Hills Chtr-LAS 120 20:28.3 2:59.4 6:34.9 4:05.6
149 Bosede, Oluwabukola JR 116 Birmingham CommChtr-LAS — 20:28.5 2:59.6 6:35.0 4:05.7
150 Richardson, Maya JR 1529 San Pedro-LAS — 20:28.8 2:59.9 6:35.1 4:05.7
151 De Los Santos, Estefania SO 705 Granada Hills Chtr-LAS 121 20:29.1 3:00.2 6:35.2 4:05.8
152 Majjiga, Akshara JR 1122 Monta Vista-CCS 122 20:30.4 3:01.5 6:35.6 4:06.1
153 Cholometes, Alexandra JR 1738 Stockdale-CS — 20:31.8 3:02.9 6:36.0 4:06.3
154 Ryan, Hannah SR 1879 Washington-SFS — 20:32.3 3:03.4 6:36.2 4:06.5
155 Serna, Genevieve SR 393 Clovis-CS 123 20:32.3 3:03.4 6:36.2 4:06.5
156 Ballesteros, Delmy SO 1118 Monroe-LAS — 20:35.1 3:06.2 6:37.1 4:07.0
157 Ramos, Joelle JR 892 King M.L.-SS 124 20:35.3 3:06.4 6:37.2 4:07.1
158 Smith, Skylar SO 887 King M.L.-SS 125 20:36.2 3:07.3 6:37.5 4:07.2
159 Neumann, Kayla JR 205 California-NCS — 20:36.9 3:08.0 6:37.7 4:07.4
160 Lunt, Leikela FR 296 Castro Valley-NCS 126 20:38.1 3:09.2 6:38.1 4:07.6
161 Kim, Elisa FR 1290 Palisades Charter-LAS 127 20:39.8 3:10.9 6:38.6 4:07.9
162 Santiago, Tilicia SO 1995 Yucaipa-SS 128 20:44.9 3:16.0 6:40.3 4:09.0
163 Cortero, Jiana SO 677 Freedom-NCS — 20:48.0 3:19.1 6:41.3 4:09.6
164 Sharp, Chloe JR 468 Covis North-CS 129 20:52.1 3:23.2 6:42.6 4:10.4
165 Mahan, Olivia SO 1924 Westview-SDS 130 20:54.6 3:25.7 6:43.4 4:10.9
166 Dean, Megan JR 389 Clovis-CS 131 20:55.6 3:26.7 6:43.7 4:11.1
167 Katzman, Ariella SO 1617 Skyline-OS — 20:57.5 3:28.6 6:44.3 4:11.5
168 Sanchez, Briana SO 547 Dougherty Vly.-NCS 132 20:58.1 3:29.2 6:44.5 4:11.6
169 Hayward, Skylar FR 1224 Oak Ridge-SJS 133 20:58.5 3:29.6 6:44.6 4:11.7
170 Childs-Smith, Alexandria JR 832 James Logan-NCS — 21:01.4 3:32.5 6:45.6 4:12.3
171 Lieberman, Samantha SO 810 Homestead-CCS 134 21:02.9 3:34.0 6:46.1 4:12.6
172 Meskienyar, Hannah JR 298 Castro Valley-NCS 135 21:03.0 3:34.1 6:46.1 4:12.6
173 Dolley, Sarah SR 1222 Oak Ridge-SJS 136 21:03.2 3:34.3 6:46.2 4:12.6
174 Lee, Darian FR 808 Homestead-CCS 137 21:08.5 3:39.6 6:47.9 4:13.7
175 Ryan, Kendall JR 1926 Westview-SDS 138 21:08.8 3:39.9 6:48.0 4:13.8
176 Berry, Rachel SR 394 Clovis-CS 139 21:13.4 3:44.5 6:49.4 4:14.7
177 Yu, Vanessa SR 1880 Washington-SFS — 21:14.8 3:45.9 6:49.9 4:14.9
178 Vaturri, Rithika FR 833 James Logan-NCS — 21:15.3 3:46.4 6:50.1 4:15.1
179 Manning, Kaitlin SO 297 Castro Valley-NCS 140 21:20.3 3:51.4 6:51.7 4:16.1
180 Sheriff, Salma SR 1125 Monta Vista-CCS 141 21:20.4 3:51.5 6:51.7 4:16.1
181 Schafer, Sophie SR 1234 Oakland Tech-OS 142 21:24.3 3:55.4 6:52.9 4:16.8
182 Lee, Shannon SR 1291 Palisades Charter-LAS 143 21:25.8 3:56.9 6:53.4 4:17.2
183 Huang, Victoria JR 988 Lowell-SFS 144 21:33.5 4:04.6 6:55.9 4:18.7
184 Pollack, Ariel SR 1292 Palisades Charter-LAS 145 21:33.9 4:05.0 6:56.0 4:18.8
185 Ades, Maya FR 1228 Oakland Tech-OS 146 21:34.3 4:05.4 6:56.1 4:18.8
186 Macias, Jazmine SR 708 Granada Hills Chtr-LAS 147 21:35.2 4:06.3 6:56.5 4:19.0
187 Cuevas, Sofia SO 541 Dougherty Vly.-NCS 148 21:37.6 4:08.7 6:57.2 4:19.5
188 Popova, Polina SO 546 Dougherty Vly.-NCS 149 21:38.0 4:09.1 6:57.3 4:19.6
189 Oak, Puja FR 544 Dougherty Vly.-NCS 150 21:52.5 4:23.6 7:02.0 4:22.5
190 Perez, Karina SR 392 Clovis-CS 151 21:56.1 4:27.2 7:03.2 4:23.2
191 Armstrong, Kate SR 295 Castro Valley-NCS 152 21:57.3 4:28.4 7:03.6 4:23.5
192 Tee, Amberley JR 301 Castro Valley-NCS 153 21:58.9 4:30.0 7:04.1 4:23.8
193 Cawthon, Elena JR 986 Lowell-SFS 154 22:05.5 4:36.6 7:06.2 4:25.1
194 Riordan, Sophia SO 990 Lowell-SFS 155 22:12.0 4:43.1 7:08.3 4:26.4
195 Payne, Claire SR 989 Lowell-SFS 156 22:13.6 4:44.7 7:08.8 4:26.7
196 Childers, Victoria SR 704 Granada Hills Chtr-LAS 157 22:20.7 4:51.8 7:11.1 4:28.1
197 Farr, Abigail FR 1952 Woodcreek-SJS 158 22:22.7 4:53.8 7:11.7 4:28.5
198 Hellar, Courtney SO 1225 Oak Ridge-SJS 159 22:24.0 4:55.1 7:12.1 4:28.8
199 Hustis Hayes, Gillian SR 1230 Oakland Tech-OS 160 23:55.1 6:26.2 7:41.4 4:47.0