CIF State Cross Country Championships
November 24, 2018 Woodward Park 5K Course, Fresno CA
Division V
Empire pair wins state cross country titles after leaving it all on the course
Andre Williams Video Interview
Andre Williams Video Interview 2
Div V Photos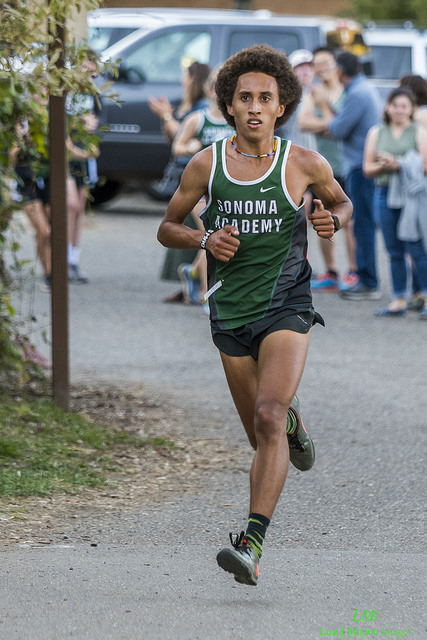 Sonoma Academy's Andre Williams definitely made third times a charm as he became the Redwood Empires first ever boys division V State Champion. Williams running the fastest Empire time of all five divisions (15:36) gave the Coyotes their fourth state championship in five years following the three others by Rylee Bowen.
Williams had placed 4th last year for the Coyotes and 15th his sophomore year while at Kelseyville.
Only 1998, when the Empire won three individual Championships by Ryan Mack, Ukiah D2 and Celedonio Rodriquez, Elsie Allen and Sara Bei, Montgomery, both D3, has our area had more Champions than the two won today by Williams and Gabriella Peterson in the girls race.
Williams battled St. Margarets Jackson Adelman for the first 2 1/2 miles of the race before pulling away to the win.
But there was plenty of more excitement in this race for the Empire as Rincon Valley Christian tied the Empires best ever team finish in this race at fourth in their schools first appearance here as a team.
Don't be surprised to see them do even better next year as the team was lead by two sophomores Brady English (17th 16:30) and Simon Peterson (26th 16:46) with a third sophomore Dante Benedetti (69th 17:33) in their top four. Seniors Isaac Methum (41st 17:06) and Zachary Passalaqua (97th 17:49) completed the Eagles scoring team with senior Scott Dolan and junior Gabe Kim completing the podium team.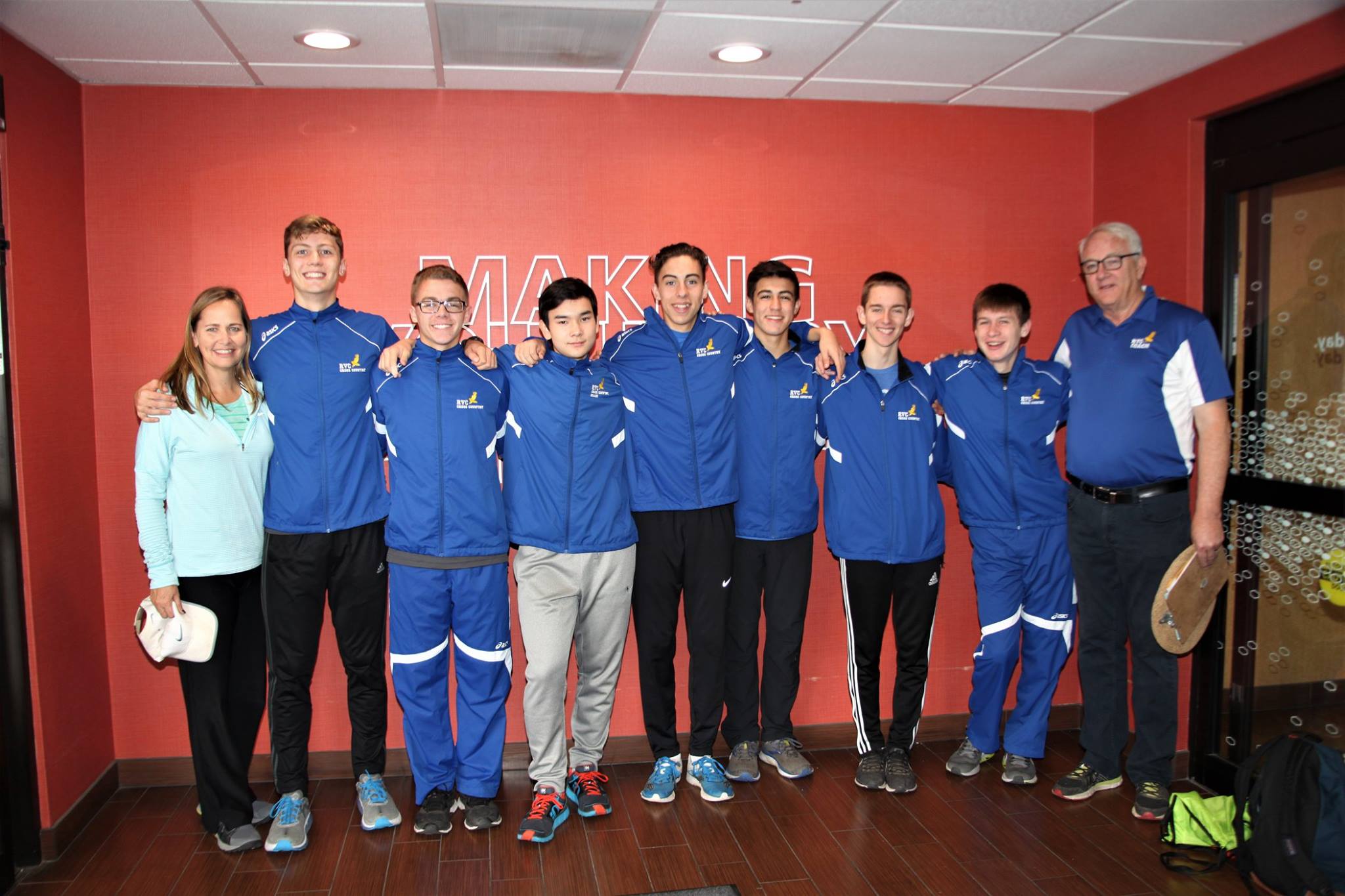 Giving us even more to look forward to next year are three more underclassman who all showed well this year.
Healdsburg sophomore Jack Vanden Heuval had his schools best place ever at 27th (16:51) bettering the 28th placing by Hector Delgado in 1992.
Cloverdale junior Paden Collard finished in 33rd at 16:55.
Junior Aidan Barker became Technology's first ever boy to qualify for state finishing in 52nd at 17:20.
Division III
Montgomery runner almost left out of state meet finishes 9th
Div III Photos
Video of race
Many had their eyes up front on the NCS's own Liam Anderson of Redwood who would run the fastest time of the day at 14:56 and win by over 10 seconds but the Redwood Empire had a great showing themselves with Maria Carrillo's podium winning team plus a twelfth place finish by Windsor's Lucas Chung.
Chung held back crossing over the first mile in 28th place. But over the next two miles he would pass 16 runners for his top 12 finish in 15:51.
Right after Chung came the Puma's first runner junior Rory Smail in 13th at 15:53, making him the fourth underclassman to finish in this race.
Colton Swinth (23rd 16:02), Pierce Kapustka (30th 16:14), Will McCloud (85th 16:50), Elijah Ettedgui (104th 16:59), Patrick Philip (135th 17:22) and Omar Alvarez-Hernandez (163rd 17:43) made up the medal winning squad.
Only seven Empire teams in the 30 plus years of this race have run a faster team time than this years Puma squad.
And the best news is the whole team, except senior McCloud are back next year.
Division III interviews
Division II
Div II Photos
Vintage sent two runners into this race.
Emmanuel Guzman ran one of the Empires 20th fastest times ever here in 15:45 to finish in 22nd.
Teammate Dylan Frye ran a fast time himself for a junior finishing in 111th in 16:37.
Division IV
Div IV Photos
Piner boys made their seventh top 20 finish at State taking 17th this year.
The team as usual was lead by senior Nathan Hayes (58th 16:44).
Completing the Prospectors were Emmanuel Delgado (111th 17:20), Jeremiah Cano (112th 17:20), Addison Gaspar (146th 17:50), Jimy Garcia (150th 17:53), Tyler Mezey (175th 18:17) and Juan Vazquez (188th 18:40).

Top Empire by time
1. 	SR 	Andre Williams 		15:36 	Sonoma Academy, =10th All-Time, School Record
22. 	SR 	Emmanuel Guzman 	15:45 	Vintage, 17th All-Time
12. 	SR 	Lucas Chung 		15:51 	Windsor, 21st All-Time, School Record
13. 	JR 	Rory Smail 		15:53 	Maria Carrillo, =24th All-Time
23. 	JR 	Colton Swinth 		16:02 	Maria Carrillo, =37th All-Time
30. 	JR 	Pierce Kapustka 	16:14 	Maria Carrillo, =56th All-Time
17. 	SO 	Brady English 		16:30 	Rincon Valley Christian

111. 	JR 	Dylan Frye 		16:37 	Vintage
58. 	SR 	Nathan Hayes 		16:44 	Piner
26. 	SO 	Simon Peterson 		16:46 	Rincon Valley Christian
85. 	SR 	Will McCloud 		16:50 	Maria Carrillo
27. 	SO 	Jack Vanden Heuval 	16:51 	Healdsburg
33. 	JR 	Paden Collard 		16:55 	Cloverdale, School Record
104. 	JR 	Elijah Ettedgui 	16:59 	Maria Carrillo

41. 	SR 	Isaac Methum 		17:06 	Rincon Valley Christian
52. 	JR 	Aidan Barker 		17:20 	Technology, School Record
111. 	SR 	Emmanuel Delgado 	17:20 	Piner
112. 	JR 	Jeremiah Cano 		17:20 	Piner
135. 	JR 	Patrick Philip 		17:22 	Maria Carrillo
69. 	SO 	Dante Benedetti 	17:33 	Rincon Valley Christian
163. 	JR 	Omar Alvarez-Hernandez 	17:43 	Maria Carrillo
97. 	SR 	Zachary Passalaqua 	17:49 	Rincon Valley Christian
146. 	SR 	Addison Gaspar 		17:50 	Piner
150. 	FR 	Jimy Garcia 		17:53 	Piner
175. 	JR 	Tyler Mezey 		18:17 	Piner
188. 	JR 	Juan Vazquez 		18:40 	Piner
170. 	SR 	Scott Dolan 		19:03 	Rincon Valley Christian
210. 	JR 	Gabe Kim 		21:38 	Rincon Valley Christian

1:21:58	16:24	1:05.6 Maria Carrillo, 8th All-Time
1:25:44	17:09	1:18.9 Rincon Valley Christian, 39th All-Time, School Record
1:27:07	17:25	1:08.7 Piner

Top Empire by place
1. 	SR 	Andre Williams 		15:35.2 	Sonoma Academy
12. 	SR 	Lucas Chung 		15:50.3 	Windsor
13. 	JR 	Rory Smail 		15:52.9 	Maria Carrillo
17. 	SO 	Brady English 		16:29.5 	Rincon Valley Christian
22. 	SR 	Emmanuel Guzman 	15:44.4 	Vintage
23. 	JR 	Colton Swinth 		16:01.5 	Maria Carrillo
26. 	SO 	Simon Peterson 		16:45.9 	Rincon Valley Christian
27. 	SO 	Jack Vanden Heuval 	16:50.1 	Healdsburg
30. 	JR 	Pierce Kapustka 	16:13.1 	Maria Carrillo
33. 	JR 	Paden Collard 		16:54.4 	Cloverdale
41. 	SR 	Isaac Methum 		17:06.0 	Rincon Valley Christian
52. 	JR 	Aidan Barker 		17:19.2 	Technology
58. 	SR 	Nathan Hayes 		16:43.5 	Piner
69. 	SO 	Dante Benedetti 	17:32.1 	Rincon Valley Christian
85. 	SR 	Will McCloud 		16:49.8 	Maria Carrillo
97. 	SR 	Zachary Passalaqua 	17:48.4 	Rincon Valley Christian
104. 	JR 	Elijah Ettedgui 	16:58.5 	Maria Carrillo
111. 	JR 	Dylan Frye 		16:36.9 	Vintage
111. 	SR 	Emmanuel Delgado 	17:19.2 	Piner
112. 	JR 	Jeremiah Cano 		17:19.3 	Piner
135. 	JR 	Patrick Philip 		17:21.2 	Maria Carrillo
146. 	SR 	Addison Gaspar 		17:49.1 	Piner
150. 	FR 	Jimy Garcia 		17:52.2 	Piner
163. 	JR 	Omar Alvarez-Hernandez 	17:42.5 	Maria Carrillo
170. 	SR 	Scott Dolan 		19:02.3 	Rincon Valley Christian
175. 	JR 	Tyler Mezey 		18:16.8 	Piner
188. 	JR 	Juan Vazquez 		18:40.0 	Piner
210. 	JR 	Gabe Kim 		21:37.7 	Rincon Valley Christian

4. Rincon Valley Christian 186
6. Maria Carrillo 194
17. Piner 443



State Meet Bests


By division   
By school    
By year   
By time for Woodward Park, Fresno

Complete Results
Division I
Division II 
Division III
Division IV

4. Rincon Valley Christian 186
5.
Thacher
204
6.
Flintridge Prep
211
7.
San Francisco University
220
8.
Viewpoint
220
9.
Crystal Springs Uplands
234
10.
Head-Royce
274
11.
Convent and Stuart Hall
283
12.
Desert Christian (Lancaster)
317
13.
Holtville
322
14.
Xavier College Prep
327
15.
Francis Parker
335
16.
Santa Fe Christian
339
17.
The York School
378
18.
Nueva School
455
19.
College Preparatory
481
20.
Chowchilla
501
21.
Mt Shasta
525
22.
Capital Christian
579
23.
California City
601
24.
New West Charter
670
25.
Waterford
715

1. 	SR 	Andre Williams 		15:35.2 	Sonoma Academy
2. 	SO 	Jackson Adelman 	15:39.5 	St. Margaret's
3. 	SR 	Ethan Laubach 		16:01.0 	Desert Christian (Lancaster)
4. 	JR 	Riley Burns 		16:07.5 	Maranatha Christian
5. 	SR 	Shane Lintereur 	16:08.0 	Trinity Classical Academy
6. 	SR 	Ford Shaper 		16:08.6 	Thacher
7. 	SO 	Miles Clark 		16:15.4 	Viewpoint
8. 	JR 	Jacob Lehmann Duke 	16:16.0 	College Preparatory
9. 	JR 	Ronnie Orosky 		16:16.3 	Viewpoint
10. 	SR 	Wyatt Sarkisian 	16:16.7 	Brentwood

	11. 	FR 	Michael Julian 		16:21.4 	
The York School
	12. 	FR 	Alex Mader 		16:21.6 	
Lick Wilmerding
	13. 	SR 	Nick Harris 		16:23.7 	
Lick Wilmerding
	14. 	JR 	Winslow Atkeson 		16:23.9 	
Thacher
	15. 	SR 	Caleb Dittmar 		16:25.2 	
Nueva School
	16. 	SR 	Carson Hasbrouck 		16:26.6 	
Flintridge Prep
17. 	SO 	Brady English 		16:29.5 	Rincon Valley Christian
	18. 	SO 	Will Goddard 		16:32.6 	
Midland
	19. 	SR 	Frank Glantz 		16:37.8 	
Chadwick
	20. 	SO 	Bennett Oakes 		16:38.4 	
Flintridge Prep
	21. 	SR 	Eddie Dilworth 		16:39.4 	
Lick Wilmerding
	22. 	SR 	Eddie Quintero 		16:40.3 	
Holtville
	23. 	SR 	Robbie Graham 		16:41.8 	
St. Margaret's
	24. 	SR 	Aiden Duncanson 		16:43.1 	
Crystal Springs Uplands
	25. 	SO 	Alan Jimenez 		16:44.2 	
Holtville
26. 	SO 	Simon Peterson 		16:45.9 	Rincon Valley Christian
27. 	SO 	Jack Vanden Heuval 		16:50.1 	Healdsburg
	28. 	SR 	EJ Kelly V 		16:51.3 	
St Francis Central Coast Catholic
	29. 	SR 	Riley Batista 		16:52.4 	
Woodcrest Christian
	30. 	SO 	Calvin Capelle 		16:53.2 	
St. Margaret's
	31. 	JR 	Alexis Ramirez 		16:54.3 	
Mt Shasta
	32. 	SR 	Christopher Chan 		16:54.4 	
St. Margaret's
33. 	JR 	Paden Collard 		16:54.4 	Cloverdale
	34. 	SR 	Nick Montijo 		16:55.0 	
Providence
	35. 	JR 	Braulio Alvarez 		16:57.4 	
Woodcrest Christian
	36. 	SR 	Mark Kearney 		17:01.1 	
Convent and Stuart Hall
	37. 	JR 	Thomas Matthew 		17:03.6 	
Viewpoint
	38. 	SR 	Carlos Anye Nunez 		17:05.0 	
Eastside College Prep
	39. 	SO 	Ryan Todd 		17:05.1 	
Santa Fe Christian
	40. 	JR 	Wilser Vasquez 		17:05.9 	
Crystal Springs Uplands
41. 	SR 	Isaac Methum 		17:06.0 	Rincon Valley Christian
	42. 	SR 	Matthew Colglazier 		17:06.5 	
St. Margaret's
	43. 	SR 	Garrin Schaap 		17:07.4 	
Central Valley Christian
	44. 	JR 	Jake Symonds 		17:07.9 	
Crystal Springs Uplands
	45. 	JR 	Andrew Cheng 		17:08.0 	
San Francisco University
	46. 	SR 	Patrick Trubee 		17:11.2 	
Xavier College Prep
	47. 	FR 	Kenan Pala 		17:12.3 	
Francis Parker
	48. 	SR 	Brendan Moley 		17:14.5 	
Placer
	49. 	SR 	Axel Martinez 		17:16.4 	
Latino College Prep
	50. 	SR 	Ezra Parkhill 		17:17.2 	
San Francisco University
	51. 	SO 	Spencer Ruff 		17:18.1 	
Francis Parker
52. 	JR 	Aidan Barker 		17:19.2 	Technology
	53. 	SO 	Hudson Billock 		17:20.7 	
Flintridge Prep
	54. 	JR 	Steven Martinez 		17:21.8 	
Woodcrest Christian
	55. 	SR 	William Xenakis 		17:23.1 	
Head-Royce
	56. 	SR 	Chase Leffers 		17:23.6 	
San Francisco University
	57. 	JR 	James Chebahtah 		17:24.3 	
Woodcrest Christian
	58. 	JR 	Galen Hastings 		17:26.2 	
Convent and Stuart Hall
	59. 	SR 	Max Kilman 		17:26.7 	
Bishops
	60. 	SR 	Mackenzie Thomas 		17:26.8 	
Woodcrest Christian
	61. 	SO 	Matthew Hardin 		17:28.7 	
Woodland Christian
	62. 	FR 	Johnny Bennet 		17:29.1 	
Thacher
	63. 	SR 	Tristen Laney 		17:30.1 	
The York School
	64. 	SO 	Hakyeom Park 		17:30.6 	
Ripon Christian
	65. 	JR 	Ethan Ash 		17:30.8 	
Head-Royce
	66. 	JR 	Aidan Wogan 		17:31.2 	
Head-Royce
	67. 	JR 	Ben Trefry 		17:31.6 	
Lee Vining
	68. 	JR 	Antonio Woo 		17:31.7 	
Convent and Stuart Hall
69. 	SO 	Dante Benedetti 		17:32.1 	Rincon Valley Christian
	70. 	JR 	Josh Thomas 		17:33.3 	
Woodcrest Christian
	71. 	SO 	Milo Chung 		17:33.5 	
Lick Wilmerding
	72. 	SR 	Colin Cooper 		17:34.8 	
San Francisco University
	73. 	JR 	Ethan Moutes 		17:35.1 	
Flintridge Prep
	74. 	FR 	Drew Hering 		17:35.5 	
Mt Shasta
	75. 	SR 	Jarrett Price 		17:35.6 	
Calvin Christian
	76. 	SR 	Ethan Scholl 		17:37.2 	
Head-Royce
	77. 	SR 	Elliott Weil 		17:37.9 	
San Francisco University
	78. 	FR 	Brent Roetcisoender 		17:39.3 	
Desert Christian (Lancaster)
	79. 	SR 	Josh Dykstra 		17:40.8 	
Central Valley Christian
	80. 	SO 	Ryan King 		17:41.2 	
Santa Fe Christian
	81. 	FR 	Aiden Momtaz 		17:41.2 	
St. Margaret's
	82. 	JR 	Andy Rios 		17:42.1 	
Holtville
	83. 	SR 	Jesus Arzapalo 		17:42.6 	
Xavier College Prep
	84. 	JR 	Jaydon Spires 		17:43.0 	
Tioga
	85. 	SR 	Rai Bhachech 		17:43.1 	
Sacramento Waldorf
	86. 	SR 	Angus Zuklie 		17:43.5 	
Nueva School
	87. 	SO 	Keegan DeBever 		17:44.1 	
Santa Fe Christian
	88. 	JR 	John Zingg 		17:44.1 	
Xavier College Prep
	89. 	SR 	Adam Shapiro 		17:44.2 	
The York School
	90. 	JR 	Andres Arias 		17:44.3 	
Xavier College Prep
	91. 	JR 	Justin Sample 		17:44.3 	
California City
	92. 	SR 	Luke Lockwood 		17:44.4 	
Capital Christian
	93. 	SO 	Augie Delves-Broughton 		17:45.6 	
Thacher
	94. 	SO 	David Caddick 		17:45.7 	
Desert Christian (Lancaster)
	95. 	SR 	Harrison Tanaka 		17:47.8 	
St. Margaret's
	96. 	SO 	Cesar Romero 		17:48.3 	
Maywood Center for Enriched Studies
97. 	SR 	Zachary Passalaqua 		17:48.4 	Rincon Valley Christian
	98. 	SO 	Connor Spangrud 		17:48.5 	
Pacific Collegiate
	99. 	SR 	Alec Iannuccilli 		17:48.8 	
Crystal Springs Uplands
	100. 	SO 	Emerson Calhoun 		17:48.9 	
Desert Christian (Lancaster)
	101. 	JR 	Jason Draxler Sadler 		17:49.4 	
Woodside Priory
	102. 	SR 	Alejandro Wilcox 		17:49.6 	
Thacher
	103. 	SO 	Ryan Tabibian 		17:49.8 	
San Francisco University
	104. 	FR 	William Burns 		17:49.8 	
Convent and Stuart Hall
	105. 	JR 	John Peabody 		17:50.7 	
Lick Wilmerding
	106. 	SR 	Aden Wiebers 		17:51.5 	
Frazier Mountain
	107. 	JR 	Rowan Davis 		17:52.4 	
International FAIS
	108. 	FR 	Alex Bobowski 		17:53.4 	
Santa Fe Christian
	109. 	SO 	Niles Tilenius 		17:55.3 	
Crystal Springs Uplands
	110. 	SR 	Alex Olmeta 		17:58.1 	
Francis Parker
	111. 	SO 	Charlie Jones 		17:58.4 	
Head-Royce
	112. 	FR 	Jesse Smith 		17:59.1 	
Francis Parker
	113. 	SO 	Brandon Byrd 		18:00.5 	
Head-Royce
	114. 	JR 	Connor Borba 		18:01.7 	
Chowchilla
	115. 	SR 	Travis Evans 		18:04.0 	
Convent and Stuart Hall
	116. 	SO 	Brandon Guerrero 		18:05.8 	
Central City Value
	117. 	SR 	Carson Gilford 		18:07.1 	
Viewpoint
	118. 	JR 	Will Peale 		18:07.4 	
College Preparatory
	119. 	JR 	Cole Bianchi 		18:08.7 	
Convent and Stuart Hall
	120. 	JR 	Fabian Rendon 		18:08.8 	
Holtville
	121. 	JR 	Andrew Castaneda 		18:09.3 	
Chowchilla
	122. 	JR 	Grady Morrissey 		18:10.6 	
Flintridge Prep
	123. 	SO 	Ryan Avila 		18:11.2 	
Liberty (Madera Ranchos)
	124. 	JR 	Michael Eggert 		18:11.3 	
Chowchilla
	125. 	FR 	Henry Didden 		18:11.6 	
Viewpoint
	126. 	SR 	Connor Dilliner 		18:11.7 	
Western Sierra Collegiate Academy
	127. 	SO 	Adam Spitzler 		18:12.2 	
Lick Wilmerding
	128. 	JR 	Peter Valverde 		18:13.7 	
Francis Parker
	129. 	SR 	Kristian Robles 		18:14.5 	
Chowchilla
	130. 	JR 	Rey Vazquez 		18:15.4 	
Xavier College Prep
	131. 	SR 	Skyler Dela Cruz 		18:16.8 	
Convent and Stuart Hall
	132. 	SR 	Erik Dominguez 		18:19.3 	
Willows
	133. 	SR 	Luke Shannon 		18:20.6 	
Crystal Springs Uplands
	134. 	JR 	Adrian Buitron 		18:21.1 	
Sun Valley Magnet
	135. 	SO 	Ian Lillie 		18:21.3 	
Francis Parker
	136. 	SR 	Logan VanSickle 		18:21.4 	
Modoc
	137. 	JR 	Daniel Kotlyar 		18:21.7 	
Flintridge Prep
	138. 	SO 	Matthew Garcia 		18:21.8 	
Willows
	139. 	SO 	William Shinkle 		18:21.8 	
Calvin Christian
	140. 	JR 	Marcus Intal 		18:22.8 	
Viewpoint
	141. 	SR 	Isaac Lopez 		18:23.1 	
College Preparatory
	142. 	JR 	Charlie Kennedy 		18:24.5 	
San Francisco University
	143. 	SO 	Johnny Ragsdale 		18:28.5 	
Crystal Springs Uplands
	144. 	FR 	Matthew Lubke 		18:28.9 	
Santa Fe Christian
	145. 	FR 	Evan Espinoza 		18:28.9 	
Waterford
	146. 	SR 	Micah Stolfus 		18:29.4 	
Woodcrest Christian
	147. 	SR 	Holt Dunham 		18:29.9 	
Desert Christian (Lancaster)
	148. 	SR 	Dillon Glasener 		18:31.5 	
California City
	149. 	JR 	Billy Pierce 		18:31.8 	
Nueva School
	150. 	JR 	Maxwell Sonnenborn 		18:33.9 	
Xavier College Prep
	151. 	JR 	Norberto Valdivia 		18:36.8 	
Sun Valley Magnet
	152. 	SO 	Ian Stentz 		18:37.4 	
Viewpoint
	153. 	SO 	Teddy Rosenbaum 		18:38.8 	
Thacher
	154. 	SO 	Bryan Chavez 		18:39.3 	
New West Charter
	155. 	SR 	Claro Tayros 		18:40.3 	
Capital Christian
	156. 	SR 	Josh Spiva 		18:42.1 	
Capital Christian
	157. 	SO 	Luke Melendez 		18:42.2 	
New West Charter
	158. 	SO 	Spencer Seay 		18:45.5 	
Francis Parker
	159. 	SR 	Sebastian Evans 		18:46.3 	
Flintridge Prep
	160. 	JR 	Justin Garcia 		18:47.1 	
Capital Christian
	161. 	JR 	Toby Arculli 		18:47.7 	
Thacher
	162. 	SO 	Loucas Xenakis 		18:48.0 	
Head-Royce
	163. 	SR 	Zachary Velazquez 		18:53.6 	
Waterford
	164. 	JR 	Chris Martin 		18:53.8 	
Nueva School
	165. 	JR 	Ethan Escamilla 		18:54.6 	
California City
	166. 	FR 	Daniel Xu 		18:55.0 	
The York School
	167. 	SR 	Alex Warzycki 		18:55.6 	
The York School
	168. 	FR 	Ryan Diaz 		18:57.1 	
Chowchilla
	169. 	SR 	Yoshi Nakada 		18:58.2 	
Lick Wilmerding
170. 	SR 	Scott Dolan 		19:02.3 	Rincon Valley Christian
	171. 	SO 	Daniel Caddick 		19:02.9 	
Desert Christian (Lancaster)
	172. 	SR 	Isaiah Van Denend 		19:03.3 	
Redding Christian
	173. 	SR 	Ruben Sanchez 		19:04.2 	
Holtville
	174. 	SR 	Aram Aquirre 		19:04.7 	
Mt Shasta
	175. 	JR 	Emerson Velasquez 		19:06.7 	
American Indian
	176. 	FR 	Ryan Mitchell 		19:06.8 	
Weed
	177. 	JR 	Tony Nava Hernandez 		19:07.4 	
California City
	178. 	FR 	Brandon Adreani 		19:09.1 	
New West Charter
	179. 	FR 	Jayce Harvey 		19:10.0 	
Chowchilla
	180. 	JR 	Max Goldstone 		19:13.3 	
College Preparatory
	181. 	FR 	Alex Cocquyt 		19:16.8 	
Nueva School
	182. 	SR 	Brendan Hogg 		19:20.5 	
College Preparatory
	183. 	JR 	Aaron Oliver 		19:21.1 	
Desert Christian (Lancaster)
	184. 	JR 	Luciano Malavasi 		19:24.1 	
Nueva School
	185. 	SR 	Jonathan Stafslien 		19:24.6 	
Santa Fe Christian
	186. 	SR 	Alejandro Leon 		19:33.2 	
Oakland Charter
	187. 	SR 	Nicholas Agtual 		19:33.5 	
New West Charter
	188. 	SR 	Elijah Salmon 		19:37.3 	
Xavier College Prep
	189. 	SR 	Griffin Hamann 		19:42.9 	
Mt Shasta
	190. 	SO 	Alejandro Gonzalez 		19:43.5 	
New West Charter
	191. 	SR 	Jacob Garcia 		19:49.7 	
Capital Christian
	192. 	JR 	Daniel Prasad 		19:51.0 	
Capital Christian
	193. 	SR 	Kolton Stonier 		19:51.9 	
Chowchilla
	194. 	JR 	Ariel Pyatigorsky 		19:57.0 	
New West Charter
	195. 	JR 	Aldo Zamora 		19:59.3 	
Discovery Prep
	196. 	JR 	Jonathan Staley 		19:59.5 	
Waterford
	197. 	JR 	Ethan Valdez 		20:00.6 	
Waterford
	198. 	JR 	Chris Lawson 		20:08.7 	
California City
	199. 	JR 	Eddie Alcantar 		20:10.9 	
Holtville
	200. 	SO 	Isaac Cole-Frieman 		20:15.7 	
College Preparatory
	201. 	FR 	Cesar Hernandez 		20:16.8 	
California City
	202. 	FR 	Joshua Ehrlich 		20:17.7 	
Nueva School
	203. 	JR 	Junior Arana 		20:23.4 	
California City
	204. 	JR 	Jonathan Zhao 		20:25.4 	
The York School
	205. 	SO 	Zach Hoskins 		20:30.0 	
Mt Shasta
	206. 	JR 	Owen Yu 		20:38.6 	
The York School
	207. 	SR 	Ethan Yan 		20:44.9 	
College Preparatory
	208. 	FR 	Matthew Chan 		20:48.9 	
Santa Fe Christian
	209. 	SO 	Scott Frizzell 		21:15.1 	
Capital Christian
210. 	JR 	Gabe Kim 		21:37.7 	Rincon Valley Christian
	211. 	JR 	Chris Rees 		21:42.2 	
Mt Shasta
	212. 	SO 	Elijah Weinberg 		21:44.1 	
New West Charter
	213. 	SO 	Fernando Castillo 		21:48.0 	
Waterford
	214. 	FR 	Angel Vargas 		21:48.1 	
Waterford
	215. 	JR 	Alex Barajas 		22:26.3 	
Waterford
	216. 	SO 	Josh Bonivert 		22:51.1 	
Mt Shasta
		JR 	Martin Cruz 		DNF 	

6. Maria Carrillo 194
7.
Chico
233
8.
Brea Olinda
239
9.
Esperanza
258
10.
Agoura
289
11.
El Capitan
298
12.
Moorpark
301
13.
Redwood (Larkspur)
314
14.
Nevada Union
355
15.
Corcoran
358
16.
Merced
367
17.
Cathedral Catholic
399
18.
Las Lomas
399
19.
Greenfield
427
20.
Vista Del Lago (Folsom)
431
21.
University City
506
22.
West Hills
540
23.
Sacred Heart Cathedral
616
24.
Canoga Park
693

	1. 	SR 	Liam Anderson 		14:55.3 	
Redwood (Larkspur)
	2. 	SR 	Kevin Ramos Leyva 		15:05.8 	
Rubidoux
	3. 	SR 	Brayden McLaughlin 		15:26.9 	
Del Oro
	4. 	SR 	Garrett Gough 		15:31.3 	
Nevada Union
	5. 	JR 	Keith Murray 		15:33.4 	
Moorpark
	6. 	SR 	Charlie Giannini 		15:34.5 	
Chico
	7. 	SR 	Preston Norris 		15:35.3 	
Las Lomas
	8. 	SR 	Edward Buckley 		15:38.9 	
Campolindo
	9. 	JR 	Alex Cuevas 		15:40.2 	
Ridgeview
	10. 	SR 	Matthew Machnov 		15:41.7 	
El Capitan
	11. 	SO 	Dylan Gunn 		15:49.1 	
Campolindo
12. 	SR 	Lucas Chung 		15:50.3 	Windsor
13. 	JR 	Rory Smail 		15:52.9 	Maria Carrillo
	14. 	SR 	Nathan Lantz 		15:53.3 	
Palos Verdes
	15. 	JR 	Jake Parker 		15:53.9 	
West Torrance
	16. 	JR 	Cayden Hein 		15:59.6 	
Campolindo
	17. 	SR 	Nehme Awad 		16:00.2 	
West Torrance
	18. 	JR 	Ased Adus 		16:00.2 	
Ridgeview
	19. 	SR 	Bryan Banuelos 		16:00.3 	
Edison
	20. 	SO 	Gerardo Moreno 		16:01.1 	
Ridgeview
	21. 	JR 	Shane Gaffikin 		16:01.4 	
Brea Olinda
	22. 	JR 	Abel-Rudisha Teffra 		16:01.4 	
Central
23. 	JR 	Colton Swinth 		16:01.5 	Maria Carrillo
	24. 	SO 	Joshua Murray 		16:04.5 	
West Torrance
	25. 	SR 	Bryan Gaxiola 		16:05.2 	
Ridgeview
	26. 	SR 	Esahi Bravo 		16:05.9 	
Indio
	27. 	SR 	Aaron Perez 		16:06.9 	
Indio
	28. 	SR 	Joseph Macareno 		16:10.7 	
Tulare Union
	29. 	SR 	Rigo Garcia 		16:10.7 	
Greenfield
30. 	JR 	Pierce Kapustka 		16:13.1 	Maria Carrillo
	31. 	SR 	Devin Hightower 		16:14.0 	
South Hills
	32. 	SR 	Jonah Molina 		16:14.3 	
Ridgeview
	33. 	SR 	Niccolo Esquivelzeta 		16:16.6 	
West Torrance
	34. 	JR 	Joseph Pearlman 		16:16.8 	
Dos Pueblos
	35. 	JR 	Cole McKain 		16:17.4 	
Merced
	36. 	SR 	Devin Diaz 		16:18.0 	
Nipomo
	37. 	JR 	Eduardo De Paz 		16:19.3 	
Baldwin Park
	38. 	SR 	Victor Urbina 		16:21.2 	
Indio
	39. 	JR 	Ryan Koepnick 		16:21.8 	
Agoura
	40. 	SR 	Bryan Gasser 		16:22.4 	
Agoura
	41. 	SR 	Sinjun Tran 		16:23.5 	
Kimball
	42. 	SO 	Jonathan Manara 		16:23.7 	
Brea Olinda
	43. 	JR 	Dylan Cronin 		16:23.9 	
Campolindo
	44. 	SR 	Zane Cox 		16:24.4 	
Esperanza
	45. 	SR 	Cameron Iniguez-Reyes 		16:24.5 	
Campolindo
	46. 	SR 	Shingo Morita 		16:24.7 	
West Torrance
	47. 	SO 	Jimmy Bishop 		16:27.9 	
Mission Vista
	48. 	SR 	Mauricio Arias 		16:28.2 	
Greenfield
	49. 	JR 	Joe Gomez 		16:28.6 	
Corcoran
	50. 	SR 	Wade Nygren 		16:31.2 	
Palos Verdes
	51. 	SR 	William Teets 		16:31.2 	
Palos Verdes
	52. 	SR 	Liam Fitzpatrick 		16:31.2 	
West Torrance
	53. 	JR 	Jesse Diaz 		16:31.6 	
Indio
	54. 	SR 	Riley Noon 		16:32.3 	
Acalanes
	55. 	JR 	Andrew Sager 		16:33.5 	
El Capitan
	56. 	SR 	Josiah Sweet 		16:33.8 	
Aptos
	57. 	SR 	Rashad Prince 		16:34.6 	
Orange Glen
	58. 	SR 	Reed Piette 		16:34.9 	
Esperanza
	59. 	SR 	Joseph Domingues 		16:35.4 	
St. Joseph (Santa Maria)
	60. 	SR 	Isaac Gensel 		16:36.0 	
Monterey
	61. 	SO 	Sebastian Radilla 		16:36.6 	
Cathedral Catholic
	62. 	SR 	Thomas Karpishin 		16:37.0 	
Hillsdale
	63. 	SR 	Jonathan Aguilar 		16:37.6 	
Reseda
	64. 	SR 	Joseph Hart 		16:38.6 	
El Capitan
	65. 	SR 	Kaleb Traficante 		16:39.2 	
Chico
	66. 	SO 	Jake Slade 		16:39.9 	
Nevada Union
	67. 	SR 	Brandon Farnsworth 		16:40.8 	
Palos Verdes
	68. 	SR 	Jaxon LeDuc 		16:41.0 	
Chico
	69. 	JR 	Marcos Ramirez 		16:41.5 	
Corcoran
	70. 	FR 	Blake Levy 		16:41.7 	
Cathedral Catholic
	71. 	JR 	Jonah Petersen 		16:42.0 	
Vista Del Lago (Folsom)
	72. 	SR 	John Welch 		16:43.0 	
Esperanza
	73. 	SR 	Jullian Dorantes-Lara 		16:43.7 	
Indio
	74. 	JR 	Ryan Daedler 		16:44.1 	
Brea Olinda
	75. 	JR 	Sahil Kapila 		16:44.2 	
Redwood (Larkspur)
	76. 	SR 	Ethan Mcgregor 		16:45.7 	
Moorpark
	77. 	JR 	Frankie Reid 		16:46.2 	
Palos Verdes
	78. 	JR 	Ben Livermore 		16:46.7 	
Merced
	79. 	SO 	Eli Ainsworth 		16:47.1 	
Soquel
	80. 	JR 	Dylan Shubert 		16:47.3 	
West Hills
	81. 	SR 	Bretten Farrell 		16:48.0 	
Chico
	82. 	JR 	Ryan Manes 		16:48.5 	
Esperanza
	83. 	SR 	Christopher Williams 		16:49.3 	
Mission Vista
	84. 	JR 	Liam Pereira 		16:49.7 	
Moorpark
85. 	SR 	Will McCloud 		16:49.8 	Maria Carrillo
	86. 	SR 	Parker Wilkerson 		16:50.6 	
Las Lomas
	87. 	FR 	Manuel DeBarros 		16:51.0 	
Brea Olinda
	88. 	JR 	Seth Laske 		16:51.5 	
Esperanza
	89. 	JR 	Mark Alfred 		16:53.1 	
University City
	90. 	JR 	Daniel Herrera 		16:54.3 	
Pacheco
	91. 	JR 	Alex Mikaelian 		16:54.3 	
Agoura
	92. 	SR 	Adam Elaidy 		16:54.6 	
Alameda
	93. 	SR 	Jack Hannum 		16:54.9 	
Brea Olinda
	94. 	JR 	Kishan Patel 		16:55.6 	
Gahr
	95. 	SR 	Augustine Ahn 		16:55.9 	
West Torrance
	96. 	SR 	Miguel Mendez 		16:56.1 	
Corcoran
	97. 	JR 	Marco Perez 		16:56.7 	
East Union
	98. 	SR 	Rory Monninger 		16:57.1 	
Chico
	99. 	JR 	Ethan Karr 		16:57.5 	
Vista Del Lago (Folsom)
	100. 	JR 	Bryan Stafford 		16:57.7 	
Del Oro
	101. 	SO 	Hudson Grace 		16:57.7 	
Redwood (Larkspur)
	102. 	JR 	Vicente Rojas 		16:57.8 	
Corcoran
	103. 	JR 	Beau Bordelon 		16:58.3 	
Agoura
104. 	JR 	Elijah Ettedgui 		16:58.5 	Maria Carrillo
	105. 	SR 	Tate Nygren 		16:58.5 	
Palos Verdes
	106. 	SR 	Blake Robinson 		16:58.8 	
Oceanside
	107. 	SR 	Kyle Johnson 		16:59.5 	
Pleasant Valley
	108. 	SR 	Austin Patel 		17:00.7 	
Redwood (Larkspur)
	109. 	SR 	William Perez-Rios 		17:01.3 	
Merced
	110. 	JR 	Enrique Robles Ceja 		17:03.7 	
Merced
	111. 	SO 	Ivan Seegmiller 		17:04.5 	
Cathedral Catholic
	112. 	FR 	Ethan Godsey 		17:04.8 	
Agoura
	113. 	JR 	Sonny Hernandez 		17:05.2 	
Canoga Park
	114. 	SR 	Stephen Northouse 		17:05.2 	
Vista Del Lago (Folsom)
	115. 	SO 	Travis Selby 		17:05.7 	
Nevada Union
	116. 	JR 	Alejandro Uribe 		17:06.0 	
Moorpark
	117. 	SR 	Ryan Shikiya 		17:06.1 	
Palos Verdes
	118. 	SO 	Brian Martinez 		17:06.5 	
Moorpark
	119. 	JR 	Bryce Kueker 		17:07.7 	
University City
	120. 	FR 	Marco Chao 		17:08.5 	
Campolindo
	121. 	JR 	Cooper Wise 		17:10.2 	
Las Lomas
	122. 	SR 	James Junaidi 		17:10.2 	
Vista Del Lago (Folsom)
	123. 	SR 	Luis Contreras 		17:11.1 	
Indio
	124. 	SO 	Landon Morales 		17:11.4 	
West Hills
	125. 	JR 	Robert Cecena 		17:12.0 	
Indio
	126. 	JR 	Charlie Kisylia 		17:16.1 	
Las Lomas
	127. 	SR 	Decker Krogh 		17:16.4 	
Nevada Union
	128. 	SR 	Leland Hayley 		17:16.7 	
El Capitan
	129. 	SR 	Nick Van Daelen 		17:17.2 	
University City
	130. 	JR 	Timothy Walters 		17:17.6 	
Redwood (Larkspur)
	131. 	SO 	Parker Dixon 		17:17.6 	
El Capitan
	132. 	SO 	Josh Moore 		17:17.8 	
Esperanza
	133. 	JR 	Max Leone 		17:18.9 	
Redwood (Larkspur)
	134. 	SO 	Dhruv Gupta 		17:19.5 	
Cathedral Catholic
135. 	JR 	Patrick Philip 		17:21.2 	Maria Carrillo
	136. 	SR 	Matthew Farruggio 		17:21.5 	
Sacred Heart Cathedral
	137. 	JR 	Matthew Apahidean 		17:21.9 	
Brea Olinda
	138. 	JR 	Isaias Solorio 		17:22.1 	
Greenfield
	139. 	SR 	Derek Tingey 		17:22.7 	
West Hills
	140. 	SR 	Jordann Bueno 		17:23.1 	
Ridgeview
	141. 	SR 	Charlie Strella 		17:23.1 	
Sacred Heart Cathedral
	142. 	JR 	David Melendez-Perdomo 		17:23.9 	
University City
	143. 	SO 	Ryan Sweeney 		17:24.6 	
Cathedral Catholic
	144. 	JR 	Thomas Hofig 		17:24.7 	
Cathedral Catholic
	145. 	JR 	Seth Hardy 		17:26.1 	
Agoura
	146. 	SR 	David Granados 		17:26.2 	
Merced
	147. 	SR 	Daniel Pantoja 		17:26.9 	
Greenfield
	148. 	SR 	Wyatt Gough 		17:26.9 	
Nevada Union
	149. 	JR 	Brendan Creeks 		17:29.7 	
Burlingame
	150. 	SR 	Riley Farrell 		17:30.1 	
Chico
	151. 	SO 	Owen Lekki 		17:30.6 	
Campolindo
	152. 	SO 	Ahmed Ahmed 		17:31.7 	
Corcoran
	153. 	SR 	Connor Sheridon 		17:32.0 	
Sacred Heart Cathedral
	154. 	SR 	Jake Solak 		17:32.5 	
Vista Del Lago (Folsom)
	155. 	SO 	Matthew Martinez 		17:33.3 	
Cathedral Catholic
	156. 	SO 	Jose Gonzalez 		17:35.7 	
Ridgeview
	157. 	JR 	James Coomber 		17:36.3 	
Verdugo Hills
	158. 	SR 	Austin Edwards 		17:37.0 	
West Hills
	159. 	SR 	Brenden Jones 		17:37.9 	
Vista Del Lago (Folsom)
	160. 	JR 	Alan Nava 		17:39.5 	
Chico
	161. 	JR 	Jair Garcia 		17:40.0 	
Corcoran
	162. 	SR 	Cooper Talbott 		17:41.6 	
University City
163. 	JR 	Omar Alvarez-Hernandez 		17:42.5 	Maria Carrillo
	164. 	SO 	Antonio Valenti 		17:43.4 	
Nevada Union
	165. 	SR 	Luke Eccles 		17:44.1 	
Sacred Heart Cathedral
	166. 	JR 	Sedge Greenlee 		17:46.4 	
Sacred Heart Cathedral
	167. 	SR 	Donovan Freer 		17:47.2 	
Pleasant Valley
	168. 	SR 	Patric Berard 		17:47.4 	
University City
	169. 	SR 	Casey Renaghan 		17:50.3 	
Las Lomas
	170. 	SO 	Luis Martinez 		17:51.3 	
Greenfield
	171. 	FR 	Dmitri Ryan 		17:52.4 	
Sacred Heart Cathedral
	172. 	JR 	Cole Barton 		17:53.9 	
Nevada Union
	173. 	JR 	Jack Daley 		17:54.4 	
Las Lomas
	174. 	SO 	Jeffrey Rivas 		17:55.0 	
Canoga Park
	175. 	SO 	Dominic Romero 		17:56.7 	
El Capitan
	176. 	FR 	Mark Mccowin 		17:58.1 	
West Hills
	177. 	JR 	Kevin Armas-Valencia 		17:59.3 	
Verdugo Hills
	178. 	JR 	Carlos Perez 		18:01.3 	
Brea Olinda
	179. 	SO 	Matthew Waters 		18:02.5 	
Moorpark
	180. 	SO 	Eduardo Flores 		18:03.5 	
Canoga Park
	181. 	JR 	Aiden Calcutt 		18:03.7 	
West Hills
	182. 	JR 	Joseph Carrillo 		18:03.9 	
Reseda
	183. 	SR 	Gabriel Robledo 		18:06.0 	
El Capitan
	184. 	FR 	Andrew Zimny 		18:06.2 	
Vista Del Lago (Folsom)
	185. 	SR 	Jay Schmidt 		18:06.6 	
Moorpark
	186. 	SO 	Kleverson Peña 		18:08.9 	
Greenfield
	187. 	SR 	Adam Turken 		18:11.4 	
University City
	188. 	SO 	Jose Luis DeJesus 		18:12.7 	
Greenfield
	189. 	SO 	Sean Willweber 		18:12.7 	
West Hills
	190. 	SR 	Joseph Price 		18:21.5 	
Corcoran
	191. 	JR 	Omar Salas 		18:21.7 	
Canoga Park
	192. 	SR 	Andrew Martinez 		18:26.7 	
Franklin
	193. 	SO 	Adan Pacheco 		18:29.5 	
Canoga Park
	194. 	JR 	Trevor Secoda 		18:44.7 	
Esperanza
	195. 	SO 	Ben Klepper 		18:48.1 	
Agoura
	196. 	SR 	Sebastian Rojas 		18:54.3 	
Canoga Park
	197. 	SR 	John Soler 		18:57.0 	
Sacred Heart Cathedral
	198. 	SO 	Ben Malek 		18:57.4 	
Redwood (Larkspur)
	199. 	SR 	Liam McGilvray 		19:09.3 	
Canoga Park
	200. 	SO 	Jamison Smallwood 		19:12.4 	
Phillip & Sala Burton
	201. 	SR 	Jacob Renaghan 		19:35.6 	
Las Lomas
	202. 	JR 	Tanner Phillips 		19:36.4 	
Merced
	203. 	JR 	Jace Williams 		20:23.1 	
Merced

22. 	SR 	Emmanuel Guzman 		15:44.4 	Vintage
	23. 	SR 	Joshua White 		15:44.8 	
Granada
	24. 	JR 	Anthony Stone 		15:44.8 	
Loyola
	25. 	JR 	Juan Pablo Garcia 		15:45.7 	
St Francis (Mountain View)
	26. 	SR 	Aaron Reyes 		15:47.2 	
Claremont
	27. 	JR 	Austin Vasquez 		15:47.5 	
Whitney
	28. 	SR 	Mason Ratkovich 		15:48.0 	
Loyola
	29. 	SR 	Caleb Terefe 		15:48.3 	
Woodbridge
	30. 	SO 	Ewan Macfarlane 		15:49.0 	
Peninsula
	31. 	JR 	Mitch Groff 		15:49.1 	
El Toro
	32. 	SR 	Hudson Godfrey 		15:49.2 	
Loyola
	33. 	SR 	Jacob Moran 		15:49.4 	
Claremont
	34. 	JR 	Andy Pueschel 		15:50.1 	
La Costa Canyon
	35. 	SR 	Damian King 		15:50.6 	
Bella Vista
	36. 	SO 	Jacob Yagers 		15:51.2 	
Highland
	37. 	SR 	Kyndall Long 		15:52.1 	
Newbury Park
	38. 	FR 	Colin Sahlman 		15:52.8 	
Newbury Park
	39. 	SO 	Nicholas Goldstein 		15:53.2 	
Newbury Park
	40. 	SR 	Vinnie Giachini 		15:53.7 	
Loyola
	41. 	SR 	Tyler Hattori 		15:54.2 	
Granada
	42. 	SR 	Joshua Moncada 		15:54.8 	
Simi Valley
	43. 	SR 	Vicente Huerta 		15:57.1 	
Claremont
	44. 	JR 	Gus Marshall 		15:58.3 	
Loyola
	45. 	SR 	Mitchell Burr 		16:00.3 	
Thousand Oaks
	46. 	SR 	Xavier Gonzales 		16:01.2 	
Atascadero
	47. 	SO 	Zachary Zambrano 		16:01.7 	
Loyola
	48. 	SR 	Ethan Bersley 		16:01.8 	
Thousand Oaks
	49. 	SR 	Morgan Turpin 		16:02.0 	
Mt Carmel
	50. 	JR 	Aiden Maddison 		16:02.0 	
St Francis (Mountain View)
	51. 	SR 	Bennett Woodward 		16:03.9 	
Whitney
	52. 	SR 	Connor Ettinger 		16:03.9 	
Rio Americano
	53. 	JR 	Ethan Jones 		16:05.0 	
Liberty - Bakersfield
	54. 	SR 	Daniel Rush 		16:05.8 	
Golden Valley (SO)
	55. 	JR 	Daniel Hernandez 		16:06.5 	
Vacaville
	56. 	JR 	Garrett MacQuiddy 		16:08.0 	
Westmont
	57. 	SR 	Brian Pedraza 		16:08.6 	
Willow Glen
	58. 	SR 	Ben Choi 		16:09.1 	
Woodbridge
	59. 	SR 	Alex Wahab 		16:09.3 	
Del Norte
	60. 	JR 	Ian Gerth 		16:09.4 	
Simi Valley
	61. 	SR 	Trevor Asbury 		16:09.5 	
Rocklin
	62. 	JR 	Anthony Guerra 		16:11.4 	
Granada
	63. 	SR 	Jacob Resendez 		16:12.3 	
Liberty - Bakersfield
	64. 	JR 	Juan Torres 		16:13.5 	
El Toro
	65. 	SR 	Shane Burton 		16:13.5 	
Rocklin
	66. 	SR 	Jonas Hartline 		16:13.5 	
El Toro
	67. 	JR 	Josh Ligas 		16:13.9 	
Poway
	68. 	FR 	Kellen Steplight 		16:13.9 	
Vacaville
	69. 	SR 	Shrey Shah 		16:14.8 	
Foothill (Pleasanton)
	70. 	SR 	Devin Makhni 		16:15.3 	
Archbishop Mitty
	71. 	JR 	James Miramontes 		16:17.2 	
La Costa Canyon
	72. 	SO 	Jack Keough-Lansford 		16:17.4 	
Claremont
	73. 	SO 	Patrick Curulla 		16:18.4 	
De La Salle
	74. 	JR 	Cosmo Cao 		16:19.0 	
Lynbrook
	75. 	SR 	Mason Elefant 		16:19.0 	
St Francis (Mountain View)
	76. 	SO 	Kieran Brown 		16:19.0 	
De La Salle
	77. 	JR 	Ethan Dodge 		16:19.3 	
Whitney
	78. 	JR 	Derek O'Connor 		16:19.9 	
De La Salle
	79. 	SO 	Ryan Welton 		16:21.6 	
Woodbridge
	80. 	JR 	Matthew Henry 		16:22.0 	
Granite Hills
	81. 	JR 	Khaled Ajaj 		16:22.8 	
El Toro
	82. 	SR 	Xander Reimers 		16:24.3 	
Inderkum
	83. 	JR 	William Webster 		16:24.4 	
Oakland Tech
	84. 	SR 	Joseph Mikhail 		16:24.6 	
Liberty - Bakersfield
	85. 	SO 	Blaine Reynolds 		16:25.0 	
Aragon
	86. 	SR 	Bjorn Thorsen 		16:25.1 	
College Park
	87. 	SR 	Spencer Cochran 		16:25.7 	
Bella Vista
	88. 	JR 	Alex Asch 		16:25.8 	
Willow Glen
	89. 	SR 	Cameron Meier 		16:25.9 	
Granada
	90. 	SR 	Daniel Skahill 		16:27.2 	
St Francis (Mountain View)
	91. 	JR 	Zak Beckwith 		16:27.8 	
Poway
	92. 	SO 	Daniel Guzman 		16:28.1 	
El Toro
	93. 	SR 	Zane Golpariani 		16:28.2 	
Del Norte
	94. 	JR 	Arnav Arora 		16:28.3 	
Mission San Jose
	95. 	SR 	Brendan Dowling 		16:28.6 	
Rocklin
	96. 	JR 	John Pantigoso 		16:29.3 	
Woodbridge
	97. 	SR 	Joshua Bauer 		16:29.4 	
Point Loma
	98. 	SR 	Eric Longo 		16:29.6 	
Thousand Oaks
	99. 	JR 	Duncan Speirs 		16:30.0 	
San Luis Obispo
	100. 	SO 	Yair Torres 		16:30.3 	
Santa Maria
	101. 	SR 	Vianey Ellison 		16:30.4 	
Thousand Oaks
	102. 	JR 	Seth Jeppson 		16:31.0 	
Granada
	103. 	SR 	Alejandro Diaz 		16:31.3 	
Simi Valley
	104. 	SR 	Tristan King 		16:31.8 	
Bella Vista
	105. 	JR 	Matthew Scurria 		16:33.4 	
San Luis Obispo
	106. 	JR 	Rohan Dahlke 		16:34.3 	
Del Norte
	107. 	SR 	Dylan Cook 		16:34.9 	
College Park
	108. 	SR 	Brandon Tressler 		16:35.3 	
El Toro
	109. 	JR 	Jacob Polivka 		16:35.4 	
Rocklin
	110. 	JR 	William Talbert 		16:35.5 	
Woodbridge
111. 	JR 	Dylan Frye 		16:36.9 	Vintage
	112. 	SR 	Omar Pina 		16:37.1 	
Abraham Lincoln
	113. 	SO 	Ajani Salcido 		16:37.3 	
Whitney
	114. 	JR 	Alexander Hirsh 		16:37.6 	
Poway
	115. 	SR 	Kieko Paman 		16:37.9 	
Scripps Ranch
	116. 	SO 	Garrett Beutel 		16:38.8 	
San Luis Obispo
	117. 	SO 	Taylor Iden 		16:39.0 	
Archbishop Mitty
	118. 	JR 	Jay Lesny 		16:39.1 	
Thousand Oaks
	119. 	JR 	James Corrigan 		16:39.5 	
Eagle Rock
	120. 	JR 	Devon Nuti 		16:39.6 	
Willow Glen
	121. 	JR 	Evan Franco 		16:39.9 	
Branham
	122. 	SO 	Joseph Moon 		16:40.5 	
Woodbridge
	123. 	JR 	Josh Tajiri 		16:41.0 	
Whitney
	124. 	SO 	Angel DelaCruz 		16:42.4 	
Bullard
	125. 	SR 	Jason Leland 		16:42.4 	
El Toro
	126. 	SO 	Michael Cooper 		16:42.8 	
Thousand Oaks
	127. 	JR 	Jaden Hart 		16:43.0 	
Liberty - Bakersfield
	128. 	SR 	Mark DeLancey 		16:44.5 	
Poway
	129. 	FR 	Lev Afonine 		16:46.0 	
College Park
	130. 	SR 	Cameron Anderson 		16:46.4 	
Bella Vista
	131. 	SO 	Giancarlo da Silva 		16:47.8 	
Scripps Ranch
	132. 	SR 	Ciro Benitez 		16:47.9 	
University
	133. 	JR 	Bradley Williams 		16:48.4 	
Simi Valley
	134. 	JR 	Alex Southern 		16:49.3 	
San Luis Obispo
	135. 	SO 	Julian Virrueta 		16:49.3 	
Willow Glen
	136. 	JR 	Euan Cairns 		16:49.3 	
St Francis (Mountain View)
	137. 	JR 	Arnav Choudhury 		16:49.6 	
Archbishop Mitty
	138. 	JR 	Alex Fernandez de la Vega 		16:50.7 	
Poway
	139. 	SR 	Ryan Connors 		16:51.4 	
Scripps Ranch
	140. 	JR 	Nicholas Williams 		16:51.6 	
Simi Valley
	141. 	SR 	Julian Galicia Thomas 		16:54.0 	
Granada
	142. 	SO 	Bryce Gardhouse 		16:54.5 	
Simi Valley
	143. 	FR 	Daniel Appleford 		16:54.7 	
Newbury Park
	144. 	JR 	Yoon Cho 		16:58.0 	
Claremont
	145. 	JR 	Alex Motawi 		16:58.2 	
La Costa Canyon
	146. 	SR 	Shlok Bansal 		16:58.8 	
Granada
	147. 	SR 	Jack Kaiser 		16:59.9 	
San Luis Obispo
	148. 	SR 	Matthew Ahn 		17:00.2 	
Simi Valley
	149. 	JR 	Benjamin Chose 		17:02.3 	
Del Norte
	150. 	SO 	Adam Duncan 		17:03.0 	
Liberty - Bakersfield
	151. 	JR 	William Boyd 		17:03.6 	
Skyline
	152. 	SR 	Zachary Conwell 		17:04.9 	
Bella Vista
	153. 	SO 	Jason Finta 		17:06.0 	
Whitney
	154. 	SO 	Juan Hernandez 		17:06.8 	
Venice
	155. 	JR 	Asher Savage 		17:07.8 	
La Costa Canyon
	156. 	JR 	Daniel McElhinney 		17:08.6 	
Rocklin
	157. 	JR 	Ethan Gaigalas 		17:08.7 	
College Park
	158. 	FR 	Luke Holland 		17:09.4 	
San Luis Obispo
	159. 	JR 	Daniel Herrick 		17:11.3 	
Del Norte
	160. 	JR 	James Pappadakis 		17:13.7 	
Willow Glen
	161. 	SR 	Jacob Hackett 		17:14.5 	
Skyline
	162. 	SR 	Christan Cruz 		17:17.0 	
Helen Bernstein
	163. 	SO 	Caden Farrow 		17:17.3 	
Scripps Ranch
	164. 	SO 	Simon Stubbert 		17:17.9 	
Rodriguez
	165. 	SO 	Nolan D'Esopo 		17:19.7 	
Del Norte
	166. 	SR 	Levi Premer 		17:20.0 	
Venice
	167. 	SR 	Nicholas Cassol 		17:20.8 	
Scripps Ranch
	168. 	SO 	Nathan Babby 		17:23.1 	
De La Salle
	169. 	FR 	Manny Johnson 		17:25.4 	
Poway
	170. 	SO 	Agustin Gomez de la Vega 		17:25.5 	
De La Salle
	171. 	JR 	Zongsen Li 		17:25.5 	
Del Norte
	172. 	JR 	Alvaro Pinal-Alfaro 		17:26.5 	
Archbishop Mitty
	173. 	SR 	Jake Heinlein 		17:28.4 	
College Park
	174. 	SO 	Dominic Borrelli 		17:30.5 	
De La Salle
	175. 	SO 	Bruce Marlatt 		17:30.9 	
Bella Vista
	176. 	SO 	Joseph Passalacqua 		17:31.4 	
Rocklin
	177. 	SR 	Antonio DaSilva 		17:34.9 	
San Luis Obispo
	178. 	SO 	Kaleb Macias 		17:39.7 	
Venice
	179. 	SO 	Kelly Hubbard 		17:41.2 	
Willow Glen
	180. 	SO 	Connor Chancey 		17:42.4 	
Archbishop Mitty
	181. 	JR 	Albert Worsham 		17:42.7 	
Rocklin
	182. 	SR 	Lucas DeBenedetti 		17:45.0 	
Archbishop Mitty
	183. 	JR 	Cade Stegall 		17:46.1 	
Liberty - Bakersfield
	184. 	SR 	Roger Torres Elmes 		17:48.5 	
University
	185. 	JR 	Brenden Jacoby 		17:49.6 	
Whitney
	186. 	SO 	Nicholas Meeker 		17:57.0 	
Archbishop Mitty
	187. 	JR 	Emmanuel Cadena Aguilar 		17:57.4 	
Venice
	188. 	FR 	Sean Lacey 		18:03.7 	
Bella Vista
	189. 	SR 	Daniel Gallardo 		18:03.7 	
Scripps Ranch
	190. 	SR 	Israel Lopez 		18:08.9 	
Venice
	191. 	JR 	Henry Friedman 		18:11.7 	
Venice
	192. 	SO 	Carson Nagel 		18:14.2 	
College Park
	193. 	SO 	Nick Lopez 		18:25.4 	
Liberty - Bakersfield
	194. 	SR 	Dylan Viale 		18:29.1 	
College Park
	195. 	JR 	Juan Fernando Morales 		18:36.3 	
Eagle Rock
	196. 	SR 	Daniel Perry 		18:37.3 	
Skyline
	197. 	SR 	Andrew Burns 		18:43.8 	
Scripps Ranch
	198. 	JR 	Ivan Mendez 		18:56.8 	
Venice
	199. 	SR 	Nathan Lee 		19:09.9 	
Oakland Tech
	200. 	SR 	Bryce Harrison 		19:21.1 	
Skyline
	201. 	JR 	Emmett O'Brien 		19:37.0 	
Skyline
	202. 	SO 	Logan Unger 		19:53.8 	
Willow Glen
	203. 	SR 	Hong Tan 		20:28.2 	
Skyline
	204. 	SR 	Alvin Yu 		20:47.3 	
Skyline
		SR 	Franky Varela 		DNF 	
San Pasqual

17. Piner 443
18.
Crawford
463
19.
Coronado
495
20.
University Prep
536
21.
Sutter
599
22.
Lindsay
600
23.
Bishop O'Dowd
606
24.
West Bakersfield
619
25.
Sherman Oaks CES
742

	1. 	JR 	Anthony Grover 		15:21.8 	
J Serra Catholic
	2. 	SR 	Ryan Smithers 		15:27.8 	
Laguna Beach
	3. 	JR 	Lyle Rumon 		15:31.6 	
Marin Catholic
	4. 	SR 	Henry Pick 		15:33.3 	
Foothill Technology
	5. 	SR 	Peter Herold 		15:39.9 	
J Serra Catholic
	6. 	SR 	Jesus Guerra-Reyes 		15:46.0 	
Placer
	7. 	JR 	Logan Brooks 		15:48.7 	
Laguna Beach
	8. 	SR 	Cooper McCarthy 		15:49.2 	
Sir Francis Drake
	9. 	SR 	Garrett Miller 		15:52.7 	
Crean Lutheran
	10. 	SR 	Nicco Pompili 		15:56.2 	
Sir Francis Drake
	11. 	JR 	Amir Barkan 		15:57.1 	
Sir Francis Drake
	12. 	SR 	Christopher Plascencia 		15:59.6 	
Marina
	13. 	SR 	Daniel Rubin 		16:01.6 	
Sage Creek
	14. 	SO 	Godebo Chapman 		16:03.0 	
West Campus
	15. 	SR 	Jack Clough 		16:03.7 	
Ramona
	16. 	SR 	Connor Ryan 		16:06.1 	
Placer
	17. 	SR 	Cal Neilson 		16:08.0 	
Laguna Beach
	18. 	SO 	Mateo Bianchi 		16:10.0 	
Laguna Beach
	19. 	SR 	Keon Mazdisnian 		16:13.7 	
Harvard-Westlake
	20. 	SO 	Oliver Pick 		16:14.1 	
Foothill Technology
	21. 	SR 	Jesus Carrasco 		16:16.7 	
Placer
	22. 	SR 	Gabriel Reuter 		16:17.6 	
Sir Francis Drake
	23. 	SR 	Kai Dettman 		16:18.3 	
South Pasadena
	24. 	JR 	Esteban Deniz 		16:18.4 	
King City
	25. 	FR 	Bryce Gilmore 		16:19.4 	
Sage Creek
	26. 	JR 	Devin Muzzy 		16:19.7 	
Placer
	27. 	JR 	Will Stefanou 		16:20.3 	
Pacific Grove
	28. 	SR 	Justin Morris 		16:22.3 	
Sage Creek
	29. 	SR 	John-Isaiah Jimenez 		16:22.9 	
Christian Brothers
	30. 	SR 	Nathan Vallejo 		16:25.4 	
Southlands Christian
	31. 	SR 	Thomas Padilla 		16:26.4 	
Palma
	32. 	SR 	Owen Serricchio 		16:27.0 	
La Canada
	33. 	SR 	Andrew Shibuya 		16:27.5 	
Harvard-Westlake
	34. 	JR 	Henry Denberg 		16:28.2 	
San Rafael
	35. 	SO 	Calvin Katz 		16:29.4 	
Sacred Heart Prep
	36. 	SR 	Justin Matties 		16:30.3 	
University Prep
	37. 	SO 	Mario Avila 		16:31.8 	
King City
	38. 	SR 	Jake Alt 		16:32.2 	
Pacific Grove
	39. 	JR 	Jacob Christopher 		16:32.6 	
Calaveras
	40. 	SR 	Fausto Medina 		16:33.0 	
King City
	41. 	SR 	Zachary Falkowski 		16:33.7 	
Laguna Beach
	42. 	SR 	Edwin Montes Lopez 		16:34.2 	
Ocean View
	43. 	SO 	Lukas Berg Mills 		16:34.3 	
Scotts Valley
	44. 	JR 	Mitchell Ross 		16:34.5 	
Scotts Valley
	45. 	SR 	Nevin Afong 		16:36.7 	
Christian Brothers
	46. 	SR 	Enrique Verschoor 		16:37.0 	
Christian Brothers
	47. 	JR 	Jeremy Milligan 		16:37.2 	
Calaveras
	48. 	JR 	Sam Clark 		16:37.4 	
South Pasadena
	49. 	SR 	Luc Bragdon 		16:38.2 	
J Serra Catholic
	50. 	JR 	Nathaniel Estrada 		16:38.4 	
Pioneer
	51. 	SR 	Sebastian Fisher 		16:39.0 	
Laguna Beach
	52. 	FR 	Adin Dibble 		16:39.0 	
Sonora
	53. 	SR 	Daniel Correa 		16:39.5 	
King City
	54. 	SO 	Joshua Villasenor 		16:40.7 	
Foothill Technology
	55. 	SR 	Andrew Matas 		16:40.7 	
Cathedral
	56. 	SO 	Will Compton 		16:41.0 	
Laguna Beach
	57. 	SR 	Elias Sanchez 		16:42.7 	
Terra Nova
58. 	SR 	Nathan Hayes 		16:43.5 	Piner
	59. 	SR 	Henry Whiteley 		16:45.2 	
High Tech High
	60. 	JR 	Ricardo Diaz 		16:45.3 	
King City
	61. 	SO 	Finn Blacker 		16:47.1 	
Foothill Technology
	62. 	SR 	Connor Jaynes 		16:47.5 	
Coronado
	63. 	SR 	Joseph Potz 		16:47.5 	
Rim of the World
	64. 	FR 	Jeremy Kain 		16:50.0 	
Scotts Valley
	65. 	SO 	West Wood 		16:51.6 	
McKinleyville
	66. 	SR 	Alberto Mujica 		16:53.3 	
Christian Brothers
	67. 	JR 	Owen Wolford 		16:54.1 	
Sir Francis Drake
	68. 	SO 	Bryce Granillo 		16:54.9 	
Cathedral
	69. 	SR 	Max Cluss 		16:55.3 	
Sacred Heart Prep
	70. 	FR 	Luke Stefanou 		16:56.2 	
Pacific Grove
	72. 	SO 	Clayton Franco 		16:56.8 	
Sonora
	73. 	SR 	Darren Mudge 		16:58.0 	
Scotts Valley
	74. 	FR 	Brennan Food 		16:58.1 	
J Serra Catholic
	75. 	SO 	Bennie Dimas 		16:58.3 	
Ripon
	76. 	SR 	David Salazar 		16:58.5 	
Cathedral
	77. 	SR 	Jason Messner 		16:58.9 	
Foothill Technology
	78. 	JR 	Logan Ross 		16:59.4 	
Scotts Valley
	79. 	JR 	Cole Mullins 		16:59.7 	
Coronado
	80. 	SR 	Jack Diener 		17:00.4 	
Marin Catholic
	81. 	SR 	Mateo Alliende 		17:01.0 	
Calaveras
	82. 	JR 	Drake Prince 		17:01.4 	
High Tech (CV)
	83. 	SR 	Jose Saldana 		17:02.4 	
Valley Center
	84. 	SR 	Jacob Garret 		17:03.0 	
Enterprise
	85. 	SR 	Payton Jackson 		17:03.0 	
Del Lago Academy
	86. 	JR 	Misgina Elias 		17:03.2 	
Crawford
	87. 	JR 	Nick Torres 		17:04.4 	
Enterprise
	88. 	JR 	Tyriq Granillo 		17:04.6 	
Cathedral
	89. 	SR 	Nicolo Porcu 		17:05.3 	
South Pasadena
	90. 	SR 	Alekzander Grijalva-Moreno 		17:06.8 	
South Pasadena
	91. 	SO 	Zen Li 		17:08.7 	
Foothill Technology
	92. 	JR 	Andrew Cantu 		17:10.4 	
Cathedral
	93. 	SR 	Saul Macias 		17:10.9 	
Calaveras
	94. 	SO 	Juan Sanchez 		17:11.5 	
Cathedral
	95. 	JR 	Nathan Reid 		17:12.4 	
Placer
	96. 	JR 	Miguel Flores 		17:12.4 	
Ocean View
	97. 	SO 	Oliver Arnesson 		17:13.3 	
Sir Francis Drake
	98. 	JR 	Colin Schmitt 		17:13.5 	
Sage Creek
	99. 	JR 	Gabriel Galaz 		17:14.5 	
Cathedral
	100. 	JR 	Mandela Matuta 		17:14.6 	
Crawford
	101. 	JR 	Cameron McFarlin 		17:14.9 	
Coalinga
	102. 	SR 	Adam Vera 		17:15.5 	
McKinleyville
	103. 	SO 	Lucas Chaney 		17:15.7 	
Bishop O'Dowd
	104. 	JR 	Bryce Harper 		17:15.9 	
Sutter
	105. 	SR 	Bailey Rockholt 		17:16.1 	
Sutter
	106. 	SR 	Daniel Montes 		17:16.3 	
Foothill Technology
	107. 	SR 	Peter Sykes 		17:17.0 	
Harvard-Westlake
	108. 	JR 	Christian Rodriguez 		17:17.1 	
Dorsey
	109. 	JR 	Patrick Roehling 		17:17.7 	
Paradise
	110. 	JR 	Henry Burditt 		17:18.1 	
Albany
111. 	SR 	Emmanuel Delgado 		17:19.2 	Piner
112. 	JR 	Jeremiah Cano 		17:19.3 	Piner
	113. 	SO 	Patrick Goodrich 		17:19.3 	
Scotts Valley
	114. 	SR 	Victor Cisneros 		17:21.2 	
Lindsay
	115. 	SR 	Hector Ramirez 		17:23.5 	
Crawford
	116. 	SO 	Oscar Delgado 		17:24.1 	
King City
	117. 	SR 	Noah Menezes 		17:24.1 	
San Joaquin Memorial
	118. 	JR 	Erick Barajas 		17:24.6 	
Sherman Oaks CES
	119. 	SR 	Francesco Fortunelli 		17:24.8 	
South Pasadena
	120. 	JR 	Peter Avila 		17:25.0 	
King City
	121. 	SR 	Gabriel Price 		17:26.2 	
Paradise
	122. 	JR 	Elijah Higelin 		17:26.8 	
Yreka
	123. 	SR 	Josiah Russell 		17:29.6 	
Sir Francis Drake
	124. 	SR 	Carlos Garcia 		17:30.4 	
San Joaquin Memorial
	125. 	SR 	Jason St. Pierre 		17:30.8 	
Ocean View
	126. 	JR 	Victor Chavez 		17:31.4 	
West Bakersfield
	127. 	JR 	Diego Ahmad 		17:32.4 	
Harvard-Westlake
	128. 	SR 	Jack Hemphill 		17:34.5 	
J Serra Catholic
	129. 	SO 	Michael Hernandez 		17:35.6 	
Ocean View
	130. 	SR 	Rishi Chandiramani 		17:36.0 	
Scotts Valley
	131. 	SR 	Bryan Hernandez 		17:36.5 	
Burton Technology Academy
	132. 	SR 	Matthew Burkhardt 		17:36.9 	
J Serra Catholic
	133. 	SR 	Nicolas Sanchez 		17:37.1 	
Christian Brothers
	134. 	SR 	Arturo Sandoval 		17:37.9 	
Crawford
	135. 	JR 	Joshua King 		17:38.3 	
Ocean View
	136. 	SR 	Thomas Murphy 		17:39.0 	
Bishop O'Dowd
	137. 	FR 	Shervin Bahmanpour 		17:41.2 	
Sage Creek
	138. 	SO 	Cameron Schmitt 		17:42.2 	
Sage Creek
	139. 	JR 	Lionel Aguayo 		17:42.5 	
Lindsay
	140. 	SO 	Parker Walpole 		17:42.7 	
Ocean View
	141. 	SR 	Cristobal Vasquez 		17:43.5 	
Lindsay
	142. 	SR 	Michael Xiong 		17:44.5 	
South Pasadena
	143. 	SO 	Gideon New 		17:45.3 	
University Prep
	144. 	SO 	Connor Davainis 		17:45.7 	
University Prep
	145. 	JR 	Caleb Torres 		17:47.0 	
Pacific Grove
146. 	SR 	Addison Gaspar 		17:49.1 	Piner
	147. 	SO 	Grant Hawthorne 		17:51.0 	
Coronado
	148. 	FR 	Adrian Ramirez 		17:51.2 	
Ocean View
	149. 	JR 	Will Watkins 		17:51.4 	
Marin Catholic
150. 	FR 	Jimy Garcia 		17:52.2 	Piner
	151. 	FR 	Landon Mullins 		17:52.5 	
Coronado
	152. 	JR 	Kai Hoadley 		17:53.1 	
Pacific Grove
	153. 	SR 	Andrew Thompson 		17:55.1 	
Marin Catholic
	154. 	FR 	Sergio Ajquiy-Flores 		17:55.2 	
Marin Catholic
	155. 	SO 	Benicio Perez 		17:55.5 	
South Pasadena
	156. 	JR 	Ben Nelson 		17:56.0 	
Sage Creek
	157. 	SR 	Wesley Moore 		17:58.6 	
Placer
	158. 	SO 	Osmar Duarte 		17:59.7 	
West Bakersfield
	159. 	JR 	Andrew Jara 		18:00.0 	
West Bakersfield
	160. 	JR 	Ray Birkett 		18:04.2 	
Pacific Grove
	161. 	SO 	Connor Walcott 		18:04.4 	
J Serra Catholic
	162. 	SR 	Zane Grenoble 		18:04.5 	
Harvard-Westlake
	163. 	JR 	Robertson Rice 		18:05.1 	
Pacific Grove
	164. 	SO 	Nicolas Moore 		18:05.6 	
Calaveras
	165. 	SR 	Brandon Chairez 		18:06.1 	
West Bakersfield
	166. 	JR 	Julian Jensen 		18:06.4 	
Bishop O'Dowd
	167. 	SR 	Nader Ali 		18:06.7 	
Crawford
	169. 	JR 	Byaombe Mloko 		18:07.7 	
Crawford
	170. 	SO 	Ryan Wright 		18:10.2 	
Bishop O'Dowd
	171. 	SO 	Xavier Pitula 		18:11.5 	
Sutter
	172. 	SR 	Rafael Hurtado 		18:13.6 	
Lindsay
	173. 	SR 	CJ Duncan 		18:13.8 	
Wheatland
	174. 	FR 	Turner Williams 		18:14.8 	
Yosemite
175. 	JR 	Tyler Mezey 		18:16.8 	Piner
	176. 	SR 	Joaquin Palomares 		18:19.0 	
Sherman Oaks CES
	177. 	SR 	Samuel Copley 		18:19.2 	
Christian Brothers
	178. 	JR 	Anthony Duran 		18:24.3 	
West Bakersfield
	179. 	JR 	Nate Gomez 		18:28.7 	
Rancho Dominguez Prep
	180. 	JR 	Jacob Matties 		18:29.1 	
University Prep
	181. 	SR 	Lucas Borchin 		18:31.0 	
Calaveras
	182. 	FR 	Isaiah Feaver 		18:33.1 	
University Prep
	183. 	JR 	David Tappe 		18:35.6 	
Sutter
	184. 	SR 	James White 		18:37.4 	
Christian Brothers
	185. 	SO 	Cristofer Olascua 		18:38.4 	
Crawford
	186. 	SR 	Andrew Wise 		18:38.9 	
University Prep
	187. 	SO 	Alex Jimenez 		18:39.8 	
West Bakersfield
188. 	JR 	Juan Vazquez 		18:40.0 	Piner
	189. 	JR 	Nathan Aoisi 		18:41.0 	
Harvard-Westlake
	190. 	SR 	Spencer Busby 		18:42.4 	
Coronado
	191. 	SR 	Ricky Miramontes 		18:47.2 	
Marin Catholic
	192. 	SR 	Luis Muniz 		18:49.2 	
Belmont
	193. 	SR 	Davis Cook 		18:50.2 	
Harvard-Westlake
	194. 	SO 	Jackson Bigelow 		18:54.8 	
Bishop O'Dowd
	195. 	SO 	Raymond Baldez 		18:54.8 	
Sutter
	196. 	SR 	Christian Lane 		18:55.1 	
University Prep
	197. 	FR 	Christopher Costagliola 		18:59.4 	
Bishop O'Dowd
	198. 	JR 	Victor Pham 		19:15.7 	
Bishop O'Dowd
	199. 	JR 	Casey Harris 		19:20.8 	
Coronado
	200. 	SR 	Ismael Ferreira 		19:28.1 	
Lindsay
	201. 	JR 	Braedyn Hick 		19:28.1 	
Sutter
	202. 	SR 	Parker Brown 		19:32.7 	
Marin Catholic
	203. 	FR 	Cameron Anderson 		19:38.6 	
Sutter
	204. 	SO 	Braden Baptista 		19:40.7 	
West Bakersfield
	205. 	JR 	Gabriel Maldonado 		19:47.4 	
Lindsay
	206. 	SO 	Cristobal Flores 		19:52.9 	
Calaveras
	207. 	JR 	Zack Monterosso 		19:54.2 	
LACES LA (Center for Enriched Studies)
	208. 	SO 	Cole Hutcherson 		20:19.0 	
Coronado
	209. 	SO 	Yehonathan Boussi 		20:46.4 	
Sherman Oaks CES
	210. 	SR 	Ramon Espinoza 		20:56.3 	
Sherman Oaks CES
	211. 	JR 	Ethan Kurtz 		21:49.4 	
Sherman Oaks CES
	212. 	SO 	Ralph Adra 		23:34.8 	
Sherman Oaks CES