CIF State Cross Country Championships
November 24, 2018 Woodward Park 5K Course, Fresno CA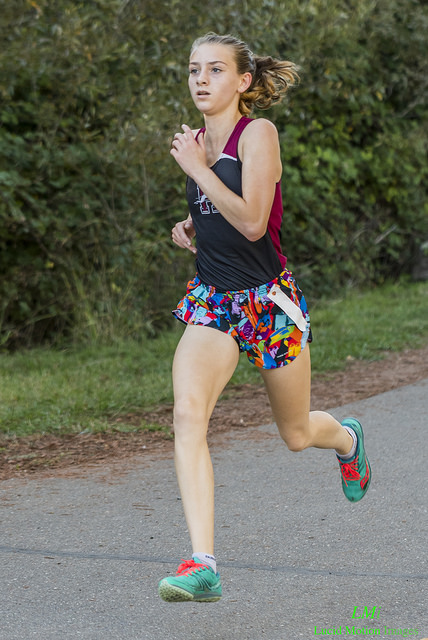 Division V
Empire pair wins state cross country titles after leaving it all on the course
Gabby Peterson Video Interview
Gabby Peterson Video Interview 2
Div V Photos
Four state meets capped by the biggest prize of all.
Healdsburg's Gabrielle "Gabby" Peterson ran 81st here as a freshman.
As a sophomore she had a nice improvement to 26th.
Junior year she improved to 25th but had the potential that year to do much better, so I'm sure that disappointment fueled her this year to do what she did. And what's that "STATE CHAMPION".
Gabby not only won the race she crushed the field winning by a near unheard of 35 seconds.
Peterson's win gives the Redwood Empire their fourth state championship in five years in this race following the three others by Rylee Bowen.
Only 1998, when the Empire won three individual Championships by Ryan Mack, Ukiah D2 and Celedonio Rodriquez, Elsie Allen and Sara Bei, Montgomery, both D3, has our area had more Champions than the two won today by Peterson and Andre Williams in the boys race.
Taking a look at the fastest Empire times ever run on this course you'll see ever girl ahead of Peterson is nothing less than a running legend.
Julia Stamps, Santa Rosa 1996 16:43 State #2 All-Time + =Sr class record, 2nd Jr & 4th So class record
Amber Trotter, Ukiah 2001 16:55 Clovis #3 All-Time, 17:01 State
Sara Bei, Montgomery 2000 17:13 State #27 All-Time, #4 So
Sarah Sumpter, Healdsburg 2007 17:26 State
Jacque Taylor, Casa Grande 2009 17:29 State
Julie Nacouzi, Montgomery 2009 17:29 State 17:42 Clovis
Phyliss Blanchard, Rancho Cotate 2003 17:42 State
Gabrielle Peterson, Healdsburg 2018 17:45 State
Trina Cox, Santa Rosa 1998 17:48 State
Delaney White, Santa Rosa 2015 17:51 State
Kim Conley, Montgomery 2003 17:53 State
Nicole Lane, El Molino 2011 18:04 State 18:24 Clovis
Kathy Dalton, Sonoma Valley 1986 18:13 Kinney
Jenny Aldridge, Maria Carrillo 2000 18:13 State
Sherri Minkler, Analy 1984 18:14 Kinney
Peterson was joined in this race by two Coastal Mountain Conference freshman who both ran almost as fast as Peterson did in her freshman race.
Middletown's Brooklyn Huffman placed 53rd in 20:34 and Fort Bragg's Dylan Hutchinson placed 59th in 20:44.
Division III
Montgomery runner almost left out of state meet finishes 9th
Div III Photos
Video of race
The Redwood Empire had two huge accomplishments in this race.
Montgomery's Leah Haley was not thought of by the NCS committee to be one of the best runners deserving to even compete at state. Everyone from our area knew that was not true and she proved it by standing on the podium after battling her way to a ninth place finish in 18:41.
Powerhouse Maria Carrillo also showed what a great team they are as they for the second year in a row had both their girls and boys team finish in the top 10 with the girls here claiming the very elite 5th place.
The Puma's were lead once again by senior Aimee Armstrong who was just two clicks off the podium herself as an individual with her best ever state placing at 12th. This was Armstrongs fourth trip to state with three years placing in the top 15.
The other Puma's who will be wearing those 5th place medals are Nicole Morris (50th 19:35), Jasmin Hirth (57th 19:40), Meghan Field (92nd 20:03), Hannah Cohen-Sandler (129th 20:44), Avery Damron (156th 21:16), Vivian Mattice (169th 21:36).
Windsor freshman Lilja Chung got her first taste of state with her 153rd finish in 21:13.
Division II
Div II Photos
Vintage made it's first NCS trip to state taking a team with only one senior on it.
Sophomore Mary Deeik made her second trip to state after making it there last year from the Sac-Joaquin Section.
This year she ran a fast 18:29, =20th All-Time in Empire, and finished in 25th place.
The rest of the Crushers team were Michaela Kreps (157th 20:37), Josephine Borsetto (176th 21:12), Tamara Hernandez (187th 21:49), Yadira Garcia (188th 21:50), Anastasia Busby (190th 21:50), Maggie Chapin (198th 22:52).

Top Empire by time
1. 	SR 	Gabrielle Peterson 	17:45 	Healdsburg, 8th All-Time
25. 	SO 	Mary Deeik 		18:29 	Vintage, =20th All-Time
9. 	SR 	Leah Haley 		18:41 	Montgomery, 32nd All-Time
12. 	SR 	Aimee Armstrong 	18:44 	Maria Carrillo
50. 	SO 	Nicole Morris 		19:35 	Maria Carrillo
57. 	JR 	Jasmin Hirth 		19:40 	Maria Carrillo
92. 	SR 	Meghan Field 		20:03 	Maria Carrillo

157. 	SR 	Michaela Kreps 		20:37 	Vintage
53. 	FR 	Brooklyn Huffman 	20:34 	Middletown
129. 	JR 	Hannah Cohen-Sandler 	20:44 	Maria Carrillo
59. 	FR 	Dylan Hutchinson 	20:44 	Fort Bragg
176. 	SO 	Josephine Borsetto 	21:12 	Vintage
153. 	FR 	Lilja Chung 		21:13 	Windsor
156. 	JR 	Avery Damron 		21:16 	Maria Carrillo
169. 	FR 	Vivian Mattice 		21:36 	Maria Carrillo
187. 	SO 	Tamara Hernandez 	21:49 	Vintage
188. 	SO 	Yadira Garcia 		21:50 	Vintage
190. 	JR 	Anastasia Busby 	21:50 	Vintage
198. 	FR 	Maggie Chapin 		22:52 	Vintage

1:38:46	19:45	2:00.3 Maria Carrillo
1:43:57	20:47	3:20.7 Vintage
 	
Top Empire by place
1. 	SR 	Gabrielle Peterson 	17:45 	Healdsburg
9. 	SR 	Leah Haley 		18:41 	Montgomery
12. 	SR 	Aimee Armstrong 	18:44 	Maria Carrillo
25. 	SO 	Mary Deeik 		18:29 	Vintage
50. 	SO 	Nicole Morris 		19:35 	Maria Carrillo
53. 	FR 	Brooklyn Huffman 	20:34 	Middletown
57. 	JR 	Jasmin Hirth 		19:40 	Maria Carrillo
59. 	FR 	Dylan Hutchinson 	20:44 	Fort Bragg
92. 	SR 	Meghan Field 		20:03 	Maria Carrillo
129. 	JR 	Hannah Cohen-Sandler 	20:44 	Maria Carrillo
153. 	FR 	Lilja Chung 		21:13 	Windsor
156. 	JR 	Avery Damron 		21:16 	Maria Carrillo
157. 	SR 	Michaela Kreps 		20:37 	Vintage
169. 	FR 	Vivian Mattice 		21:36 	Maria Carrillo
176. 	SO 	Josephine Borsetto 	21:12 	Vintage
187. 	SO 	Tamara Hernandez 	21:49 	Vintage
188. 	SO 	Yadira Garcia 		21:50 	Vintage
190. 	JR 	Anastasia Busby 	21:50 	Vintage
198. 	FR 	Maggie Chapin 		22:52 	Vintage

5. Maria Carrillo 241
23. Vintage 591

State Meet Bests
By division
By school
By year
By time for Woodward Park, Fresno
Complete Results
Division I
Division II
Division III
Division IV
Official Team Scores
1.
Lick Wilmerding
97
2.
St. Margaret's
103
3.
Flintridge Prep
166
4.
Santa Fe Christian
183
5.
San Francisco University
188
6.
Castilleja
227
7.
Nueva School
240
8.
Branson
244
9.
Head-Royce
257
10.
St Joseph Notre Dame
261
11.
Bishops
325
12.
Xavier College Prep
333
13.
Chadwick
357
14.
Thacher
365
15.
Notre Dame (Salinas)
367
16.
Mammoth
376
17.
Village Christian
384
18.
Marin Academy
389
19.
Convent and Stuart Hall
425
20.
Western Sierra Collegiate Academy
427
21.
Liberty (Madera Ranchos)
477
22.
Foresthill
513
23.
Durham
622
24.
Sun Valley Magnet
717
1. SR Gabrielle Peterson 17:44.3 Healdsburg
2. SO Mia Barnett 18:19.7 Village Christian
3. JR Amber Jackson 18:27.0 Forest Lake Christian
4. SR Emily Perez 18:29.0 St Joseph Notre Dame
5. JR Tevah Gevelber 18:35.3 Castilleja
6. SR Andi Carnell 18:44.6 St. Margaret's
7. SR Callie Jones 18:47.7 Branson
8. FR Isis Diaz 18:58.6 Sierra Canyon
9. SR Elizabeth Radmilovich 19:09.8 Calvary Chapel Santa Ana
10. SO Alaina Zamorano 19:10.9 Christian
11. SR Emma Marino 19:12.1
International FAIS
12. JR Mira Terdiman 19:17.3
Lick Wilmerding
13. FR Eloise Martenson 19:17.5
Santa Fe Christian
14. JR Jordyn Harper 19:19.0
Mammoth
15. FR Madeline Cramer 19:35.9
Bishops
16. JR Kaya Hano 19:36.8
Head-Royce
17. FR Ryley Burns 19:39.2
Linfield Christian
18. JR Angela Leavitt 19:40.5
Notre Dame (Salinas)
19. JR Hanna Zarrinnegar 19:41.1
Nueva School
20. SO Molly May 19:41.9
Xavier College Prep
21. FR Ona Ortiz 19:42.2
Head-Royce
22. SO Anna Watson 19:42.4
Stevenson
23. SO Lily Miller 19:43.6
Webb
24. SR Haley Allen 19:44.5
Flintridge Prep
25. JR Shea Hueston 19:45.9
St. Margaret's
26. SO Claire Mullen 19:46.2
St. Margaret's
27. JR Sara Sabra 19:48.2
Western Sierra Collegiate Academy
28. SR Lauren Harper 19:48.5
Trinity
29. SO Caitlin Evers 19:51.6
Branson
30. SO Maya Lacamp 19:55.9
Lick Wilmerding
31. FR Cate Kreutzen 20:00.4
Lick Wilmerding
32. SR Alicia Murillo 20:00.9
Hamilton City
33. SR Alison Savage Brooks 20:03.3
Lick Wilmerding
34. FR Sage Sanderson 20:04.1
Branson
35. JR Liana Morrissey 20:05.1
Flintridge Prep
36. SR Sasha Codiga 20:08.0
Flintridge Prep
37. SR Julia Martin 20:08.3
St. Margaret's
38. FR Abigail Krenz 20:09.2
Castilleja
39. SO Sydney Roberts 20:09.8
Lick Wilmerding
40. SR Ella Shenkar 20:11.6
San Francisco University
41. SO Reyna Ho 20:11.7
Oakland Military Institute
42. FR Marissa Lumpkin 20:15.3
San Francisco University
43. FR Ella Parsley 20:19.8
Chadwick
44. SO Landon Torres 20:19.9
Liberty Charter
45. SO Camille Needham 20:21.2
Santa Fe Christian
46. SR Hope Codiga 20:21.6
Flintridge Prep
47. FR Natalie Perez 20:22.0
St Joseph Notre Dame
48. SR Lauren Traum 20:25.5
Castilleja
49. SR Anna Novatney 20:26.3
San Francisco University
50. SO Kate Marcotullio 20:28.7
Oakwood
51. SO Chloe Krome 20:30.9
Santa Fe Christian
52. JR Sophia Napier 20:31.1
Liberty (Madera Ranchos)
53. FR Brooklyn Huffman 20:33.5 Middletown
54. JR Elliot Singer 20:34.2
Lick Wilmerding
55. JR Ilaria Comfort 20:36.7
La Jolla Country Day
56. JR Azalea Prince 20:37.1
Capital Christian
57. JR Charlotte Jones 20:37.1
St. Margaret's
58. SO Savana May 20:41.0
Xavier College Prep
59. FR Dylan Hutchinson 20:43.9 Fort Bragg
60. JR Kennedy Necoechea 20:45.8
Santa Fe Christian
61. JR Brianna Cindrich 20:47.6
Holy Family (G)
62. JR Christie Linnard 20:47.6
Bishops
63. SO Anya Krishnan 20:48.2
Head-Royce
64. FR Nellie Rubio-Pintor 20:49.0
Ceiba College Preparatory Academy
65. SR Alex Alcaraz 20:49.1
Notre Dame (Salinas)
66. SO Lucy Hurlbut 20:50.2
San Francisco University
67. JR Maya Swain 20:52.2
San Francisco University
68. FR Alyssa Horng 20:54.0
Nueva School
69. JR Isabelle Thiara 20:56.2
Convent and Stuart Hall
70. SR Jenna Lange 20:56.7
Nueva School
71. FR Chiara Savage Schwartz 20:58.3
Marin Academy
72. SO Gaelen Clayton 20:59.6
Nueva School
73. FR Reilly Sheehan 20:59.9
Crystal Springs Uplands
74. SO Lizzetta Dardenne Ankringa 21:02.8
Mammoth
75. JR Barkley Bennett 21:04.1
Thacher
76. SR Caroline DelVecchio 21:04.5
Thacher
77. SO Madeleine Arundale 21:05.0
St. Margaret's
78. SO Gabriela Valle 21:05.3
Chadwick
79. SR Matison McCombs 21:07.0
Liberty (Madera Ranchos)
80. JR Mia Elliott 21:08.1
Chadwick
81. SO Eszter Horvath 21:08.4
Woodside Priory
82. SR Rhiannon Repetti 21:08.4
Western Sierra Collegiate Academy
83. SO Katherine Collier 21:08.7
St. Margaret's
84. SR Angie Wang 21:13.1
Castilleja
85. SO Karina Andersen 21:13.9
Thacher
86. SR Nicole Yasumi 21:16.6
Modoc
87. SO Leila Sulentic 21:17.6
San Francisco University
88. SO Audrey Smith 21:18.4
Santa Fe Christian
89. JR Jeannie Moreno 21:20.4
Lick Wilmerding
90. SR Nadia Forougi 21:23.2
Santa Fe Christian
91. SO Caliska Avila 21:24.3
Washington Union
92. FR Ashley Sams 21:24.7
Central Catholic
93. SO Emma Dardenne-Ankringa 21:24.8
Mammoth
94. SR Caroline Wreszin 21:29.9
Flintridge Prep
95. FR Emma Howe 21:30.9
Sierra Pacific
96. SO Anna Rose 21:31.1
Argonaut
97. SR Elizabeth Bradley 21:32.0
Foresthill
98. SO Leah Kunde 21:34.9
Christian
99. JR Isabel Haas 21:35.4
Head-Royce
100. SO Claire Nocon 21:38.2
St Joseph Notre Dame
101. JR Summer Kloer 21:40.4
Santa Fe Christian
102. JR Danielle Perez 21:42.0
St Joseph Notre Dame
103. JR Jennifer Ruiz 21:43.1
Modoc
104. FR Laura Everett 21:46.0
Vacaville Christian
105. FR Alexandra Midler 21:47.0
Bishops
106. FR Liliana Watkins 21:50.7
Foresthill
107. FR Lily Ellsworth Yow 21:54.2
Marin Academy
108. SO Eleanor Monroe 21:55.0
Nueva School
109. FR Jaida Sieu 21:55.3
St Joseph Notre Dame
110. SO Sierra Cameron 21:57.2
Marin Academy
111. FR Laurissa Carrillo 21:57.7
Xavier College Prep
112. SR Marissa Bonivert 22:00.2
Mt Shasta
113. SO Angie Carroll 22:00.2
Xavier College Prep
114. JR Ryann Minnis 22:00.9
Convent and Stuart Hall
115. FR Maddison Cayer 22:05.4
Bishops
116. SO Dagny Wallace 22:06.0
Convent and Stuart Hall
117. JR Terri Jimenez 22:06.7
Summit Collegiate
118. FR Hana Morshedi 22:10.2
New West Charter
119. FR Mikaela Murasko 22:10.6
Durham
120. SO Sophie Bekins 22:14.7
Thacher
121. JR Briana Lomeli 22:16.9
Notre Dame (Salinas)
122. SR Hayley Repetti 22:17.8
Western Sierra Collegiate Academy
123. SR Marianne Gleason 22:17.9
San Joaquin Memorial
124. SR Madeline Rodriguez 22:20.9
Marin Academy
125. FR Emma Bailey 22:21.3
Marin Academy
126. JR Katelyn Mattos 22:24.1
Village Christian
127. JR Michaela Mattos 22:24.2
Village Christian
128. SR Catherine Ausherman 22:24.5
Village Christian
129. SO Vienna Gao 22:32.5
Nueva School
130. SR Megan Knudsvig 22:34.4
Foresthill
131. SO Gracyn Hayunga 22:35.9
Marin Academy
132. SR Anna Weisel 22:36.4
Branson
133. JR Sydney Hwang 22:38.3
Branson
134. SR Riona Yoshida 22:38.8
Castilleja
135. SO Sofia Houts 22:44.5
Convent and Stuart Hall
136. FR Catherine Davodi 22:45.7
Chadwick
137. JR Maddie Park 22:45.9
Nueva School
138. SO Jenna Hernandez 22:48.2
La Jolla Country Day
139. FR Sophia Harvey 22:49.1
Village Christian
140. JR Mackenzie Jones 22:49.8
San Francisco University
141. JR Luca Pieretti 22:50.3
Thacher
142. FR Luchia Torro 22:52.8
New West Charter
143. SO Driscoll Callan 22:53.4
Convent and Stuart Hall
144. FR Clara Mangali 22:53.9
Chadwick
145. FR Isabella Schauble 22:58.6
Marin Academy
146. FR Zoey Cardosa 23:00.1
San Joaquin Memorial
147. SR Lily Harding 23:03.5
Thacher
148. JR Diana Orozco 23:06.2
Notre Dame (Salinas)
149. FR Soraya Zepeda 23:10.2
Notre Dame (Salinas)
150. SR Samantha Martinez 23:14.7
Ayala
151. JR Naiya Kowalkowski 23:17.0
Durham
152. SO Sophia Scott 23:19.6
Bishops
153. SR Charlie Boiler 23:20.5
Chadwick
154. JR Katelyn Salas-Flores 23:21.5
Xavier College Prep
155. FR Kassidy Afonin 23:23.0
Liberty (Madera Ranchos)
156. FR Audrey Andel 23:24.9
Head-Royce
157. FR Arianna Amador 23:25.1
Notre Dame (Salinas)
158. SO Katie Bennett 23:27.5
Flintridge Prep
159. SO Pip Carlson 23:27.9
Castilleja
160. SO Khloe Bracken 23:36.4
Xavier College Prep
161. FR Laurel Satterfield 23:38.2
Mammoth
162. FR Laurel Wight 23:39.0
Mammoth
163. SO Reyna Kleemeier 23:39.5
Thacher
164. SO Cassidy Call 23:40.9
Western Sierra Collegiate Academy
165. SR Brianna Burgess 23:42.1
Liberty (Madera Ranchos)
166. SR Maggie Walter 23:43.5
Convent and Stuart Hall
167. FR Keira Taksa 23:43.6
Sierra Pacific
168. SO Genevieve Harvey 23:44.7
Flintridge Prep
169. JR Samserai Ochoa 23:49.4
Sun Valley Magnet
170. JR Sydney Barry 23:50.6
Chadwick
171. SR Brooke Young 23:51.6
Durham
172. SR Roxana Leiva 23:56.9
Central City Value
173. FR Makayla Stallman 24:03.2
Foresthill
174. JR Deanna Trieu 24:05.8
Western Sierra Collegiate Academy
175. SR Lia Spencer 24:06.9
Castilleja
176. SO May McConkey 24:09.0
Bishops
177. JR Rebecca Loquaci 24:09.6
Liberty (Madera Ranchos)
178. JR Kiera Odell 24:12.1
Foresthill
179. SR Silvia Sanchez 24:14.6
Sun Valley Magnet
180. JR Maddie Reardon 24:20.2
Xavier College Prep
181. SR Meredith Carpenter 24:24.4
Foresthill
182. FR Madeline Thiara 24:30.5
Convent and Stuart Hall
183. SO Tracy Ramirez 24:46.3
Triumph Charter
184. JR Vanesa Melendez 24:55.1
Sun Valley Magnet
185. SR Robin Romignano 25:09.1
Mammoth
186. JR Taylor Murasko 25:21.0
Durham
187. SO Olivia Wannemacher 25:21.1
Sierra Pacific
188. SO Ava James 25:25.7
Durham
189. SR Sophia Avila 25:28.3
Liberty (Madera Ranchos)
190. SO Mary Mills 25:39.1
Durham
191. JR Madison Bento 25:48.2
Liberty (Madera Ranchos)
192. FR Ellie Jones 25:52.3
Branson
193. SO Ellie Odell 25:54.0
Foresthill
194. JR Haley Lopez 26:06.1
Sun Valley Magnet
195. FR Angela Gonzalez 26:11.9
Sierra Pacific
196. JR Nataly Meza 26:18.6
Sun Valley Magnet
197. SO Paulina Granados 26:22.9
Chowchilla
198. SR Lucie Linotte 26:22.9
Durham
199. JR Adriana Ayala 26:37.9
Sun Valley Magnet
200. SR Araceli Zavala 26:44.2
St Joseph Notre Dame
201. SO Emma Howes 26:44.8
Village Christian
202. SR Emme Mattos 26:44.9
Village Christian
203. SR Emily Milian 29:04.3
Sun Valley Magnet
JR Diane Molina DNF
Costa Mesa
FR Brynn Scott DNF
Sierra Pacific
SO Stasia Winslow DNF
Branson
1.
Vista Del Lago (Folsom)
125
2.
Palos Verdes
133
3.
Campolindo
167
4.
Laguna Hills
217
5. Maria Carrillo 241
6.
Cathedral Catholic
254
7.
Alameda
259
8.
Foothill (Palo Cedro)
263
9.
Moorpark
285
10.
South Torrance
287
11.
Santa Margarita
303
12.
University City
309
13.
Del Oro
313
14.
St Ignatius
316
15.
West Torrance
323
16.
El Capitan
331
17.
Redwood (Larkspur)
364
18.
Carondelet
380
19.
Yorba Linda
417
20.
Nevada Union
459
21.
Mills
495
22.
Morro Bay
528
23.
Sacred Heart Cathedral
563
24.
Wasco
653
25.
Canoga Park
739
1. FR Riley Chamberlain 17:18.6 Del Oro
2. SR Sarah Shulze 17:34.8 Oak Park
3. SR Rayna Stanziano 17:43.8 Concord
4. SO Bella Longo 18:04.6 Mission Vista
5. JR Savannah Scriven 18:31.6 Palos Verdes
6. JR Samantha Steman 18:34.8 Palos Verdes
7. SR Lauren Lum 18:39.1 Alameda
8. SR Payton Osborne 18:39.6 Foothill (Palo Cedro)
9. SR Leah Haley 18:40.8 Montgomery
10. JR Jessica Valles 18:40.8 Sunnyside
11. SO Megan Gonzalez 18:42.2
West Torrance
12. SR Aimee Armstrong 18:43.1 Maria Carrillo
13. SO Anna Vogtmann 18:44.4
Vista Del Lago (Folsom)
14. SR Claire Selleck 18:45.2
Laguna Hills
15. JR Carolinh Calvert 18:50.0
El Capitan
16. SO Annabelle Boudreau 18:50.6
Corona del Mar
17. JR Paloma Hancock 18:51.4
Campolindo
18. SR Hannah Dumaine 18:54.9
Esperanza
19. FR Helena Janku 18:55.0
Redwood (Larkspur)
20. SO Sophie Webster 18:55.1
Campolindo
21. SO Kendall Saeger 19:00.3
Santa Margarita
22. SR Mckenna Paulson 19:02.4
Palos Verdes
23. SR Rachel Burgoyne 19:02.5
Vista Del Lago (Folsom)
24. JR Alicia Hober 19:03.6
Campolindo
25. SO Siena Palicke 19:09.8
Yorba Linda
26. SR Nevaeh Walla 19:11.4
Moorpark
27. SR Veronica Towle 19:12.2
Las Lomas
28. SR Emily Harris 19:13.2
Ann Sobrato
29. SR Sophie Getz 19:14.3
Santa Margarita
30. FR Haleigh Humble 19:15.9
Oakdale
31. FR Noelle Diep 19:16.6
El Camino
32. SR Ella Ruff 19:17.1
University City
33. SR Audrey McClish 19:17.6
Morro Bay
34. SO Evie Cohen 19:18.2
St Ignatius
35. SR Quinn Hagerman 19:19.1
Merced
36. SR Isabel Lozito 19:19.2
St Ignatius
37. JR Mia Douge 19:21.3
Brea Olinda
38. SR Kelly Wade 19:23.0
Moorpark
39. JR Kayden Legan 19:25.2
Oakdale
40. SR Britta Bundy 19:25.6
Chico
41. SR Lauren Munro 19:26.8
Cathedral Catholic
42. SR Angela Arellano 19:29.9
Torrance
43. SR Sayra Raya 19:29.9
Wasco
44. FR Lexi Arambulo 19:30.3
Cathedral Catholic
45. SR Tessa Chen 19:31.4
Mills
46. SR Katherine Gee 19:31.4
Alameda
47. SO Olivia Liuson 19:31.7
Alameda
48. JR Sonja Dommen 19:32.4
Burlingame
49. JR Sophie Pelletier 19:34.3
Vista Del Lago (Folsom)
50. SO Nicole Morris 19:34.5 Maria Carrillo
51. FR Kacie Slover 19:35.0
Nipomo
52. SR Natasha Evans 19:35.9
Vista Del Lago (Folsom)
53. JR Maya Barragan 19:36.3
Vista Del Lago (Folsom)
54. SR Kelsey Van Allen 19:37.2
Tamalpais
55. SR Lauren Turner 19:39.3
Laguna Hills
56. SO Isabella Martinez 19:39.6
Palos Verdes
57. JR Jasmin Hirth 19:39.6 Maria Carrillo
58. JR Tamara Hirschman 19:40.8
Santa Margarita
59. SR Sofia Green 19:41.4
Carondelet
60. SR Nayelli Hernandez 19:42.1
Laguna Hills
61. JR Mia Trodden 19:43.2
South Torrance
62. SO Rania Gomaa 19:43.6
South Torrance
63. JR Grace Dudley 19:44.2
Foothill (Palo Cedro)
64. FR Olivia Mazolewski 19:44.9
Carondelet
65. JR Daisy Tamayo 19:46.3
El Capitan
66. SO Sarah Renberg 19:46.6
Edison
67. SO Sephora Wontor 19:46.8
Nevada Union
68. JR Anabel Ojeda 19:47.9
Oceanside
69. JR Dayana Lopez 19:48.2
El Capitan
70. SR Susana Garcia 19:48.4
Laguna Hills
71. JR Elizabeth Houk 19:48.4
Cathedral Catholic
72. SR Isabelle Shepherd 19:49.0
University City
73. SR Maxine Garcia 19:50.1
University City
74. SO Nicole Frigon 19:51.6
Acalanes
75. SO Hannah Wirth 19:52.2
Del Oro
76. SR Neva Legallet 19:52.2
Redwood (Larkspur)
77. FR Emilie Mertz 19:52.3
Del Oro
78. JR Sabina House 19:52.9
Sacred Heart Cathedral
79. SR Clara Chan 19:53.5
South Torrance
80. FR Sophie Sims 19:54.1
Chico
81. SO Audrey Reed 19:54.3
Live Oak
82. SR Alissa Pessin 19:55.5
Del Oro
83. SO Alicia Helmer 19:56.9
St Ignatius
84. SO Lily Albert 19:57.0
South Torrance
85. FR Sarah Berten 19:57.5
Campolindo
86. JR Kailey Park 19:57.7
West Torrance
87. FR Lindsey Park 19:58.8
West Torrance
88. JR Abby Carter 19:59.1
Vista Del Lago (Folsom)
89. SR Trinity Garcia Santana 19:59.1
Pioneer
90. JR Ellie Guthrie 19:59.3
Campolindo
91. SR Sarah Mason 20:00.1
West Torrance
92. SR Meghan Field 20:02.1 Maria Carrillo
93. SR Tori Michaelian 20:02.9
University City
94. JR Rize Oliveira 20:03.6
Foothill (Palo Cedro)
95. SR Kendall O'Daniel 20:03.9
Vista Del Lago (Folsom)
96. SO Ariella Pacheco 20:04.6
Cathedral Catholic
97. SR Mason Baseley 20:04.6
Foothill (Palo Cedro)
98. SR Morgan Baseley 20:05.6
Foothill (Palo Cedro)
99. FR Liberty Bronson 20:07.0
Chico
100. FR Annaliese Giusto 20:08.2
Carondelet
101. SO Tyler Woods 20:10.3
Redwood (Larkspur)
102. JR Jade Readyhoff 20:10.5
Palos Verdes
103. SO Rosalind Dixon 20:10.7
Exeter
104. JR Maya Krishnan 20:12.5
Yorba Linda
105. SO Bridget Edwards 20:12.7
Moorpark
106. SR Katy Willweber 20:13.3
West Hills
107. JR Avery Tassan 20:15.5
Cathedral Catholic
108. JR Lavinia Van Hamel Platerink 20:16.8
Burlingame
109. JR Kimberly Barrueta 20:17.8
Oceanside
110. SR Kayla Akina 20:21.8
Moorpark
111. SO Mackenzie Morgan 20:22.7
Nevada Union
112. SO Sofia Placias 20:23.3
Laguna Hills
113. SO Jordyn Walla 20:23.9
Moorpark
114. JR Estela Bustillos 20:24.7
Castle Park
115. JR Evelyn Anderson 20:30.8
El Capitan
116. SR Kanon Mori 20:31.1
South Torrance
117. FR Lauren Duncan 20:32.7
Redwood (Larkspur)
118. SR Mary Epperson 20:33.4
Cathedral Catholic
119. SR Yorkabel Gebrehiwot 20:33.7
Hoover
120. SO Claire Hardesty 20:34.1
Palos Verdes
121. FR Hannah Montgomery 20:34.6
Nevada Union
122. SR Emily Columbine 20:36.1
South Torrance
123. JR Maxine Arambulo 20:36.7
Cathedral Catholic
124. FR Katy Hosokawa 20:37.5
Alameda
125. SR Bianca Chao 20:38.0
Campolindo
126. JR Natalia Gagliano 20:38.2
Palos Verdes
127. SR Julia Vezaldenos 20:38.4
East Union
128. JR Audrey Kim 20:39.2
Mills
129. JR Hannah Cohen-Sandler 20:43.3 Maria Carrillo
130. JR Corona Smith 20:43.4
Sacred Heart Cathedral
131. SR Marcela Argueta 20:44.1
Canoga Park
132. SR Shannon Klug 20:44.9
Laguna Hills
133. SO Vanessa Cabral 20:46.3
Moorpark
134. SR Linnssy Munoz Chavez 20:48.1
Hollywood
135. SO Clare Milby 20:50.5
St Ignatius
136. JR Maria Jimenez 20:50.7
Verdugo Hills
137. SO Heather Gentile 20:50.8
Verdugo Hills
138. JR Julia West 20:51.0
Alameda
139. JR Hayley Killion 20:52.1
Yorba Linda
140. SR Nicole Leon 20:52.9
Mills
141. SR Nicole Nilsen 20:59.4
Santa Margarita
142. SR Taryn Cunningham 21:01.9
Carondelet
143. SR Amaya Colburn 21:02.8
Yorba Linda
144. JR Emma Flynn 21:03.3
Foothill (Palo Cedro)
145. SO Sinead Garrett 21:04.7
St Ignatius
146. JR Bianca Pierrat 21:05.1
Campolindo
147. FR Madison Tiaffay 21:05.8
Alameda
148. JR Kailey Cook 21:06.1
Yorba Linda
149. SR Elizabeth Cho 21:06.2
Alameda
150. JR Hannah Tiffany 21:06.8
Nevada Union
151. FR Grace Mazolewski 21:07.0
Carondelet
152. JR Bella Wachter 21:09.8
Yorba Linda
153. FR Lilja Chung 21:12.7 Windsor
154. SR Isabelle DeMarco 21:13.2
University City
155. SO Karina Roddey 21:15.5
University City
156. JR Avery Damron 21:15.9 Maria Carrillo
157. JR Maia Burton 21:18.8
Morro Bay
158. SO Adrienne Frere 21:22.1
Morro Bay
159. SR Amairani Sanchez 21:24.7
Laguna Hills
160. SO Natalie Bader 21:26.0
Foothill (Palo Cedro)
161. SO Kennedy Salvador 21:28.5
Sacred Heart Cathedral
162. SO Isabella Scarano 21:29.2
Santa Margarita
163. JR Jai Rodriguez 21:30.6
West Torrance
164. SR Mailani McKelvy 21:32.6
Morro Bay
165. FR Megan Schreck 21:33.3
Nevada Union
166. FR Caitlyn Sullivan 21:33.6
Nevada Union
167. SR Dana Cross 21:34.6
Carondelet
168. SR Caroline Worthington 21:35.0
St Ignatius
169. FR Vivian Mattice 21:35.7 Maria Carrillo
170. SO Madison Wong 21:38.0
Mills
171. SO Chloe Xu 21:39.6
Mills
172. JR Rivka Ben-Avides 21:40.6
South Torrance
173. SR Hannah Walz 21:42.6
Santa Margarita
174. JR Lauren Steele 21:42.8
Redwood (Larkspur)
175. FR Peyton Schemmer 21:48.7
Morro Bay
176. SO Kaylin Maddox 21:50.0
Santa Margarita
177. SO Leila Shook 21:50.8
Yorba Linda
178. SO Olivia Crump 21:51.5
West Torrance
179. SR Chloe Poon 21:52.2
Sacred Heart Cathedral
180. FR Sofya Chernyak 21:53.4
El Capitan
181. FR Gabrielle McMillan 21:58.9
Sacred Heart Cathedral
182. FR Ixchel Sanchez 21:59.6
Wasco
183. JR Jenna Barba 22:00.8
Del Oro
184. SR Valeria Valdez 22:02.1
Wasco
185. JR Sydni Dyer 22:03.6
Del Oro
186. JR Mae Trice 22:09.2
West Torrance
187. JR Bianca Guerrero 22:10.6
Sacred Heart Cathedral
188. SO Chloe Jeppson 22:11.7
Del Oro
189. SO Chloe Denham 22:12.1
Moorpark
190. JR Salma Anibar 22:12.5
Reseda
191. FR Fiorella Aguirre 22:13.7
Verdugo Hills
192. SO Maya McKinney 22:15.5
St Ignatius
193. SO Gabriela Martinez 22:16.6
Canoga Park
194. JR Jillian Trilevsky 22:17.3
Carondelet
195. SO Ashley Legler 22:18.9
University City
196. SO Serena Yeager 22:19.3
Canoga Park
197. JR Madison Capehart 22:23.0
Canoga Park
198. FR Madelynn Taylor 22:23.6
El Capitan
199. SO Nicole Hoelzle 22:25.6
Redwood (Larkspur)
200. SO Ashley Boinus 22:27.0
El Capitan
201. SR Kinley Flaherty 22:27.7
Morro Bay
202. JR Iris Yee 22:31.8
Sacred Heart Cathedral
203. SR Anelise Dempsey 22:32.3
Morro Bay
204. JR Alma Ramirez 22:35.2
Nevada Union
205. SO Alejandra Birrueta 22:37.9
Wasco
206. SR Lucie James 22:40.1
Redwood (Larkspur)
207. SO Crystal Raya 22:45.0
Wasco
208. SO Elizabet Reyes 22:58.7
Wasco
209. SR Ashley He 22:59.6
Mills
210. JR Tiffany Liang 23:10.3
Mills
211. JR Ashley Morales 23:51.6
Canoga Park
212. SR Alondra Hernandez 24:30.8
Wasco
213. SR Kamryn Bouyett 25:52.2
Canoga Park
214. SR Sofia Figueroa 28:56.1
Canoga Park
1.
Claremont
82
2.
Granada
95
3.
Mission Viejo
136
4.
Serrano
148
5.
La Costa Canyon
153
6.
Saugus
166
7.
Canyon (Anaheim)
195
8.
St Francis
201
9.
Westlake
223
10.
El Toro
283
11.
San Luis Obispo
332
12.
Oakland Tech
350
13.
San Ramon Valley
377
14.
Poway
391
15.
Scripps Ranch
392
16.
Monte Vista
444
17.
Whitney
449
18.
Presentation
489
19.
Rio Americano
504
20.
St Francis (Mountain View)
523
21.
Willow Glen
537
22.
Monache
542
23. Vintage 591
24.
Eagle Rock
748
1. SR Kristin Fahy 17:22.6
La Costa Canyon
2. FR Maddie Coles 17:44.8
Claremont
3. SR Colleen McCandless 17:47.8
Granada
4. JR Madeleine Locher 17:49.7
Ventura
5. SR Savannah Maselli 17:55.6
Granada
6. SO Amber Rios 17:58.6
Colony
7. JR Carly Corsinita 17:59.9
Capistrano Valley
8. SR Emma Hicken 18:03.2
Mission Viejo
9. FR Emma Hadley 18:04.7
Canyon (Anaheim)
10. JR Isabella Fauria 18:05.6
St Francis
11. SO Melissa Cichon 18:07.1
Leland
12. SO Julia Pearson 18:10.1
Saugus
13. SR Jessica Riedman 18:11.8
La Costa Canyon
14. JR Azalea Segura Mora 18:13.1
Claremont
15. FR Cate Joaquin 18:13.8
St Francis
16. SO Jill Walker 18:15.4
Simi Valley
17. JR Rebecca Schultz 18:17.2
Westlake
18. SR Caroline Garrett 18:17.6
Oakland Tech
19. JR Maribel Aguilar 18:18.2
Serrano
20. SR Sydney Hwang 18:18.6
Claremont
21. SR Kelli Hines 18:21.8
Mission Viejo
22. FR Tiani Goeson 18:23.2
Serrano
23. SR Morgan Calcagnie 18:23.7
Mission Viejo
24. SR Kate Tavella 18:28.4
San Ramon Valley
25. SO Mary Deeik 18:28.7 Vintage
26. SR Kalinda Reynolds 18:29.6
Claremont
27. JR Kelli Wilson 18:30.8
Monte Vista
28. JR Gianna Mendoza 18:30.8
Presentation
29. SR Kalea Bartolotto 18:32.6
Granada
30. FR Isabella Duarte 18:32.9
Saugus
31. JR Eleanor Wikstrom 18:33.9
Skyline
32. SR Destiny Everett 18:34.0
Lincoln-L
33. SO Sarah Paino 18:35.7
Canyon (Anaheim)
34. SR Gracie Dupuis 18:36.7
Granada
35. SR Emma Tavella 18:38.0
San Ramon Valley
36. SR Elizabeth Martin 18:41.8
Serrano
37. FR Arionn Livingston 18:42.3
Steele Canyon
38. FR Kyra Compton 18:42.7
La Costa Canyon
39. JR Ashley Gonzalez 18:44.5
Westlake
40. JR Sidney Isom 18:44.7
Monte Vista
41. JR Hailey Rutter 18:44.7
Saugus
42. SR Julia Marriott 18:44.8
Claremont
43. SR Giovanna da Silva 18:45.1
Scripps Ranch
44. JR Alexis Neuville 18:49.0
El Toro
45. SO Makayla Browne 18:49.9
John W. North
46. SO Shae Hill 18:50.3
Granada
47. SR Marilou Ruiz 18:51.1
Monache
48. FR Brooklyn Bendrat 18:53.2
Saugus
49. JR Marisol Aguilar 18:54.0
Serrano
50. SO Angie Gushue 18:54.4
Claremont
51. FR Kasey Lynd 18:57.2
El Toro
52. JR Sophia Karperos 18:59.7
Rio Americano
53. SO Sydney Weaber 19:00.6
La Costa Canyon
54. SR Ayla Frost 19:02.1
Oakland Tech
55. FR Isabella Frisone 19:03.3
Canyon (Anaheim)
56. JR Ashley Johnson 19:04.2
Mission Viejo
57. JR Samantha Ulloa 19:05.9
Serrano
58. SR Kinga Bihari 19:06.3
Granada
59. SR Veronica Valenton 19:08.5
Livermore
60. SR Sophie Mendelson 19:08.5
Mission Viejo
61. FR Kylee Denver 19:08.7
Freedom
62. SO Grace Rubio 19:09.1
San Luis Obispo
63. SR Megan Connors 19:09.2
Scripps Ranch
64. JR Haley Silva 19:09.3
St Francis
65. SR Taylor Slouka 19:09.4
El Toro
66. FR Sydney Covington 19:09.7
Westlake
67. JR Katie Downs 19:11.8
Poway
68. JR Sarah Perry 19:13.2
Woodside
69. JR Alexi Steinmaus 19:14.6
San Luis Obispo
70. SR Graciela Retiguin 19:15.9
Canyon (Anaheim)
71. JR Ashling Carr 19:16.0
Canyon (Anaheim)
72. SR Clara Harman 19:17.3
Atwater
73. SR Sophie DeBenedetti 19:18.0
St Francis
74. SO Norma Alvarez 19:18.4
Santee EC
75. SR Jacqueline Cascione 19:19.0
Saugus
76. SR Constance Shi 19:19.5
Westlake
77. SR Jaxin Woodward 19:19.9
Vacaville
78. JR Hailey Golmon 19:20.4
Westlake
79. SO Amaiah McIntosh 19:21.4
Granada
80. SR Haleigh Guerrero 19:21.4
Claremont
81. SO Viviana Valenton 19:22.6
Livermore
82. SR Gabriela Hernandez 19:22.9
Vacaville
83. SR Christine Albrecht 19:23.2
Valley Christian-SJ
84. SO Shaylee Grimm 19:23.6
San Luis Obispo
85. SO Dani Salcedo 19:24.8
Saugus
86. JR Grace Griffin 19:25.2
El Toro
87. SR Jiana Cortero 19:26.1
Freedom
88. SR Natalie Schroeder 19:28.3
La Costa Canyon
89. FR Tatiana Cornejo 19:28.5
St Francis
90. SO Madeline Loff 19:28.9
Paso Robles
91. FR Grace Lathrop 19:30.2
Whitney
92. SR Samantha Simard 19:30.4
San Luis Obispo
93. JR Eva Rethmeier 19:32.0
Poway
94. FR Natalie Wieland 19:32.9
Ponderosa
95. SO Peri Kraft 19:34.0
Valhalla
96. SR Shannen Dorn 19:34.2
Westmoor
97. SO Hannah Fredericks 19:34.8
Saugus
98. SR Claire Robbins 19:36.2
Westlake
99. SR Beata Gold 19:37.2
Aragon
100. JR Hermela Abrha 19:38.9
Willow Glen
101. JR Maya Ades 19:39.1
Oakland Tech
102. JR Jenna Kim 19:40.8
Del Norte
103. SO Zoe Hartfield 19:41.5
Presentation
104. FR Sydney Paul 19:42.3
Mt Carmel
105. JR Destiny Lopez 19:42.9
Santee EC
106. SR Emily Mansell 19:43.4
Oakland Tech
107. SO Claire Callon 19:44.7
St Francis (Mountain View)
108. FR Mackenzie Rogers 19:45.4
Poway
109. FR Rebekah Niednagel 19:46.1
La Costa Canyon
110. JR Unique Ford 19:46.2
Madera
111. JR Zoey Lynd 19:46.5
El Toro
112. FR Christel Elkins 19:46.7
St Francis (Mountain View)
113. FR Alina Ruvalcaba 19:47.7
Poway
114. SR Emma Manderino 19:47.8
San Luis Obispo
115. SO Grace Greenelsh 19:48.0
San Luis Obispo
116. FR Natalie Eppler 19:48.6
Whitney
117. JR Brooke Giorgi 19:48.8
Whitney
118. JR Jessica Schempp 19:49.3
Canyon (Anaheim)
119. JR Jessica Martinez 19:50.0
El Toro
120. JR Isabella Rubalcalva 19:50.6
Canyon (Anaheim)
121. SR Lauryn Simons 19:51.1
Mission Viejo
122. SO Jessica Becker 19:51.4
Whitney
123. JR Carly Zamudio 19:51.8
Willow Glen
124. JR Sarah Chittle 19:53.9
Poway
125. SO Emily Brown 19:54.8
Scripps Ranch
126. JR Sierra Ransweiler 19:55.8
San Ramon Valley
127. JR Chloe Schultz 19:56.6
Redwood (Visalia)
128. SR Julia Morales 19:56.8
Scripps Ranch
129. SO Katie Newton 19:57.1
Rio Americano
130. JR Nicole Leung 19:57.8
Monte Vista
131. FR Kaylee Barnes 19:58.7
Rio Americano
132. SR Claire Livengood 19:59.4
Atascadero
133. JR Arielle Johnson 20:00.1
Poway
134. SO Brenna French 20:00.2
Point Loma
135. JR Madison Yen 20:03.3
Willow Glen
136. SO Carly Burns 20:04.4
Serrano
137. SR Patricia Hopkins 20:04.5
Mission Viejo
138. SO Kirsten Ransford 20:06.9
Whitney
139. FR Sophia Chittle 20:08.2
Poway
140. SR Megan Hill 20:10.6
Scripps Ranch
141. FR Emily Castles 20:11.1
St Francis
142. SR Kate Callon 20:12.3
St Francis (Mountain View)
143. JR Grace Coleman 20:12.9
San Ramon Valley
144. FR Georgia Patyna 20:16.4
La Costa Canyon
145. FR Elena Collier 20:17.5
Whitney
146. SO Olivia Reichle 20:20.4
El Toro
147. FR Charlotte Castelli 20:20.6
Paso Robles
148. SR Rosa Silva 20:24.2
Sylmar
149. SO Chanel Bradley 20:25.3
Monache
150. FR Annika Engebretson 20:26.5
Willow Glen
151. SO Alexa Barton 20:26.9
St Francis (Mountain View)
152. SR Bianca Mantovani 20:27.0
Presentation
153. SO Christina Jones 20:27.5
San Ramon Valley
154. FR Keely Miyamoto 20:31.6
Eagle Rock
155. JR Aryanna Guzman 20:32.6
Monache
156. JR Madison Elliott 20:35.9
Serrano
157. SR Michaela Kreps 20:36.9 Vintage
158. SR Lauren Calcagno 20:38.1
Rio Americano
159. FR Simone Long 20:38.6
San Ramon Valley
160. SR Jennifer Ruffing 20:41.3
Westlake
161. SO Hanna Hekkanen 20:41.5
St Francis
162. JR Andrea Gallardo 20:41.8
Venice
163. JR Marina Barragan 20:42.4
Monache
164. FR Lucy Coyle 20:42.6
St Francis (Mountain View)
165. SR Audrey James 20:45.9
Presentation
166. SO Alexandra Cilley 20:45.9
St Francis (Mountain View)
167. SO Grace Pierce 20:49.7
Whitney
168. JR Alyssa Escay 20:54.4
Rio Americano
169. SO Delphine Maurer 20:55.7
Scripps Ranch
170. SR Nell Schafer 20:58.5
Oakland Tech
171. SO Aislin Taylor 20:59.9
Monache
172. SR Alexandra Lazar 21:01.0
Presentation
173. JR Katelyn Chu 21:04.5
St Francis (Mountain View)
174. FR Ashley Frantz 21:06.2
Monte Vista
175. JR Hadley Dixon Berger 21:08.5
Presentation
176. SO Josephine Borsetto 21:11.4 Vintage
177. JR Annalee Gorman 21:11.9
Rio Americano
178. SR Gabriella Escobar 21:12.0
Presentation
179. FR Dominique Salinas 21:14.8
Willow Glen
180. FR Clair Garrett 21:17.0
Oakland Tech
181. JR Thea Ragsdale 21:22.1
San Luis Obispo
182. FR Angelica Milar 21:22.3
Bravo Medical Magnet
183. FR Kiana Andrada 21:31.3
Eagle Rock
184. FR Kinsey Pogue 21:32.8
Monte Vista
185. JR Jojo Lee 21:41.2
Monte Vista
186. JR Julia Kiersnowski 21:45.3
Scripps Ranch
187. SO Tamara Hernandez 21:48.2 Vintage
188. SO Yadira Garcia 21:49.3 Vintage
189. FR Emily Miller 21:49.7
San Ramon Valley
190. JR Anastasia Busby 21:49.9 Vintage
191. FR Josie Goodson 21:58.9
Oakland Tech
192. FR Silvia Kambouridis 22:06.2
Skyline
193. FR Celeste Corrigan 22:07.7
Eagle Rock
194. SO Itzel Whyte-Aguayo 22:11.5
Eagle Rock
195. JR Alexa Queenan 22:18.0
Monache
196. JR Jennifer Espinola 22:28.8
Willow Glen
197. SR Mikayli Moore 22:42.2
Monache
198. FR Maggie Chapin 22:51.2 Vintage
199. SO Lucy Prieto 22:58.2
Rio Americano
200. JR Andrea Camacho 23:03.2
Eagle Rock
201. SR Shaina Simental 24:03.9
Eagle Rock
202. SO Abigail Paradise 24:20.4
Willow Glen
203. FR Iliana Garcia-Lana 25:16.0
Eagle Rock
1.
Great Oak
79
2.
Vista Murrieta
83
3.
Mira Costa
168
4.
Walnut
197
5.
Davis
208
6.
Buchanan
211
7.
Ayala
257
8.
Fountain Valley
263
9.
West Ranch
297
10.
Monta Vista
312
11.
Carlmont
328
12.
El Camino (Oceanside)
330
13.
Palisades Charter
332
14.
Amador Valley
344
15.
Clovis West
365
16.
Rancho Bernardo
376
17.
Dougherty Valley
382
18.
Madera South
384
19.
Granada Hills
397
20.
Oak Ridge
401
21.
Cosumnes Oaks
463
22.
Lowell
540
1. JR Tori Gaitan 17:19.4
Great Oak
2. SR Meagen Lowe 17:26.6
Buchanan
3. SR Mikaela Ramirez 17:36.4
Ayala
4. SR Chloe Arriaga 17:39.4
Walnut
5. JR Carlie Dorostkar 17:42.7
Canyon Crest Academy
6. FR Devyn Candaele 17:43.2
Vista Murrieta
7. SR Fatima Cortes 17:51.2
Great Oak
8. FR Dalia Frias 17:53.3
Mira Costa
9. JR Maria Hernandez 17:53.8
Santa Ana
10. JR Kaimei Gescuk 17:56.3
Carlmont
11. SR Emma Arriaga 17:56.7
Walnut
12. SO Madison Kackley 17:58.4
Gregori High
13. SO Hope Bergmark 17:59.2
Amador Valley
14. FR Jacey Farmer 18:00.6
Rancho Bernardo
15. SO Jacqueline Duarte 18:04.3
Chino Hills
16. JR Hana Catsimanes 18:07.8
San Clemente
17. FR Sofia Abrego 18:08.3
Granada Hills
18. SR Paige Haynes 18:12.9
Vista Murrieta
19. JR Audrey Dang 18:16.3
Great Oak
20. FR Alexis Fernandez 18:18.1
West Ranch
21. JR Sarah Bentley 18:18.3
Palisades Charter
22. SR Jicel Fernandez Ramirez 18:21.9
El Camino Real
23. SO Trang Woolridge 18:23.7
Westview
24. SO Ashley Learn 18:23.9
Rancho Bernardo
25. JR Aubrie Nex 18:25.0
Great Oak
26. SR Cynthia Martin 18:27.5
Chaparral
27. SR Olivia Herrera 18:30.0
Clovis
28. SO Miranda Schriver 18:33.0
Palisades Charter
29. SO Aniya Pretlow 18:34.8
Vista Murrieta
30. SR Ashley Faller 18:35.1
Fountain Valley
31. SO Emily Bourque 18:36.6
Vista Murrieta
32. SR Gaby Hubarth 18:37.1
Vista Murrieta
33. SR Mavleen Mann 18:37.8
Pitman
34. SR Aniela Mitchell 18:40.1
Davis
35. SO Abby Fletcher 18:40.6
Oak Ridge
36. SR Lucy Atkinson 18:41.0
Mira Costa
37. SO Ana Fenton 18:41.6
Davis
38. SR Naomi Donovan 18:42.4
Los Altos
39. JR Annika Paylor 18:46.2
Los Gatos
40. SR Liliana Prieto 18:47.8
El Camino (Oceanside)
41. SR Luz Mercado 18:48.3
Eastlake
42. SR Peyton Candaele 18:48.6
Vista Murrieta
43. JR Dariana Miramontes 18:49.6
Madera South
44. FR Riley Rodriguez 2016 18:51.9
Upland
45. SO Natalie Harper 18:52.5
Cosumnes Oaks
46. SR Charlotte Mitchell 18:53.0
Davis
47. SO Sylvana Northrop 18:54.7
Monta Vista
48. SR Brooke Inouye 18:55.5
Mira Costa
49. SR Aushmitha Grewal 18:56.7
Dougherty Valley
50. JR Triya Roy 18:57.3
Monta Vista
51. SR Mariana Beltran-Picos 18:58.8
Olympian
52. JR Makayla Fick 18:59.4
Vista Murrieta
53. FR Miliana Perez 18:59.4
Clovis North
54. SR Briseida Garcia-Meza 19:00.1
Gregori High
55. FR Mackenzie Kozina 19:00.5
El Camino (Oceanside)
56. FR Kalei Aoki-Chance 19:01.7
Clovis West
57. JR Arianna Griffiths 19:03.6
Great Oak
58. JR Abigail Welch 19:03.6
West Ranch
59. FR Annika Salz 19:04.1
Torrey Pines
60. SR Erin Facenda 19:05.7
Ayala
61. SR Ashley Baudin 19:06.0
Amador Valley
62. SR Sophia Lodigiani 19:06.2
Davis
63. SO Layla Ruiz 19:06.3
Watsonville
64. JR Cara Chittenden 19:06.7
Mira Costa
65. JR Mia Jauregui 19:07.8
Buchanan
66. SO Hilda Gonzalez 19:09.7
McFarland
67. SR Sara Feitz 19:10.6
Fountain Valley
68. SO Morgan Hutchison 19:11.8
Buchanan
69. SO Anastasia Sloan 19:12.0
Walnut
70. SR Sophia Hoelzel 19:12.1
West Ranch
71. SR Isabella Guerra 19:12.5
Fountain Valley
72. JR Milo Santiago 19:13.5
Walnut
73. FR Jannah Sheriff 19:14.3
Monta Vista
74. SR Maria Aguilar 19:15.3
Madera South
75. SO Tiana Oliver 19:15.7
Oak Ridge
76. JR Pnina Tofler 19:16.5
Mira Costa
77. FR Kaylee Elliott 19:16.8
Buchanan
78. FR Maia Marquez 19:17.7
Dublin
79. JR Rachel Culver 19:18.2
Buchanan
80. SO Sabrina Jackson 19:18.5
Carlmont
81. SO Emily Eddy 19:19.0
Cosumnes Oaks
82. SR Brittany Darrow 19:19.8
Palisades Charter
83. FR Elizabeth Holcombe 19:20.9
Lowell
84. JR Derica Su 19:21.1
Amador Valley
85. JR Lauren Delgado 19:21.7
Granada Hills
86. JR Maddie Jahshan 19:22.2
Fountain Valley
87. SO Viveca Pannell 19:22.8
Los Gatos
88. SR Emily Montoya 19:23.9
Madera South
89. JR Allie Ayers 19:24.0
Carlmont
90. SO Julia Heckey 19:24.4
McClatchy
91. FR Ava Maier 19:25.8
Oak Ridge
92. SR Yajaira Calderon 19:25.9
Birmingham
93. SO Shaina Berk 19:26.5
Ayala
94. JR Megan Oh 19:29.6
Ayala
95. FR Madison Galetti 19:30.5
Clovis West
96. FR Rhea Braganza 19:31.0
Dougherty Valley
97. JR Emily Garcia 19:31.4
Ayala
98. JR Mandy Hitchcock 19:33.2
Carlmont
99. JR Amanda Dolberg 19:36.0
Buchanan
100. JR Olivia Renfro 19:37.0
Clovis West
101. SO Marina Arellano 19:37.9
El Camino (Oceanside)
102. FR Divine Torza 19:39.5
Great Oak
103. FR Ashlee Gallegos 19:39.9
Fountain Valley
104. FR Jenna Satovsky 19:40.6
Lowell
105. JR Maggie Vazquez 19:40.7
Davis
106. SO Gabriella Preciado 19:41.5
Clovis West
107. FR Madison Chavez 19:42.2
California (San Ramon)
108. SR Sara Osterberg 19:42.7
Menlo-Atherton
109. JR Amanda Ghibaudo 19:43.6
Walnut
110. SO Shana Mendelsohn 19:43.9
El Camino Real
111. SR Sarah Feng 19:44.2
Monta Vista
112. JR Carmen Mel 19:44.6
Mira Costa
113. SO Sameen Andar 19:45.3
Dougherty Valley
114. FR Allison Yee 19:45.8
Buchanan
115. FR Hayden Washington 19:46.0
West Ranch
116. FR Eva Shen 19:46.1
Dougherty Valley
117. SO Brianna Weidler 19:46.4
Great Oak
118. FR Jenna LeNay 19:47.7
Arroyo Grande
119. JR Elise Ortiz 19:47.9
El Camino (Oceanside)
120. SR Becky Laurence 19:48.1
Amador Valley
121. SO Julia Svartstrom 19:48.7
Fountain Valley
122. SR Olivia Hacohen 19:49.6
Mira Costa
123. SR Jade Guerrero 19:50.4
Cosumnes Oaks
124. SR Nathally Ceja 19:50.8
Monroe
125. JR Jaiden Shiring 19:51.3
El Camino (Oceanside)
126. FR Claire Bringetto 19:52.1
Clovis West
127. JR Surina Beal 19:52.6
Davis
128. SR Perla Jimenez 19:52.8
Madera South
129. SR Sofia Cuevas 19:54.4
Dougherty Valley
130. FR Amelie Missig 19:57.3
Taft
131. SO Corinne DeJong 19:58.5
Davis
132. FR Leah Ferris 19:59.7
Fountain Valley
133. JR Tracy Sterkel 19:59.7
West Ranch
134. SO Cadence Chang 20:06.8
Ayala
135. SO Sydney Olofe 20:07.3
Granada Hills
136. SO Madeline Liem 20:07.4
California (San Ramon)
137. SR Sanjana Borle 20:07.8
Monta Vista
138. SO Jenna Rashkovsky 20:11.3
Granada Hills
139. SO India Moors 20:15.6
El Camino (Oceanside)
140. SO Sonia Parikh 20:15.7
Granada Hills
141. SO Ritika Singh 20:16.9
Dougherty Valley
142. SR Allison Boaz 20:24.0
Rancho Bernardo
143. SO Emma Bialy 20:26.8
Ayala
144. SO Jessamine Jin 20:27.1
West Ranch
145. SO Hailey Cruz 20:29.5
El Camino (Oceanside)
146. SR Danielle Han 20:30.4
Dublin
147. SR Samantha Breitbach 20:30.8
West Ranch
148. SO Samantha Ryan 20:31.6
Rancho Bernardo
149. SR Holland Mueller 20:33.9
Palisades Charter
150. JR Amber Hughes 20:34.5
Granada Hills
151. FR Tierney Smith 20:36.0
Palisades Charter
152. SO Samantha Turtle 20:36.1
Carlmont
153. JR Victoria Dinov 20:37.1
Rancho Bernardo
154. SR Jessica Biershenk 20:38.5
Palisades Charter
155. FR Annaka Reed 20:44.8
Clovis West
156. FR Kayla Rutz 20:47.6
Oak Ridge
157. SR Claire Chang 20:48.2
Monta Vista
158. JR Shelby Hicks 20:49.3
Clovis West
159. SO Ashlyn Kwan 20:51.3
Carlmont
160. JR Emi Steedman 20:53.2
Lowell
161. FR Dylan Wright 20:58.0
Oak Ridge
162. SR Mikayla Cullers 20:59.1
Cosumnes Oaks
163. SR Lauren Ling 20:59.9
Monta Vista
164. SO Mia Stephenson 21:01.1
Rancho Bernardo
165. SO Paloma Suarez Davila 21:01.1
Lowell
166. SO Karla Galvan 21:08.4
Walnut
167. SO Jaydah Aguilar 21:11.3
Madera South
168. SR Rachel Dentler 21:13.3
Amador Valley
169. JR Michelle Wong 21:15.9
Lowell
170. SO Juliana Chen 21:19.0
Lowell
171. FR Taya Small 21:24.3
Amador Valley
172. SO Jasmine Cassidy 21:27.2
Carlmont
173. SR Surabhi Kumar 21:28.0
Amador Valley
174. JR Paola Cruz 21:28.0
Madera South
175. SO Leah Abraham 21:30.6
Dougherty Valley
176. JR Elisa Vega 21:30.6
Madera South
177. SO Maia Piomelli 21:31.4
Galileo Academy of Science & Technology
178. JR Elisa Kim 21:32.7
Palisades Charter
179. SR Estefania De Los Santos 21:34.8
Granada Hills
180. JR Annie Wendley 21:37.0
Cosumnes Oaks
181. SO Natalie Donham 21:40.7
Rancho Bernardo
182. SR Charlotte Greenhill 21:54.2
Lowell
183. SR Haley Borjas 22:02.9
Cosumnes Oaks
184. SR Naomi Nakamura 22:06.7
Walnut
185. JR Hannah Connover 22:19.6
Oak Ridge
186. SO Annabelle Stroganow 22:24.1
Cosumnes Oaks
187. FR Freya Wehrheim 22:25.9
Galileo Academy of Science & Technology
188. SR Courtney Heller 23:33.5
Oak Ridge
1.
Sage Creek
110
2.
Foothill Technology
119
3.
El Segundo
193
4.
Harvard-Westlake
195
5.
Bishop O'Dowd
202
6.
Marin Catholic
218
7.
Mayfield
224
8.
Laguna Beach
260
9.
Ramona
263
10.
J Serra Catholic
300
11.
Menlo
314
12.
Valley Center
317
13.
El Dorado
322
14.
Big Bear
364
15.
San Lorenzo Valley
373
16.
Hughson
404
17.
University Prep
406
18.
Piedmont
413
19.
Miramonte
427
20.
Half Moon Bay
462
21.
Lindsay
501
22.
Corcoran
514
23.
Highland
516
24.
Sutter
616
25.
Belmont
802
1. SO Audrey Suarez 17:44.7
Mayfield
2. FR Daniela Quintero 17:48.3
Harvard-Westlake
3. JR Skyler Wallace 17:50.0
Sage Creek
4. SO Natalia Quintero 17:54.7
Harvard-Westlake
5. JR Diane Molina 17:58.5
Costa Mesa
6. FR Stormy Wallace 18:01.2
Sage Creek
7. SR Lila Roake 18:01.3
Santa Cruz
8. SR Lauren Kearney 18:17.6
Foothill Technology
9. JR Anna Mokkapati 18:18.2
The King's Academy
10. SR McKaylie Caesar 18:24.9
Lindsay
11. SR Kaia Hoak 18:30.1
Big Bear
12. JR Madison Hutchings 18:31.9
El Dorado
13. SO Samantha Wallenstrom 18:35.8
Marin Catholic
14. SR Nadia Tabrizi 18:36.2
J Serra Catholic
15. JR Lavanya Pandey 18:45.1
Sage Creek
16. JR Gabby Hughes 18:47.8
Santa Cruz
17. JR Charlotte Tomkinson 18:50.4
Menlo
18. SR Teresa Perez 18:51.6
Coronado
19. FR Madison Gutshall 18:56.0
Chaminade
20. SO Audrey Allen 18:57.5
Miramonte
21. JR Claire Yerby 18:59.8
Half Moon Bay
22. SR Emily Fife 19:01.3
Hughson
23. SR Jessica Kain 19:02.8
Scotts Valley
24. SR Nicolette Fulcomer 19:04.9
El Segundo
25. JR James Matlosz 19:05.0
El Segundo
26. SO Brooke Secreto 19:06.5
Foothill Technology
27. JR Kyra Pretre 19:07.5
Menlo
28. SO Sierra Burror 19:10.2
Bishop Union
29. SR Isabella Abusaid 19:12.7
J Serra Catholic
30. SR Jeneva Toolajian 19:14.5
Bishop O'Dowd
31. SR Kendall Drisko 19:15.0
Ramona
32. SO Jessie Rose 19:15.0
Laguna Beach
33. SR Hana Vrablik 19:15.2
Foothill Technology
34. SO Azalea Groleau 19:16.5
San Lorenzo Valley
35. JR Rachel Favela 19:17.1
Valley Center
36. JR Lauren Nettles 19:17.1
Flintridge Sacred Heart
37. SR Hannah Konkel 19:17.4
Laguna Beach
38. JR Amy Brown 19:18.9
Ramona
39. FR Lilian Yu 19:19.7
Bishop O'Dowd
40. SR Shelby Nelson 19:19.8
Encinal
41. FR Sophia Nordenholz 19:21.9
Albany
42. SR Isabella Brusco 19:21.9
Bishop O'Dowd
43. SO Katarina Borchin 19:25.1
Calaveras
44. SR Colleen Lang 19:26.7
Carmel
45. JR Emma Cadena 19:27.5
Mayfield
46. JR Sophia Zago 19:30.6
El Segundo
47. SO Hannah Dearman-So 19:31.3
Foothill Technology
48. SR Nicole Tria 19:32.8
Alhambra
49. SR Blythe Blakeman 19:34.0
Foothill Technology
50. JR Elizette Ysais 19:34.2
Hughson
51. SR Riley Martel-Phillips 19:35.1
Arcata
52. SO Haley Ulloa 19:35.6
Highland
53. SR Olivia Paez 19:36.3
Bishop Amat
54. SO Turner Wallenstrom 19:36.4
Marin Catholic
55. SR Mia Ashby 19:36.9
Sutter
56. SR Kennedy Gomez 19:37.4
Foothill Technology
57. SO Ellaney Matarese 19:39.1
La Canada
58. SR Laura Arcia 19:40.4
Mayfield
59. SO Grace Gaddy 19:40.7
University Prep
60. JR Natalie Huestis 19:41.2
Sage Creek
61. JR Alyssa Davis 19:41.6
Ramona
62. SR Marin Stamer 19:43.7
Big Bear
63. SR Sara Kennedy 19:44.9
Marin Catholic
64. SO Elizabeth Gerhardt 19:46.4
Sage Creek
65. SR Brooklynn Deal 19:47.0
Sage Creek
66. JR Madeline Marron 19:47.8
Valley Center
67. FR Brandi Valdez 19:48.2
Corcoran
68. SO India Spencer 19:50.2
Harvard-Westlake
69. SO Gioia Ternasky 19:50.6
Clairemont
70. SO Isabel Lawrence 19:50.8
Harvard-Westlake
71. JR Morgan Falkowski 19:52.0
Laguna Beach
72. FR Katie Senn 19:53.4
Bishop O'Dowd
73. JR Addison Munroe 19:54.0
Foothill Technology
74. SR Cassidy Haskell 19:55.4
Miramonte
75. FR Tyler Matlosz 20:01.7
El Segundo
76. FR Kiaya Rowlett 20:02.4
Sage Creek
77. SO Hannah Cusworth 20:02.6
University Prep
78. JR Rachel Fitt 20:04.3
Bishop Union
79. SO Annika Carlson 20:04.5
Marin Catholic
80. JR Kayla Penny 20:05.5
San Lorenzo Valley
81. SR Itzel Valdez 20:07.4
Northridge Academy
82. SO Maddie Dufour 20:09.2
El Dorado
83. SR Riley Lasher 20:10.5
Placer
84. SO Serena Tate 20:11.6
University Prep
85. SO Gigi Clifford 20:12.3
Marin Catholic
86. JR Kalea Fong 20:12.4
Bishop O'Dowd
87. FR Chloe Gautschi 20:12.7
El Dorado
88. SO Kyla Seeley 20:14.2
Sir Francis Drake
89. SR Margo Donahue 20:15.0
Piedmont
90. SR Gabriella Lee 20:17.5
El Segundo
91. SR Emilie Dufault 20:17.9
J Serra Catholic
92. FR Sophia Gallo 20:19.3
Menlo
93. JR Soleil Escalante 20:20.2
Valley Center
94. SR Maddie Brough 20:21.8
J Serra Catholic
95. JR Kaitlin Ryan 20:22.0
Laguna Beach
96. JR Cameron Gomez 20:23.3
Mayfield
97. SO Rachel White 20:24.0
Escondido Charter
98. JR Sophia Zalewski 20:24.5
Piedmont
99. SR Madden Hundley 20:24.5
Coronado
100. SO Jocelyn Stansberry 20:24.8
Yosemite
101. SO Malia Gay 20:24.9
Christian Brothers
102. SR Ellie Kiechler 20:25.1
Mayfield
103. FR Mary Loring 20:26.0
Ramona
104. JR Letina Daniel 20:26.4
El Segundo
105. FR Becca Gaido 20:28.4
University Prep
106. JR Nancy Vasquez 20:29.5
Lindsay
107. JR Kendall Mansukhani 20:30.8
Half Moon Bay
108. JR Sierra Read 20:30.8
Laguna Beach
109. SO Sharon Giron 20:31.6
Valley Center
110. SR Sierra Hagen 20:34.3
Colfax
111. FR Ellie Black 20:37.7
Piedmont
112. FR Jayda Bodas 20:42.6
Half Moon Bay
113. FR Sophia Lee 20:42.7
St Mary's
115. SR Alex Ankai 20:45.4
Harvard-Westlake
116. FR Abigail Cotton 20:45.5
Valley Center
117. SR Maya McCabe 20:46.7
San Lorenzo Valley
118. SR Erin Hong 20:47.7
Piedmont
119. SR Alexa Waples 20:48.8
Ramona
120. SR Rebekah Hupp 20:50.2
El Dorado
121. SO Audrey Sutton 20:50.4
Laguna Beach
122. FR Kaleigh Pennington 20:50.9
San Lorenzo Valley
123. SO Ava Dufour 20:52.2
El Dorado
124. FR Kate Riley 20:52.7
Miramonte
125. FR Violet Barron 20:53.3
Harvard-Westlake
126. SO Hailey Mcgivney 20:53.6
Big Bear
127. SO Aya Troyer 20:54.2
Piedmont
128. SO Jenna Fagan 20:56.3
Big Bear
129. SO Paulina Guerrero 20:57.4
Corcoran
130. SO Marisa Castagna 20:58.3
Menlo
131. SO Jordan Linsley 20:58.3
Yreka
132. FR Taylor Scheuber 20:59.4
Hughson
133. JR Elizabeth Zorrilla 21:00.0
Valley Center
134. SO Arlene Magana 21:00.9
Corcoran
135. SR Caroline Forseth 21:05.3
Enterprise
136. SO Summer Hipwell 21:09.0
San Lorenzo Valley
137. JR Michaela Meskell 21:09.1
Ramona
138. SR Molly Cohn 21:10.6
Laguna Beach
139. SR Patricia Benitez-Lopez 21:11.2
Fresno
140. SR Jessie Lawrence 21:13.4
Hughson
141. SO Briana Amador 21:19.4
Lindsay
142. JR Katie Aufricht 21:24.2
Menlo
143. JR Maggie Kiechler 21:25.4
Mayfield
144. SO Crystal Torrecillas 21:26.1
Highland
145. SO Maddie Sanders 21:27.5
Menlo
146. SO Ysabel Gamon 21:29.5
Highland
147. SO Lizzie Rodriguez 21:30.4
Big Bear
148. FR Claire Nolet 21:32.6
Miramonte
149. FR Zorah Chappel 21:34.2
Bishop O'Dowd
150. SR Lauren Bakey 21:34.4
Mayfield
151. FR Taylor Johnson 21:34.7
Big Bear
152. FR Hannah Crone 21:36.5
El Dorado
153. JR Leah Guziak 21:36.6
El Segundo
154. SO Neyda Martinez 21:40.7
Highland
155. FR Lisbeth Samano 21:41.7
Valley Center
156. FR Isabella Whitten 21:41.8
Bishop O'Dowd
157. JR Katie Cheslick 21:44.4
LACES LA (Center for Enriched Studies)
158. SR Avery Keare 21:45.1
Harvard-Westlake
159. SO Jennifer Hull 21:47.2
Ramona
160. FR Lauren Viola 21:54.7
J Serra Catholic
161. JR Kendall Moxness 21:59.0
Central Valley
162. FR Gabriella Avila 21:59.0
Corcoran
163. FR Laurel Stamer 22:00.1
Big Bear
164. JR Rylan Engels 22:01.0
J Serra Catholic
165. FR Nelly Garnica 22:03.2
Oscar De La Hoya
166. SR Alexa Coburn 22:05.3
Highland
167. SO Sherlyn Hernandez 22:05.8
Corcoran
168. FR Kaylee Duncan 22:06.2
Sutter
169. SR Emma Page 22:06.6
Marin Catholic
171. FR Dara Schmidt 22:08.0
Sutter
172. FR Emma Pizzuti 22:11.1
El Dorado
173. JR Amanda Foster 22:11.9
Menlo
174. JR Maddie Dowd 22:12.0
Marin Catholic
175. SR Camryn Crouch 22:12.3
San Lorenzo Valley
176. FR Anna Bikle 22:19.8
Half Moon Bay
177. FR Olivia Vargas 22:19.9
Half Moon Bay
178. SR Angela Blair 22:25.4
Sherman Oaks CES
179. FR Makenzie Mason 22:34.9
Hughson
180. SO Camille Haupt 22:35.2
Hughson
181. JR Brianna Campos 22:37.3
Hughson
182. JR Margaret Black 22:45.2
Piedmont
183. SR Brigette Finger 22:52.7
Miramonte
184. SO Belen Ferreira 22:55.5
Lindsay
185. FR Nathalie Green 22:56.1
Miramonte
186. JR Jen Alvarado 23:03.6
J Serra Catholic
187. SR Cristal Mercado 23:05.2
Highland
188. SO Guadalupe Hernandez 23:13.9
Belmont
189. SR Clarissa Lam 23:18.6
Piedmont
190. FR Natalie Curthoys 23:20.7
Half Moon Bay
191. SO Kaylynne Turner 23:30.4
Sutter
192. SO Lily Patrick 23:30.6
Sutter
193. SO Madelyn Melanson 23:47.5
Highland
194. SO Nadia Rojas 23:51.9
Corcoran
195. FR Esmeralda Cisneros 23:56.6
Lindsay
196. SO Bianca Valdez 24:07.6
Lindsay
197. SR Roxana Gonzalez 24:23.5
Belmont
198. SO Andrea Utuy 24:25.0
Belmont
199. SO Ashley Herrera 24:32.6
Belmont
200. SO Nivea Burwell 24:46.7
University Prep
201. JR Shay Little 24:51.9
University Prep
202. SO Sara Ashby 24:54.0
Sutter
203. SR Jeanette Ramirez 25:00.2
Lindsay
204. SO Layne Faust 25:00.7
Half Moon Bay
205. SO Sherlyn Munoz 25:21.3
Belmont
206. FR Andrea Hernandez 25:57.3
Corcoran
207. FR Gracie Scritchfield 26:24.9
Sutter
208. SO Camelia Tzoc 27:05.5
Belmont
209. SR Ellie Bourret 27:18.2
San Lorenzo Valley