11/9/19
Photos by Michael Lucid
135 more photos of the NBL Redwood meet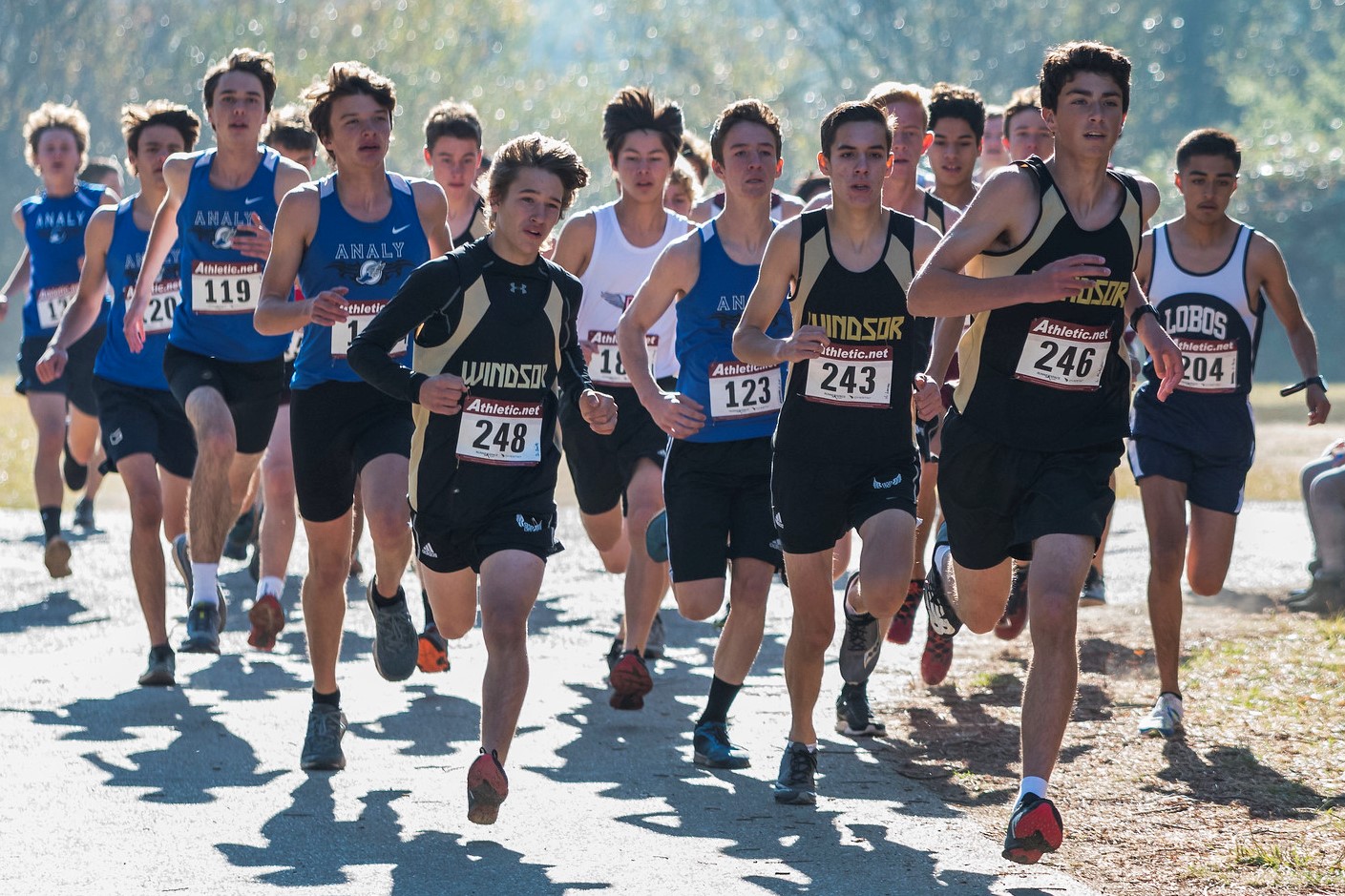 Windsor easily won the boys race running well enough to have beaten the rest of the league combined.
Mostly from a surprising one, two, three finish, with less than two seconds separating their top three.
A Windsor boy has never won a league title before with Lucas Chung having the previous best place at 2nd from the 2017 NBL "Oak" meet.
Windsor sophomore Dustin Smith now takes that honor as he edged junior Landon McAlister and senior Hunter Larson in a near blanket finish (16:29, 16:30, 16:31).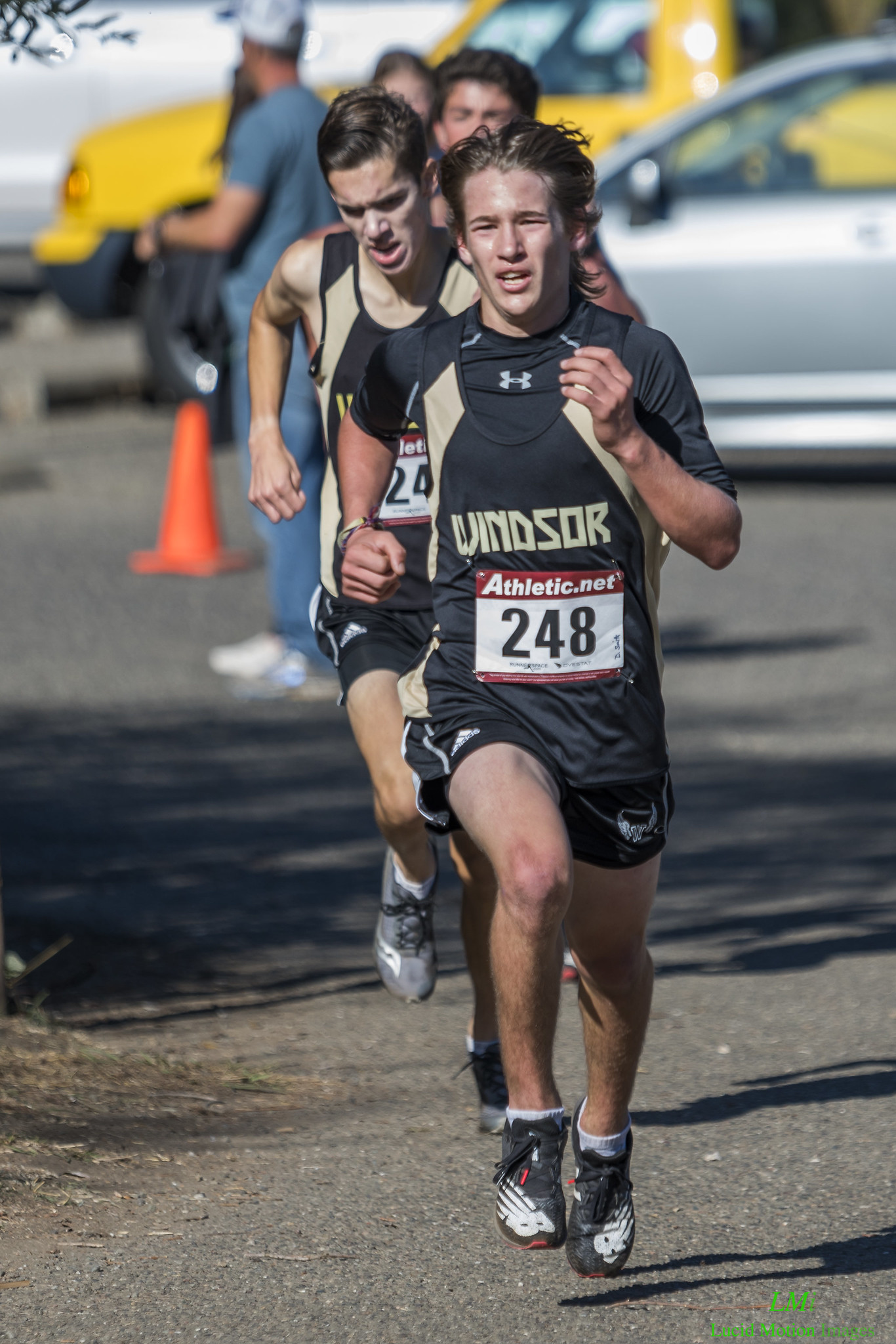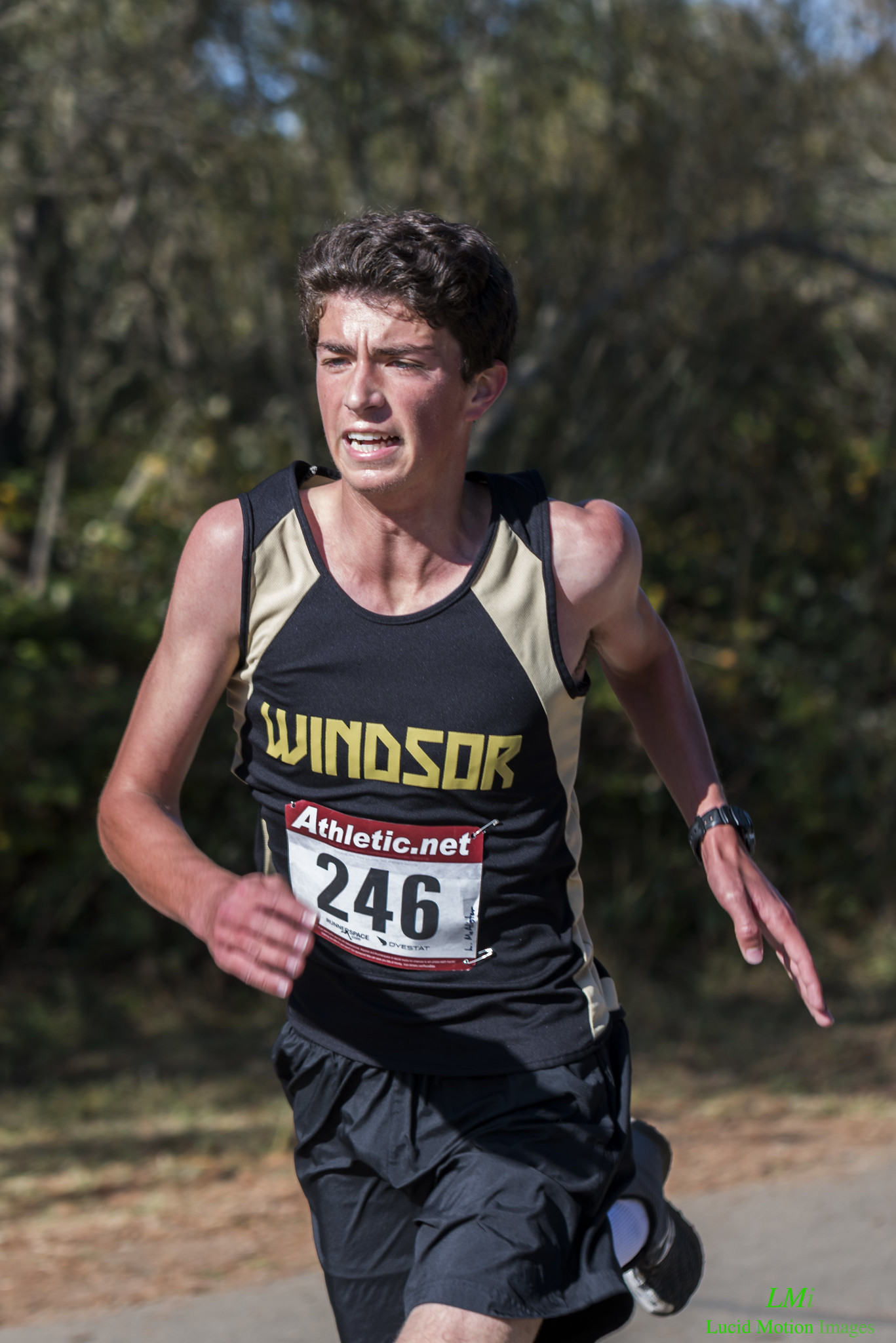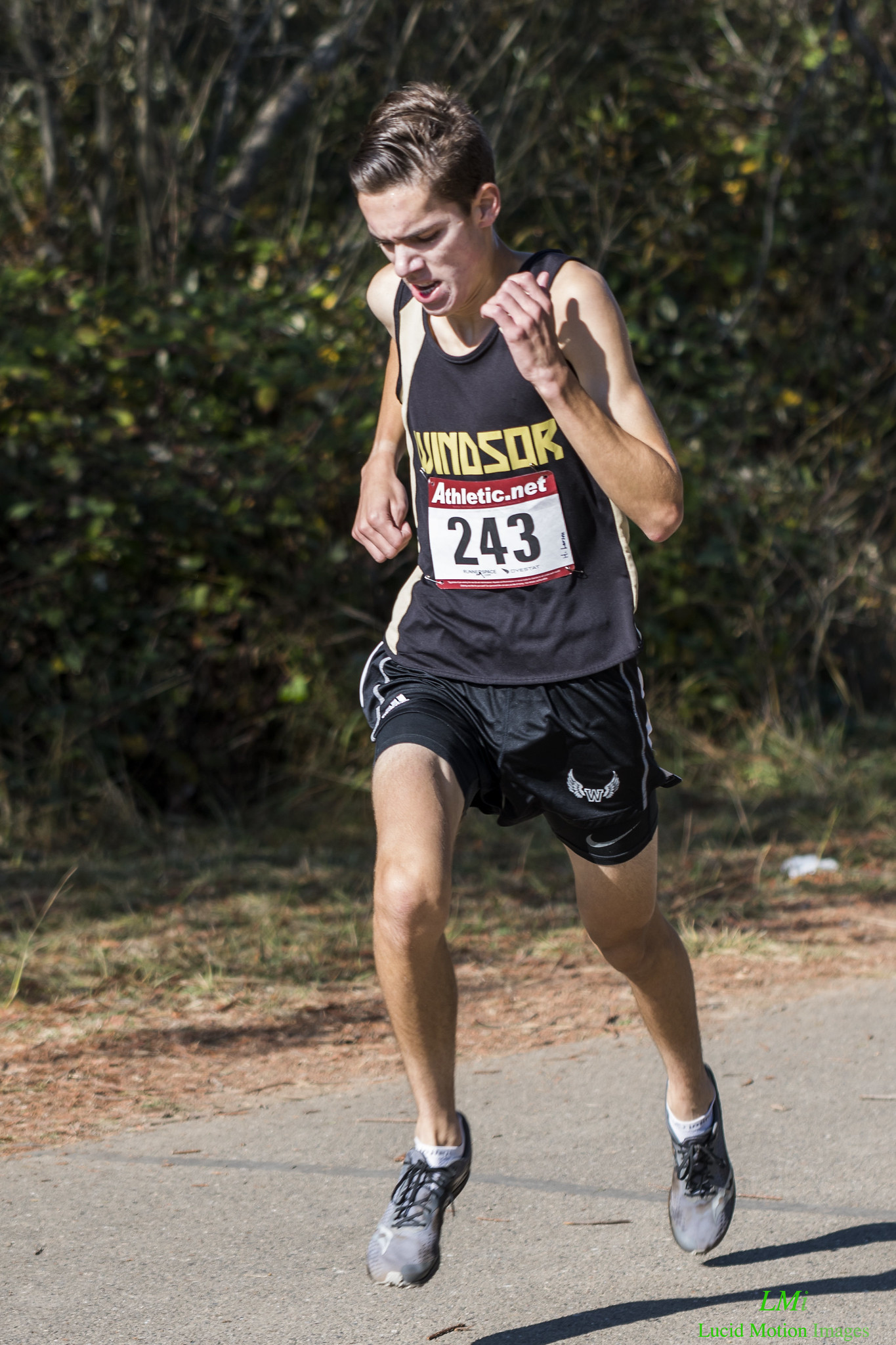 Analy's Joey Thompson lead his team to a second place finish with his 4th place time of 16:51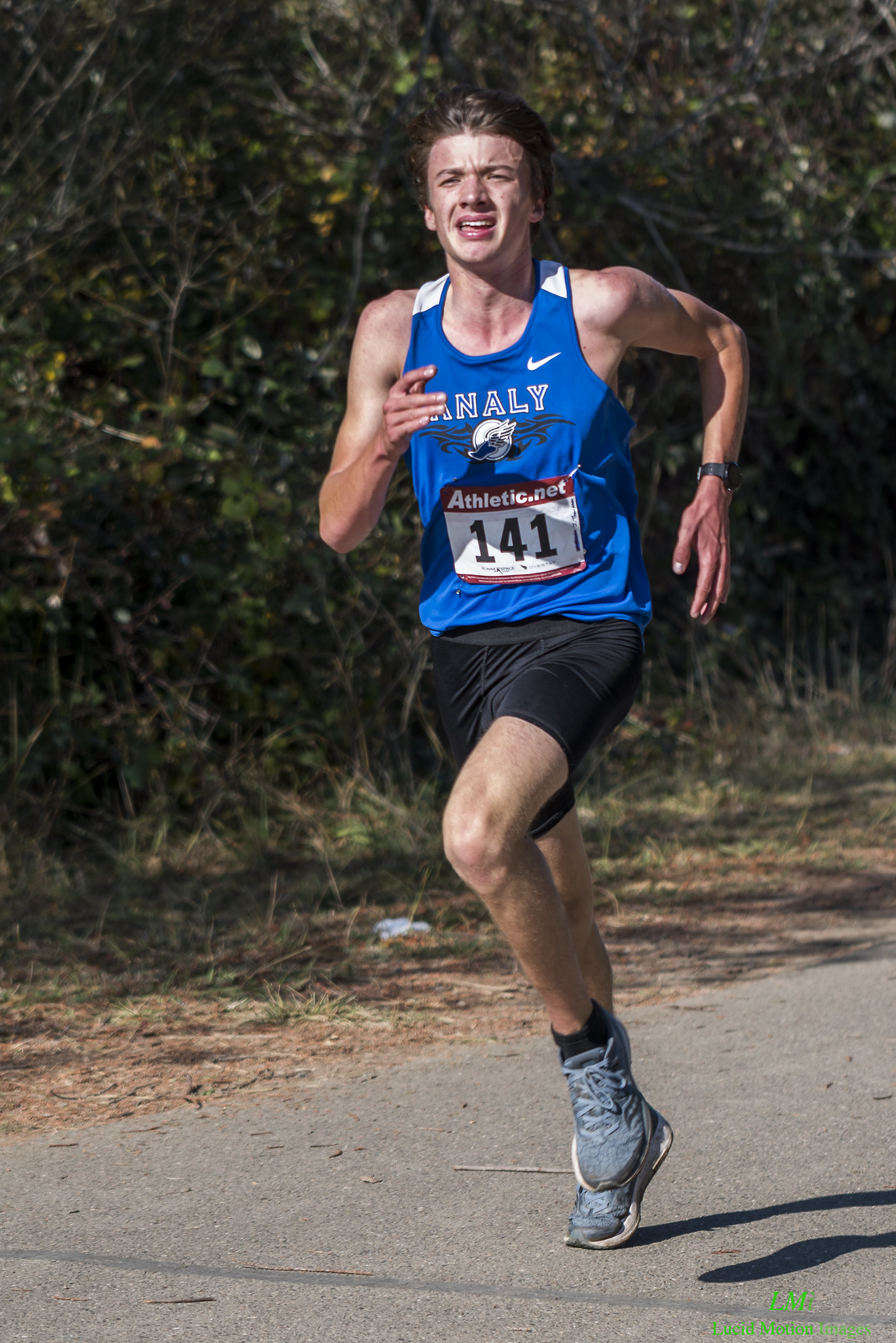 Cardinal Newman's Mario Prado was 5th in (17:13).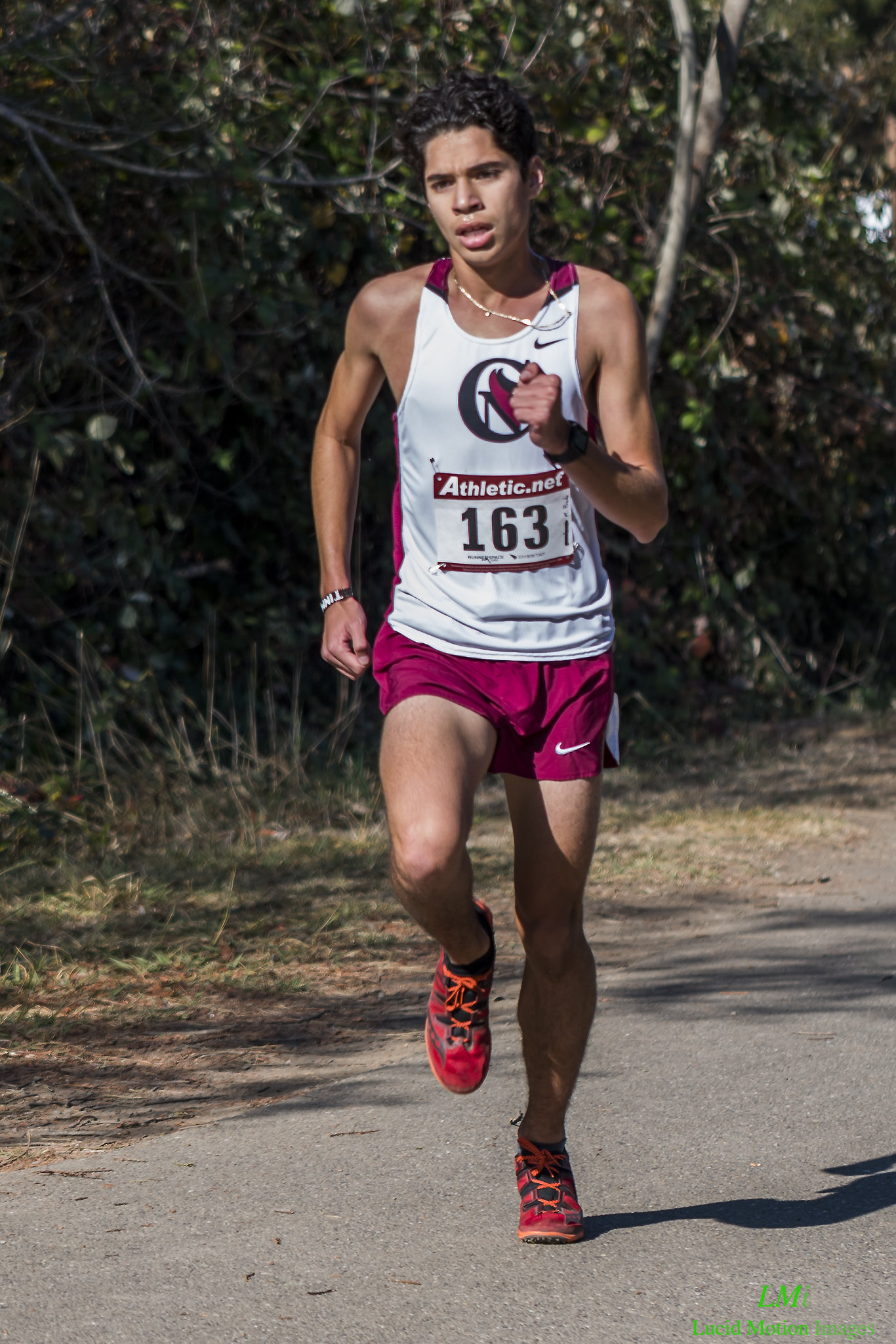 El Molino's Kazuki Hillberg was 6th in (17:58).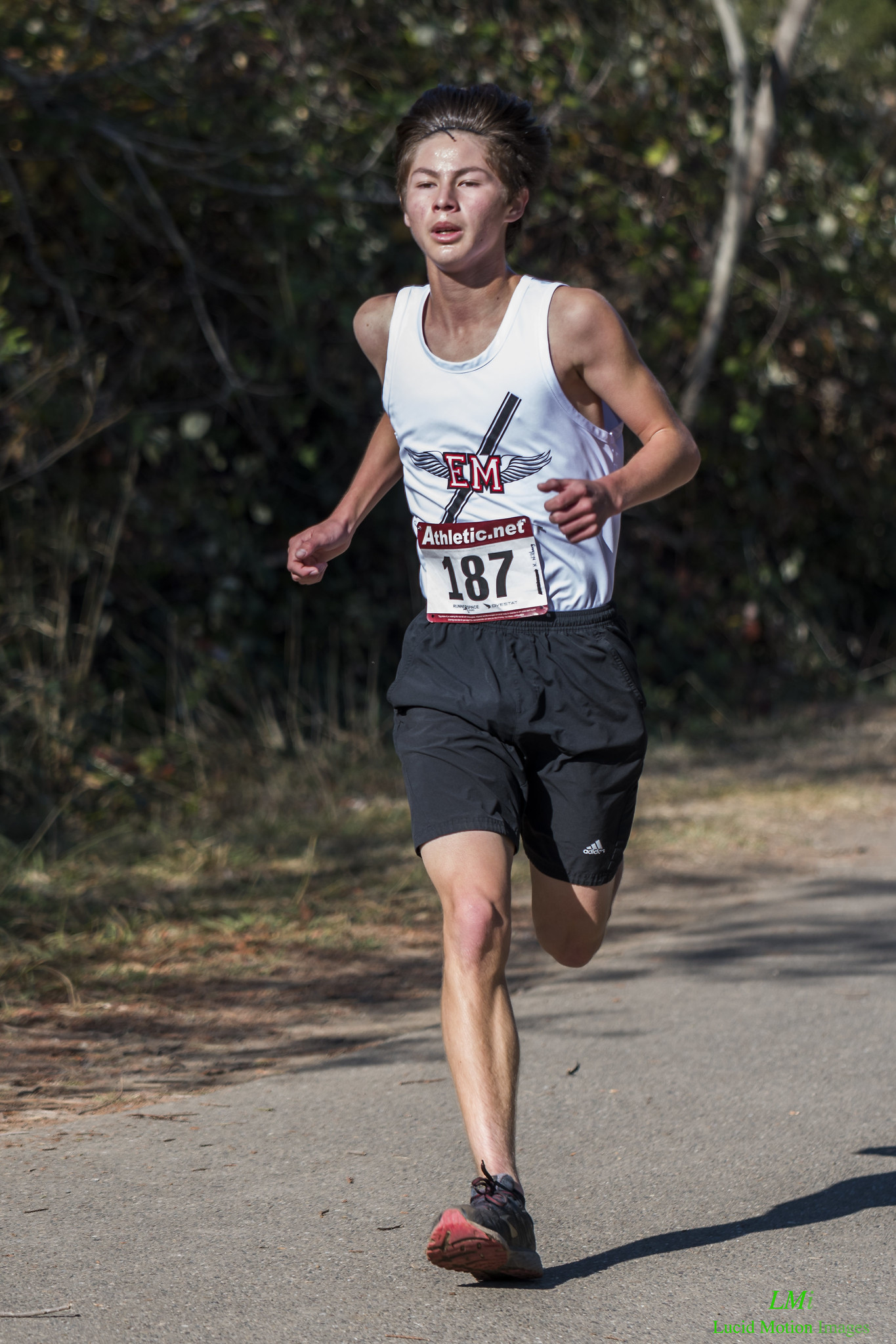 Elsie Allen's Harim Perez was 7th in (18:07).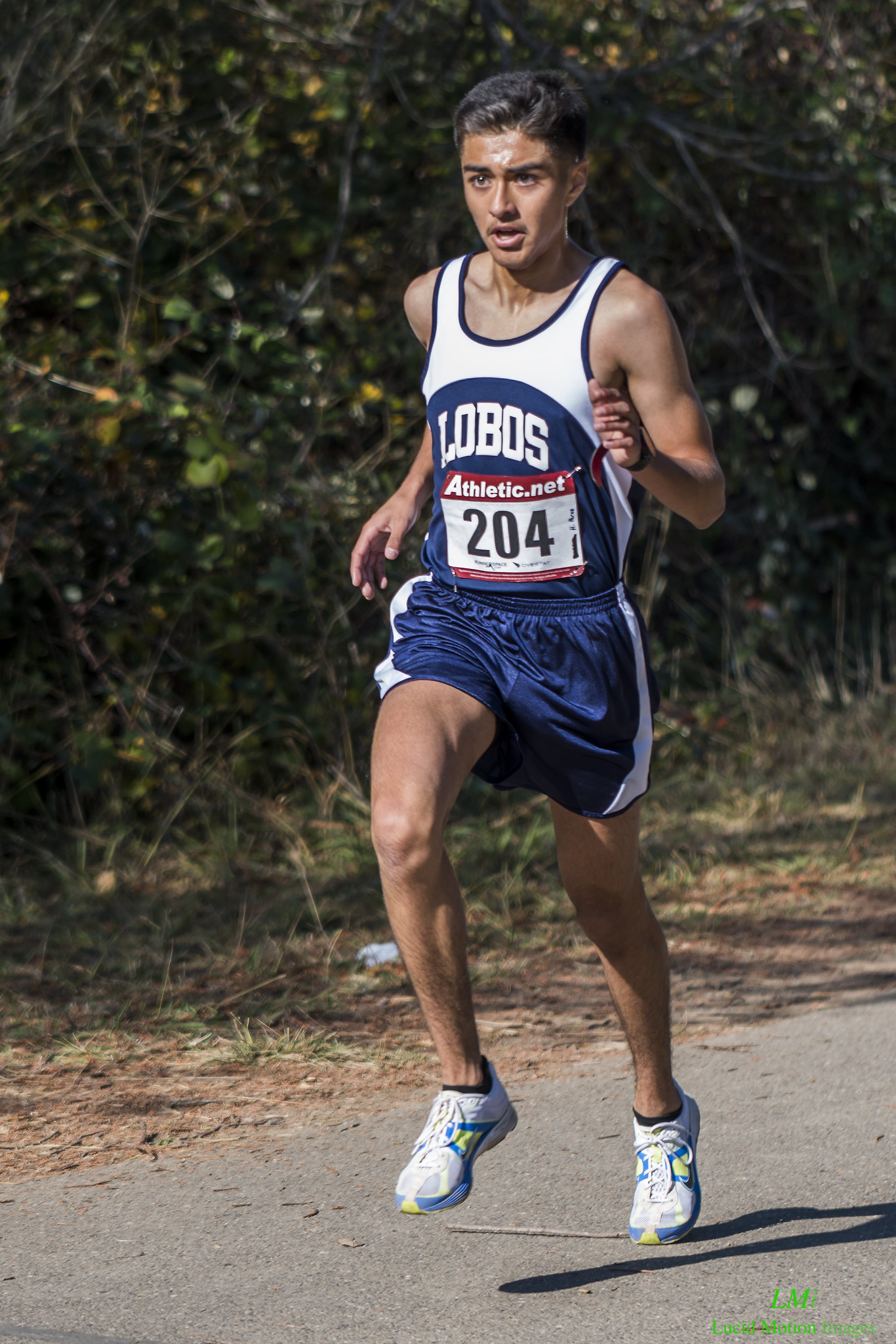 Rancho Cotate's Jonnie Medina was 8th in (18:08).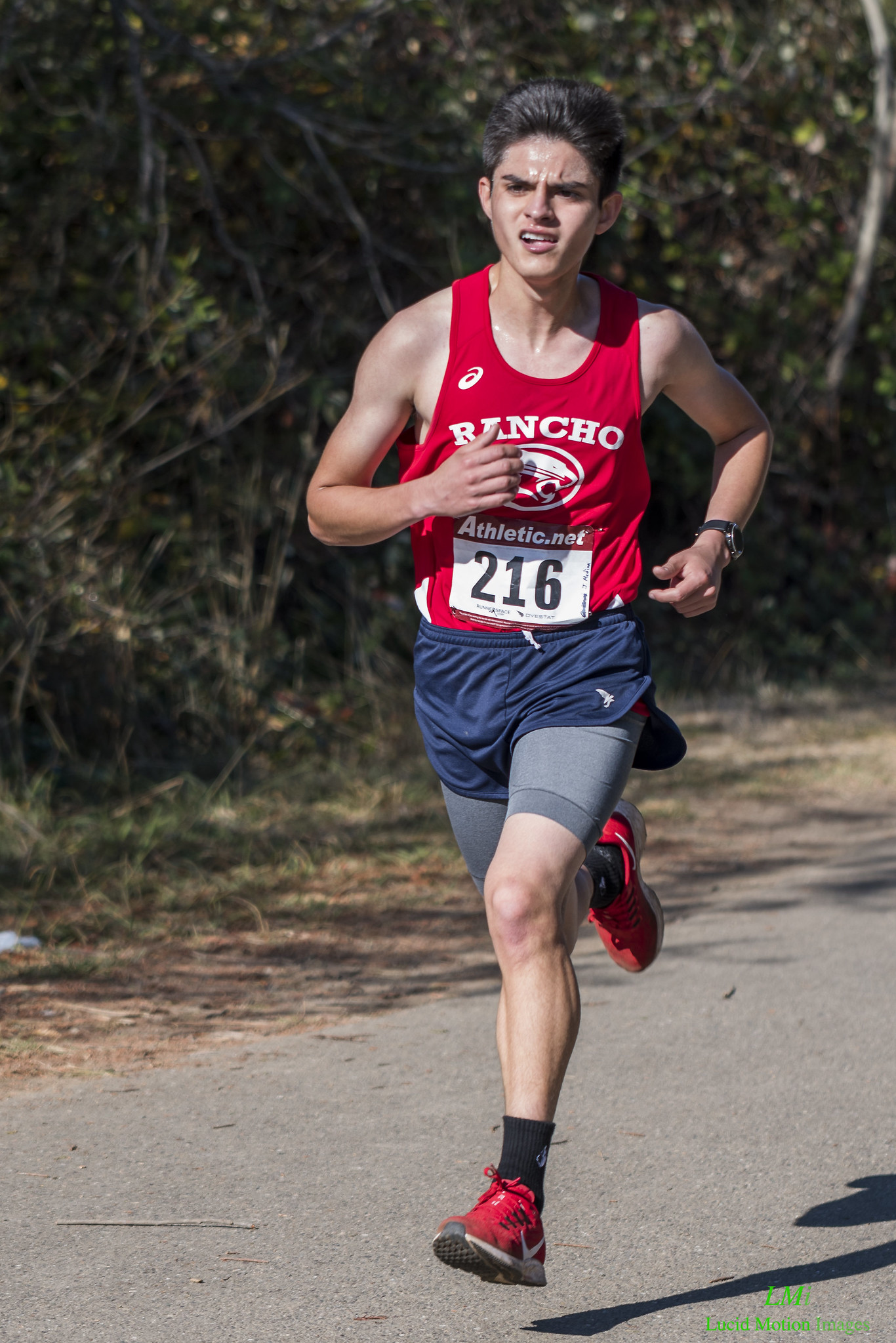 Windsor's Steven Vail (18:16) and Kevin Manni (18:19) rounded out the top ten.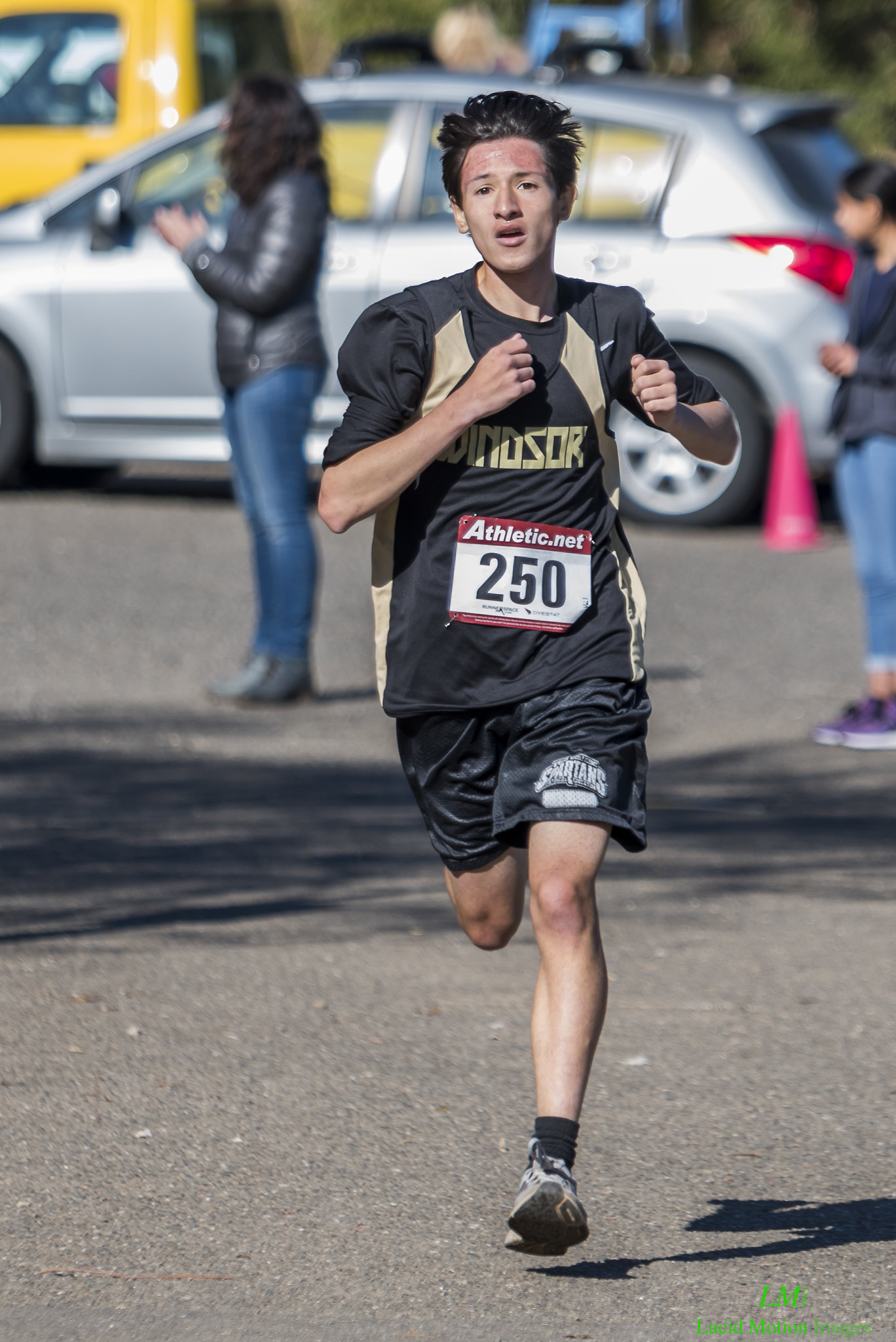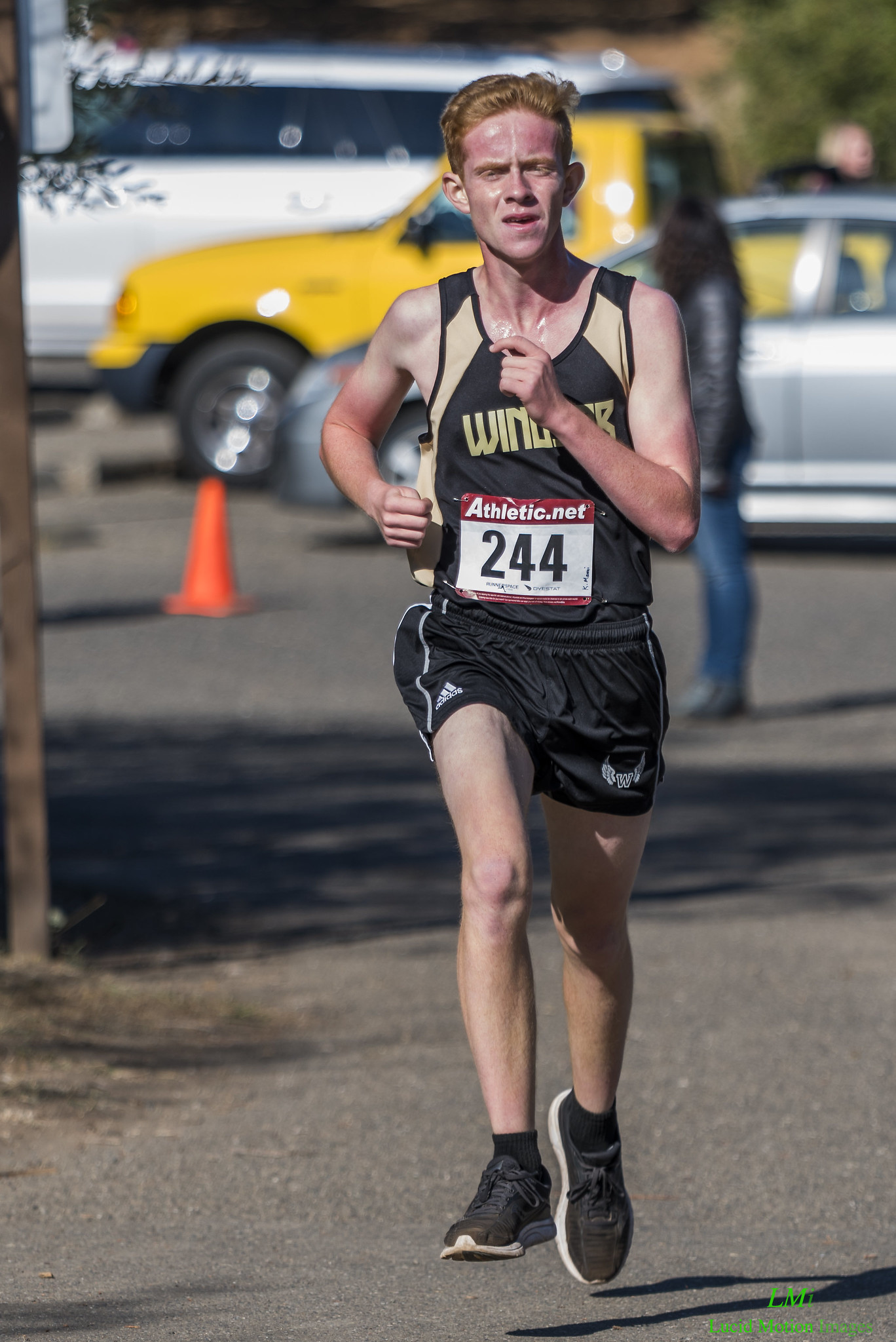 Meet History
Varsity
1 Windsor          25, Total Time: 1:26:05, Average: 17:13                                                    
2 Analy            63, Total Time: 1:33:09, Average: 18:38                                                    
3 Cardinal Newman  73, Total Time: 1:34:15, Average: 18:51                                                    
4 El Molino       101, Total Time: 1:38:18, Average: 19:40                                                   
5 Rancho Cotate   124, Total Time: 1:40:56, Average: 20:11                                                    
6 Elsie Allen     136, Total Time: 1:42:53, Average: 20:35    

Meet Record: 15:08 Sterling Lockert, Petaluma 2008

  1 Smith, Dustin             10 Windsor               16:29    1             
  2 McAlister, Landon         11 Windsor               16:30    2             
  3 Larson, Hunter            12 Windsor               16:31    3             
  4 Thompson, Joey            10 Analy                 16:51    4             
  5 Prado, Mario              11 Cardinal Newman       17:13    5             
  6 Hillberg, Kazuki          10 El Molino             17:58    6             
  7 Perez, Harim              11 Elsie Allen           18:07    7             
  8 Medina, Jonnie            11 Rancho Cotate         18:08    8             
  9 Vail, Steven              12 Windsor               18:16    9             
 10 Manni, Kevin              10 Windsor               18:19   10             
 11 Gallo, Max                11 Cardinal Newman       18:43   11             
 12 Theiss, Tallen            10 Windsor               18:49   12             
 13 Juarez-Rico, Braulio      10 Analy                 18:58   13             
 14 Brandt, Nikolas           11 Analy                 19:04   14             
 15 VanBezooyen, Austin        9 Analy                 19:06   15             
 16 Cvitanovic, Patrick       11 Cardinal Newman       19:09   16             
 17 Cheshier-Fraenkle, Jack   10 Analy                 19:10   17             
 18 Stevens, Ben              12 Cardinal Newman       19:11   18             
 19 Campbell-Voss, Rowan      11 Analy                 19:12   19             
 20 Clark, Anthony            12 Rancho Cotate         19:41   20             
 21 Conger, Jackson           12 El Molino             19:49   21             
 22 Feige, Grant              12 El Molino             19:58   22             
 23 Prendiville, Matthew      12 Cardinal Newman       19:59   23             
 24 Limper, Alexander         12 Cardinal Newman       20:00   24             
 25 Pfann, Colton             10 El Molino             20:03   25             
 26 Acosta, Diego             11 Rancho Cotate         20:15   26             
 27 Sisneros, Elias           12 El Molino             20:29   27             
 28 McCormick, Garin          12 Analy                 20:40   28             
 29 Zurita, Adrian            10 Elsie Allen           20:42   29             
 30 Cervantes, Leo            10 Elsie Allen           20:47   30             
 31 Cibrian-Gomez, Jacob      11 El Molino             20:55   31             
 32 Pfann, Kieran             12 El Molino             20:59   32             
 33 Esparsa, Brandon          11 Elsie Allen           21:08   33             
 34 Alcaide, Jackson          10 Rancho Cotate         21:08   34             
 35 Melvin, Garrett           10 Windsor               21:35   35             
 36 Paden, Zach               10 Rancho Cotate         21:44   36             
 37 Giacomini, Rob            12 Elsie Allen           22:11   37             
 38 Leddy, John               12 Elsie Allen           22:22   38             
 39 Leddy, Logan              12 Elsie Allen           28:06   39  

Junior Varsity
   1 Analy                        31                                             
   2 Windsor                      38                                             
   3 El Molino                    68                                                  
   4 Cardinal Newman              91 

The monitor misdirected the boys around the lake, the times ranged from about 16 min to 26 min…

1 Hidalgo, Max 10 Windsor
2 Finegan, Aiden 10 Analy
3 Leet, Niklas 11Analy
4
		

Bugica,
	

Valentino
	

10
	

Windsor

5
		

Kvamme,
	

David
	

11
	

Windsor

6
		

Morales,
	

Anthony
	

10
	

Elsie

7
		

White,
	

Kaden
	

10
	

Analy

8
		

Carmona,
	

Alan
	

9
	

El Mo

9
		

Weng,
	

Max
	

10
	

Windsor

10
		

Ramos,
	

Dallin
	

10
	

Analy

11
		

Giacomini,
	

Drew
	

9
	

El Mo

12
		

Rodriguez,
	

Jose
	

10
	

Analy

13
		

Baggett,
	

Henry
	

10
	

Analy

14
		

Mimmo,
	

Micah
	

9
	

Analy

15
		

Prendiville,
	

John
	

10
	

Cardinal Newman

16
		

Simon,
	

John
	

9
	

Cardinal

17
		

Klaus,
	

Trey
	

9
	

El Mo

18
		

Borba,
	

Eddie
	

10
	

Analy

19
		

Chamberlin,
	

Elijah
	

11
	

Analy

20
		

Broome,
	

Ted
	

9
	

El Mo

21
		

Borba,
	

Jesse
	

11
	

Analy

22
		

Kellar,
	

Brett
	

9
	

El

23
		

Rodriguez,
	

Elijah
	

9
	

El Mo

24
		

McCarn,
	

Aidan
	

9
	

Analy

25
		

Oandason,
	

Charlie
	

9
	

Cardinal Newman

26
		

Elliott,
	

Collin
	

11
	

Analy

27
		

Hawk,
	

Alex
	

9
	

Windsor

28
		

Voss,
	

William
	

9
	

Analy

29
		

Peinkofer,
	

Max
	

11
	

Analy

30
		

Rice,
	

Aidan
	

11
	

Analy

31
		

Nguyen,
	

Calvin
	

11
	

Cardinal Newman

32
		

Waite,
	

Ricky
	

10
	

Cardinal Newman

33
		

Horak,
	

Quinn
	

11
	

El Mo

34
		

Stanford,
	

Ethan
	

10
	

Cardinal

35
		

Calderon,
	

Eduardo
	

11
	

Cardinal

36
		

Galbraith,
	

Leo
	

10
	

Analy

37
		

Solano,
	

Aydan
	

11
	

Cardinal Newman

38
		

Bonzi,
	

William
	

9
	

Cardinal Newman

39
		

Cannady,
	

Emmitt
	

9
	

Analy

40
		

Kvamme,
	

Ben
	

10
	

Windsor

41
		

Ashley-Haran,
	

Amitiel
	

11
	

Analy

42
		

Kirby,
	

Zane
	

11
	

Analy

43
		

Geurrero,
	

Giezi
	

9
	

Elsie

44
		

McKnight,
	

Reilly
	

9
	

Analy

45
		

Henry,
	

Jonathan
	

9
	

Windsor

46
		

Brown,
	

Eugene
	

9
	

Windsor

47
		

Marinelli,
	

Giovani
	

9
	

Cardinal Newman

48
		

Fair,
	

Shane
	

9
	

Cardinal Newman

49
		

Weiss,
	

Jacob
	

11
	

Cardinal Newman

50
		

O'Donnell,
	

Kyle
	

11
	

Cardinal Newman