CIF State Cross Country Championships
November 30, 2019 Woodward Park 5K Course, Fresno CA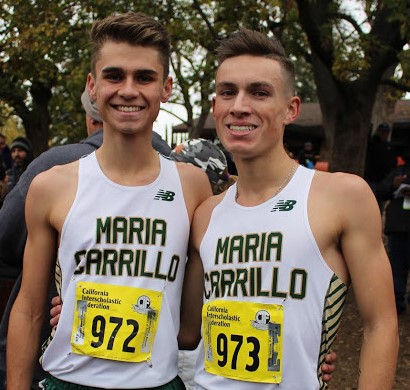 Maria Carrillo photos by Hannah Cohen
Division III
Video of the race by Andrew Smail
Totally amazing day for the Puma's top two as no one in the state can beat them.
Colton Swinth (8th at the one mile mark) and Rory Smail (7th) ran less than 2 seconds behind the leader.
Swinth took the lead at 2.05 miles with Smail holding at 7th.
In the final mile no one could match the pairs speed as Swinth pulled away to an easy 15:11 win with Smail passing and leaving the others nearly 10 seconds behind him at the finish in 15:23.
Swinth becomes our fourth boys state champion following Ukiah's Ryan Mack and Elsie Allen's Celedonia Rodriguez both from 1998 and Sonoma Academy's Andre Williams from 2018.
Swinth time is the fastest ever at 15:11 with Smail tying for second.
Pierce Kapustka also moved up during the race to finish in 15th at 15:49.
Omar Alvarez-Hernandez did the same crossing the line in 20th at 15:53.
Patrick Philip finished as the Puma's #5 runner moving up from 66th early on to a top 50 place in 49th at 16:17.
Carrillo trailed NCS's Campolindo by a huge 34 points after the first mile, they closed the gap to 30 points at the 2.05 mile mark.
The Puma's finished strong but were still 17 points behind Campolindo at the finish 47 to 64 points.
It is still the best ever Empire finish in division III and ties Petaluma's best of second in division II from 2007 as the Empire's best ever boys team finish.
Jacob Donohue (62nd 16:25) and Simon Peterson (67th 16:30) completed the Puma team.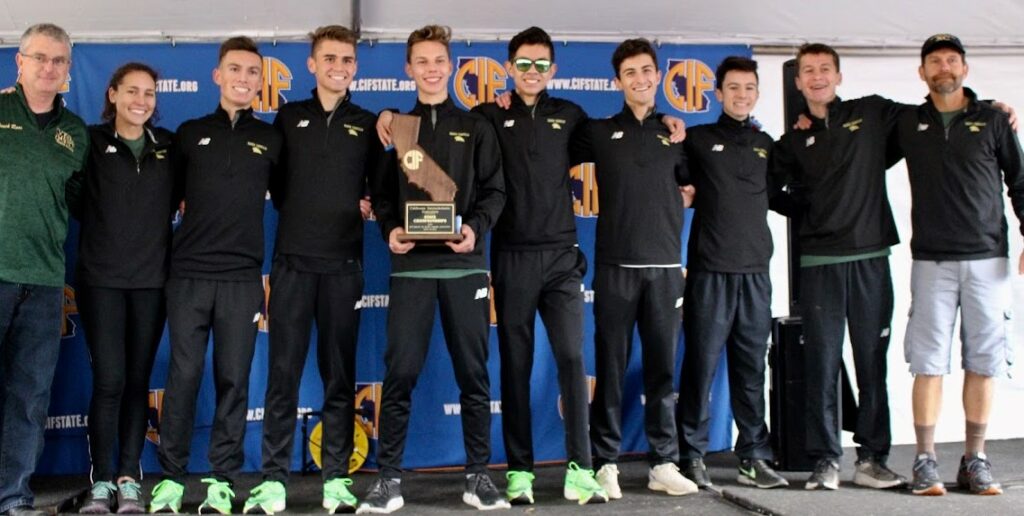 Casa Grande had a fine showing as well in this race placing 15th.
Logan Moon lead the team in 57th at 16:23.
Moon was followed by Nolan Hosbein (82nd 16:41), Luke Baird (107th 16:51), Jake Dietlin (126th 17:02), William Hite (162nd 17:33), Aaron Beaube (177th 17:45) and Andrew Gotshall (191st 17:58).
The only Casa boys team to do better was the 1992 team in 11th.
Windsor's Hunter Larson moved up through out the race finishing in 103rd at 16:49.
Video Interview: Colton Swinth, Rory Smail
Swinth and Smail vs. The Medal Boxes
Maria Carrillo's Colton Swinth, St. Helena's Harper McClain win state cross country titles
Unofficial Team Merges have Campolindo & Maria Carrillo as the 8th & 9th best in the state
Woodward Park 5,000m course bests
Colton Swinth, Maria Carrillo 2019 15:11
Ryan Mack, Ukiah 1998 15:23
Reesey Byers, Santa Rosa 2009 15:23
Rory Smail, Maria Carrillo 2019 15:23
Todd Trask, Healdsburg 1986 15:24, Kinney West Regional
Celedonia Rodriguez, Elsie Allen 1998 15:25
Sterling Lockert, Petaluma 2008 15:25
Luca Mazzanti, Santa Rosa 2016 15:25 State
Luis Luna, Piner 2011 15:28
Hugh Dowdy, Petaluma 2009 15:29 State, 15:48 Clovis
Carrillo's team time was the fastest any Empire team has ever run on this course
1:18:33 Maria Carrillo 2019 Clovis 1:19:41
1:19:55 Petaluma 2008 (15:59 0:43)
1:20:42 Piner 2011 (16:09 1:20)
1:20:50 Petaluma 2010 (16:10)
1:21:04 Petaluma 2009 (16:13)
1:21:21 Maria Carrillo 2013, Clovis
1:21:32 Maria Carrillo 2017, Clovis, 1:24:17 State
1:21:51 Petaluma 2007 (16:23)
1:21:58 Maria Carrillo 2018 State, 1:22:00 Clovis
1:22:07 Maria Carrillo 2012 (16:26 1:08)
Division II
Napa's David Acuna finished 139th in 16:47.
Division V
Victory Christian Academy's freshman Jude DeVries finished 38th in 16:50.
St Helena's Jordan Reilly was 58th in 17:03.

Top Empire by time
Colton Swinth          15:11, EMPIRE RECORD
Rory Smail             15:23, =2nd All-Time
Pierce Kapustka        15:49, 22nd All-Time
Omar Alvarez-Hernandez 15:53, =27th All-Time
Patrick Philip         16:17, =64th All-Time
Logan Moon             16:23
Jacob Donohue          16:25
Simon Peterson         16:30
Nolan Hosbein          16:41
David Acuna            16:47
Hunter Larson          16:49
Jude DeVries           16:50
Luke Baird             16:51
Jake Dietlin           17:02
Jordan Reilly          17:03
William Hite           17:33
Aaron Beaube           17:45
Andrew Gotshall        17:58

Maria Carrillo 1:18:33, EMPIRE RECORD
Casa Grande    1:24:30, 29th All-Time

Top Empire by place
Colton Swinth 1st
Rory Smail 2nd
Pierce Kapustka 15th
Omar Alvarez-Hernandez 20th
Jude DeVries 38th
Patrick Philip 49th
Logan Moon 57th
Jordan Reilly 58th
Jacob Donohue 62nd
Simon Peterson 67th
Nolan Hosbein 82nd
Hunter Larson 103rd
Luke Baird 107th
Jake Dietlin 126th
David Acuna 139th
William Hite 162nd
Aaron Beaube 177th
Andrew Gotshall 191st

Maria Carrillo 2nd
Casa Grande    15th



Colton Swinth




Rory Smail




Pierce Kapustka




Omar Alvarez-Hernandez




Patrick Philip




Jacob Donohue




Simon Peterson




Hunter Larson by Brandon Bronzan




Jude DeVries




State Meet Bests
By division
By school
By year
By time for Woodward Park, Fresno

Complete Results
Division I
Division II 
Division III
Division IV
Division V

2	Maria Carrillo-NCS	64	1-2-10-15-36(46)(50)	        1:18:31	15:43	1:06.4
3	Agoura-SS	        101	5-9-17-27-43(53)	        1:19:51	15:59	0:49.0
4	Cathedral Catholic-SDS	193	16-24-44-47-62(74)(110)	        1:21:34	16:19	0:47.4
5	St. John Bosco-SS	221	23-28-34-56-80(132)(155)        1:21:58	16:24	0:41.1
6	East Union-SJS	        243	20-26-49-71-77(112)(127)	1:22:18	16:28	0:45.4
7	Royal-SS	        252	32-33-39-42-106(115)(128)	1:22:25	16:29	0:59.8
8	Chico-NS	        278	14-40-55-84-85(102)(130)	1:22:30	16:30	0:58.9
9	Central-CS	        280	3-45-58-69-105(114)(151)	1:22:33	16:31	1:39.5
10	Moorpark-SS	        282	8-29-66-76-103(138)(157)	1:22:40	16:32	1:27.5
11	Palos Verdes-SS	        297	38-52-61-67-79(87)(104)	        1:23:00	16:36	0:31.3
12	Brea Olinda-SS	        307	6-48-64-91-98(99)(111)	        1:22:51	16:35	1:27.6
13	Arroyo-SS	        310	18-25-57-97-113(134)(142)	1:23:02	16:37	1:23.3
14	Tamalpais-NCS	        369	31-37-73-108-120(144)(153)	1:24:03	16:49	1:16.8
15	Casa Grande-NCS         399	41-59-81-95-123(136)(150)	1:24:27	16:54	1:10.1
16	Atwater-SJS	        413	70-72-82-93-96(125)(141)	1:24:26	16:54	0:17.3
17	Placer-SJS	        426	54-68-75-107-122(131)(165)	1:24:47	16:58	0:59.1
18	West Hills-SDS	        469	30-90-92-118-139(168)(169)	1:25:26	17:06	1:33.3
19	El Capitan-SDS	        470	22-89-109-124-126(143)(154)	1:25:30	17:06	1:31.7
20	Sacred Heart Cath.-CCS	486	19-94-117-121-135(161)(163)	1:25:39	17:08	1:45.7
21	St. Ignatius-CCS	491	60-65-88-133-145(147)(149)	1:25:53	17:11	1:12.2
22	Skyline-OS	        555	51-63-116-159-166(167)(172)	1:27:45	17:33	2:15.6
23	Frontier-CS	        561	83-100-101-119-158(160)(164)	1:26:50	17:22	1:25.3
24	Verdugo Hills-LAS	638	86-129-137-140-146(162)(170)	1:27:59	17:36	0:58.9
25	Foothill (B)-CS	        662	35-148-152-156-171(173)(174)	1:29:44	17:57	2:55.3

1 SWINTH, Colton SR	Maria Carrillo-NCS 1	15:10.2	---	4:52.6	3:02.0	4:44.5 (9)	10:24.5 (1)
2 SMAIL, Rory	SR	Maria Carrillo-NCS 2	15:22.8	12.6	4:56.7	3:04.6	4:44.3 (7)	10:30.7 (7)
3 DE PAZ, Eduardo SR	Baldwin Park-SS	   --	15:32.0	20.8	4:59.6	3:06.4	4:43.5 (5)	10:27.4 (4)
4 RUDISHA TEFFRA, Abel SR Central-CS	   3	15:33.2	23.0	5:00.0	3:06.6	4:43.1 (2)	10:26.1 (3)
5 GUNN, Dylan	JR	Campolindo-NCS	   4	15:33.8	23.6	5:00.2	3:06.8	4:43.8 (6)	10:28.9 (5)
6 BORDELON, Beau SR	Agoura-SS	   5	15:34.3	24.1	5:00.4	3:06.8	4:46.8 (19)	10:40.5 (14)
7 MCKAIN, Cole	SR	Merced-SJS	--	15:35.6	25.4	5:00.8	3:07.1	4:45.5 (15)	10:37.3 (10)
8 GAFFIKIN, Shane SR	Brea Olinda-SS	6	15:36.7	26.5	5:01.2	3:07.3	4:43.0 (1)	10:32.2 (8)
9 CRONIN, Dylan	SR	Campolindo-NCS	7	15:39.1	28.9	5:02.0	3:07.8	4:46.2 (17)	10:37.5 (11)
10 PATEL, Kishan SR	Gahr-SS	        --	15:39.8	29.6	5:02.2	3:08.0	4:43.4 (4)	10:30.3 (6)
11 GIVENS, Isaiah SO	Pasadena-SS	--	15:40.4	30.2	5:02.4	3:08.1	4:44.8 (11)	10:37.7 (12)
12 MURRAY, Keith SR	Moorpark-SS	8	15:44.6	34.4	5:03.7	3:08.9	4:43.2 (3)	10:25.0 (2)
13 KUEKER, Bryce SR	University City-SDS--	15:45.9	35.7	5:04.1	3:09.2	4:50.2 (32)	10:48.6 (27)
14 HARDY, Seth	SR	Agoura-SS	9	15:46.3	36.1	5:04.3	3:09.2	4:47.5 (21)	10:40.1 (13)
15 KAPUSTKA, Pierce SR	Maria Carrillo-NCS 10	15:48.1	37.9	5:04.8	3:09.6	4:47.4 (20)	10:41.0 (16)
16	LODEWICK, Alexander	FR	211	Campolindo-NCS	11	15:48.2	38.0	5:04.9	3:09.6	4:45.0 (12)	10:42.8 (20)
17	HEIN, Cayden	SR	209	Campolindo-NCS	12	15:52.2	42.0	5:06.2	3:10.4	4:46.0 (16)	10:42.7 (19)
18	LEKKI, Owen	JR	210	Campolindo-NCS	13	15:52.6	42.4	5:06.3	3:10.5	4:47.5 (22)	10:34.2 (9)
19	GIANNINI, Mario	SO	301	Chico-NS	14	15:52.6	42.4	5:06.3	3:10.5	4:48.4 (24)	10:46.1 (21)
20	ALVAREZ-HERNANDEZ, Omar	SR	967	Maria Carrillo-NCS	15	15:52.8	42.6	5:06.3	3:10.5	4:51.3 (34)	10:48.9 (28)
21	WILSON, Max	SR	279	Cathedral Catholic-SDS	16	15:53.6	43.4	5:06.6	3:10.7	4:49.7 (30)	10:41.5 (18)
22	KOEPNICK, Ryan	SR	28	Agoura-SS	17	15:55.6	45.4	5:07.3	3:11.1	4:44.6 (10)	10:40.9 (15)
23	SAMA, Saket	JR	72	Arroyo-SS	18	15:56.0	44.8	5:07.4	3:11.2	4:44.5 (8)	10:41.2 (17)
24	BLELLOCH, Andrew 	JR	1412	Sacred Heart Cath.-CCS	19	15:56.7	46.5	5:07.6	3:11.3	4:47.7 (23)	10:46.2 (22)
25	DANCE, Harrison 	SO	1533	Saratoga-CCS	--	15:57.1	46.9	5:07.7	3:11.4	4:53.3 (45)	10:48.1 (25)
26	SANDOVAL, Johnny	SO	529	East Union-SJS	20	16:03.2	53.0	5:09.7	3:12.6	4:57.6 (61)	11:01.2 (43)
27	PULLEN, Rhys	SO	213	Campolindo-NCS	21	16:03.8	53.6	5:09.9	3:12.7	4:51.3 (35)	10:51.2 (29)
28	SAGER, Andrew	SR	557	El Capitan-SDS	22	16:05.5	55.3	5:10.4	3:13.1	4:49.0 (27)	10:51.9 (30)
29	PEARLMAN, Joseph	SR	501	Dos Pueblos-SS	--	16:06.8	56.6	5:10.9	3:13.4	4:48.4 (25)	10:47.7 (23)
30	VERMA, Shivam 	SR	1534	Saratoga-CCS	--	16:06.9	56.7	5:10.9	3:13.4	4:56.1 (54)	10:56.3 (34)
31	CHAVEZ, Christopher	SO	1691	St. John Bosco-SS	23	16:08.2	58.0	5:11.3	3:13.6	4:58.2 (66)	10:59.7 (40)
32	SMITH, Shea	SR	1214	Pacifica (G.G.)-SS	--	16:08.2	58.0	5:11.3	3:13.6	4:55.4 (49)	11:00.2 (41)
33	LEVY, Blake	SO	275	Cathedral Catholic-SDS	24	16:08.9	58.7	5:11.5	3:13.8	4:49.1 (28)	10:48.2 (26)
34	STAFFORD, Bryan	SR	498	Del Oro-SJS	--	16:09.5	59.3	5:11.7	3:13.9	5:02.4 (93)	11:02.2 (46)
35	ORELLANA, Joshua	SR	70	Arroyo-SS	25	16:10.2	1:00.0	5:11.9	3:14.0	4:46.7 (18)	10:55.1 (33)
36	PEREZ, Marco	SR	528	East Union-SJS	26	16:10.4	1:00.2	5:12.0	3:14.1	5:00.2 (77)	11:03.8 (52)
37	GODSEY, Ethan	SO	24	Agoura-SS	27	16:10.9	1:00.7	5:12.2	3:14.2	4:50.7 (33)	10:56.7 (36)
38	FRIAS, Alex	SR	1694	St. John Bosco-SS	28	16:12.6	1:02.4	5:12.7	3:14.5	4:48.8 (26)	10:54.7 (32)
39	SLADE, Jake	JR	1132	Nevada Union-SJS	--	16:12.7	1:02.5	5:12.7	3:14.5	4:53.0 (42)	11:02.2 (47)
40	PEREIRA, Liam	SR	1111	Moorpark-SS	29	16:12.8	1:02.6	5:12.8	3:14.5	4:52.2 (38)	10:59.5 (39)
41	SHUBERT, Dylan	SR	1948	West Hills-SDS	30	16:12.9	1:02.7	5:12.8	3:14.6	4:53.3 (43)	10:59.3 (38)
42	LAW, Paul	SR	1746	Tamalpais-NCS	31	16:13.1	1:02.9	5:12.9	3:14.6	4:57.8 (62)	10:58.4 (37)
43	FITZGERALD, Angus	JR	1398	Royal-SS	32	16:13.6	1:03.4	5:13.1	3:14.7	4:45.0 (13)	10:47.9 (24)
44	DE LA RIONDA, Jack	JR	1395	Royal-SS	33	16:14.5	1:04.3	5:13.3	3:14.9	4:56.1 (53)	11:00.5 (42)
45	MCCOY, JT	JR	1695	St. John Bosco-SS	34	16:14.9	1:04.7	5:13.5	3:15.0	4:49.7 (31)	10:56.5 (35)
46	BLAND, Luke	SR	1583	Shasta-NS	--	16:15.0	1:03.8	5:13.5	3:15.0	5:00.5 (81)	11:02.6 (48)
47	HUERTA, Diego	SR	377	Concord-NCS	--	16:15.3	1:05.1	5:13.6	3:15.1	5:00.6 (83)	11:03.8 (51)
48	JOHNSON, Francis	SR	616	Foothill (B)-CS	35	16:16.0	1:04.8	5:13.8	3:15.2	5:05.1 (113)	11:07.8 (60)
49	PHILIP, Patrick	SR	971	Maria Carrillo-NCS	36	16:16.5	1:06.3	5:14.0	3:15.3	4:58.2 (65)	11:07.1 (57)
50	SCHARBER, Tomoki	JR	1749	Tamalpais-NCS	37	16:16.6	1:06.4	5:14.0	3:15.3	5:00.4 (80)	11:07.2 (58)
51	WARD, Jon	JR	1244	Palos Verdes-SS	38	16:17.7	1:07.5	5:14.3	3:15.5	4:53.3 (44)	11:02.0 (45)
52	JACOBS, Logan	JR	378	Concord-NCS	--	16:18.1	1:07.9	5:14.5	3:15.6	5:04.9 (112)	11:12.1 (68)
53	RUSSELL, Matthew	JR	1400	Royal-SS	39	16:20.6	1:10.4	5:15.3	3:16.1	4:45.2 (14)	10:52.1 (31)
54	SCHROEDER, Leo 	SR	1048	Mills-CCS	--	16:21.1	1:10.9	5:15.4	3:16.2	4:52.4 (39)	11:01.3 (44)
55	CARRILLO, Joseph	SR	1354	Reseda-LAS	--	16:21.5	1:11.3	5:15.6	3:16.3	4:51.8 (37)	11:02.9 (49)
56	NAVA, Alan	SR	304	Chico-NS	40	16:22.2	1:12.0	5:15.8	3:16.4	5:00.8 (84)	11:09.0 (65)
57	MOON, Logan	SR	243	Casa Grande-NCS	41	16:22.4	1:12.2	5:15.9	3:16.5	5:04.4 (107)	11:15.3 (76)
58	DE LA RIONDA, Noah	FR	1396	Royal-SS	42	16:23.0	1:11.8	5:16.1	3:16.6	5:00.2 (79)	11:07.3 (59)
59	MIKAELIAN, Alex	SR	29	Agoura-SS	43	16:23.2	1:13.0	5:16.1	3:16.6	4:52.7 (41)	11:04.3 (53)
60	SEEGMILLER, Ivan	JR	277	Cathedral Catholic-SDS	44	16:23.6	1:13.4	5:16.3	3:16.7	4:58.9 (70)	11:08.5 (64)
61	BEHELE TEFFRA, Abesolom	JR	284	Central-CS	45	16:24.3	1:14.1	5:16.5	3:16.9	4:57.3 (60)	11:04.7 (54)
62	DONOHUE, Jacob	SO	968	Maria Carrillo-NCS	46	16:25.0	1:13.8	5:16.7	3:17.0	4:58.3 (67)	11:07.8 (62)
63	JACKSON, Dylan	SO	1584	Shasta-NS	--	16:26.3	1:16.1	5:17.1	3:17.2	5:00.6 (82)	11:08.2 (63)
64	HOILES, David	SR	274	Cathedral Catholic-SDS	47	16:26.3	1:16.1	5:17.1	3:17.2	5:00.2 (78)	11:13.0 (72)
65	GARCIA, Derrick	SO	160	Brea Olinda-SS	48	16:28.4	1:18.2	5:17.8	3:17.7	4:55.7 (52)	11:06.4 (56)
66	ORTIZ, Maury	SO	527	East Union-SJS	49	16:29.4	1:19.2	5:18.1	3:17.9	5:05.6 (116)	11:14.5 (75)
67	PETERSON, Simon	JR	970	Maria Carrillo-NCS	50	16:29.6	1:19.4	5:18.2	3:17.9	4:52.6 (40)	11:14.1 (74)
68	SIMMONS, Jonathan	JR	1616	Skyline-OS	51	16:30.2	1:20.0	5:18.4	3:18.0	4:49.6 (29)	11:03.6 (50)
69	LADINIG, Owen	JR	1240	Palos Verdes-SS	52	16:30.6	1:20.4	5:18.5	3:18.1	5:11.5 (143)	11:20.7 (97)
70	KLEPPER, Ben	JR	27	Agoura-SS	53	16:31.3	1:21.1	5:18.7	3:18.2	4:58.3 (69)	11:13.6 (73)
71	REID, Nathan	SR	1269	Placer-SJS	54	16:31.5	1:21.3	5:18.8	3:18.3	5:04.5 (109)	11:19.2 (92)
72	DOUGHERTY, Hunter	SR	300	Chico-NS	55	16:32.4	1:22.2	5:19.1	3:18.5	5:04.0 (105)	11:22.8 (100)
73	COVARRUBIAS, Daniel	SR	1693	St. John Bosco-SS	56	16:33.3	1:23.1	5:19.4	3:18.7	4:56.6 (58)	11:11.9 (67)
74	MARTINEZ, Nicholas	SR	68	Arroyo-SS	57	16:33.4	1:23.2	5:19.4	3:18.7	5:03.4 (98)	11:12.3 (69)
75	DANIELS, Elliot 	SO	1321	Prospect-CCS	--	16:34.2	1:24.0	5:19.7	3:18.8	5:04.4 (108)	11:18.0 (89)
76	SINGH, Gulabjeet	SR	1971	Will C. Wood-SJS	--	16:35.8	1:25.6	5:20.2	3:19.2	4:57.8 (63)	11:07.8 (61)
77	CARRILLO, Cristopher	SR	147	Brawley-SDS	--	16:36.1	1:25.9	5:20.3	3:19.2	4:59.9 (75)	11:17.5 (87)
78	AGUAYO, Lionel	SR	881	Lindsay-CS	--	16:36.5	1:26.3	5:20.4	3:19.3	4:59.6 (74)	11:12.8 (71)
79	CAZARES, Emilio	JR	37	Alameda-NCS	--	16:36.7	1:26.5	5:20.5	3:19.3	5:03.4 (99)	11:16.4 (80)
80	GARZA, Mordecai	JR	286	Central-CS	58	16:38.4	1:28.2	5:21.0	3:19.7	5:07.6 (128)	11:16.9 (83)
81	HARLOW, Logan	SR	1163	Northgate-NCS	--	16:38.7	1:28.5	5:21.1	3:19.7	4:55.5 (50)	11:12.5 (70)
82	HOSBEIN, Nolan	JR	242	Casa Grande-NCS	59	16:40.1	1:29.9	5:21.6	3:20.0	5:03.9 (102)	11:20.3 (94)
83	VEIT, Luke 	JR	1690	St. Ignatius-CCS	60	16:40.2	1:30.0	5:21.6	3:20.0	5:02.2 (92)	11:16.8 (82)
84	SMALLING, Matthew	SR	1243	Palos Verdes-SS	61	16:40.2	1:30.0	5:21.6	3:20.0	4:58.1 (64)	11:16.7 (81)
85	SWEENEY, Ryan	JR	278	Cathedral Catholic-SDS	62	16:41.0	1:29.8	5:21.9	3:20.2	4:59.5 (73)	11:18.8 (91)
86	BOYD, William	SR	1610	Skyline-OS	63	16:41.7	1:31.5	5:22.1	3:20.3	4:56.4 (57)	11:09.8 (66)
87	STRATTON, Luke	JR	162	Brea Olinda-SS	64	16:42.0	1:30.8	5:22.2	3:20.4	4:56.2 (55)	11:16.0 (78)
88	HALL, Alex 	SR	1686	St. Ignatius-CCS	65	16:42.1	1:31.9	5:22.2	3:20.4	5:01.9 (90)	11:17.5 (88)
89	MARTINEZ, Brian	JR	1109	Moorpark-SS	66	16:42.3	1:32.1	5:22.3	3:20.4	5:04.0 (104)	11:20.3 (95)
90	DELGADO, Sebastian	SR	1239	Palos Verdes-SS	67	16:42.4	1:32.2	5:22.3	3:20.5	4:59.1 (71)	11:16.0 (79)
91	HAMILTON, Wyatt	SO	1267	Placer-SJS	68	16:42.9	1:32.7	5:22.5	3:20.6	5:14.0 (157)	11:31.9 (126)
92	LOPEZ, Guillermo	SO	282	Central-CS	69	16:43.9	1:33.7	5:22.8	3:20.8	5:07.2 (125)	11:17.1 (85)
93	PICKLE, Zachary	JR	94	Atwater-SJS	70	16:44.8	1:34.6	5:23.1	3:20.9	5:05.6 (117)	11:25.3 (108)
94	LAUGHLIN, Ben 	JR	55	Aptos-CCS	--	16:45.3	1:35.1	5:23.2	3:21.1	5:02.0 (91)	11:24.9 (107)
95	FREEMAN, Cooper	SO	525	East Union-SJS	71	16:46.1	1:35.9	5:23.5	3:21.2	5:07.9 (130)	11:25.7 (110)
96	BRISTOW, Tanner	SO	90	Atwater-SJS	72	16:47.2	1:37.0	5:23.8	3:21.4	5:04.8 (111)	11:25.8 (113)
97	CARNEY, Caden	SO	1745	Tamalpais-NCS	73	16:47.4	1:37.2	5:23.9	3:21.5	5:06.4 (121)	11:26.3 (116)
98	GUPTA, Dhruv	JR	273	Cathedral Catholic-SDS	74	16:47.8	1:37.6	5:24.0	3:21.6	4:56.3 (56)	11:15.6 (77)
99	DONNER, Evan	JR	1266	Placer-SJS	75	16:48.1	1:37.9	5:24.1	3:21.6	5:08.3 (133)	11:27.4 (119)
100	URIBE, Alejandro	SR	1113	Moorpark-SS	76	16:48.2	1:38.0	5:24.2	3:21.6	4:56.9 (59)	11:20.9 (98)
101	CUEVAS, Alex	FR	524	East Union-SJS	77	16:48.6	1:38.4	5:24.3	3:21.7	5:07.4 (127)	11:26.2 (115)
102	MITCHLEY, Dylan	SR	212	Campolindo-NCS	78	16:48.7	1:38.5	5:24.3	3:21.7	5:01.1 (86)	11:23.9 (104)
103	LARSON, Hunter	SR	1995	Windsor-NCS	--	16:48.9	1:38.7	5:24.4	3:21.8	5:05.2 (114)	11:24.4 (105)
104	LANTZ, Colin	JR	1241	Palos Verdes-SS	79	16:48.9	1:38.7	5:24.4	3:21.8	5:03.9 (103)	11:25.7 (111)
105	CORDOVA, Gabriel	SR	1692	St. John Bosco-SS	80	16:49.2	1:39.0	5:24.5	3:21.8	5:03.7 (101)	11:22.9 (101)
106	BERMUDEZ, Franco	SR	673	Golden West-CS	--	16:49.8	1:39.6	5:24.7	3:22.0	5:05.7 (118)	11:28.4 (121)
107	BAIRD, Luke	JR	237	Casa Grande-NCS	81	16:50.5	1:40.3	5:24.9	3:22.1	5:04.2 (106)	11:27.5 (120)
108	PETTON, Travis	FR	1331	Ramona-SDS	--	16:50.7	1:40.5	5:25.0	3:22.1	4:53.9 (46)	11:06.2 (55)
109	RAMIREZ, Daniel	JR	95	Atwater-SJS	82	16:50.9	1:40.7	5:25.0	3:22.2	5:01.5 (89)	11:25.7 (112)
110	L PIMENTEL, Angel	SR	666	Frontier-CS	83	16:51.0	1:39.8	5:25.1	3:22.2	5:08.5 (134)	11:29.5 (123)
111	MOTA, Andre	SR	303	Chico-NS	84	16:51.1	1:40.9	5:25.1	3:22.2	5:07.0 (124)	11:31.2 (125)
112	SEHORN, Liam	JR	305	Chico-NS	85	16:51.5	1:41.3	5:25.2	3:22.3	5:10.9 (141)	11:33.4 (129)
113	GONZALEZ, Diego	SO	1720	Sunnyside-CS	--	16:53.1	1:42.9	5:25.8	3:22.6	5:02.9 (96)	11:24.4 (106)
114	COOMBER, James	SR	1883	Verdugo Hills-LAS	86	16:53.6	1:43.4	5:25.9	3:22.7	5:15.4 (162)	11:35.4 (134)
115	REID, Frankie	SR	1242	Palos Verdes-SS	87	16:53.7	1:43.5	5:25.9	3:22.7	4:51.3 (36)	11:19.3 (93)
116	RODRIGUEZ, Christian	SR	500	Dorsey-LAS	--	16:55.8	1:45.6	5:26.6	3:23.1	5:00.9 (85)	11:22.6 (99)
117	RODRIGUEZ, Albert	SR	148	Brawley-SDS	--	16:56.1	1:45.9	5:26.7	3:23.2	4:54.6 (48)	11:17.4 (86)
118	MILBY, Liam 	JR	1689	St. Ignatius-CCS	88	16:57.5	1:47.3	5:27.2	3:23.5	4:58.3 (68)	11:23.7 (103)
119	DIXON, Parker	JR	551	El Capitan-SDS	89	16:58.0	1:46.8	5:27.3	3:23.6	4:54.0 (47)	11:17.0 (84)
120	CALCUTT, Aiden	SR	1943	West Hills-SDS	90	16:58.0	1:46.8	5:27.3	3:23.6	5:18.1 (174)	11:40.3 (144)
121	MACLEAN, Thomas	JR	1585	Shasta-NS	--	16:59.1	1:48.9	5:27.7	3:23.8	5:03.2 (97)	11:20.5 (96)
122	DEBARROS, Manny	SO	158	Brea Olinda-SS	91	16:59.6	1:49.4	5:27.8	3:23.9	5:12.4 (147)	11:33.5 (130)
123	MCCOWIN, Mark	SO	1946	West Hills-SDS	92	17:00.1	1:49.9	5:28.0	3:24.0	5:01.4 (88)	11:27.2 (118)
124	MALDONADO, Eric	JR	92	Atwater-SJS	93	17:00.7	1:50.5	5:28.2	3:24.1	5:00.0 (76)	11:23.6 (102)
125	OGAWA, Gavin 	JR	1415	Sacred Heart Cath.-CCS	94	17:00.9	1:50.7	5:28.2	3:24.2	5:12.7 (149)	11:33.7 (131)
126	DIETLIN, Jake	JR	239	Casa Grande-NCS	95	17:01.6	1:51.4	5:28.5	3:24.3	5:04.7 (110)	11:25.4 (109)
127	PEREZ, Emmanuel	SR	93	Atwater-SJS	96	17:02.0	1:50.8	5:28.6	3:24.4	5:02.8 (95)	11:25.9 (114)
128	RIVAS, Andrew	SR	71	Arroyo-SS	97	17:02.7	1:52.5	5:28.8	3:24.5	5:10.3 (140)	11:33.7 (132)
129	DAEDLER, Ryan	SR	157	Brea Olinda-SS	98	17:04.2	1:54.0	5:29.3	3:24.8	4:55.6 (51)	11:18.1 (90)
130	OSTBY, Jordan	SR	161	Brea Olinda-SS	99	17:04.8	1:54.6	5:29.5	3:25.0	5:14.1 (158)	11:35.6 (135)
131	LEONE, Peyton	SR	663	Frontier-CS	100	17:06.0	1:54.8	5:29.9	3:25.2	5:07.4 (126)	11:33.1 (127)
132	LOPEZ, Elias	SO	667	Frontier-CS	101	17:07.2	1:57.0	5:30.3	3:25.4	5:13.9 (156)	11:39.1 (139)
133	MCFARLIN, Cameron	SR	349	Coalinga-CS	--	17:07.2	1:57.0	5:30.3	3:25.4	5:03.4 (100)	11:36.6 (136)
134	HERVEY, Jack	JR	302	Chico-NS	102	17:08.5	1:58.3	5:30.7	3:25.7	5:13.7 (155)	11:39.5 (141)
135	SMITH, David	SR	1272	Pleasant Valley-NS	--	17:08.5	1:58.3	5:30.7	3:25.7	5:13.0 (150)	11:37.3 (137)
136	SANDOVAL, Luis	SR	290	Central Union-SDS	--	17:09.1	1:58.9	5:30.9	3:25.8	5:07.7 (129)	11:40.2 (143)
137	HERRERA, Daniel	SR	1200	Pacheco-SJS	--	17:11.0	2:00.8	5:31.5	3:26.2	5:01.3 (87)	11:30.3 (124)
138	WATERS, Matthew	JR	1114	Moorpark-SS	103	17:12.0	2:01.8	5:31.8	3:26.4	5:11.9 (145)	11:42.8 (146)
139	WILHEM, Matthew	SR	1245	Palos Verdes-SS	104	17:12.5	2:02.3	5:32.0	3:26.5	5:02.4 (94)	11:33.4 (128)
140	CANALES, Alex	SR	285	Central-CS	105	17:12.6	2:02.4	5:32.0	3:26.5	5:06.6 (122)	11:29.0 (122)
141	FEHLMAN, Marcus	JR	1397	Royal-SS	106	17:13.4	2:03.2	5:32.3	3:26.7	4:59.2 (72)	11:27.0 (117)
142	HICKMAN, Reed	SR	1268	Placer-SJS	107	17:13.7	2:03.5	5:32.4	3:26.7	5:13.1 (152)	11:39.9 (142)
143	SALAS, Omar	SR	217	Canoga Park-LAS	--	17:14.6	2:04.4	5:32.7	3:26.9	5:09.3 (135)	11:34.4 (133)
144	SCHARBER, Taiki	JR	1750	Tamalpais-NCS	108	17:15.9	2:05.7	5:33.1	3:27.2	5:13.1 (153)	11:42.9 (147)
145	ROMERO, Dominic	JR	556	El Capitan-SDS	109	17:16.2	2:06.0	5:33.2	3:27.2	5:09.9 (137)	11:44.3 (148)
146	MARTINEZ, Matthew	JR	276	Cathedral Catholic-SDS	110	17:16.3	2:06.1	5:33.2	3:27.2	5:05.9 (120)	11:38.6 (138)
147	APAHIDEAN, Matthew	SR	156	Brea Olinda-SS	111	17:16.8	2:06.6	5:33.4	3:27.3	5:10.2 (139)	11:42.4 (145)
148	SMALLWOOD, Jamison	JR	189	Burton-SFS	--	17:17.9	2:07.7	5:33.7	3:27.6	5:11.1 (142)	11:39.2 (140)
149	MORALES, Daniel	SR	526	East Union-SJS	112	17:17.9	2:07.7	5:33.7	3:27.6	5:19.3 (178)	11:49.9 (156)
150	GUTIERREZ, Jaeson	SR	67	Arroyo-SS	113	17:19.2	2:09.0	5:34.1	3:27.8	5:15.8 (165)	11:50.4 (157)
151	GUERRERO, Enrique	SR	281	Central-CS	114	17:25.0	2:13.8	5:36.0	3:29.0	5:05.2 (115)	11:46.4 (151)
152	ALVAREZ, Roberto	SO	1394	Royal-SS	115	17:25.3	2:15.1	5:36.1	3:29.0	5:08.2 (132)	11:47.6 (153)
153	BYRNE, Kyle	SR	1611	Skyline-OS	116	17:27.6	2:17.4	5:36.8	3:29.5	5:14.6 (161)	11:51.2 (159)
154	SOUZA, Dylan 	SR	1417	Sacred Heart Cath.-CCS	117	17:28.2	2:18.0	5:37.0	3:29.6	5:13.0 (151)	11:47.3 (152)
155	WILLWEBER, Sean	JR	1949	West Hills-SDS	118	17:29.0	2:17.8	5:37.3	3:29.8	5:21.7 (189)	11:51.7 (161)
156	MONACO, Tucker	JR	668	Frontier-CS	119	17:29.7	2:19.5	5:37.5	3:29.9	5:14.2 (159)	11:52.4 (163)
157	LIN, Ethan	SO	1747	Tamalpais-NCS	120	17:29.9	2:19.7	5:37.6	3:30.0	5:23.9 (198)	11:58.2 (174)
158	TSAI, Mason 	JR	1418	Sacred Heart Cath.-CCS	121	17:30.5	2:20.3	5:37.8	3:30.1	5:09.9 (136)	11:51.7 (160)
159	BYER, Vance	JR	1264	Placer-SJS	122	17:30.6	2:20.4	5:37.8	3:30.1	5:23.3 (196)	11:59.5 (176)
160	RIVAS, Jeffrey	JR	216	Canoga Park-LAS	--	17:31.3	2:21.1	5:38.0	3:30.2	5:16.3 (168)	11:49.8 (154)
161	CAVANAUGH, Daniel	SR	188	Burton-SFS	--	17:32.0	2:20.8	5:38.2	3:30.4	5:19.9 (183)	11:56.5 (169)
162	HITE, William	JR	241	Casa Grande-NCS	123	17:32.4	2:22.2	5:38.4	3:30.5	5:06.6 (123)	11:45.9 (150)
163	QUAMINA, Ryan	SO	555	El Capitan-SDS	124	17:33.1	2:22.9	5:38.6	3:30.6	5:10.0 (138)	11:45.2 (149)
164	DUKES, Colton	FR	91	Atwater-SJS	125	17:34.8	2:24.6	5:39.2	3:31.0	5:07.9 (131)	11:50.4 (158)
165	DIXON, Trey	FR	552	El Capitan-SDS	126	17:37.2	2:27.0	5:39.9	3:31.4	5:18.7 (175)	12:02.8 (182)
166	AVINA, Christian	JR	523	East Union-SJS	127	17:37.6	2:27.4	5:40.1	3:31.5	5:19.8 (182)	11:54.9 (167)
167	DELEON, Grant	SO	1399	Royal-SS	128	17:37.7	2:27.5	5:40.1	3:31.5	5:16.0 (166)	11:52.0 (162)
168	ARMAS-VALENCIA, Kevin	SR	1881	Verdugo Hills-LAS	129	17:39.3	2:29.1	5:40.6	3:31.8	5:15.6 (163)	11:57.3 (172)
169	RAMIREZ, Jorge	SR	13	Abraham Lincoln-LAS	--	17:39.7	2:29.5	5:40.7	3:31.9	5:13.5 (154)	11:57.7 (173)
170	WUN, Benjamin	SO	306	Chico-NS	130	17:39.8	2:29.6	5:40.8	3:32.0	5:17.1 (170)	11:56.7 (170)
171	SMITH, Alec	JR	1270	Placer-SJS	131	17:39.9	2:29.7	5:40.8	3:32.0	5:22.7 (194)	11:59.5 (177)
172	MILLIGAN, Riley	JR	1696	St. John Bosco-SS	132	17:40.7	2:30.5	5:41.0	3:32.1	5:12.5 (148)	11:49.8 (155)
173	HOLLISTER, George 	SR	1687	St. Ignatius-CCS	133	17:40.8	2:30.6	5:41.1	3:32.1	5:14.3 (160)	11:58.8 (175)
174	CARILLO, Victor	SO	66	Arroyo-SS	134	17:41.5	2:31.3	5:41.3	3:32.3	5:19.0 (177)	11:57.0 (171)
175	HERRERA, Nathan	SO	674	Golden West-CS	--	17:41.8	2:31.6	5:41.4	3:32.4	5:12.1 (146)	11:54.3 (165)
176	POILANE, Briac 	JR	1416	Sacred Heart Cath.-CCS	135	17:42.3	2:32.1	5:41.6	3:32.5	5:15.7 (164)	11:55.7 (168)
177	BEAUBE, Aaron	JR	238	Casa Grande-NCS	136	17:44.4	2:34.2	5:42.3	3:32.9	5:05.8 (119)	11:53.9 (164)
178	BARTLE, Michael	SR	1882	Verdugo Hills-LAS	137	17:45.7	2:35.5	5:42.7	3:33.1	5:29.8 (207)	12:13.2 (193)
179	EASLEY, Kai	JR	1108	Moorpark-SS	138	17:45.8	2:35.6	5:42.7	3:33.2	5:19.5 (181)	12:00.5 (179)
180	MORALES, Landon	JR	1947	West Hills-SDS	139	17:46.1	2:35.9	5:42.8	3:33.2	5:22.3 (193)	12:04.5 (184)
181	AGUIRRE, Lorenzo	SR	1880	Verdugo Hills-LAS	140	17:48.1	2:37.9	5:43.4	3:33.6	5:21.8 (191)	12:00.5 (178)
182	BREWER, Matthew	SR	89	Atwater-SJS	141	17:48.3	2:38.1	5:43.5	3:33.7	5:18.8 (176)	11:54.7 (166)
183	NARANJO, Cesar	SO	69	Arroyo-SS	142	17:49.6	2:39.4	5:43.9	3:33.9	5:17.4 (171)	12:01.4 (181)
184	FRISZELL, Adam	SR	553	El Capitan-SDS	143	17:51.0	2:39.8	5:44.4	3:34.2	5:26.9 (200)	12:12.4 (190)
185	ASHRAF, Adnan	SO	1744	Tamalpais-NCS	144	17:51.9	2:41.7	5:44.6	3:34.4	5:28.4 (203)	12:12.5 (191)
186	ASHENDORF, Charlie 	SR	1684	St. Ignatius-CCS	145	17:52.3	2:42.1	5:44.8	3:34.5	5:17.8 (172)	12:03.7 (183)
187	VALDIVIA, Fabrizio	SO	1886	Verdugo Hills-LAS	146	17:52.5	2:42.3	5:44.8	3:34.5	5:20.4 (184)	12:05.1 (185)
188	KRAMER, Ronan 	SR	1688	St. Ignatius-CCS	147	17:53.4	2:43.2	5:45.1	3:34.7	5:16.1 (167)	12:05.7 (186)
189	VALDEZ, Isai	SR	619	Foothill (B)-CS	148	17:54.4	2:44.2	5:45.5	3:34.9	5:26.4 (199)	12:12.7 (192)
190	LEA, Issac	SR	1685	St. Ignatius-CCS	149	17:54.9	2:44.7	5:45.6	3:35.0	5:21.9 (192)	12:09.3 (188)
191	GOTSHALL, Andrew	SR	240	Casa Grande-NCS	150	17:57.3	2:47.1	5:46.4	3:35.5	5:11.8 (144)	12:01.1 (180)
192	TEFFRA, Aaron	SO	283	Central-CS	151	18:02.3	2:52.1	5:48.0	3:36.4	5:18.1 (173)	12:07.0 (187)
193	GARCIA, Edgar	SO	613	Foothill (B)-CS	152	18:05.8	2:55.6	5:49.1	3:37.2	5:28.8 (205)	12:14.5 (195)
194	LYKO, Hector	SO	1748	Tamalpais-NCS	153	18:10.1	2:59.9	5:50.5	3:38.0	5:28.1 (202)	12:17.2 (198)
195	HOUSER, Delson	FR	554	El Capitan-SDS	154	18:12.6	3:02.4	5:51.3	3:38.5	5:19.3 (179)	12:15.5 (196)
196	VILLCHIS, Angel	JR	1697	St. John Bosco-SS	155	18:12.7	3:02.5	5:51.3	3:38.5	5:16.7 (169)	12:13.8 (194)
197	MARTINEZ, Luis	SO	617	Foothill (B)-CS	156	18:15.9	3:05.7	5:52.4	3:39.2	5:40.1 (212)	12:36.0 (208)
198	RAMESH, Vishal	SO	1112	Moorpark-SS	157	18:16.3	3:06.1	5:52.5	3:39.2	5:23.4 (197)	12:18.7 (199)
199	BIDWELL, Ryan	SO	664	Frontier-CS	158	18:16.3	3:06.1	5:52.5	3:39.3	5:21.5 (188)	12:11.9 (189)
200	IXTABALAN ARGUETA, Andy	FR	1613	Skyline-OS	159	18:19.5	3:09.3	5:53.5	3:39.9	5:21.0 (186)	12:15.9 (197)
201	FELIX, Francisco	JR	662	Frontier-CS	160	18:19.9	3:09.7	5:53.6	3:40.0	5:23.3 (195)	12:19.4 (200)
202	GARCIA, Adan	SO	12	Abraham Lincoln-LAS	--	18:29.6	3:19.4	5:56.8	3:41.9	5:21.4 (187)	12:23.1 (201)
203	WAINWRIGHT, Jackson	JR	1413	Sacred Heart Cath.-CCS	161	18:32.0	3:21.8	5:57.6	3:42.4	5:28.5 (204)	12:27.4 (203)
204	MINASYAN, Minas	JR	1884	Verdugo Hills-LAS	162	18:32.3	3:22.1	5:57.6	3:42.5	5:29.7 (206)	12:31.1 (206)
205	TREVINO, Ciaran	JR	1414	Sacred Heart Cath.-CCS	163	18:39.5	3:29.3	6:00.0	3:43.9	5:19.5 (180)	12:27.2 (202)
206	HERNANDEZ, Isaac	JR	665	Frontier-CS	164	18:43.7	3:33.5	6:01.3	3:44.7	5:21.0 (185)	12:29.0 (204)
207	DENNON, Jacob	SO	1265	Placer-SJS	165	18:43.9	3:33.7	6:01.4	3:44.8	5:28.1 (201)	12:32.9 (207)
208	FREEMAN, Durell	SO	1612	Skyline-OS	166	18:45.7	3:35.5	6:01.9	3:45.1	5:35.9 (209)	12:47.0 (211)
209	SCANNELL, Andrew	JR	1615	Skyline-OS	167	18:46.0	3:34.8	6:02.0	3:45.2	5:21.8 (190)	12:30.7 (205)
210	ELLIS, Clayton	SR	1945	West Hills-SDS	168	18:46.3	3:36.1	6:02.1	3:45.3	5:36.9 (210)	12:42.6 (209)
211	SINGLEY, David	SO	1944	West Hills-SDS	169	18:46.8	3:36.6	6:02.3	3:45.4	5:42.1 (215)	12:48.1 (212)
212	ONATE, Angel	SR	1885	Verdugo Hills-LAS	170	18:52.7	3:42.5	6:04.2	3:46.5	5:43.0 (216)	12:50.0 (213)
213	MARTINEZ, Adan	SR	618	Foothill (B)-CS	171	19:11.3	4:01.1	6:10.2	3:50.3	5:40.2 (213)	12:46.7 (210)
214	O'BRIEN, Emmett	JR	1614	Skyline-OS	172	19:37.1	4:26.9	6:18.5	3:55.4	5:41.8 (214)	13:12.2 (216)
215	HERNANDEZ, Christopher	SO	614	Foothill (B)-CS	173	19:41.5	4:31.3	6:19.9	3:56.3	5:40.1 (211)	13:09.2 (214)
216	CASTANEDA, Sebastian	SO	11	Abraham Lincoln-LAS	--	19:58.5	4:48.3	6:25.4	3:59.7	5:30.7 (208)	13:09.5 (215)
217	VARGAS, Alvaro	SR	615	Foothill (B)-CS	174	20:30.3	5:20.1	6:35.6	4:06.0	5:46.9 (217)	13:39.8 (217)

38	DEVRIES, Jude	FR	1887	Victory Christian Acad-NCS	--	16:49.2	1:09.3	5:24.5	3:21.8	4:57.1 (23)	11:15.9 (28)
39	COSTIN, Nolan	JR	607	Flintridge Prep-SS	29	16:50.3	1:10.4	5:24.8	3:22.1	5:11.1 (60)	11:25.4 (42)
40	BURNS, William	SO	387	Conv. & Stuart Hall-NCS	30	16:50.8	1:10.9	5:25.0	3:22.2	5:18.3 (90)	11:31.7 (54)
41	BARNES, Rabbit	SO	1040	Midland-SS	31	16:51.2	1:11.3	5:25.1	3:22.2	5:04.3 (35)	11:27.7 (44)
42	FLANAGAN, Joe	JR	1215	Pacifica Christian-SS	32	16:51.6	1:11.7	5:25.2	3:22.3	4:59.8 (25)	11:23.6 (39)
43	MCCARTHY, Patrick 	SR	1680	St. Francis SCP-CCS	33	16:51.8	1:11.9	5:25.3	3:22.3	5:20.7 (106)	11:35.7 (63)
44	ESPINOZA, Evan	SO	1934	Waterford-SJS	34	16:52.4	1:12.5	5:25.5	3:22.5	5:22.8 (116)	11:34.1 (59)
45	MCCRAW, Kuma	SO	1765	Thacher-SS	35	16:53.7	1:13.8	5:25.9	3:22.7	5:08.0 (47)	11:35.7 (64)
46	SINCLAIR, Scudder	JR	889	Linfield Christian-SS	--	16:54.3	1:14.4	5:26.1	3:22.9	5:02.9 (30)	11:27.1 (43)
47	COLE, Arden A	JR	432	Crossroads-SS	36	16:54.7	1:14.8	5:26.3	3:22.9	5:10.4 (57)	11:28.6 (47)
48	WILLIAMSON, Marcus	SR	391	Conv. & Stuart Hall-NCS	37	16:54.8	1:14.9	5:26.3	3:22.9	5:18.6 (94)	11:32.9 (56)
49	BARNES, Porter	JR	1041	Midland-SS	38	16:56.4	1:16.5	5:26.8	3:23.3	5:04.4 (36)	11:28.6 (45)
50	CHAPMAN, Pablo	SO	750	High Tech High NC-SDS	--	16:57.8	1:17.9	5:27.3	3:23.6	5:09.0 (51)	11:31.5 (53)
51	SPIEKER, Quinn	FR	652	Francis Parker-SDS	39	16:58.6	1:18.7	5:27.5	3:23.7	5:12.2 (65)	11:32.0 (55)
52	VARGAS, Julian 	SO	1683	St. Francis SCP-CCS	40	16:59.0	1:18.1	5:27.6	3:23.8	5:02.1 (29)	11:24.8 (41)
53	GUCKERT, Hugo	FR	434	Crossroads-SS	41	16:59.0	1:19.1	5:27.7	3:23.8	5:10.4 (58)	11:35.0 (61)
54	ALANIS, Austin	SR	142	Bonsall-SDS	--	16:59.6	1:19.7	5:27.8	3:23.9	5:14.1 (77)	11:34.0 (58)
55	HARTZEL, Aristotle	SR	435	Crossroads-SS	42	16:59.8	1:19.9	5:27.9	3:24.0	5:09.8 (54)	11:29.1 (49)
56	DIDDEN, Henry	SO	1890	Viewpoint-SS	43	17:00.3	1:20.4	5:28.1	3:24.1	5:11.5 (63)	11:34.7 (60)
57	TABIBIAN, Ryan	JR	1579	SF University-NCS	44	17:01.3	1:21.4	5:28.4	3:24.3	5:28.0 (155)	11:46.6 (86)
58	REILLY, Jordan	SR	1659	St Helena-NCS	--	17:02.8	1:22.9	5:28.9	3:24.6	5:06.4 (41)	11:35.2 (62)
59	HERING, Drew	SO	1122	Mt Shasta-NS	--	17:02.9	1:23.0	5:28.9	3:24.6	5:10.1 (56)	11:40.5 (73)
60	MOMTAZ, Aiden	SO	1709	St. Margarets-SS	45	17:03.5	1:23.6	5:29.1	3:24.7	5:10.9 (59)	11:40.0 (72)
61	BYRD, Brandon	JR	738	Head-Royce-NCS	46	17:03.6	1:23.7	5:29.1	3:24.7	5:17.8 (86)	11:46.0 (84)
62	O'BRIEN, Rowan	SR	1671	St Joe. Notre Dame-NCS	47	17:03.9	1:24.0	5:29.2	3:24.8	5:08.2 (48)	11:30.7 (51)
63	ROMERO, Cesar	JR	998	Maywood Cntr (E)-LAS	--	17:05.3	1:25.4	5:29.7	3:25.1	5:01.2 (26)	11:24.6 (40)
64	EVANS, Nathan	JR	1575	SF University-NCS	48	17:05.8	1:25.9	5:29.8	3:25.2	5:26.9 (148)	11:49.1 (92)
65	RAGSDALE, Johnny 	JR	447	Crystal Springs Uplands-CCS	49	17:06.5	1:26.6	5:30.1	3:25.3	5:13.9 (74)	11:41.1 (74)
66	SPITZLER, Adam	JR	879	Lick Wilmerding-NCS	50	17:07.2	1:27.3	5:30.3	3:25.4	5:18.7 (95)	11:47.5 (88)
67	ERICKSON, Andrew	SR	2001	Woodland Christian-SJS	--	17:07.8	1:27.9	5:30.5	3:25.5	5:10.1 (55)	11:37.1 (67)
68	WENCESLAO, Jadan 	JR	1320	Priory-CCS	51	17:09.2	1:29.3	5:30.9	3:25.8	5:12.3 (67)	11:37.2 (68)
69	KLINES, Jack	SR	1216	Pacifica Christian-SS	52	17:09.2	1:29.3	5:30.9	3:25.8	4:56.5 (21)	11:30.1 (50)
70	RAMIREZ, Aiden	SR	746	High Tech (CV)-SDS	--	17:09.4	1:29.5	5:31.0	3:25.9	5:09.5 (53)	11:35.9 (65)
71	LOPEZ, Daniel	JR	117	Big Valley Christian-SJS	--	17:09.4	1:29.5	5:31.0	3:25.9	5:06.3 (39)	11:33.6 (57)
72	CHENG, Andrew	SR	1574	SF University-NCS	53	17:09.9	1:30.0	5:31.1	3:26.0	5:24.6 (131)	11:42.5 (76)
73	CLAY, Furious 	FR	445	Crystal Springs Uplands-CCS	54	17:10.1	1:30.2	5:31.2	3:26.0	5:13.9 (73)	11:42.5 (77)
74	TODD, Ryan	JR	1523	Santa Fe Christian-SDS	55	17:10.5	1:30.6	5:31.3	3:26.1	5:19.1 (97)	11:52.5 (99)
75	GRANADOS, Christian	SR	1669	St Joe. Notre Dame-NCS	56	17:11.2	1:31.3	5:31.6	3:26.2	5:14.8 (80)	11:37.7 (69)
76	ODOM, andrew	JR	611	Flintridge Prep-SS	57	17:11.3	1:31.4	5:31.6	3:26.3	5:16.2 (84)	11:46.4 (85)
77	STALEY, Jonathan	SR	1937	Waterford-SJS	58	17:12.0	1:31.1	5:31.8	3:26.4	5:16.0 (83)	11:36.0 (66)
78	MILLS, Clay	SR	1578	SF University-NCS	59	17:13.0	1:32.1	5:32.1	3:26.6	5:13.1 (70)	11:28.6 (46)
79	RUCKER, Arlo	SO	1674	St Joe. Notre Dame-NCS	60	17:14.2	1:34.3	5:32.5	3:26.8	5:19.6 (99)	11:43.7 (79)
80	OROZCO, Paulo 	SR	509	Downtown CP-CCS	--	17:14.4	1:34.5	5:32.6	3:26.9	4:54.9 (15)	11:22.5 (36)
81	LENA, Niccolo	FR	741	Head-Royce-NCS	61	17:15.0	1:34.1	5:32.8	3:27.0	5:21.7 (110)	11:57.4 (114)
82	MITCHELL, Ryan	SO	1941	Weed-NS	--	17:15.8	1:35.9	5:33.0	3:27.1	5:17.3 (85)	11:45.4 (82)
83	BYRNE, Ronan 	JR	1314	Priory-CCS	62	17:16.1	1:36.2	5:33.1	3:27.2	5:28.7 (162)	11:53.5 (101)
84	KING, Ryan	JR	1521	Santa Fe Christian-SDS	63	17:16.4	1:36.5	5:33.2	3:27.3	5:11.3 (62)	11:41.1 (75)
85	DOYLE, Phillip	JR	1708	St. Margarets-SS	64	17:16.5	1:36.6	5:33.3	3:27.3	5:13.3 (72)	11:43.6 (78)
86	GARCIA, Matthew	JR	1986	Willows-NS	--	17:16.7	1:36.8	5:33.3	3:27.3	5:26.4 (140)	11:55.0 (106)
87	KOLSTER, Jacob	SO	361	Colfax-SJS	65	17:17.2	1:37.3	5:33.5	3:27.4	5:20.5 (105)	11:49.0 (91)
88	KOTLYAR, Daniel	SR	608	Flintridge Prep-SS	66	17:17.6	1:37.7	5:33.6	3:27.5	5:19.7 (100)	11:47.0 (87)
89	TAYLOR, Dylan 	SR	1776	The Nueva School-CCS	--	17:17.7	1:37.8	5:33.6	3:27.5	5:21.2 (108)	11:50.4 (94)
90	INTAL, Marcus	SR	1891	Viewpoint-SS	67	17:19.0	1:38.1	5:34.1	3:27.8	5:14.5 (79)	11:45.4 (83)
91	LE FRANCOIS, Aidan	JR	954	Mammoth-CS	68	17:19.2	1:39.3	5:34.1	3:27.8	5:07.7 (45)	11:38.7 (71)
92	SPIRES, Jaydon	SR	1785	Tioga-SJS	--	17:19.6	1:39.7	5:34.3	3:27.9	5:06.0 (38)	11:38.6 (70)
93	WOO, Antonio	SR	392	Conv. & Stuart Hall-NCS	69	17:20.3	1:40.4	5:34.5	3:28.1	5:22.0 (111)	11:50.8 (95)
94	JONES, Charlie	JR	740	Head-Royce-NCS	70	17:22.4	1:42.5	5:35.2	3:28.5	5:28.5 (159)	12:00.1 (121)
95	KIRKWOOD, Colin	JR	1212	Pacific Ridge-SDS	71	17:23.8	1:43.9	5:35.6	3:28.8	5:14.3 (78)	11:44.9 (81)
96	MORRISSEY, grady	SR	609	Flintridge Prep-SS	72	17:24.5	1:44.6	5:35.8	3:28.9	5:22.9 (117)	11:55.9 (107)
97	PEABODY, John	SR	878	Lick Wilmerding-NCS	73	17:24.6	1:44.7	5:35.9	3:28.9	5:26.6 (143)	11:56.1 (108)
98	TREFRY, Ben	SR	843	Lee Vining-CS	--	17:24.8	1:44.9	5:35.9	3:28.9	5:31.1 (172)	11:57.7 (116)
99	ROMBACH, Thomas	JR	114	Bentley Upper-NCS	--	17:25.2	1:45.3	5:36.1	3:29.0	5:03.6 (33)	11:31.2 (52)
100	HARDIN, Matthew	JR	2002	Woodland Christian-SJS	--	17:25.4	1:45.5	5:36.1	3:29.1	5:11.1 (61)	11:52.0 (98)
101	TILENIUS, Niles 	JR	449	Crystal Springs Uplands-CCS	74	17:27.0	1:46.1	5:36.6	3:29.4	5:20.2 (104)	11:53.7 (102)
102	OKAMOTO, Kazuki	JR	955	Mammoth-CS	75	17:28.1	1:48.2	5:37.0	3:29.6	5:15.0 (81)	11:47.6 (89)
103	WILMERDING, Oscar	JR	880	Lick Wilmerding-NCS	76	17:28.3	1:48.4	5:37.1	3:29.7	5:26.5 (141)	11:56.6 (110)
104	SMITH, Cardiff	SR	956	Mammoth-CS	77	17:29.4	1:49.5	5:37.4	3:29.9	5:12.6 (68)	11:50.3 (93)
105	EIDELHOCH, Marc	SR	875	Lick Wilmerding-NCS	78	17:29.7	1:49.8	5:37.5	3:29.9	5:26.5 (142)	11:56.8 (112)
106	ZIEGER, Maximilian 	SR	451	Crystal Springs Uplands-CCS	79	17:29.9	1:50.0	5:37.6	3:30.0	5:20.0 (102)	12:01.0 (123)
107	HERRICK, Brody 	SO	446	Crystal Springs Uplands-CCS	80	17:30.6	1:50.7	5:37.8	3:30.1	5:20.0 (103)	11:54.5 (105)
108	MELENDEZ, Luke	JR	1138	New West Charter-LAS	81	17:30.7	1:50.8	5:37.8	3:30.1	5:25.3 (136)	11:58.2 (119)
109	SCHRAEDER, Dominick	SO	612	Flintridge Prep-SS	82	17:31.4	1:51.5	5:38.1	3:30.3	5:23.2 (121)	11:57.7 (115)
110	WERCINSKI, Frank	JR	1580	SF University-NCS	83	17:31.7	1:51.8	5:38.2	3:30.3	5:28.2 (157)	11:54.0 (103)
111	AVILA, Ryan	JR	859	Liberty (MR)-CS	84	17:33.3	1:53.4	5:38.7	3:30.6	5:11.9 (64)	11:48.3 (90)
112	CHOU, Kevin	FR	1707	St. Margarets-SS	85	17:33.9	1:54.0	5:38.9	3:30.8	5:15.5 (82)	11:51.3 (96)
113	EDWARDS, Carson	SO	1047	Millennium-SJS	--	17:36.7	1:56.8	5:39.8	3:31.3	5:25.6 (139)	12:01.3 (124)
114	BIANCHI, Cole	SR	386	Conv. & Stuart Hall-NCS	86	17:36.7	1:56.8	5:39.8	3:31.3	5:22.5 (115)	11:56.6 (111)
115	DELVES-BROUGHTON, Augie	JR	1762	Thacher-SS	87	17:37.7	1:57.8	5:40.1	3:31.5	5:29.3 (166)	12:09.7 (138)
116	BENNETT, Johnny	SO	1761	Thacher-SS	88	17:37.9	1:58.0	5:40.1	3:31.6	5:25.6 (138)	12:04.7 (128)
117	LUBKE, Matthew	SO	1522	Santa Fe Christian-SDS	89	17:39.0	1:58.1	5:40.5	3:31.8	5:24.1 (126)	11:58.5 (120)
118	CERVANTES, Ellis	SR	1668	St Joe. Notre Dame-NCS	90	17:40.4	2:00.5	5:41.0	3:32.1	5:22.2 (113)	11:54.1 (104)
119	ADREANI, Brandon	SO	1134	New West Charter-LAS	91	17:41.1	2:01.2	5:41.2	3:32.2	5:23.4 (122)	12:00.6 (122)
120	HERON, James 	FR	1317	Priory-CCS	92	17:42.3	2:02.4	5:41.6	3:32.5	5:28.7 (163)	12:07.7 (136)
121	MARTIN, Chris 	SR	1775	The Nueva School-CCS	--	17:43.4	2:03.5	5:41.9	3:32.7	5:18.0 (88)	11:56.2 (109)
122	WARFIELD, Ian	FR	1219	Pacifica Christian-SS	93	17:43.8	2:03.9	5:42.0	3:32.8	5:08.5 (49)	11:57.8 (117)
123	PAKIANATHAN, Noah	JR	1217	Pacifica Christian-SS	94	17:44.6	2:04.7	5:42.3	3:32.9	5:07.5 (44)	11:51.9 (97)
124	JIN-NGO, Dylan	SO	1764	Thacher-SS	95	17:44.7	2:04.8	5:42.3	3:32.9	5:24.9 (134)	12:05.3 (130)
125	LEEVER, Josiah	JR	453	CVC-CS	--	17:45.0	2:04.1	5:42.4	3:33.0	5:23.0 (120)	12:01.9 (127)
126	CHAVEZ, Bryan	JR	1136	New West Charter-LAS	96	17:45.4	2:05.5	5:42.6	3:33.1	5:26.9 (147)	12:07.5 (135)
127	MUCHERU, Sean	SO	436	Crossroads-SS	97	17:46.1	2:06.2	5:42.8	3:33.2	5:18.1 (89)	12:06.2 (132)
128	STARBUCK, Noah	FR	363	Colfax-SJS	98	17:46.7	2:06.8	5:43.0	3:33.3	5:27.6 (154)	12:12.4 (147)
129	REYNOLDS, Rodeley	JR	1046	Midland-SS	99	17:46.8	2:06.9	5:43.0	3:33.4	5:23.0 (119)	12:07.9 (137)
130	VALVERDE, John	SO	653	Francis Parker-SDS	100	17:47.0	2:07.1	5:43.1	3:33.4	5:24.9 (133)	12:01.7 (126)
131	CHIU, Tom	SR	388	Conv. & Stuart Hall-NCS	101	17:47.1	2:07.2	5:43.1	3:33.4	5:30.7 (171)	12:11.1 (143)
132	MCCUE, Thomas	SO	1670	St Joe. Notre Dame-NCS	102	17:47.9	2:08.0	5:43.4	3:33.6	5:27.5 (152)	12:17.8 (157)
133	DEVINE, Dylan	FR	861	Liberty (MR)-CS	103	17:48.0	2:08.1	5:43.4	3:33.6	5:14.0 (76)	11:58.2 (118)
134	TENEDORA, Devan	JR	957	Mammoth-CS	104	17:48.2	2:08.3	5:43.5	3:33.6	5:29.1 (165)	12:12.9 (149)
135	STROHMAN, Evan 	FR	1319	Priory-CCS	105	17:48.4	2:08.5	5:43.5	3:33.7	5:29.1 (164)	12:11.4 (145)
136	OLIVARES, Emanuel	SR	389	Conv. & Stuart Hall-NCS	106	17:49.3	2:09.4	5:43.8	3:33.9	5:30.6 (170)	12:10.8 (142)
137	ZASTOUPIL, Petr	JR	958	Mammoth-CS	107	17:50.1	2:10.2	5:44.1	3:34.0	5:29.7 (168)	12:14.6 (151)
138	CHUNG, Milo	JR	874	Lick Wilmerding-NCS	108	17:51.4	2:11.5	5:44.5	3:34.3	5:26.7 (145)	12:07.0 (134)
139	KIM, Hudson	FR	1520	Santa Fe Christian-SDS	109	17:51.9	2:12.0	5:44.6	3:34.4	5:28.6 (160)	12:10.7 (141)
140	BOHNE, Sean	SO	647	Francis Parker-SDS	110	17:54.4	2:14.5	5:45.4	3:34.9	5:24.3 (128)	12:01.7 (125)
141	GUPTA, Ayush	FR	1210	Pacific Ridge-SDS	111	17:55.0	2:14.1	5:45.6	3:35.0	5:24.4 (130)	12:11.5 (146)
142	GIBSON, Spence	FR	876	Lick Wilmerding-NCS	112	17:55.6	2:15.7	5:45.8	3:35.1	5:27.0 (149)	12:06.9 (133)
143	REINHARD, Garrett	SO	362	Colfax-SJS	113	17:55.9	2:16.0	5:45.9	3:35.2	5:26.6 (144)	12:15.1 (152)
144	STENTZ, Ian	JR	1894	Viewpoint-SS	114	17:56.1	2:16.2	5:46.0	3:35.2	5:25.2 (135)	12:12.8 (148)
145	SEVERSON, Carson	SO	1139	New West Charter-LAS	115	17:57.0	2:16.1	5:46.3	3:35.4	5:21.1 (107)	12:14.2 (150)
146	DEMPSEY, Jack	SR	1318	Priory-CCS	116	17:58.1	2:18.2	5:46.7	3:35.6	5:28.6 (161)	12:11.4 (144)
147	KANE, Paul 	SR	1677	St. Francis SCP-CCS	117	17:58.9	2:19.0	5:46.9	3:35.8	5:32.2 (173)	12:26.8 (166)
148	SHEN, Alex	SR	1711	St. Margarets-SS	118	17:59.6	2:19.7	5:47.1	3:35.9	5:18.5 (93)	11:52.8 (100)
149	PADRE, Dominic	SR	1672	St Joe. Notre Dame-NCS	119	18:00.1	2:20.2	5:47.3	3:36.0	5:36.4 (184)	12:21.8 (162)
150	RIVERA, Michael	SR	864	Liberty (MR)-CS	120	18:00.3	2:20.4	5:47.3	3:36.0	5:18.3 (92)	12:04.9 (129)
151	COLTER, Brandon	JR	1997	Winters-NS	--	18:00.3	2:20.4	5:47.4	3:36.1	5:28.2 (158)	12:17.6 (156)
152	CARBONELL, William	SR	1378	Rise Kohyang-LAS	--	18:03.2	2:23.3	5:48.3	3:36.6	5:18.0 (87)	12:05.8 (131)
153	SMITH, Jesse	SO	651	Francis Parker-SDS	121	18:06.0	2:25.1	5:49.2	3:37.2	5:13.9 (75)	11:57.1 (113)
154	STEIN, Alec	FR	742	Head-Royce-NCS	122	18:07.0	2:26.1	5:49.5	3:37.4	5:22.1 (112)	12:10.2 (140)
155	RAMIREZ, Christopher	JR	1673	St Joe. Notre Dame-NCS	123	18:07.6	2:27.7	5:49.7	3:37.5	5:19.0 (96)	11:44.5 (80)
156	WOLFF, Max	SR	1895	Viewpoint-SS	124	18:10.7	2:30.8	5:50.7	3:38.1	5:27.2 (150)	12:15.5 (153)
157	ARCE, Jacob	SR	370	Colusa-NS	125	18:10.9	2:31.0	5:50.7	3:38.2	5:24.2 (127)	12:19.6 (158)
158	HINRICHS, Rowen	JR	1211	Pacific Ridge-SDS	126	18:12.2	2:32.3	5:51.2	3:38.4	5:23.8 (124)	12:17.4 (155)
159	BIDDLE, Logan	FR	357	Colfax-SJS	127	18:12.4	2:32.5	5:51.3	3:38.5	5:27.6 (153)	12:16.5 (154)
160	RICHARDSON, Ellis 	SO	1194	Oakwood-CCS	--	18:13.9	2:34.0	5:51.7	3:38.8	5:34.0 (178)	12:27.3 (167)
161	DAVIS, Addison	JR	433	Crossroads-SS	128	18:17.0	2:36.1	5:52.7	3:39.4	5:23.9 (125)	12:10.1 (139)
162	RASILLA, Max	JR	1045	Midland-SS	129	18:18.2	2:38.3	5:53.1	3:39.6	5:24.7 (132)	12:21.4 (161)
163	BUETTNER, Daniel	SO	358	Colfax-SJS	130	18:23.2	2:43.3	5:54.7	3:40.6	5:32.9 (175)	12:27.6 (168)
164	VALDEZ, Jose	JR	376	Colusa-NS	131	18:23.8	2:43.9	5:54.9	3:40.7	5:25.3 (137)	12:25.7 (164)
165	MORGAN, Dylan	JR	1381	Riverdale-CS	--	18:26.2	2:46.3	5:55.7	3:41.2	5:23.5 (123)	12:26.2 (165)
166	BALIKIAN, Alexander	JR	1207	Pacific Ridge-SDS	132	18:31.0	2:50.1	5:57.2	3:42.2	5:28.1 (156)	12:19.9 (159)
167	HOUSEMAN, Hayden	SO	1763	Thacher-SS	133	18:31.0	2:50.1	5:57.2	3:42.2	5:38.0 (185)	12:41.3 (181)
168	CHAVEZ, Keith	JR	371	Colusa-NS	134	18:32.1	2:52.2	5:57.6	3:42.4	5:26.8 (146)	12:37.5 (178)
169	GILBERT, Cole 	JR	1316	Priory-CCS	135	18:32.3	2:52.4	5:57.6	3:42.4	5:34.9 (181)	12:37.2 (177)
170	DEBEVER, Keegan	JR	1519	Santa Fe Christian-SDS	136	18:36.6	2:56.7	5:59.0	3:43.3	5:19.3 (98)	12:25.7 (163)
171	MAGANA, Christian 	FR	1679	St. Francis SCP-CCS	137	18:37.7	2:57.8	5:59.4	3:43.5	5:34.4 (179)	12:33.2 (171)
172	RAMIREZ, Diego 	FR	1681	St. Francis SCP-CCS	138	18:37.9	2:58.0	5:59.5	3:43.6	5:34.5 (180)	12:34.0 (174)
173	GONZALEZ, Eduardo	FR	863	Liberty (MR)-CS	139	18:40.7	3:00.8	6:00.4	3:44.1	5:30.5 (169)	12:35.8 (176)
174	ZUNIGA-GROSS, Javi	FR	1766	Thacher-SS	140	18:41.5	3:01.6	6:00.6	3:44.3	5:38.1 (186)	12:41.4 (182)
175	RIVERA, Israel	FR	865	Liberty (MR)-CS	141	18:42.9	3:03.0	6:01.0	3:44.6	5:23.0 (118)	12:27.7 (169)
176	BERNAL, Bruno	SO	431	Crossroads-SS	142	18:43.6	3:03.7	6:01.3	3:44.7	5:22.3 (114)	12:33.9 (173)
177	CASTRO-DEVARONA, Malik	JR	1998	WISH Academy-LAS	--	18:52.0	3:11.1	6:04.0	3:46.4	5:21.4 (109)	12:32.9 (170)
178	PANG, Andre-Padraug	SR	390	Conv. & Stuart Hall-NCS	143	18:54.3	3:14.4	6:04.7	3:46.8	5:32.9 (176)	12:40.7 (179)
179	DICK, Charlie	FR	739	Head-Royce-NCS	144	18:54.6	3:14.7	6:04.8	3:46.9	5:27.3 (151)	12:33.7 (172)
180	HOWARD, Toby	SO	360	Colfax-SJS	145	18:56.2	3:16.3	6:05.3	3:47.2	5:32.7 (174)	12:34.7 (175)
181	GONZALEZ, Bryan	SO	1380	Riverdale-CS	--	18:57.4	3:17.5	6:05.7	3:47.5	5:24.3 (129)	12:41.2 (180)
182	GARIN, Lucas	SR	372	Colusa-NS	146	18:59.5	3:19.6	6:06.4	3:47.9	5:36.0 (182)	12:55.9 (186)
183	VALDEZ, Ethan	SR	1938	Waterford-SJS	147	18:59.7	3:19.8	6:06.5	3:47.9	5:46.4 (193)	12:54.8 (185)
184	FRANK-KEY, Jayden	FR	1935	Waterford-SJS	148	19:00.9	3:21.0	6:06.8	3:48.2	5:43.1 (191)	12:50.3 (184)
185	RAMIREZ, Santiago 	FR	1682	St. Francis SCP-CCS	149	19:04.6	3:24.7	6:08.0	3:48.9	5:39.8 (189)	12:47.2 (183)
186	BORGHESANI, Jamie	SR	1042	Midland-SS	150	19:14.8	3:34.9	6:11.3	3:50.9	5:39.2 (188)	13:01.9 (188)
187	WILLIAMS, Jude	SO	1220	Pacifica Christian-SS	151	19:16.4	3:36.5	6:11.8	3:51.3	5:36.1 (183)	13:04.3 (190)
188	REAL, Lucas	JR	1936	Waterford-SJS	152	19:19.9	3:40.0	6:13.0	3:52.0	5:45.7 (192)	13:12.1 (192)
189	MOSS, Tyler	SO	374	Colusa-NS	153	19:22.2	3:42.3	6:13.7	3:52.4	5:41.5 (190)	13:04.0 (189)
190	COPHER, Quaid	JR	860	Liberty (MR)-CS	154	19:23.6	3:43.7	6:14.1	3:52.7	5:33.6 (177)	12:58.5 (187)
191	GONZALEZ, Alejandro	JR	1137	New West Charter-LAS	155	19:25.5	3:45.6	6:14.8	3:53.1	5:53.9 (194)	13:16.9 (194)
192	NANI, James	SR	1213	Pacific Ridge-SDS	156	19:28.3	3:48.4	6:15.6	3:53.6	5:54.8 (197)	13:14.5 (193)
193	HERNANDEZ, Gianluca	JR	373	Colusa-NS	157	19:29.2	3:49.3	6:15.9	3:53.8	5:38.4 (187)	13:06.6 (191)
194	WEINBERG, Elijah	JR	1140	New West Charter-LAS	158	19:31.8	3:51.9	6:16.8	3:54.3	5:54.0 (195)	13:17.0 (195)
195	BETTERTON GAGE, Leroy	JR	1135	New West Charter-LAS	159	19:36.6	3:56.7	6:18.3	3:55.3	5:55.7 (199)	13:21.1 (196)
196	SIMMONS, Cole	SR	375	Colusa-NS	160	19:58.6	4:18.7	6:25.4	3:59.7	6:00.8 (200)	13:24.1 (197)
197	DOE, John		1209	Pacific Ridge-SDS	161	20:04.1	4:24.2	6:27.2	4:00.8	5:54.9 (198)	13:26.1 (198)
198	BARAJAS, Alex	JR	1932	Waterford-SJS	162	20:33.0	4:52.1	6:36.5	4:06.6	6:07.6 (201)	13:54.1 (201)
199	GLADDERS, Gavin	JR	862	Liberty (MR)-CS	163	20:51.7	5:11.8	6:42.5	4:10.3	5:54.0 (196)	13:53.0 (200)
200	CASTILLO, Fernando	JR	1933	Waterford-SJS	164	21:06.2	5:26.3	6:47.1	4:13.2	6:07.8 (202)	14:14.5 (202)
201	KAZINSKY, Matthew 	SR	1678	St. Francis SCP-CCS	165	21:09.9	5:30.0	6:48.3	4:14.0	6:12.9 (203)	14:21.0 (203)
202	TIU, Santos	SR	899	Los Angeles Acad Art-LAS	--	21:17.3	5:37.4	6:50.7	4:15.5	5:29.7 (167)	13:47.8 (199)
	YONTEZ, Scott	SO	1221	Pacifica Christian-SS	--	DQ		---	---	5:19.9 (101)	12:20.8 (160)

139	ACUNA, David	JR	1124	Napa-NCS	--	16:46.9	2:18.4	5:23.7	3:21.4	5:04.7 (139)	11:22.4 (139)
140	CLEAVES, Richard	SR	1713	Steele Canyon-SDS	--	16:47.0	2:17.5	5:23.8	3:21.4	5:00.9 (118)	11:14.4 (115)
141	GUANUNA, Edison	SR	1308	Poway-SDS	112	16:47.1	2:18.6	5:23.8	3:21.4	5:08.3 (164)	11:24.5 (147)
142	SHAFI, Sami 	SO	845	Leland-CCS	--	16:48.2	2:19.7	5:24.2	3:21.6	4:58.4 (99)	11:15.3 (120)
143	JUAREZ, Luis	SR	1091	Monroe-LAS	--	16:48.9	2:20.4	5:24.4	3:21.8	4:57.4 (91)	11:15.3 (121)
144	PENG, Vincent 	SR	942	Lynbrook-CCS	113	16:49.1	2:20.6	5:24.5	3:21.8	5:05.8 (145)	11:24.0 (144)
145	LOUGHERY, John	SO	1103	Monte Vista-NCS	114	16:49.5	2:21.0	5:24.6	3:21.9	5:03.9 (135)	11:20.8 (132)
146	GONZALEZ, William	SR	1360	Ridgeview-CS	115	16:49.7	2:21.2	5:24.6	3:21.9	4:57.4 (92)	11:20.9 (133)
147	AGUSTIN, Crizly	JR	1532	Santee EC-LAS	--	16:50.3	2:21.8	5:24.8	3:22.1	4:57.7 (94)	11:25.1 (149)
148	CAESTECKER, David	JR	1778	Thousand Oaks-SS	116	16:51.3	2:22.8	5:25.2	3:22.3	4:57.8 (95)	11:21.8 (138)
149	FORD, Corey	SO	1339	Redlands EV-SS	117	16:52.5	2:24.0	5:25.6	3:22.5	5:00.6 (116)	11:21.5 (136)
150	MALHOTRA, Rohit 	JR	940	Lynbrook-CCS	118	16:53.2	2:24.7	5:25.8	3:22.6	5:09.9 (169)	11:26.7 (150)
151	LAPPALAINEN, Leo 	SR	1647	St Francis (MV)-CCS	119	16:53.7	2:25.2	5:25.9	3:22.7	5:08.7 (166)	11:32.9 (160)
152	MOWRER, Alcuin	SR	1915	Vista Del Lago-SJS	120	16:53.8	2:25.3	5:26.0	3:22.8	5:13.3 (177)	11:33.1 (162)
153	CASTAIN, Nick	SO	916	Loyola-SS	121	16:55.0	2:25.5	5:26.4	3:23.0	5:02.6 (127)	11:28.2 (156)
154	STAMFORD, Aidan	JR	1468	San Luis Obispo-CS	122	16:55.3	2:26.8	5:26.4	3:23.0	5:06.7 (151)	11:28.1 (155)
155	MCLANE, Dean	SO	1057	Mira Loma-SJS	--	16:55.7	2:27.2	5:26.6	3:23.1	5:09.1 (168)	11:33.7 (165)
156	JOHNSON, Manny	SO	1310	Poway-SDS	123	16:56.0	2:26.5	5:26.7	3:23.2	5:00.0 (115)	11:21.3 (134)
157	CADENA AGUILAR, Emmanuel	SR	1859	Venice-LAS	124	16:56.2	2:27.7	5:26.7	3:23.2	5:07.2 (155)	11:31.2 (158)
158	LAPPALAINEN, Jonathan 	JR	1648	St Francis (MV)-CCS	125	16:58.4	2:29.9	5:27.5	3:23.7	5:05.0 (141)	11:24.5 (146)
159	FINTA, Jason	JR	1965	Whitney-SJS	126	16:58.8	2:30.3	5:27.6	3:23.7	5:06.8 (153)	11:21.5 (135)
160	SCHALOW, Jackson	JR	808	La Costa Canyon-SDS	127	16:59.4	2:30.9	5:27.8	3:23.9	5:07.5 (159)	11:36.0 (167)
161	SAVAGE, Asher	SR	807	La Costa Canyon-SDS	128	16:59.8	2:31.3	5:27.9	3:23.9	5:07.6 (161)	11:32.5 (159)
162	REICHARDT, Curtis	JR	848	Liberty-NCS	129	17:00.0	2:31.5	5:28.0	3:24.0	5:08.0 (162)	11:30.2 (157)
163	JIMENEZ, James	SO	1862	Venice-LAS	130	17:00.5	2:32.0	5:28.1	3:24.1	5:07.6 (160)	11:33.4 (164)
164	FOX, Payton	SR	1358	Ridgeview-CS	131	17:02.2	2:33.7	5:28.7	3:24.4	5:00.7 (117)	11:27.9 (154)
165	SHAH, Aryan 	SO	943	Lynbrook-CCS	132	17:02.3	2:33.8	5:28.7	3:24.5	5:16.3 (181)	11:40.9 (170)
166	LAI, Theodore 	SO	938	Lynbrook-CCS	133	17:05.2	2:36.7	5:29.6	3:25.0	5:16.6 (182)	11:41.6 (171)
167	SORIANO, Farin	FR	688	Granada-NCS	134	17:06.9	2:38.4	5:30.2	3:25.4	5:03.2 (131)	11:24.8 (148)
168	GOMEZ, Oscar	SO	480	De La Salle-NCS	135	17:11.1	2:42.6	5:31.5	3:26.2	4:58.8 (103)	11:12.0 (109)
169	PENDERGRAFT, Ethan	SR	1105	Monte Vista-NCS	136	17:11.5	2:43.0	5:31.7	3:26.3	5:07.3 (157)	11:44.5 (178)
170	BELT, Ken	FR	1551	Scripps Ranch-SDS	137	17:12.0	2:42.5	5:31.8	3:26.4	5:18.6 (186)	11:40.2 (169)
171	GIBSON, Conor	SO	1951	West Torrance-SS	138	17:14.2	2:45.7	5:32.5	3:26.8	5:14.2 (179)	11:43.6 (175)
172	BOYAR, Ozni	FR	1357	Ridgeview-CS	139	17:17.6	2:49.1	5:33.6	3:27.5	5:07.2 (156)	11:36.0 (166)
173	ODEN, Nicholas	SR	805	La Costa Canyon-SDS	140	17:21.2	2:52.7	5:34.8	3:28.2	5:12.4 (174)	11:48.5 (182)
174	KATO, Owen 	SO	1646	St Francis (MV)-CCS	141	17:23.0	2:53.5	5:35.3	3:28.6	5:09.1 (167)	11:42.4 (173)
175	ABDUL, Abdusamad	SR	1805	University-LAS	--	17:23.4	2:54.9	5:35.5	3:28.7	5:08.1 (163)	11:43.2 (174)
176	RUIZ, Kellen	SO	1836	Vacaville-SJS	142	17:23.9	2:55.4	5:35.7	3:28.8	5:12.1 (173)	11:47.6 (179)
177	HOBBS, Paul	SO	1834	Vacaville-SJS	143	17:25.1	2:56.6	5:36.0	3:29.0	5:11.9 (172)	11:48.4 (180)
178	KASAI, Naoki	JR	1954	West Torrance-SS	144	17:25.2	2:56.7	5:36.1	3:29.0	5:04.3 (136)	11:42.2 (172)
179	LEAHEY, Brendan	JR	1102	Monte Vista-NCS	145	17:26.0	2:56.5	5:36.3	3:29.2	5:04.7 (138)	11:44.0 (176)
180	SAMPLE, Keene	JR	850	Liberty-NCS	146	17:26.2	2:57.7	5:36.4	3:29.2	5:08.4 (165)	11:44.4 (177)
181	ROGERS, Matias	FR	849	Liberty-NCS	147	17:28.8	3:00.3	5:37.2	3:29.7	5:06.2 (147)	11:38.2 (168)
182	PEREIRA, Colin 	SO	1650	St Francis (MV)-CCS	148	17:31.4	3:02.9	5:38.0	3:30.3	5:10.4 (171)	11:48.4 (181)
183	NAIDU, Sanjay 	SO	941	Lynbrook-CCS	149	17:32.6	3:04.1	5:38.4	3:30.5	5:20.1 (189)	11:54.3 (183)
184	NICHOLAS, Ben	SR	1183	Oakland Tech-OS	--	17:38.9	3:10.4	5:40.5	3:31.8	5:13.0 (176)	11:57.5 (185)
185	SCURRIA, Matthew	SR	1467	San Luis Obispo-CS	150	17:38.9	3:10.4	5:40.5	3:31.8	5:19.4 (187)	12:00.8 (186)
186	SCHOLTES, Ryan	JR	1838	Vacaville-SJS	151	17:40.8	3:12.3	5:41.1	3:32.2	5:18.2 (184)	12:00.9 (187)
187	DIAS, Michael	JR	1913	Vista Del Lago-SJS	152	17:43.0	3:14.5	5:41.8	3:32.6	5:33.8 (195)	12:11.1 (189)
188	MENDEZ, Ivan	SR	1864	Venice-LAS	153	17:48.3	3:19.8	5:43.5	3:33.7	5:18.4 (185)	11:57.2 (184)
189	ALUMOOTIL, Vivek	SO	939	Lynbrook-CCS	154	17:57.1	3:28.6	5:46.3	3:35.4	5:33.2 (194)	12:17.0 (192)
190	COX, Joshua	SR	1552	Scripps Ranch-SDS	155	17:58.4	3:29.9	5:46.7	3:35.7	5:28.2 (191)	12:16.3 (191)
191	UNGER, Logan 	JR	1984	Willow Glen-CCS	156	17:59.2	3:30.7	5:47.0	3:35.8	5:17.5 (183)	12:12.5 (190)
192	LOVE, Asher	SO	1835	Vacaville-SJS	157	18:02.9	3:34.4	5:48.2	3:36.6	5:19.5 (188)	12:10.0 (188)
193	BOULET, Owen	FR	1182	Oakland Tech-OS	--	18:05.1	3:36.6	5:48.9	3:37.0	5:31.1 (193)	12:17.8 (193)
194	WEIKUM, Diego	SO	1185	Oakland Tech-OS	--	18:05.2	3:36.7	5:48.9	3:37.0	5:30.8 (192)	12:20.2 (194)
195	KOVERCHUK, Kai	JR	1555	Scripps Ranch-SDS	158	18:18.3	3:49.8	5:53.1	3:39.7	5:34.2 (196)	12:26.9 (195)
196	MAGUIRE, Brian	FR	1556	Scripps Ranch-SDS	159	18:32.2	4:03.7	5:57.6	3:42.4	5:25.2 (190)	12:30.7 (196)
197	TITAN, Luke	SR	1865	Venice-LAS	160	19:05.3	4:36.8	6:08.3	3:49.1	5:34.4 (197)	12:54.3 (197)