11/16/19
Vine Valley Athletic League
Photos by Michael Lucid
More photos by Thomas Benjamin
More photos by Michael Lucid
This is the second year of the VVAL but last years finals were cancelled because of the fires. Casa won the pennant that year based on the center meets.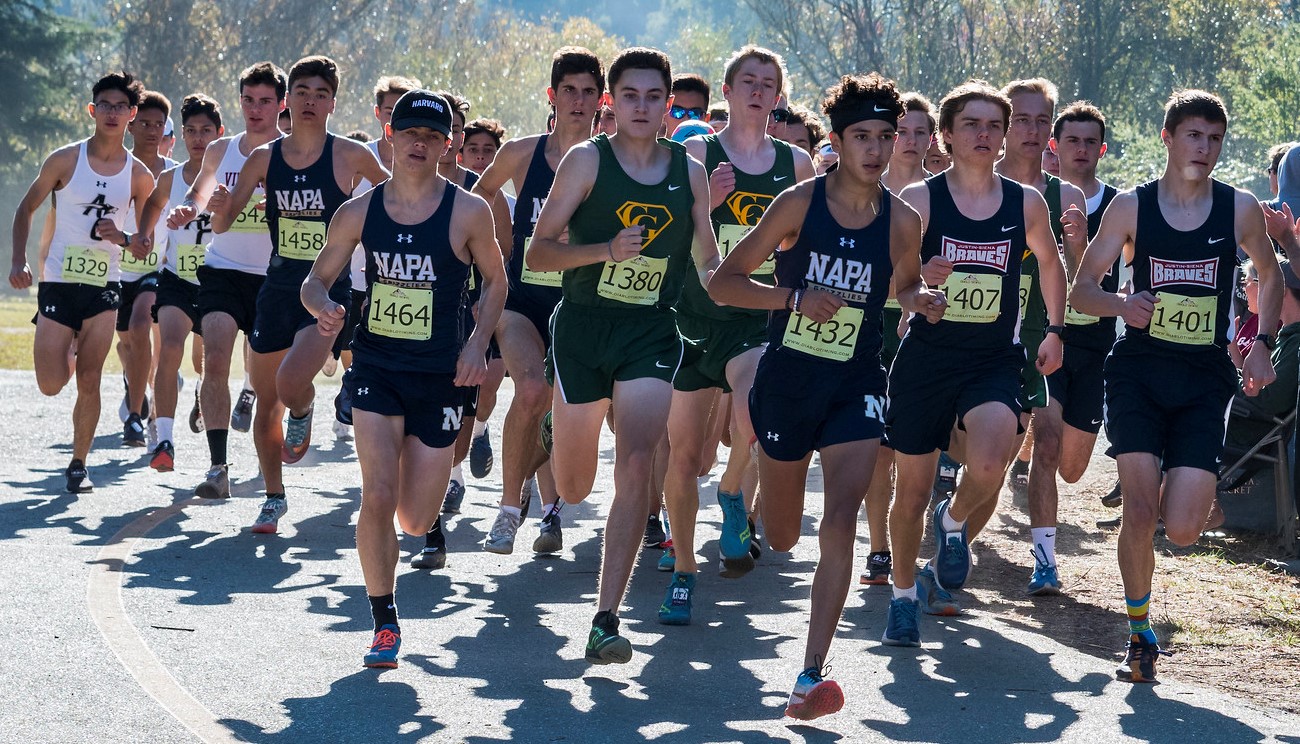 Casa Grande completed a perfect VVAL season and again had an incredible score that would have still won with the other six schools combined. The Gaucho's had their top five all place within the finals top ten.
Napa junior David Acuna was the individual league champion leading his team to a second place finish with a 16:10 time.
Casa then took the next three spots with Nolan Hosbein (16:16), Logan Moon (16:17) and Luke Baird (16:21) placing two, three, four.
Napa had three more runners in the top 12 with Erik Cosca (5th 16:22), Elliott Zuidema (7th 16:46) and Matthew Helms (11th 17:11).
Casa completed it's scoring team with William Hite (6th 16:24) and Jake Dietlin (10th 17:00).
Vintage had the other two top ten runners with Liam Alexander (8th 16:52) and Dylan Frye (9th 17:00).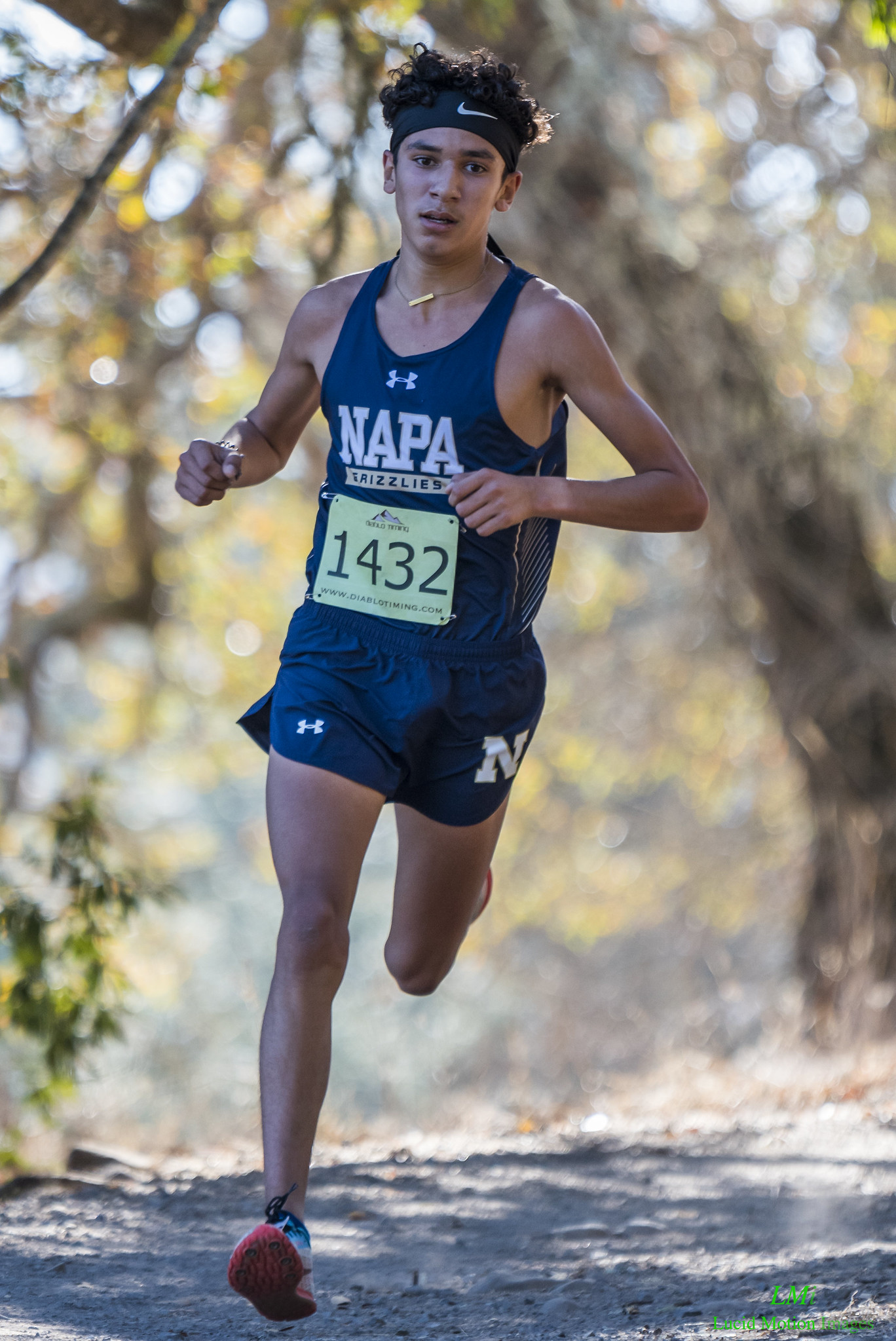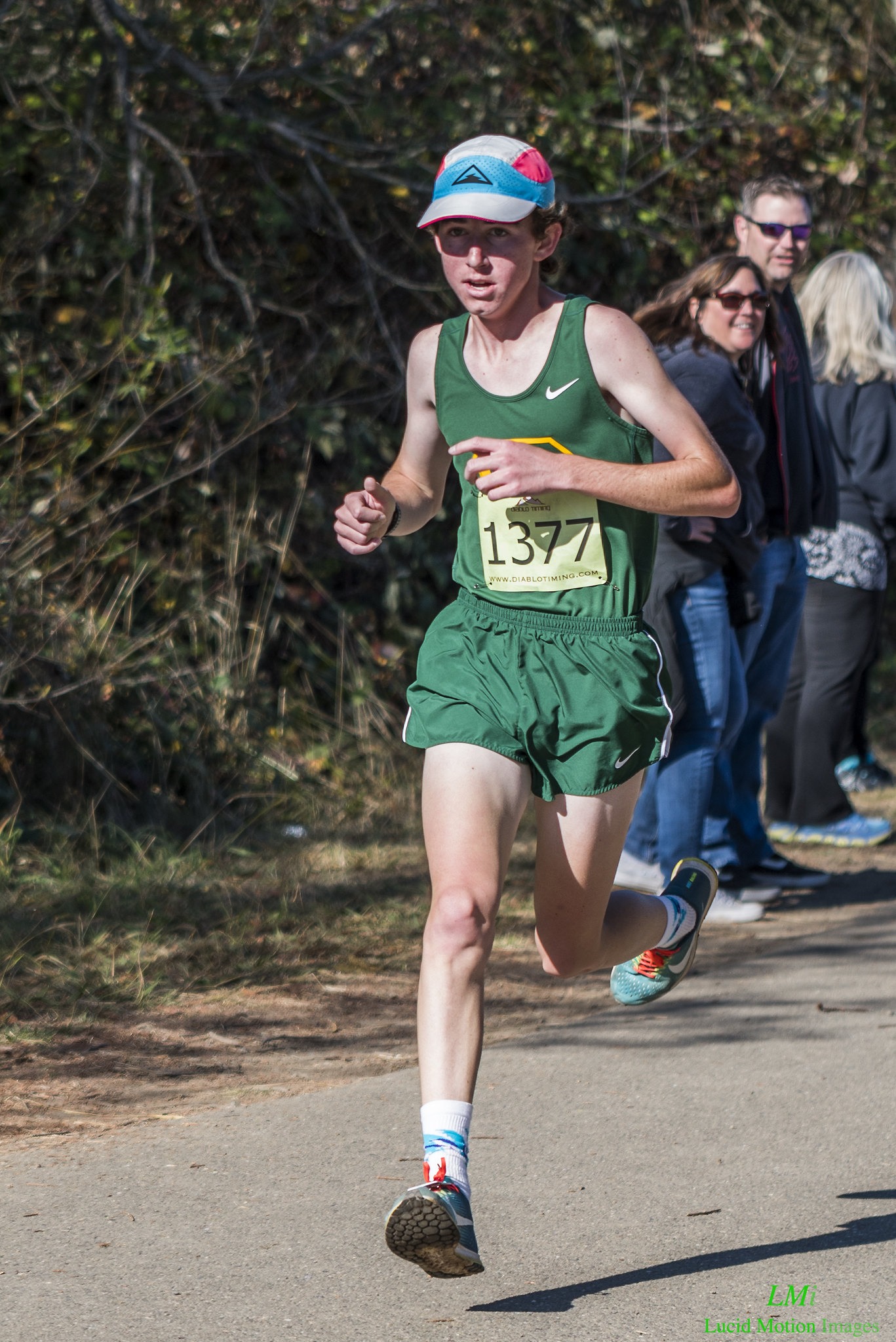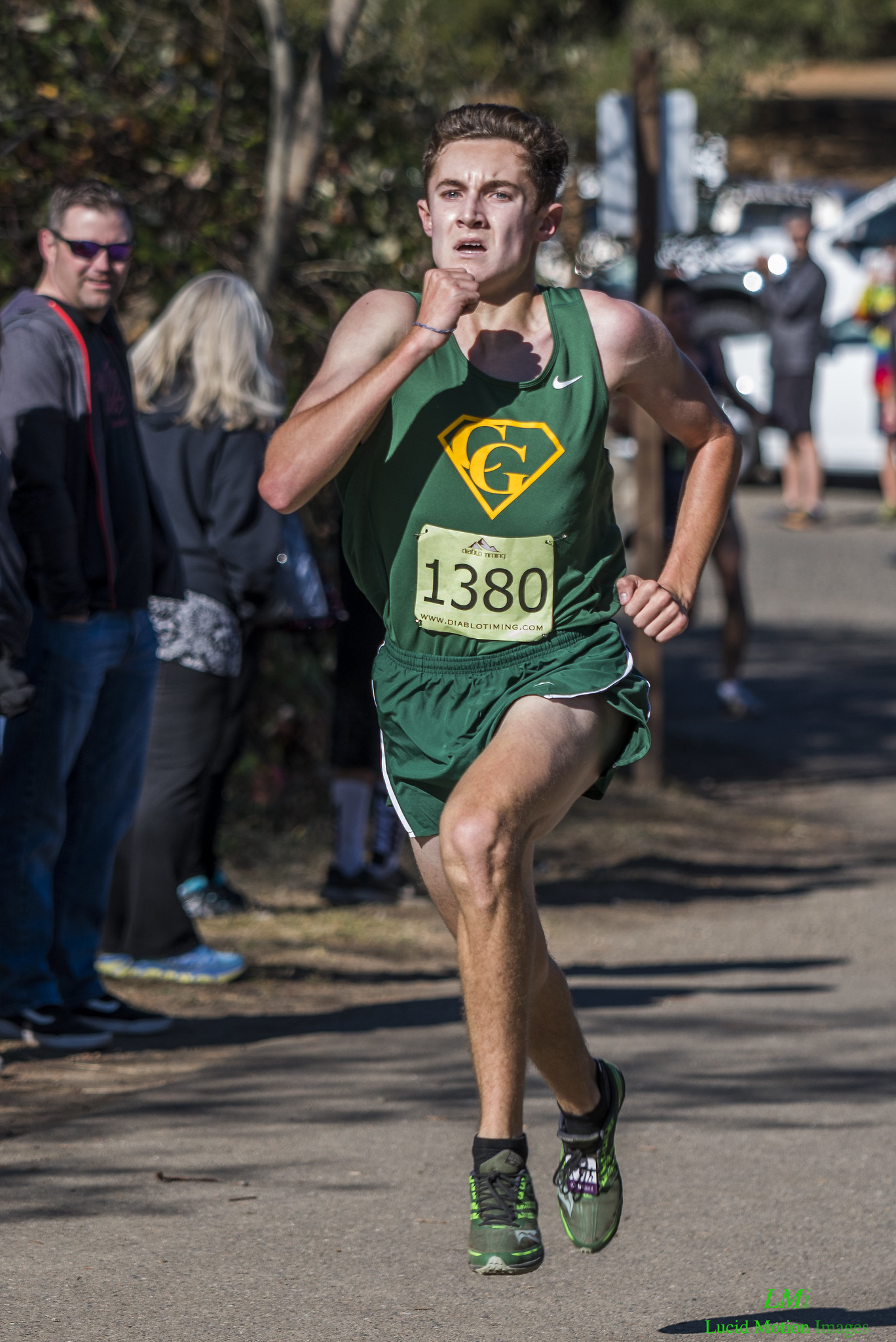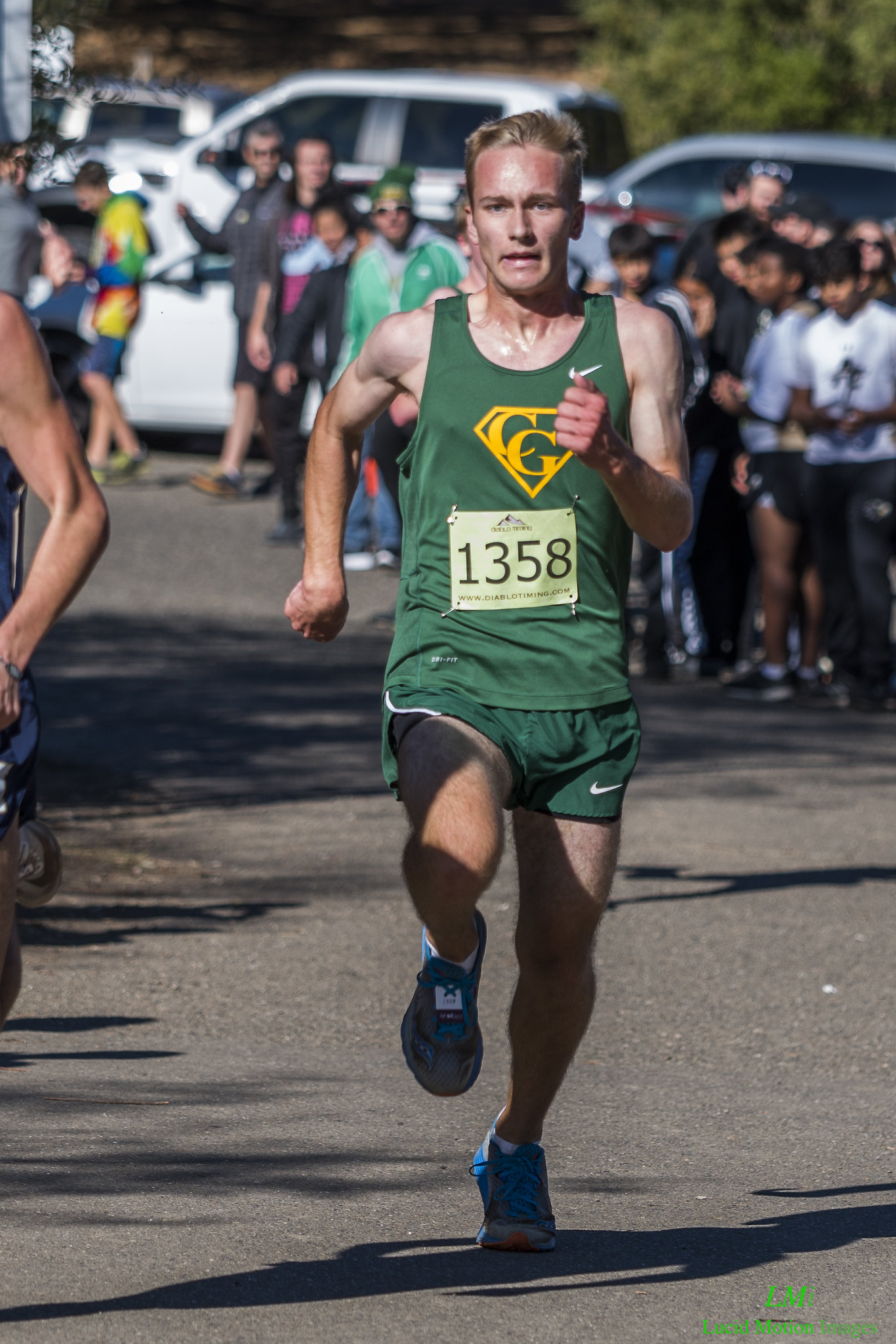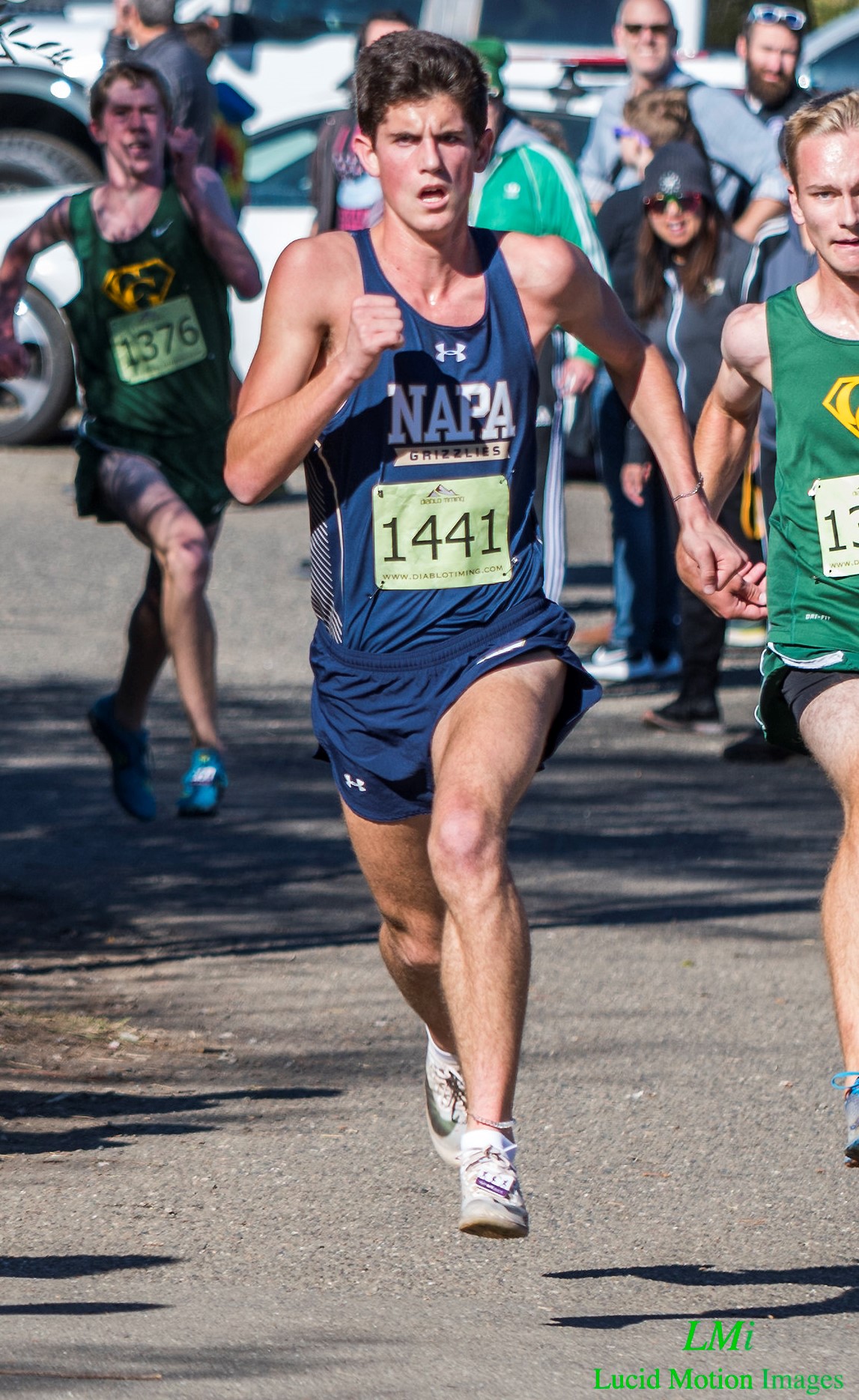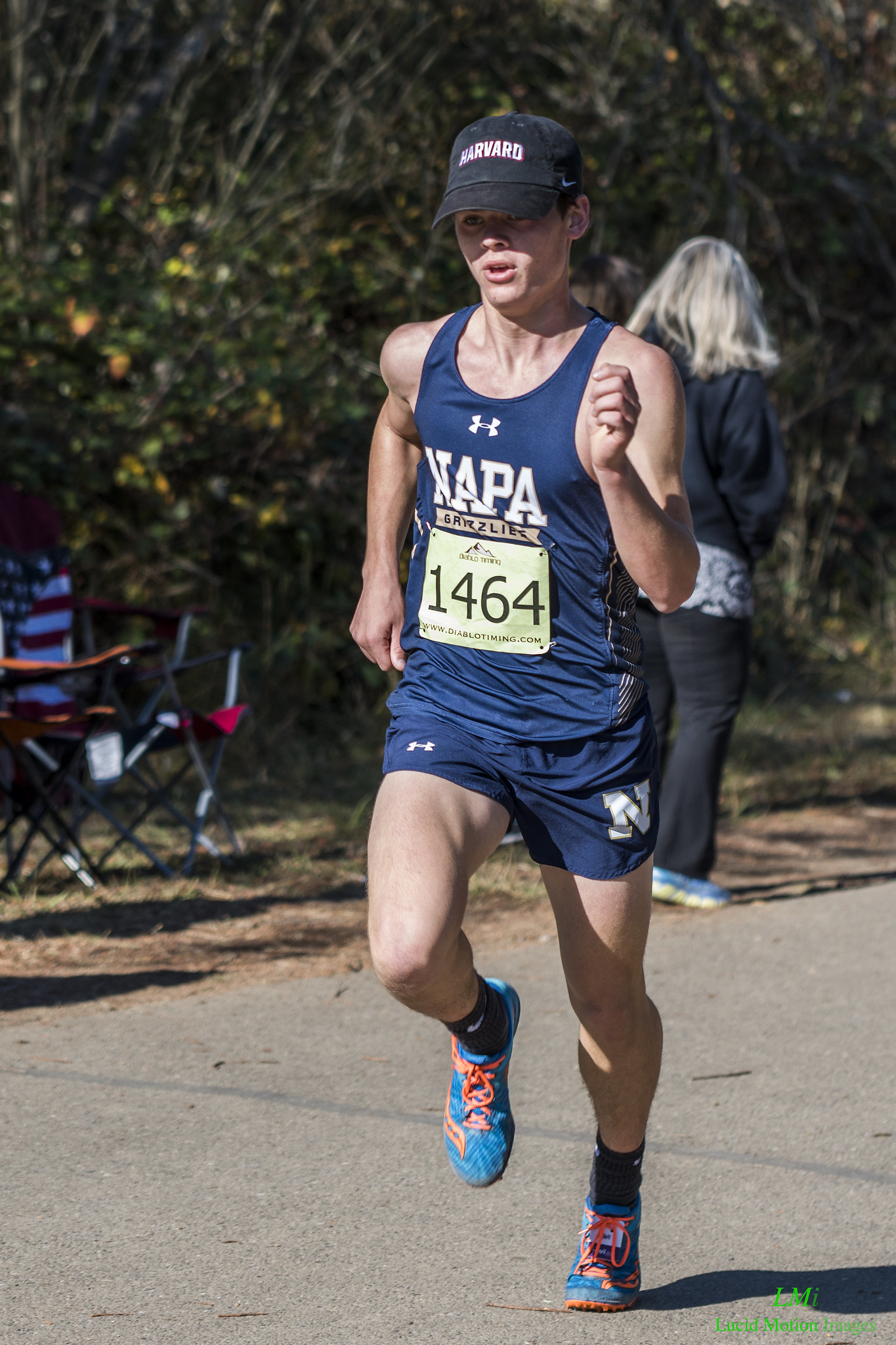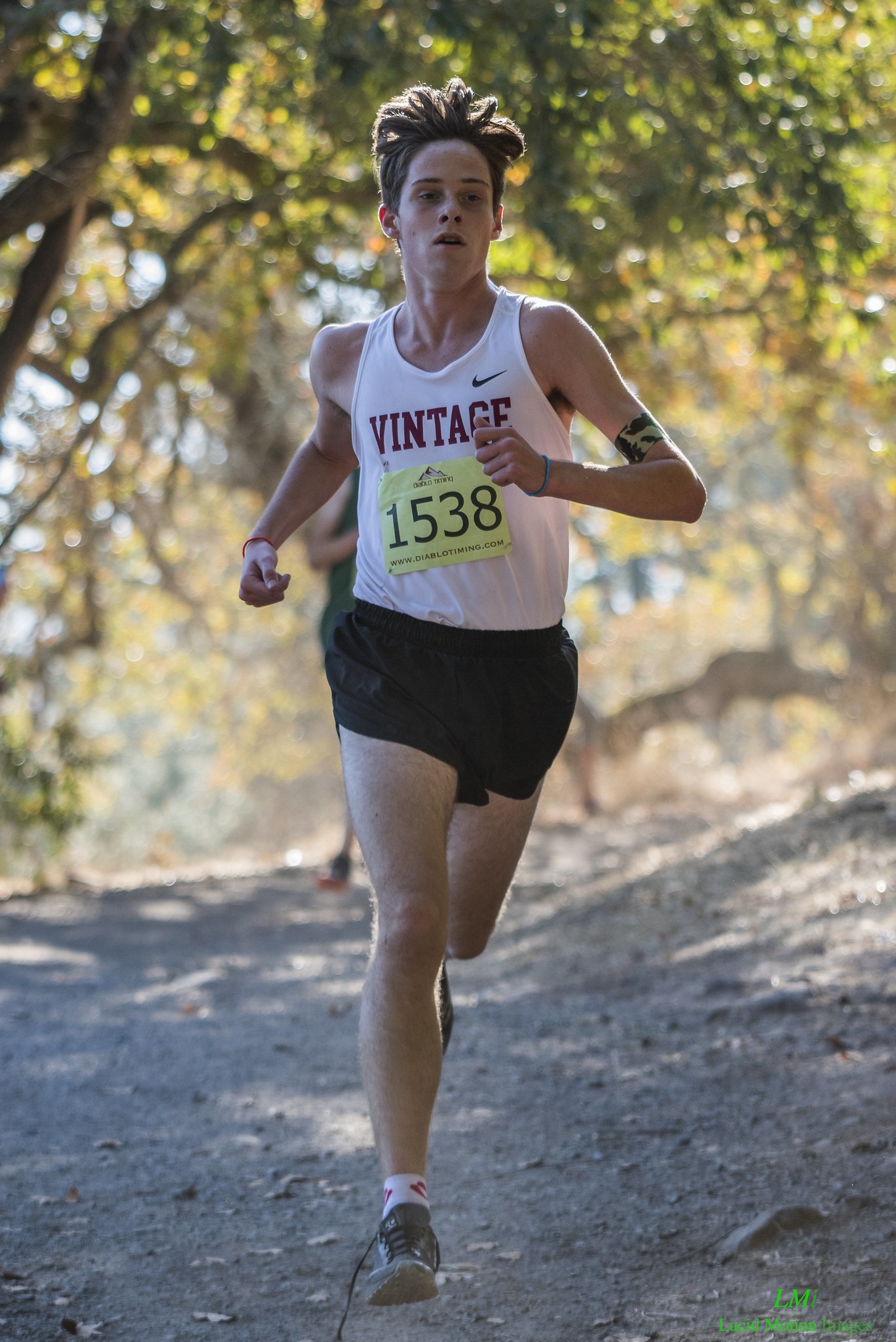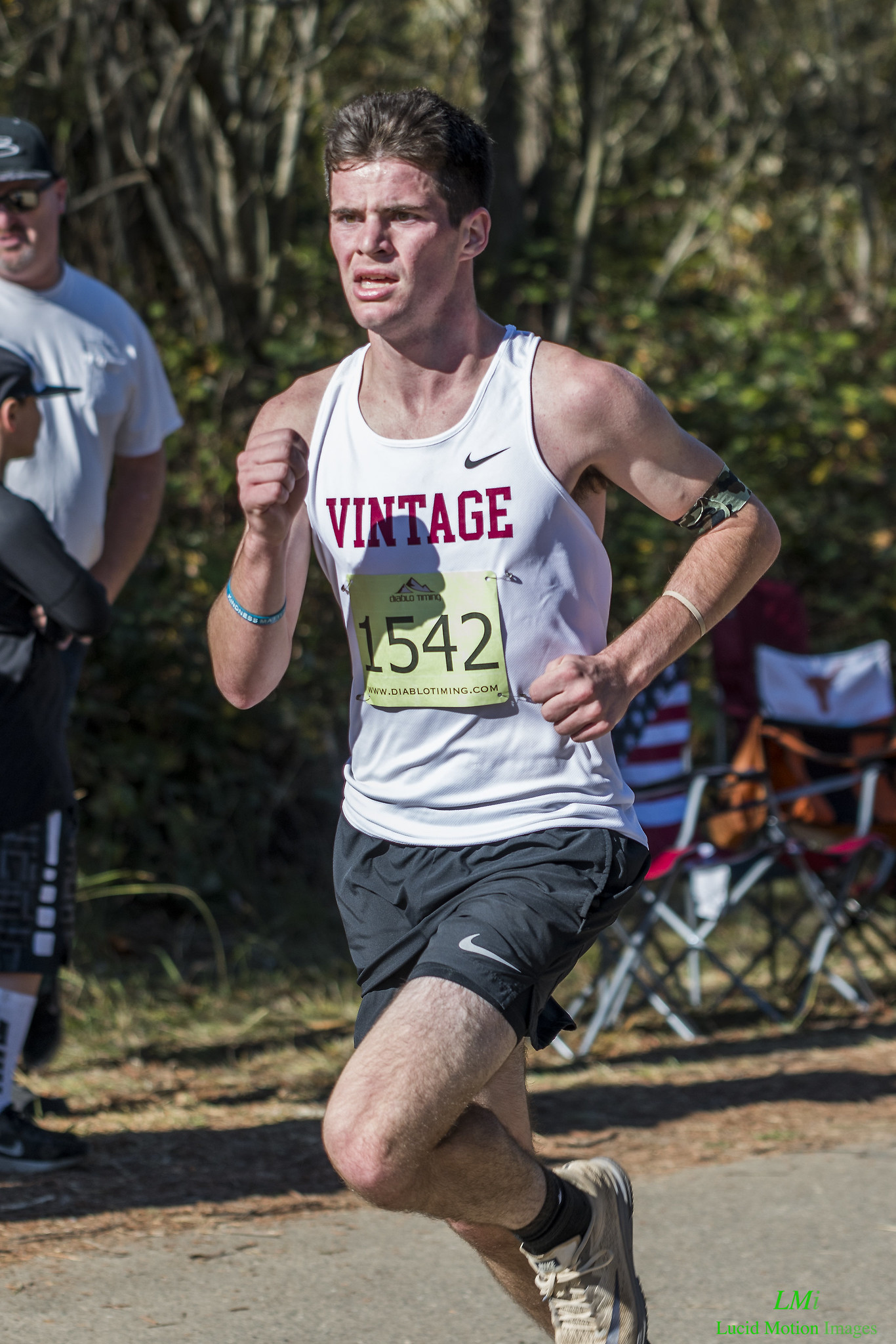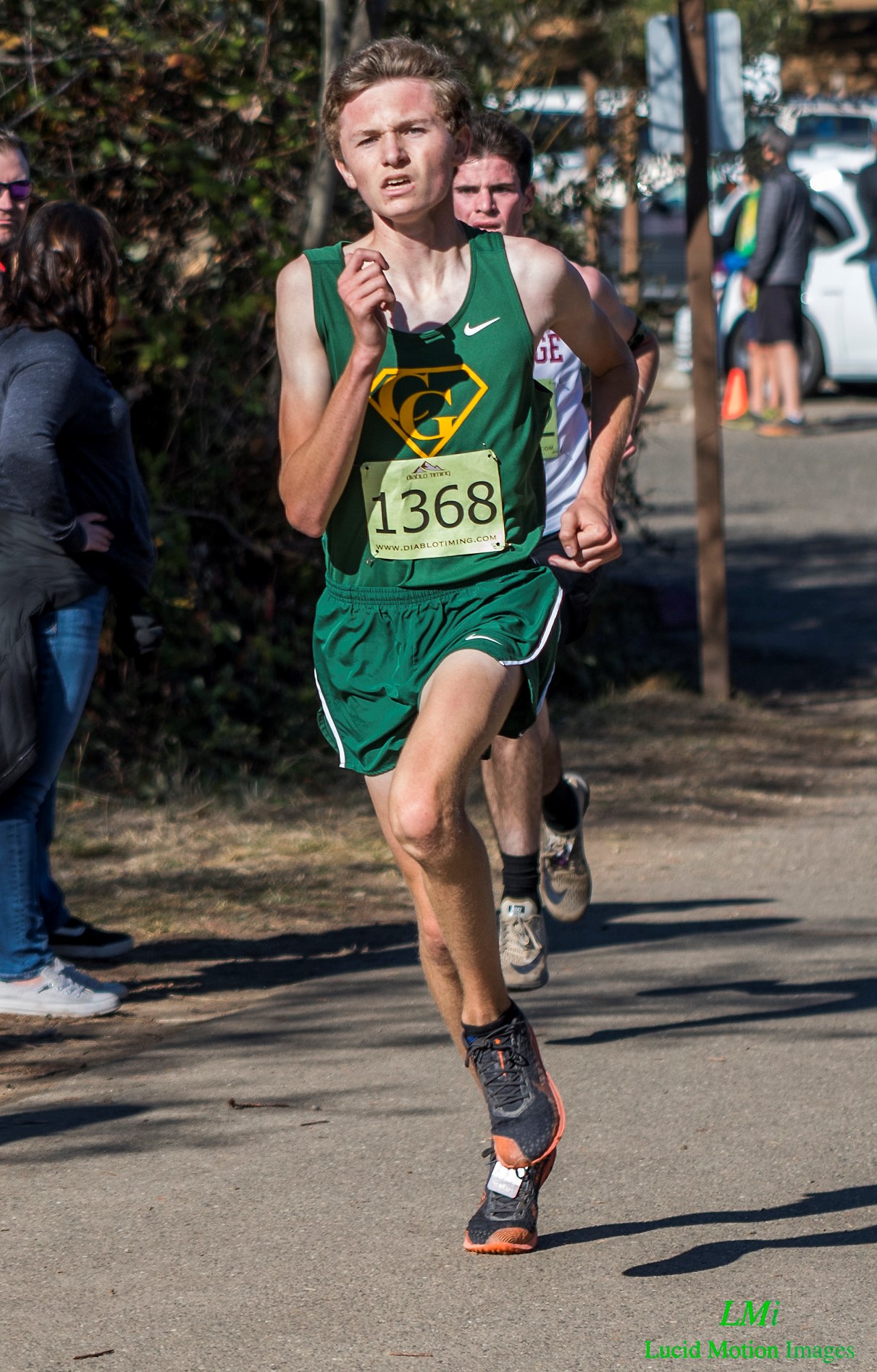 3.05 mile Spring Lake County Park course, since 1988
Varsity
1	Casa Grande	25	2-3-4-6-10(14)(17)	1:22:18	16:28	0:44.2	
2	Napa	        45	1-5-7-11-21(31)	        1:24:31	16:54	1:51.3	
3	Vintage	        82	8-9-13-25-27(37)	1:28:13	17:39	1:45.0	
4	Petaluma	107	15-16-22-24-30(35)(43)	1:30:44	18:09	1:13.7	
5	American Canyon	135	18-19-28-34-36(38)(39)	1:32:40	18:32	1:23.0	
6	Justin-Siena	137	12-20-32-33-40(41)	1:33:33	18:42	2:55.7	
7	Sonoma Valley	164	23-26-29-42-44	        1:38:20	19:40	3:39.8

Course Record: 14:43 Luis Luna, 5th State III, Piner 2011, 
next 14:50 Ryan Mack, State II Champion, Ukiah 1998
Longer list

1	Acuna, David	JR	Napa	        1	16:10	5:18.0, School Record
2	Hosbein, Nolan	JR	Casa Grande	2	16:16	5:19.9
3	Moon, Logan	SR	Casa Grande	3	16:17	5:20.2
4	Baird, Luke	JR	Casa Grande	4	16:21	5:21.5
5	Cosca, Erik	SR	Napa	        5	16:22	5:21.8
6	Hite, William	JR	Casa Grande	6	16:24	5:22.4
7	Zuidema, Elliott SO	Napa	        7	16:46	5:29.8

8	Alexander, Liam	SO	Vintage	        8	16:52	5:31.7
9	Frye, Dylan	SR	Vintage	        9	17:00	5:34.3
10	Dietlin, Jake	JR	Casa Grande	10	17:00	5:34.4
11	Helms, Matthew	SR	Napa	        11	17:11	5:38.0
12	Guiducci, Jacob	JR	Justin-Siena	12	17:15	5:39.1
13	Wachowski, Jonathan SR	Vintage	        13	17:19	5:40.6
14	Beaube, Aaron	JR	Casa Grande	14	17:26	5:42.7

15	Gutierrez, Javier FR	Petaluma	15	17:42	5:47.9
16	Calito Garcia, Luis JR	Petaluma	16	17:45	5:48.9
17	Gotshall, Andrew SR	Casa Grande	17	17:46	5:49.5
18	Madrigal, Yahir	SO	American Canyon	18	17:48	5:50.0
19	Lim, Dakota	SR	American Canyon	19	17:58	5:53.2
20	Potrebic, Casey	JR	Justin-Siena	20	18:00	5:54.0
21	Surh, Elliot	SR	Napa	        21	18:02	5:54.4

22	Apple, Ezra	JR	Petaluma	22	18:05	5:55.6
23	Hengehold, Ryan	JR	Sonoma Valley	23	18:07	5:56.2
24	Juarez Aragon, Alex JR	Petaluma	24	18:17	5:59.6
25	Holloran, Drew	SO	Vintage	        25	18:25	6:02.0
26	Giller, Ty	SO	Sonoma Valley	26	18:27	6:02.9
27	Scott, Dylan Henry JR	Vintage	        27	18:37	6:06.1
28	Hernandez, Jerome JR	American Canyon	28	18:39	6:06.8
29	Borden, Jack	SO	Sonoma Valley	29	18:41	6:07.5
30	Jorgensen, Bendt FR	Petaluma	30	18:55	6:12.1
31	Rios, Daniel	SR	Napa	        31	18:57	6:12.6
32	Giusto, Paul	JR	Justin-Siena	32	19:03	6:14.5
33	Vijayakumar, Vishnu JR	Justin-Siena	33	19:04	6:14.9
34	Loo, Joshua	JR	American Canyon	34	19:04	6:14.9
35	Engler, Zachary	JR	Petaluma	35	19:05	6:15.1
36	Patocchi, Joseph FR	American Canyon	36	19:11	6:17.2
37	Lines, Logan	SR	Vintage	        37	19:25	6:21.8
38	McCoy, Alfons	SO	American Canyon	38	19:28	6:22.9
39	Hernandez Lopez, Sebastian SR American Canyon 39 19:47  6:29.1
40	De los santos, Devon SO	Justin-Siena	40	20:11	6:36.7
41	Kelly, Dexter	SO	Justin-Siena	41	20:57	6:52.1
42	Hengehold, Drew	JR	Sonoma Valley	42	21:18	6:58.7
43	Sullivan, Jack	SR	Petaluma	43	21:46	7:08.2
44	Martindale, Lucas JR	Sonoma Valley	44	21:47	7:08.2

Junior Varsity
1	Napa	        19	1-2-4-5-7(11)(12)	1:30:29	18:06	0:37.9	
2	Petaluma	69	9-10-13-17-20(21)(23)	1:35:42	19:08	0:55.3	
3	Casa Grande	84	3-8-22-25-26(27)(30)	1:36:03	19:13	1:52.2	
4	American Canyon	110	14-16-19-29-32(33)(38)	1:39:16	19:52	1:23.6	
5	Vintage	        114	6-15-28-31-34(45)(46)	1:39:14	19:51	2:29.1	
6	Justin-Siena	165	18-35-36-37-39(43)(44)	1:43:51	20:47	2:09.4	
7	Sonoma Valley	194	24-40-41-42-47(48)(49)	1:51:19	22:16	5:37.0

1	Garcia, Jose	JR	Napa	        1	17:41	5:47.6
2	Aguilar, Eric	SO	Napa	        2	18:00	5:54.1
3	Cross, Kieran	JR	Casa Grande	3	18:02	5:54.5
4	Massey, Noah	FR	Napa	        4	18:14	5:58.4
5	Healy, Daniel	JR	Napa	        5	18:16	5:59.3
6	McDonald-Doxsee, Troy FR Vintage	6	18:16	5:59.3
7	Truchard, Hudson FR	Napa	        7	18:18	6:00.0

8	Giroux, Matthew	SR	Casa Grande	8	18:27	6:02.7
9	Paisley, Miles	FR	Petaluma	9	18:45	6:08.6
10	Schwappach, Joseph FR	Petaluma	10	18:47	6:09.4
11	Cope, Jackson	SO	Napa	        11	18:49	6:09.9
12	Walsh, Logan	SO	Napa	        12	18:59	6:13.2
13	Hicks, Aidan	FR	Petaluma	13	19:08.8	6:16.6
14	Fernandez, Matthew SR	American Canyon	14	19:14.5	6:18.5
15	Travers, Jackson FR	Vintage	        15	19:14.9	6:18.6
16	Bustos, Miguel	SR	Napa	        --	19:18.0	6:19.6
17	Galera, Ian	SO	American Canyon	16	19:18.8	6:19.9
18	Diamond, Benjamin FR	Petaluma	17	19:19.7	6:20.2
19	Leyva, Peter	JR	Napa	        --	19:20.4	6:20.4
20	Smith, Evan	FR	Justin-Siena	18	19:25.9	6:22.3
21	Ciceron, Nolan	FR	American Canyon	19	19:38.2	6:26.3
22	Bloodsworth, Douglas FR	Petaluma	20	19:39.4	6:26.7
23	Newell, Chase	FR	Petaluma	21	19:41.0	6:27.2
24	Donlan, Andrew	JR	Casa Grande	22	19:46.5	6:29.0
25	Gilmore, William SO	Petaluma	23	19:49.0	6:29.8
26	Salinas, Martin	SO	Napa	        --	19:49.8	6:30.1
27	Portello, James Mac JR	Sonoma Valley	24	19:50.7	6:30.4
28	Alvarez, Miguel	JR	Napa	        --	19:52.1	6:30.8
29	Thompson, Ethan	JR	Casa Grande	25	19:53.0	6:31.1
30	Eisenberg, Micah FR	Napa	        --	19:53.1	6:31.2
31	Isaacs, Steven	JR	Casa Grande	26	19:53.4	6:31.3
32	Carver, Erik	SR	Petaluma	--	20:07.5	6:35.9
33	Ogden, Bryce	SR	Napa	        --	20:12.5	6:37.5
34	Soper, Anthony	SR	Casa Grande	27	20:19.4	6:39.8
35	Rutherford, Aiden FR	Vintage	        28	20:21.4	6:40.5
36	Cruz, Ulisses	JR	Napa	        --	20:26.0	6:41.9
37	Fuerte, Elvin	SO	American Canyon	29	20:26.2	6:42.0
38	Borgia-Munoz, Gabriel JR Napa	        --	20:29.0	6:42.9
39	Bennett, Owen	FR	Casa Grande	30	20:31.8	6:43.8
40	O'Connor, Ryan	JR	Napa	        --	20:33.0	6:44.2
41	Durfee, Collin	FR	Vintage	        31	20:36.3	6:45.3
42	Palacios, Mateo	SO	American Canyon	32	20:38.1	6:45.9
43	Barajas, Emanuel FR	American Canyon	33	20:40.0	6:46.6
44	Kaplan, Max	FR	Vintage	        34	20:45.0	6:48.2
45	Kelly, Phineas	JR	Justin-Siena	35	20:46.7	6:48.8
46	Wang, Cameron	FR	Justin-Siena	36	20:48.3	6:49.3
47	Trainor, Samuel	SO	Justin-Siena	37	21:14.5	6:57.9
48	Navarro, Adrian	SO	Napa	        --	21:15.7	6:58.2
49	Boles, Jack	FR	Petaluma	--	21:17.8	6:58.9
50	Buncio, Jerwyn	SO	American Canyon	38	21:18.4	6:59.1
51	Cross, Peyton	SR	Casa Grande	--	21:20.4	6:59.8
52	Earl-Ettinger, Griffin JR Petaluma	--	21:31.6	7:03.5
53	Carey, Jack	FR	Justin-Siena	39	21:35.2	7:04.7
54	Adams, Bayley	SO	Petaluma	--	21:46.4	7:08.3
55	Charkoudian, Shahe FR	Casa Grande	--	21:50.1	7:09.5
56	Cordero, Jared	SO	Sonoma Valley	40	21:50.7	7:09.7
57	Silvi, Joseph	JR	Sonoma Valley	41	21:54.6	7:11.0
58	Navarro, Xavier	SO	American Canyon	--	22:07.5	7:15.2
59	Maningding, Roniel SO	American Canyon	--	22:09.0	7:15.7
60	Belleville, Hunter SO	Sonoma Valley	42	22:15.1	7:17.7
61	Cannon, Graham	SO	Petaluma	--	22:15.8	7:17.9
62	Luong, Ethan	SO	American Canyon	--	22:22.5	7:20.1
63	Zhou, Derek	FR	Casa Grande	--	22:26.3	7:21.4
64	Smith, Calvin	JR	Petaluma	--	22:31.1	7:23.0
65	Burger, Gavin	JR	Casa Grande	--	22:31.6	7:23.1
66	Gomez, Raul	SO	American Canyon	--	22:40.4	7:26.0
67	Williamson, Sam	JR	Napa	        --	22:42.6	7:26.7
68	Ajquiy, David	FR	Casa Grande	--	22:50.3	7:29.3
69	Reyna, Nicholas	JR	Justin-Siena	43	22:52.0	7:29.8
70	Burgett, Toby	FR	Napa	        --	22:56.3	7:31.2
71	Wilson, William	SO	Napa	        --	23:01.5	7:32.9
72	Fortner, Owen	FR	Justin-Siena	44	23:06.7	7:34.6
73	Forsberg, Olin	FR	Casa Grande	--	23:09.3	7:35.5
74	Selstrom, Brady	FR	Petaluma	--	23:10.3	7:35.8
75	Del Castillo, Benjamin FR Justin-Siena	--	23:18.2	7:38.4
76	Gissell, Gabe	JR	Napa	        --	23:29.4	7:42.1
77	Saelee, Nathan	FR	American Canyon	--	23:32.8	7:43.2
78	Chapman, Calvin	SO	Napa	        --	23:38.5	7:45.1
79	Vitali, Peter	SO	Petaluma	--	23:43.2	7:46.6
80	Baird, Zachary	FR	Casa Grande	--	23:46.3	7:47.6
81	Martinez, Noah	SO	Justin-Siena	--	23:48.0	7:48.2
82	Tweeten, Takota	FR	Casa Grande	--	23:52.2	7:49.6
83	Yan, Collin	SO	American Canyon	--	23:52.5	7:49.6
84	Aguirre, Matthew SO	American Canyon	--	24:02.2	7:52.8
85	Deura, Zeeshan	SO	Petaluma	--	24:04.2	7:53.5
86	Mills, Wyatt	FR	Petaluma	--	24:06.9	7:54.4
87	Nassiri, Samuel	SO	Vintage	        45	24:15.4	7:57.2
88	Uppal, Jas	JR	Casa Grande	--	24:17.7	7:57.9
89	Chen, Kevin	SO	Napa	        --	24:23.8	7:59.9
90	Morales, Johnathan JR	Justin-Siena	--	24:30.1	8:02.0
91	Nelson, Auggie	SO	Vintage	        46	24:56.7	8:10.7
92	Cox, Alexander	JR	Justin-Siena	--	24:56.8	8:10.7
93	Donlan, Sean	JR	Casa Grande	--	24:59.3	8:11.6
94	Luque, Mateo	SO	Sonoma Valley	47	25:27.7	8:20.9
95	Esteva, Antonio	FR	Sonoma Valley	48	25:38.3	8:24.3
96	Botello, Antonio JR	American Canyon	--	26:34.6	8:42.8
97	Bishop, John	FR	Justin-Siena	--	26:55.5	8:49.7
98	Desenberg, Luke	FR	Casa Grande	--	27:33.5	9:02.1
99	Teresi, Ryan	FR	Justin-Siena	--	28:20.1	9:17.4
100	Kawakami, Keanu	SO	American Canyon	--	29:32.3	9:41.1
101	Di Vita, Joe	SO	Sonoma Valley	49	30:08.9	9:53.1
102	Harris, Gabriel	FR	American Canyon	--	44:06.5	14:27.7
	Fannin, Andre	SO	Napa	        --	DQ	---