Edwards Stadium -February 4, 2017
Let me know what locals I missed and what school they are at? jimcrowhurst@comcast.net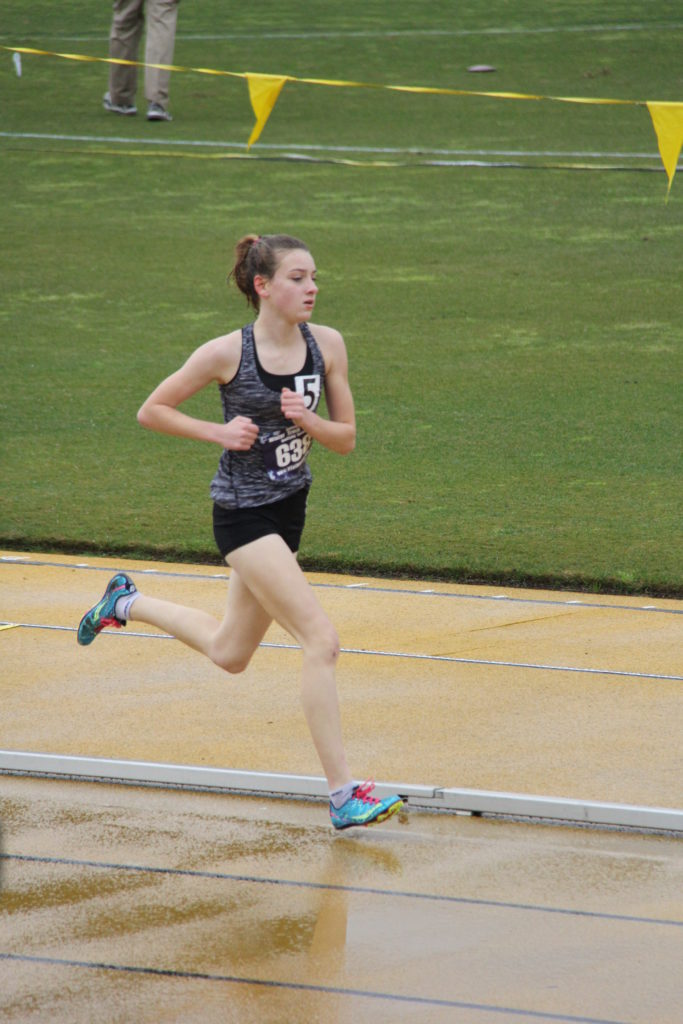 Other locals with state qualifing marks were
Maria Carrillo senior Zack Nelson in the 60m Hurdles in 8.91 0.7.
Maria Carrillo junior Assata Polk in the 300m dash in 43.42.
The Heart & Sole Speed & Endurance Club DMR team won their race in 12:12.70.

Boys 4x200 M RLY
  1 High School Boys (in Hs)  'B'                       1:35.16                
  2 High School Boys (in Hs)  'C'                       1:35.40   
High School Boys qualifing mark for State 1:36.00             
  3 High School Boys (in Hs)  'A'                       1:36.45                
 -- High School Boys (in Hs)  'D'                            DQ  Lane violation

Girls 4x200 M RLY
  1 High School Girls (in Hs)  'A'                      1:50.52
  2 High School Girls (in Hs)  'B'                      1:51.72
High School Girls qualifing mark for State 1:54.00
 -- High School Girls (in Hs)  'D'                           DQ  Lane violation
 -- High School Girls (in Hs)  'C'                           DQ  Lane violation

1500 M Run
  1 Jake Shoemaker             M Open Men (19- +)       4:00.53   1
  2 Chriss Grimble             M Open Men (19- +)       4:03.92   1
  3 Nicholas Downs             M Open Men (19- +)       4:04.98   1
  4 Ben Harper                 M Open Men (19- +)       4:07.99   1
  5 Erik Morford               M Open Men (19- +)       4:09.41   1
  6 Aidan Schraer              M Open Men (19- +)       4:10.16   1
  7 Niki Moore                 M High School Boys       4:10.99   2
  8 Samir Habash               M Open Men (19- +)       4:13.45   1
  9 Hayden Hansen              M High School Boys       4:14.62   2
 10 unkown unkown              M Open Men (19- +)       4:15.17   1
 11 james Bull                 M High School Boys       4:15.54   2
 12 jake Ritter                M High School Boys       4:16.09   2
 13 Kyle Bystrom               M Open Men (19- +)       4:18.14   1
 14 Deverick Meachem           M Open Men (19- +)
 14 Juan Valerio               M Open Men (19- +)       4:19.29   1, Sac State, former Roseland Univ Prep
High School Boys qualifing mark for State 4:20.00
 15 Mitchell Negus             M Open Men (19- +)       4:20.90   1
 16 Matt Weber                 M Open Men (19- +)       4:23.64   1
 17 trevor Paulbitski          M High School Boys       4:25.03   2
 18 Edward Buckly              M High School Boys       4:25.86   2
 19 Edward Hill                M Open Men (19- +)       4:26.67   1
 20 kellen steplight           M JR High Boys (13+)     4:29.83   2
 21 Graham Keggi               M Open Men (19- +)       4:30.44   1
 22 Cielo Aguilar              M Open Men (19- +)       4:31.50   1
 23 Colton Swinth              M High School Boys       4:32.14   2
 24 Logan Fraser               M High School Boys       4:32.98   2
 25 Rory Smail                 M High School Boys       4:35.38   2
 26 Andrew Tey                 M Open Men (19- +)       4:36.89   1
 27 Pierce Kapustka            M High School Boys       4:37.08   2
 28 jack Mader                 M High School Boys       4:38.16   2
 29 Erika Barr                 W Open Women (19- +)     4:39.76   4
 30 Scott Kampfen              M High School Boys       4:40.55   2
 31 Bobby Foreman              M High School Boys       4:40.75   2
 32 Erick Hernandez            M High School Boys       4:43.01   3
 33 Eli Kroger                 M High School Boys       4:45.95   3
 34 Cameron Yuen               M High School Boys       4:45.97   2
 35 Tristan Singleton          M High School Boys       4:46.16   2
 36 Michael Kilgariff          M High School Boys       4:46.36   2
 37 Ryan Toto                  M High School Boys       4:46.87   3
 38 Kiera Marshall             W High School Girl       4:47.29   4
 39 Kai Bohannun               W High School Girl       4:47.36   4
 40 Elijah Ettedgui            M JR High Boys (13+)     4:47.78   2
 41 Ryan Teesdale              M Open Men (19- +)       4:48.31   1
 42 Ben Quang                  M High School Boys       4:49.01   2
 43 Meagen lowe                W High School Girl       4:49.08   5
 44 Adriana Calva              W Open Women (19- +)     4:50.49   4
 45 Luis Quezadas              M High School Boys       4:51.12   3
 46 Daniel George              M High School Boys       4:52.02   3
 47 Corie Smith                W High School Girl       4:52.32   5
 48 Emily Perez                W High School Girl       4:52.65   4
 49 hanna Englsih              W Open Women (19- +)     4:53.25   4
 50 Owen Pugh                  M High School Boys       4:53.31   2
 51 James Upchurch             M High School Boys       4:53.62   3
 52 Magali Arsiniega           W Open Women (19- +)     4:55.08   4
 53 Dominic padre              M High School Boys       4:55.56   2
 54 Neylene Leon               W Open Women (19- +)     4:57.65   4
 55 Jaxin Woodward             W High School Girl       4:57.69   4
 56 Ramir Smith                M High School Boys       4:58.51   3
 57 Gabby Peterson             W High School Girl       4:58.53   5
 58 Isabella Chao              W High School Girl       4:58.57   4
 59 Jonathan Gaborko           M High School Boys       4:58.86   3
 60 Emiliano Calvario-Diaz     M High School Boys       4:58.95   3
 61 Karen Ramming              W Open Women (19- +)     5:00.41   4
 62 jeremy Olenyn              M High School Boys       5:01.08   3
 63 Abbey Meck                 W High School Girl       5:04.15   4
 64 Brendan Brown              M High School Boys       5:04.84   3
 65 Long Nguyen                M JR High Boys (13+)     5:05.39   3
 66 Anthony Portillo           M High School Boys       5:07.06   3
 67 Audrey Miller              W Open Women (19- +)     5:07.65   4
 68 Katie Nili                 W High School Girl       5:08.57   5
 69 Alex Foley                 M High School Boys       5:08.68   3
 70 Tyler kennedy              M High School Boys       5:08.70   3
 71 brenden Olsen              M JR High Boys (13+)     5:09.91   2
 72 Pearl Shoemaker            W Open Women (19- +)     5:14.16   4
 73 Kevin Oliva                M High School Boys       5:15.48   3
 74 Sydney Fox                 W High School Girl       5:15.55   5
 75 Logan McLaughlin           M High School Boys       5:17.68   3
 76 Ben Wiley                  M High School Boys       5:19.14   3
 77 Ethan Lin                  M High School Boys       5:19.48   3
High School Girls qualifing mark for State 5:20.00
 78 Allison Cuitanovic         W High School Girl       5:21.29   5
 79 Carly Josephson            W Open Women (19- +)     5:21.59   4
 80 Alyssa Dalke               W High School Girl       5:22.20   5
 81 Madison MacPherson         W High School Girl       5:22.24   5 5:22.234
 82 Allie Tigert               W High School Girl       5:22.24   4 5:22.235
 83 Beatrice Levy              W High School Girl       5:25.58   5
 84 Mia Jauregui               W High School Girl       5:26.56   5
 85 Kelli Wilson               W High School Girl       5:28.62   5
 86 Rachel Culver              W High School Girl       5:29.07   5
 87 Lily Kung                  W JR High Girls (13+)    5:29.53   5
 88 Hailey Askew               W High School Girl       5:40.11   5
 89 No Name                    W High School Girl       5:44.03   5
 90 Rebecca Lee                W High School Girl       5:45.19   5
 91 Alison Dewolfe             W High School Girl       5:45.84   5
 92 Emily Dewolfe              W High School Girl       5:47.00   5
 93 Sophie Tait                W Open Women (19- +)     5:48.11   4
 94 Sean Moore                 M High School Boys       5:51.94   3
 95 Kathryn Vess               W High School Girl       6:03.33   5
 96 Kayla Pakulski             W High School Girl       6:03.47   5
 97 Lawrence Loughman          M High School Boys       6:04.44   3
 98 Connor Cuddy               M JR High Boys (13+)     6:09.20   3
 99 Maurice lloyd              M High School Boys       6:12.31   5
100 Savanna Ziegler            W High School Girl       6:15.46   5
101 Unknown Name               W High School Girl       6:20.20   5
102 Elizabeth Mercado          W High School Girl       6:24.61   5
103 Eric Craviotto             M High School Boys       6:29.16   3
104 Brittany Perry             W High School Girl       6:32.30   5
 -- Veda Baldota               W Open Women (19- +)         DNF   4
 -- Danielle Domenichelli      W Open Women (19- +)         DNF   4
 -- Unknown Unknown            M Open Men (19- +)      X4:16.47   1


Luis Quezada and Eli Kroger and Gabby Peterson ran the 1500



60 M Hurdles
  1 Dominick Eastman           M Open Men (19- +)          8.30   0.4  1
  2 Adrian Aguirre             M High School Boys          8.50   0.7  2
  3 Branndon Marion            M Open Men (19- +)          8.51   0.4  1
  4 Jurnee Woodward            W High School Girl          8.61   0.9  3
  5 Kaylah Robinson            W High School Girl          8.70   0.9  3
  6 Adam Niesarian             W Open Men (19- +)          8.78   0.4  1
  7 Derryl Calvin-Hopson       M Open Men (19- +)          8.84   0.4  1
  8 Zack Nelson                M High School Boys          8.91   0.7  2
  9 Jaelen Craft               M High School Boys          9.13   0.7  2
High School Boys qualifing mark for State 9.20
 10 Aaron Hanible              M High School Boys          9.27   0.7  2
 11 Andres Abarca              M Open Men (19- +)          9.50   0.4  1
 12 Miguel hernandez           M Open Men (19- +)          9.51   0.4  1
 13 Windy Margerum             W High School Girl          9.66   0.9  3
 14 Rhonda Hopson              W Open Women (19- +)        9.84   1.4  4
 15 Yasmyn harris              W High School Girl         10.02   0.9  3
 16 Caroline Trevithick        W Open Women (19- +)       10.11   0.9  3
 17 Sameerah Evans             W High School Girl         10.46   1.4  4
 18 Finn Leschy                M High School Boys         10.51   0.7  2
 19 Robyn Jones                W High School Girl         11.14   1.4  4
High School Girls qualifing mark for State 11.30
 20 Andara Fess                W High School Girl         11.37   1.4  4
 21 Yanise Harris              W JR High Girls (13+)      12.19   1.4  4
 22 Katelyn Cuneo              W High School Girl         12.26   1.4  4

600 M Run
  1 Trevor Henry               M High School Boys       1:21.22   1
  2 Quinton Alexander          M High School Boys       1:25.68   1
  3 Niki Moore                 M High School Boys       1:25.91   1
  4 Elijah Horwitz             M High School Boys       1:26.84   2
  5 Erik Stein                 M High School Boys       1:27.14   1
  6 Marcus Dawal               W High School Boys       1:29.53   2
High School Boys qualifing mark for State 1:30.00
  7 CJ Dowd                    M High School Boys       1:31.79   2
  8 Lorand Cheng               M High School Boys       1:32.32   1
  9 Lukas Cortina              M High School Boys       1:32.35   1
 10 Alain Chelak               M High School Boys       1:33.48   1
 11 Kalea Ibarra               W High School Girl       1:36.12   3
 12 Bobby Foreman              M High School Boys       1:38.40   2
 13 Nicholas Young             M High School Boys       1:38.48   2
 14 Isaiah Rudolph             M High School Boys       1:38.71   1
 15 Mikaela Romanini           W High School Girl       1:38.84   3
 16 Nick Ott                   M High School Boys       1:39.08   1
 17 Eric Yoshida               M High School Boys       1:41.02   2
 18 Scott Kampfen              M High School Boys       1:41.14   1
 19 Joseph Leone               M High School Boys       1:41.50   2
 20 Tyler Dumond               M High School Boys       1:42.83   2
 21 Arjun Babu                 M High School Boys       1:44.05   2
 22 Callee Marlow              W High School Girl       1:44.38   3
High School Girls qualifing mark for State 1:44.50
 23 Megan Auernig              W High School Girl       1:45.12   3
 24 Brendan Brown              M High School Boys       1:46.81   2
 25 Nya Sandeford              W High School Girl       1:47.68   3
 26 Maya McCord                W High School Girl       1:49.50   3
 27 Sara Fisher                W High School Girl       1:50.98   3
 28 Sahvanah Prescott          W High School Girl       1:52.09   3
 29 Bianca Acheson             W High School Girl       1:52.76   3
 30 Y'Vette Harris             W JR High Girls (13+)    1:52.79   3
 31 Amelia Huster              W High School Girl       1:56.93   3
 32 Hailey Askew               W High School Girl       2:00.50   3
 33 Sammy Robertson            M High School Boys       2:00.51   2
 34 Idanea Talbott             W High School Girl       2:08.00   3
 35 Savanna Ziegler            W High School Girl       2:11.54   3
 36 Elizabeth Mercado          W High School Girl       2:12.39   3
 37 Connor Cuddy               M JR High Boys (13+)     2:21.99   2
 -- Ramon Anzaldo              M High School Boys           DNF   1

60 M Dash
  1 Riley Sasaki               M High School Boys          7.04   1.6  2
  2 Gino Long                  M High School Boys          7.09   1.6  2 7.085
  3 Robert Ellis               M Open Men (19- +)          7.09   1.5  1 7.087
  4 James Hampton              M High School Boys          7.12   1.6  2
  5 Matthew larks              M High School Boys          7.23   1.7  6
  6 Bailey Roker               M High School Boys          7.24   1.8  3
  7 Maurice lloyd              M High School Boys          7.25   1.8  3
  8 Christian Catlin           M High School Boys          7.31   1.8  3
  9 Cody Tygart                M High School Boys          7.33   1.7  7 7.323
 10 Justin Lassiter            M Open Men (19- +)          7.33   1.6  2 7.328
 11 Travis Stoakley            M High School Boys          7.34   1.6  4
 12 Bernhardt Fourie           M Open Men (19- +)          7.35   1.5  1
 13 Tyler Foster               M High School Boys          7.42   1.8  3
 14 Aaron Hanible              M High School Boys          7.43   1.6  4
 15 name 1 unknown             M High School Boys          7.44   1.5  1
 16 Brett Gregorich            M High School Boys          7.49   1.8  3
High School Boys qualifing mark for State 7.50
 17 Keaziah Smith              M High School Boys          7.51   1.8  3 7.501
 18 Talon Galvez-Bennett       M Open Men (19- +)          7.51   1.5  1 7.502
 19 Diego Escobedo             M High School Boys          7.52   1.6  2
 20 Isaac Pewitt               M High School Boys          7.55   1.7  6 7.543
 21 Ramir Smith                M High School Boys          7.55   1.7  7 7.548
 22 Trayvon Thomas             M High School Boys          7.56   1.8  3 7.554
 23 Adam Niesarian             W Open Men (19- +)          7.56   1.5  1 7.560
 24 Kyle Alcosiba              M High School Boys          7.58   1.2  5
 25 Henry Larkin               M High School Boys          7.59   1.6  4
 26 Daniel Mcfadden            M High School Boys          7.60   1.8  3
 27 Khaliq Latimore            M High School Boys          7.62   1.7  8
 28 Mithilesh Tudepalli        M High School Boys          7.64   1.2  5
 29 Anthony Norman             M High School Boys          7.65   1.6  4 7.644
 29 Ayman Ibrahim              M High School Boys          7.65   1.2  5 7.644
 31 Joseph Escobar             M Open Men (19- +)          7.67   1.5  1
 32 Michael Chang              M High School Boys          7.71   1.7  6 7.707
 32 Ryoji Duey                 M High School Boys          7.71   1.7  7 7.707
 34 Mukahri Wadley             M High School Boys          7.72   1.7  7
 35 Finn Leschy                M High School Boys          7.73   1.7  6 7.723
 36 Donovan Bailey             M High School Boys          7.73   1.7  8 7.727
 37 Oliver Gates               M High School Boys          7.74   1.7  6
 38 Zack Nelson                M High School Boys          7.76   1.7  6 7.752
 39 Jaelen Craft               M High School Boys          7.76   1.6  4 7.753
 40 Myles Peecher              M High School Boys          7.76   1.7  6 7.757
 41 Kaylah Robinson            W High School Girl          7.77   1.3 10
 42 Nicholas Blackson          M High School Boys          7.79   1.7  7 7.784
 42 Dominic Villarreal         M High School Boys          7.79   1.7  6 7.784
 44 Ryan Searl                 M High School Boys          7.79   1.4  9 7.790
 45 Amahd Mabry                M High School Boys          7.82   1.6  4
 46 Prasidh Thapa              M High School Boys          7.83   1.7  7 7.824
 47 Adon Pena                  M Open Men (19- +)          7.83   1.6  2 7.829
 48 andrew jackson             M High School Boys          7.89   1.4  9
 49 jaden nixon                W High School Girl          7.91   1.3 10
 50 Kiefer Zang                M High School Boys          7.92   1.2  5
 51 Chinyere Okaro             W High School Girl          7.94   1.3 10
 52 Alexis Surrell             W High School Girl          7.96   1.3 10
 53 Andres Abarca              M Open Men (19- +)          7.99   1.5  1
 54 Javier Pallais             M High School Boys          8.00   1.7  8
 55 Cristian Barnes            M JR High Boys (13+)        8.01   1.6  2
 56 Cullen Davis               M High School Boys          8.03   1.2  5
 57 Nathaniel Watsch           M High School Boys          8.08   1.6  2
 58 Nicholas Young             M High School Boys          8.10   1.6  4
 59 Renzo Tamaka-Wong          M High School Boys          8.19   1.7  7
 60 Logan Winter               W High School Girl          8.31   2.0 12
 61 Aleeza Hassan              W High School Girl          8.32   2.0 12
 62 Eugene Yang                M Open Men (19- +)          8.34   1.2  5
 63 Victoria Nardella          W High School Girl          8.35   2.0 12 8.344
 64 Islaam Rashada             W High School Girl          8.35   1.3 11 8.346
 65 Howard Huang               M High School Boys          8.39   1.7  8
 66 Yasmyn harris              W High School Girl          8.45   1.3 10
 67 Katherine Jackson          W High School Girl          8.47   1.4 13
 68 Andrew Fong                M High School Boys          8.48   1.7  7
 69 Lindsey Philips            W High School Girl          8.51   1.3 10
 70 Abel Padilla               M High School Boys          8.53   1.2  5
High School Girls qualifing mark for State 8.55
 71 Jocelyn Iglenart           W High School Girl          8.57   1.3 11
 72 Adrianna Vincent           W High School Girl          8.61   2.0 12
 73 Alexa Dandridge            W JR High Girls (13+)       8.66   2.0 12
 74 Jaylynn Kelley             W High School Girl          8.67   1.3 11
 75 Caroline Trevithick        W Open Women (19- +)        8.69   1.3 11
 76 Brandon Rubio              M High School Boys          8.70   1.7  8
 77 Richard King               M Open Men (19- +)          8.73   1.5  1
 78 Helen Chu                  W JR High Girls (13+)       8.78   1.4 13
 79 Jaycee mahlum              W JR High Girls (13+)       8.79   2.0 12
 80 Delaney Custer             W JR High Girls (13+)       8.90   1.3 11 8.895
 81 Joe Lewis                  M High School Boys          8.90   1.6  4 8.900
 82 Delaney Gates              W High School Girl          8.91   1.4 13
 83 Y'Vette Harris             W JR High Girls (13+)       8.96   1.3 10
 84 Sean Carey                 M High School Boys          8.97   1.2  5
 85 Bobby Rollins              M High School Boys          8.98   1.4  9
 86 Katelyn Cuneo              W High School Girl          9.08   1.4 13
 87 Yanise Harris              W JR High Girls (13+)       9.10   1.3 10
 88 Sara Tang                  W High School Girl          9.14   1.4 13
 89 Angelena Williams          W High School Girl          9.16   1.3 11
 90 Manticia Scott             W High School Girl          9.43   1.3 11
 91 Jordan Maldonado           M JR High Boys (13+)        9.68   1.4  9
 92 Audrey Nelson              W Open Women (19- +)       10.10   2.0 12
 93 sydney laday-mcgriff       W Open Women (19- +)       10.11   1.3 11

Boys 800 SMR
High School Boys qualifing mark for State 1:40.00
  1 High School Boys (in Hs)  'A'                       2:03.85

Girls 800 SMR
  1 High School Girls (in Hs)  'B'                      1:55.21
  2 High School Girls (in Hs)  'A'                      1:56.95
High School Girls qualifing mark for State 2:00.00
  3 High School Girls (in Hs)  'C'                      2:04.68

Boys 4x800 M RLY
  1 High School Boys (in Hs)  'A'                       8:37.26
High School Boys qualifing mark for State 8:40.00
  2 High School Boys (in Hs)  'B'                       8:57.65

Girls 4x800 M RLY
  1 High School Girls (in Hs)  'B'                     10:10.36
  2 High School Girls (in Hs)  'A'                     10:19.22
High School Girls qualifing mark for State 10:30.00
  3 High School Girls (in Hs)  'C'                     10:52.91

300 M Dash
  1 Max Glasser                M High School Boys         35.10   1
  2 Trevor Henry               M High School Boys         35.81   1
  3 Aaron Hanible              M High School Boys         36.14   1
  4 Henry Larkin               M High School Boys         36.69   2
  5 Riley Sasaki               M High School Boys         36.81   1
  6 Matthew larks              M High School Boys         37.04   4
High School Boys qualifing mark for State 37.70
  7 Jaelen Craft               M High School Boys         37.86   1
  8 Gino Long                  M High School Boys         37.88   4
  9 Brett Gregorich            M High School Boys         37.92   1
 10 Anthony Norman             M High School Boys         38.03   1
 11 Khaliq Latimore            M High School Boys         38.54   4
 12 Tyler Foster               M High School Boys         38.56   2
 13 Ramir Smith                M High School Boys         38.86   5
 14 Dominic Villarreal         M High School Boys         38.93   3 38.927
 15 Travis Stoakley            M High School Boys         38.93   1 38.929
 16 Kobe Sampson               M High School Boys         39.65   4
 17 Cameron De La Torre        M High School Boys         39.77   3
 18 Daniel Mcfadden            M High School Boys         39.94   2
 19 Alain Chelak               M High School Boys         40.24   3
 20 Alexis Surrell             W High School Girl         40.36   7
 21 Jurnee Woodward            W High School Girl         40.52   7
 22 Mukahri Wadley             M High School Boys         40.53   5
 23 Cullen Davis               M High School Boys         40.57   4
 24 Myles Peecher              M High School Boys         40.62   4
 25 Isaac Pewitt               M High School Boys         40.68   3
 26 Prasidh Thapa              M High School Boys         41.12   5
 27 Javier Pallais             M High School Boys         41.15   4
 28 Kaylah Robinson            W High School Girl         41.36   7
 29 Eric Yoshida               M High School Boys         41.63   5
 30 Nicholas Blackson          M High School Boys         41.84   6
 31 Nick Ott                   M High School Boys         42.24   6
 32 Gavin Herculson            M High School Boys         42.28   4
 33 Arjun Babu                 M High School Boys         42.47   2
 34 Chinyere Okaro             W High School Girl         42.60   8
 35 Assata Polk                W High School Girl         43.42   7
 36 Harjot Singh               M High School Boys         43.83   2
 37 Jocelyn Iglenart           W High School Girl         44.25   7
 38 Maxine Garcia              W High School Girl         44.29   7
 39 Tyler Dumond               M High School Boys         44.32   2
 40 jaden nixon                W High School Girl         44.38   8
 41 Zhiaho G                   M High School Boys         44.60   3
High School Girls qualifing mark for State 44.60
 42 Isaiah Rudolph             M High School Boys         44.66   2
 43 Lindsey Philips            W High School Girl         45.10   8
 44 Ramon Anzaldo              M High School Boys         45.37   5
 45 Mario Rodriquez            M High School Boys         45.62   5
 46 Sean Carey                 M High School Boys         45.94   3
 47 Jaxin Woodward             W High School Girl         46.11   8
 48 Ariel Tenenburn            W JR High Girls (13+)      46.20   7
 49 Sahvanah Prescott          W High School Girl         46.58   9
 50 Bianca Acheson             W High School Girl         46.86   7
 51 Jaylynn Kelley             W High School Girl         47.41   9
 52 Tinija Jordan              W High School Girl         48.16   8
 53 Manticia Scott             W High School Girl         50.00   9
 54 Sara Tang                  W High School Girl         50.38   9
 55 Abel Padilla               M High School Boys         52.28   5
 56 Idanea Talbott             W High School Girl         55.03   8
 57 Adrianna Vincent           W High School Girl         57.47   9
 -- Katherine Jackson          W High School Girl           DNF   9
 -- Joe Lewis                  M High School Boys            DQ   2 Lane violation
 -- Nicholas Young             M High School Boys            DQ   3 Lane violation
 -- Christian Catlin           M High School Boys            DQ   3 Lane violation

3000 M Run
  1 Kevin Petow                W Open Men (19- +)       8:57.07
  2 Camron Shahmirzadi         M Open Men (19- +)       9:03.74
  3 Aidan Schraer              M Open Men (19- +)       9:05.60
  4 Juan Valerio               M Open Men (19- +)       9:13.03, Sac State, former Roseland Univ Prep
  5 Omar Rubio                 M High School Boys       9:18.04
  6 Max Waechter               M High School Boys       9:23.69
  7 Mitchell Negus             M Open Men (19- +)       9:24.87
  8 Erik Morford               M Open Men (19- +)       9:26.64
High School Boys qualifing mark for State 9:30.00
  9 Matt Weber                 M Open Men (19- +)       9:30.67
 10 Micah Delgado              M High School Boys       9:48.01
 11 Aidan Singh                M High School Boys       9:55.81
 12 Xavier Simms               M High School Boys      10:05.67
 13 Ben Quang                  M High School Boys      10:16.59
 14 jeremy Olenyn              M High School Boys      10:43.75
 15 Elijah Levy                M High School Boys      10:46.25
 16 Jonathan Gaborko           M High School Boys      10:50.96
 17 Alex Foley                 M High School Boys      10:56.41
Section  2
  1 Niki Iyer                  W High School Girl      10:08.43
  2 Kai Bohannun               W High School Girl      10:14.39
  3 Rachel Victor              W High School Girl      11:14.44
High School Girls qualifing mark for State 11:29.00
  4 Emma Winkler               W Open Women (19- +)    11:31.29
  5 Courtney Green             W Open Women (19- +)    11:57.48
  6 Kayla Pakulski             W High School Girl      12:37.77
  7 Emily Dewolfe              W High School Girl      12:48.12
  8 Alison Dewolfe             W High School Girl      12:50.84
  9 Kalee Dutra                W High School Girl      13:29.95
 -- Callee Marlow              W High School Girl           DNF

DMR
High School Boys qualifing mark for State 11:40.00
  1 High School Boys (in Hs)  'B'                      12:12.70 Heart & Sole Speed & Endurance Club
  2 High School Boys (in Hs)  'A'                      13:05.05
High School Girls qualifing mark for State 13:40.00
  3 High School Girls (in Hs)  'A'                     15:44.60

High Jump
  1 Jack Phillips              M Open Men (19- +)         1.90m    6-02.75
  1 Tehan-Tre Pierce           M High School Boys         1.90m    6-02.75
  3 Max Cauley                 M Open Men (19- +)         1.85m    6-00.75
High School Boys qualifing mark for State 6-0
  4 matthew Hoffman            M High School Boys         1.75m    5-08.75
  5 Renzo Tamaka-Wong          M High School Boys         1.55m    5-01.00
  5 Amahd Mabry                M High School Boys         1.55m    5-01.00
High School Girls qualifing mark for State 5-0
  7 Katelyn Cuneo              W High School Girl         1.46m    4-09.50
  8 Kirsten Kulhanek           W Open Women (19- +)       1.40m    4-07.00
  8 Manticia Scott             W High School Girl         1.40m    4-07.00
  8 Gretchen Martinez          W High School Girl         1.40m    4-07.00
  8 Muppy Gragg                W High School Girl         1.40m    4-07.00
 12 Jordan Maldonado           M JR High Boys (13+)       1.05m    3-05.25
 -- Vince Phipps               M Open Men (19- +)            NH
 -- Steven Childs              M Open Men (19- +)            NH
 -- Brendan Brown              M High School Boys            NH
 -- Nick Ott                   M High School Boys            NH

Long Jump
  1 Steven Childs              M Open Men (19- +)         6.84m   NWI  22-05.25
  2 Thomas Grossman            M Open Men (19- +)         6.76m   NWI  22-02.25
  3 Deverick Meachem           M Open Men (19- +)         6.48m   NWI  21-03.25
  4 Tehan-Tre Pierce           M High School Boys         6.43m   NWI  21-01.25
  5 Adam Niesarian             W Open Men (19- +)         6.36m   NWI  20-10.50
  6 Adrienne Jackson           M Open Men (19- +)         6.22m   NWI  20-05.00
  7 Drake Foote                W Open Men (19- +)         6.18m   NWI  20-03.50
  8 Max Cauley                 M Open Men (19- +)         6.14m   NWI  20-01.75
  9 Ryoji Duey                 M High School Boys         6.11m   NWI  20-00.50
 10 Trayvon Thomas             M High School Boys         6.02m   NWI  19-09.00
High School Boys qualifing mark for State 19-8
 11 Ethan Westeimer            M High School Boys         5.94m   NWI  19-06.00
 12 Anthony Hopson             W Open Men (19- +)         5.73m   NWI  18-09.75
 12 matthew Hoffman            M High School Boys         5.73m   NWI  18-09.75
 14 Oliver Gates               M High School Boys         5.72m   NWI  18-09.25
 15 Reid Brawer                M High School Boys         5.66m   NWI  18-07.00
 15 Finn Leschy                M High School Boys         5.66m   NWI  18-07.00
 17 Jack Phillips              M Open Men (19- +)         5.60m   NWI  18-04.50
 18 Bernhardt Fourie           M Open Men (19- +)         5.59m   NWI  18-04.25
 19 Katherine Jackson          W High School Girl         5.53m   NWI  18-01.75
 20 Lorenzo Olivar             M High School Boys         5.43m   NWI  17-09.75
 21 Ramir Smith                M High School Boys         5.42m   NWI  17-09.50
 22 Angelena Williams          W High School Girl         5.30m   NWI  17-04.75
 23 Windy Margerum             W High School Girl         5.25m   NWI  17-02.75
 24 Isabella hoang             W Open Women (19- +)       4.93m   NWI  16-02.25
High School Girls qualifing mark for State 15-6
 25 Muppy Gragg                W High School Girl         4.71m   NWI  15-05.50
 26 Katelyn Cuneo              W High School Girl         4.65m   NWI  15-03.25
 27 Caroline Trevithick        W Open Women (19- +)       4.45m   NWI  14-07.25
 28 Helen Chu                  W JR High Girls (13+)      4.39m   NWI  14-05.00
 29 Bobby Rollins              M High School Boys         4.32m   NWI  14-02.25
 30 Andara Fess                W High School Girl         4.31m   NWI  14-01.75
 31 Adon Pena                  M Open Men (19- +)         4.19m   NWI  13-09.00
 32 Y'Vette Harris             W JR High Girls (13+)      4.06m   NWI  13-04.00
 -- Yasmyn harris              W High School Girl            ND   NWI
 -- Jillian Johnson            W High School Girl            ND   NWI
 -- Robyn Jones                W High School Girl          FOUL

Triple Jump
  1 Max Cauley                 M Open Men (19- +)        14.13m   NWI  46-04.25
  2 Adrienne Jackson           M Open Men (19- +)        13.57m   NWI  44-06.25
  3 Anthony Hopson             W Open Men (19- +)        12.55m   NWI  41-02.25
High School Boys qualifing mark for State 40-10 
  4 Oliver Gates               M High School Boys        12.17m   NWI  39-11.25
  5 Allanah Lee                W High School Girl        11.62m   NWI  38-01.50
  6 Tamar Archie               M High School Boys        11.41m   NWI  37-05.25
  7 Austin Fields              M High School Boys        11.13m   NWI  36-06.25
High School Girls qualifing mark for State 32-10
  8 Katelyn Cuneo              W High School Girl         9.85m   NWI  32-03.75
 -- Derryl Calvin-Hopson       M Open Men (19- +)          FOUL

Shot Put
  1 Ben Cak=mpagna             M High School Boys        14.91m   48-11.00
High School Boys qualifing mark for State 46-6
  2 Imani Bierly               W Open Women (19- +)      13.13m   43-01.00
  3 Ronald Phelps              M Open Men (19- +)        12.96m   42-06.25
  4 Oblageri Amaechi           W Open Women (19- +)      12.78m   41-11.25
  5 Alexandra Jones            W Open Women (19- +)      12.71m   41-08.50
  6 Luke Largusa               M High School Boys        11.47m   37-07.75
  7 Tomas Palpallotoc          M High School Boys        11.35m   37-03.00
  8 Josh Smith                 M High School Boys        11.27m   36-11.75
  9 Christian Rivas            M High School Boys        10.79m   35-05.00
 10 James Dial                 M High School Boys        10.56m   34-07.75
High School Girls qualifing mark for State 33-10
 11 Pierce Kapustka            M High School Boys        10.14m   33-03.25
 12 Jayme Gonzalez             W Open Women (19- +)      10.01m   32-10.25
 13 Marisela Cardenas          W Open Women (19- +)       9.86m   32-04.25
 14 Kyle Isha                  M High School Boys         9.57m   31-04.75
 15 Howard Huang               M High School Boys         9.43m   30-11.25
 15 Nabil Ghaleb               M High School Boys         9.43m   30-11.25
 17 Claudia Serrano            M Open Women (19- +)       9.13m   29-11.50
 18 Kiersten Fouts             W High School Girl         8.69m   28-06.25
 19 Chauntel Sapp              W Open Women (19- +)       8.67m   28-05.50
 20 Latrell Ray                M High School Boys         8.26m   27-01.25
 21 Christy Xie                W High School Girl         8.21m   26-11.25
 22 Efren Sosa                 M High School Boys         6.77m   22-02.50
 23 Isaac DelaTorre            M High School Boys         5.91m   19-04.75
 24 Brittany Perry             W High School Girl         5.88m   19-03.50
 25 ellie spink                W High School Girl         5.78m   18-11.75

Discus Throw
  1 Oblageri Amaechi           W Open Women (19- +)      45.28m     148-07
  2 Gilbert Corey              M Open Men (19- +)        45.12m     148-00
  3 Namontte Grisby            M Open Men (19- +)        42.66m     139-11
  4 Erica Grotegeer            W High School Girl        35.25m     115-08
  5 Marisela Cardenas          W Open Women (19- +)      32.42m     106-04
  6 Adon Pena                  M Open Men (19- +)        31.93m     104-09
  7 Jayme Gonzalez             W Open Women (19- +)      31.55m     103-06
  8 Kiersten Fouts             W High School Girl        30.70m     100-09
  9 Claudia Serrano            M Open Women (19- +)      28.96m      95-00
 10 Nabil Ghaleb               M High School Boys        28.20m      92-06
 11 Arianna Prestoser          W Open Women (19- +)      26.63m      87-04
 12 Chauntel Sapp              W Open Women (19- +)      24.82m      81-05
 13 Bernard Grotegeer          M Open Men (19- +)        24.19m      79-04
 14 Christy Xie                W High School Girl        20.61m      67-07
 15 alea pena                  W High School Girl        19.16m      62-10
 16 ellie spink                W High School Girl        13.46m      44-02
 17 Alison Sexson              W Open Women (19- +)      12.03m      39-06