I spent nearly the entire meet, from 7:30 in the morning until about 6:30 in the evening, by myself up in the announcer's booth.
Still had a great time watching all the exciting action down on the track below.
During the years I ran the meet it was very different up there, pre-computer age, as there was the announcer, multiple results recorders, multiple medal sorters and a few other helpers, all crammed in the booth, with people always coming up to ask questions.
Until now I had done every possible position involved with a track meet except announcer and weight master (that's the person weighing in the shots and discus).
The Montgomery coaches ( who have done a GREAT JOB ) of running this meet came to me and asked if I would announce because their list of announcers they use were all unavailable for the meet.
I was a bit reluctant mostly because I have a crummy over the air voice, unless you need a Mickey Mouse sounding guy, and I have seen all these names for years but never have heard them pronounced correctly. More on that in a minute Carrillo fans.
Sorry if I talked over any of the starts. I know that is a no no for a track announcer, problem is the booth was set up for football, good view of the turf, but unless you press your face up against the glass you could not see the any of the starting lines other than the 200 and 300's.
Anyway I missed seeing my partner in crime fighting, Michael Lucid, and rubbing elbows with all my long time track buddies but I still enjoyed the day myself.
Looking forward to seeing all the great photos Michael took at the meet and will link as soon as he goes thru his usual 3528 photos he takes at these meets.
On to the action
Early on in the meet we had the pleasure of watching one of our newest stars in Healdsburg's Gabriella Peterson. Her 4:51.47 1600 with no one within 13 seconds of her was amazing to watch. No other event for the Redwood Empire has as an amazing top 10 list as this event. The five girls ahead of her are all national or state champions in either track or cross country. The girl now in 7th made the US Olympic team.
4:42.79 Julia Stamps, Santa Rosa #1 1997
4:43.92 Rylee Bowen, Sonoma Academy #1 2015
4:46.17 Sara Bei, Montgomery #1 2001
4:49.63 Jenny Aldridge, Maria Carrillo #1 2000
4:49.63 Jacque Taylor, Casa Grande #1 2008
4:51.47 Gabriel Peterson, Healdsburg #1 2018
4:52.58 Kim Conley, Montgomery #2 2004
4:54.27 Laurie Hollingworth, Piner #1 1981
4:55.11 Lauren Curtin, Maria Carrillo #2 2008
4:56.29 Isabel Andrade, Petaluma #1 2009
4:56.91 Kristen Sanzari, Maria Carrillo #3 2007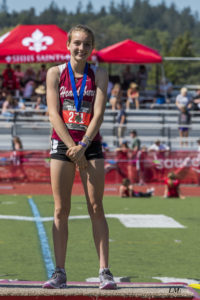 2018 CA 1600m bests
4:42.05 Mariah Castillo, Saugus Apr 20 Mt. SAC Relays
4:43.81 McKenna Brown, La Costa Canyon Apr 20 Mt. SAC Relays
4:46.77 Mikaela Ramirez, Ayala Apr 20 Mt. SAC Relays
4:47.89Mari Friedma, Santa Cruz Mar 31 Stanford
4:48.54 Maddy Denner, Oak Ridge Mar 31 Stanford
4:48.65 Haley Herberg, Capistrano Valley Apr 20 Mt. SAC Relays
4:49.92 Meagen Lowe, Buchanan Apr 14 West Coast Relays
4:50.09 Gillian Wagner, Redwood (Larkspur) Mar 31 Stanford
4:51.47 Jessica Riedman, La Costa Canyon Mar 31 Stanford
4:51.47 Gabrielle Peterson, Healdsburg Apr 21 Viking Classic
One of the things I like about watching Gabby is her determination. Watching Stamps and the other greats it always seemed sometimes like running these blistering times was a piece of cake, almost like they are in this zone and don't even realize what they are doing. But when I see Gabby I see this fire in her eyes a hunger and desire to get everything out of a race she can. Forgive me if I'm way off on all this, I know the girls ahead of her had unparalleled desire as well or they won't have risen to the top the way they did but for me it manifested in a different visual way from what I saw.
Gabby of course was not done as she moved to 27th All-Time in the 800 with her double win in 2:18.62 this time pushed by another All-Time mark of 2:19.71 by Aimee Armstrong of Maria Carrillo. But it was also fun to watch the slower heat that included a state meet medalist in the 100, Santa Rosa's Kirsten Carter. Laying off the sprints here to ease her leg back into racing from an injury she placed well in her heat in 2:33.21. Making her one of the best ever 400/800 Runners we have ever had.
Not bad for a sub 12 second sprinter. And so what if she couldn't win a running event at the Viking, heck she'll just go out and win a field event. No not the usual jumping event that sprinters do but the shot put (33-4). Not surprising as she has been putting up top marks in both throws for a while now.
Empire's Best 400/800 Runners
400 / 800 / Total
57.39..(506) 2:11.91..(560) 1066 Sadia Ibrahim, Santa Rosa 2013
58.04..(482) 2:11.71..(563) 1045 Kerri Woolheater, Casa Grande 1992 57.8
56.73..(531) 2:17.54..(484) 1015 Jenna Lowder, Maria Carrillo 2006 2:17.3
58.73..(457) 2:12.51..(552) 1009 Kristen Sanzari, Maria Carrillo 2007
58.83..(454) 2:13.46..(539) 993 Jenny Aldridge, Maria Carrillo 1999, 2002
59.14..(446) 2:13.64..(536) 982 Pamela Richardson, Montgomery 1995 58.9
58.35..(471) 2:15.64..(509) 980 Jenny Drady, Maria Carrillo 2000
59.64..(426) 2:13.58..(537) 963 Dirkje Dunham, Analy 1998
59.56..(428) 2:14.17..(529) 957 Maria Barragan, Healdsburg 2013
54.24..(630) 2:33.21..(299) 929 Kirsten Carter, Santa Rosa 2015, 2018
61.43..(366) 2:11.91..(560) 926 Rylee Bowen, Sonoma Academy 2017
59.94..(415) 2:16.54..(497) 912 Mara Konopasek, El Molino 1984, 86 2:16.3
Anyone want to see a match race between Carter and Bowen at 600 meters?
The sprint glory went to Maria Carrillo's Assata Polk who won the 400 in a prep best 59.26 and followed that with another win/prep best in the 200 at 26.09.
And I'm pretty sure she ran legs on both the winning relays 49.30 and 4:06.89. The 400 relay mark being one of the fastest ever.
Girls Top 400m Relay Performances
48.24 2017 Maria Carrillo 5/26/17 Amani Baker, Assata Polk, Sarah Aanenson, Habibah Sanusi
48.64 2017 Maria Carrillo 5/20/17 Amani Baker, Assata Polk, Sarah Aanenson, Habibah Sanusi
49.10 2016 Casa Grande 5/21/16
49.24+ 1984 Santa Rosa 5/19/84 Jody Romero, Cindy Romero, S. Thompson, Sharon Bailey
49.24 2017 Maria Carrillo 4/1/17 Habibah Sanusi, Assata Polk, Olivia Nicholes, Amani Baker
49.30 2018 Maria Carrillo 4/21/18
49.32 1985 Santa Rosa 5/26/85 Sue Northen, Wendi Simmons, S. Bailey, Kim Carlson
49.34 1984 Santa Rosa 5/25/84 Kim Carlson, Romero, Sharon Bailey, Susie Thompson
49.34+ 1984 Santa Rosa 5/26/84 Romero, Kim Carlson, Sharon Bailey, Susie Thompson
49.34 2003 Analy 5/31/03 Tracy Webster, Katie Franchi, Krista Prescott, Ashley Perlman
One of the better marks I was not able to witness was Petaluma's Sydney Dennis who secured a win in the triple jump with a prep best of 34-8.
Did I mention there were boys at this meet.
You bet they were there and they had plenty to be proud of as well.
Like Dennis, over at the horizontal jumps Windor's Casey Mclaughlin was shinning the brightest. He added over a foot to his 2017 long jump PR with a big 21-11.5 jump to win by more than a foot and earn a prep best in that event. Mclaughlin was one of three boys individual winners as he took the triple jump with the smallest of margins as both he and Healdsburg's Truman Costello spanned 40-10 but Mclaughlin had the longer second best jump.
Petaluma's Jack Dunbar, who I repeatedly called Jake, sorry Jack, was the dominate distance runner with some smart strategic running kicking to the front at the end in the 1600 (4:23.24) and 800 (1:59.12).
The other double winner was Tamalpais' Aidan Nicholas who edged out the others in the 100 at 11.23 but was more dominate in the 200 at 22.75.
The 400 didn't have the trio I had hoped for but the two Carrillo juniors did not disappoint the crowd as Severin Ramirez (49.88) and Tyler VanArden (49.98) both cracked the 50 second barrier.
One of the most dominating performances of the meet was Carrillo's Cameron De Latorre in the high hurdles as he flew over the hurdles to a huge 14.79 win nearly a full second ahead of anyone else. Only two hurdlers in the last 20 years have run faster.
So much more I could talk about but talking is not my strength.
Maria Carrillo High School was founded in 1996 and was originally named after Maria Ygnacia Lopez de Carrillo.
As I understand it after Ygnacia's death, her son-in-law established a trading post and tavern called the Carrillo Adobe still visible behind the Cathedral of Saint Eugene church near Montgomery Village.
I had heard it talked about many times and always heard it pronounced the way you were hearing me say Carrillo.
About half way thru the meet someone came up and told me I was saying it wrong, total shock to me.
For a couple of attempts I got it right but was so taxing on my brain that I had to just muddle thru it the best I could and often was on autopilot for the name.
After 20 years of saying it one way I'm not sure how long it will take for me to ever correct it.
I have been told that the family that has inherited the name actual pronounce their name the way I do.
So my apologizes to the mighty Puma's and hope you can forgive me.
Anyway it's your fault for getting so many athletes on the podium.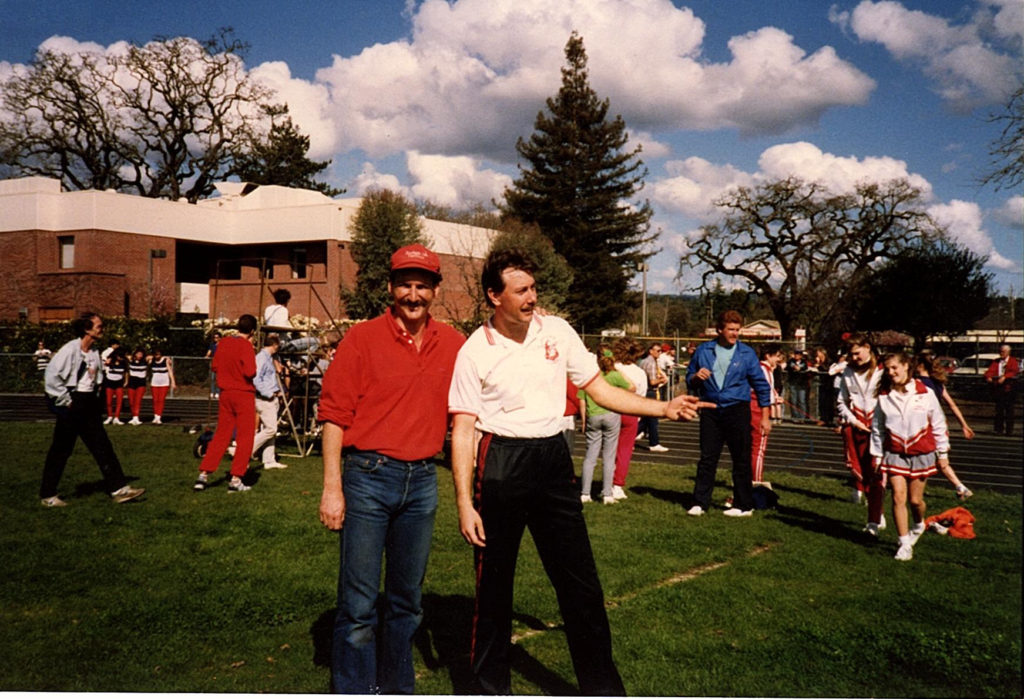 The Viking Classic actually doesn't do team scores but I guess no one told the results guy so just for fun here are the totals.

Boys
1. 	Maria Carrillo 	91
2. 	Montgomery 	52
3. 	Santa Rosa 	43.5
4. 	Tamalpais 	42
5. 	Windsor 	38
6. 	Vintage 	25
7. 	Marin Catholic 	24
8. 	Petaluma 	23.8
9. 	Lowell 	        17.3
10. 	Redwood (Larkspur) 16
11. 	El Molino 	15
11. 	McKinleyville 	15
13. 	Sonoma Academy 	14
14. 	Casa Grande 	13
15. 	Rancho Cotate 	11
15. 	Cardinal Newman 11
17. 	Healdsburg 	10
18. 	Sir Francis Drake 9
19. 	San Francisco University 8
20. 	Ukiah 	        6
20. 	Piner 	        6
22. 	St Helena 	4
23. 	Analy 	        2.3 
 
Girls
1. 	Maria Carrillo 	108
2. 	Santa Rosa 	56.6
3. 	San Francisco University 34.3
4. 	Tamalpais 	34.1
5. 	Casa Grande 	28
6. 	McKinleyville 	27
7. 	Redwood (Larkspur) 21
8. 	Lowell 	        20
9. 	Petaluma 	18.5
10. 	Vintage 	18
11. 	Montgomery 	13
12. 	Sonoma Academy 	12.1
13. 	Healdsburg 	12
14. 	Windsor 	11
15. 	Fort Bragg 	10
15. 	Sir Francis Drake 10
17. 	El Molino 	9
18. 	San Marin 	8
19. 	Analy 	        6
20. 	Marin Catholic 	4
21. 	Middletown 	2
21. 	Cardinal Newman 2