Amey Mitchell Section 1988-1991
Background info before the interview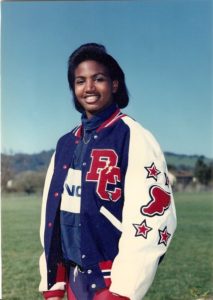 This era started off with record long jumping but nothing like what would come from Rancho Cotate's Amey Mitchell.
Mitchell burst on the scene her freshman year (1988) winning both horizontal jumps at the NBL finals.
She won both NBL jumps again in 1989 plus the 100.
Then at the NCS MOC she was the first and only jumper we have ever had to break the 19 foot barrier winning the section at 19-1¾ for a new Empire record. At state that year she became our first jumping medalist with a 5th place finish.
Mitchell continued to get better her junior year winning three individual events at NBL's (100LH, 100, LJ).
She followed that with her second NCS long jump title at 19-5¼. At the 1990 State Meet she would come within one place of being state champ at 19-3. Her season best of 19-8 has stood the test of time as the Empire record for 26 years so far.
At the 1991 NBL finals Mitchell would win her third straight 100 title, fourth straight long jump title and Rancho Cotate's first ever 400 relay title.
At NCS Redwood meet she would tie the still standing long jump meet record at 19-2½.
At the NCS MOC she would win her third straight long jump title.
While in High School
Did you ever have a performance in a meet that surprised even you, that you could do that well?
Making it to the state meet all four years but most especially my freshman year. I always knew that I was fast, I learned that at an early age. I didn't know that I had the ability to jump far and compete with the elite.
What was your favorite accomplishment?
Breaking 19′ in the long jump and placing 2nd at the state meet. I am also very proud of my LJ records that are still standing, 19'8″ at RCHS and 20'3″ at SRJC, and my induction into the RCHS Hall of Fame in 2011.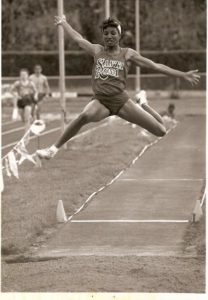 Did you ever think about not doing track?
Never. When I entered high school my middle school principle had sent my name out to just about every athletic coach at Rancho Cotate. I did play soccer briefly my freshman year but t&f was my true love. Donna McKenna, one of Rancho Cotate's most adored PE teachers and volleyball coach won't let me live it down to this day that I didn't play volleyball!
What motivated you in high school to do as well as you did?
God and my mom. She always taught me to be my best and to do my best especially with something that I enjoyed so much.
Were there times when someone, coach, official, press etc., did something that showed you that girls track was as important as the boys?
I would say that I was never shown that it wasn't as important which made it a non issue. That was one of the things I loved about the sport so much was the equality and importance of everyone on the team, whether you were a top performer or not.
Any funny stories you remember from your sports?
Oh my goodness! Every day there was something that made us laugh! There were so many fun personalities, we always had a great time together and always had fun! There was a time when we all had gotten together for pizza, I think it was after practice the day before a meet. I was a junior and my best friend, Gina Bevan, was a senior. We were driving two of the freshman girls home and Gina pretended that she ran out of gas so we asked the two girls to get out and push. One of them said, "This happens to my sister all the time!" They eagerly got out and started to push. Of course the car started right up and we started driving away. Just for a moment and then we let them in on our little joke. They got a kick out of it and we laugh about it to this day. It was so cute how they were so willing to help out and were such great sports about it!
We used to tease our coach, John Anderson, a lot. For instance, while traveling to a meet in the van together we decided to start rocking in our seats to make the van shake in hopes of making him spill his coffee. We were successful. Then we teased him saying he must be getting old because he can't stop shaking and spilling his coffee. We were a bunch of clowns! We absolutely loved Coach Anderson, what a great coach! He put up with so much!
Any regrets about your high school career or a particular meet.
There was a meet in Stanford where I scratched all for of my jumps by a toe roll. All of them were well over 19, close to 20 feet. I wish I would have calmed my nerves a bit more and/or made bigger adjustments in my steps. I also wished I had run cross country at least one season.
Did you ever have a complex about people thinking you were not feminine because of how well you did sports?
Most definitely. I was very self conscious about my muscular build. These days it is much more common and acceptable to see women with toned bodies. Back then physical strength in women said to to people, "She could beat me up." Hurting someone has never been a part of who I am. It's actually the complete opposite. So when people responded to me in that way because of my physical appearance it was hurtful. Muscles and violence do not go hand in hand.
Were there other girls back then that inspired you or impressed you?
My teammates, my competitors, my schoolmates that competed in other sports. Athletics in general inspire me. To see others work hard and accomplish goals can light your fire. I was, and am, amazed by those who competed in areas that I didn't and I think, "Wow, how does she do that? She's amazing!"
How do you think your life would have been different if Title IX had not come along when it did and there were no high school sports for you to do?
That is a really good question, one that I have pondered many times. It gave me focus, a sense of pride and direction. Most importantly it created a base for a healthy lifestyle in my adult life. T&F molded me as an athlete, a teammate, a motivator, a friend. Without those experiences I might not have gained the tools that I utilize to make me successful in the management roles that I have held and hold today. Being a part of a team teaches you the importance of every individual involved. Part of that team's success is making sure that every individual knows their importance.
Ever do anything dumb like a foolish workout or meal or something before a meet?
Not that I recall. We did like to have pasta dinners together the day before a meet. Loading up on carbs!
After HS
Anything you would like to pass on to someone just getting started in track or cross country?
Don't limit yourself. Just because you don't think it's the right event for you doesn't mean you shouldn't try it. You might surprise yourself. Coach Anderson tried relentlessly to get me to run cross country, which I never did. I used to whine about running warm up laps. Now I've got two 1/2 marathons, a 15K and a few 5k's under my belt. I wish I would have adapted myself to the long distance world sooner.
Anything you would like to pass on to the kids who have the potential to be one of the best?
No matter how great you become don't let it get to your head or separate you from your team. They are on the sidelines cheering you on, do the same for them. Everyone has personal goals. It may not be to place first but to beat their personal best which is just as important. When you are the star on the team your leadership is so important. Be a motivator and remain humble.
Do you ever feel like the girls now take it for granted and do not realize there was a time when girls track was not considered as important as boys?
Somewhat, yes but in a way I think that is ok. We've come a long way and I'm kinda glad that we are in a place where that realization is not there. On the other hand, like voting, it certainly is something that should remain a part of our conversation. My mother used to tell me how important it is to vote. "Amey, too many people fought for women to have that right. Don't squander it away." If women are voting they are showing appreciation for those efforts. If girls are competing, they are showing their appreciation too.
Do you have a children and how will you feel if they want to run.
I don't have children however, I would encourage all kids to run. It creates a strong base for all sports and helps to get to know your body and it's abilities. I loved being a part of my track team because of the wide range of personalities and abilities it attracted. It was a great place for EVERYONE and I built strong friendships from it.
Did you get a college scholarship from running?
Yes, I received a long jump scholarship at Fresno State after competing at SRJC right after high school.