The Redwood Empire has had more than it's share of female distance stars.
Just as we were basking in Gabriel Peterson's current season and her state championship along comes another new name.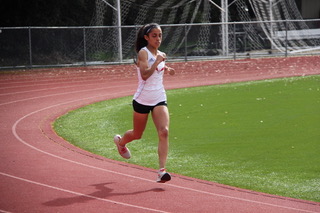 At the 3/26/19 CMC meet at St. Helena a new sophomore phenom appeared.
St Helena's Harper McClain opened up her high school career with two mind boggling times.
First she ran away from the field in the 1600 meters at 5:10.3, the 45th best performer in Empire history, then came back with a 10:52.0 3200m to move into such an elite group it is scarry to think what she might do when she runs against some of the best in the state.
Below are our best ever sophomores at 3200 meters and what they accomplished in their careers.
All-Time Sophomores
10:13.20 Rylee Bowen, Sonoma Academy 2016
Cross Country Division V State Champion 2014, 2015 & 2017
10:15.27 Julia Stamps, Santa Rosa 1995
Cross Country National Champion 1994
State Champion 3200m 10:26.51 1994, 10:15.27 1995, 10:15.17 1997
State Champion 1600m 4:44.78 1997
Cross Country Division I State Champion 1994-96
10:21.45 Sara Bei, Montgomery 1999
Cross Country National Champion 2000
State Champion 3200m 10:31.06 1998, 10:11.11 2001
State Champion 1600m 4:49.21 1998
Cross Country Division II State Champion 1999 & 2000
Cross Country Division III State Champion 1997 & 1998
10:30.82 Trina Cox, Santa Rosa 1997
Cross Country Division I State Champion 1997
10:37.32 Shelby Leland, Ukiah 2002
3rd State Meet 10:38.09 2003
10:47.02 Jacque Taylor, Casa Grande 2008
Cross Country Division II State Champion 2009
10:49.84+ Jenny Aldridge, Maria Carrillo 2000
State Champion 1600m 4:49.63 2000
10:50.22 Amber Trotter, Ukiah 2000
Cross Country National Champion & Cross Country Division I State Champion 2001
10:52.24+ Harper McClain, St Helena 2019
10:56.12y Dana Flint, Ukiah 1979, 10:53.24 '81
NCS Champion 3200 11:04.9 1979
10:59.75 Gabriel Peterson, Healdsburg 2017
Cross Country Division V State Champion 2018