The boys triple jump became a CIF event in 1971.
Santa Rosa's Jim Brown got the event off to a strong start for the Redwood Empire that year with four jumps over 45-6¼ including an NBL meet record of 46-5½ and a season best of 47-4¼, a mark that has only been beaten on nine occasions by three athletes since.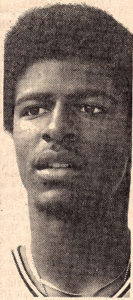 The 1978 season (14) and 1977 (5) would produce nearly half (19) of the 45 longest jumps ever.
Leading those seasons were Piner's Marvin Colter with 13 jumps over 45-7½ and six of the nine farthest ever with an Empire record jump of 48-7 that has only been better once, and that by only a half inch. He still holds the SCL (NBL Redwood) meet record at 47-0 from 1978. He was the NCS MOC champion that year at 47-2, still our only MOC TJ champion to date, and placed 5th at the state meet at 48-4½. He is still the only Empire triple jumper to ever place in the top 8 at state.
Colter was not unpressed during those years as Santa Rosa High's Ray Marchbanks, competing in the NBL, has the third most jumps over 45-6 with five past 46 feet and a best of 47-9.
1978 also produced a third great jumper dominating the CMC in Cloverdale's Allen Kuhn who had a best of 46-11½, 12th performance and fifth performer All-Time.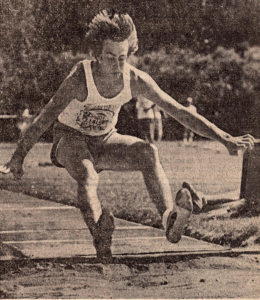 In 1981 it was all Petaluma as Rob McCorkel, had three jumps over 46 feet, including what is still the Redwood Empire record at 48-7½. Teammate Jeff Johnson is tied for fourth for the most jumps over 45-6 with four and had a best of 46-3.
McCorkel's senior year, 1982, he produced four more jumps, making the list, giving him the second highest total at seven over 45-6.
The only other jumper to have more than two jumps in the top 50 is Piner's Aaron Braxton who also had three over 45-6 with a best of 46-0.
.
.
.
.
Since then only two Rancho Cotate jumpers have had a single jump over 46 feet (Jermaine Brown 46-1 1988 and Maurice White 46-0¼ 2001).
In the last 18 years only three jumps have cracked into the top 50.
45-8 Brycen Poarch, Casa Grande 5/19/12 +2.1
45-7 Kaleb Trembly, Petaluma 6/5/09 +1.9
45-6¼ Zuhuri Manley, Clear Lake 5/24/13
All-Time top 50 jumps
48-7½ Rob McCorkel, Petaluma 5/23/81
48-7 Marvin Colter, Piner 3/11/78
48-4½ Marvin Colter, Piner 6/4/78
47-11 Marvin Colter, Piner 5/28/77
47-11 Marvin Colter, Piner 5/20/78
47-9 Ray Marchbanks, Santa Rosa 3/14/78
47-7¼ Marvin Colter, Piner 4/15/78
47-7 Rob McCorkel, Petaluma 5/15/81
47-6½i Marvin Colter, Piner 2/19/78
47-4¼ Jim Brown, Santa Rosa 1971
(10)
47-0¼ Marvin Colter, Piner 5/11/78
46-11½ Allen Kuhn, Cloverdale 1978
46-9 Rob McCorkel, Petaluma 5/22/82
46-7½ Marvin Colter, Piner 4/25/78
46-7½ Ray Marchbanks, Santa Rosa 5/13/78
46-7 Allen Kuhn, (2) Cloverdale 1978
46-5½ Jim Brown, Santa Rosa 5/1/71
46-4 Ray Marchbanks, Santa Rosa 5/28/77
46-3 Tyree Gray, Montgomery 5/19/73
46-3 Jeff Johnson, Petaluma 5/23/81
46-3 Rob McCorkel, Petaluma 4/17/82
(21)
46-2½ Ray Marchbanks, Santa Rosa 4/15/78
46-2½ Marvin Colter, Piner 4/23/77
46-1 Rob McCorkel, Petaluma 5/15/82
46-1 Jermaine Brown, Rancho Cotate 5/19/88
46-0½ Rob McCorkel, Petaluma 4/4/81
46-0¼ Maurice White, (1) Rancho Cotate 2001
46-0 Ron Austin, (1) Vallejo 1976 MOC
46-0 Marvin Colter, Piner 4/2/77
46-0 Ray Marchbanks (5), Santa Rosa 4/12/78
46-0 Aaron Braxton, Piner 3/15/84
(31)
45-11¾ Rob McCorkel (7), Petaluma 5/29/82
45-11¼ Tyree Gray, (2) Montgomery 5/26/73
45-11 Rick Williams, (1) Montgomery 1974
45-10½ Bradley Bursch, (1) Piner 5/29/92, wind aided
45-9½ Marvin Colter, Piner 3/29/78
45-8½ Jermaine Brown, (2) Rancho Cotate 5/21/88
45-8¼ Marvin Colter, Piner 4/16/77
(38)
45-8 Jim Brown, Santa Rosa 1971
45-8 Jeff Johnson, Petaluma 5/30/81
45-8 Aaron Braxton, Piner 5/9/83
45-8 Aaron Braxton, (3) Piner 4/7/84
45-8 Brycen Poarch, (1) Casa Grande 5/19/12 +2.1
45-7½ Larry Richardson, (1) El Molino 4/19/75
45-7½ Marvin Colter (13), Piner 5/21/77
45-7 Kaleb Trembly, (1) Petaluma 6/5/09 +1.9
45-6¾ Jeff Johnson, Petaluma 5/15/81
45-6¼ Jim Brown, (4) Santa Rosa 4/17/71
45-6¼ Zuhuri Manley, (1) Clear Lake 5/24/13
45-6 Jeff Johnson, (4) Petaluma 4/11/81
(50)