Division IV race is at 11:35 am Saturday
We only have a single girl in this race but that's OK because it's Gabrielle Peterson and she is having quite the season.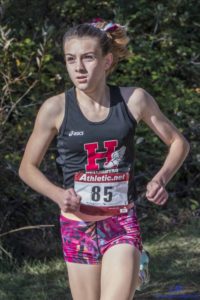 Highlights
She was our only individual NCS Champion winning her race by 16 seconds.
She won the Sonoma County League Championship by a 1:57 margin.
Won by over a minute at the Yoshanny Rahm Invitational.
44 second win at Viking Opener 2 miler.
Gabrielle is only a junior and is making her third trip to state having placed 26th last year and 81st as a freshman.
Only two girls from Healdsburg High have ever placed in the top 10 at State.
The great and beloved Sarah Sumpter State division IV Champion in 2007.
And Kelly Rogers 3rd in division V in 2000, now Kelly Blanchard the Healdsburg coach.
One of Gabriella's goals could be to better Kelly's time on the course at 18:38.
Gabrielle could be one of the top finishers this year although everyone believes that Malibu junior, Claudia Lane will destroy the field and possible the course record.
Only two girls have ever run the course faster than Lane and that is Sarah Baxter (Simi Valley) and our own Santa Rosa's Julia Stamps.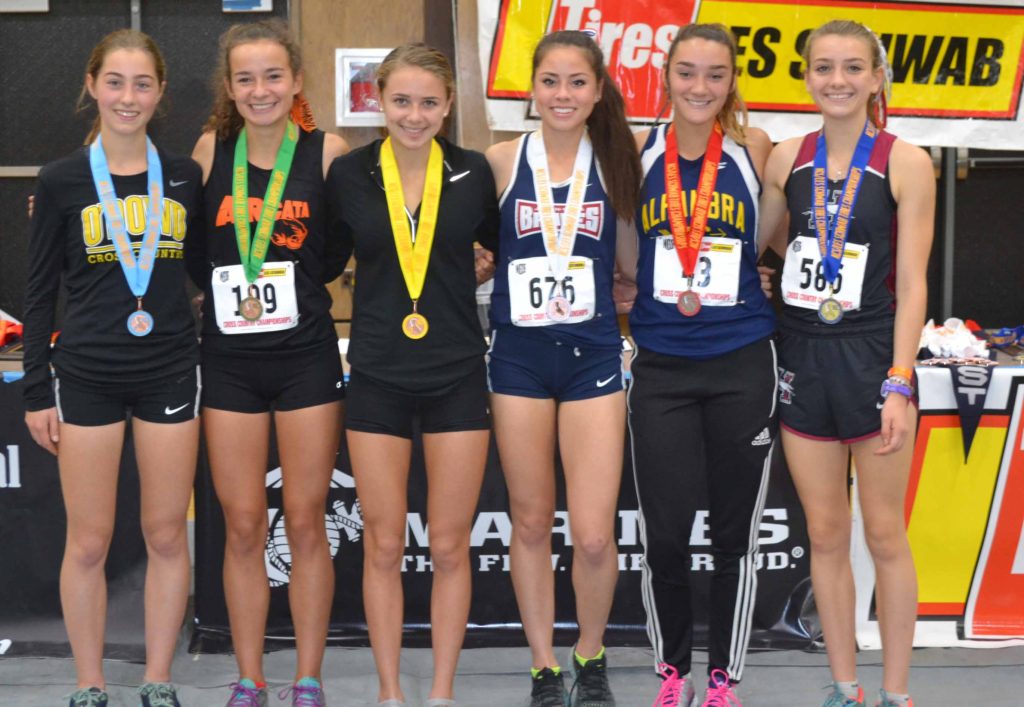 State meet history by year
Empire's division IV State Top 20 Placings
1st Sarah Sumpter, Healdsburg 2007, 11th '06
2nd Melody Haas, Clear Lake 1993
3rd Brittny Escamilla, El Molino 2006
8th Sarah Hallas, Ursuline 1997, 10th '96, 19th '95
8th Laurel Weil, El Molino 1998
12th Kendra Johnson, El Molino 1992
16th Brenna Nurmi, Ursuline 1992
19th Nicole Lane, El Molino 2010
Woodward Park All-Time Records
Julia Stamps, Santa Rosa 1996 16:43 State #2 All-Time + =Sr class record, 2nd Jr & 4th So class record
Amber Trotter, Ukiah 2001 16:55 Clovis #3 All-Time, 17:01 State
Sara Bei, Montgomery 2000 17:13 State #27 All-Time, #4 So
Sarah Sumpter, Healdsburg 2007 17:26 State
Jacque Taylor, Casa Grande 2009 17:29 State
Julie Nacouzi, Montgomery 2009 17:29 State 17:42 Clovis
Phyliss Blanchard, Rancho Cotate 2003 17:42 State
Trina Cox, Santa Rosa 1998 17:48 State
Kim Conley, Montgomery 2003 17:53 State
Delaney White, Santa Rosa 2015 17:51 State
(10)
Nicole Lane, El Molino 2011 18:04 State 18:24 Clovis
Kathy Dalton, Sonoma 1986 18:13 Kinney
Jenny Aldridge, Maria Carrillo 2000 18:13 State
Sherri Minkler, Analy 1984 18:14 Kinney
Isabel Andrade, Petaluma 2008 18:15 State
Rylee Bowen, Sonoma Academy 2015 18:13 State
Adria Barich, Casa Grande 2015 18:19 State
Lauren Kraus, Maria Carrillo 2010 18:28 State
Brittny Escamille, El Molino 2006 18:29 State
Kim Handel, Montgomery 2002 18:31 State
Aimee Armstrong, Maria Carrillo 2017 18:31 Clovis
(21)
Amy Robinson, Maria Carrillo 2003 18:33 State
Nika Horn, Santa Rosa 1991 18:34 State
Shelby Leland, Ukiah 2002 18:34 State
Ashley Moffett, Casa Grande 2010 18:36 State
Jeanise Eisenman, Calistoga 1986 18:37 Kinney
Sarah Bashel, Montgomery 2000 18:38 State
Kelly Rogers, Healdsburg 2000 18:38 State
Kate Bowen, Sonoma Academy 2016 18:39 State
Lori Shanoff, Petaluma 1980 18:43 Kinney
(30)
Leanne Fogg, Maria Carrillo 2006 18:44 State
Lauren Curtin, Maria Carrillo 2008 18:47 State
Ashton LeSieur, Casa Grande 2004 18:50 State
Sydnie Rivas, Maria Carrillo 2017 18:50 Clovis
Sarah Hallas, Ursuline 1996 18:51 State
Katy Lee, Sonoma Academy 2010 18:53 State
Gabrielle Peterson, Healdsburg 2016 18:53 State
Alyssa Goody, Sonoma Academy 2014 18:55 State
Jacqui Wentz, Maria Carrillo 2005 18:54 State
Shannon Rich, Rancho Cotate 2005 18:54 State
(40)
Francesca Honey, Petaluma 2008 18:56 State
Amy Stanfield, Sonoma Valley 2015 18:56 State
Andrea Natoli, Maria Carrillo 2011 18:57 State
Cynthia Rosales, Piner 2015 18:58 State
Jennie Dempsey, Analy 1988 19:00 State
Heidi Thiele, Maria Carrillo 2009 19:01 State
Elisa Pedersen, Montgomery 2000 19:02 State
Megan Reeder, Santa Rosa 1991 19:03 State
Shaz Breedlove, Maria Carrillo 2013 19:03 Clovis, 19:04 State
Dominique Ratto, Casa Grande 2009 19:06 State
Brynna Thigpen, Maria Carrillo 2011 19:06 State
(51)