To Doug Courtemarche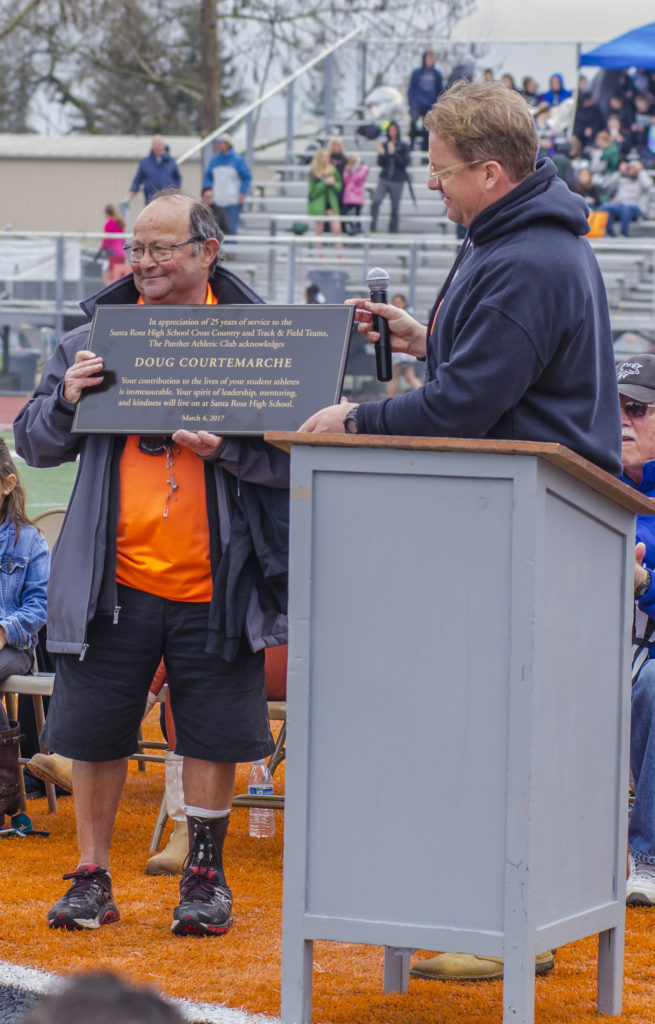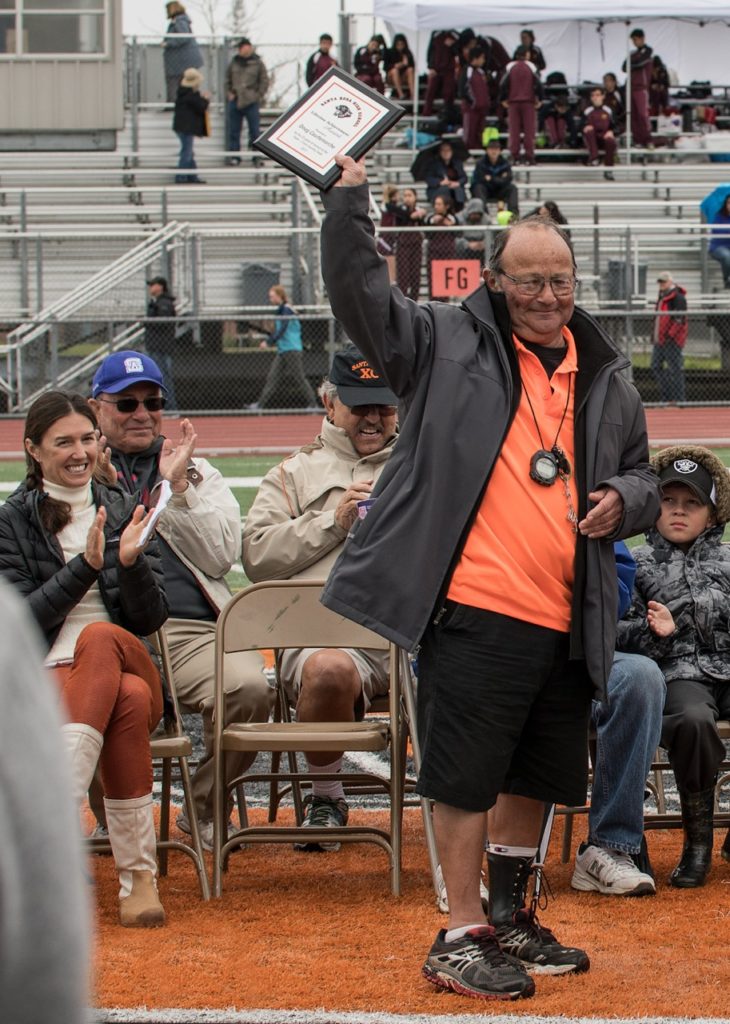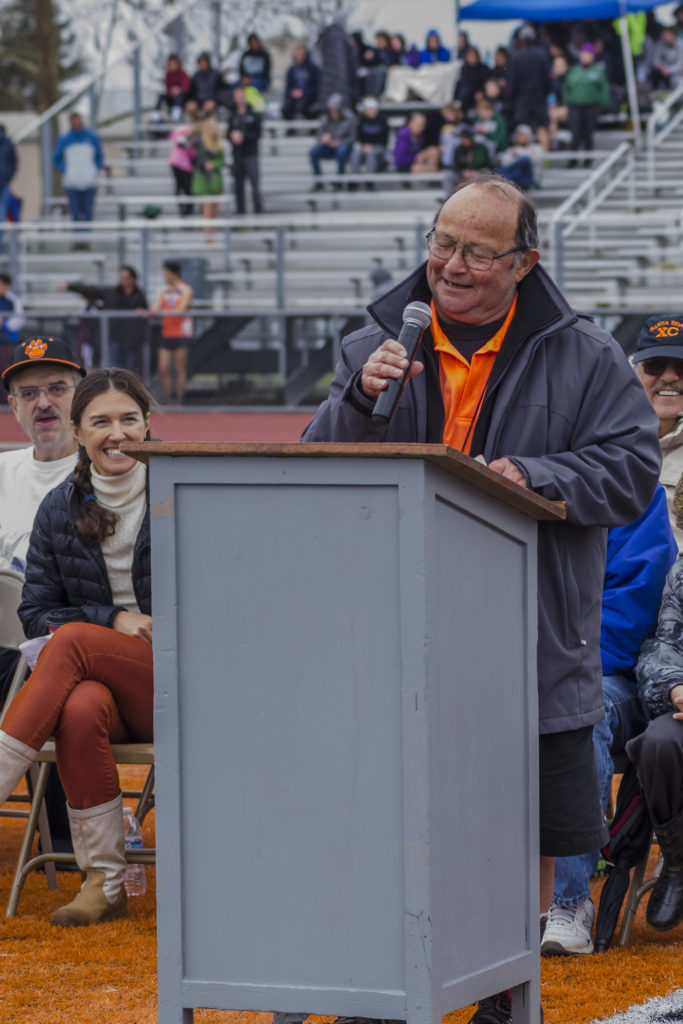 Padecky story: A quarter-century of smiles for Santa Rosa cross country coach Doug Courtemarche
From Jim Crowhurst
The lists below show some of the outstanding teams and individuals that have come through Santa Rosa High School during the 25 years Doug has been coaching there.
But Doug is way more than just a producer of elite prep athletes.
Spend any time around him and you will soon see that this is his family, whether it's his athletes, assistant coaches, parents or meet helpers.
Others I'm sure will talk about this is many ways, so I'll just touch on the one area I have experienced with Doug that sets him apart from most coaches.
He has been the meet director for more big meets than possibly any other coach I know.
It can be a very hard and stressful job at times and then when it's all over you have pages and pages of results that everyone wants to see. I have spent countless nights emailing back and forth with Doug until 2 or 3 in the morning getting all of them compiled so everyone would be able to fully appreciate all that happened at the meet they were at or could not get to. Very few people, if any would know this about him. While everyone else who spent the whole day in the blazing sun or cold downpour is sleeping, Doug is still going at it.
I tip my hat to Doug.
From Danny Aldridge
I was first introduced to Doug around 1990 when my daughter Jenny starting running with the Santa Rosa Express. While watching Doug work with the kids I knew he was someone special. The way he ran the express program making these young future track athletes enjoy the sport of track and field was most impressive, he made me want to jump right in and be a part of the program, so that is what I did and became a volunteer coach. He told me the rewards of coaching these young athletes would be well worth your time, and he was so right!
Doug has this way about him that brings every athlete into his world of everything is possible and no matter what the outcome is that being a part of a team will be life changing. He has the ability to reach out to every athlete, no matter of ability level to make them feel like they matter, and if you are willing to try he will be there right by your side helping in anyway you may need him. This is such a gift for a coach to give to all his athletes.
I had the opportunity to also coach with Doug at Santa Rosa High from 1994 to 1997. To this day I use so much of what I learned while coaching with Doug. I'm so thankful that at an early age I got to learn from the best! It has made my teams (Maria Carrillo, Sonoma Academy) so much better for it! Thank you Doug!
If I had just a few lines to describe Doug as a person and as a coach it would look like this.
Incredible personality, caring person, love of the sport, with a great gift of coaching knowledge that he has been willing to share with so many of his athletes and coaching fraternity.
Doug you will always be my coaching mentor and thanks for teaching me the right way of reaching out to the young athletes.
You are the most compassionate coach!
Your forever grateful coaching pupil.
Matt Malvino, former Montgomery & Middletown coach
I always loved competing against Doug's panther team. His group of kids were a classy well coached bunch that had a lot of fun as well as being some of the empires best. Congrats to Doug on his lifetime achievement honor for all the lives he has so positively touch in our track community
Doug Johnson, Petaluma coach since forever
Class always done with class
Zach Barrett: Class of '95 and member of the best DMR team EVER! And you can tell Danny Aldridge I said that!
First story: I think we were juniors and we had just won boys and girls NBL track championships. A few of us are pretty excited after the meet but really had nowhere to go on a warm summer night. So we went to Doug's house. To TP it. So we are dumb kids and and just throwing TP everywhere and he had these two big dogs who were barking the entire time. We just KNEW we were being sneaky despite his dogs going crazy. Instead of chasing us away, I guess he was just watching like 4 fool kids making a mess of his yard and celebrating. Standing back from his window letting his house be wrecked.
The next year we are at NBL's again which happened to be the same night as senior prom. Boys and Girls at SR were again the favorites to win. So it's the end of the meet and we have the 4×400 and its getting dark, late, and prom is happening. We were pretty sure that we had clinched and Rancho Cotate's 4×4 team was REALLY good. Corey something or other was the best 400 meter runner we'd ever seen and we were a bunch of distance guys. But we could win. We could hang. Doug told us no. Leave, go to prom. It's your senior year and you shouldn't miss it. So we scrubed out of our 4×400 our senior year at the advice of our coach. We did win NBL's.
Second story: We are running against Montgomery and I am having a spat with my girlfriend. Montgomery is VERY good, lots of sprinters, and Doug hadn't beat them in a dual meet yet as I was one of his first classes. We are under the bleachers arguing about something very important I am sure. Sure enough I hear the starting gun. It's the 800 that I just missed. Oops. This is the only time I've ever seen Doug angry. He got on me good. Made me run the 200 (which I'd never run) and said if I didn't win Monday's practice was going to be the hardest practice I'd ever had. Luckily I did win, dunno how, but it happened. I came over and said "See, no problem." With this huge s-eating grin on my face. He just looked at me and smiled an walked away.
I think the thing I took from Doug's coaching was that he understood high school athletes. He knew when to get on you and when to let you be a kid. He was never overbearing and always quick with a smile. He understood that we had lives outside of track or cross country but still managed to cultivate amazing runners, throwers, jumpers and most importantly people. Running long distances sucks. Running sprints while the pole vaulters are napping on the pad sucks. But Doug and the staff he hired made it worth it. I did some high school basketball coaching and trying to wrangle one assistant coach and 10 kids was sometimes a nightmare. I can't imagine trying to get a 10 coach 150 person track team in order. Thank you Doug!
From Alan Bursch, retired track coach of Santa Rosa Express, Piner HS, and Montgomery HS.
I have known Doug since 1984 when he joined my coaching staff of the Santa Rosa Express Youth track club. Great friend, great man, great coach!
North Bay League
Pennants
Boys track 8
2009 Santa Rosa 143-83.3 Cardinal Newman
2008 Santa Rosa 139-128½ Cardinal Newman
2007 Santa Rosa 146-104 Cardinal Newman
2005 Santa Rosa 119-108 Montgomery
2004 Santa Rosa 148-117 Montgomery
1997 = Cardinal Newman 143-136 Santa Rosa, SR 6-0 tri's
1996 Santa Rosa 114-114 Cardinal Newman, SR 6-0 duals
1995 Santa Rosa 129- 95 Ukiah
Boys XC 1
2008 Santa Rosa-M. Carrillo 42-62
Girls track 8
2015 Santa Rosa 142.5-117 Maria Carrillo
2013 Santa Rosa 149-110 Maria Carrillo
2003 Santa Rosa 118-103 Maria Carrillo
1997 Santa Rosa 169- 93 Ursuline
1996 Santa Rosa 187- 100 Montgomery
1995 Santa Rosa 231- 72 Ursuline, greatest margin of victory in NBL history
1994 Santa Rosa 144- 124 Rancho Cotate
1993 Santa Rosa 137- 110 Rancho Cotate
Girls XC 3
1996 Santa Rosa 26-48 Ursuline
1997 Santa Rosa 30-48 Montgomery
2010 =Santa Rosa 35-35 M. Carrillo
Individual XC NBL Champions
Boys
1993 Zach Barrett
1994 Zach Barrett
1995 Amadu Kamara
2008 Rory McLeod
2015 Daniel Pride
2016 Lucas Mazzanti
Girls
1994 Julia Stamps
1995 Julia Stamps
1996 Julia Stamps
2010 Kelly Brooks
2012 Delaney White
2013 Delaney White
2014 Delaney White
2015 Delaney White
NORTH COAST SECTION
MOC Champions
Boys track 2
1997 Seth Barrett, 6-8 High Jump
2009 Troy Baker, 54-2 Shot Put
Girls track 10
1995 Julia Stamps, 10:19.91 3200
1996 Julia Stamps, 10:13.7 3200
1996 Katie Schukle, 43.9 300 LH
1996 Melissa Guanella, 5-4 High Jump
1997 Julia Stamps, 4:42.79 1600
1997 Julia Stamps, 10:19.51 3200
2011 Sadia Ibrahim, 2:12.99 800
2012 Morgan Bertsch, 5-5 High Jump
2014 Morgan Bertsch, 5-7 High Jump
2015 Kirsten Carter, 54.24 400
Boys XC
Div 1
Michael Tomaski 2011
Peter Egerton 1994
Team title 1994
Div 2
Reesey Byers 2009
Girls XC Champions
Footlocker Nationals
Julia Stamps 1994
Footlocker Western Regionals
Julia Stamps 1994 & 1995
STATE
Div 1
Trina Cox 1997
Julia Stamps 1994, 1995 & 1996
NORTH COAST SECTION MEET OF CHAMPIONS
Div 1
Trina Cox 1997, 1998
Julia Stamps 1994, 1995 & 1996
Michelle McConnico 1993
Megan Reeder 1992
Team title 1996, 1998
NCS Redwood Empire track team champions
Boys
2007, 2004, 2003
Girls
2013, 2011, 2003, 1997, 1996, 1995
State meet track medalist
1995
Julia Stamps 1st 3,200m 10:15.27
1996
Julia Stamps 2nd 3,200m 10:15.13
Katie Schukle 4th 300 LH 43.40
1997
Julia Stamps 1st 1,600m 4:44.78
Julia Stamps 1st 3,200m 10:15.17
Trina Cox 4th 3,200m 10:30.82
1998
Trina Cox 3rd 3,200m 10:33.75
2012
Morgan Bertsch Tie 6th HJ 5-5