December 8, 2018 – Balboa Park, San Diego, CA
Gabby, competing at the historic Balboa Park 5k course, finished in 23rd in 18:17, among a field of 40 of the best runners in the United States. She finished as the second fastest runner from the Western Region after finishing 5th in that section last week. She was the fastest runner from California.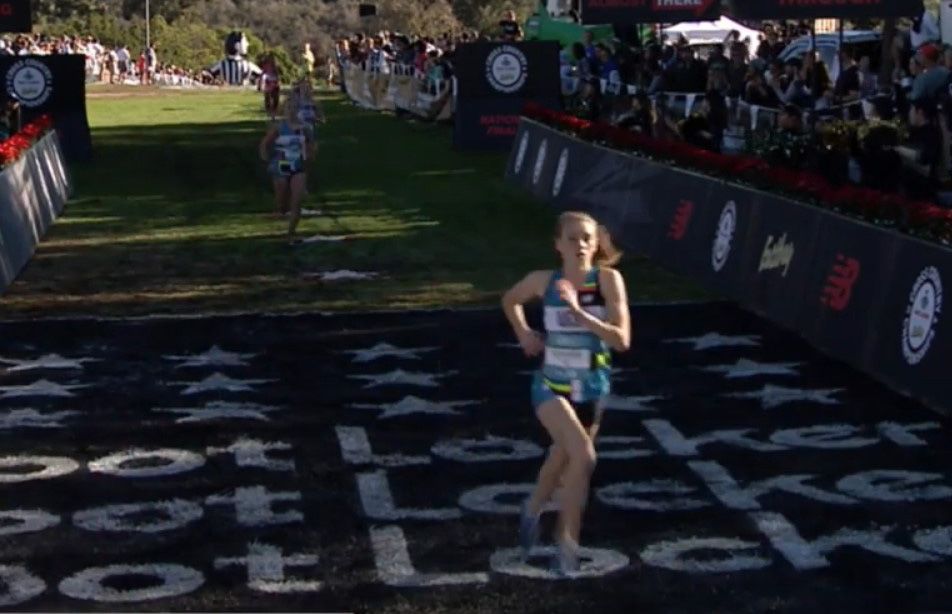 Gabby is the Redwood Empires 8th female runner to compete in this event. The last time was in 2010 by Julie Nacouzi, Montgomery who finished in 3rd.
Gabby is the second runner from Healdsburg High to compete here. The other being Sarah Sumpter 22nd in 2007.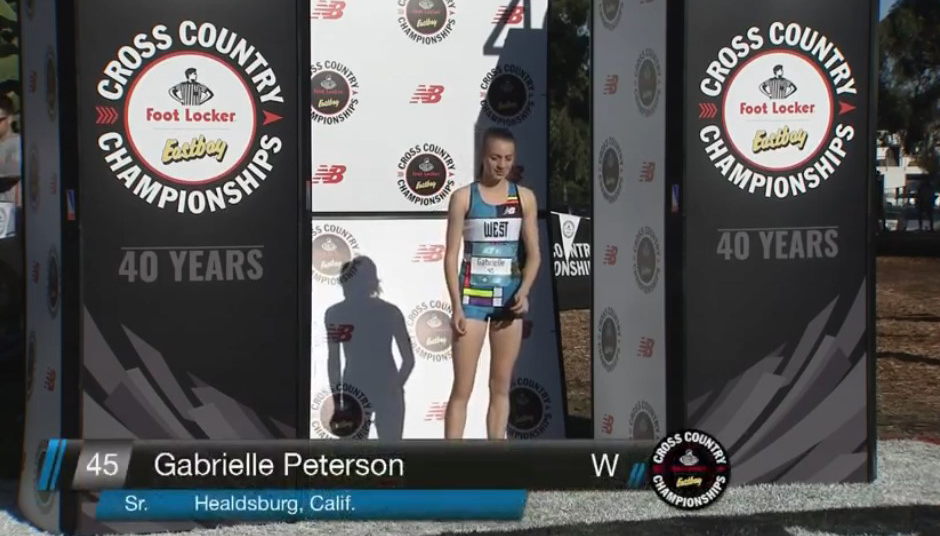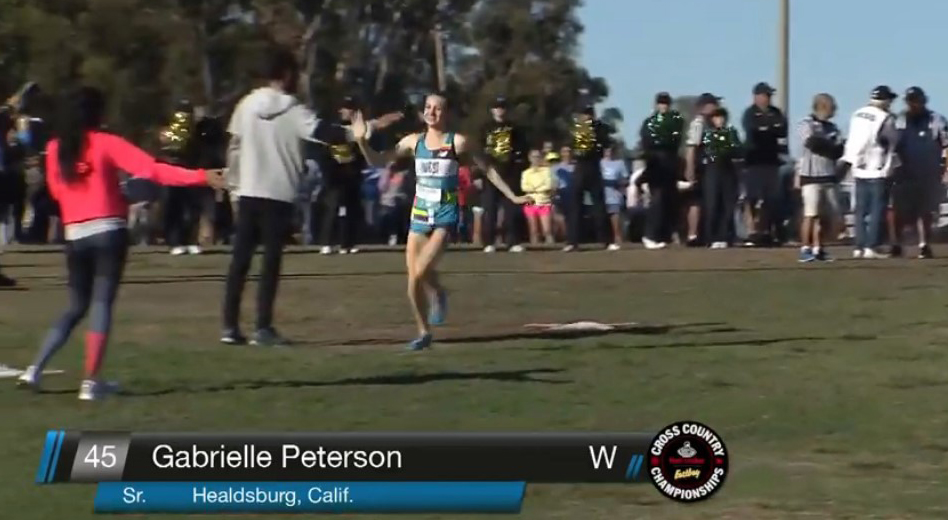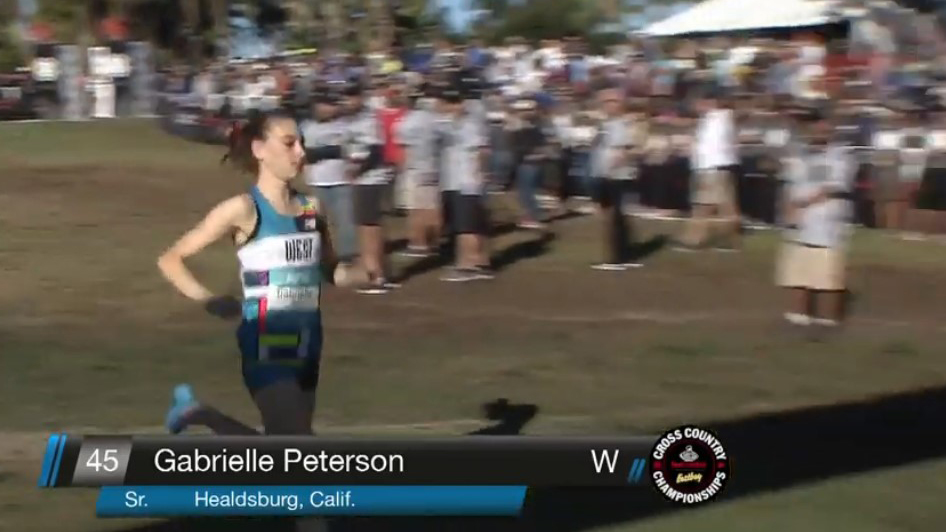 The fastest time ever run at a Foot Locker Nationals was by Ukiah High's Amber Trotter in 2001 at 16:24 when it was held in Orlando, Florida.
The second fastest ever was from 1990 on the Balboa Park course by Melody Fairchild of Boulder Colorado in 16:39.
The fourth fastest ever was by Santa Rosa High's Julia Stamps in 16:41, still the second fastest ever at Balboa.
Montgomery's Sara Bei has the 10th fastest ever run at 16:55 when she won the 2000 Nationals in a course record, at the time, on the Florida course.
The three fastest times ever run by girls from the west team were all from Redwood Empire.
The 2018 winner was Sydney Masciarelli from Massu in 17:01.

Foot Locker National Cross Country Championships
The tiny little Redwood Empire has had an amazing history at the National Championships.
We have actually had two girls in the top seven twice before.
Here is a look at how our girls have done.
1994 Julia Stamps, Santa Rosa 1st, won by 31 seconds.
1997 Sara Bei, Montgomery 10th and Trina Cox, Santa Rosa 24th.
1998 Sara Bei, Montgomery 3rd and Trina Cox, Santa Rosa 6th.
2000 Sara Bei, Montgomery 1st, course record and Amber Trotter, Ukiah 7th.
2001 Amber Trotter, Ukiah 1st, course record, won by 40 seconds.
2007 Sarah Sumpter, Healdsburg 22nd.
2008 Jacque Taylor, Casa Grande 30th.
2009 Julie Nacouzi, Montgomery 25th and Jacque Taylor, Casa Grande 40th.
2010 Julie Nacouzi, Montgomery 3rd.
2018 Gabriella Peterson, Healdsburg 23rd.


.
.
.
.
.
.
.
Fastest times ever run at Nationals

Year Time Athlete Gr High school City St Course
2001 16:24 Amber Trotter 12 Ukiah Redwood Valley CA Orlando, FL
1990 16:39 Melody Fairchild 12 Boulder Boulder CO San Diego, CA
1981 16:40 Connie Robinson Cincinnati OH Orlando, FL, different course from 2000.
1994 16:41 Julia Stamps 10 Santa Rosa Santa Rosa CA San Diego, CA, missed CR by 2 seconds.
1985 16:43 Erin Keogh 11 Langley McLean VA San Diego, CA
1983 16:43 Janet Smith 12 Edison NJ San Diego, CA
1984 16:48 Cathy Schiro 12 Dover NH San Diego, CA
2010 16:53 Aisling Cuffe 12 Cornwall Central Cornwall-on-Hudson NY San Diego, CA, last to break 17:00
2000 16:55 Sara Bei 12 Montgomery Santa Rosa CA Orlando, FL, set CR that Trotter broke.
The three fastest times ever run by girls from the west team were all from Redwood Empire.
Elsie Allen's Celedonio Rodriguez has gotten our boys represented with his 18th place finish in 1998.