I spent a few hours going through records to updated the Girls Triple Jump.
Before that my performance list was only nine deep, down to 37-3½ and farther, with Santa Rosa's Wendi Simmons owning seven of them.
I now have a complete 50 deep ending at 36-0¾.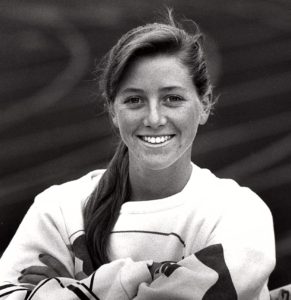 Simmons still leads the way with 13 of the longest 50 jumps including 8 of top 11 and she did not try the event until her senior year.
Rancho Cotate's Amey Mitchell has 7 of the 36-0¾ plus jumps.
Petaluma's Maggie Farrar and Upper Lake's Suzi Green each have 6.
Piner's Tammy Wessendorf has 5.
Maria Carrillo's Beth Fernlund has 4.
Ursuline/Cardinal Newman's Pam Karbowski has 3.
Maria Carrillo's Laurel Sheppard has 2.
And Upper Lake's Juanita Allison, Sonoma Valley's Anna Dwyer, Kelseyville's Aja Garcia and Sonoma Valley's Vanessa Kale all have 1.
Only 12 of the 50 have been since the year 2000 or the last 18 years, with the other 38 all happening in the first 18 years of the event.
Only nine of the 30 odd schools have at least one mark in the top 50 jumps.
Santa Rosa, Rancho Cotate, Petaluma, Upper Lake and Piner own 37 of the 50.
ALL-TIME REDWOOD EMPIRE TRACK & FIELD
Girls Top Triple Jump Performances
38-10 Wendi Simmons, Santa Rosa 3/28/87, wind aided
38-4 Wendi Simmons, Santa Rosa 3/28/87
38-3½ Wendi Simmons, Santa Rosa 4/11/87
37-10½ Wendi Simmons, Santa Rosa 5/30/87
37-5¾ Beth Fernlund, Maria Carrillo 5/26/00
37-4 Wendi Simmons, Santa Rosa 5/1/87
37-3¾ Maggie Farrar, Petaluma 5/18/02
37-3½ Wendi Simmons, Santa Rosa 5/23/87
37-3½ Wendi Simmons, Santa Rosa 6/5/87
37-3 Wendi Simmons, Santa Rosa 5/29/87
37-3 Juanita Allison (1), Upper Lake 5/25/96, wind aided
(11)
36-11½ Beth Fernlund, Maria Carrillo 6/2/00
36-10 Pam Karbowski, Cardinal Newman 1992, was Ursuline
36-9¾ Maggie Farrar, Petaluma 5/11/02
36-9½ Wendi Simmons, Santa Rosa 5/15/87
36-9½ Maggie Farrar, Petaluma 2001
36-9¼ Maggie Farrar, Petaluma 5/26/00
36-8½ Suzi Green, Upper Lake 5/19/90
36-8½ Pam Karbowski, Ursuline 5/17/91
36-7¾ Amey Mitchell, Rancho Cotate 5/20/89
(20)
36-7¾ Suzi Green, Upper Lake 6/2/89
36-7¾ Laurel Sheppard, Maria Carrillo 6/9/12
36-7½ Wendi Simmons, Santa Rosa 4/25/87
36-6¾ Anna Dwyer (1), Sonoma Valley 4/4/09
36-6 Tammy Wessendorf, Piner 4/4/84
36-6 Wendi Simmons, Santa Rosa 4/29/87
36-5¼ Tammy Wessendorf, Piner 1983
36-5 Tammy Wessendorf, Piner 5/3/84
36-5 Amey Mitchell, Rancho Cotate 5/27/89
36-5 Maggie Farrar, Petaluma 4/24/02
(30)
36-4¾ Amey Mitchell, Rancho Cotate 3/25/89
36-4½ Tammy Wessendorf, Piner 5/12/84
36-4½ Suzi Green, Upper Lake 6/2/89
36-4 Amey Mitchell, Rancho Cotate 4/15/89
36-4 Aja Garcia (1), Kelseyville 5/22/99
36-3½ Amey Mitchell, Rancho Cotate 3/11/89
36-3 Wendi Simmons, Santa Rosa 3/20/87
36-2½ Beth Fernlund, Maria Carrillo 5/15/99
36-2½ Amey Mitchell, Rancho Cotate 5/12/89
36-2¼ Suzi Green, Upper Lake 5/27/89
36-2¼ Pam Karbowski (3), Ursuline 5/18/91
(41)
36-2 Wendi Simmons (13), Santa Rosa 3/25/87
36-1½ Suzi Green, Upper Lake 6/2/89
36-1½ Beth Fernlund (4), Maria Carrillo 2000 NBL finals
36-1 Tammy Wessendorf (5), Piner 4/28/84
36-1 Amey Mitchell (7), Rancho Cotate 5/21/88
36-1 Suzi Green (6), Upper Lake 3/17/90
36-1 Laurel Sheppard (2), Maria Carrillo 5/11/12
36-0¾ Vanessa Kale (1), Sonoma Valley 5/23/92
36-0¾ Maggie Farrar (6), Petaluma 2001 SCL finals
(50)
compiled by Jim Crowhurst