How does the Redwood Empire produce a National Champion and no one knows about it.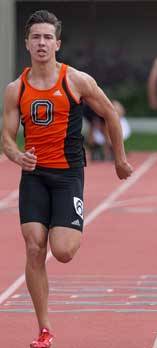 Well that's what happened last season as former Ukiah great Hugh Pagen is not the type of athlete to blow his own horn.
Last May at the NCAA Division III Championships Pagen was crowned the 200 meter National Champion with his 21.59 first place finish for Occidental. He ran 21.33 in the trials two days earlier into a headwind -1.8. That same day he ran a leg on the 1600m Relay team that finished in 3:11.54. An hour and 10 minutes after his 200 Championship victory he split 46.87 in the finals of the 1600 relay to help his team to a 5th place finish.
Pagen will be a senior for the 2017 season.
The only other Track and Field Collegiate National Champions I am aware of are
2006 & 2007 Jake Arnold NCAA I National Champion in the Decathlon. Arnold became the first athlete in 22 years to win consecutive NCAA decathlon titles in the Decathlon.
1984 when Deanne "Neff" Malvino won the NCAA III National Championship in a meet record 5,039 points in the Heptathlon for Sonoma State University.
1978 & 1979 when Danny Aldridge won NCAA II National Championship at 1500 meters.
As a side note former Casa Grande and SRJC track star Jason Bender is the throws coach at Occidental.
Bender holds the Javelin Empire record at 250-9 and was six times US ranked in that event (#6 '93, #7 '87, '92 & '97, #8 '84, #10 '96).
All-Time Redwood Empire Track & Field Bests
200m
20.64+ Mel Gray, Missouri (Montgomery '67) at Lawrence, KS 5/16/70
20.88 Luiz Mello, SRJC 2001
21.11 Corey Nelson, SRJC (Rancho Cotate '95) 1997
21.14 Chris Whitlock, SRJC (Cardinal Newman '77) 1980
21.14 Andre Hunter, SRJC 1987
21.24+ James Burrell, Piner 1976, wind aided, also 21.60
21.33 Hugh Pegan, Occidental (Ukiah 14′) at NCAA Division III, 5/26/2016 -1.8
21.37 Gerald Boles, SRJC 1984
21.44 Carl Sagon, SRJC (Santa Rosa H.S. '70) 1974
100m
10.33 Luiz Mello, Santa Rosa JC 2001
10.34+ Mel Gray, Missouri (Montgomery '67) at Lawrence, KS 5/1/70
10.56 Eric Anderson, SRJC 1982
10.60 Hugh Pegan, Occidental (Ukiah 14′) at Redlands Meet 5/19/16 +1.4
10.63 Mike Cook, SRJC 1998
10.65 Ray Holland, SSU 1988
10.68 Mike Williams, SSU 1990
10.68 Rhodri Kirwan, SRJC 1993
10.69 James Burrell, Piner 1977
4×400 METER RELAY
3:11.94 SRJC 1981
Steve Gullickson(48.4)-Terrance Kirkland(48.1)-Les Stevenson(48.1)-Kim Sykes(47.1)
3:12.34 SRJC 1987
Kurt Mellick(49.0)-Pat Maines(48.3)-Buddy Cader(48.2)-Andre Hunter(46.4)
3:12.54 SRJC 1979
Ricky Jackson(49.7)-Greg Clark(48.2)-Antoine Shired(49.6)-Chris Whitlock(46.9)
3:12.94 SRJC 1976
3:10.22 Tim Murphy, UC Irvine (Healdsburg '06) at San Jose State 5/16/09
3:11.54 Hugh Pegan, Occidental (Ukiah 14′) at NCAA Division III, 5/26/2016, 46.87 split in finals
2014 BOYS ALL-EMPIRE TRACK & FIELD
FIRST TEAM
Hugh Pegan
12, Ukiah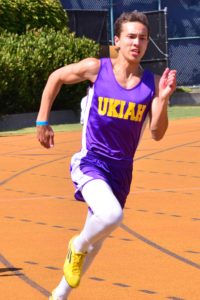 200
15th State 21.85 +1.3
1st NBL 22.16
1st Castleberry 22.33
1st SR Twilight 22.35 +0.0
2nd NCS Redwood 22.44
3rd NCS MOC 22.02 +2.6
3rd Viking Classic 22.70 +2.9
21.85 +1.3 1st 2014, 14th All-Time, 5th All-Time FAT, 2nd wind legal
100
1st NBL 10.97 +1.6
1st SR Twilight 11.19 +0.0
7th NCS MOC 11.07 +0.3
10.97 +1.6 =1st 2014, =23rd All-Time, =13th FAT, =5th wind legal, 3rd All-Time adjusted
400
51.64+ 4th 2014