Puma coach Ian Myers let me in on how their team made it to state.
After the NCS area meet Carrillo looked like a good bet to make state in the boys 1600m relay.
Their 4×4 team had run 3:18.73 on April 28th at the Sacramento MOC Invite with their four best runners going (Severin Ramirez 49.5, Demetre Coffey 50.3, Will McCloud 50.3, Tyler Van Arden 48.8). That was the fastest time run this year in the NCS.
Then came a big challenge to them just before the state qualifier. McCloud injured his hamstring early in the week. He is a 1:59.07 800 runner and is a solid member of the relay team.
With him out their chances in the race to make state were now very much in doubt.
The next fastest alternate on their team was Adesh Bassi who had a lifetime PR of 52.51 but he had only run under 53 twice in his life.
The Carrillo coaches then had lots of debate about how to approach the race. They decided they could make the NCS finals with their alternate but state was another question.
They did get through to the finals running 3:22.62.
"Based on what we thought other teams could run we thought we would have to run 3:21 low to make state. In finals we were clearly wrong."
As it turned out a 3:21 would have sent them packing for home with just a 5th place finish.
"Our time of 3:19.34 was pretty remarkable because it took lifetime PR's for our 3 normal legs."
Their NCS finals team came through because of these amazing splits: Ramirez 48.9, Bassi 53.0, Coffey 49.7, Van Arden 47.8.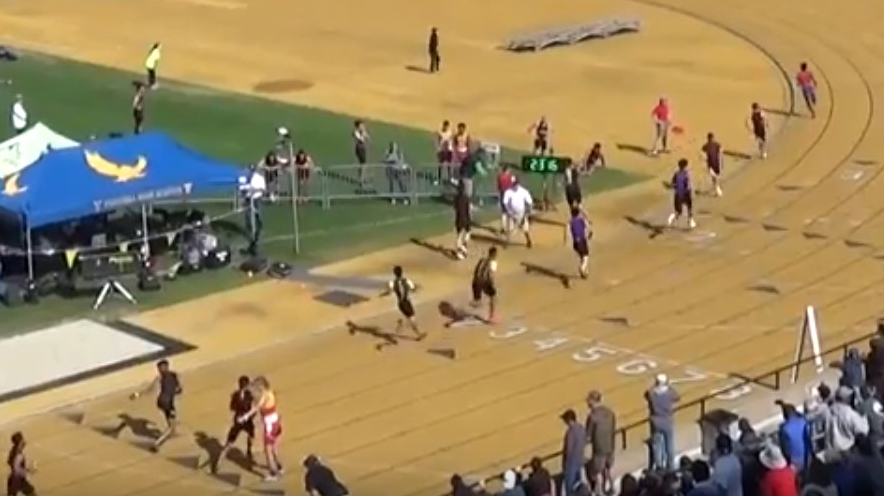 Add in McCloud at 50.3 and the team might have taken down the Empire record of 3:16.70 by the 1970 Santa Rosa team.
It is still unclear if McCloud will be ready or not to rejoin the team for state.
From coach Greg Fogg "McCloud has been looking good in practice and although he hasn't raced in two weeks, we're hopeful he'll be able to race solid with this team; ultimately, we'll have to wait and see how ready he is on Friday!
The 2018 MCHS 4×400 crew will be focused on place at State, but also looking to revenge their experience last year, just missing the school record by .06! …If everything goes right, we're hoping they will make a legit chase after the all-time Redwood Empire Record from 48 years ago!"
Watch the race, Carrillo in lane 6 of 9
1 Clayton Valley 3:15.87
2 Las Lomas 3:17.16
3 Maria Carrillo 3:19.34
4 Amador Valley 3:19.64
5 Monte Vista 3:20.19
6 DeLaSalle 3:23.91
7 California 3:25.13
8 Northgate 3:27.31