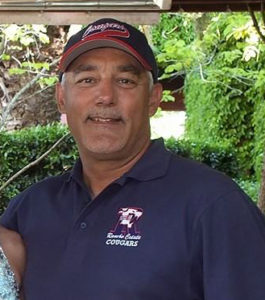 Jim Flores, one of my former teammates at the Santa Rosa Junior College, is the new Head Coach at Piner High.
Flores is no stranger to Piner as he had the Prep best in 1978 in the 330y Low Hurdles at 38.0 seconds for the Prospectors.
He would have had the 1978 prep best and school record in the long jump as well that year at 22-11½ but his teammate Marvin Colter edged him there at 23-0.
Flores did break the SCL long jump meet record spanning 22-8 1/4, which lasted as the MR until 2005. He was also on the winning 440 Relay at 44.3.
In the 330 hurdles Flores went all the way to state.
This was Jimmy Underhills final season as head coach at Piner.
The next two years we were teammates on a couple of the greatest SRJC teams the school has ever put together.
During those years Flores ran on the fastest 4×100 relay any Redwood Empire runner has ever been on and he made the top 10 in three other events.
More recently Flores has been coaching at Rancho Cotate.
Louie Rosales will continue to coach the cross country team.
Men's All-Time Redwood Empire Track & Field Bests
1st 4×100 METER RELAY
40.97 SRJC 1979 Humphrey Garrett-Jim Flores-Ricky Jackson-Chris Whitlock
6th LONG JUMP
23-7½ Jim Flores, SRJC (Piner '78) 1980
7th 400m Intermediate Hurdles
53.14 Jim Flores, SRJC 1980
9th 4×400 METER RELAY 3:14.44 SRJC 1979
Ricky Jackson (49.7)-Jim Flores (48.5)-Antoine Shired-Chris Whitlock