CCCAA State Track and Field Championships
5/20/2016 San Diego Mesa College
In the Women's Open Javelin, Julia Grimm finished with a throw of 134-10. She wasn't done there. In the Heptathlon after 4 events, Julia Grimm leads the field with a score of 2869. The biggest shock was her SRJC School Record, State Meet Heptathlon Record, and Stadium Record High Jump of 5'9.25″!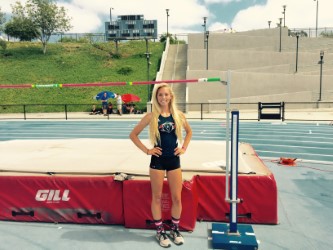 HIGH JUMP
5-11 Mindi Wiley, Sonoma Valley 5/28/05
5-9¼ Julia Grimm, SRJC 2016
5-9 Morgan Bertsch, Santa Rosa HS 3/13/13 SRHS
5-8¾ Wendi Simmons, Nike Coast (Santa Rosa HS '87) at Azusa 4/20/96
5-8¼ Deanne "Neff" Malvino, SRJC (Montgomery '78, SSU) 1979
In the Men's Hammer, Cyrus Corman-Gill came out of nowhere to claim the 8th spot in the finials to score 1 vital point for the team. Hitting a 160-10 throw, Cyrus missed his PR, but still placed two spots ahead of where he was ranked going into the competition.
In the Men's Decathlon, Adam Gockel is sitting in 10th place, only 63 points out of the podium with a score of 3001. His teammate Kasey Mancini is in 2nd place with a score of 3436, only 113 points out of first place. Both have set day 1 personal records and both tend to have a better day 2.
Competeing tomorrow:
Julia Grimm – Heptathlon Day 2 and Open High Jump
Stephanie Fernandez – 400 Hurdles
Erica Ruiz – 1500m and 5000m
Mickie Seuga – Discus and Shot Put
Nathan Bailey – Steeple
Kasey Mancini – Decathlon Day 2
Adam Gockel – Decathlon Day 2 and Pole Vault
Christian Diaz – Discus