2016 USATF JO National Championship
Luca Mazzanti placed 2nd in the 2000 Meter Steeplechase 17-18 Division at California State University Sacremento 7/28.
His time was 5:54.96 to the winners time of 5:54.22. The meet record is 5:53.71.
Luca's time moves him to second behind another Pather 5:43.9 Steve Guerrini, Santa Rosa 1991, Former National Record.
Habibah Sanusi placed 4th in her heat of the 100 hurdles in 15.57 w+1.0 to qualify for the semi finals on on 7/29.
10th Kate Bowen, Sacramento Elite 7:44.26 2000 Meter Steeplechase 15-16 Division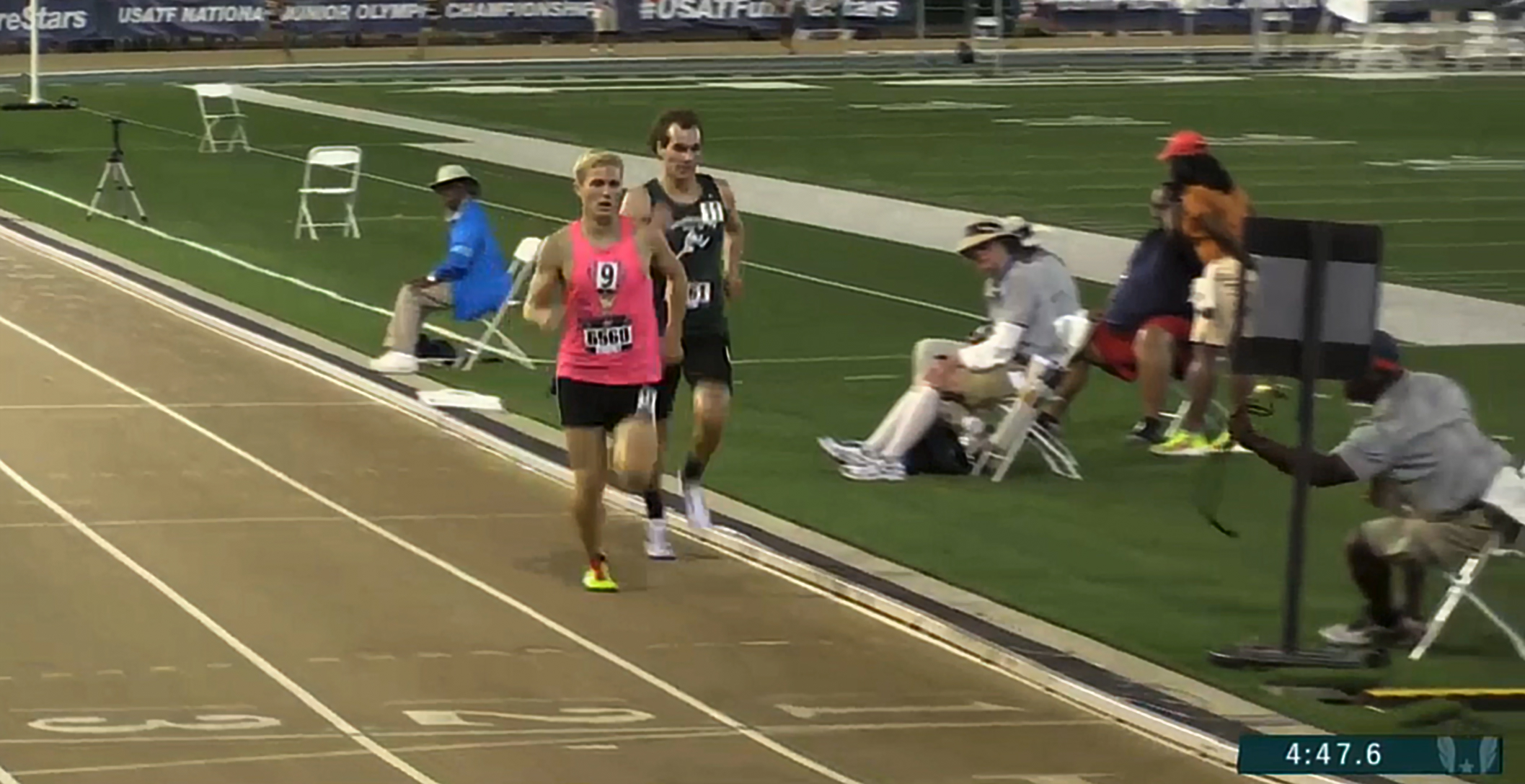 Top 5 of 34
1 Ewert, Benjamin 05 Southwest 5:54.22
(1:10.45) (1:13.00) (1:12.86) 4:48.60 (1:12.29) (1:05.61)
2 Mazzanti, Luca 16 38-Unattached 5:54.96
(1:10.05) (1:13.68) (1:12.78) 4:48.36 (1:11.84) (1:06.60)
3 Ocegueda, Anthony 16 Silver St 6:14.39
(1:12.47) (1:14.34) (1:16.77) 4:59.65 (1:16.07) (1:14.739)
4 Jones, Adrian 11 Idaho Dash Track 6:16.43
(1:10.31) (1:14.30) (1:17.72) 5:00.09 (1:17.77) (1:16.33)
5 Di-Reumante, Andree' 03 Usa-Ja 6:17.87
(1:11.18) (1:15.33) (1:17.87) 5:03.75 (1:19.37) (1:14.11)
2000m Steeplechase
5:43.9 Steve Guerrini, Santa Rosa 1991, Former National Record
5:54.96 Luca Mazzanti, Santa Rosa 2016
6:17.71 Spencer Hall, Casa Grande 2010
6:18.76 Peter Egerton, Santa Rosa 1994
6:23.32 Rory McLeod, Santa Rosa 2008
6:27.8 Hector Delgado, Healdsburg 1993
6:31.9 Dan Brecht, Petaluma 1995
6:40.3 Nathan Bisbee, Montgomery 1993
6:45.27 Kevin Poteracke, Petaluma 2011
7:21.75 Steve Purugganan, Maria Carrillo 2010