Some times a photo and results don't tell the whole story and this meet was a case of that.
Gabrielle Peterson's father, James, sent me photos from the meet of Maria Carrillo's school record holding performance in the Distance Medley Relay and his daughter in the mile.
First the distance medley.
The first three teams across the finish line are the three fastest in the nation this year.
The Puma's who finished 6th had the 10th fastest time in the US.
Only two teams, 1997 Santa Rosa anchored by Julia Stamps and 2010 Casa Grande team who I believe was anchored by Jacque Taylor have ever run faster from the Redwood Empire.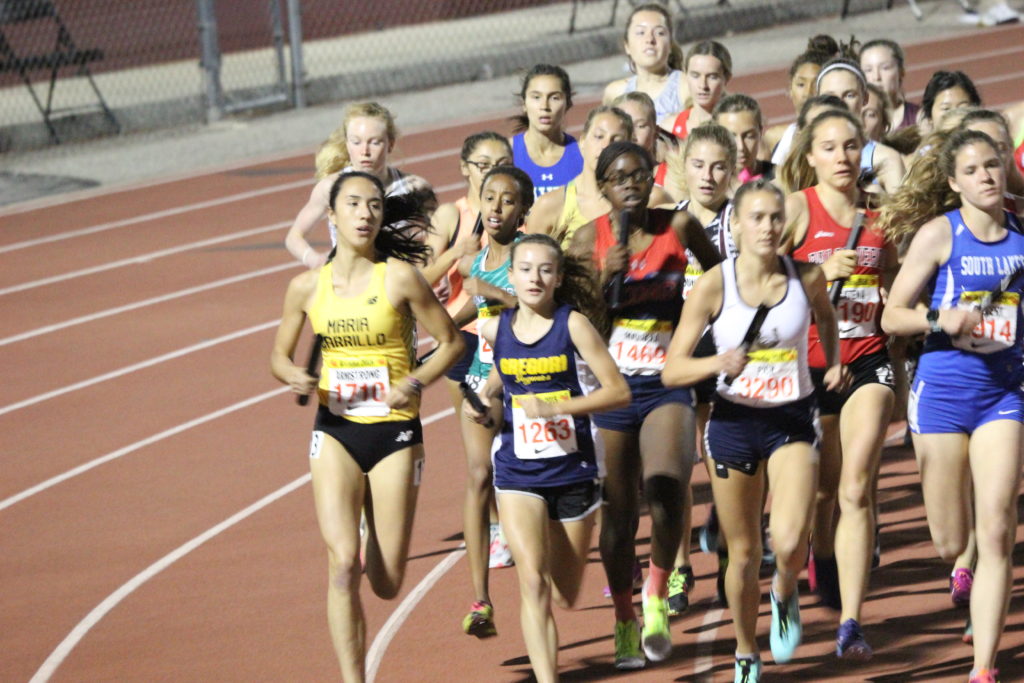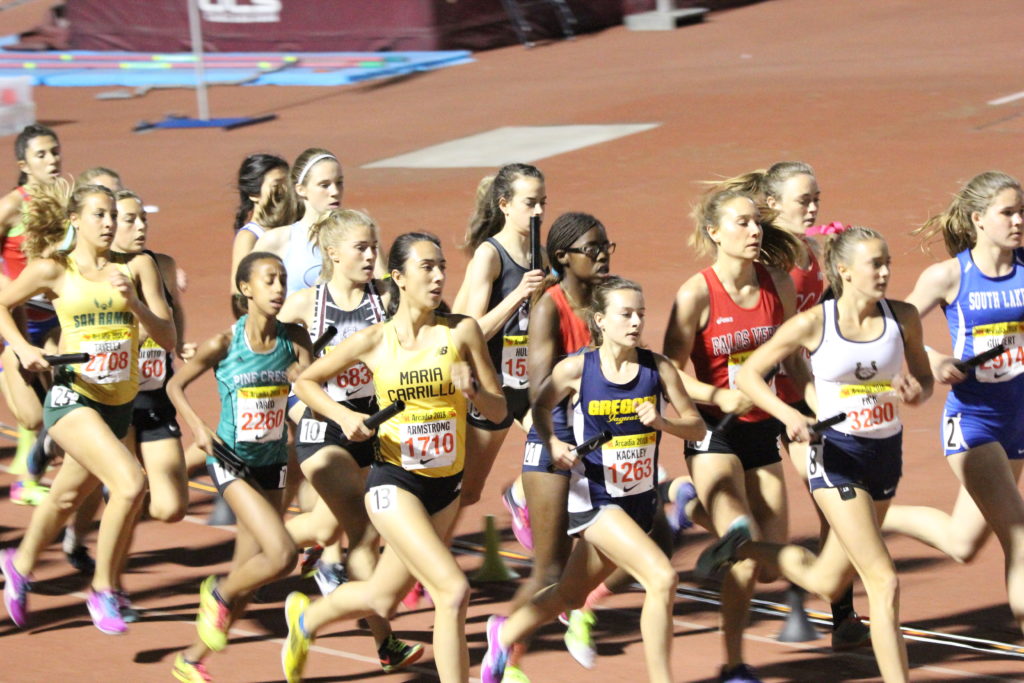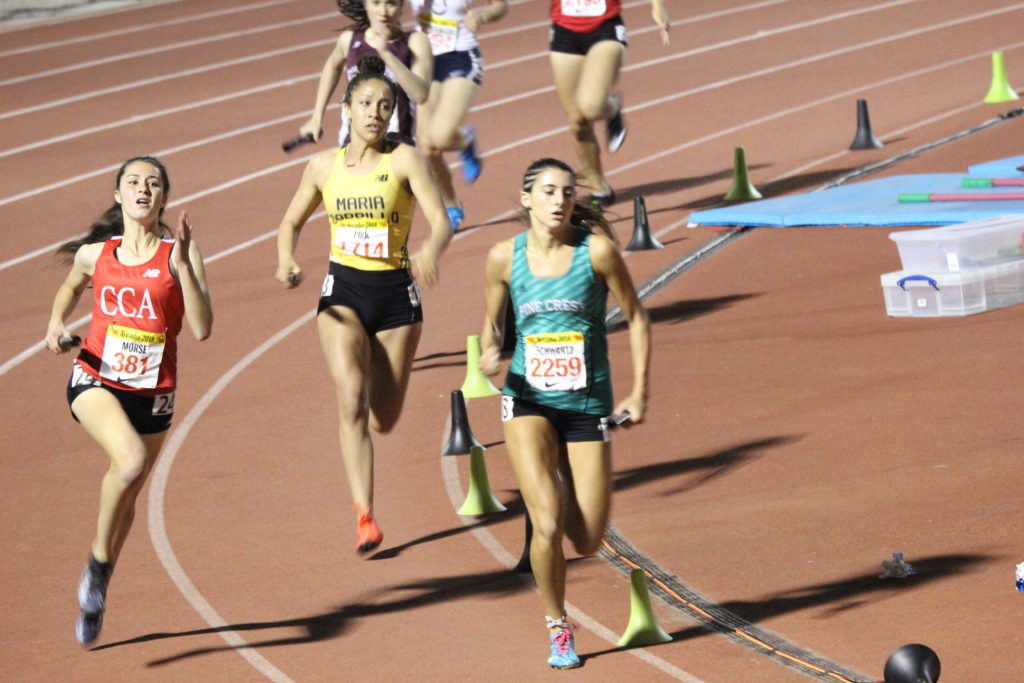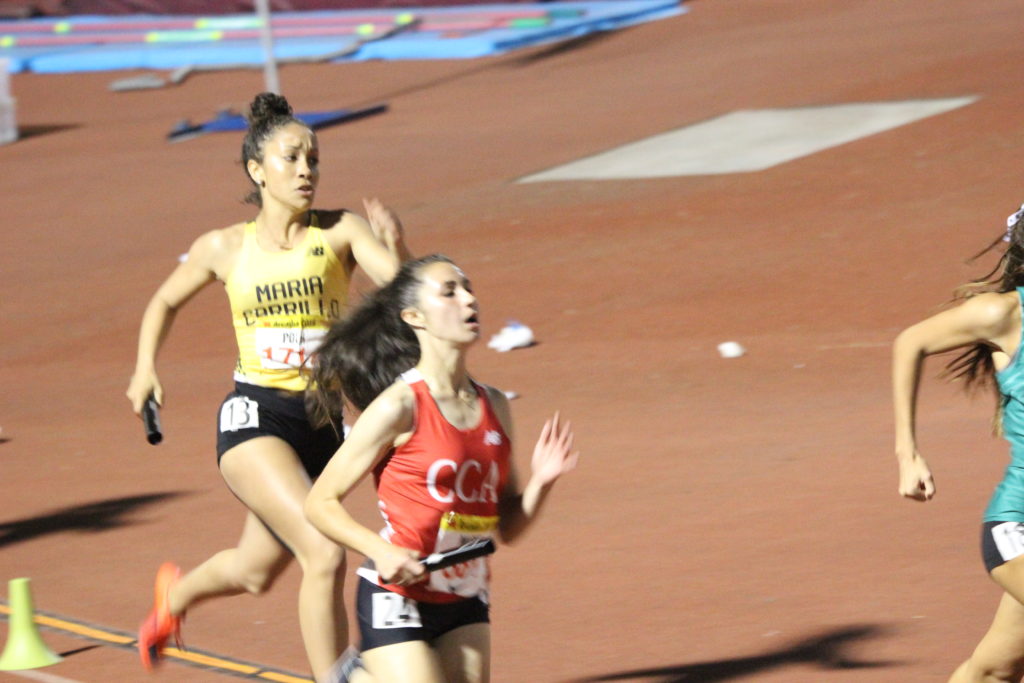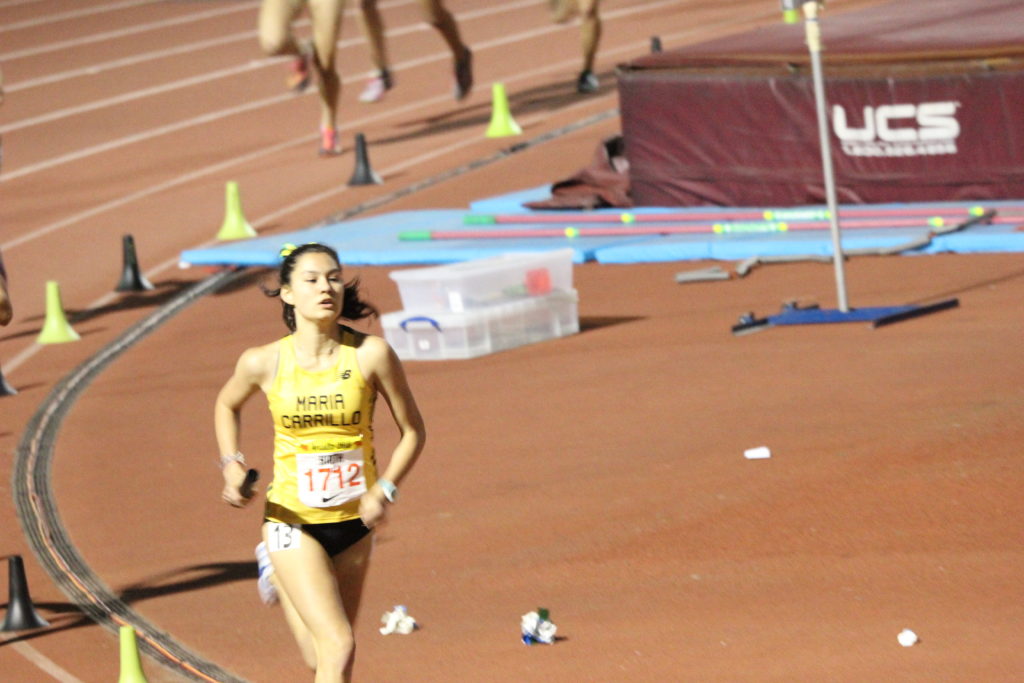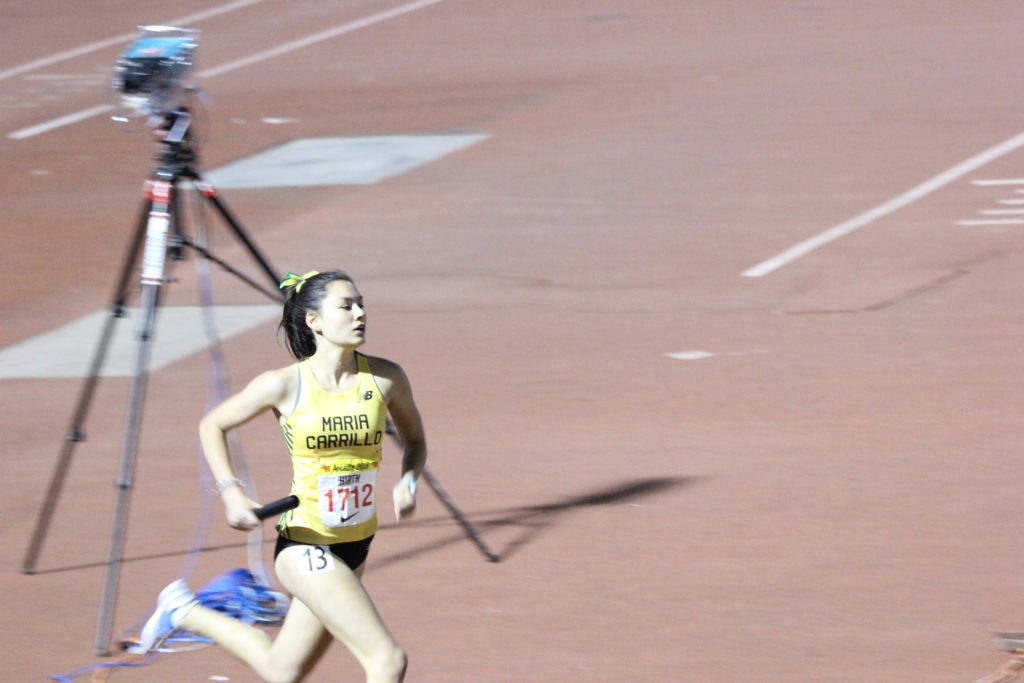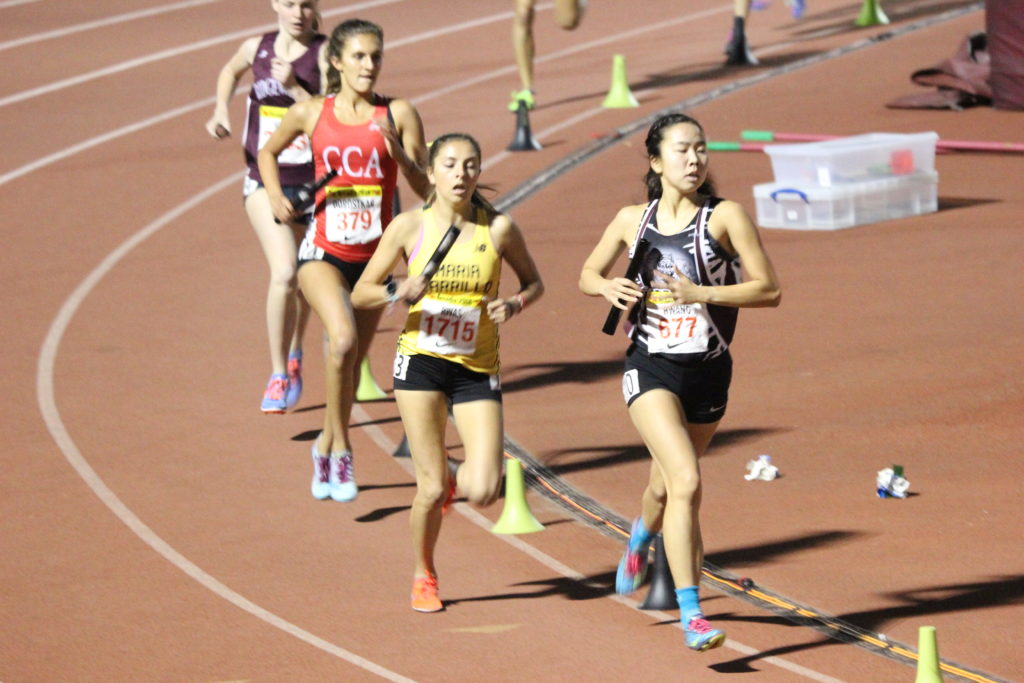 Now the mile had the real untold story.
I watched the race live on the internet and Peterson was running well. She started near the end of the pack at the start but moved to to at least 4th as I watched as they came to the bell lap.
At that point McKenna Brown 4:49.63 and Madison Mooney 4:49.92 took off and the camera followed the two of them battle to the top two mile times in the nation this year.
Never got to see Peterson's last lap but when the results came up she was 9th at 5:00.20 and I guessed she had run out of gas.
Word is she moved to 3rd with 200m left and got and got knocked down to the ground and trampled, still got up and finished strong though bloodied and bruised.
With 100m left to go she still crossed the 1500m mark at 4:38.97, 5th All-Time for the Empire.
Th 5:00.20 time converts to a 1600 in 4:58.46. I'm not aware of any of our girls ever running a sub 5 after being knocked to the ground. Her PR is 4:57.74.
The third place mile time was 4:53.63 which had she stayed there would have moved Peterson past a girl named Kim Conley on our All-Time list.
The photos that James took are pretty good considering it was after 8 PM at night when they were taken.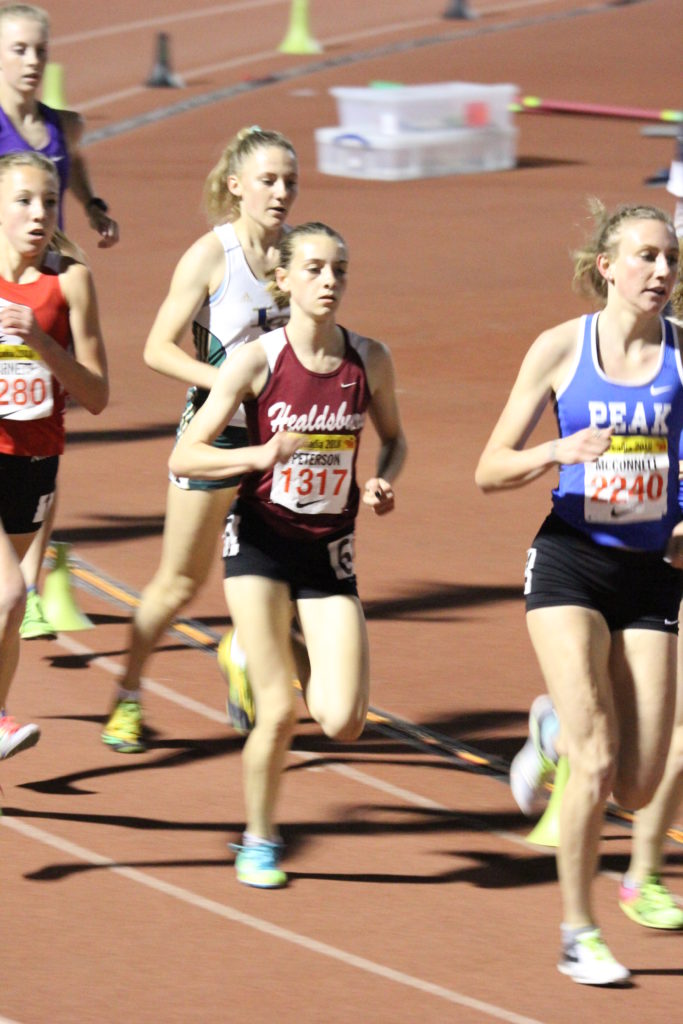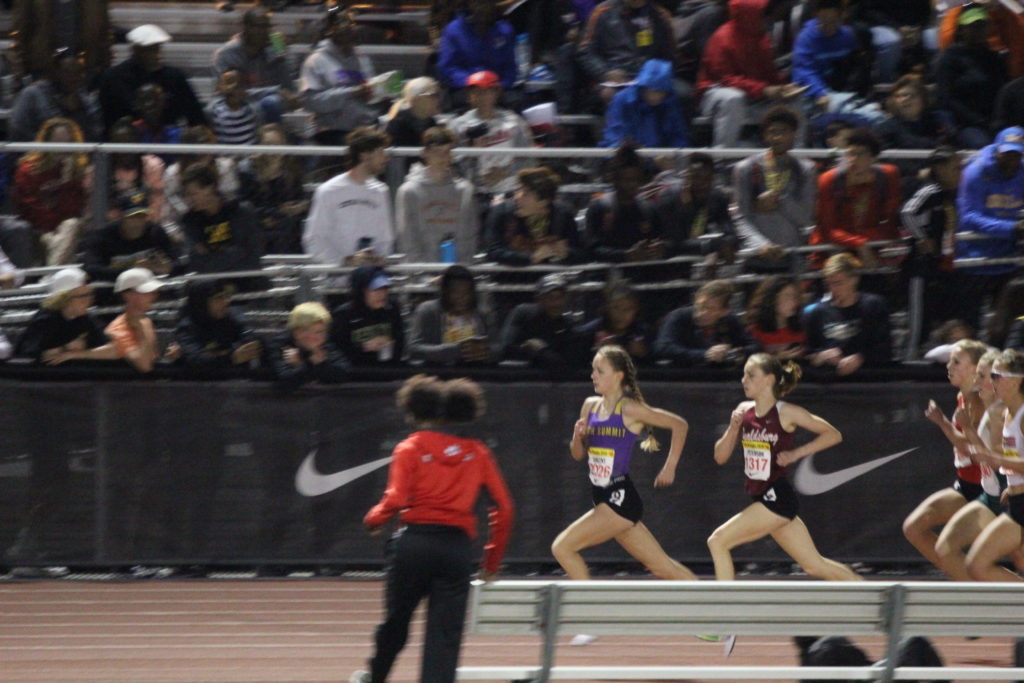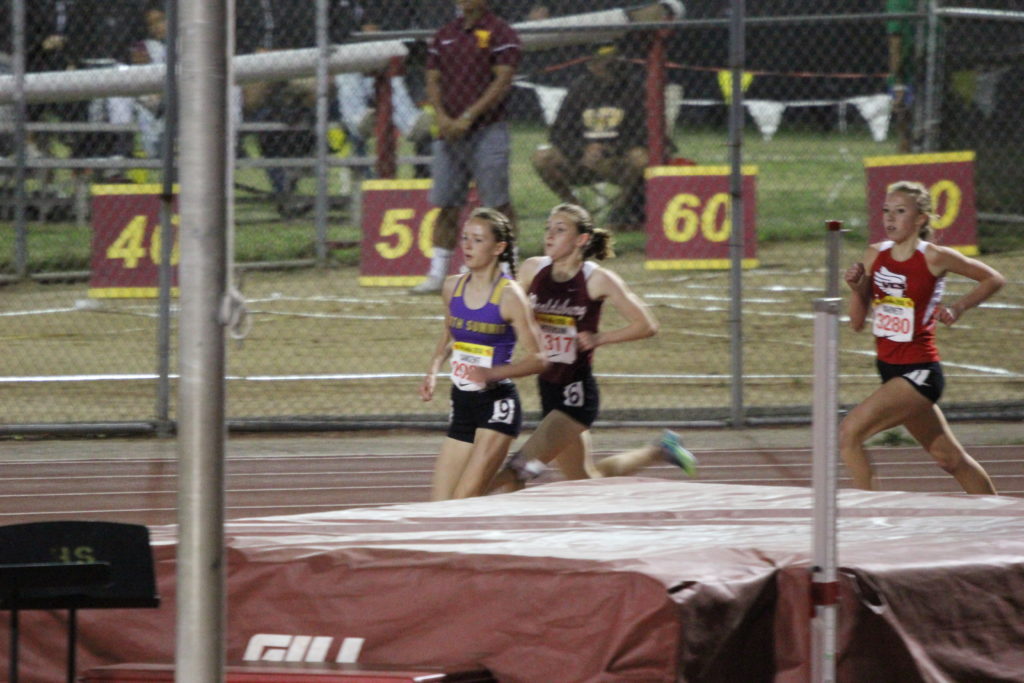 Women 1 Mile Run Invitational
  1 McKenna Brown             12 La Costa Cny           4:49.63
  2 Madison Mooney            12 Broomfield             4:49.92
  3 Sadie Sargent             12 North Summit           4:53.63
  4 Audrey Suarez              9 Mayfield               4:54.10
  5 Mia Barnett                9 Village Chr.           4:54.29
  6 Jessica Riedman           11 La Costa Cny           4:56.00
  7 Quinn McConnell           11 Peak to Peak           4:56.67
  8 Kelli Hines               11 Mission Viej           4:59.95
  9 Gabrielle Peterson        11 Healdsburg             5:00.20
 10 Kelly Makin               12 Sunset                 5:05.89
 11 Anna Shults               11 Peak to Peak           5:06.50
 12 Hannah Covington          12 Bishop Manog           5:08.05
 13 Mic Webster               11 Cedar                  5:12.19

Distance Medley Invitational

  1 Oak Ridge                                          11:42.85, Fastest time in the nation

     1) Elena Denner 12                 2) Chloe Taylor 11

     3) Abby Fletcher 9                 4) Maddy Denner 12

  2 Santa Cruz                                         11:48.15, 2nd in the US

     1) Anaya Ward 12                   2) Anika Lindley 12

     3) Ella Hedrick 12                 4) Mari Friedman 12

  3 Great Oak                                          11:55.52, team ran 1 second faster at Stanford.

     1) Arianna Griffiths 10            2) Kolonnie Green 11

     3) Fatima Cortes 11                4) Tori Gaitan 10

  4 Pine Crest (Fl)                                    11:58.30, 6th in the US

     1) Mahdere Yared 9                 2) Amanda Schwartz 10

     3) Emily Faulhaber 10              4) Tsion Yared 10

  5 Vista Murrieta                                     12:11.21, 9th in the US

     1) Makayla Fick 10                 2) Hailey Nuechterlein 9

     3) Peyton Candaele 11              4) Annabelle Werner 12

  6 Maria Carrillo                                     12:11.81, 10th in the US

     1) Aimee Armstrong 11              2) Assata Polk 12

     3) Jasmin Hirth 10                 4) Sydnie Rivas 12

  7 Canyon Crest Academy                               12:12.21, 11th in the US

     1) Claire Bernd 12                 2) Sabrina Morse 11

     3) Sarah Tu 12                     4) Carlie Dorostkar 10

  8 Claremont                                          12:13.51, 12th in the US

     1) Tess Rounds 12                  2) Kylie Robinson 12

     3) Kalinda Reynolds 11             4) Sydney Hwang 11

  9 Ridgewood (Nj)                                     12:17.53

     1) Evelyn Kotch 12                 2) Katherine Muccio 11

     3) Virginia Morley 11              4) Cassie Keyes 11

 10 Palos Verdes                                       12:18.56

     1) Grace Catena 12                 2) Maya Whitcomb 9

     3) Savannah Scriven 10             4) Samantha Steman 10

 11 Great Oak  'B'                                     12:19.14

     1) Brianna Weidler 9               2) Sami Bollinger 9

     3) Ericka Burgess 12               4) Audrey Dang 10

 12 San Ramon Valley                                   12:19.24

     1) Emma Tavella 11                 2) Isabella Noden 11

     3) Amanda Olla 12                  4) Kate Tavella 11

 13 Saugus                                             12:22.41

     1) Hannah Fredericks 9             2) Heaven Sanchez 10

     3) Sophia Pearson 12               4) Jacqueline Cascione 11

 14 Xavier Coll Prep (Az)                              12:29.55

     1) Karina Hawkins 11               2) Leila Grant 11

     3) Kinsey Ehman 12                 4) Mia Olsen 10

 15 Buchanan                                           12:30.32

     1) Clare Hernandez 12              2) Delaney Custer 9

     3) Amanda Dolberg 10               4) Sydney Fox 12

 16 Roosevelt - ss                                     12:30.52

     1) Kimberly Pena 11                2) Destiney Stamps 12

     3) Paloma Barron 12                4) Miranda Camargo 11

 17 West Ranch                                         12:30.98

     1) Peyton Washington 11            2) Shelbi Schauble 11

     3) London Lewis 11                 4) Sophia Hoelzel 11

 18 Granada                                            12:34.00

     1) Kalea Bartolotto 11             2) Kaylie Lawsen 11

     3) Savannah Maselli 11             4) Colleen McCandless 11

 19 Mission Viejo                                      12:36.98

     1) Caitlin Ree 10                  2) Morgan Calcagnie 11

     3) Lauryn Simons 11                4) Danika Pagaduan 11

 20 Dana Hills                                         12:43.17

     1) Sarah Meng 11                   2) Jaden Haskins 11

     3) Tess Mathes 11                  4) Marisa Gaitan 10

 21 King, Martin Luther                                12:43.27

     1) Kela Mavhera 10                 2) Ashley Chruszcz 12

     3) Amanda Sosa 11                  4) Lauren Peurifoy 11

 22 South Lakes (Va)                                   12:47.76

     1) Isabelle Gulgert 11             2) Nicole Post 11

     3) Mary Gregory 10                 4) Emily McGrath 12

 23 Santa Margarita                                    12:50.91

     1) Sophie Getz 11                  2) Sophia Morris 10

     3) Elizabeth Ramirez 11            4) Kendal Saeger 9

 24 Gregori                                            12:54.43

     1) Madison Kackley 9               2) Kalisa Kang 9

     3) Kassandra Rojas 11              4) Eva Rodriguez 11

 25 Lees Summit West (Mo)                              12:56.05

     1) Madison Hulsey 10               2) Hailey Hardin 11

     3) McKenna Butler 10               4) Addie Mathis 10