A furious dash to the finish, saw Sara Hall hold off the competition, as the she charged to the tape in victorious fashion Sunday morning at the USATF 10 Mile Championships in the Twin Cities.
Complete story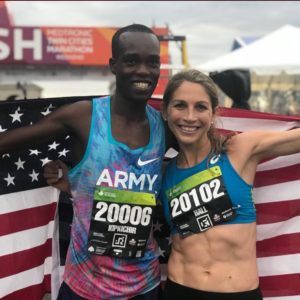 From Sara
Such an honor to wear the flag today after winning the US 10 mile championships!
Sometimes we elites make things look easy, but the truth is I have been struggling with doubts this season and even in this race itself. This marathon buildup has been difficult for me in every way. I've done some of the best training I've ever done, and it was painful and challenging as always, but my day doesn't end there. It continues with seeming endless aspects of having 4 kids and intentionally parenting them, making me question if it is possible to still do this at the level I want to pursue it. I deal with criticism from family members with more traditional views of gender roles (though fortunately my husband and kids are my biggest encouragers to keep going!) And yet I know God has called me to this path that at times is imperfect and feels unrealistic.
I share all this not to pump myself up, I am not superhuman and I haven't always got it all right in the process, but want to encourage you to pursue the things that God puts in your heart and find His voice above all the others. Absolutely make sure you are in unity with your family on it and everyone is