Now Sharon Polley Williamson
Background info before the interview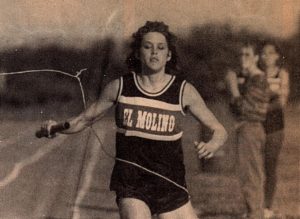 Until recently the Redwood Empire has not been known for producing state quality girl sprinters, with one exception.
That one, was El Molino's Sharon Polley who was a four time NCS champion and made her best mark in the 100 hurdles.
Polley sprinted onto the scene her freshman year in 1985 winning both the 100, equaling the SCL meet record at 12.4, and the 200, breaking the MR in 25.8.
She would continue to do this over her four year career lowering the meet records down to 12.1 and 24.9 for a total of nine SCL individual crowns.
The ninth came in her senior year when she took up the 100m low hurdles with another meet record of 14.3.
She would leave El Molino with four Empire records: 12.34, 25.09, 14.10 and member of sprint medley team at 4:15.15.
4:15.15* El Molino 1986 Heidi Weckerle, Ylisa Stanford, Sharon Polley 60.8*, Mara Konopasek 2:20.5*
In 1993 the hurdles went up 3 inches to 33″ tall. The closest anyone has come to Polley's time (14.10 at 1988 NCS finals) is 14.57.
What separates Polley from the other Empire female sprinters was how she did at NCS and state.
Polley is the only girl from the Empire to ever win the 100 or 200 at NCS MOC.
Her sophomore year she won the 100 in 12.59
Junior year she she was the 200 champ at 25.53.
Then her senior year she took both (12.48/26.44) plus taking second in the 100 hurdles to the eventual state champion.
Polley then capped off her prep career with our only girls state sprint medal so far.
You can watch that race at the page below by clicking on video for 100LH.
You will she her running in lane 2 placing 6th in 14.55. She runs in 7th place until sprint after the last hurdle.
Watch 1988 races here.
Back when you were in High School
Did you ever have a performance in a meet that surprised even you, that you could do that well?
There were many times that I was surprised that I did well. Overall in my HS track history, I was undefeated all 4 years in every race I ran- 100, 200, 400, hurdles (dual meets and invitational) the only races I did not place first in were Regional and State meets. I was my biggest competition. So I had to continually set goals that were outside of winning a race, in order to get better.
Probably the most surprised I ever felt was my senior year when I decided I wanted to try 100m hurdles. My coach, Stan Urmann gave me my first try at the Santa Rosa Relays. I ended up winning that event and setting our high school record for the hurdles.
What was your favorite accomplishment?
My favorite accomplishment was placing 6th in the 100m hurdles at the High School State track meet. I was always excited to just be a part of the state meet. I had placed better in the 100 and 200 meters each year. Since I had only been hurdling for a few months I was very unsure how or if I would make it to state in the hurdles.
I placed first in every meet leading up to NCS MOC, and made the finals at state- the first time I had made the state finals in any event.
To finish 6th and earn a medal was a very proud accomplishment.
Editors Note: That NCS meet and State almost never happened for Polley because of a concussion suffered days before NCS trials. Polley's 14.10 Empire record came in NCS finals. The NCS champ was also the State champion.



Click on to enlarge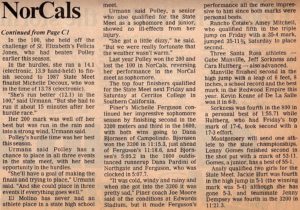 Did you ever think about not doing track?
Never in high school. I had played softball before high school and loved it. My plan was to play high school softball. I remember running a track meet in 8th grade at El Molino. I did really well and even came close or set some high school track records that day. That summer before my freshman year the softball and track coach kept calling me- both wanting me to be a part of their teams. I ended up choosing to run track. I think I was ready for a challenge, and in the back of my mind I thought I might be able to earn a college scholarship.
What motivated you in high school to do as well as you did?
To be honest high school was natural talent. I really didn't do a lot in the off-season or away from the track. I loved my teammates, and I loved to compete. I was very fortunate to do as well as I did in high school without having to do much work. Track practices were a lot of fun…working out and preparing for track meets came later during my college years.
The biggest motivation was wanting to perform well, especially for my parents and sister who were at every meet. It was important for me to perform the best I could because I knew the sacrifice that they were making to support me.
Were there times when someone, coach, official, press etc., did something that showed you that girls track was as important as the boys?
I always felt supported in competing in track (or basketball, volleyball, softball) not only by my high school coach, but coaches from other schools and most importantly the boy's teams. 1986 when our F/S boys and Varsity girls teams won the SCL meet we did it together- boys and girls. It was an awesome moment- we all supported each other and were very excited.
Were there other girls back then that inspired you or impressed you?
Janette and Yvette Richardson (El Molino High School Track) and their brothers who were very successful in high school track, lived across the street from me. They ran in the 70's-early 80's and had set all of our high school track records. When I started breaking their records they were my biggest supporters. I though it was pretty neat that we lived on the same street (Graton Road). We used to joke that their was something in the water on our street that made us all fast!
Competitors- Wendi Simmons (Santa Rosa HS) was a year older than me. We didn't compete in the same events, but we did run against each other in the 400m when I was a junior [Santa Rosa Relays]. I was probably most nervous to run against her, because I respected her so much. It was a great race ( I did edge her out for the win) but I think I did so well because of the level of competition she pulled me up to.
Editors Note: The Santa Rosa Relays at one time was one of the biggest in the state, the 1989 meet had over 50 schools. The 1987 meet showchased some of our stars. Simmons was the girls star of the meet breaking the meet record in the triple jump at 38-3 1/2, won the 300 hurdles in 46.8, second in long jump at 17-10 1/4, 17-11 won, and 5th in the 400 at 59.1. Polley won that 400 race at 58.4, with Simmons 5th, with a Los Lomas runner 2nd at 58.6. Polley was also the 100m winner in the meet at 12.5.
How do you think your life would have been different if Title IX had not come along when it did and there were no high school sports for you to do?
I can't imagine not being able to compete in sports. I started competing when I was 9 years old (Softball) and track. I never gave much thought to Title IX during high school, but as I learned more about what Title IX provided for me as a female athlete I was very grateful. My life would have been very different. Most likely not have attended college, definitely not in Arkansas. Which means my life may have ended up very different that what it has become.
After HS
Anything you would like to pass on to someone just getting started in track or cross country?
No matter what you are getting started in- find your passion and have fun.
Anything you would like to pass on to the kids who have the potential to be one of the best?
There is a lot of talent out there- I've raised three children who have all been successful in high school athletics (2 have played college football on scholarship). My daughter is currently a senior in high school and hoping to earn a basketball scholarship. In our area (Texas) sports is VERY competitive. The best of the best in every sport come from Texas. Editors Note: You will now have to ask permission to come back to visit California.
The most important thing when talent cannot separate you from another person- meaning you both are talented, is to be sure that your character can sustain your talent. These days we see SO MANY talented athletes whose questionable character or poor decisions ruins their careers or opportunities. I always tell young people that when a recruiter or coach sees two athletes who have similar talent, they are going to choose the one who has the better grades, and the character to sustain that talent. Coaches are making an investment in you…. they want to get a positive return on that investment.
Do you ever feel like the girls now take it for granted and do not realize there was a time when girls track was not considered as important as boys?
By the time I was in high school the "fight" for opportunities was not as needed. The opportunities for girls in high school at least were there. I never felt like I couldn't do something because I was a girl.
My first experience with Title IX actually came in college when our men's swim team (University of Arkansas) was cut because we had to start a women's softball team to be in compliance with Title IX. As a female athlete, I actually felt bad that for women's opportunities to progress we had to take away from someone else.
Do you have a children and how will you feel if they want to run?
All of my children have participated in sports and been very successful. My oldest (Joe Williamson) went to North Central College, Naperville Il, on a football scholarship, my son Ben Williamson, is at Midwestern State University playing football on scholarship, and my daughter is a senior in high school and hopes to play basketball in college and is receiving interest from colleges to do so. My husband played college football. We have always been upfront with our kids whenever they have set goals- in any sport. That they need to have fun, do their best…but if there goal is to play beyond high school, it will take a lot of work, dedication and sacrifice.
Did you get a college scholarship from running?
I received a scholarship to Cal Poly State University. I competed there from 1988-1990. My track coach (Lance Harter) took the head coaching position at the University of Arkansas, and he offered me a scholarship to transfer and compete at the University of Arkansas. I competed at U of A from 1990-1992.
Polley is also a member of the El Molino High School Hall of Fame