Women Team Results:
1st – Santa Rosa – 52 (NCAA tie breaker 3-2)
2nd – Sierra – 52
3rd – Sacramento – 60
4th – American River – 77
5th – Modesto – 97
6th – Delta – 169
SRJC Top Finishers (5k)
4th – Ana Palafox – 20:26
9th – Evelin Ramirez – 21:20
12th – Jackie Ramirez – 21:40
20th – Marisa McGettigan – 23:29
21st – Miranda Huntsinger – 23:37
30th – Dana Johnson – 24:32
Men Team Results:
1st – American River – 36
2nd – Modesto – 77
3rd – Diablo Valley – 78
4th – Santa Rosa – 80
5th – Delta – 140
6th – Merritt – 151
7th – Sacramento – 177
SRJC Top Finishers (4.19 mile)
1st – Johnny Vargas – 22:49
8th – Patrick Lynch – 23:31
26th – Taylor Ingram – 25:16
29th – Johnathan Chi – 25:40
32nd – Andrew Magdaleno – 25:57
35th – Brian Padilla – 26:23
40th – Adel Araya – 26:54
Women:
SRJC Women win first Big 8 Conference Championship in School History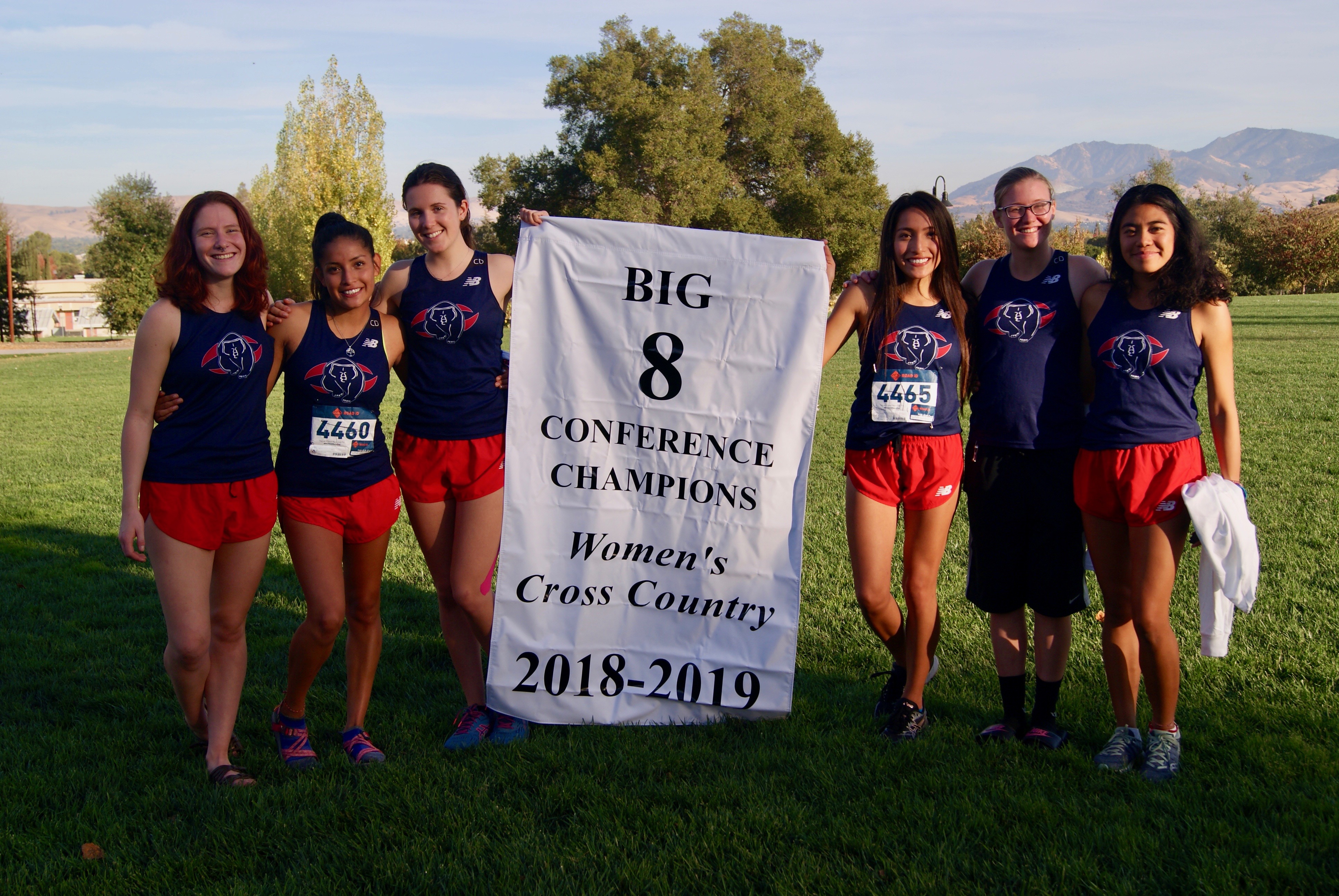 The Women's cross country team competed at the Big 8 Conference Championships today at Hidden Valley Park in Martinez, CA. Coming into the meet ranked number 3rd in the North and 12th in the State the SRJC Women looked to make their mark in the championship race. After a controlled start, Ana Palafox moved through the small lead pack to position herself in 4th place at mile 2, she would go on to finish in this position with a respectable 20:26 over a difficult 5k course. Following shortly after wads the pair of Evelin and Jackie Ramirez in 9th and 12th place. These two spots proved to be the deciding in the tie breaker that ensued when both Santa Rosa and Sierra College finished the race with a total of 52 points. The NCAA rule states that a tie is broken by scoring the top five finishers one to one.
This narrow victory is much more impressive considering that this is the first Conferecne Championship for SRJC women since the Big 8 Conferecne was formed in 2007 and may very well be the first conference championship for SRJC Women's Cross Country History.
The women have more to give this season and will be hungry to make some big moves next weekend in Redding when the compete at the Northern California Championships.
Men:
Johnny Vargas continues to dominate as the Bear Cubs Cross Country edge closer to a post season success.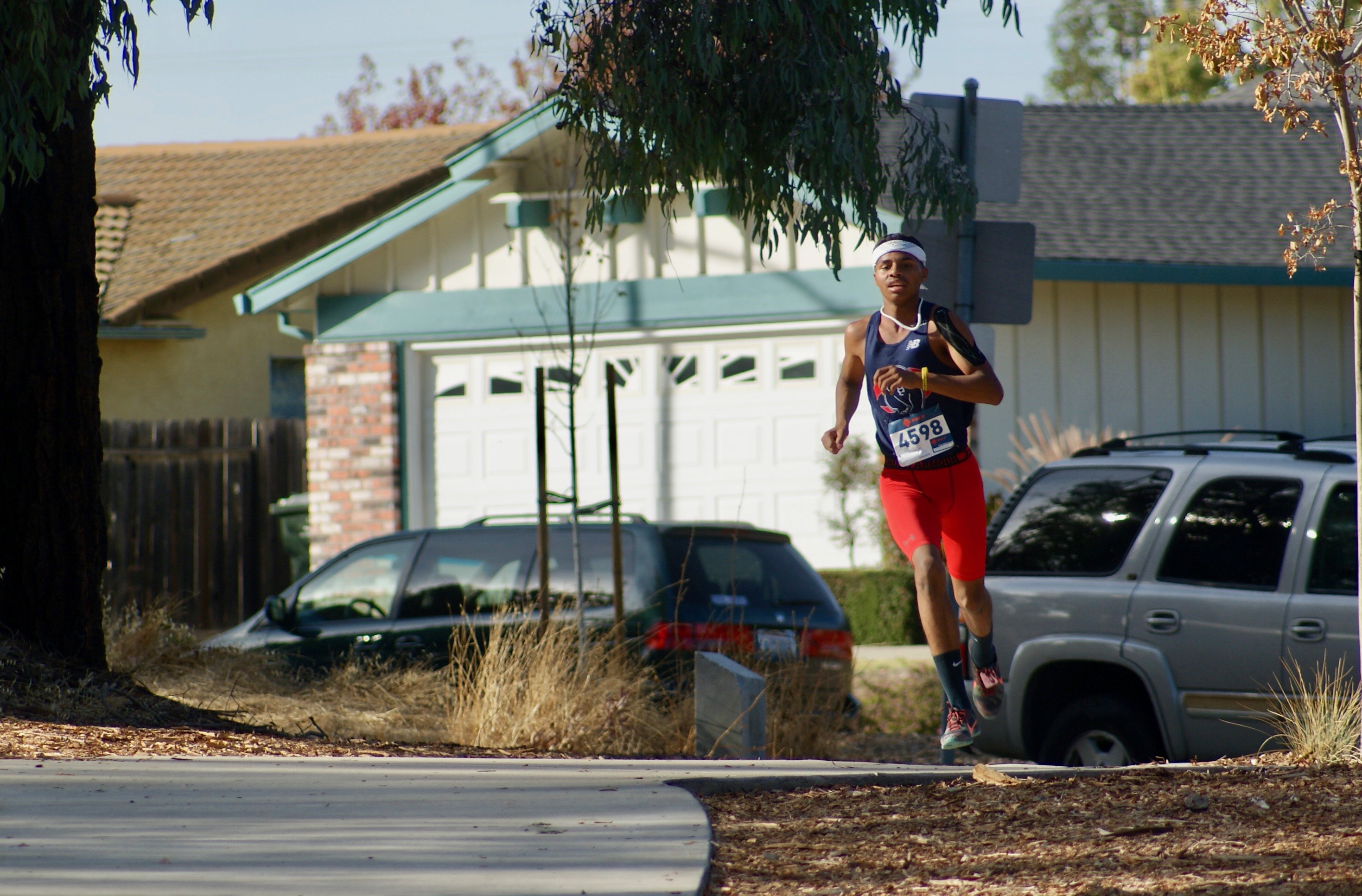 The Men's cross country team competed at the Big 8 Conference Championships today at Hidden Valley Park in Martinez, CA. Leading from the front, freshmen standout Johnny Vargas once again made easy work of the field to bring home the individual title and MVP of the conference. Biding his time through the first two miles in fifth place, Vargas made his move around the baseball field leading up towards the third mile of the race. When he emerged from the bridge at mile two and a half he was already five seconds ahead of the trailing American River runner. Over the next mile and a half Vargas extended that lead to a comfortable 18 seconds.
Making smart moves himself, Patrick Lynch improved his position throughout the race to just miss out of all-conference honors in 8th place. however, Lynch's tactical awareness allowed him the score some valuable points for his team.
The Bear Cubs finished conference in 4th place, only 3 points out of second place behind Modesto and Diablo Valley. Heading into NorCal Championships the Bear Cubs will need to finish in the top seven in Redding in order to qualify for the State Meet. Currently the Bear Cubs are ranked 9th in Northern California, however, 6th and 7th place are held by Modesto and Diablo Valley.