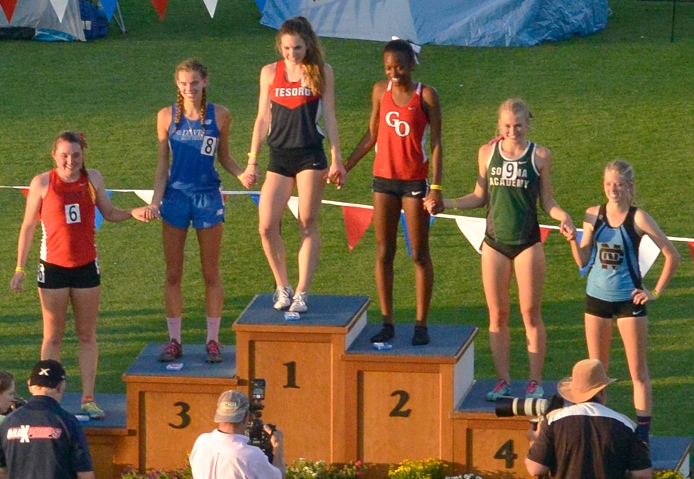 Complete entries & Time Schedule
The forecast is 91 for Friday and 95 for Saturday.
Last year Sonoma Academy's Rylee Bowen earned her first state meet track medal with a 4th place finish in 4:50.40.
Of the three girls ahead of her only Olivia O'Keeffe of Davis did not graduate and she has a best of 4:54.74 this year.
Watching Rylee win the NCS meet this year it seems that she just ran hard enough to win and could have easily gone faster.
Rylee's best time this year is 4:47.25. The only girl in the state to run faster this year is Malibu's Claudia Lane who will only run the 3200 at state as the top seed there.
Below are the top seeds based off of Section finals, 3 of top 8 are from NCS.
4:49.74 Annie Boos, 12, Claremont, her best
4:49.84 Maddy Denner, 11, Oak Ridge, 4:48.64 2017 best
4:49.92 Haley Herberg, 11, Capistrano Valley, 4:47.55 2017 best
4:51.05 Evelyn Mandel, 12, Great Oak, her best
4:51.42 Rylee Bowen, 11, Sonoma Academy, 4:47.25 2017 best, 2015 4:43.92
4:52.38 Meredith Corda, 12, Monte Vista, NCS 2nd, her best
4:52.45 Chloe Arriaga, 10, Walnut, her best
4:53.85 Brianna Bourne, 12, College Perp, NCS 3rd, her best
Rylee is the only one of this group who has broken 2:12 this year in the 800.
The Empire has had three state champs in this event.
1st Julia Stamps, Santa Rosa 4:44.78 1997
1st Sara Bei, Montgomery 4:49.21 1998
1st Jenny Aldridge, Maria Carrillo 4:49.63 2000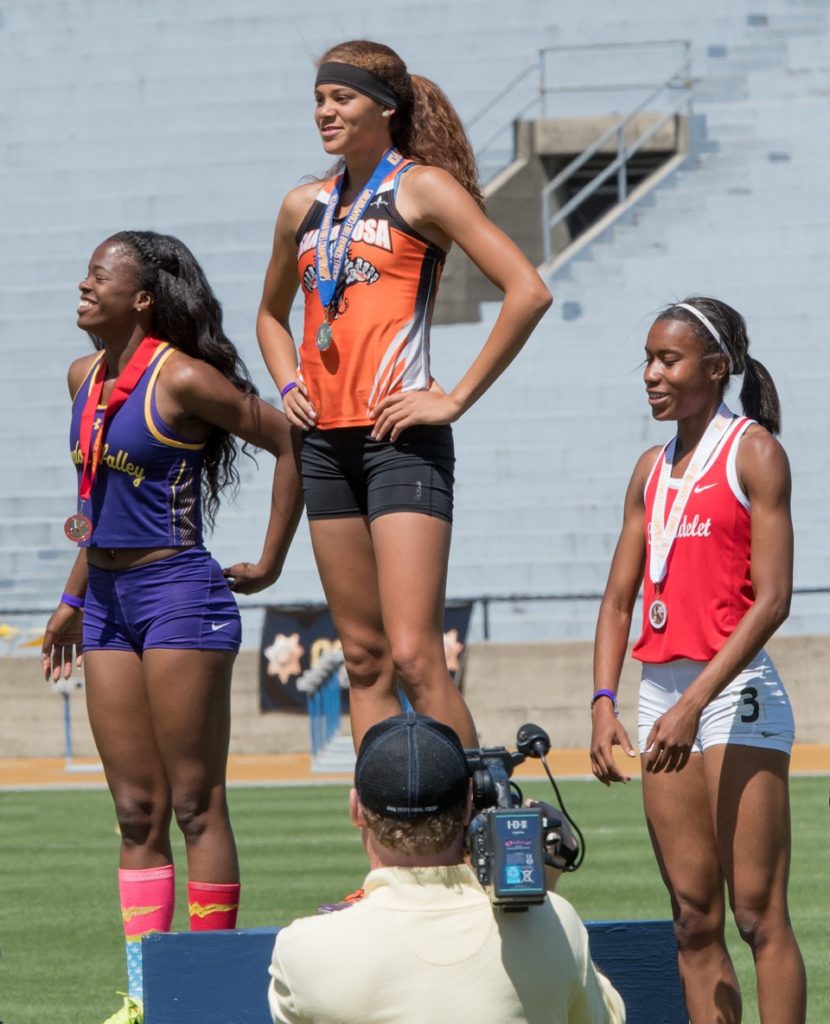 Santa Rosa's Kirsten Carter finished 6th in her heat of the 200 last year with a 25.05 time to earn 19th in the state.
This year she is on fire. She won the 100 in a new Empire record of 11.89 to become the Empire's only female winner of the event besides El Molino's Sharon Polley who won 1986 in 12.59 and 1988 in 12.48. Carter took second in the 200 in her fastest FAT 200 in 24.35 which ranks her 5th at State.
All pretty amazing for a girl who was First Team Empire Cross Country last Fall and won a 2 mile Invitational.
200
23.53 Kaelin Roberts, 12, Carson
23.95 Ariyonna Augustine, 11, Poly (Long Beach), 23.60 PR
24.05 De'anna Nowling, 10, Calabasas, 23.78
24.11 Jasmin Reed, 12, Serra, 23.39 state best
24.35 Kirsten Carter, 11, Santa Rosa
24.42 Sarahvaughn King, 12, Armijo, 24.13
24.45 Kierra King, 12, Wilson (Long Beach), 23.69
24.45 Mikayla Scott, 12, Carondelet, 24.07
24.45 Jalyn Harris, 12, Rancho Cucamonga, 23.47
Robinson-Jones of Bishop O'Dowd won the NCS meet at 24.27 but will only run the 400 at State.
100
11.57 De'anna Nowling, 10, Calabasas, 11.44 PR
11.59 Jasmin Reed, 12, Serra, 11.58
11.66 Ariyonna Augustine, 11, Poly (Lb)
11.67 Aaliyah Wilson, 11, Stockdale
11.82 Jazmyne Frost, 10, Serra
11.83 Kennedy Williams, 12, Redondo Union
11.89 Kirsten Carter, 11, Santa Rosa
11.93 Emerald Bowens, 11, Redlands East Valley, 11.76
11.95 Chinyere Okoro, 10, Amador Valley
11.97 Kierra King, 12, Wilson (Long Beach), 11.83
Best Empire has ever done in these events are
100m 9th Sharon Polley, El Molino 12.42 1987
200m a=8th Tamika Brown, Fort Bragg 24.88, trials 1993
a – Place is from trials, finals postponed a week because of weather and Brown was unable to attend.
Maria Carrillo is seeded 7th in the 1600 relay after there huge season best of 3:18.94, 4th All-Time (Severin Ramirez 49.9, Tyler Van Arden 49.7, Will Mc Cloud 50.7, Isaiah Smith 48.4). Only two teams seeded below them have run a faster time in 2017 giving the Puma's the chance to be the only Empire team in state history besides Santa Rosa 3:17.6 1970 to make the final.
Montgomery sends two sprinters in
Jaymes Tischbern, 11, Montgomery seeded 12th 200 at 21.94. Jaymes is returning for second year and is only a junior.
Thomas Thomsen, 12, Montgomery seeded 23rd in 110HH at 15.13.
The last Empire athletes to make the finals in these events were
3rd James Burrell, Piner 21.45y 1977, w+4.8
7th Mike Koellsted, Calistoga 14.77 1986