By Jim Crowhurst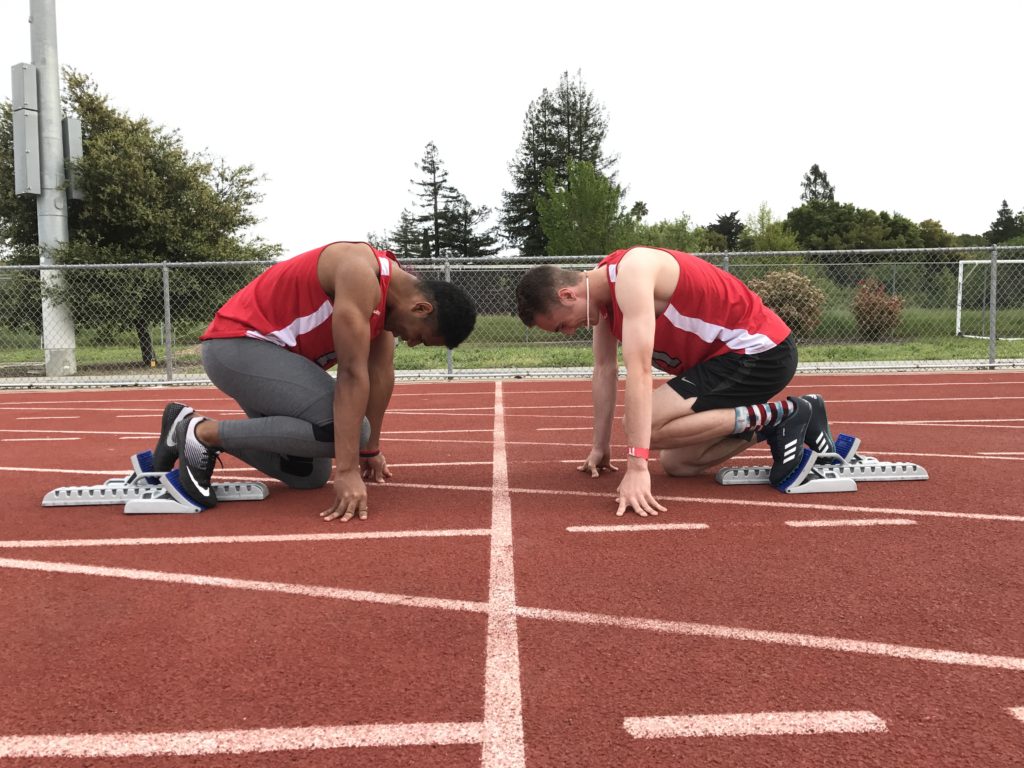 Update
Because of a malfunction in the FAT system used that was not realized until after the meet many times are faster than they actually ran.
In some cases we have hand times by officials that will become official.
Example
Sakea Rokotuiviwa, Montgomery 100m 10.98 FAT will now be recognized as 11.1 hand time.
Montgomery junior Jaymes Tischbern, on the right, is this years top returning 100/200 man in the Empire. He placed 5th in NCS in the 200 last year.
He held the 2017 Empire best in the 100 from the Big Cat in a new personal best at 11.00.
So I'm guessing, like others, when the results for the Castleberry 100 came out with a Viking winning in 10.98 I assumed a wrong bib number was crediting another runner with the time.
Nope meet Sakea Rokotuiviwa.
Rokotuiviwa is also a junior at Montgomery and has transfered here from the island of Fiji.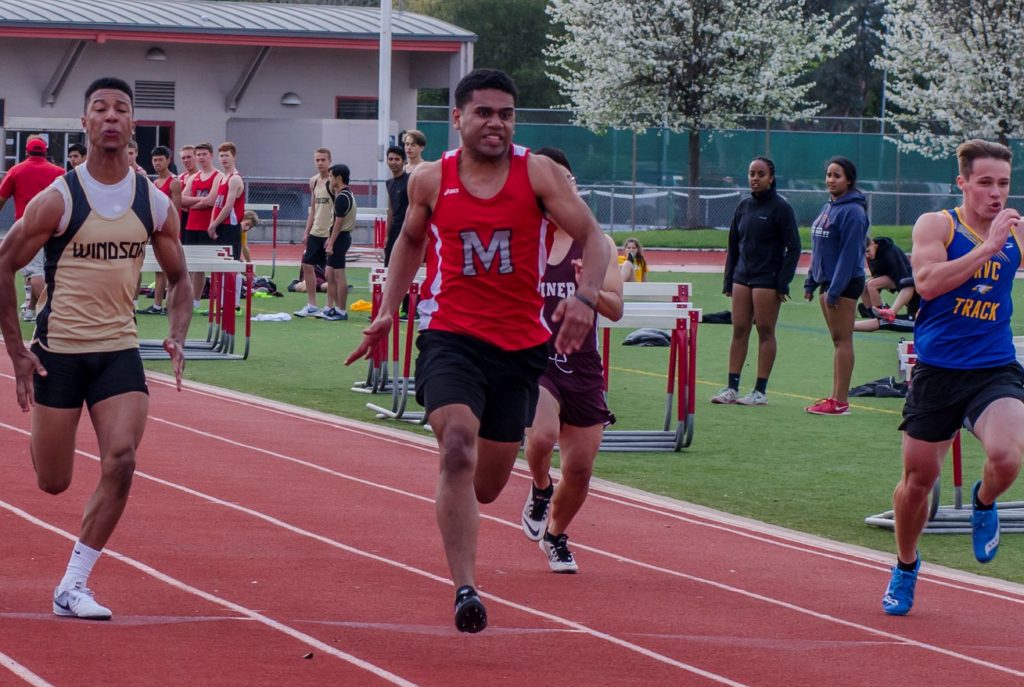 Here is a video of the two in their only head to head so far in a 150 meter race at Montgomery in March.
Jaymes is in lane 3 with Sakea out in 7.
What brought you to the USA?
My dad moved here last summer. He got a job at the University of San Fransisco to coach rugby.
Tell me about your track experience before coming here?
When I was a freshman, I only ran a 12.9 100m. Then I transferred to a new school in Fiji with a better track and field program. Here I was able to get individualized coaching and dropped my time down to 11.5. I was asked to represent the Fiji national under 18 team. I ran the 100m in their national race and won with a 11.4 time for the race.
I hear you were a national champion in your country and now you are on a school team who has someone you may or may not be able the beat. What are your feelings about that?
I ran a 10.98 which is unbelievable! My closest competition and toughest opponent is on my team, Jaymes Tischbern. He always pushes me to my limits in practice. I can't wait to finally race with him, in the same race, this Friday at Twilight.
What are your current goals for this year and beyond?
This year I would like to continue to run in the 10's. I would love to be able to qualify to go to state this year.
My future goal is to get a scholarship for college in track and field. I will continue to work hard and try to get my time down to a 10.6.
What is the hardest adjustment for you to being here in the US and what do you like most about it here?
The weather! When I first came here, it was soooo cold! I am use to the warmer weather of Fiji.
I like the people here. I have made many good friends this past year.
Is there anything else you would like people to know about yourself?
I play rugby and soccer. My main hobby is track.
I will be competing at the Oceanic games this summer, which will be held in Fiji. My coaches from Fiji want me to represent the country in the 100m and 200m.
What other sports will you do for Montgomery?
Only track this year. Planning on doing Football and Track next year,
From Montgomery Coach Bryan Bradley
"Sakea works hard at his craft, which is the 100m. I always see him working on his explosiveness out of the blocks everyday. He is one of the quickest out of them. I am excited to have 2 of the fastest sprinters in the empire on the team! Sakea and Jaymes push each other to their limits in each and every practice."
Facts about Fiji
Sakea is from Suva, which is the capital and second largest municipality in Fiji.
Fiji is an island country in in the South Pacific about 1,300 miles northeast of New Zealand's North Island.
It gained it's Independence from the United Kingdom in 1970.
The area of Fiji is 7,056 square miles. The area for Sonoma, Lake and Mendocino Counties together is 6975 square miles.
The 2015 Population estimate for Fiji was 909,389. The current Population estimate for Sonoma, Lake and Mendocino Counties together is 654,814.
For over 70 years Hollywood has featured Fiji prominently in movie settings from blockbuster movies such as Castaway starring Tom Hanks to reality televisions series such as Survivor.